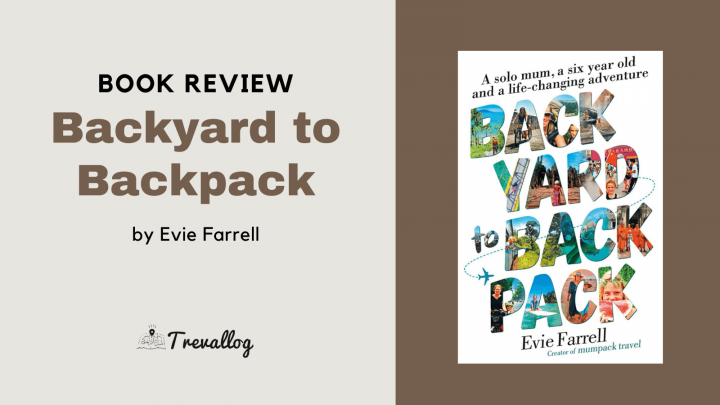 "Why stay in one place and not do what our hearts and souls were desperate for, just because, possibly, potentially, somewhere far in the future, something may not work out?"

— Backyard to Backpack by Evie Farrell
Backyard to Backpack is a book about Evie Farrell's adventure traveling the world full time with her daughter, Emmie. When Emmie turned 6, Evie decided to quit her job, lease out her house and set off for a year of adventure.
As a single parent, Evie has to wear many hats, such as the supporting mother, the stern teacher, the trip organizer and the financial controller. Parenting is hard, and solo parenting is even harder. I'm impressed with Evie's grit in facing challenges and adversities.
The book was written chronologically, and jam-packed with the highlights of their travel in each country. I felt that I was reading a condensed version of someone's detailed travel diary.
My favorite section of the book is about their travel in Yangshuo, China. I could feel how much Evie and Emmie love the town. Because of this story, I'm inspired to visit Yangshuo one day.
One lesson I learned from this book is to pick my battle and that it's okay to be ripped off once in a while. She told story about how she got into a big argument with a taxi driver about a small issue. It resonates with my own experience about getting angry because I got scammed when buying SIM card in Bali. I finally learned that getting angry because of a small amount of money was totally not worth our energy and sanity.
Evie also documented their travel on her blog and her Instagram account, @mumpacktravel. When their story got picked up by major news site, Evie received plenty of negative comments from haters and learned important lessons about how to deal with cyber-bullying.
Evie is a strong advocate of #mumsinphotos. She believes that mothers should be in the photos too, not just the kids. I completely agree with this.
The book ended as their long adventure ended. Even though now they are back to their home in Australia, their adventures don't stop.
Conclusion
What I like:
It inspired me to visit some incredible places, like Yangshuo, Shanghai Disneyland, and Hoi An.
It made me question my own choices in life and made me think whether the life I'm living is what I actually want.
What I don't like:
I feel that not every chapter has a climax. Some chapters are quite flat. If you're expecting a rollercoaster reading adventure, you need to lower your expectation.
Where to buy Backyard to Backpack?
You can get it from Amazon, Kinokuniya.
Featured image adapted from e-book version of the book.
I paid for the book reviewed here. All opinions are my own.