December is the peak season for traveling in Singapore. Many overseas visitors from neighboring countries flock to Singapore for year-end holiday.
The school holiday in Singapore starts from 25 November 2022 to 31 December 2022. Local residents who are not traveling overseas will be spending the school holidays exploring the countries and doing staycations.
If you're planning for a trip to Singapore in December 2022, I highly recommend that you book your tickets and hotels as soon as possible because flight and hotel prices usually get very expensive during the year-end holiday.
Christmas is a popular festival in Singapore. Everywhere you go, you will see Christmas decorations and hear Christmas songs. Everyone will be in a festive mood.
There will be Christmas-themed menu in most restaurants. Restaurants will get fully booked most of the nights, so if you're planning to visit a popular restaurant, do make an advance reservation.
The city center and tourist attractions will be quite crowded in December, especially on Christmas Eve and New Year's Eve. If you like festive mood and crowds, you'll love Orchard Road, Marina Bay, Sentosa and Clarke Quay. Otherwise, avoid those places.
Speaking of New Year's Eve, there will be fireworks at Marina Bay. I'll elaborate more in the "New Year's Eve" section, further down in this article.
Singapore's Weather in December
December is in the Early Northeast Monsoon period (Wet Phase). According to Meteorological Service Singapore, during this month, there is a widespread continuous moderate to heavy rain, with winds blowing at 25-35 km/h at times. In simple words, there will be long rains with moderate to heavy intensity, accompanied with strong wind.
Based on historical data between 1991 to 2020, December is WETTEST month in Singapore. On average, it rains 19 days out of 31 days. Showers occur occasionally in the afternoon and early evening. It's best to bring an umbrella if you're planning for outdoor activities.
I recommend that you bookmark Singapore's weather website, which is a very useful website to see current rain area & intensity, and to check the rain forecast for the next 4 days.
December's temperature hovers between 24 to 31 degrees Celsius (75 to 88 degrees Fahrenheit). Generally, the temperature in Singapore doesn't differ much from month to month.
In December, the sun rises between 6.51am (1 Dec) to 7.05am (31 Dec) and sunset occurs between 6.55pm (1 Dec) to 7.08pm (31 Dec).
Travel Deals & Promotion
Free admission to Sentosa Express monorail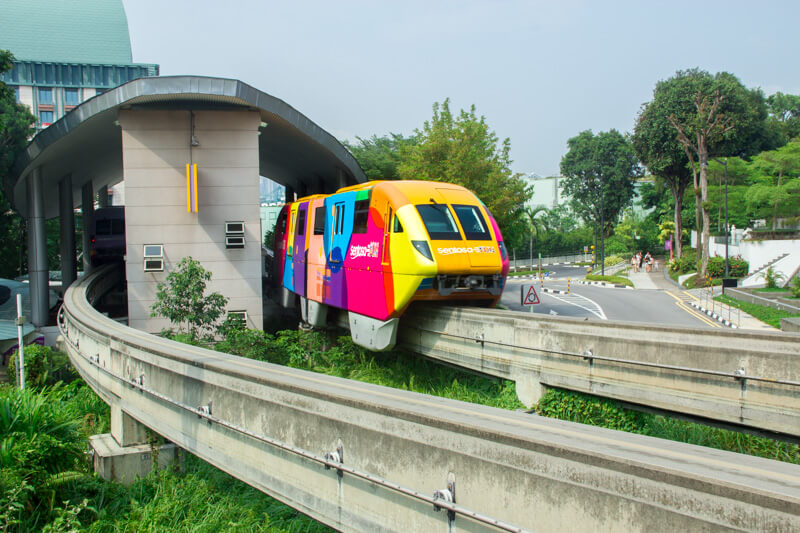 Sentosa is offering free admission to Sentosa Express monorail (U.P. S$4) until 31 Dec 2022. That means, everyone (locals and tourists) can simply go to Sentosa Express station at Level 3 of VivoCity, and ride the monorail to Sentosa island for free.
How it works: if you have an EZ-Link card, just tap your EZ-Link at the gate. Otherwise, if you do not have EZ-Link card, just inform the staff and they'll allow you to enter.
Things to do in Singapore in December 2022
1. Christmas Light-Up at Orchard Road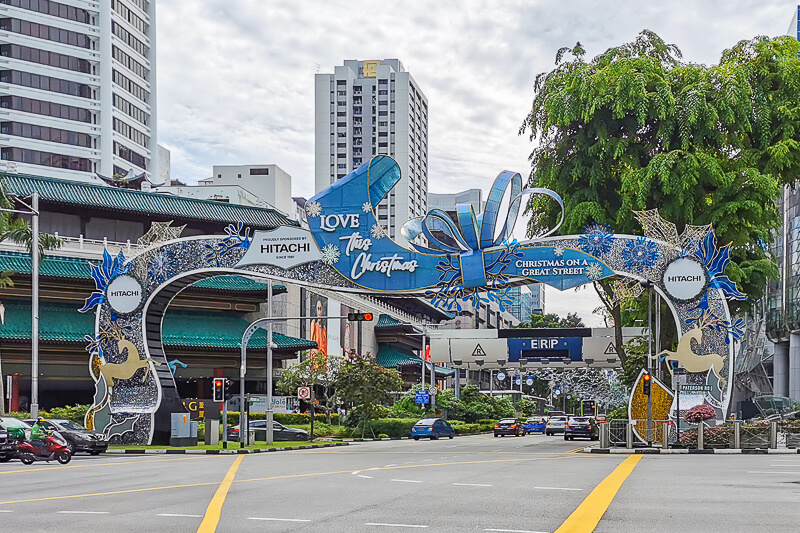 After 2 years of quiet Christmas celebration, the Christmas Light Up and Celebration at Orchard Road will come back at a bigger scale this year.
Christmas Light Up will be taking place along the entire Orchard Road, plus Tanglin Road, from 12 November 2022 to 2 January 2023.
The Great Christmas Village makes a comeback after a 2-year hiatus. The village will be located at Ngee Ann City Civic Plaza from 7 Dec 2022 to 2 Jan 2023, and will feature amusement rides, live music, carousel, inflatable bouncer, street food and many other fun activities.
On the façade of the Mandarin Gallery facing Ngee Ann City, there will be 10-min multimedia 3D projection show with augmented reality taking place each night from 7pm to 10pm. There will also be a countdown clock for Christmas Day and the New Year's Eve celebrations at the same location.
2. Christmas Wonderland at Gardens by the Bay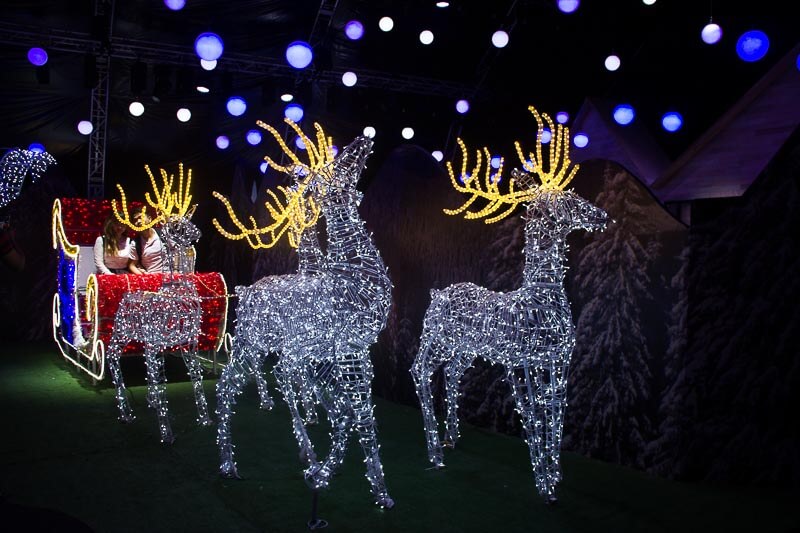 Christmas Wonderland is an annual Christmas event that takes place at the outdoor gardens of Gardens by the Bay. There will be Christmas Market, Christmas installations, amusement rides, carnival games and sometimes Santa Meet & Greet.
Details for Christmas Wonderland 2022 have not been announced yet, at the time of writing.
Date: 2 December 2022 to 1 January 2023
Admission: TBA
Address: 18 Marina Gardens Drive, Singapore 018953
3. Standard Chartered Singapore Marathon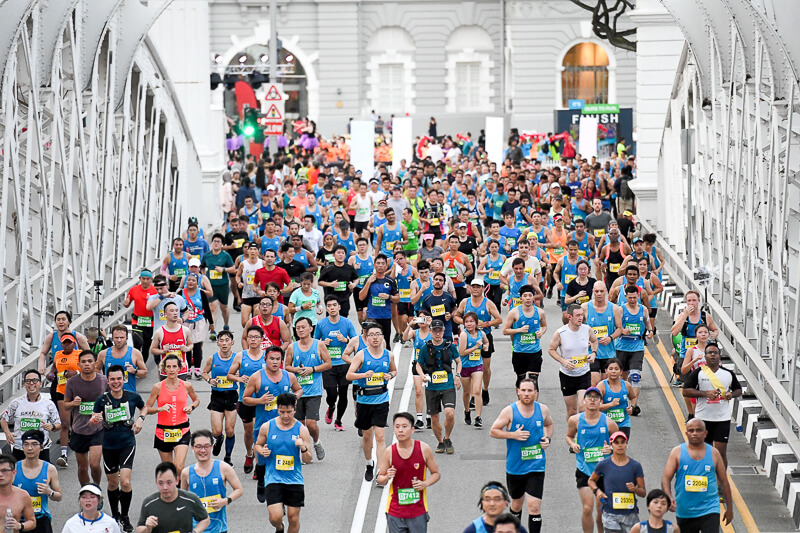 Standard Chartered Singapore Marathon is an annual road race held in the first week of December. If you're an avid runner, you don't want to miss this event.
There are 5 distances: Full Marathon (42.195km), Half Marathon (21.1km), 10km, 5km and Kids Dash. If you're up for challenges, you can get a bundle of 2 distances.
There is no ballot exercise, but there is tiered pricing. The earlier you register, the cheaper you pay. Standard Chartered customers from selected countries will enjoy discounts.
I have joined the race for more than 5 times and it's certainly the best running race in Singapore in my opinion.
4. Avatar: The Experience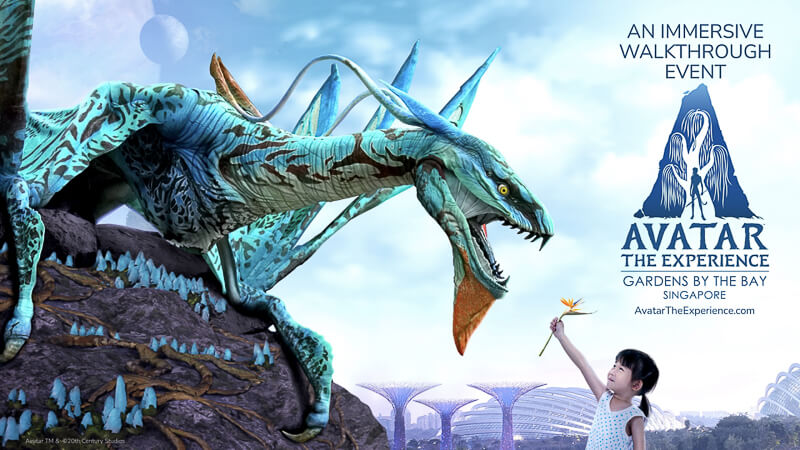 Avatar: The Experience is an immersive walk-through experience based on the movie AVATAR. Set at Cloud Forest, the exhibition will feature five different zones.
Visitors will be able to be immersed in bioluminescent environments and meet face to face with mystical creatures like Ilu, a new marine creature from the upcoming movie Avatar: The Way of Water.
Date: 28 October 2022 to 31 March 2023
Admission: From S$27 onwards
Venue: Cloud Forest at Gardens by the Bay
Address:18 Marina Gardens Drive, Singapore 018953 (location on map)
5. The Doraemon Exhibition Singapore 2022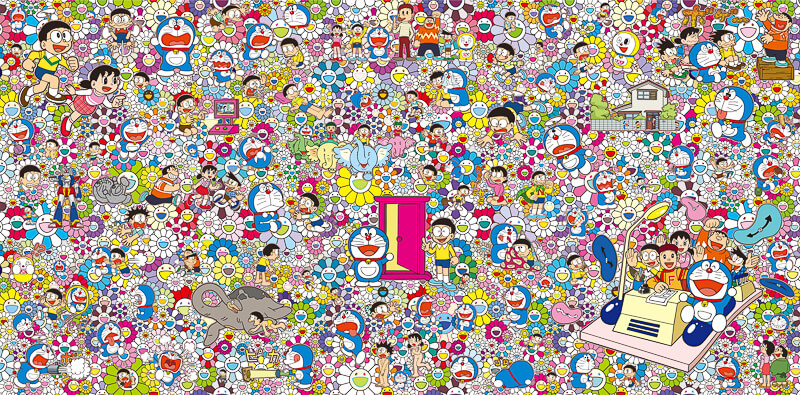 The Doraemon Exhibition Singapore will take place from 5 November 2022 to 5 February 2023 at National Museum of Singapore. It is the first global exhibition outside of Japan.
The exhibition will feature artworks that represent 28 leading artists' memories of Doraemon and their take on Japan's beloved icon, through a mix of ideas, mediums and techniques that include paintings, sculptures, graphics and photography.
Date: 5 November 2022 to 5 February 2023
Admission: S$30 for adults; S$25 for kids
Venue: National Museum of Singapore
Address: 93 Stamford Rd, Singapore 178897 (location on map)
6. Countdown on New Year's Eve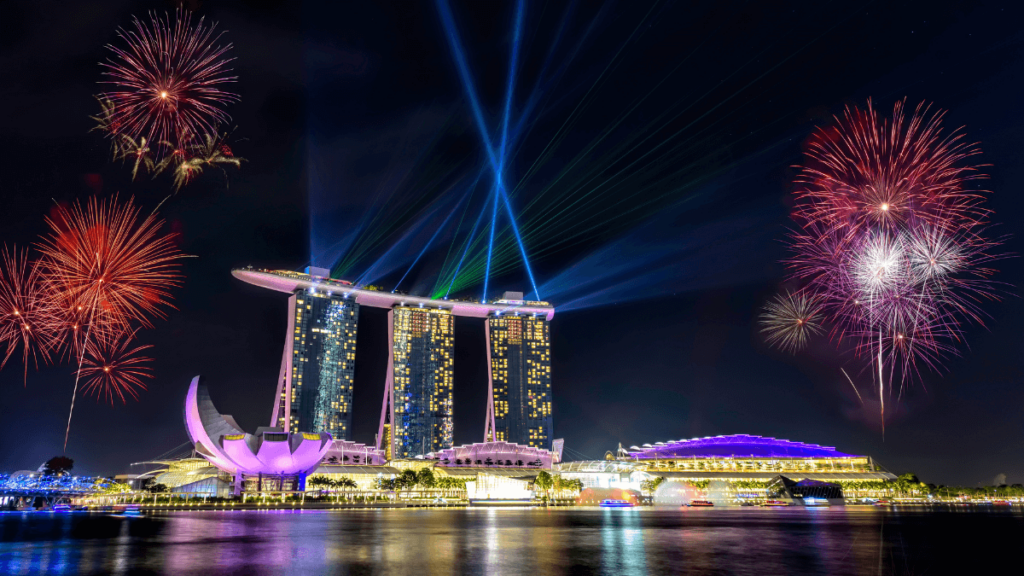 Singapore Countdown 2022-2023 is coming back full scale after a two-year hiatus on 31 December 2022. There are a few ways to watch or celebrate the countdown.
First, you can attend the STAR ISLAND @ The Float, a 70-minute hanabi (fireworks) musical event which features larger-than-life pyrotechnics and dazzling lights, immersive sound and world-class entertainment. Tickets are now on sale, ranging from S$88 to S$318 (VIP experience).
If you prefer to be cozy in your room watching the fireworks, you can consider staying at one of the hotels that face the Marina Bay, such as Marina Bay Sands, Fullerton, Fullerton Bay, Mandarin Oriental, Swissotel The Stamford, and Capitol Kempinski. These rooms are sold out quite early, so do book them in advance.
For the budget-oriented folks, you can watch the countdown and fireworks for free at Marina Bay area. BUT.. you need to be there really early, like 4pm to "reserve a standing spot". If you go to Marina Bay area too late, like 9pm+, you won't be able to enter the area around Marina Bay because they will be blocked by security to prevent over-congestion.
Lastly, if you dislike crowd and dislike paying extravagant fee, you can always watch the countdown live from the internet.
What else to do in Singapore
If you haven't yet, I highly recommend that you read my guide on the best things to do in Singapore. In that article, you'll find 60+ ideas to make your trip to Singapore a memorable one.
If you have any questions about traveling in Singapore, join All About Singapore Travel Facebook group and post your questions there to get a faster response from me and other members.
If you like my work, you can buy me a coffee! Your support will help me to keep going!