February is the shortest month, but it's the month full of love nonetheless!
The Valentine's Day is celebrated by many couples as well as families in Singapore. Certain restaurants, hotels and attractions with limited seats/occupancy will most likely be fully booked for 14 February. Flower bouquets price will likely rise in the days leading up to the Valentine's.
If you're looking for accommodation during the Valentine's, I'd recommend booking it asap because the earlier you book, the more you can save.
The first week of February is chock full of cultural festivities. Chingay Parade will be held on 3-4 Feb 2023, and Thaipusam Festival will be held on 4-5 Feb 2023. More details further down in this article.
Singapore's Weather in February
February is in the late Northeast Monsoon period. The wet phase of the monsoon has passed, and February will be relatively dry and windy! There will still be hot days, but it's windy enough that you won't sweat too much.
Based on historical data between 1991 to 2020, it rains 9 days out of 28 days. So, it will only rain 30% of the month. That makes February a pretty dry month.
In terms of wind speed, February is the windiest month in the entire year, at 3m/s! You'll want to avoid wearing loose clothing and accessories that can fly off easily when you're out and about.
I recommend that you bookmark Singapore's weather website, which is a very useful website to see current rain area & intensity, and to check the rain forecast for the next 4 days.
February's temperature hovers between 24.6 to 31.5 degrees Celsius (76.3 to 88.7 degrees Fahrenheit). Generally, the temperature in Singapore doesn't differ much from month to month.
In February, the sun rises between 7.14am (28 Feb) to 7.16am (1 Feb) and sunset occurs between 7.19pm (28 Feb) to 7.20pm (1 Feb).
Things to do in Singapore in February 2023
1. Chingay Parade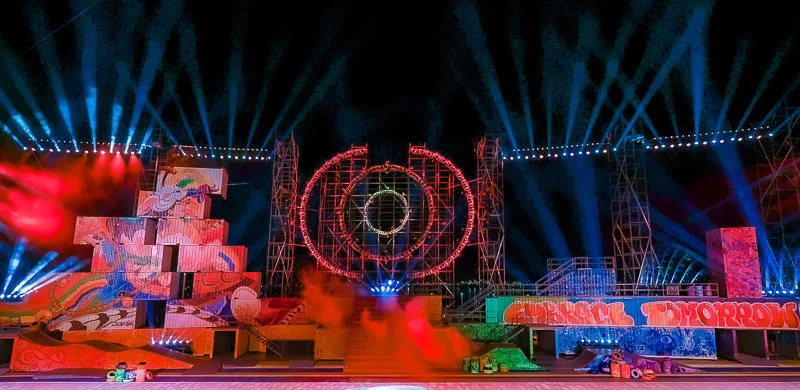 Have any questions about traveling in Singapore? Join All About Singapore Travel FB group, I'll be there to answer your questions!
Chingay is an annual event taking place during Chinese New Year. It is one of the biggest events in Singapore featuring thousands of performers, elaborate stage setup and costumes, and plenty of beautiful parade floats.
The parade will be held on two days only, 3 and 4 February 2023. The ticket starts from $20 and Passion Card members can get 20% discount. If you can't get the ticket cos it's sold out, you can walk in to the "standing area", it's free of charge but admission is on a first-come-first-served basis.
After the parade is over, there will be free admission to the community art installations where you can get up close and personal with the floats and art installations used during the parade.
Read my article on Chingay Parade 2023.
Date: 3 & 4 February 2023 (Parade), 5-9 February 2023 (Art Installations)
Admission: Free
Address: F1 Pit Building
2. Thaipusam Festival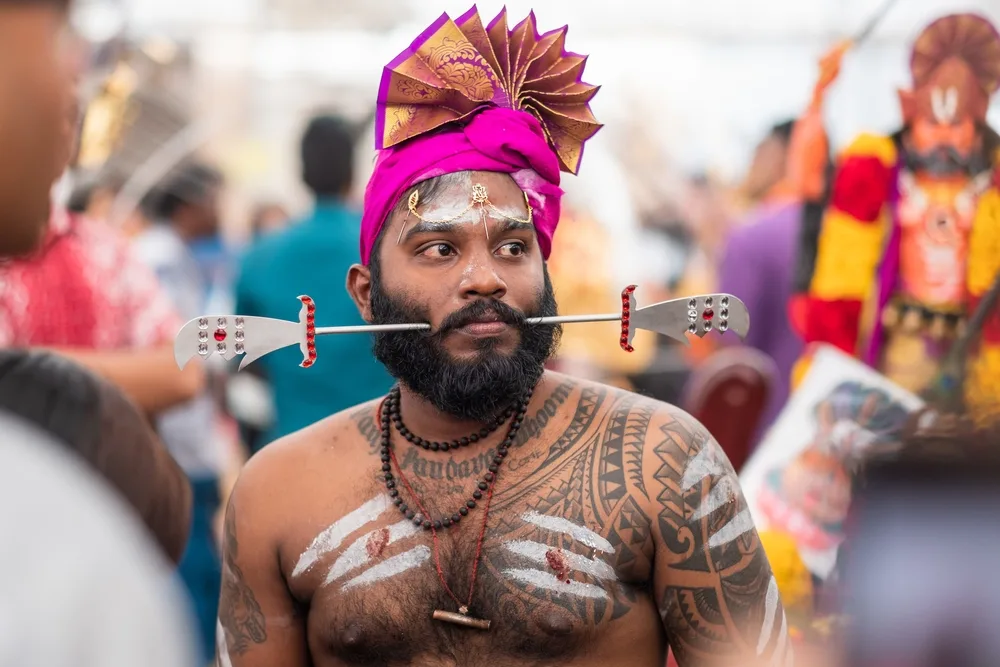 Thaipusam is a Hindu festival celebrated on the full moon day in the Tamil month of Thai. It is celebrated in the honour of Lord Subramaniam (also known as Lord Murugan), the destroyer of evil who represents virtue, youth and power.
During the festival, Hindu devotees will walk about 4km from Sri Srinivasa Perumal Temple (on Serangoon Road) to Sri Thendayuthapani Temple (on Tank Road). To participate, devotees need to do online registration on Thaipusam.sg website.
The procession starts from 11.30pm on 4 Feb 2023 at Sri Srinivasa Perumal Temple, and all devotees have to complete their walk/ vows and reach Sri Thendayuthapani Temple by 11pm on Thaipusam Day which is 5 Feb 2023.
During the procession, devotees will be carrying a statue of the Lord Murugan, milk pot offerings (paal kudam), and kavadis (ceremonial devices used for religious self mortification in Hinduism).
Non-devotees can watch the procession by standing behind the barricades along the procession route. Registration is not required for non-devotees. It's recommended to watch it early in the morning of 5 Feb.
Date: 4 & 5 February 2023
Admission: From S$15 onwards to participate; Free to watch
Address: From Sri Srinivasa Perumal Temple (SSPT) to Sri Thendayuthapani Temple (STT)
3. Dahlia Dreams at Gardens by the Bay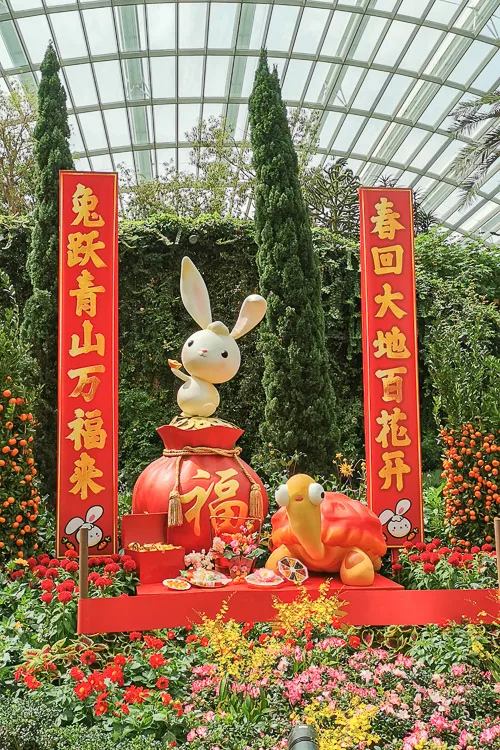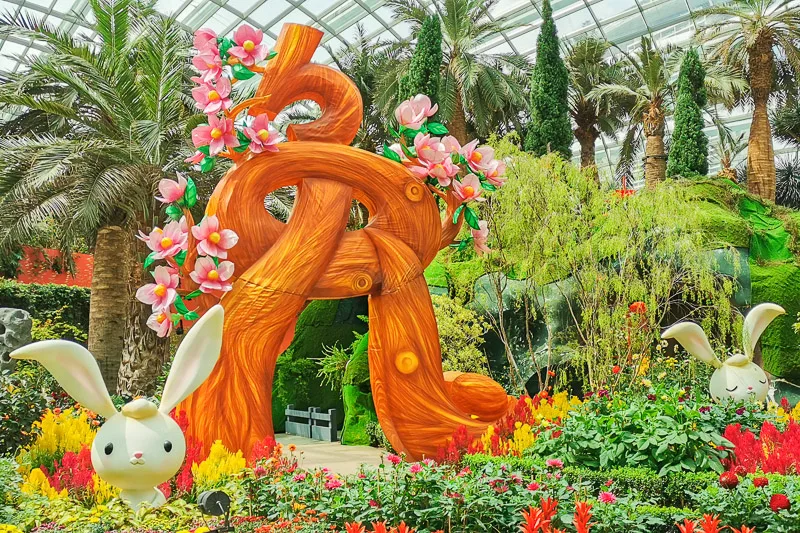 To celebrate the bountiful Year of Rabbit, the Flower Dome conservatory will feature 100 rabbit figurines, auspicious and vibrant dahlias, springtime blooms, as well as a majestic magnolia tree. Read my article on Dahlia Dreams at Flower Dome 2023.
Date: 13 January 2023 to 26 February 2023
Admission: From S$20 onwards (include Supertree)
Address: 18 Marina Gardens Drive, Singapore 018953
4. Chatuchak Night Market Singapore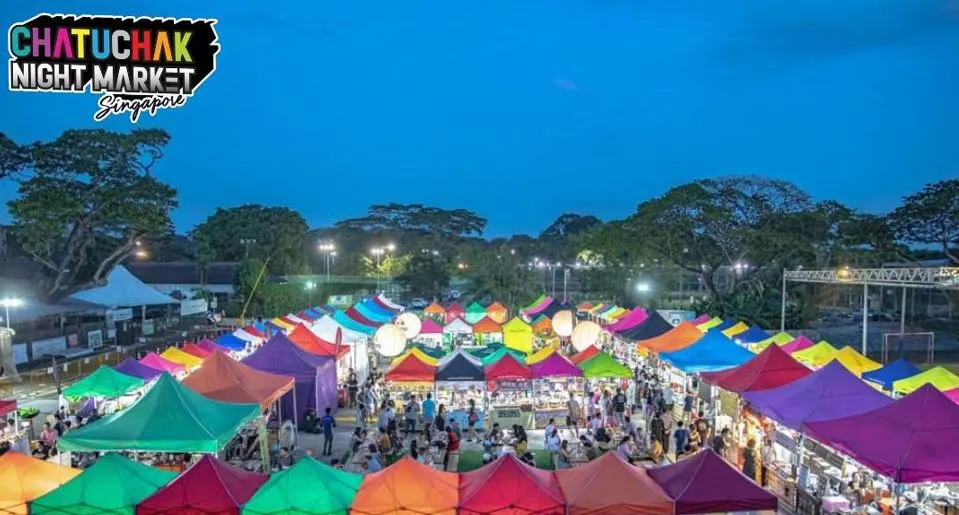 Are you missing Chatuchak Market in Bangkok? Well, if you're in Singapore between 7 Feb – 2 Apr, don't miss out Chatuchak Night Market Singapore.
Returning for the second time, this open-air night market features 180 vendors, 60 of which are from Thailand. You can expect Thai food from various provinces in Thai, as well as Thai merchandises.
Date: 7 February 2023 to 2 April 2023, 4pm-10pm, Tuesdays to Sundays
Admission: Free
Address: The Grandstand, 200 Turf Club Road, Singapore 287994
5. Artbox Singapore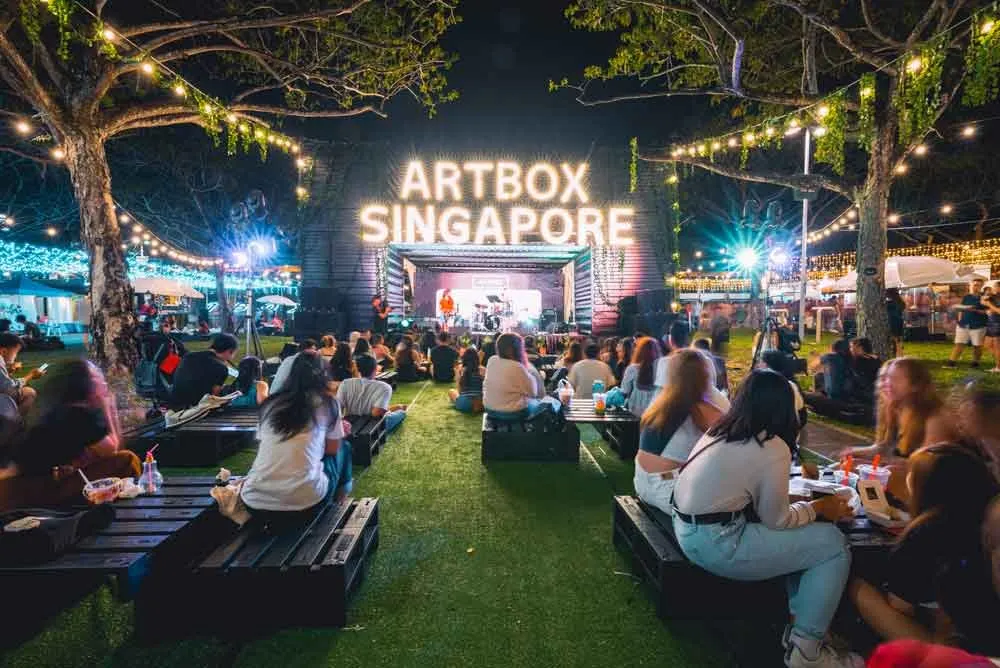 Artbox is a creative pop-up market combined with delicious food, craft, music, and art installations. Usually held outdoor, this year's Artbox Singapore will be held indoor at Singapore Expo.
There will be almost 300 booths at the event, featuring vendors from Singapore, Thailand, Malaysia and Taiwan. Bangkok Michelin Bib Gourmand eatery Tang Jai Yang will also be there, selling Cantonese-style barbecue pork for the first time in Singapore.
One thing you should not miss out is The Beam of Pain. This mini obstacle course features a 15m balancing beam lined with acupuncture mats. The fastest and bravest challenger to conquer this will win S$888!
Date: 24-26 February 2023 & 3-5 March 2023, 12pm-11pm
Admission: From S$5.50 onwards
Address: 6 Expo Drive, Singapore 486041 (Singapore Expo Hall 6)
6. Avatar: The Experience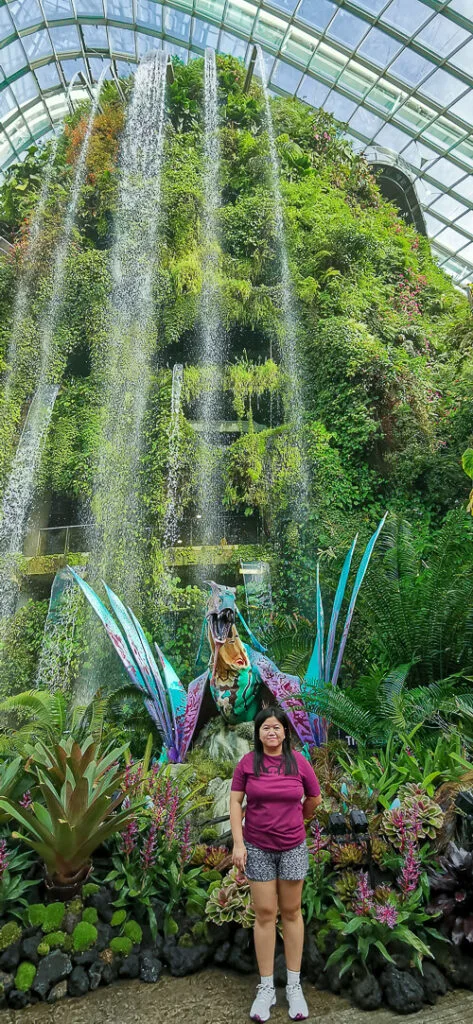 Avatar: The Experience is an immersive walk-through experience based on the movie AVATAR. Set at Cloud Forest, the exhibition will feature five different zones.
Visitors will be able to be immersed in bioluminescent environments and meet face to face with mystical creatures like Ilu, a new marine creature from the upcoming movie Avatar: The Way of Water.
Date: 28 October 2022 to 31 March 2023
Admission: From S$27 onwards
Venue: Cloud Forest at Gardens by the Bay
Address:18 Marina Gardens Drive, Singapore 018953 (location on map)
What else to do in Singapore
If you haven't yet, I highly recommend that you read my guide on the best things to do in Singapore. In that article, you'll find 60+ ideas to make your trip to Singapore a memorable one.
If you have any questions about traveling in Singapore, join All About Singapore Travel Facebook group and post your questions there to get a faster response from me and other members.
If you like my work, you can buy me a coffee! Your support will help me to keep going!