Most of the time, including 2023, January is the month where the Chinese community in Singapore celebrate the Chinese New Year. The Chinese New Year period lasts for 15 days, but only Day 1 and Day 2 are the official Public Holiday.
In 2023, the Chinese New Year holiday's dates are 22 and 23 January 2023 (Sunday & Monday). Street decorations and festive fair start as early as first of Jan.
Read my article on Chinese New Year Events in Singapore.
January is not as crowded as December, but it is still a high month in terms of tourist arrival. That's because Chinese New Year is a public holiday in many Asian countries, and many travelers plan to spend CNY in Singapore. So, if you're visiting Singapore during Chinese New Year Period, make your hotel bookings early.
Another thing (or two) to note about Chinese New Year period in Singapore is this: the city (esp Chinatown) will be very crowded on the days leading to CNY. But, on the CNY Day 1 and Day 2, crowd level goes down significantly because most shops and restaurants are closed for the holiday. Here's my survival guide for traveling to Singapore during Chinese New Year.
Singapore's Weather in January
January is in the Northeast Monsoon period, which has 2 phases: wet and dry.
The early part of January is in the Wet Phase, where there will be long rains with moderate to heavy intensity, accompanied with strong wind. Based on historical data between 1991 to 2020, it rains 13 days out of 31 days.
Meanwhile, the later part of January is in the Dry Phase. The rain frequency and intensity will be lesser compared to the earlier part of the month. And the best thing is, it will be relatively dry and windy!
I really love the windy season of Singapore! I love having a cool, but not wet season.
I recommend that you bookmark Singapore's weather website, which is a very useful website to see current rain area & intensity, and to check the rain forecast for the next 4 days.
January's temperature hovers between 24.3 to 30.6 degrees Celsius (75.7 to 87 degrees Fahrenheit). Generally, the temperature in Singapore doesn't differ much from month to month.
In January, the sun rises between 7.06am (1 Jan) to 7.15am (31 Jan) and sunset occurs between 7.09pm (1 Dec) to 7.19pm (31 Jan).
Things to do in Singapore in January 2023
1. Visit Chinatown to see the Chinese New Year Decoration and Light Up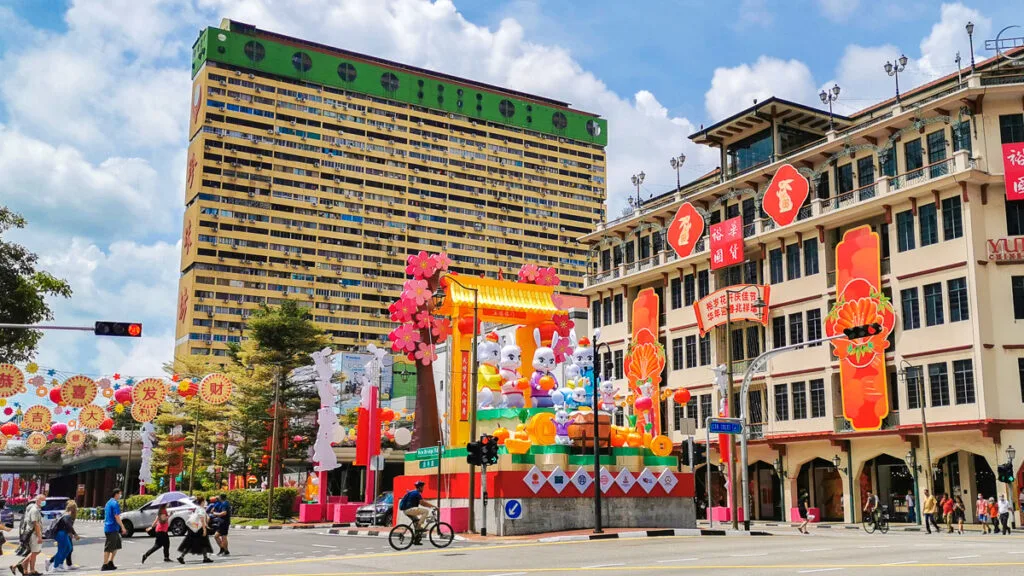 Have any questions about traveling in Singapore? Join All About Singapore Travel FB group, I'll be there to answer your questions!
Chinatown is the epicenter of Chinese New Year in Singapore. It's where you can see the street light-up and decorations, buy bak kwa, pomelo and other CNY necessities.
This year's CNY theme is "Leaping into the Prosperous Year of Rabbit", which signifies a year of rebirth, resurrection and vitality. Read my article on Chinese New Year at Chinatown 2023.
Date: 3 January 2023 to 19 February 2023
Admission: Free
Address: New Bridge Road, Eu Tong Sen, South Bridge Road and Upper Cross Street.
2. Chinatown Countdown Party on Chinese New Year's Eve
This year, Chinatown Countdown Party is making a comeback. It will be held at Kreta Ayer Square on the eve of Chinese New Year. The party will be broadcasted live on Channel 8 from 10.30pm and will feature a line-up of performances from Mediacorp artistes.
Date: 21 January 2023, 10.30pm to 1am
Admission: Free
Address: 21 Banda St, Singapore 050005 (Kreta Ayer Square)
3. Dahlia Dreams at Gardens by the Bay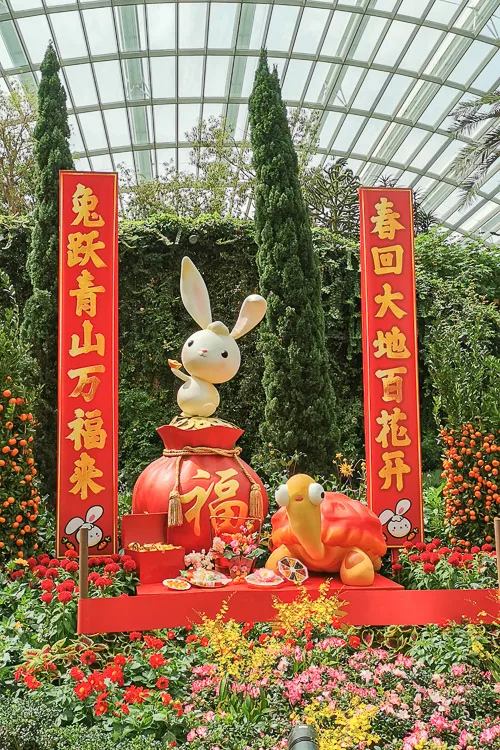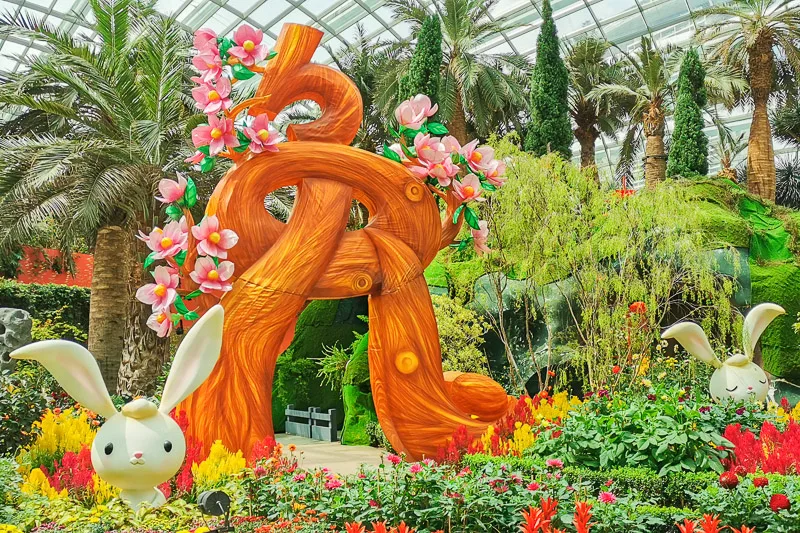 To celebrate the bountiful Year of Rabbit, the Flower Dome conservatory will feature 100 rabbit figurines, auspicious and vibrant dahlias, springtime blooms, as well as a majestic magnolia tree. Read my article on Dahlia Dreams at Flower Dome 2023.
Date: 13 January 2023 to 26 February 2023
Admission: From S$20 onwards (include Supertree)
Address: 18 Marina Gardens Drive, Singapore 018953
4. River Hongbao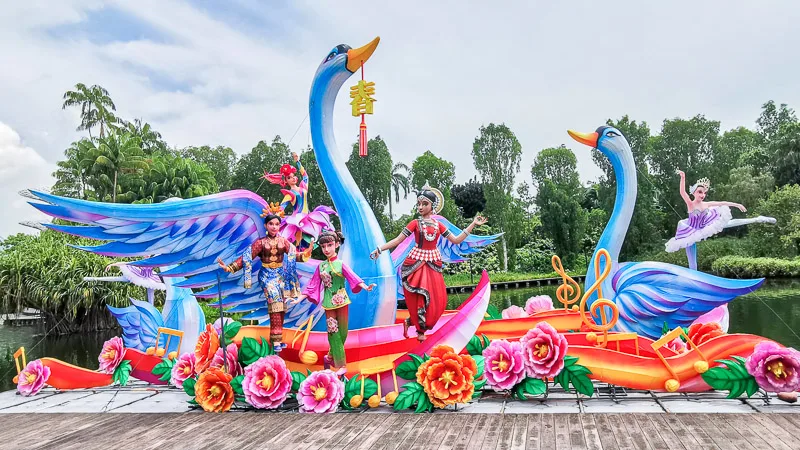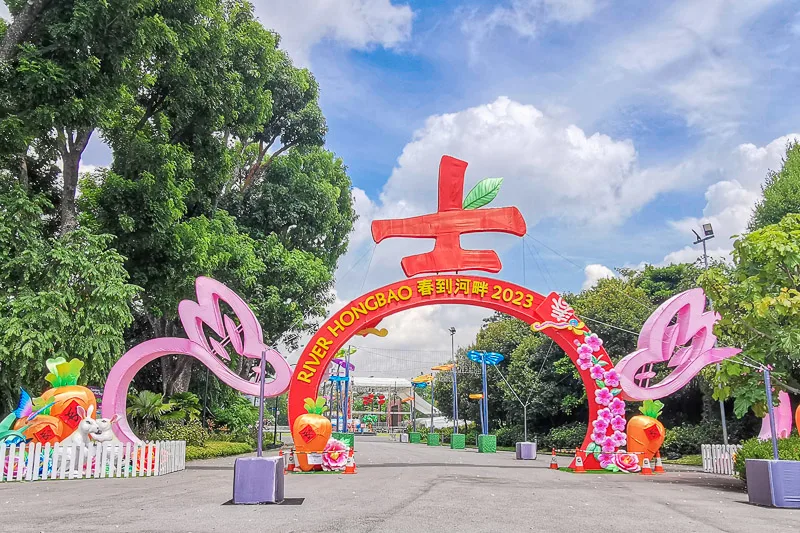 River Hongbao is an annual festival that features giant glowing lanterns, carnival rides and games, as well as performances by getai singers and local artistes. Read my article on River Hongbao 2023.
Date: 20 January 2023 to 28 January 2023
Admission: Free
Address: 18 Marina Gardens Drive, Singapore 018953
5. Light to Night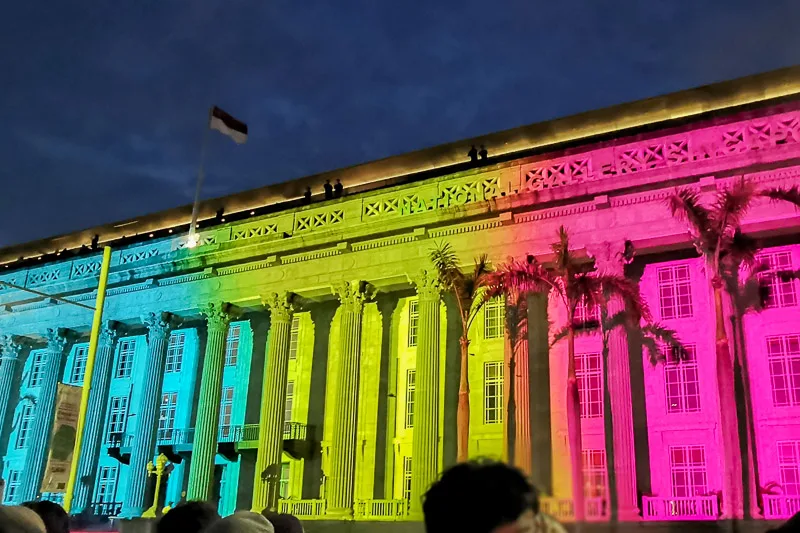 Light to Night 2023 is a festival organised by National Gallery Singapore which showcases art installations, light projection, exhibitions, live performances festival market, as well as activities in the Civic District, from museums to malls.
Date: 6 January 2023 to 26 January 2023
Admission: Free
Location: Various places in Civic District
What else to do in Singapore
If you haven't yet, I highly recommend that you read my guide on the best things to do in Singapore. In that article, you'll find 60+ ideas to make your trip to Singapore a memorable one.
If you have any questions about traveling in Singapore, join All About Singapore Travel Facebook group and post your questions there to get a faster response from me and other members.
If you like my work, you can buy me a coffee! Your support will help me to keep going!