July is a somewhat busy season for travel in Singapore! Even though there isn't any public holiday this month, both locals and tourists are busy traveling during the school holiday.
If you're planning to visit Singapore in July, here's what you need to know.
Singapore's Weather in July
July is a Southwest Monsoon Season in Singapore. During this time, there will be occasional "Sumatra Squalls" with wind gusts of 40-80 km/h occurring between the predawn hours and midday. Short duration showers/thunderstorms in the afternoon are also common.
Despite the thunderstorms, the afternoon temperature is considerably hot, with maximum temperature around 31.4°C.
Based on historical data between 1991 to 2020, it rains 14 days out of 31 days. So, it will rain 45% of the month.
I recommend that you bookmark Singapore's weather website, which is a very useful website to see current rain area & intensity, and to check the rain forecast for the next 4 days.
Most of the rains have pretty short duration. So you don't have to cancel your plan if the forecast is rain. Just bring foldable umbrella if you're planning to explore the outdoors.
July's temperature hovers between 25.4 to 31.4 degrees Celsius (77.7 to 88.5 degrees Fahrenheit). Generally, the temperature in Singapore doesn't differ much from month to month.
In July, the sun rises between 7.02am (1 Jul) to 7.05am (31 Jul) and sunset occurs between 7.14pm (1 Jul) to 7.16pm (31 Jul).
Things to do in Singapore in July 2023
1. Visit the NEW Bird Paradise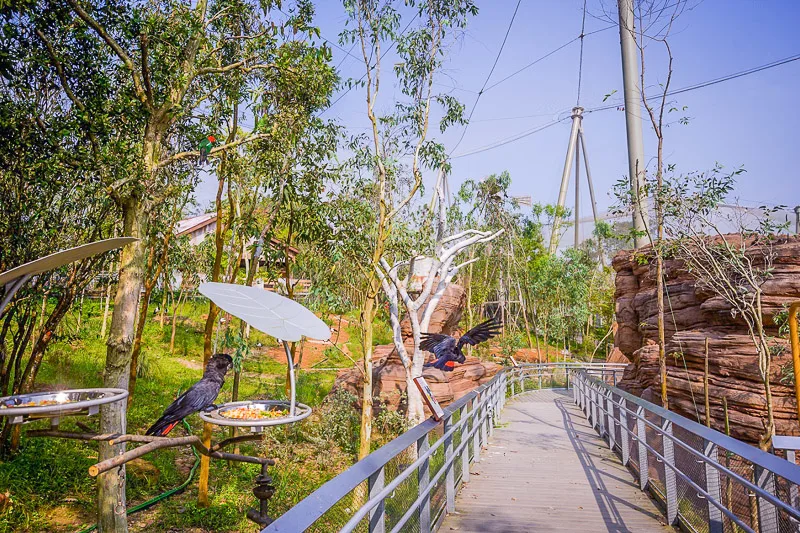 Have any questions about traveling in Singapore? Join All About Singapore Travel FB group, I'll be there to answer your questions!
Open from 8 May 2023, Bird Paradise is a brand new bird park that houses all the residents of the former Jurong Bird Park. Here, there are over 3,500 birds and 400 species. From Flamingoes to Penguins, you will be delightfully surprised at every turn.
Do not miss out Wings of the World show and Predators on Wings show where you can witness the amazing talents of the birds. Also, do visit the hidden gem, Crimson Wetlands where you can see spectacular indoor waterfall.
Admission: From S$33 onwards
Venue: Bird Paradise
Address: 20 Mandai Lake Road, Singapore 729825
2. Rose Romance at Flower Dome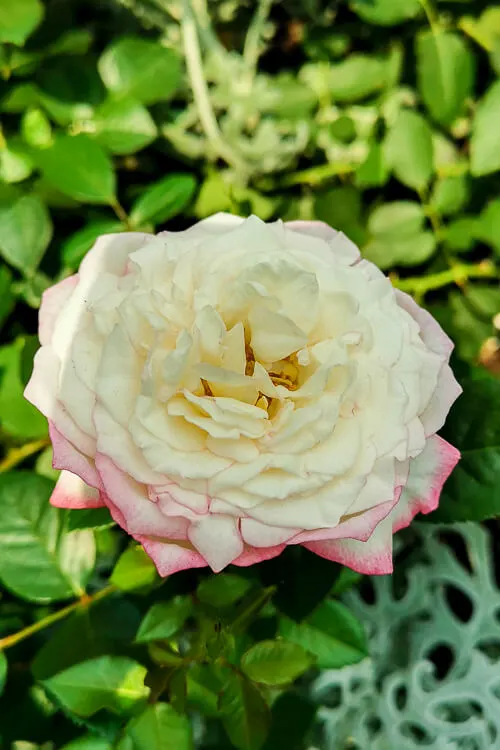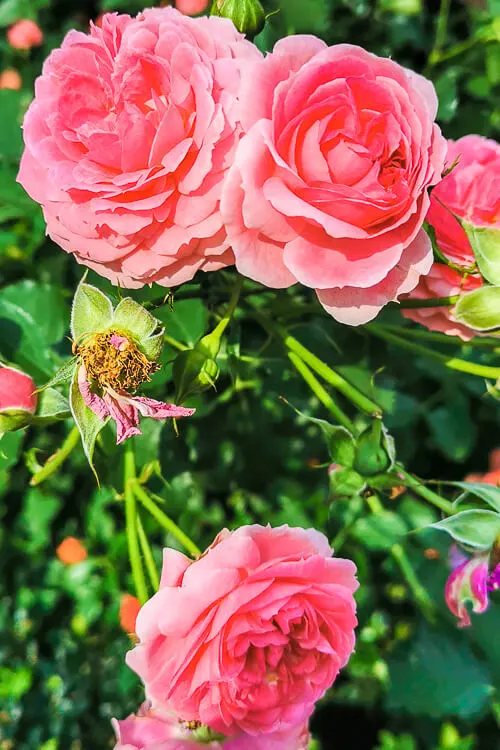 From 2 June to 16 July 2023, Flower Dome at Gardens by the Bay will be filled with the Queen of Flowers: the Roses.
This year's Rose Romance floral display features various types of roses (from standard, shrub to miniature roses) set amidst the quaint town of Alberobello, well known for its conical roofed stone huts that was listed as a UNESCO World Heritage Site.
Date: 2 June to 16 July 2023
Admission: From S$18 onwards (include Supertree)
Venue: Flower Dome at Gardens by the Bay
Address: 18 Marina Gardens Drive, Singapore 018953
3. Orchid Extravaganza at Flower Dome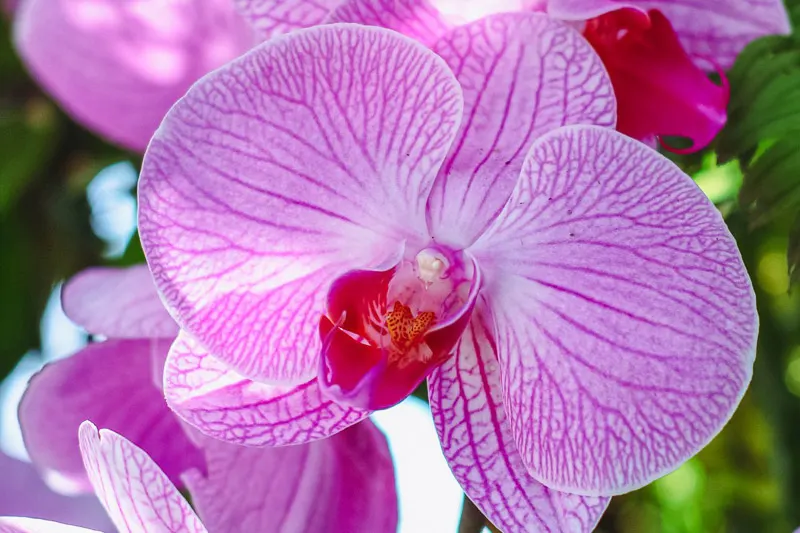 Did you know that Vanda Miss Joaquim orchid is Singapore's national flower? If you love orchid, head to Flower Domes at Gardens by the Bay from 28 Jul to 17 Sep 2023. During the Orchid Extravaganza display, the flower field will be full of orchids of various species and colors.
Date: 28 Jul to 17 Sep 2023
Admission: From S$18 onwards (include Supertree)
Venue: Flower Dome at Gardens by the Bay
Address: 18 Marina Gardens Drive, Singapore 018953
4. Singapore National Day Parade Fireworks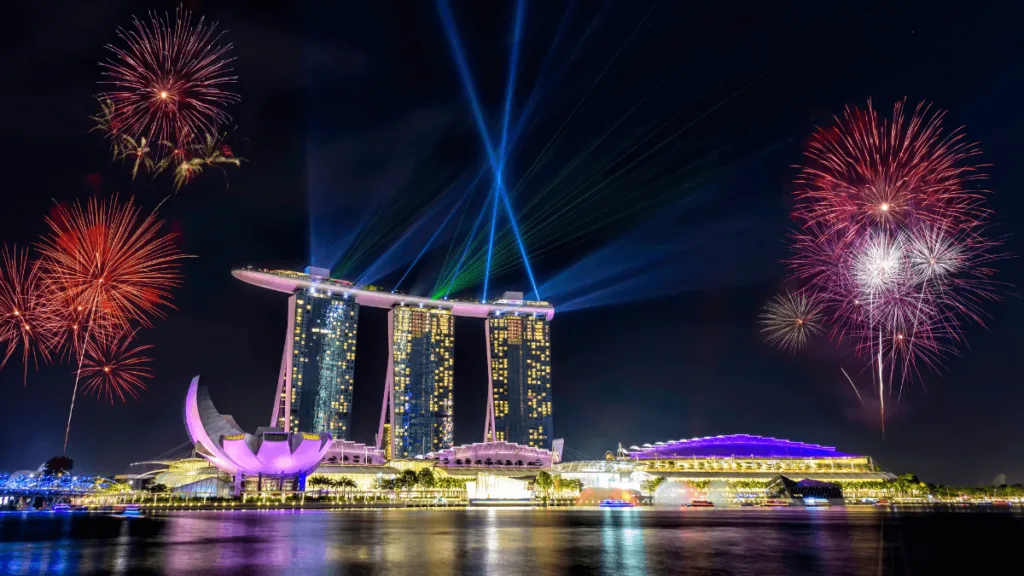 National Day Parade (NDP) is an annual event that celebrates Singapore's National Day on 9 August. Even though the actual NPD takes place on 9 August, there are various rehearsal and preview sessions where you can watch the NDP fireworks.
Read my guide: Best Spots to Watch Singapore National Day Fireworks
Date: 22 July 2023 (NDP Preview), 29 July 2023 (NDP Preview), 9 August 2023 (NDP Actual Day)
Admission: NDP event requires ticket, but public can watch fireworks without joining the event
Venue: various places at Marina Bay
5. Lazada Run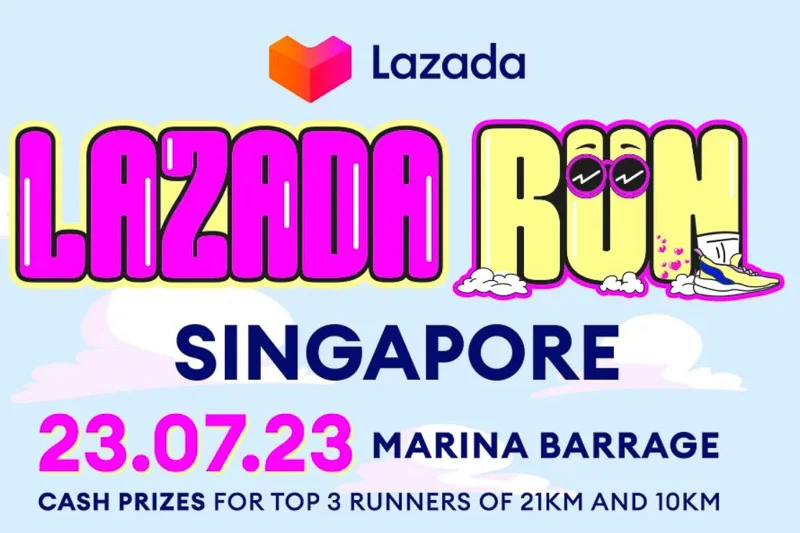 Are you a runner? You might want to consider joining Lazada Run. There are various distances you can choose from: 5km, 10km and 21km. The route brings you around scenic places at Marina Bay. It's a great way to sightsee a country through an unconventional but fun way.
Date: 23 July 2023
Registration date: before 30 June 2023 (register here)
Admission: SGD 30 – 80
Venue: Marina Barrage
6. Singapore Food Festival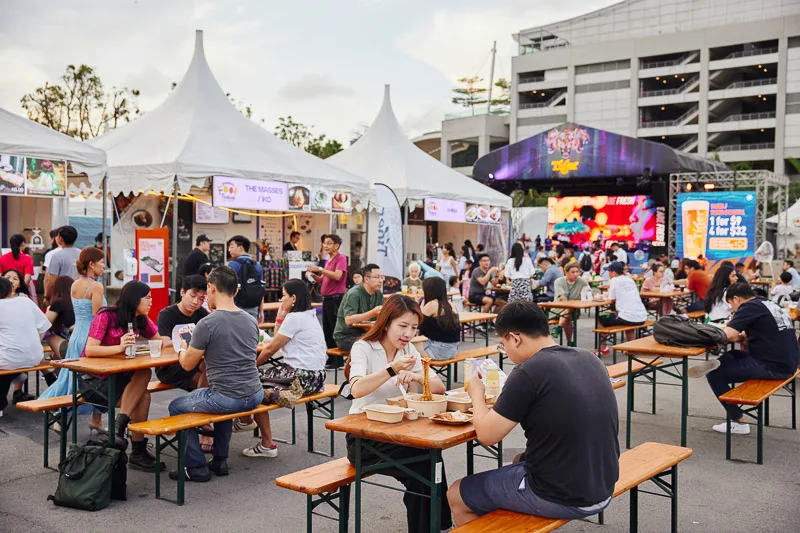 Singapore Food Festival 2023 is an annual food festival in Singapore that has been running for 30 years. This year's edition features more than 100 brands, each bringing unique creations to the table.
Occupying over 17,000m2 at Bayfront Event Space, Singapore Food Festival 2023 is the largest-ever Festival Village in Singapore.
The Festival will be divided into 4 zones: SG Food Walk, Food Cartel, Café Boulevard and Sweets Alley. Beside food, there will also be tours, workshops and fringe events. If you're a foodie, this is an event you don't want to miss.
Date: 19-30 July 2023
Opening hours: 5pm-10.30pm (Mon-Fri), 10.30am-10.30pm (Sat, Sun)
Location: Bayfront Event Space
Admission: From S$8 per person
7. Van Gogh: The Immersive Experience
Van Gogh: The Immersive Experience is a 360° multi-sensorial exhibition featuring over 300 artworks by the renowned artist Vincent Van Gogh.
his exhibition is ranked as one of the top 12 best immersive experiences by CNN and have received over 5 million visitors since 2017. This particular exhibition in Singapore is the first Van Gogh: The Immersive Experience exhibition in Southeast Asia.
Date: 1 March 2023 to 1 October 2023
Admission: Individual tickets from S$27 onwards, bundle tickets with S.E.A. Aquarium or Universal Studios Singapore from S$69 onwards
Venue: Resorts World Sentosa, B1 Forum
Address: 8 Sentosa Gateway, Singapore 098269 (location on map)
What else to do in Singapore
If you haven't yet, I highly recommend that you read my guide on the best things to do in Singapore. In that article, you'll find 60+ ideas to make your trip to Singapore a memorable one.
If you have any questions about traveling in Singapore, join All About Singapore Travel Facebook group and post your questions there to get a faster response from me
If you like my work, you can buy me a coffee! Your support will help me to keep going!