October is the shoulder season before the year-end festivities kicks off in November. Despite that, there are quite a number of festivities this month.
The most notable event is the F1 Singapore Grand Prix, which takes place in the first weekend of October. During the Grand Prix, there will be a lot of road closure around Marina Bay area. Hence, if you intend to sightsee at Marina Bay, I'd recommend that you avoid sightseeing on the first weekend of October.
In the second half of October 2022, Deepavali will be celebrated nationwide and 24 October 2022 will be a public holiday.
Although not an official holiday, Halloween is also widely celebrated in many venues and attractions. There are events specially dedicated for Halloween, such as Halloween Horror Nights at Universal Studios.
If you love beers, several European (or Germany) restaurants will be offering Oktoberfest deals.
Let's get into the details!
Singapore's Weather in October
October is the start of inter-monsoon period, which lasts from October to November. During this month, the wind is light and brings with it sea breeze.
Based on historical data between 1991 to 2020, October is the fourth wettest month in Singapore in terms of rainfall. On average, it rains 15 days out of 31 days, but the rain is mostly of short duration.
Rain occurs occasionally in the afternoon and early evening. It's best to bring an umbrella if you're planning for outdoor activities.
I recommend that you bookmark Singapore's weather website, which is a very useful website to see current rain area & intensity, and to check the rain forecast for the next 4 days.
October's temperature hovers between 24 to 31 degrees Celsius (75 to 88 degrees Fahrenheit). Generally, the temperature in Singapore doesn't differ much from month to month.
In October, the sun rises between 6.46am (31 Oct) to 6.51am (1 Oct), and sunset occurs between 6.50pm (31 Oct) to 6.57pm (1 Oct).
Travel Deals & Promotion
Free admission to Sentosa Express monorail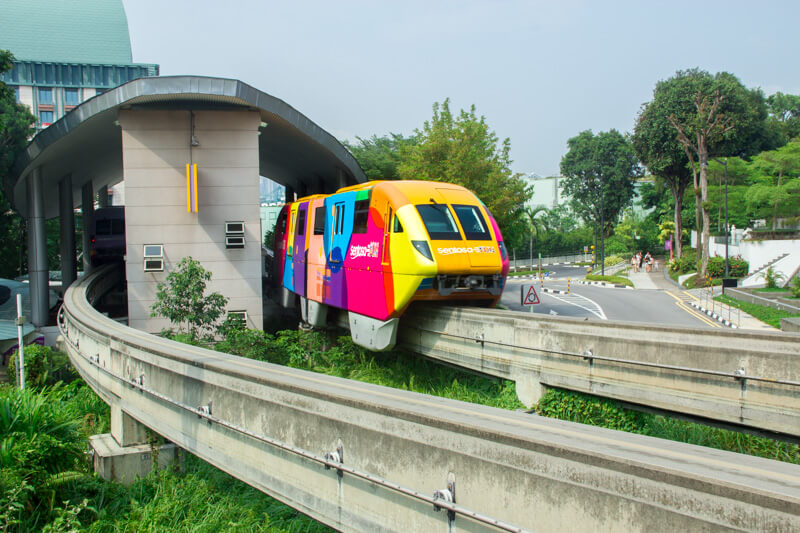 Sentosa is offering free admission to Sentosa Express monorail (U.P. S$4) until 31 Dec 2022. That means, everyone (locals and tourists) can simply go to Sentosa Express station at Level 3 of VivoCity, and ride the monorail to Sentosa island for free.
How it works: if you have an EZ-Link card, just tap your EZ-Link at the gate. Otherwise, if you do not have EZ-Link card, just inform the staff and they'll allow you to enter.
Things to do in Singapore in October 2022
1. Formula 1 Singapore Grand Prix
The Formula 1 Singapore Grand Prix will take place from 30 September (Fri) to 2 October 2022 (Sun) at Marina Bay. Top tier athletes and celebrities will be racing and performing at the event.
The entertainment line-up comprises Marshmello, Westlife, Green Day, Black Eyed Peas, and many others.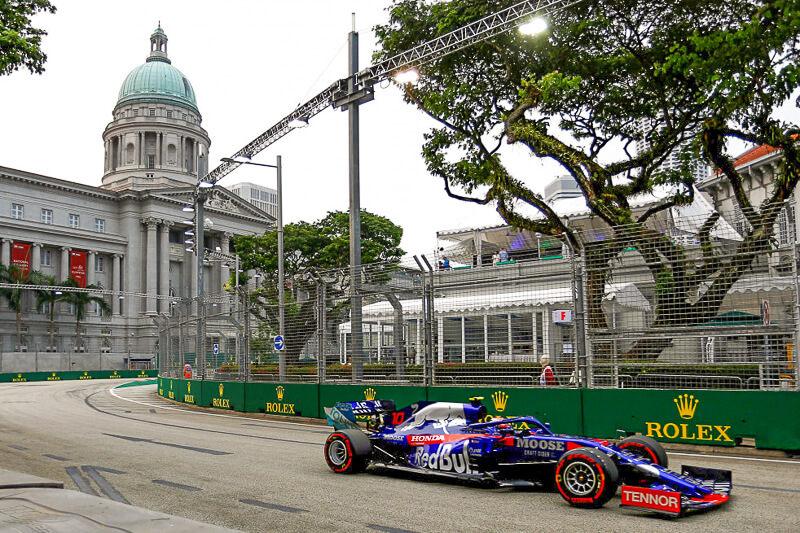 Many travelers are coming to Singapore to participate in this large scale event. Therefore, hotels may be quite occupied in the first week of October 2022.
If you intend to watch the Grand Prix, you should get the tickets ASAP because they're usually sold out quite early. If all the tickets are sold out but you want to see the race, you can book a hotel near the circuit, but the price will definitely be more expensive than normal rate.
As mentioned earlier, if you're not F1 guest, these 3 days are the worst days to do sightseeing around Marina Bay area (especially around Esplanade, Singapore Flyer and Padang) because of road closure.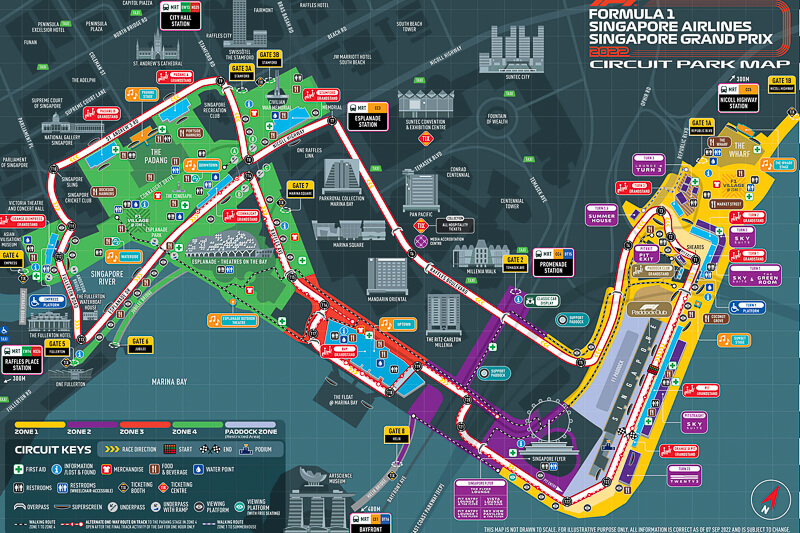 You can still visit The Merlion, but don't expect a beautiful background. Luckily, the area around Marina Bay Sands and The Promontory are not affected by the event.
2. Deepavali
On 24 October 2022, Singapore will be celebrating Deepavali (or Diwali), the festival of lights. It is a public holiday.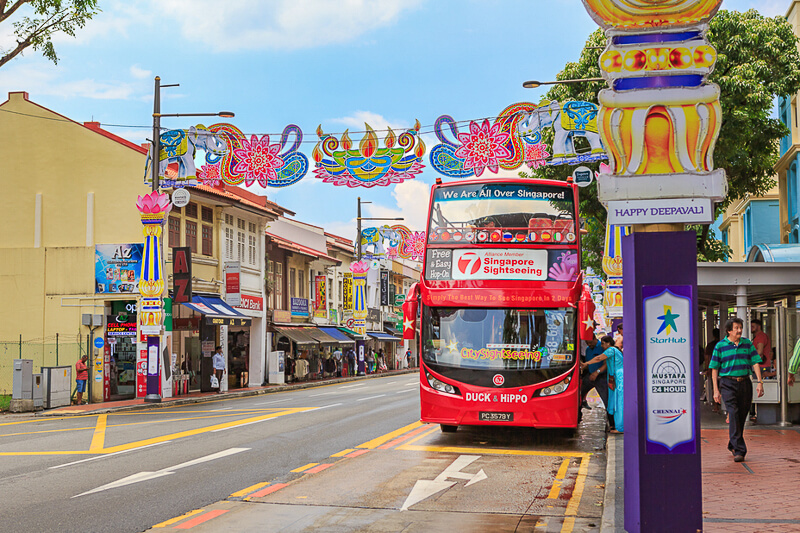 The streets at Little India will be decorated with colorful arches and bright lights. The Deepavali Light-Up will take place from 16 September 2022 until 13 November 2022, along Serangoon Road and Racecourse Road.
At the Deepavali Festival Market (located on Campbell Lane), you can shop for colorful decorations, traditional snacks and deserts, bright apparels among many other festive items.
The two most popular temples to visit for Deepavali are Sri Veeramakaliamman Temple and Sri Mariamman Temple.
There will be a wide array of events and activities being organized (such as Tamil rap competition and treasure hunt). At the time of writing, details are yet to be announced to the public. You can check Deepavali official website to see if there are updates on the events.
3. Halloween
In the weeks leading to Halloween, there are many Halloween-themed events to celebrate the occasion. Some of the noteworthy ones are:
(i) Halloween Horror Nights at Universal Studios Singapore
When: Selected nights from 30 Sep to 5 Nov 2022 (7.30pm to 11.30pm)
Where: Universal Studios Singapore
Ticket: From SGD 68 (Get ticket here)
Website: here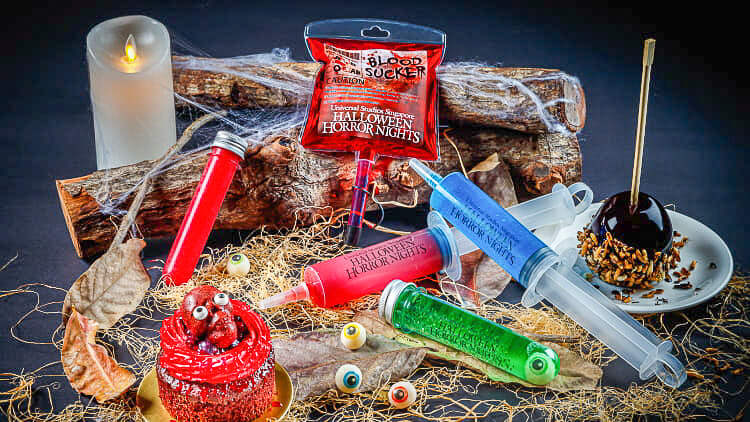 (ii) SuperSpook 2022
When: 21, 22, 23, 28, 29, 30 October 2022 (5.30-7.30pm, 8-10pm)
Where: Suntec City Mall, #02-477 (North Wing)
Ticket: From SGD 45 (Get ticket here)
Website: here
(iii) Ghost Ship Cruise
When: 28-31 October 2022 (6.30pm)
Where: Royal Albatross Berth at Resort World Sentosa
Ticket: From SGD 225
Website: here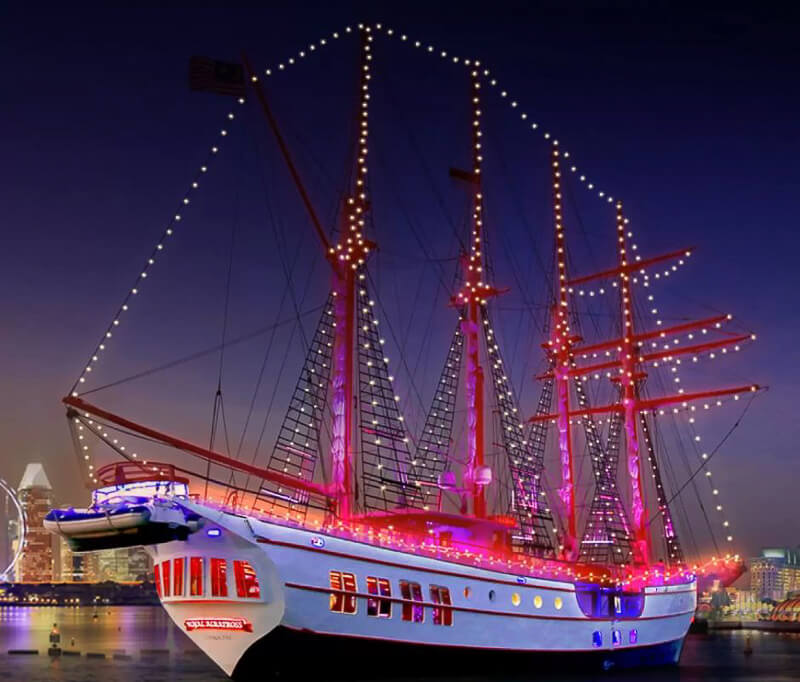 4. Oktoberfest
Beer lovers, yes you can celebrate Oktoberfest in Singapore! Here are some of the venues that offer Oktoberfest deals:
(i) PAULANER Bräuhaus
When: 3 Sep to 31 Oct 2022
Where: 9 Raffles Boulevard
Website: here
Promotions:
– Free flow beer for S$40 (Tue to Sat, 6 to 8pm)
– Oktoberfest free flow beer, wine and platter for S$175 (everyday 6-10pm, min 4 pax)
(ii) Brotzeit
When: 31 Aug to 24 Oct 2022
Where: Brotzeit outlets
Website: here
Promotions:
– Oktoberfest platter for S$145
– Free flow beer and wine at brunch party for $50
– Free flow beer and wine at closing party for $70
(iii) Raffles Town Club
When: 14 October 2022
Where: 1 Plymouth Avenue
Website: here
Promotions:
– Buffet dinner and 1 Erdinger beer for S$78
What else to do in Singapore
If you haven't yet, I highly recommend that you read my guide on the best things to do in Singapore. In that article, you'll find 60+ ideas to make your trip to Singapore a memorable one.
If you have any questions about traveling in Singapore, join All About Singapore Travel Facebook group and post your questions there to get a faster response from me and other members.
If you like my work, you can buy me a coffee! Your support will help me to keep going!