So, you're reading this article probably because you don't get NDP tickets (it's ok, I don't get the tix too) but you still want to watch the parade and fireworks. The good news is, there are plenty of places to watch the fireworks.
In addition to Marina Bay, there will also be fireworks at 5 locations in the heartlands (see #7). In this article, I'll share the pros and cons of each places so that you can make informed decision.
For avoidance of doubt, the NDP fireworks will take place on 3 days: 23 July 2022, 30 July 2022 and 9 Aug 2022. Even though the fireworks will be displayed after the sunset (about 8pm), it's better to go there early if you want to get a nice spot.
1. Marina Bay Waterfront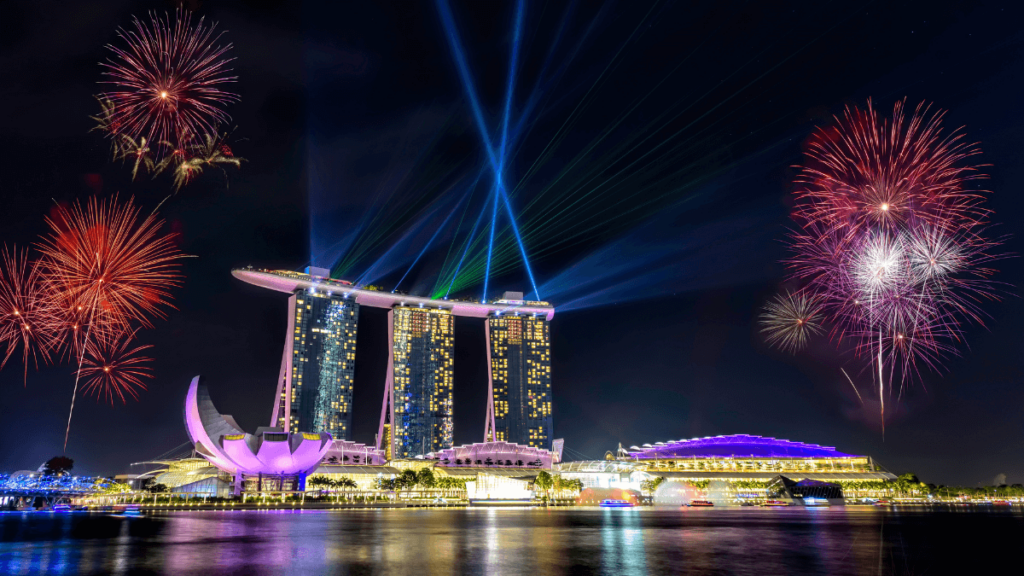 Because the main fireworks is happening at Marina Bay, the best place to watch the fireworks is obviously the Marina Bay. There are plenty of public places where you can stand or sit, I've highlighted the main ones in the below image.
If you really want to get an unobstructed view of the fireworks at Marina Bay waterfront area, you need to be there very early (like 4pm) and stay at your preferred spot until the fireworks commence. Do note that Helix Bridge will be closed during the parade.
The cons of watching at Marina Bay waterfront is the crowd. There will be lots and lots of crowd, and MRT will be super packed after the show is over.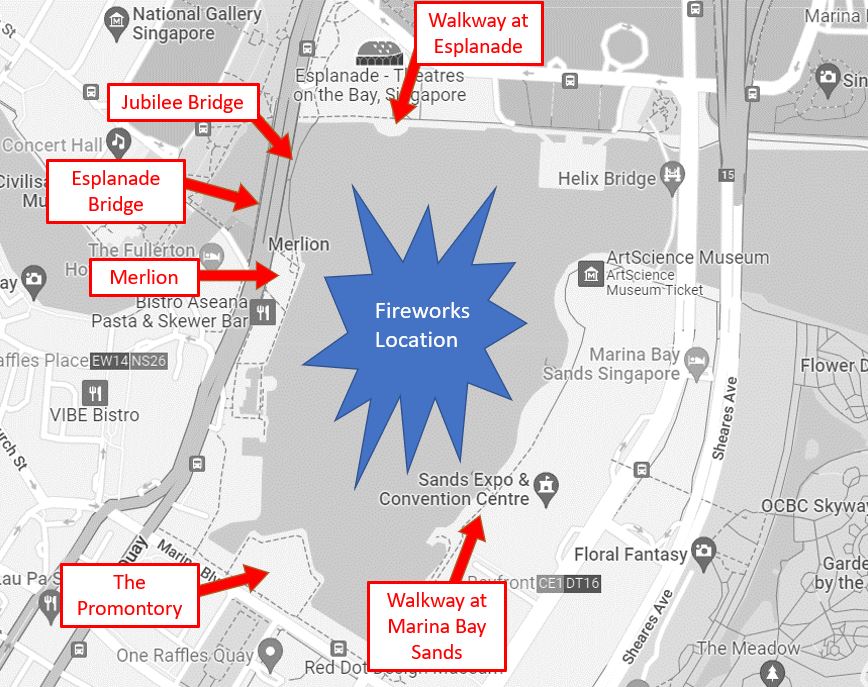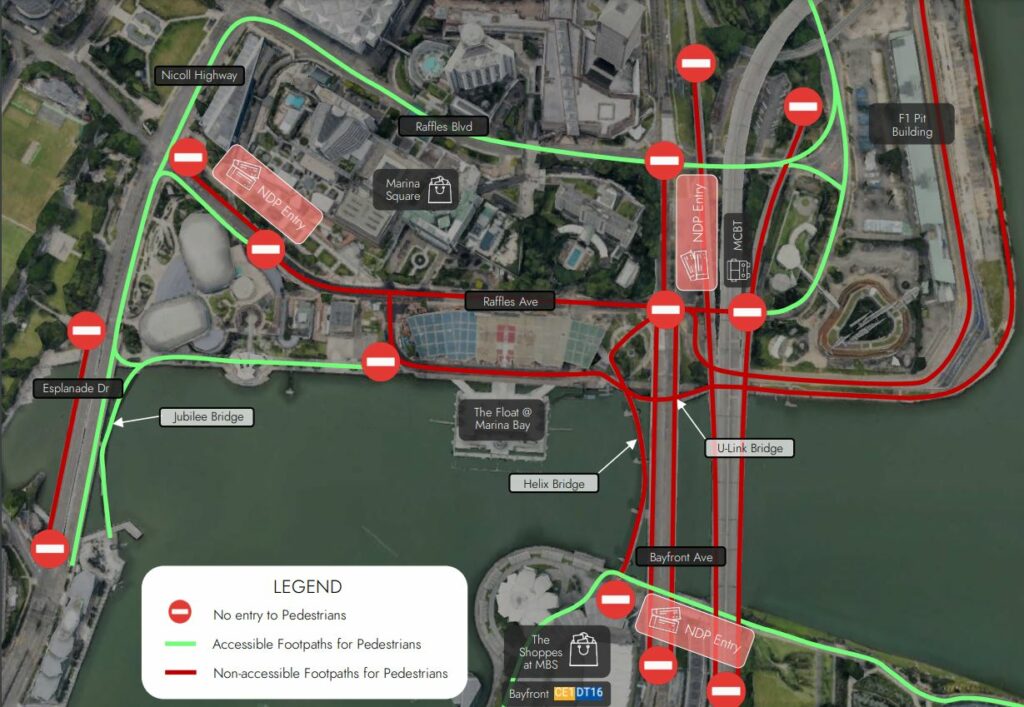 ---
2. Marina Bay Sands Skypark and Restaurants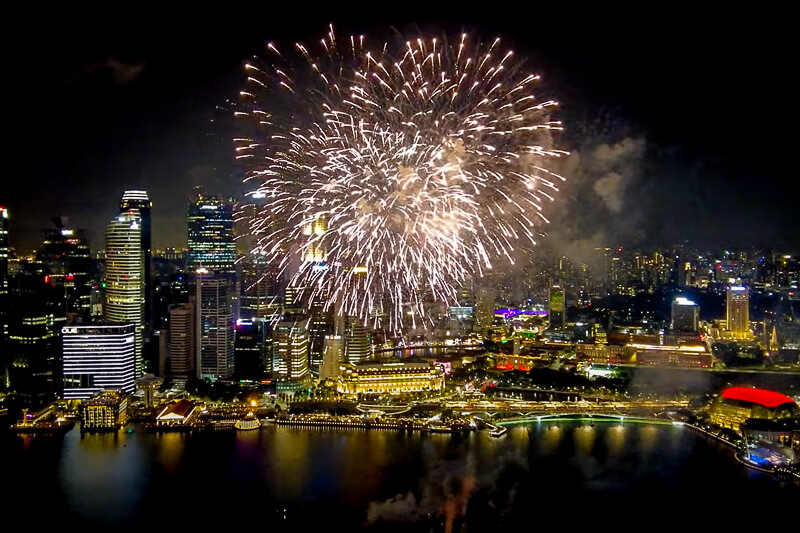 The rooftop at Marina Bay Sands is one of the best places to watch NDP fireworks without the crowd. There are a couple ways to secure a spot at the rooftop during NDP fireworks:
Stay at Marina Bay Sands on 9 Aug and you'll get free access to the Skypark and Infinity Pool at the rooftop
Be a guest at CÉ LA VI Singapore (which is located at the rooftop of MBS). Minimum spending applies, you can reserve here.
Purchase a ticket to Skypark dated 9 Aug Night and you'll be guaranteed access to Skypark from 5pm to 9pm.
The cons of watching from MBS Skypark is the cost. Operators/restaurants are charging higher than usual price because it's a special event.
---
3. Singapore Flyer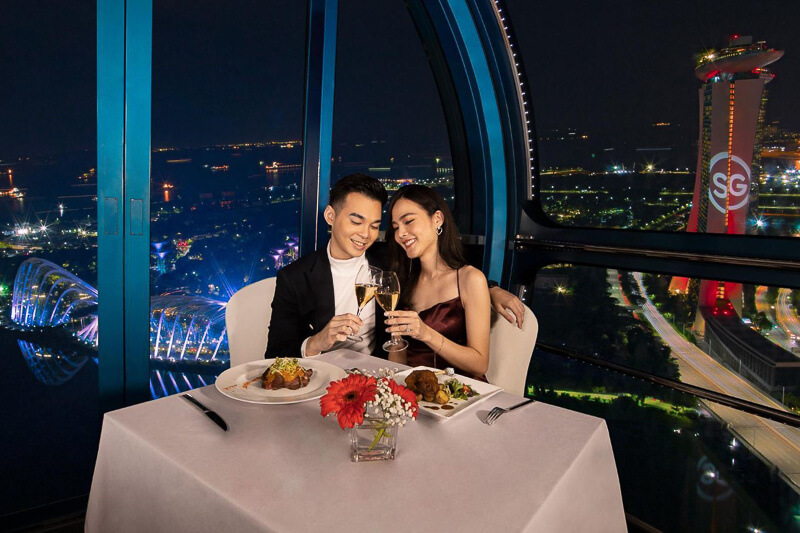 Singapore Flyer is offering National Day Special Sky Dining experience on 9 Aug at 7pm. During this special flight, guests will be able to dine and while watching live NDP fireworks.
The ticket costs SGD500 for 2 person and include three rotations (90 minutes), 4-course dinner, a glass of champagne and admission to Time Capsule. Details here.
The cons of watching from Singapore Flyer is definitely the cost. But if you can afford it, go for it.
---
4. Restaurants around Marina Bay
If you prefer to dine while watching NDP fireworks, but you prefer to dine in a proper restaurant rather than in a capsule, here are some restaurants around Marina Bay with views overlooking Marina Bay:
Super Loco at Customs House
Various restaurants at One Fullerton, such as OverEasy, Palm Beach Seafood, Brewerkz
Monti at The Fullerton Pavilion
LeVeL33 at Marina Bay Financial Centre Tower 1
Smoke and Mirrors at National Gallery Singapore
---
5. Marina Barrage
Marina Barrage is one of the locals' favorite places to watch fireworks. To get the best view, walk up to the rooftop of Marina Barrage and set up your picnic spot. The place may get crowded towards the evening, so if you want a good spot, be there early.
Because Marina Barrage is quite a distance away from Marina Bay, the view is not as great as what you'll get at Marina Bay waterfront. Depending on where you stand at Bay East Garden, the fireworks that you see may or may not be partially blocked by the Marina Bay Sands. But one thing for sure, Marina Barrage is definitely less crowded than Marina Bay, so if you hate big crowds, the Barrage might be a better choice for you.
---
6. Bay East Garden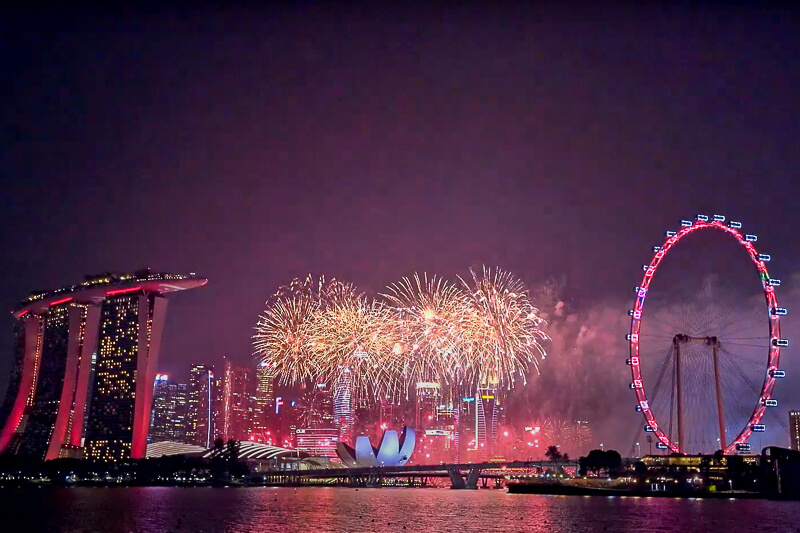 Bay East Garden is one of the lesser known places to watch NDP fireworks. It is the furthest away from Marina Bay compared the other options above, and it's probably the place with the least amount of crowd. If you hate squeezing with other people, you will love Bay East Garden.
Depending on where you stand at Bay East Garden, the fireworks that you see may or may not be partially blocked by the Marina Bay Sands.
---
7. Heartlands
On 9 Aug, between 8:15 pm to 8:25pm, fireworks will be displayed at five locations in the heartlands. Here are the locations:
Admission is free but on a first-come-first-serve basis. Details about NDP @ Heartlands here.
If you like my work, you can buy me a coffee! Your support will help me to keep going!