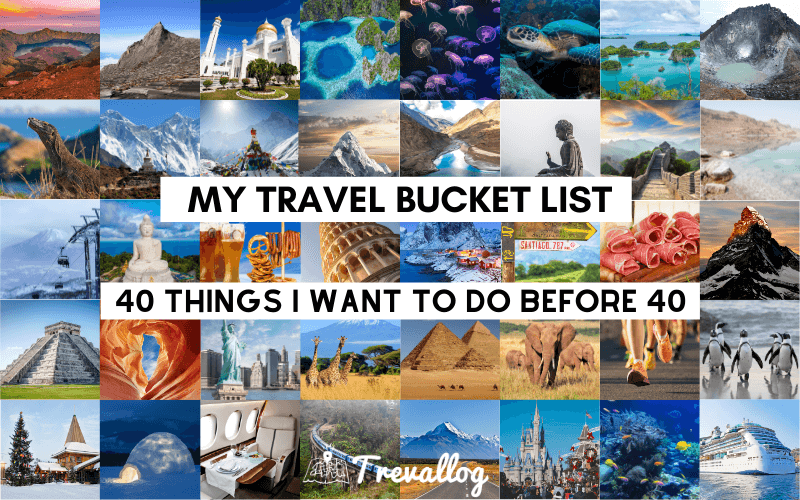 For the past 32 years of my life, I have never created a bucket list. And I've never wanted to. Because I hated to think about kicking the bucket. I hated to think about death.
So why am I creating a bucket list now? Because I feel that time is running out. I'm already in my thirties and there are still many things that I want to do before I grow old.
With this bucket list, I hope I'll be able to turn 40 and tell myself, "You've kicked some ass, haven't you?"
I'm not going to lie that I have doubt that some of these would ever materialize. But just because it's difficult doesn't mean that I should scale down my dreams. I'm a firm believer that you can achieve whatever you set your mind to.
Some people don't like to share their dreams for a myriad of reasons. But for me, dreams are meant to be written in order not to be forgotten.
So, ladies and gentlemen, may I present you with…
40 Things I Want to Do Before 40
This is my travel bucket list. It comprises travel-related goals that I want to achieve before my 40th birthday in 2027. You won't find non-travel things like buy a house, start a family, etc.
Some of the things on this list have been on my mind for more than 5 years, like number 2. Some of them are the things I can't not do in this lifetime, like number 12.
Due to the sheer quantity, I will categorized them into continents or regions for my ease of planning. I will update the list when I complete any of the items.
A. Southeast Asia
1. Climb Mount Rinjani
Mount Rinjani in Lombok, Indonesia, is both challenging and rewarding. Challenging because it is 3,726m high, rewarding because the area surrounding Rinjani is so beautiful. There's a crater lake called "Lake Segara Anak" that trekkers visit after their summit attempt.
Most people complete the trek in 2D1N or 3D2N. To be honest, I might consider doing a 3D2N hike because I hate rushing, I want to take my own sweet time to explore a place.
2. Summit Mount Kinabalu
Actually I had climbed Mount Kinabalu in 2012. However, I did not summit! It still haunt me until today that I failed to summit the highest peak in Borneo. I told myself I would go back to summit it. It's been 8 years and I never went back.
What made me put it off for so long? First, I'm not confident that I'm fit enough. Second, I don't have time to train. By writing this goal on this blog, I want to declare to the world (and myself) that I want to train to be fit and summit Kinabalu before I turn 40!
3. Visit Brunei
Brunei Darussalam is not exactly a popular destination in Southeast Asia. A lot of people skip this tiny country. I am quite curious about this neighbor and I've heard positive feedback from my friends who have been there.
Brunei is located near Sabah of Malaysia and North Kalimantan of Indonesia. So.. maybe a road trip through Borneo someday? We'll see.
4. Visit the Philippines
There's a popular saying (or is it a marketing slogan?) that "It's more fun in the Philippines!" I'm intrigued!
5. Swim with Jellyfish in Palau
I'm going to blame the reality show Survivor for making me dream about swimming with jellyfish. In Survivor Palau, several contestants were given chance to swim with non-stinging jellyfish. It was surreal. I want that same experience!
6. Visit Manado
When I was in my teens, Bunaken sounded like a very exotic place. I had the impression that Bunaken is a very rich marine park located in Manado, a place that's very far away from where I lived (Sumatera).
Before the internet, I knew very little about Bunaken and Manado. I used to dream about swimming in Bunaken.
The good thing is that my cousin's family is living in Manado now. I have more than one reason to visit.
7. Visit Papua
Papua is.. very very far from my hometown. My hometown Medan is at the west of Indonesia, and Papua is at the east of Indonesia. Even though it's part of Indonesia, Papua is very different from Sumatera.
Papua is also home to Jayawijaya mountain, the tallest mountain in the whole of Indonesia. At elevation of 4884 m, the peak of Jayawijaya is covered with eternal snow which is now thinning, sadly.
I wish I can climb Jayawijaya. Maybe I should?
8. Climb Sibayak or Sinabung
Sibayak and Sinabung are two mountains that are nearest to my hometown, Medan. Sibayak is shorter and easier to hike, with the summit at elevation of 2,212 m. The hike can be done in a day.
Meanwhile, Sinabung is more challenging, with the peak at 2,460 m. The thing is.. the last eruption happened in 2019 so it is not possible to hike Sinabung now. Hopefully, when the time is right, I get to climb both Sibayak and Sinabung. Both of these mountains are located near a little town called Berastagi.
9. Komodo Island
Now, this is exotic. The Komodo island has been very popular among international travelers that the government considered closing it due to the fear that over-tourism would affect the life of komodo dragons. As of now, the plan was cancelled. I guess if you want to visit Komodo island, it's better to do it sooner rather than later.
B. Asia
10. Visit Tibet
I picked up "Seven Years in Tibet" book randomly as I browsed through a souvenir stall in McLeod Ganj, India. Little did I know that this book changed my perspective about Tibet. It showed me how a simple town can be so beautiful in its own way.
Lhasa sounds like a town that I'll fall head over heels in love with. It sounds like a place I will enjoy staying long-term in.
11. Trek Annapurna Circuit
I love snow-capped mountains so much. I grew up in the tropics, so that's probably why I love snowy places. That's also probably why I love the Himalayas. One of the popular hiking routes in Himalayas is the Annapurna Circuit.
It is not going to be an easy hike, I probably need to train for a year. But it's going to be worth it.
12. Make it to Everest Base Camp
By now, you would probably have guessed that I have weird obsession with mountains. To be honest, I don't know where I got it from. The mountains just fascinate me in the ways that sea can't.
I'll choose mountains over sea anytime, yet it's so much easier to go to sea than mountain. With mountain, you need to spend months training your body before attempting to hike. With sea, you can go anytime.
Anyway, seeing Mount Everest with my own eyes has been one of my lifelong goals. So making it to Everest Base Camp, even though it sounds nearly impossible, is something that I just have to accomplish in this lifetime.
13. Re-visit India
I visited India in 2011 to volunteer with LHA, a Tibetan non-profit organisation located in McLeod Ganj, Himachal Pradesh.
The experience of being immersed in an entirely different culture from where I grew up was eye-opening, soul-soothing and life-changing. It made me yearn to explore the unknown more.
I have always wanted to go back to McLeod Ganj to attend more of Dalai Lama's talk, to introduce my hubby of a town that once bedazzled me and to visit Ladakh (a heaven on earth).
14. Complete a Trail in Hong Kong
Did you know that the longest hiking trail in Hong Kong is 100km long and home to the country's highest peak, Tai Mo Shan, at 957m elevation? I found out this fact a couple of years ago when I was researching about hiking in Hong Kong. I was stoked!
I tried the Peak Circle Walk, a 3.5km trail around Victoria Peak and I like it. The next trails I'm setting my eyes on are Lantau Trail and MacLehose.
15. Bring my mom and my in-laws to travel
As a married couple, my hubby and I wish to bring our parents to travel. We are thinking to bring them to China, but we'll see.
16. Float on Dead Sea
When my secondary school teacher said we can float on Dead Sea because the salinity of the sea is very high, my mind was set. That's going to be my goal, I want to float on Dead Sea!
17. Visit Hokkaido
My hubby and I have been wanting to visit Hokkaido for its seafood and winter since a few years ago, but we were either cash-strapped or time-strapped. I guess we will visit Hokkaido when the time is right.
18. Go on a Buddhist Pilgrimage
As a Buddhist, I learned about the stories of Buddha since I was in primary school. My religion teacher would tell us the fragments of Buddha's life stories and teachings each week, and I would daydream about being transported into the B.C. when Buddha was alive.
When I visited India, I learned from a travel agent there that Buddhist Pilgrimage is a thing. There are tours that bring pilgrims to religious sites related to Buddha's life events, such as Lumbini (Buddha's birthplace), Bodh Gaya (where Buddha gained enlightenment) and Kusinara (Buddha's death place).
Hence, the seeds have been planted: I want to go on a Buddhist pilgrimage.
C. Europe
19. Experience Oktoberfest
For a beer lover like my hubby, the Oktoberfest is a must visit. I envision that we'll arrange a grand Europe trip where we hit multiple cities in Europe when the time is right and our bank account is sufficient.
20. Eat Pizza and Pasta in Italy
Pizzas and pastas may be a common staple in every countries nowadays, but it doesn't stop me from wanting to taste the original in Italy. My dream is to eat pizza and pasta every single day I'm in Italy.
21. Visit Nordic countries
There's something about quiet winter that fascinates me. I imagine the Nordic countries in winter to be like Santa's Village where people are dressed in layers and sipping hot drinks while the towns are covered in thick snow.
22. Walk the Camino de Santiago
I believe that walking for a few days with only basic necessities is an amazing experience to appreciate life. It is truly a luxury in this digital age.
23. Visit Spain
Back in my university days, I took a Spanish class. I love the language so much that I joined a summer exchange program in Mexico. But I've never been to Spain. I wish to eat all the tapas and jamon iberico!
24. Eat Rosti in Swiss
Rosti is a simple yet insanely good food from Swiss. I first tasted it in Singapore and I couldn't stop thinking about it. I wonder if it's more tasty in Swiss. I need to find out by going to Swiss.
D. America
25. Re-visit Mexico
Guadalajara in Mexico is a special place for me because I stayed there for one month for a summer exchange program when I was 21. It was before Google Map era and basically we went around by following instructions from our school and landlord!
Every weekend we would have excursions. One memorable excursion was a trip to Tequila, the town where Tequila drink came from. Oh how I miss Mexico, a country where Corona beer is cheaper than mineral water.
I didn't have chance to visit Mexico City so I hope I can explore more of Mexico.
26. Visit Antelope Canyon
As a teenager, I was a fan of Britney Spears. I love her ballads and one of my favorite ballads is I'm Not a Girl, Not Yet a Woman. The video of the song was filmed at Antelope Canyon. I was awestruck with the beautiful canyon and I told myself that I have to visit it one day.
27. Visit New York
Alicia Keys and Jay-Z said that New York is a concrete jungle where dreams are made of, there's nothing you can't do. I'm a dreamer and I want to see a place so magical that is made of dreams.
E. Africa
28. Hike Kilimanjaro
Kilimanjaro is the highest mountain in Africa at 5,895m high. It is a popular hiking destination but it's not easy. Many people talked about how hard it was to trek at the extreme altitude. It doesn't mean we should be scared. In fact, it should serve as a warning that we should train seriously.
29. See pyramids
As a kid, I was always dreaming about seeing the Pyramids because it was one of the seven wonders of the world. Of course, back then, I didn't know that Pyramid is part of the Ancient Wonders.
30. Volunteer in Africa
I'm at a loss for words trying to express why I want to volunteer in Africa. I've always wanted to do it when I was a teenager.
F. Others
31. Run a World Marathon Major
I used to be pretty obsessed with running a couple of years ago. One of the holy grails of running is the World Marathon Major. As of now, there are 6 WMM around the world. To be able to complete all six is a rite of passage.
It's extremely difficult to get a slot in a WMM because of their popularity. And it's equally difficult to complete all six because the Boston Marathon has a strict qualifying time, so unless you're an exceptional runner, it's highly unlikely you'll get to join a Boston.
Hence, it is my goal to join at least 1 WMM before I turn 40.
32. Visit Antartica
Visiting Antartica is not cheap. It is terribly expensive. It costs about 1 year worth of my rent. I might not be able to afford visiting Antartica in my thirties and there's a high chance I'll have to postpone this to my forties or fifties.
But I really want to visit this land located at the end of the world. I watched videos of expeditions and I was awed my how massive those icebergs are, how lovely the penguins are and how quiet it is there.
33. Have a White Christmas
I'll have to blame the television stations in Indonesia which play Home Alone movies every single year during Christmas because it makes me really really want to experience a white Christmas.
I'm still debating whether Europe or USA is the better place to celebrate Christmas. Thoughts?
34. Sleep in an igloo / ice hotel
Sleeping in an igloo or ice hotel is a tropical person's wildest dream. It's unfathomable to me how exactly one can sleep on ice.
35. Fly Long-Haul on a Business Class
As a budget traveler, flying a business class was never my dream. For me, I'd make my dollar stretches as much as possible. That is until I learned that many credit cards throw around thousands of miles for free if you commit to spend a certain amount after signing up.
That's mind-blowing! From then on, I was officially a mile chaser and credit card collector. I signed up for various cards to get the sign-up bonuses, I pay for annual fees to earn miles. Because certain miles expire in 3 years, I'll have to redeem my miles before the end of 2021 (that's next year!). So I'll likely complete this goal in 2021 or latest in 2022. Yay!
36. Take an Overland Trip from Singapore to Europe
I love to daydream about taking a road trip (by driving) or a land-only trip (by car, bus and trains) from Singapore to Europe. It'll be a dream comes true if I get to materialize this.
37. Visit New Zealand
Wilderness. Breath-taking scenery. Away from hustle and bustle of the world.
38. Visit a Disneyland
I believe Disneyland is a paradise no matter how old you are. I've only visited 2 Disneylands (California and Hong Kong) and my goal is to visit at least 1 more Disneyland before I turn 40. Maybe Disneyland Tokyo or Disneyland Shanghai?
39. Go diving
I have never written about diving trips in this blog because.. well.. it's been ages since I last dived. I hold an Advance Open Water license from PADI but I think I really need a refresher course. My hubby has never dived so probably we'll go on a dive trip where he takes the basic Open Water license while I take a refresher course. Sounds great?
40. Take a long cruise
I had a great experience the first time I went on a cruise that I want to take more cruises in the future. I'm especially interested in cruises that sail for at least 2 weeks.
—
Wow! That's a long list! Congrats for reading this until the end. I bet you love making goals and hitting them. Keep making dreams come true and kicking ass, will you?
Have you done any of the above? Any tips or feedback for me?