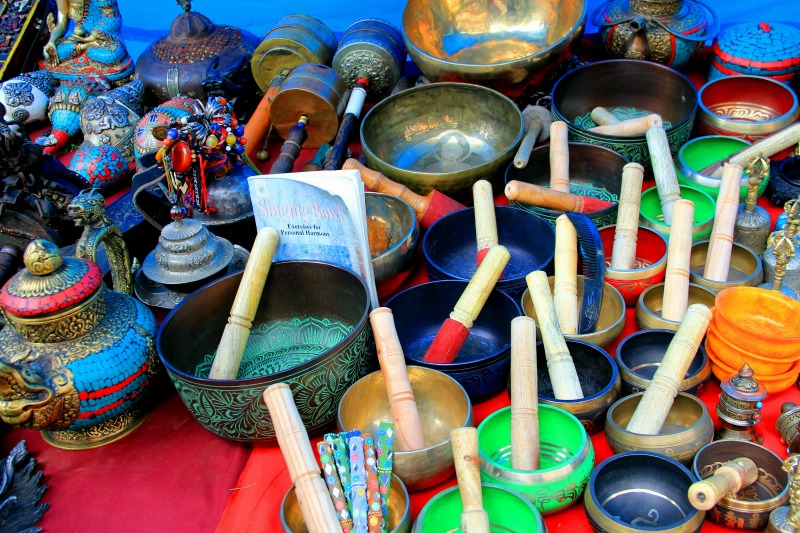 After 13 hours of bumpy bus ride, we arrived in McLeod Ganj at 7.30 am. The volunteer coordinator from LHA Charitable Trust, Rabsel, picked us up from the bus stand and walked us to a guesthouse called Pawan House.
Pawan House is managed by a Kashmir man, he told me that I'm the first Indonesian to stay there, I feel honored! Rabsel then let us settle down and said he'd meet us the next day in the morning.
After checking in the guesthouse and unpacking our stuffs in the room (we each have our own room!), Elena and I went wandering around McLeod Ganj. First, we had our late breakfast at Carpe Diem.
We then spent our day exploring the main street, Main Temple (Kalachakra Temple), Tibet Museum, and Office of Dalai Lama; and followed by lunch at One Two Cafe. At night, we had massage at Ladies' Venture Hotel for 450 Rs.
After massage, most of the restaurants were closed, so we ordered food from our guesthouse.
The next morning, we met Rabsel at 9.30 in the morning, after our breakfast at Cafe Budan. We chatted while sipping lemon tea. He told us to come to LHA to join the daily English conversation class at 4pm. In the afternoon, we bring our donations (books, clothes, stationary supplies) to LHA before 4pm, and made our payment.
The fee that we paid was USD 220 (in 2011), which included reception, orientation and accommodation assistance. Reception included pick up service from New Delhi airport, transfer from airport to Majnu Ka Tilla, 1 night stay in Majnu Ka Tilla, and bus to McLeod Ganj.
I signed up for reception service because visiting India for the first time can be overwhelming especially for solo female traveler like me. Orientation included volunteer placement and introduction to Tibetan organization, which made me really appreciate and understand the background of Tibetan community in India. This fee collected by LHA will directly contribute to funding the daily-basis social services that LHA provides to the community.
The English conversation class started promptly at 4pm. It was a quite a huge class. I guess there were more than 20 Tibetan monks, and 10 Tibetan people who were eager to learn English; and around 10 or slightly more volunteers.
I had 2 monks and 1 Tibetan man to converse with. During the class, I felt not so good, because my accent sucked! Initially I was pretty disappointed I didn't get to teach a whole class of my own because I couldn't commit for 2 months. But now I realize it's a blessing, really. If I want to be an English teacher in the future, I'll make sure I have my accent fixed first.
You know what, most of the Tibetan people learn English from westerners, so they have pretty good accent. I was surprised to know that their English is so good. The volunteers have done a great job during these past few years. It was awesome to see the development in the Tibetan in exile community.
After the class, we were invited by the President of the organization, Prof Neil Guidry, to join a farewell party to a group of students from Louisiana. These students came for 1 month under a mutual learning program managed by Prof Neil Guidry. They were being paired-up with Tibetan people; they teach English and the Tibetans teach Tibetan culture. What an amazing idea. We joined the dinner and later went to Neil's house just to hang out.
---
This is Part 4 of 14 in my "India Trip in 2011" series. To read from the beginning of this trip, click here.
To see all articles I've written about this exotic country, visit my India page.