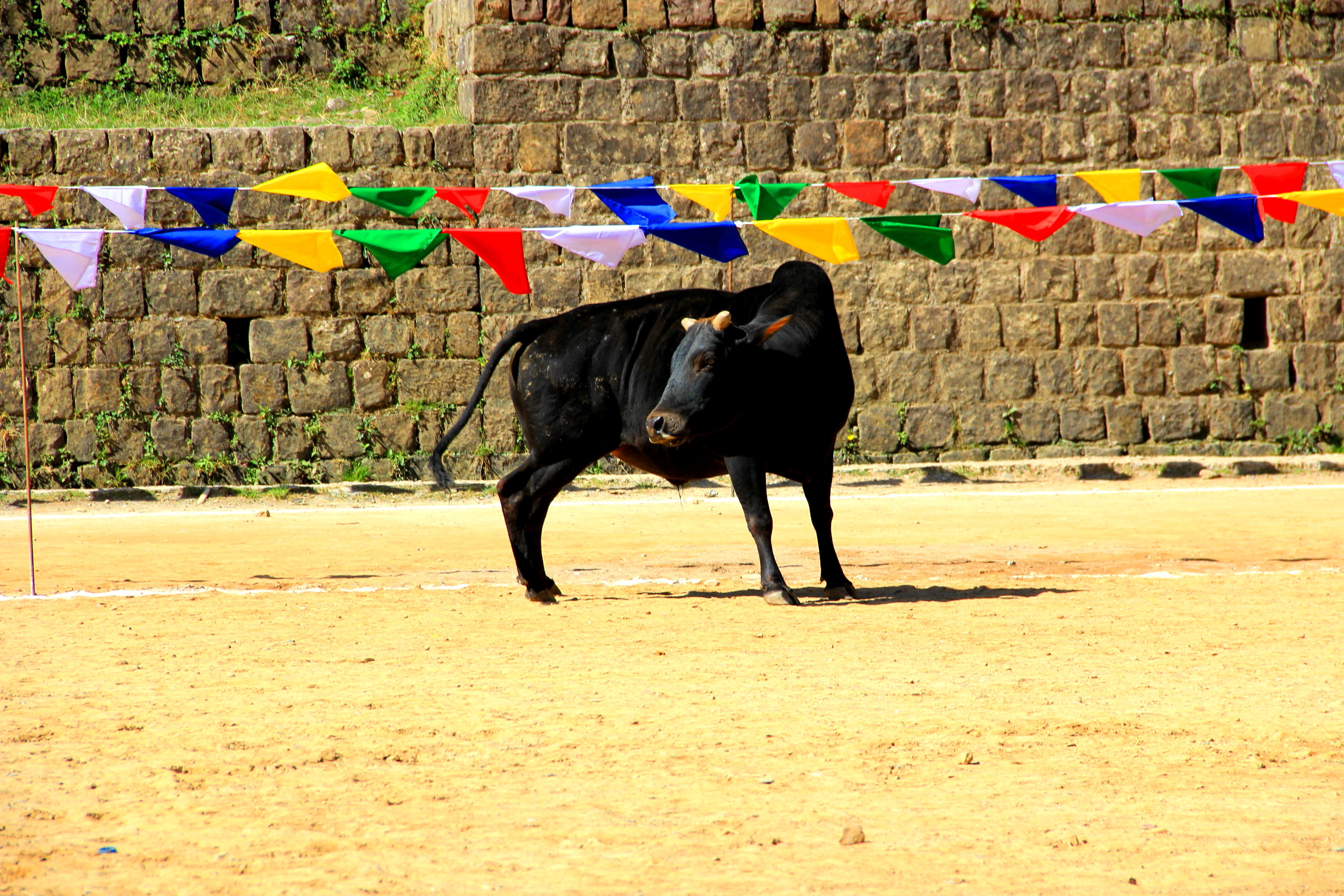 We were pretty lucky. We were in McLeod Ganj, Dharamsala, when Dalai Lama was scheduled to be teaching there. We were not aware initially and we learned about it from people that we met. If you are interested to attend Dalai Lama's teaching, check his schedule from his official website.
So in the morning of Dalai Lama's Teaching, after breakfast, we took a cab from the main street to TCV (Tibetan Children's Village). The ride probably took about 5-10 mins only. On the main field, there was a huge carpeted area for visitors to sit on.
We arrived pretty early, so we just sit down and observe the surrounding. There were monks, Tibetan students, Tibetan people, and tourists. At the scheduled arrival of Dalai Lama at TCV, most of the people lined up at the road to greet Dalai Lama. The line was orderly. Dalai Lama came in a car, guarded by a few security guards. It was a surreal experience for me to see Dalai Lama with my own eyes!
Then we settled back on the carpeted area for the teaching. The teaching was conducted in Tibetan language, however there is English translation on the radio. Thus, foreigners who don't understand Tibetan language may listen to the radio. We didn't have any radio with us because we were not prepared to attend the teaching. Luckily, there was a lady that we met the day before, and she offered us a radio.
After the talk, I felt pain in my stomach. I thought it was gastric. I went back to my guesthouse by myself, took Panadol and went to sleep. When I wake up, I felt better so I went to internet cafe nearby. But 15 mins after using the internet, the pain came again, so I went back to guesthouse. I took gastric medicine and slept until midnight.
At midnight, I finally had my dinner: oreo cookies. I then slept soundly until the next morning when I was awakened by excruciating stomach pain. After vomiting and having diarrhea, I went out to find doctors nearby but none was open early in the morning.
So I went for my breakfast at Asian Plaza Terrace Restaurant and took Chinese diarrhea medicine before going to LHA to meet Rabsel and Elena for the tour. This tour is a part of Orientation service which is provided by LHA as a mean to help foreigners into getting to know about Tibetan organizations.
At 9am, we started our tour with a cab ride to CTA, Central Tibetan Administration (also known as Tibetan Government In Exile). It was heart warming to see a few Departments of CTA. After that, we went to Norbulingka Institute.
Rabsel said that it is the Summer Palace for Dalai Lama. It has beautiful garden, main temple hall, and rooms for Dalai Lama. The institute is modeled and named after Norbulingka, a summer palace for Dalai Lama in Lhasa, Tibet. I strongly recommend a visit to Norbulingka Institute.
The tour finished at around 12 noon. Rabsel and us went back to McLeod Ganj for lunch at Nick's Italian Restaurant. After the lunch, my stomach pain was unbearable, so Rabsel brought us to Tibetan Delek Hospital. There, the doctor who I consulted with, asked me to do stool test to find out the real cause of my problem.
Later it was found that I have parasite infection due to contaminated water. From that day onwards, I told myself to use bottled water for brushing teeth. I was given some medicine to be consumed for up to 10 days! And I was told not to consume meat or milk.
Okay so I hope I'll be able to lose some weights at the end of the month! After taking the medicine, I rest in my guesthouse until dinner time. I had pretty delicious waffles at Oogo's Italian Restaurant.
---
This is Part 5 of 14 in my "India Trip in 2011" series. To read from the beginning of this trip, click here.
To see all articles I've written about this exotic country, visit my India page.