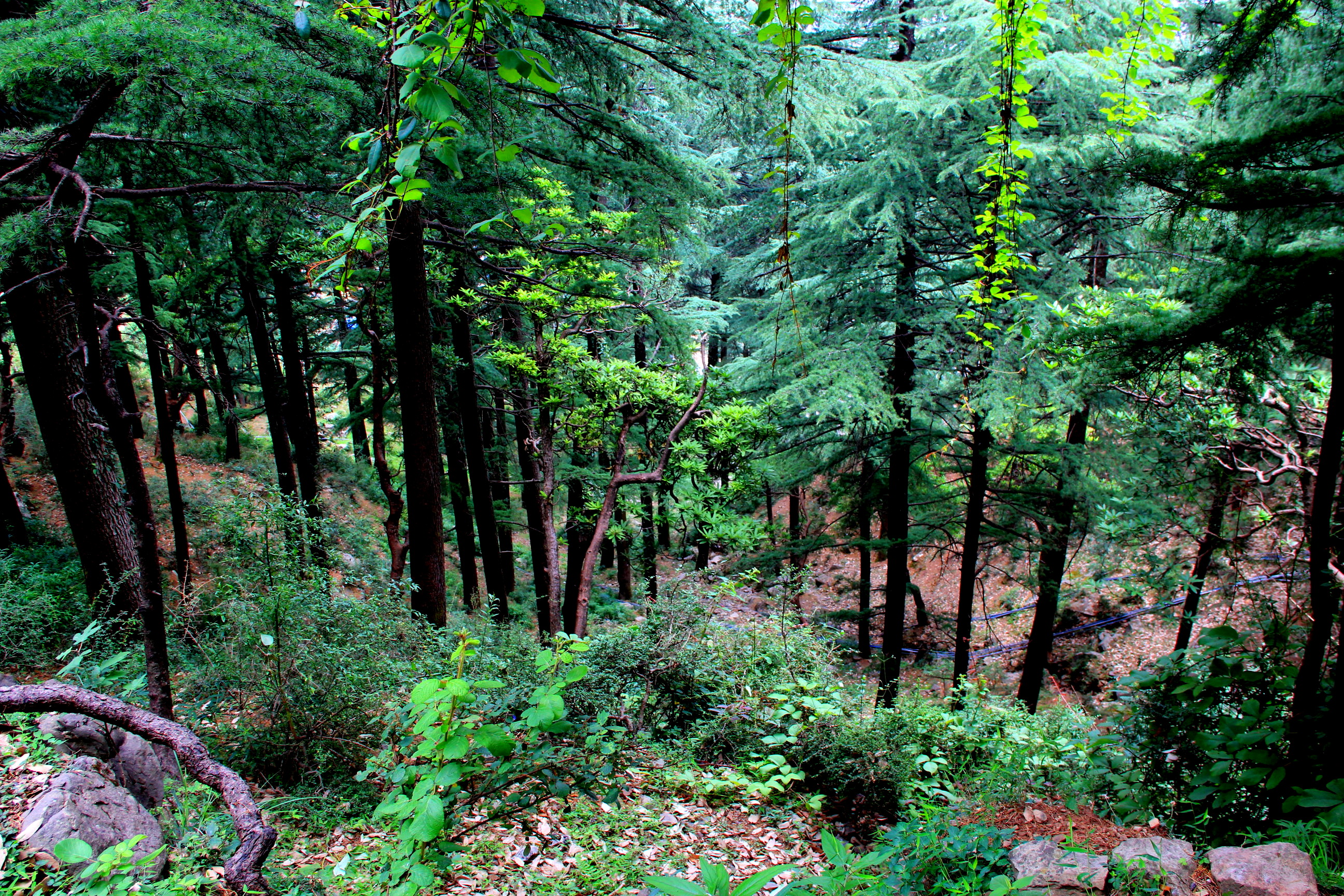 Two days after my visit to Tibetan Delek Hospital and consuming the medicine, I felt better and stronger. I decided I'm ready to take on more activities. I've been hearing from people that there is free daily meditation class in the morning. Thus, after breakfast, I set off to Tushita Meditation Centre.
At the main square, the road begins at the left of Asian Plaza (here's the directions to Tushita). The road is uphill. I encountered monkeys, rows of tall trees, Regional Mountaineering Centre, and some locals.
It took me 30 minutes of walking to reach Tushita Meditation Centre. From the main gate, there are some steps to climb before arriving at the Reception Office. There are plenty of signage in Tushita Meditation Centre pointing to the meditation hall. There are also signboards requesting visitors to keep silence.
The daily guided meditation starts at 9.30 to 10.30 (Mon-Sat) followed by Q&A session. This session is drop-in, hence registration is not required. The session that I attended was guided by a western man. The session is designed for beginners. My only advice is, get enough sleep the night before, so that you will not fall asleep during meditation!
In the afternoon, I had yummy tomato pasta from Jimmy's Italian Kitchen. After lunch, I went to LHA to teach computer class from 1 – 3pm. I met Yangzom and worked with her since. Together, we taught Tibetan monks, Tibetan nuns and Tibetans on the basic Microsoft Office and basic internet. I enjoyed the class, even though there is language barrier between me and the students.
After computer class, I rested a while and continued with the daily English conversation class at 4pm. What a fun and fulfilling day for me! At night, I had udon at a Japanese restaurant just beside my guesthouse. Suddenly, I realized how much I miss Japanese food and other food in Singapore. Then we went back to room to rest.
As I laid on the bed trying to get some sleep, I just couldn't fall asleep. I called Rabsel's (LHA Volunteer Coordinator) phone and told him that I'm so restless, he said that he would bring me to another hospital the next morning.
Then, I tried reading, watching TV, playing games on my phone, but nothing seemed to calm down my anxiety. I was anxious about a few things.
First, I was anxious about not being able to spend my time wisely in the city because so far I only have computer class and I was considering to drop English conversation class because I wasn't comfortable with it, because my accent is terrible. That left me with a feeling that my life is wasted by volunteering only for computer class.
Second, I was anxious because I felt couldn't get along well with other fellow volunteers, like I didn't have connection or friendship with them.
Third, I was bored to death without my laptop. My laptop charger was damaged because I spilled water on it, so I now I can't use my charger and laptop.
Hence, I decided to go down to the lobby to borrow some books, but they didn't help either. I returned the book and met one of the staff on duty.
I told him I couldn't sleep so he started conversing with me and bringing me to the rooftop to watch the stars. The sky was clear and there were countless stars in the sky. I was so lucky to have witnessed the greatness of the creator. We talked for like 40 minutes before I decided to go back to my room. In the room, after praying, finally I got to sleep.
The next morning, Rabsel brought me to Men Tsee Kang clinic near the main street. It was a pretty busy clinic. The doctor didn't speak much English, thus Rabsel had to be translator.
The doctor and Rabsel agreed that my anxiety and insomnia were caused by the strong medicine from Delek Hospital. Doctor asked me to stop taking Delek Hospital's medicine, he gave me traditional medicine instead. It cost me Rs 280 for consultation and medicine.
My new medicine required me to consume them on specific timings, 5 times a day! They are 7.30, 11.30, 3.30, 6 and 8.30. Doctor also required me to go on a strict diet of no meat, no fruits except banana and apple, no egg, no milk. How am I supposed to live?! But I have no choice, I really hope to recover soon and enjoy all the nice foods in town.
After the visit to the clinic, we went to buy a thermos because my medicine is to be consumed with warm water. I would ask for hot water from my hotel and store it in the thermos to keep it warm. Rabsel also lent me pill crusher so that I don't need to buy. He's a kind man.
I'm very grateful for the generosity of the community in McLeod Ganj. After that, I continued my day as usual: go to lunch, go to LHA computer class. This time, I didn't join English conversation class anymore. Instead, I walked around to look for shop which sells laptop charger.
I finally found the only shop that sells my Acer's charger, I paid him Rs 1400. Now I could watch my favorite TV series that I missed so much.
At night, my dinner was cheese pasta from Jimmy's Italian Kitchen. There was not much food I can choose from, given my strict diet. I hope I lose more weight than what I've gained by the end of the trip.
---
This is Part 6 of 14 in my "India Trip in 2011" series. To read from the beginning of this trip, click here.
To see all articles I've written about this exotic country, visit my India page.