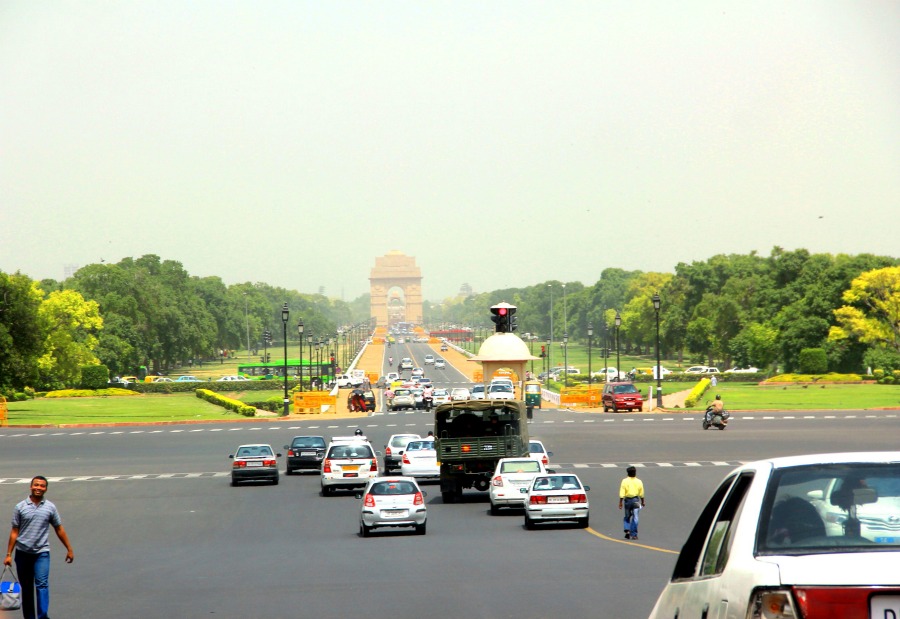 I had my breakfast in the room in Hotel Ga-Khyil, Majnu Ka Tilla, because there was no physical restaurant in the hotel, but there was a café which serves only cakes and drinks. It felt weird to me, but anyway I ordered through phone, egg fried rice (of which I only finish a quarter) and chocolate milkshake (I did finish this one).
I checked out around 11.30am and the staffs helped me to bring my luggage to the office of the Tibet guy, Tenzin, who picked me up from airport the day before; the office is located at the basement of the building where the hotel is; it's a multi-purpose building.
At the office, I told him that I want to go to the city for a walk and he told me I could take a rickshaw to nearest metro station, and I was shocked to imagine myself taking the rickshaw alone in India!
Seeing the shock on my face, he then suggested that I join another lady (who's also a volunteer) for the city tour and share the cost with her. I agreed immediately and he arranged for a driver to drive me to meet the lady.
So the driver first took me to India Gate. A photographer offered to take photos for me and print them out for 50 rupees per photo. I felt it's a reasonable price so I went for it, and decided to print 3 photos out of 20 photos taken.
A small girl took my hand and drew hyena without telling me the price. I was happy initially because it's my first time getting the hyena, then I asked for the price while she's still drawing and she said 200 rupees. I was shocked and I said "I don't want!" and walked away. She chased me and offered 150 rupees, then 100, then 50.
I gave her 50 but she asked for 20 more, but I just walked away. I was pretty frustrated at that time. And the weather didn't really help, it was 40 Celsius or more, and I was sweating non-stop for that day.
Then I went back to the car and met a lady from El Salvador but living in Canada, Elena, and we've been traveling partner in India ever since. We went to National Museum, passed by the Parliament complex and Connaught Place for lunch. After lunch, we went passed by the Red Fort and then back to the hotel. I wish he had stopped at Red Fort.
After the tour, we explored the little streets next to the building of our hotel. There were soooo many flies on the road! At the end of the road, there was a temple. After the walk, we went back to the hotel and killed the time at the café. The G Café is a very modernized café with wifi. The walls are filled with movies and singers posters. It felt like Planet Hollywood or Hard Rock café. Then at 6pm, we collected our luggage from Tenzin's office and he walked with us to the bus station. Then we boarded the overnight non air-conditioned bus to McLeod Ganj. We stopped a few times during the journey for dinner and toilet break. The toilets were awful! And we didn't bother to eat there, and decided to eat our snacks instead.
---
This is Part 3 of 14 in my "India Trip in 2011" series. To read from the beginning of this trip, click here.
To see all articles I've written about this exotic country, visit my India page.