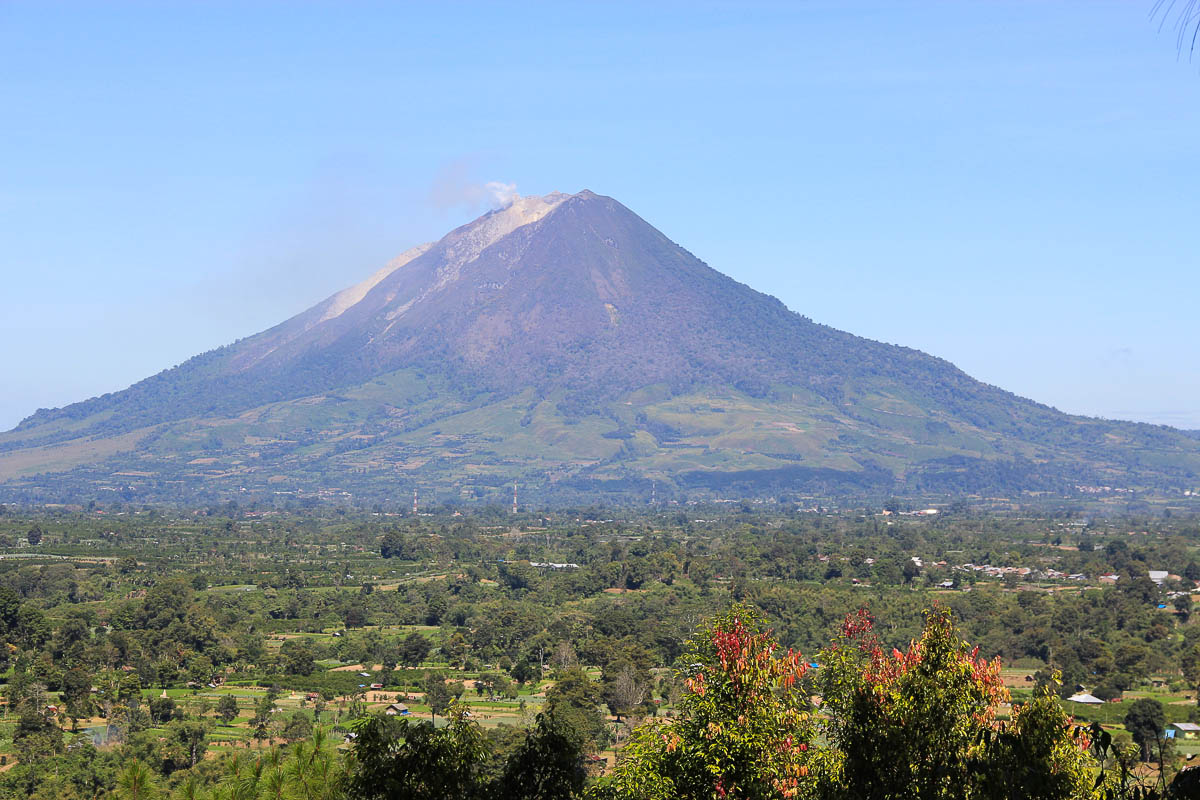 From Sipiso-piso waterfall, we continued our journey to the town of Berastagi. I had been to Berastagi many times in the past but have never written about it. This time, our first stop in Berastagi was Eropah Restaurant where we had a great Chinese food for lunch. There are a few famous Chinese food restaurants in Berastagi: Eropah, Asia, and Timur. Asia and Eropah are just a few steps apart. Since Asia was not open that day, we settled for Eropah. Right after we were done for lunch, it rained heavily! But it didn't hinder our determination to visit Fruit Market. Even though our drivers discouraged us from visiting the market when it rains, we decided to go for it.
And we made the right decision. The walk from the main road to the market was indeed unsheltered, so we used an umbrella. But the inside of the market was completely dry. I went nuts with passionfruits. We bought 4 kg passionfruit, 1 kg avocado and 1 kg salak. I love chewing passionfruit, it's sweet, crispy, soft and can be easily swallowed. Honestly, I didn't know the market rate of fruits so we could've been scammed. What we did was bargaining until the seller got pissed off, that's probably the bottom price. The sellers were not the most polite bunch of people, they got unhappy when we requested to sample a lot of the fruits. Other than fruits, the market also sells flowers, plants, clothes and souvenirs.
You could also pay to ride horses or horse carts, but we didn't have time for that. From fruit market, we rushed to Taman Alam Lumbini. It was slightly past 5 pm when we arrived at TAL. The public visiting hour was only until 5 pm, however, the praying hour was until 6 pm. So we got to visit the main hall in the pagoda for praying, but not the garden section of TAL. Another reason for me to return to TAL next time! The admission to TAL is free. The shape of the pagoda reminded us about Shwedagon Pagoda in Yangon, Myanmar.
Then, we were off to our next destination: hot spring (pemandian air panas) at Sidebuk-debuk. Entrance fee is compulsory regardless of whether you dip in the hot spring. There were many hot springs to choose from, our driver suggested the one nearest to the entrance to save travel time. We didn't waste much time and got ready to dip into hot spring soon. There's no need to change into a swimsuit, a normal set of clothing is acceptable. There are toilets and changing room there, but do not expect the first-world kind. The bathroom is basically a toilet with a pool of cold water. I chose to dip just legs, while my aunt, mother in law, sister and hubby went into full-body dipping mode.
It was already dark by the time we finished. We went for our dinner at Garuda, one of the Minang restaurant nearby Eropah. Oh, it was horrible. Eropah has been closed that time (just over 7 pm). After the unsatisfying dinner, we went to our rented villas for rest.
***
The last day of our trip was full of rush. We had an early checkout from the villa, followed by early breakfast at Timur. The restaurant wasn't fully opened yet but they prepared our food quite fast. The food was good but overpriced. In Medan, we made a stop at C&F cake shop (at Jalan Mangkubumi) to buy bolu. We had curry beehoon (in Indo: kari bihun) for lunch at Tabona, which is just opposite of C&F. Nearby Tabona, Loving Hut (vegetarian restaurant) is within walking distance. My mom and sister headed home and we headed to the airport.
This concludes my 4D3N trip to Lake Toba and Berastagi with my extended family!