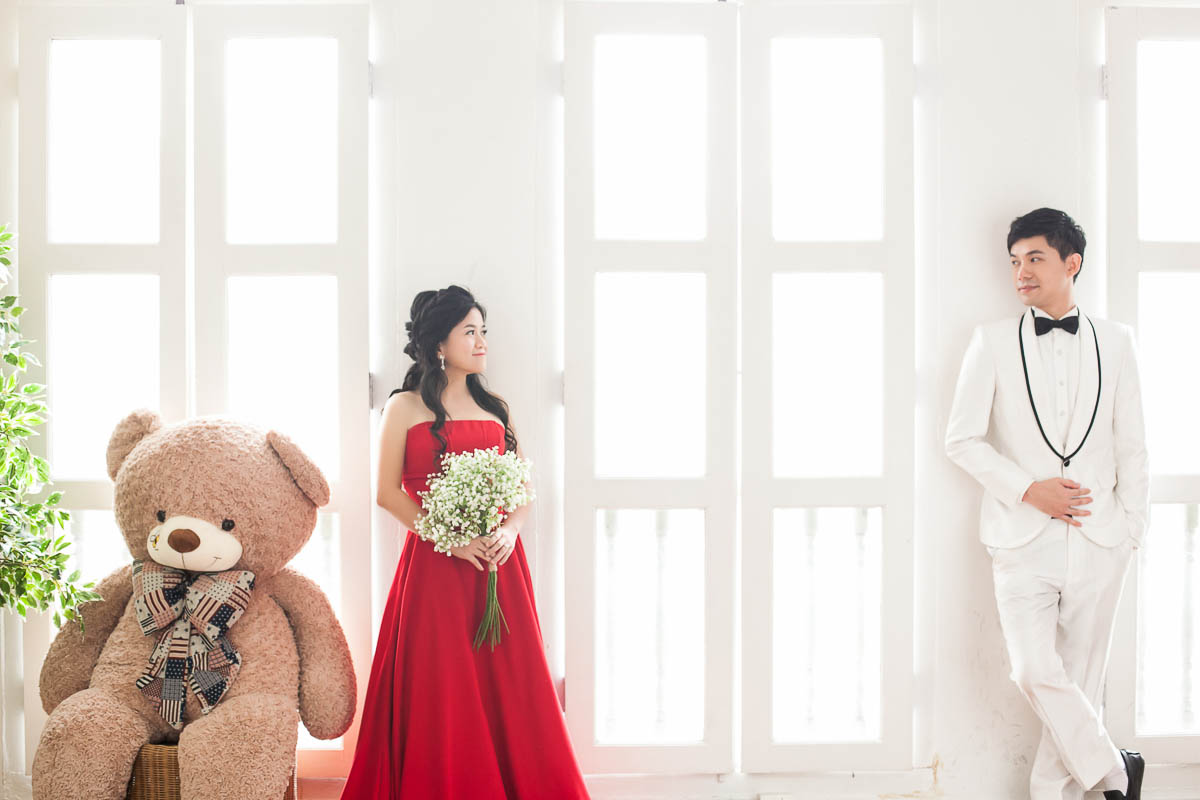 You must be thinking, "If you want a budget wedding, why not have 1 wedding instead of 3?" I know, our decision to have 3 weddings might sound ridiculously unwise to some. But we didn't regret it even for a moment.
For we both love our family and friends back at our hometowns and home countries dearly, we want to share our happiness with all of them. I'm from Indonesia, he's from Malaysia, so we'd have a wedding in Indonesia and Malaysia. In addition, we want to do the formal registration of marriage in Singapore, the country we are living in. That makes it 3 weddings in 3 countries!
The challenge in planning for 3 weddings lies in, obviously, the cost. Being a frugal couple, we wanted to cut as much unnecessary cost as possible. A lot of people were spending a lot of $$$ on wedding packages. We couldn't afford wedding packages, award-winning photographers and videographers, and hotel banquets.
Armed with our experience in DIY travel planning, we used the same principles to plan our wedding. We sourced for each vendor separately to find the ones that offer affordable yet acceptable quality. It was time-consuming, for sure. And there were many arguments during the process. But in the end, we pulled it off. I'd really recommend budget-bride-to-be to consider doing a DIY wedding planning because you can save so much $$$ eliminating things that don't really matter to you and use the hard-earned money on real things, such as travel with your loved ones.
This post about wedding might not be directly related to travel, but it's a huge part of my life, so I just wanted to share useful tips about ways to cut cost in weddings.
Here's how we did it, what our options were, what decisions we settled on, and the approximate price we paid.
A. The Big Items
Let's zoom into the big items because those are the main money-suckers.
1. Pre-wedding photos
Instead of signing up for pre-wedding photo packages that include photography service, makeup service, gowns, suits, props, photo albums, photo frames, video, etc that usually cost thousands, we decided to engage our own friends who are into photography and makeup to save cost. The downside is that we needed to purchase our own gowns, suits, shoes, props (my generous friend sponsored a bunch of baby's breath), albums, etc. But we got to own all those things, use them up to 4 times (1x photoshoot + 3x wedding).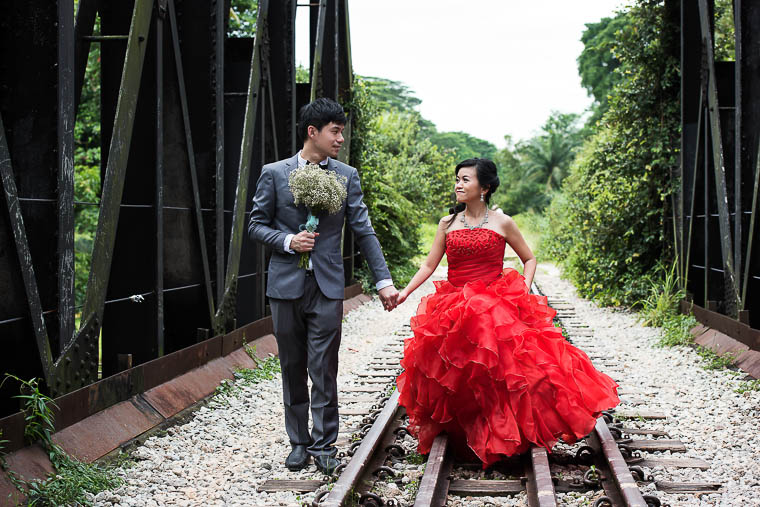 In addition to engaging our friends, we also bought a 2-hour indoor pre-wedding photo shoot session from Groupon which cost only SGD 128, inclusive of gowns, suits, makeup (but excluding ampoules), and 10 selected photos in softcopy.
Total cost: SGD 850 (2 photoshoots & car rental for outdoor session) + 60 (ampoules) + 60 (photo album from photobook) = SGD 970. What we get: 60 outdoor photos in softcopy, 10 indoor photos in softcopy, a 42-page 14″ x 11″ flat-lay album.
2. Gowns and Shoes
The cheapest gown rental rate I could find in Singapore was SGD 68 for a short gown from LandyClub. I was frustrated and almost gave up hope. Thankfully, 3 things saved me. First, I joined Budget Brides Singapore FB Group and I bought 2 pre-loved gowns from the members. Second, I used SGShop to buy 2 new gowns from Taobao; at less than SGD 60 for each long gown, they were ridiculously cheap. Lastly, I found a short dress from a shop that was having a close-down-sale at SGD 25, such an awesome deal.
I got my shoes from Charles & Keith sale.
Total cost: SGD 350 for 4 long gowns and 1 short gown + SGD 33 (shoes).
3. Men Suits, Pants, Shoes and Tie
He bought the blazers and pants on sale, from G2000, Uniqlo and BHG. For his shoes, we found a pair of Top Shop shoes on sale, at only SGD 30. How lucky we were. For the tie, he paid a full price (SGD 20) for the simplest bow tie at Zara.
Total cost: SGD 200 (2 blazers & 2 pants) + SGD 30 (shoes) + SGD 20 (tie) = SGD 250
4. Rings
To find the right ring at the right price, there is only one solution: visit a lot of jewellery shops and do a comparison. That's the only advice I have because rings are very personal 🙂
B. Registration of Marriage in Singapore
Registering a marriage in Singapore is quite simple. Basically, we just needed to register online with our preferred date, place of solemnization (ROM office or outside), our particulars, our 2 witnesses' particulars and then pay a registration fee of SGD 26. Our solemnisation at ROM office was attended by our families from both sides.
We didn't choose to do solemnisation at outside venue because that would involve more work, such as finding a Licensed Solemnizer, getting his/her signature, booking a place of solemnization (eg: private room in a restaurant isn't exactly cheap).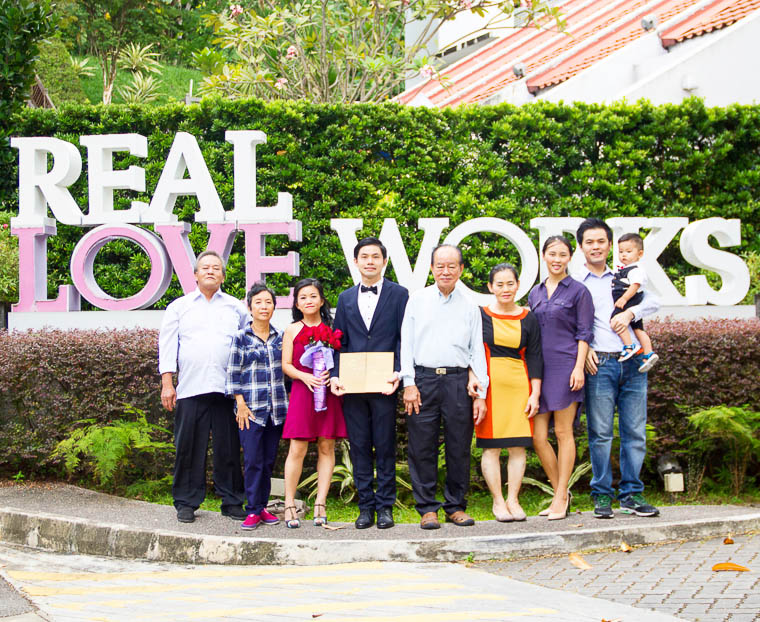 To find affordable makeup service, I searched as many sites as I could, including Gumtree, which is where I found this girl. I requested for a simple make-up, rather than an elaborate bridal make-up. I went to her place to get the makeup done and was charged less than SGD 50, so much less than what other makeup artists charge. This girl is a keeper.
For the hand bouquet, we decided to ditch the common practice of buying an arranged bouquet. Instead, he bought a bunch of roses at SGD 15 from Ji Mei, cut them and arranged them into the shape of a bouquet himself. I gave him a 100 mark for his effort.
We had a mini celebration at Ban Heng Restaurant right after the solemnisation with our family. It was an ala carte buffet dinner so we could order as much food as we want. Our dinner cost merely SGD 22.5/person.
C. Wedding in Medan, Indonesia
Generally, wedding vendors (excluding bridal shop) in Medan offer pretty competitive rates so it's quite easy to find vendors at every budget level. Most vendors don't have online presence so I couldn't find them online, my family helped me do the sourcing.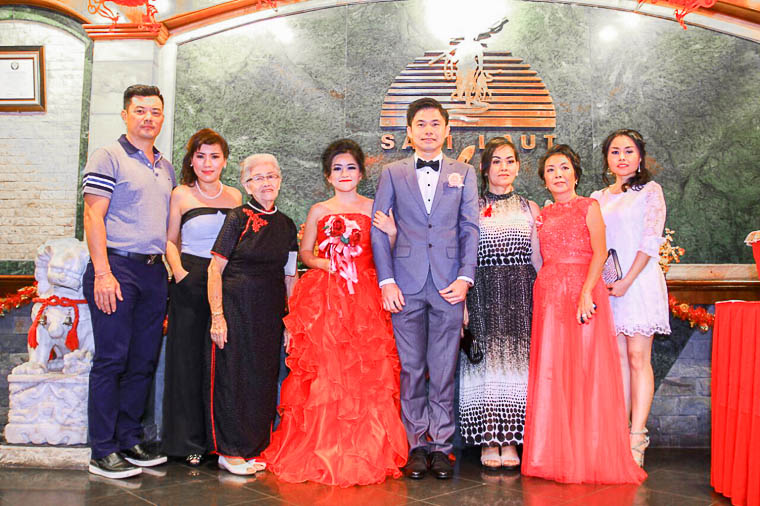 Our MC costs Rp 800k, ballet dancers cost Rp 1mil, photographer and videographer cost Rp 2.75mil. No, I didn't rent a decorated wedding car, we used a normal car. For bridal makeup, my talented cousin did it for me, I'd highly recommend her if you're looking for a makeup artist in Jakarta or Sulawesi.
I honestly feel that bridal shops are Medan are quite expensive. Prewedding packages cost above Rp 10mil, I'd rather do the shoots in Singapore and save air tix.
For restaurants, again, there are many restaurants that suit every budget. We went to a mid-range restaurant, Nelayan Restaurant, simply because we are a loyal customer. Decoration and sound system rates were reasonable.
D. Wedding in Seremban, Malaysia
On the other hand, I kind of feel that wedding vendors in Seremban charge considerably high rates. Our family and friends helped us to source for vendors but most of them quoted high prices. So I turned to Google and Facebook. Then I learned that Facebook has a cool search function, I simply typed "wedding photographer in Seremban" and "makeup artist in Seremban," and FB gave me a quite comprehensive list of vendors. Most wedding vendors (including freelance vendors) in Seremban have an FB page, so it really helps people like me who doesn't stay in Seremban.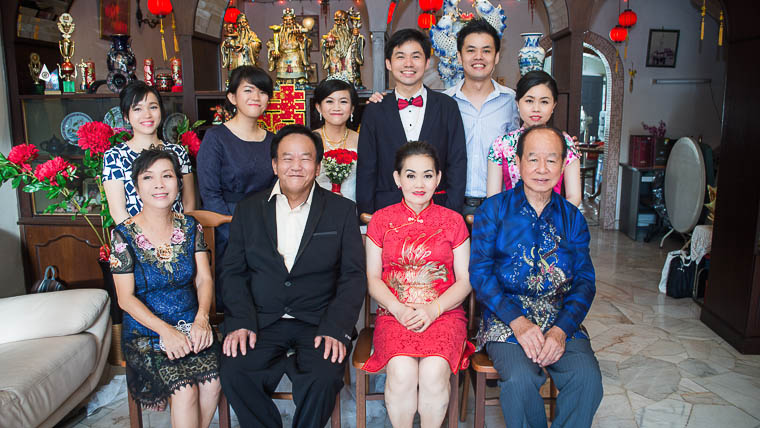 We paid less than RM 1500 for the photographer at Passion Bridal, and less than RM 500 for the makeup artist, for 1 session of makeup. We also rented a wedding house (to represent bride's house, from which groom had to fetch the bride) for RM 800 for 3 days 2 nights. We had a lunch banquet at Green Dragon Restaurant; MC, props, and decoration were provided without additional charges.
Conclusion
I'd like to end this post with a conclusion that DIY budget wedding is indeed possible. Don't feel the need to sign up for wedding packages if it's over your budget. Would you rather have a blissful marriage life without a wedding debt, or would you want a grand wedding only to find yourself struggling to pay for it months after your wedding? Save early for the wedding, it'll be really helpful.