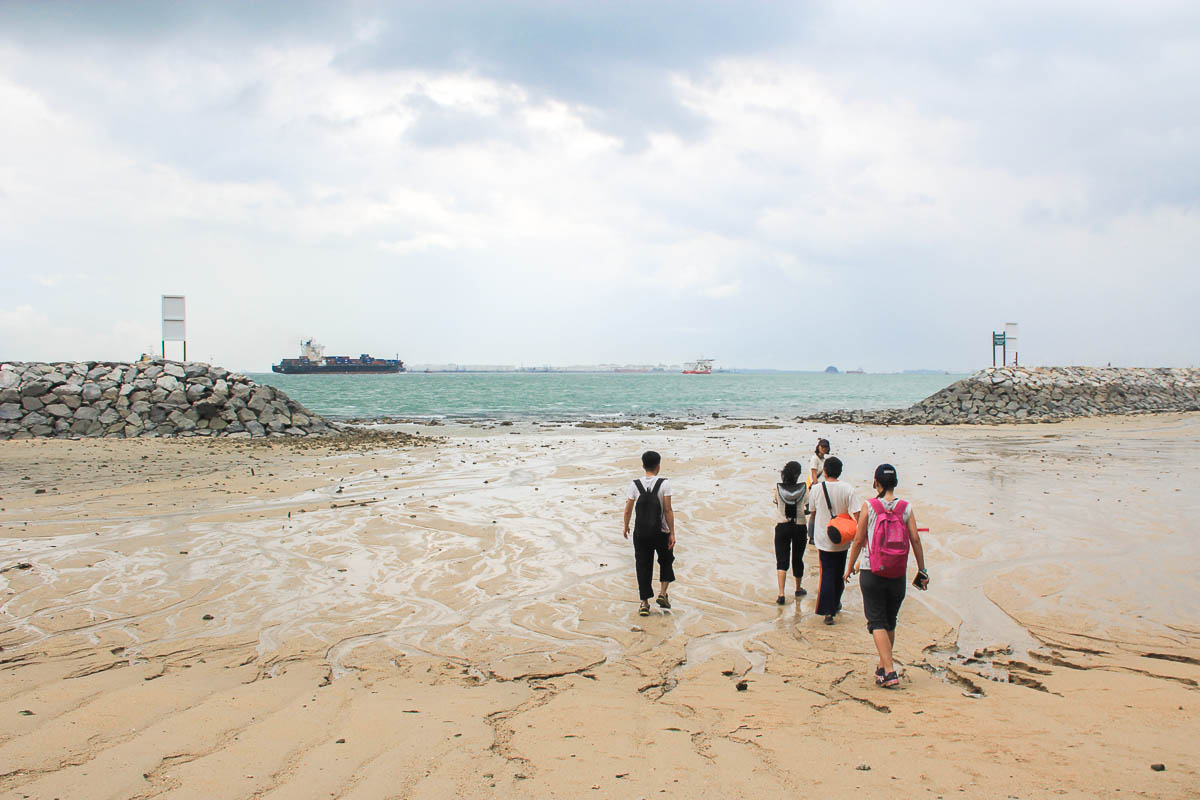 Do you know that Singapore has a Marine Park? I didn't until last year. Upon researching about the islands, I learned that NParks conducts free guided walks twice a month. It's called Intertidal Guided Walk. It is conducted during low tides of 0.4m or below, to let participants observe and interact with the marine life easily on the shore.
If you're wondering whether it is worth your time to visit the Marine Park, read on as I share my experience about visiting Sisters' Islands with NParks' Intertidal Guided Walks.
2020 Updates: The tour has now ceased. Anyway, you can visit Sisters' Islands on your own during low-tide to experience an intertidal walk.
Wondering what else you can do on the island? Read my guide on things to do in Sisters' Islands.
Want to know how to visit Sisters' Islands on your own? Read my guide on How to Visit Southern Islands (Hint: it's easy and affordable!).
Registration for NParks' Intertidal Guided Walks
It is surprisingly difficult to get a slot for the guided walk. Registration opens only once a month, on the first day of each month, at 10am. To register, you need to be one of the fastest persons to send an email to NParks with your particulars. Slots will be given on a first-come-first-served basis. I tried to register since 1 October 2016 but didn't get it until 1 April 2017. Here's a tip: set at least 3 alarms on the day of registration, at 9:30, 9:45 and 9:58. You're welcome.
Anyway, I finally got a slot for May 2017, well 2 slots because everyone is allowed to bring a friend. My now-hubby and I were pretty excited about this.
What to Wear, What to Bring
For clothes, I wore a T-shirt and short pants; long sleeves are good as well especially if the day is hot, but long pants may not be good because you'll be submerged in the sea, so your long pants will be wet.
For shoes, I wore my waterproof hiking boots hoping that I won't get wet. Anddd… I was wrong! We walked to places where the depth exceeds 20cm, so our shoes were totally wet, there was no escape. Please note that slippers and sandals are not allowed during the walk.
For accessories, you can wear a hat, cap or sunglasses to deal with the sunlight.
I recommend you to bring: sunblock, water (because the water at the island is not drinkable), food (because no food is sold on the island), extra pair of shoes or slippers (because your shoes will be wet during the walk), camera (because you want to remember the trip), raincoat/poncho (in case it rains). You can put your things on the boat while exploring the island.
Journey to Sisters' Islands
From home, we took MRT to Marina South Pier. When we arrived at Marina South Pier, we registered with NParks' officers who were easy to spot because they were wearing NParks' uniform. The boat to Sisters' Islands departed at 8.30am. The journey took about 30 minutes.
The Walk
At 9am, we arrived at the Big Sister's Island (Pulau Subar Laut), which is the island that's open for public from 7am to 7pm. The Small Sister's Island (Pulau Subar Darat) is not open for public as it's used for conservation and research.
We were divided into 4 groups of 8 to 10 persons. Each group was led by a guide. My group leader is a lady who's very enthusiastic about marine life and appeared to know a lot about the island and the marine creatures.
Here are some of the things we encountered during the 2-hour guided walk.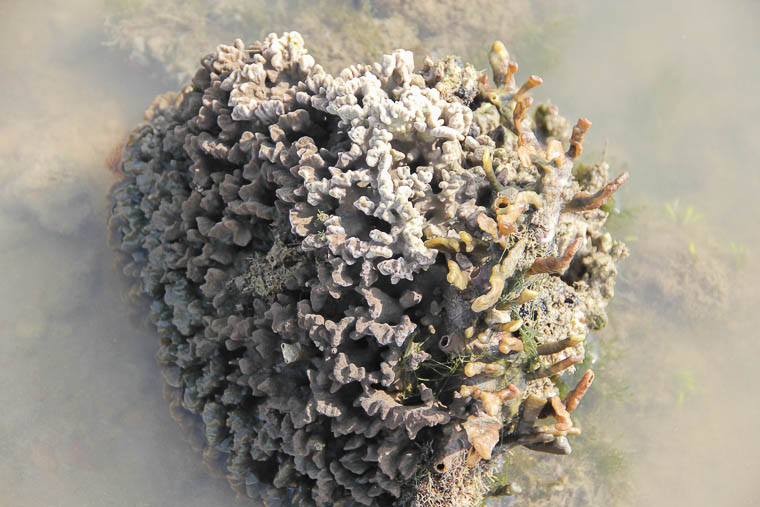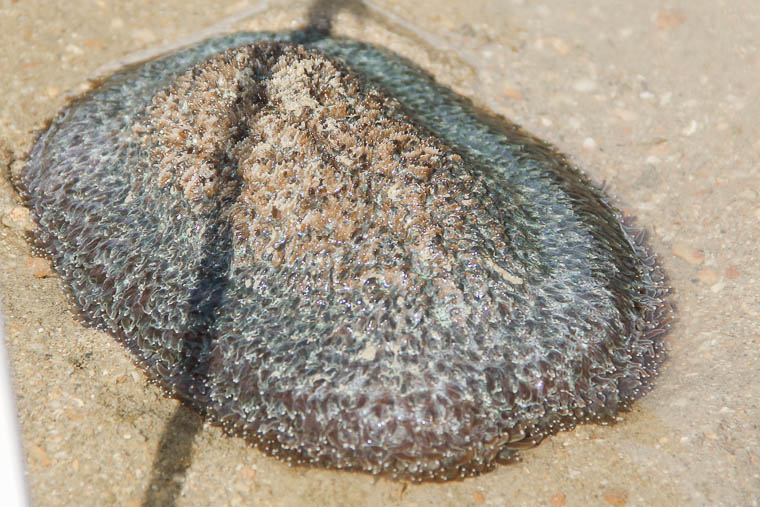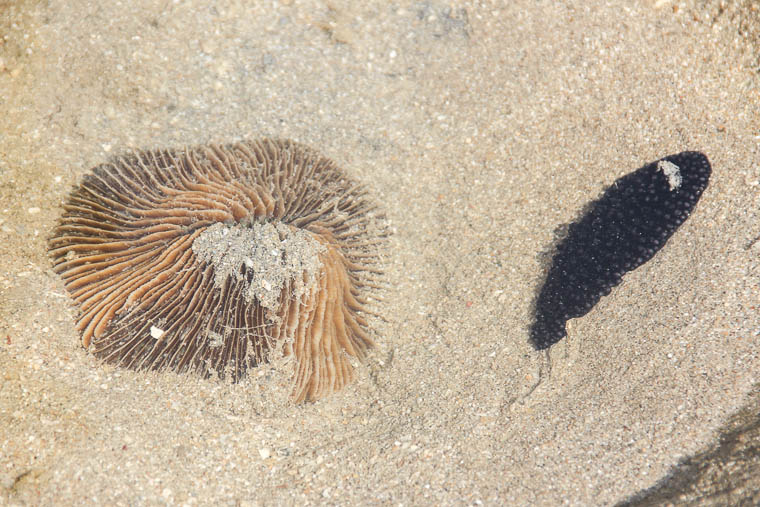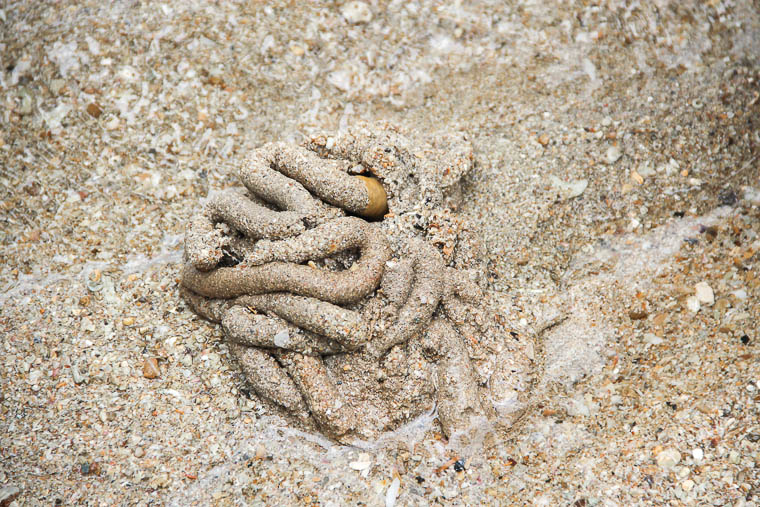 It was quite hot when we started the walk, however, the weather changed dramatically over a period of 2 hours. By the end of our walk, it rained! We quickly washed our feet and shoes before running back to the ferry.
My Thoughts
Will I do it again? Maybe not so soon, but I definitely wish to do the Dive Trail. Each month, NParks allocate 1 to 2 days of dive window. Interested divers can register with the appointed dive operators.
Will I recommend anyone to join this guided walk? Absolutely!