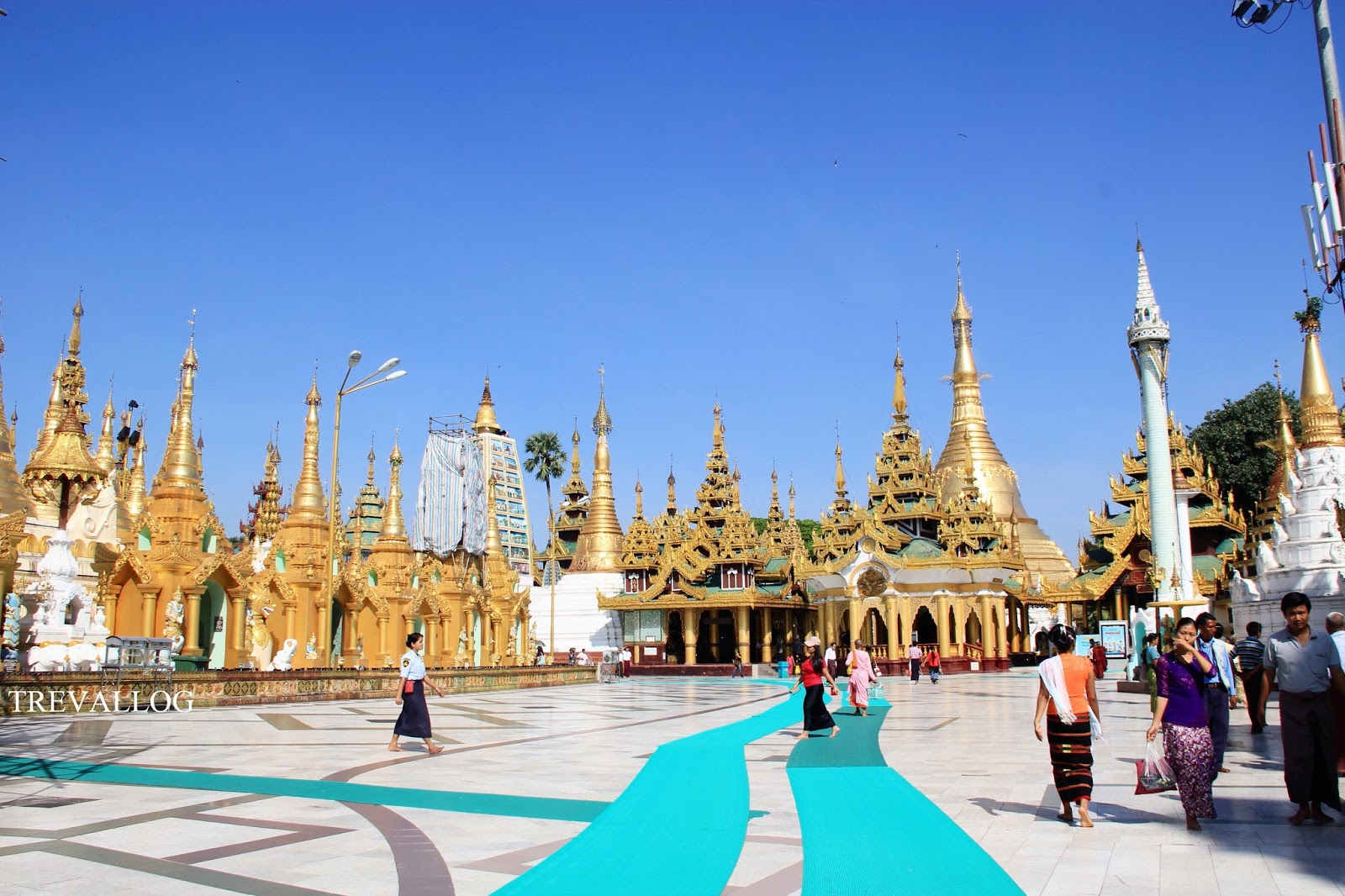 We arrived in Yangon around 6.30 am and our driver hasn't arrived yet by that time. So we went into JJ express office and waited on the bench. At 6,45am our driver came and drove us to our first destination, Lucky Seven Restaurant for breakfast. The restaurant was very crowded and there were plenty of tourists.
After fully recharged with energy, we went to Shwedagon temple, finally. Entrance was USD 8 for foreigners. It was a huge compound. Unfortunately, there was some restoration going on, therefore the big pagoda was covered with scaffolds, but the shape is still very visible. There was a smaller golden pagoda that was restricted to foreigner, and we felt very disappointed with this discrimination.
After spending over an hour in Shwedagon, we went to Sule pagoda. It was a small and old pagoda, and we spent less than 10 minutes inside. Afterwards, we went to our hotel to check in, take shower and rest, and followed by lunch at Urashi japanese restaurant nearby our hotel. Midway through our lunch, it rained. It was our first and only rain in Myanmar, lol.
Our driver drove us to river at Bota Taung area. We strolled along the not very beautiful river side and stumbled upon Vintage Luxury Yacht Hotel. It was a luxury hotel inside a yacht that is permanently anchored at the jetty. The best thing about it is the affordable price! Walk-in price is about USD 120, including one night stay in a nicely pirate-decorated room and breakfast for 2. How do we know it's nicely decorated? Well we talked to the receptionist and request to view the room lol! It was luxurious for our standard and we felt that it had a good value for money. We would consider it if we ever visit Yangon again. Too bad I didn't take any photos so I couldn't post it here, but the photos can be easily found on the internet.
Then we told the driver we wanted to do shopping and he drove us to Taw Win Centre, which is a shopping mall! We actually wanted a market where people sell souvenirs, but anyway, we found good snacks in the supermarket so we were glad. After shopping, we went back to hotel around 5pm to rest again. Driver has been working for 10 hours and he was rushing to go back.
At night, we met our travel agent who has been making all the necessary arrangement for our trip. We have had great time in Myanmar thanks to our travel agent. I recommend anyone requiring car rental and bus transport to check their website. We went for dinner at YKKO Myanmar. The minus point of the restaurant was the mosquitoes. But a simple mosquito repellent will solve the issue. The noodle that we ordered was indeed very good and worth a try if you stay nearby Chinatown. After dinner, we went back to hotel and had our final night rest in Myanmar.
We woke up the next morning and rushed to the airport. Bought some last minute souvenirs and had lunch at the airport before we bid farewell to the land of golden pagoda, Myanmar.
Date visited: 27-28 October 2014