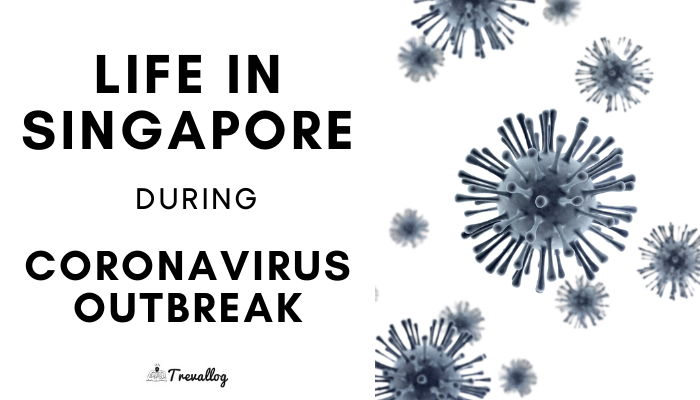 For the past few weeks, I had been frequently asked by my family and friends in Indonesia, "How's coronavirus in Singapore?"
As of today, 16 February 2020, there are 72 confirmed cases in Singapore. 18 of them have been cleared and discharged, while 6 are in critical condition. The number keeps changing everyday, if you want to get the latest information on Singapore cases, visit this website.
By looking at the number of confirmed cases, it is clear that Singapore has the third highest number of cases after China and Japan, even higher than Hong Kong, China's closest neighbor.
I guess that's why my family and friends are concerned. Hence, I decide to write this article to show how my actual life in Singapore looks like. I will also give some advice if you are planning to travel to Singapore in the near future.
Please note that I'm not an expert. Any views, suggestions, recommendations whatsoever are my own opinions, which you should take it with a pinch of salt.
It's hard to buy mask and hand sanitizers. These items are very valuable commodities right now. The government has been advising people to wear mask only when they're sick, not when they're healthy.
It makes sense because if 9 people are healthy and 1 person is sick, as long as the sick person wear mask, the virus shouldn't spread widely. Still, people are terrified of getting the virus, so healthy people do wear masks too. Thus, the low stock and inflated prices of face masks.
It's common to see masks being sold at SGD 20/box nowadays on online platforms (like carousell or facebook). And it's rare to find masks at supermarkets.
Personally I have a box of mask at home but I'm not wearing them everyday because I'm not sick and I'd rather save the mask for the future.
Panic buying is over (hopefully!). On 7 Feb 2020, Singapore's DORSCON level was raised to Orange and it caused panic in the country. People were afraid that the DORSCON would go up to Red and it's no longer safe to go outside of the house, so they needed to stockpile food and essential supplies.
To be honest, I was kind of affected by panic buying too. I'm the type of person who hates to stockpile because I don't have a lot of storage at my small rented apartment.
But when I realized that my current rice level can only sustain me for less than a month; I'm down to my last wet tissues, tissue paper, soap, shampoo; my cooking ingredients are running out; I have only 3 toilet rolls; I couldn't help but worry about my own survival!
The day after the panic buying, the government released a video saying that residents should not worry because there are enough food and household supplies for everyone. Thankfully, the panic is contained now. My usual supermarket now proudly display their enormous stock of rice, instant noodles and oils among other things.
I still work as usual. Several businesses in Singapore made the decisions to split their workforce to 2 places so that the business will not be affected should one employee catch the virus. Other businesses get their staffs to work from home.
Right now, the company that I work at don't have a concrete plan to split offices yet so I'm still going to my office everyday by taking public transport. And yes, people still do travel on public transport as usual.
My temperatures are taken at least twice daily. Almost every office building in Singapore has implemented temperature screening, including my office building. That means, I get my temperatures taken twice or more daily.
Before the implementation of this compulsory screening, I was worried about not being able to monitor my own temperature because I do not own a thermometer and I couldn't buy it even if I want to because it's out of stock everywhere I looked.
I stay at home more. Despite loving travel, I actually like staying home as much. I wish my job can allow me to work from home. Now that the virus is out on the loose, my social calendar is essentially empty, except for events that I can't miss, such as my friends' wedding.
So what do I do at home during weekends? Plenty! We cook for breakfast, lunch and dinner. During the day, I would do things related to this blog. In the evening, we would spend about an hour to swim.
I wish to start running again but there are no running parks near where I stay. There is a gym but I don't feel comfortable running in the gym because coronavirus spread through droplets and there is a large amount of sweat in any enclosed gym.
News gave me anxiety, so I read it less now. There was a period when I would google for coronavirus excessively. One day, after reading through the timeline of SARS, I had this inexplicable sensation. My heart was beating fast, I had stomach pain and headache. I saw on the mirror that my lips started to look pale. I was scared that I had some undiagnosed condition.
My coping mechanism? I downloaded an addictive game. It's not the best solution but it is the best one to curb my anxiety at the moment.
Right now, my anxiety is under control because I don't read news as much as I did. I am subscribed to the government broadcast through Whatsapp so that I can receive regular updates regarding the virus. This broadcast is good enough for me.
Is it safe to travel to Singapore right now? Yes and no. This is a very subjective question that depends on a lot of variables.
In my opinion, it is safe to travel in Singapore if you are fit and your itinerary include plenty of outdoor activities or activities that are carried out away from crowd. It's not safe if you get sick easily and your itinerary involve plenty of shopping malls or other indoor activities.
The good thing about Singapore is this: there's no winter in Singapore! It is hot or wet all year round. The virus thrives in cold condition, so the best thing travelers can do in Singapore right now is probably sunbathing!
If you have already booked your tickets and accommodations in Singapore but you are not sure whether you should come. Ask yourself, will you be exploring places that are crowded? Are you okay forfeiting the money you have paid for this trip? Is there any special activity/event that you absolutely have to attend in Singapore?
If you haven't booked anything yet, of course precaution is better than treatment.
That said, I feel safe living in Singapore. I'm confident of how the government handle the situation, how they release prompt updates, how transparent they are about the cases, how quickly they react to countrywide panic.
The regulations keep changing. There are new rules being made every single day, but I'm confident that the government is well prepared to handle such pandemic.
I guess that's all my life updates for now. I'm pretty sure things will look different each week. If there is any big updates of my life in the next few weeks, I will update this post to let you have a peek of life in Singapore during Covid outbreak.
For now, stay healthy and take good care of yourself, wherever you are!
Updates on 1 March 2020:
At the time of writing, there are 102 cases of Coronavirus (or Covid-19) in Singapore. 72 of them have been discharged (yay, 70% recovery rate!), meanwhile, 30 are still in hospital.
From 19 Feb until 28 Feb, the number of discharged patients exceeds the number of new cases. That means, it's negative growth rate!
To be honest, I'm feeling a lot less anxious and more confident nowadays. Hopefully the situation will improve soon *fingers crossed*
Temperatures screening is now conducted at airport, tourist attractions, banks, schools. No screening at some shopping malls though.
Some businesses get creative and offer promotions to attract customers, like Jewel Changi Airport who offers free admission for Canopy Park and 50% discount for the attraction inside the park. If you're planning to visit, read my guide for visiting Jewel Canopy Park.
I still stay at home most of the time but I went out for a dinner one night because they had 1-for-1 promotion. The restaurant was not as crowded as before the outbreak.
Updates on 7 March 2020:
Oh no, it seems like the virus is catching up again. Yesterday (6 March), there were 13 new cases and 1 discharged patient. That's the highest ever single-day new cases in Singapore.
Since 3 March, the number of new cases is more than the number of discharged patients. As of 6 March, there are confirmed 130 cases, 82 discharged and 48 in hospital. That's 63% recovery rate now. Furthermore, 9 are in ICU.
It's funny how our outlook is often shaped by news and numbers. Last week, I was confident. But today, my confidence starts to shatter. The main cluster from this spike was a private dinner event. I guess, my social calendar shall remain empty for the foreseeable future.
3 days ago, on 4 March 2020, the government announced travel ban for visitors who have traveled to Mainland China, Korea, Iran and Northern Italy within the past 14 days before arrival in Singapore.
Certain businesses cut the salary of their employees. My hubby and I are not subjected to salary cut yet, but our close friend does, and it broke our hearts.