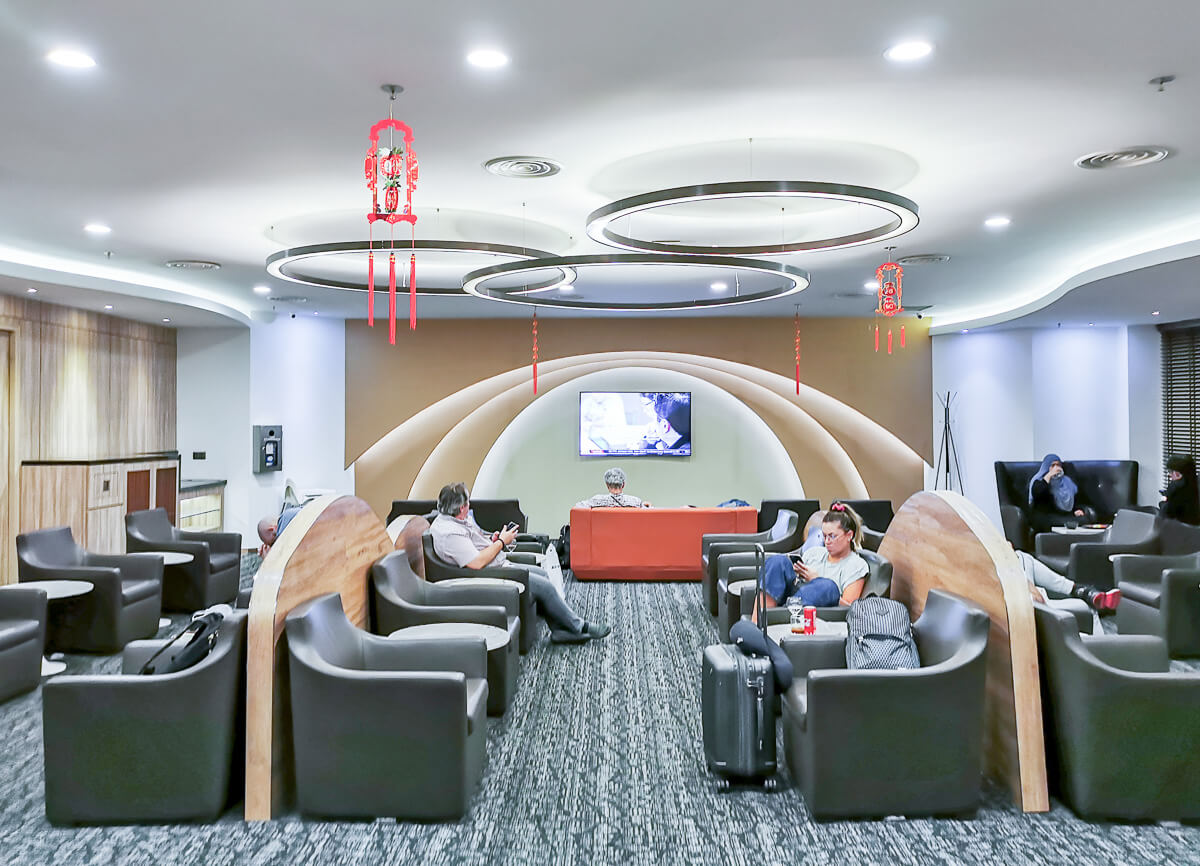 As a travel writer who shares her travel experiences with people around the world through her blog, I always aim to write useful information to help travelers make informed decisions.
I am going to praise something if it's really good, and I'm going to criticize things that need to be improved. Of course, every review is always subjective to the person's experience and it's likely that other people have different opinions as me.
Why such a lengthy introduction? Well, when the title of an article begins with "An Honest Review," you know there will be several unfavorable points in the review. So, I want to set the correct expectation first before we proceed further. Here it is: This is not going to be a favorable review.
Now are you ready to go into the details? Ok, let's dive in.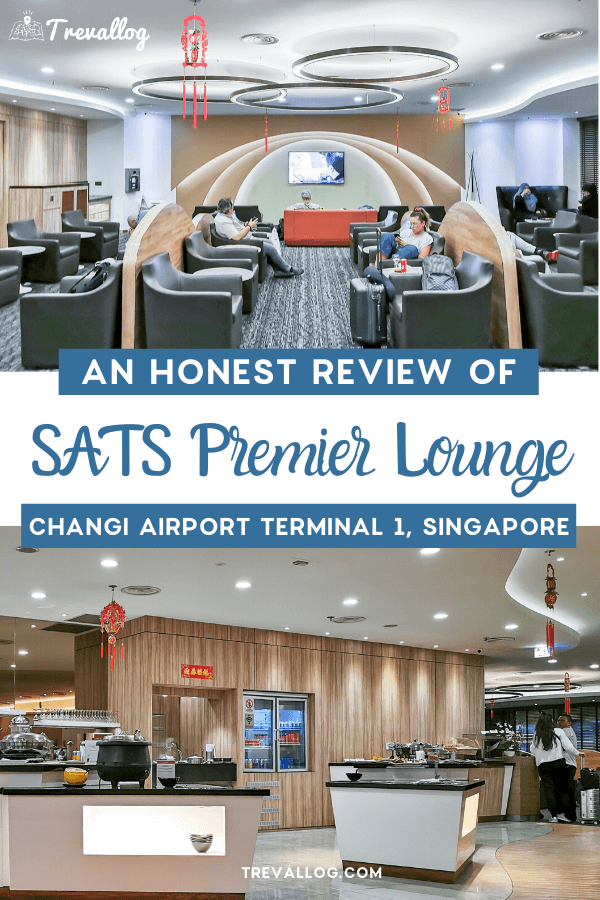 Background
I think it's essential to know the background of my visit so that it gives some context about the way I think.
Ever since I learn about travel hacking in 2017, I started collect credit cards that give me free airport lounge access. As of 2020, I have visited a couple of airport lounge in Singapore, Malaysia and Bangkok so I have some personal expectation.
I visited SATS Premier Lounge at Terminal 1 Changi Airport in January 2020, in the late evening (almost midnight). I had just landed in Singapore from Indonesia. I wasn't hungry because I've had dinner before my flight. My hubby and I landed in Changi Airport Terminal 1, so we thought that it's best to visit a lounge in T1 to avoid walking to other terminals.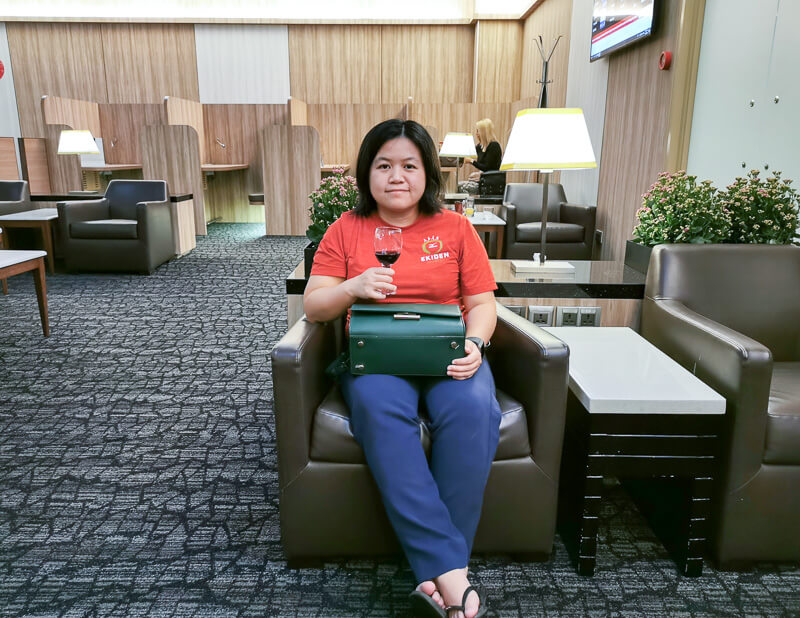 Admission
It was quite easy to find SATS Premier Lounge at Terminal 1. We took the escalator near Departure immigration and we found the lounge shortly afterwards.
Personally, I use my Diners card (which gives 1 free lounge access every year) to enter SATS Premier Lounge at T1. But you can also use Priority Pass, Dragon Pass or any other credit cards that provide free lounge access.
At the moment, I could not find any information about paying to enter the lounge.
First impression
I entered the lounge at about 10pm. To my surprise, the lounge was about 70% full. I thought there is usually less crowd in the evening but boy I was wrong!
The lounge is really huge with plenty of seats. BUT.. We struggled for a while to find a seat that's perfect for dining. Majority of the seats are low seats with coffee tables beside the chairs. There are not many dining tables.
Facilities
The lounge features most of the basic facilities, such as shower, massage chairs, study desks, magazines, food, beverages, power points (there are plenty of them!) and free wifi.
I will be elaborating more about seating, food, beverages and shower in the following sections.
Seating
As I've mentioned above, there are plenty of low chairs / arm chairs with coffee table beside them. It's great for people who just want to relax, read, sip wines or close eyes. It's not for people who want to dine or do works using the laptop.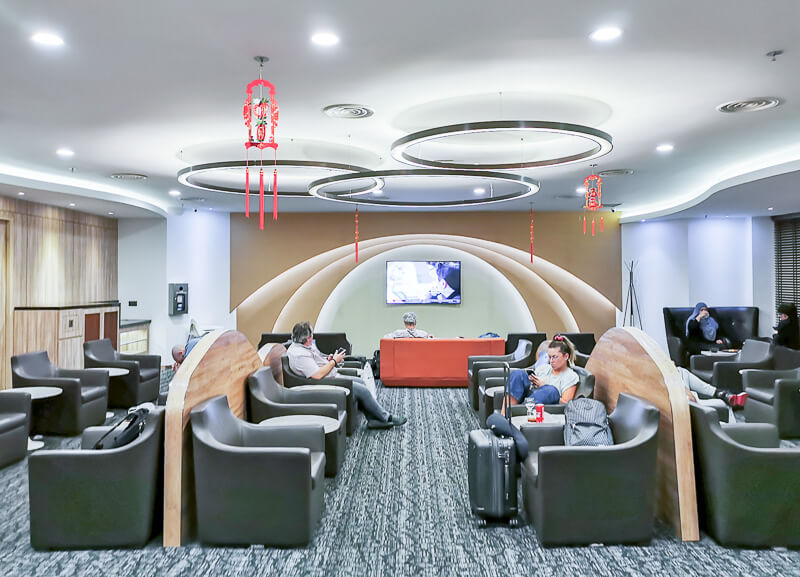 For dining, visitors can opt for the dining chairs & tables configuration located behind the massage chairs. Another configuration that's perfect for dining is the table built around a big circular pillar near the food section. See photos below.
For working, there are a few "cubicles" with power points and high walls which give visitors ample of privacy. These cubicles are pretty popular and it can be hard to snatch one for yourself (if you do, you're indeed lucky!). If I had an intention to work in this lounge, I would have chosen the enclosed cubicles rather than the open cubicles.
Food and Beverages
Let's move on to Food and Beverages. Personally, I tend to judge a lounge according to quality of the food. In 2017, I visited SATS Premier Lounge at Terminal 2, and I love love love the laksa at the DIY section.
I sort of expect that this lounge at T1 provides laksa too. I should've known that expectation usually lead to disappointment. They did not provide the legendary laksa! Instead, they provided kway teow soup at the DIY section. The broth was so BLAND that even after adding chili and light soya sauce into the soup, it still tasted worse than kway teow soup at hawker center. Oh, my.
After kway teow soup, I wanted to try the main dishes. Turned out that most of them were almost empty! It took some time to get refilled so I decided to try other stuffs first.
The good thing about SATS food is that they're all halal.
I toasted sunflower seeds bread and add cheese onto it. Surprisingly, it tasted really good that I went for second serving. Another yummy food was the broccoli soup! I usually hate broccoli but I love this soup!
When the main dishes got refilled, I quickly took photos of them and scooped small amount of each dish onto my plate. There were tomato pasta, chicken curry with yellow rice, Indian curry with white rice, five treasure vegetable, sweet and sour chicken, braised chicken. Personally, I'm not a fan of the main dishes. I found them to be bland.
I did not try the pumpkin sandwich and cakes because I'm not sandwich and cake type of person. My hubby did and he said they were not great.
One thing I found funny is this sign. It says "Chicken Gulai Padang" but in the description, it says "Indian chicken curry." Seriously, SATS? Didn't you know that Gulai is originated from Indonesia? Didn't you know that Padang is a city in Indonesia? *facepalm* Also, is it Kunyik or Kunyit, can you make up your mind?
Even though it was almost midnight, I decided to try their coffee. I pressed latte and was served with an aromatic cup of coffee with milk. It was GREAT. I didn't regret drinking the latte even though by the time I arrive home later at 3am, I don't feel sleepy at all.
Next is beverages. As expected, there are free flow alcohols including beers, wine and liquor. Iced water, hot water and teabags were available as well.
Shower
I remembered clearly that the shower at SATS T2 was really clean so I expected the same with T1. Unfortunately, the shower at T1 is a disappointment.
See, if you have a big lounge, shouldn't you have a big toilet and shower too? Here's the reality. There are less than 10 shower rooms and these shower rooms also serve as toilets. That means, if there are many people in front of you wanting to pee and you want to take a shower, you need to wait for these people to finish their business before you can use the shower room.
As a result, there's a high chance that you enter a smelly toilet because the person before you just finished a big business, or you enter a dirty toilet because the guy who used it before you forgot to flush (or didn't know how to flush) and the person before him didn't know how to return the used towel so s/he just put the used towel on the counter-top! These are true stories. I waited for these people to come out only to find the toilets are either smelly or dirty. I chose the dirty one over the smelly one. Hence, I decided not to take any photos to save you from nightmare.
And by the way, why would you combine male and female toilets? Sigh.
For your info, if you want to shower and brush your teeth, the towels are available at the toilet corridors and the toothbrush is available att he reception upon request.
Soaps and shampoos were available in the shower area. The shower comes with a rain shower. I did not notice any hairdryer. What I noticed was a dirty shower floor that needs a scrubbing.
Conclusion
Would I recommend SATS Premier Lounge at T1? If you've read my entire review, I'm sure you know my answer would be no.
But I do think my bad experience is probably due to the sheer size of the crowd and the lack of manpower. If SATS could increase manpower when the crowd size is huge, I think the cleanliness of the shower can be improved from the current state and the speed of food replenishment can be enhanced.
I still want to reiterate that not all is bad in SATS T1. I love the coffee, broccoli soup, toast and the many power points in the lounge. I like the enclosed cubicle as well as the OSIM massage chairs.
What I didn't like was the huge amount of crowded, the bland food and the limited shower rooms.
SATS, please bring back the legendary laksa and never again serve the bland kway teow soup!
If you really want to visit SATS T1, here are my tips: check whether it is crowded, if it is then I recommend that you take the skytrain to visit SATS at T2.
Do you have any memorable or disappointing experience with SATS Premier Lounge T1? Let me know in the comments!
Looking for advice or just want to meet like-minded travelers? You're welcome to join Trevallog Community on Facebook.
Disclosure: Some of the links in this post are affiliate links. If you make any purchase through my links, I will receive a small commission, at no extra cost to you.