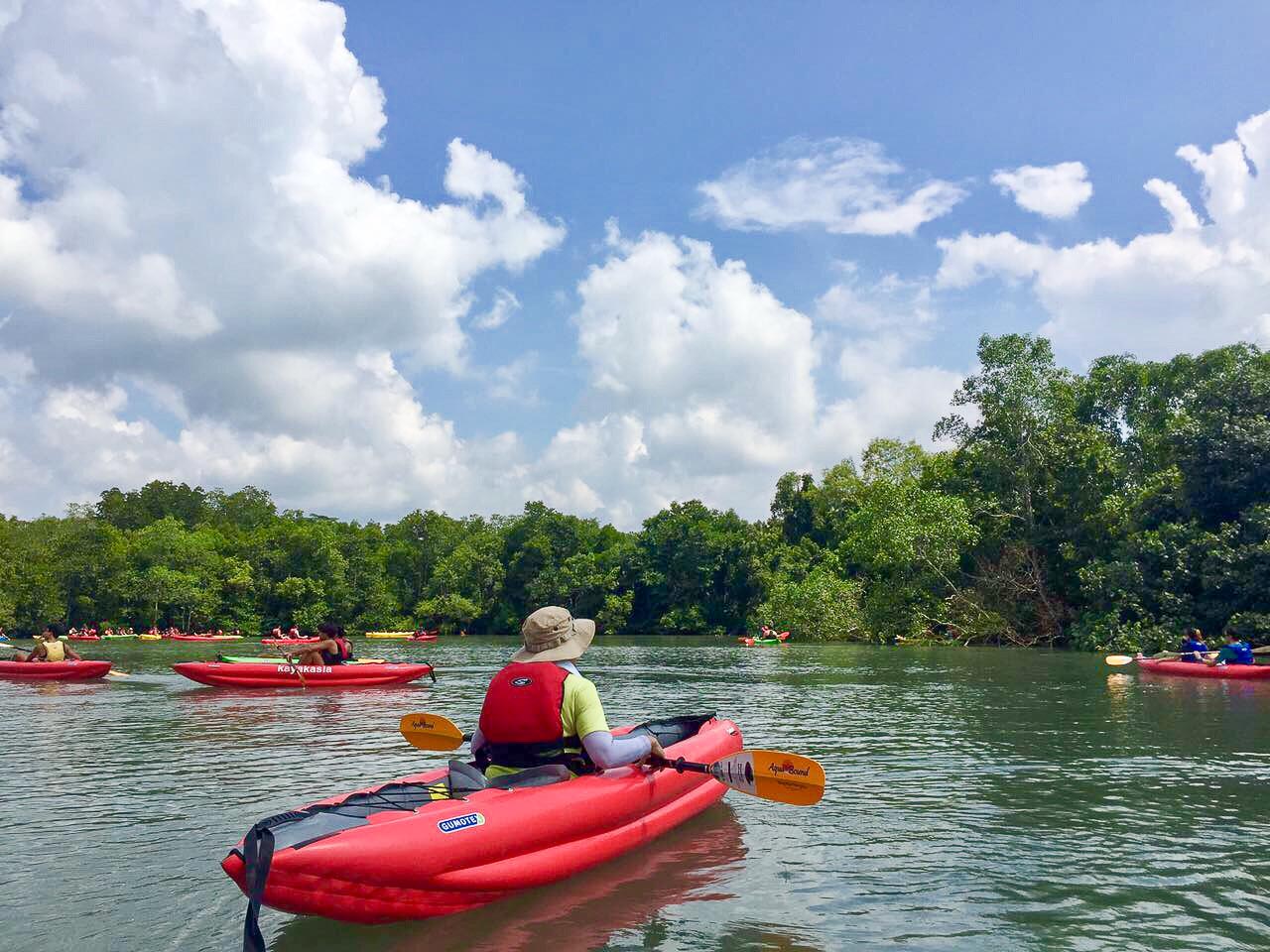 "I can't sit still, I need to get out and live my life. I crave adrenaline!" If this thought ever crosses your mind, I'm sure you're the type of person who always tries to find outdoor activities to satisfy your hunger of adventure.
Adventure has different meanings for different individuals. What I want to focus here are places that give you adrenaline highs, ignite your inner curiosity and awaken all of your senses.
Granted, Singapore doesn't have the breathtaking landscapes that New Zealand has. If you are expecting to find places to do extreme activities with jaw-dropping sceneries like giant waterfalls or snow mountains, I'm sorry you'll be disappointed. However, if you have an open mind to appreciate Singapore's beauty in its own way, I bet you will find plenty of true gems in Singapore's nature.
To start your adventurous journey in Singapore, here are 5 places you must visit to feed the fearless adventurer in you.
TreeTop Walk at MacRitchie Reservoir
Hands down, the TreeTop Walk is one of my favourite places in Singapore. This suspension bridge is about 250m long and 25m high (at its highest point). Yes, the bridge is shaky, but it's not an excuse to skip this wonderful place. You'll get so much more than just a good workout and an amazing view; you'll leave with a huge desire to go back again.
Getting to TreeTop Walk requires serious effort. You can start from either MacRitchie Reservoir Park and walk/run for about 4.5km, or start from Venus Drive and walk/run for about 2.5km. The hike to the start point is quite steep, but don't give up. Remember that the bridge only allows one-direction traffic, hence you have to exit at the other end of the bridge, not at the beginning of the bridge.
The entrance is free. The last admission is 5pm sharp, so it's best to visit the park early in the morning. The bridge is open from Tuesday – Friday: 9am – 5pm and Saturday, Sunday & Public Holidays: 8.30am – 5pm. Closed on Mondays, except on Public Holidays. Here's a map of MacRitchie Reservoir in case you get lost.
Bonus: If you still have energy after the hike to TreeTop Walk, head to Paddle Lodge at MacRitchie Reservoir Park (about 4.5km from TreeTop), just before Mushroom Cafe. There, enjoy an hour or two of kayaking in the serene reservoir from $15/hour.
The Southern Ridges
This stunning 10km pathway comprises of a series of green open spaces, namely Mount Faber Park, Telok Blangah Hill Park, HortPark, Kent Ridge Park and Labrador Nature Reserve. You'll be mesmerised by a variety of fabulous sights, including the iconic Henderson Wave (a bridge 36m above the busy Henderson Road), Forest Walk (elevated metal walkway) as well as the views of Keppel Harbour and Sentosa.
Here's the detailed map of the Southern Ridges. There are 2 recommended routes for the Southern Ridges:
1. Route A starts from Harbourfront MRT and ends at Kent Ridge Park.
2. Route B starts from Harbourfront MRT and ends at Labrador Nature Reserve.
Personally, I love Route B because of the ocean view at Labrador Nature Reserve. And yes, these trails are open at any time of the day.
Sentosa
To be honest, Sentosa is a small island that is too big to be covered in just a day. Let me tell you why. The island is so jam-packed with attractions that you probably need at least a week to truly enjoy each attraction. Since you're into outdoor activities, you should not miss out the Universal Studios Singapore (thrilling rides are aplenty), Adventure Cove (this water theme park lets you snorkel as many times as you want), MegaZip
(challenge yourself to zip at 50km/hr speed over jungle and water), Giant Swing (swing at 120km/hr, do you dare?)
, Bungy Jump
(47m drop in 3 seconds and you can request to get a little dip in the pool below if that's what you like!), Wave House (ride the waves even if you've never surfed before), Jetpack/Jetblade (Never head of fly with water-propelled jets? Then you should try it!).
Getting to Sentosa is very easy. Just take the MRT to Harbourfront Station, then walk to VivoCity. There, you can either take the monorail or walk along the Sentosa Boardwalk. The first option is faster and more convenient, the second option is slower but free (free until further notice). The island is open 24 hours a day, but each attraction has different operating hours.
East Coast Park
East Coast Park (ECP) is more than just a park along the coast. Besides the popular activities like jogging (run on your own or join the free 5km parkrun every Saturday), cycling (single or double bicycles are available for rent in ECP), skateboarding (there is a huge place called Xtreme SkatePark, it is the perfect place to skate for beginners and pros, and it's free; skates are available for rent in ECP), BBQ (BBQ pit advanced booking is required) and camping (camping permit has to be booked in advance), there are also plenty of water sports, such as cable ski (wakeboarding with cables), windsurfing, sailing, stand-up paddling and even kitesurfing. Here are some companies that provide water sports in ECP: Constantwind, Aloha Sea Sports, PA Water Venture.
East Coast Park can be accessed by taking bus 401 from Bedok Bus Interchange (only on weekends) and alight anywhere along East Coast Park Service Road, or bus 196 from Bedok Bus Interchange (weekdays and weekends) then alight at Opp Eastern Lagoon and walk about 850m to East Coast Park.
Pulau Ubin
Pulau Ubin is a raw, untouched, traditional island in the northeast of Singapore. Contrary to the modern Sentosa, Pulau Ubin retains the feeling of old Singapore before modernisation. For laid-back adventurers, I'd recommend cycling (bicycles are available for rent in Pulau Ubin) and trekking (for those people who can't cycle, like me). For curious adventurers, I'd recommend camping (bring your own tent and choose from 3 campsites: Jelutong, Mamam and Endut Senin), kayaking (kayak and explore the mangroves forest along the way) and fishing.
To get to Pulau Ubin, you can take the bumboats from Changi Village. The bumboat ride costs $3/person and it leaves when it has gathered 12 passengers. To get to Changi Village, take bus 2 from Tanah Merah MRT and stop at the last station. Remember not to come back too late, because the last bumboat leaves about 5pm.
Do you have other suggestions? Let me know in the comments!
Featured image by Ria Tan