What is Adventure Cove Waterpark? It is a water theme park in Sentosa island that has slides, rides, obstacle courses, wave pool, water playground and so many more exciting stuff.
If you have never heard of the park, it's understandable. Adventure Cove is located in the same cluster as its popular sisters, the Universal Studios Singapore and SEA Aquarium, which is Resort World Sentosa.
In this post, I will share my tips on how to maximise your visit, what the must-do things are, what to bring and not to bring, and plenty of other tips.
All of the tips here are based on my personal experience after visiting Adventure Cove for so many times. I purchased a season pass because I love water theme park, especially one with free snorkeling!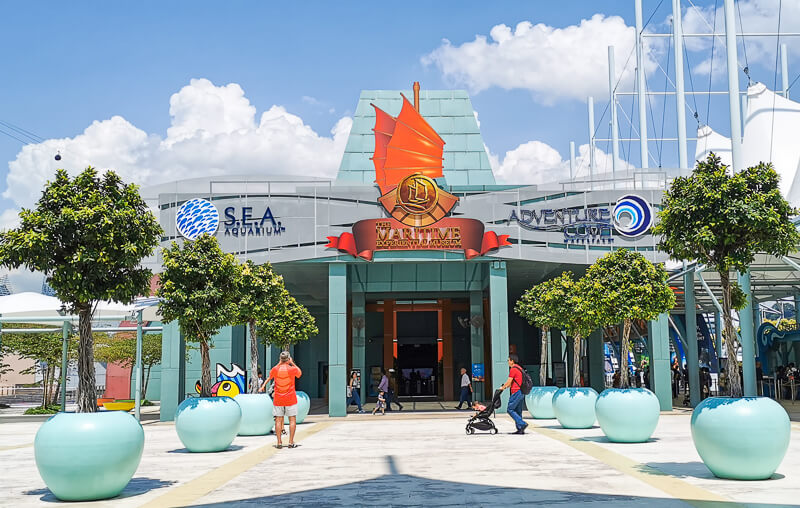 Looking for ideas on what to do in Singapore? Here's my guide on the best things to do in Singapore.
What's Adventure Cove price?
One-day ticket costs SGD 38 (Adults); SGD 30 (Child age 4-12 and Seniors 60 y.o. and above). Meanwhile, Singapore residents enjoy cheaper ticket at SGD 32 (Adults), SGD 24 (Child age 4-12 and Seniors 60 y.o. and above).
If you're not Singapore residents, you can get Adventure Cove discounted ticket here
with instant confirmation when you book online.
A season pass for 6-month costs SGD 68 (Adults), SGD 58 (Child age 4-12 and Seniors 60 y.o. and above). An annual pass for 12-month costs SGD 98 (Adults), SGD 68 (Child age 4-12 and Seniors 60 y.o. and above).
Adventure Express (costs SGD 15) is an express pass that allows you to skip the queue for THREE attractions: Rainbow Reef, Riptide Rocket and Dueling Racer.
Rainbow Reef is a pool full of colorful fish where you can snorkel for 1 round (PS: We love it). Riptide Rocket is a ride for thrill seekers who love challenging rides with sudden drops and high speed twists. Dueling Racer is a tall, steep slide on which you can race down with your friend by lying face down on a mat.
Should you buy Adventure Express? Yes if you like these three rides so much, you want to ride them over and over again. If you're an explorer who'd like to explore every ride or you're not someone who likes to repeat rides, you don't need Adventure Express.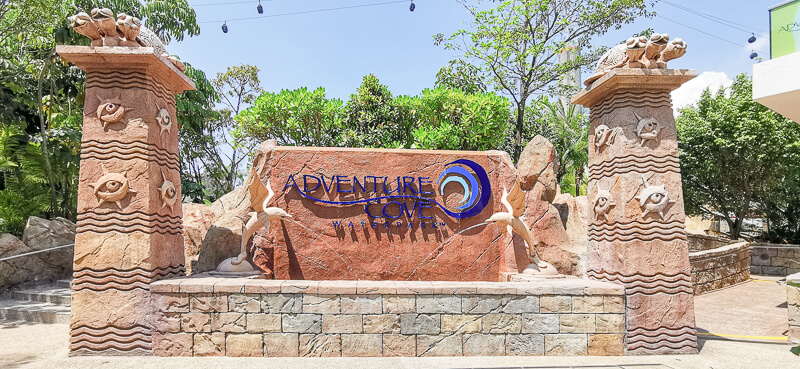 When is the best time to visit Adventure Cove?
Generally, Adventure Cove is crowded during public holiday. I had visited Adventure during a couple of public holidays. On the weekend of Singapore National Day and Christmas Eve, the crowd was INSANE. However, during Deepavali, the crowd was not bad, it was alright.
Before booking your ticket, I suggest that you check this page for maintenance notice. The attractions at Adventure Cove require periodic maintenance, so try your best to visit when there is no maintenance in order to be able to enjoy the theme park to the fullest.
How to get to Adventure Cove?
There are 3 main ways to go to Adventure Cove from Harbourfront MRT station.
1. Take Sentosa Express (it's a monorail) for $4 from Vivo City Level 3. Get down at Waterfront Station and walk a short distance to Adventure Cove.
2. Take RWS8 bus from Vivo City bus stop (bus stop no 14141) for $1, alight at Resort World Sentosa, and walk to Adventure Cove.
3. My favourite method is to walk. At Vivo City Level 1, just follow the signage to Sentosa Boardwalk. Walk along the boardwalk until you arrive at Sentosa gate, pay $1 entrance fee (currently it's free until further notice), and follow signage to Adventure Cove. If you walk fast, you probably need to spend about 10-15 mins in total. Leisure walkers may need 30 minutes in total.
What are the opening hours?
Adventure Cove is open from 10am to 6pm daily.
Adventure Cove Map
What to wear
Adventure Cove has a dress code that states what are allowed and not allowed in the water. Loose items will not be allowed on the rides, so, leave your jewelry, watch and accessories in the lockers.
Here is the list of permitted attire:
Swimming / waterproof diapers
Shorts
Swimming suit / bikini
Wet suit / body suit
Goggles
Full body swimwear
T-shirt
Water shoes / booties
Meanwhile, the prohibited attire are:
Normal diapers
Undergarments / underwear
Jeans
Jackets
Long skirts
Clothes with buttons and zippers
Clothes with buckles
If you're not playing in the water, I believe you can wear anything that you want.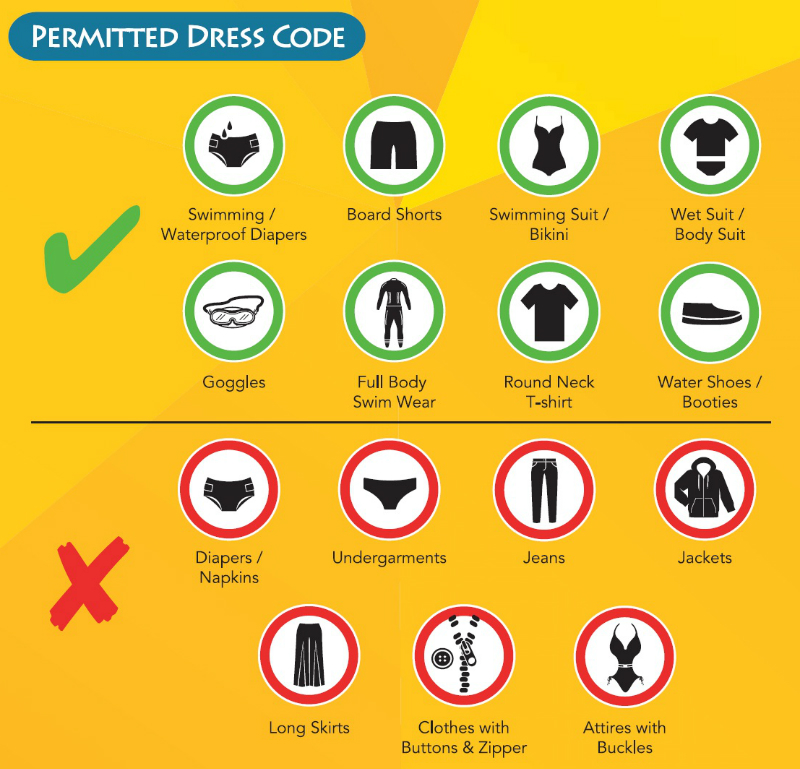 What to bring
Other than swimwear, I recommend that you bring:
Waterproof camera
Waterproof housing for phone or camera
Cash or card for locker rental
Water bottle (there are water fountains near toilet where you can refill your water for free)
Towel
Soap, shampoo, and other personal toiletries (actually, soap is provided in the shower area, so it's ok if you forget to bring soap; however, shampoo is not provided)
Waterproof sunscreen
(Optional) Personal snorkel equipment (if you prefer not to share snorkel equipment for hygiene reason)
(Optional) Personal water shoes (I recommend wearing these because the walkway around the park is rough and not suitable for barefoot walking)
What NOT to bring
Goggles (I brought these but didn't use them at all)
Floats (available for free at the waterpark)
Life jackets (available for free at the waterpark)
Snorkel equipment (available for free at the waterpark, but you can bring your own)
Outside food and drinks (it's not allowed)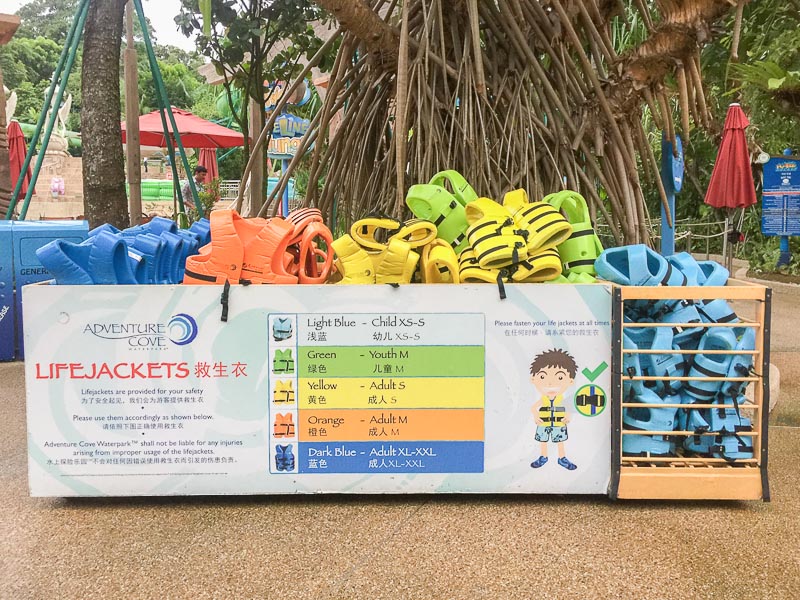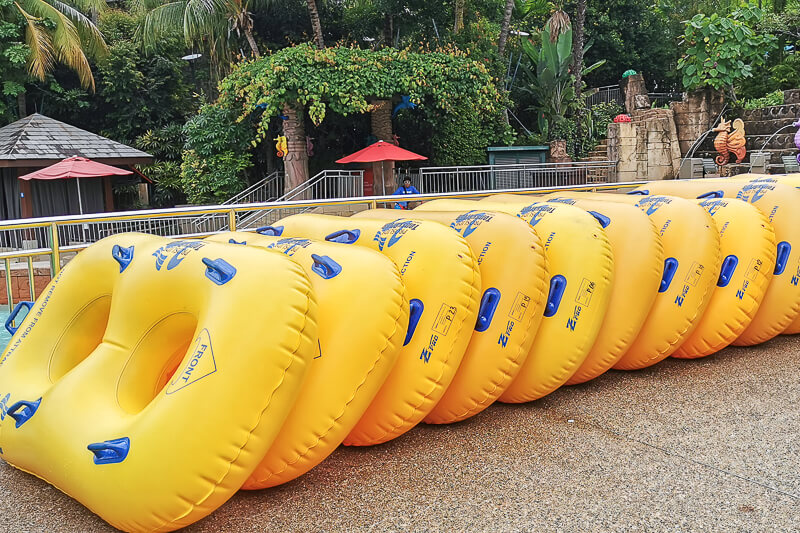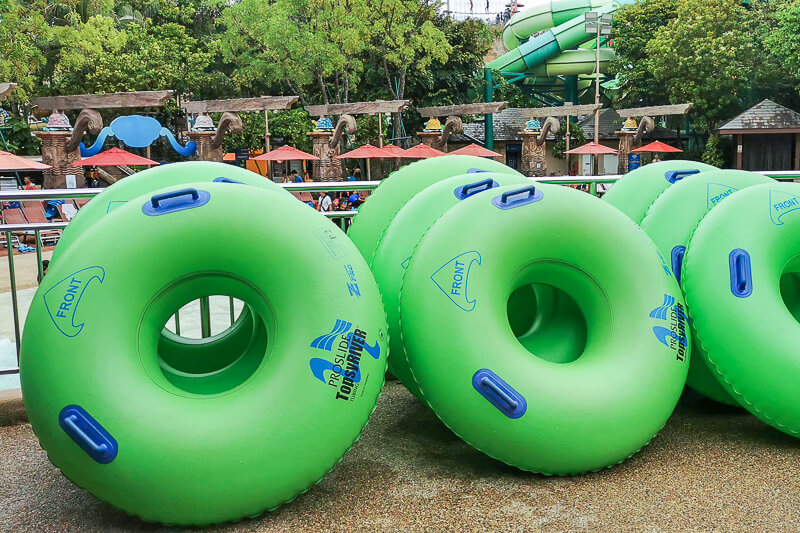 Lockers
If you're like me who expect to find a free locker in Adventure Cove, I'm sorry you'll be disappointed. There are no free lockers in Adventure Cove. You definitely need to pay for lockers unless your family members is ready to take care of your belongings for you.
The small locker (360mm high x 370mm wide x 500mm deep) costs SGD 10 for the entire day. For my hubby and I, the small locker is good enough.
Meanwhile, the large locker (910mm high x 370mm wide x 500mm deep) costs SGD 20 for the entire day.
Payment can be done by cash or card. Basically, there is a booking machine where you make the payment and get assigned a locker.
You can open and close the lockers as many times as you wishan. There isn't a key that you need to wear on your wrist. Instead, you lock the locker with a digital password. You will be asked to provide your birthday and favorite color as the digital password.
At the end of the day, about 6.15-6.30 pm, the staffs clear everything inside the locker, so, make sure you withdraw your stuff by then.
There are 2 locations where you can find lockers:
1. The first one is just after the entrance. It's on your left, near toilet and shower.
2. The second one is located in front of Bluewater Bay, the pool that releases waves at certain intervals.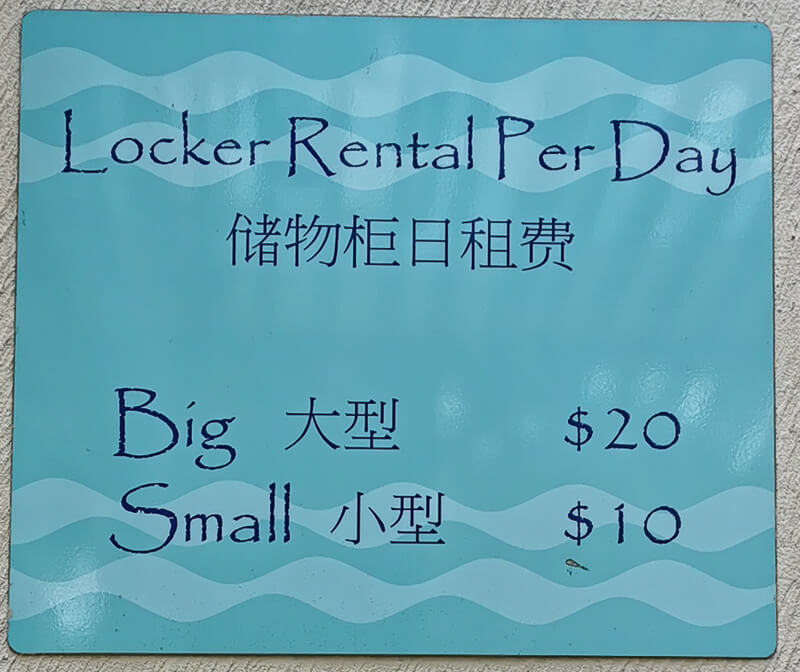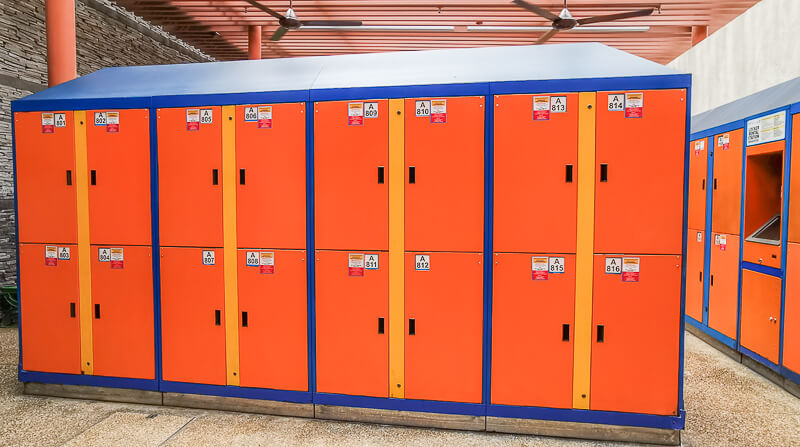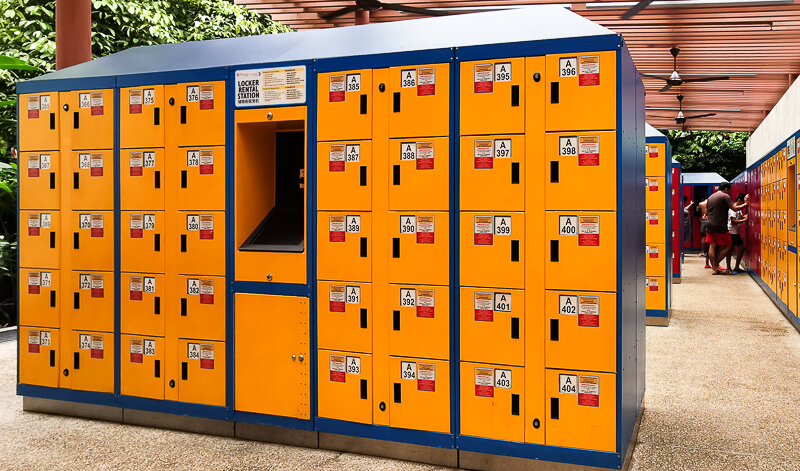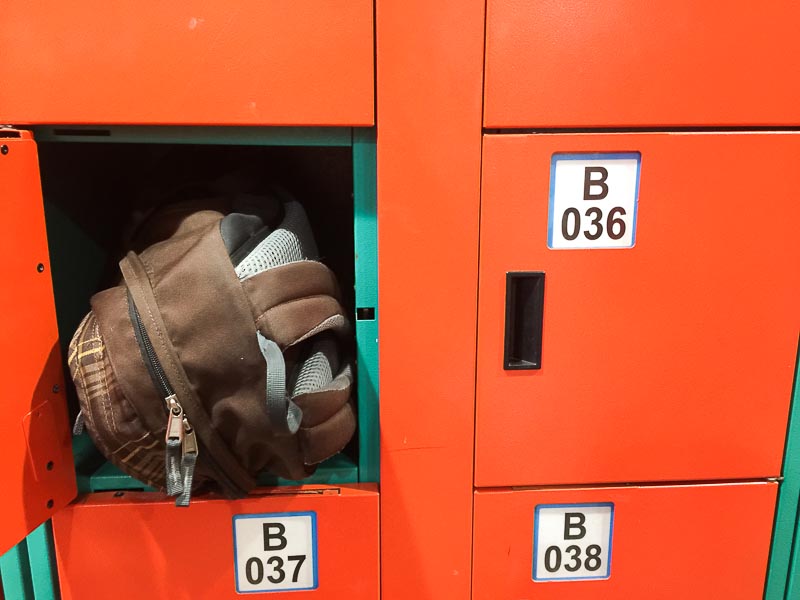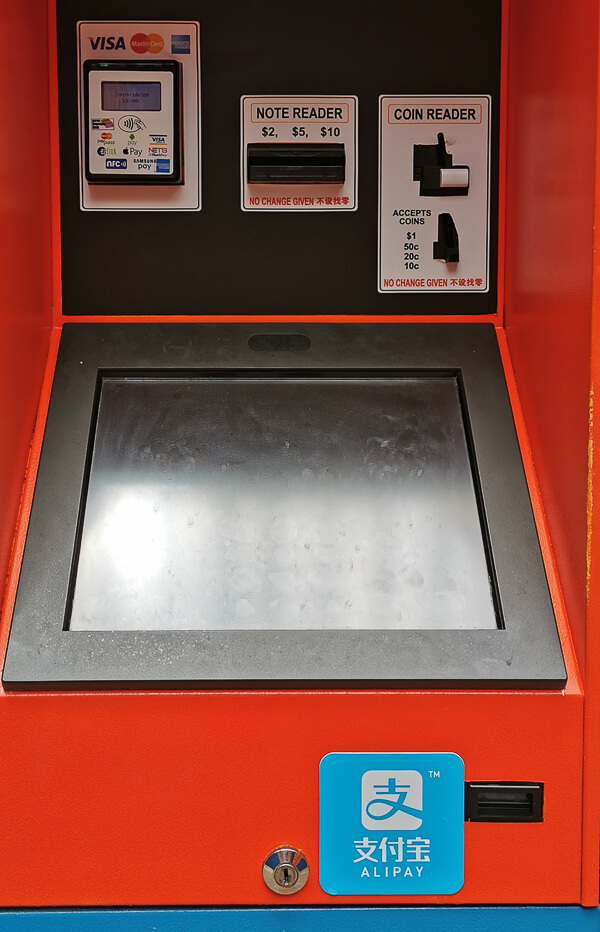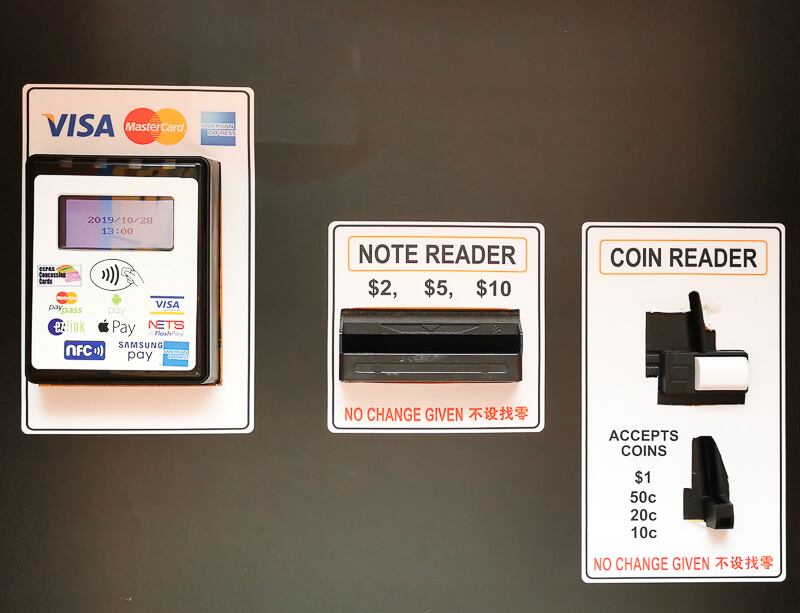 Cabana
Cabana is a private "pavilion" where you and your friends can hang out together. Here are what you get:
$10 Food & Beverage voucher
2 towels
A personal locker inside cabana
Prices vary from SGD 68 to 138, depending on the location and season. The three locations to choose from are: Bluwater Bay, Adventure River (Gardens) and Seahorse Hideaway.
It's limited and available on the first-come-first-served basis. To book, you can approach Guest Service Counter inside the park near the entrance, or book online. Once booked, it can be used for the whole day.
Tips to maximise your visit
1. Purchase tickets in advance. To save time, purchase these things in advance: admission ticket, Adventure Express (to skip the queues), cabana rental (private resting place). Based on my own observation, the walk-in ticket counter always has queue during the weekends.
2. Check this page for maintenance notice. Sometimes, certain rides/attractions are closed for maintenance, so you want to avoid visiting the park when there is maintenance going on.
3. Arrive early, like before 10am. Adventure Cove is closed at 6pm, which is quite early. To maximise your visit, you want to be at the gate before it even opens 🙂
4. Know that there are 3 attractions inside Adventure Cove that requires a separate ticket. They are Dolphin Island, Ray Bay and Shark Encounter. These attractions allow you to be near the marine creatures and it's likely that you won't forget the experience.
Dolphin Island tickets cost additional SGD18 (Adult) or SGD16 (Child/ Senior) on top of Adventure Cove admission. Ray Bay tickets also cost the same amount as Dolphin Island.
Meanwhile, Shark Encounter ticket costs additional SGD36 (Adult) or SGD34 (Child/Senior) on top of Adventure Cove admission. You can buy the tickets on the spot, subjected to availability.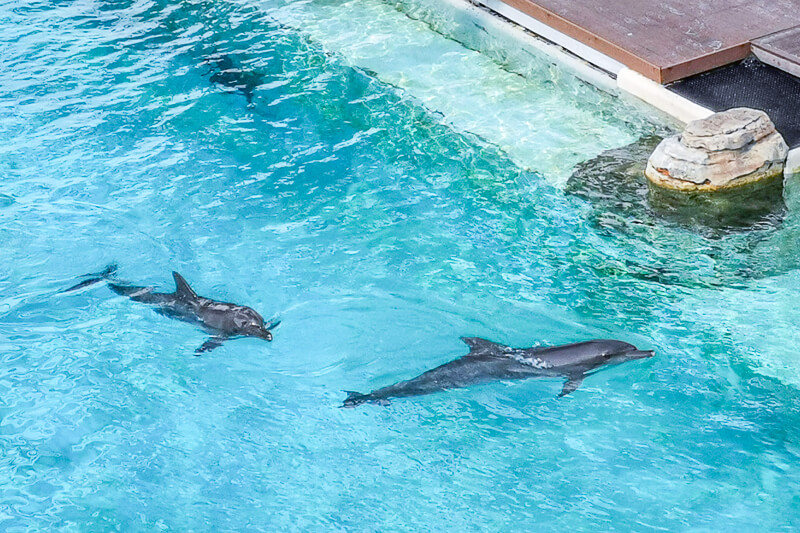 Except those 3 listed above, all other attractions inside Adventure Cove are free of charge; you don't need to pay additional money to enjoy the rides & attractions in the park.
5. Know that there are 3 shower locations in the park. The toilets are located at: just after the entrance, in front of Bluwater Bay and in front of Bay Restaurant. If one toilet is full, try other toilets before deciding to queue!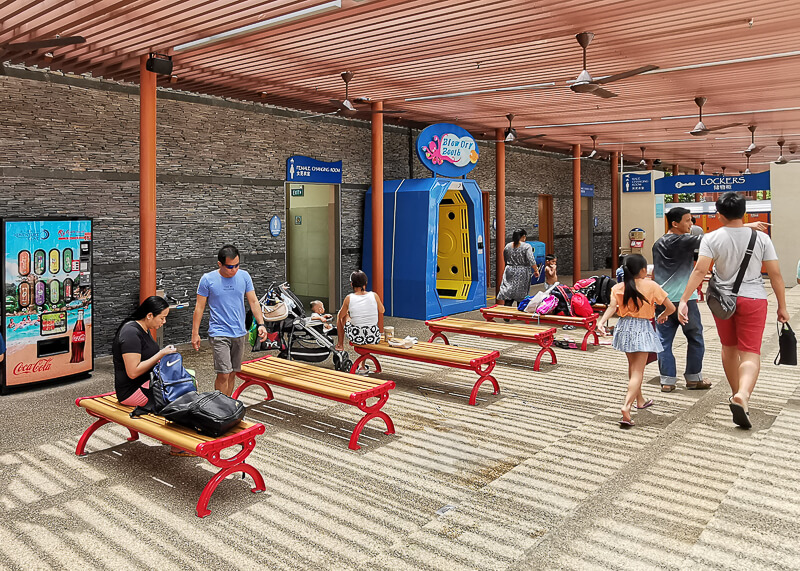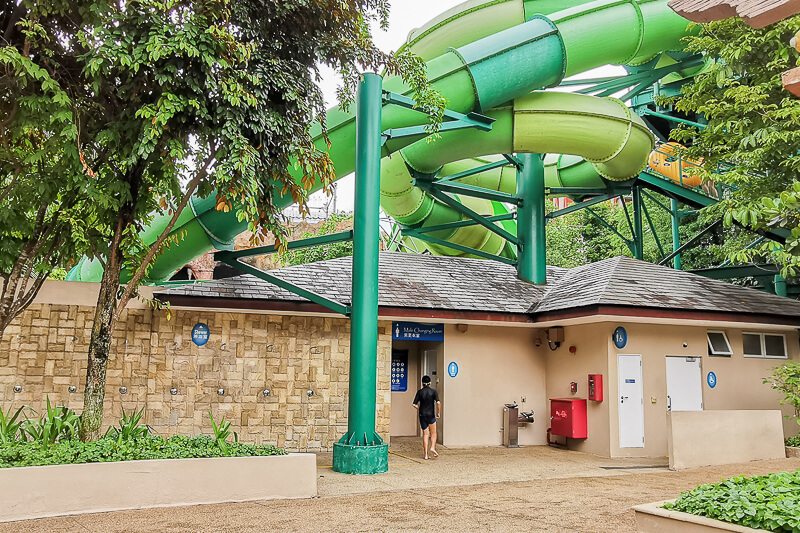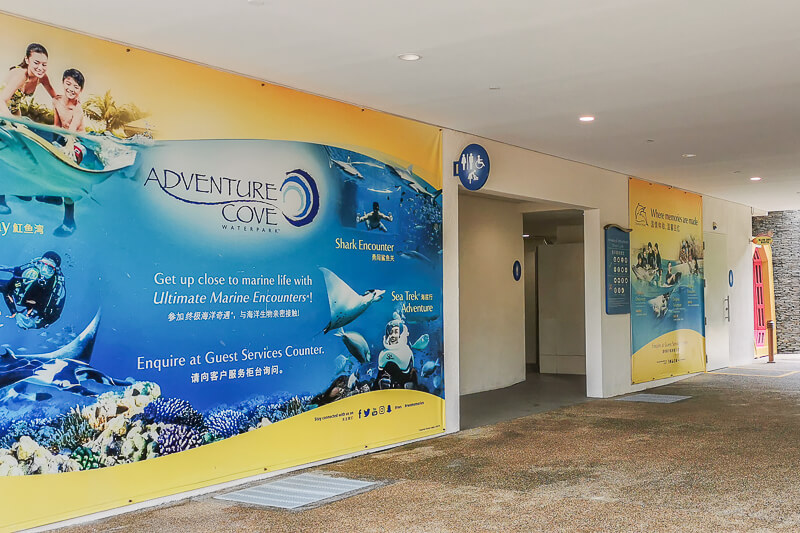 6. Know that there are 2 locker locations in the park. The lockers are located at: just after the entrance and in front of Bluwater Bay.
7. You can bring your own water bottle and refill them at the park. There are 2 water dispensers inside the park. One at the shower near entrance, the other one at male shower near Bluwater Bay.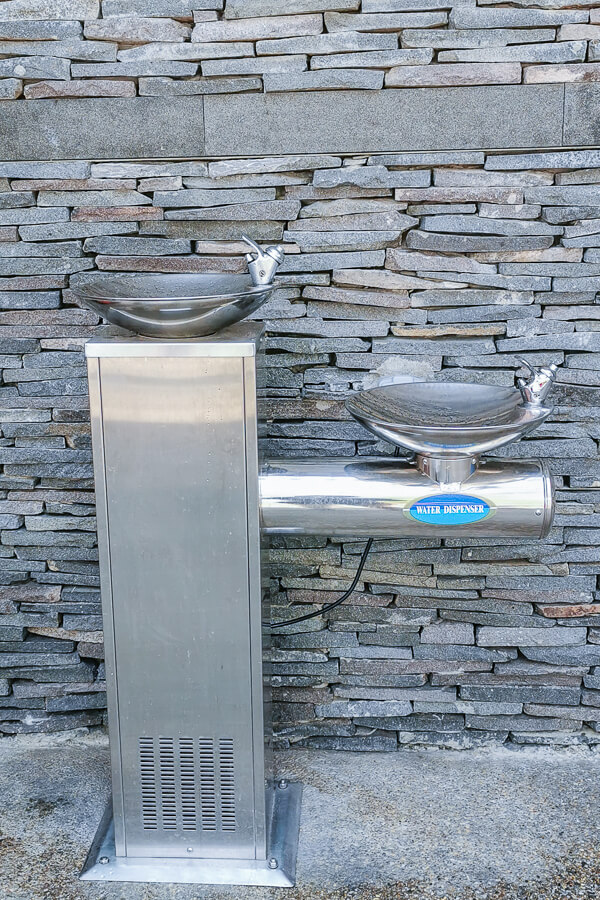 8. Find out about all of the rides & attractions at Adventure Cove and decide which of them are worth your time before even going. See my recommendations below!
List of Adventure Cove rides and attractions
1. Adventure River (Recommended). In simple words, this is a lazy river. Basically, all you need to do is just grab a float, sit on it, and let the current of the river brings you around. The most interesting part of this ride has to be the one where you pass through an underwater tunnel!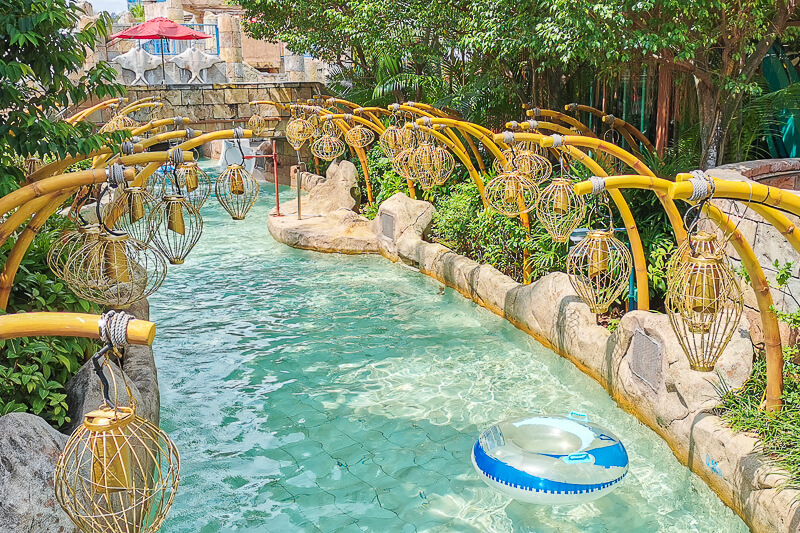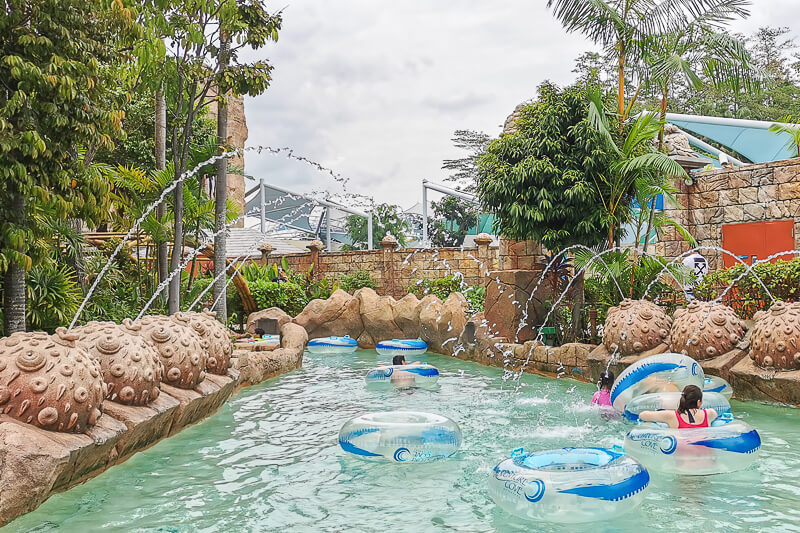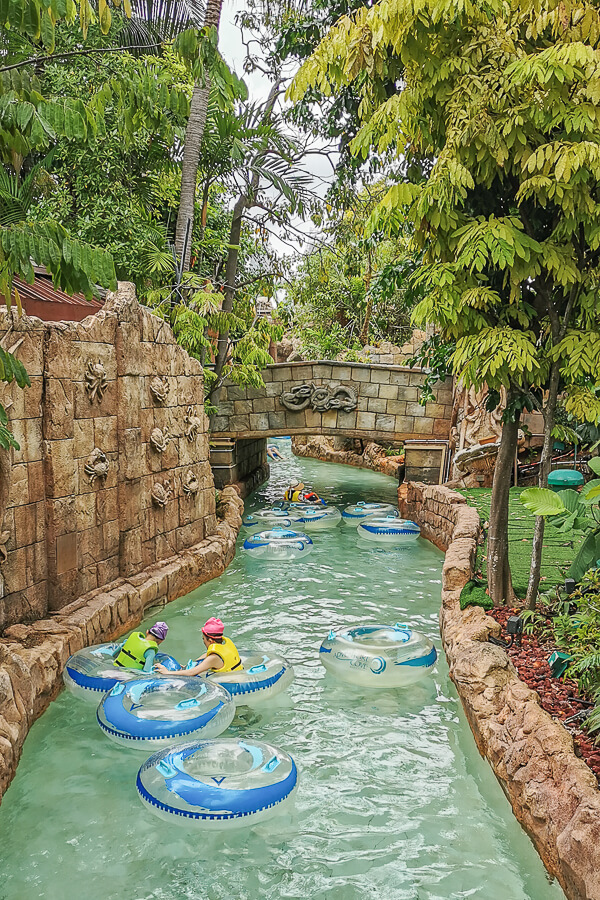 2. Wet Maze & Rope Course. This attraction is pretty hidden because it's located above the cave. There was no queue when we arrived at this place, so we jumped right into the action.
Basically, there are 2 parts. The first part is a wet maze where you need to find your way out of the confusing maze. Occasionally, you might be splashed with water, so brace yourself.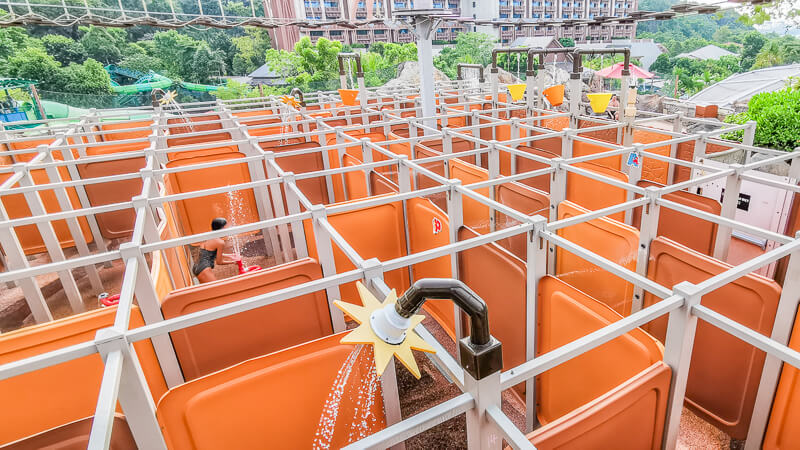 After successfully escaping the maze, you can then proceed to the second part, which is a 4-course rope obstacle.
You definitely need a good balance, a hefty amount of confidence, and zero fear of height. PS: This is actually a kid-friendly attraction, so if you're an adult, you should be fine taking this challenge 🙂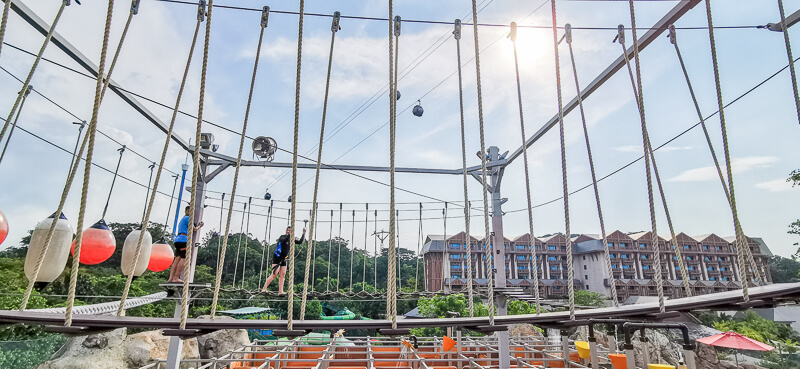 3. Big Bucket Treehouse. This is probably every kid's paradise. There are kids slides and buckets of water!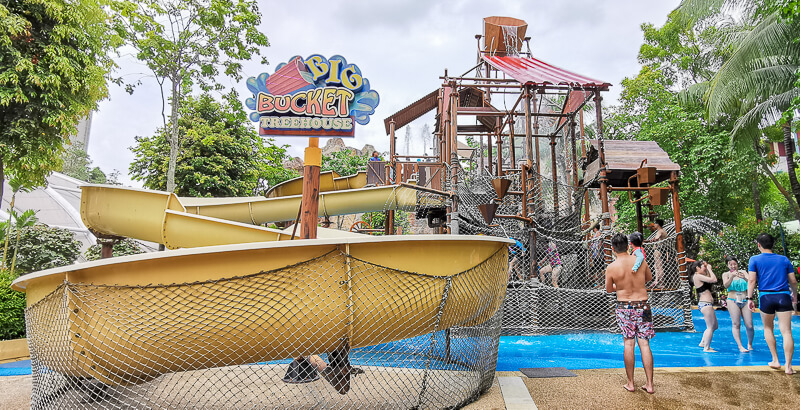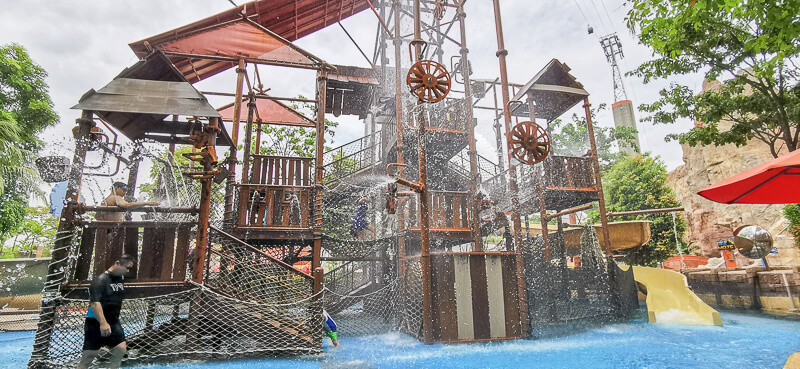 4&5. Whirlpool Washout & Spiral Washout. Both Whirpool and Spiral Washout are located on the same platform. You need to carry 8-shaped float up to the platform via staircase. Whirpool is more popular and has a longer queue than Spiral when we visited. Before riding them, I had the impression that Spiral is scarier judging from the length of the queues. The truth is, they are both not as scary as they look!!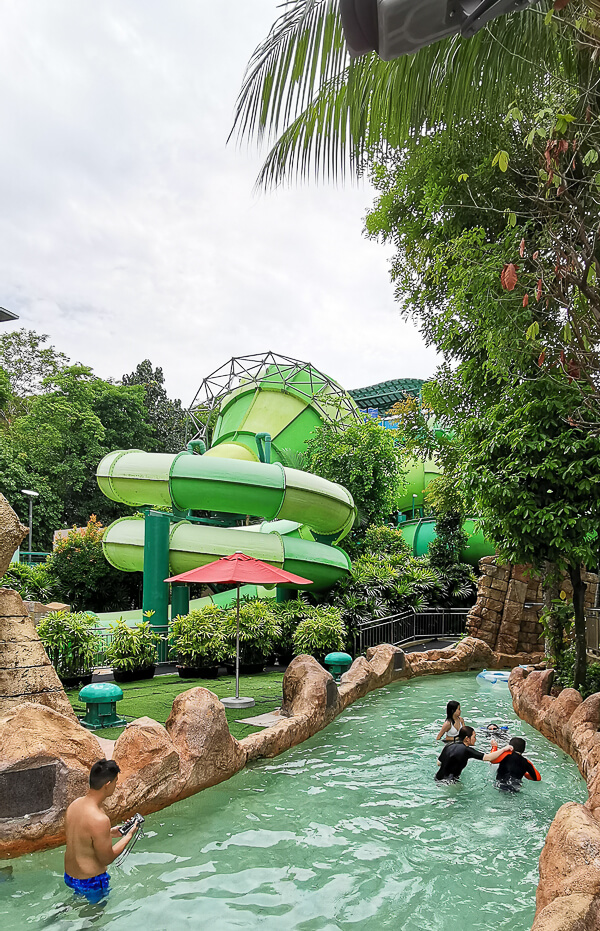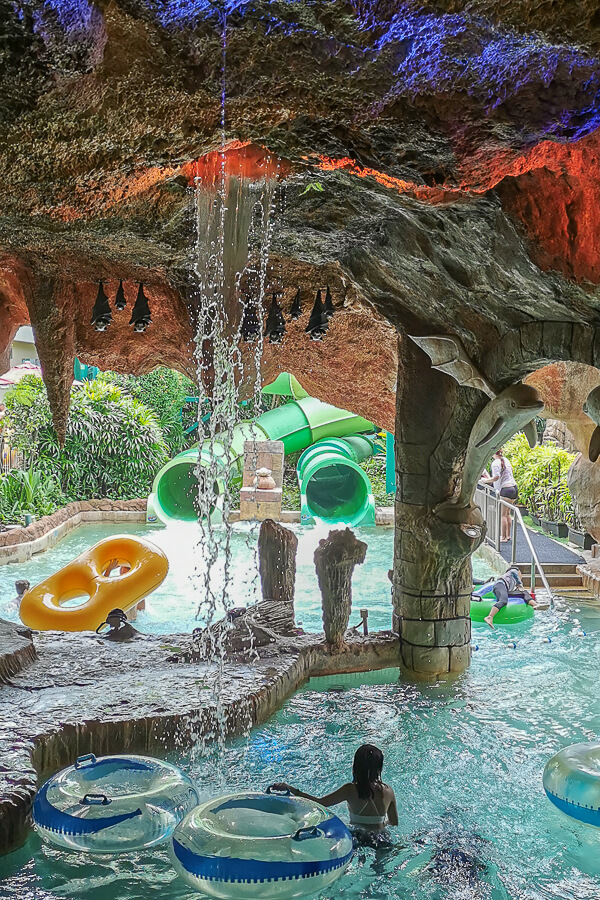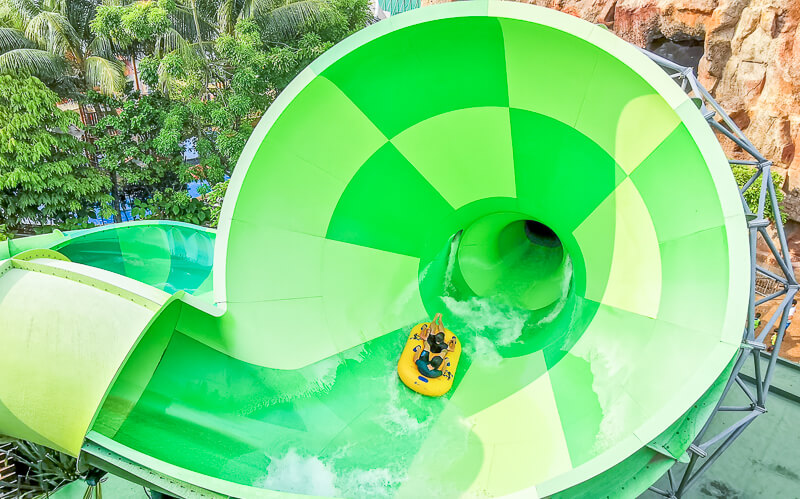 6. Bluwater Bay. It's a giant wave pool where waves are released every 15 minutes, so wear your life vest or use the float at all times! Oh, the bay is also a great place to sunbathe, catch up with your books or sleep!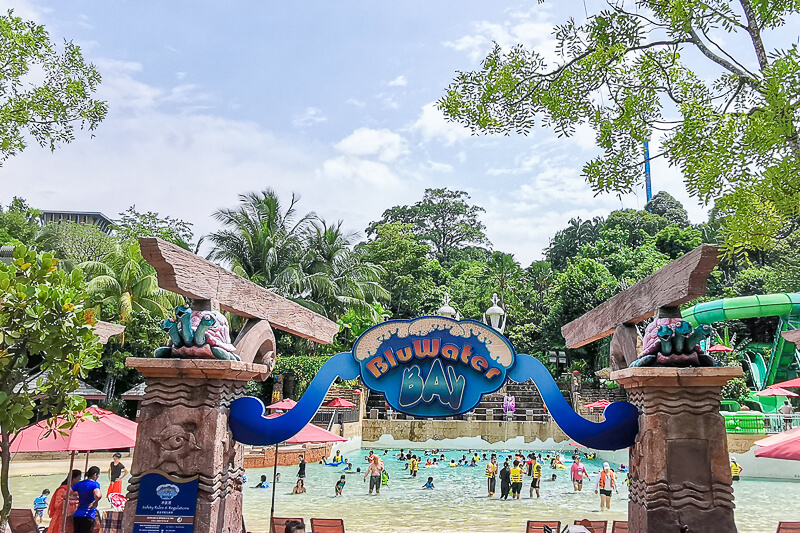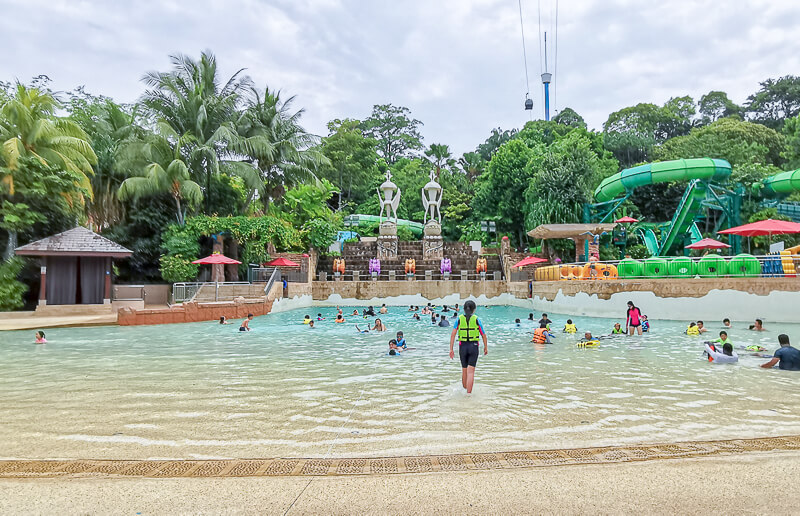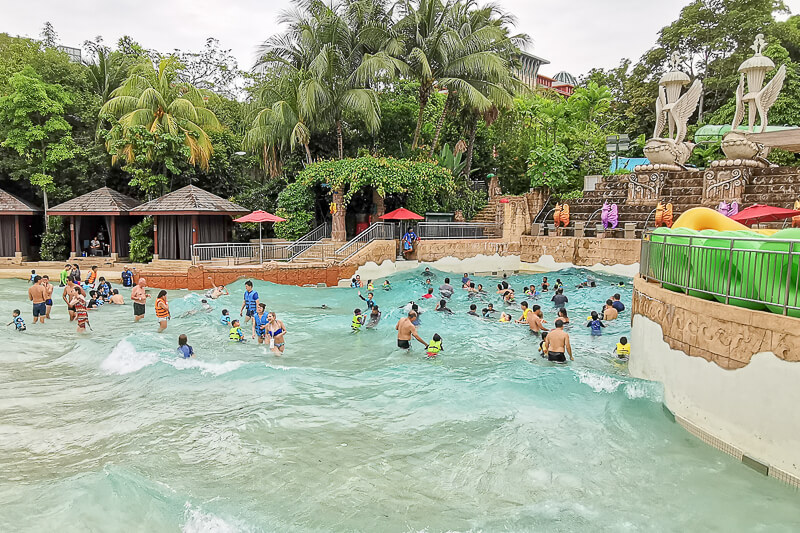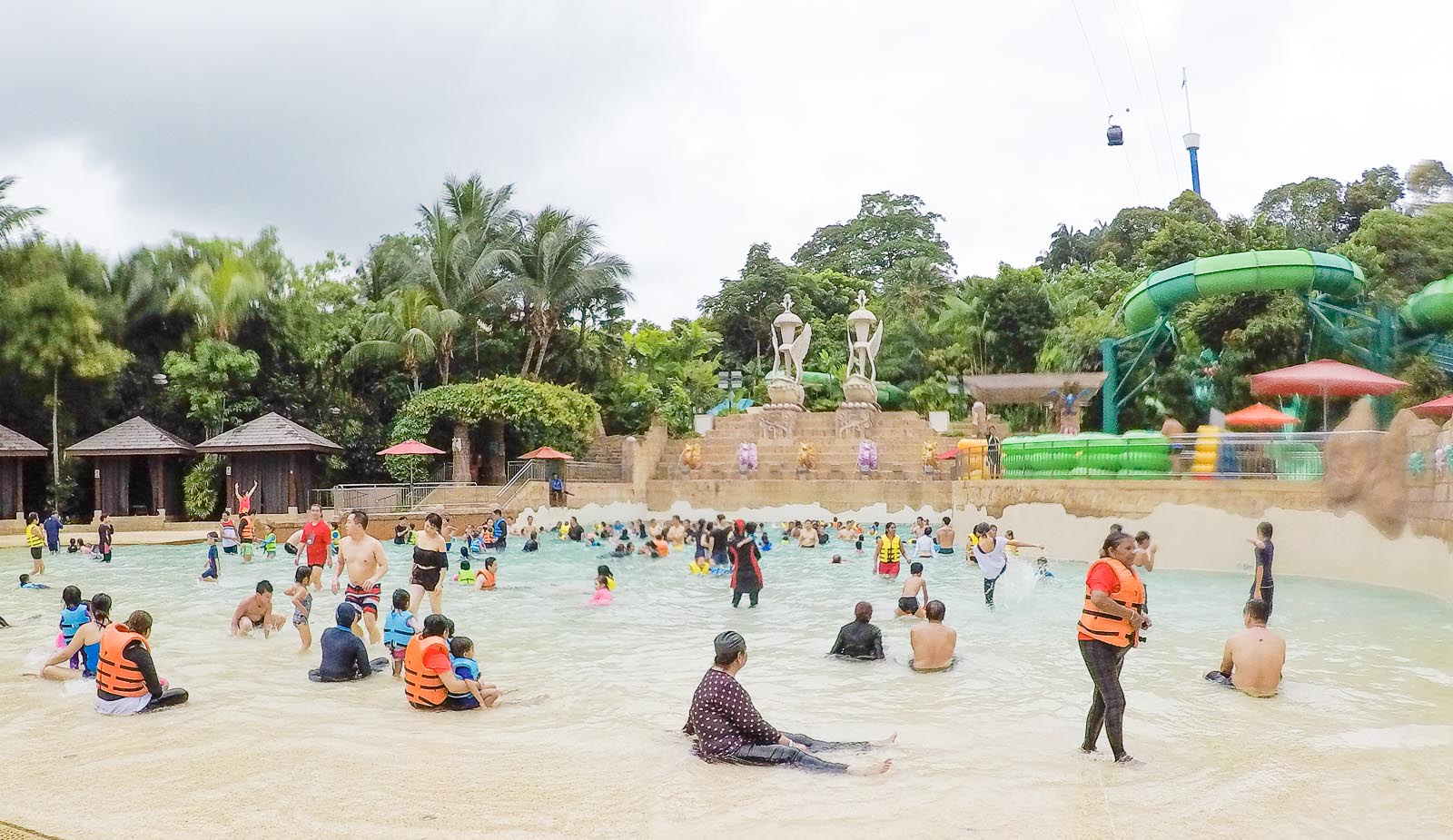 7&8. Tidal Twister & Pipeline Plunge (Recommended). Both Tidal Twister and Pipeline Plunge are located on the same platform. You need to carry either a single float or an 8-shaped float up to the platform. Pipeline Plunge is a ride in the dark at high speed, while Tidal Twister is a slightly more relaxed ride compared to the former.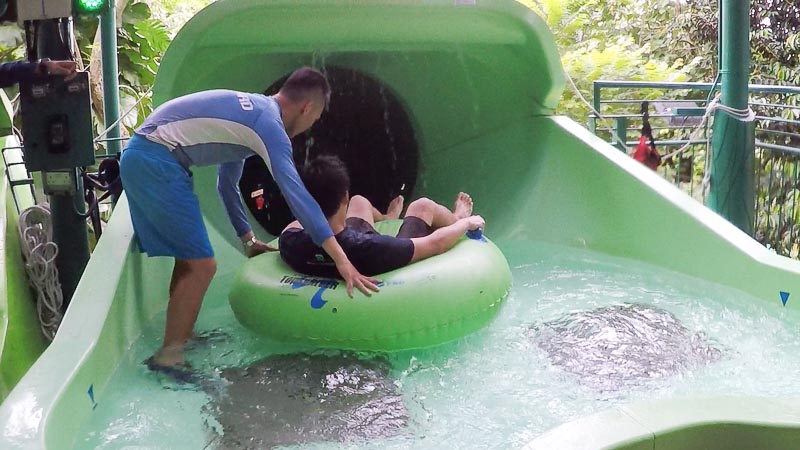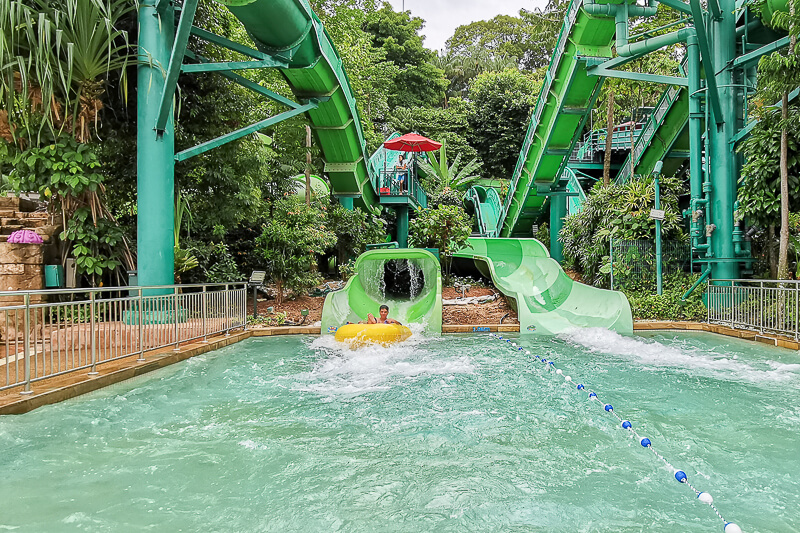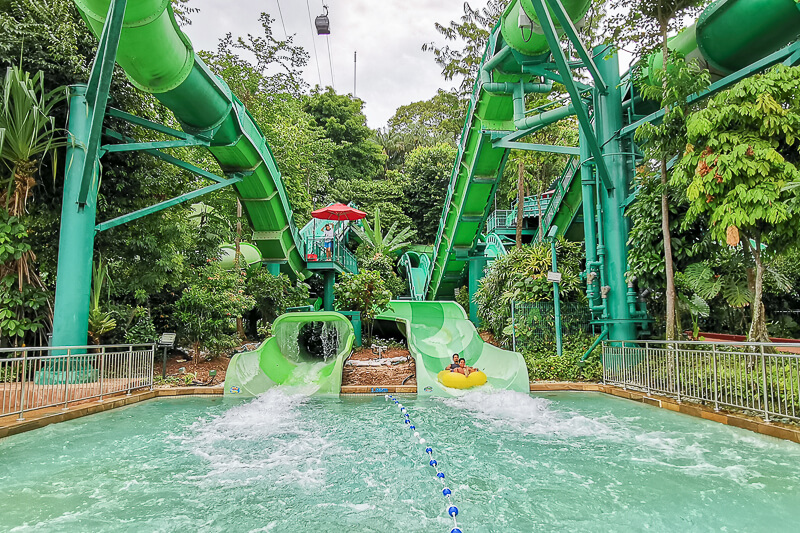 9. Riptide Rocket (Highly Recommended). Riptide Rocket is more of a rollercoaster and less of a rocket (to me, a rocket shoots up against the gravity!). To ride this, simply join the line and get into the 8-shaped float when you arrive at the front of the line. You don't need to carry the 8-shaped float, instead, just sit on it and you'll be transported up with the travellator. And, get ready to have a hell of a good time!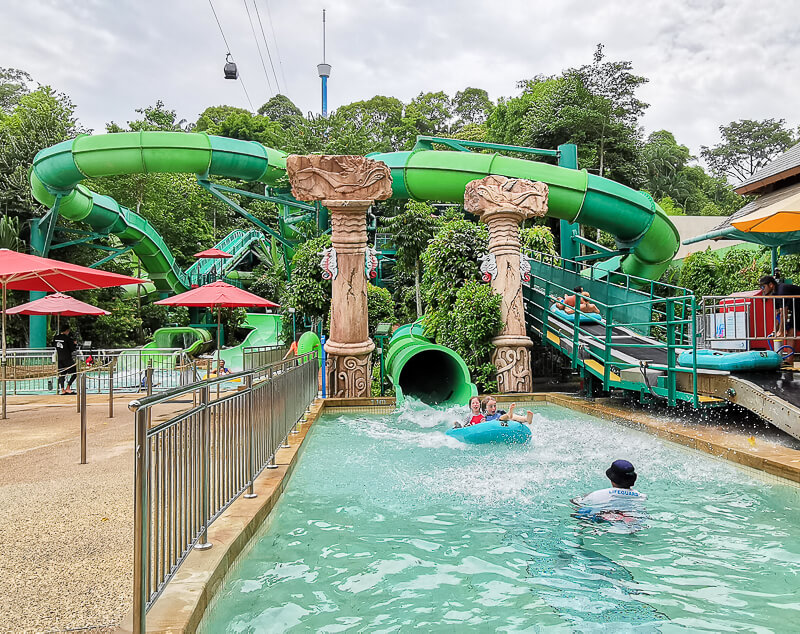 10. Dueling Racer. If you fancy going down a slide face down, this ride is for you! Bring a blue mat and race down together with your friend. There are 2 lanes so both of you can slide down at the same time and see who reaches the bottom first. PS: Not my cup of tea, though.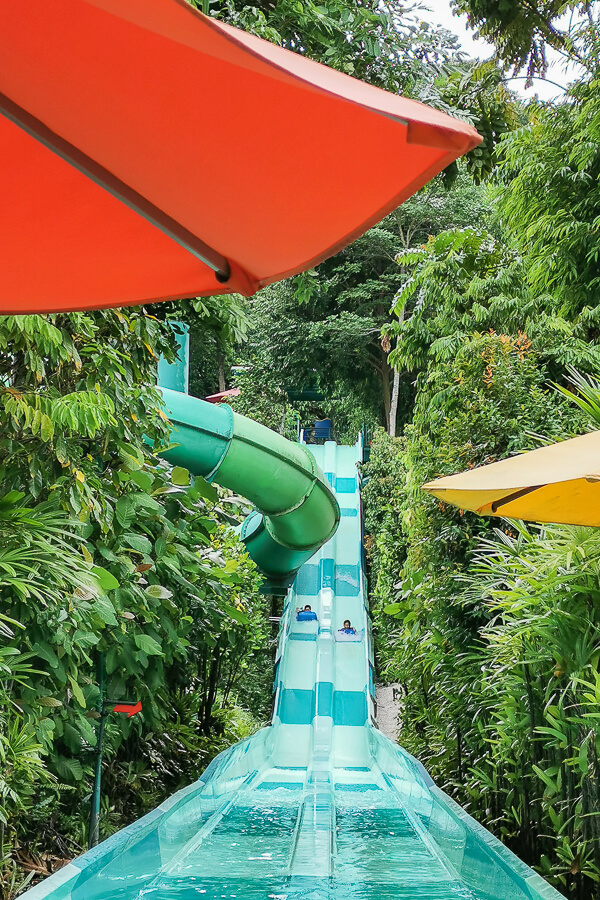 11. Seahorse Hideaway. This is a shallow pool with fountains, made for toddlers.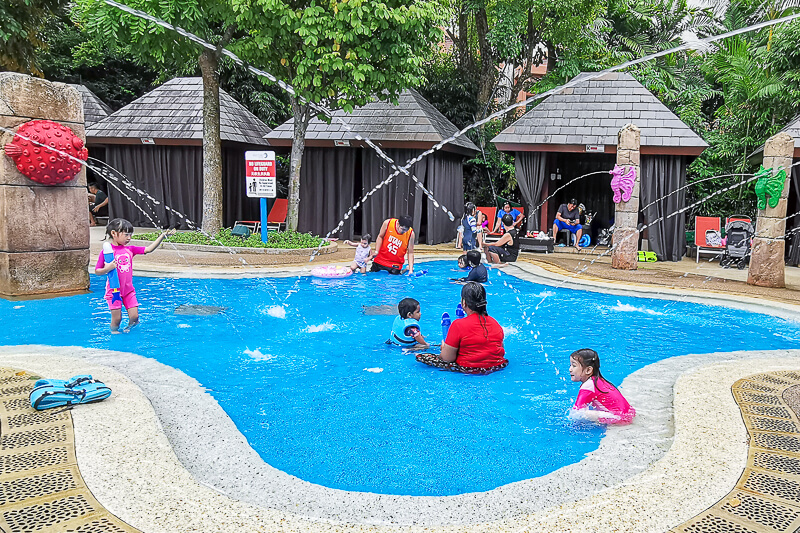 12. Rainbow Reef (Highly Recommended). For my hubby and I, Rainbow Reef is the highlight of Adventure Cove. It's what makes Adventure Cove unique.
What is it? It's a very big pool filled with clear water, beautiful corals and so thousands of fish including baby shark! You can snorkel in the clockwise direction at your own pace!
Mask, life vest, and snorkel equipment are provided free of charge. You can also use your personal snorkel equipment if you want.
This is the only thing you must try at Adventure Cove!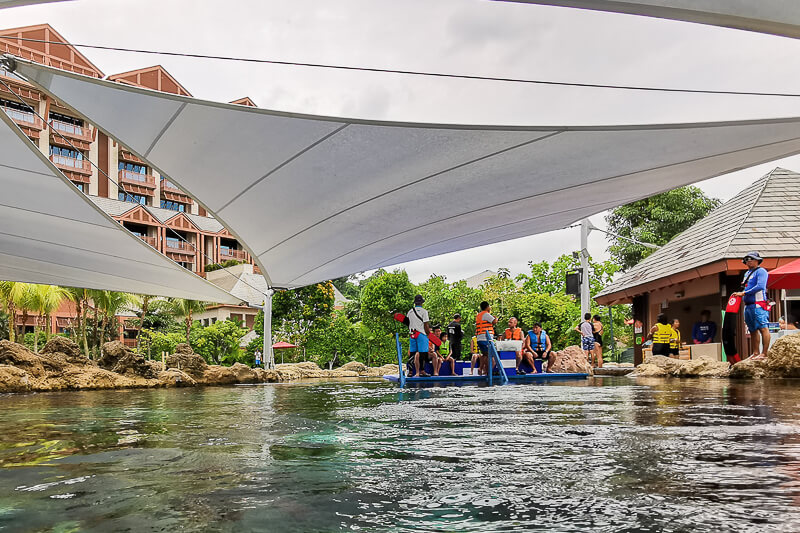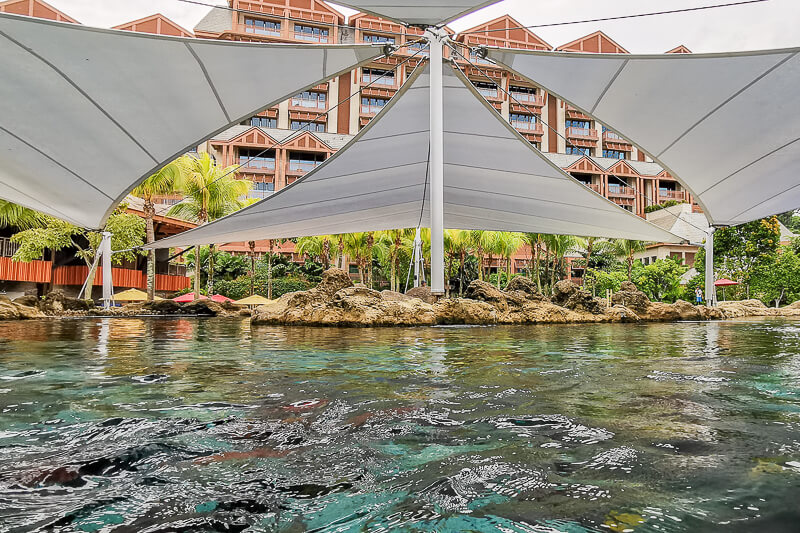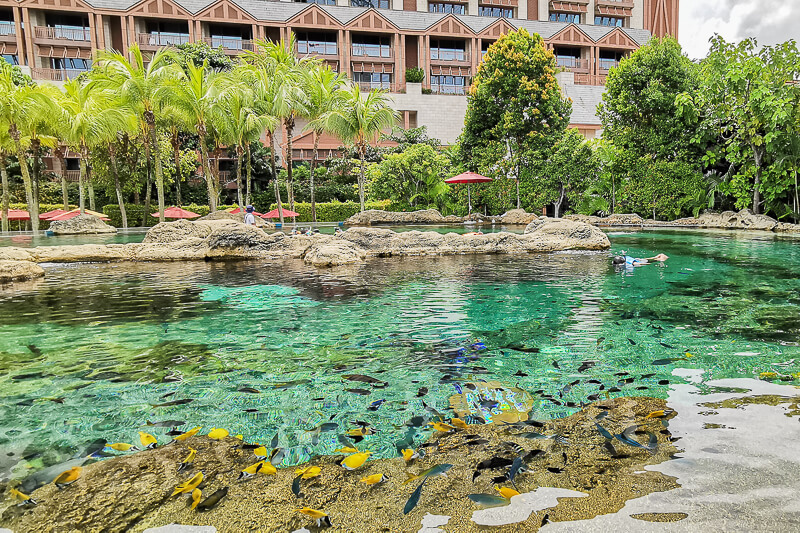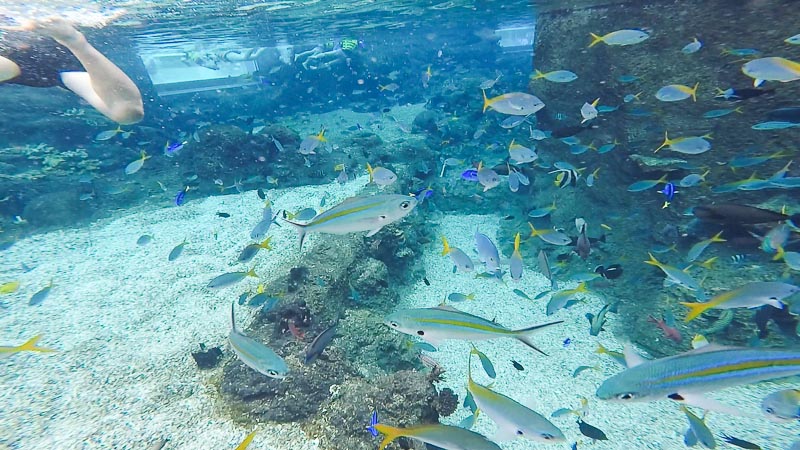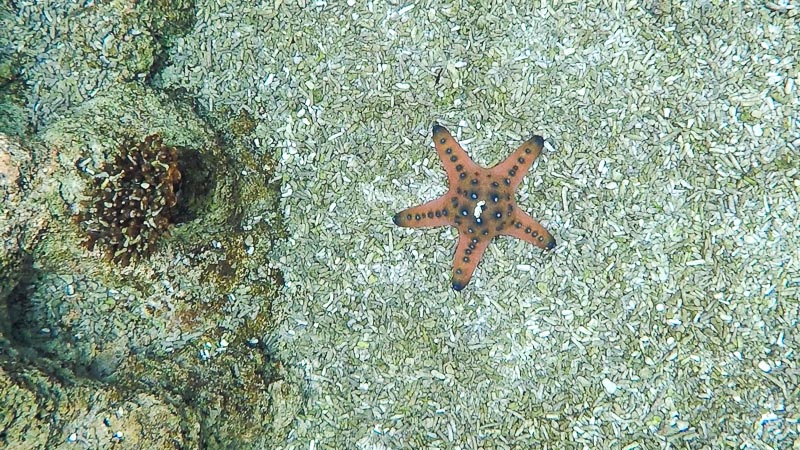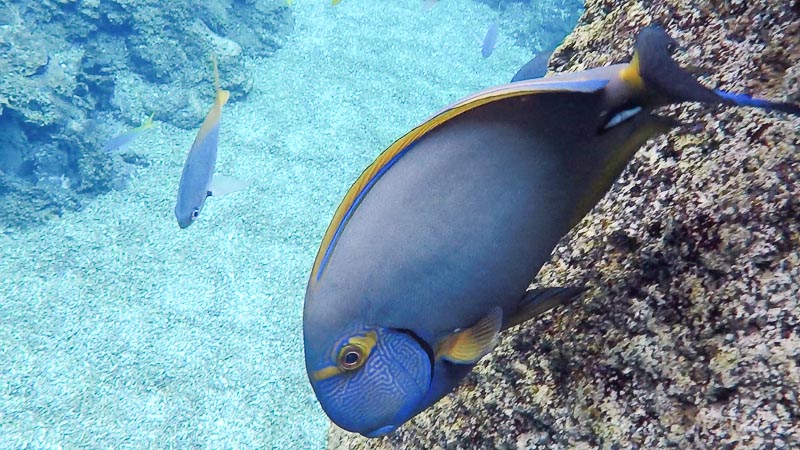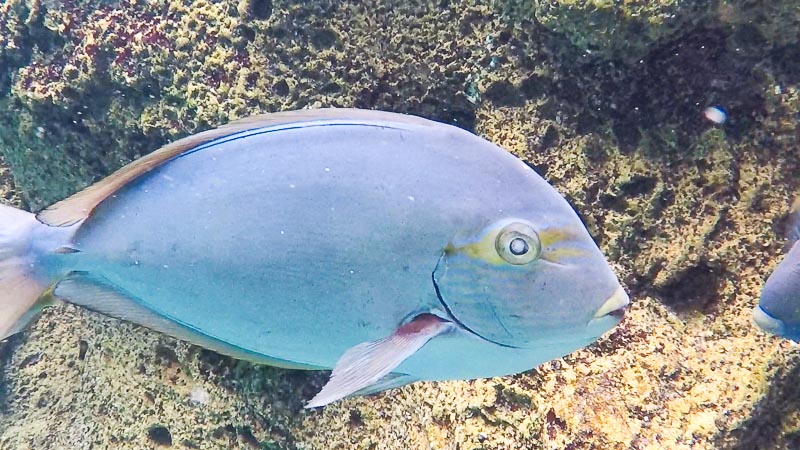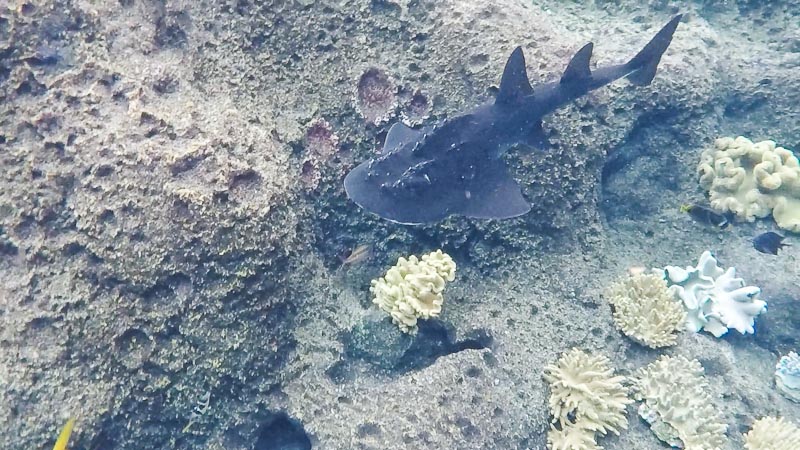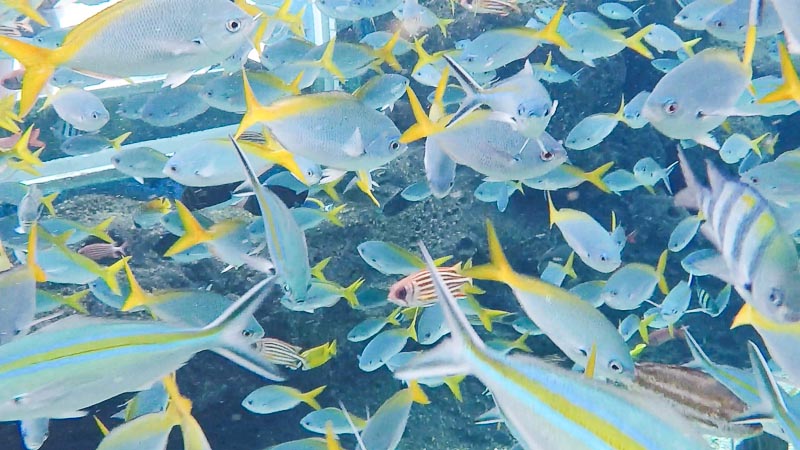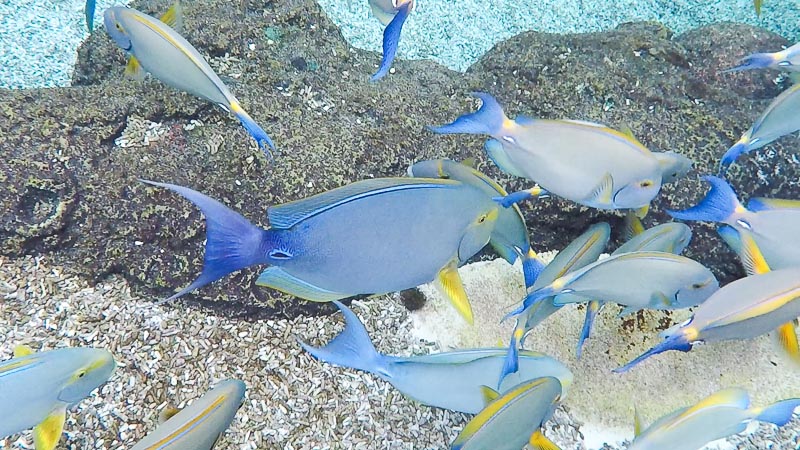 13. Splashworks. Here is where you can find many challenging water obstacles such as cliff jump, balancing beam, tightrope walk, rope wall, and even rock climbing over water! Don't beat yourself if you can't complete certain obstacles, cos they are indeed tough!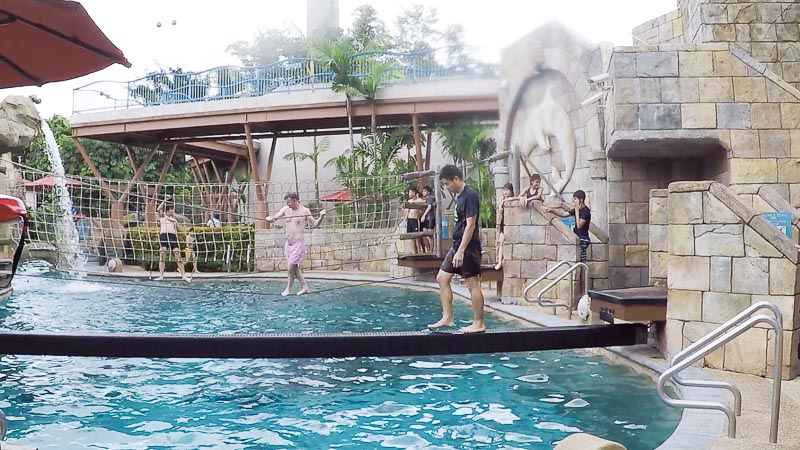 What to eat
Since outside food is not allowed, you probably need to fuel up at one of the three eating places in Adventure Cove.
1. The Bay Restaurant. It's the only restaurant in the theme park where you can sit down to enjoy hearty meals. Located just beside Rainbow Reef, this restaurant offers both Asian and Western food.
The popular dishes are Chicken Burger (SGD 16), Fish and Chips (SGD 16), Monster Curry Platter for 2 (SGD 25) and Monster Pasta Platter for 2 (SGD 25).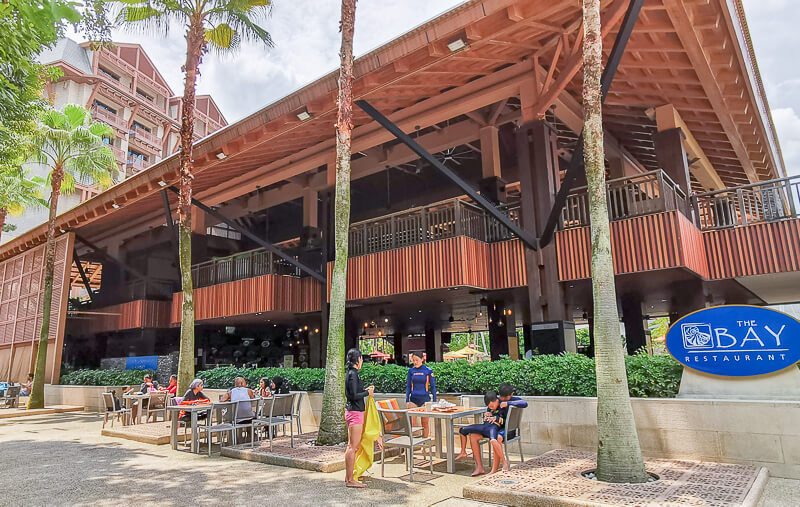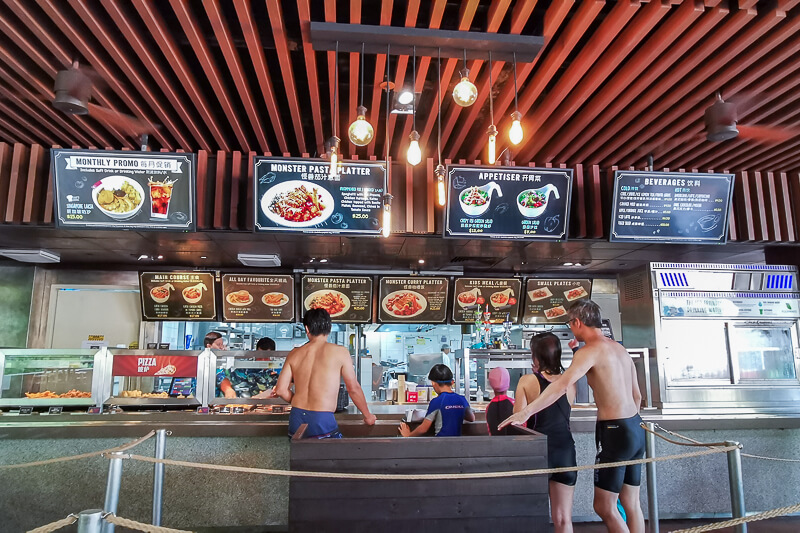 2. Hot Dogs & Drinks. Here, you can get quick bites such as Nasi Briyani (SGD 8.9), Hotdogs (SGD6), Banger & Mash (SGD 7), Nachos with cheese (SGD 6) and drinks for on-the-go consumption. The food from this stall is Halal-certified.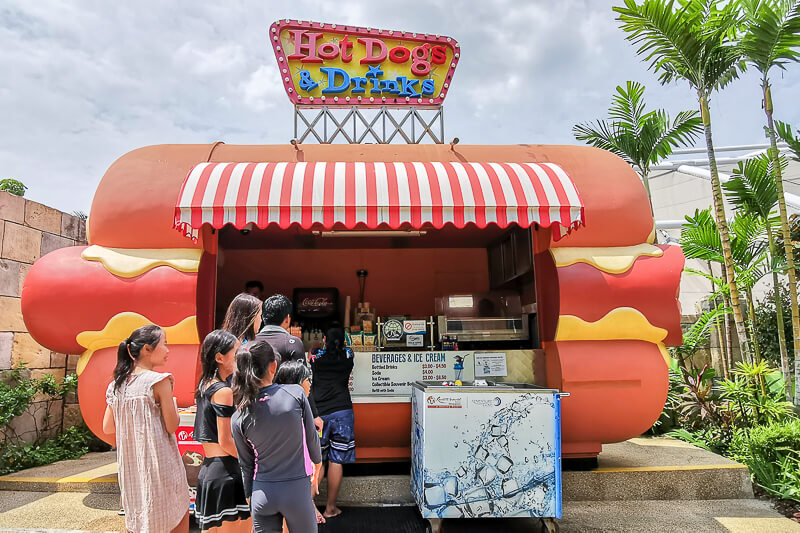 3. Riverside Snacks. This food truck sells light meals, including pizza, nasi briyani, nachos and drinks.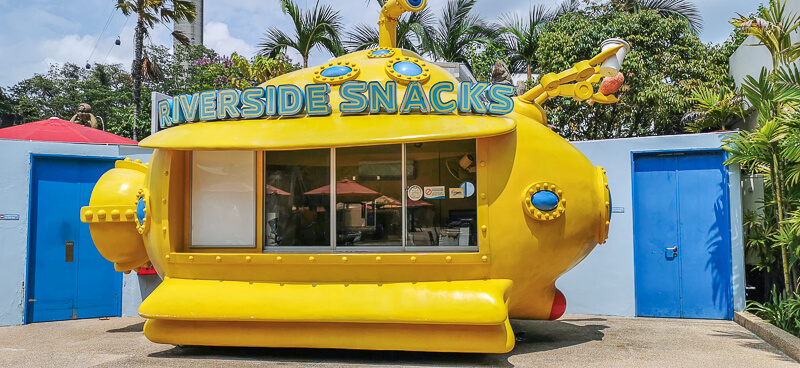 4. Blu Ice Treats. Located just in front of Bluwater Bay, this stall sells Turkey Leg (SGD 12), Sandwiches (SGD 6 to 7.5), Corn Dog (SGD 5), donuts, soft drinks, slush, fruits and even beers!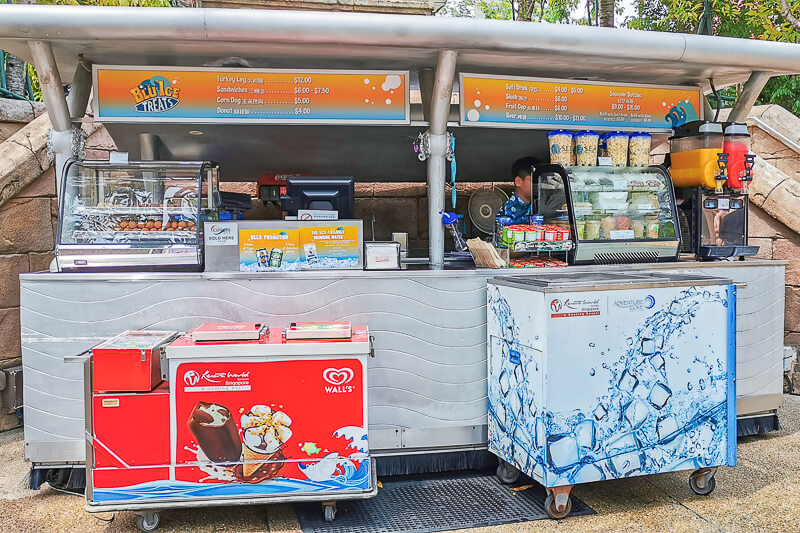 Facilities
There are a couple of drying machines around the park to dry yourselves.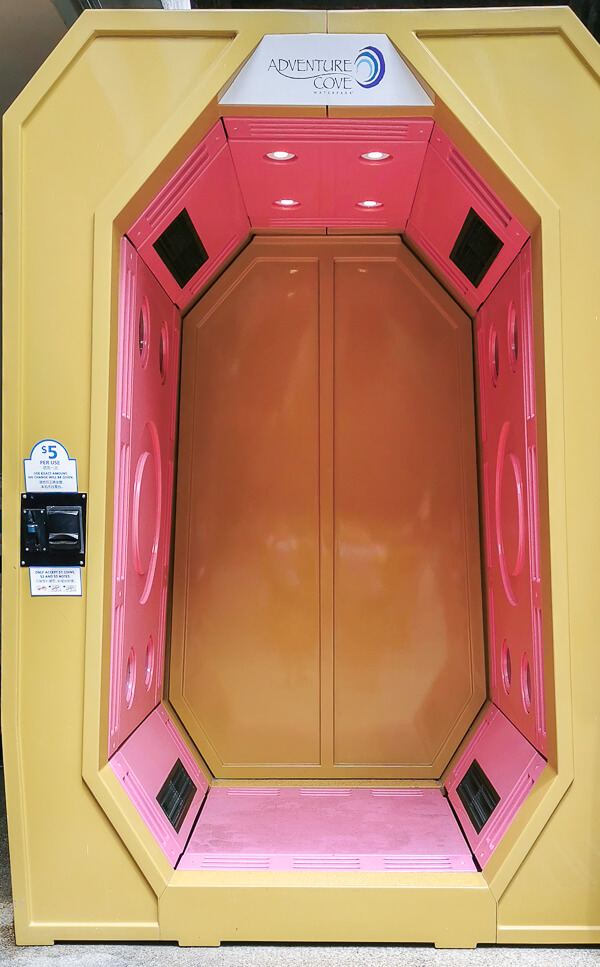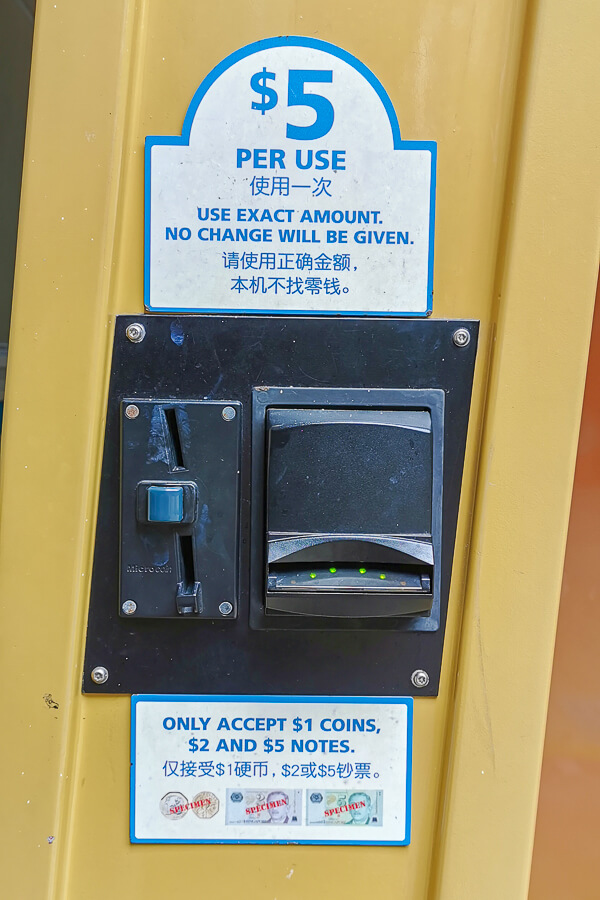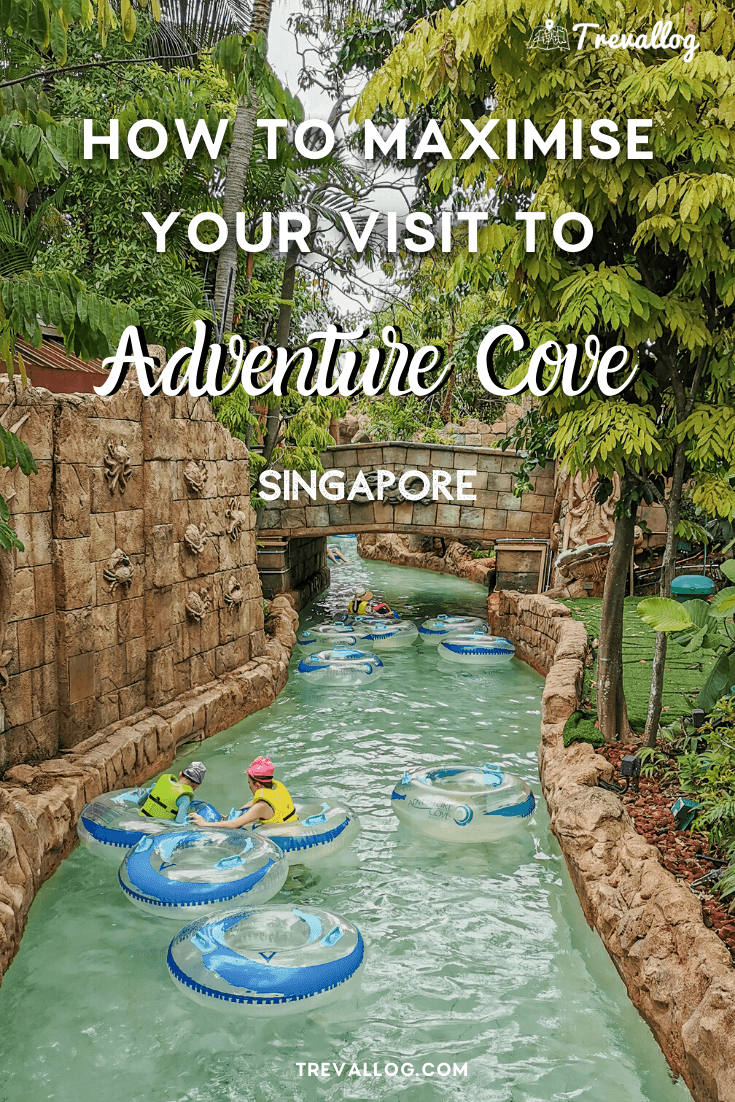 Disclosure: Some of the links in this post are affiliate links. If you make any purchase through my links, I will receive a small commission, at no extra cost to you.
If you like my work, you can buy me a coffee! Your support will help me to keep going!