'Tis the season to be jolly!
Ho ho ho! It's the time of the year when you hear Christmas carols everytime you go out to the shopping malls. It's the time of the year when your Facebook and Instagram feeds are filled with Christmas trees and Christmas feast! It's also probably the season you travel.
Speaking of travel, personally I feel that Singapore is a wonderful destination for Christmas. Every year, the country put up so many kinds of Christmas decorations all over the island, from Boon Lay in the west to Changi in the east, from Punggol in the north to Harbourfront in the south.
Christmas is basically everywhere in Singapore. And the decorations are different every year. I won't bore you with a list of every single place to see Christmas light-up in Singapore. Instead, here's a list of Christmas light-ups that you don't want to miss in 2019.
1. Orchard Road: The Greatest Gift – Christmas on a Great Street
Orchard Road has been consistently putting up breathtaking Christmas decorations every year. This year, Orchard Road is lined with luminous christmas decorations from 16 November 2019 to 1 January 2020.
In case you think Christmas at Orchard Road is all about christmas trees and christmas decoration, it is not! In fact, there are not one, but THREE Christmas Villages (at Shaw, Scape and Grange Road carpark) full of amusement rides, nightly live performance at Scape, and plenty of pop-up stores.
Christmas on Great Street starts from Tanglin Mall at Tanglin Road and ends at Dhoby Ghaut MRT Station. You can start your journey from Dhoby Ghaut MRT and walk to Tanglin Mall, or vice versa.
Here's my tips. Spend more time at the big junction of ION Orchard, Wheelock Place, and Shaw. There are so many great insta-worthy photo opportunities here.
When is the best time to visit? Go there in the morning if you want less crowd and you don't need to see the actual lights up. Go there in the evening if you want to see the dazzling lights and performances, but it'll be crowded so you'll probably have a hard time to take photos without other people in it.
How much does it cost? It's free to walk along the Great Street (from Tanglin Road to Orchard Road).
More details: https://christmas.orchardroad.org/index.html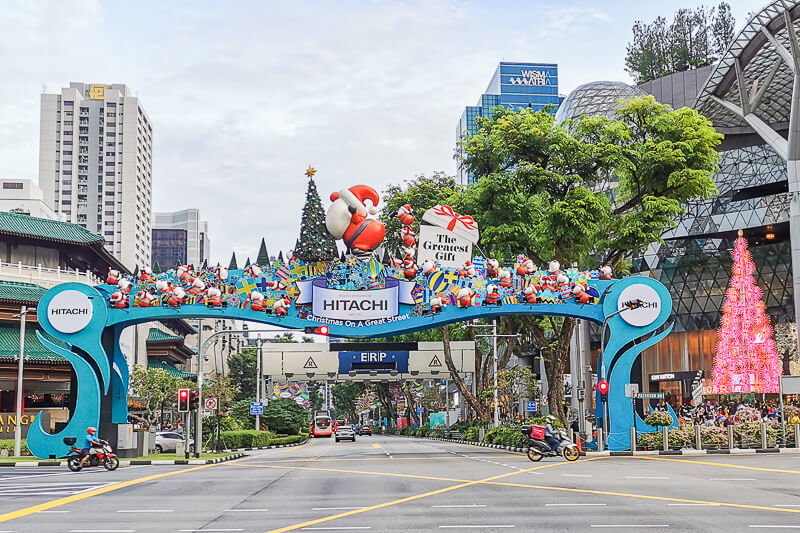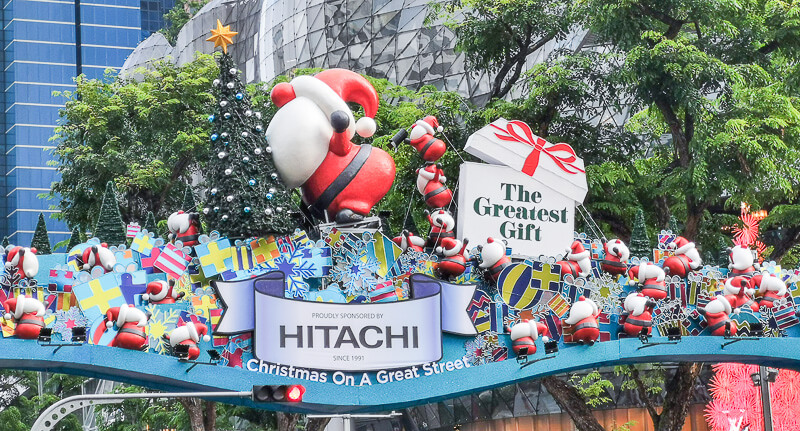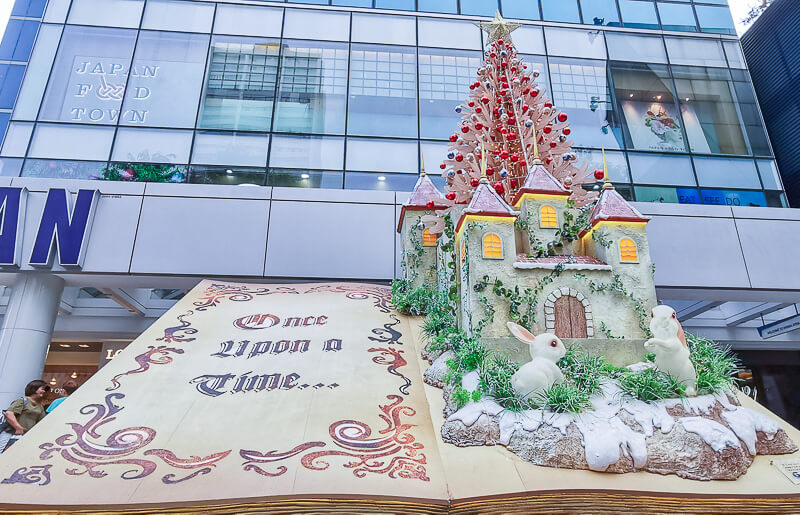 2. Changi Airport: A Frozen Wonderland at Changi and Sparkling Wonders of Christmas at Jewel
Have you watched the Frozen 2 yet? If you like the first Frozen movie, you will like Frozen 2 even more. If you like both Frozen movies, you will fall head over heels in love with A Frozen Wonderland at Changi Airport!
From 21 Nov 2019 to 5 Jan 2020, Frozen fans can immerse themselves in the magic of Frozen Wonderland at Terminal 2 and Terminal 3 of Changi Airport. Here are what to expect.
Let It Sparkle & Shine at Terminal 3 Level 2 (Departure Hall, Public Area). Here, you'll be able to take selfies with Impressive installations inspired from Frozen 2, such as the humongous wave with the water horse, the four element stones, the ice boat that carries Anna and Olaf, and even the earth giants!
What's more, at night you can catch light and snow show which transform Terminal 3 Departure Hall into a real Frozen Wonderland. The show is happening at 7.30pm, 8pm, 8.30pm and 9pm daily.
Enchanted Forest at Terminal 3 Level 2 (Departure Hall, Public Area). Enchanted Forest has 4 zones with its respective challenges, such as catching leave and finding special ball in a ball pool. Upon completion, you'll get rewarded with a Frozen prize!
Do take note that in order to participate, you need to present a receipt showing that you had spent at least S$ 50 on the same day in a single receipt.
Olaf, Larger Than Life at Terminal 2 Level 2 (Departure Hall, Public Area). Olaf has always been a tiny snowman in the movie, but in Changi Airport, it is 3 meter tall!
Giant Christmas Tree at Shiseido Forest Valley at Jewel Level 1 (Public Area). At 16 meter tall, this giant tree is more than 5 times taller than the giant Olaf!
Shiseido Forest Valley at Night. Between 5pm to 12 midnight, the Forest Valley will turn into a sparkling Christmas wonderland filled with Christmas light-up and live dance performances by Christmas characters.
Snow will fall at certain intervals so that you can experience a white Christmas in the tropics. Don't miss out the spectacular Christmas Light & Sound Show at Rain Vortex at 7.30pm, 9.30pm and 11.30pm.
Do note that entrance to Shiseido Forest Valley in the evening is NOT FREE. Every S$50 spend in the same day entitles you to 2 tickets. You need to book a slot in advance by scanning QR code provided by the shop where you spent S$50 at.
Jewel Festive Market at Jewel Level 5 (Public Area) is a Christmas market inspired by the kingdom of Arendelle. Do note that the market is NOT open everyday. The opening hours are 10am – 11pm on Friday to Sunday, Eve of Public Holiday and Public Holiday.
There are plenty of food and beverage shops. I like the Kit Kat store because they have unique Singapore flavors, such as Roti Prata and Laksa chocolates!
Canopy Park at Jewel Level 5 has plenty of winter wonderland experiences that you don't want to miss, such as Snow Walk at Topiary Walk, Snow Pavilions at Hedge Maze as well as Santa Meet & Greet at Petal Garden.
When is the best time to visit? In the evening if you want to catch the Light Shows, otherwise, during the day if you prefer natural light. Weekdays are less crowded than weekends.
How much does it cost? Mostly free, except Shiseido Forest Valley at night, Canopy Park, and Enchanted Forest.
Read my complete guide about things to do in Changi Airport and Canopy Park at Jewel.
3. Gardens by the Bay: Christmas Wonderland
You haven't been to Singapore if you haven't been to Gardens by the Bay, really. GBTB is the perfect place to spend a full day at.
Spend your morning exploring the outdoor gardens admiring the Supertrees. Then, in the afternoon when the temperature rises, enjoy strolling at the two mesmerising indoor conservatories: Flower Dome and Cloud Forest.
Specially curated for this year's Christmas theme, Poinsettia Wishes, Flower Dome is filled with poinsettias and winter blooms as well as iconic landmarks in the Nordic region from 8 November 2019 to 5 January 2020.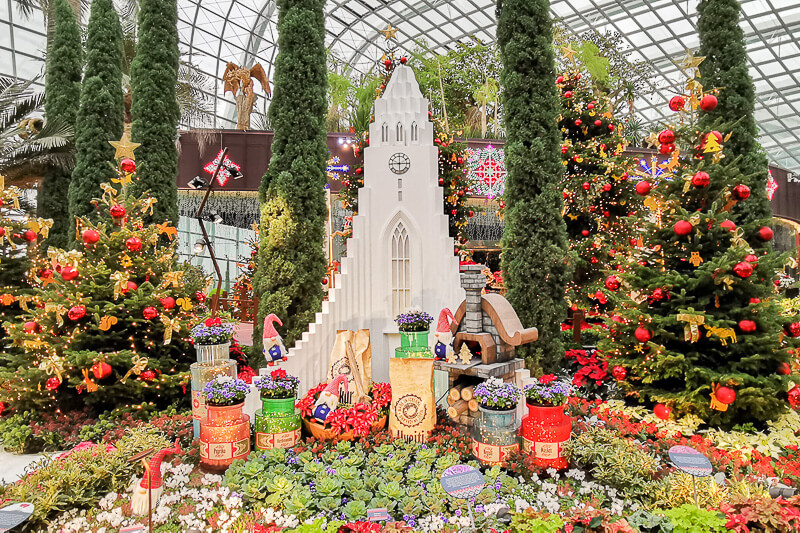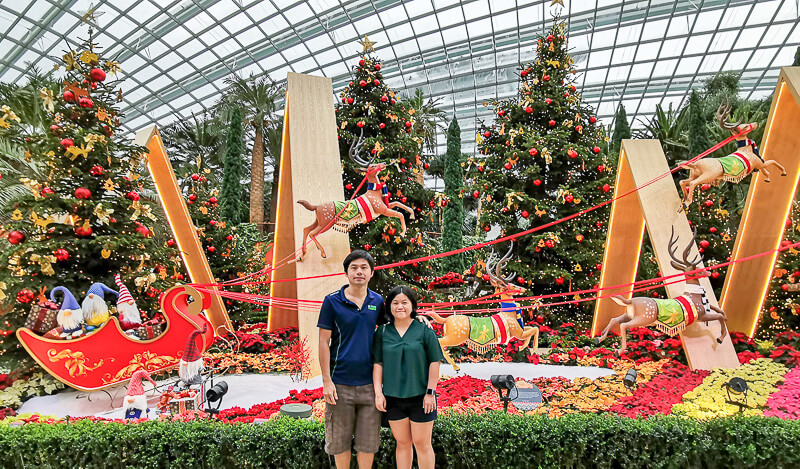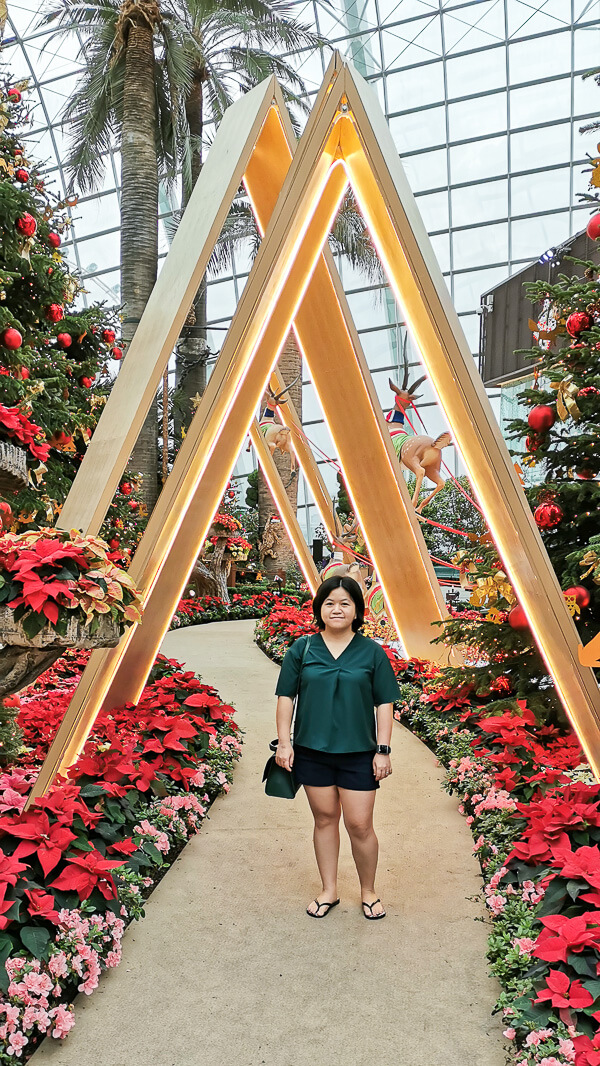 After enjoying the beauty of floras, spend your evening at the spectacular Christmas Wonderland, Singapore's very own European-style Christmas extravaganza that's open once a year from 26 November 2019 to 29 December 2019.
Here are things you can do in Christmas Wonderland:
Sing along Christmas tunes at Garden Rhapsody at Supertree (7.45pm and 8.45pm)
Experience the Blizzard Time around Luminarie light sculptures and Supertree (6.30pm, 7.55pm, 8.55pm, 9.55pm, 10.30pm)
Attend the first-ever Christmas Parade which features colorful festive floats and Christmas characters dancing to Christmas songs (Fri, Sat, Sun at 8pm)
Play carnival games and rides
Savour a diverse range of good food at Christmas Tree Cafe and Festive Market.
Meet Santa at the new Santa's Workshop and witness elves working hard wrapping presents in a giant snow globe.
Enjoy Yuletide performances from local and international artists
For show lovers, get your theater fix at Meadow Theater. There are not one but FOUR shows that you can choose from. Extra show ticket is required on top of admission ticket.
When is the best time to visit? If you want to explore Gardens by the Bay for the whole day, I suggest that you visit from 9am onwards. If you just want to visit Christmas Wonderland, it's open from 5pm to 11pm (Mon-Thu) and 4pm to 11pm (Fri-Sun) daily.
How much does it cost? Admission to Christmas Wonderland (exclude Flower Dome, Cloud Forest, OCBC Skyway) starts from $6, depending on the dates you visit and whether you purchase online or onsite.
Onsite, the admission ticket costs S$10. Meanwhile, the same ticket costs only S$6 or S$8 online. I highly recommend that you purchase the online ticket.
You can also get a bundle which consists of Christmas Wonderland, Flower Dome, Cloud Forest and OCBC Skyway if you want to maximize your visit to Gardens by the Bay.
More information: https://www.christmaswonderland.sg/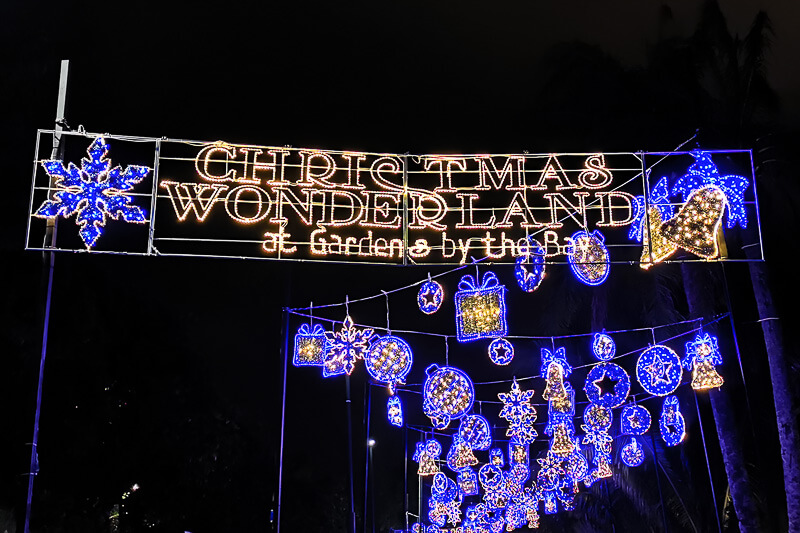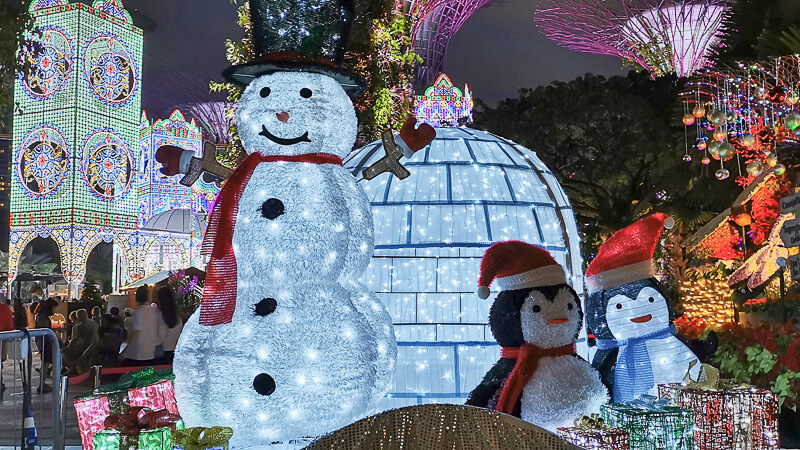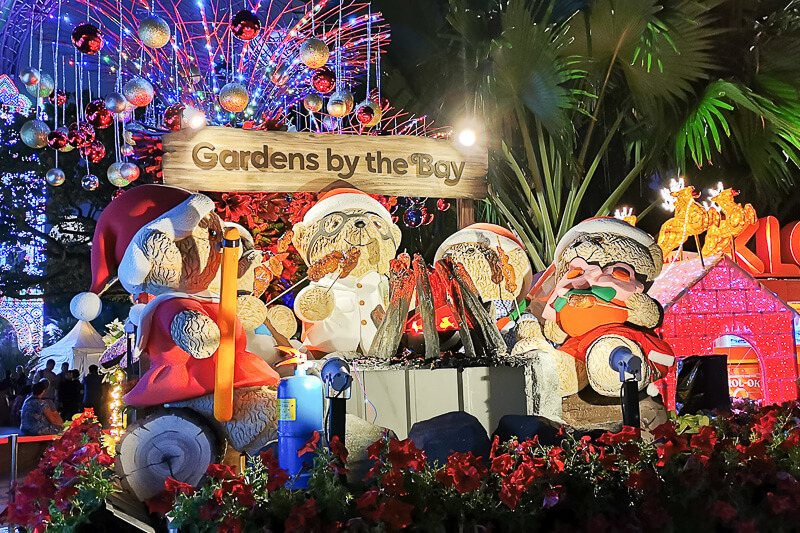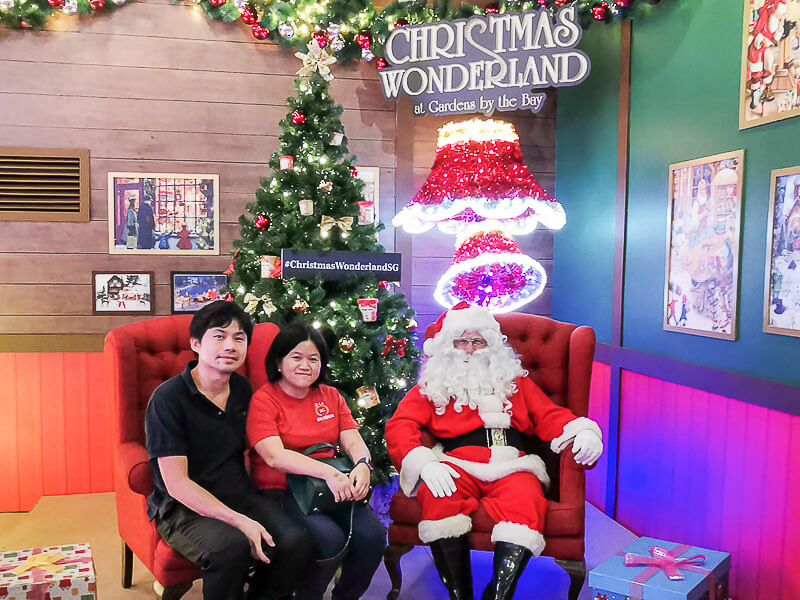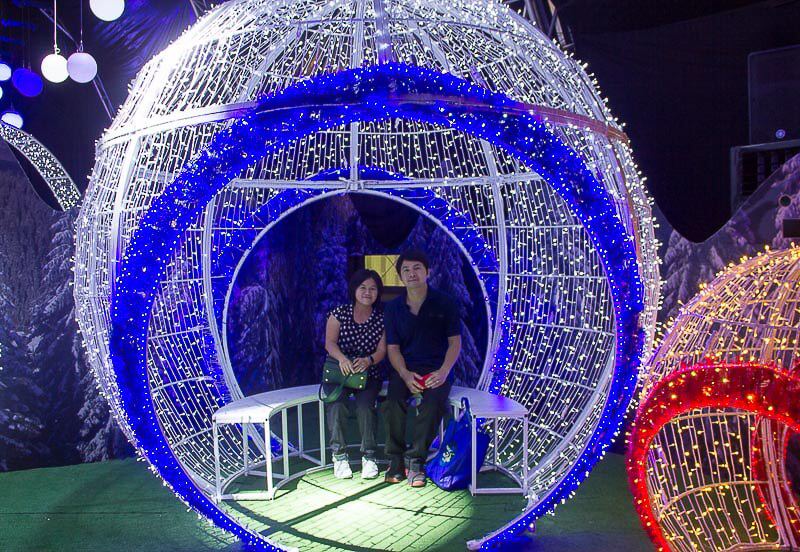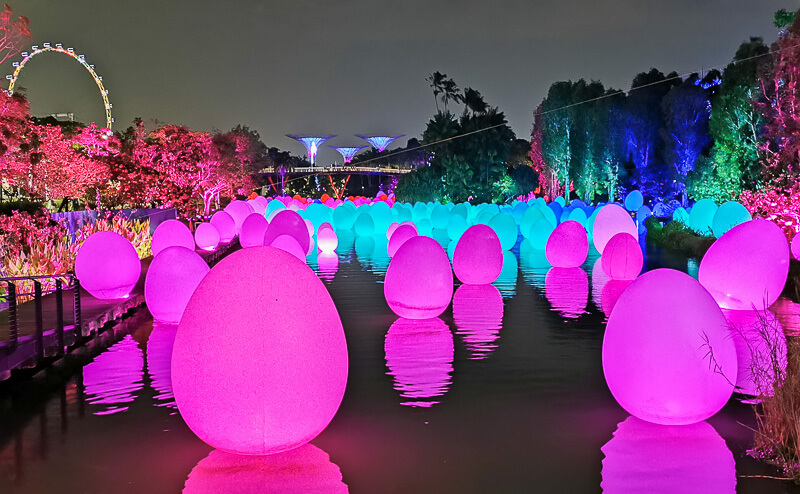 4. Universal Studios Singapore: A Universal Christmas
No matter how old you are, you are never too old to visit a fabulous theme park. And the Universal Studios Singapore (USS) is not just a normal theme park during this festive season. Why?
Firstly, this fabulous theme park is transformed into a magical place where you can experience the largest snowfall ever in USS, meet 50 Universal characters including Sesame Street and Despicable characters, and witness Santa directing a movie! Oh, you can also get a chance to star in this movie. Sounds cool?
Sing Christmas songs along with Madagascar characters, dance along holiday hits with Puss in the Boots, catch The Great Christmas Invention show in New York. Don't forget, there are plenty of thrill and fun rides in the USS too in addition to all of these Christmas specials.
Worried that you won't have enough time? Well, instead of the usual 10am-6pm, USS extends the opening hours from 10am to 9pm or 10 pm for Christmas (Check USS Calendar for more info).
Lastly, there is one thing you MUST NOT MISS if you visit USS during Christmas season. It is the Christmas Fireworks Spectacular show which is displayed only on selected days.
When is the best time to visit? It's open from 10am everyday but the closing hour varies depending on the events calendar. For the latest calendar, visit USS Calendar. I highly recommend that you visit on days where there is a fireworks show.
How much does it cost? Regular price is SGD 79, but you can get cheaper tickets if you book here.
Read my tips about Universal Studios Singapore:
List of Attractions in Universal Studios Singapore and My Recommendations
Guides on How To Maximise Your Visit to Universal Studios Singapore
5. Other Locations
On top of the above major locations, there are many Christmas trees and decorations all around Singapore. Some of my favourites are below.
VivoCity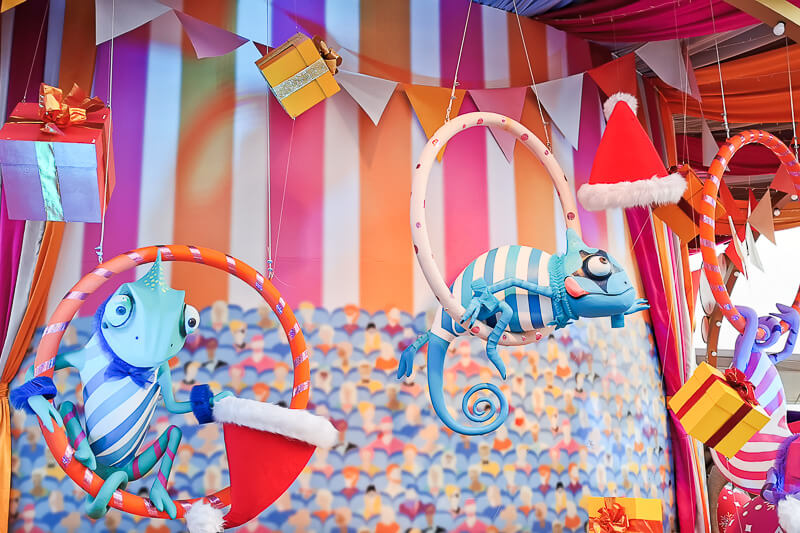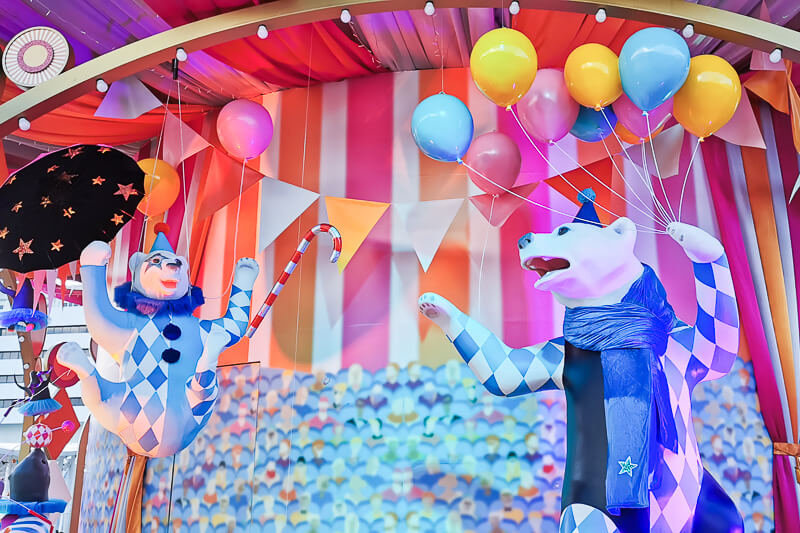 Capitol Kempinski Hotel
You've finally come to the end of the post! Too many things to see, right? I recommend you explore Singapore slowly during the festive season in order to truly enjoy it.
If you have recommendations of other places to visit, let me know in the comments! I hope you have a good holiday season this year! Ho ho ho!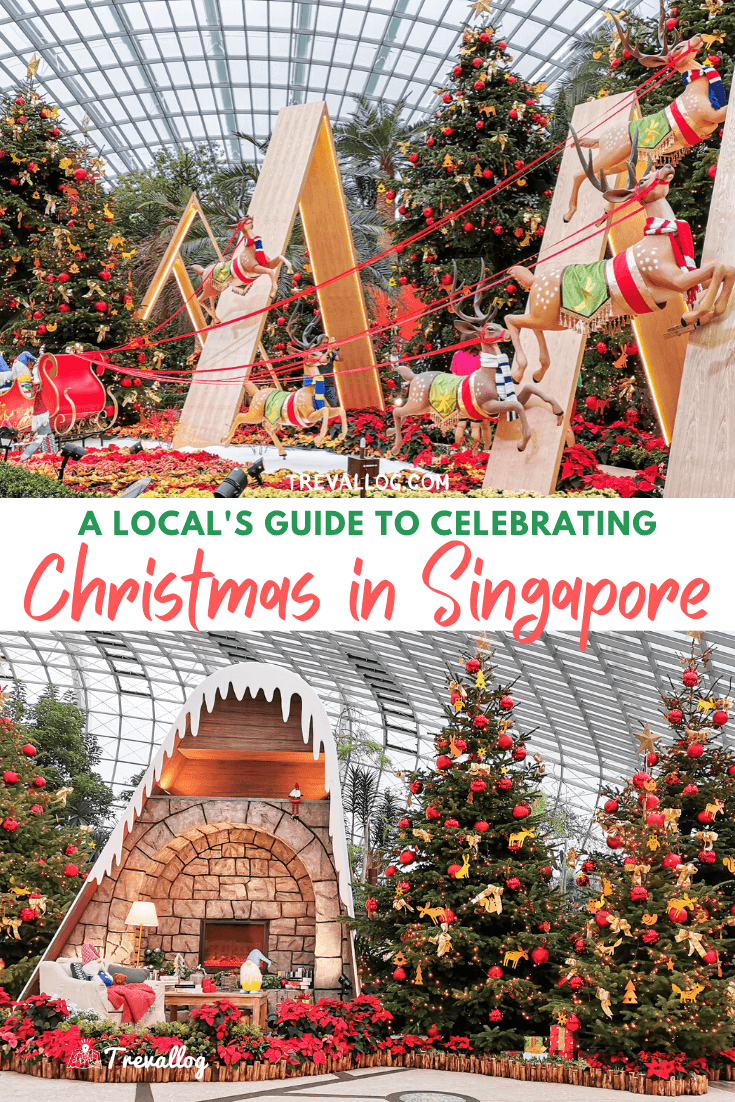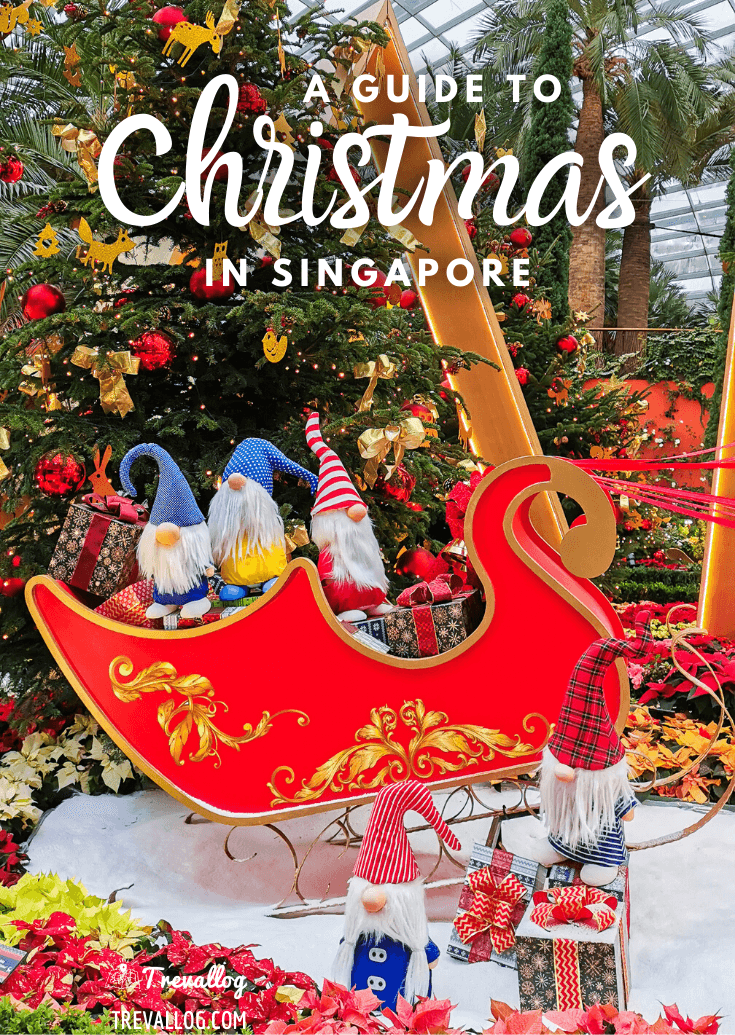 Disclosure: Some of the links in this post are affiliate links. If you make any purchase through my links, I will receive a small commission, at no extra cost to you.
If you like my work, you can buy me a coffee! Your support will help me to keep going!