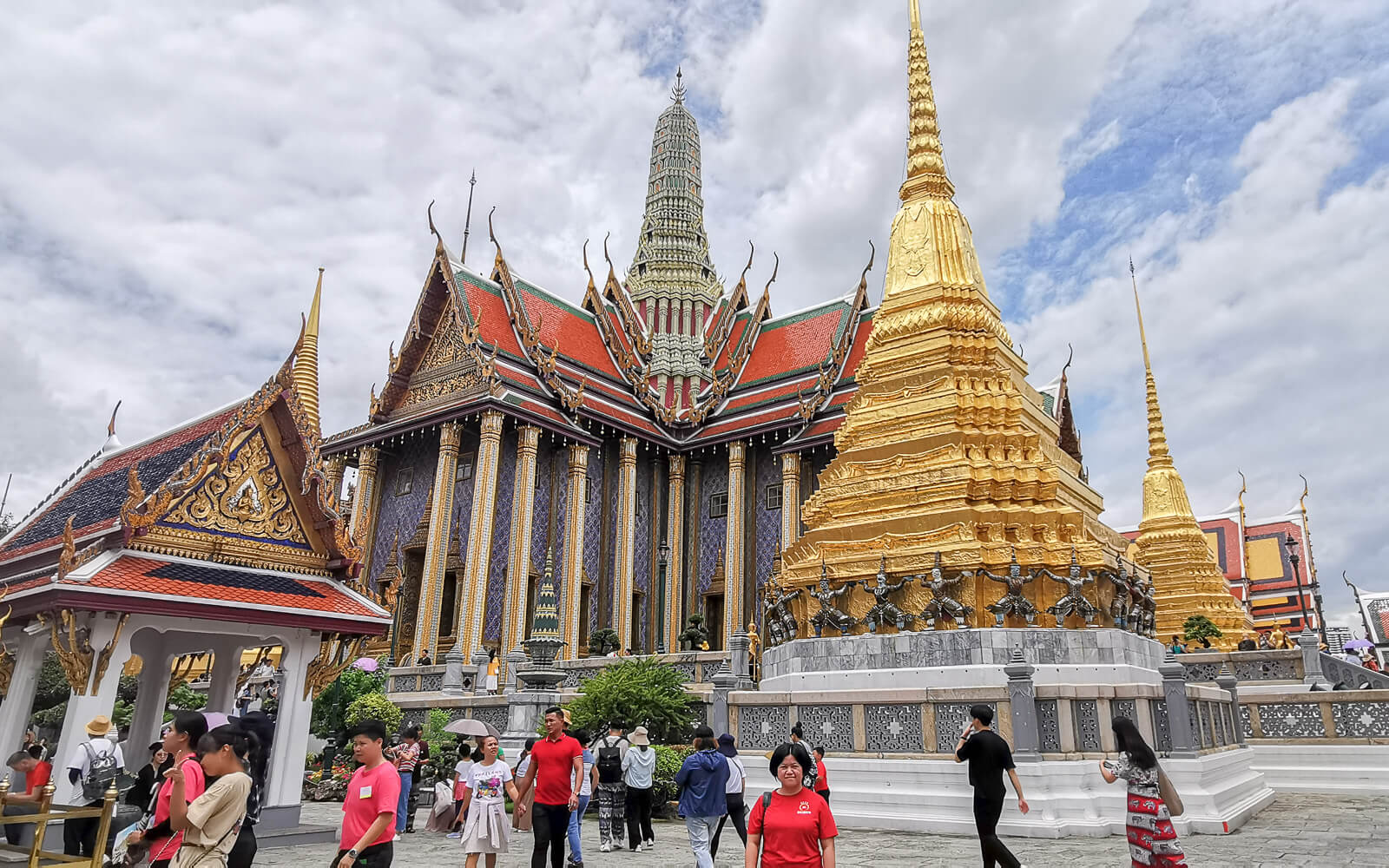 The Grand Palace in Bangkok is one of the places everyone absolutely has to visit in Bangkok. BUT… It took me 3 visits to Bangkok before finally visiting this splendid palace.
Why did it take me this long? To be honest, at first I found the ticket price to be quite expensive. At THB 500, I can eat a lot of good food and great massage. Besides, if I am to spend THB 500 for a temple visit, I might as well spend a whole day at the palace in order to make my money worth, right?
So, spend a WHOLE day at Grand Palace we did! And it was SO worth the THB 500! I'm going to share with you how we made the most of our visit to the Grand Palace.
1. Grand Palace Entry Fee
The entrance fee for Grand Palace is THB 500 for forigners, Thai people get to enter for free (how cool!). Children below 120cm also enter for free (yay!).
You can pay on the spot with cash or credit card. As a travel hacking junkie, we paid with credit card in order to earn points.
If you are the type of people who want to learn about history but don't want to hire a tour guide, you can rent audio guide in English, French, German, Spanish, Russian, Japanese, Mandarin and Thai, for THB 200.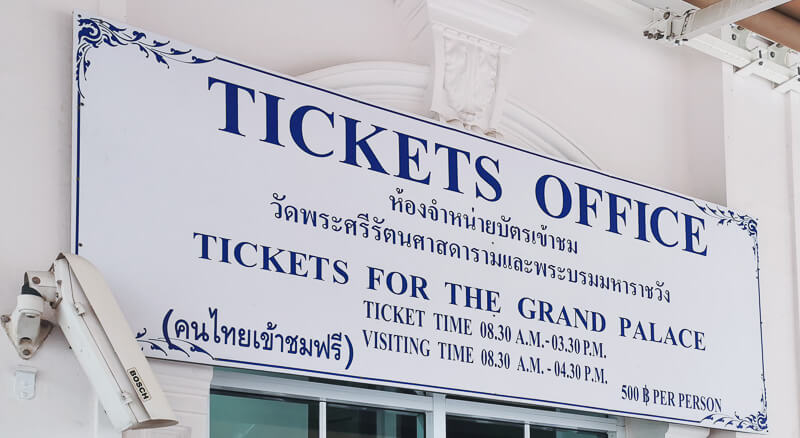 2. Grand Palace Opening Hours
Grand Palace is open from 8.30am to 3.30pm daily.
I highly recommend that you arrive early, like before 8.30am, because of the following reasons:
(a) the palace is so HUGE, you need at least 3 to 4 hours to cover everything
(b) you'll get to avoid the crowd if you go early in the morning
(c) the weather is much better in the morning, trust me
Even though the Grand Palace is usually open daily, on some special days Grand Palace is closed due to Royal ceremonies. Therefore, before you go, I urge you to check the schedules of Grand Palace here. Click on the date you intend to visit and it will tell you whether the entire palace is open or closed, and whether it's only a small part of the palace that's closed.
Beware of "Grand Palace is closed" SCAM. If your tuktuk driver tells you that the Grand Palace is closed for the day and he can bring you to other temples instead, don't fall for this scam. Most likely, he's trying to bring you to tourist shops where he can earn commission on any purchases that you make. Check the schedule to verify whether what he says is correct.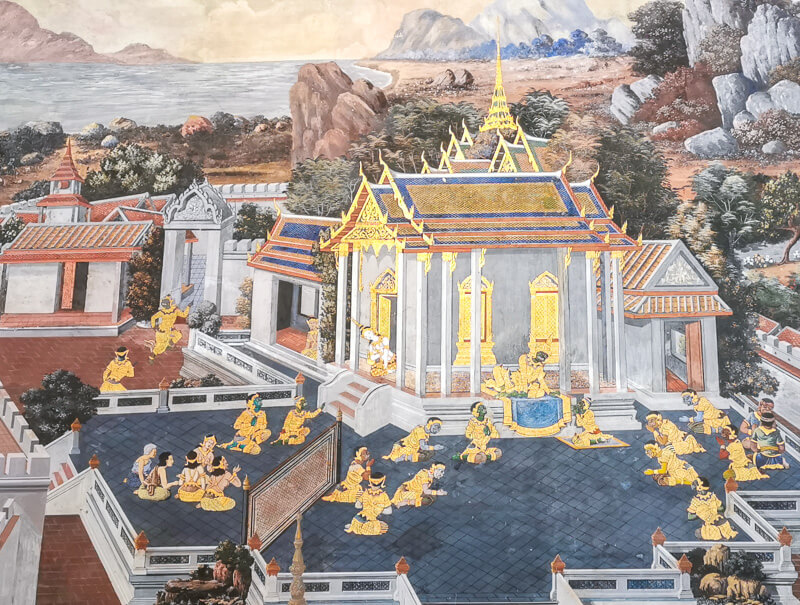 3. Grand Palace Dress Code
Dress code is a very important issue that you must pay attention to when visiting Grand Palace. Visitors are not allowed to wear, sleeveless shirts, sleeveless vests (tank tops), short tops (crop tops), see-through tops, hot pants (short pants), torn pants, tight pants, bike pants, mini skirts.
Basically, just wear shirt with sleeves with loose long pants, and you'll be fine 🙂 If you don't have long loose long pants, you can use sarong too.
When I visited in 2019, the Grand Palace did sell sarongs/long pants (no free loaning) but they were more expensive than what we could get from the shop across the street. Since both my hubby and I wore short pants, we decided to get long pants from the shop across the street. There were 2 options: buy or rent. Since the price difference was not much, we bought the pants!
For footwear, I read somewhere that closed shoes is required. However, I think the rule is not so strict. Both my hubby and I wrote flip-flops and we didn't face adversity. A lot of other tourists wear flip-flops too. If we were turned down because of flip-flops, I would go to the shop across the street to buy socks.
4. How to Get to Grand Palace
Bangkok has an extensive transportation system network, so there are plenty of ways to get to Grand Palace. You can take taxi, tuk-tuk, train + tuk-tuk, train + bus, train + boat, boat + tuk-tuk. Basically there are so many possible combinations, just search with Google Maps. However, I do have some tips for you based on my personal experience.
If you stay at Khaosan Road and you don't mind walking, Grand Palace is just 1.5km away! That's probably like 15 to 20 minutes walk, not a bad morning exercise!
To go to Grand Palace by boat, you can take BTS to Saphan Taksin, then take Chao Phraya Express Boat (Green flag or Orange flag) to Tha Chang pier. Do note that there are 2 types of Chao Phraya: Express boat and Tourist boat. Express Boat is cheaper at 15 to 32 Bahts depending on the distance. Meanwhile, Chao Phraya Tourist Boat costs 60 Baht for a single journey and 300 Baht for 1-day unlimited ride. Given that you'll spend a whole day at Grand Palace, it doesn't make sense to take the Tourist Boat. By the way, I have a comprehensive article about how to take boat in Bangkok.
For us, since we stayed at Metropole Hotel, there was no BTS station near our hotel so we took the local canal boat to Pratu Nam, then change to another local canal boat to Phanfa Bridge. From there, we took bus 47 to Grand Palace. The bus driver kindly told us when we needed to get off. I think this could be the cheapest way to get to Grand Palace from downtown Bangkok.
5. Things to do and see in Grand Palace
Grand Palace used to be the home of Thai's Royal family and government offices in the 1700s. However, from 1925, the royal family is no longer residing at the Grand Palace. Right now, Grand Palace is used for occasional ceremonies besides being the busiest tourist attraction in Bangkok.
As I mentioned previously, the Grand Palace complex is so HUGE, there are no less than 30 landmarks. To get a feeling of how big the palace is, take a look at the map.
We spent 1 hour at the complex around Chapel of Emerald Buddha thinking that we have covered the entire Grand Palace. Before we left the place, we decided to finally open the map and we immediately realized how foolish we were to think Grand Palace was only that big.
You don't want to make the same mistake as us. Since you're reading this article, you're in good hands. These are the places that I think you should not miss when visiting Grand Palace.
Wat Phra Kaew
Wat Phra Kaew (also known as chapel of the Emerald Buddha or Temple of Emerald Buddha), is the first thing you'll encounter once you pass through the entrance gate, so it's very unlikely that you miss it. On the map, it is No. 10.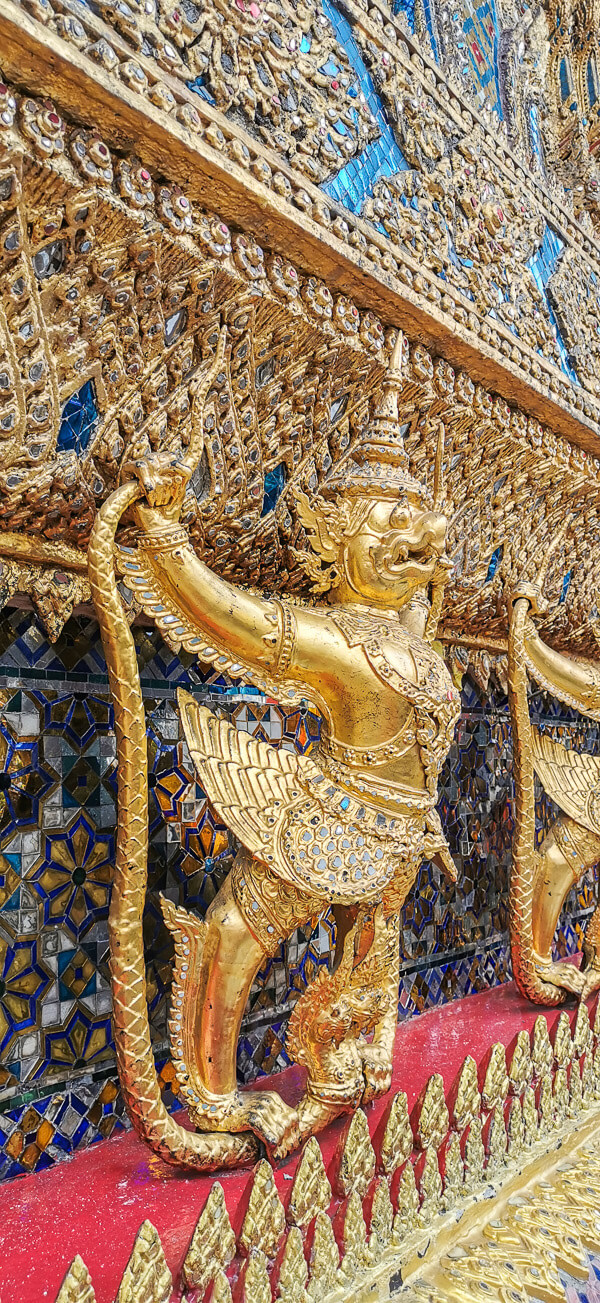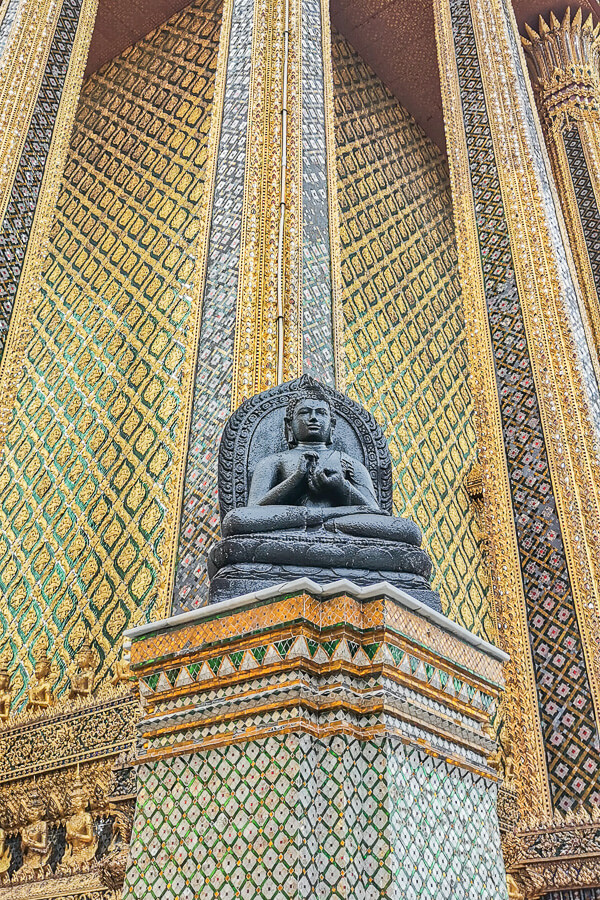 Prasat Phra Dhepbiorn (The Royal Pantheon)
The Royal Pantheon is a mixture of Thai and Khmer style pavilion. There are eight statues of the previous Kings inside the building presently. On the map, it is No. 9.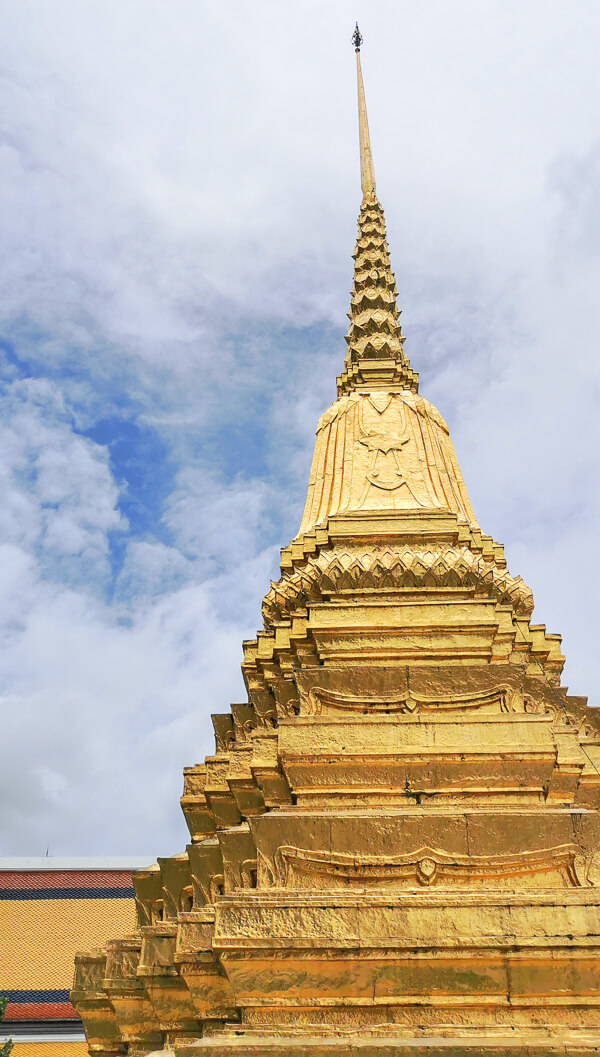 Phra Siratana Chedi (Golden Stupa)
The Golden Stupa is the house of Buddha relics. The stupa has circular base and bell shape. On the map, it is No. 3.
Model of Angkor Wat
Even though I have been to Angkor Wat twice, I am still awed by this impressive model the magnificent Angkor Wat. On the map, it is No. 6.
Chakri Maha Prasat Hall
Chakri Maha Prasat Hall is a former royal residence built by King Rama V in 1877. This unique building has a combination of European architecture at the lower hall and Thai-style roof. On the map, it is No. 26.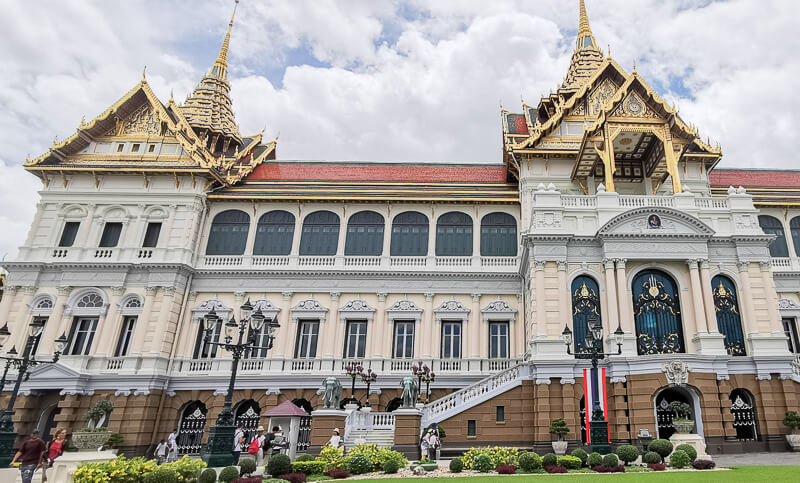 Queen Sirikit Museum of Textile
Queen Sirikit Museum of Textile is probably my most favorite part of Grand Palace. Opened in 2012, this museum is dedicated to Queen Sirikit's effort to preserve Thailand's textile arts for the future generation. On the map, it is No. 35.
At the time of my visit in August 2019, there was an exhibition called The Power of Love. It is about the story of Queen Sirikit when she was young until now. I learned so much about the royal family through this exhibition. Unfortunately, photographs are not allowed in the museum, so here is the photo of the building from outside.
Other Landmarks in Grand Palace
6. Your ticket allows you access to other places outside Grand Palace
This was truly a surprise for us. We didn't know about this before visiting so we did not allow enough time to enjoy these privileges. I think these bonuses will change from time to time. When we visited in August 2019, the ticket allows us to watch Khon (Thai Masked Dance) and to visit Arts of the Kingdom Museum for free.
To watch Khon, visitors can take the free shuttle from Grand Palace to Sala Chalermkrung Royal Theatre. The ticket to watch Khon is only valid on the same day of the visit to Grand Palace. Sadly, we were not able to watch because we didn't have enough time, we had another appointment later that evening.
Meanwhile, the ticket to Arts of the Kingdom Museum is valid for 7 days after visiting Grand Palace. However, this museum is not located in Bangkok. It is located in Ayutthaya! Oh well.. I guess I'll just search for the photos and videos from Google then! *sob*
7. What to Eat around Grand Palace
Inside the Grand Palace, there is a small cafe that sells drinks and ice cream near the West Gate.
If you're hungry, there are plenty of food outside the Grand Palace, especially near Tha Chang Pier. We had our lunch at Thong Hong Lee, it was so yummy and affordable.
If you're adventurous, take the river-crossing ferry to the hidden Wang Lang market where you'll find plenty of street food.
8. Tips for Visiting Grand Palace
In addition to everything I've written up from the beginning of the article up to this point, I still have some tips that can't fit into those categories above. So I guess I'll just list them all here.
Eat a big breakfast before you visit Grand Palace because you need energy to spend 3 to 4 hours in this huge palace, and also because there's no food being sold in the Grand Palace (at least I didn't see any restaurants when I visited).
Bring your own bottle. There are water dispensers near Dusita Phirom Hall (No 23 on the map) and Queen Sirikit Museum (No 35 on the map) so you can refill your bottle for free.
Wear sunscreen. There is little shade so protect your skin by wearing sunscreen or by using umbrella.
Get the free hardcopy map near the entrance. It has a map and detailed explanation about each landmarks in the Grand Palace.
Official website of Grand Palace: https://www.royalgrandpalace.th/en/home
So, I guess that's all I have to say about what you need to know before visiting Bangkok's Grand Palace. Hope you have an enjoyable trip!