What's there to do in Sentosa? Isn't it just a small island?
Yes, it is. In fact, the island is just slightly under 5 square kilometers. If you're a first-time visitor to Singapore, I couldn't recommend visiting Sentosa highly enough. If you have visited Sentosa before, well, it's so hard to tell your friends you've seen it all because the island keeps adding new things all the time, it's so annoying.
Is Sentosa worth visiting? Yes. Well, I'm obviously biased. I visited Sentosa the first time about 17 years ago and fell in love with it. To this day, I'm still loving it. They say love is blind and biased.
How many days do you need to explore Sentosa? It depends on how many days you're in Singapore, how much you love island activities and world-class attractions, your budget, your bucket list, etc.
Why not you let me tell you first about all the things to do in Sentosa? Then, you can shortlist the activities that you want to include in your itinerary. Then, you can proceed to plan for your trip. Sounds good? Oh, if you have any questions, or if you want my opinion/recommendation about anything, just let me know in the comments!
Important Notes:
1. From now until 31 March 2022, you can ride Sentosa Express (Monorail) from VivoCity to Sentosa for free, woohoo. Source: Sentosa official website.
2. If you plan to visit the beaches on Saturday, Sunday and Public Holiday, you MUST make a reservation.
3. Due to the current situation, some of the attractions in this article may be closed until further notice.
PS: Sentosa FUN Pass is eligible for SingapoRediscovers Vouchers (SRV)!
Redeem your ticket here.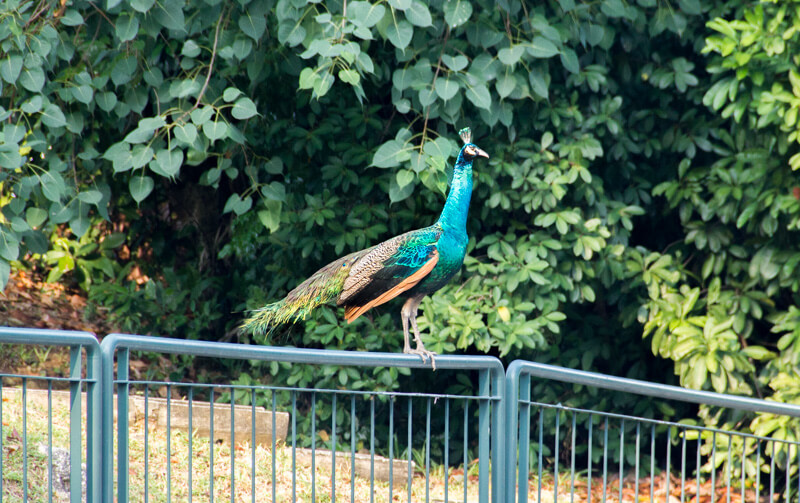 Resort World Sentosa
Let's start with Resort World Sentosa (RWS). RWS is an integrated resort located at the northern part of Sentosa. It's developed by Genting, the same group that develops Genting Highland in Malaysia.
If you're taking Sentosa Express monorail from VivoCity in Harbourfront, RWS is located right at the first station called Waterfront Station.
Resort World Sentosa where you'll find a casino (there are only 2 casinos in Singapore: one at RWS, another at MBS) and big-scale attractions.
1. Universal Studios Singapore
Universal Studios Singapore (USS) is hands down one of my favorite places in Singapore. Hubby and I love it so much that we got ourselves a Season Pass back in 2016. If you love theme parks, this should be on your itinerary. For more information, you can read my guide and tips to maximize your visit to USS and my recommendation for rides in USS.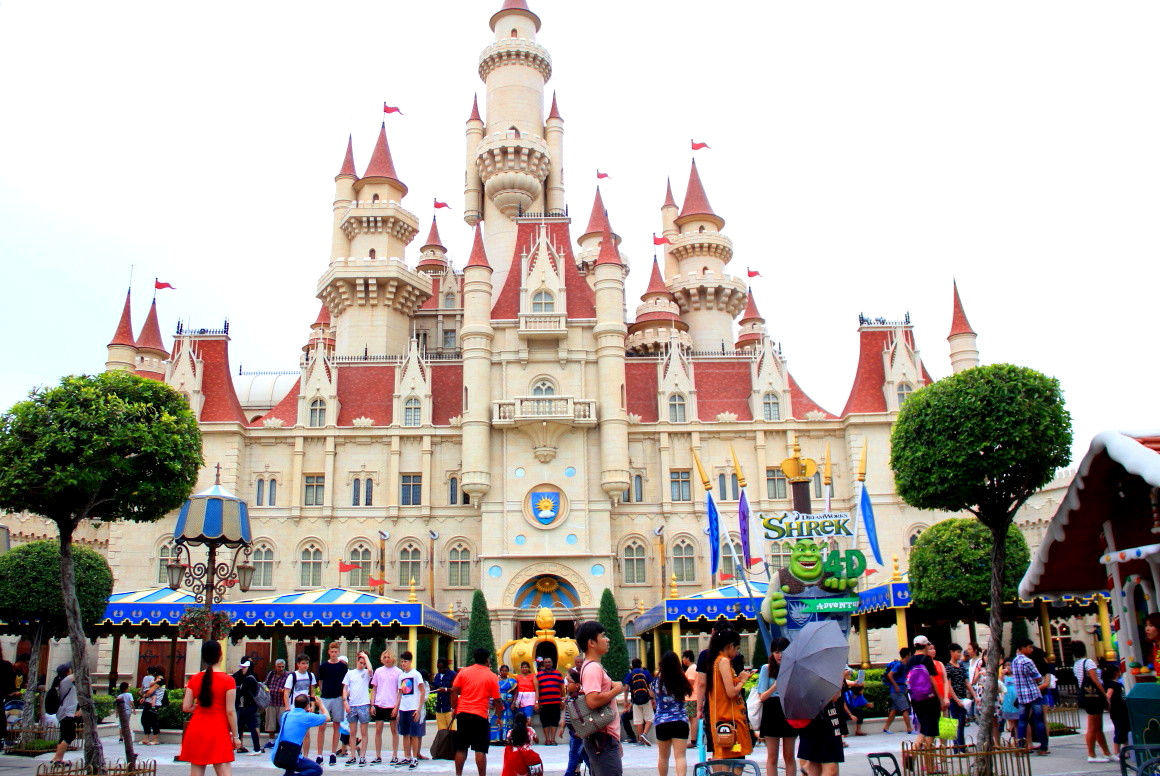 2. Casino
The casino is located at the Basement of Resort World Sentosa. Visitors and foreigners can enter for free, but remember to bring your passport or Singapore's employment pass. It's open 24/7.
Local residents and permanent residents of Singapore, however, need to pay $100 admission fee to enter; this explains why I've never entered casinos in Singapore! If you had visited this casino and Malaysia's Genting casino, please let me know which one is better, I'm curious.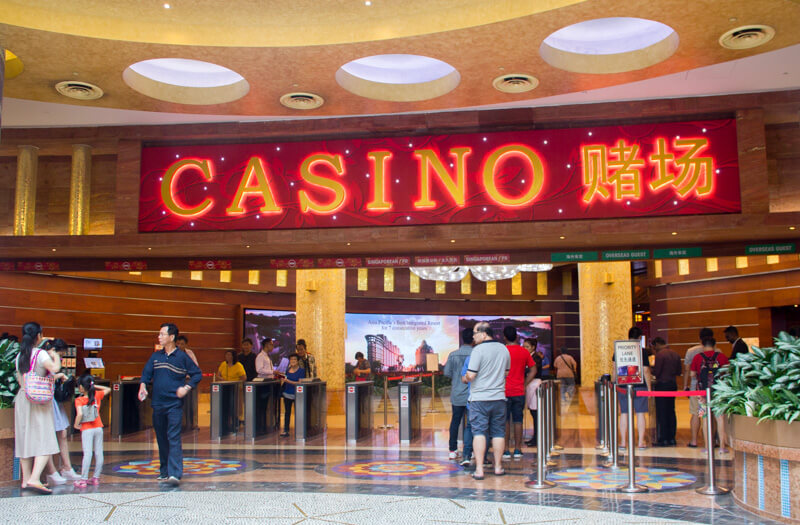 3. Adventure Cove Waterpark
Adventure Cove Waterpark is a really cool water theme park that has all of the conventional fixtures, such as Lazy River, Wave Pool, water slides PLUS snorkeling.
Yes, you read that right, you can enjoy unlimited snorkel in a giant pool full of colorful fishes. If you love water, I highly recommend spending a day at Adventure Cove. Here are my tips on visiting Adventure Cove Waterpark.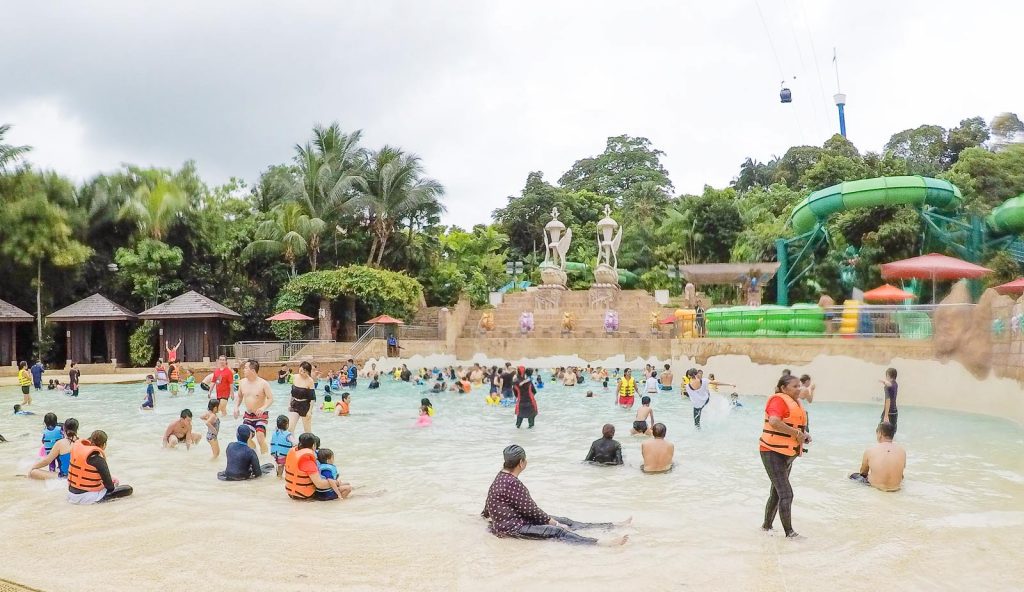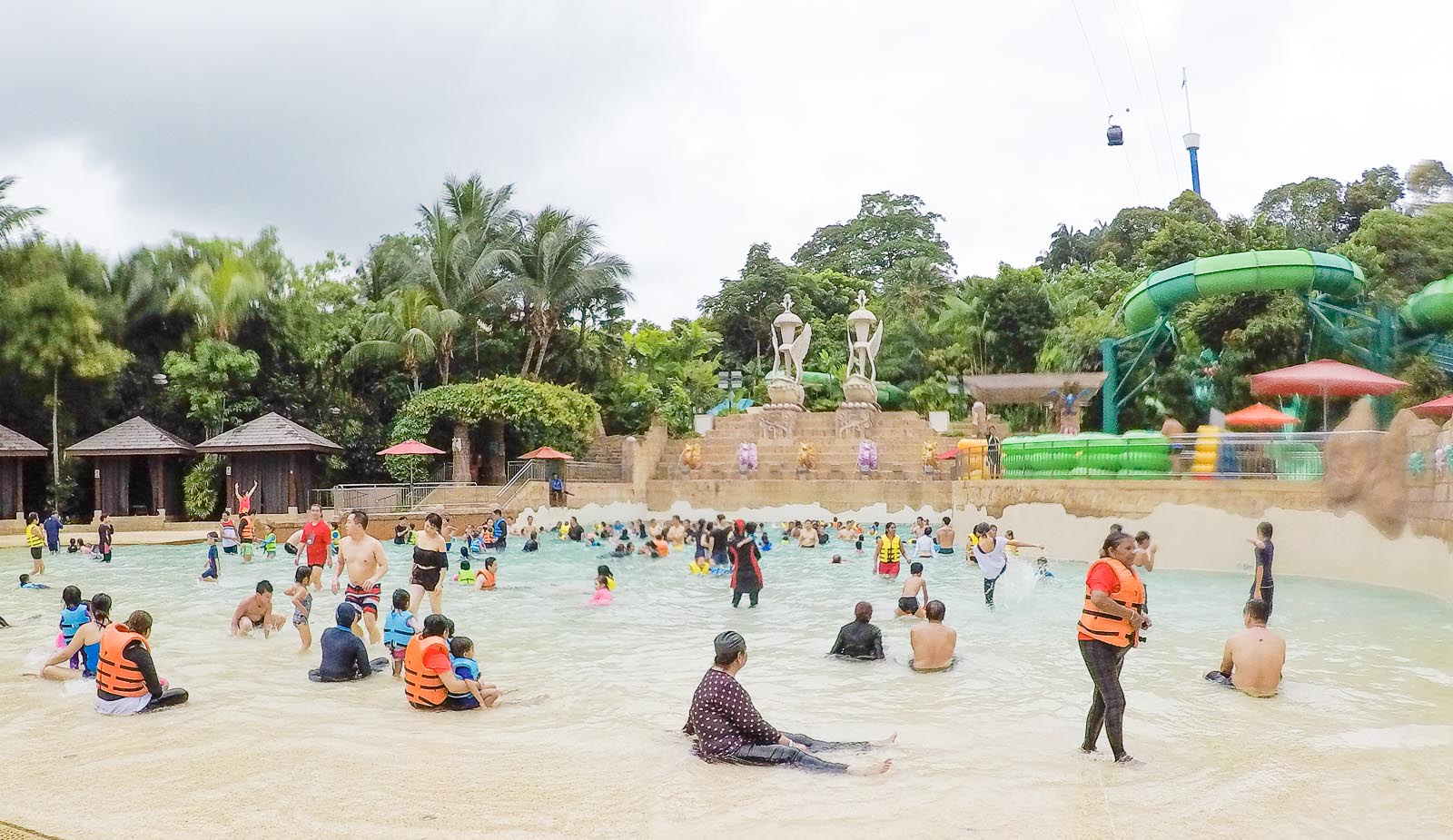 4. S.E.A. Aquarium
At S.E.A. Aquarium, you can expect to meet about 100,000 marine animals of over 800 species. How cool is that! Some marine animals you will encounter include hammerhead shark, manta ray, giant Pacific octopus and dolphin!
If you fancy walking inside the aquarium but you don't have a diving certificate, try Sea Trek Adventure.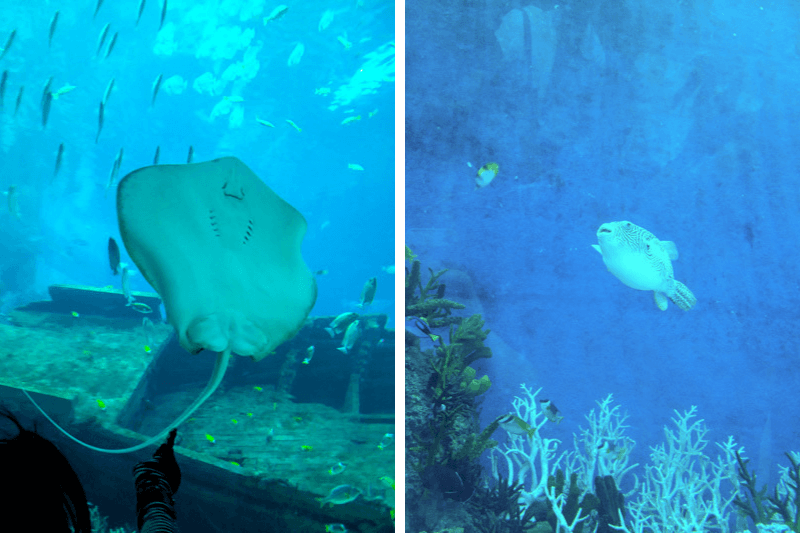 5. Dolphin Island
Despite the name, Dolphin Island is not exactly an island. It is located at the northwest coast of Sentosa Island, near Adventure Cove Waterpark.
At Dolphin Island, you'll have a chance to interact with dolphins with or without getting into the water, through Dolphin Discovery and Dolphin Encounter programs.
For more intimate interaction, you can opt for Dolphin Adventure (where you'll be swimming and being propelled by dolphins) or Dolphin Trek (where you'll go underwater with waterproof helmet and you'll get to see the beautiful dolphins in their environment).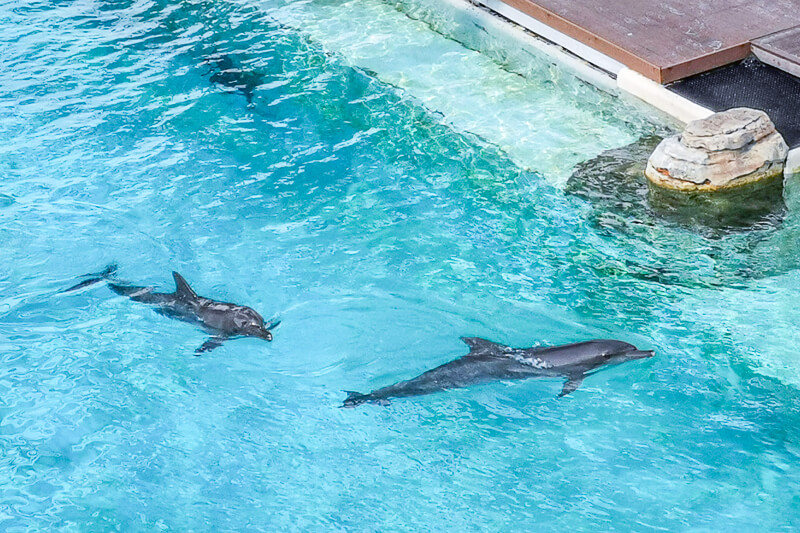 6. Royal Albatross
Royal Albatross offers 2-hour sailing experience on Fridays and weekends around the southern water of Singapore. You can choose Sunset Sail or Dinner Sail. The difference between the two is obviously the food. Sunset Sail includes only welcome drink, while Dinner Sail include welcome drink and dinner. This is a unique experience to spend an evening in Singapore, so I suggest you to save it for special occasion!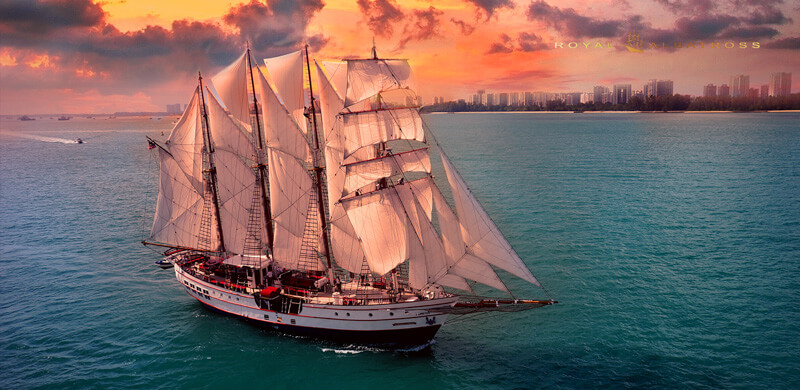 7. Trick Eye Museum
Trick Eye Museum is a fun place to do crazy pose for the 'gram. Who knew you could be such a great model?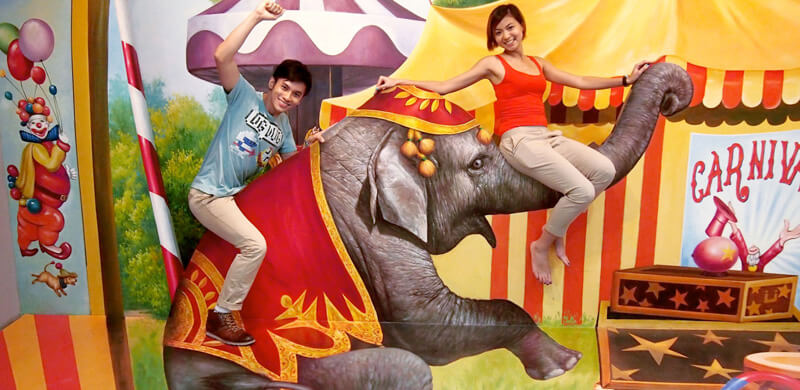 8. HeadRock VR
HeadRock VR is one of the biggest Virtual Reality Theme Parks in Southeast Asia, where you can enjoy playing adventurous games as if you're inside the game. It's obviously much more fun than going to the arcade or Timezone.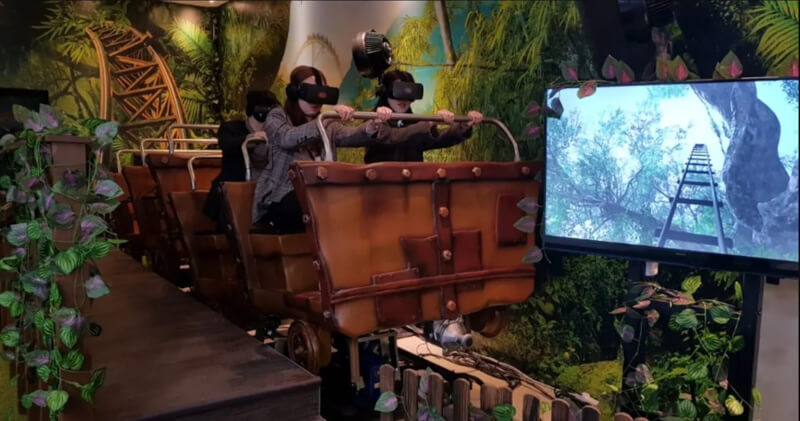 9. Lake of Dreams
Lake of Dreams is a free show of fire, water and light. This Lake of Dreams show is displayed every day at 11pm at Resort World Sentosa.
Update 2021: No scheduled shows until further notice.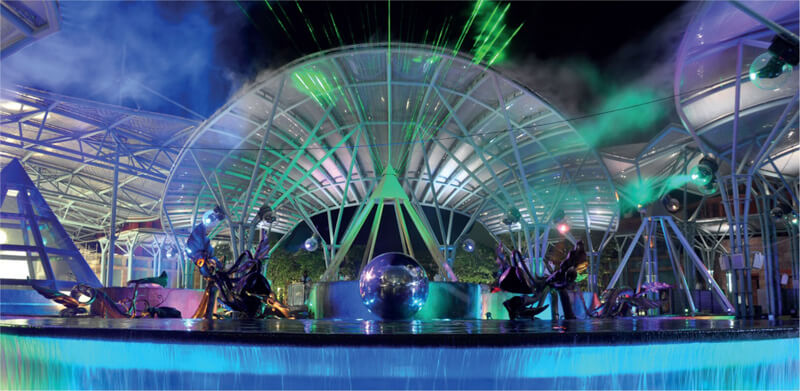 Sentosa Beach
An island gotta have its own beaches, amirite?! And Sentosa has not one, not two, but THREE beaches. All of them are located at the south of Sentosa. So, if you're taking Sentosa Express monorail from VivoCity, you can drop at Beach Station to visit these beaches.
10. Palawan Beach -> FREE admission
If you only have time to visit 1 beach, then you must visit Palawan Beach. I love this beach because it has a iconic suspension bridge that connects the beach and a small islet. This islet is dubbed the Southernmost Point of Continental Asia.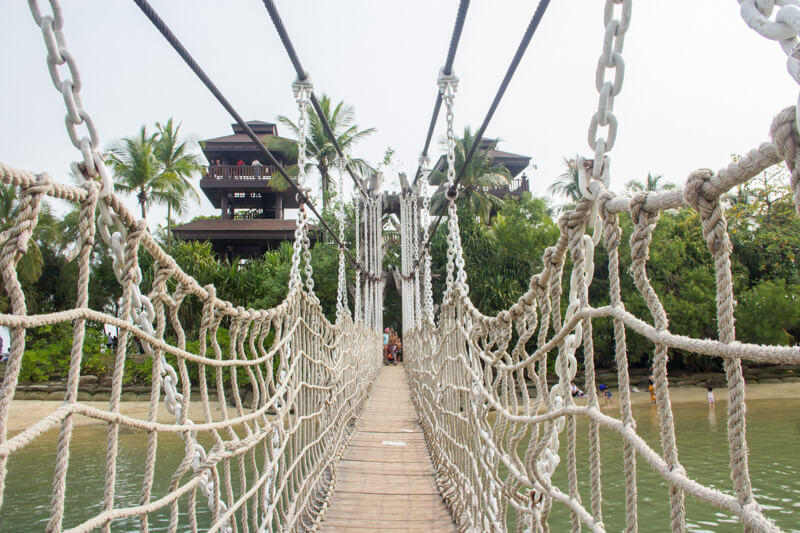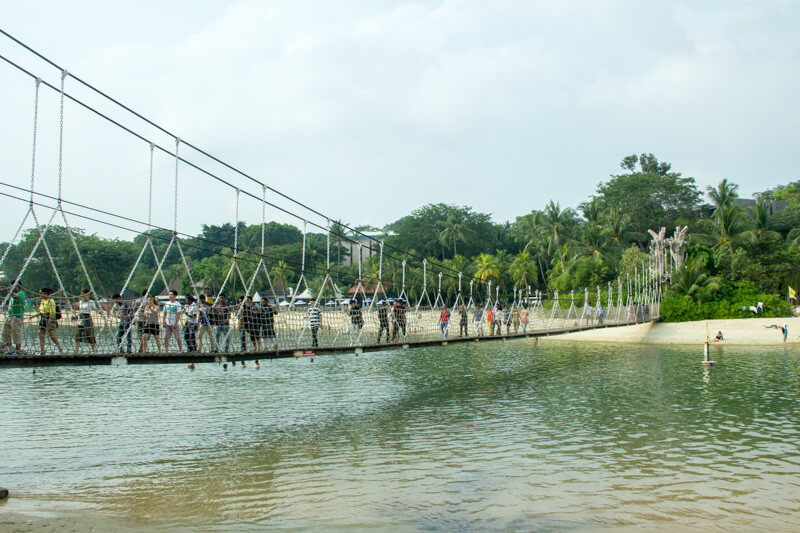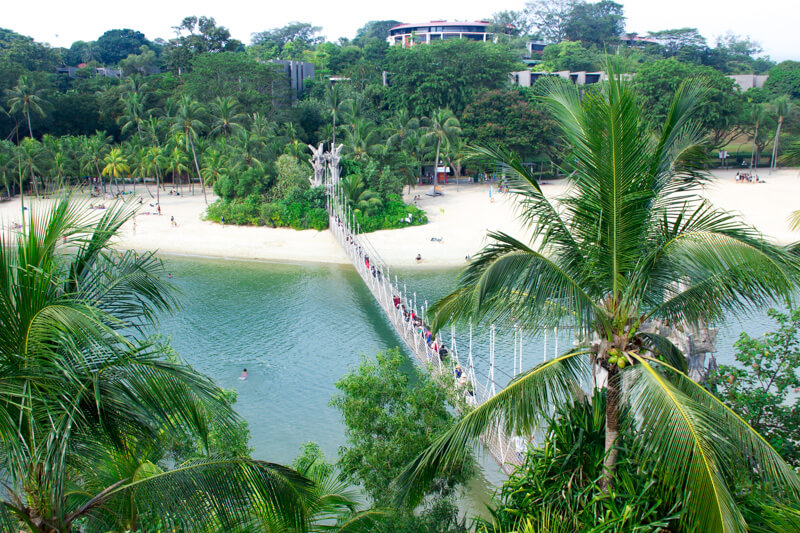 11. Siloso Beach -> FREE admission
Siloso is the beach for the adventurous. There are plenty of thrill activities here, such as Bungee Jumping (see #14) and Megazip (see #15).
The beach itself is where fun-loving people are often seen playing volleyball, football or Frisbee. There is a small island that can be reached by walking across the boardwalk.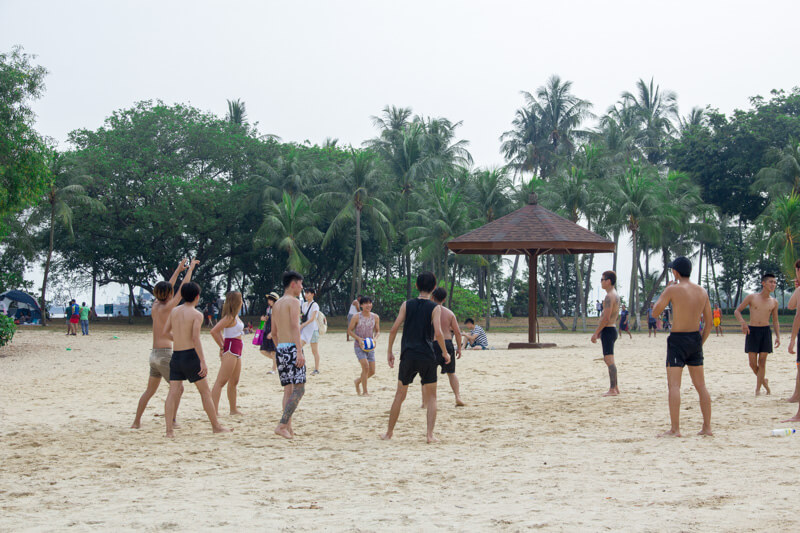 12. Tanjong Beach -> FREE admission
Tanjong Beach is the quietest beach among all. It's the favorite beach of people who are looking for tranquility.
The Tanjong Beach Club is praised by Condé Nast Traveller as one of the World's Best Beach Clubs. And, no, you don't need to be a member to enter the club. You do, however, need to make reservation for dining and daybed. The rate starts from $100/day bed per session on weekdays, and $200/day bed per session on weekends.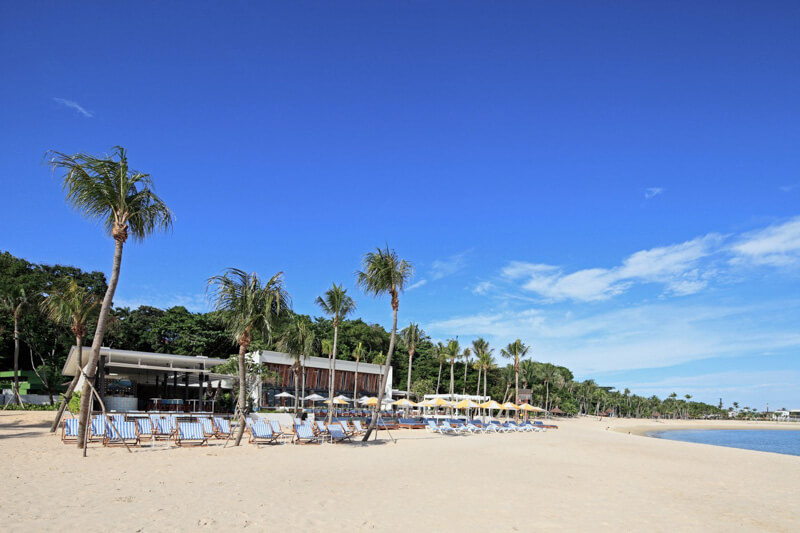 Sentosa Attractions & Activities
13. Hike Imbiah Trail (Imbiah) -> FREE admission
If you love outdoor hiking or running, you'll love exploring Sentosa's trails. The 1km-long Imbiah Trail starts from Imbiah and ends at Siloso Point. You can start your trek at Sentosa Nature Discovery where you can learn about Sentosa's heritage trees, 8 different types of habitat in Sentosa, and the geology formation of Sentosa.
After exiting Sentosa Nature Discovery, you'll meet Imbiah Bridge, a 200m Canopy walk. Halfway into the trail, there's intersection where you can switch to Mount Imbiah Nature Trail (1.1km), and then Coastal Trail (1km).
There are plenty of signage along the way, but do bring enough water because tackling the trails can be quite taxing.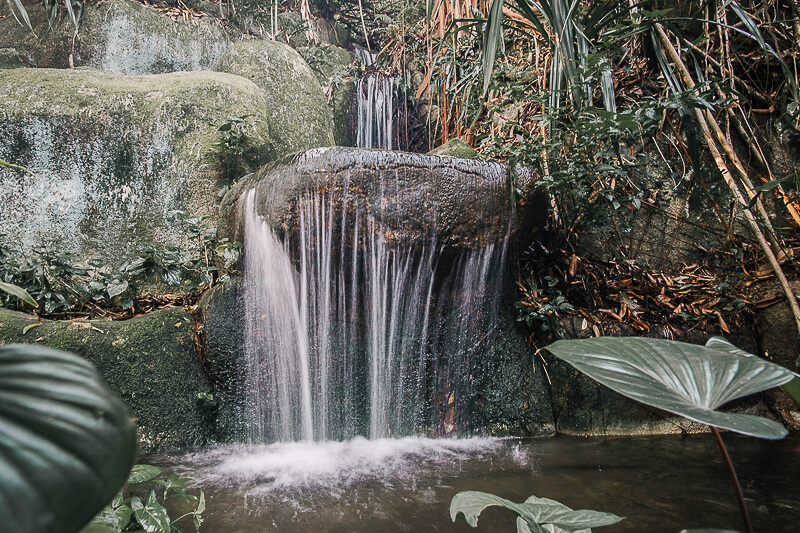 14. Bungee Jumping at AJ Hackett (Siloso)
This is Singapore's first and only bungy tower that stands 50m above the ground on Sentosa island's Siloso Beach. AJ Hackett offers 3 challenges:
Bungy Jump (jump off from 47m above the ground and free fall for 2.5 seconds),
Giant Swing (swing released at 40m high and travels with 120km/hr velocity)
Skybridge (40m long walkway with see-through glass floor at certain sections, at 47m above ground).
Read my experience visiting AJ Hackett Skybridge.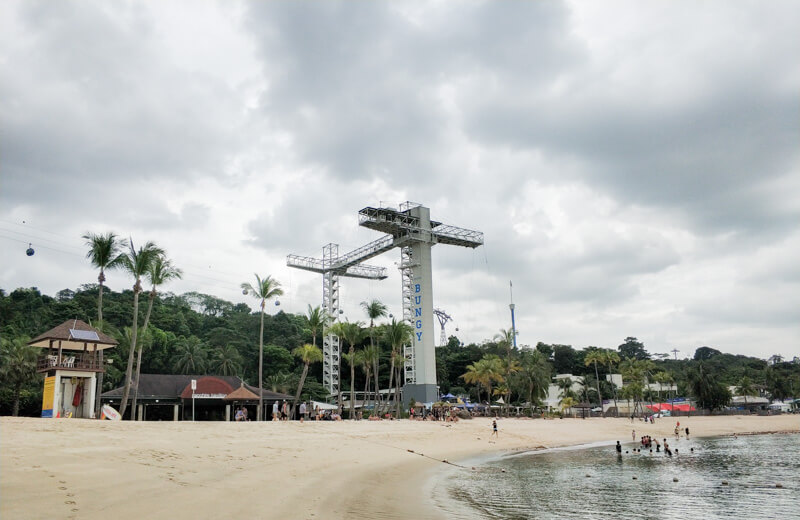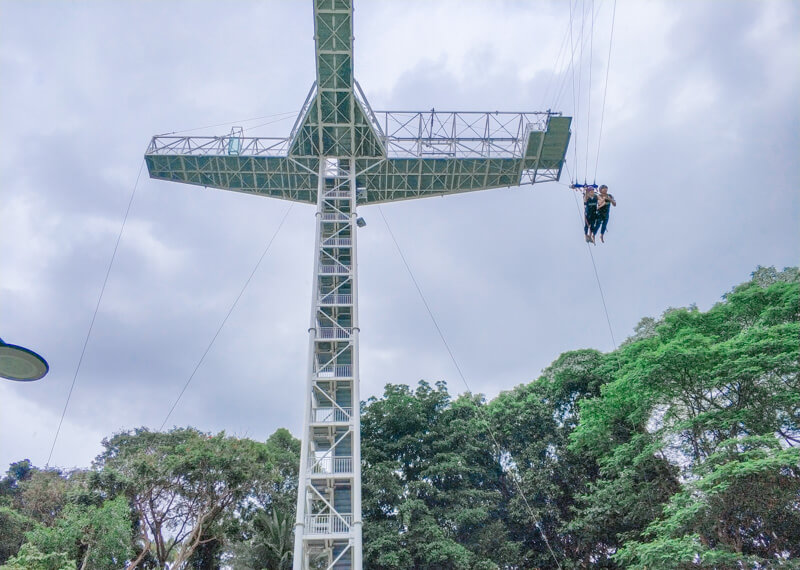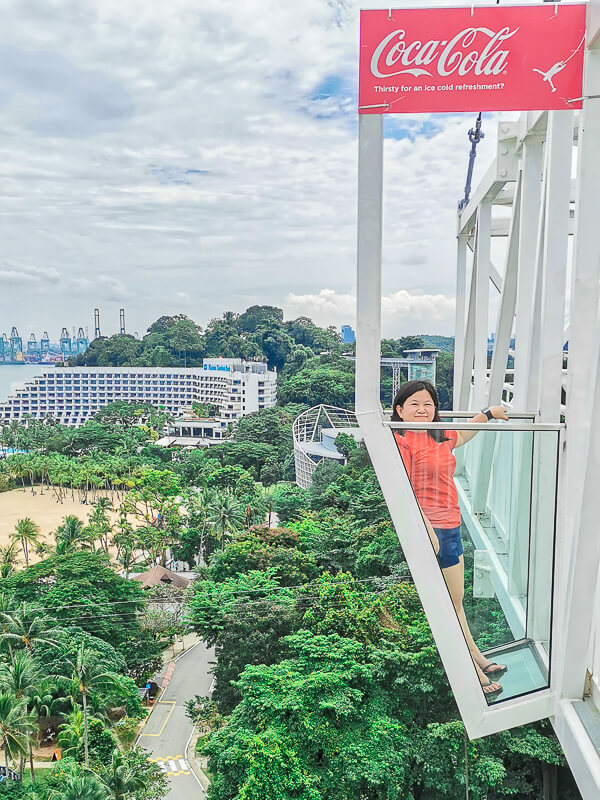 15. Mega Adventure Park (Siloso)
How cool is it to zip past Singapore's pristine beach and land on an islet? Answer: beyond cool. That's how I felt when I did MegaZip and I highly recommend that you try it too.
Mega Adventure Park offers a variety of adrenaline-pumping activities, such as MegaZip, MegaJump, MegaClimb and MegaBounce (for kids). If you buy a package, the price will be cheaper.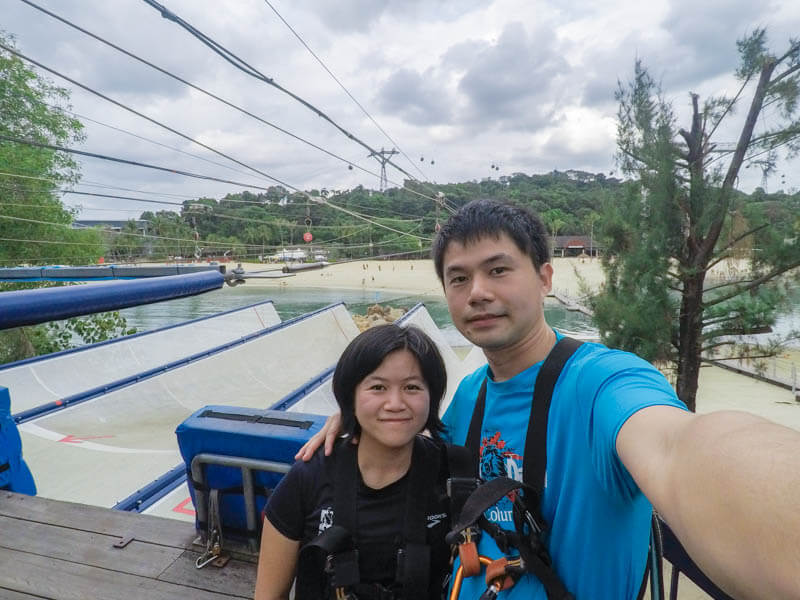 16. Skydiving at iFly (Beach Station)
What? Indoor skydiving in Singapore? Yes, I'm not kidding. iFly Singapore is a great place to try skydiving for the first time before you go for the real one.
This indoor skydiving is no less scary, really. You'll get training and certificate too, so you can brag that you've conquered the fear that paralyze a lot of people around you!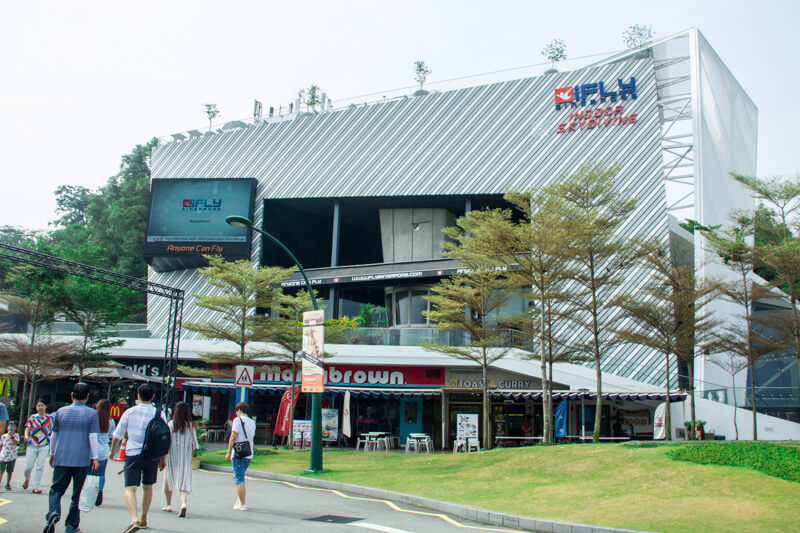 17. HydroDash (Siloso)
HydroDash is not just a normal playground, it is actually a floating playground that has obstacle courses with various levels of difficulty, such as monkey bars, trampoline, jump-off platform, highroller bridge and action tower.
While it is the perfect crash course for adventurous kids who love everything thrilling, water-loving adults will definitely enjoy this park as well. The minimum age limit is 5 years old, while the minimum height limit is 1 meter.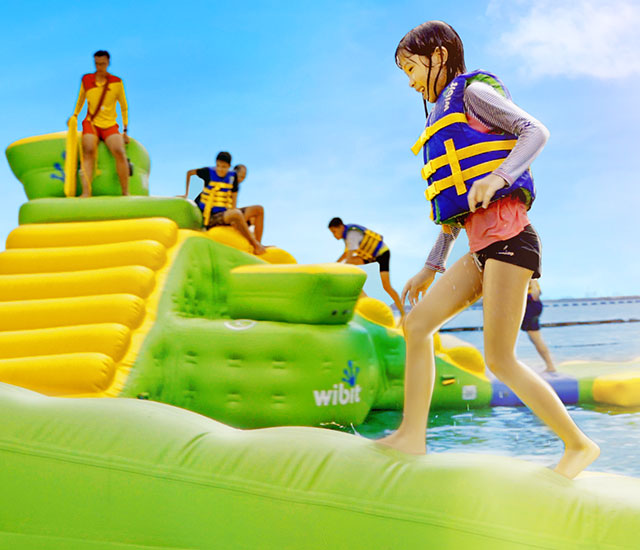 18. Skyline Luge & Skyride (Imbiah Lookout)
Skyline Luge & Skyride is a fun activity where you get to enjoy the thrilling cable car-like ride to the top of the track with your feet dangling above scenic views.
Once you reach the top, it's now time to cruise down the scenic track on a sledge. One round is far from enough.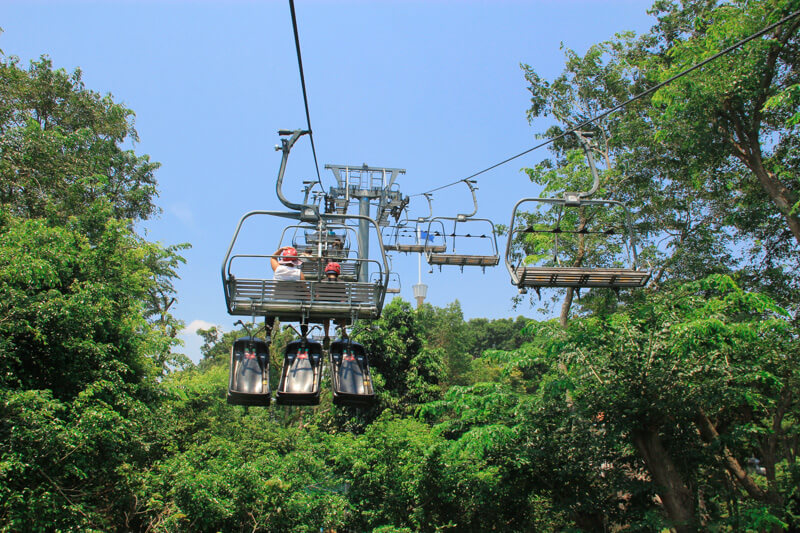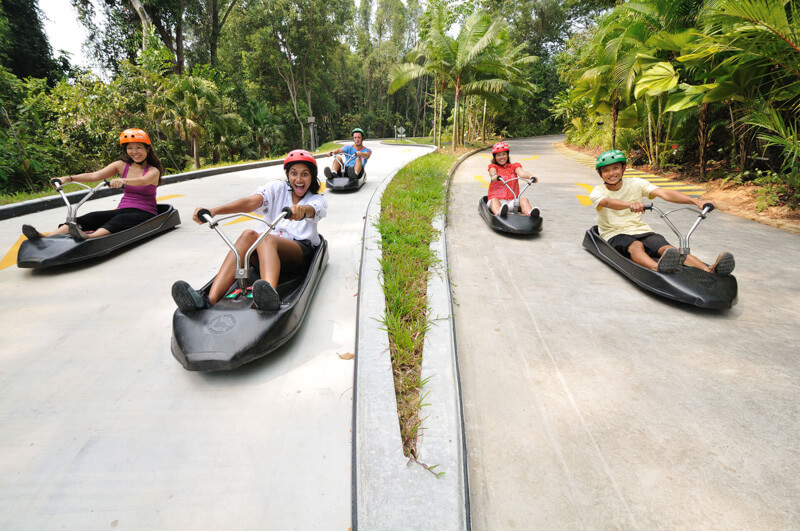 19. GoGreen Segway Eco Adventure (Beach Station)
If you don't fancy being above ground, what about sightseeing Sentosa while riding a Segway?
You get to be on the ground at all times and you'll see much more on a Segway in 30 mins compared to on foot. Basic training is included, so it's okay if you've never heard of Segway before.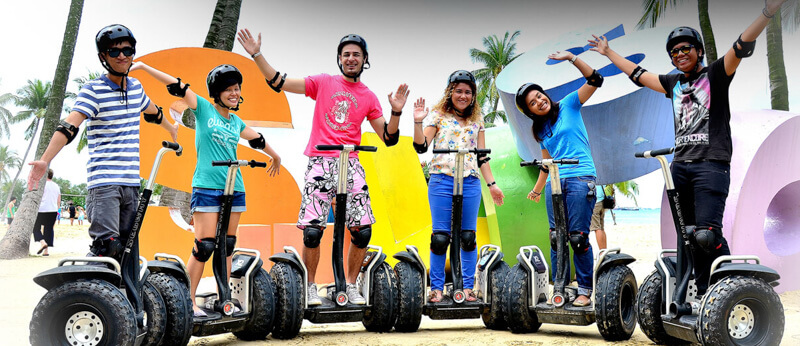 20. Wings of Time (Beach Station)
A great way to end your fun day is watching Wings of Time, a show that features display of water, laser and fire effects weaved with a tale of friendship.
Update: Wings of Time is currently suspended until further notice. Check the latest announcement here.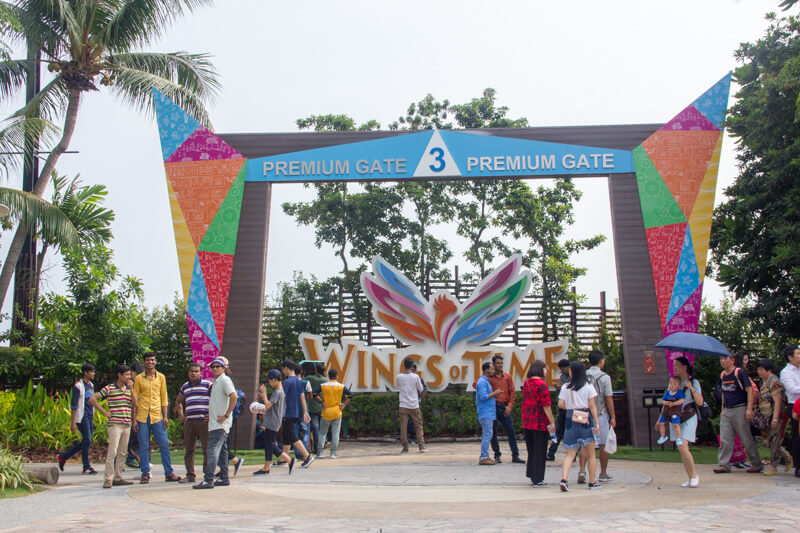 21. Madame Tussauds Singapore (Imbiah)
Get ready to rub shoulders with celebrities and prominent people including Singapore's founding father Lee Kuan Yew at Madame Tussauds located at Imbiah.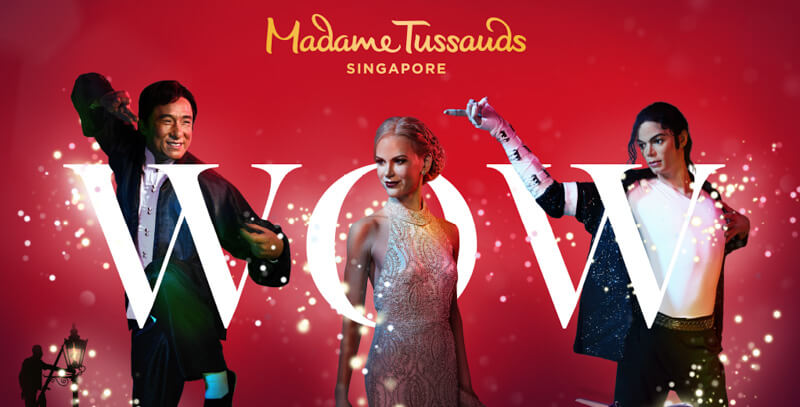 22. Butterfly Park & Insect Kingdom, Imbiah
So, you are a butterfly lover? Then, Butterfly Park & Insect Kingdom is the place you must visit! Here, you can witness free-flying butterflies and various insect displays, such as beetles, scorpions, and even iguanas.
Update: Butterfly Park & Insect Kingdom is currently not open.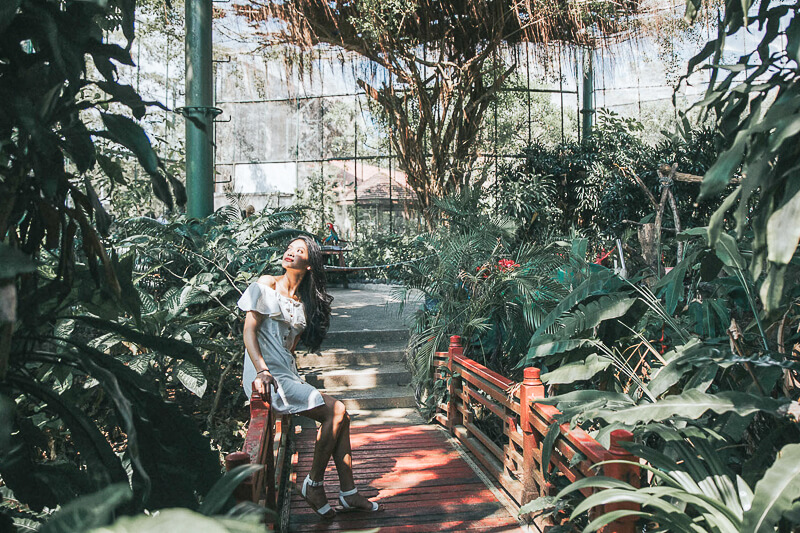 23. Fort Siloso & Skywalk (Siloso) -> FREE admission
Built in the 19th century, Fort Siloso survived the World War 2 and has become a historical site that preserves WWII memorabilia. Don't miss out the Surrender Chambers immersive show that depicts events in Singapore's history starting from Japanese invasion until their surrender at the end of WWII.
Free day tours are available every 2nd and 3rd Saturday of the month, do register in advance if you're interested.
Also, I highly recommend that you visit Fort Siloso Skywalk, a 11-storey high, 181 meters long Skywalk trail with scenic view among the treetops. Admission is free for both the Skywalk and Fort Siloso.
Read my experience visiting Fort Siloso & Skywalk.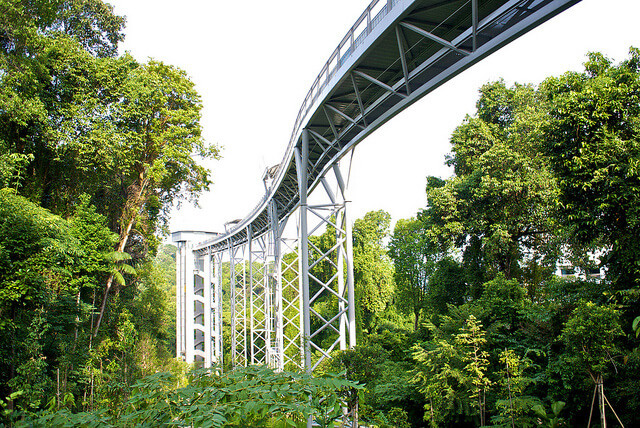 24. Magical Shores (Siloso)
If you love Wings of Times or any kind of light-and-music show, you will love Magical Shores. Every day, from 7.30pm to 10.30pm, Siloso Beach will be covered in interactive neon lights, like literally. The once-sleepy beach is now a hype beach.
Update: Magical Shores is currently suspended until further notice. Check the latest announcement here.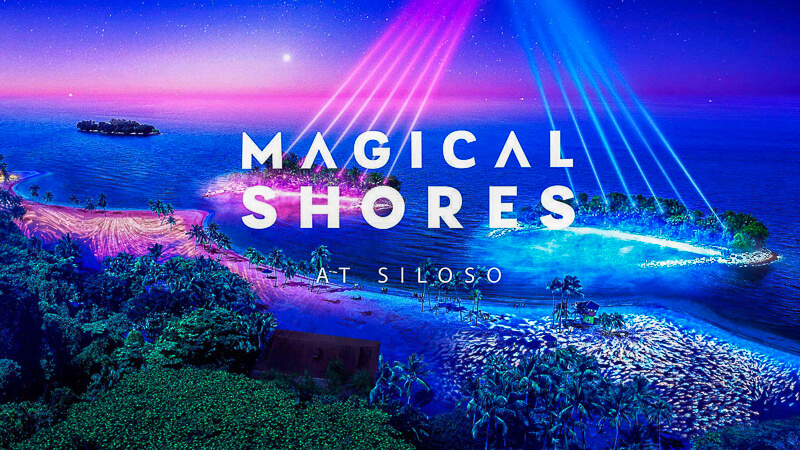 25. Nestopia Playground (Siloso)
Nestopia is the best place a fun-loving kid could ask for. Spoil your kids with 17 play sections that include mazes, slides, suspension bridge, and climbing obstacles.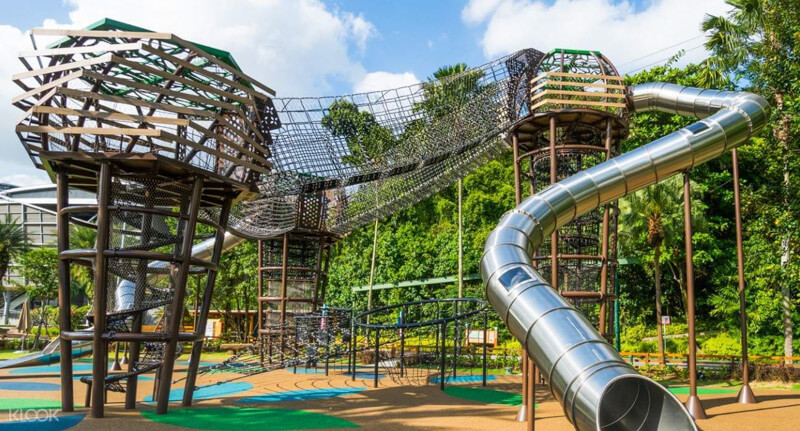 26. 4D AdventureLand (Imbiah Lookout)
4D Adventureland offers 4D movie experience where you get to enjoy thrilling rides, feel wind, water, and weird sensations.
There are 4 types of experience: Extreme Log Ride, Journey 2: The Mysterious Island, Desperados and Haunted Mine Ride.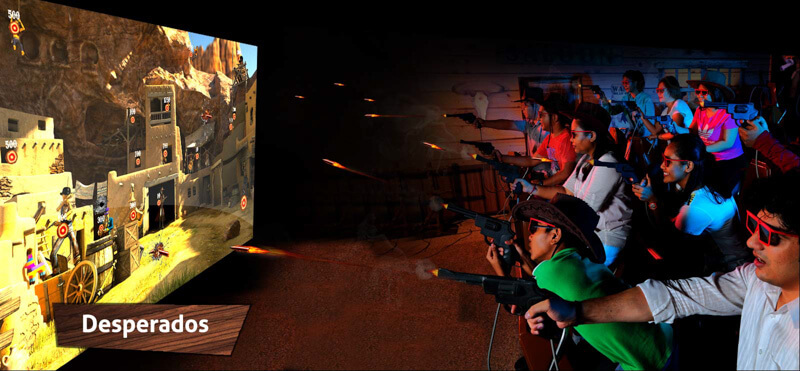 27. Sports Activities at Ola Beach Club (Siloso)
Water-loving souls will love the Ola Beach Club for their fun water sports, such as JetPack/Jet Blade, Banana Boat, kayaking and Stand-up Paddle.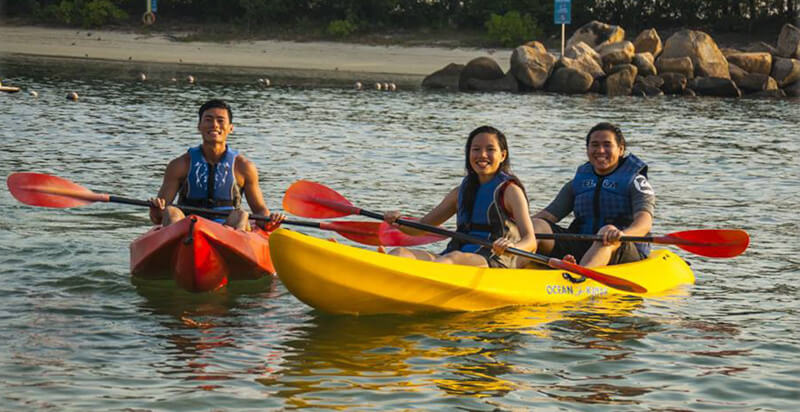 28. YachtCruiseSG (Sentosa Cove)
If a sunset sail with Royal Albatross is too expensive for you, here's an alternative: Evening Skyline Cruise with YachCruiseSG, which costs $50/person for 1-hour journey including mocktail.
Other than evening cruises, the company also offers 2.5 hours excursion package to Southern Islands, 2 hours High Tea on the Seas, and private boat charter to Lazarus island.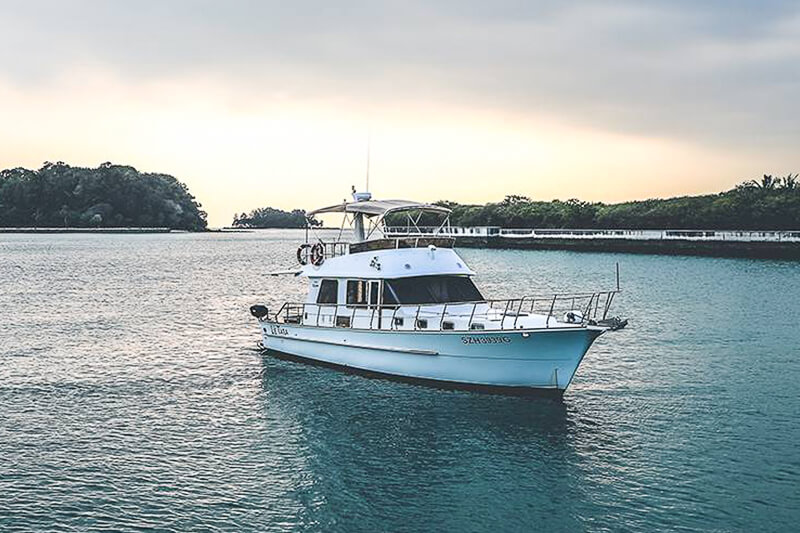 29. Jogging or Cycling in Sentosa -> FREE activity
So you don't want all those fancy activities, and you just want the old-fashion jogging or cycling? Lucky you, there are plenty of trails in Sentosa to satisfy your thirst for exploring.
My favorite trail is Route 3 of the cycling trail, as well as the East Track of the jogging trail. Both trail brings me to Sentosa Cove where I get to imagine the life of the rich and famous.
There are signboards for these route all around Sentosa so it's okay if you don't have the map. For your route planning, here's the cycling and jogging map.
30. Quayside Isle at Sentosa Cove -> FREE admission
If you don't know yet, Sentosa Cove is where the rich people build their dream houses. There are also luxurious apartments for those who can't afford a house, and hotels for luxurious tourists. So, don't be surprised if you see hundreds of yachts parking at the dock here.
Since most areas of Sentosa Cove are private houses or private clubs, the only place we, the muggles, can hang out is Quayside Isle. Get ready to splurge if you plan to dine at Quayside Isle, because food is not cheap but the location and view are absolutely worth the price.
To get to Quayside Isle, you can take either one of the 2 shuttle buses: Sentosa Cove shuttle bus ($2 per ride) from VivoCity, or Sentosa Bus B (free) from Sentosa's Beach Station. Alternatively, you can also follow the jogging trail from Palawan Beach (just follow the sign).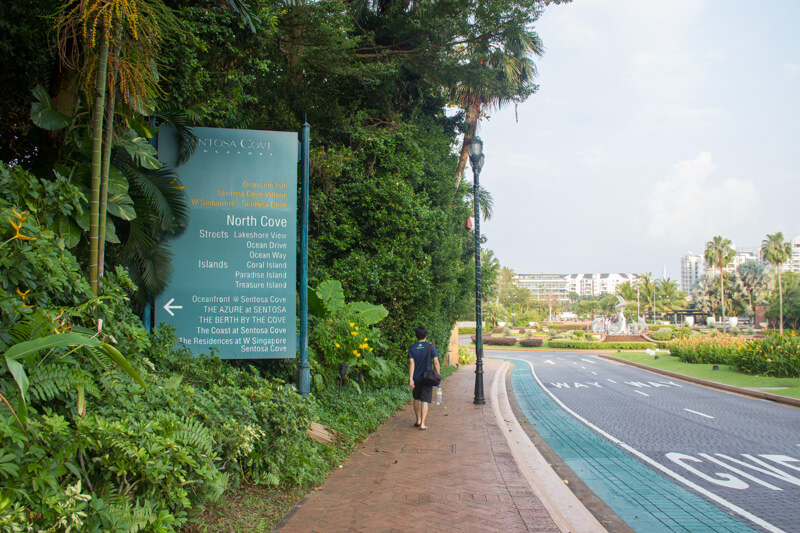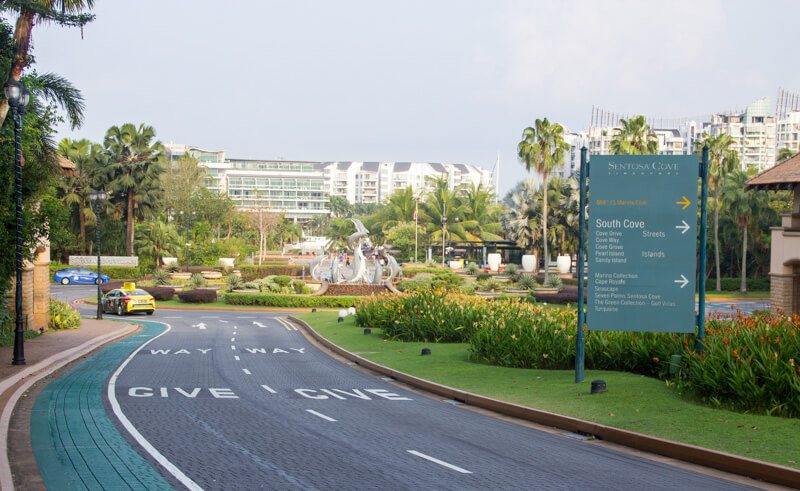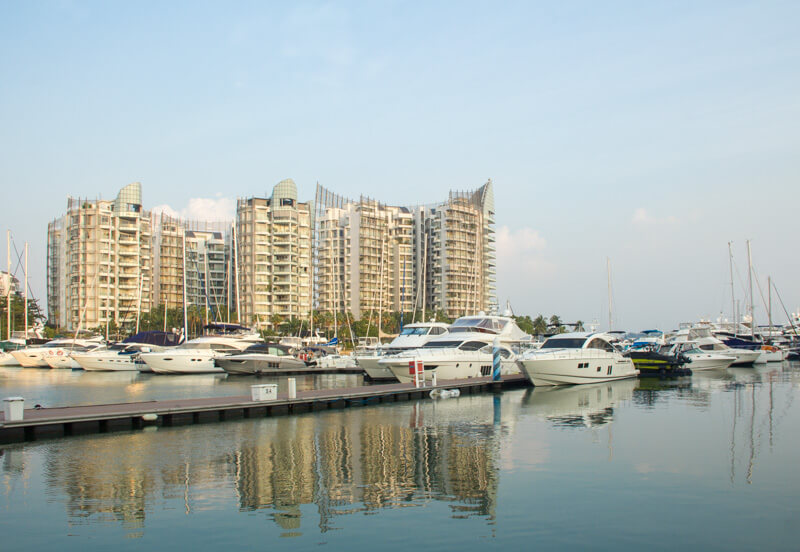 A Walk Down the Memory Lane
In this section, I will highlight amazing attractions in Sentosa that has unfortunately closed down. You won't be able to visit them anymore. I'm hoping these photos will bring back the memories you might have.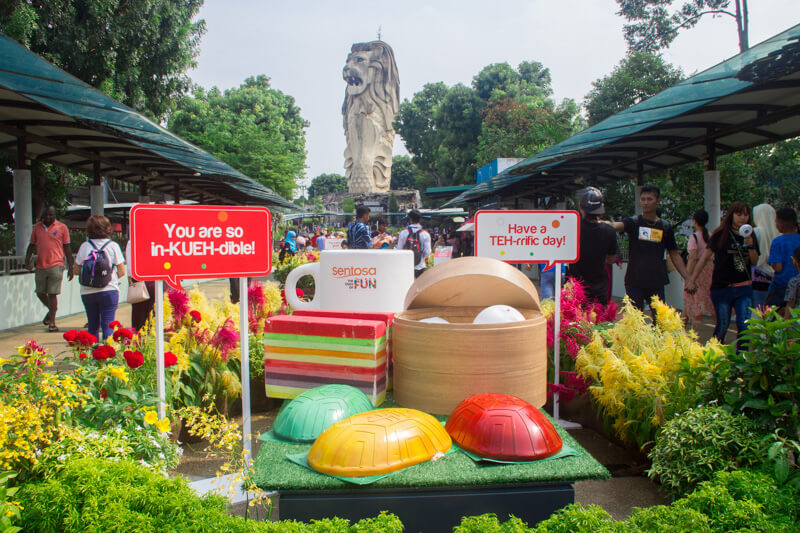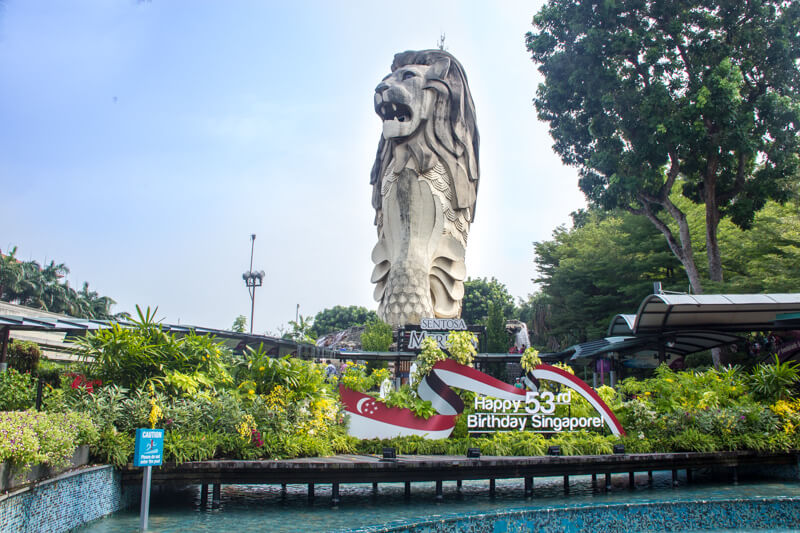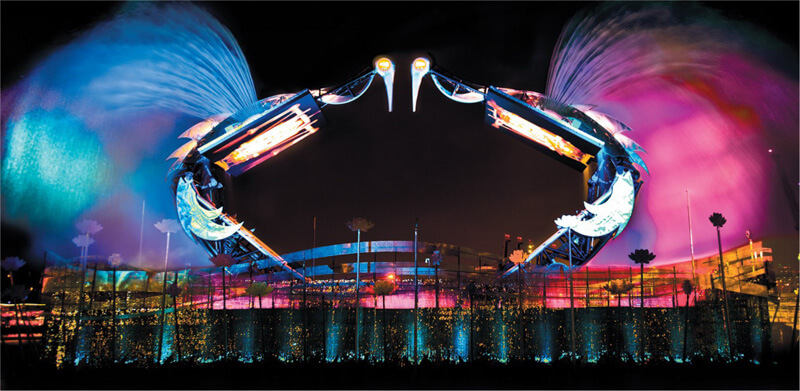 How to go to Sentosa from Harbourfront Station
There are many ways to go to Sentosa from anywhere in Singapore. You can take taxi, public transport or private hire. Most people who visit Sentosa usually take MRT to Harbourfront first, then they will choose either of the following options.
1. Walking
This is my favorite way to go to Sentosa because it's the cheapest way! From Harbourfront Station, take Exit E to VivoCity shopping mall Basement 2, take escalator up to the 1st level of VivoCity, follow the direction to "Sentosa Boardwalk," walk across the scenic boardwalk. Ta-dah, you've arrived!
Cost: free, until further notice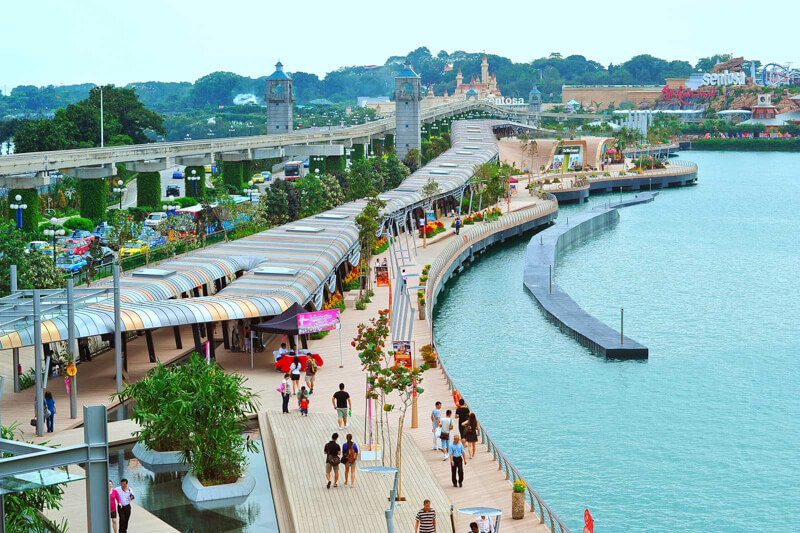 2. Sentosa Express Monorail
This is the fastest way to go to Sentosa! From Harbourfront Station, take Exit E to VivoCity shopping mall Basement 2, take escalator up to the 3rd level of VivoCity, buy ticket (pre-book Sentosa Express ticket and just redeem at the counter to avoid the long queue at the ticketing machine), and enjoy your short and sweet ride on the Sentosa Express.
Cost: SGD 4 Sentosa Express ticket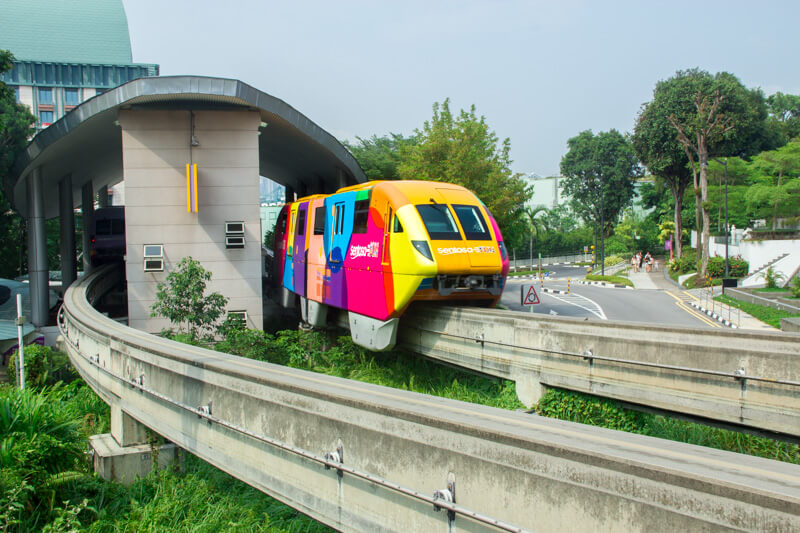 3. Bus
This method is suitable for budget travelers who hates walking. Taking the bus is cheaper than Sentosa Express, but not faster. From Harbourfront Station, walk to VivoCity bus stop and take bus RSW8.
Cost: SGD 1
If this is your first visit to Singapore, I have a guide about how to get around Singapore and which travel card you should get.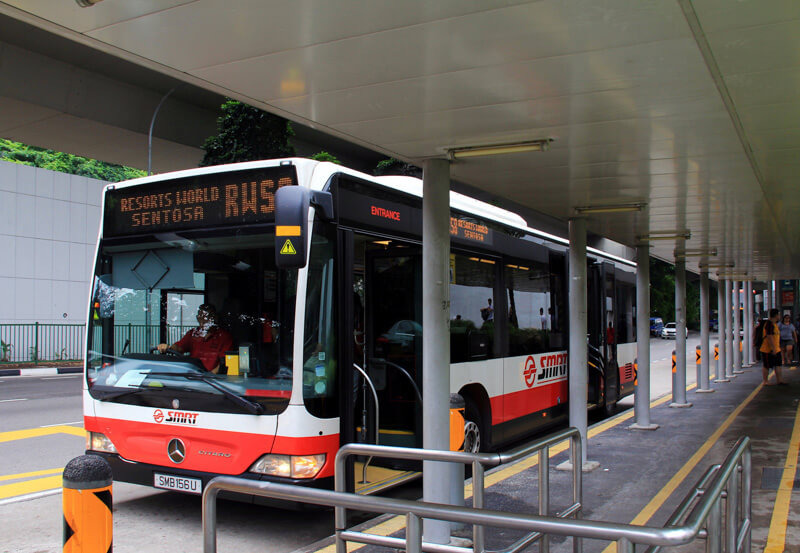 4. Cable Car
This is the most exciting way to get to Sentosa. The Singapore Cable Car Sky Pass gives you two-way cable car ride on both the Mount Faber Line and the Sentosa Line.
My suggestion is that you take Mount Faber Line from Harbourfront to Mount Faber, explore Mount Faber and enjoy the fabulous view. Then, take Mount Faber Line again to Sentosa.
When you're inside Sentosa, you can take Sentosa Line to get around Sentosa island. At the end of the day when you are going home, just take the Mount Faber Line back to Harbourfront.
How to go to Cable Car station? From Harbourfront Station, take Exit B towards HarbourFront Centre. Cross the link bridge (beside KFC on level 2) and follow directions to Singapore Cable Car at HarbourFront Tower Two.
Cost: SGD 35 (but you can get cheaper price if you book online)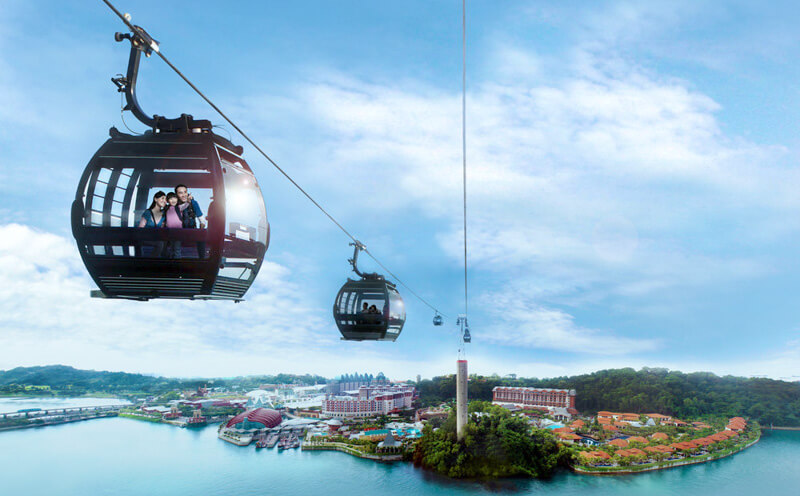 How to Get Around Sentosa
1. Walking
It is possible to explore Sentosa by walking, especially if you're fit enough to walk for hours. To guide your way, simply take Sentosa Island Map at the Information counter.
You can also use Google Maps; however, do note that Google Maps is not that clever yet to know about all of the shortcuts. There are maps and signboards all over Sentosa island so it's easy to navigate around.
2. Sentosa Express Monorail
Sentosa Express Monorail is free for travel within Sentosa. There are 4 stations: VivoCity, Waterfront (where Resort World Sentosa is located at), Imbiah Station and Beach Station (where all the beaches are located at).
Do remember that if you take the monorail to exit Sentosa, you can't come back to Sentosa for free, instead, you need to purchase a new ticket. So, if you're not done with Sentosa yet, DON'T take the monorail out of Sentosa towards VivoCity.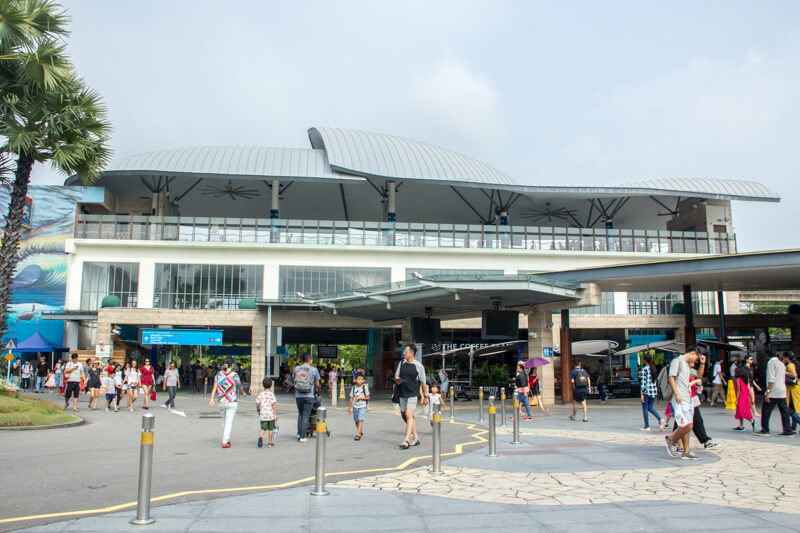 3. Sentosa Line Cable Car
Sentosa Line cable car has 3 stations: Merlion Station, Siloso Point Station and Imbiah Lookout Station. Sentosa Line cable car only operates within Sentosa, don't confuse this with Mount Faber Line which operates within AND outside Sentosa. If you get the Singapore Cable Car Sky Pass, you can travel on both Mount Faber Line and Sentosa Line cable car.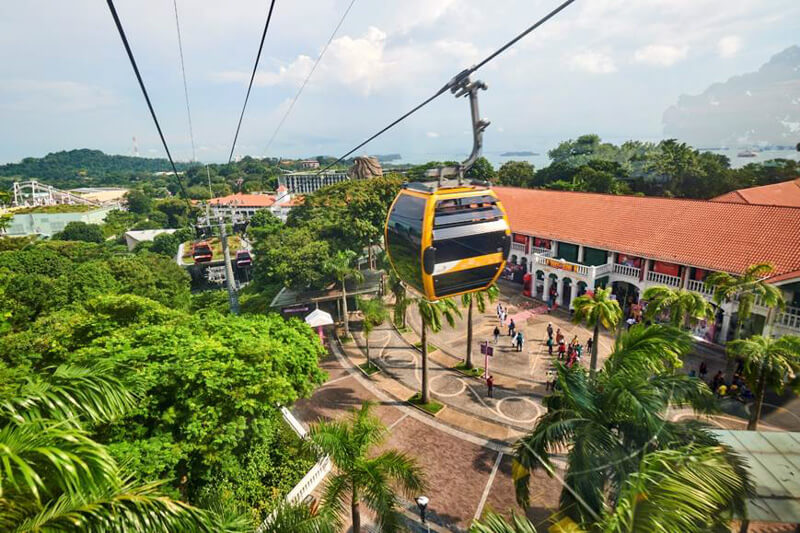 4. Free Shuttle Bus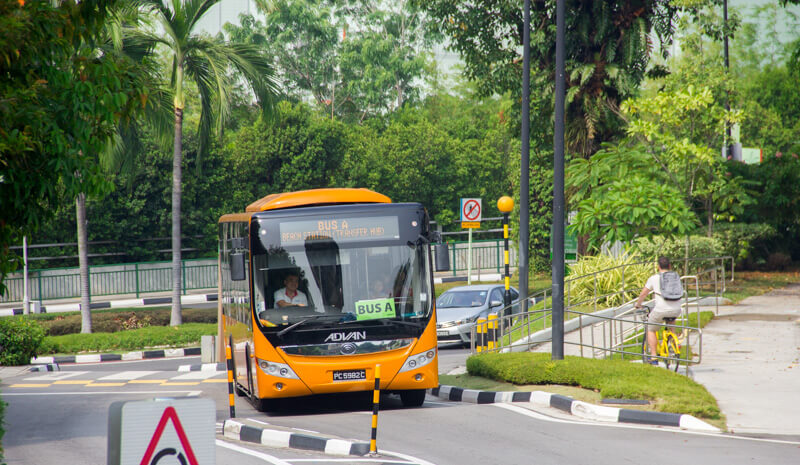 a. Bus A operates every 7 to 15 minutes. Bus A route: Beach Station – Imbiah Lookout – Siloso Point – Opposite Merlion Plaza – Opposite Amara Sanctuary Resort – Resort World Sentosa (Basement 1) – Amara Sanctuary Resort – Merlion Plaza – Beach Station

b. Bus B is less frequent than Bus A but it covers more places, including Sentosa Cove. The frequency of Bus B is 20 to 35 minutes. Bus B route: Beach Station – Opposite Merlion Plaza – Opposite Amara Sanctuary Resort – Sentosa Pavilion – W Hotel / Quayside Isle – Sentosa Cove Village – Opposite Sentosa Pavilion – Opposite So Spa – Palawan Beach – So Spa – Sentosa Golf Club – Eton House – Amara Sanctuary Resort – Merlion Plaza – Beach Station.

c. Resort World Sentosa NIGHT Shuttle Bus is mostly catered to transport hotel guests in Sentosa to Resort World Sentosa at night. Operating hours: Sunday to Thursday: 8pm – 12am; Friday and Saturday: 8pm – 2am.
There are 2 routes: West and East:
RWS Shuttle Bus West Route: RWS – Capella – Amara Sanctuary Resort – Village Hotel – Shangri-La's Rasa Sentosa – RWS
RWS Shuttle Bus East Route: RWS – W Hotel – Sofitel – RWS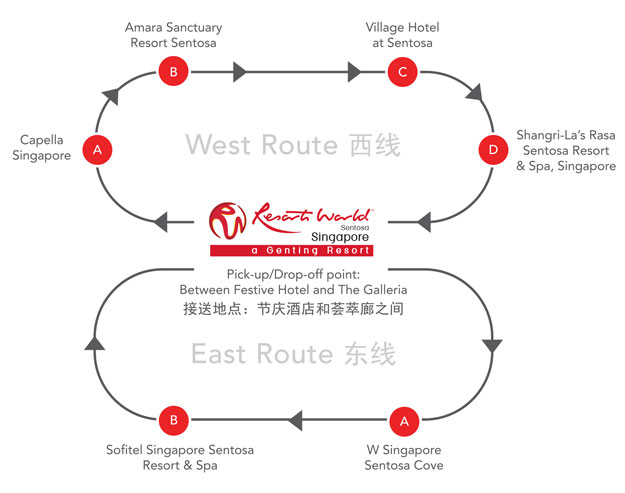 You can read more details about Shuttle Bus A, B, RWS Shuttle Bus West, East from here.
d. Sentosa Cove Shuttle Bus is catered to transport only Sentosa Cove residents from Oceanfront, Seven Palms, Sentosa Cove Village to VivoCity and Harbourfront Interchange.
5. Beach Trams
The beach trams only operate within the beach area. It starts from Beach Station and goes to Siloso Beach and Tanjong Beach.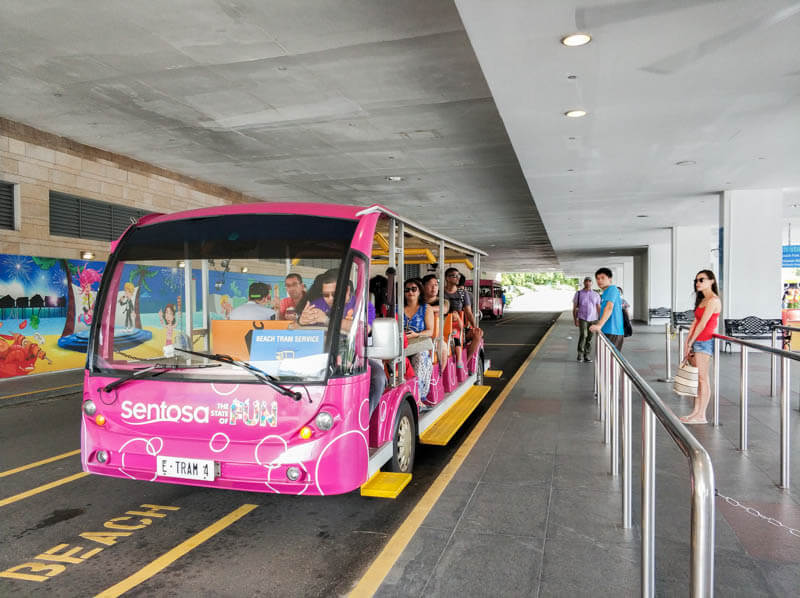 What to Eat in Sentosa
There are WAY TOO MANY dining places in Sentosa. You can view the full list of dining places here.
I won't repeat the list over here, but I do want to highlight a few restaurants here:
Cheap food: Malaysia Food Street (RWS)
Nice view: Arbora (Mount Faber, can be reached with cable car), Tanjong Beach Club (Tanjong Beach), Cable Car Sky Dining
Local favorites: Din Tai Fung (RWS), Putien (RWS), Ng Ah Sio Bak Kut Teh (RWS)
Snacks: Old Chang Kee (Beach Station), Mr Bean (Beach Station)
US Chains: Hard Rock Cafe (RWS), Starbucks
Fast Food: Marrybrown (Siloso Beach), McD (RWS and Siloso Beach)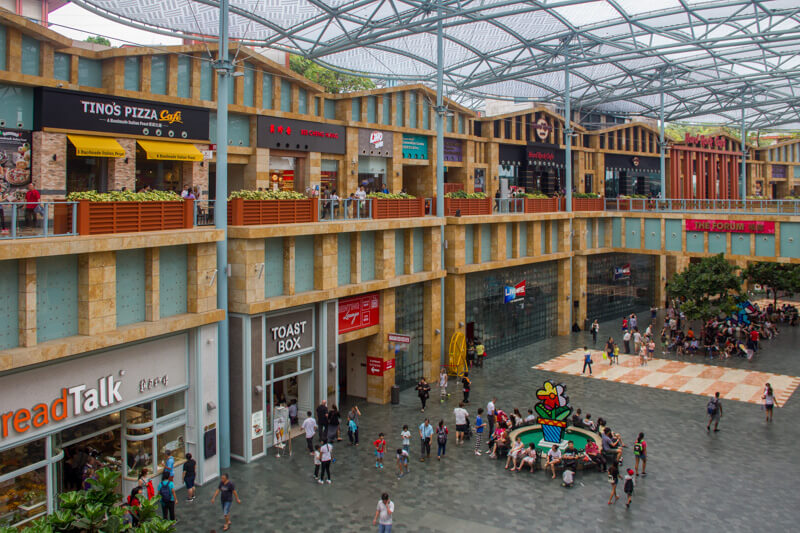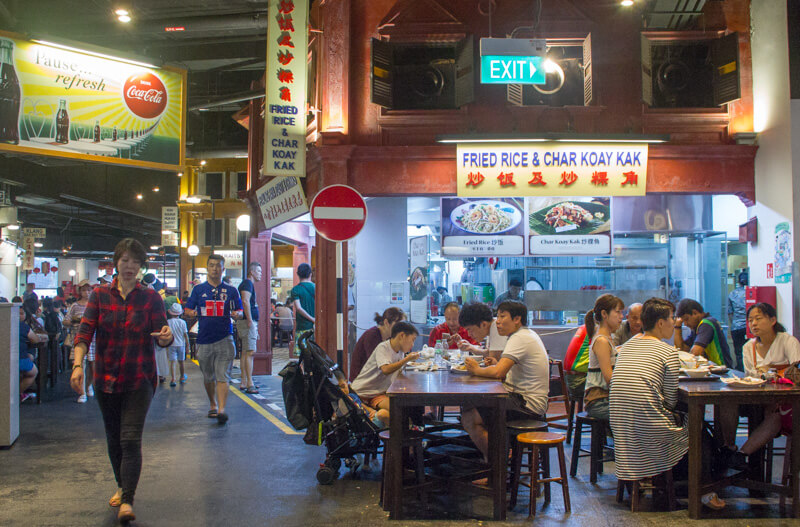 Where to Stay in Sentosa
Most Luxurious Experience: Equarius Beach Villas
The Ocean Suite at Equarius Beach Villa is on my bucket list! I mean, how could you not drop your jaw at this photo? A ray swimming in front of your bed? I think it's an experience you won't ever forget for a long time. It is also the best place to celebrate special occasions. A proposal perhaps? Check Beach Villas price on Agoda and Booking.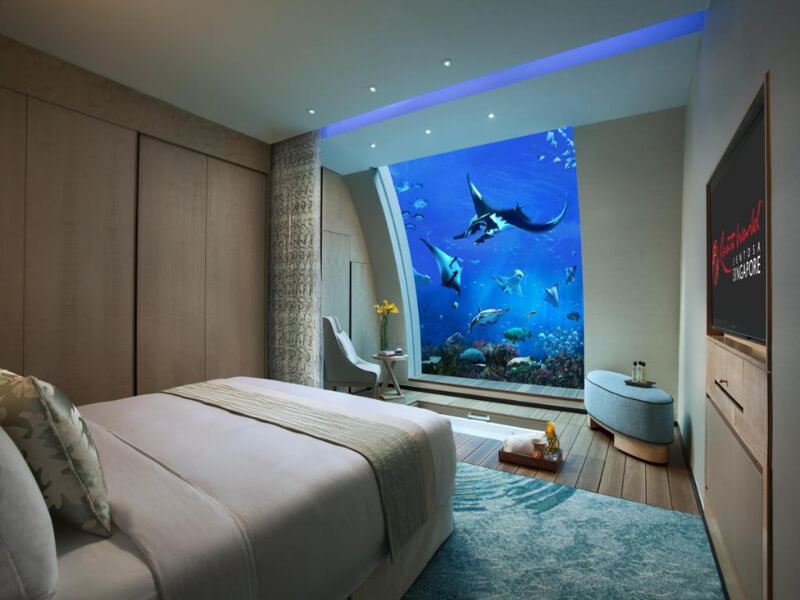 Nearest to Universal Studios: Hard Rock Hotel
Hard Rock Hotel is located right at the heart of Resort World Sentosa, so it's a great choice if you're planning to visit Universal Studios, Adventure Cove Waterpark, or other attractions in RWS. You can save a lot of traveling time as the attractions are only 5 mins walk from the hotel. Once you're exhausted from playing all day, you can go back to your room immediately. How convenient! And, oh, Hard Rock Hotel has a swimming pool that looks more like a lake than a pool, don't you think? Check Hard Rock Hotel price on Agoda and Booking.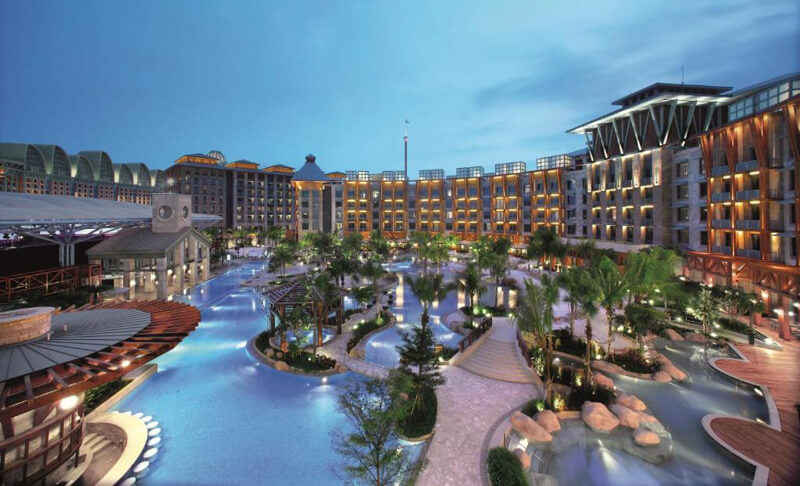 Most Raved: Capella Singapore Hotel
Capella Singapore is made up of both modern and colonial buildings, so you might feel like staying at a historical site. The Palawan beach is at Capella's doorstep, well, 200m away. A favorite among locals, Capella has hosted celebrities such as Madonna and Lady Gaga, and also the 2018 US-North Korean Summit between Trump and Kim Jong Un. Fun fact: peacocks often roam around the hotel's ground and poolside! Check Capella Singapore Hotel price on Agoda and Booking.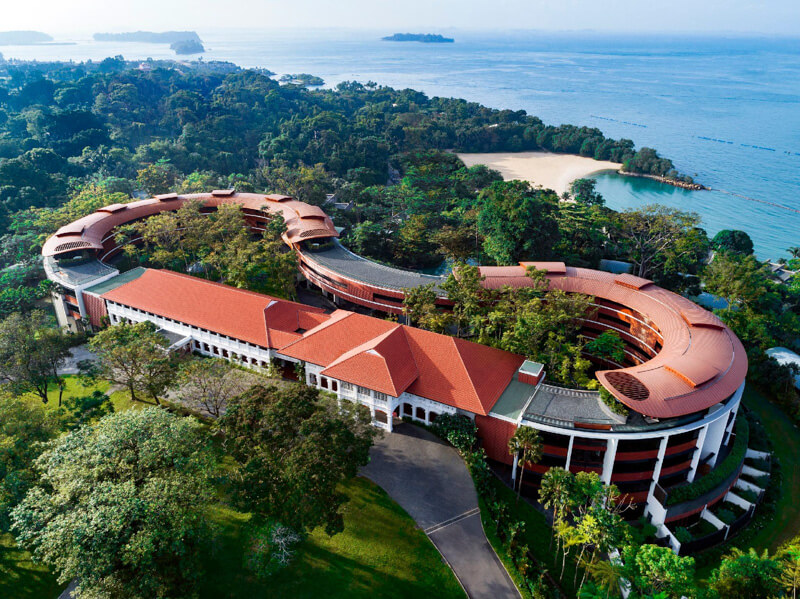 With Private Beach: Shangri-La's Rasa Sentosa Resort & Spa
Shangri-La's Rasa Sentosa Resort & Spa is located right at Siloso Beach and it has its own private beach so you can have your we;;-deserved privacy! Each guestroom has a private balcony overlooking views of the hill, sea or gardens; now you have a difficult decision to make! Check Shangri-La's Rasa Sentosa Resort & Spa price on Agoda and Booking.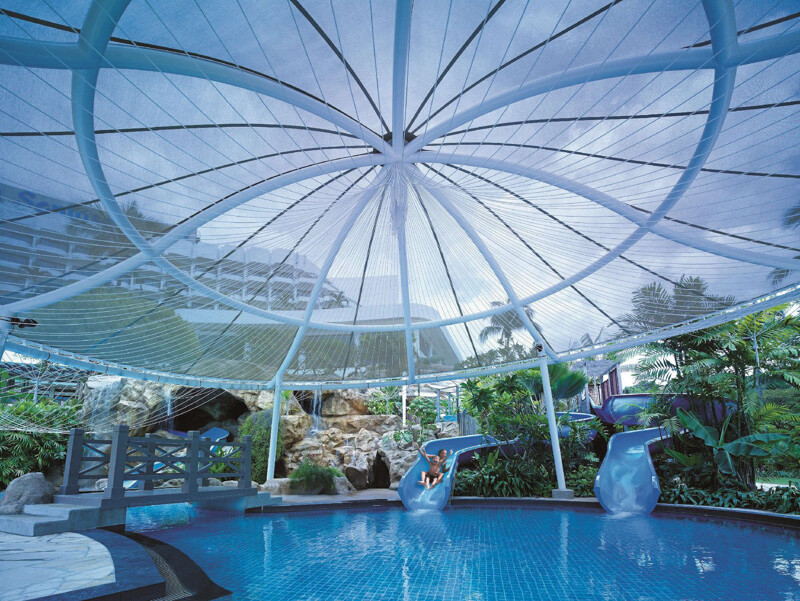 Tucked Away: W Singapore
Ever felt like wanting to escape from a bustling city to somewhere different? Maybe you should check out Sentosa Cove and see if you like the area. If you do, W Singapore is a great hotel where you could feel rich. Yacht is literally outside your room, and waterfront ultra-luxurious houses are just a few hundred meters away. Check W Singapore price on Agoda and Booking.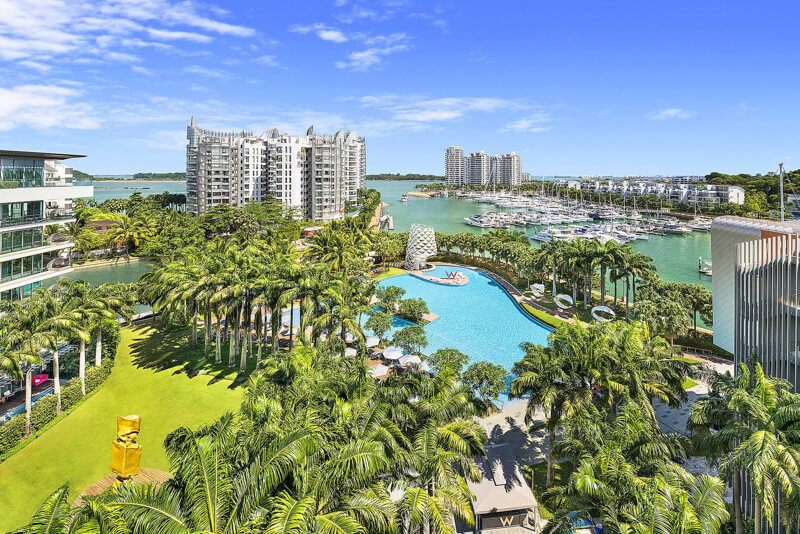 Cheapest: Costa Sands Resort Sentosa (Siloso)
Island living is not cheap in Singapore. You want to maximize enjoying the fun on this island, you'll be outside having fun instead of hiding in the room anyway, so you don't want to stay in 4 or 5-star hotels. Here's an idea: book a room at Costa Sands Resort at Siloso Beach. Honestly, reviews have not been stellar, but if you only want a place to sleep, you can read reviews and consider before making the decision. Check Costa Sands Resort price on Agoda and Booking.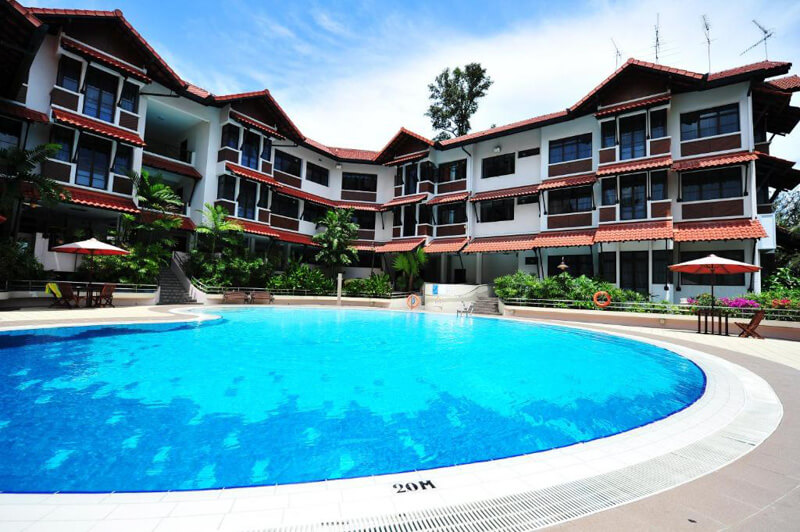 Where to Stay Near Sentosa
Bay Hotel Singapore (opposite VivoCity)
If you feel the hotels on Sentosa island are either too expensive, but you don't want to stay at the cheap Costa Sands because you want comfort, well the only way out is to find hotels outside Sentosa. The nearest hotel to Sentosa, which is not too expensive and yet still provides great comfort would be Bay Hotel Singapore. From the hotel, you can literally walk to Sentosa via the Boardwalk (no need to waste time & money taking public transportation or taxi to Sentosa). Check Bay Hotel Singapore price on Agoda and Booking.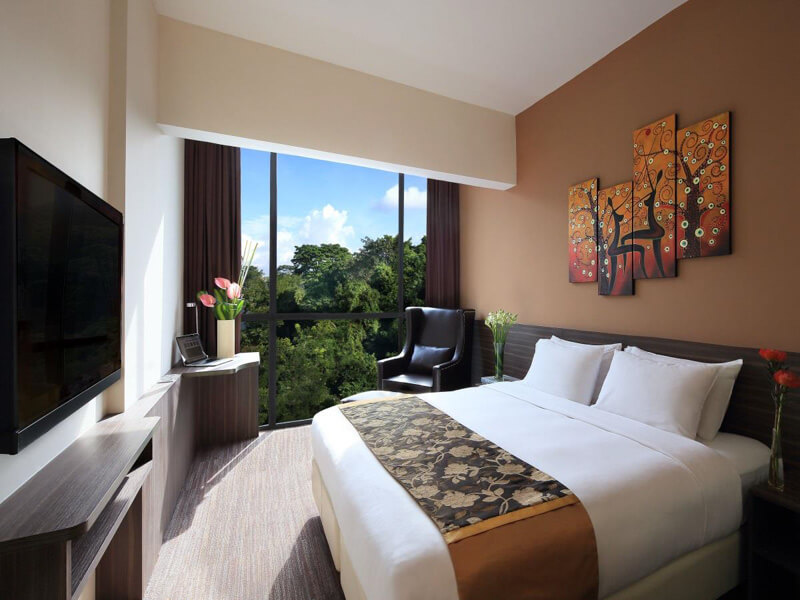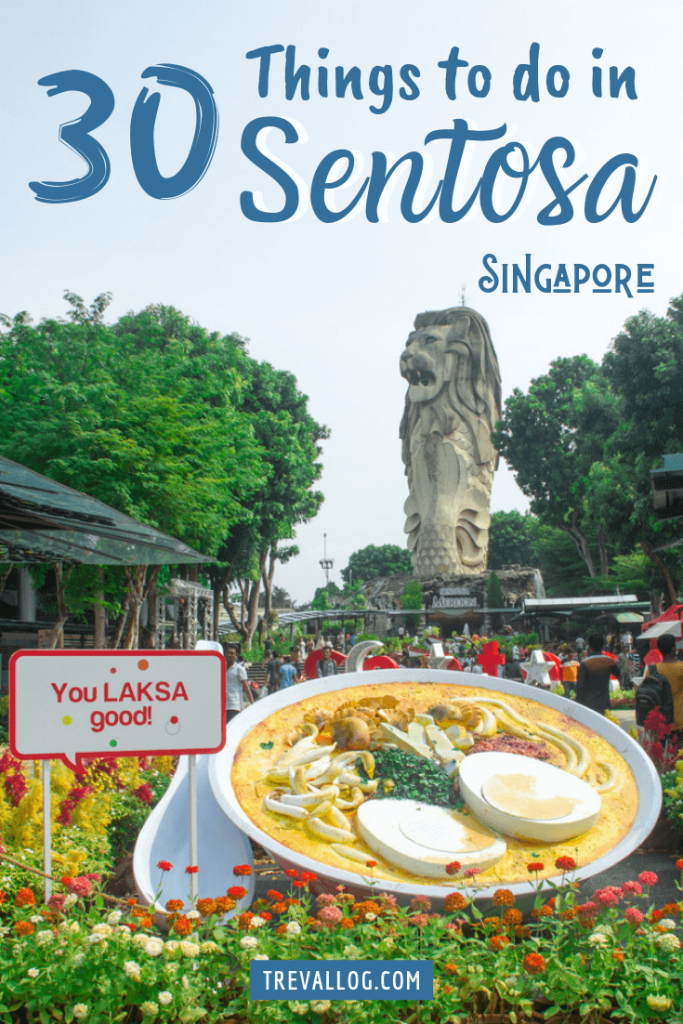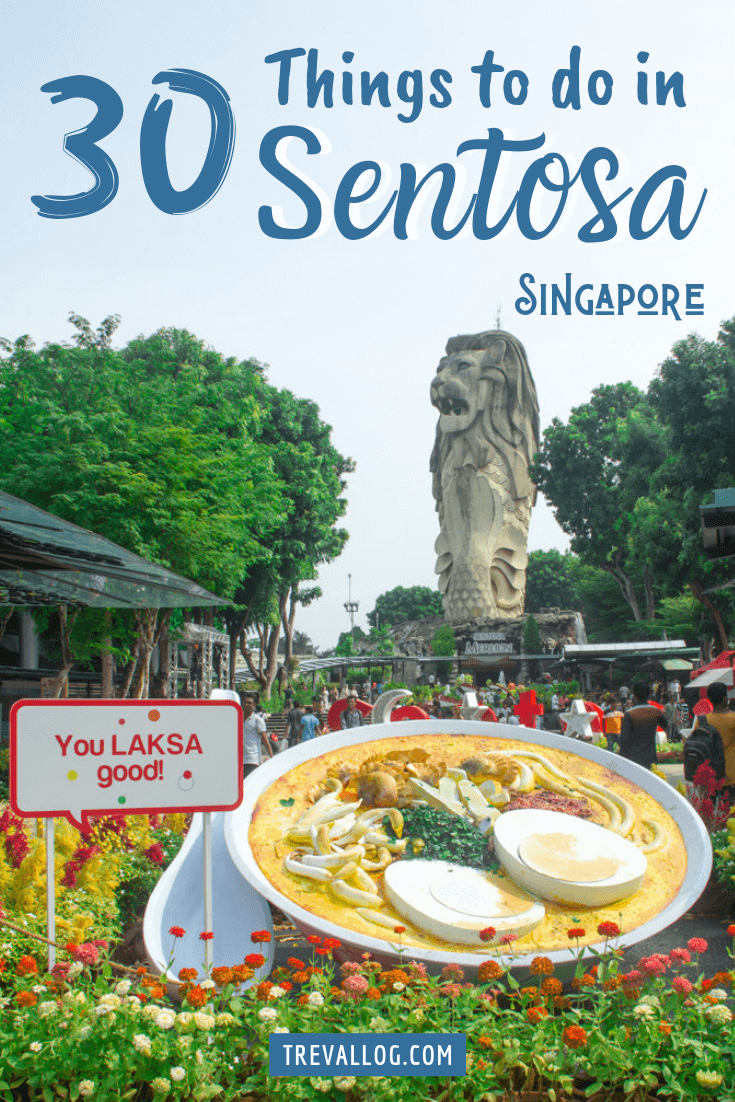 Coming to Singapore soon? Read all my articles about traveling in Singapore.
Want to be the first to know whenever I post new articles and videos? Join my Telegram Channel and you'll get new post alerts sent directly to your phone.
Disclosure: Some of the links in this post are affiliate links. If you make any purchase through my links, I will receive a small commission, at no extra cost to you.
First published: 25 May 2019
Last updated: Nov 2021