I've passed by Royal Albatross countless of times when I explored Sentosa Island, but I've never set foot on it. I've been wanting to try it for quite some time, but the stars were just never aligned.
This year, we finally boarded the Royal Albatross! My hubby and I went on a sunset dinner cruise because we wanted to have the best of both worlds: the day and the night.
Our cruise is dog-friendly. We're not dog owners but we love dogs, so we thought this will be a unique and fun experience for both of us.
In this post, I'll share my experience sailing on this unique ship with cute doggies, as well as tips for first-timers.
About Royal Albatross Tall Ship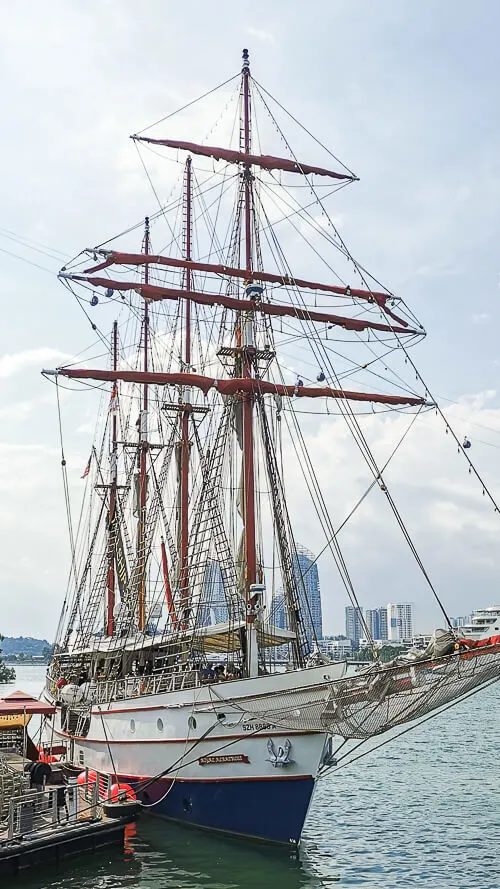 Have any questions about traveling in Singapore? Join All About Singapore Travel FB group, I'll be there to answer your questions!
Royal Albatross was built in 2001 in Chicago. The ship was designed by Jim Barry, the designer behind the ships in "Pirates of the Caribbean".
It was later acquired by Pete Pela, the Founder and Managing Director of Tall Ship Adventures Singapore Pte Ltd, who then brought her to Singapore in 2008. In the next 6 years, she underwent massive redesigning and refitting to be a splendid luxurious ship.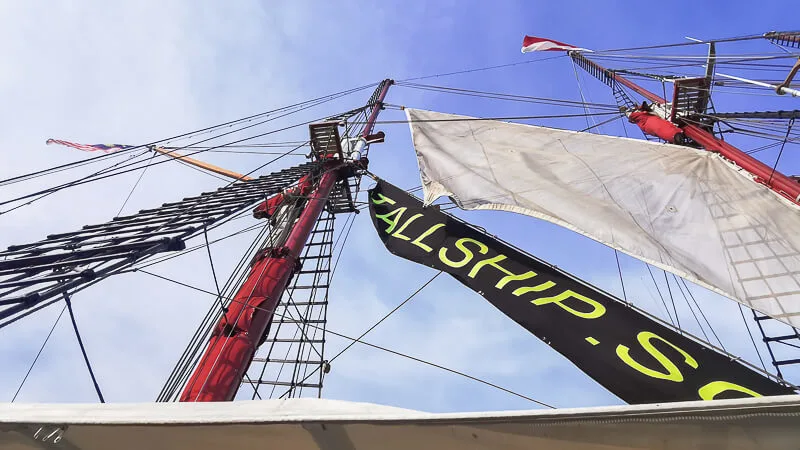 The Luxury Tall Ship Royal Albatross was officially launched in April 2015. Today, Royal Albatross offers a wide variety of sailing experience with gourmet dining for locals and tourists in Singapore.
It has a licensed capacity of 162 persons onboard, making her the largest charter yacht in Singapore, and the only yacht in Singapore licensed for food and alcoholic beverage operations.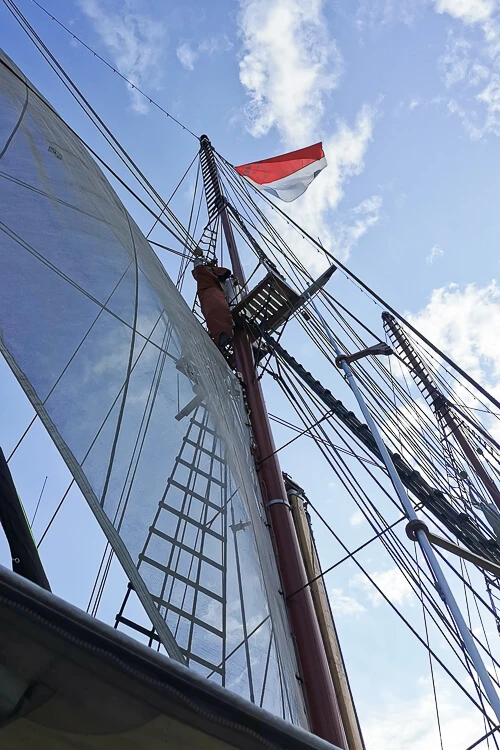 Over the years, Royal Albatross has hosted many important people, including Her Royal Highness Princess Anna and 2 times F1 Champion Mika Hakkinen. Here's a fun fact: Royal Albatross was featured in the 2008 Batman movie, The Dark Knight!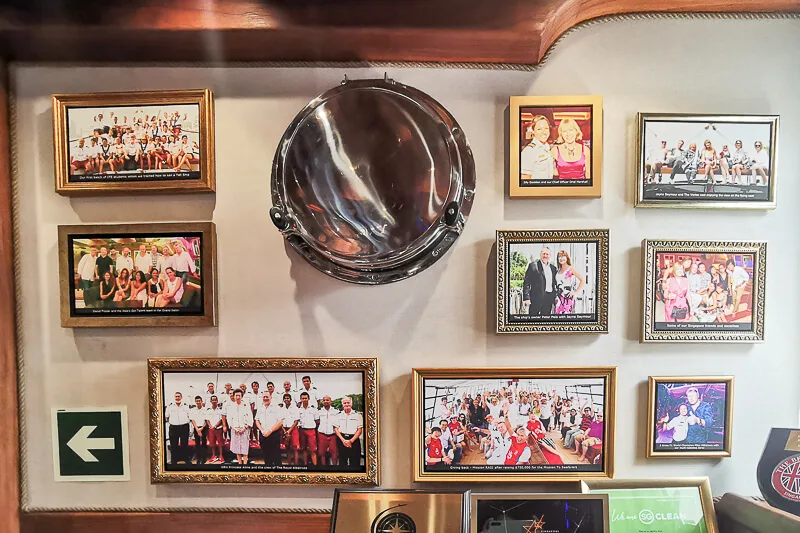 Booking
At time of writing, there are 4 types of cruise you can choose from: Breakfast Cruise, Sunday Brunch Cruise, Sunset Dinner Cruise and City Lights Dinner Cruise. For me, the one I'm getting is the Sunset Dinner Cruise – Dog Friendly.
You can book the cruises directly on Royal Albatross website.
Alternatively, you can check out Klook's packages to see if there's anything that interests you.
Not all cruises are dog-friendly. If you're using the main calendar from "Book Now" button, you won't be able to know which ones are dog friendly.
To find dog-friendly cruise, you need to go to their sailing schedule, and then click on the cruise that has "dog friendly" label to add to cart. Do take note that dog ticket needs to be purchased separately.
Pre-Sailing
Before sailing, we had to do online check-in and watch safety video. The online check-in is open 14 days before sailing date.
If you're booking a surprise cruise for your loved ones, they won't be able to do online check-in. Instead, they'll have to do the check-in on the day of sailing.
What to Wear and Bring
There's no specific dress code for Royal Albatross cruises. You can wear whatever you feel most comfortable in. And you need to take off your shoes before boarding, so it really doesn't matter what footwear you wear.
On the sailing day, remember to bring your physical Identity Card or Passport. And take seasick pills if you are prone to sea sickness.
I usually don't get seasick on a bumboat to Pulau Ubin or on a ferry to Southern Islands, so I thought I won't get seasick on Royal Albatross. Well, I was wrong! The water around the south of Sentosa is quite choppy, thanks to the busy sea traffic.
If you've ever taken a ferry to Batam and you got seasick, then I'd recommend you to take seasick pills 2-4 hours before boarding Royal Albatross.
Getting to Royal Albatross
Royal Albatross is docked at the berth at Resort World Sentosa, near S.E.A. Aquarium and Adventure Cove Waterpark.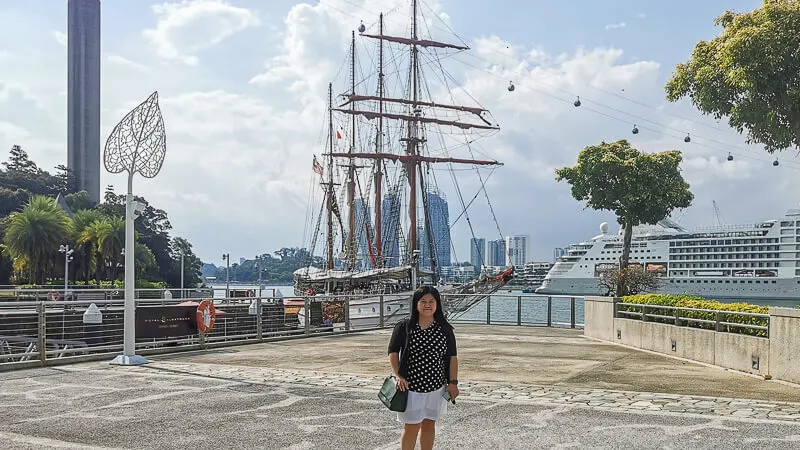 Here are the ways to get to Royal Albatross:
By car: Drive to Resort World Sentosa and park at RWS Basement Carpark. Take the escalator up to Level 1, and make your way on foot to Royal Albatross.
By taxi: Take taxi to Resort World Sentosa (B1 Casino). Then, take the escalator up to Level 1, and make your way on foot to Royal Albatross.
By Sentosa Express: Take Sentosa Express from VivoCity Level 3 (or Imbiah Station or Beach Station in Sentosa) and alight at Resort World Station. Make your way on foot to Royal Albatross.
By MRT and Walk: Take MRT to Harbourfront Station. Take escalator to Level 1 of VivoCity and follow the direction to Sentosa Boardwalk. Walk along Sentosa Boardwalk towards Royal Albatross.
Boarding
The boarding process is quite simple. Since we had done online check-in in advance, when we arrived at the jetty, we simply presented our IC and we got our boarding pass in the form of a wristband and a lanyard. Then, we had to take off our shoes before stepping onto the ship. Once seated, we'll pass the lanyard to the staff.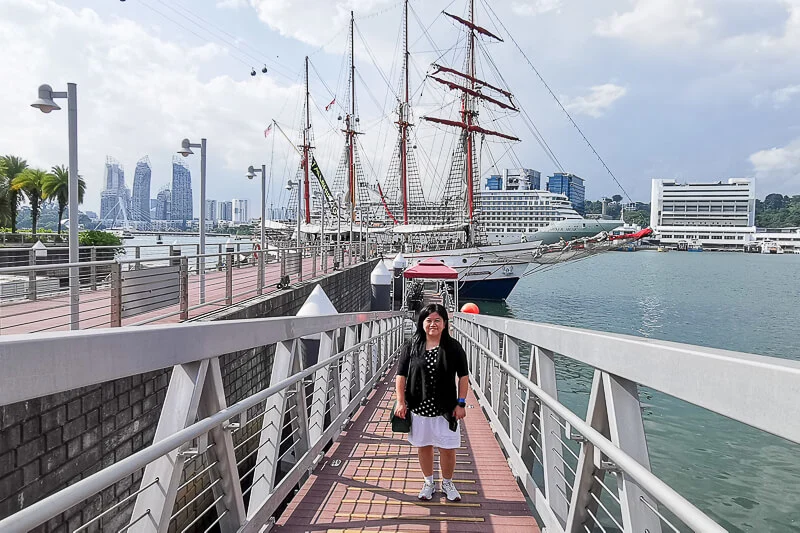 Our cruise is scheduled to depart at 5pm. Boarding is open at 3.30pm for VIP & Packages, and 4pm for everyone else. When we boarded at 4.15pm, the Foredeck was already almost full. Hence, we decided to sit at the Aft Deck.
Ship Layout
The ship layout can be broadly categorized into Upper Deck, Main Deck, and Lower Deck.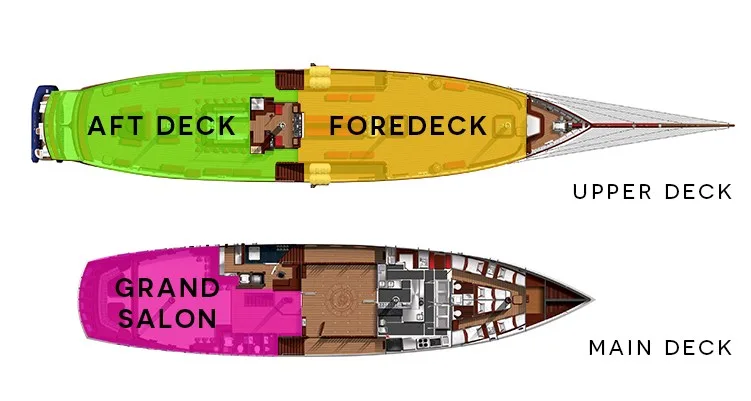 Upper Deck
The Upper Deck is where dining takes place, and is further divided into 2 sections: Foredeck and Aft Deck.
Seating is on a first-come-first-served basis. If you arrive early, you'll have more seating options to choose from.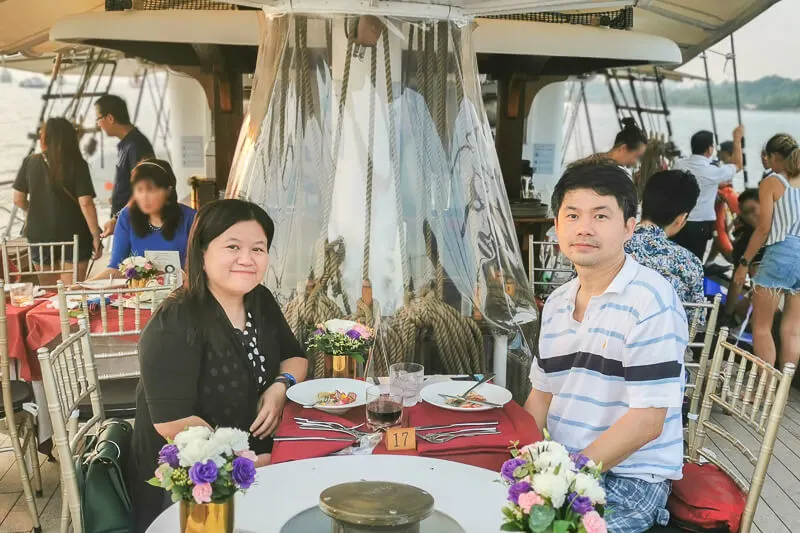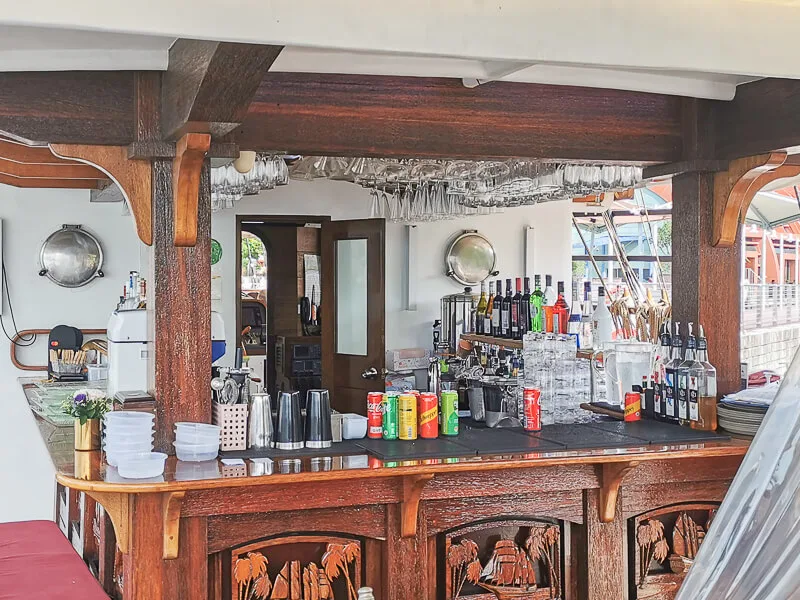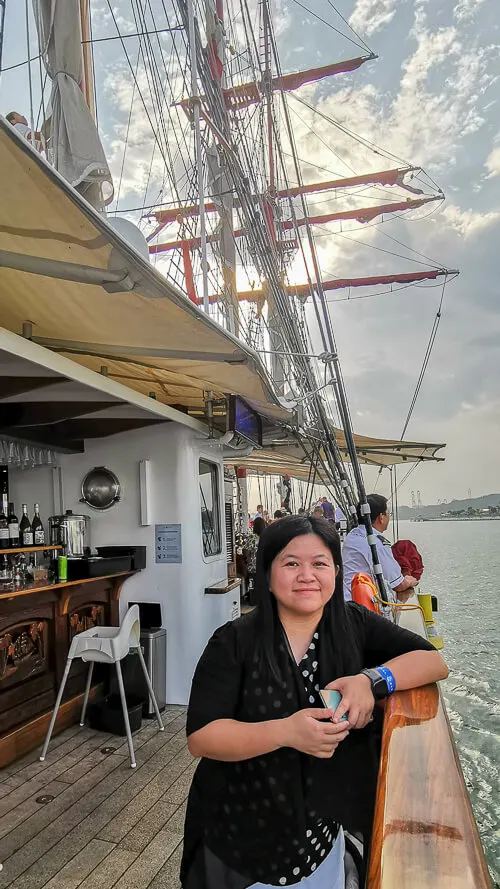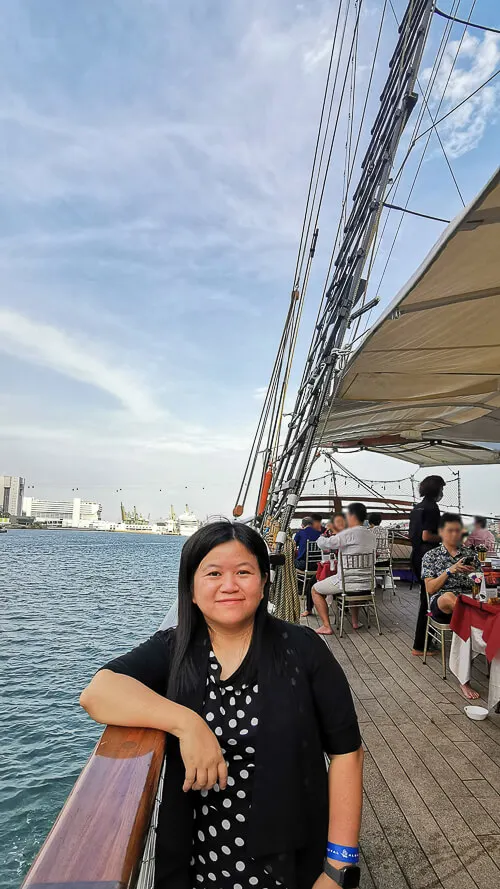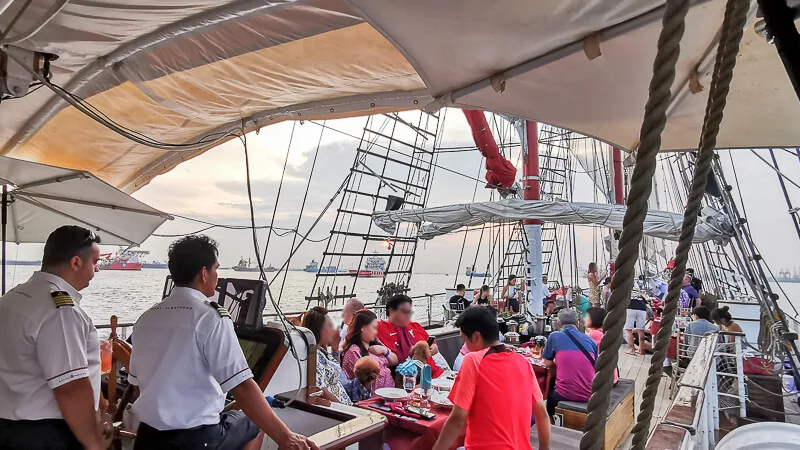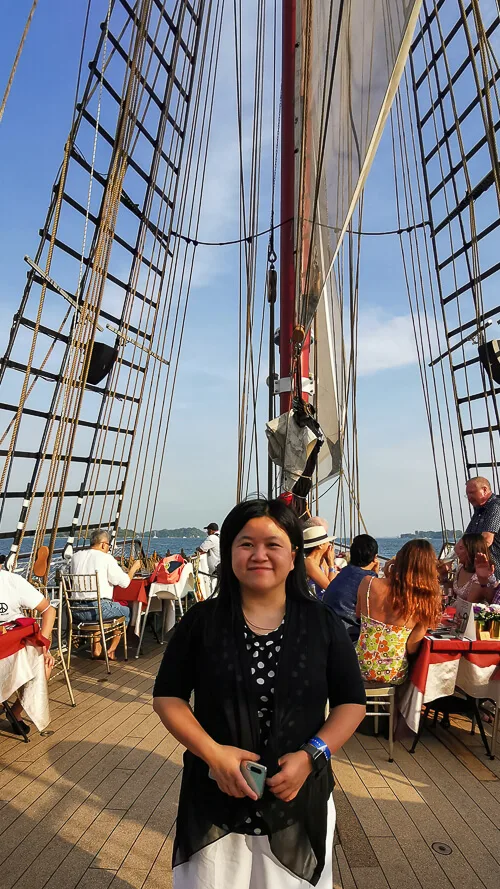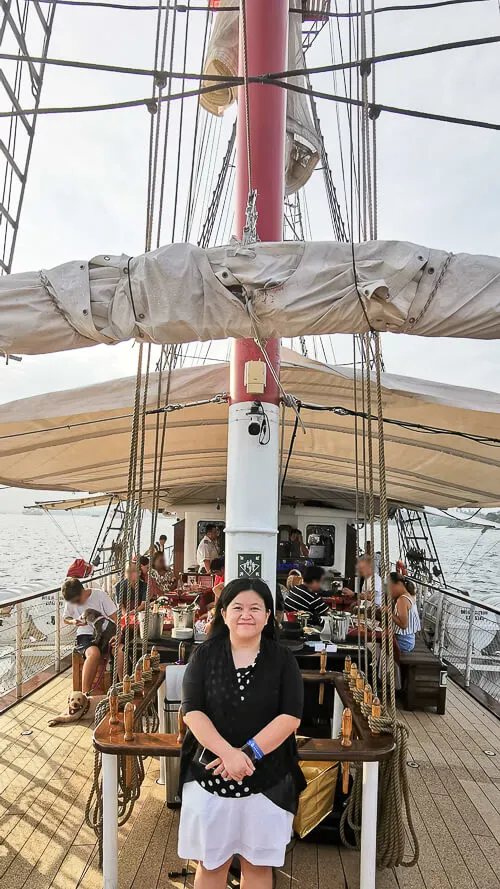 If you enjoy live music, consider getting a seat at the Foredeck as the singer will be stationed there.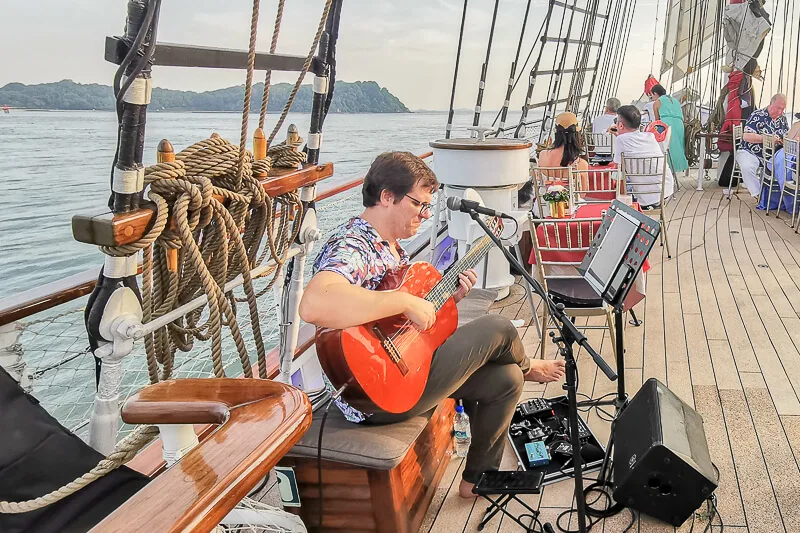 Since this is a tall ship, there are so many ropes and working elements. Don't forget to look up and you'll find fascinating views like this one.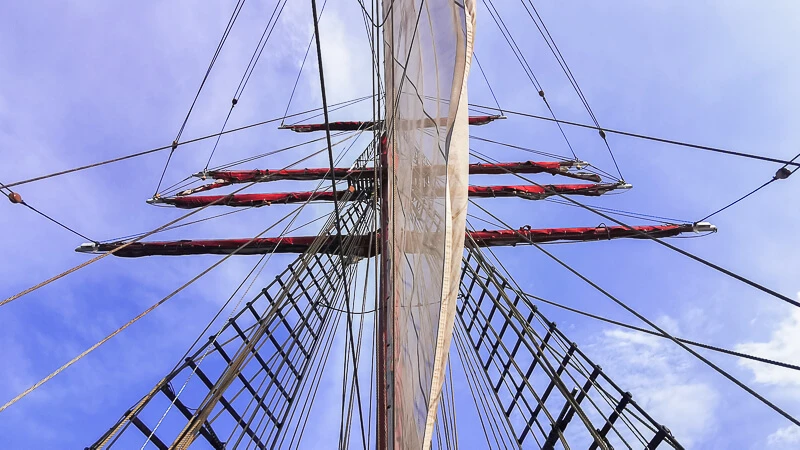 Occasionally, you'll get a glimpse of crew adjusting some of the elements of the ship.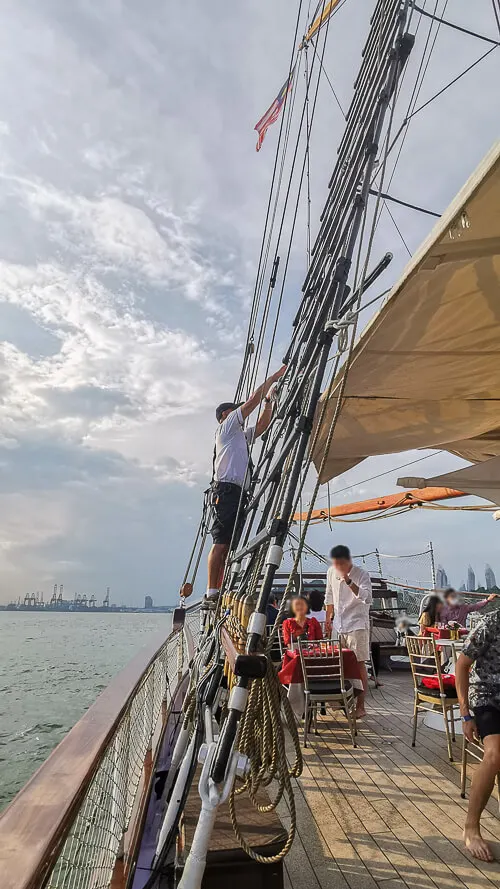 Main Deck
The Main Deck has 2 sections: Grand Salon and Gally (Kitchen). Grand Salon is an air-conditioned lounge with sofas. The toilet is also located at the Grand Salon. The kitchen is not accessible by guests.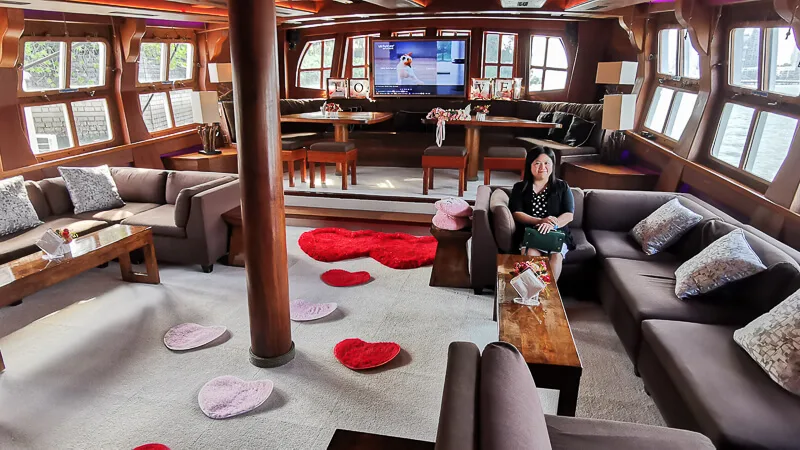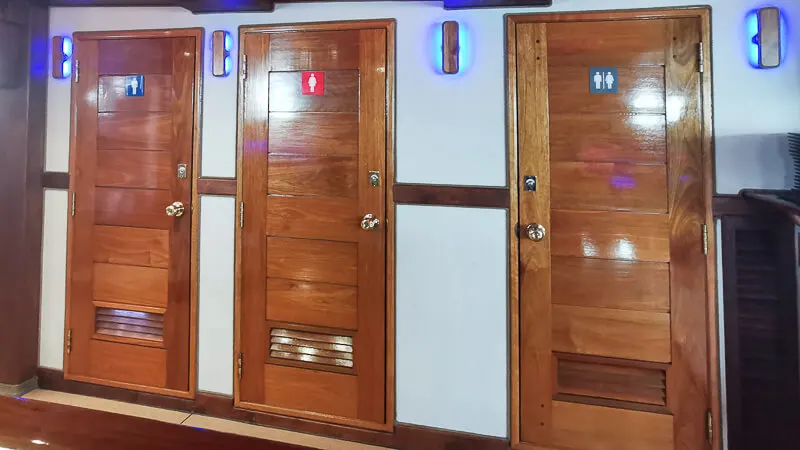 Lower Deck
Lower Deck is home to 5 cabins, reserved for private charter and special packages (eg: proposal, wedding). Out of these 5 cabins, 4 are en-suite guest cabins and 1 is the crown jewel named "Owners Cabin" which is fitted to suit a billionaire's lifestyle.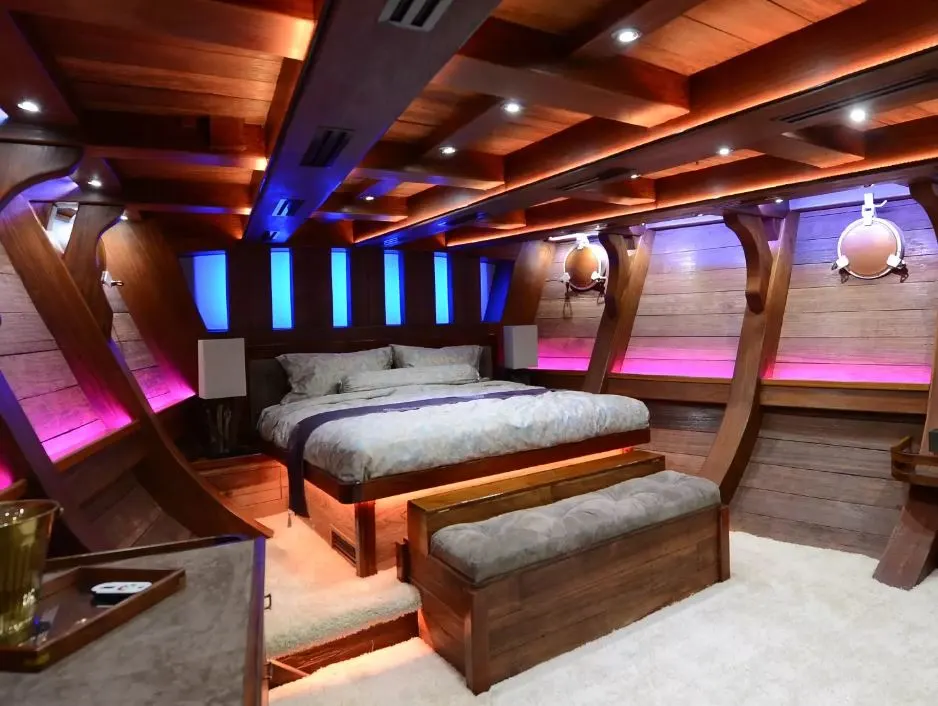 4-Course Dinner
Our booking comes with a 4-course dinner with free flow soft drinks. Charges apply for other drinks. The drinks menu can be obtained on board.
Below is our food menu. Since the menu keeps changing, you can check the latest menu on their website.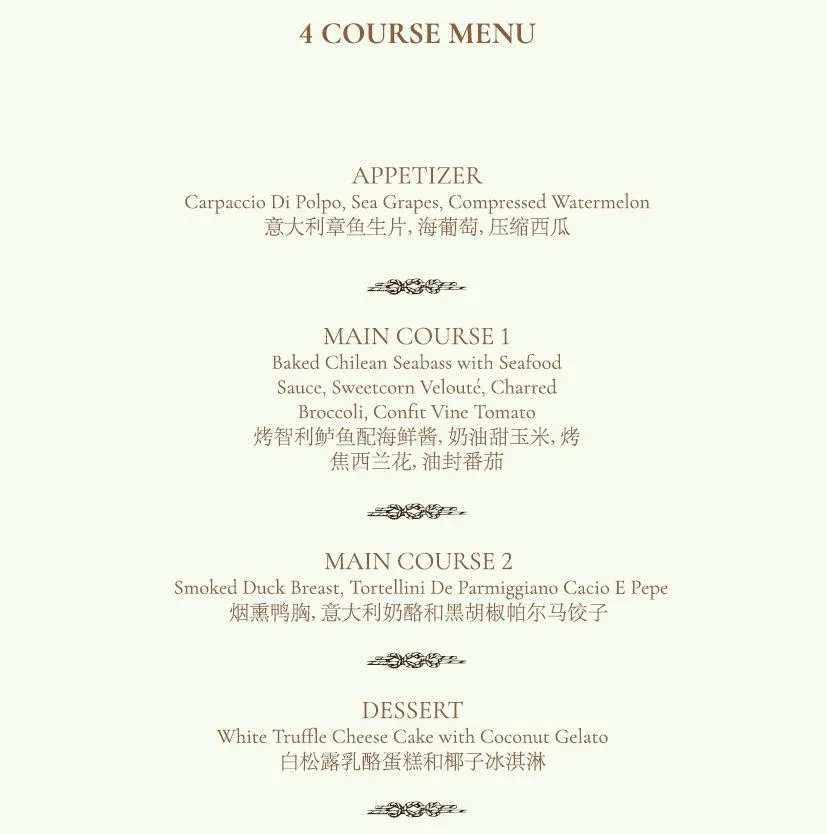 After being seated, we can start to order our drinks. At time of sailing, the soft drink options are coke, sprite, jasmine green tea, ginger ale, tonic water, soda water.
Before departure, we were served an Entrée that consists of bread and salted butter.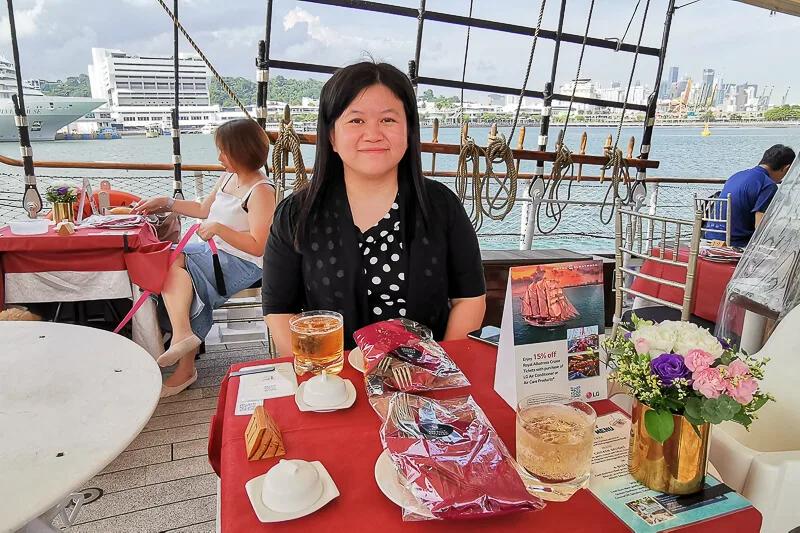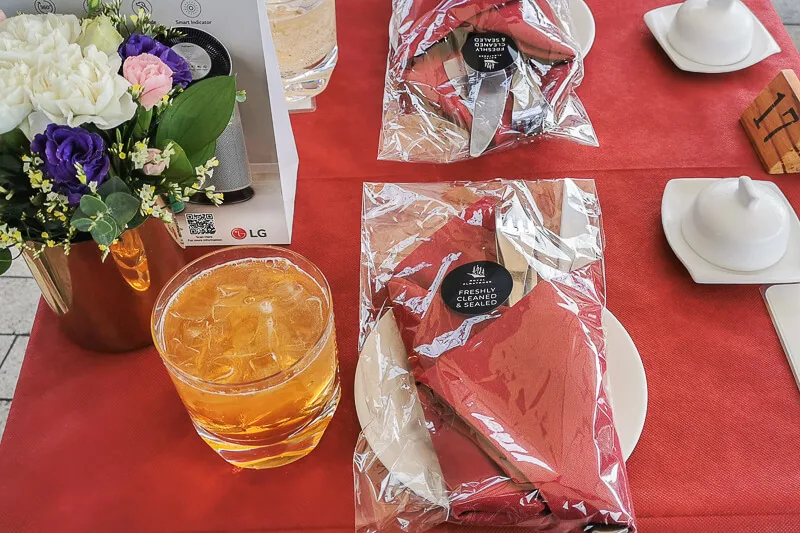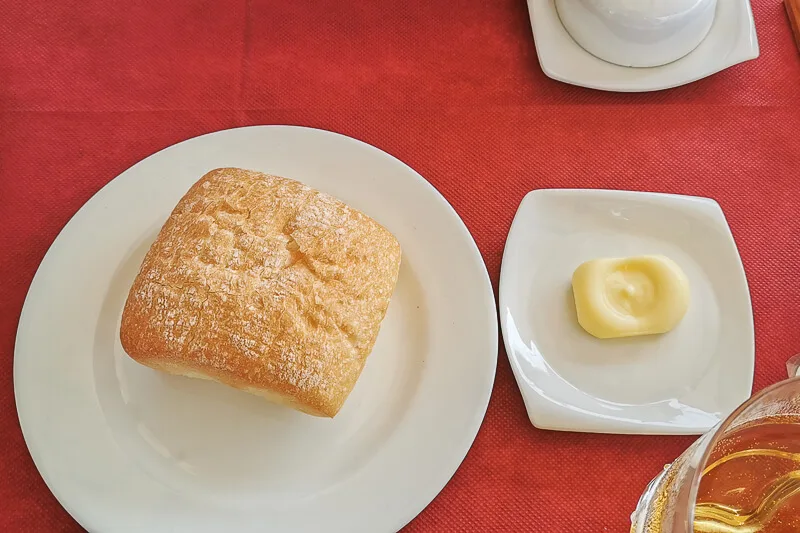 About 15 mins after the ship departs, Appetizers were served. I truly enjoyed the Carpaccio di polpo and sea grapes (tastes like tobiko!), I wish I could have another serving!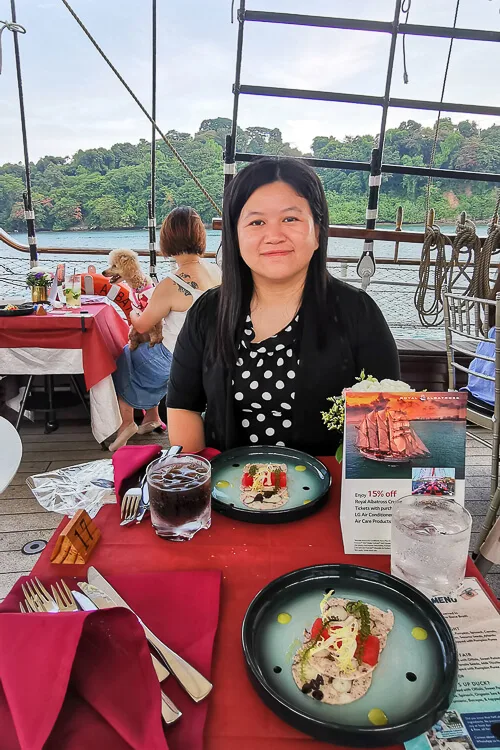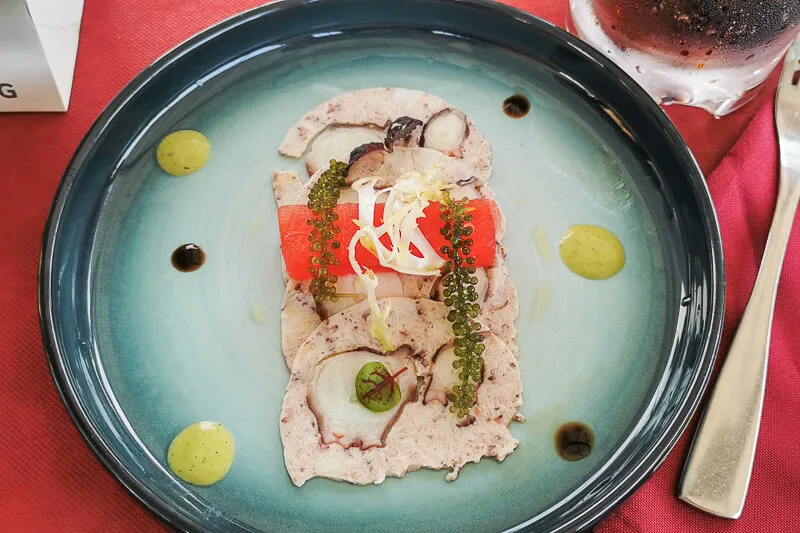 The first main course was Baked Chilean Seabass with seafood sauce, sweetcorn veloute, charred broccoli and confit vine tomato. The seabass has crispy outer layer which gives it a great texture.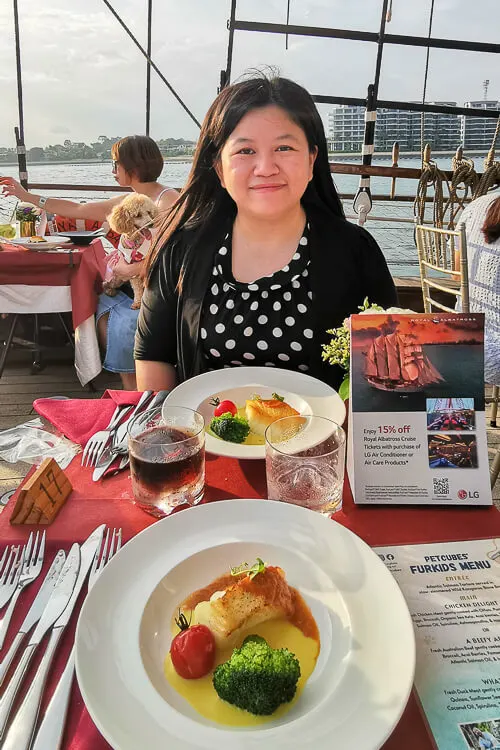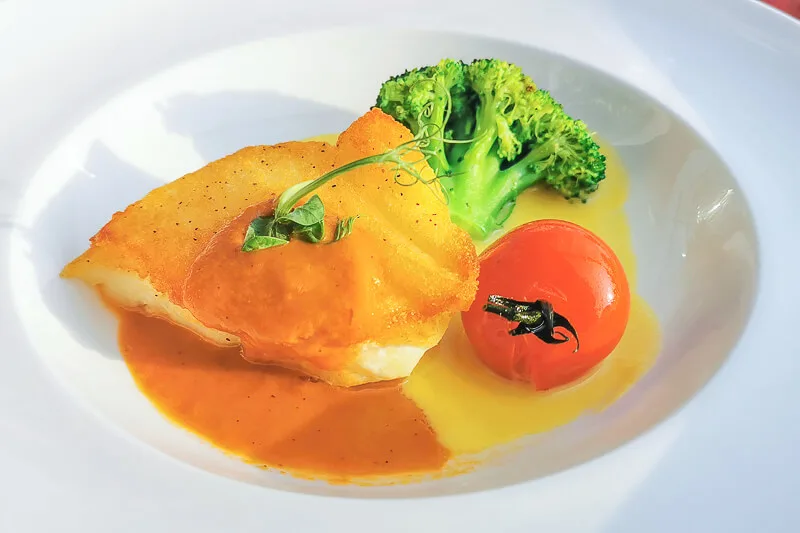 The second main course was Smoked Duck Breast, Tortellini de Parmiggiano cacio e pepe. It comes with a big piece of tortellini covered with cheese sauce and topped with mushroom and smoked duck breast.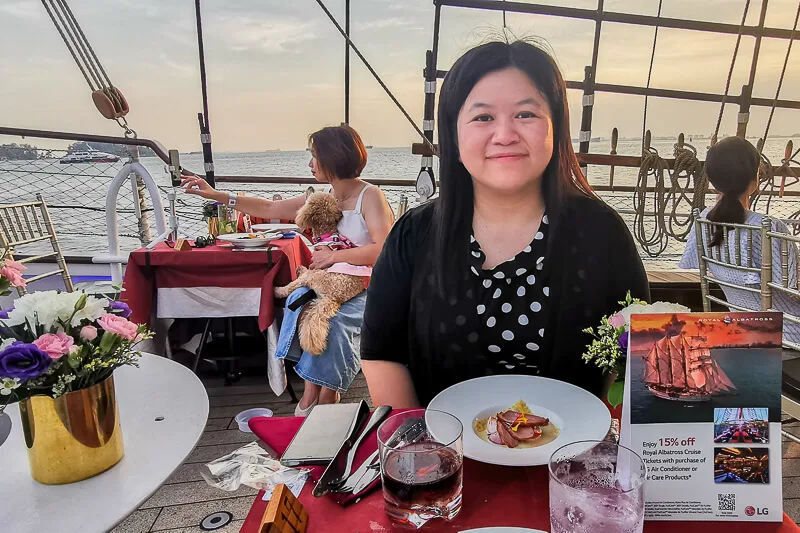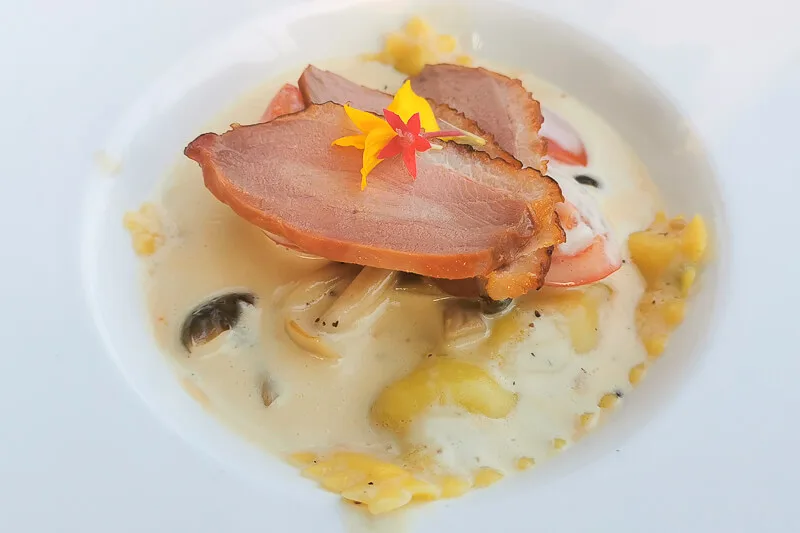 Lastly, dessert was served right before the ship came back to RWS. Our dessert was White truffle cheesecake (which looks like a pebble stone!!) and coconut gelato.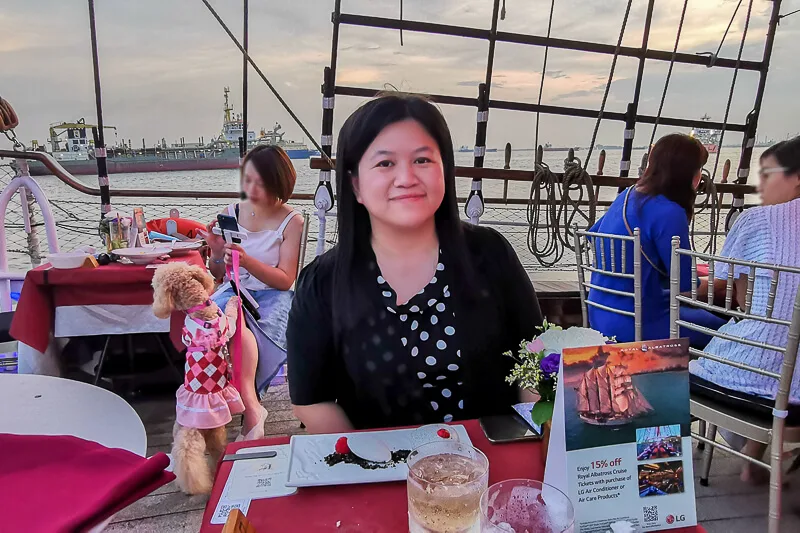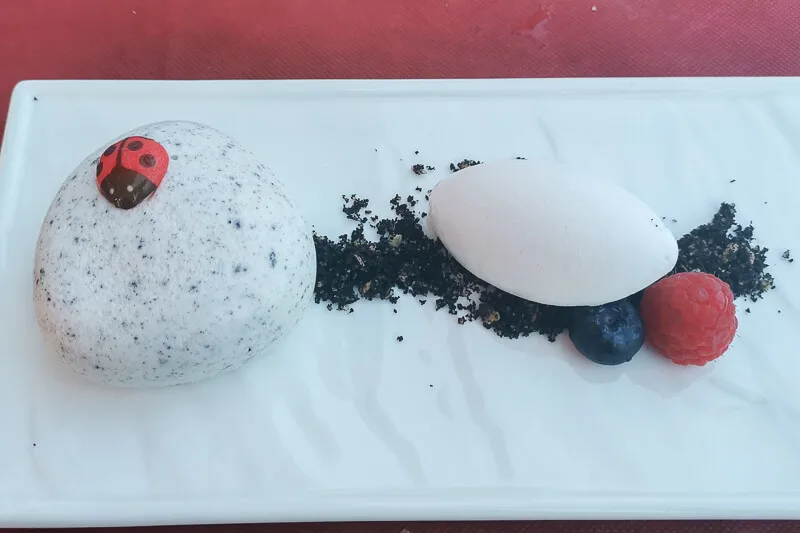 All in all, I'm very satisfied with the dinner. I was exposed to quite a number of food that I've never heard before, I had to google every single item in the menu to understand what they are.
I'm a picky eater and I'm not adventurous at all in the food department. And I'm proud to announce that I finished every single food in the menu! If that doesn't tell how good their food is, I don't know what does.
Service is top notch and here's why. Because of my seasickness, I spent a lot of time walking around and very little time sitting on my table. The service crew always walked to me to inform me that my food had been served, and I really appreciate this nice gesture.
The service crews are also very attentive and quick. It's so easy to get their attention. And our drinks get served quite fast.
Sights
Because the ship sailed around the southern part of Singapore, the sights that we encountered were those of Keppel Bay, Sentosa, Southern Islands and Marina Bay.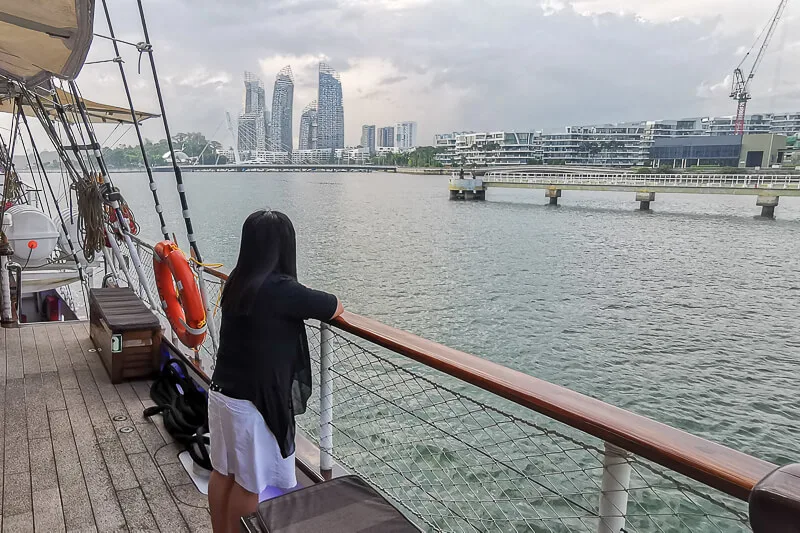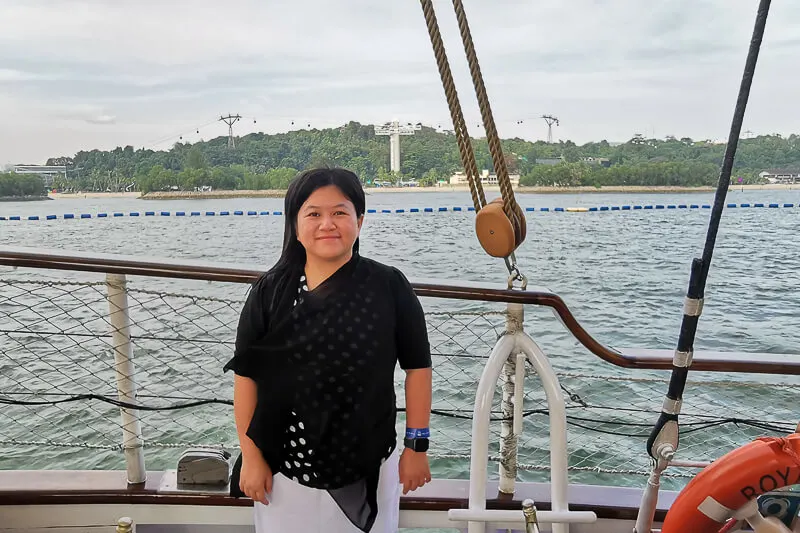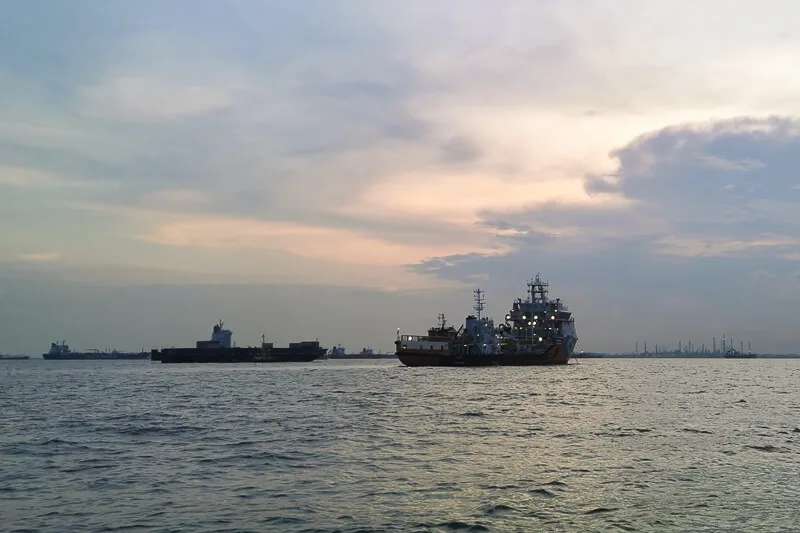 My Experience as a Non-Dog Owner
As a non-dog owner, I have the option to book a dog companion to go on this dog cruise. After deliberating, I decided not to do it because I'm not sure if I can handle a dog (I've never had a dog before and I've never taken care of one).
Even though I've never had a dog before, I really love dogs and so do my hubby. So, it's quite a fun experience for us to get up close with so many dogs.
What I like about this dog cruise is that most people are ready to mingle and it's so easy to make new friends. Simply ask a few dog-related questions and conversations get started.
On this particular dog cruise, I probably talked to at least 3 groups of diners and even petted a number of doggies and took photos with them.
If I were to go on a typical cruise, I doubt I will be talking to anyone else except my partner and the service crew. Trust me, a cruise is more fun when you get to know fellow guests.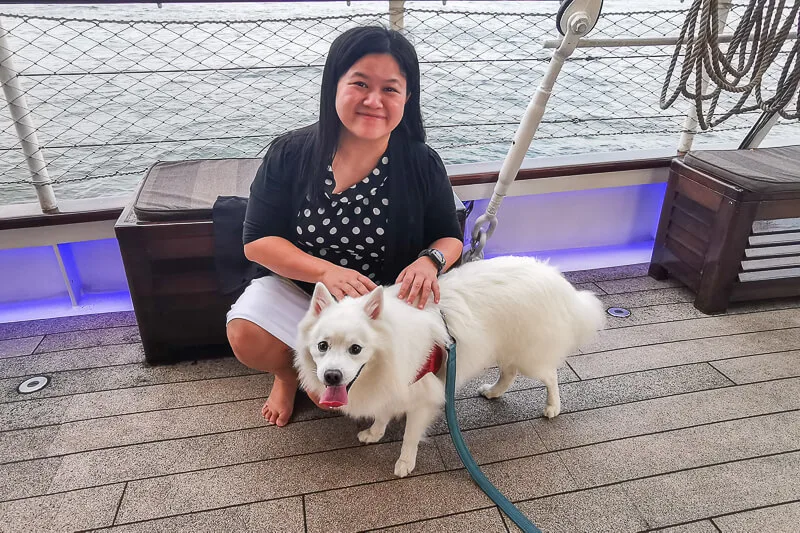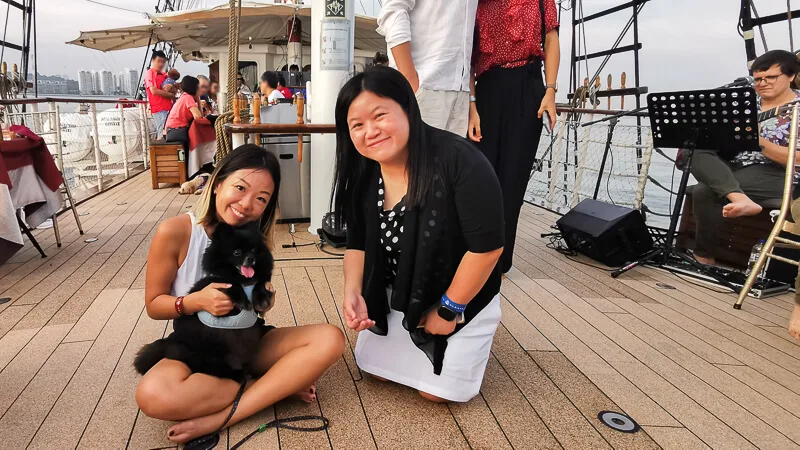 Tips for First-Timers
Do online check-in instead of on-site check-in to save time
Take seasick pills if you're prone to sea sickness
Wear comfortable clothing
Make sure your phone or camera are fully-charged because you'll be taking so many photos!
Arrive early for boarding
Don't be afraid to explore the ship, there are many Instagram-worthy spots!
Conclusion
The entire sailing experience is very memorable for me even though I'm not celebrating anything. I feel that Royal Albatross cruise is something worth doing at least once in your life.
And it is definitely a great option if you're planning for a special occasion, like proposal, birthday celebration or anniversary. On this cruise that we took, there was a proposal and so many birthdays (including dogs' birthdays!).
I also feel that it's a real hidden gem because not many people, especially in my circle of friends and family, have done it before. So, if you want to go off the beaten path, this is something you can consider.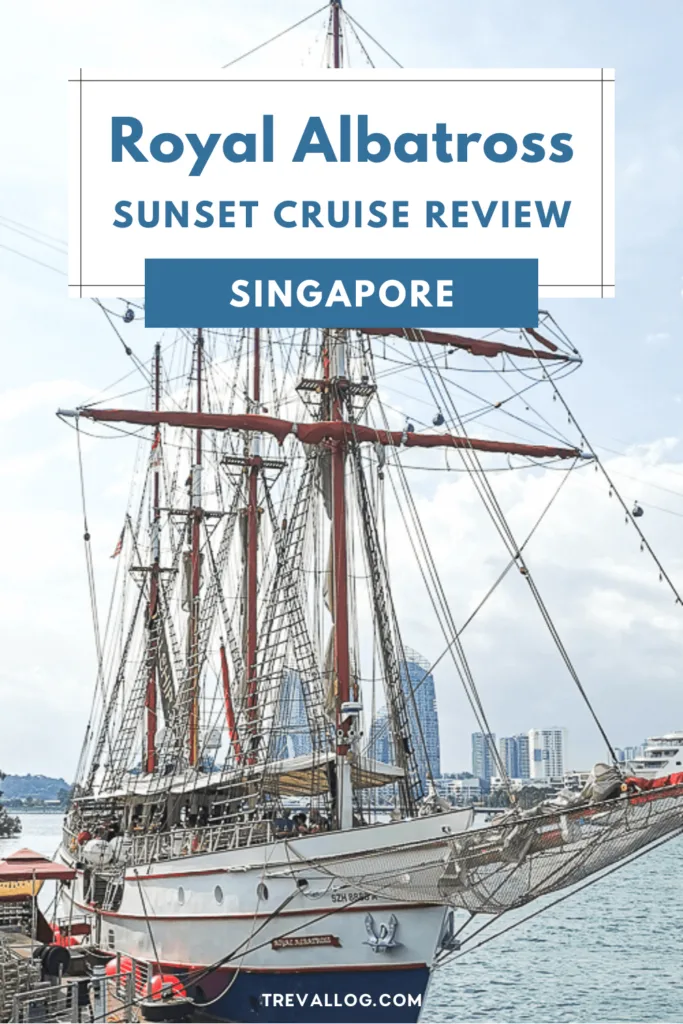 Read Next:
30 Things To Do in Sentosa Island
60+ Best Things to Do in Singapore
Thank you Royal Albatross for hosting us.
If you like my work, you can buy me a coffee! Your support will help me to keep going!