Did you know that Swissôtel The Stamford is the tallest hotel in Singapore? At 226 meters, Swissôtel The Stamford has 70 storeys. Yes, it is even taller than the iconic Marina Bay Sands which stands at 207 meters and has 57 storeys.
There are 2 Swissôtels in Singapore: The Stamford (City Hall) and Merchant Court (Clarke Quay). This review is for Swissôtel The Stamford, which is located right above the City Hall MRT Station.
Because of its half-round-half-right-angle shape, each room has a slightly different view than its neighbours on the same floor. You can't choose the exact view for your room, but you can choose whether you want a city view or harbour view. If you're lucky, you may get both views (we did, we were so lucky!).
Here's my review of the Executive Room at Swissôtel The Stamford. Nope, it wasn't sponsored. We paid for it out of our pockets; I'll share some hacks on how to book it for a fraction of the price. Read on to find out.
TABLE OF CONTENT
About Swissôtel The Stamford
Booking
Pre-Arrival
Check-In
Executive Room
Swimming Pool
Refreshment at Executive Lounge
Evening Cocktails at Executive Lounge
Breakfast at Executive Lounge
Gym
Tennis Court
Nearby Attractions
Dining Options
Check-Out
Conclusion
About Swissôtel The Stamford
Built in 1986, the hotel was formerly known as The Westin Stamford. In 2002, it was renamed to Swissôtel The Stamford after being acquired by Swissôtel/Raffles Hotel.
Designed by architect I.M. Pei, it was the tallest hotel in the world when completed. It lost its title in 1997 when Baiyoke II (Bangkok) was completed.
Swissôtel The Stamford has 1 tower with 70 storeys. There are 1,252 rooms and suites, each with its own balcony overlooking the city and/or harbour.
Next to it stood the Fairmont Hotel (its sister hotel) and Raffles City Shopping Centre. Across the street from the hotel are the War Memorial Park, St Andrew Cathedral, Chijmes, Padang and the Civic District.
Swissôtel The Stamford is part of the Accor Group, together with Sofitel and Raffles Hotel.
Booking
There are many platforms from which you can book a room at Swissôtel The Stamford, namely: Agoda, Booking.com, Klook and Accor.
Personally, I book my room directly from Accor because I have Accor Plus Explorer membership which gives me free 1 night stay at any participating hotel. And Swissôtel The Stamford happens to be one of the participating hotels, yay!
FYI, Accor Plus membership has 3 tiers: Traveller (S$298), Explorer (S$408), Explorer Plus (S$528). I got my Accor Plus Explorer Membership (worth SS408) for FREE simply by holding AMEX HighFlyer credit card. (Read my AMEX HighFlyer review to find out if it's worth signing up for).
The free stay under the Accor Plus program is called Stay Plus. There are limited rooms for Stay Plus redemption each day, and it was difficult for me to book a weekend stay. Hence, I booked a weekday stay instead.
Stay Plus only allowed us to book a normal Premier Room. Since we're staying at the tallest hotel in Singapore, we decided to pay more to upgrade to Swiss Executive Room which grants us access to Executive Lounge at Level 65.
For this upgrade, we paid S$176.55 (which comprises S$150 + 10% service charge + 7% GST). This will be charged during check-out, not during booking.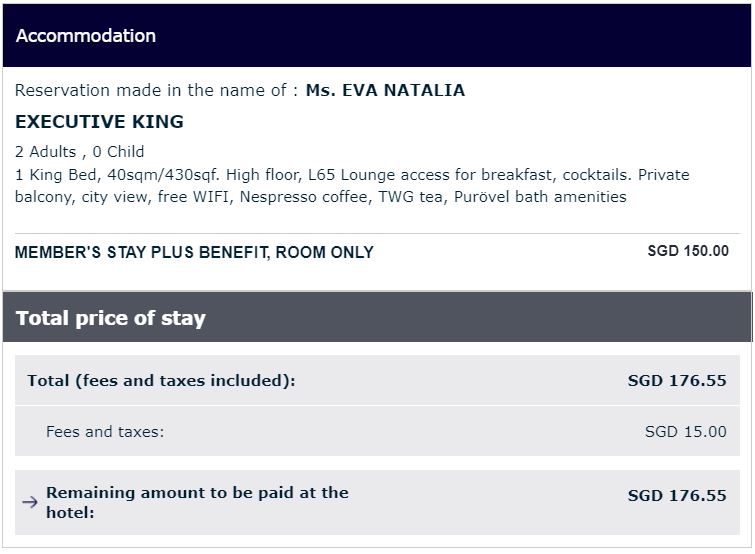 There you have it, my hack for paying a fraction of the room price is by getting a credit card that gives you a free hotel stay!
Pre-Arrival
One day before our stay, I received an email from Swissôtel with a link to do pre-arrival registration. During the registration, we had to upload our IC/passport and authorize the hotel to charge S$100 deposit to our credit card. This S$100 will be reversed after check-out.
Upon completion of registration, I received a QR code which I can use to collect room keys at the hotel.
Check-In
The default check-in time is 3pm. On the day of our stay, I called the hotel to ask if I can check-in early, and they replied that I can come at 1pm. So that's what we did.
At the hotel lobby, there is a huge table with several monitors for guests to do self check-in. During self check-in, we had to scan our QR code and our IC/passport. One of us brought only Singpass (which is a digital IC), not a physical IC.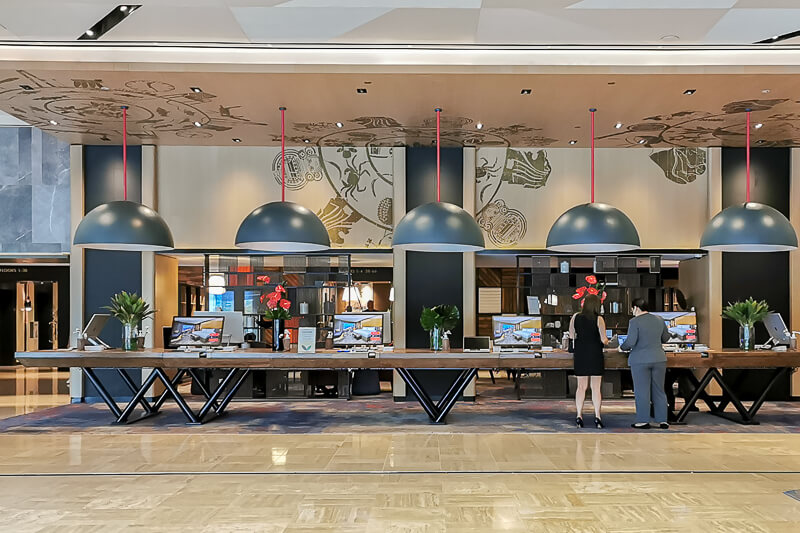 Apparently the system isn't smart enough to recognize digital IC yet, so we had to get a staff to help with the check-in process manually. I recommend that you bring your physical IC to fasten your check-in process.
During the check-in, we were told that we can have breakfast at either Executive Lounge (L65) or Clove (L2) or Asian Market Café (L2).
Wifi is available in the room, just key in the necessary information and you'll get internet access immediately.
There are 2 types of elevator at the hotel. One serves the lower floor rooms up to Level 38. And the other one serves upper floor rooms, from Level 38 to Level 70.
Executive Room
Executive Room at Swissôtel The Stamford has an area of 40 m² (or 430 ft²), and comes with either 1 King bed or 2 Double beds. Ours come with 1 King Bed.
Executive rooms are typically located at higher floors. Our room is located at Level 59.
There's a work desk with sofa and chair, a rocking chair by the window, and a cushion bench.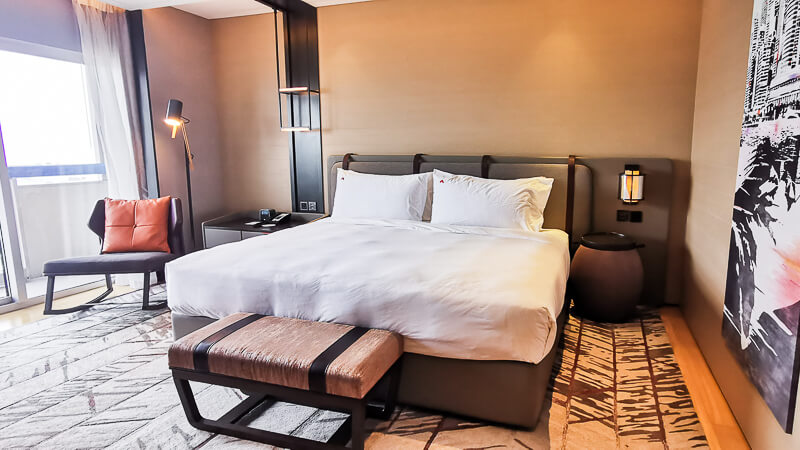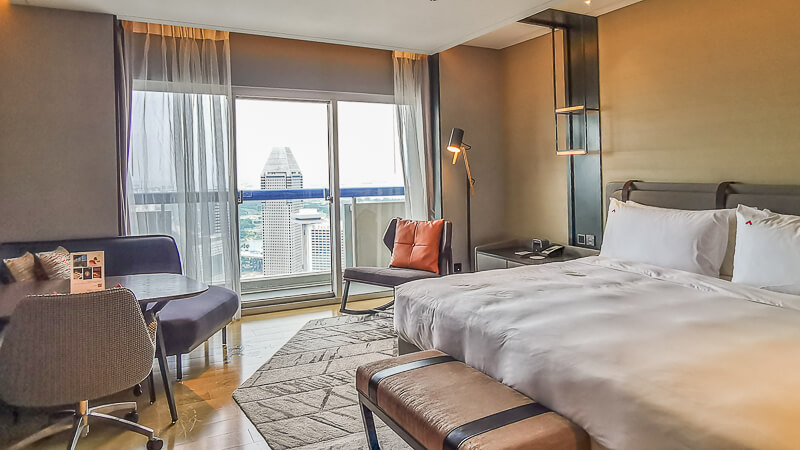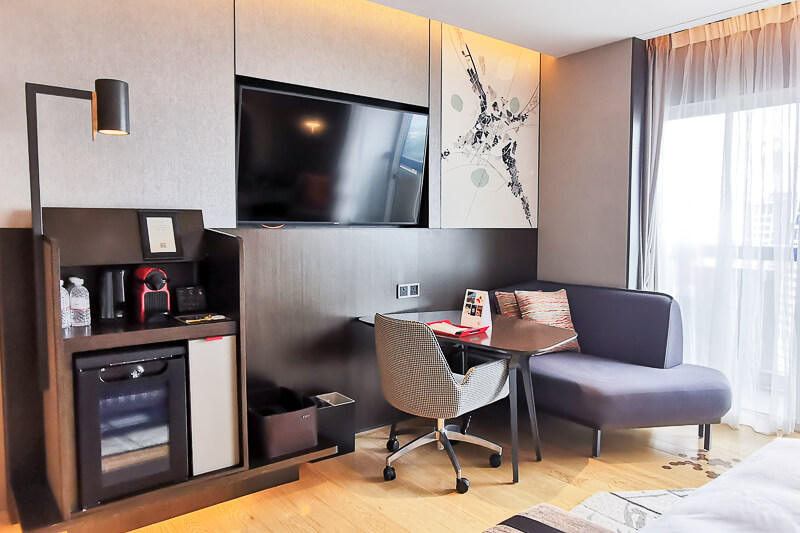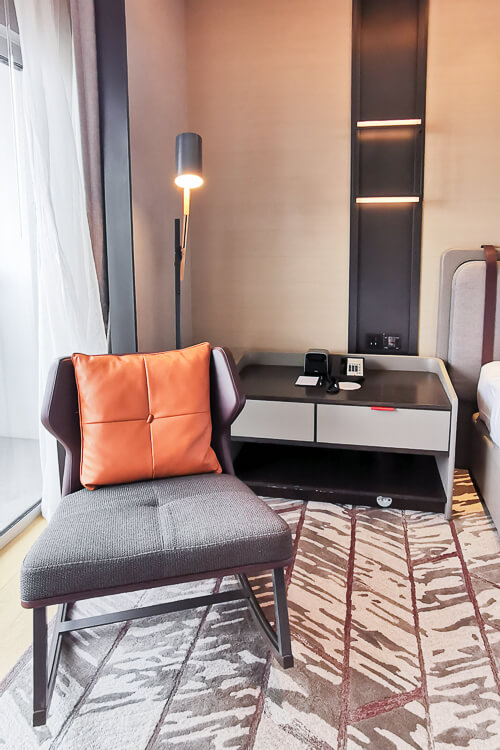 The minibar section consists of a fridge, a Nespresso machine, an electric kettle, several bottles of mineral water, TWG teabags and Nescafe capsules. Inside the fridge, there are a couple of liquid creamers. Beside the fridge is the cabinet where cups and glasses are stored in.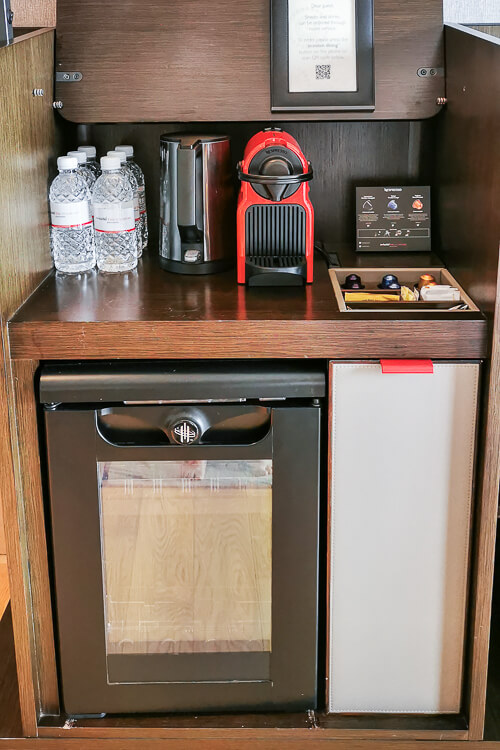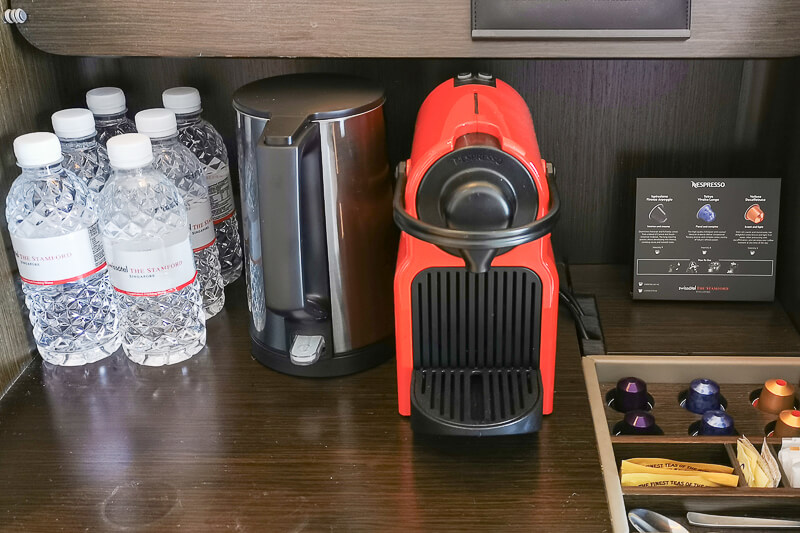 Apparently our room can be connected to the room next door.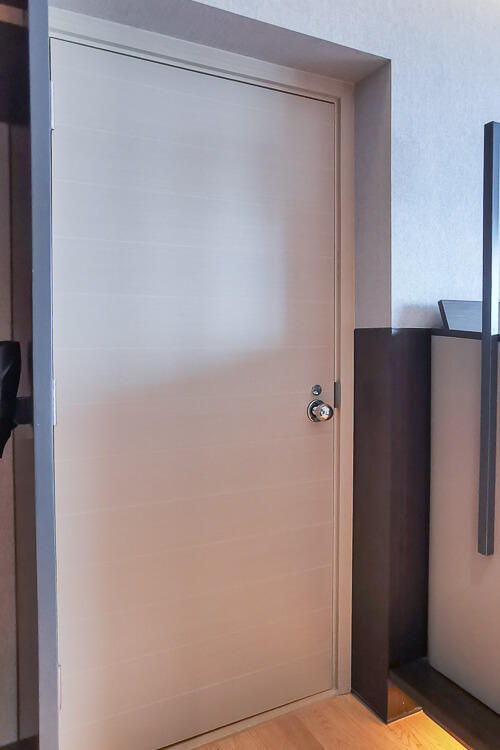 In the wardrobe, we found 2 bathrobes, several clothes hangers, slippers, iron and ironing board, hair dryer and a safe.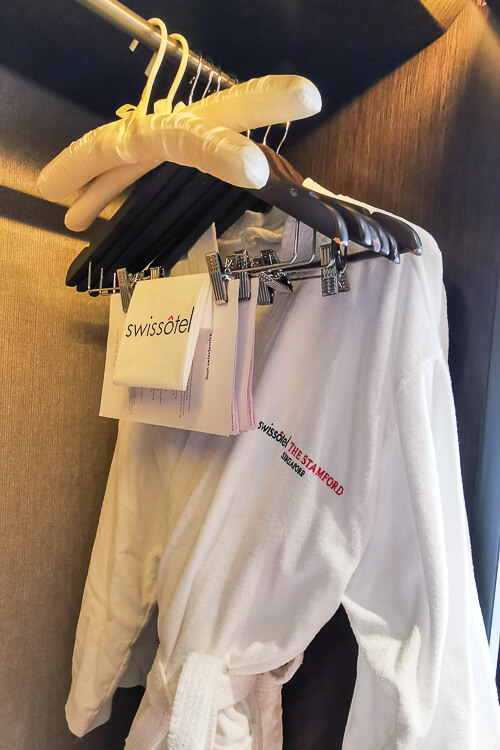 We also received a pack of personal care kit which has masks, wet wipes and a hand sanitizer.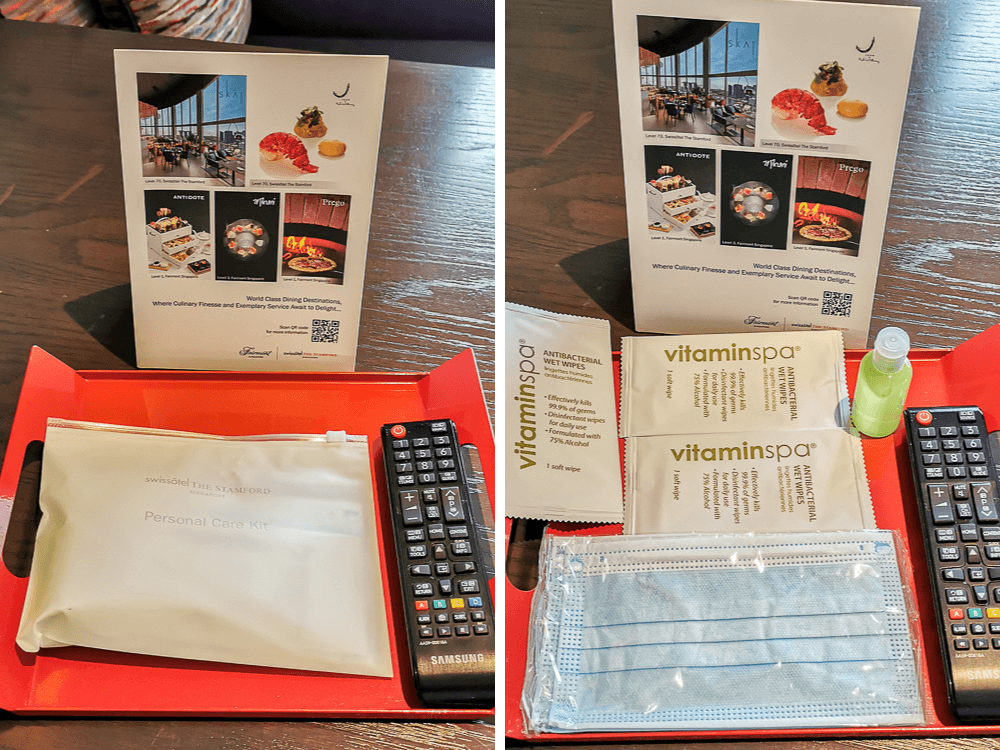 The bathroom is pretty spacious in my opinion. It has a shower area with rain shower. The bath amenities (shampoo, shower gel and lotion) are from Purovel.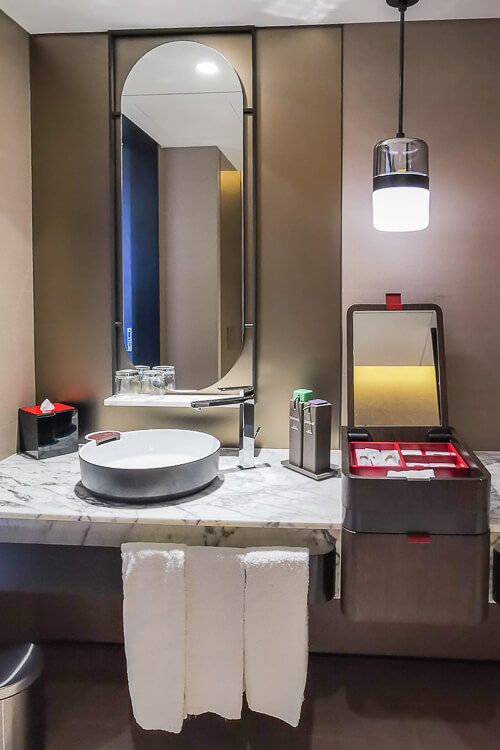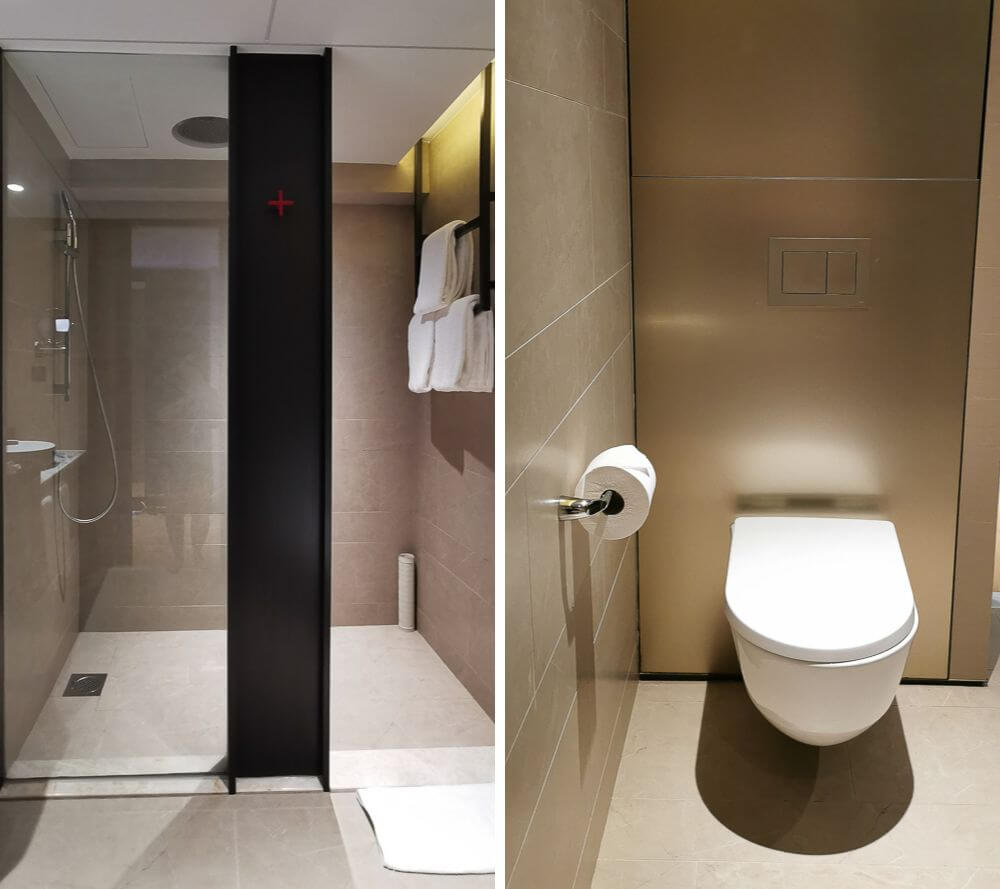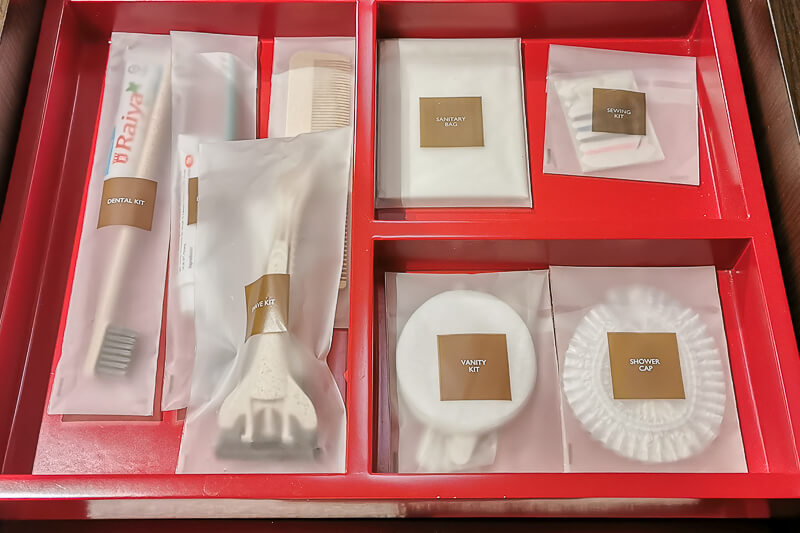 Our room has a combination of city view and harbour view. From the balcony, we can see Bugis area, South Beach Tower, Suntec City, Singapore Flyer, Marina Bay area up to Marina Bay Sands and Esplanade. We can't see the Merlion and Marina Bay Financial Centre.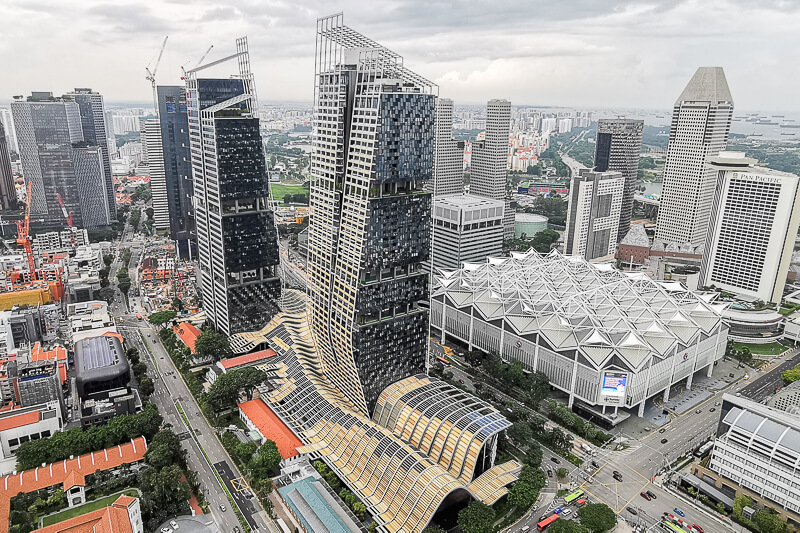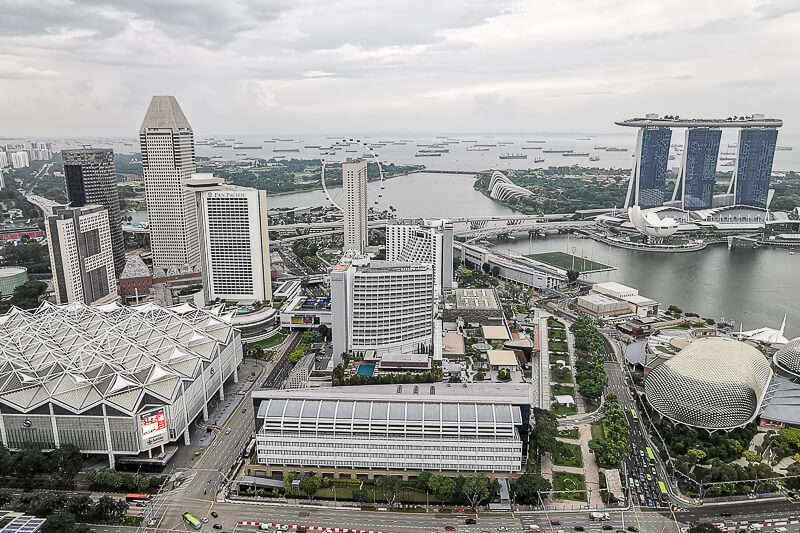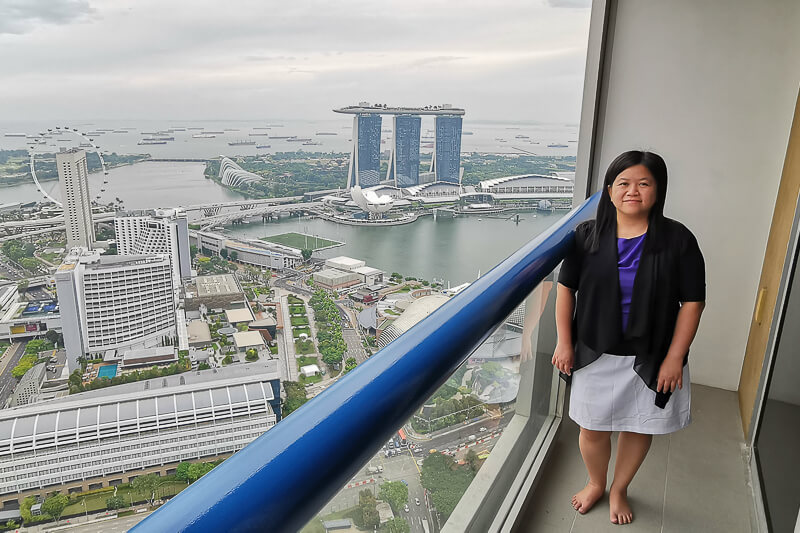 Some iconic landmarks that look incredible from above is the War Memorial Park and St Andrew Church.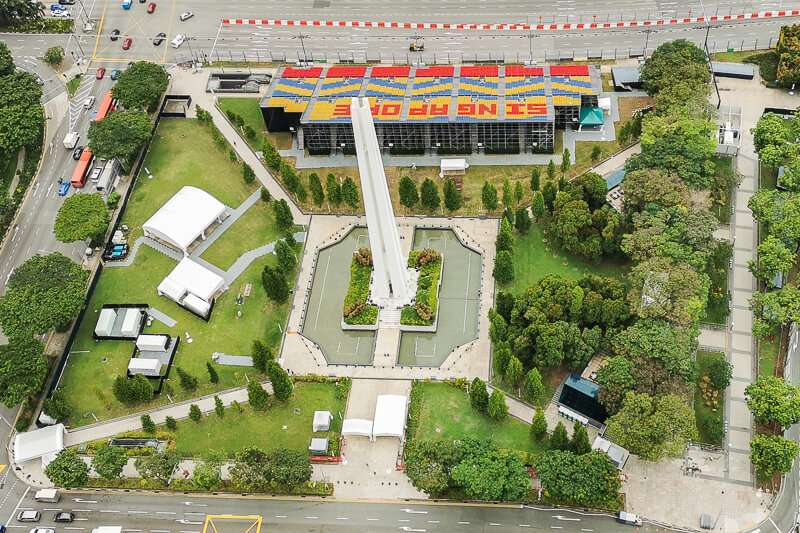 From our balcony, we can also see the twin swimming pools as well as Fairmont Hotel.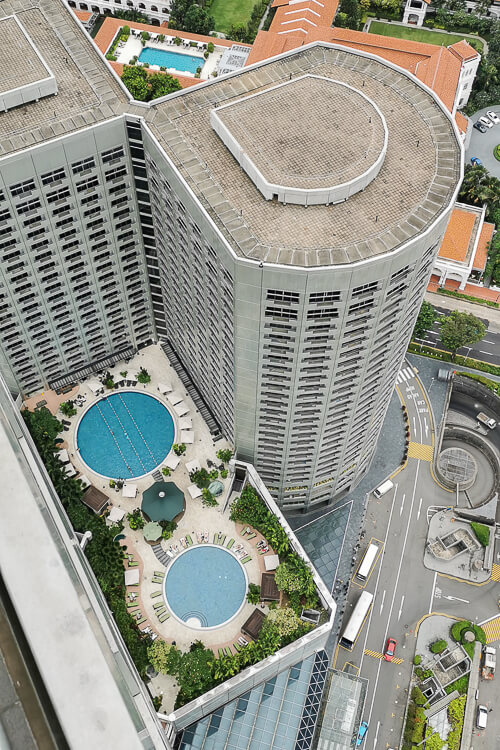 Swimming Pools
There are 2 swimming pools located at Level 8. One is a kids pool with 0.4m depth. The other one is adult pool with 1.2m uniform depth. Both are circular in shape.
The pools are shared between Swissôtel The Stamford and Fairmont hotel guests. Despite being so, the pools were not overly crowded on a weekday. Pool reservation was not necessary anymore given that Singapore has opened up the border and group size is no longer limited.
Lemon water was available for free from the pool bar.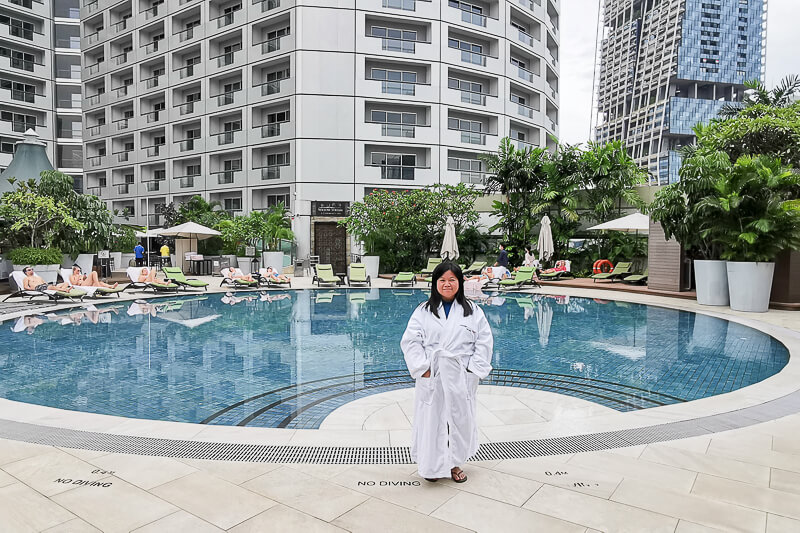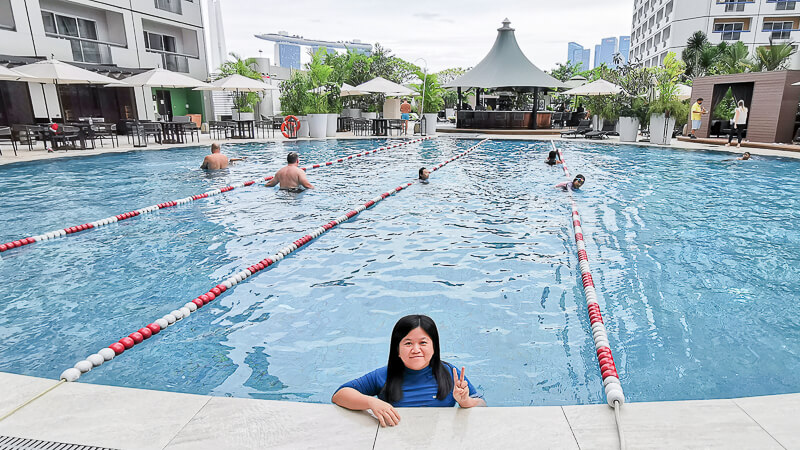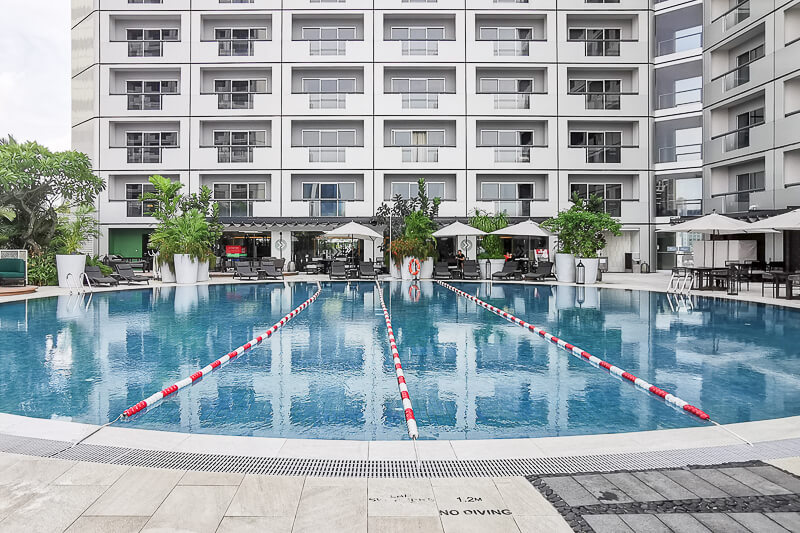 Executive Lounge
The Executive Lounge is located at Level 65, and it is only accessible by Executive Rooms and Suites guests. Here, you can get almost 360-degree view of the hotel's surrounding area.
I said almost because during my visit, there is a section that's closed. When I asked, the staff said it's reserved for suites guest. Oh well..
The lounge from 7am to 10.30pm at the time of our visit. Here are hours of breakfast and evening cocktails:
– Breakfast: 7am to 10.30am (Daily)
– Evening Cocktails : 5.30pm to 7.30pm (Daily)
Outside of breakfast and evening cocktails, the lounge serves refreshments, such as fruits, biscuits, soft drinks, teas and coffees.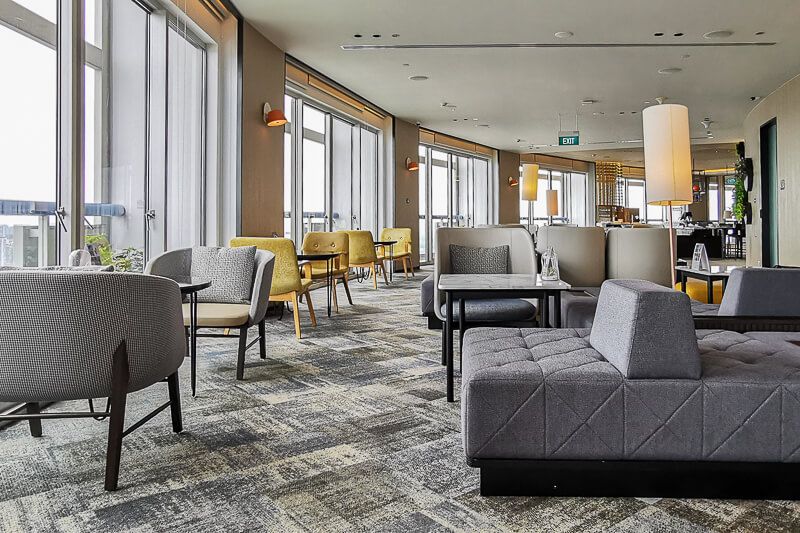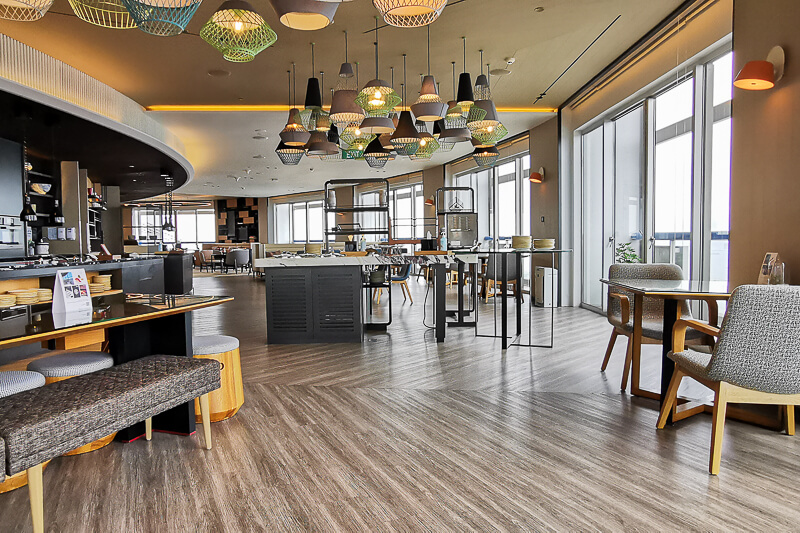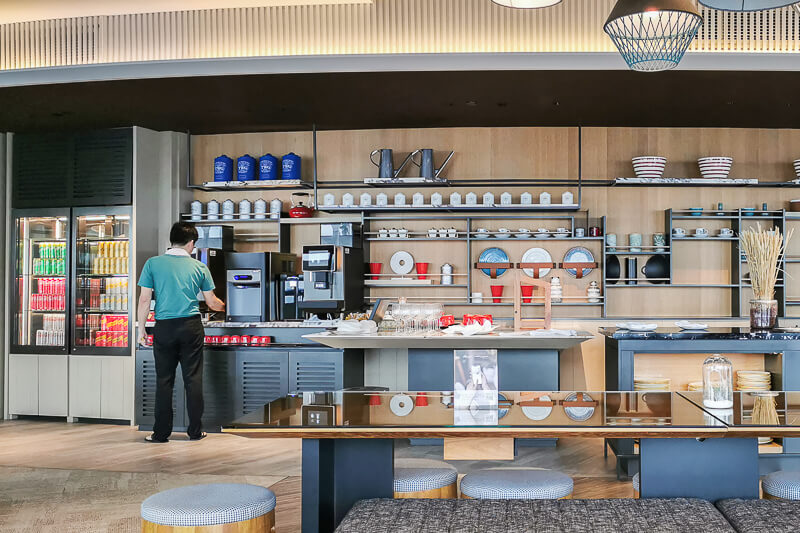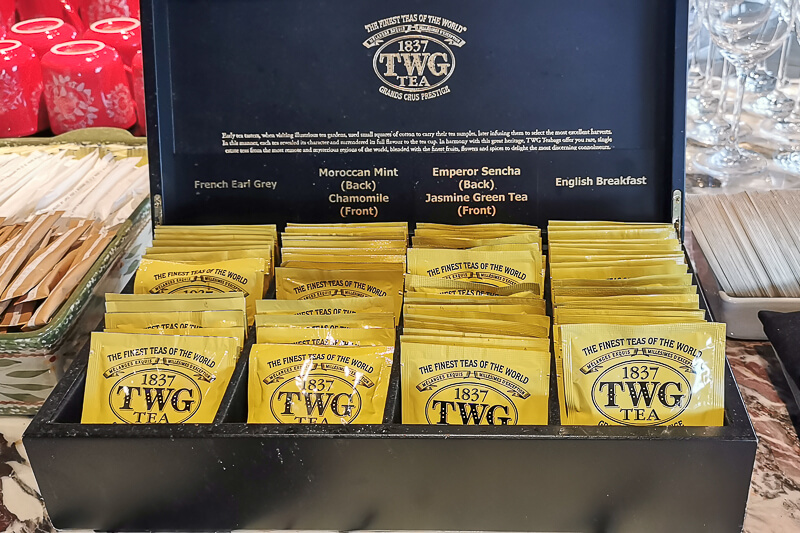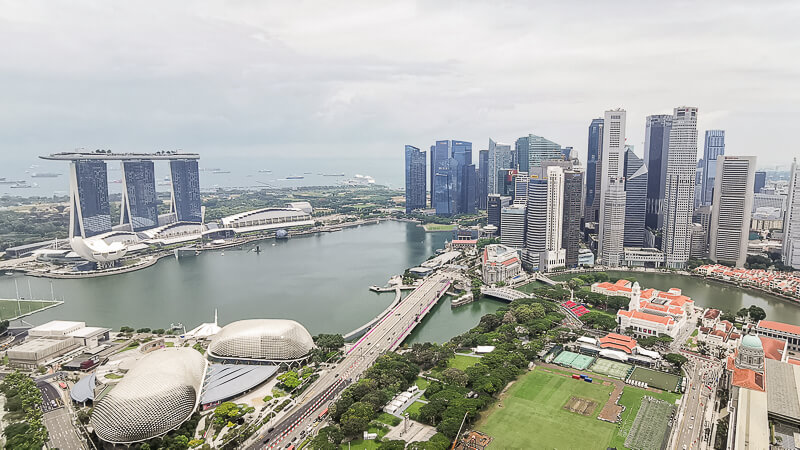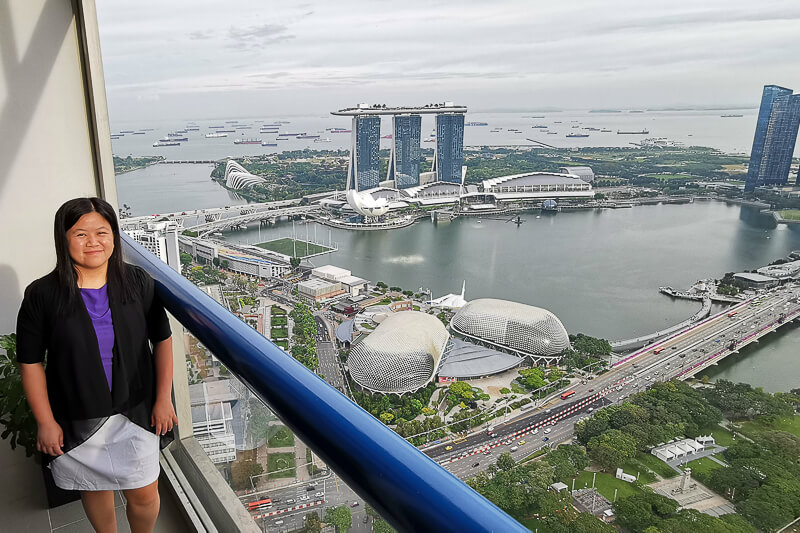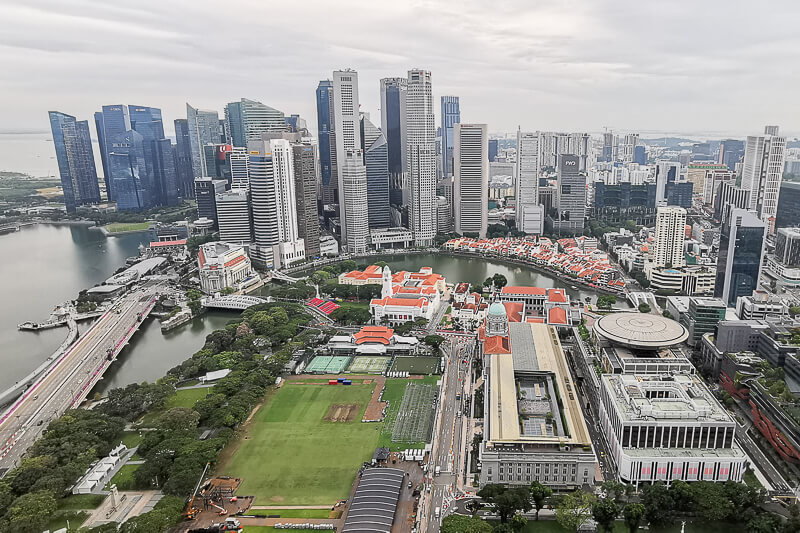 Evening Cocktails at Executive Lounge
The Evening Cocktails at Executive Lounge takes place from 5.30pm to 7.30pm. Children under 12 years old are not allowed during the evening cocktail session.
The food served during our visit were salad, hummus chips, cheese, ham, smoked salmon, carrot cake (Singapore style), dumpling, broiled seabass, deep-fried breaded prawn, lamb kofta, cabbage, yuzu mousse, cream puff and kueh.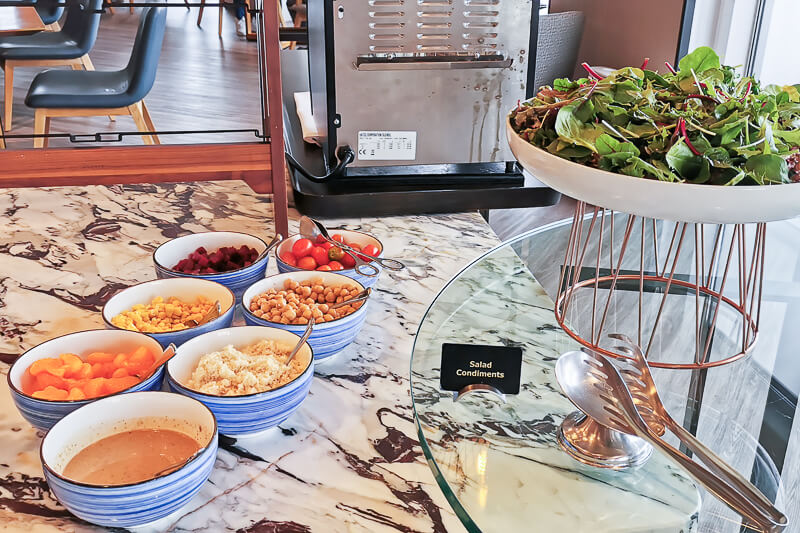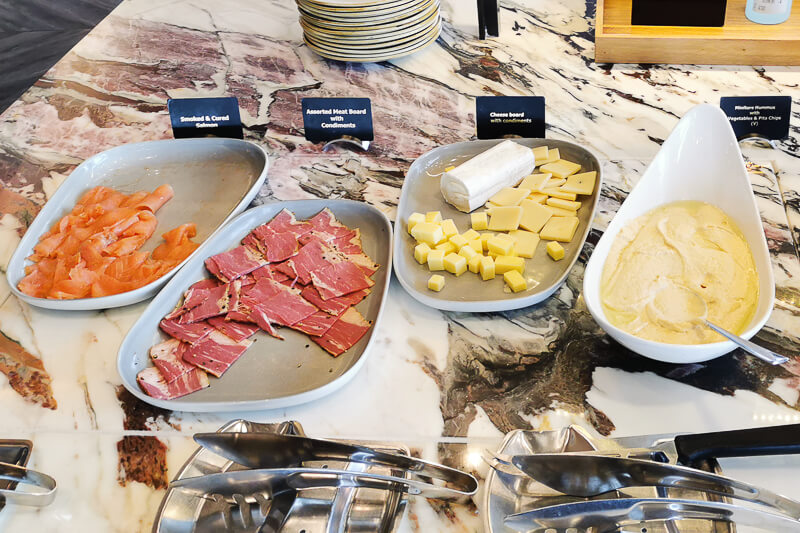 At a glance, the food may seem like finger food, but it was actually enough to be a dinner replacement. Just some words of caution: do not expect restaurant quality.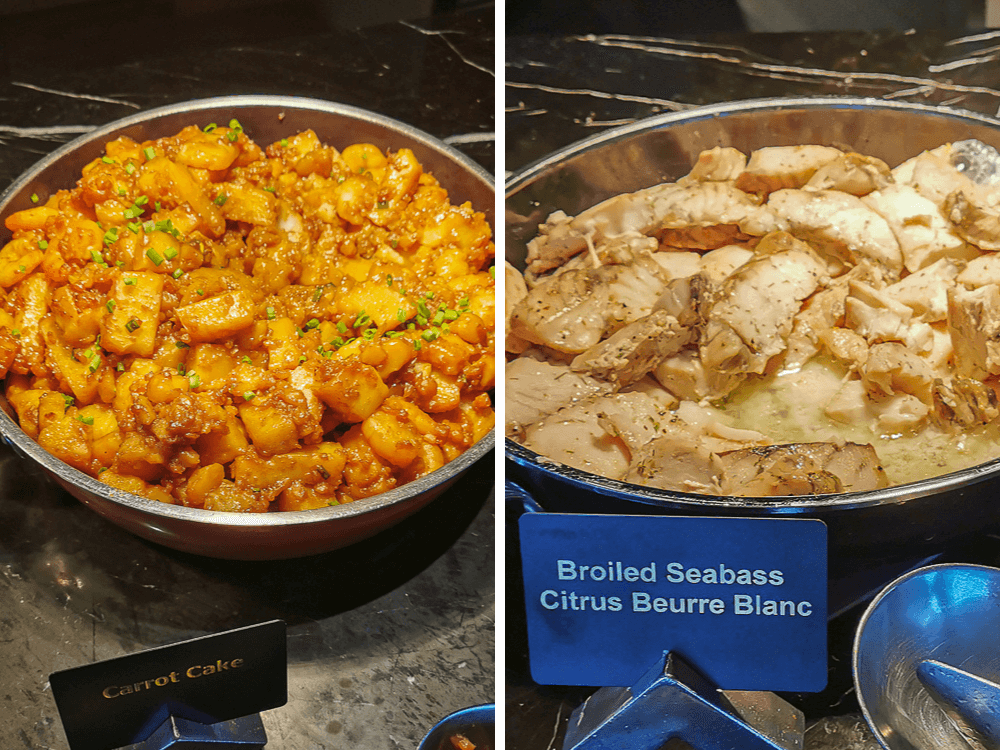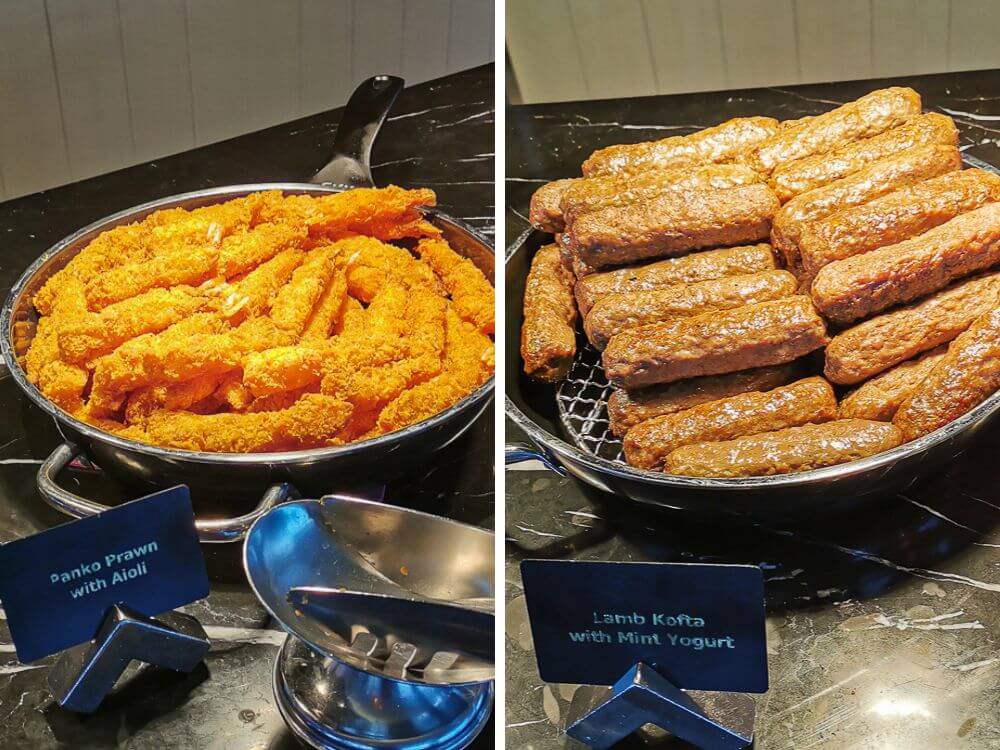 The best food is definitely smoked salmon, followed by cream puff. The rest left much to be desired. To be honest, I can cook a better carrot cake (chef, if you read this, please add chye poh, garlic and chili).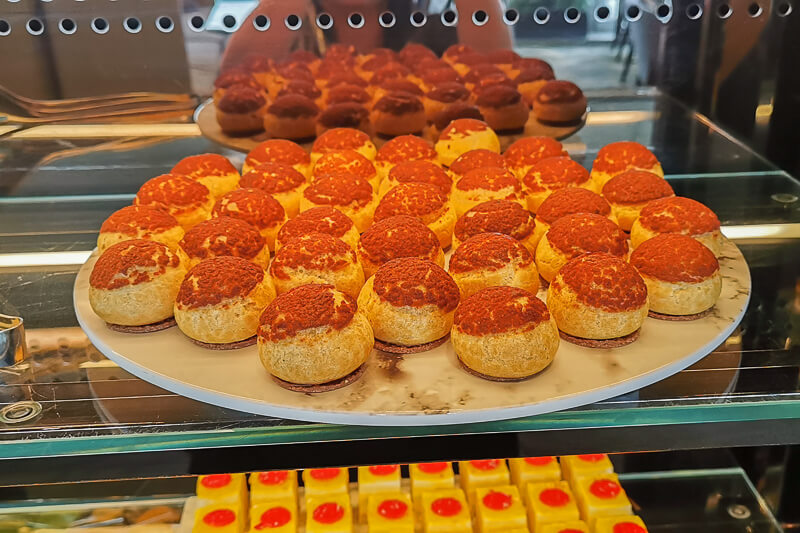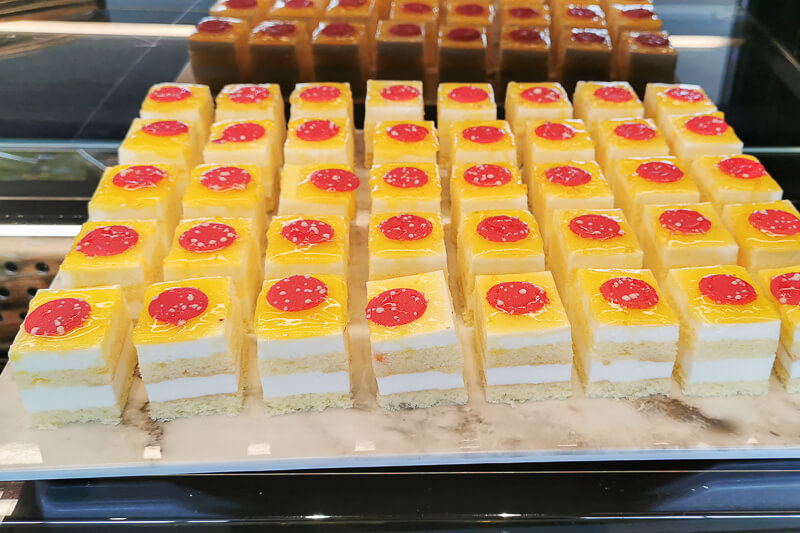 The non-alcoholic drinks are the same drinks offered outside the cocktail hours, namely soft drinks, teas and coffees.
In the alcohol department, there were vodka, gin, whiskey, scotch, rum, red wine and white wine. Beers are available at the beer counter located at the far end of the lounge.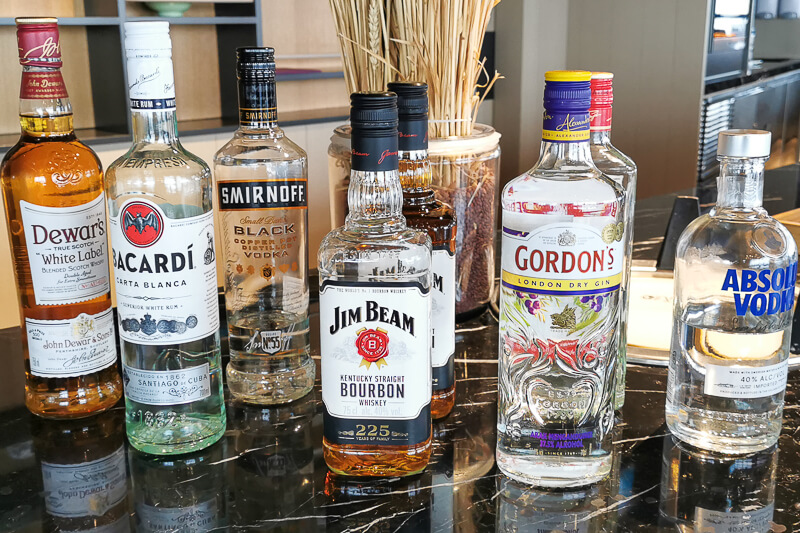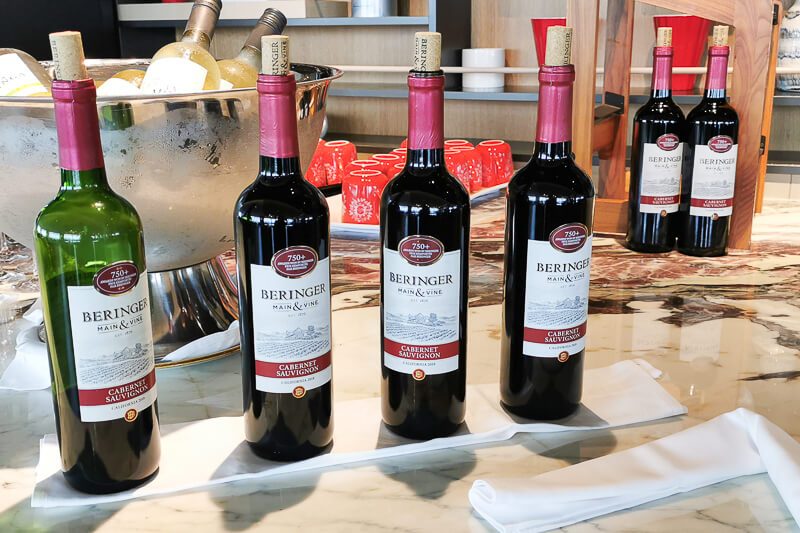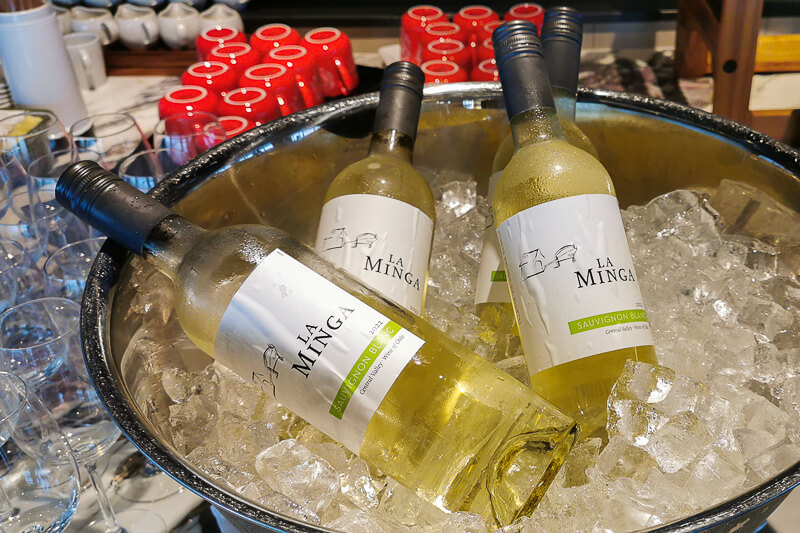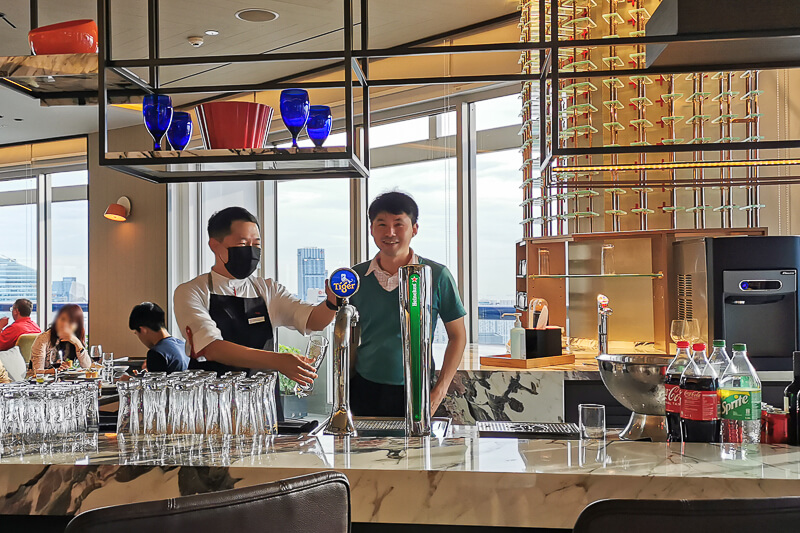 At 7.30pm sharp, all the food and drinks were taken away from the counter. Fair enough. You can stay as long as you want after the cocktail hours, they won't keep the food and drinks that you've already brought to your table.
I'd like to give a special shoutout to one of the staffs named Ronald. He's so friendly to everyone, offers to take our photos and he even remembers my name! HR Manager, if you read this, Ronald deserves a pay raise!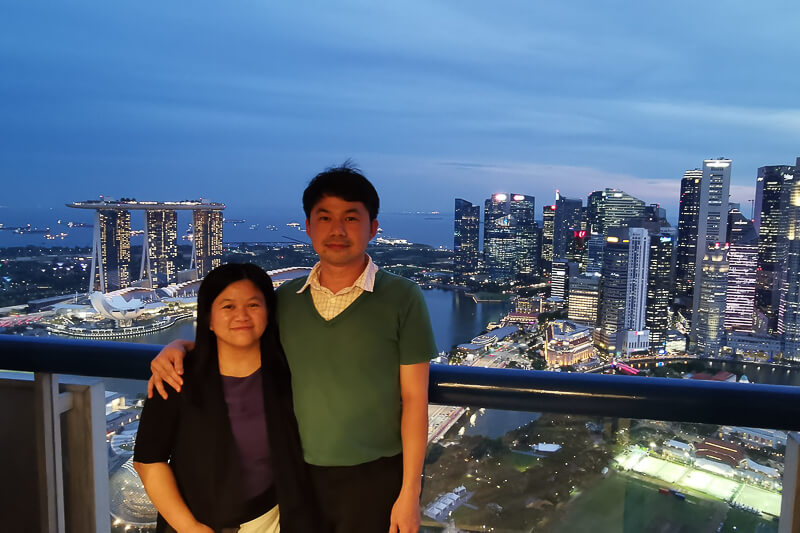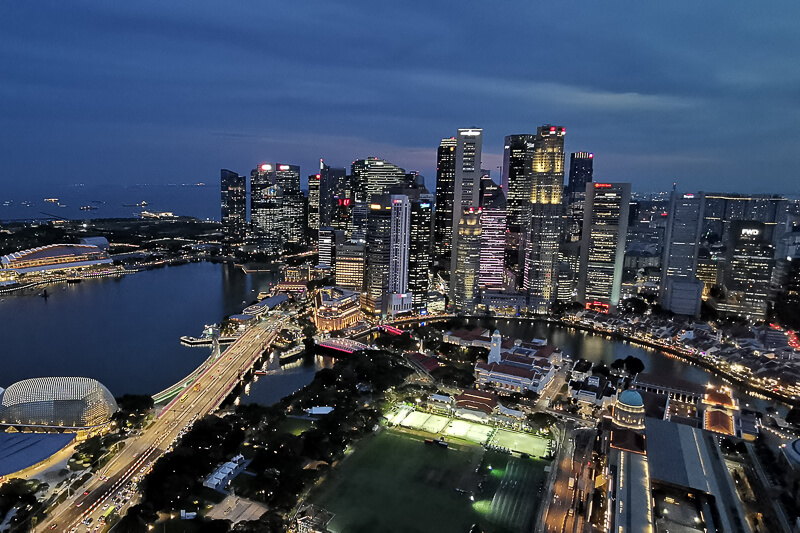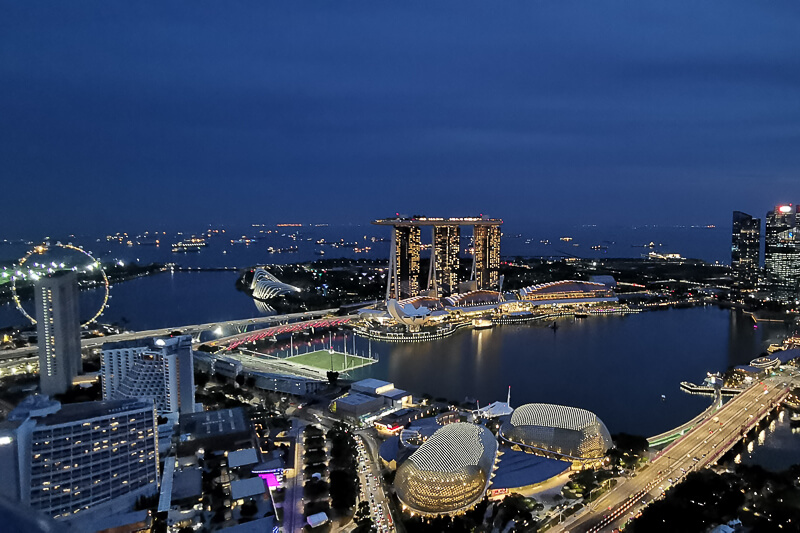 Breakfast at Executive Lounge
The Breakfast at Executive Lounge takes place from 7am to 10.30am.
The food served during breakfast were porridge with condiments, various eggs, steamed vegetable, fried potato wedges, bao, siew mai, bacon, sausage, cereals, smoked salmon, ham, cheese, salad, pastries, muesli, fruits, yoghurt.
My favorites are porridge (I'm a porridge kind of person), egg, smoked salmon and pastries.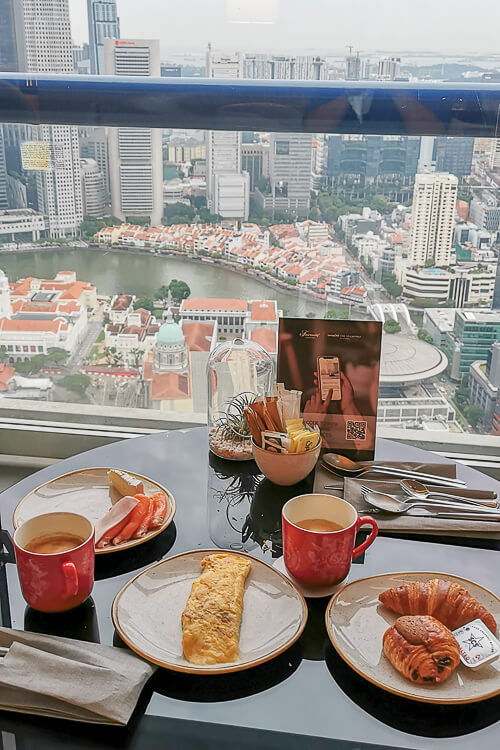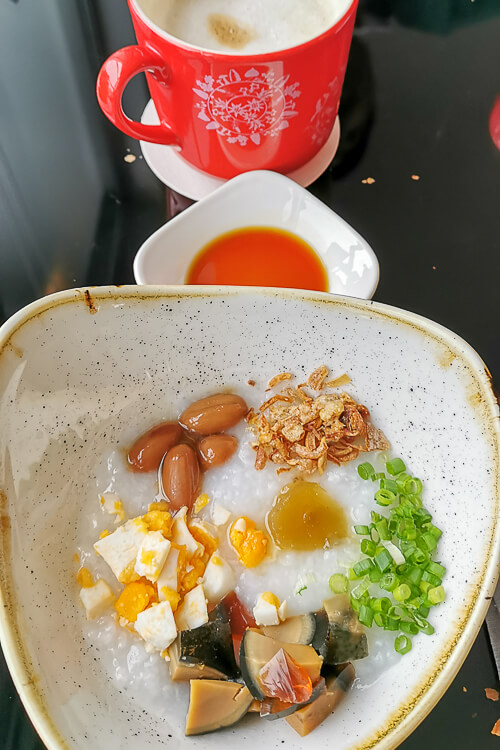 Since the breakfast starts pretty early at 7am, it's possible to catch sunrise if the sky is clear. Unfortunately the sky wasn't clear during our visit, but it's okay, we're happy with the morning view.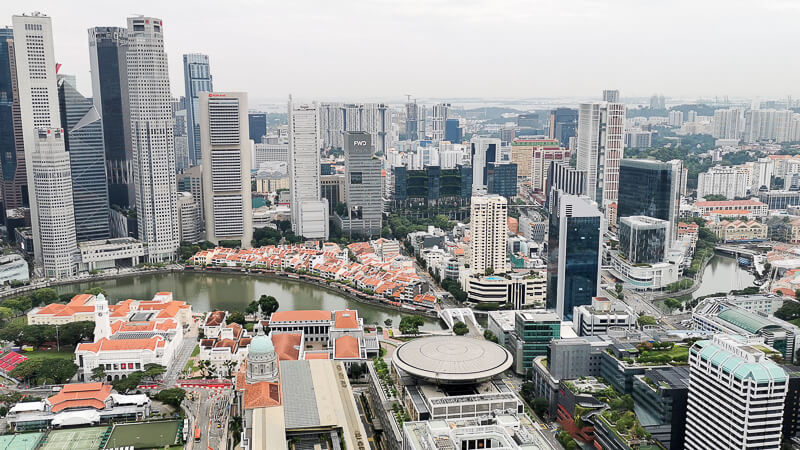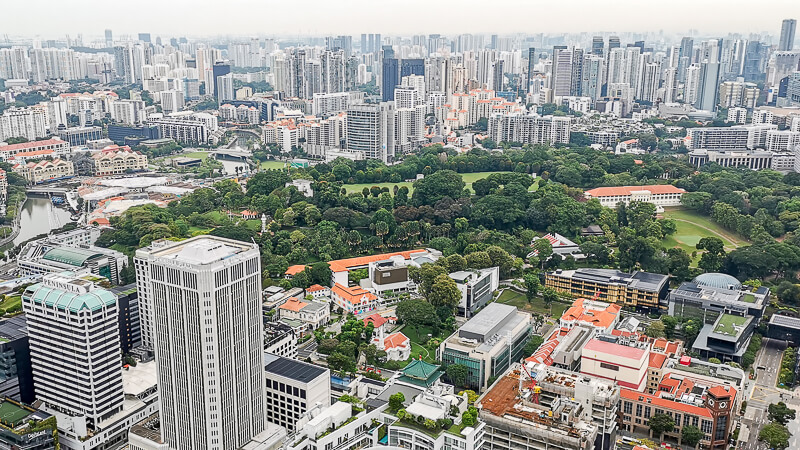 I did not compare the breakfast menu between Executive Lounge and Clove or Asian Market Café, but I personally think that the breakfast at Executive Lounge is nothing to shout about. If not for the impressive view, I would not choose to have breakfast at the lounge.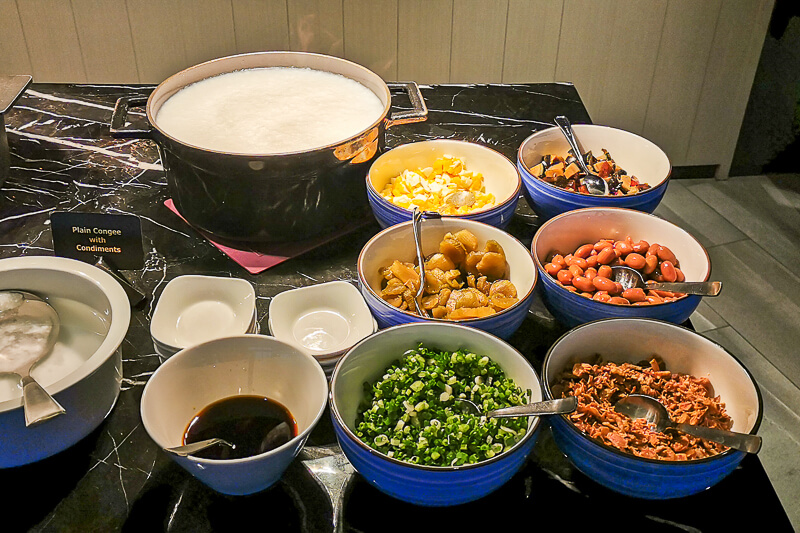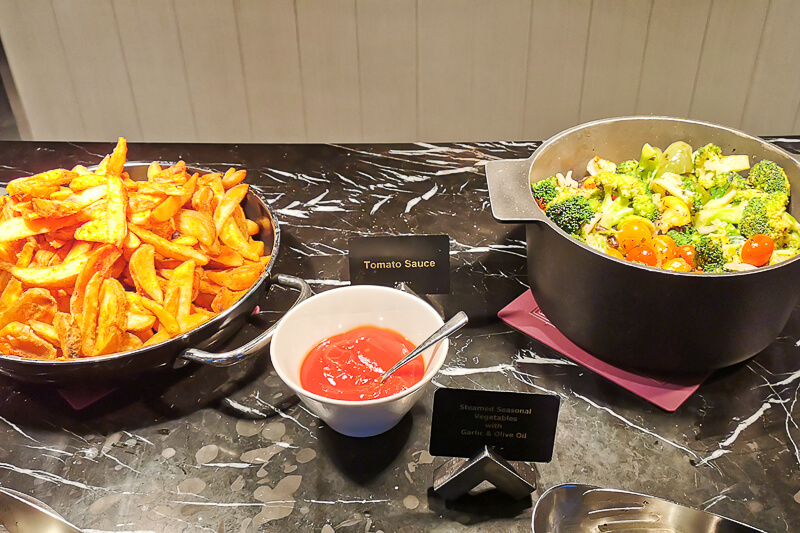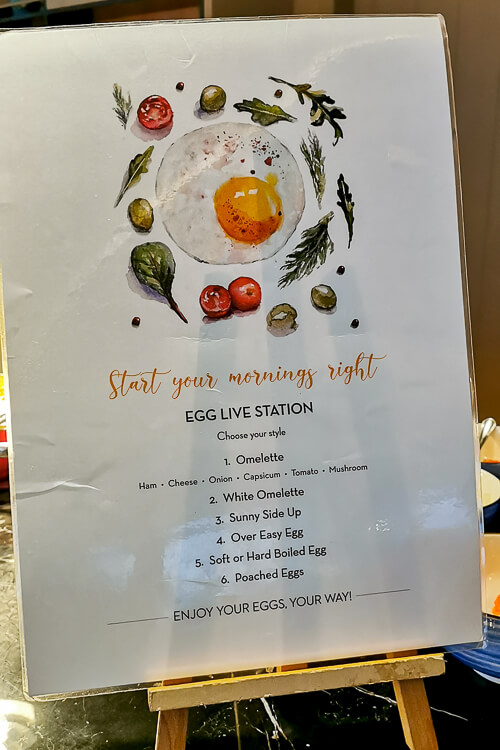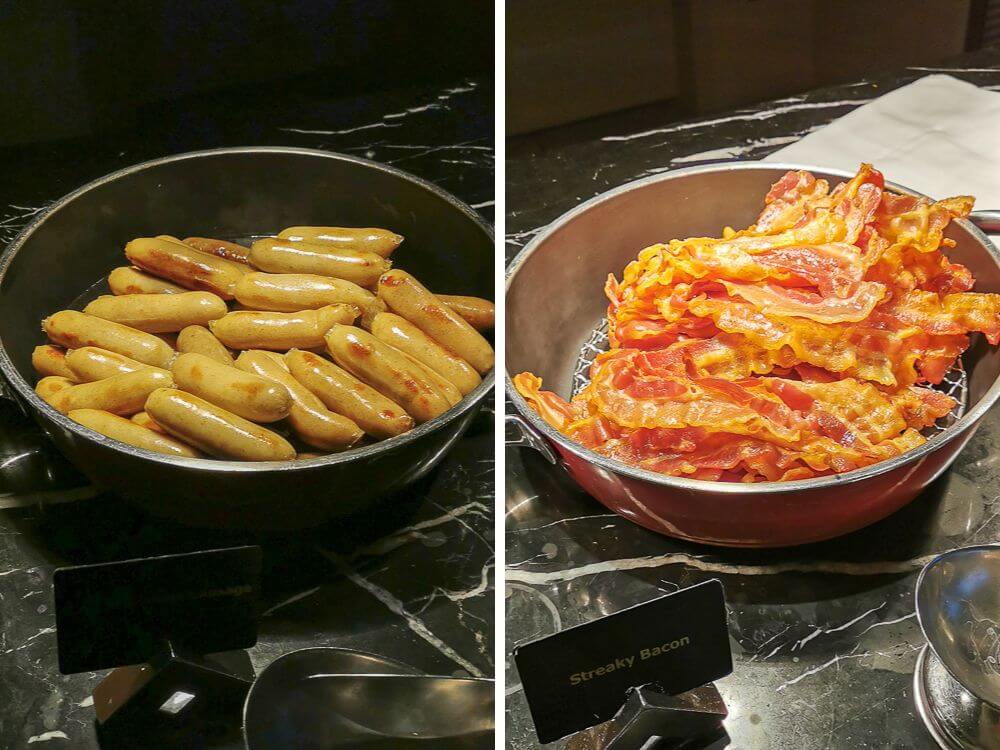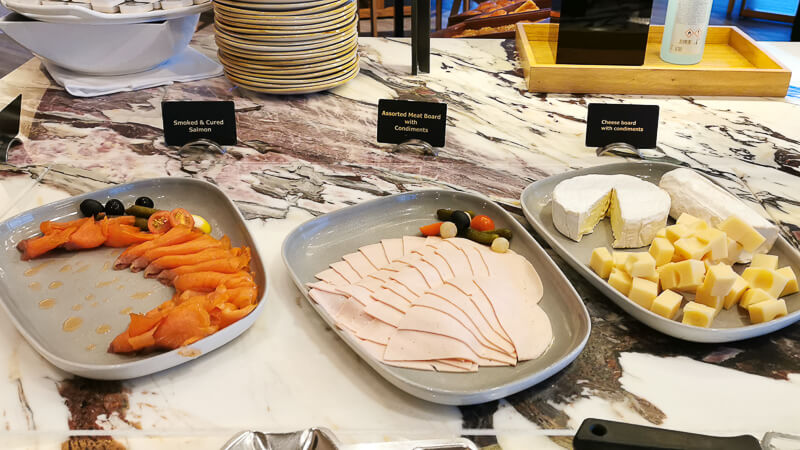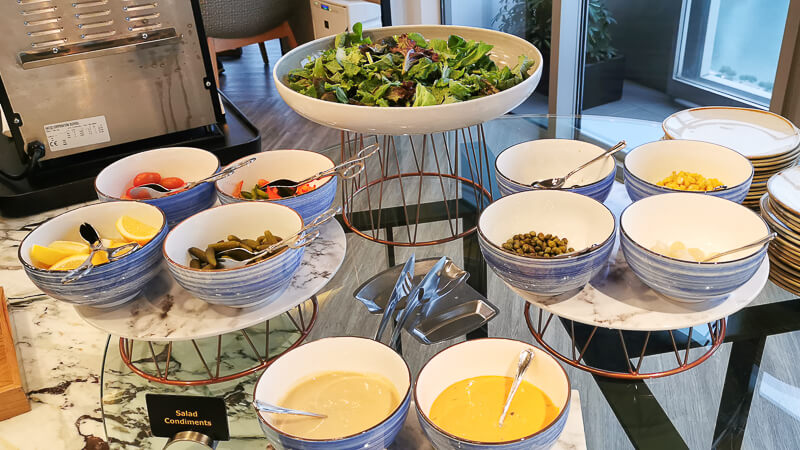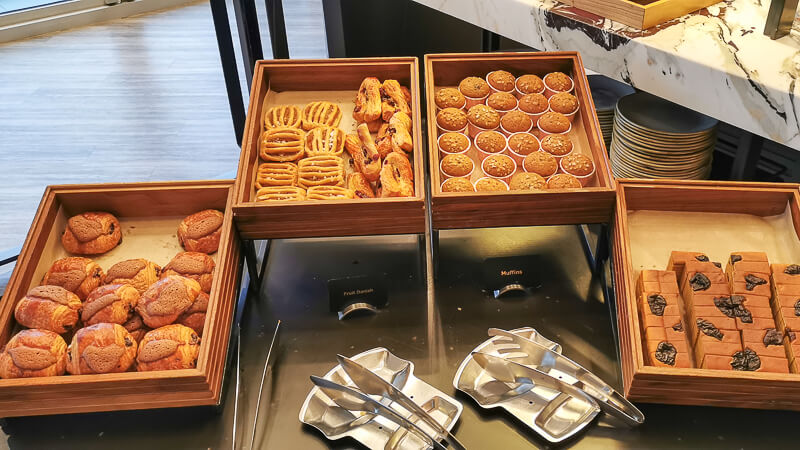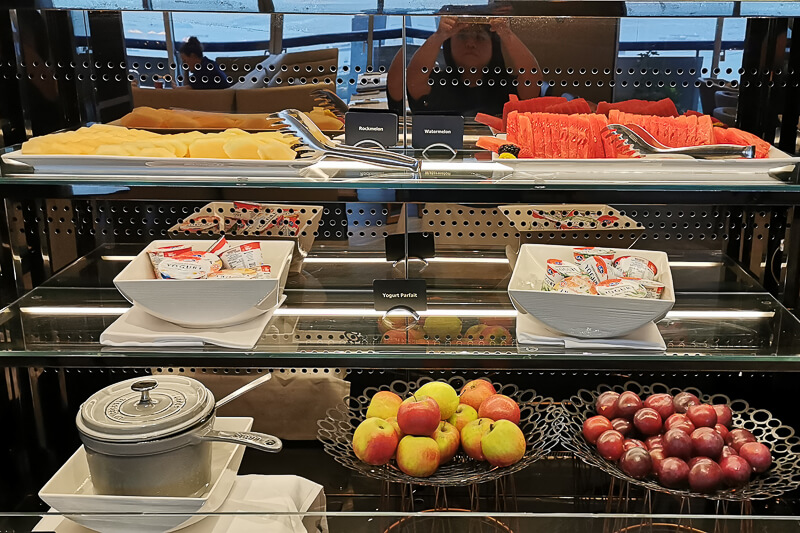 Gym
Executive Room & Suite guests have access to the Fitness Centre at Level 65. It is a small gym with four machines, some weights and gym balls. There's an en-suite locker and toilet.
Guests with no access to L65 Fitness Centre can head to the Fitness Centre at Fairmont Hotel Level 6.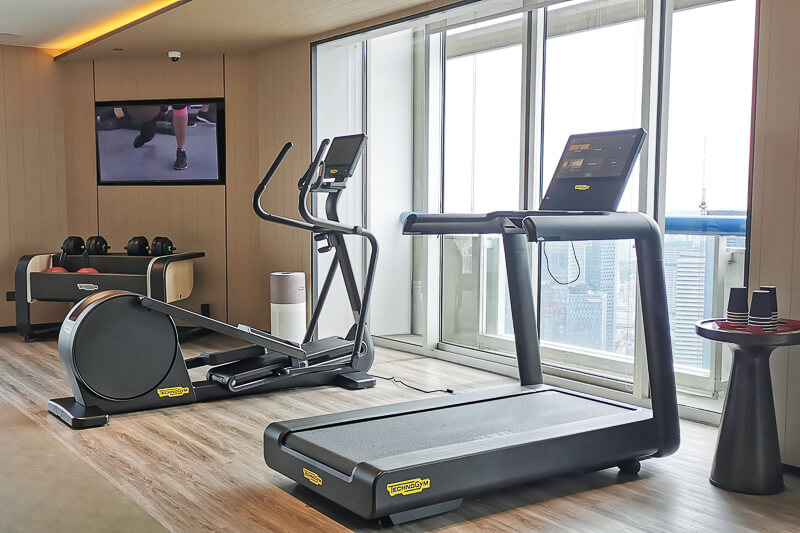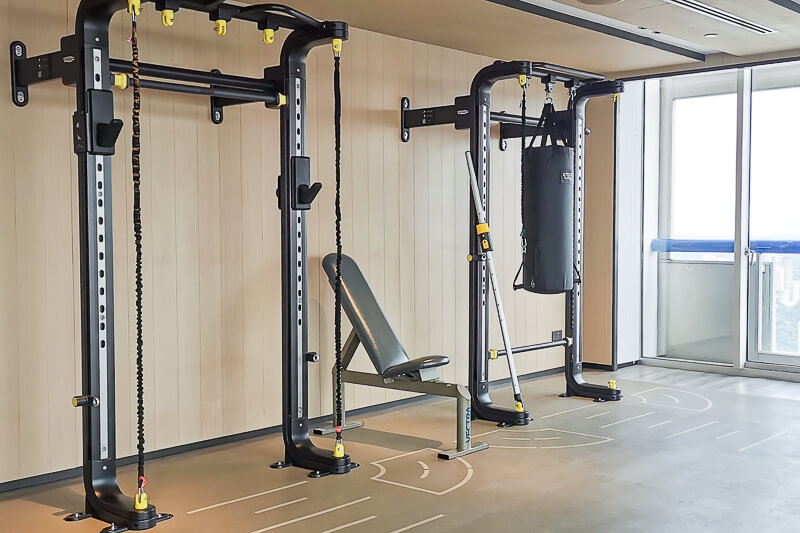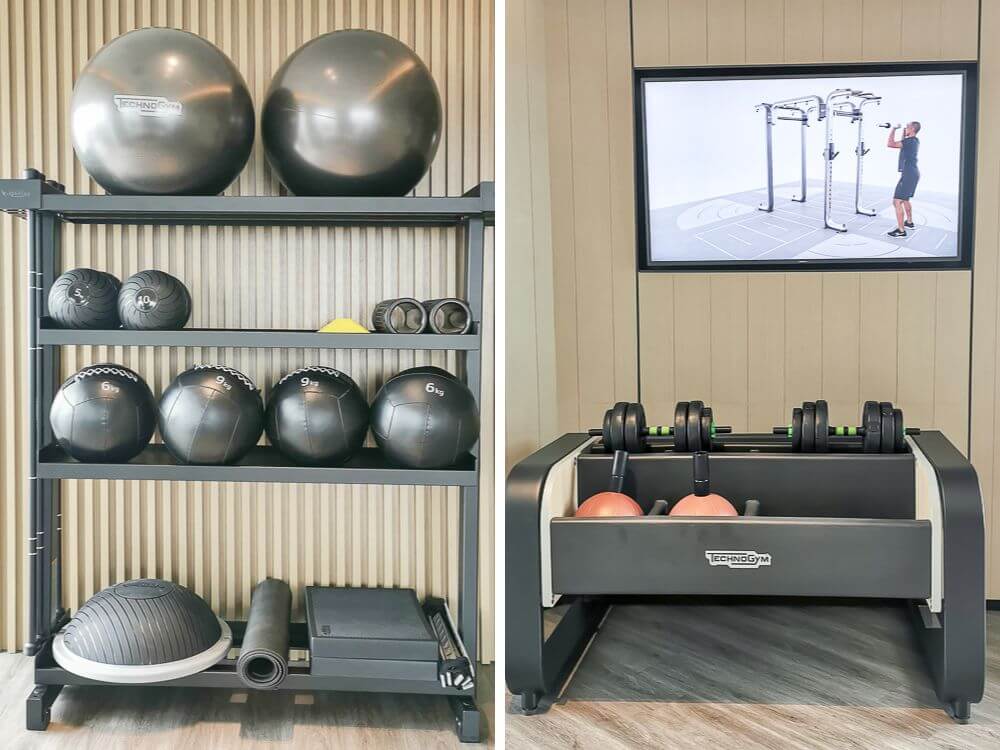 Tennis Court
Tennis Court is open from 7am to 9pm. It is located at Level 8, the same level as the swimming pool. Booking is compulsory.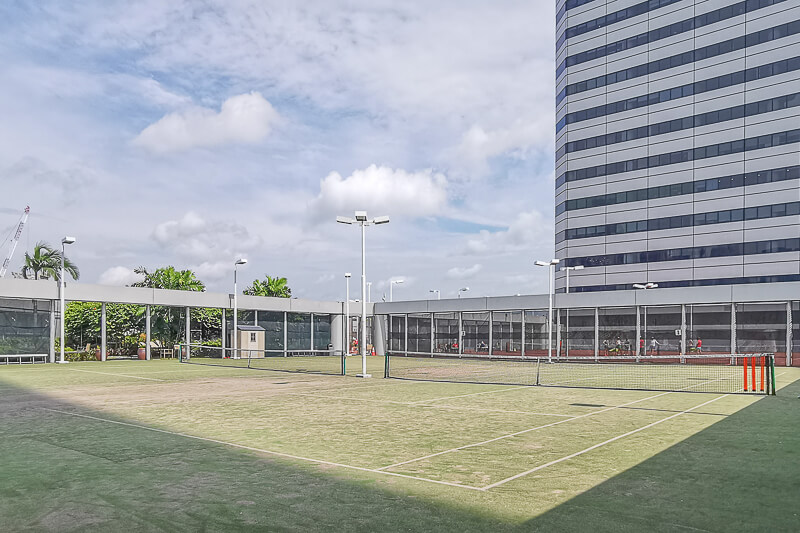 Nearby Attractions
Thanks to its strategic location, Swissôtel The Stamford is close to plenty of attractions. Here are some of my recommended attractions to explore when you're staying at Swissôtel:
– War Memorial Park
– St Andrew Cathedral
– National Gallery Singapore
– National Museum of Singapore
– Clarke Quay
– Fort Canning Park
– Merlion
– Marina Bay
Dining Options
There are no shortage of dining options when you stay at Swissôtel The Stamford.
On-site dining options are:
– Clove
– Asian Market Café
– Kopi Tiam
– Prego
– Mikuni
– JAAN by Kirk Westaway
– SKAI
Outside dining options are:
– Raffles City Shopping Centre
– Chijmes
– Capitol Building
– Suntec City
Check-Out
On the day of check-out, Swissôtel sent me an email with a link for Express checkout. The link leads to a payment page where we had to pay for our room charges (in our case, our charges is the room upgrade charges).
Upon paying, the room will be automatically checked out and the room key will be disabled, so do not settle your bill too early!
At Level 1, you can simply drop your room keys in the express check-out bin.
Conclusion
I'm very satisfied with my stay at Swissôtel The Stamford. Staying at the tallest hotel in Singapore is something worth experiencing at least once in my life. The room is nicely designed and the staffs are extremely friendly. The view from the room is simply exceptional.
If you're thinking whether its worth paying more for the Executive Room (and above), well, it depends on what you value. If you value the happy hour (unlimited alcoholic drinks) then it's absolutely worth getting the Executive Room. If you love want a guaranteed high-floor room because you want the exceptional view, then yes it's worth getting the Executive Room.
However, if you value quality food and you don't want to waste calories on finger food, you don't enjoy alcohol, and you don't think the view at L65 is that amazing, then I think it's not worth upgrading to Executive Room.
Watch my video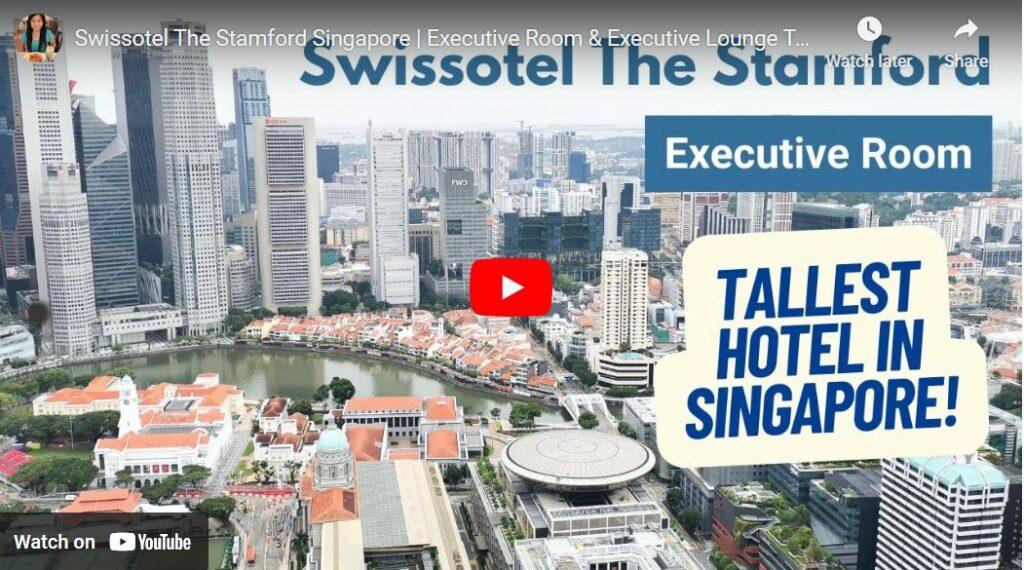 If you like my work, you can buy me a coffee! Your support will help me to keep going!