Off the beaten path? Check. Non-touristy? Without a doubt. Cheap? Yes, yes, yes.
Pulau Ubin is a small island (about 10sqm in size) located at the north east of Singapore. Even though it is part of Singapore, Pulau Ubin doesn't look a tiny bit like Singapore! It is said that Pulau Ubin is a reflection of Singapore in the 1960s.
In Malay, Pulau Ubin means Granite Island. Granite mining was once the major industry on Pulau Ubin.
Today, there are no more granite mines. Instead, you'll find beautiful quarries, dense vegetation, wildlife and memories of the past.
There are still roughly 100 people living permanently on the island. The residents use diesel generators for electricity because the grid doesn't reach the island (yet).
To go to Pulau Ubin, you need to take a 15-min bumboat ride from Changi Village. In this article, I will write the step-by-step guide explaining how to go to Pulau Ubin.
Some people go to Pulau Ubin for recreational activities like fishing, cycling or camping, some for school/corporate activities. Me? I go to Pulau Ubin to escape Singapore and to rekindle my love for nature.
You may have your own reasons to visit Pulau Ubin, that's why you're searching for Pulau Ubin and stumble upon this post, right?
Alright, since you're here, let me provide you with guides and recommendations about what to do, how to go, and other essentials information.
If you're planning to visit Pulau Ubin during Phase 3 reopening, take note of the following:
– camping is not allowed
– mask up all the time
– keep your group to less than 8 people
– bumboat now costs $4/pax instead of the usual $3/pax due to lesser number of passengers per boat
What to bring to Pulau Ubin
These are the important things you want to bring to Pulau Ubin
1. CASH
I capitalize the text because it's super important!
Cash is king in Pulau Ubin because there's no ATM and nobody accepts credit card, debit card, apple pay, whatsoever.
There are ATMs at Changi Village where you can withdraw money before going to Ubin.
2. Mosquito repellent
Even if you're going there during the day, you won't escape the mosquitoes. If you forget to bring, you can still buy it on the island but make sure you bring enough cash.
I forgot to bring the repellent one day and I didn't have enough cash to buy one, so I ended up getting over 30 bites!
3. Sunblock
Most of the trails are quite covered by the forest canopy, however certain places are wide open, so you might want to protect your skin with sunblock. Again, if you forget, you can buy it on the island.
4. Raincoat or folded umbrella
In Singapore, you have to be prepared for both hot & rain weather every single day.
Furthermore, there are very few shelter or covered walkway in Ubin, so if rain comes when you're in the middle of nowhere, you'll be extremely grateful that you have a raincoat or umbrella in your day bag, unless you don't mind being showered by rain, that is.
Things you don't need to bring to Pulau Ubin
Passport

You DON'T need a passport to go to Pulau Ubin from Singapore. Keep your passport at somewhere safe.
E-scooters or E-unicycles

These are not allowed to be used in Pulau Ubin.
Motorized bicycles

These are prohibited to be used on unpaved trails or off-road areas. You can use it only on the roads and up to maximum speed of 25km/hr.

Given that paved roads are quite limited on the island, it's quite useless to bring the motorized bicycles, imho (in my honest opinion).
Bicycles

You can bring your own bicycles and pay additional fee to the bumboat operators, but you do not have to.

There are plenty of bicycle rental shops at the island.
A gallon of water

Forget the gallon, just bring 1.5L drinking water, and you can buy more water on the island.

The tap water is not potable, so you need to get mineral bottled water from the shops.
What to Wear
The weather in Pulau Ubin is similar to Singapore, it's either intensely hot or it rains!
If you're lucky, you may experience the rare cloudy weather in which the world feels like a perfectly beautiful place.
Anyways, what to wear depends on the activities you plan on doing in Pulau Ubin.
In general, wear light clothing.
Wear sport shoes if you plan to jog or cycle. Otherwise, slippers are fine.
Dresses and heels are suitable if you only plan to hang out around jetty or visit the temple.
How to go to Pulau Ubin
Step 1: Make your way to Changi Village
The easiest way to get to Changi Village is by taking taxi or ride-sharing. However, the cheapest way to get there is obviously by public transportation.
If you're tech-savvy, just launch Google Maps, enter your starting point and ending point; the app will tell you the combination of MRT and bus to take.
If you're not tech-savvy though, just take MRT to Tanah Merah MRT (green line). Exit the station from Exit B, then you'll see a bus stop.
From the bus stop, take bus 2 until its final destination at Changi Village Terminal.
There are 28 stops along the way but it takes only about 30 mins if you go during off-peak period (not when people go to work or come back from work).
Step 2: Walk to Changi Point Ferry Terminal
As you alight from the bus, turn left towards a small road junction where there are signs pointing to the direction of Changi Point Ferry Terminal.
Follow the sign and you'll arrive at the terminal. The walk is approximately 5 mins long.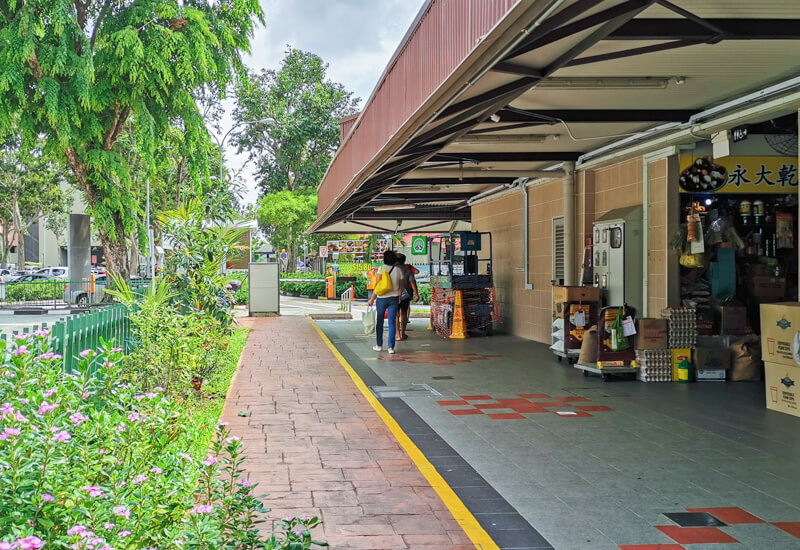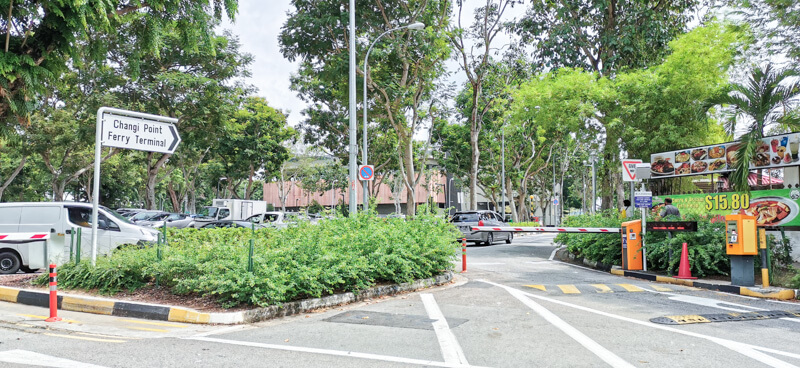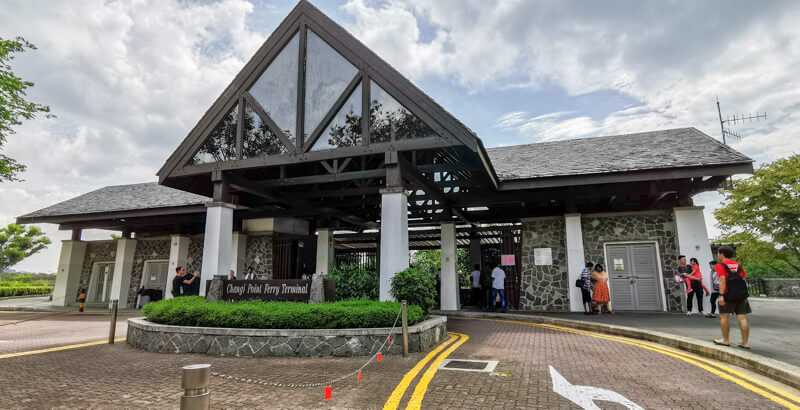 Step 3: Queue for the bumboat/ferry
If you go on a weekend or Public Holiday, you may find a long queue at the ferry terminal. You have no choice but to join the queue.
If you visit on a weekday, there's high chance that there's no queue at all. Either way, just wait in line.
When you finally reach the front of the queue, the boat driver will ask you how many people there are in your group.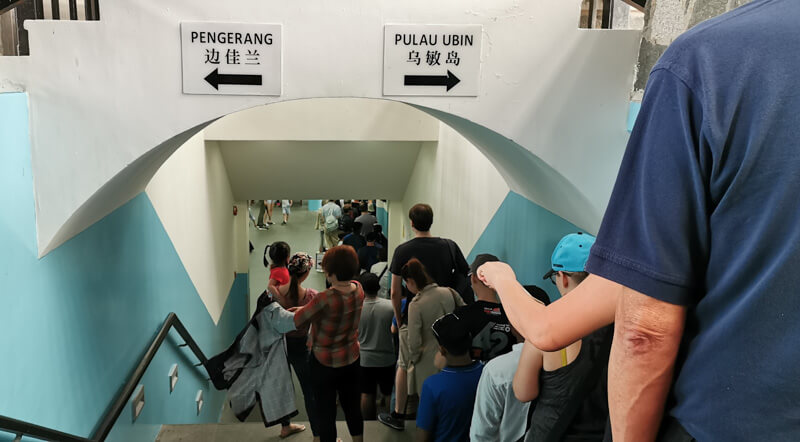 A boat will only leave when there are exactly 12 passengers (excluding the driver). They're not allowed to carry more than 12 customers, so the drivers need to ask the size of your groups in order to fit exactly 12 people.
During peak period (weekend & PH), this is not a problem. But on weekdays, this could be a problem.
On weekdays, you may need to wait for some time until there are enough people for the boat to go.
If you've been waiting for a long time and there are only 10 people at the waiting area, the driver may ask around if everyone is fine with paying more to cover the 2 extra seats.
My recommendation is to say yes, because it's only a small increase of fee rather than suffering the uncertainty waiting for the next 2 people to turn up.
The price for the boat is $3/person. Adult, children and elderly pay the same amount. If you're bringing your own bicycle, you need to pay additional $2/bicycle. Pay on the boat.
The ferry to Pulau Ubin operates from 5.30am daily until approximately 9pm. There is no fixed departure timing because the ferry need to wait until there are 12 people before it leaves.
However, try to take the boat to Ubin before 5pm (unless you plan to camp overnight) because:
After 5pm, there are little to none passengers. A bumboat trip costs $36. If there are nobody else beside you, you need to pay the entire $36 in order for the boat to depart.
Coming back after 6pm from Ubin to Changi Village is quite tricky because bumboat drivers usually end work around 6pm.

You need to make private arrangement with the driver to pick you if you plan to come back after 6pm. This means you need to pay entire $36 again to come back.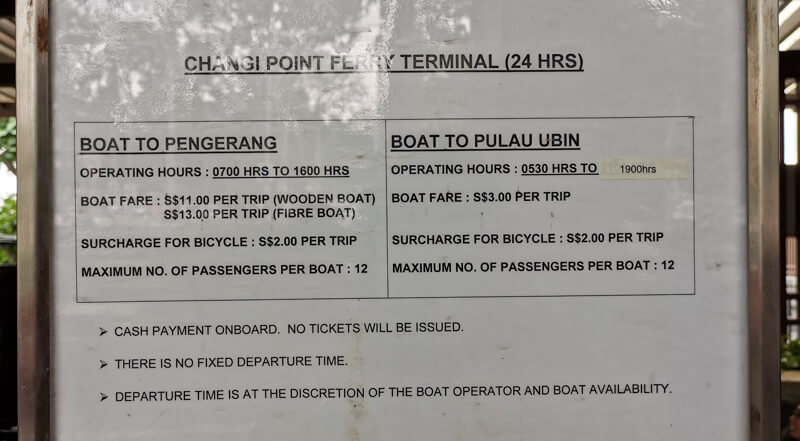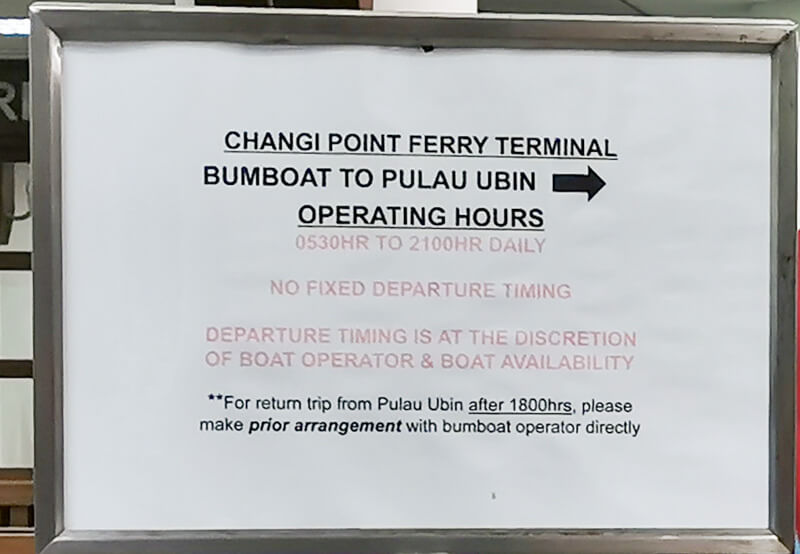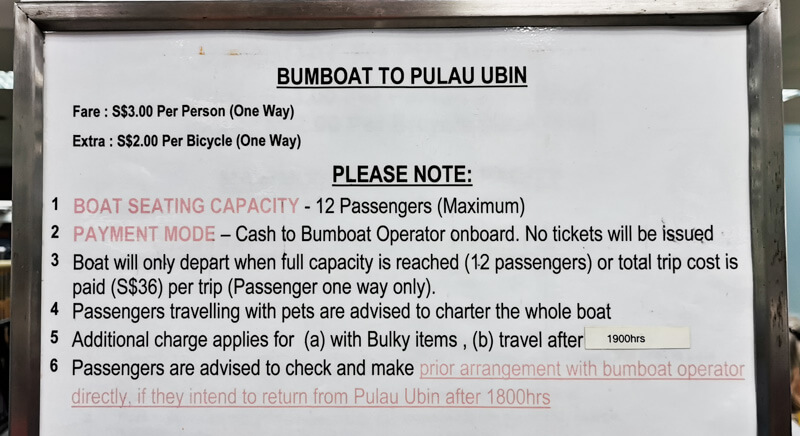 PS: During Phase 2 re-opening, the price of the bumboat is now increased to $4 and the capacity of bumboat is 9 pax per boat to maintain safe interpersonal space.
Step 4: Ride the 15-min bumboat
Each bumboat has different design. Some have more sheltered seats while others have more open-air seats. I did not feel significant seasick while riding bumboat because I tried not to do heavy reading on my phone.
If you're prone to seasickness, I suggest that you sit at the open-air seats (of course it's first come, first served).
Most drivers will collect money in the middle of the journey, so prepare your case in advance so that the driver can go back to his steering job asap.
No drinks / food will be provided, it's only 15-min ride anyway.
You don't need to bring your own life jacket or vest because each bumboat carries sufficient life jacket for emergency use. During the ride, you do not need to wear the life jacket.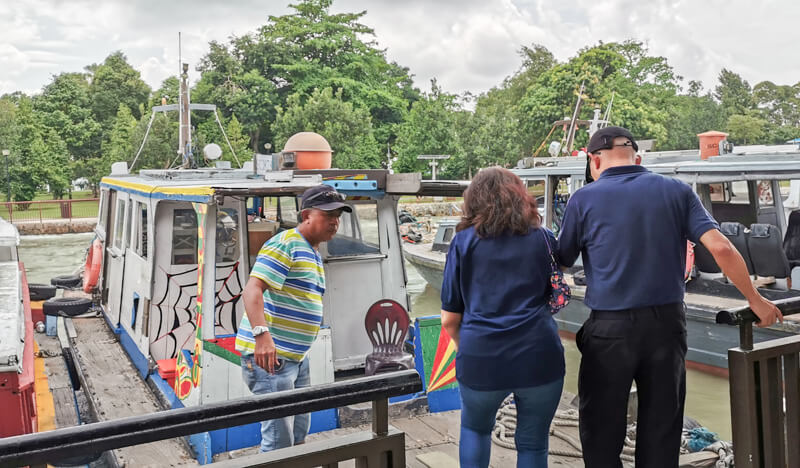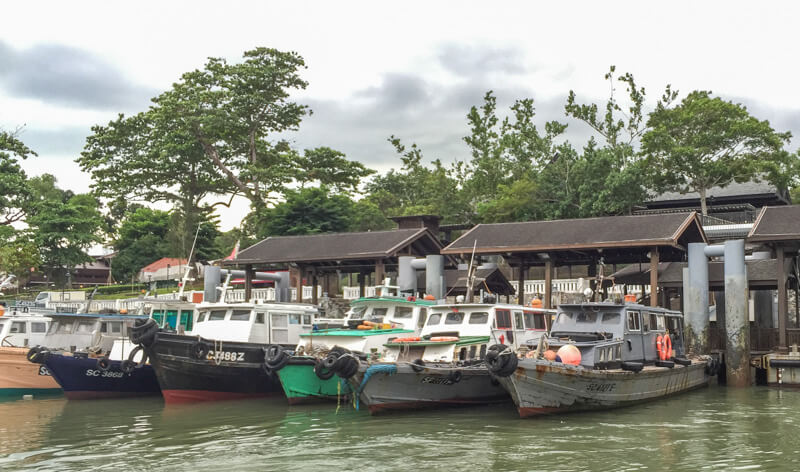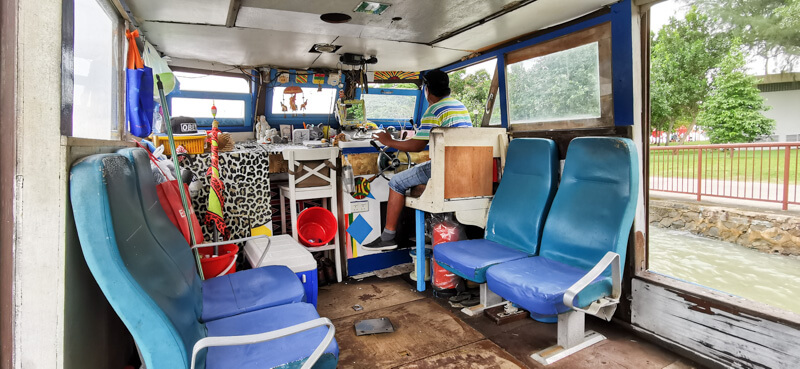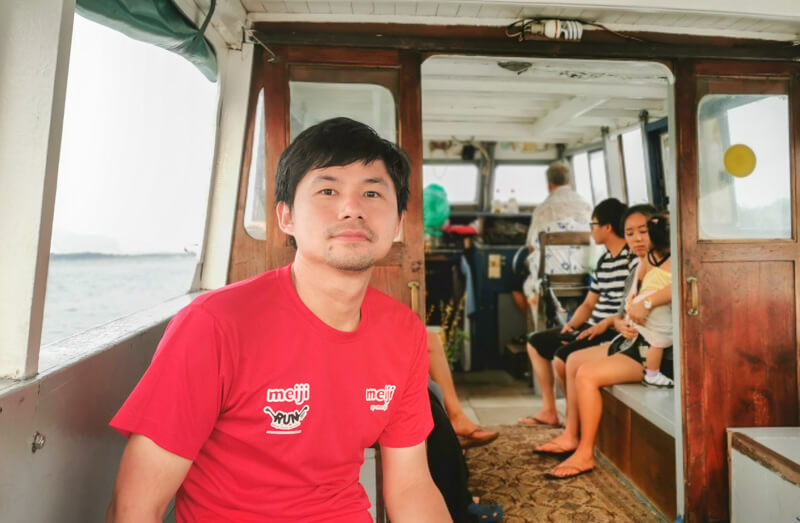 Step 5: You have arrived!
Finally, you've arrived! There's no admission fee or entrance fee for Pulau Ubin.
Once you're out from the jetty, there's a little cluster of shops where you can buy food/drinks, rent bicycles or even book a local taxi.
For ideas about things to do in Pulau Ubin, see the following section.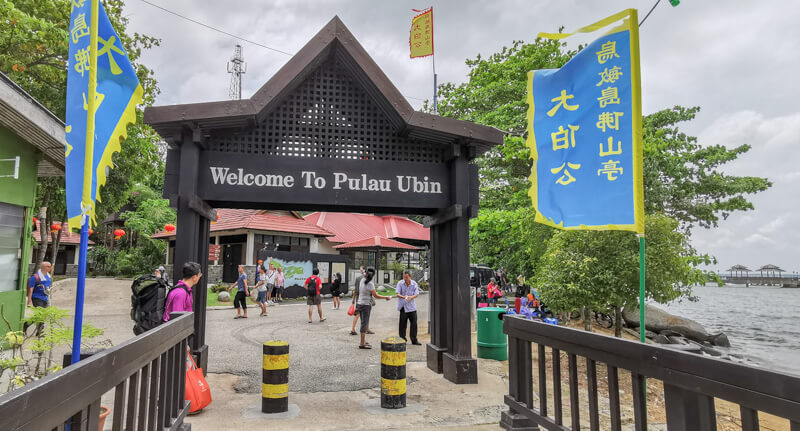 Pulau Ubin Map
The latest Pulau Ubin Map can be obtained from NParks website here. See the right sidebar, there's a link to download the latest map.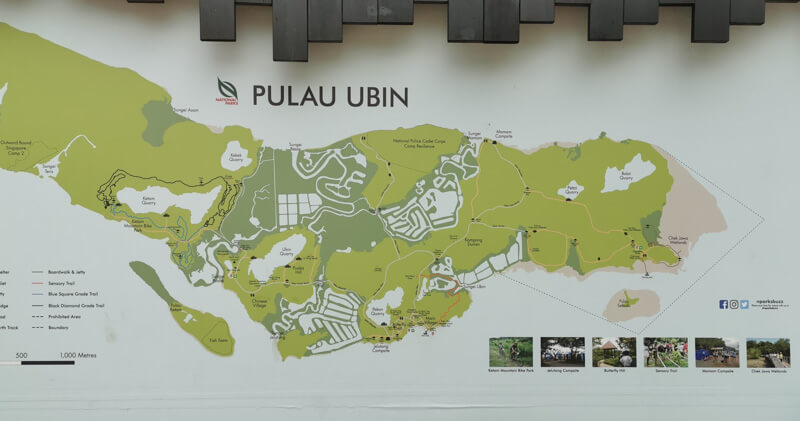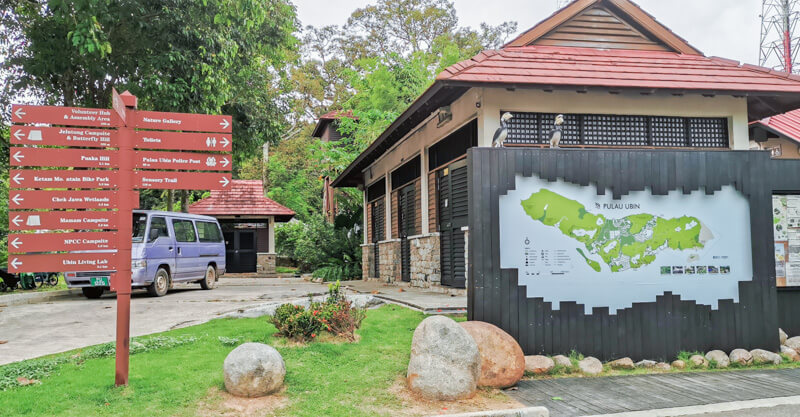 What to do and see in Pulau Ubin
House No. 1 (Chek Jawa)
This Tudor-style house built in 1930s and restored in 2005 is probably one of the most photogenic landmarks in Pulau Ubin.
House No. 1 currently serves as visitor center at Chek Jawa.
At the back of the house is the remarkable viewing Jetty where you can see Changi Village and get a glimpse of the uninhabited Pulau Sekudu (Frog Island).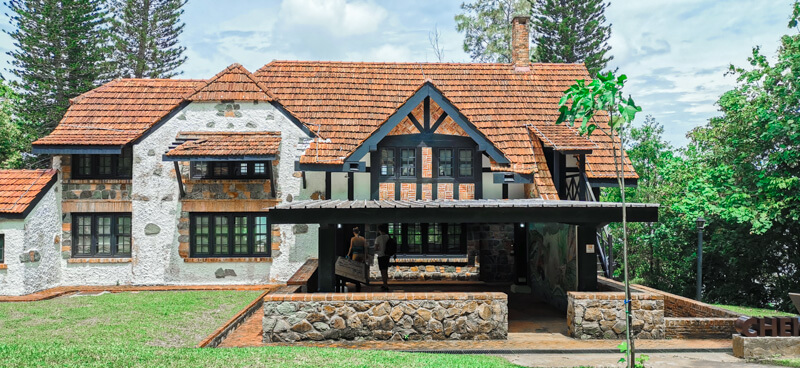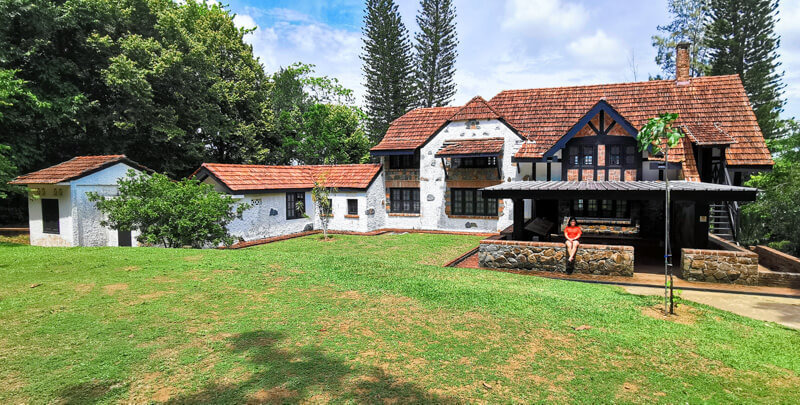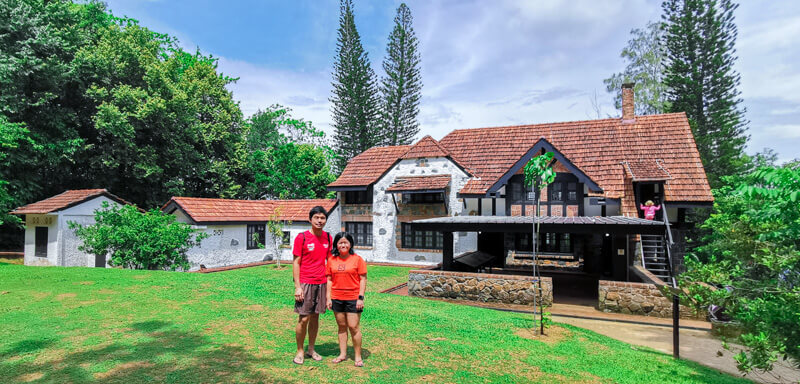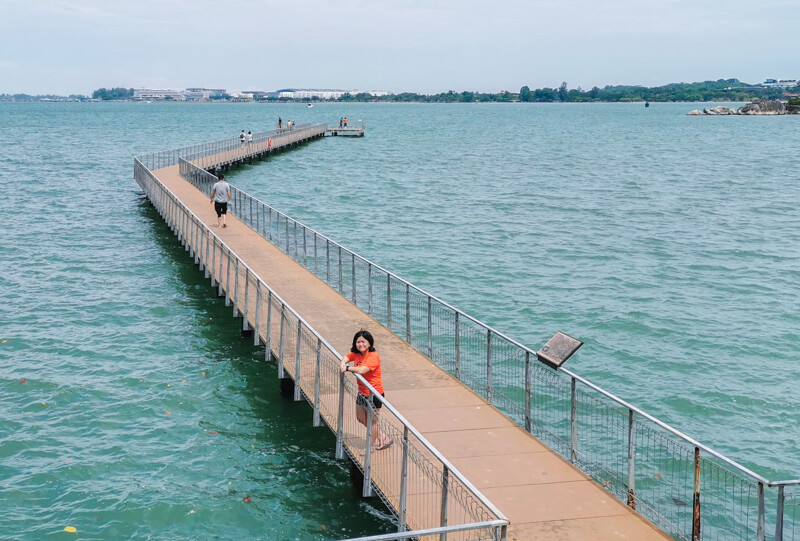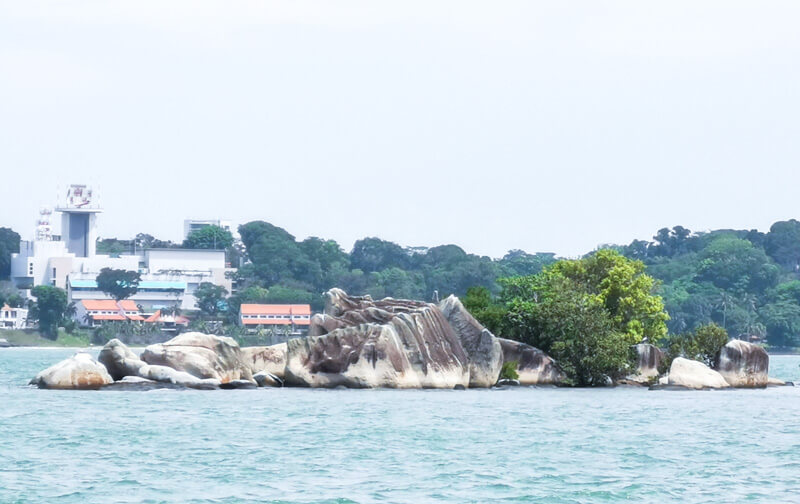 Jejawi Tower & Mangrove Boardwalk (Chek Jawa)
Jejawi Tower is a 20m-high tower located near Chek Jawa. It can be reached by walking along Mangrove Boardwalk.
Because the top of tower is higher than the tree canopy, you can enjoy panoramic views of the Chek Jawa Wetlands.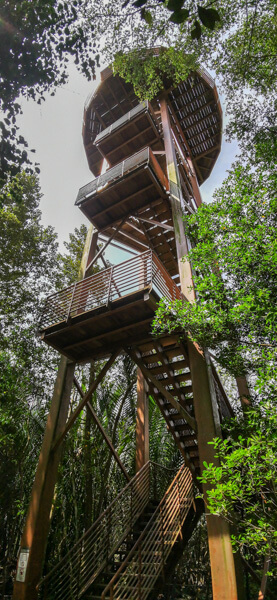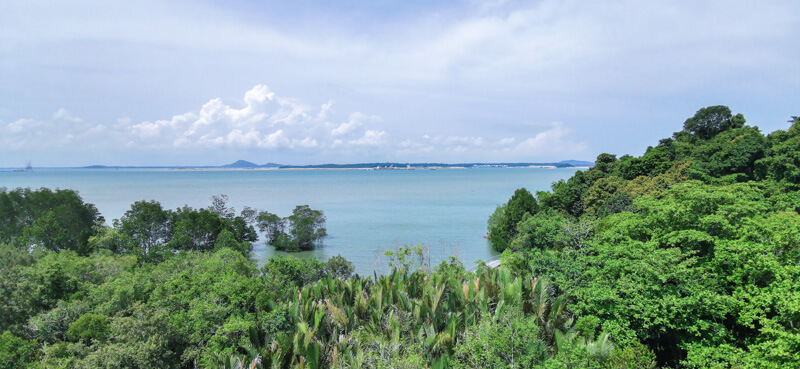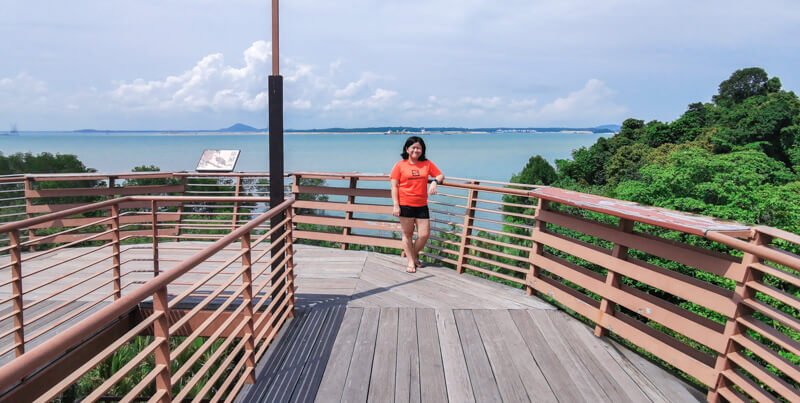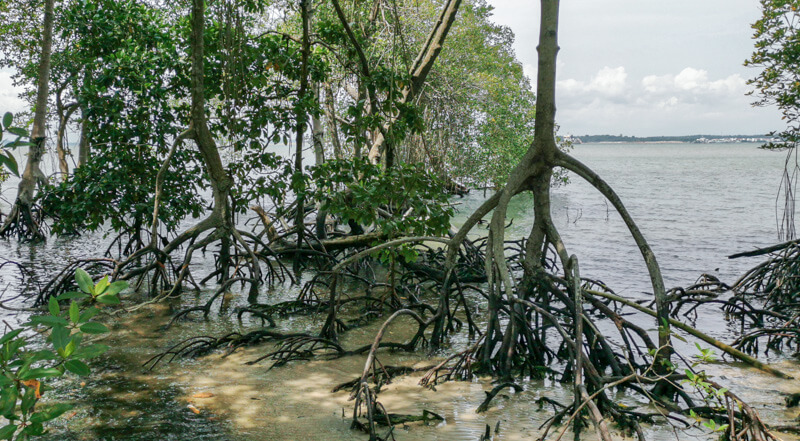 Chek Jawa Coastal Boardwalk
This beautiful boardwalk at the coast of Pulau Ubin was opened in 2007. Enjoy a leisurely stroll along this boardwalk and occasional plane spotting.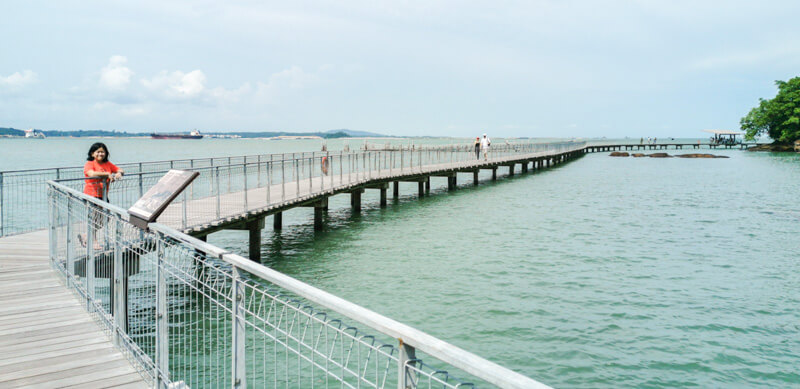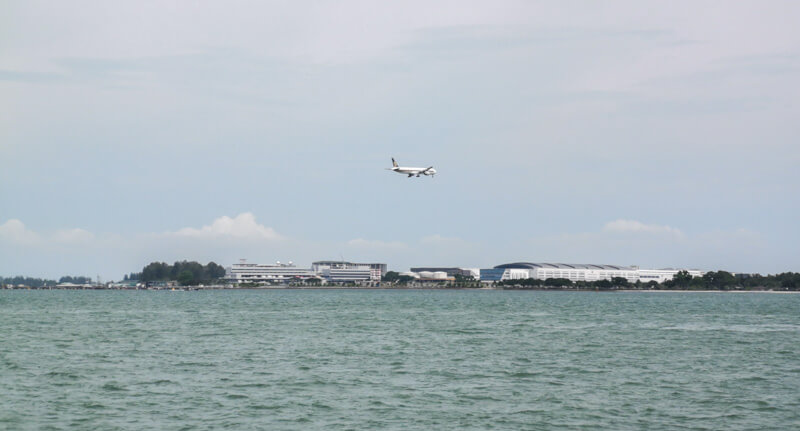 Balai Quarry
Balai Quarry is one of the major quarries in Pulau Ubin. It's located in the east of Pulau Ubin, making it the nearest quarry from Chek Jawa.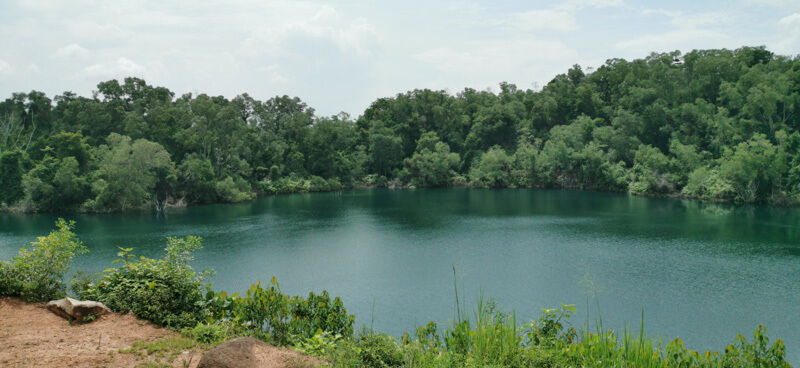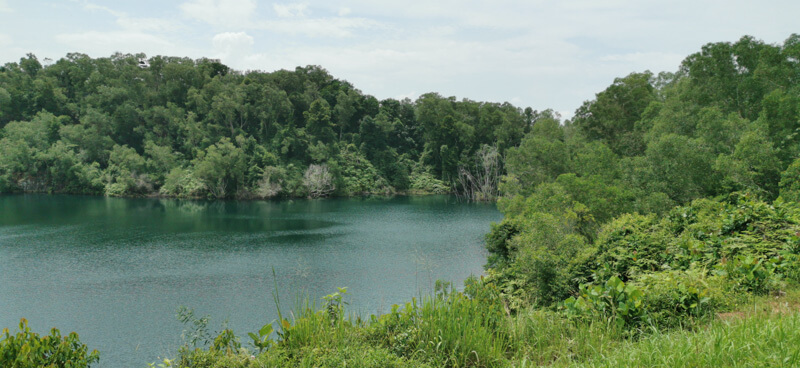 Teck Seng's Place
Teck Seng's Place is a house owned by Mr Chew Teck Seng from 1970 to 2005. Mr Chew used to operate a provision shop that supplied he canteens around the various quarries located around Pulau Ubin.
In 2005, Mr Chew's family moved to mainland Singapore and returned the house to the state.
Now, Teck Seng's Place serves as a museum that showcases how a Chinese kampong house looks like in the 1970s.
Teck Seng's Place is not open every day. Instead, it's only open on the 2nd and 4th weekend of the month and public holidays, from 10am to 2pm.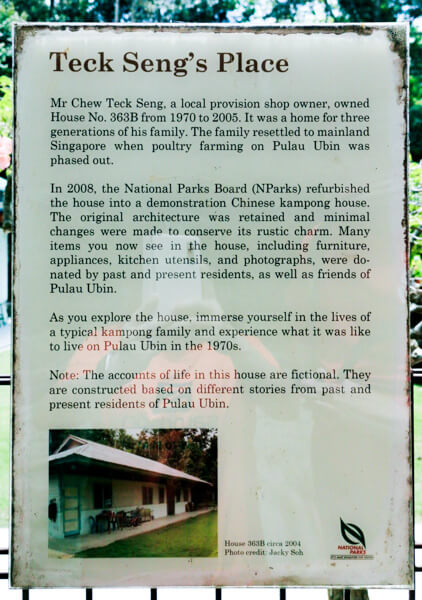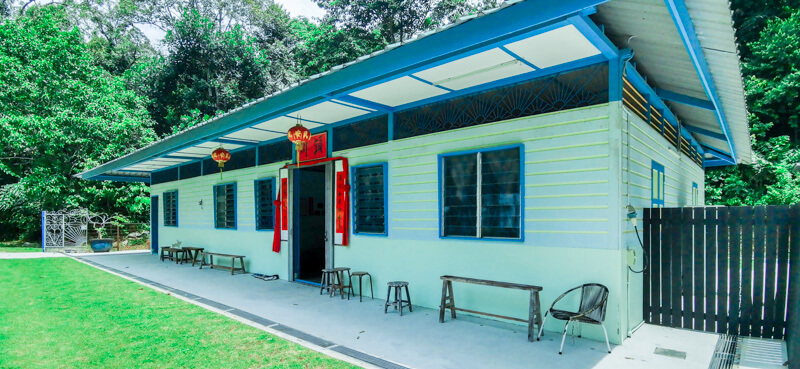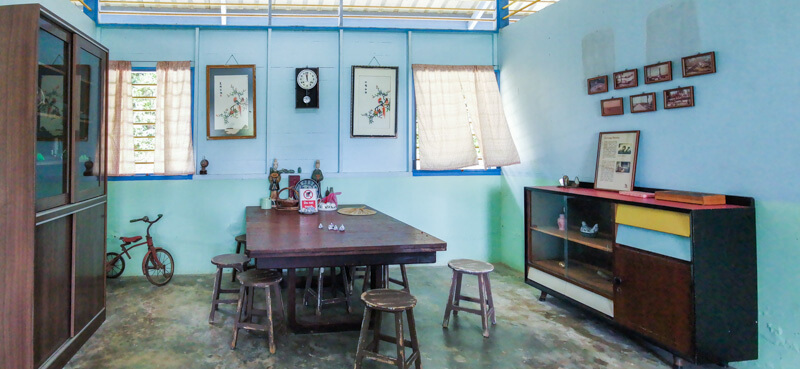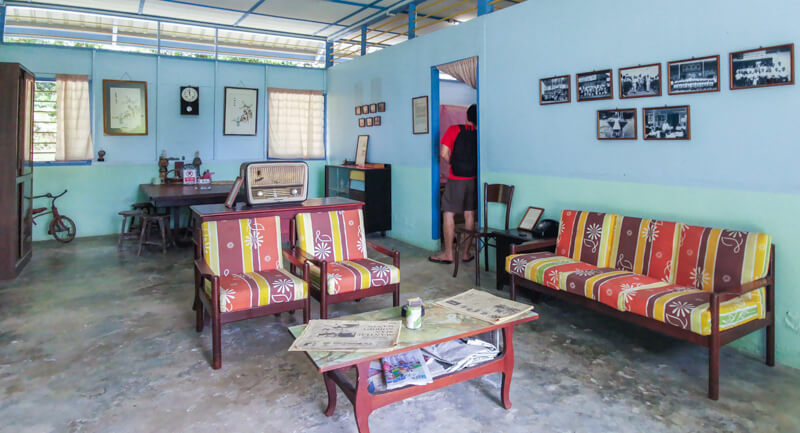 Ubin Fruit Orchard
Opened in 2016, Ubin Fruit Orchard is a one-hectare fruit tree arboretum where visitors can learn the various tropical trees that are commonly grown in villages of Pulau Ubin, such as rambutans and starfruit, as well as uncommon cultivated varieties of durian and mango.
Ubin Fruit Orchard is located on Jalan Ubin, near Teck Seng's Place.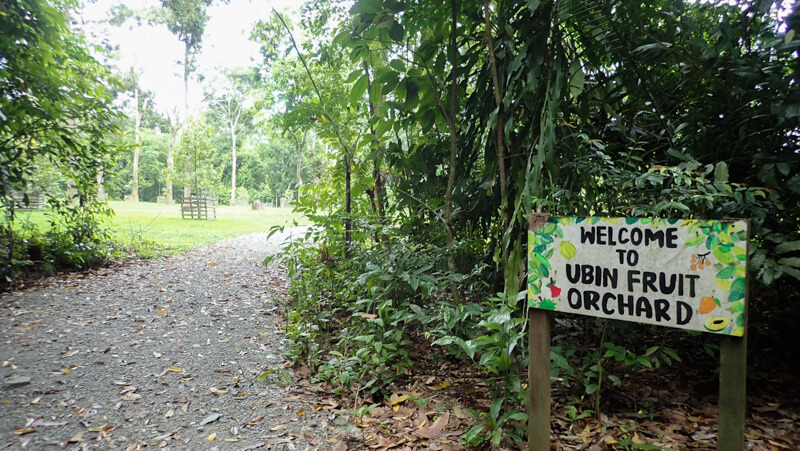 Sensory Trail
Sensory Trail is a 1.5km easy trail that starts from the Main Village and ends at opposite Teck Seng's Place.
Along the trail are vegetables, spices and herbs that the villagers used to plant for their own consumption and important crops planted for the island's economic in the 1970s, including papaya, rambutan, banana and breadfruit.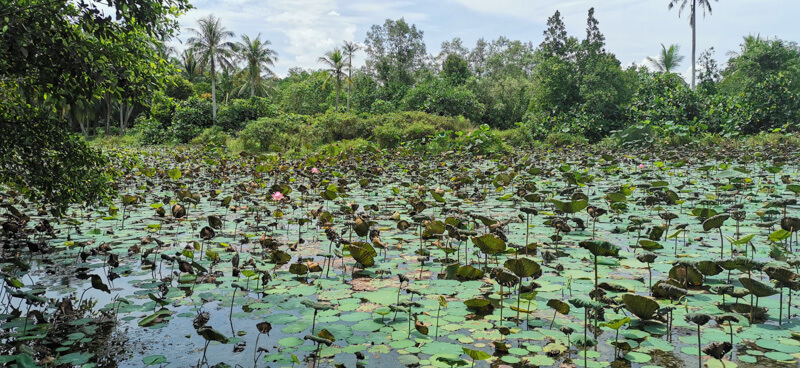 Fo Shan Ting Da Bo Gong Temple
There are 2 Fo Shan Ting Da Bo Gong temples in Pulau Ubin. One is located near the Main Village, which consists of a small temple and a stage.
The stage is used to host festivals such as Tua Pek Kong's birthday, Chinese New Year, Hungry Ghost and Mid-Autumn Festival.
The second one is located near Pekan Quarry.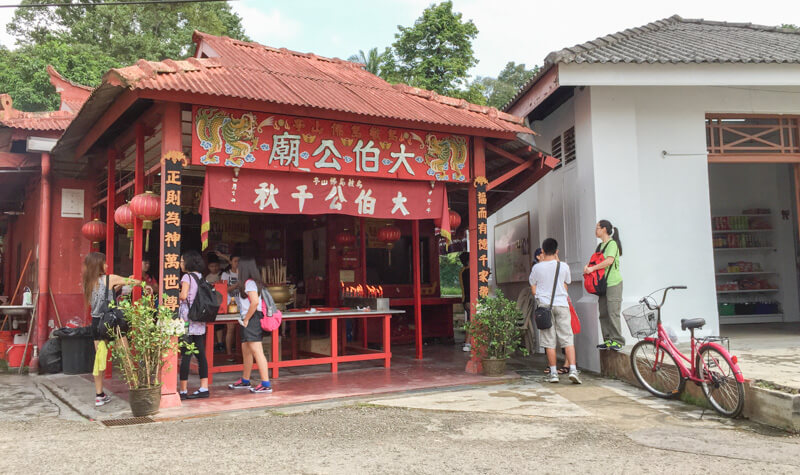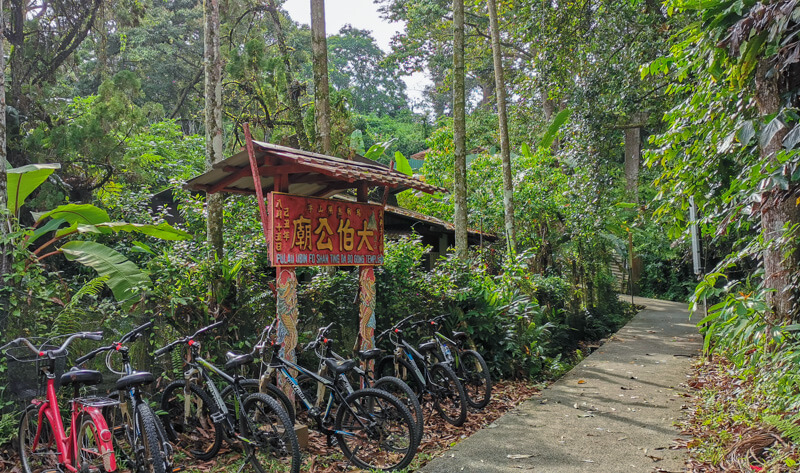 Butterfly Hill
Located about 400m away from the Main Village, Butterfly Hill has over 50 butterfly-attracting plant species that attract 140 species of butterflies.
Butterfly species that are commonly spotted at Butterfly Hill are the Blue Glassy Tiger, Black Veined Tiger, Common Bluebottle, Cycad Blue as well as rare species like Common Jay and Dwarf Crow.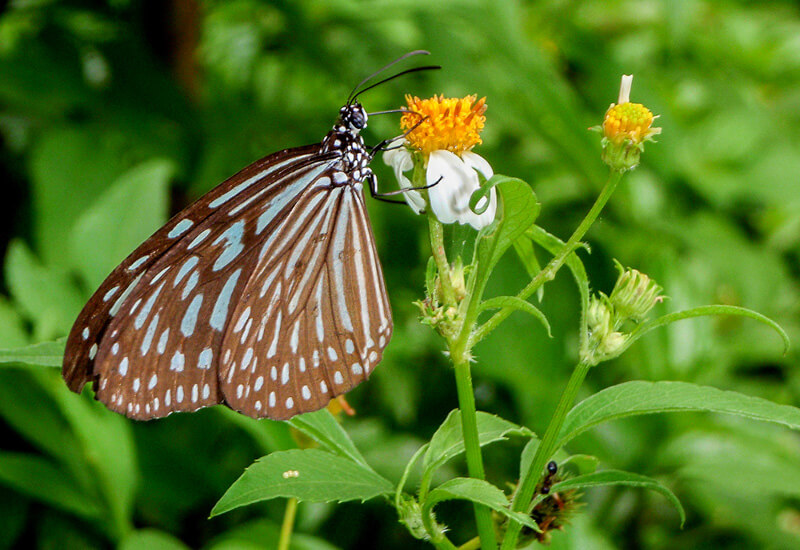 Pekan Quarry
Pekan Quarry is the nearest quarry from the Main Village. It is home to various animals, such as herons. I really love the reflections of the trees on the lake.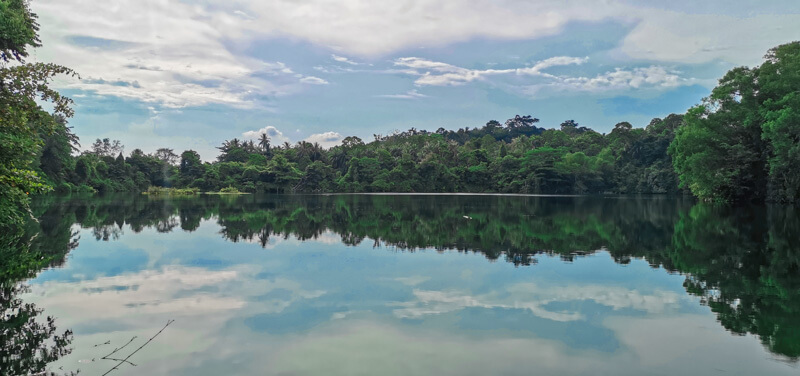 Ubin Quarry
Ubin Quarry is located in the western part of the island. There are 2 viewpoints for Ubin Quarry.
The first one is at the west of the quarry; a trail branches out from Jalan Endut Senin. From here, the view is pretty limited due to thick vegetation and the barrier.
The second one is from Puaka's Hill, at the east of the quarry. This is the better viewpoints of Ubin Quarry but a hike is required. See the following point.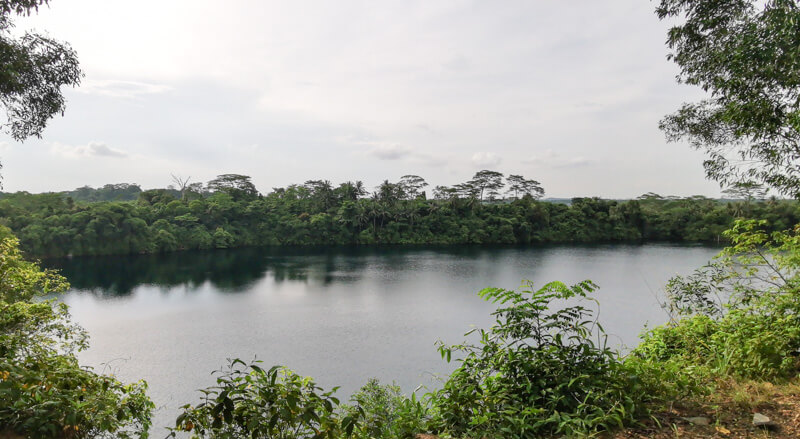 Puaka's Hill
No pain, no gain! If you aren't willing to put up with the strenuous hike to the top of Puaka's Hill, you won't get to enjoy the breathtaking view of Ubin Quarry and Malaysia!
At 74m high, Puaka's Hill is the highest point of the island. Safety barricades are installed along the edge of the cliff, so if you are short like me, it's difficult to get a bird's eye view of the quarry. Nevertheless, the view is really worth the hike.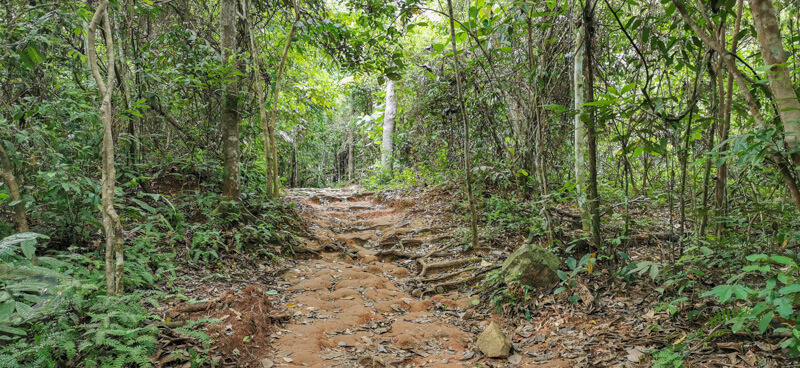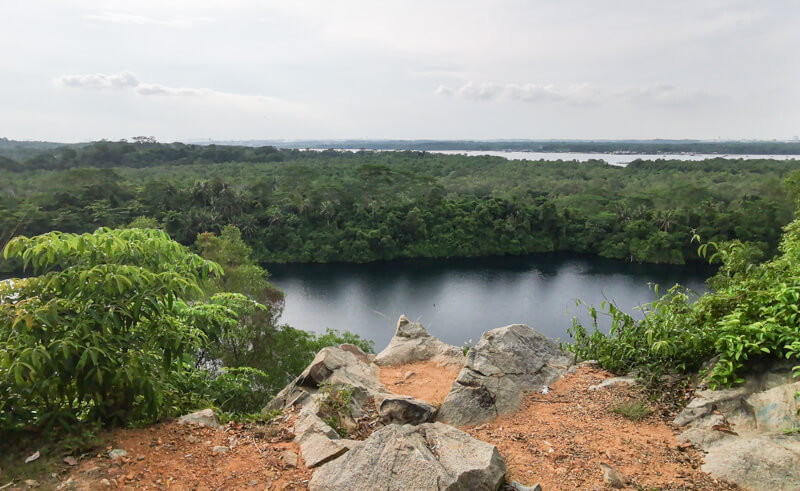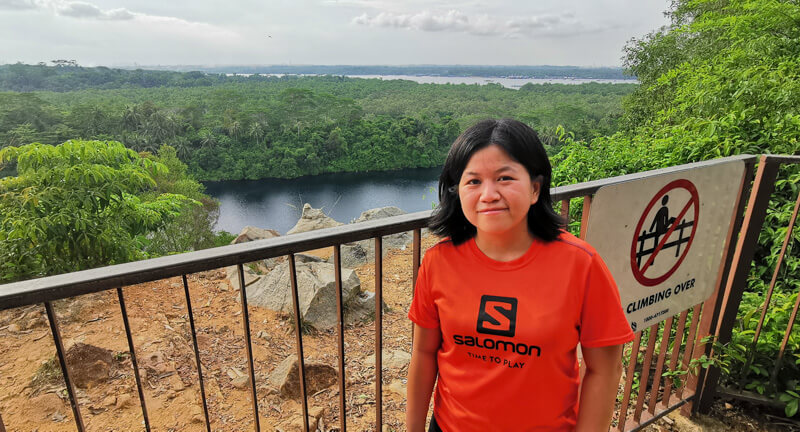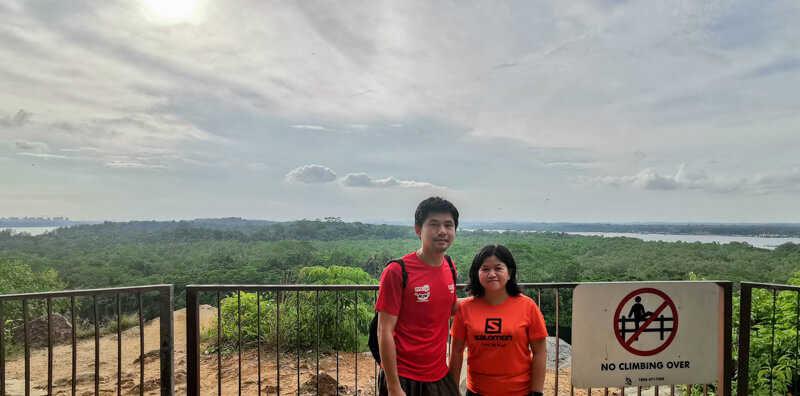 Wei Tuo Fa Gong Temple
Located near Ubin Quarry and Puaka's Hill, the Wei Tuo Fa Gong temple is at least 80 years old.
Inside the temple decorated with prayer flags, there are multiple shrines dedicated to different gods, like Datuk Gong hillside spirits, Hindu gods and Buddha.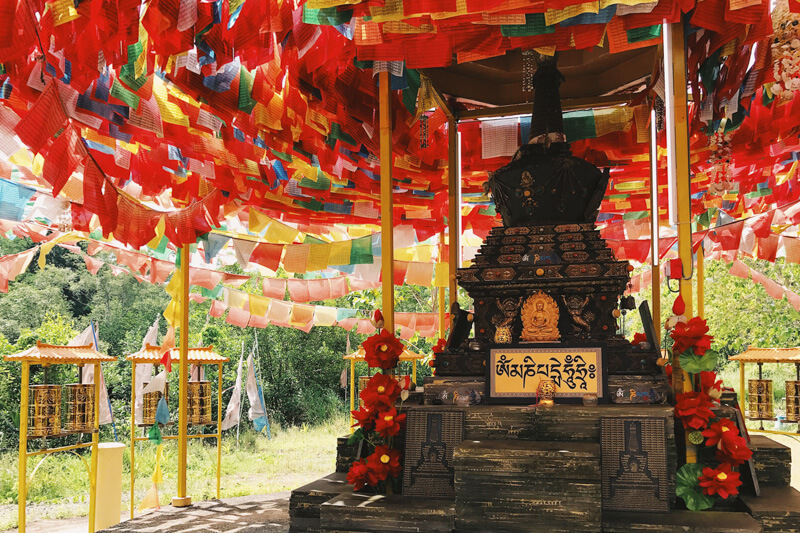 Na Du Gong Shrine
Na Du Gong Shrine is a small shrine located along Jalan Endut Senin near the entrance of Puaka's Hill that is dedicated to Datuk Gong.
Ketam Quarry
Located at the west of Pulau Ubin, Ketam Quarry used to be called Aik Hwa Quarry, which was the last quarry closed in May 1999.
From 1964 to 1999, Aik Hwa Quarry was supplying about 30 to 40% of Singapore's granite demand for construction works.
Now, Ketam Quarry is a tranquil reservoir.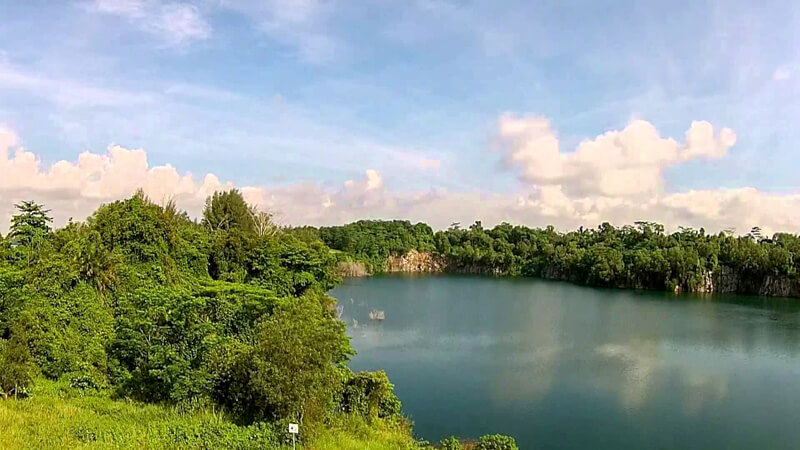 German Girl Shrine
German Girl Shrine is a shrine dedicated to an 18-year-old German girl who was believed to fell off a cliff to her death while trying to escape from the British military during the World War 1 in the 1910s.
Her body was discovered by plantation workers and then buried at the crest of the quarry's hill.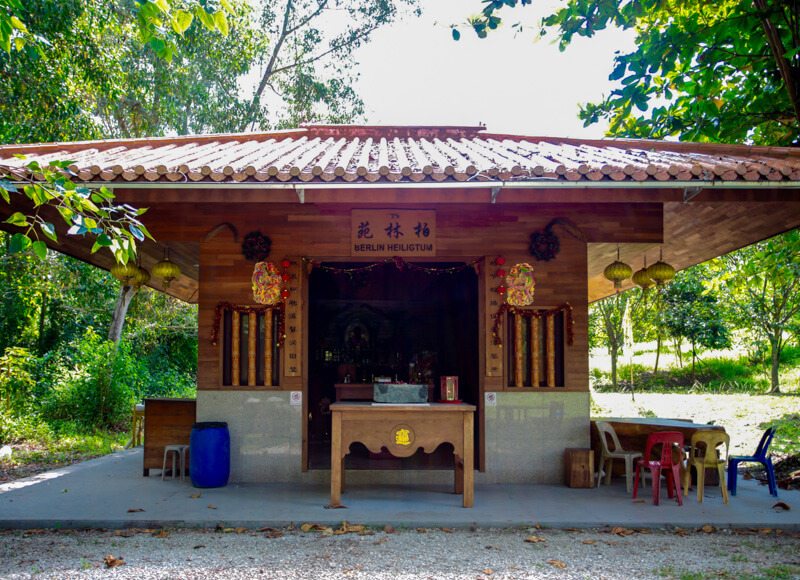 Fishing
Hey, anglers, if you're bored of fishing in Singapore, try fishing at Pulau Ubin. It's said that you can find mangrove jack, stingray and leatherjacks here.
But, please remember that fishing is not allowed at the quarries 🙂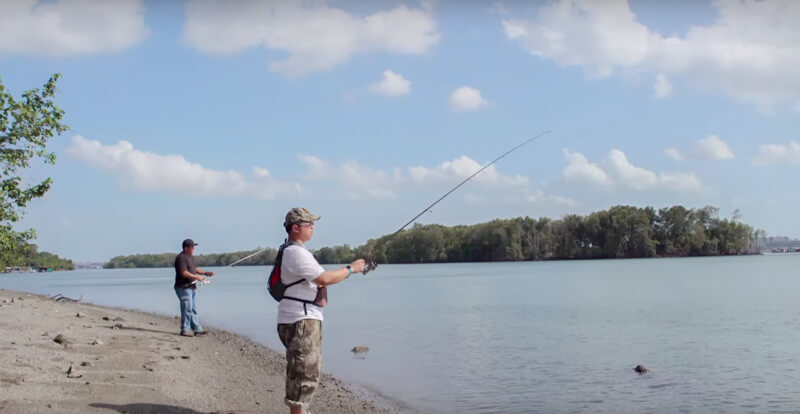 Camping
I swear, camping in Pulau Ubin is so much fun than camping in Singapore.
Here are why: the campsite is not crowded (it's possible that you're the only one at a particular campsite) hence the camp will not be noisy, you may not have cellular networks, there's no shower facilities on the island.
In other words, it feels like camping in the wild!
So, how to do camping in Pulau Ubin?
First, bring your own tents, sleeping bags, snacks and drinks. Then, make your way to your chosen campsite and set up your tent.
Don't set up your tent too late, otherwise it will get dark before your tent is set.
If your group is more than 40 people, advance registration is necessary.
Here are the camping sites in Pulau Ubin:
1. Jelutong Campsite

Located near Main Village, Jelutong campsite is just 6 min walk from the jetty. This site is suitable for campers who love to be near civilization.
2. Mamam Campsite

Located at the north of the island, Mamam campsite is 2.3km away (about 28 mins walk) from the jetty.

Personally I've camped only at Mamam and I love it so much. I love waking up to the sea view (with Malaysia in the background).
3. Endut Senin Campsite

Located near Ubin Living Lab, Endut Senin campsite is 2.5km away (about 30 mins walk) from the jetty. No unobstructed sea view here, but beautiful pond and river.
If you love campfire, these 3 campsites have its own designated campfire pits so bring along lighters if you want to start a fire.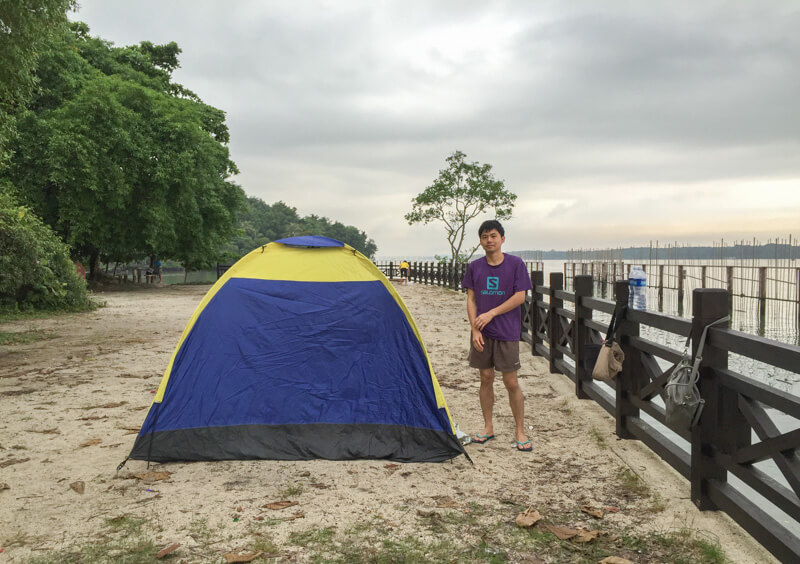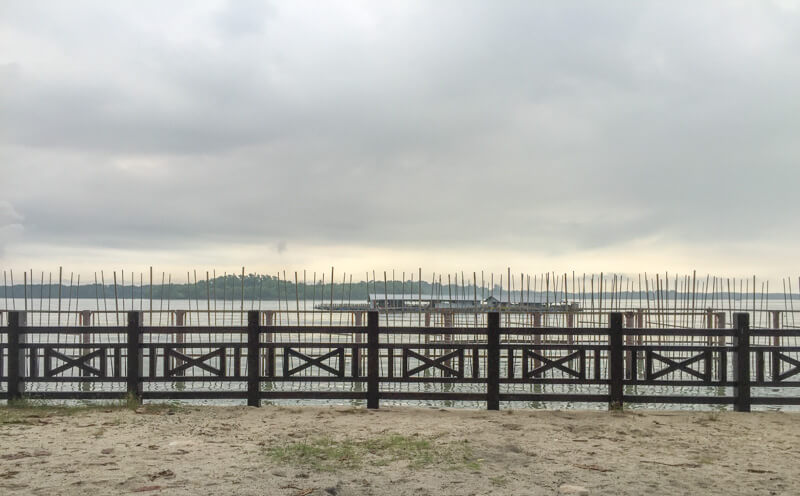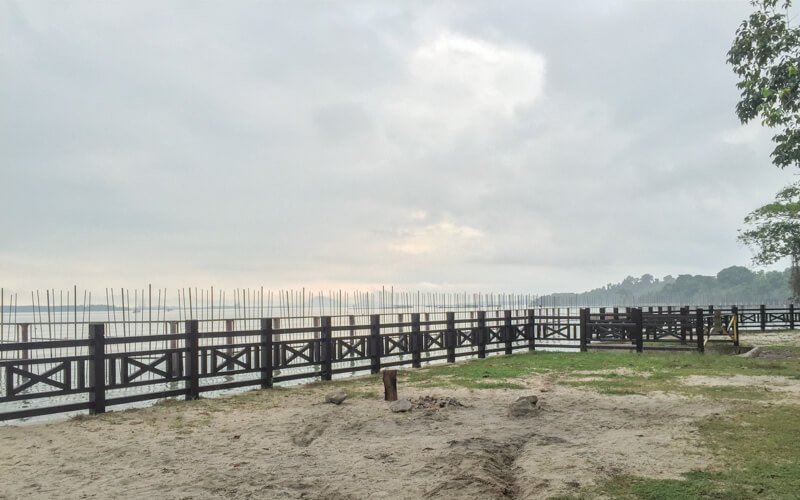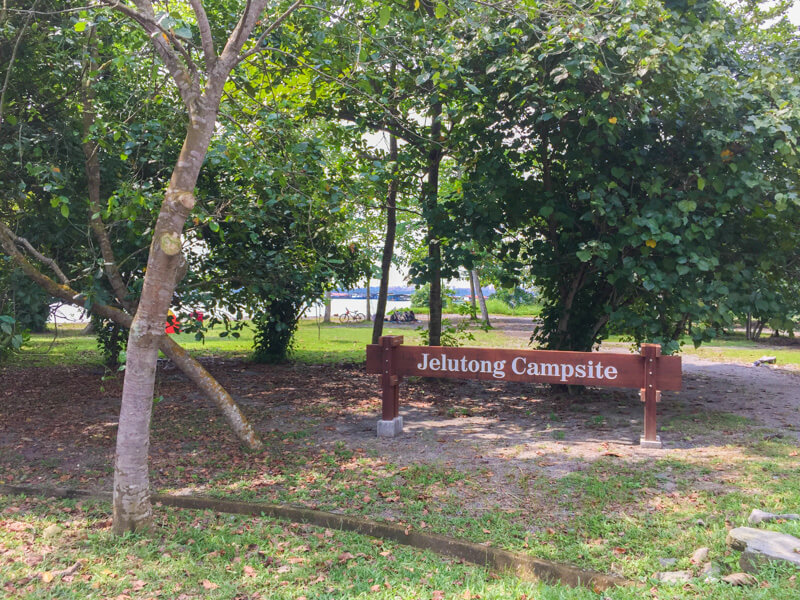 Kayaking
Kayaking amidst the mangroves is one of the items in my Singapore bucket list that I haven't crossed yet (I will, one day!!).
If you're interested to do kayaking in Pulau Ubin, you CAN'T just turn up and look for kayak provider. Instead, you need to book in advance. Slots are limited so it's better to book early.
So, what to expect during kayaking in Pulau Ubin. Here are some ideas.
Kayak through the calm water among the mangroves
Spot wildlife, such as birds (kingfishers, eagles, hornbills, herons), otters, fish (pink dolphin if you're lucky).
Enjoy beautiful view of Singapore's wilderness that not many people had the chance to experience.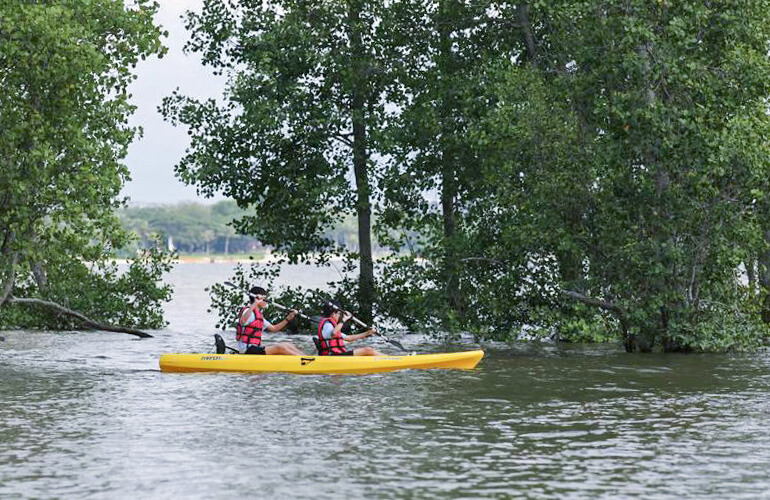 Join NParks-Organised Tours
NParks, the National Parks Board of Singapore, organizes tours all the time. Some of them are free and some are paid.
Basically, there are 2 types of tours:

1. Walking tours (look under "Events" and you'll find tours such as kampong tour, photography tour, bird-watching tour, etc)

2. Intertidal flat tours (conducted during low tide so you can see the marine life).
How to get around Pulau Ubin
1. On foot
Yes, you can literally explore the island on foot, either by jogging or walking. To be honest, if you plan to explore the island by walking, one day is not enough to soak in all the beauty.
2. Bicycle
It's possible to explore the island in one-day if you're planning to cycle your way. It's the most popular choice among visitors and there are plenty of bicycle parking places around the island.
There are many models to choose from, the price depends on the model you choose. There are also double-seater bicycles.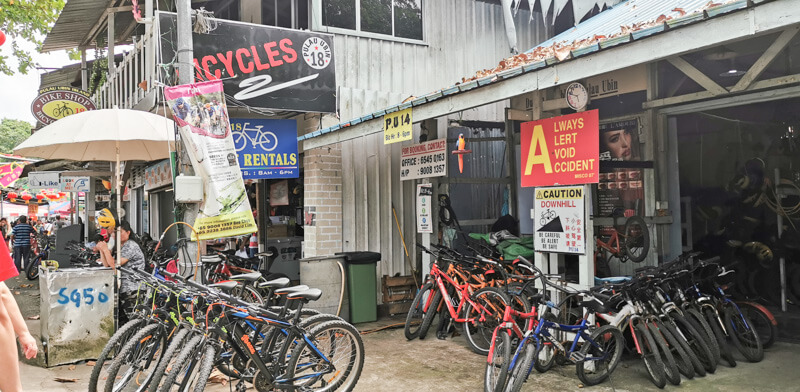 3. Pulau Ubin Taxi
You can hire a local taxi in Pulau Ubin (well it's actually a van) to bring you around the island. A taxi van can accommodate 10 people.
Price changes all the time and depends on the journey, so it's best to discuss with drivers first. You can use the taxi van for one-way trip, multiple-stop trip, or per-hour booking.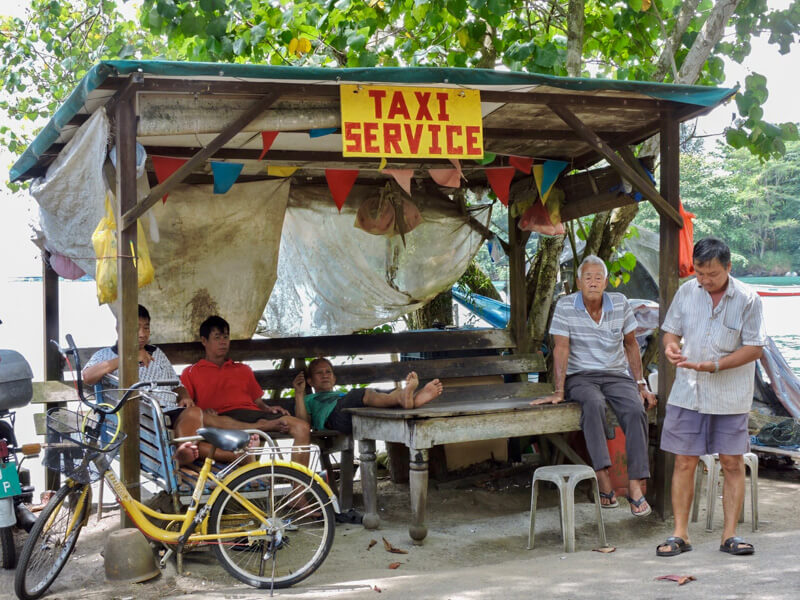 What to Eat and Drink in Pulau Ubin
Buying food and drinks from Pulau Ubin residents is one of the many ways to support the local. Do take note that the shops in Pulau Ubin close early, like 5pm or 6pm early.
Here are some food and drink shops in Pulau Ubin. PS: all the opening hours and opening days are not fixed and subjected to owner's decision.
1. Melah Cafe / Pak Ali's Coffeeshop / Encik Hassan's shop
Located just beside jetty, this shop is the only Muslim shop on the island. They sell Malay dishes, such as nasi lemak, lontong, mee rebus, mee siam, etc. Opening hours: 6.30am to 3pm (weekends only).
2. Cheong Lian Yuen
On the way from jetty towards main village, you'll see Cheong Lian Yuen on your right. It's easy to miss out Cheong Lian Yuen because it's surrounded by various bike rental shops.
This food establishment sells zi char dishes and seafood. Opening hours: 9am to 6pm (closed on Wed & Thu).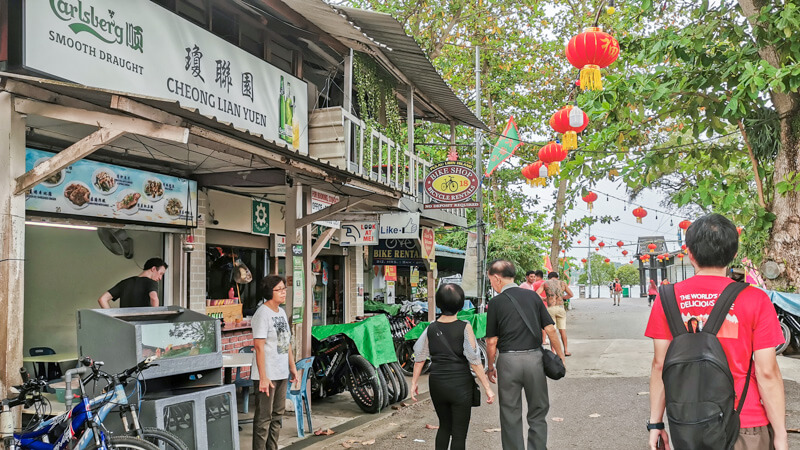 3. Sin Lam Huat
Located along the same row of shops with Cheong Lian Yuen, Sin Lam Huat sells seafood and traditional coffee and tea. Opening hours: 1.30pm to 5pm (approximate).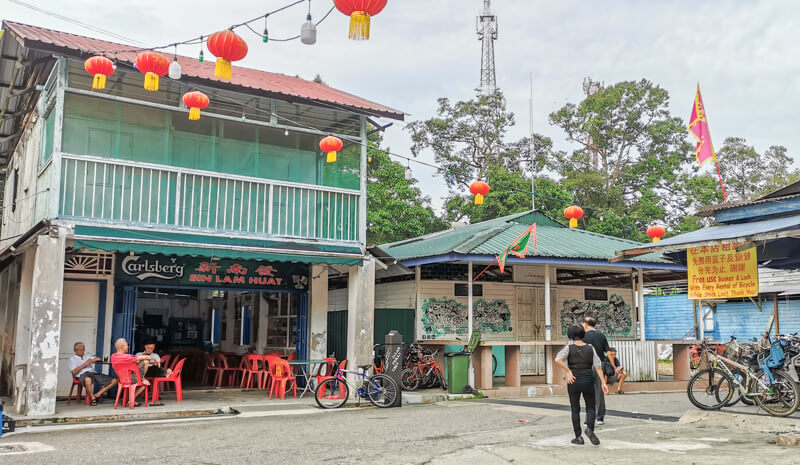 4. Season Live Seafood
Season Live Seafood is an open-air restaurant with sea view facing the Ubin Jetty and mainland Singapore. They sell seafood and the usual Zi Char dishes.
Opening hours: 8.30am-5.30pm (weekdays), 8.30am-6pm (weekends), closed on Tuesdays except Public Holidays (If PH is on Tues, they will close on Wed).
Beside the restaurant, there's also a small provision shop where you can buy snacks, bottled water, canned drinks and ice cream.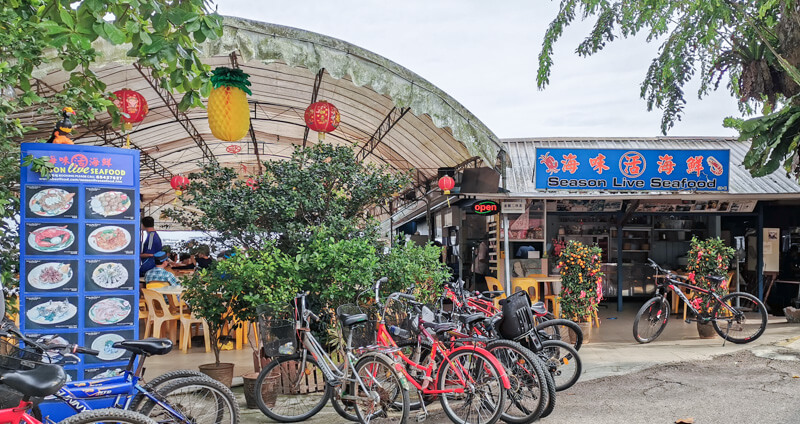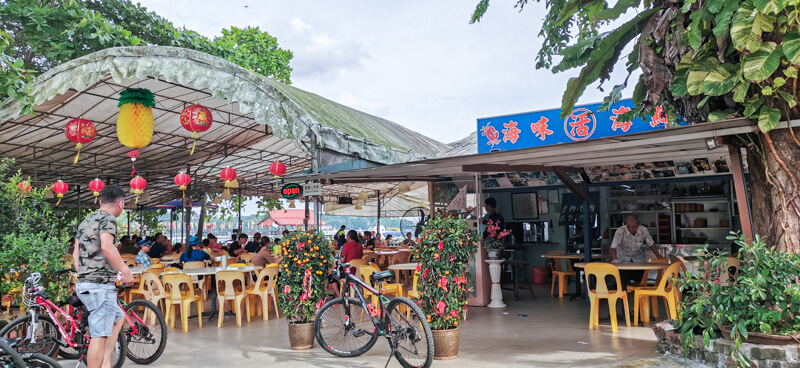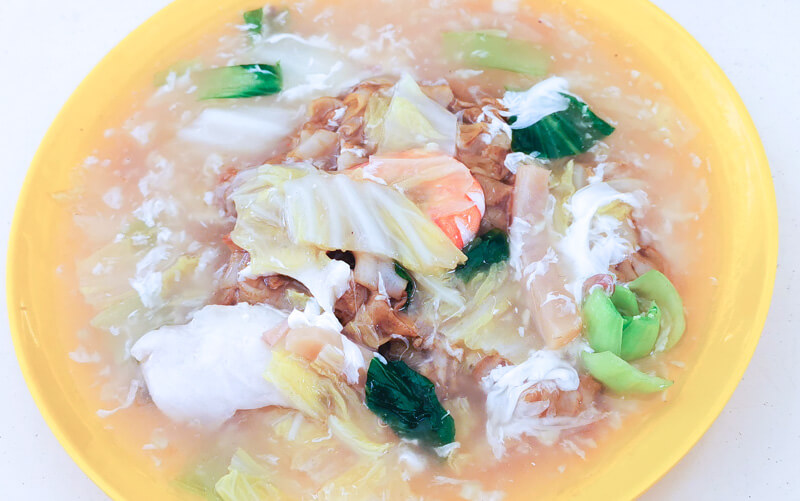 5. Ah Ma's Drink Stall
When you're heading to Ubin Quarry from Main Village, you'll definitely pass by Ah Ma's Drink Stall that's located near Jelutong Bridge.
Madam Ong and her daughter sell coconut and canned drinks on weekends and public holidays, from 9am to 5pm.
6. Warung Pak Ahmad (Pak Ahmad's Drink Stall)
Pak Ahmad's drink stall is easily noticeable due to the sheer number of potted plants and eye-striking colorful banners.
Pak Ahmad sells coconut and canned drinks but there's no fixed opening time. I have never had the chance to drink at this stall because it was always closed when I visited.
This stall is located at the halfway road between main village and Chek Jawa.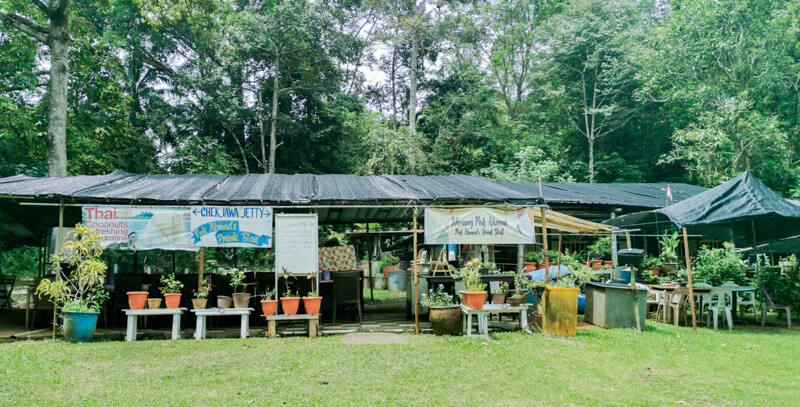 7. Chew Teck Seng Provision Shop
Located at the Main Village, Chew Teck Seng sells coconut with ice cream, ice kachang, snacks and canned drinks. It's open from 8am to 12midnight and closed on Wed and Thu.
8. Yak Hong Provision Shop
Also located at the Main Village, Yak Hong sells snacks, coconut, canned drinks and stuffs like hats, mosquito repellent, etc. It's open from 7.30am to 9.30pm and closed on Thu.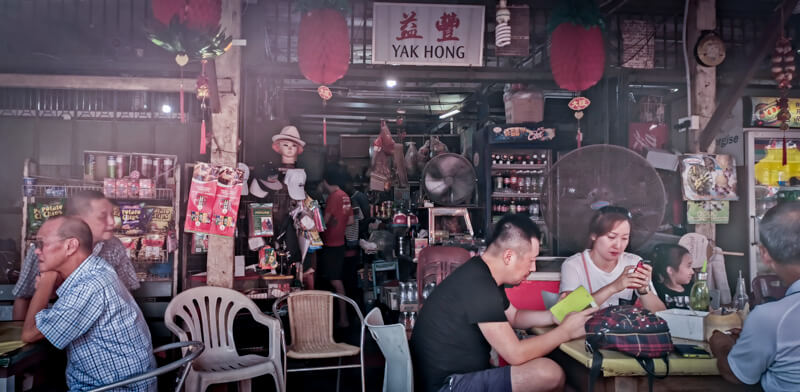 Pulau Ubin Unique Encounters
Here, I'm listing down encounters that I personally think unique, for your reading and viewing pleasure.
1. Wild Boar
We witnessed a group of wild boar crossing the road! They were literally running so fast, I was taken aback. It was a big group of boar.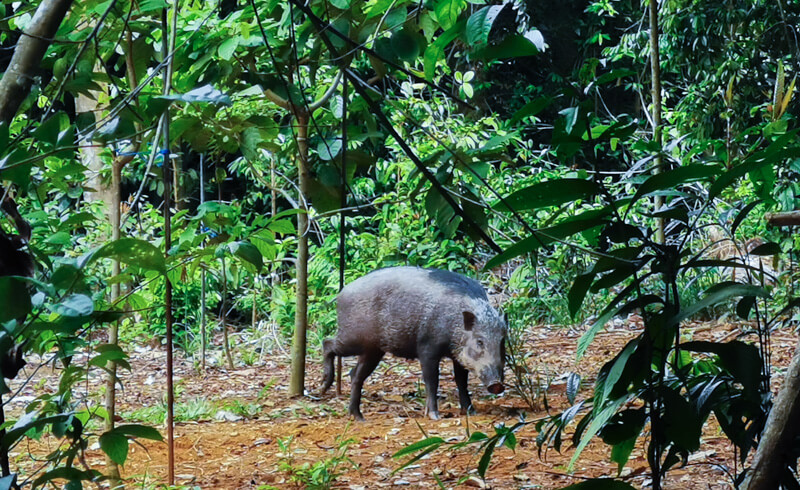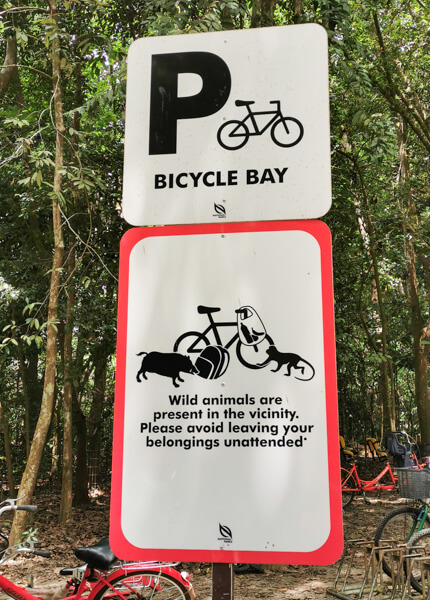 2. Giant Tree
There are lots of trees in Ubin and this one caught my eyes.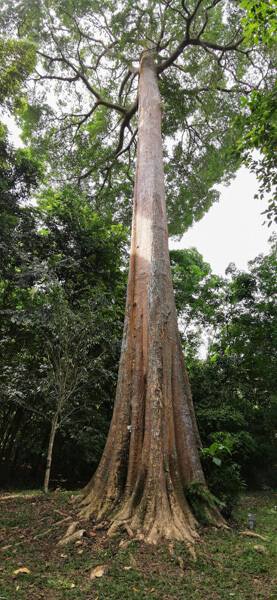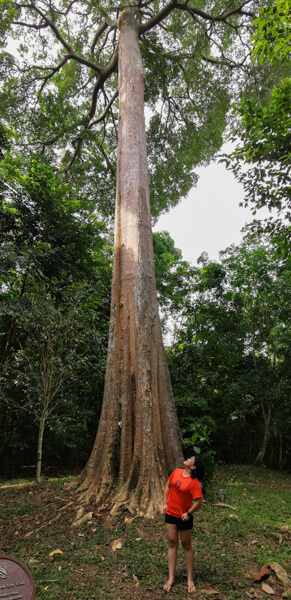 3. Mailbox
Want to send yourself a postcard? Lucky you, there's mailbox near the jetty.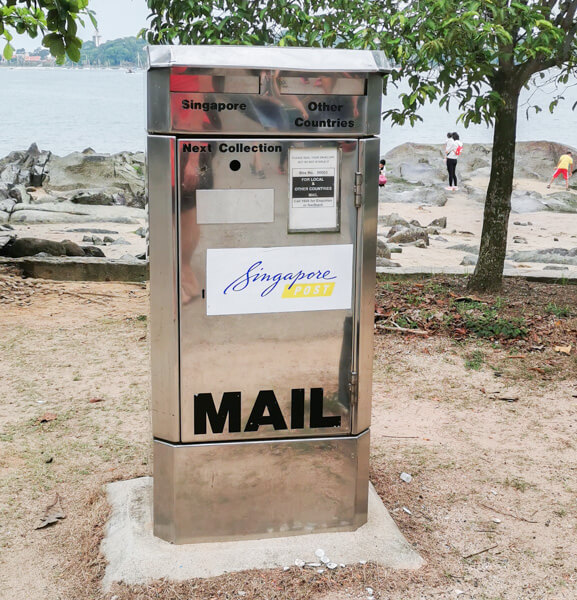 Other Information
There is NO resort in Pulau Ubin as of June 2019. In the past, there was one called Celestial Resort, however, it had awful reviews from customers. The resort is now closed.
There are public toilets all over the island, however, there is no public shower facilities. So, if you're planning to camp, don't bother to bring shower equipment.
NParks (National Parks Board) has a useful website about Pulau Ubin.
Every year, there is Friends of Ubin Network (FUN) organizes Pesta Ubin, an event that brings people to the island through the many activities and celebration. If you're going to visit the island during mid of the year, check Pulau Ubin's page to find if there's any activities that you'd like to be a part of.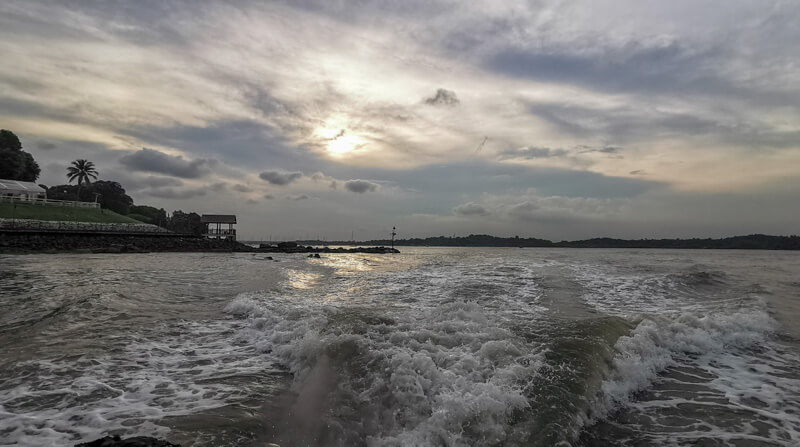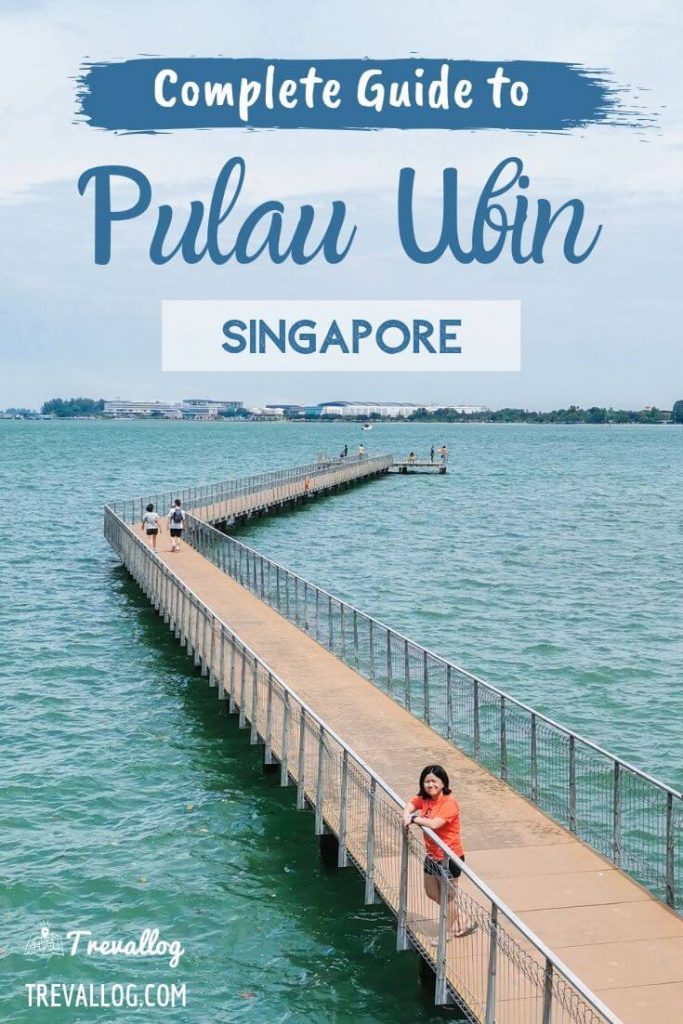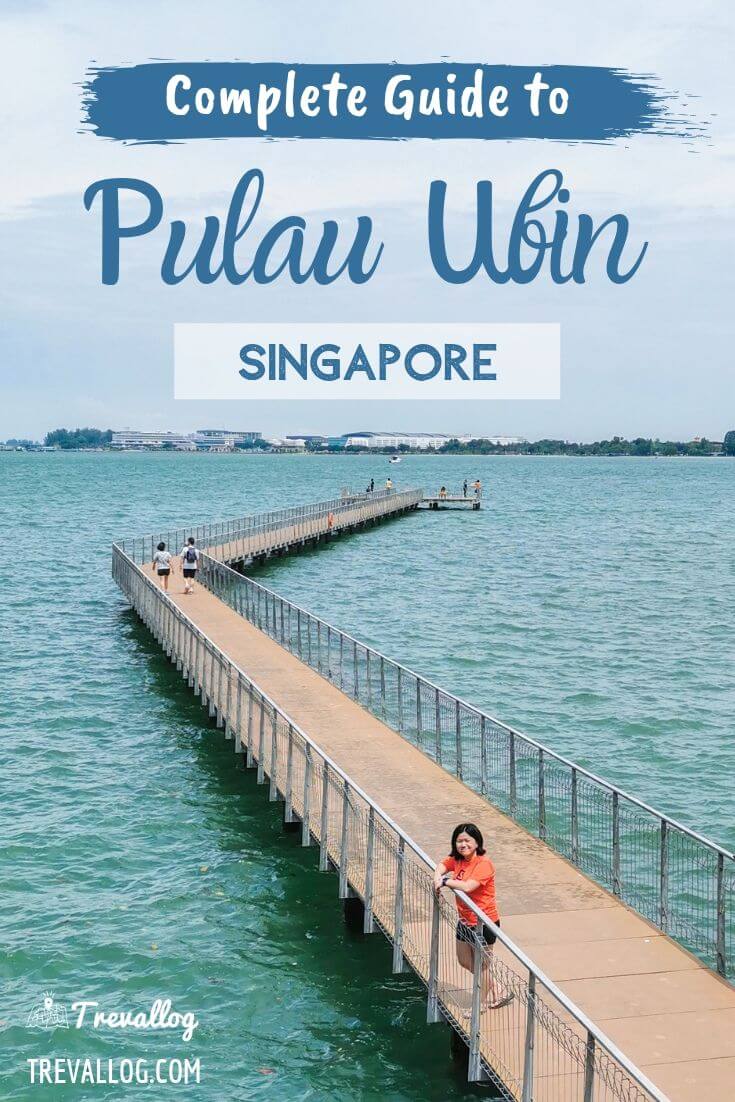 Want to be the first to know whenever I post new articles and videos? Join my Telegram Channel and you'll get new post alerts sent directly to your phone.