Welcome to my travelogue series, in which I share my travel diary the old-fashioned way, recounting where I went, what I did, what I ate, how much I paid, what I felt, etc, in a sequential order.
Having been stuck in Singapore for 2 years and 3 months, I was so happy when I heard the news about the reopening of Malaysia and Singapore's border in March 2022. Both countries announced they will be re-opening on 1 April 2022.
The part that I love most about this reopening is that, people who cross the land border don't have to do art/pcr tests, quarantine, or even buy insurance. That means, day trip is now possible again! YAY!
After a 2 years hiatus, I'm so itching to travel again. But, due to work commitment, we can't take long trips yet. So, in the meantime, we decided to cross the land border from Singapore to Johor Bahru on a day trip.
Preparing the trip
Travel in the new normal means there are a lot of paperwork and logistics to be prepared before departure. Fortunately, due to art/pcr exemption, the logistics for land crossing is much simpler than air travel.
The first thing we needed to prepare was downloading MySejahtera app and verifying our vaccine certificate. The downloading and registering for a new account is quite simple. The verification of vaccine certificate is headache-inducing.
For me, I followed the steps mentioned in the Malaysia govt website. It says visitors have to verify vaccine cert. I filled up my particulars and uploaded my vaccine cert QR code, but I didn't hear anything back for more than a week. Then, I tried another method, which is via HelpDesk for Overseas Vaccination. Two days later, my vaccine status was verified on the app and I also received a confirmation email. Phew!
After MySejahtera was settled, the next step was to submit Malaysia's digital pre-departure form via MySejahtera App > Traveller > Travel for "Your Name".
Next, we had to fill up the online SG Arrival Card (SGAC) with Electronic Health Declaration, which can only be done 3 days before arrival. (Note: From 15 April 2022, vaccinated Singapore Citizen, Residents and Pass Holders will no longer need to fill up SGAC when they cross the land border, other short-term visitors to Singapore via land still need to fill).
We decided to go to JB by bus because it's the cheapest and simplest way. In the early April 2022, only 3 buses were available for land border crossing, namely: Transtar VTBS, Causeway Link VTBS and Causeway Link Cross-Border Shuttle. (Note: From 1 May 2022, these 3 buses will become defunct and the normal border buses will start operating as usual, refer to this post for the latest detail on buses to JB).
We decided to take the Cross Border Shuttle, because it's the cheapest (only $2 from SG, and RM2 from JB). Shuttle ticket must be purchased on the bus, so we didn't have to pre-book the ticket.
Another thing we had to settle before the trip was purchasing the attraction ticket. We wanted to visit Skyscape, so we purchased the ticket online in advance, to avoid having to queue at the attraction.
The border crossing
We didn't want to travel on the first weekend after reopening for the fear of being stuck with a big crowd. We decided to traveled on the second Sunday after the reopening, which was 10 April 2022.
Our border crossing journey from SG to JB was really smooth! The traffic from SG to JB on Sunday morning was very light.
The entire crossing took less than 1 hour. Here's the actual timeline:
9.16am: Arrived at Woodlands Bus Interchange
9.19am: Boarded bus 903
9.38am: Alighted at Woodlands Train Checkpoint and walk to immigration
9.47am: Cleared SG Immigration
9.50am: Board Causeway Link Border Shuttle
9.55am: Alighted at JB immigration
9.59am: Cleared JB Immigration
Pro-Tip: Prepare cash in advance because the shuttle only accepts cash (either SGD or RM is fine).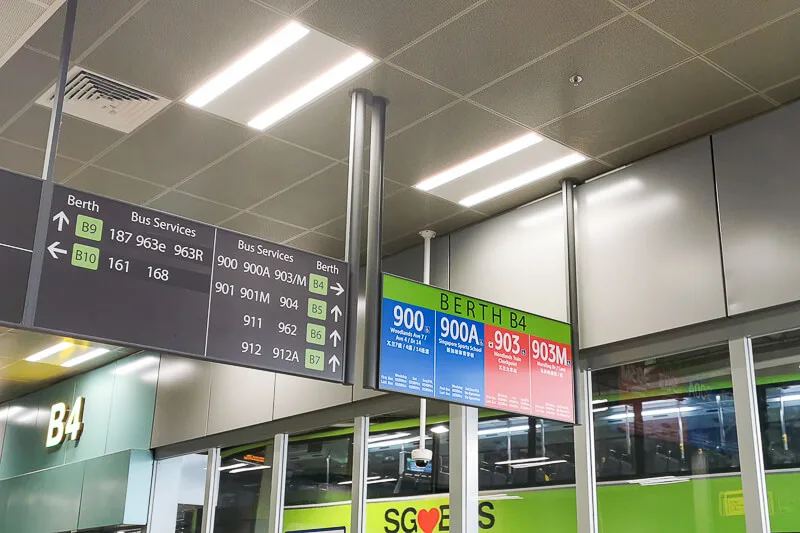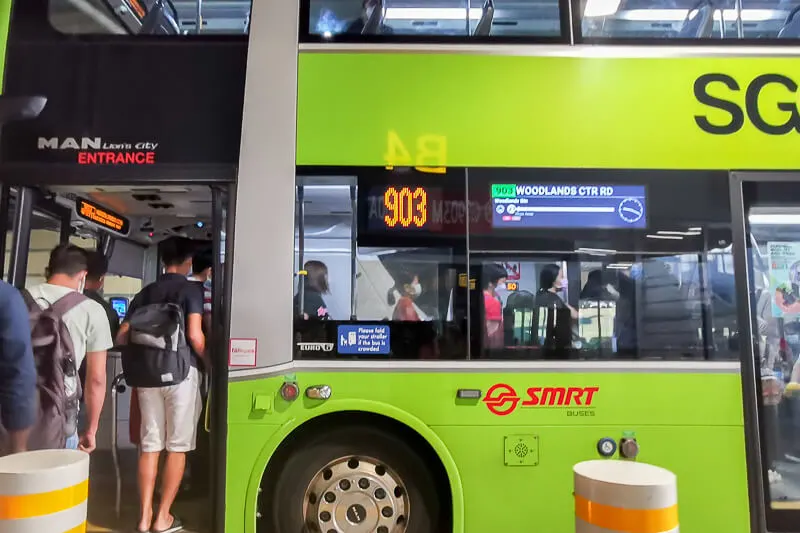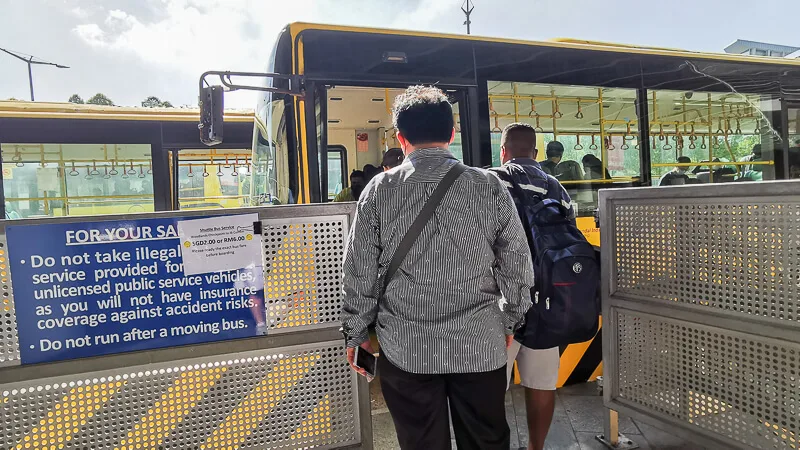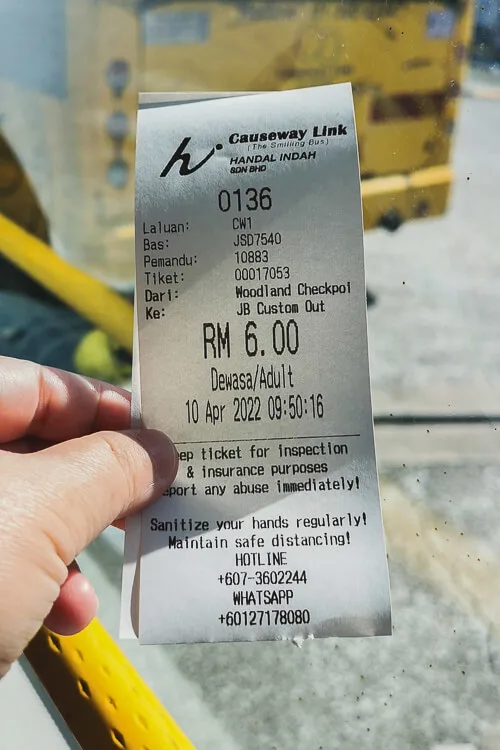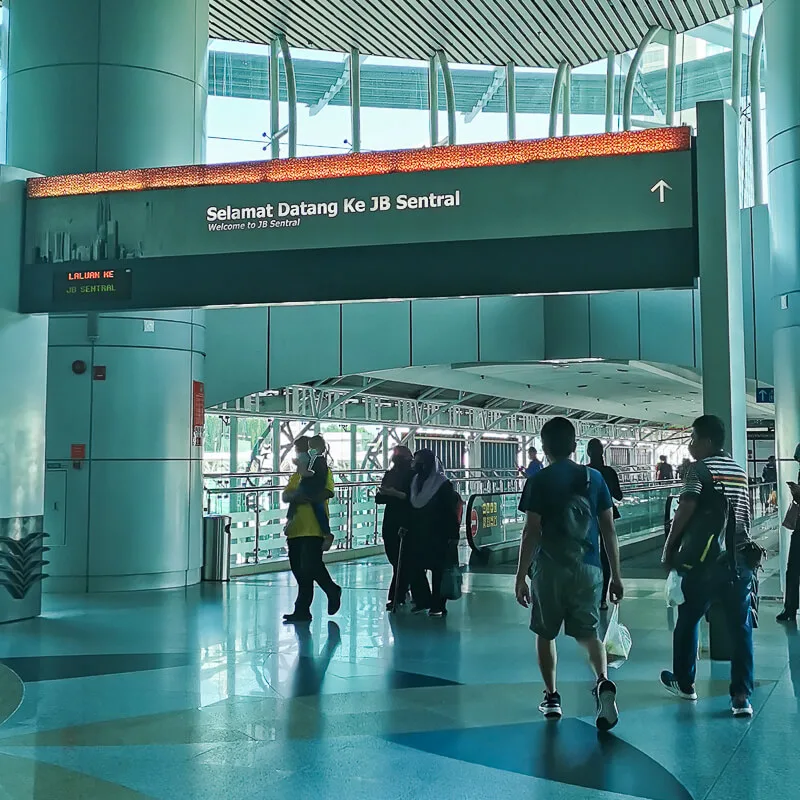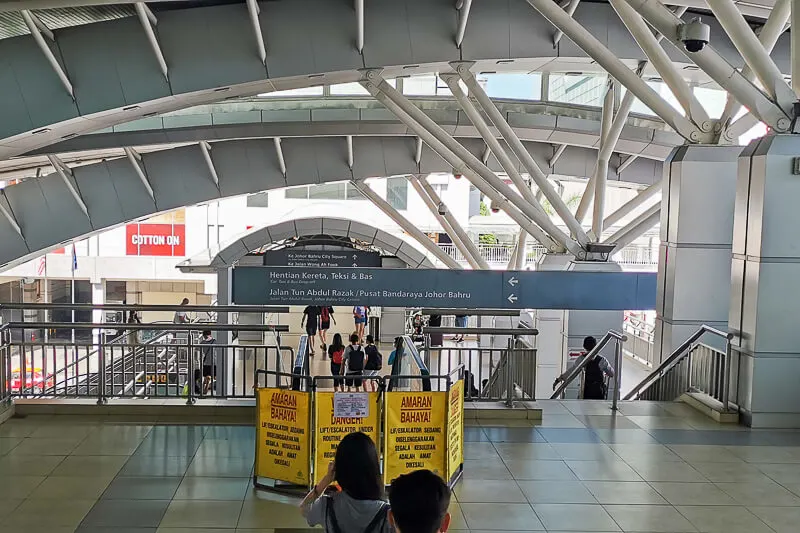 Skyscape at Menara JLand
Our first destination of the day was Skyscape Johor Bahru. We were worried that there'll be a long queue to enter, so we decided to go there first to book our slot. Well, turned out it was a very quiet day at Skyscape. We only saw 1 other couple.
I won't go into details about Skyscape because I had written thousands of words on it, and I even have posted a Skyscape video on Youtube. So… here are photos of me at Skyscape!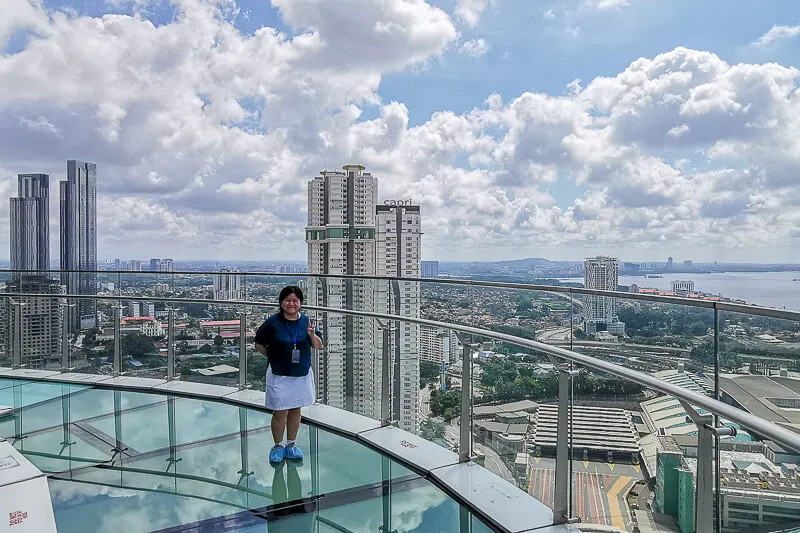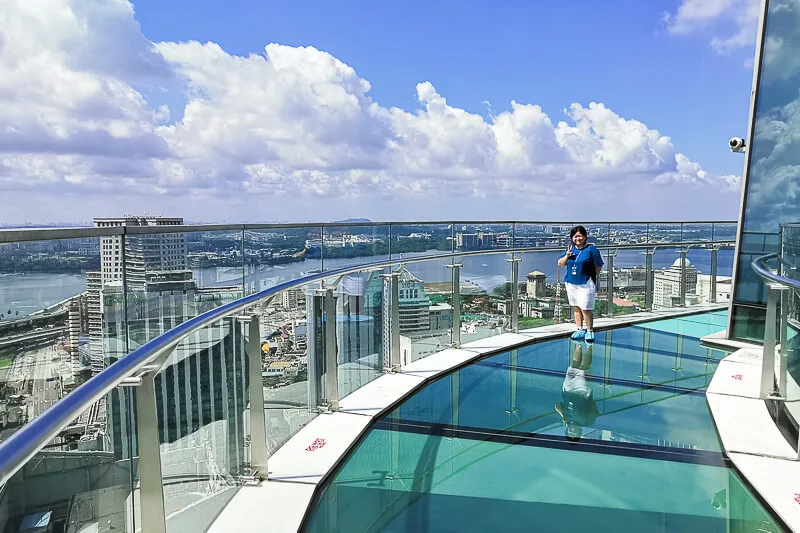 Lunch at Kam Long Ah Zai Restaurant (Curry Fish Head)
Done with sightseeing, it's time to fill our tummy. We walked from Skyscape to Kam Long, only to find that a snaking queue has already formed! It was lunch time anyway, so we braced the heat and queue for half an hour.
When we were at the front of the queue, the owner asked if we wanted fish meat, and we said yes. Even though the menu only list fish head and fish tail, apparently they also sell fish meat (aka fish steak) with the same price as fish tail.
After getting seated, our food took 15 mins to come. It was boiling hot, the bubbles were still popping! The fish steak is really meaty. It was such a satisfying dish.
We didn't order any drink because they only sell pre-packaged drinks, which we were not a fan of.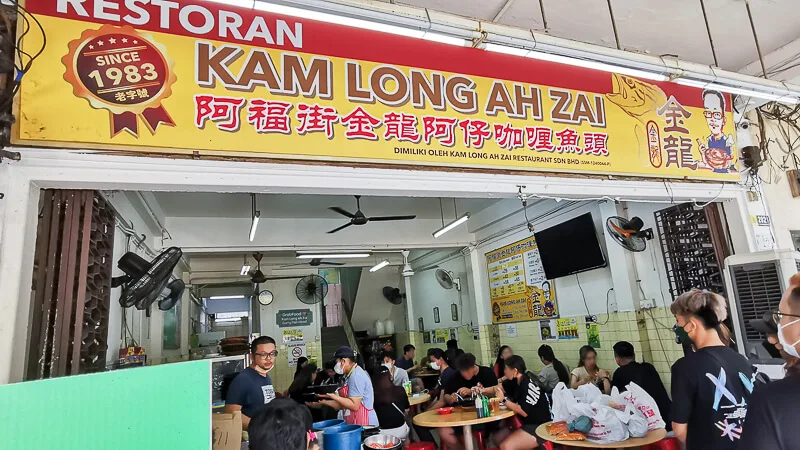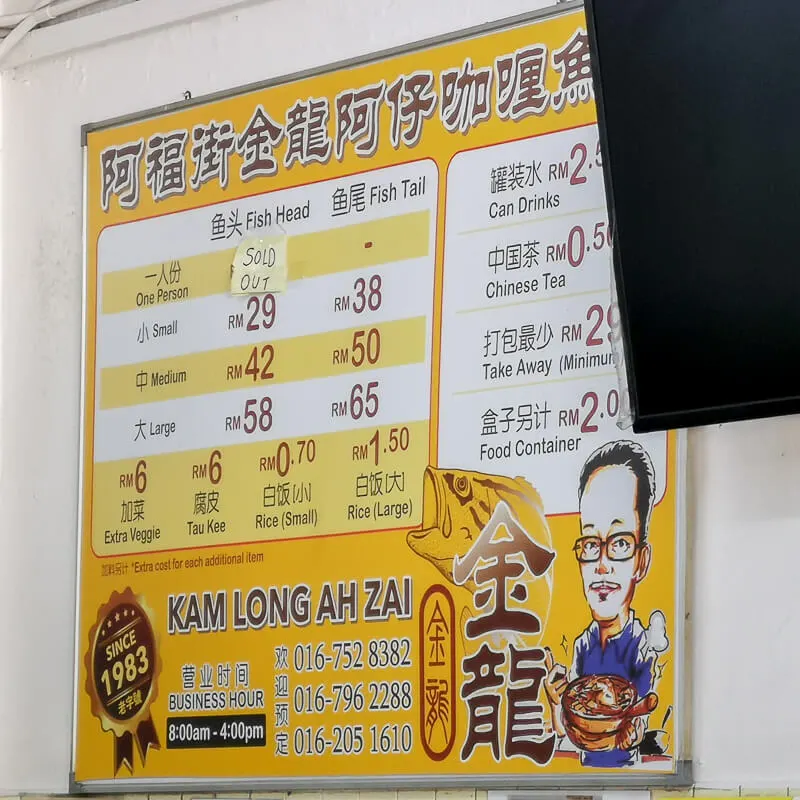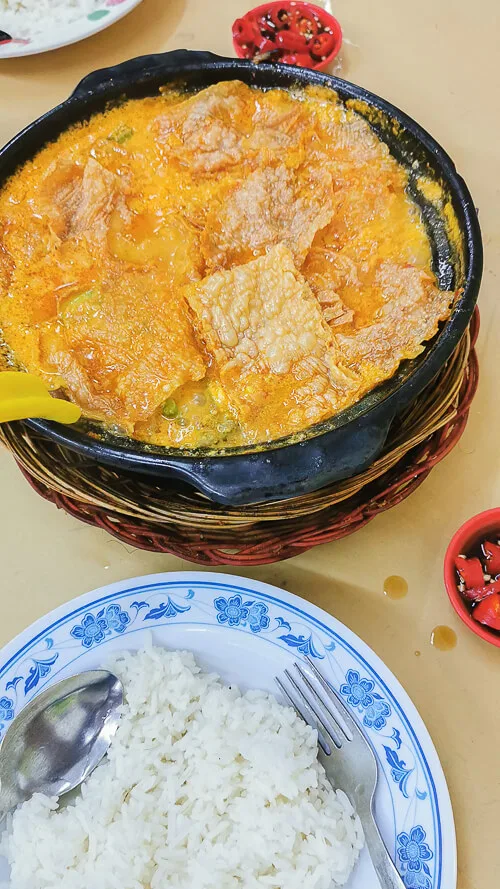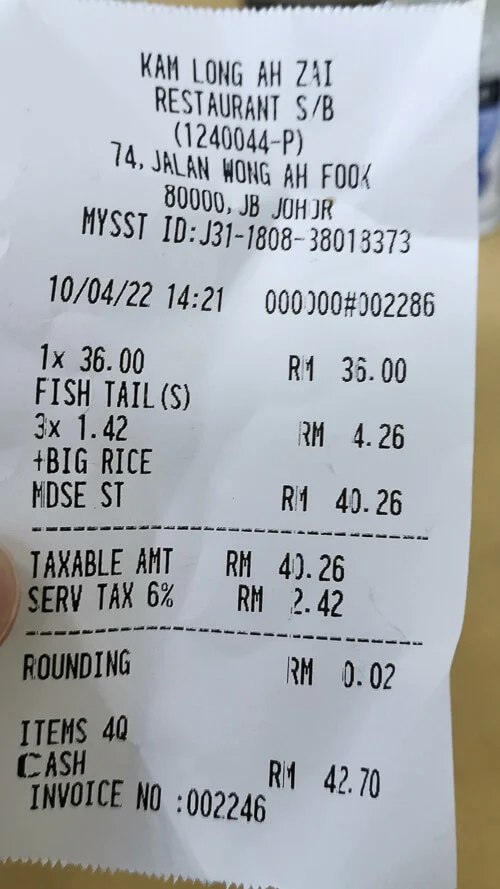 Visiting City Square
After lunch, we walked to City Square to do the usual mall activities. Firstly, we walked around the malls looking for massage places. It's been more than 2 years since we last had a massage.
We arrived at Thai Odyssey only to be told that they're fully booked for the day. It sounded unconvincing because we barely see anyone or heard anything there. We later learned (after talking with other massage operators) that there is a manpower crunch for massage parlors in JB due to border restrictions, hence many parlors can't take new customers and simply said they're fully booked.
We found other massage parlors (SQ Massage and House of Traditional Javanese Massage) but both were not manned. Finally we arrived at a massage parlor that still has slot and is manned: First Care Enterprise.
The Body Massage cost RM 72 (before 6% tax) for 1 hour. The next available slot was 1 hour later, and we said okay. To make reservation, we had to make a payment when reserving.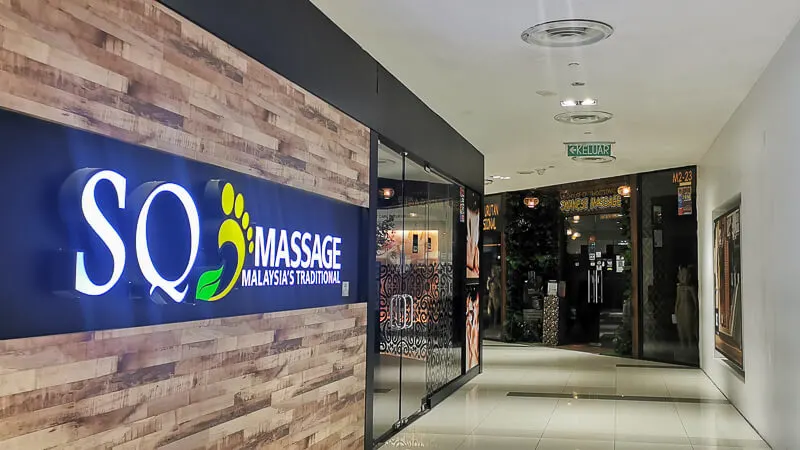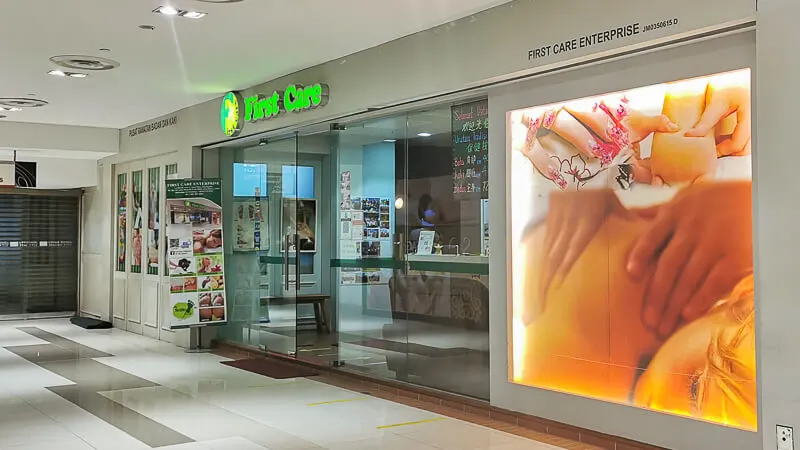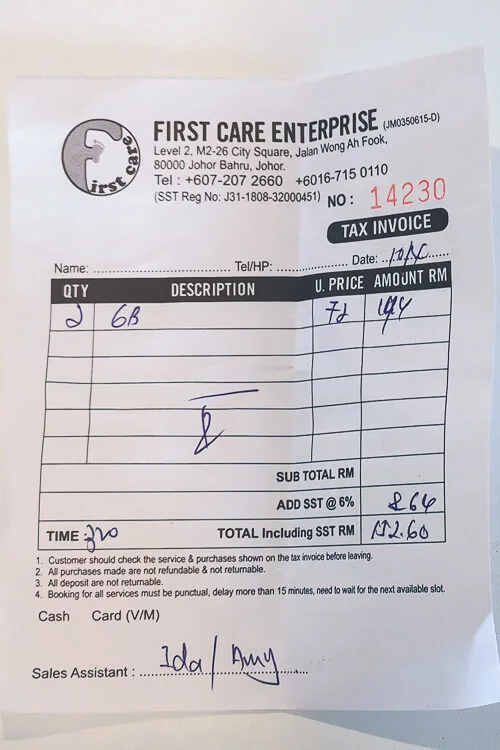 To kill time, we decided to look for drinks. Our first choice was Gong Cha, however, upon figuring out that the price is similar to Singapore's price, we decided to change venue to Coffee Bean instead. Forgot to take photo of our coffee, lol.
After coffee, we went back to the First Care massage parlor. The receptionist said the guest in front of us was late, so our massage had to be postponed by 20 minutes. We got no more energy to explore the mall, so we decided to just sit on their sofa and wait there.
The massage was okay. It's a little bit more painful than I expected, but still manageable. It wasn't mind-blowing, but it's enough to cure our massage withdrawal syndrome.
After the massage, it's time for afternoon snack.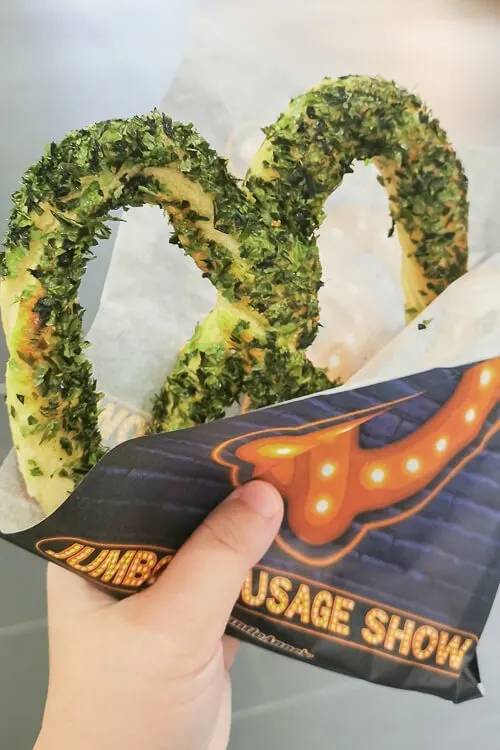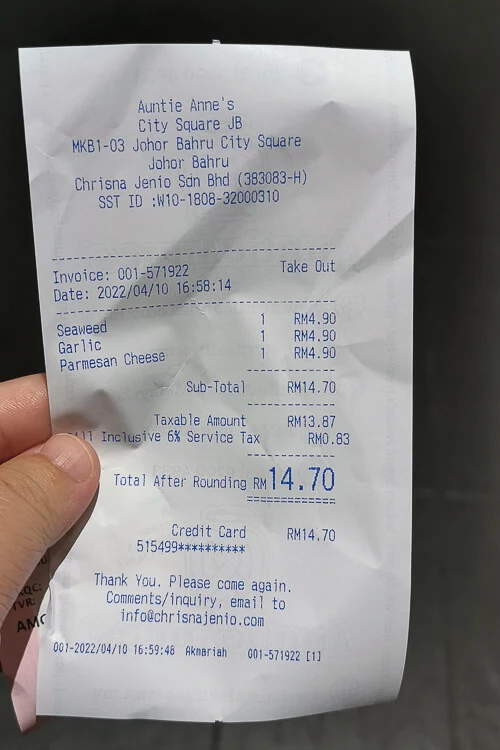 After snacking, it was already 5pm. We had to make a decision whether to go back to Singapore now to avoid the Sunday evening crowd, or to stay longer and visit a nearby mall called R&F. We didn't see any sign of human jam at the CIQ, so we decided to walk to R&F.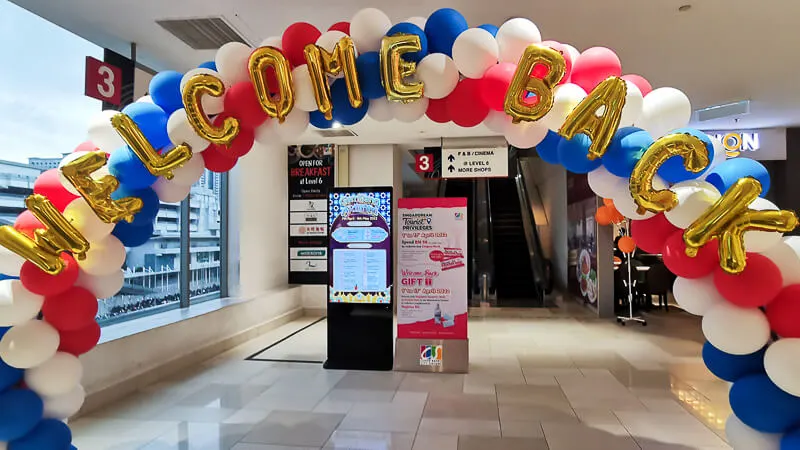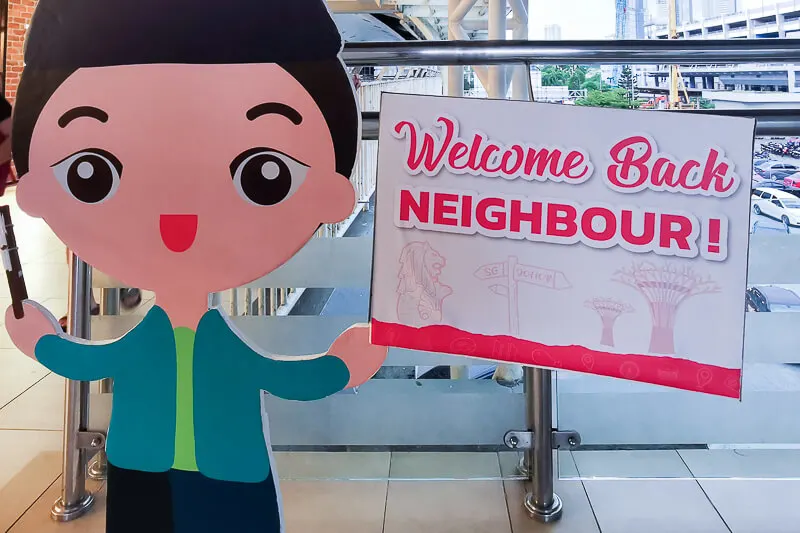 Visiting R&F
R&F is easily accessible from JB CIQ. There is an elevated walkway (about 10-min walk) that connects R&F and JB Sentral, so you don't have to walk on the road.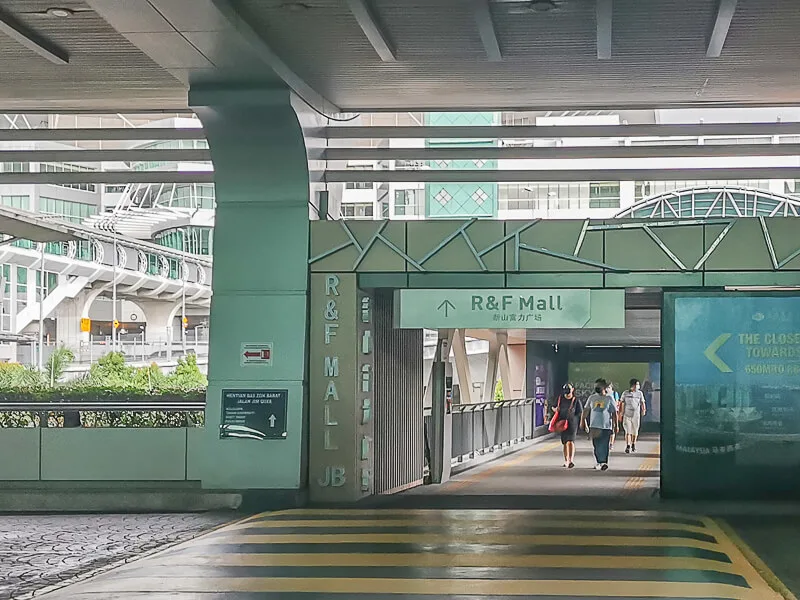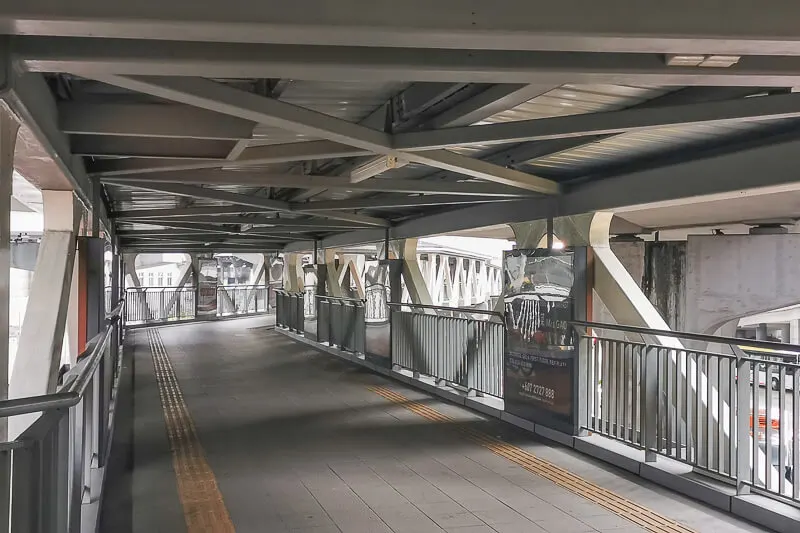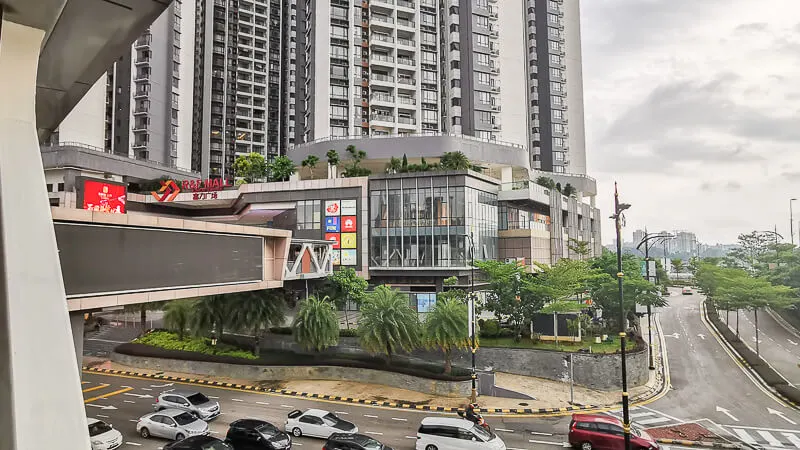 During my visit, R&F was really really quiet. It was a big development, but only 10% (I think) of the shop spaces are occupied. And, not all occupied stalls were open. In short, it's really like a ghost town.
One of the main attraction that I wanted to visit at R&F is the yacht jetty. However, it was raining hence we decided not to go to jetty and just have a dinner there.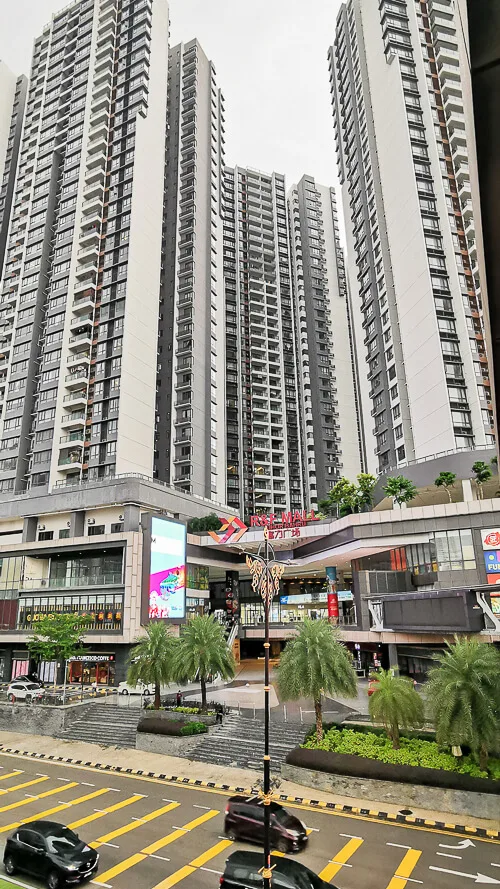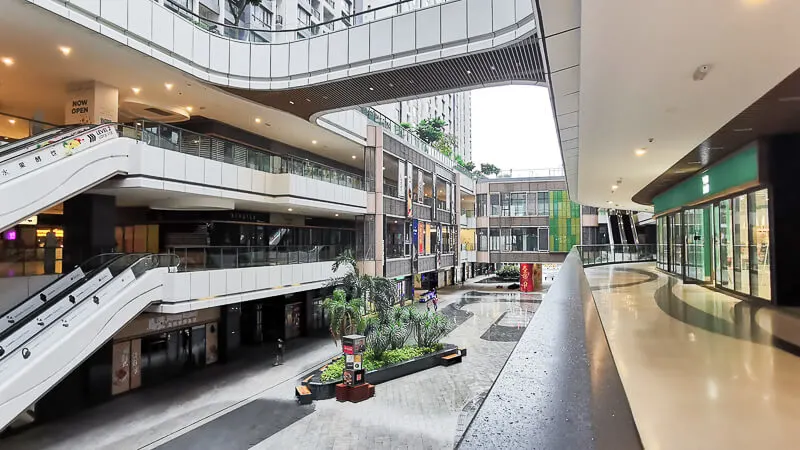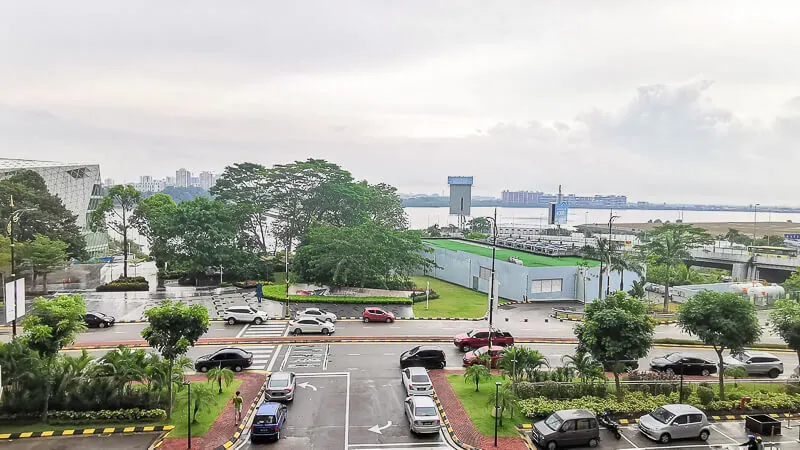 Dinner at Siong Tong Gai, R&F Mall
There were not many restaurants that were open at R&F Mall. After making a few rounds, we decided to eat at Siong Tong Gai, because we felt that the price was reasonable and the quality might be good because it has the most number of customers compared to other restaurants.
At that time, they have a promotion where you can get a free sweet & sour pork if you order a steamed fish. So, that's what we got.
Well, the steamed fish is about 800 gr and it was quite a big portion for 2 people. There were a lot of garlic in the soup. It's not the steamed fish that I'm familiar with, but it's still enjoyable. As for the sweet & sour pork, it was very sweet and crunchy.
Our total bill amounted to RM 114.85 after 10% service charge and 6% tax.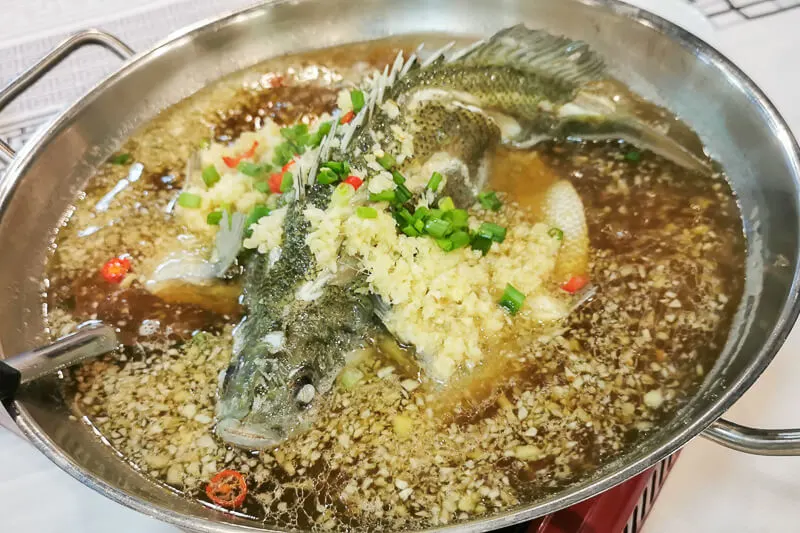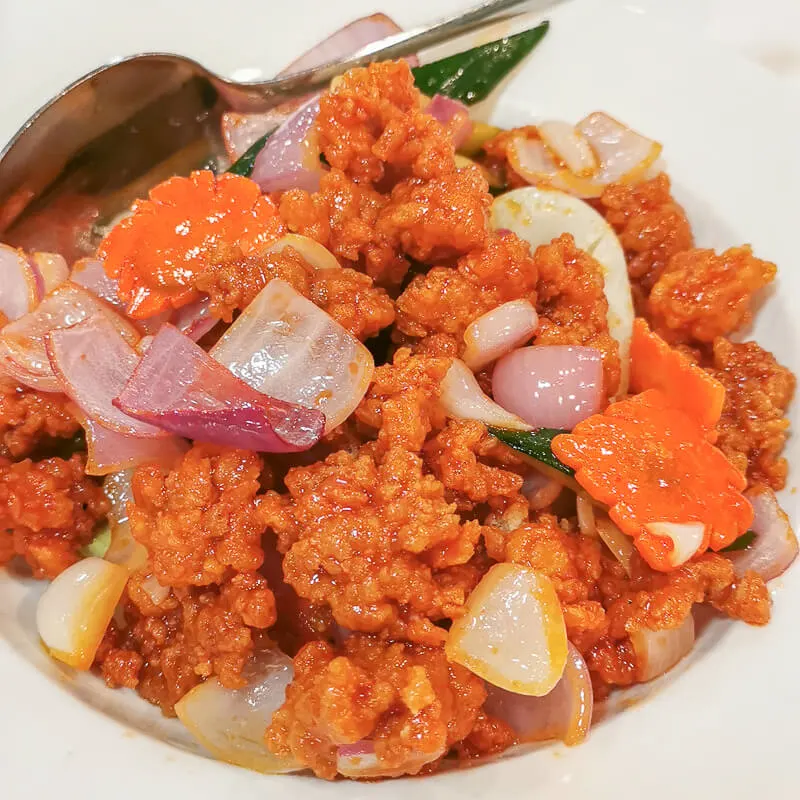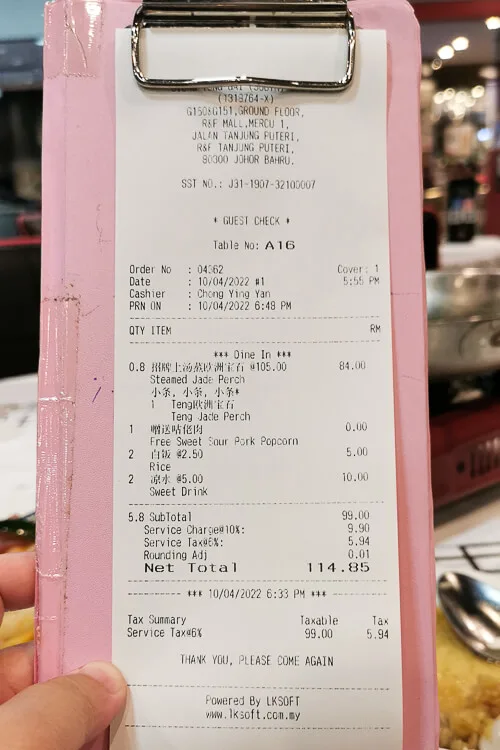 Border crossing back to Singapore
We walked back to JB CIQ via the elevated walkway again. Upon arriving at JB Sentral building (the building next to JB CIQ), we were shocked to see a very long line forming all the way to City Square Mall. It was a nightmare that we didn't expect! We predicted that the queue is probably at least 1 hour long. We had to decided whether to join the queue now, or spend some time relaxing at City Square while waiting for the line to (hopefully) get shorter into the evening.
And then… something caught our eyes. There was another queue that extended to the roadside. Even though we couldn't see how long the second queue was from where we stood, it looked shorter. Furthermore, both queues were given the same priority for entering CIQ. We decided to go to the end of this second queue before deciding whether it's worth joining.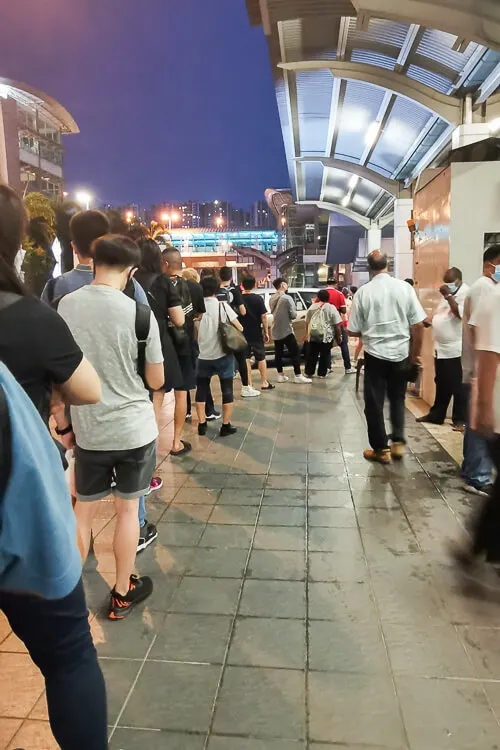 We found the end of the queue and it was indeed shorter than the first queue. We joined this second queue at 7.30pm. The queue kept moving and 20+ minutes later, we were inside Bangunan Sultan Iskandar (aka JB CIQ). There was almost no queue inside the CIQ. We cleared immigration in about 5 minutes. At 8pm, we were on board of Causeway Link Border Shuttle.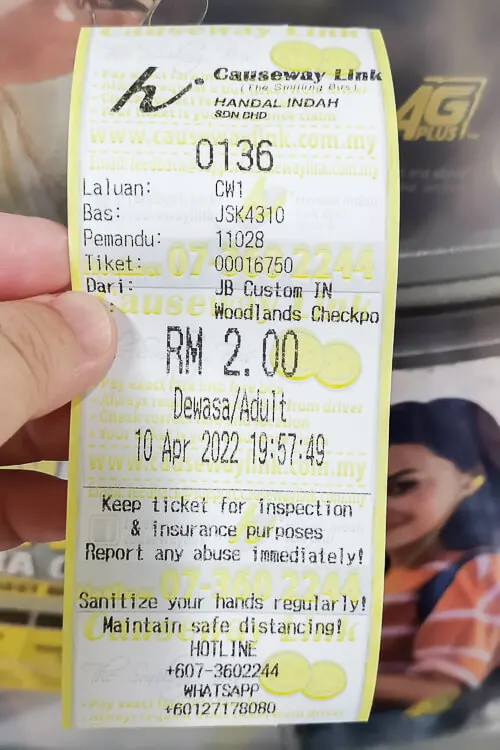 There was a bit of jam when the bus was entering into SG CIQ. When we alighted, we had to join a queue at the ground floor. After about 10 mins, we were inside a very packed immigration hall. Fortunately, they opened a new section for newly-arrived people. The queue at new section (automatic lanes) was pretty fast. I didn't track how long we spent inside SG CIQ but I think it's about 15 mins.
After clearing immigration, we walked to Train Checkpoint, then walked out of it and to the bus stop, boarded the bus + MRT + bus and finally we reached home at about 9.30pm! Phew! I can't imagine how Malaysians feel having to go through this every Sunday!
I learned my lesson, which is not to cross border from JB to SG after 7pm on a Sunday. We should've done it earlier, like 5pm.
As I'm writing this, it's been almost 2 weeks since I went on this day trip. To be honest, I miss Malaysia already! And I really really miss traveling! Hopefully we can go on a real vacation soon. For now, I'll continue exploring Singapore. Until the next travelogue!
If you like my work, you can buy me a coffee! Your support will help me to keep going!