Opened in 2019, Skyscape is a rooftop deck with glass door that offers visitors a nice view of the skylines around JB Sentral and even the northern part of Singapore.
I love skyline views, so deciding whether to visit Skyscape or not is a no-brainer. Furthermore, it is within walking distance from Johor Bahru First Link checkpoint, so I can easily visit it on a day trip from Singapore.
Here's my experience at Skyscape, my tips for first time visitor, as well as my honest thoughts.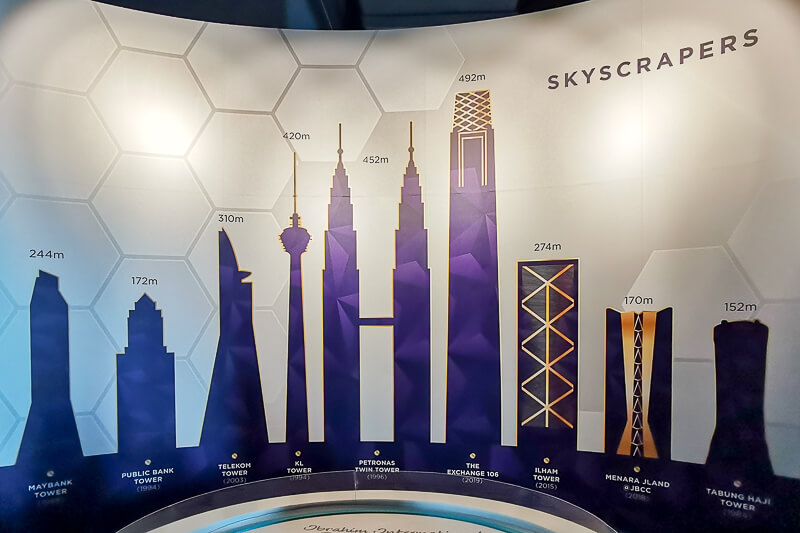 Address & Opening Hours
Address: Level 34, Menara JLand Johor Bahru City Centre (JBCC, Jalan Tun Abdul Razak, 80000 Johor Bahru, Johor) – Location on map
Opening Hours: Sunday to Friday: 9.30am to 4pm; Closed on Saturdays
Skyscape Ticket Prices
At the time of my visit, here are the walk-in prices of Skyscape:
Malaysian: RM28 for Adult, RM18 for Child (3 to 11 years old), RM23 for Senior (above 60 years old)
Non-Malaysian: RM38 for Adult, RM28 for Child (3 to 11 years old), RM33 for Senior (above 60 years old)
For me, I booked my ticket here because it's much cheaper.
There is also an additional fee that you need to pay for the sock/shoe cover. The sock costs RM5 and the shoe cover cost RM1 per person. It is not included in the ticket, and it must be purchased on the spot. Payment can be made by cash and certain electronic payments (like Grabpay, Touch 'n Go).
What's included in the ticket? The ticket allows you to visit 6 attractions at Skyscape, namely Interactive Floor Game, Sky Bridge, Mini Theatre, Virtual Reality (VR), Observation Deck and LED Tunnel. During our visit, LED Tunnel was not in operation, unfortunately. Each person is entitled to 2 hours of exploration.
What's not included in the ticket? The ticket doesn't include sock or shoe cover, photo album, souvenirs.
How to redeem the digital ticket? Go to Menara JLand Level 1. You'll be asked to show your ticket vouchers and Identity Cards/Passports for verification. You'll then be asked to pay for the sock/shoe cover and finally you'll be given a timeslot.
During our visit on a Sunday morning, during Ramadan month, we were the only guests. There was nobody else beside us, so we could enter at the next available slot.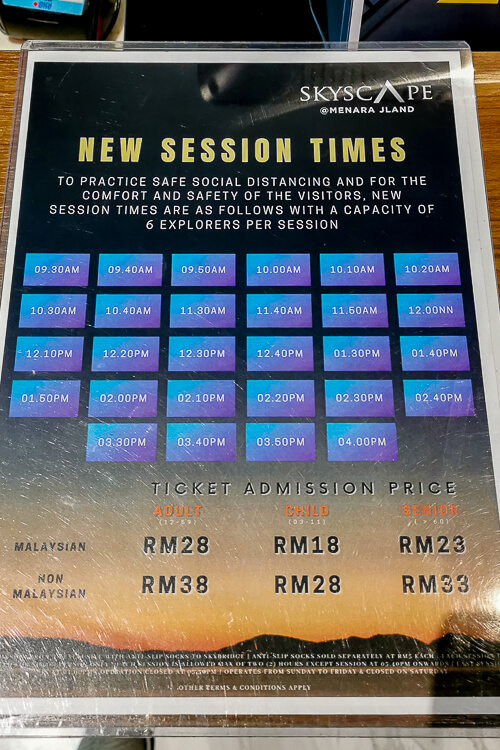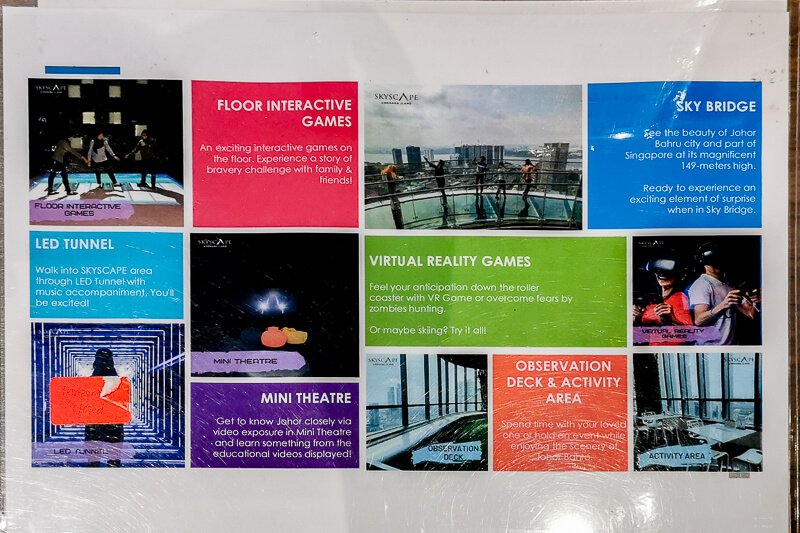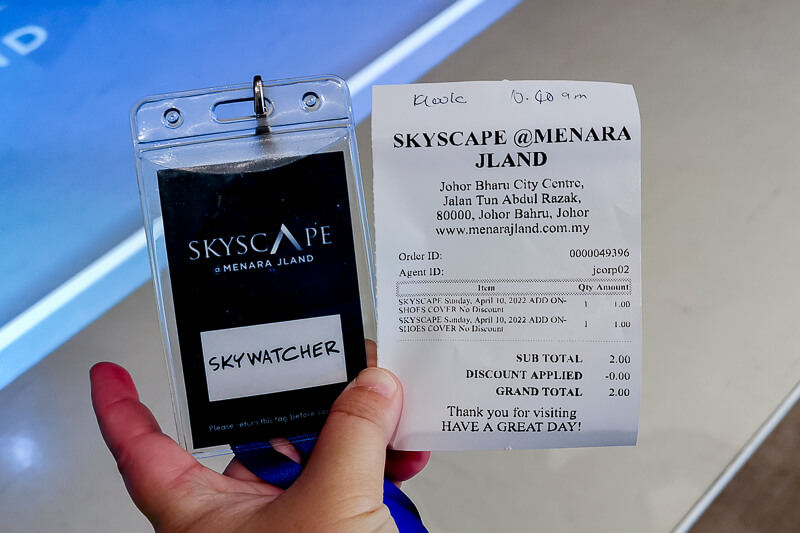 How to get to Skyscape at Menara JLand
From Johor Bahru Checkpoint: After clearing immigration, you'll arrive at Bangunan JB Sentral; walk through it and come out of Bangunan JB Sentral, you will see City Square entrance on your left. Don't enter City Square, instead, turn right and you'll arrive at JBCC Komtar Level 3. Go down to Ground Floor.
Now, you have 2 options: either exit JBCC Komtar via main entrance, turn right and walk towards Menara JLand next door; or, when you're inside JBCC Komtar and facing the main road, walk towards your right and exit JBCC via side door, you will immediately see Menara JLand entrance, but the risk of this indoor route is that the side entrance is locked, and you have to exit via main entrance instead.
From City Square: Go down to Level 1, exit City Square from the main entrance along Jalan Wong Ah Fook, turn right and walk towards Menara JLand while passing by JBCC Komtar.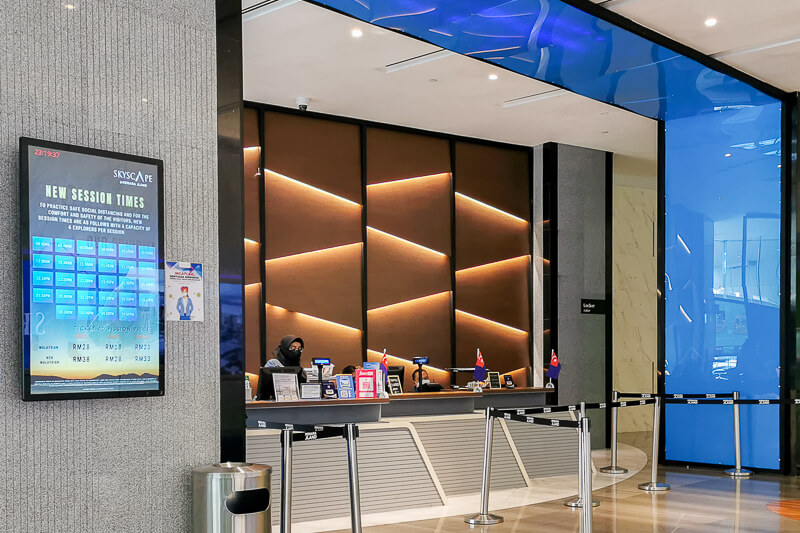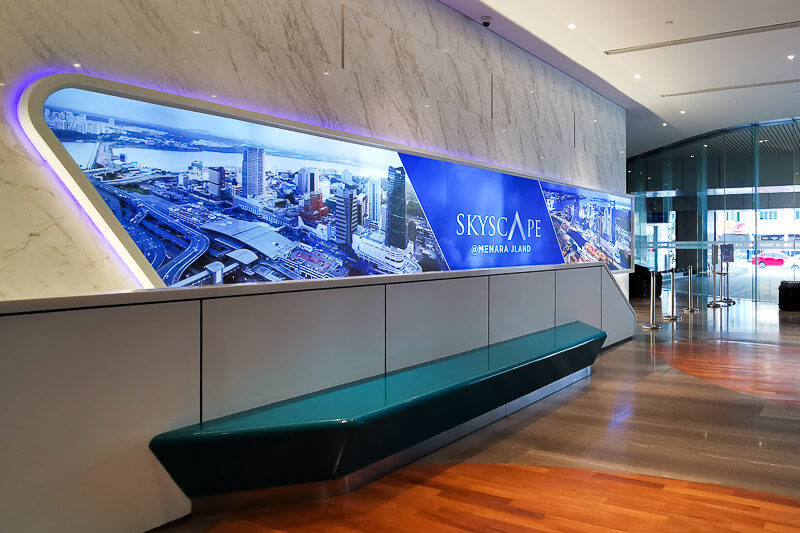 What to see at do at Skyscape Johor Bahru
1. Interactive Floor Games
Interactive Floor Games is located on the first floor, right beside the ticket counter. We played the games while waiting for our slot to go up to the Sky Bridge.
The games keep changing every few minutes. Kids will probably love it. The games that we got to play were soccer, piano, dinosaurs, cattle-herding, and collecting recyclables.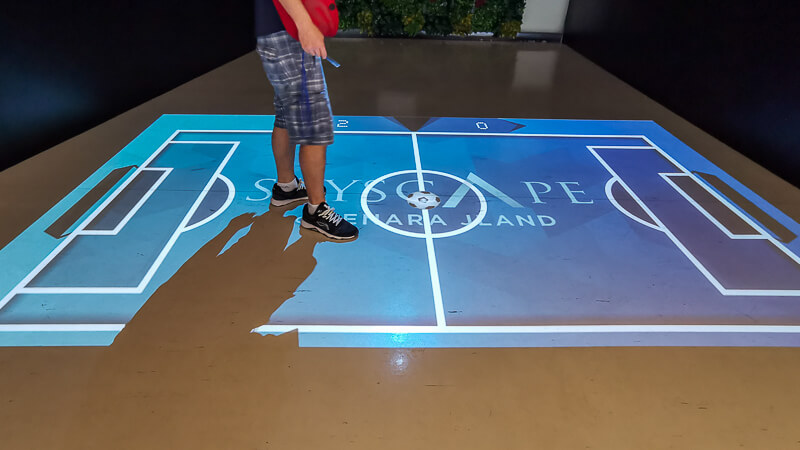 2. Sky Bridge
Sky Bridge is the main attraction of Skyscape. Located at Level 34, Sky Bridge is an outdoor space with glass floor and glass railing. From here, visitors can see the SG-JB Causeway, JB CIQ, and most buildings near JB Sentral.
Before entering the Sky Bridge, we were asked to put on our shoe cover. There were seats for visitors to sit while putting on the shoe cover.
To be honest, the Sky Bridge is quite small. The organizer allows only 6 visitors on the Sky Bridge at any time. If you're expecting a big outdoor space, I'm sorry to say that you should lower your expectation.
Despite the small space, the view at Sky Bridge is absolutely astounding. Since the were not many skyscrapers around Skyscape, the view is pretty much unobstructed.
We were extremely lucky and thankful that the sky was bright and clear when we visit, and we had the place to ourselves because there was nobody else sharing the same timeslot as us.
Now, brace yourself for photo dump of all the beautiful shots we took during our visit.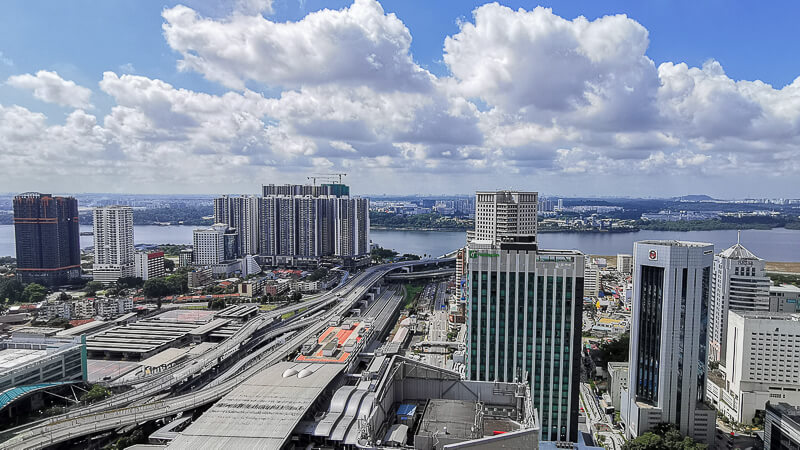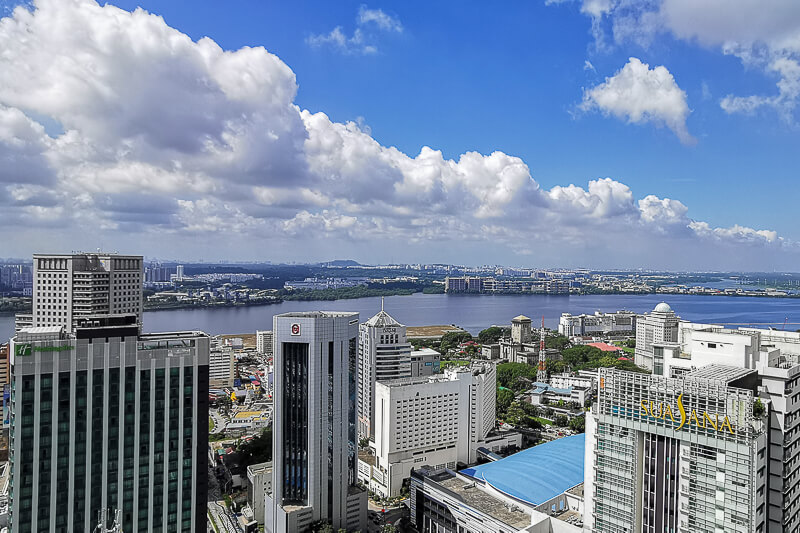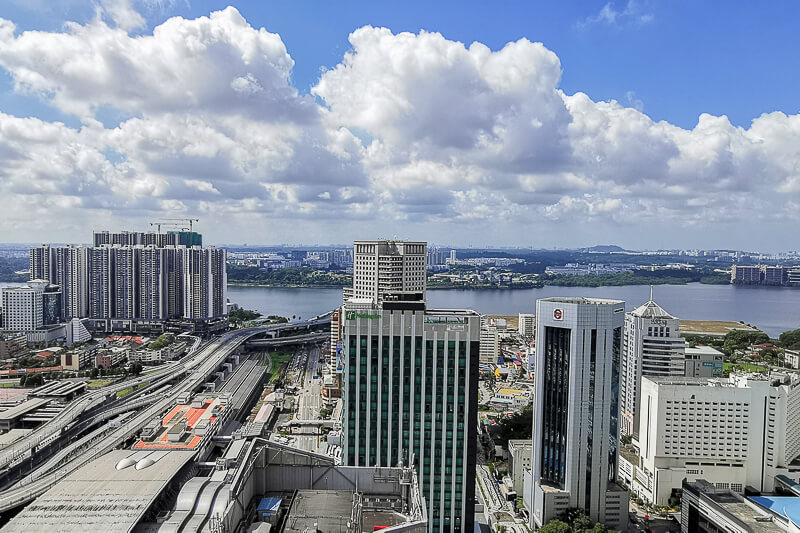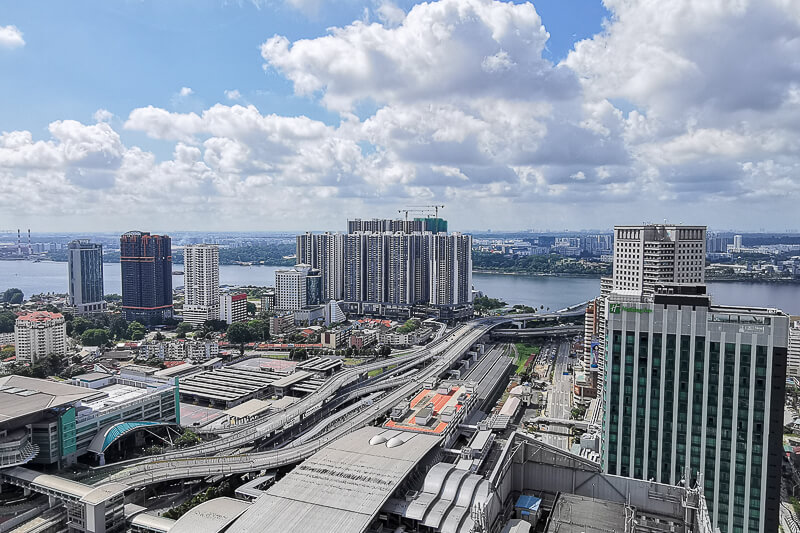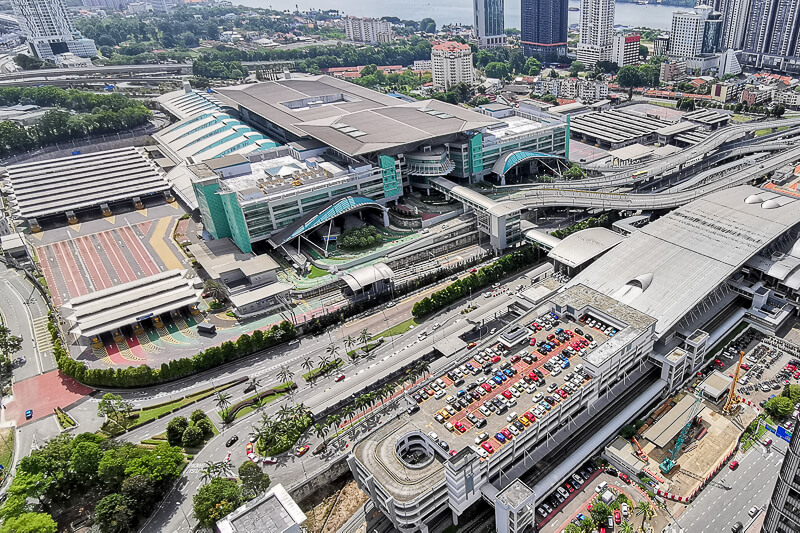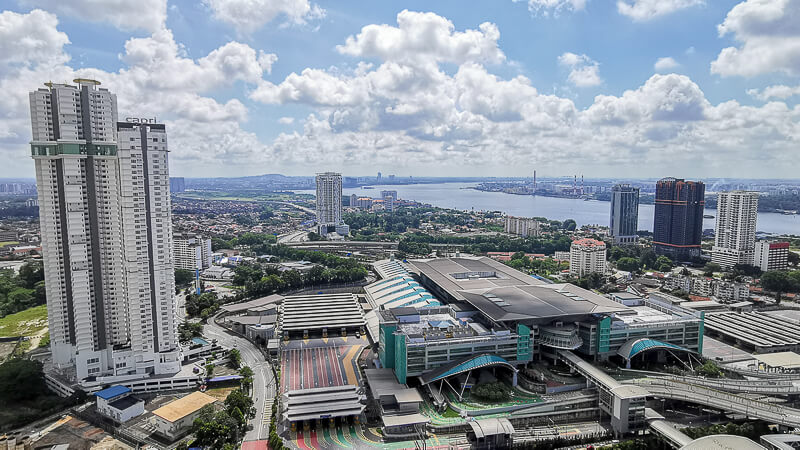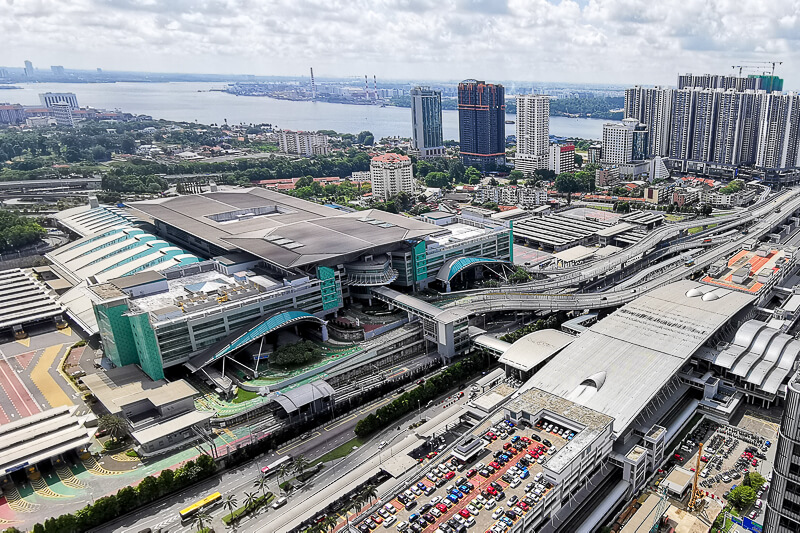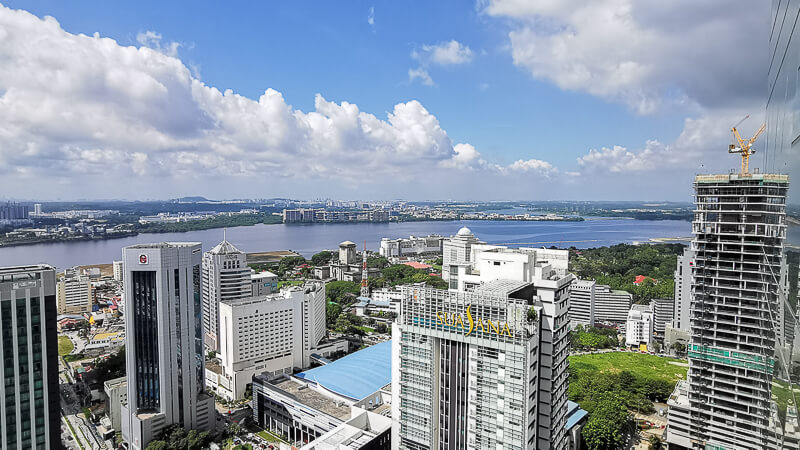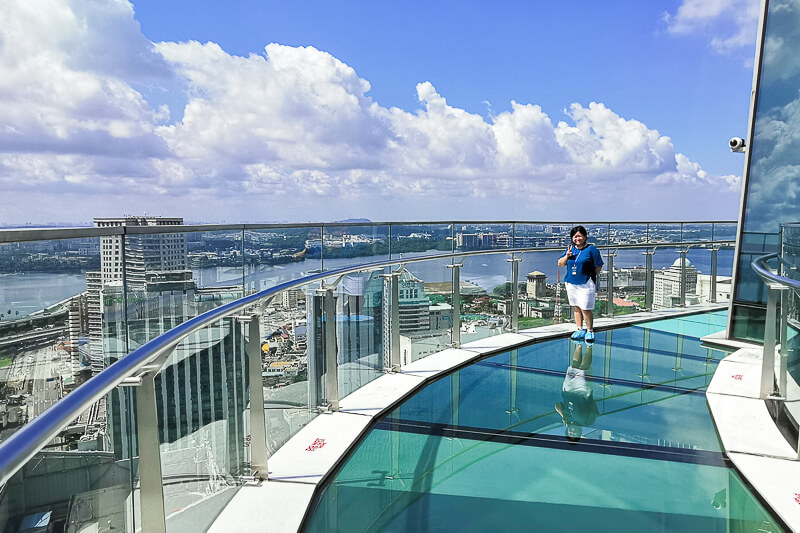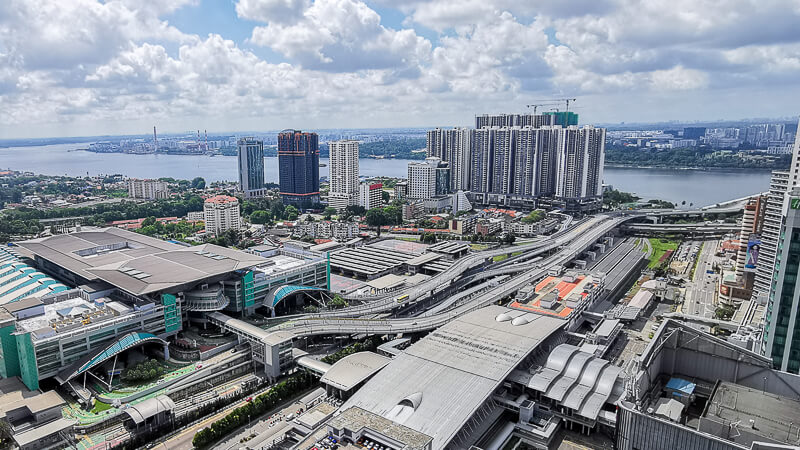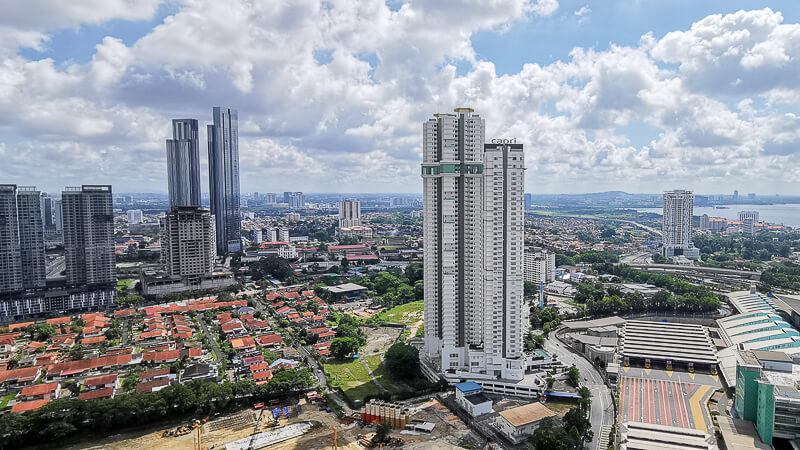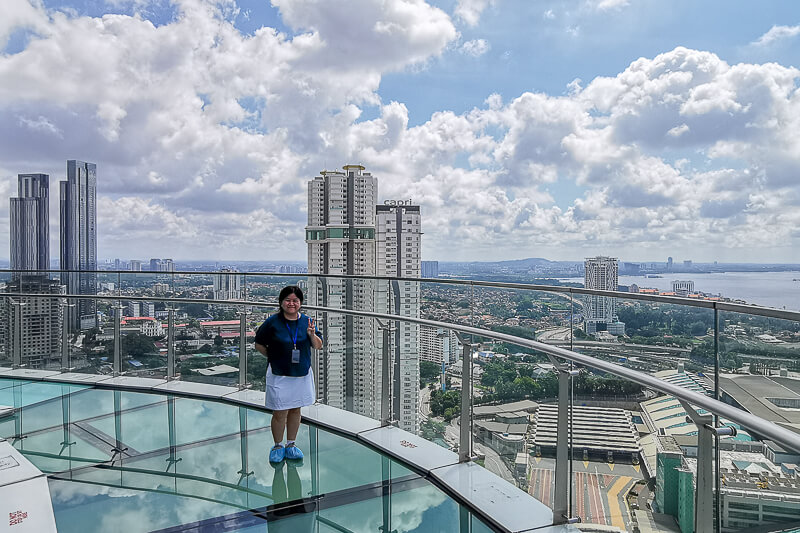 3. Mini Theatre
After the adrenaline overload at Sky Bridge, we were ushered to our next stop: the Mini Theatre. It was a small theatre with 4 seats. On the screen were videos promoting interesting places to visit in Johor state.
Honestly, I kind of like watching the videos. They were quite inspirational and entertaining. Before this video, I didn't know there were that many beautiful places in Johor. Perhaps one day if I have a car, I might do a road trip visiting various interesting places in Johor.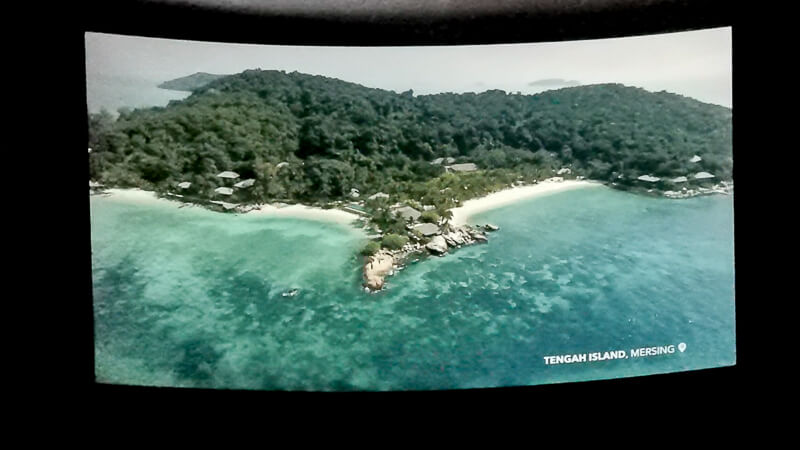 4. Virtual Reality (VR)
Next, it was Virtual Reality (VR). During our visit, only 2 VR stations were opened: rollercoaster and ski.
The rollercoaster was pretty straightforward, you "sit" in a thrilling rollercoaster. It was a bit scary and at times I felt like falling forward/backward when in reality, the floor was firm and nothing was moving around me.
The ski one was quite challenging for me. There were 2 controllers that I held on each hand, each representing a ski pole. To move forward, I had to move my hand to simulate the actual action of skiing. I had difficulty moving forward and I got stuck plenty of times, lol. Didn't know a VR game could be this stressful!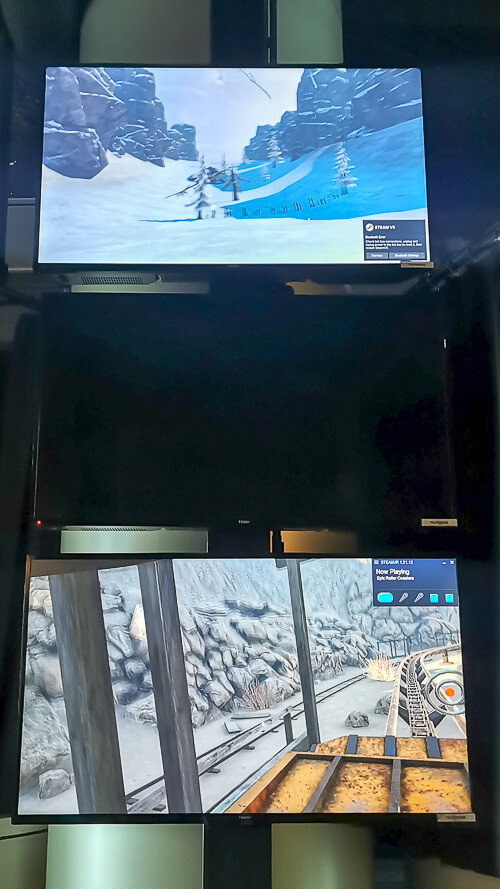 5. Observation Deck
The Observation Deck is an indoor space with ceiling-high windows that provides visitors with the same breathtaking view as the Sky Bridge, except that it's indoor and has bigger space.
There are telescopes that you can use to look at places that are too far for our eyes to see without any external help. Also, there are tables and chairs for visitors to chillax.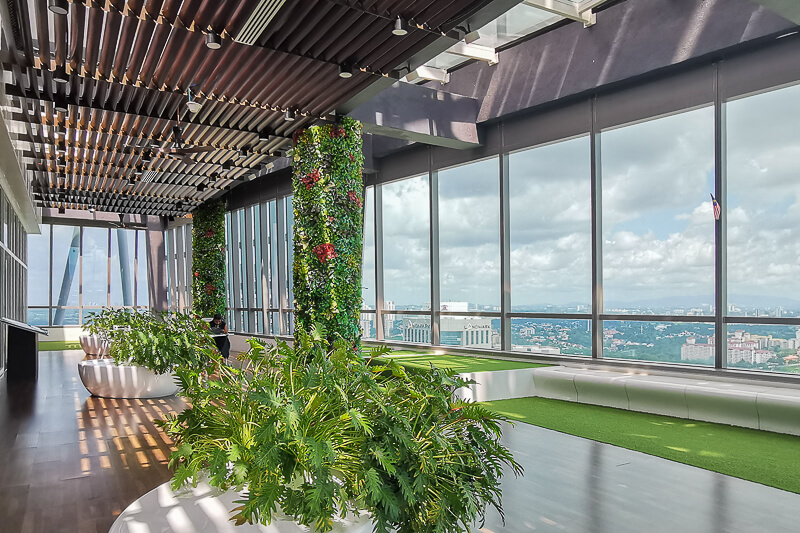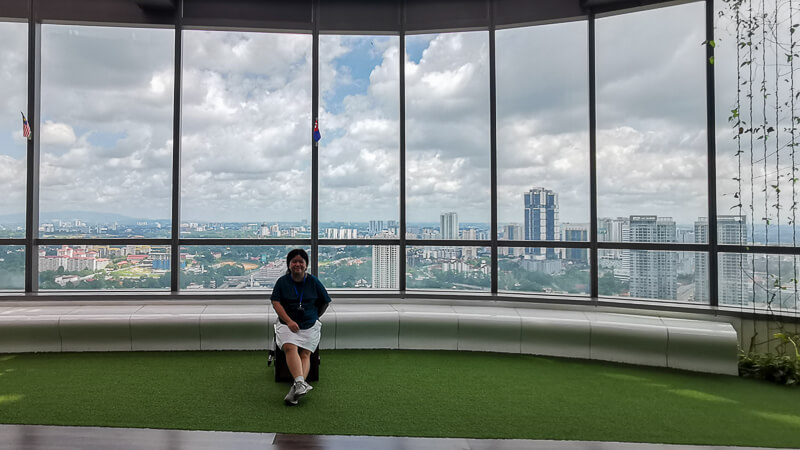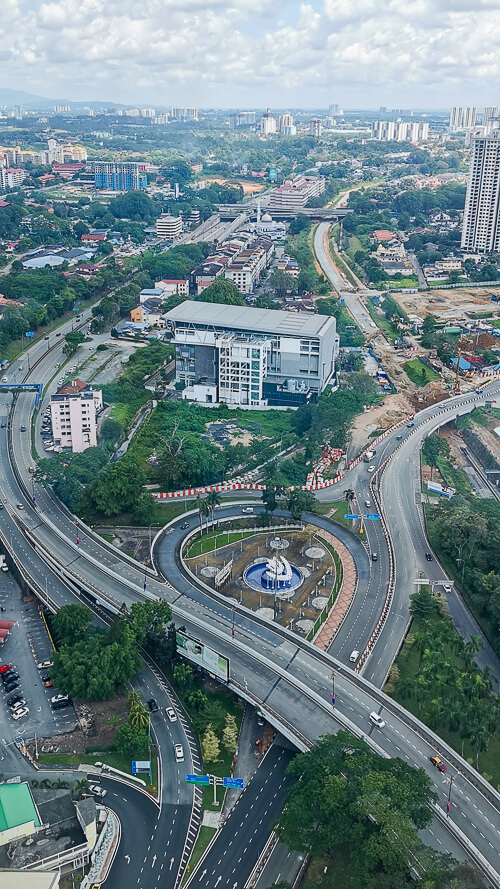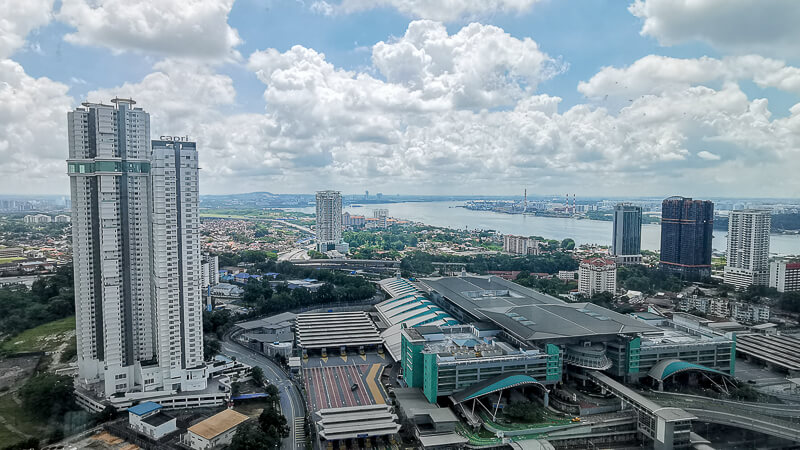 6. LED Tunnel
As mentioned in the above, the LED Tunnel was not open during our visit, so I'm not able to give any commentary. From the photos, it looks like a short and simple tunnel with LED lights that keep changing colors. I imagine this could be a great backdrop for the 'gram.
7. Skyshop
Finally, we exited Observation Deck and were met with Skyshop, a shop that sells souvenirs and photo memorabilia. We had some photos taken by one of the crews earlier, and the photos could be purchased here.
The photos are really nice. I could tell that the photographer is really talented.
However, we decided not to purchase photo gifts simply because we are not the type of people who keep gifts/souvenirs. If the organizer could offer digital photos instead of photo gifts, we would definitely consider buying it.
Facilities & Amenities
Toilet. There's a toilet at Level 34 which is pretty clean.
F&B. There's no F&B outlets but I think it's not really necessary, because there are tons of food options at City Square, JBCC Komtar and the surrounding area.
Tips for First Time Visitors
Do not visit on a Saturday. That's because they're closed on Saturdays =)
Check weather forecast before planning your trip. The Sky Bridge will not be open when it rains, so if you happen to visit on a rainy day, chances are you won't be able to visit the Sky Bridge and you have to come back at a later time or date.
For me, I intended to visit Skyscape on a Sunday and the weather forecast predicted it would rain in the afternoon of my visit. So, I decided to go in the morning. Turned out to be a great decision because the sky was so clear in the morning, but it rained in the afternoon.
Go there early to book a timeslot. During peak period when there are many visitors, it might be difficult to enter immediately after arriving, so it's best to go there early to book a timeslot first, and come back later at your designated timeslot.
Wear sunblock or hat. It's hot outside at the Sky Bridge.
Watch My Experience in Video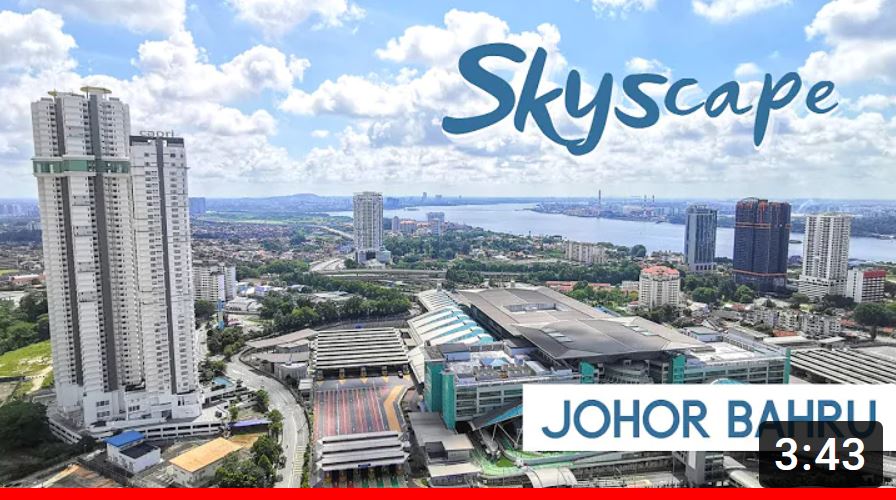 Conclusion
Considering the size of the area alone, the ticket might be considered expensive for some people. But, if you like skyline views like me, it's worth going to Skyscape at least once. The view is really worth it.
The staffs are super friendly and attentive, and they enabled us to have a seamless journey from one attraction to the other.
All in all, I really enjoy my visit because I adore the view, and there was nobody else beside us, so we were treated almost like a royal ;D
FYI, I paid for my ticket at Skyscape Johor Bahru.
If you like my work, you can buy me a coffee! Your support will help me to keep going!