In the past, Singapore River was a bustling port where commerce flourished. Boats and merchants from various parts of the world would be come all year round to trade goods. Today, Singapore River is dotted with riverside eateries, heritage shophouses, skyscrapers, luxury hotels, museum, art and financial centers.
If you love watching cityscapes, learning about history while sitting back, you'll probably like Singapore River Cruise.
What is Singapore River Cruise
Singapore River Cruise is a 40-min cruise on a bumboat along Singapore River, passing by iconic riverside landmarks. There's an audio commentary that describes the history of the river as well as the buildings along the river.
The bumboat has indoor and outdoor seats; visitors will get to choose whether to sit outdoor or indoor. It is an open-air boat, so the air circulation is pretty good; you don't have to worry about motion sickness.
Singapore River Cruise is a tour, hence, visitors will be sitting throughout the entire journey. It is not a taxi ferry, so you can't hop on and hop off in the middle of the journey.
At the time of writing, the River Taxi is not yet in operation until further notice.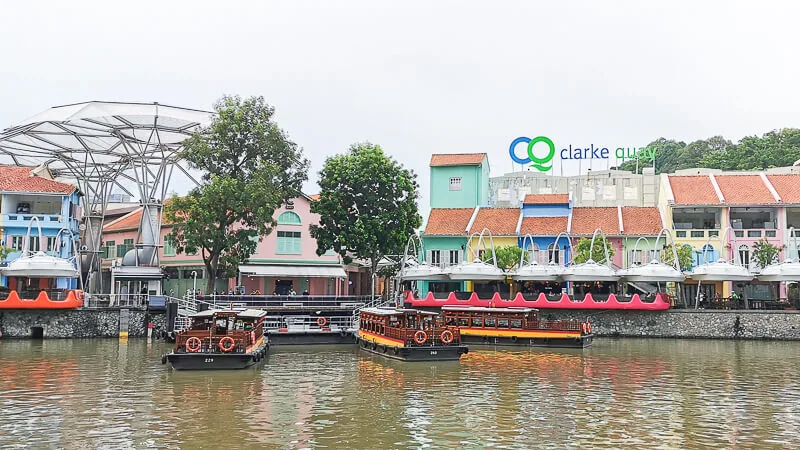 Have any questions about traveling in Singapore? Join All About Singapore Travel FB group, I'll be there to answer your questions!
Looking for ideas on what to do in Singapore? Here's my guide on the best things to do in Singapore.
How many river cruise operators are there?
There are 2 major river cruise operators: Singapore River Cruise and River Cruise by Water B.
Both have exactly the same route, but Singapore River Cruise starts from Clarke Quay Jetty, while Water B starts from Marina Bay Sands' ArtScience Museum. Both have indoor and outdoor seats.
Singapore River Cruise's boats are traditional bumboats with sunken middle part, while Water B's boats have modern colorful design with flat platform throughout the entire boat, making it more accessible for elderly.
Singapore River Cruise vs Water B, which one is better? In terms of functionality, both provide the same function, which is to bring customers along the Singapore River on a 40-min tour.
For me, I personally prefer Singapore River Cruise because I like the design of its bumboats more. Hence, this review is based on my experience with Singapore River Cruise.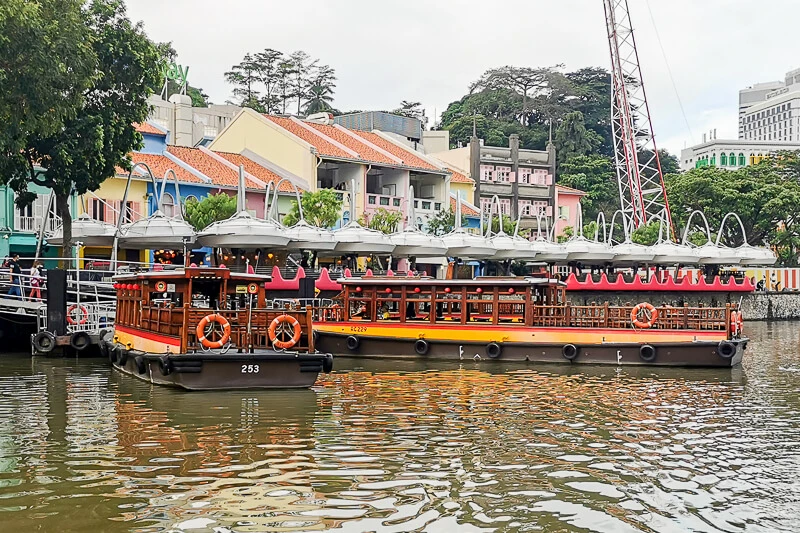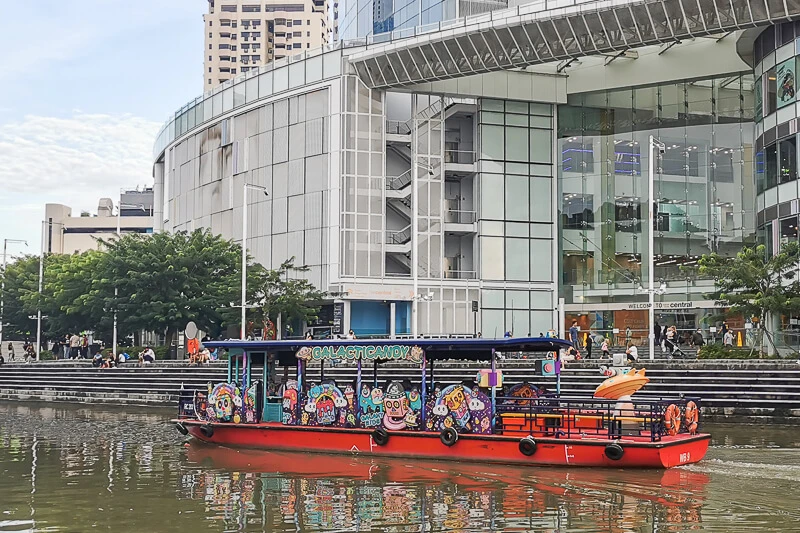 Price of Singapore River Cruise
The prices of Singapore River Cruise are SGD 25 for Adults, and SGD 15 for Children.
Where to buy ticket
You can buy the ticket on the spot or online. I highly recommend that you book online here (I bought my own tickets here) because it is cheaper to buy online than to buy at the ticketing booth.
Where to board
The boarding point of Singapore River Cruise is at Clarke Quay Jetty next to Hooters (location on map).
Upon arriving, you will see the ticketing booth in the following photo. If you have purchased your ticket online, you need to redeem the physical ticket at the counter.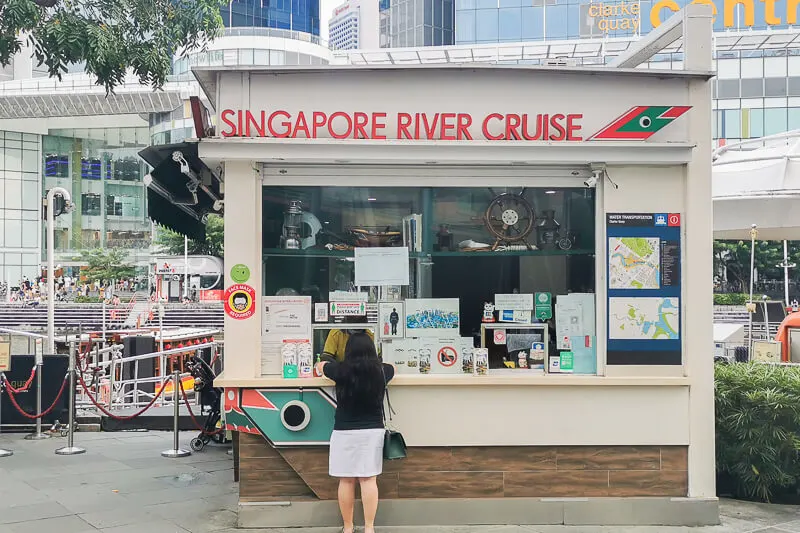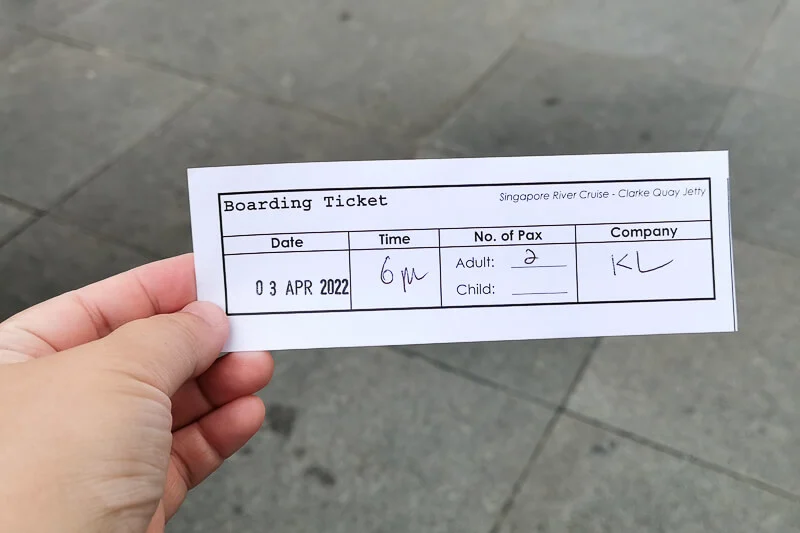 Here are the ways to get to the Clarke Quay Jetty, which is the starting point of Singapore River Cruise:
By car: Drive to Clarke Quay and you can park there. Alternatively, drive to Clarke Quay Central mall and park there.
By taxi: Similar to transport by car, you can put your designation as Clarke Quay or Clarke Quay Central mall and walk to the jetty from there.
By MRT: Take MRT and alight at Clarke Quay Station (NE5 – North East Line) or Fort Canning Station (DT20 – Downtown Line). Walk to Clarke Quay jetty.
By Bus: The nearest bus stops are 04222 (Clarke Quay Stn Exit E) and 04211 (Clarke Quay). Simply use Google Maps to find the best bus to bring you to one of these 2 bus stops.
Map of Singapore River Cruise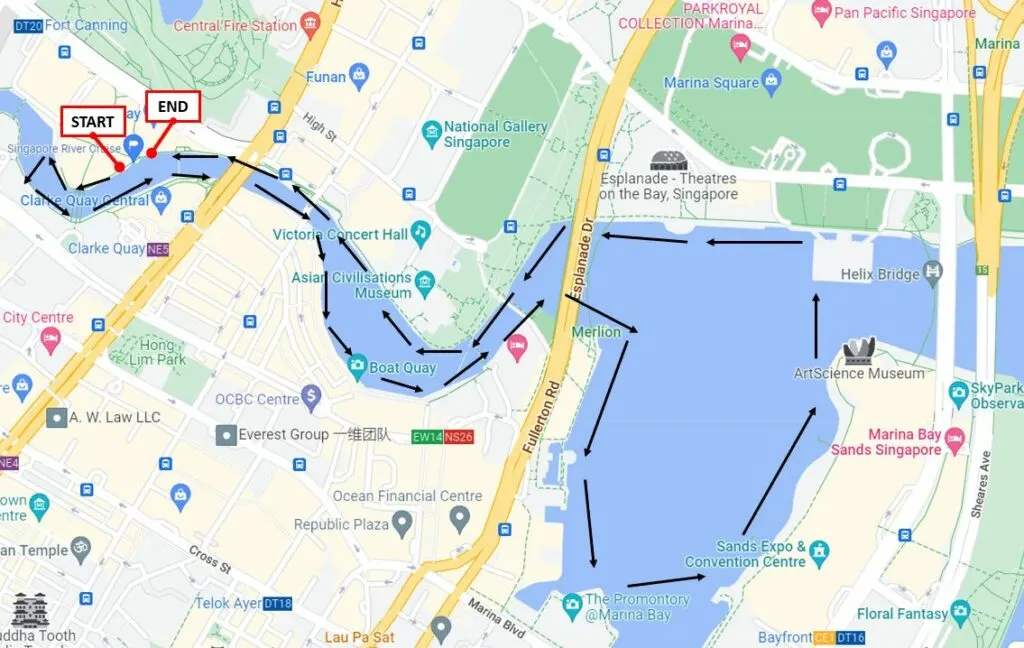 Timing and Duration of Singapore River Cruise
The duration of Singapore River Cruise is 40 minutes. Cruise departs hourly during the operating hours as follow:
Mon to Thu: 1pm to 10pm
Fri to Sun: 10am to 10pm
Last admission is 9pm
What's Included and Not Included in Singapore River Cruise
Included:
40-min tour with audio commentary
seat (either outdoor or indoor)
Not included:
food and drink
umbrella
raincoat
Singapore River Cruise with Dinner
If you love street art/murals and seafood, you probably will enjoy this tour. It includes a Chinatown Mural walking tour, a seafood dinner (with chili crab) and a river cruise along Singapore River at night.
How the Bumboat Looks Like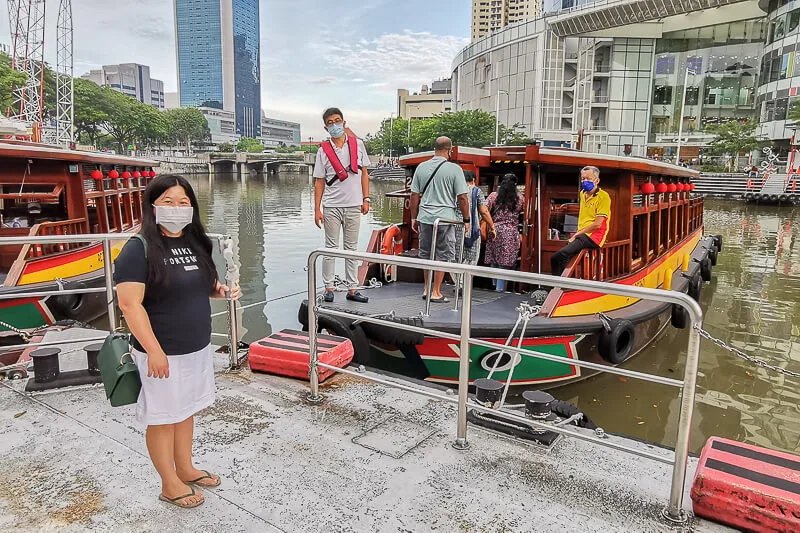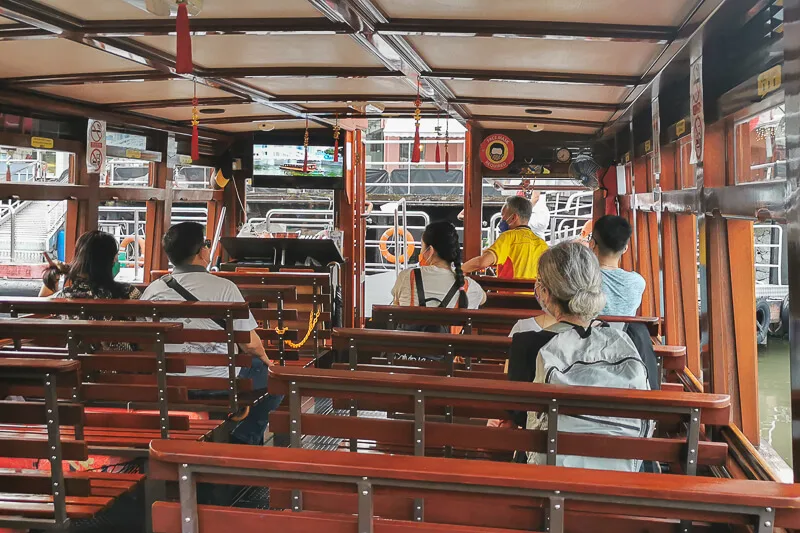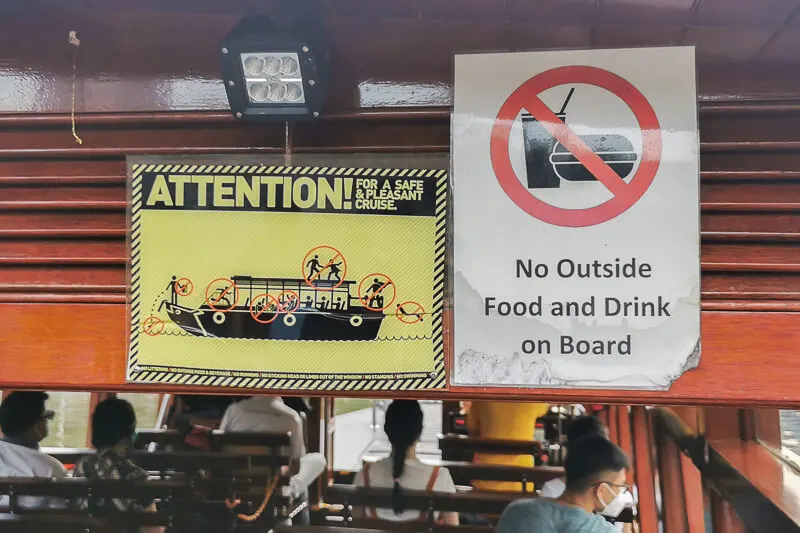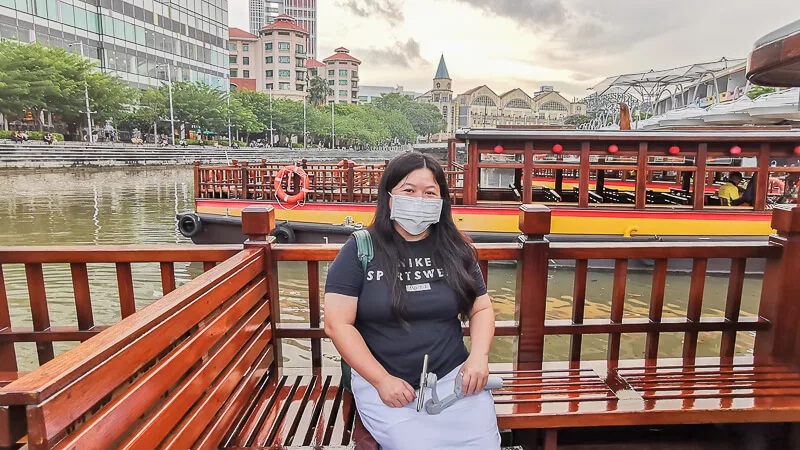 What to See on Singapore River Cruise
Clarke Quay
The cruise starts at Clarke Quay, a riverside establishment famous for its nightlife, waterfront bars and restaurants with live music.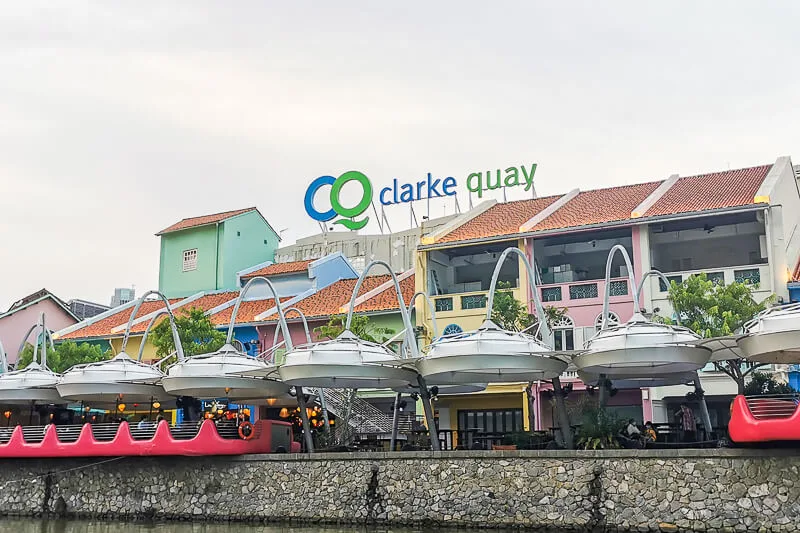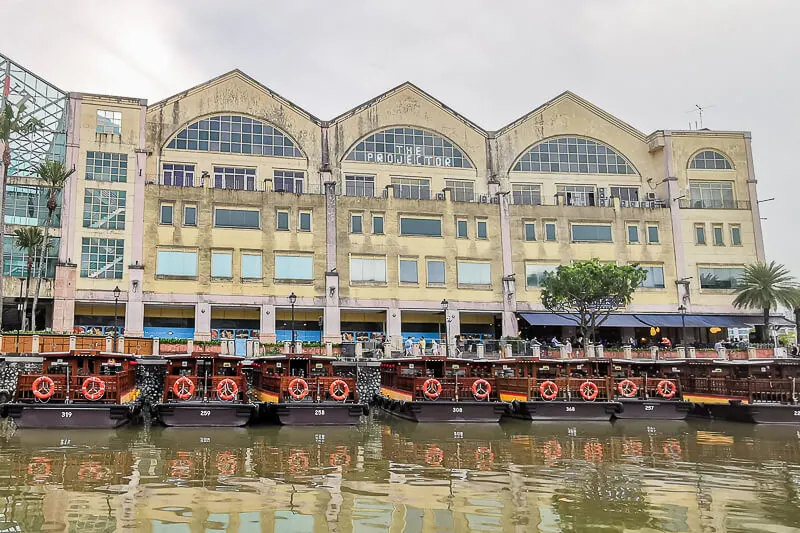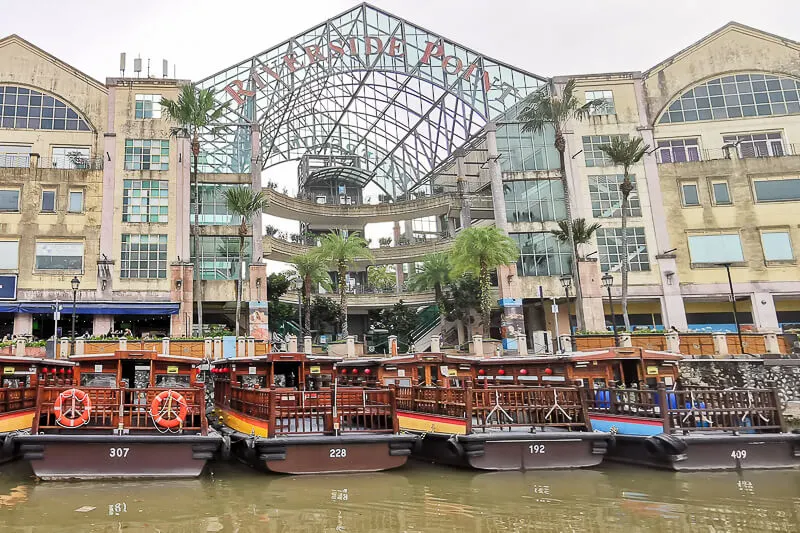 Boat Quay
Soon after, the boat passes by Boat Quay, a slightly calmer (but not quiet at all) quay lined with preserved traditional shophouses and skyscrapers on one side; museum and parliament buildings on the other side.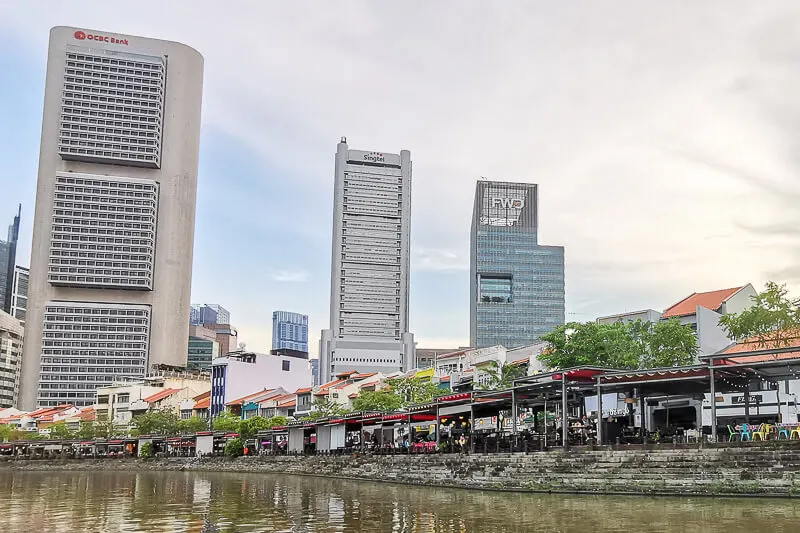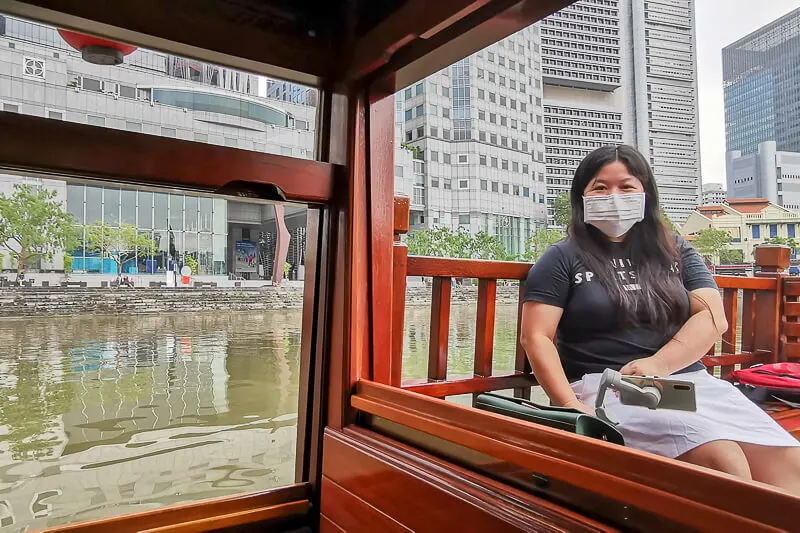 Fullerton
After Boat Quay, you definitely won't miss the elegant and eye-catching building which is Fullerton Hotel. If you pay close attention, you will notice bronze statues of kids jumping into the river.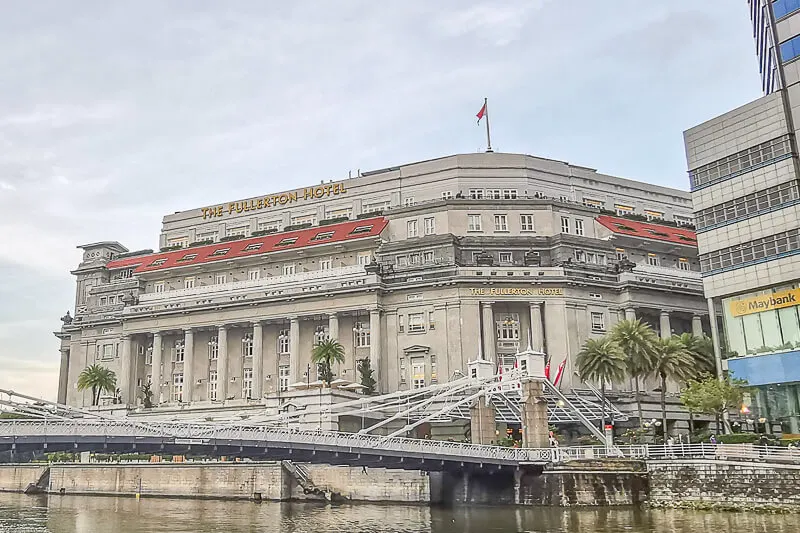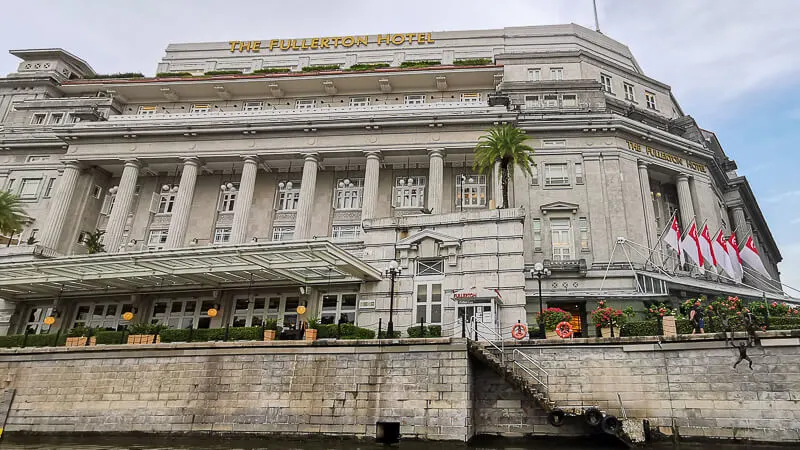 Merlion
Next is Merlion, Singapore's iconic mascot. The cruise stopped here for a while so that we could take photos with the Merlion.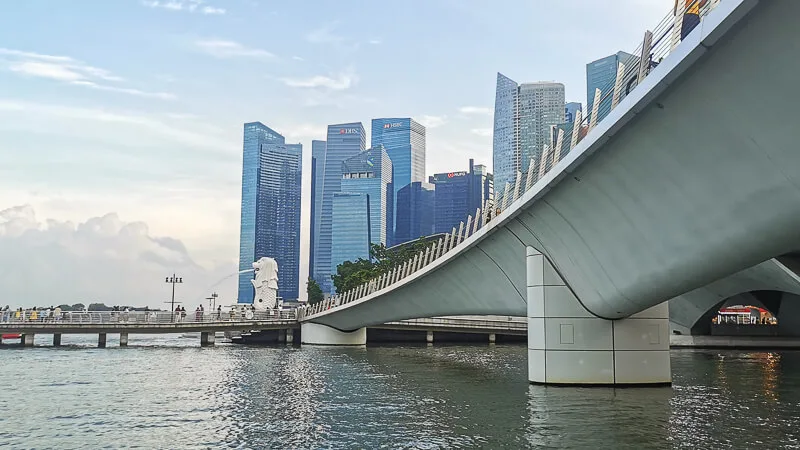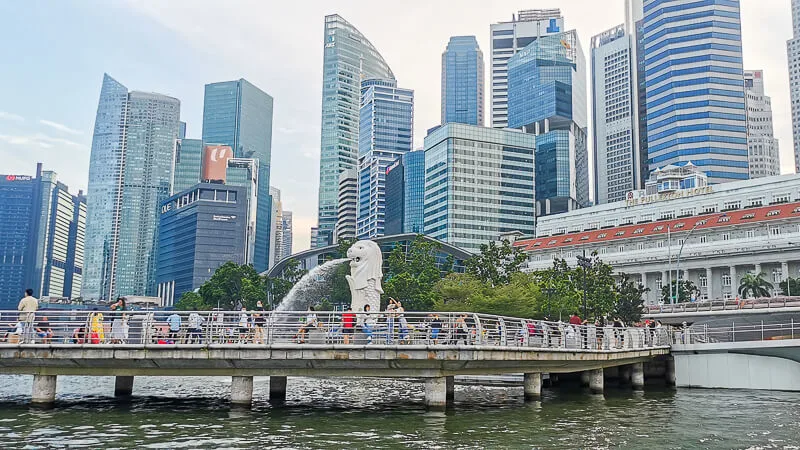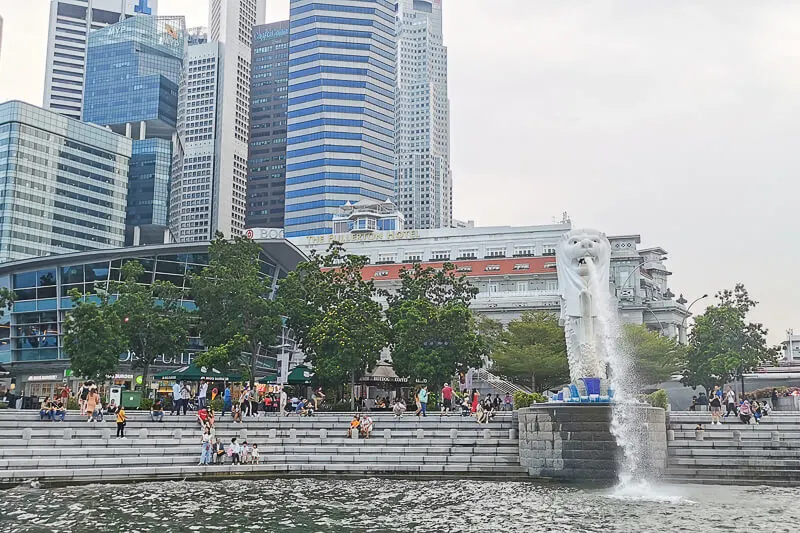 Custom House and Marina Bay Financial Centre (MBFC)
Right after Merlion, it was the Custom House and Marina Bay Financial Centre.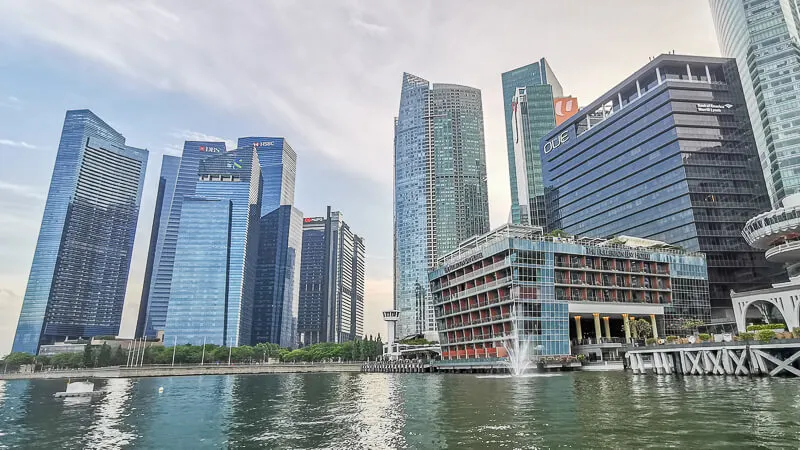 Marina Bay Sands (MBS)
Then, our breath were taken away by the view of the majestic Marina Bay Sands and ArtScience Museum.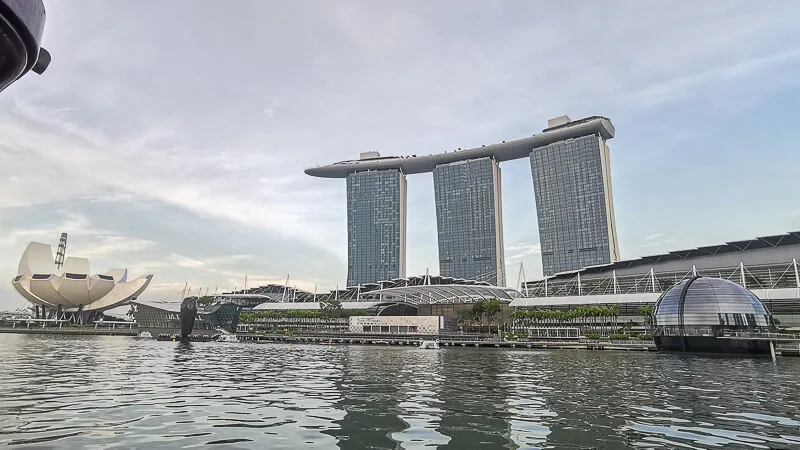 Singapore Flyer
Next to ArtScience Museum stood the Singapore Flyer.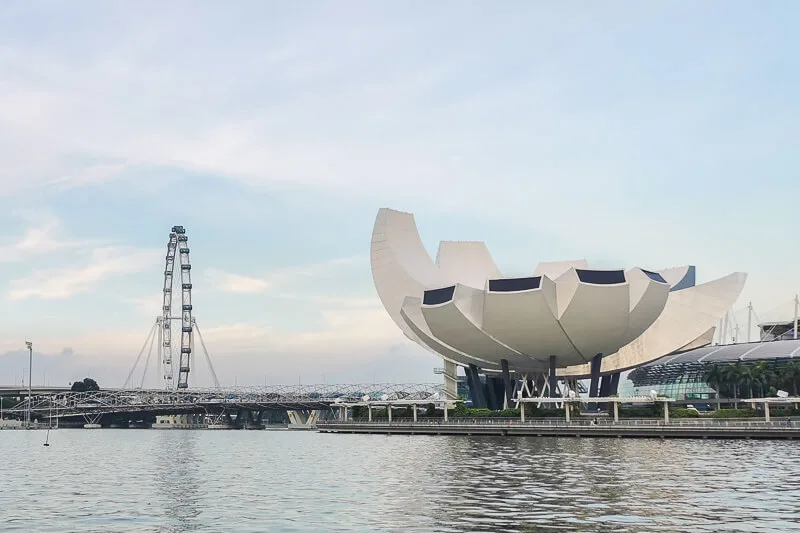 Esplanade
Soon after that, the durian-shaped Esplanade took the main stage.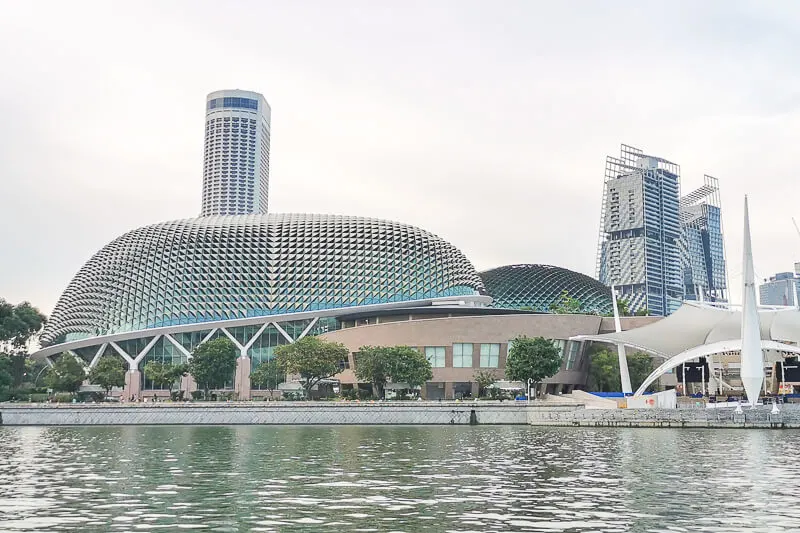 Asian Civilisations Museum
As the cruise made its way back to Clarke Quay, we passed by Asian Civilisations Museum.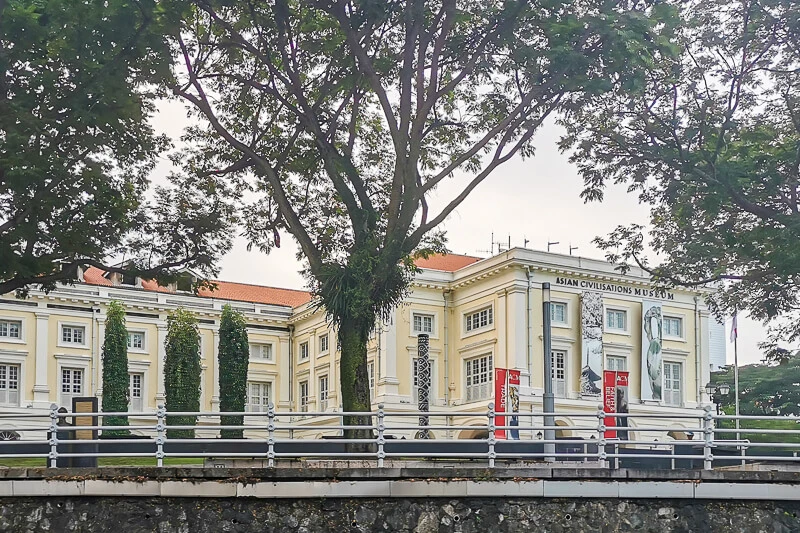 Old Hill Street Police Station
Right before arriving at Clarke Quay is this colorful building called Old Hill Street Police Station.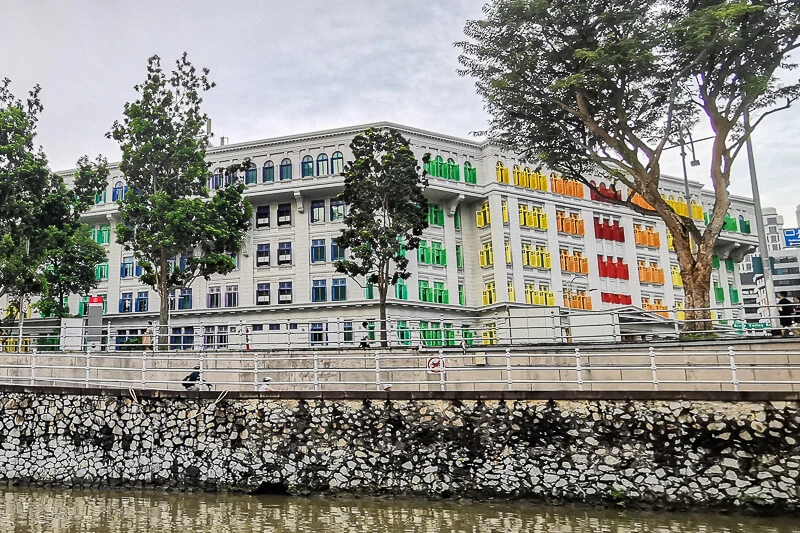 Back to Clarke Quay
The 40-min tour may seems long on paper, but time really flies when you're on the cruise. In a blink of an eye, we were back at where we started.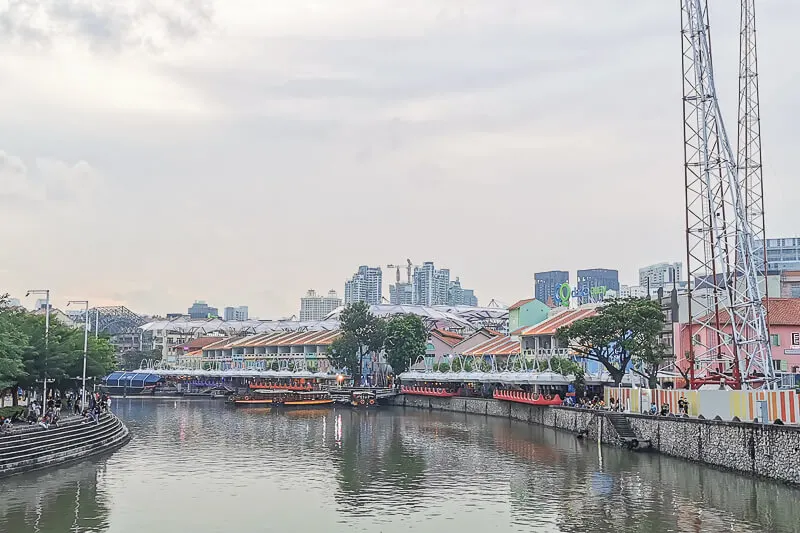 Conclusion
Even though I'm no stranger to the Singapore River and I've visited the attractions along the river countless number of time, seeing them from the river gives me a renewed excitement. The cityscape looks really beautiful when seen from both land and water.
If you have never done this river cruise, I highly recommend doing it at least once in your life.
Watch my video
If you like my work, you can buy me a coffee! Your support will help me to keep going!