15 Stamford by Alvin Leung is a bistro and grill restaurant located in Capitol Kempinski Hotel Singapore, that is led by Michelin-star HK-Canadian chef Alvin Leung. Every Sunday, the restaurant serves Sunday Brunch, which consists of 6 course semi-buffet. Semi because 3 courses have limited servings, and 3 courses have unlimited servings.
I've heard so many great reviews about food at Capitol Kempinski, and I got really curious and wanted to try it. We finally went for the Sunday Brunch and here is my experience.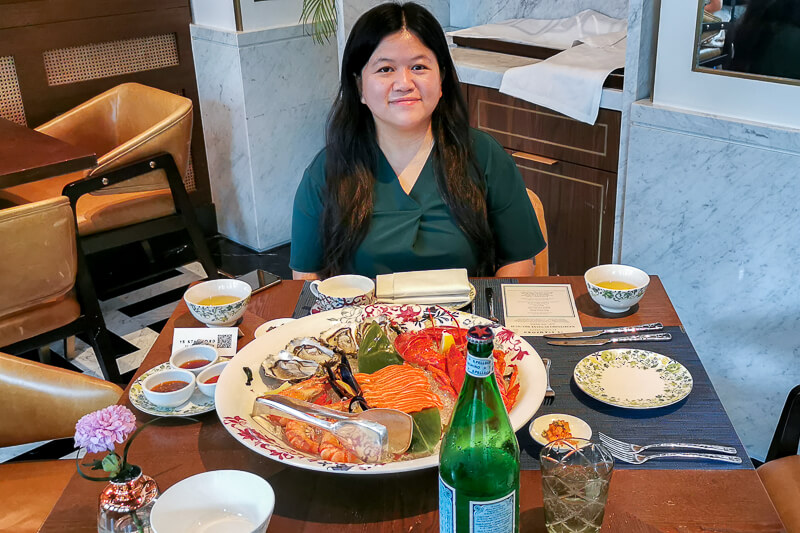 Price
Six-course at $138++ per adult and $69++ per child (aged between 6 and 12 y.o.)
With sparkling wine beverage +$48
With champagne beverage +$68
With vintage beverage +$118
Booking & Voucher Collection
We booked our brunch during Black Friday sale where the price was heavily discounted. Because it was a sale, we had to make pre-payment in full, and collect the physical voucher at the hotel.
To be honest, I find the voucher collection to be a hassle because we needed to reserve a timeslot to collect the voucher, then go down personally to collect the voucher. After that, we must call in to make a dining reservation, and lastly we must remember to bring the voucher during the actual day of dining. It'll be good if they do away with voucher collection and just use name or email address for verification.
Making Reservation
Reservation can be done online or through phone. For us, we decided to do so via phone. Within a day or two, I received an SMS regarding the confirmation of my booking date and time.
On the day of our brunch, I received a call from the restaurant. It was a call with a pre-recorded voice message, asking me to press 1 to confirm my reservation.
6-Course Brunch Menu
Some of the courses in Kempinski Sunday Brunch Menu changes weekly, so do expect the unexpected. The courses that are fixed in the menu are Seafood Platter, Appetisers, Large Plates and Cheese Wagon. The other courses that change weekly are Pass Around and Dessert Platter.
Even though there is a Sunday Brunch menu on the website, it is not necessary the menu that you'll get when you visit. The only menu you can rely on is the printed menu on the restaurant's table.
Here's the printed menu during my visit: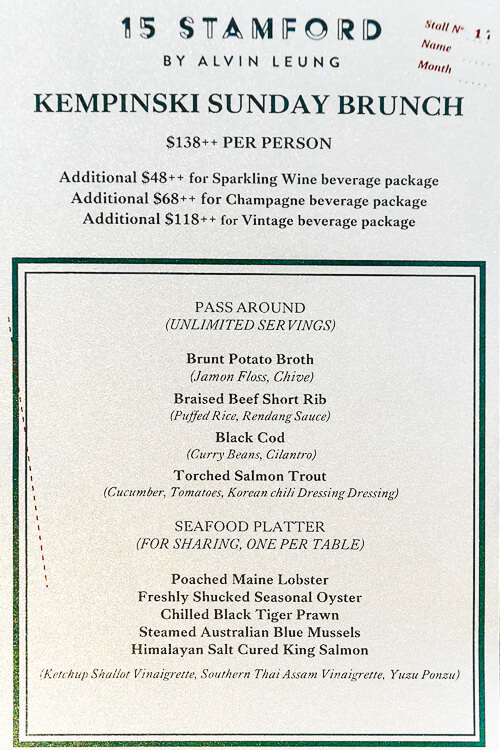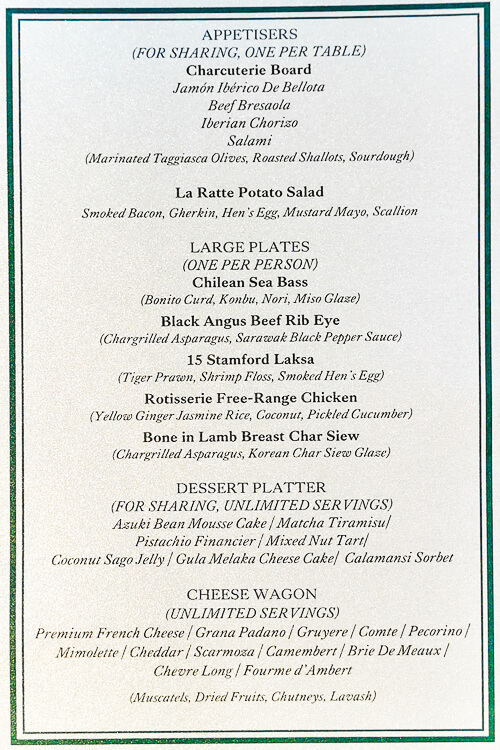 Course 1: Pass Around
Pass Around consists of bite-sized snacks with unlimited servings. Despite being listed as Course 1, instead of being served all at once, the snacks were served one by one throughout the entire brunch. I don't mind though, I don't want to be too full at the beginning of the brunch.
The menu of Pass Around changes weekly. During our visit, there were Brunt Potato Broth, Braised Beef Short Rib, Black Cod and Torched Salmon Trout. My favorite is the salmon, but I also enjoy short rib and potato broth. I was hoping they'd serve foie gras but unfortunate that didn't happen.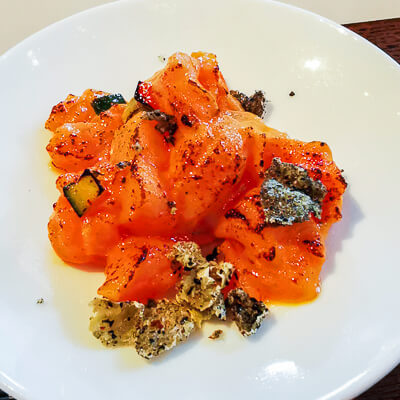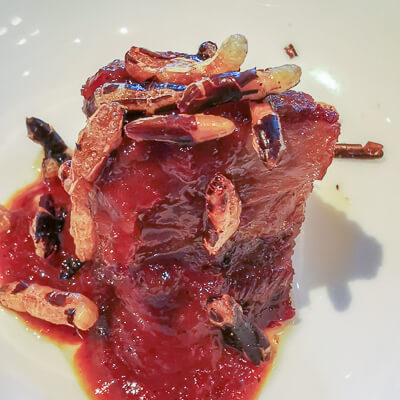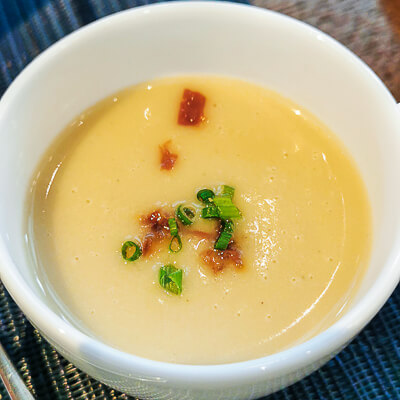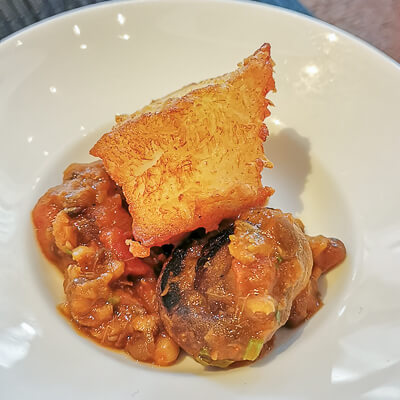 Course 2: Seafood Platter
The Seafood Platter consists of lobster, oysters, tiger prawns, mussels and cured salmon. My favorite is definitely the lobster, which is extremely fresh. I also love the cured salmon. The tiger prawn was too tough.
I am more of a crustaceans person and I usually avoid mollusks. But, since I'm paying a lot for this brunch, I decided to eat everything on the plate. Well, I can't believe I write this but I find the oysters and mussels to be quite soft, fresh and pretty delectable!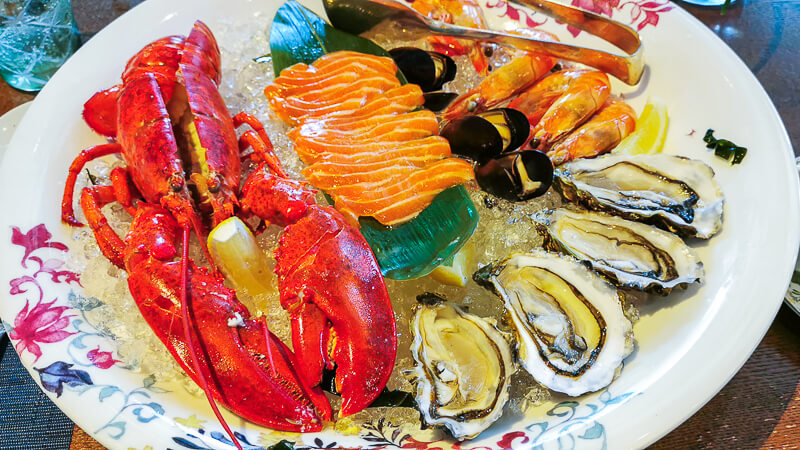 Course 3: Appetisers
The Appetisers actually consists of 2 dish: Charcuterie Board and Potato Salad.
The Charcuterie Board consists of 4 types of ham, namely Jamon Iberico De Bellota, Beef Bresaola, Iberian Chorizo and Salami. Our favorite is Jamon Iberico. If only this is an unlimited serving, we would definitely request for more Jamon Iberico.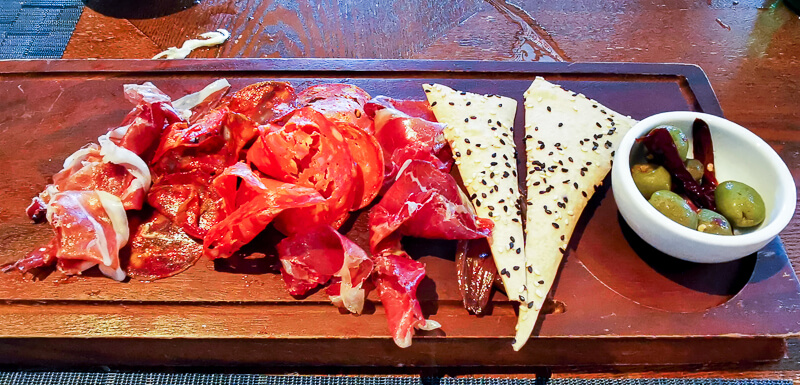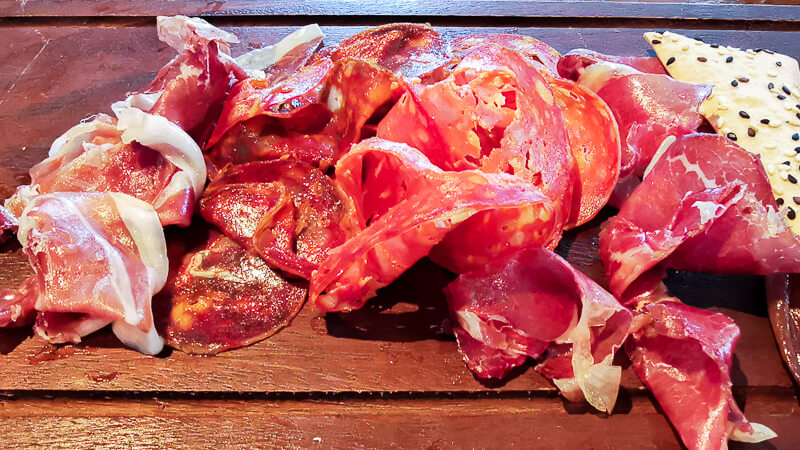 Potato Salad is enjoyable. The potato still has the skin intact but it's quite soft and chewable. We feel that the portion of the salad is quite big.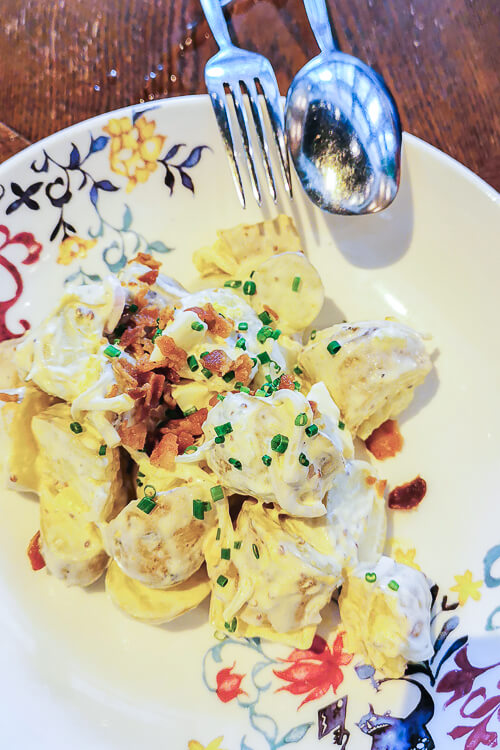 Course 4: Large Plates
This is the part of Sunday Brunch which requires prior research, because one person can only choose one dish out of the 5 available options: Chilean Sea Bass, Black Angus Beef Rib Eye, 15 Stamford Laksa, Rotisserie Chicken, and Lamb Breast Char Siew. We were asked for our choices at the beginning of the brunch.
My hubby decided to go with Lamb Breast Char Siew. The char siew sauce was sweet and enjoyable. The meat was aplenty. To be honest, it taste almost like a pork rib in my opinion!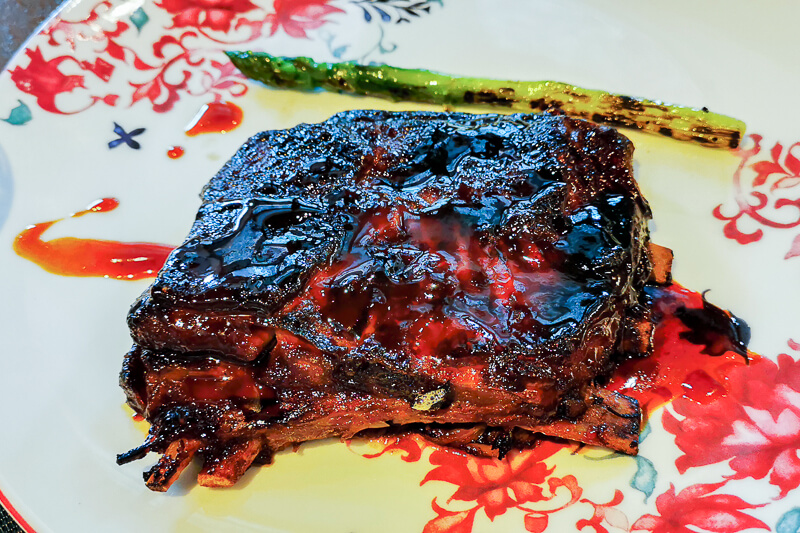 Meanwhile, I decided to go with Black Angus Beef Rib Eye. I wasn't asked about my preferred doneness, and I was served a medium to medium-well steak, which is nicely charred on the outside but soft on the inside. I don't mind being served a medium steak, but I wonder what if some people can't take medium steak but are served one. Anyway, I LOVE the steak! Every bite is a joy, but that's probably because I'm a meat lover.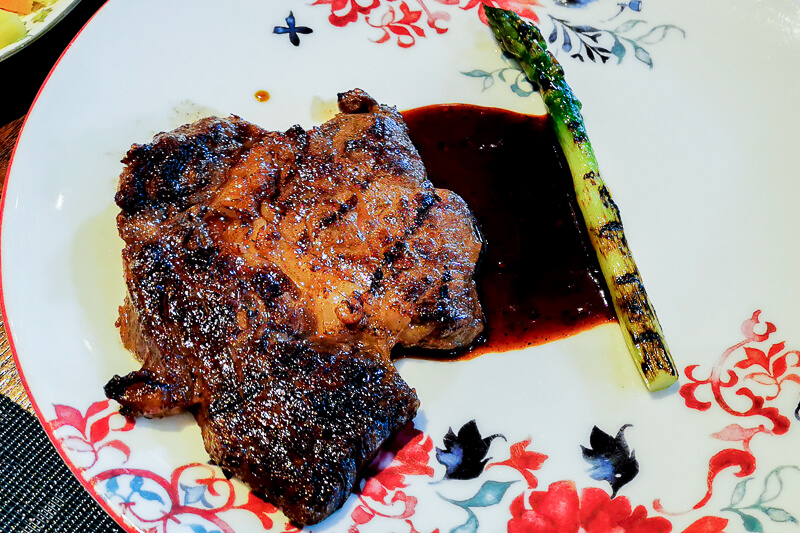 Course 5: Cheese Wagon
I think this course should be called "Cheese Platter" instead because there was no wagon involved. After finishing our large plates, we were served a cheese platter with various cheese as well as dried fruits. I love the soft cheese, but I don't really enjoy the hard cheese.
On the menu, Cheese Wagon is supposed to be the last course, but we were served cheese before dessert, so I'll just list Cheese Wagon as Course 5. To be clear, I prefer to eat cheese before dessert, so this arrangement is fine for me.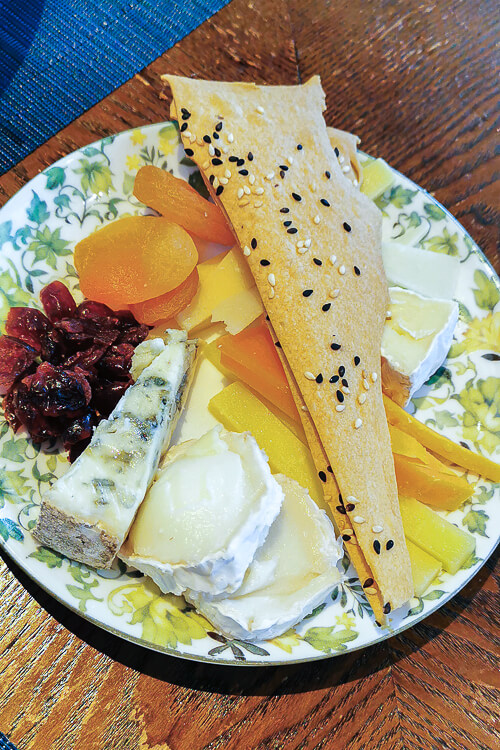 Course 6: Dessert Platter
Finally, it was dessert time. All of the desserts were served in one platter. There were 7 dishes: Azuki Bean Mousse Cake, Matcha Tiramisu, Pistachio Financier, Mixed Nut Tart, Coconut Sago Jelly, Gula Melaka Cheese Cake, Calamansi Sorbet.
My hubby loves the mixed nut tart (cos he loves nuts). For me, nothing screams wow. The calamansi sorbet is too sour for me, the jelly and tiramisu are enjoyable, the cheese cake is the creamy type and not the solid type (pardon my lack of food-related vocabulary). I'm also not a fan of the mousse cake and financier.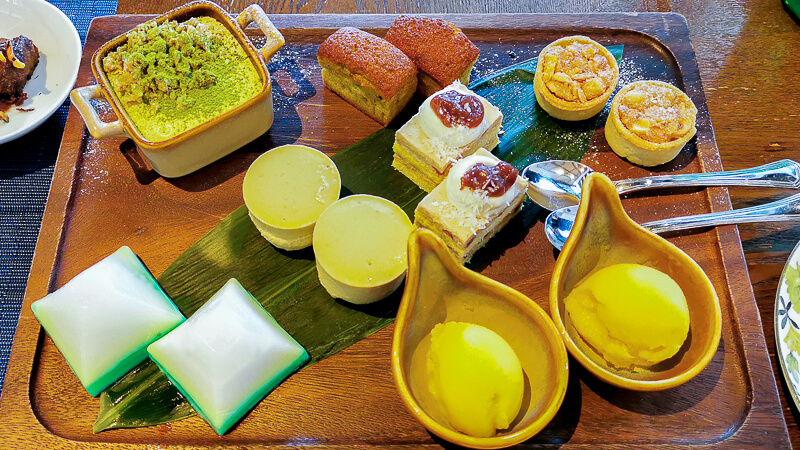 Beverages
As mentioned in the "Price" section, customers can pay additional cost for alcohols ($48+ onwards). Alternatively, you can also order drink from their beverage menu. The drink menu includes cocktails, beers, mocktails, coffees, teas, soft drinks, sodas, juices and mineral waters. Plain water is complimentary.
Conclusion: Is It Worth It?
In my subjective opinion, this Sunday Brunch is worth it especially if you're celebrating a special occasion.
I am not a food expert and I am not a high-spender. But I enjoy the Sunday Brunch a lot and I would consider going back if there is a sale again in the future.
Address & Operating Hours
Address: 15 Stamford Road, Singapore 178906
Sunday Brunch Operating Hours: Sunday 12 noon to 3pm
FYI, I paid for meals reviewed in this article.
If you like my work, you can buy me a coffee! Your support will help me to keep going!