Besides a great place to chill, Sentosa is also a great place for water activities. There are plenty of water-related attractions at Sentosa, namely Adventure Cove Waterpark, Hydro Dash, and Ola Beach Club.
My hubby and I have never done Stand Up Paddle boarding in our lives. So, we decided to book an SUP session at Ola Beach Club to cure our curiosity.
Ola Beach Club is located at Siloso Beach, about 5 mins walking distance from Beach Station (the last station of Sentosa Express monorail). In case you need it, I have an article about how to get around Sentosa.
Ola Beach Club is a restaurant-cum-watersport provider. There are 2 entrances: restaurant and watersport. It's easier to enter from the watersport entrance, as shown in the photo below.
Looking for ideas on what to do in Singapore? Here's my guide on the best things to do in Singapore.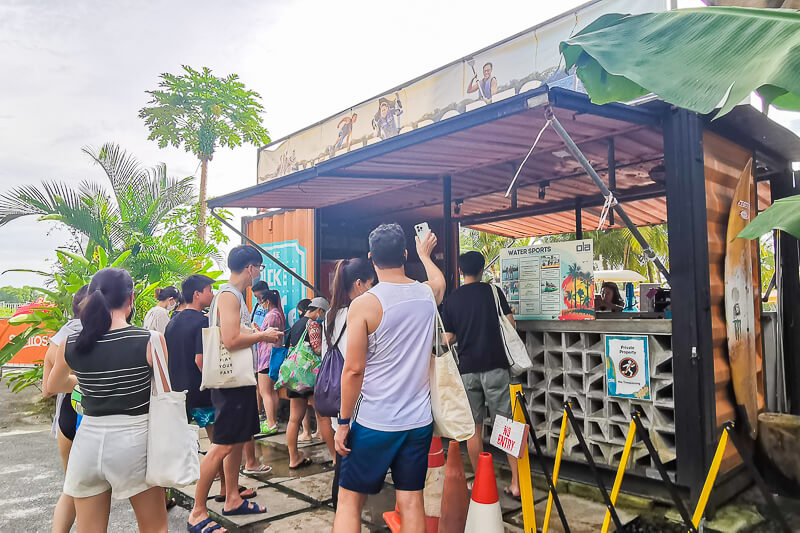 Water Sports Prices
At the time of writing (2022), here are the official prices:
Single Kayaking: S$25/pax per hour
Double Kayaking: S$35 for 2 pax per hour
Stand Up Paddle Board: S$35/pax per hour
Donut Ride: S$50 for 2 pax per 15-min ride
For us, we paid discounted price of $31.5/pax for SUP because we booked online here.
What to Bring for Water Sports
Here are the items to bring for water sports:
Swimwear
Sunblock
Towel
Waterproof case for camera/phone (optional)
Shower necessities (optional, only if you intend to shower after the sport)
A set of cloth (optional)
For us, we didn't bring our phone/camera to the water because we are inexperienced paddle-boarders, so we foresee that we might fall several times into the water and there's a risk that our phone/camera gets damaged from being hit against the board if we fall.
Facilities
Lockers. There are free lockers for watersport guests. They can be locked using combination of numbers.
Shower. There are 2 shower cubicles and an outdoor shower inside each female and male toilets. The line for shower can get pretty long, so if you hate waiting, you can just wash up at outdoor shower, or just don't shower there.
Toilet. There are 3 toilet cubicles in each toilet. Cleanliness is average. Toilet paper is available. There are small gaps between cubicles, but since your neighbor has the same gender as you, I guess it's not a big deal.
Swimming Pool (only for restaurant guests). There is a small swimming pool but it's only for restaurant guests. If you're there for the watersports only, you may not use the pool, unless you are dining there. The restaurant gets fully-booked pretty early, especially on weekends, so you need to book them through their website many days in advance.
Stand Up Paddle (SUP)
The duration for Stand Up Paddle is 1 hour, inclusive of briefing. In our booking voucher, it was mentioned that we need to arrive 20 minutes before the starting time.
From our experience, we needed more than 20 mins for preparation, because we needed to register, fill up indemnity form, change to swimwear, put our things in locker and figure out how to lock it. I recommend that you arrive 30 to 40 mins before your scheduled time.
After locking up things in the locker, the next thing is to join the briefing. There are many different briefings conducted by different people for different sports, it is really quite messy. We joined the wrong briefing group because they thought we were there for kayaking. Upon realizing we were there for SUP, we were told to look for the SUP instructor and go through SUP briefing. The good news is, the briefing was only 5 mins long. In the end, after all of the mess, we only started our SUP session 15 mins after our scheduled start time.
During the briefing, we were told about the basic of stand up paddling, how to stand/kneel/sit, how to paddle, how to make a turn, how to stop, how to get up after falling down, and where we're supposed to paddle. Everyone was supposed to wear mask during briefing. After briefing and before going into the water, we can put our masks in the ziploc provided by the operator, hang it at the designated mask shelf, and start our watersport.
The allowed paddling area stretches from Ola Beach Club to the bridge at MegaZip. The distance is roughly 500m long (see map below). The water is pretty calm in the lagoon, but watch out for swimmers. You can get outside the lagoon, but be careful not to get too far out so that you won't be swept away by the current.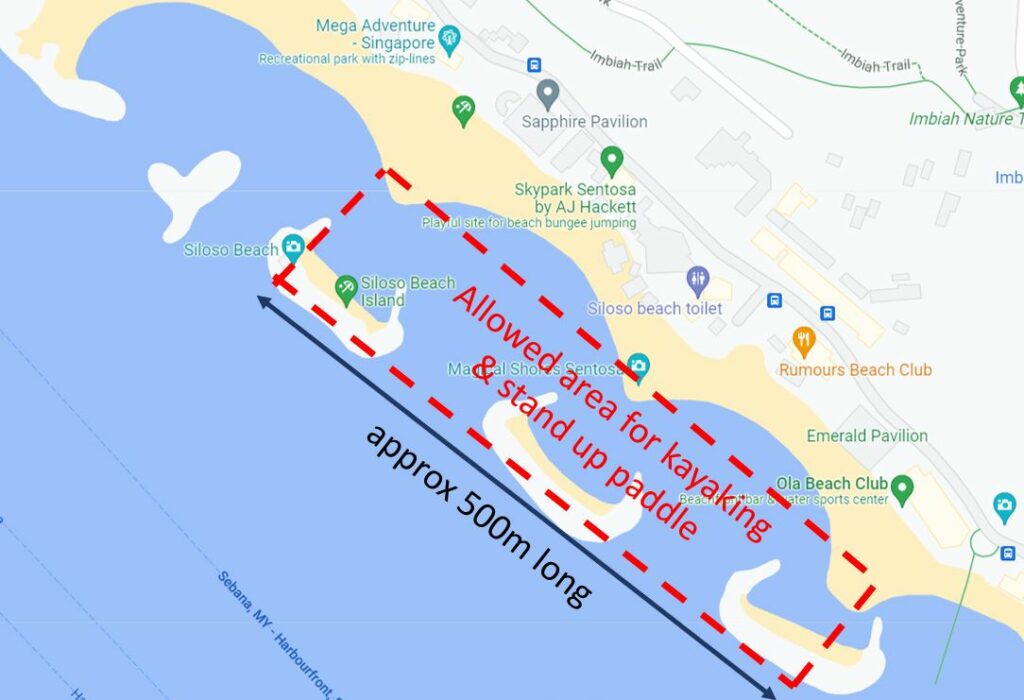 As stand up paddlers, we don't get the luxury of storage, so it's quite difficult to bring water bottle with you, unless you're sitting on the board all of the time.
Despite the late start, I truly enjoy the experience of Stand Up Paddling as a first-timer. You don't need to have any prior experience or certificate, anyone can do stand up paddle as long as they're confident in the water and not afraid of falling down.
If you're scared of choppy water like me, you can sit down at places where the water is choppy. I sat down most of the time and only stood up when I was in the lagoon. If you love water activities, I think you'll love stand up paddleboard.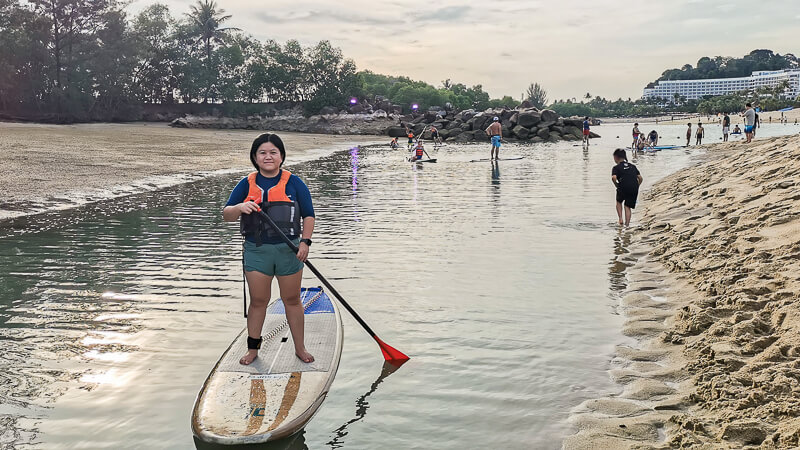 Kayaking
I didn't do kayaking but because I mistakenly joined the kayaking briefing group, I probably can share a thing or two about kayaking at Ola Beach Club.
The preparation for kayaking is pretty similar to SUP. You need to register, fill up indemnity form, change to swimwear, keep your things in the locker and join a briefing. After briefing, you take your paddle and kayak from Ola Beach Club to the water. The allowed kayaking area is same like SUP, which is between Ola Beach Club to the bridge of MegaZip.
There are 2 types of kayak: single and double. You carry whichever kayak that you paid for. Kayakers have the luxury of storage, so you can bring water bottle on the kayak. If you fall down, you need to hold on to the paddle and not lose it, otherwise, you'll have to pay fine of $70. Any damage to kayak will also be chargeable.
Restaurant
Ola Beach Club restaurant serves Hawaiian-inspired dishes, such as Loco Moco, Huli Huli Chicken and Kalua Pulled Pork. Also available on the menu are poke bowls, finger food, kids menu, and various alcoholic and non-alcoholic drinks.
Booking is highly recommended because the restaurant is usually fully booked on weekends. If you're visiting on weekends, do note that you need to spend a minimum of S$50 per adult.
Restaurant guests can enjoy the swimming pool, so do bring your swimwear if you intend to swim.
Address & Opening Hours
Address:
46 Siloso Beach Walk, Singapore 099005
Opening Hours:
Mon-Thu: 10am-9pm
Fri & Eve of PH: 10am-10pm
Sat & PH: 9am-10pm
Sun: 9am-9pm
FYI, I paid for my SUP experience here.
If you like my work, you can buy me a coffee! Your support will help me to keep going!