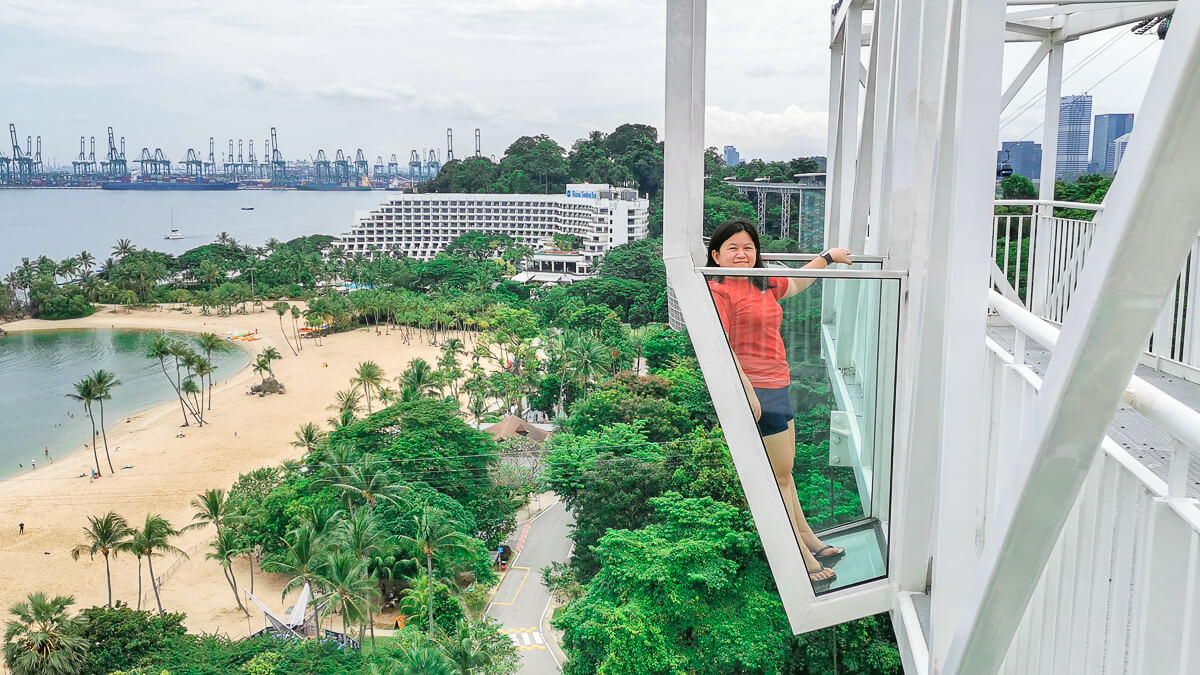 AJ Hackett is the company behind the renowned Bungee Jumping in Sentosa. Besides bungee jumping, AJ Hackett actually has several more activities, namely Giant Swing, Vertical Skywalk and Skybridge.
I am never a fan of free-fall activities, so I will do my utmost to avoid any kind of bungee, swing or skydiving.
I am, however, a big fan of seeing the world from high above. Therefore, I'm always searching for places that allow me a bird-eye view of a city or a place. That is why I decided to visit the Skybridge at AJ Hackett.
Heading to Sentosa? Read my comprehensive guide on 30 Things to Do in Sentosa Island, Singapore.
What exactly is AJ Hackett Skybridge?
AJ Hackett Skybridge is a 40-meter long, 47-meter high bridge that connects 2 towers at AJ Hackett Sentosa. It features see-through glass floor sections and Glass Cube where you can test your fear of height.
How much does AJ Hackett Skybridge cost?
The ticket to AJ Hackett Skybridge costs SGD 15 per person. You can buy it on site; or you can purchase online.
At the time of our visit, there was a promotion where we'd get a drink/ice cream if we purchase online, so before you decide that you prefer to buy on-site, do check if there are any freebies if you purchase online.
PS: AJ Hackett is eligible for SingapoRediscovers Vouchers (SRV)!
Redeem your ticket here.
How to get to AJ Hackett Skybridge?
AJ Hackett is located at Siloso Beach, Sentosa. To get to AJ Hackett, the easiest way is to take the monorail (Sentosa Express) from VivoCity and alight at Beach Station.
From Beach Station, you can either walk for 1.1km or take the beach tram. Beach trams are not so frequent, so if you are short of time, it's better to walk (but be prepared to sweat a lot on a sunny day). If you're traveling with young children or elderly, I recommend that you wait for the beach trams.
Our Experience at AJ Hackett Skybridge
Our experience at AJ Hackett Skybridge started with redeeming our online ticket at the ticket counter at the first storey. Upon redemption, we received a voucher each, to be exchanged with a drink or ice cream after visiting the Skybridge.
First, we had to take the elevator to Level 17.
A few seconds later, we arrived at Level 17, which was an open-air deck. There was no usher to guide us, so we simply roam around freely like excited kids.
The first thing that caught our attention was the jumping area of Bungy, the bungee jumping. It was quite fun watching the jumpers getting ready for their jump. Yes, the Bungy is located at the same level as Skybridge.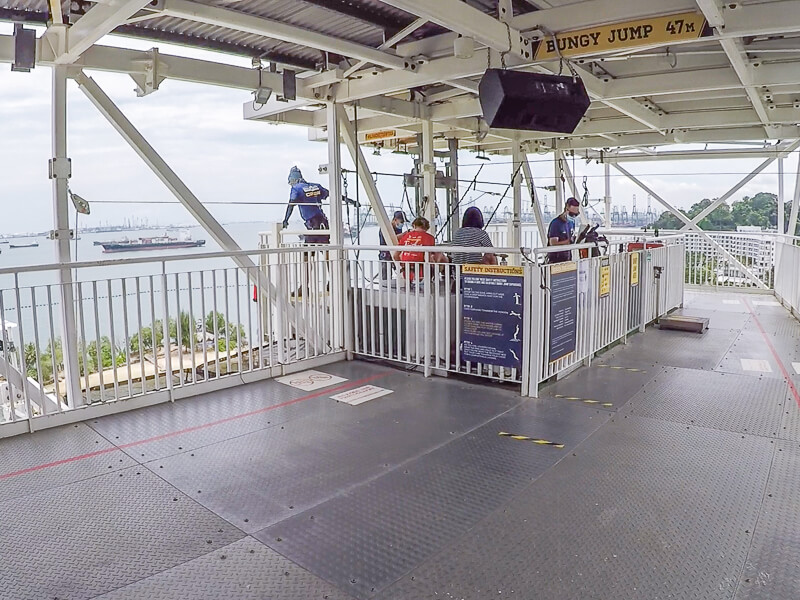 A few steps away from Bungy is the Sunset Deck. With artificially-turfed floor and a couple of picnic table and chairs, it is a great place to chill. But, to be honest, it doesn't have an inviting vibe.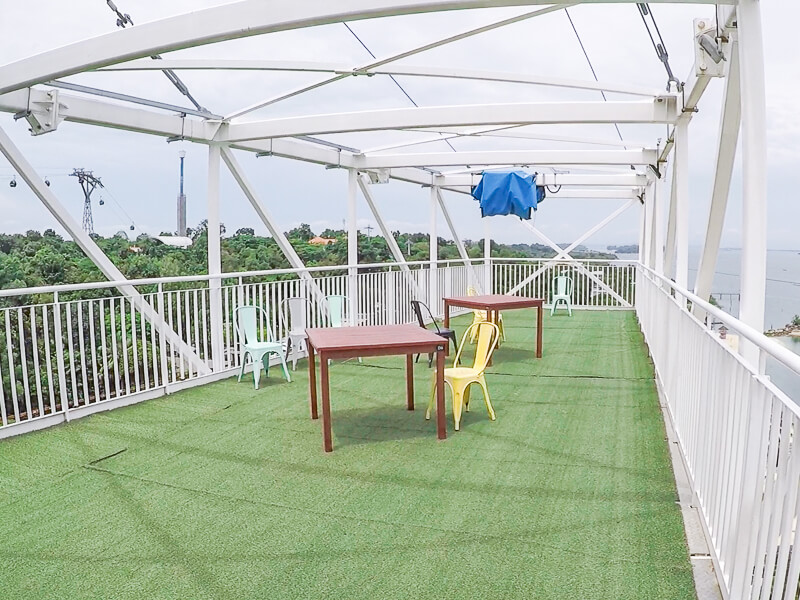 I was expecting the sunset deck to be decorated with fairy lights, fancy picnic tables and chairs, and a bar with music. But what we saw was more like a no-frills outdoor deck. No decoration, no bar, no music; only artificial turf flooring.
Then, we walked across the bridge! It was really windy up there and hot at the same time because there was no overhead cover.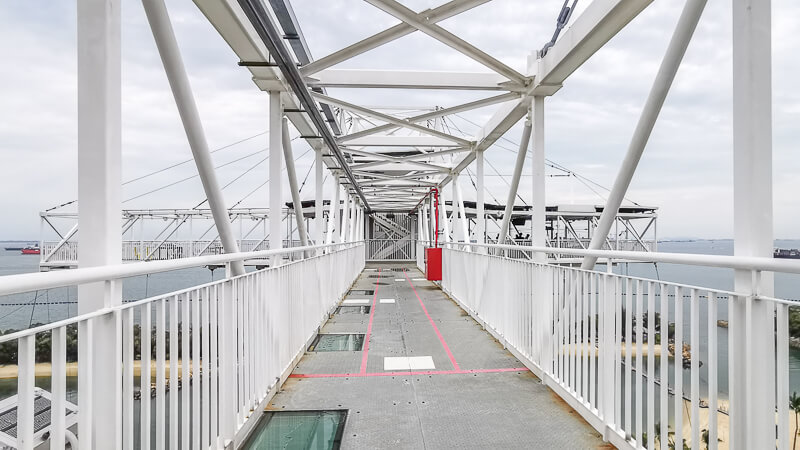 Along the bridge, we noticed a several see-through glass floor. Thank God, these pockets are quite small; I didn't feel terrified at all.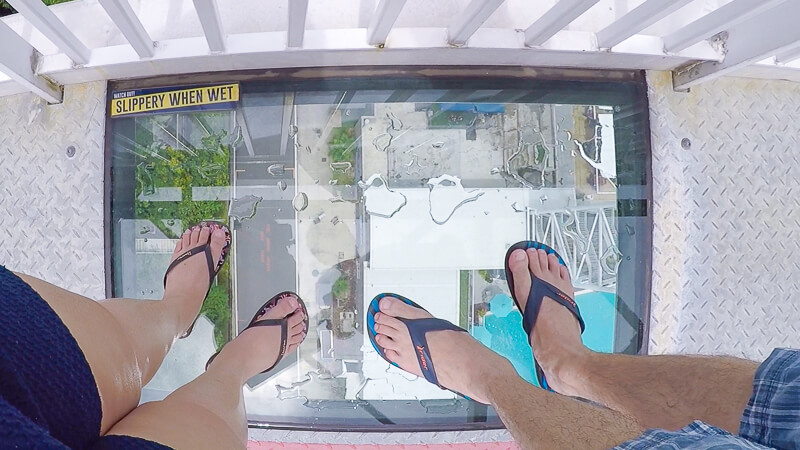 As we walked to the end of the bridge and arrived at the other tower, we were met with the Glass Cube, a 3-sided glass balcony that protrudes out from the Skybridge.
This Glass Cube has transparent floor, and it was quite terrifying for me. I admit that I was chanting Buddhist chants in my mind. But, I did it! I managed to tame my fear for several seconds and took photos as a proof!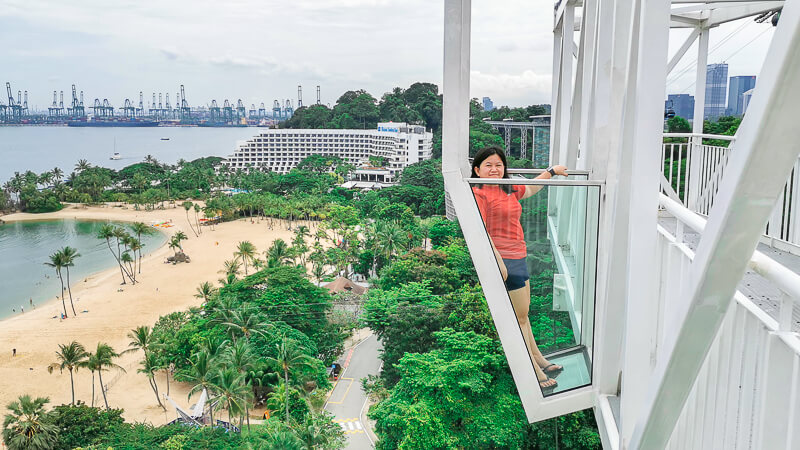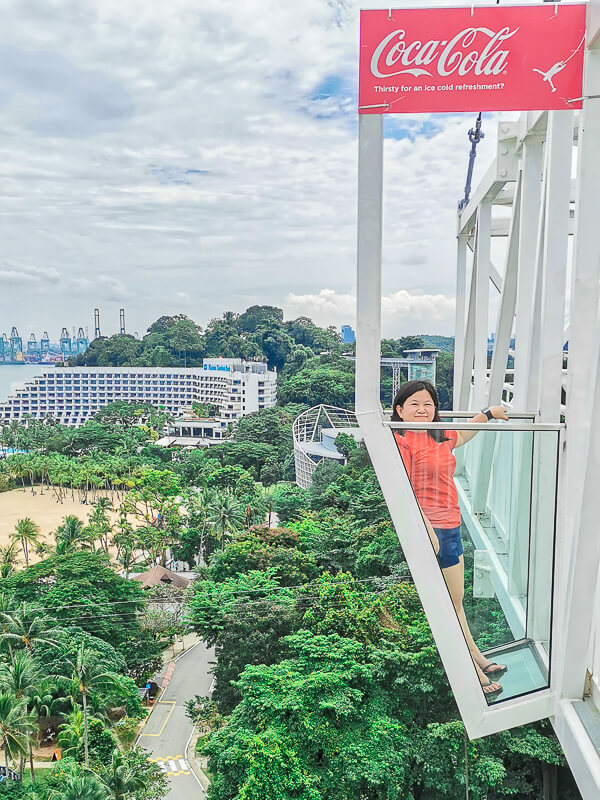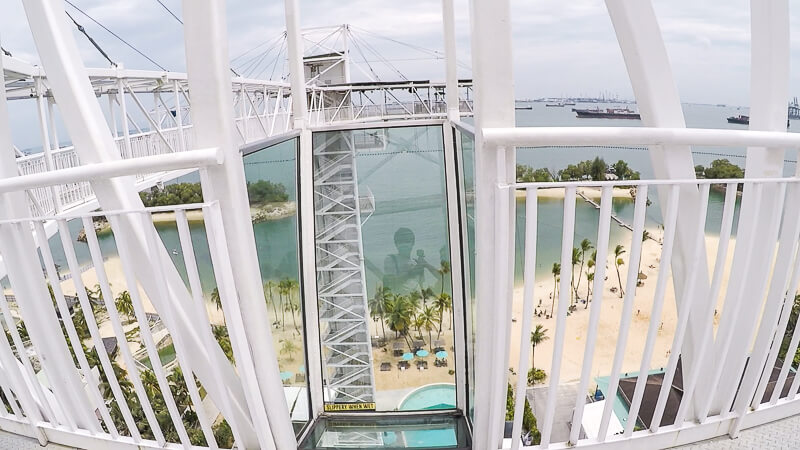 My favorite part of this Skybridge? It's the scenic views! From the Skybridge, we get to see so many beautiful sights, such as Siloso beach, zippers across the beach, cable cars, the majestic Shangri-La's Rasa Sentosa Resort, and even Fort Siloso Skywalk!
We also get to see people on the Giant Swing and Bungy screaming to the top of their lungs!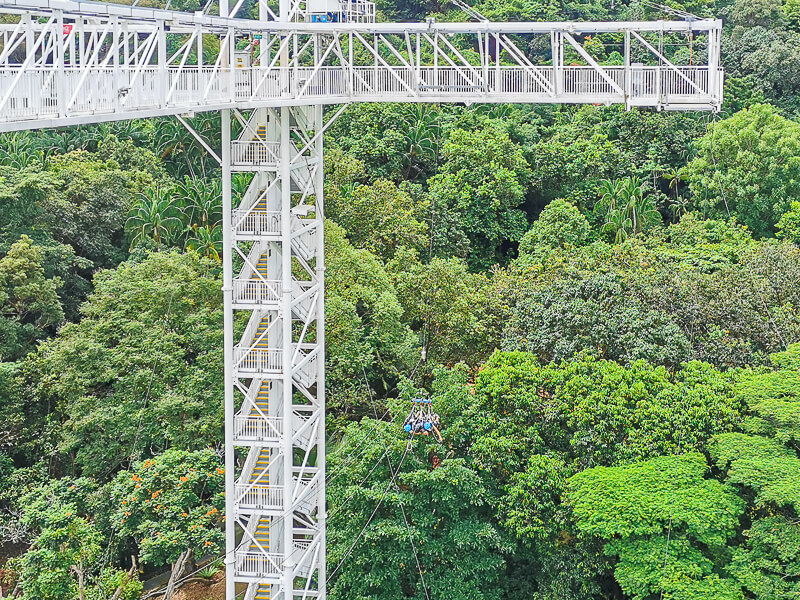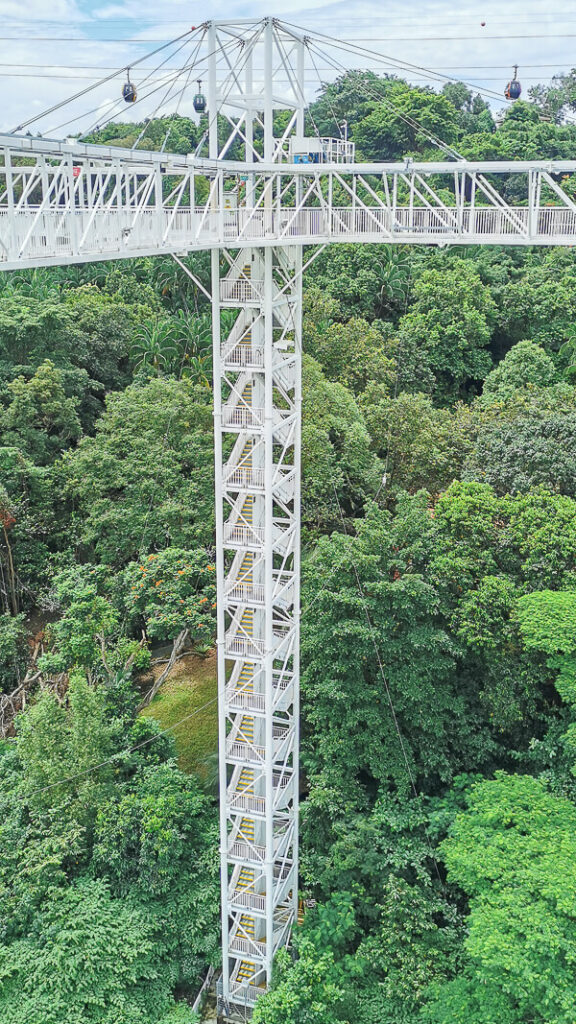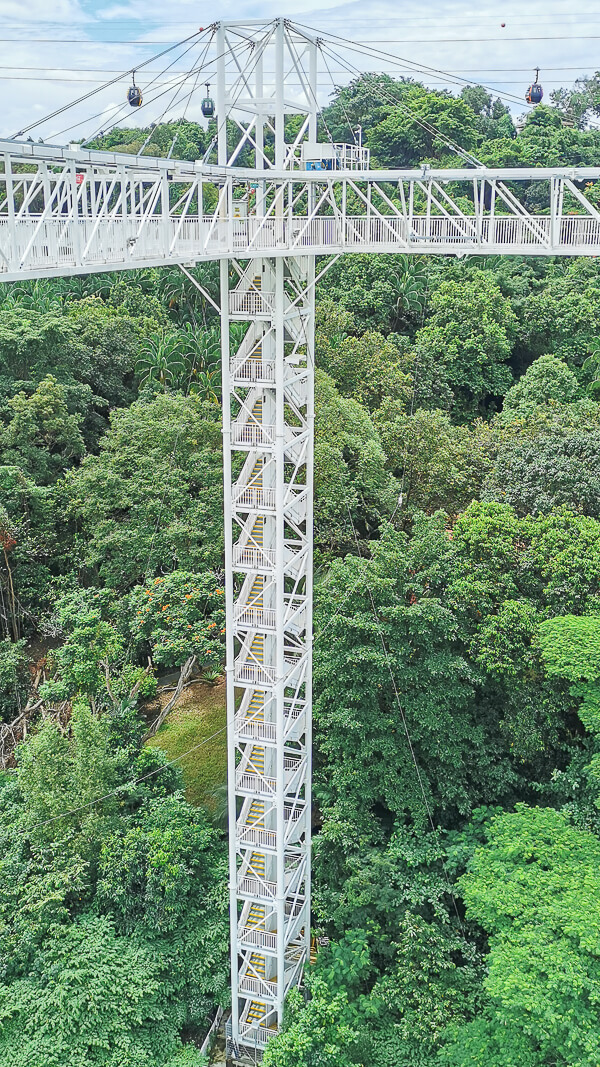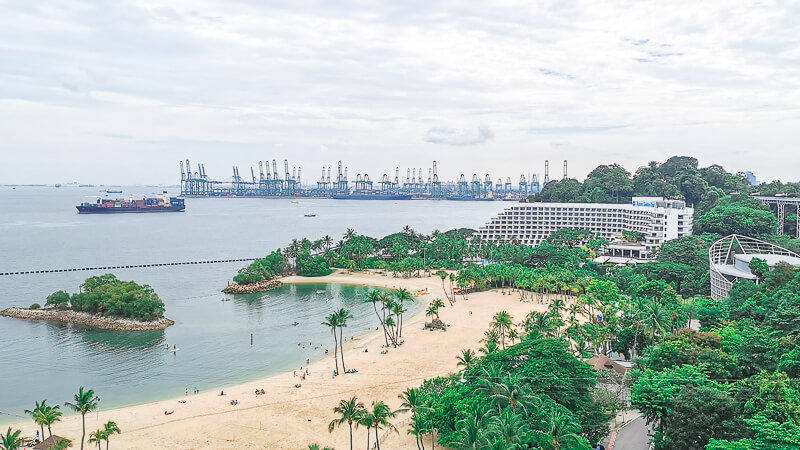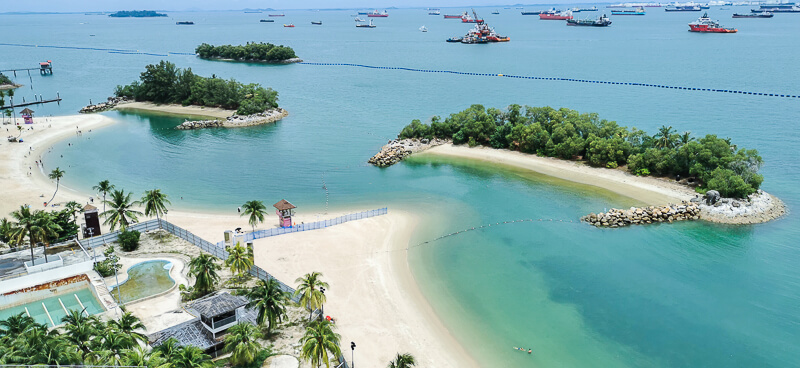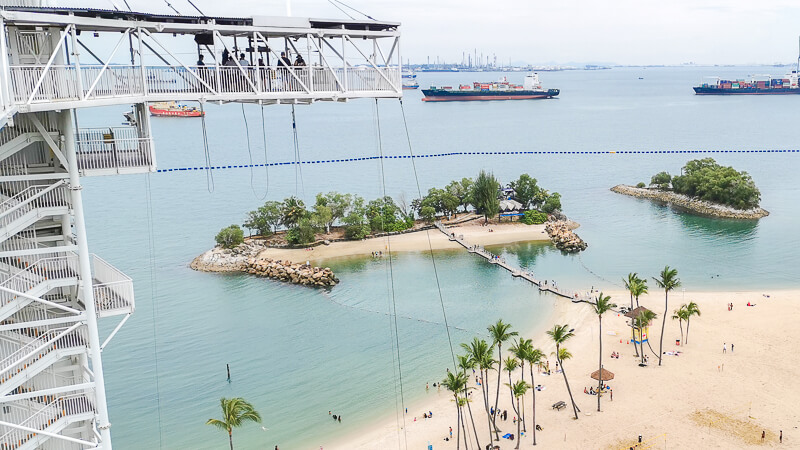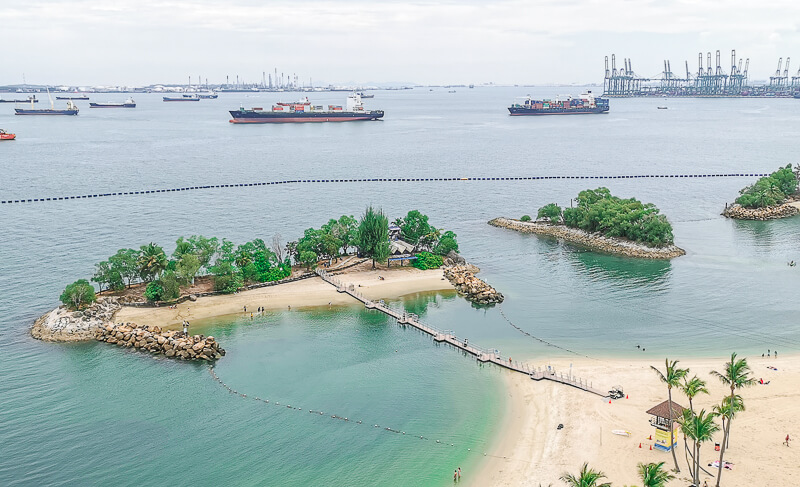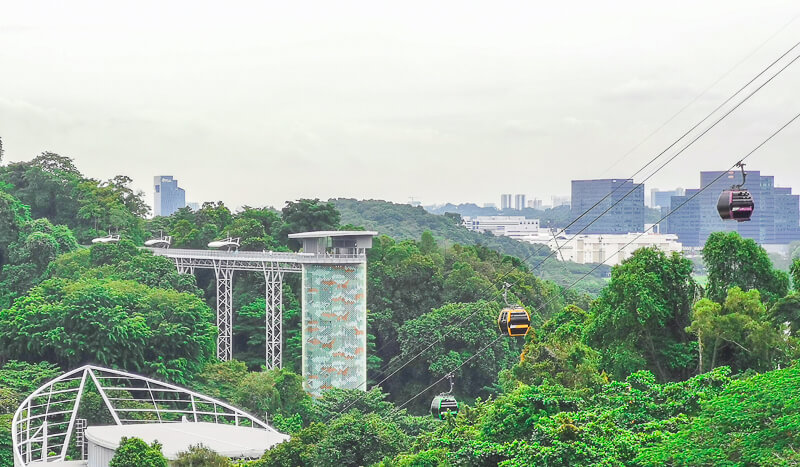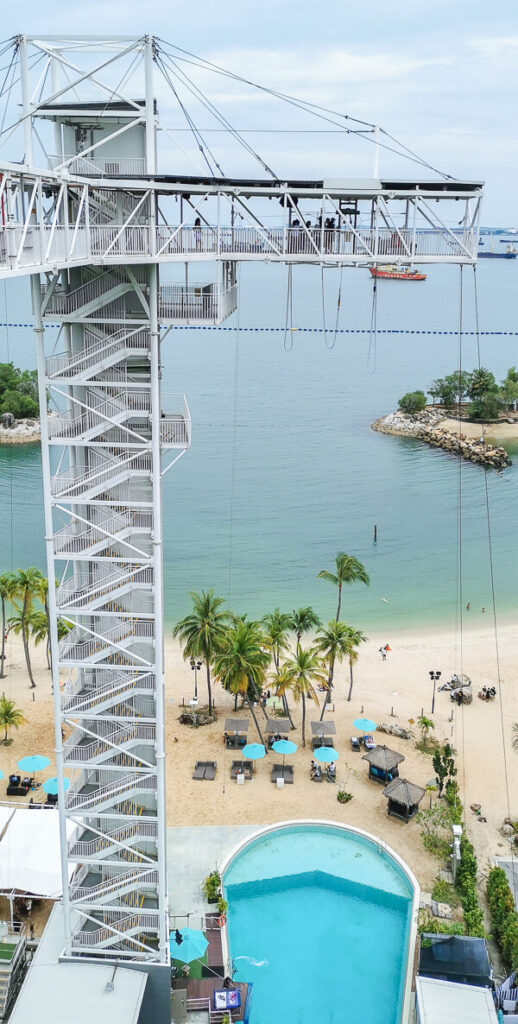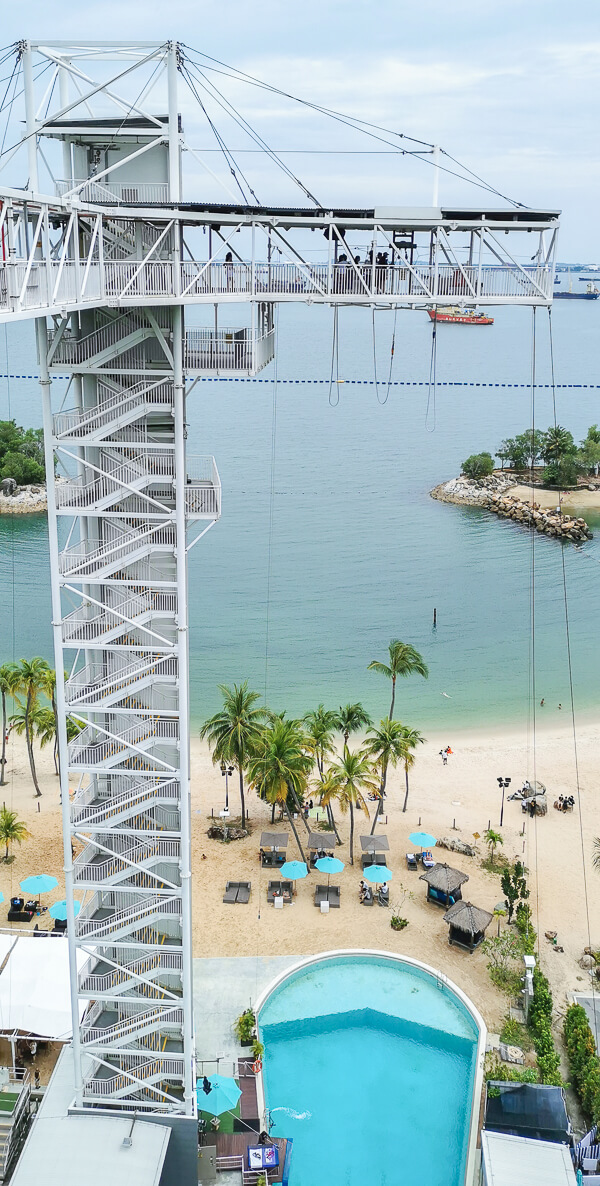 After spending about an hour at the Skybridge, it was time to leave. We took the elevator down to first storey, and headed to the bar to redeem our drink and ice cream, and spend the next couple of minutes watching bungee jumpers in action while sipping our drinks and enjoying our ice cream.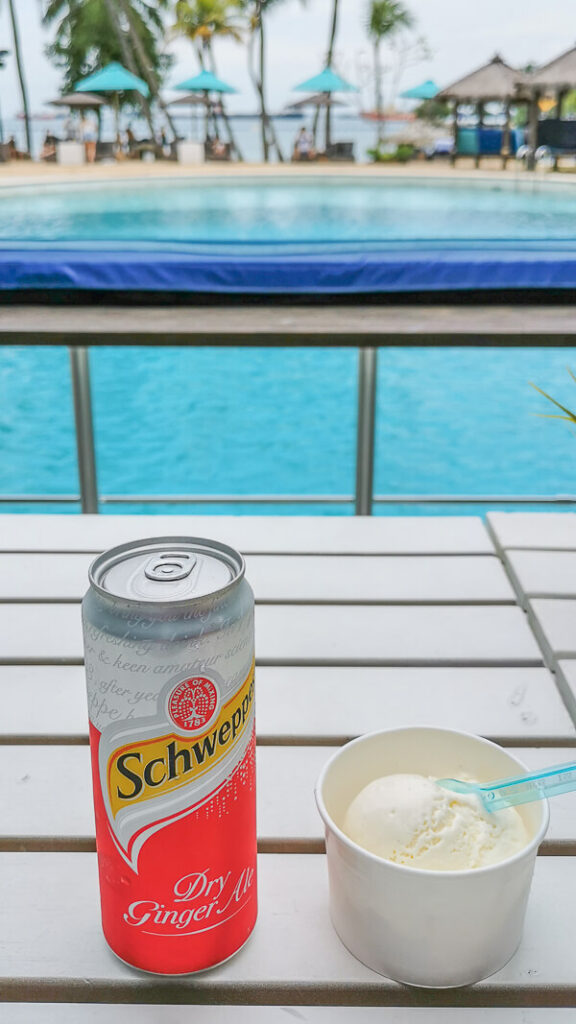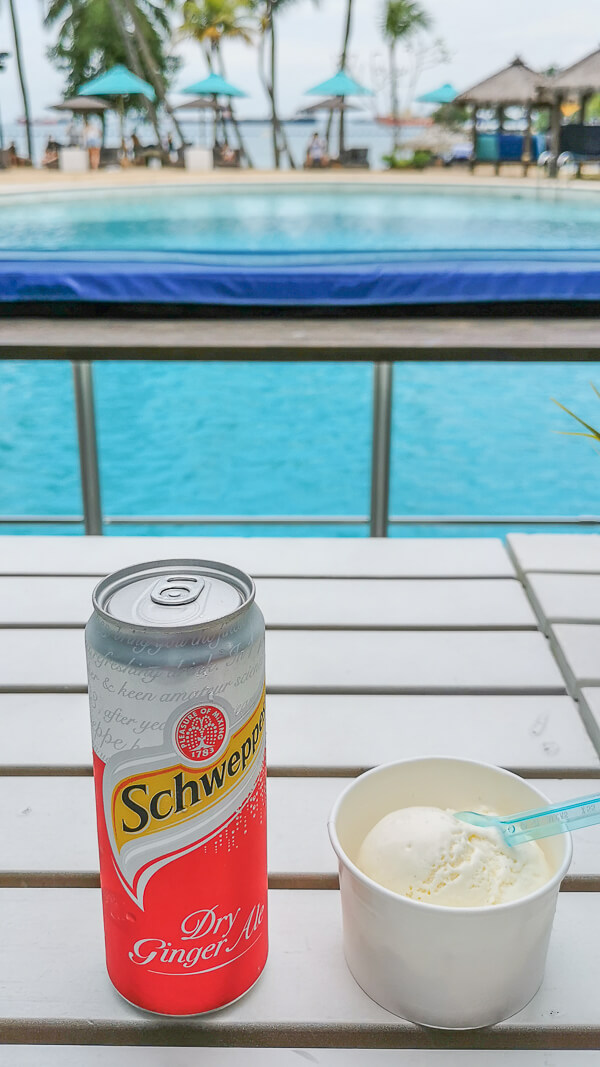 I have so many footage that I plan to turn into a video, but I haven't got enough time to edit them. If you want to see my video when it's ready, subscribe to my Youtube channel and you'll get to see when I upload it on Youtube!
Is AJ Hackett Skybridge worth the price?
In my opinion, AJ Hackett Skybridge is a great place for people who love scenic views from above, like me. If you love observation decks (like Tokyo's TMG, Hong Kong's The Peak or MBS Skypark), rooftops (like Pinnacle@Duxton's rooftop), you'll definitely love this.
It is also a great place for people who are looking for new places to visit and don't mind spending money for experience. SGD 15 to stand at 47m above ground is not exactly cheap.
However, thrill seekers may find this Skybridge dull because there are literally no adrenaline-inducing activities, unless you count standing on Glass Cube as a thrilling experience.
It is also not suitable for people with tight budget who want to get the most bang for their bucks.
Have you been to the AJ Hackett Skybridge? How was your experience? Let me know in the comment.
Want to be the first to know whenever I post new articles and videos? Join my Telegram Channel and you'll get new post alerts sent directly to your phone.