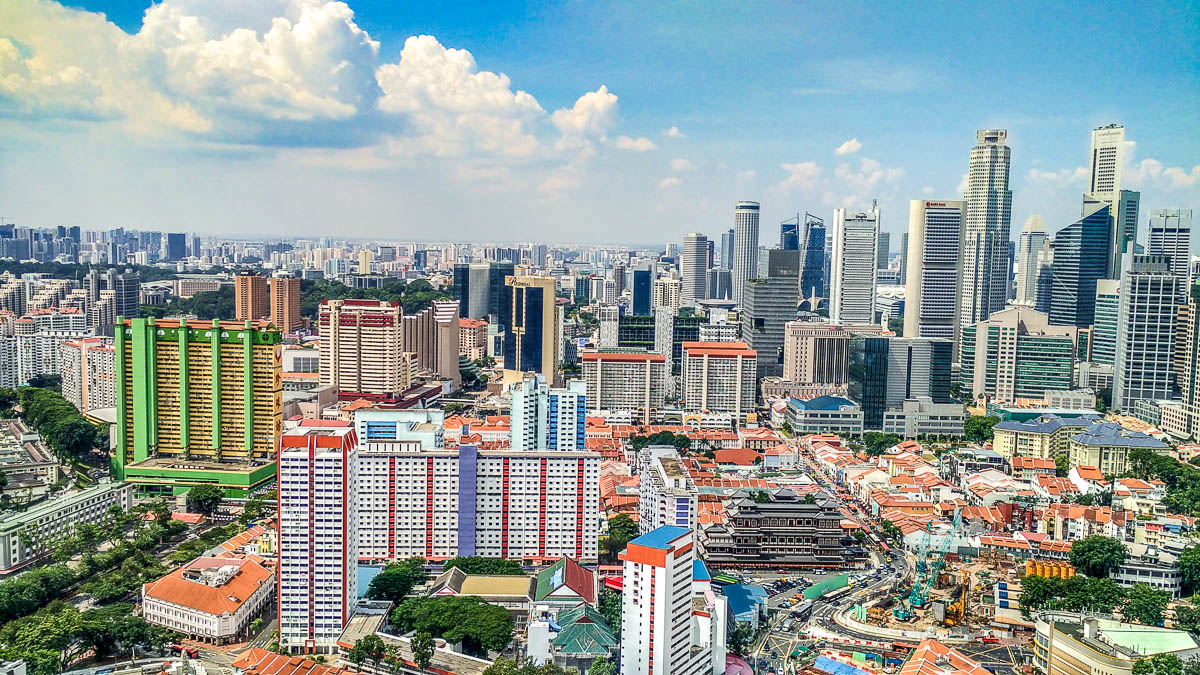 I'm a big fan of city skyline. I'm always ecstatic looking at all the buildings from above or from far. When I went to Hong Kong this year, I revisited The Peak, was and will always be in awe with Hong Kong's skyline. In Tokyo, I went to Tokyo Metropolitan Government Building's observation deck on 45th-floor to get an awesome view of the city. In Bangkok, I witnessed an astonishing night cityscape from Baiyoke Sky's revolving observation deck at 84th-floor.
In Singapore, I had gone up to MBS' Skypark and ridden Singapore Flyer. They were breathtaking and deserve "must-visit-before-you-die" mark. The only downside was, they were expensive. The ticket for MBS' Skypark is S$ 23 per adult; meanwhile, an adult ticket for Singapore Flyer costs S$ 33 at the time of writing.
Recently I was researching for things to do in Singapore and found out that the rooftop of The Pinnacle (a very posh public housing apartment building) is open for public for a mere price of S$ 6. How cool is that? You paid a small price for an access to a rooftop at 50th-floor and you get to see Singapore's city area with much lesser crowd compared to MBS or Flyer.
What You Will See
The Pinnacle is located at Outram Park. Basically, you can expect to see buildings at Tanjong Pagar, Port at Harbourfront, Sentosa Island, Chinatown, and Outram Park itself.
What You Can Do There
Honestly, I can spend hours just admiring the skyline and photographing it. In case you are not the type of person who can spend hours looking at the skyline, consider photography. There are so many spots from which you can take great photos of the skyline. In addition, the rooftop itself is very well designed and will make great backgrounds.
Alternatively, you can settle yourself down at one of the seats and read books, listen to music, just be still and contemplate about your life or dreams.
How To Go There
The nearest MRT is Outram Park. Take Exit G, and you will arrive at Police Cantonment Complex. Then, walk to the traffic junction, and cross the street to Dorsett Hotel. Walk along the row of shophouses towards The Pinnacle @ Duxton. Walk to the bus stop named "Opp Maritime Hse" and turn left. You will see the Managing Agent (MA) Office at level 1. This is Block 1G, and this is where you purchase the ticket and register your identity.
There is a machine in front of MA Office that allows you to buy the ticket with an EZ-Link. One card can only be used for 1 person. If you wish to pay by cash, talk to the officer inside MA Office. After payment is done, you can take the lift from any block in The Pinnacle. Do note that you have to come down from the same block (there are 7 blocks in total, A to G); otherwise, you need to call MA Office to assist.
At 50th-floor, tap your EZ-Link card on the card reader at the turnstile and voila, you are at the Sky Bridge. When you want to exit, tap again your EZ-Link card at the turnstile and take the lift down.
Things To Take Note
It's pretty hot up there, you might consider applying sunscreen or bringing an umbrella to protect yourself from the sunlight.
Level 26th sky garden is not for public, only for residents. Only level 50 sky garden is open for public.
The opening hour of 50th-floor sky bridge for the public is 9.00 – 21.45 daily. Final admission is at 21.30. Final purchase of the ticket is at 21.00.
As mentioned above, you can take the lift from any block to go up, but you must go down at the same block. Otherwise, you need to call MA Office for assistance.
The quota allows only 200 members of public to visit the sky garden in a day. So, go early.
I hope you enjoy Singapore's skyline view from Pinnacle @ Duxton!