PS: Mega Adventure is eligible for SingapoRediscovers Vouchers (SRV)!
Redeem your ticket here.
So, you've had enough of boring activities like swimming on Sentosa's beach? Enter Mega Adventure Park.
Travelling should awake all your senses, pump your adrenaline and give you a memorable experience to remember for a long time, shouldn't it? If you have the same view about travelling as me, then push all of your "Sentosa-must-do-things" to the bottom of your list and head to Mega Adventure Park first thing when you arrive at Sentosa.
As a long-time (over a decade) resident of Singapore, MegaZip has been on my radar for so many years. I felt a rush of adrenaline every time I saw people zipping past above me at Siloso Beach. I yearned to try it but the little voice in my head reminded me about that time I took 30 mins to calm myself before sliding down a terribly high water slide at Bali's Waterboom.
After years of grueling arguments between my heart and my brain, the former eventually won. I took the brave steps to Sentosa last month to prove if my heart made the right decision.
What's There at Mega Adventure Park?
Surprise, it's not only a zipline! In fact, there are 4 types of adventures to challenge the beast in you. My hubby and I tried the two most challenging ones: MegaZip and MegaJump, both of which I'm going to write about below. The other two adventures are MegaClimb (a rope adventure where you get to choose 2 out of 3 levels of treetop obstacles) and MegaBounce (kids would love bouncing on trampoline).
MegaJump
Getting ready for the activities is really fast and easy. Basically, the helpful and friendly crews would be helping you don the harness. After you're suited, another crew would bring you to the buggy, then drive you to Imbiah Hill, the place where you'll start the activities.
Because our package includes MegaZip and MegaJump, we had to do the Jump first then the Zip. Standing at 15m high, I had cold feet. I know it sounds silly considering I love mountains, skyscrapers and rooftop, but I hated the thought of free-fall jump. I let my hubby proceed with the Jump while I happily snap pictures and record videos of him.
To make it clear, MegaJump is different from bungee jumping. In bungee jumping, when you reach the bottom, there's some bouncing effect in the rope that will pull you up. Meanwhile, in MegaJump, you simply jump down to the ground and land on your knees. The jumping takes less than 10 seconds, but the thrill before that is probably several minutes long! This is a good practice before your real "jumping out of the plane" in case you're planning for a skydiving in the future!
MegaZip
This is it, the zip line I've been waiting for so many years. There are 3 zip lines that travel together at the same time. Naturally, I want to zip together with hubby. The crews know that friends & families want to zip together, so they diligently ask everyone how many people there are in their group.
Mobile phone and GoPro are allowed as long as there is a way to secure it to yourself via a lanyard. I brought my GoPro but forgotten about the mount, I'm so mad at myself. Before you go, make sure you prepare the necessary tools for your phone or camera. The cashier sells handphone pouch that you can hang around your neck. PS: Selfie stick is not allowed.
How did it went? I couldn't believe I'd say this, "It's amazing and I can't get enough!" There wasn't any pushing (like skydiving) or free-fall. It was perfect for someone like me who loves adrenaline (but not extreme sports). It felt surreal, I felt like flying over the jungle and water. It felt liberating and cool (Thailand and Laos zip line, I'm so ready for you!).
If you don't bring phone or GoPro while zipping, you'd still have photographs of you taken by the crews. They're available for purchase albeit at a premium price.
The zip line ends at a small island across the water from Siloso beach. From there, we had to come down, walk across the bridge to go back to Mega Adventure Park to return our harness.
Here's our experience in video:
What do Do Before Visiting
Purchase ticket in advance to avoid wasting time standing in the line and to save money too. If you're going for MegaZip + MegaJump package like us, it's cheaper to get it from here (additional 5% if you use promo code: "trevallogsg"). Meanwhile, if you're only getting single activity or other combination of activities, you can get it here.
Bring and wear the right things. See below for more detailed tips.
Check the weather. I recommend that you check the weather one day before your scheduled visit via NEA website and try to avoid rainy days if possible. If your schedule is not flexible, I suggest that you arrive early about 11am rather than late afternoon (the park closes at 7pm) so that you'll have chance to wait for rain to subside. It rarely rains the whole day in Singapore.
Things to Bring & Wear
Things to bring:
GoPro with mount and straps to attach it to your body
If you want to bring phone, bring a phone pouch that has strap/lanyard that you can use to attach to your body
Note: no selfie stick is allowed
A small bag (preferably a backpack) to keep all of your belongings. You can deposit them in the lockers before your activity, or you can wear them during zip-lining.
Waterproof jacket in case of rain
Sunscreen to protect your skin from Singapore's fierce sun
Things to wear:
Covered shoes (the worst case that could happen if you wear slippers for MegaZip is that your slippers will be attached to your harness and you'll be bare-footed while zip-lining)
Clothes that cover your shoulders, thighs and knees to prevent abrasion with harness
No skirts & dresses (obviously)
No loose clothes (obviously, you don't want your pants to drop when you're zip-lining or your clothes to get tangled with the harness, do you?)
No spectacles, watches, rings, earrings, hats (they possess fall hazard). Keep them in your bag.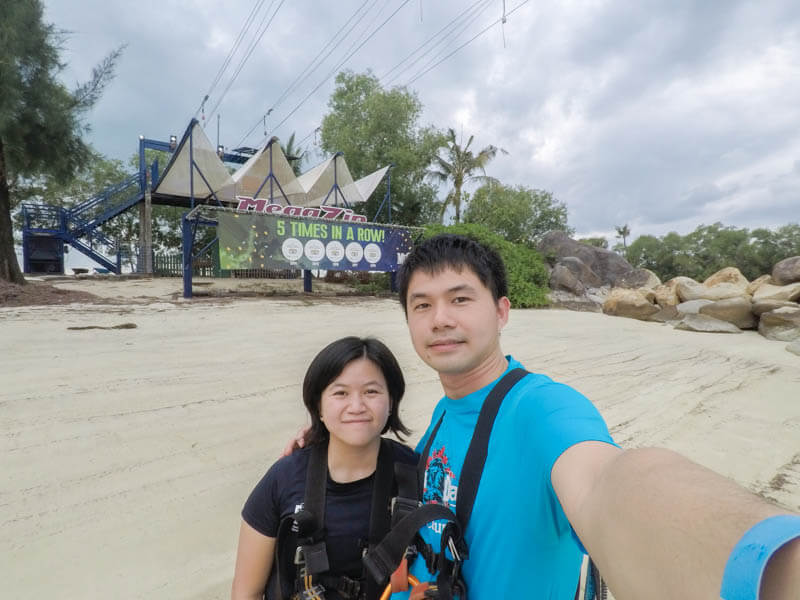 Essential Info
Opening Hours: 11.00 am – 7.00 pm daily
Location: Siloso Beach
Prices:
MegaZip: S$50 for 1 ride, S$65 for 2 rides per person
MegaJump: S$25
MegaClimb: S$45
MegaBounce: S$15
Conqueror (all 4 activities): S$100 walk-in, S$90 online
High Flyer (MegaZip, MegaJump, MegaClimb): S$85 walk-in, S$76.5 online
Adventurer (MegaZip & MegaClimb): S$75 walk-in, S$67.5 online
Thrill Seeker (MegaZip & MegaJump): S$65 walk-in, S$58.5 online, S$44 via Voyagin (additional 5% if you use promo code: "trevallogsg")
Little Explorer (MegaZip & MegaBounce): S$60 walk-in, S$54 online
Restrictions:
MegaJump:

Min Weight: 30kg
Max Weight: 120kg

MegaZip:

Min Height: 90cm
Min Weight: 30kg unaccompanied
Max Weight: 140kg
For a child below 30kg but above 90cm, he/she can go together with another person on the Zip

MegaClimb:

Min Height: 120cm
Min Weight: 25kg
Max Weight: 120kg

MegaBounce:

Min weight: 10kg
Max weight: 90kg
How to Go
Public transport is the cheapest method to get to Sentosa (Mega Adventure Park is located at Siloso Beach at Sentosa) but it took longer time compared to taxi. Here's a list of how to get there.
1. By Train + Foot
Take MRT to Harbourfront Station
Walk to VivoCity, 1st storey
Follow the direction to Sentosa Boardwalk
Walk across the scenic boardwalk crossing the small strait that divides Sentosa Island from Singapore main island
Walk to Beach Station
Either walk or take the beach tram to Siloso Beach
2. By Train + Sentosa Express Monorail
Take MRT to Harbourfront Station
Walk to VivoCity
Take the escalator to Sentosa Express at 3rd storey of Vivo City (Pre-book Sentosa Express to avoid the long queue at the ticketing machine. Cost: $4)
Take the Sentosa Express monorail from VivoCity and alight at Beach Station
Either walk or take the beach tram to Siloso Beach
3. By Bus
Option 1: Take MRT to Orchard Station. Walk to Lucky Plaza bus stop. Take bus 123 to Beach Station in Sentosa. Cost: standard bus fare.
Option 2: Take MRT to Somerset Station. Walk to Midpoint Orchard bus stop. Take bus 123 to Beach Station in Sentosa. Cost: standard bus fare.
Option 3: Take MRT to Tiong Bahru Station. Cross the road and walk to Opposite Tiong Bahru Stn bus stop. Take bus 123 to Beach Station in Sentosa. Cost: standard bus fare.
Option 4: Take MRT to Harbourfront Station. Walk to VivoCity bus stop. Take bus RWS8 (cost: $1 by cash or EZ-Link) to Resort World Sentosa. Then, take free Sentosa Bus A or walk to Beach Station.
Either walk or take the beach tram to Siloso Beach
4. By Taxi/Grab
Make your way to Beach Station, Sentosa
Do note that there'll be vehicle fee to be paid at the entrance of Sentosa
From Beach Station, either walk or take the beach tram to Siloso Beach
Disclosure: Thank you Voyagin for hosting us. This article is written with my own opinions, which are objective regardless of whether I paid on my own or I'm hosted. Some links on this post are affiliate links; I would receive a commission when you booked through my links, at no extra cost to you.