I think Fort Siloso and Fort Siloso Skywalk are two of the most underrated attractions in Sentosa Island. Located at Siloso Point, which is the northwestern tip of Sentosa Island, Fort Siloso is the only preserved coastal fort in Singapore
If you think that Fort Siloso is a boring history museum with lots of vintage objects in glass enclosures, here's the truth: it is not your typical museum. Instead, it is a huge compound with actual coastal guns, tunnel complex, military structures and many other WWII memorabilia.
I highly recommend that you start your journey at Fort Siloso Skywalk, a scenic treetop trail that is 11 storeys above ground and 181 meters long. At the end of the Skywalk, you'll arrive at the beginning of Fort Siloso.
In this article, I'll share about what you need to know before visiting, as well as what to do and see at Fort Siloso.
Heading to Sentosa? Read my comprehensive guide on 30 Things to Do in Sentosa Island, Singapore.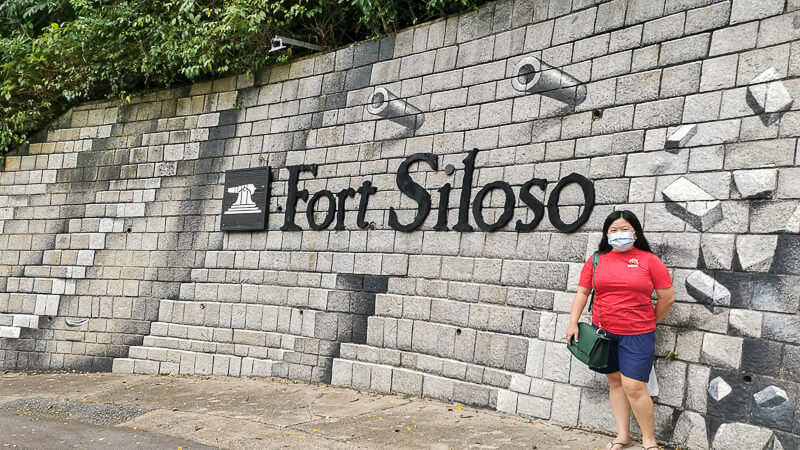 Fort Siloso Brief History
Fort Siloso was built in the late 19th century to defend Singapore's coast against sea invasion from the south. During WWII, when Japanese invaded Singapore from the north, hence, Fort Siloso guns were turned 180 degrees inland to fire at Japanese troops who were coming from Malaya. During the Japanese Occupation, the fort was used as a prisoner-of-war camp.1,2
After Japanese surrender, Fort Siloso was occupied by British forces and finally handed over to the Singapore government after the withdrawal of British forces. Fort Siloso then came under the command of the Singapore Armed Forces.2
Fort Siloso & Skywalk Opening Hours
Fort Siloso and Fort Siloso Skywalk are open daily from 9am to 6pm. Last admission is at 5.30pm.
Exhibits are open from 10am.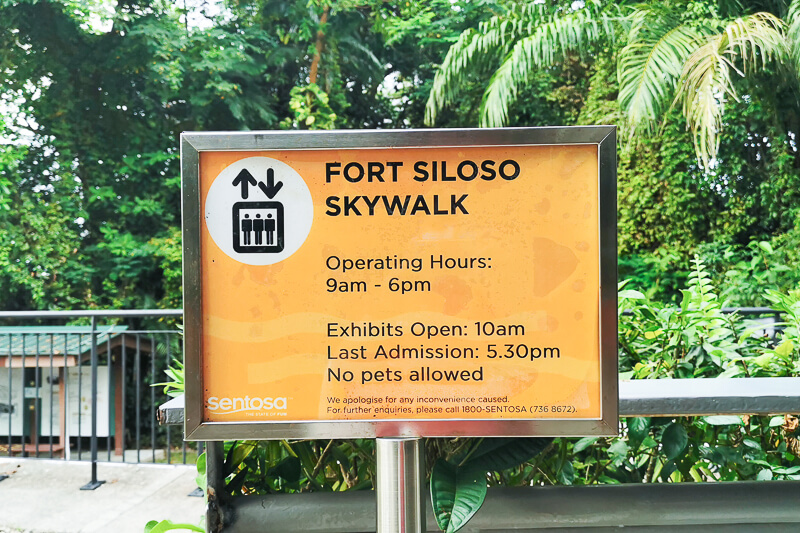 Fort Siloso Admission
Admission to Fort Siloso and Fort Siloso Skywalk are free of charge. There is no entrance fee required.
How to Get to Fort Siloso and Skywalk
By Cable Car: Take Mount Faber Line cable car from Mount Faber Station or Harbourfront Station, alight at Sentosa Station. Then, change to another cable car network called Sentosa Line (which operates only within Sentosa). Take Sentosa Line cable car from Imbiah Lookout Station and alight at Siloso Point Station. Walk 100m to Fort Siloso Skywalk. Read my detailed guide to riding cable car in Singapore.
By Sentosa Express: Take Sentosa Express from VivoCity Level 3, and alight at Beach Station. From Beach Station, you take the free Bus A or Beach Tram (towards Siloso direction) and alight at Siloso Point. Then, walk 100m to Fort Siloso Skywalk.
By Beach Tram: From Beach Station, take the beach shuttle towards Siloso direction and alight at Siloso Point. Then, walk 100m to Fort Siloso Skywalk. Please note: DO NOT take beach shuttle towards Palawan & Tanjung Beach direction, otherwise you'll spent an unnecessarily long time on the tram.
By Bus: Take the free Bus A or Bus C from Resort World Sentosa (Basement 1) and alight at Siloso Point. Then, walk 100m to Fort Siloso Skywalk.
By walking: If you're really into walking, you can walk from Vivo City to Fort Siloso Skywalk (3.5km), or from Beach Station to Fort Siloso Skywalk (1.2km).
By car: If you're driving, the nearest carpark is at Beach Station. From Beach Station, you can take Bus A or Beach Shuttle to Siloso Point. Then, walk 100m to Fort Siloso Skywalk.
From Siloso Point, just walk towards Shangri-La Rasa Sentosa Resort, and you will soon see the below sign pointing to Fort Siloso.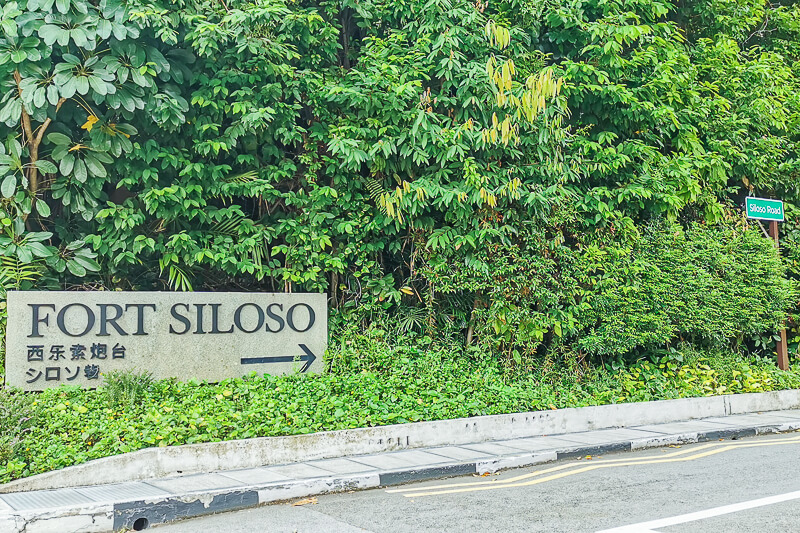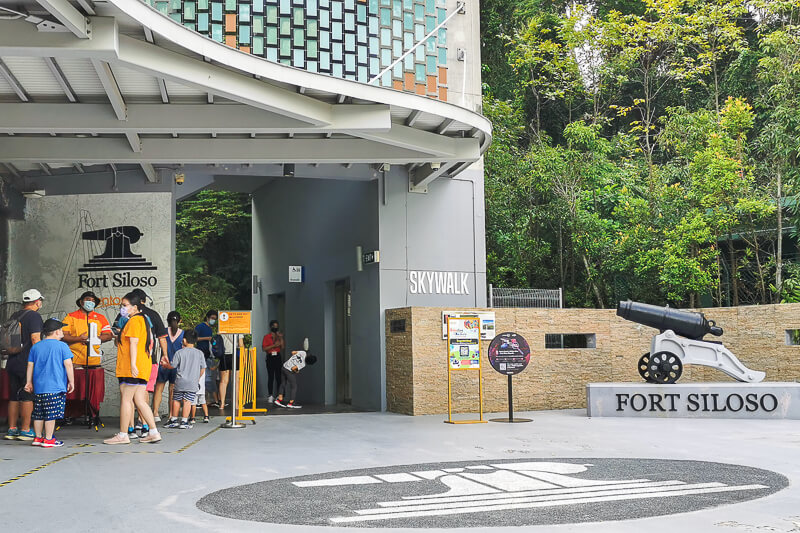 Fort Siloso Map
This is the map of Fort Siloso which is taken on-site.
You can also view the digital map here. Scroll down to download the brochure, the map is inside the brochure.
In the map, you'll notice there are 2 suggested trails: Heritage Trail and Gun Trail. Heritage Trail brings you to all the historical buildings while Gun Trail brings you to all of the guns. Both trails start at Fort Siloso Introduction field and end at Waves of the Straits.
Free Guided Tour
If you're keen to learn more about the history of Fort Siloso from a tour guide, you can join the free day tours at Fort Siloso which is conducted every 2nd and 3rd Saturday of the month. Advance registration is required.
Registration opens every 1st Friday of the month, at 12pm. Slots are very limited, so do register early.
Fort Siloso Skywalk vs Siloso Trail
From the entrance, there are 2 ways to reach Fort Siloso. The easiest one is via Fort Siloso Skywalk, where you'll get to enjoy the scenery. The tough one is via Siloso Trail, which is a challenging uphill trail that runs below the Skywalk.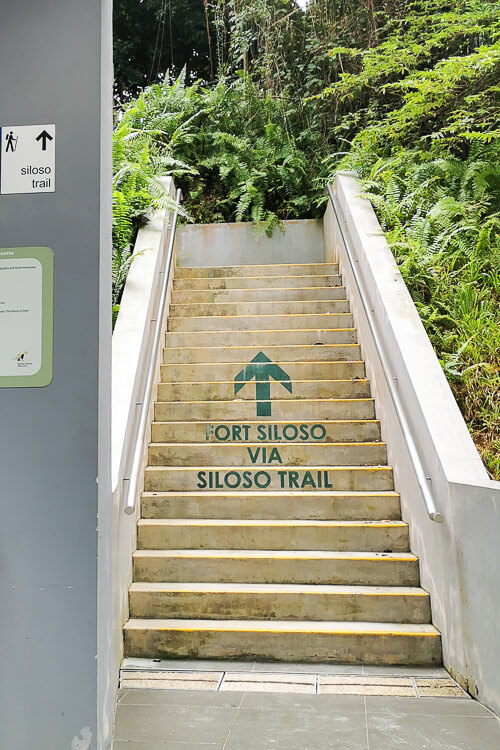 Fort Siloso Skywalk
In case you're wondering, Fort Siloso Skywalk was NOT part of the historical fort during World War II. Instead, it was built in 2015, which is 70 years after the conclusion of WWII.
Fort Siloso Skywalk is a 11-storey high elevated bridge that connects Siloso Point and Fort Siloso. The Skywalk also offers visitors a scenic view of western part of Sentosa as well as the view of Southern Islands of Singapore.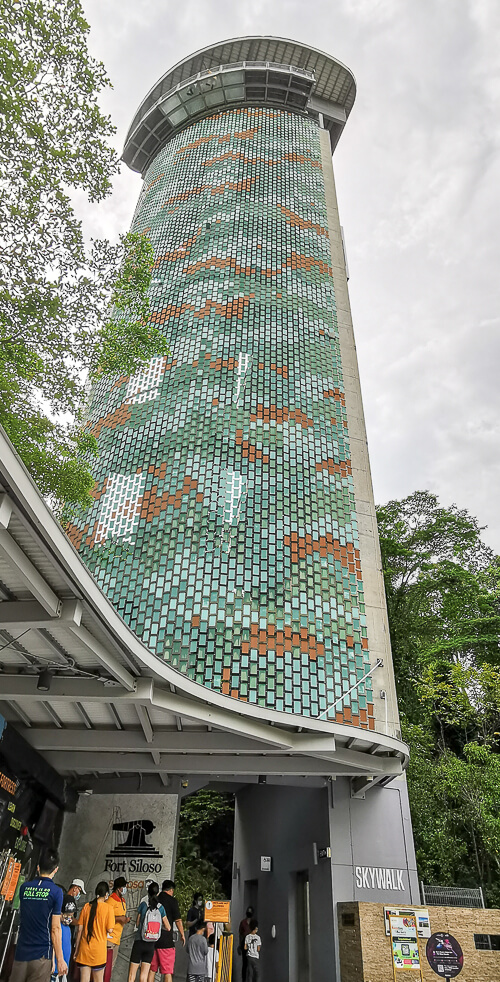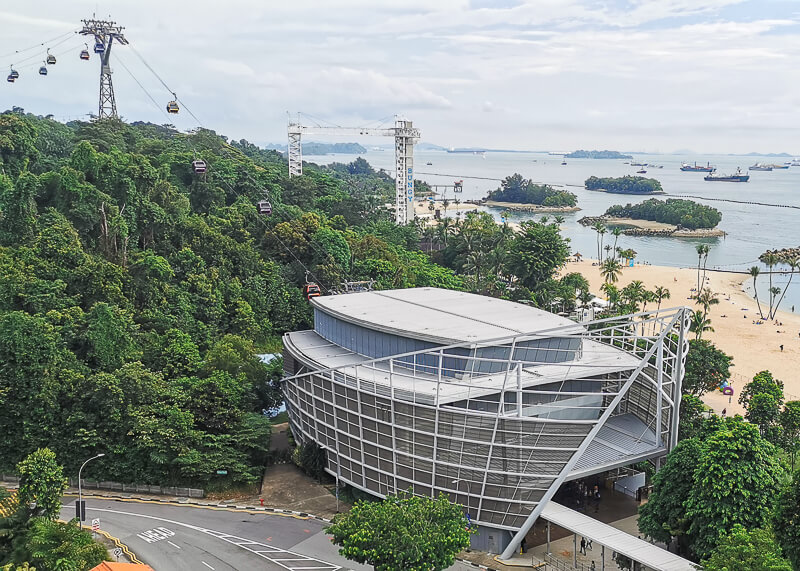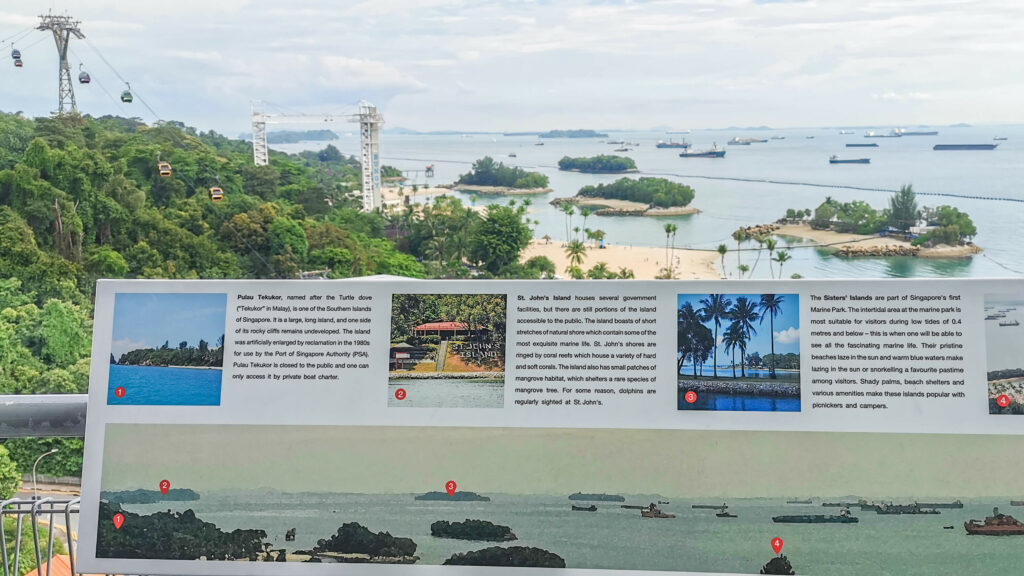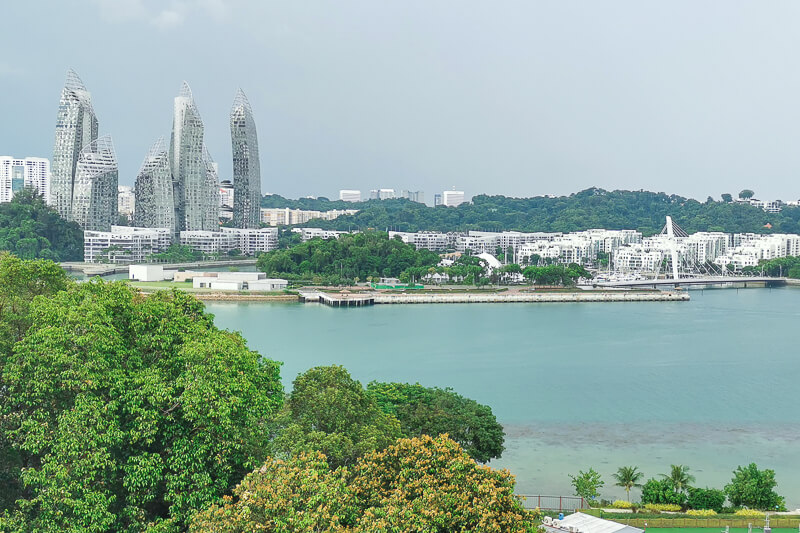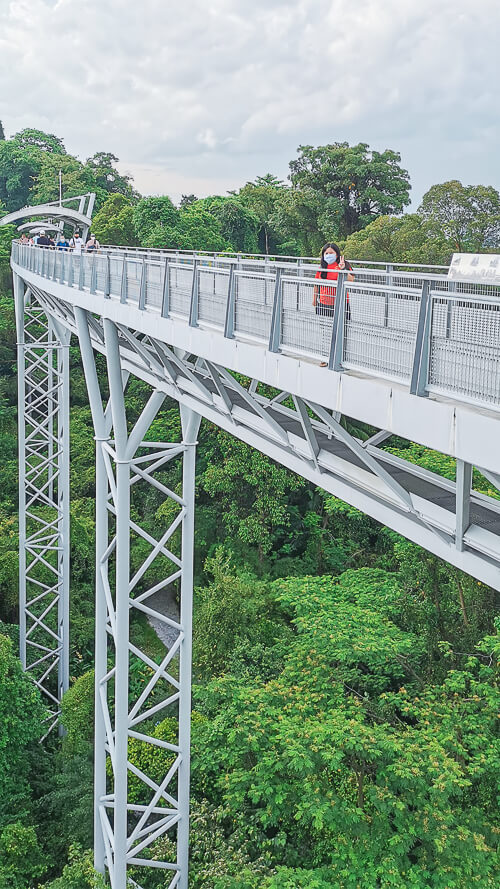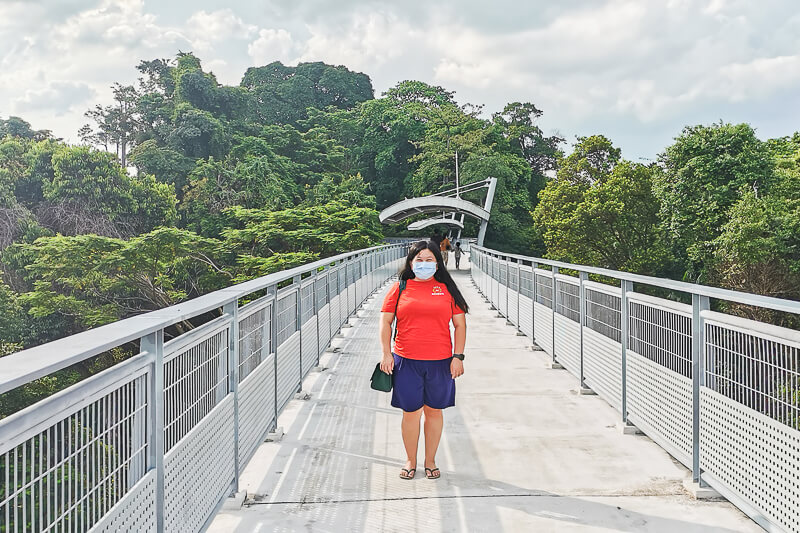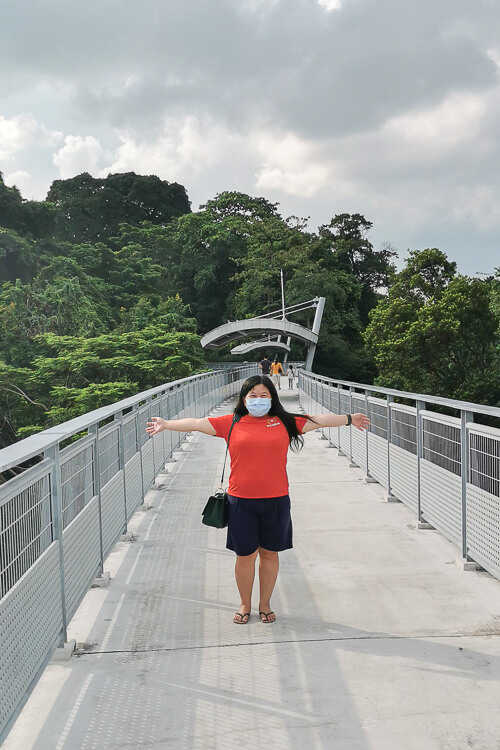 Fort Siloso Introduction
At the end of Fort Siloso Skywalk, you will arrive at this field. On the map, it is called Fort Siloso Introduction. Basically, it is the starting point of Fort Siloso.
From here, you can follow the Heritage Trail to visit all the historical buildings, or Gun Trail to visit all the guns at Fort Siloso. It's not mandatory to take either trails, you can explore the fort in whichever way that you like.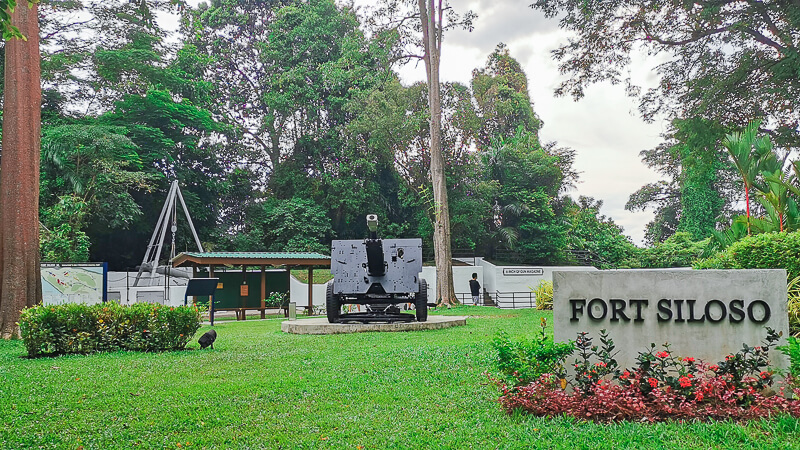 Fort Siloso Tunnel Complex C
There are 3 Tunnel Complex at Fort Siloso: A, B and C. If you're coming from Fort Siloso Skywalk, you'll first encounter Tunnel Complex C, then B and A.
The Tunnel Complex C is located at Fort Siloso Introduction, between 6-inch battery magazine and Battery Command Post.
Tunnel Complex C is home to exhibit about The Volunteer Corps, Ammunition Hoists, and statues of soldiers preparing to hoist ammunition.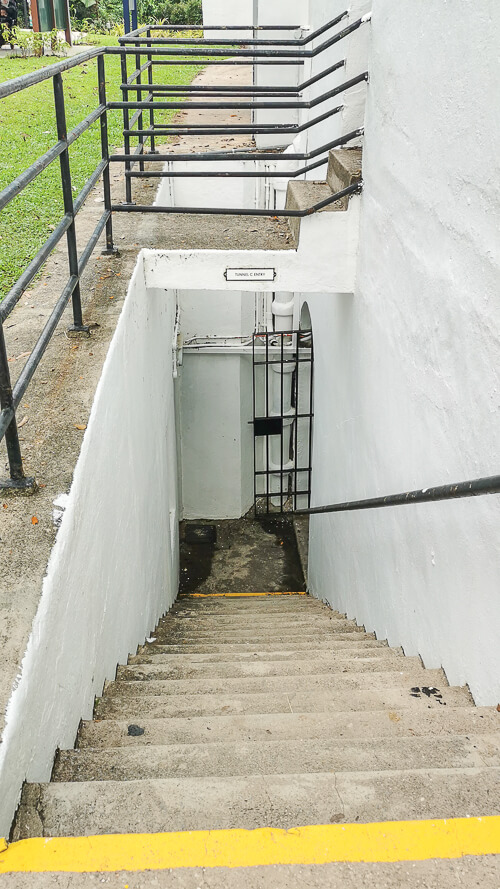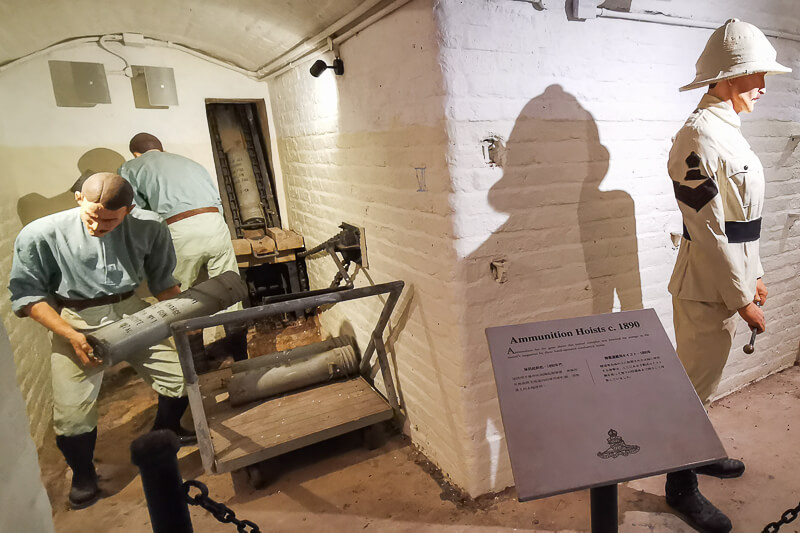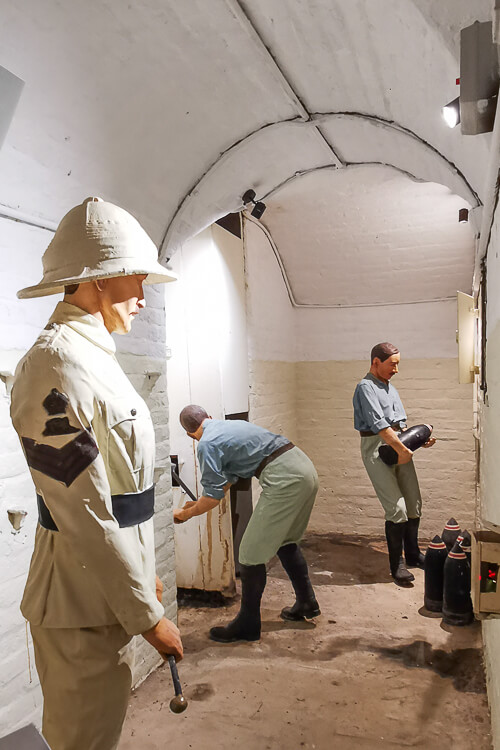 Battery Command Post
Battery Command Post is located right next to Tunnel C at Fort Siloso Introduction. In this exhibit, 3 statues of soldiers were seen monitoring the coast situation and making calls. A sound recording depicting wartime in 1942 was played.
During war time, the Battery Command Post had a clear view of the horizon and all of the fields of fire within range of the guns. The ranges and bearings of targets were calculated by a range-finder and transmitted to the guns which were then aimed at their target.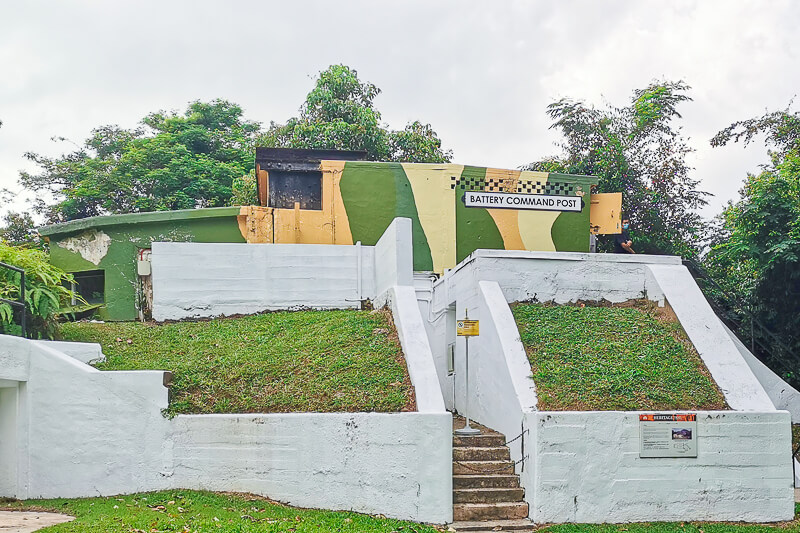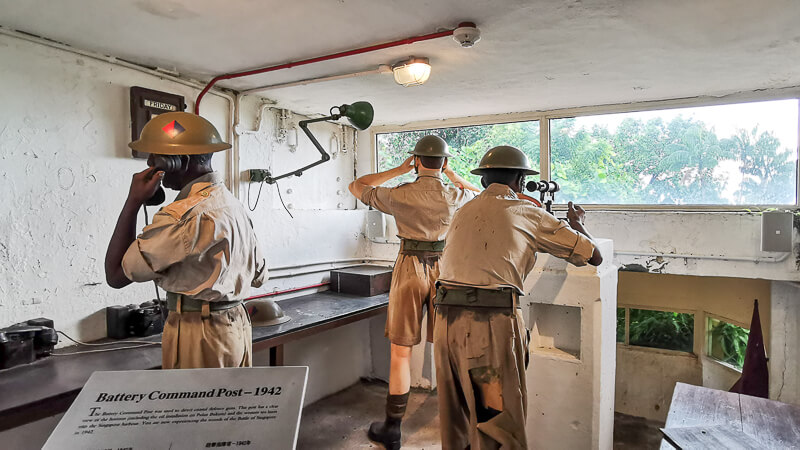 Fort Siloso Square
Fort Siloso Square is easily recognizable by the 3 guns in the middle of the square. Other than the guns, you'll also find WWII Experience, Casemates, Tunnel Complex B and 6-inch Gun Battery.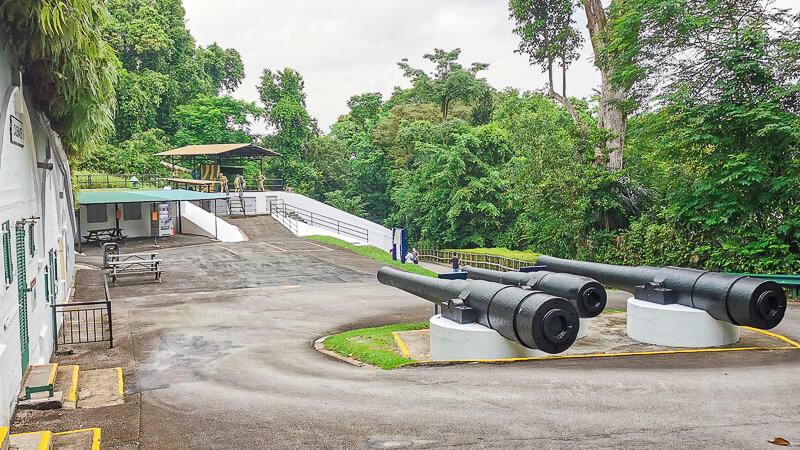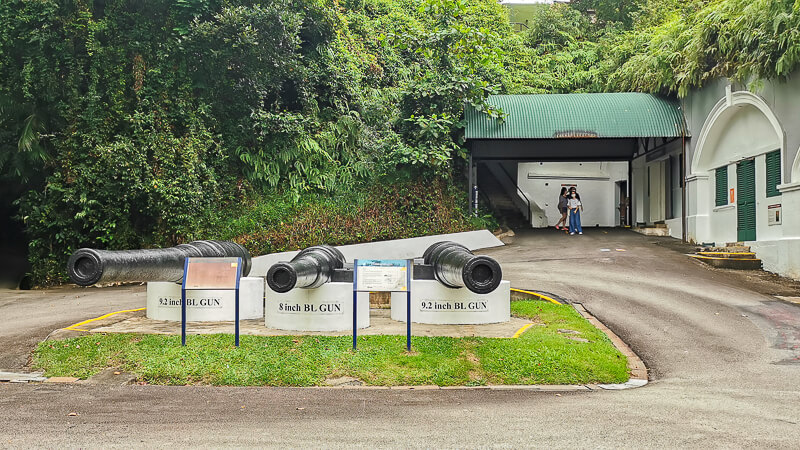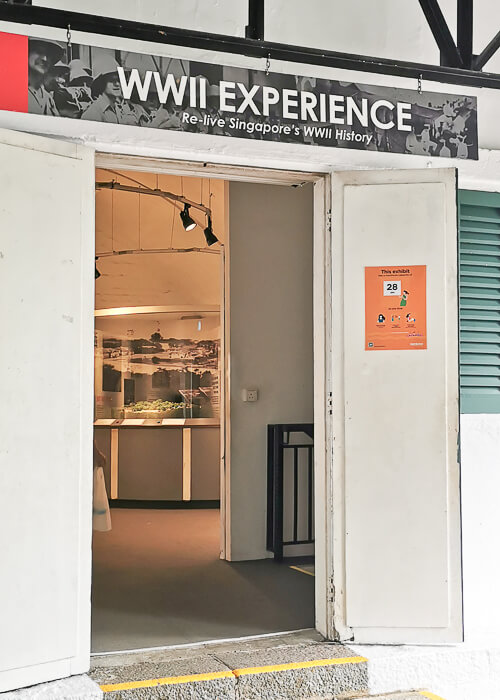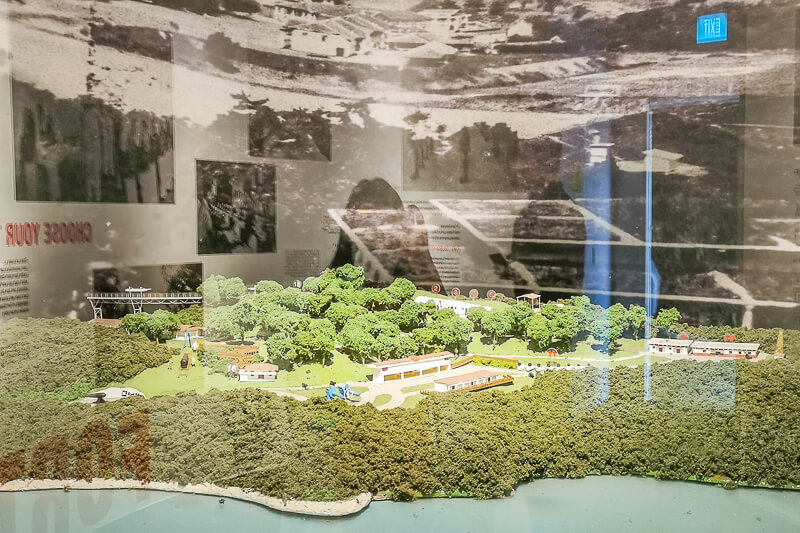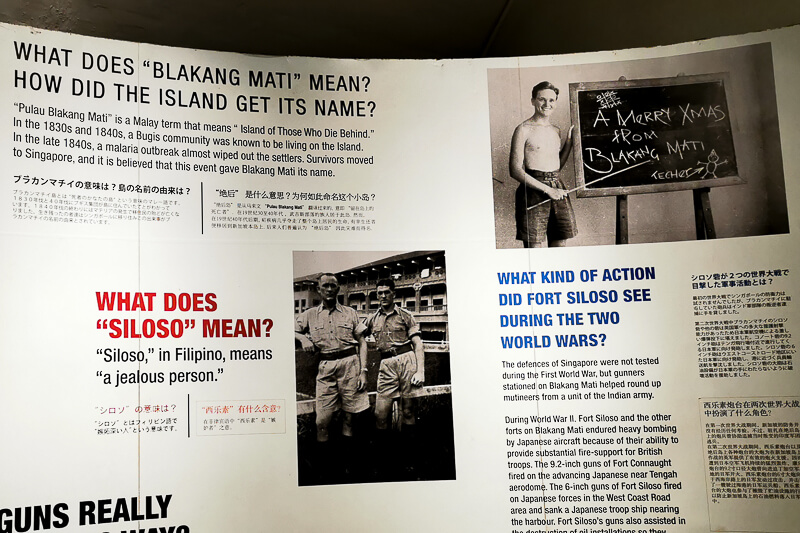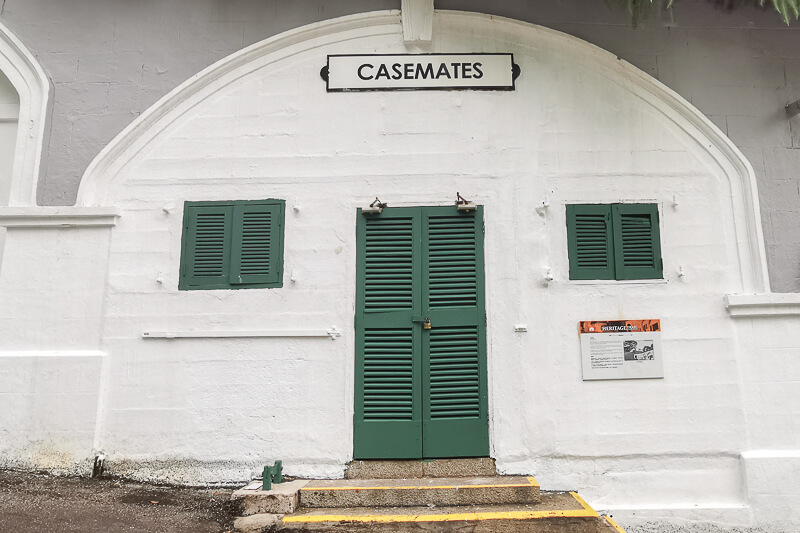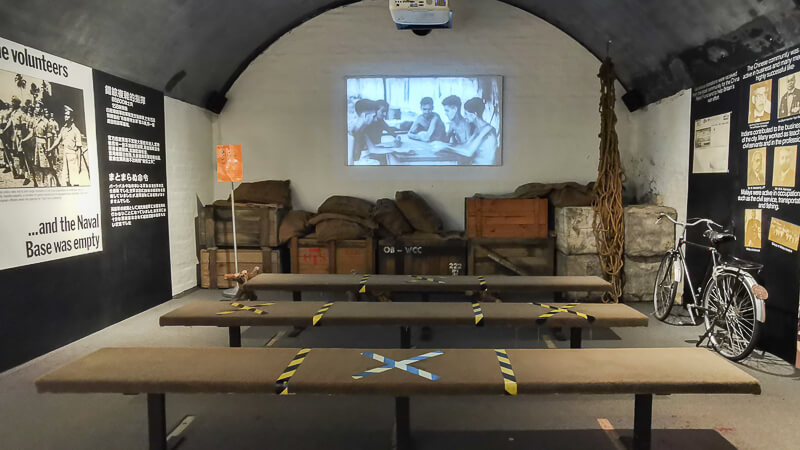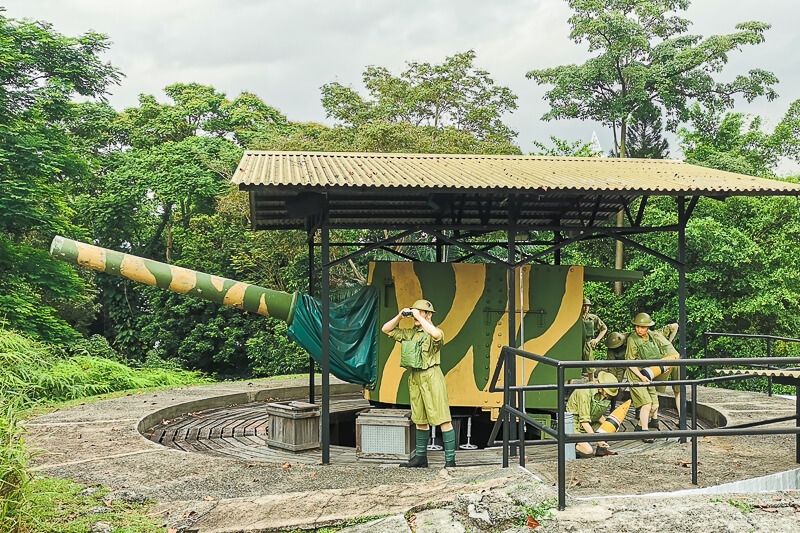 Fort Siloso Tunnel Complex B
The Tunnel Complex B is located at Fort Siloso Square, between Casemates and 6-inch gun battery.
Tunnel Complex B is home to exhibit about life of Prisoners-of-War in Singapore during the Japanese Occupation, and soldiers preparing to load gun shells for the 6-inch gun above the tunnel.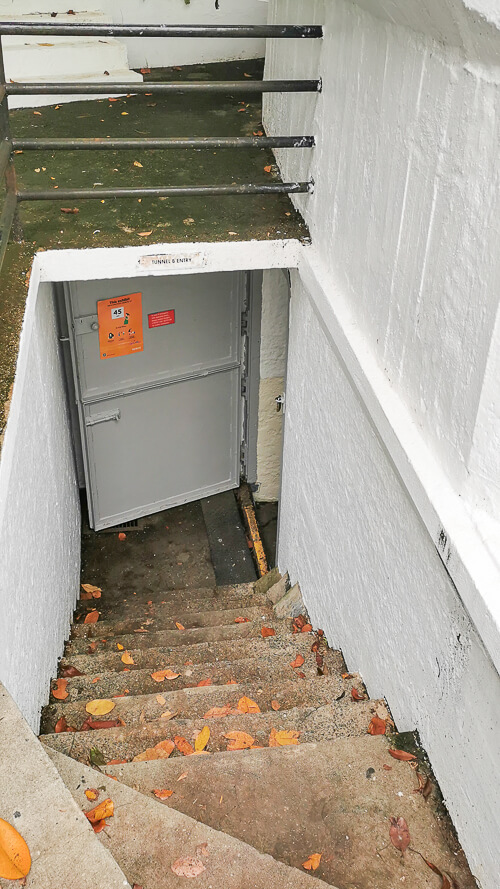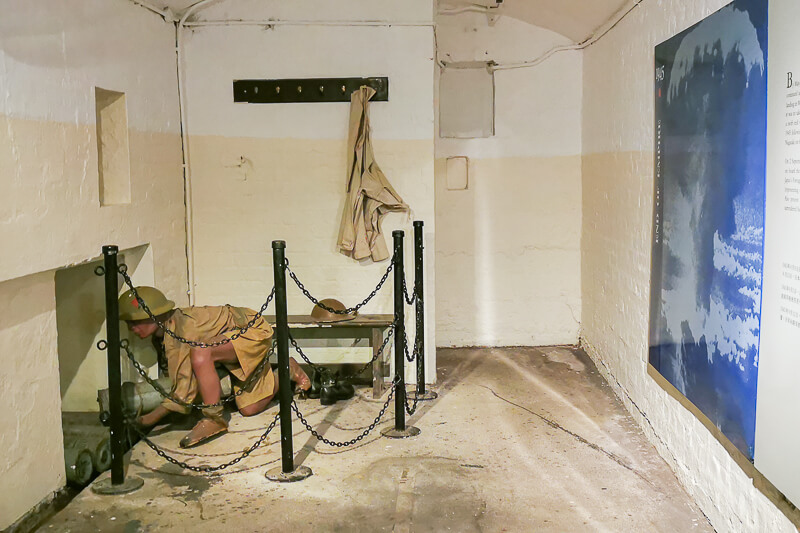 Engine Room and Store
From Fort Siloso Square, when you walk further downhill, you will arrive at Engine Room and Store.
The Engine Room features exhibit about Special Operations Force 136, a special unit set up by the British to support resistance forces and co-ordinate guerilla operations behind enemy lines during WWII. Meanwhile, the Store features exhibit about the Japanese Occupation period (1942-1945).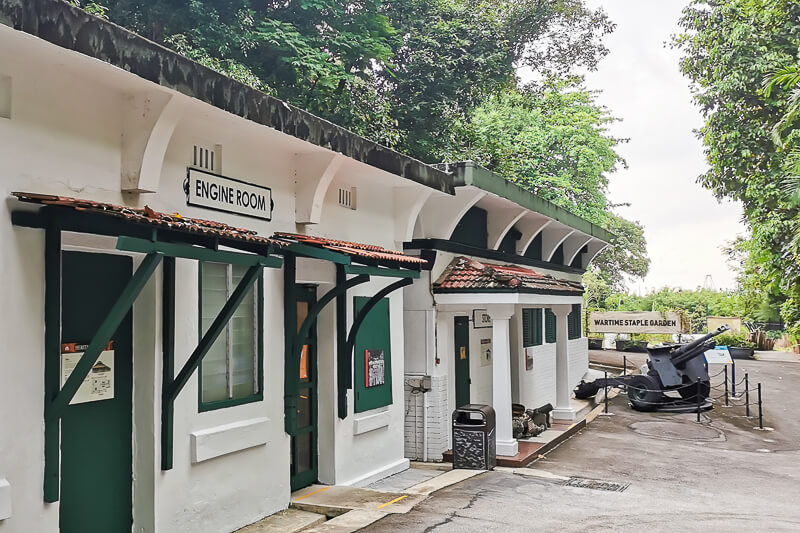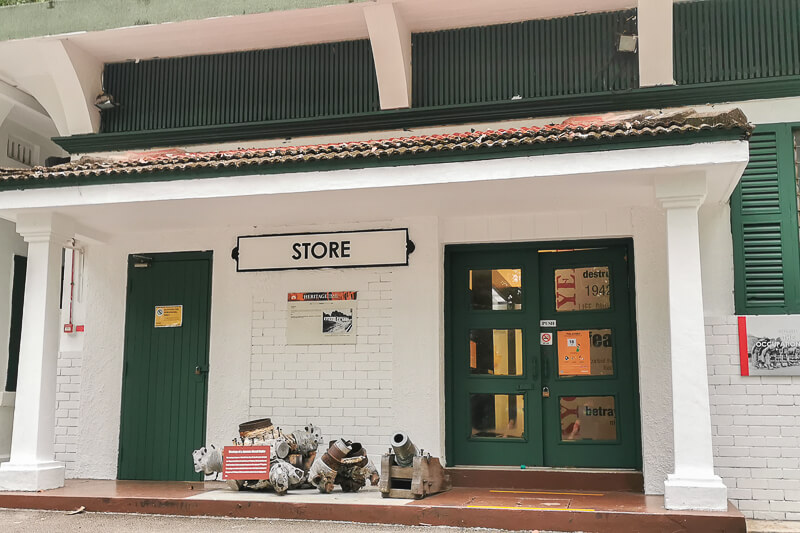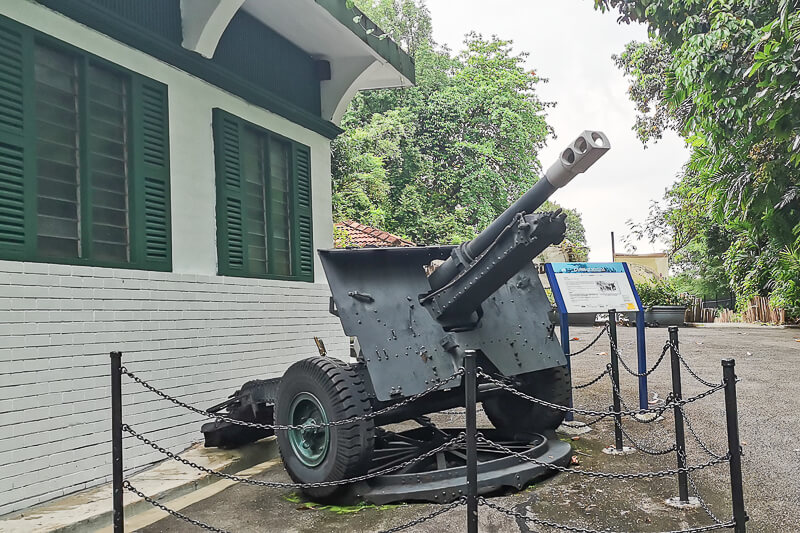 Fort Siloso Tunnel Complex A
The Tunnel Complex A is located next to Store. Unlike Tunnel B and C, Tunnel A is not entirely enclosed. The roof of the corridor is see-through and the corridor receives plenty of natural light. Despite that, to be honest, I feel that Tunnel A is too quiet and I wouldn't dare to enter it on my own.
Inside the tunnel complex, there's a room with 2 statues of soldiers. There is also an Observation Post, a small room where a soldier is monitoring the Keppel Harbour, which was the original naval base of Singapore.
Overall, it feels like Tunnel A is less well-maintained compared to the other 2 tunnels.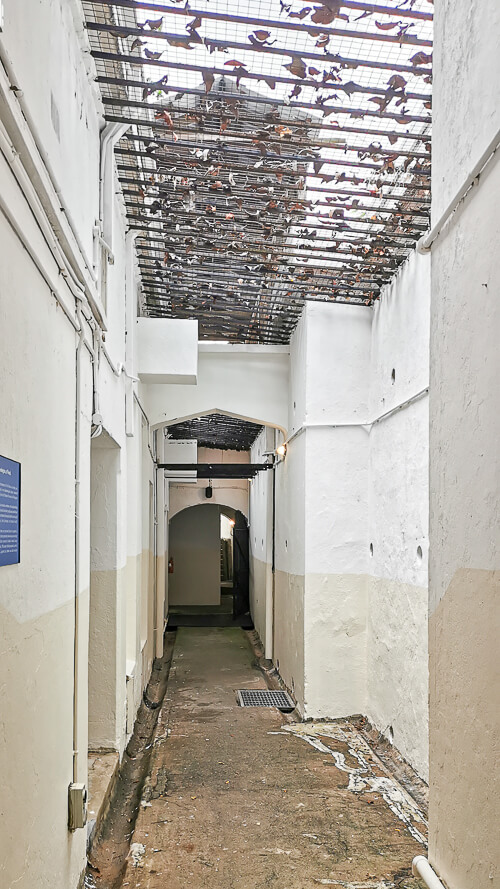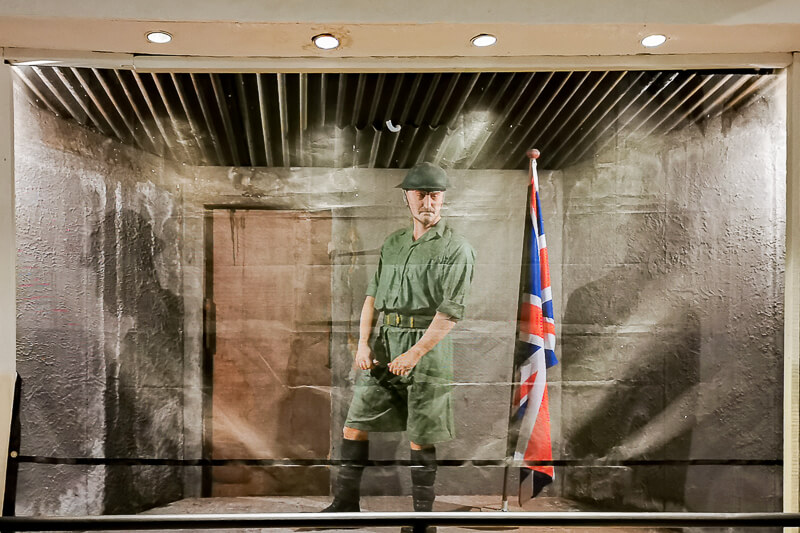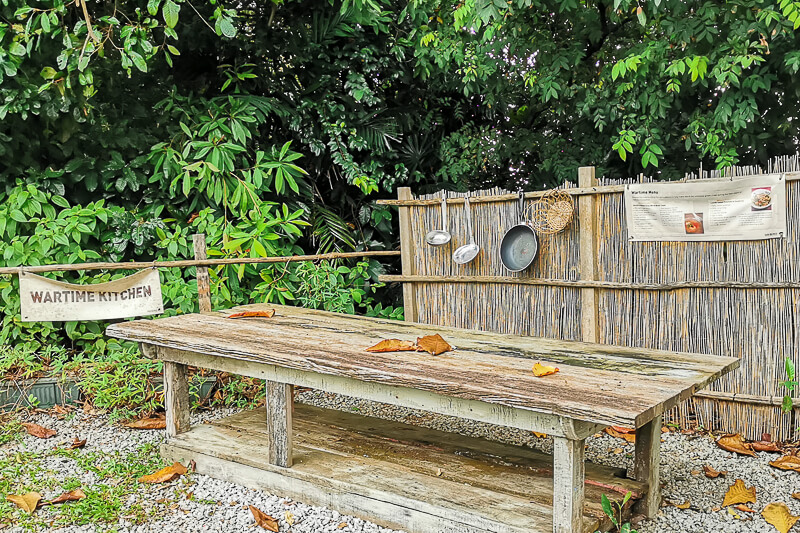 Fire Director Tower
At the end of Tunnel A, you will reach Fire Director Tower, which is located at the tip of Siloso Point where soldiers were once stationed to spot incoming naval ships.
Fire Director Tower features a control tower, a watch shelter, a gun emplacement, and a replica of 12-pounder gun.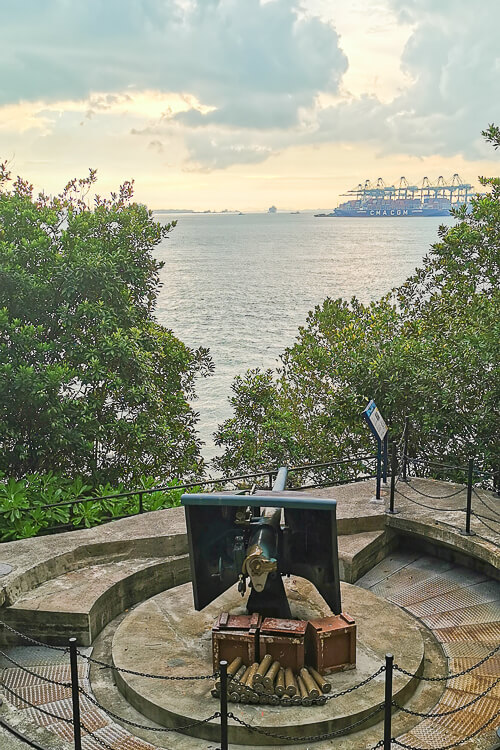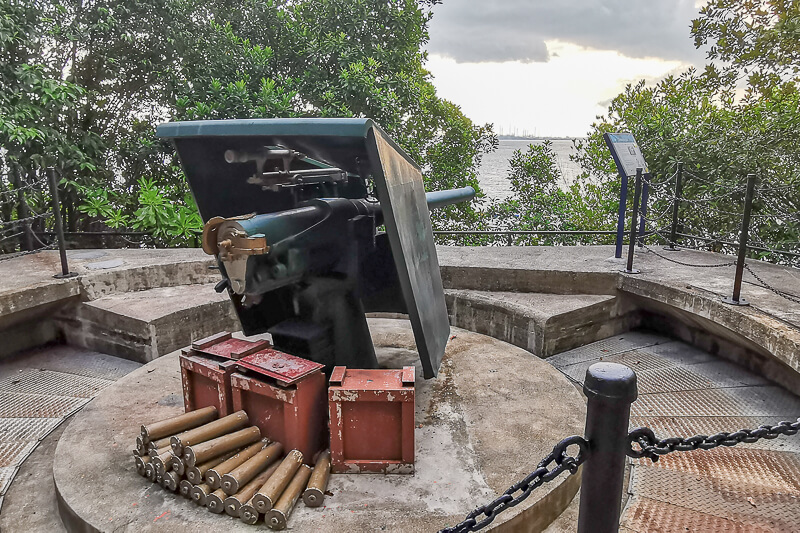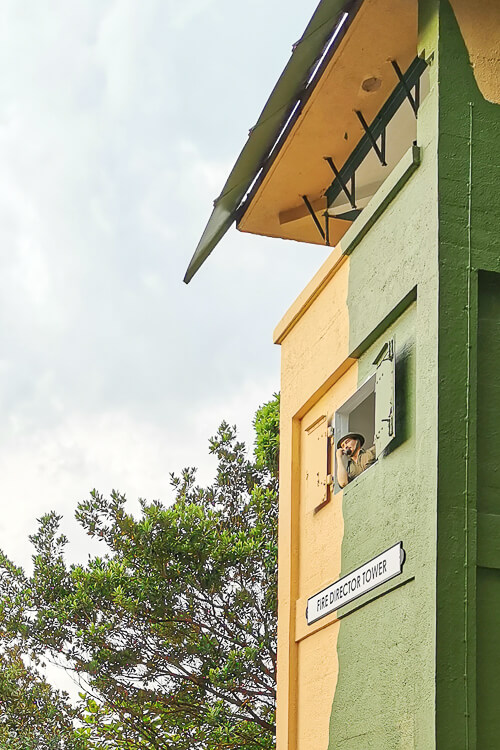 Surrender Chamber
The Surrender Chamber features the reenactment of British surrender to Japan in 1942, as well as reenactment of Japanese surrender in 1945.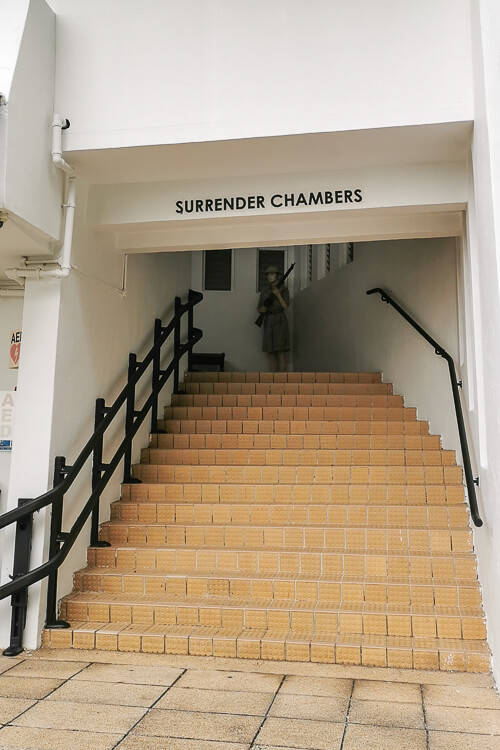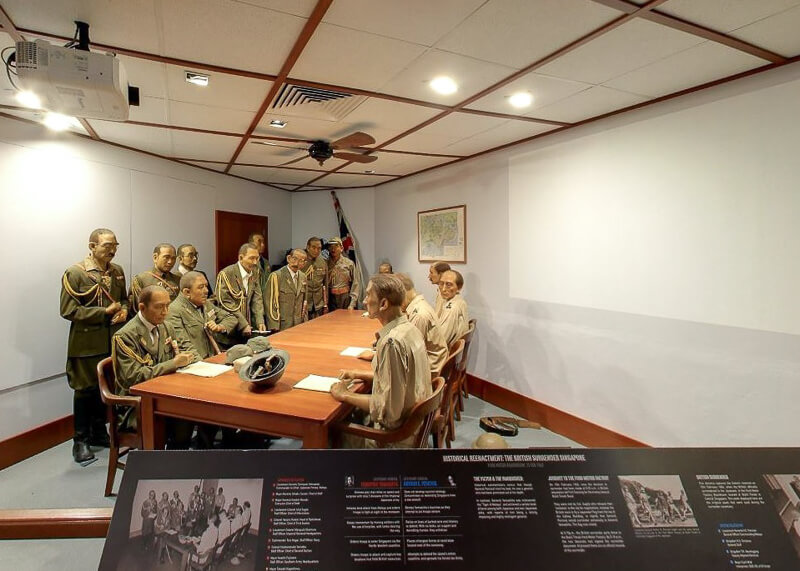 The Life of a Soldier
The Life of a Soldier Zone features exhibits related to the life of the British soldiers in Pulau Blakang Mati (Sentosa). Here, you can see interesting replica of soldier's living quarter (Barrack Room), Laundry Room, Cookhouse and Tailor's Shop.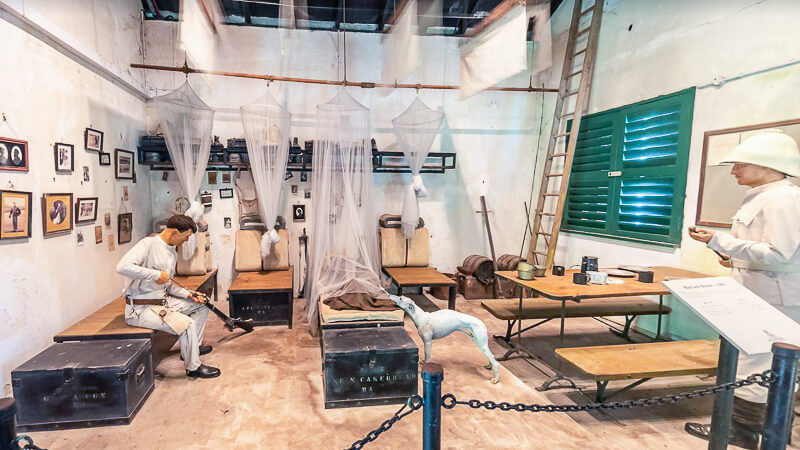 Outside of the buildings, you'll find soldiers at the Parbuckle, a rope system used to transport heavy machineries / ammunitions up and down the hill.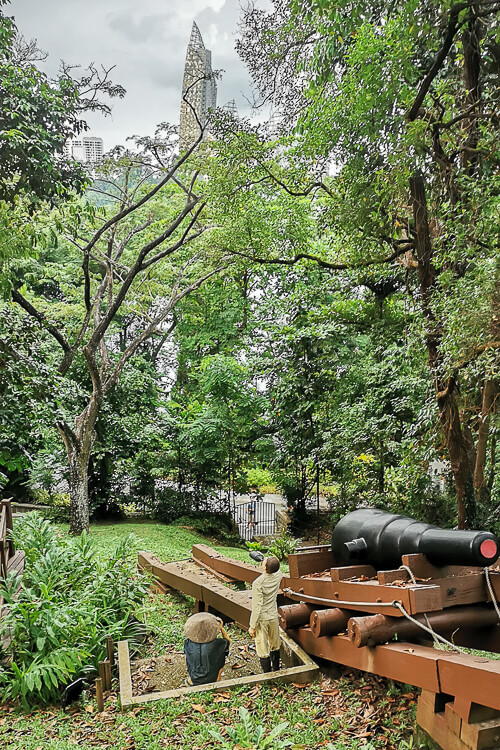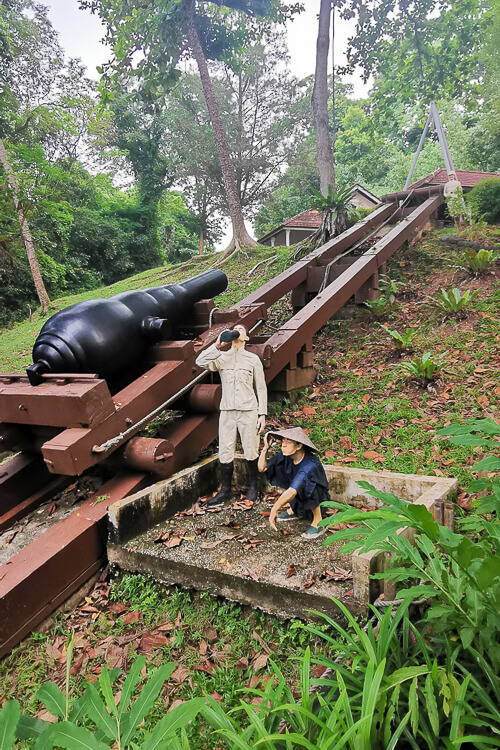 Guns of Fort Siloso
There are so many guns at Fort Siloso. Each cluster of guns has its own accompanying explanation.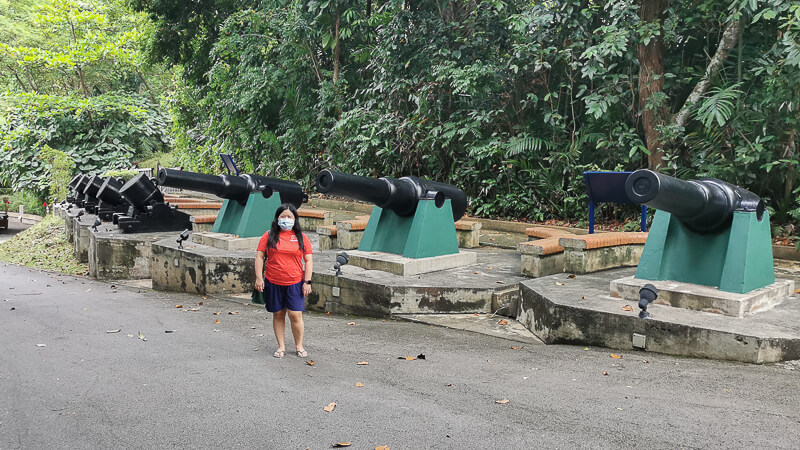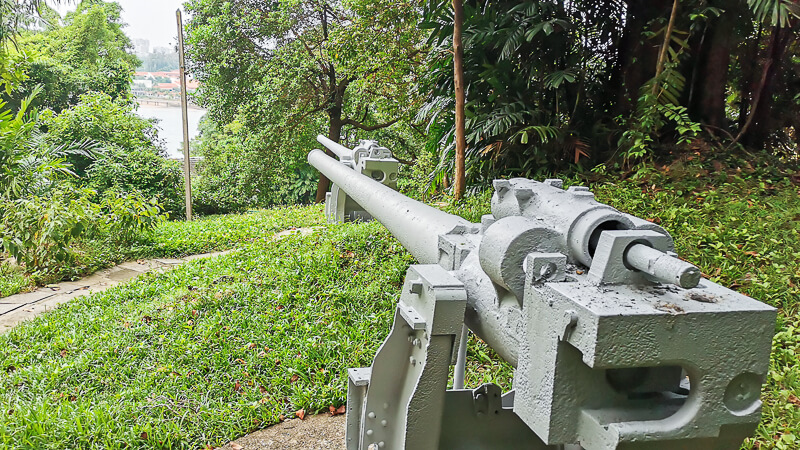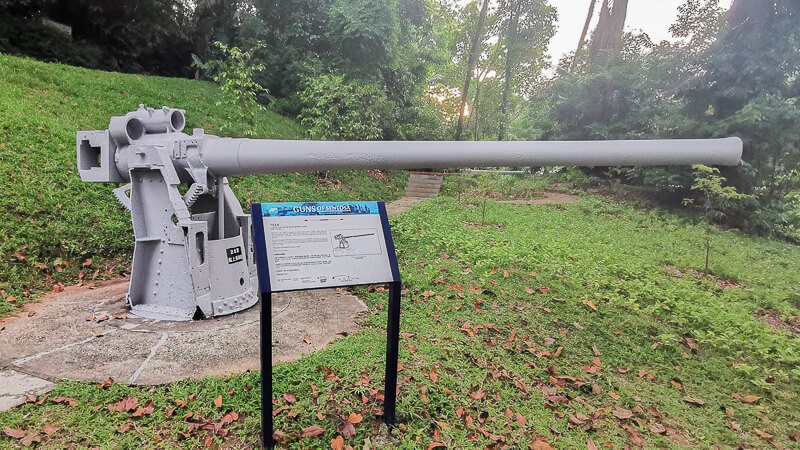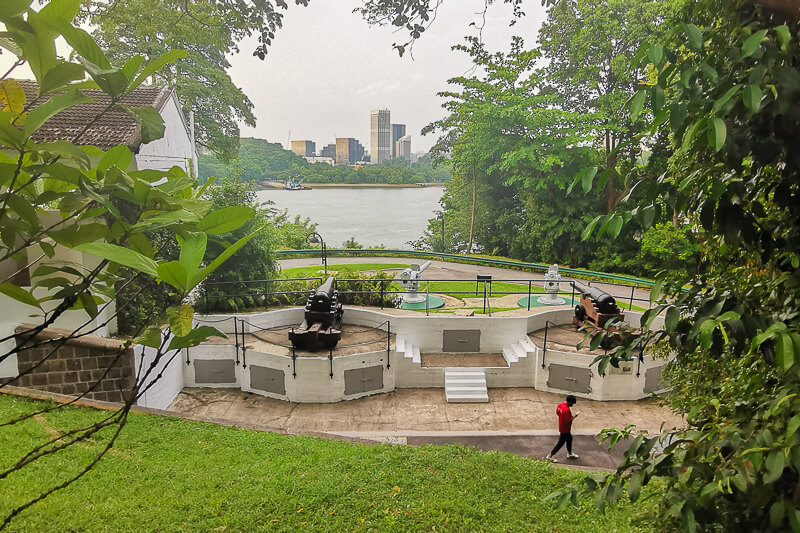 Waves of the Straits
Waves of the Straits is located at Fort Siloso Road. Basically, this is the exit of Fort Siloso. Along the road, you can see many impressive murals painted on the side as well as on the road itself. The murals are painted by Yip Yew Chong, a Singaporean artist who draws majority of murals all around Singapore.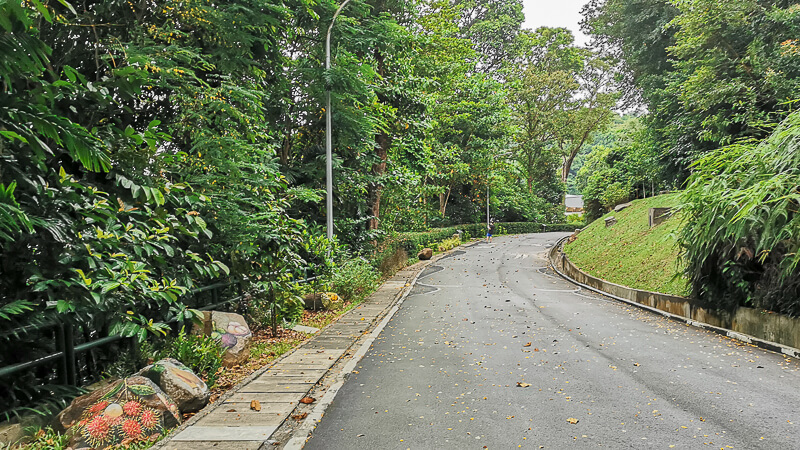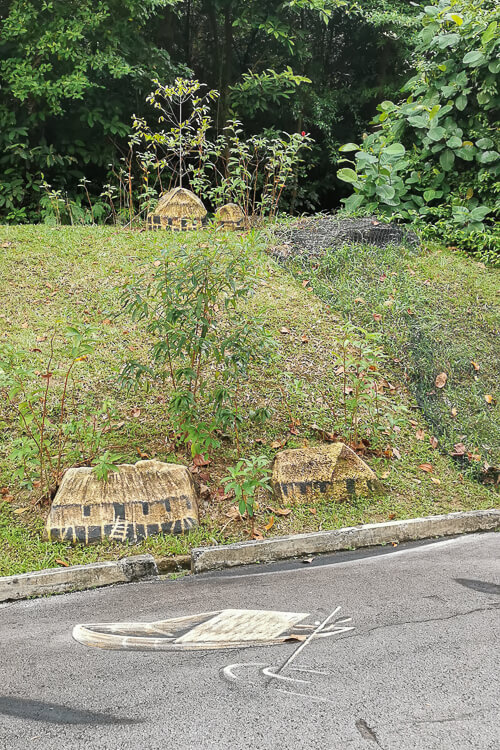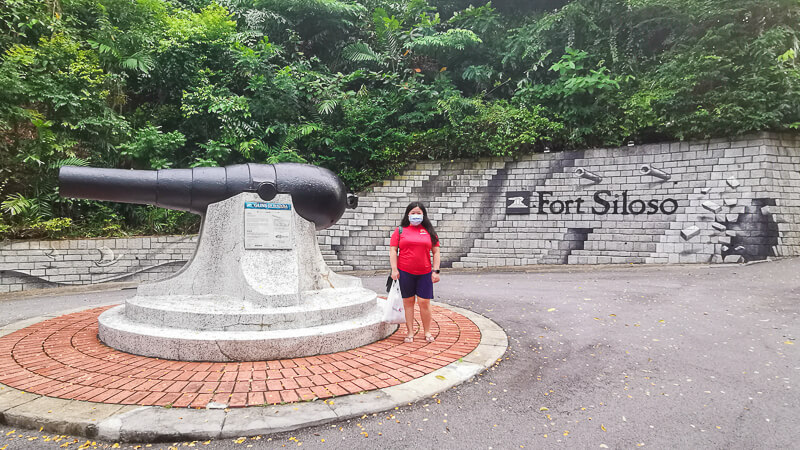 Food near Fort Siloso
I did not see any food/drink stalls or vending machine at Fort Siloso. The nearest place to get food/drink would be the convenient stores at Siloso Point.
Tips
1. Allow at least 3 hours of time to explore the entire Fort Siloso and Skywalk. Fort Siloso compound is really huge and I think 3 hours is the bare minimum time required to explore the entire fort.
2. Go early. The last admission to the exhibit is 5.30pm. Assuming you need 3 hours to explore the entire fort, the latest you need to enter is 2.30pm. I'd recommend that you go before 2.30 pm.
3. Wear comfortable shoes. Fort Siloso is full of hills and steps. Since you'll be walking for 3 hours, I recommend that you wear a pair of comfortable shoes.
4. Bring water. Even though there is a water point, during this time, I don't think it's a good idea to take water from a public water point. Do bring your own water.
5. Bring umbrella. Most part of the fort is unsheltered, so do bring umbrella to be protected from rain or hot weather.
References
1. Roots: Fort Siloso
2. NLB: Fort Siloso
Want to be the first to know whenever I post new articles and videos? Join my Telegram Channel and you'll get new post alerts sent directly to your phone.
If you like my work, you can buy me a coffee! Your support will help me to keep going!