If you're living in Singapore, or you've visited Singapore a couple of times, chances are you've heard about Haw Par Villa, an unusual attraction located at the southwest coast of Singapore.
Haw Par Villa is renowned for its famous Ten Courts of Hell, as well as its huge collection of statues and dioramas depicting Chinese mythology and folklores.
Over the years, Haw Par Villa has undergone many transformations, from being a private residential villa, to a public recreational park, a theme park, to the modern heritage park that it is today.
After being closed for renovation for almost a year, the newly-revamped Haw Par Villa is finally open in the second half of 2021. The outdoor park was open on 1 July 2021, while the new air-conditioned Hell's Museum and Ten Courts of Hell were open on 28 October 2021.
If you're planning to visit Haw Par Villa, you've come to the right place. I'll be sharing what to do and see in Haw Par Villa, as well as tips you need to know before visiting.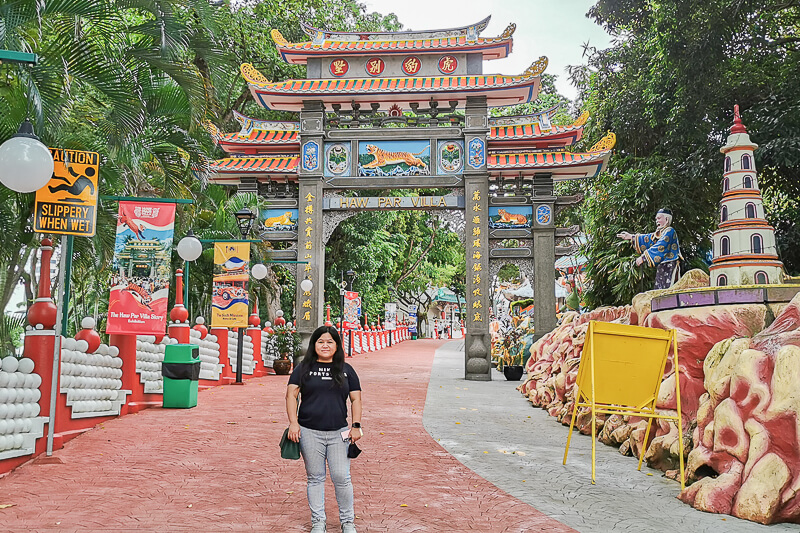 TABLE OF CONTENT
1. History
2. Opening Hours
3. Admission
4. Etiquette
5. How to go
6. Things to Do and See
7. Food
8. Tips
9. More Information
Haw Par Villa's History
Aw Chu Kin was a Burmese Chinese herbalist who invented the Tiger Balm, an ointment that could relieve all kinds of aches and pains. Aw Chu Kin had 3 sons: Boon Leng (who died young), Boon Haw and Boon Par.
The Aw Brothers (Haw and Par) moved to Singapore in 1920s. Boon Haw bought a land along Pasir Panjang Road in 1935. With a hill behind it and a sea view in front of it, this land was believed to have good feng shui.
Haw Par Villa (虎豹別墅) was built in 1937 by Boon Haw as a gift to his brother, Boon Par. It is named after the Aw Brothers, Boon Haw and Boon Par. The complex consists of a villa with 6 rooms and a park named Tiger Balm Garden.
During World War II, Boon Par fled to Burma and Boon Haw fled to Hong Kong. Boon Par died in1944. When the war ended, Boon Haw returned to Singapore to find his villa ruined and vandalized. Haw decided to tear down the ruin and never rebuild the villa. However, Haw restored the park by adding hundreds of statues and dioramas. Boon Haw died in 1954.
In the 1970s and 1980s, Haw Par Villa was a popular attraction for Singaporean families. From 1990 to 2001, the park was rebranded as Haw Par Villa Dragon World, an international theme park which featured a 60-meter concrete dragon and a boat ride into the dragon's body. Dragon World folded in 2001 and Haw Par Villa became a public park with free admission.
Today, Haw Par Villa is managed by heritage specialist Journeys Pte Ltd, which has taken on the task of bringing back the park's glorious days.
Opening hours
The Outdoor Park is open daily including Public Holidays, from 9am to 10pm (last entry 9.30pm).
Hell's Museum (including Ten Courts of Hell) is open Tuesdays to Sundays and Public Holidays, from 10am to 6pm (last entry 5pm). It is closed on Mondays.
Visitor Centre is open daily including including Public Holidays, from 10am to 6pm.
Admission
Admission for outdoor park is free.
Meanwhile, there is an entrance fee for admission to Hell's Museum (including Ten Courts of Hell).
SGD 18 for adult
SGD 10 for child (between 7 to 12 years old)
Free for child below 6 years old
The ticket for Hell's Museum can be purchased online.
Etiquette
Do NOT climb the sculptures
Do NOT smoke in the park
Do NOT ride bicycles inside the park
Pets are allowed to enter the outdoor park, however, they're not allowed inside Hell's Museum
Do NOT chase, feed, scare otters
How to go to Haw Par Villa
By taxi/ride hailing: The address is 262 Pasir Panjang Road, Singapore 118628.
By car: The address is 262 Pasir Panjang Road, Singapore 118628. There are parking lots at Haw Par Villa, but not many. Parking fee is $5 for car and $1 for motorcycle (cash only). Alternative carparks include Science Park and Westway Shopping Mall.
By MRT: Take MRT to Haw Par Villa Station (Circle Line). There's only 1 exit, which is Exit A. Haw Par Villa is right outside the MRT exit.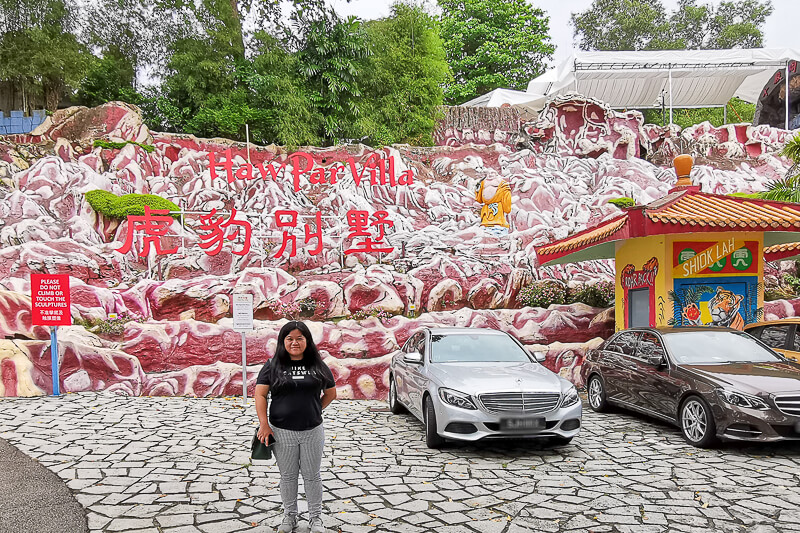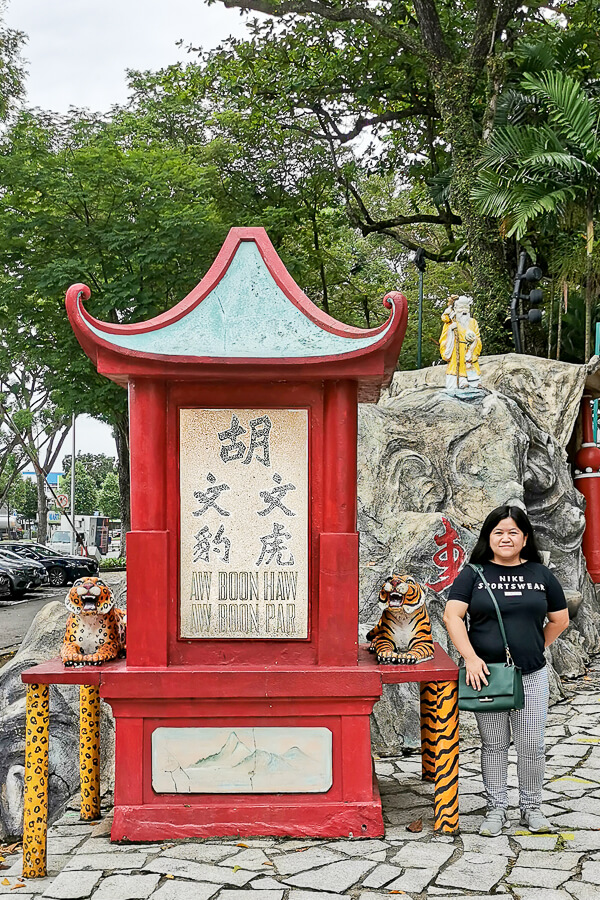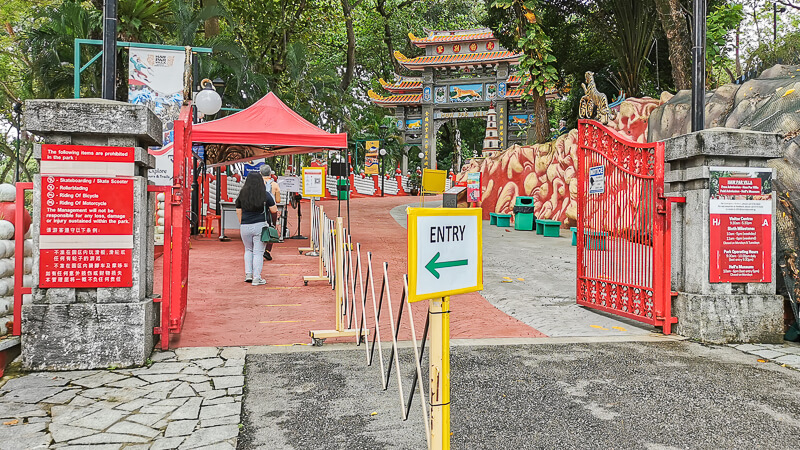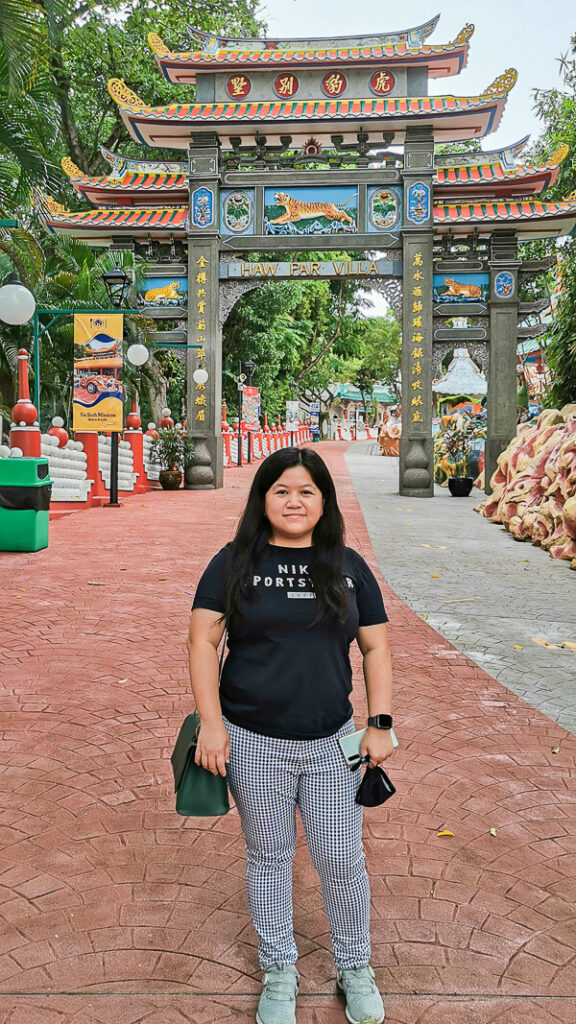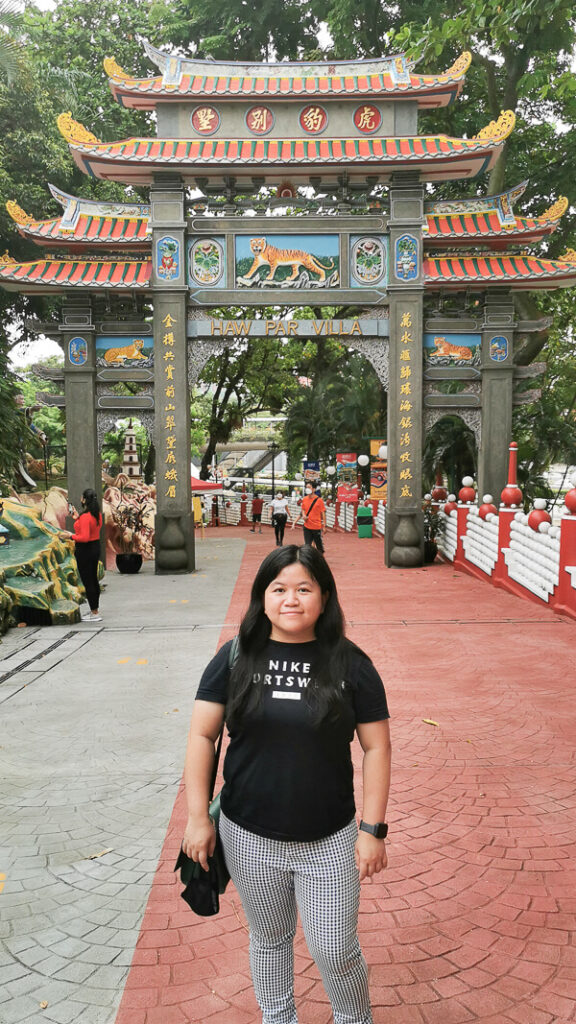 Things to Do and See at Haw Par Villa
1. Go to Hell!
I mean, go visit the Hell's Museum, the newest museum in Haw Par Villa that explores topics many consider taboo: death and the afterlife. As mentioned above, ticket to Hell's Museum must be purchased in advance through the official website.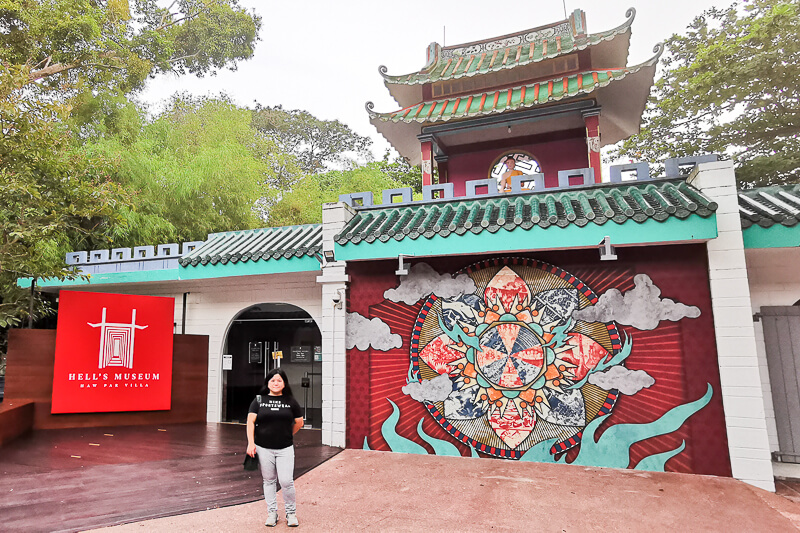 I highly recommend that you join the free guided tour to learn more about Haw Par Vila, Hell's Museum and Ten Courts of Hell. The tour is conducted at 10.30am, 12.15pm, 2.45pm and 4.15pm. Registration must be done at Hell's Museum Reception Counter, and it is on a first-come, first-served basis.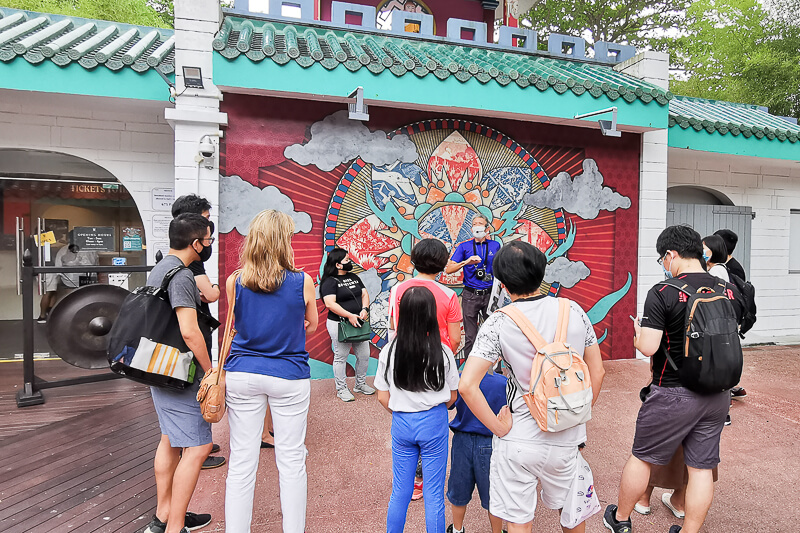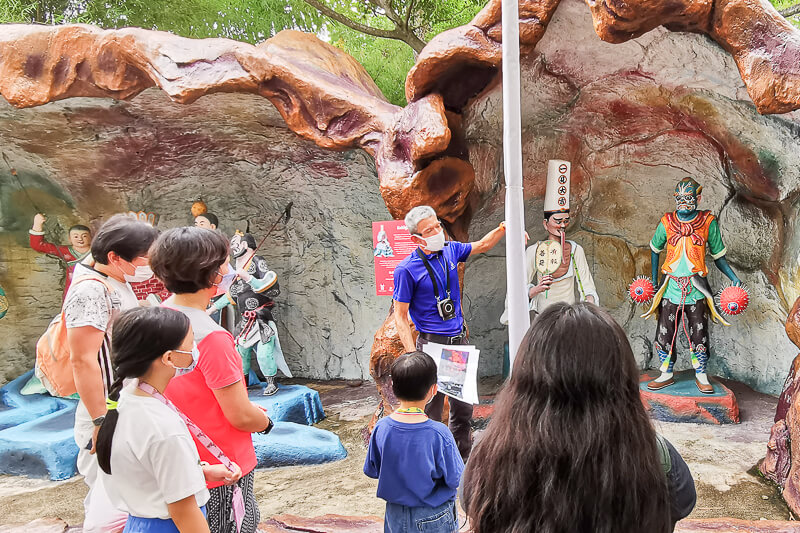 Hell's Museum has an indoor Gallery and outdoor Sculpture Garden. There are 10 "Stations" in the museum – four in the Gallery, six in the Sculpture Garden. Ten Courts of Hell is one of the stations in the outdoor Sculpture Garden. Here are some highlights of Hell's Museum.
1.1 Indoor Gallery
Visitors with tickets are free to move around the museum and explore the 10 Sections in any order they wish. However, it is recommended to start your journey at Section 1 – a theatrette near Lobby/Reception that plays a video called "A Journey of 300,000 Years", which introduces the key themes of the museum.
At Section 2 of the indoor gallery, you can learn about concept of death and afterlife in various faiths all around the world. The eastern countries believe in the cyclical concept of time while the western countries believe in the linear concept of time.
There was also a section showing the similarities between Chinese altar and Mexican altar.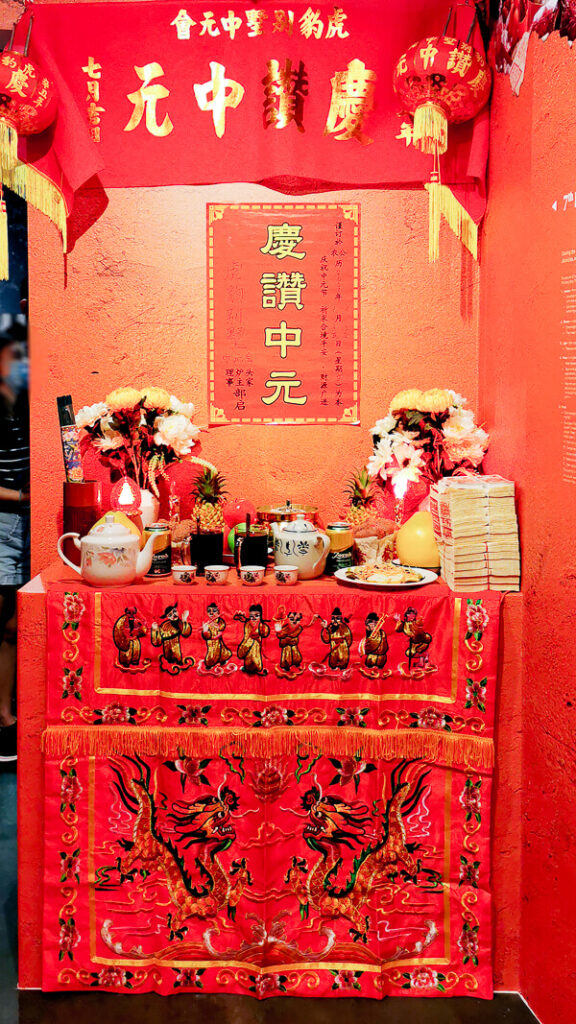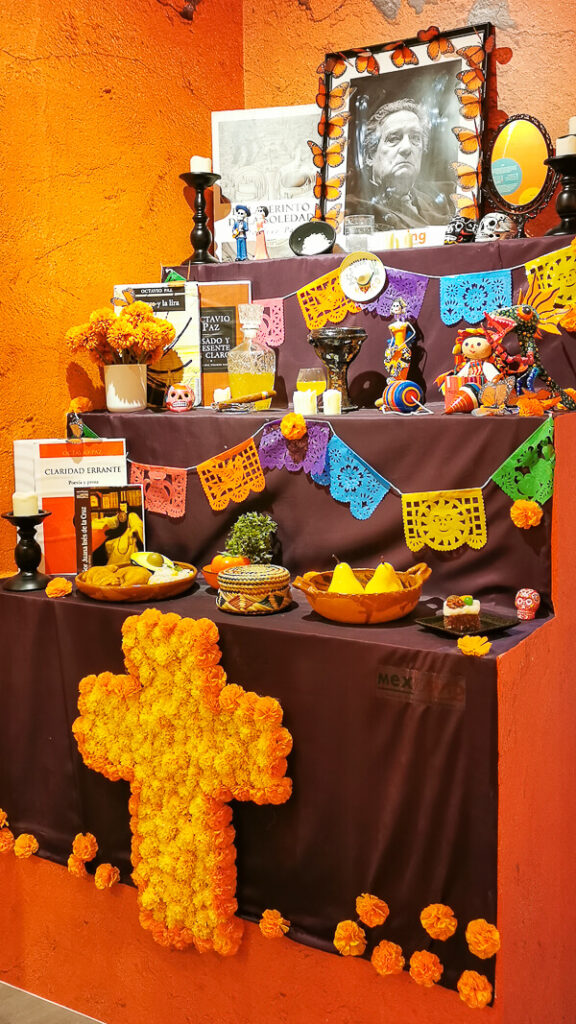 Then, at Section 3, you will walk through a Chinese wake set-up (complete with coffin, altar, offerings and other essential elements of a wake), followed by a replica of graveyard with explanation about the elements that form a Chinese tomb.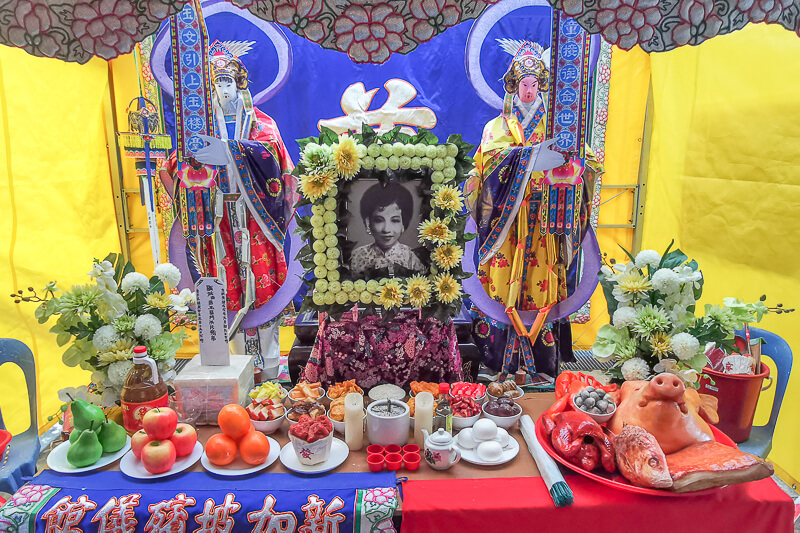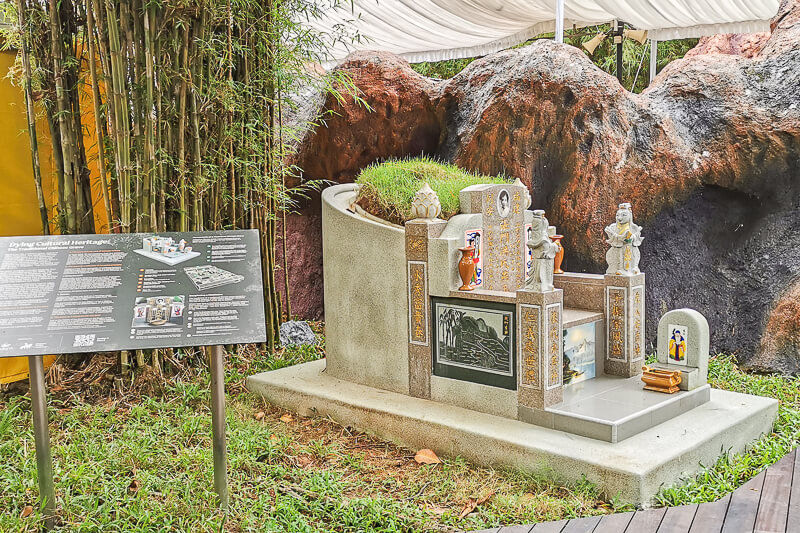 You'll also get to learn about how Singapore handled burial and cremation in the past 200 years.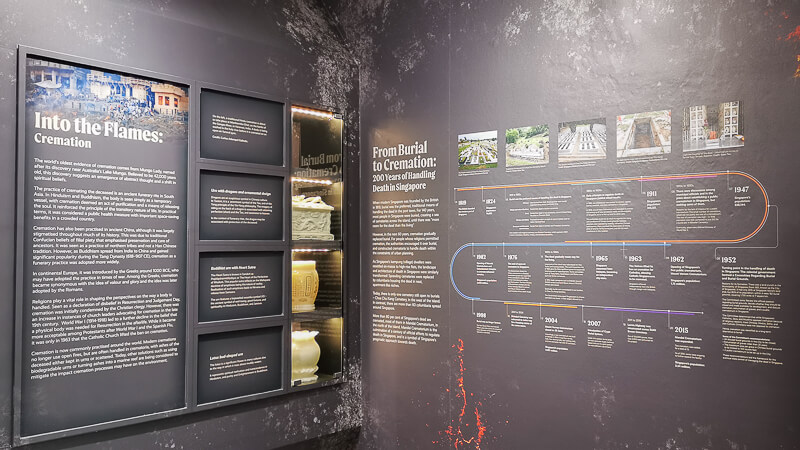 Section 4 is about quotes, prayers and verses in different religions on life, death, and the afterlife.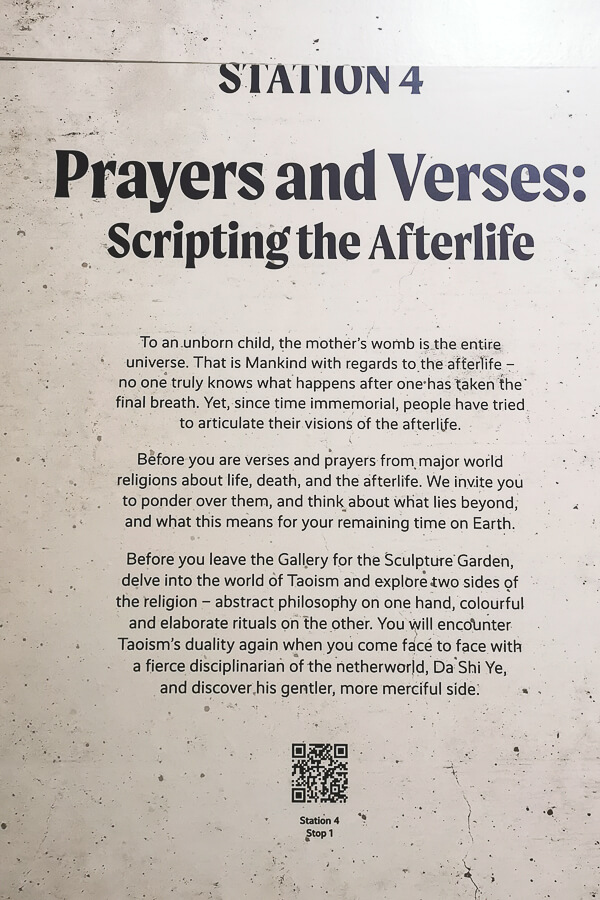 The final part of the gallery is about Buddhist and Taoist Icons, which is a necessary introduction before visiting the Ten Courts of Hell.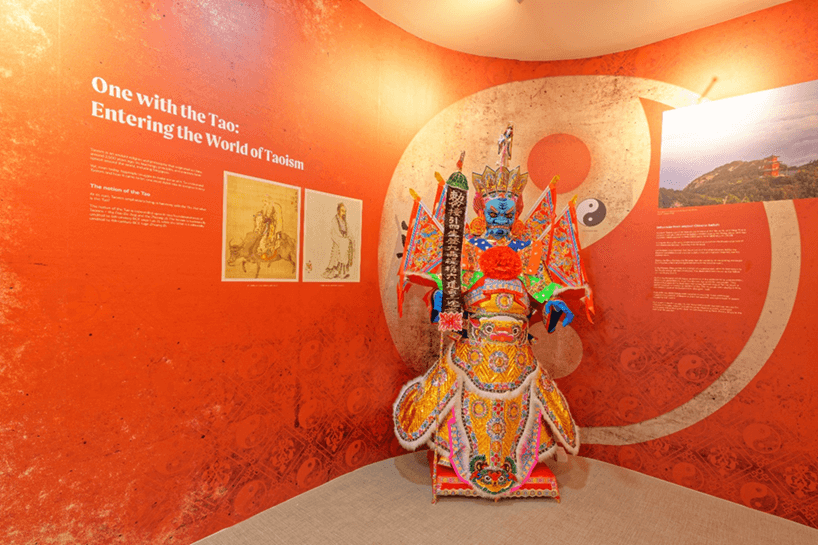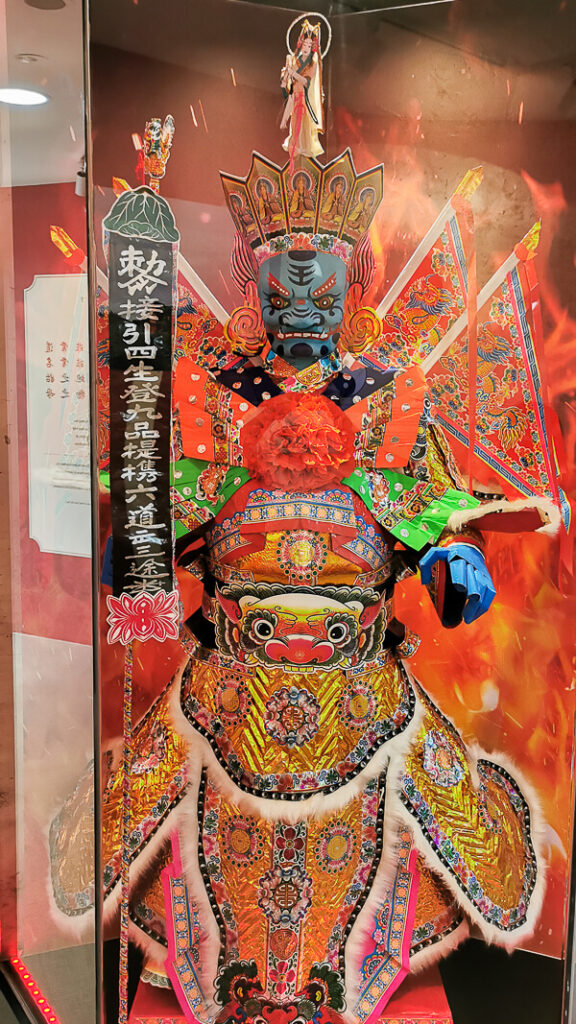 1.2 Ten Courts of Hell
To access Ten Courts of Hell, you'll be coming out from indoor gallery into the outdoor Sculpture Garden. You'll soon notice the entrance to Ten Courts of Hell.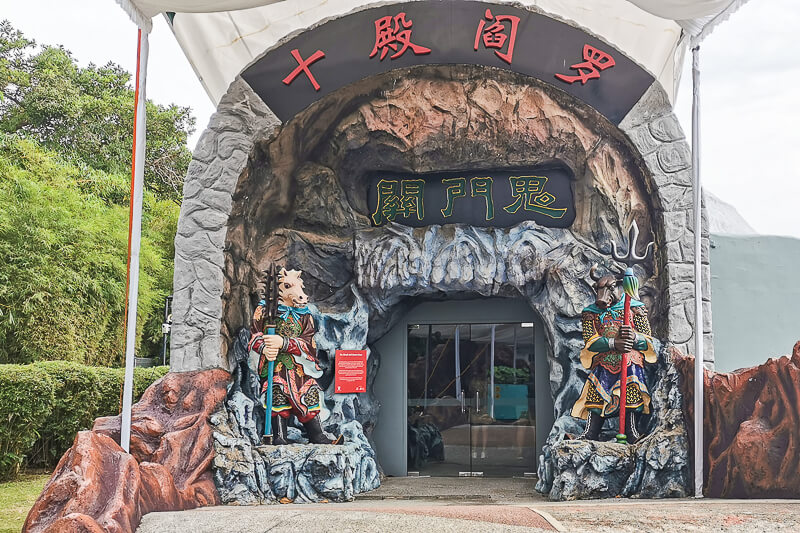 Ten Courts of Hell is a place where every human is judged in the afterlife. At Court 1, those who had done good deeds in life will get an express pass to cross either Golden Bridge (to become immortal or deities) or Silver Bridge (to be reborn as human with good lives). Meanwhile, sinners would have to go through the rest of the courts for further judgement and punishment.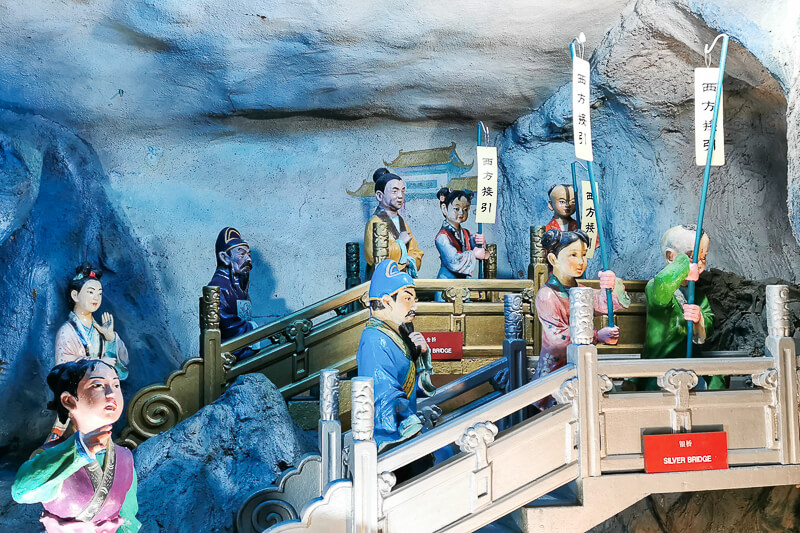 In Court 2 to 9, if the sinner commit any of the listed offence, he would be punished according to the law. Here, the statues are pretty harsh and violent. I wouldn't recommend you bring any children to the 10 Courts of Hell. I won't be posting the violent photos, but if you're curious, you can see some sample here and here.
In Court 10 (which happens 3 years after one's death), the soul will receive final judgement which decides what he/she will be reborn into. In the below photo, you can see that the two people were receiving judgement that they'll be born as a black goat and white rabbit.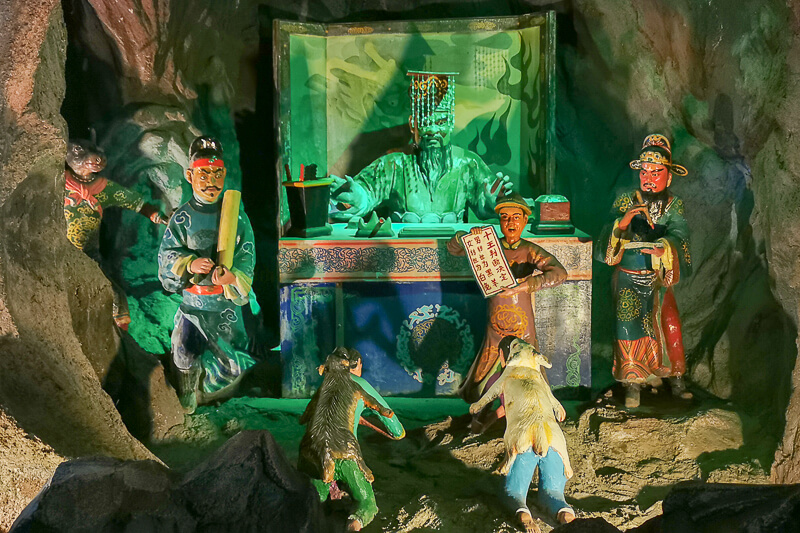 Before being reborn, they will drink an elixir at Meng Po's Pavilion to forget their previous life.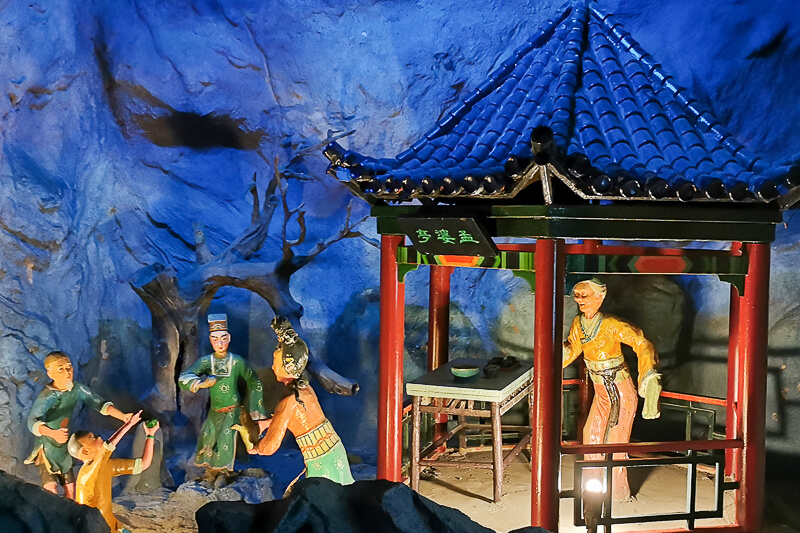 1.3 Sculpture Garden
When exiting Ten Courts of Hell, you'll find yourself back at Sculpture Garden. Here you'll find various dioramas related to being filial to parents, the importance of family, farming community and other Buddhist and Chinese concepts. There is also a Tua Pek Kong shrine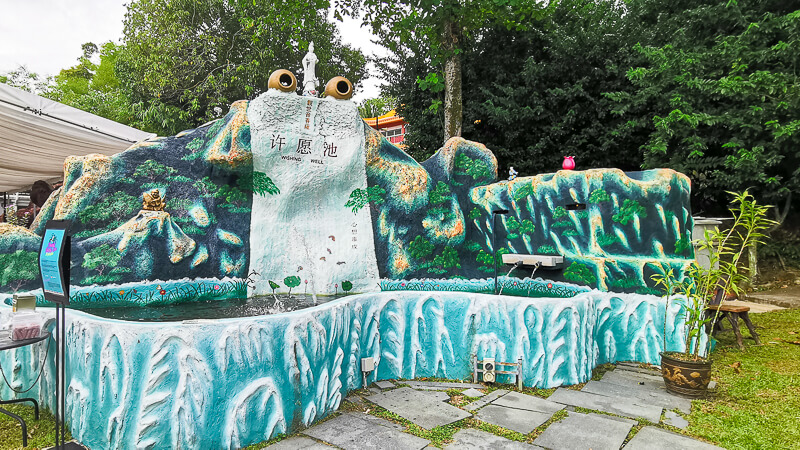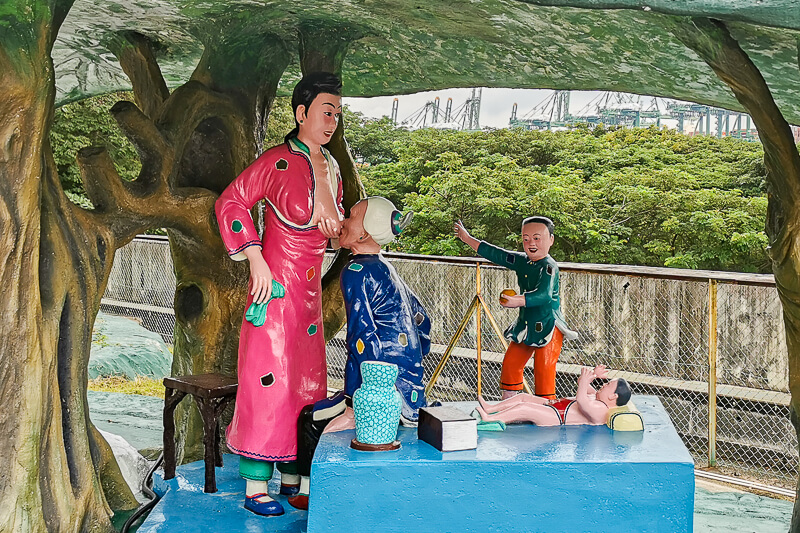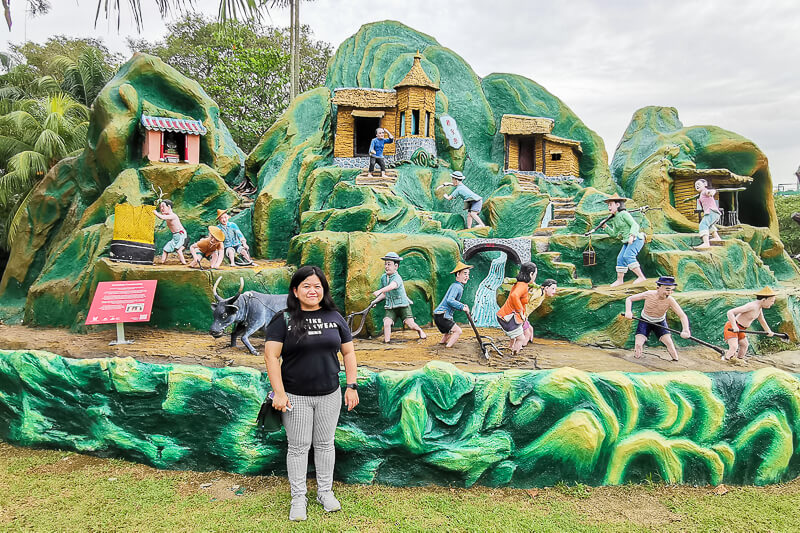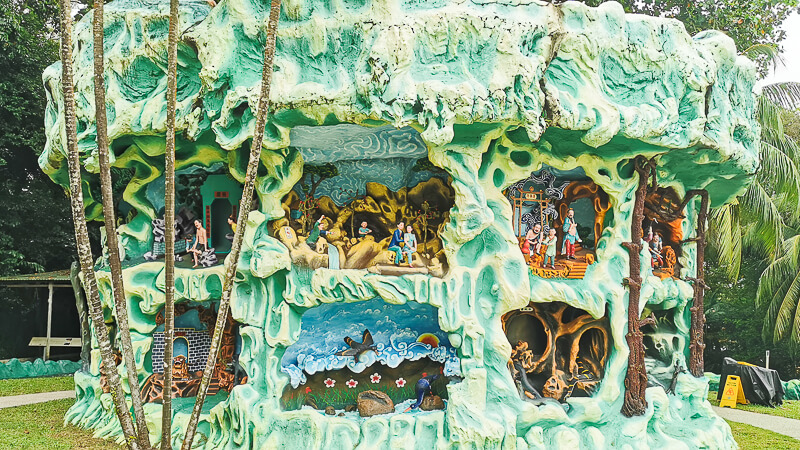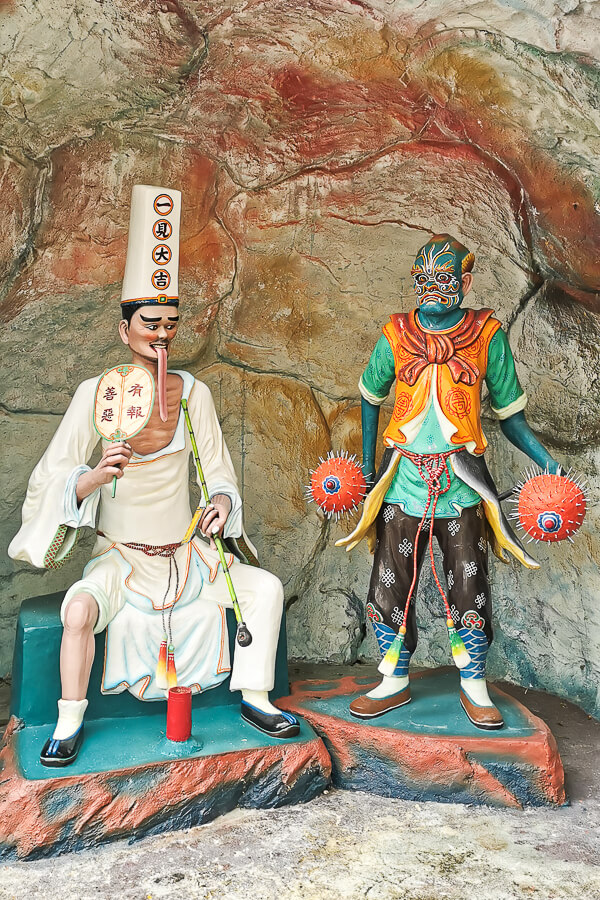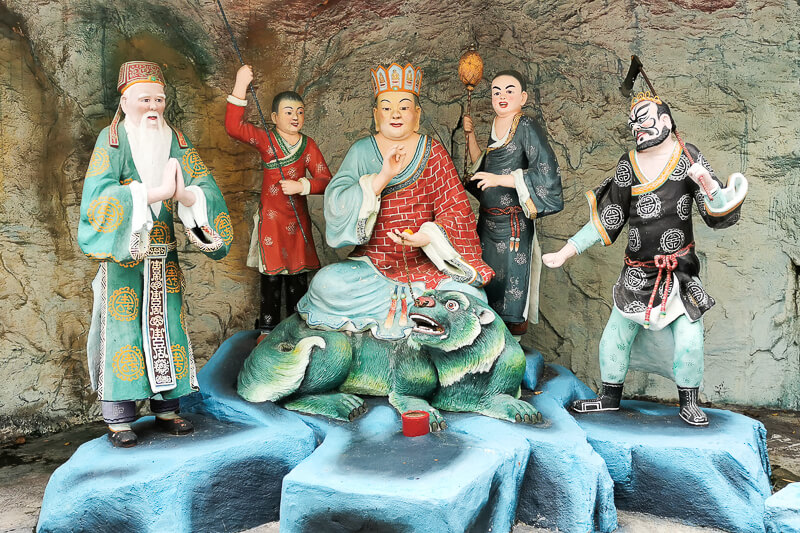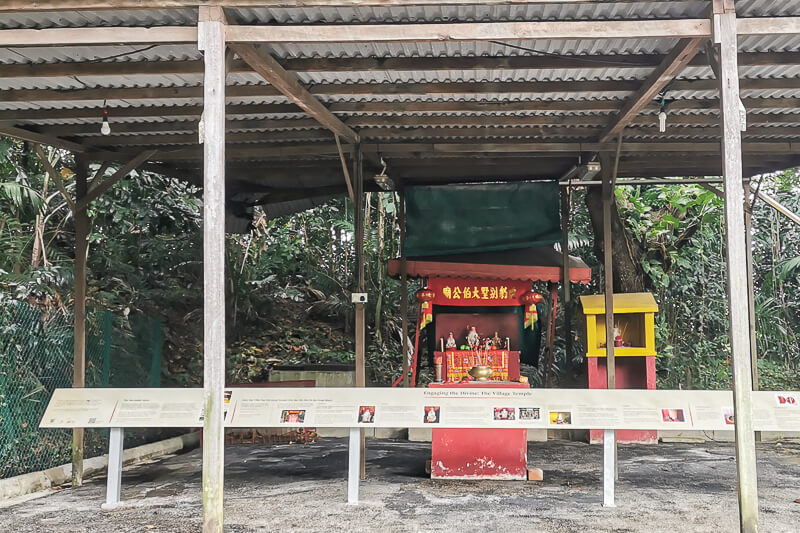 2. Learn about Haw Par Villa's history at the Jade House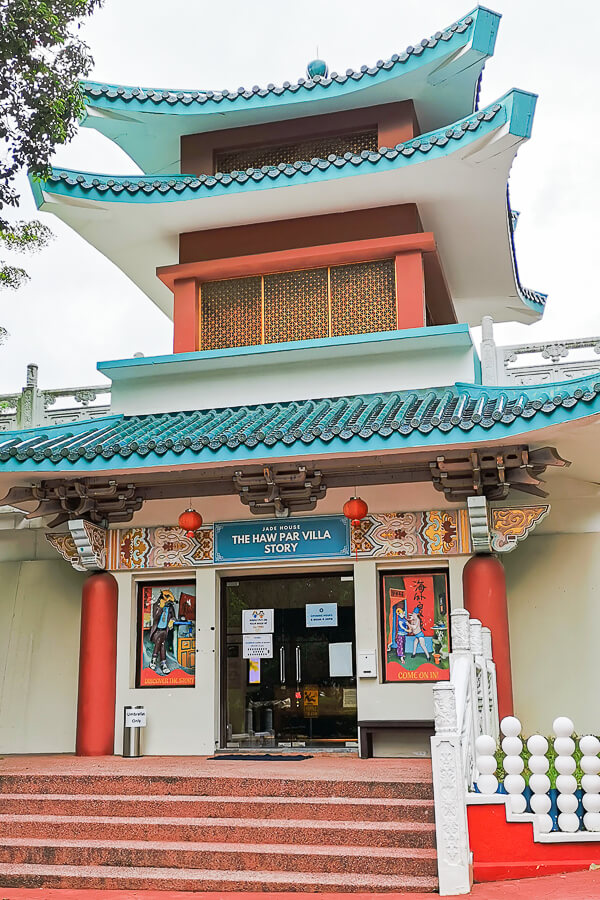 At the Jade House, you can learn about the history of Haw Par Villa from the very beginning until what it is today. There's a mock-up of the Former Villa which was built by Aw Boon Haw in 1937.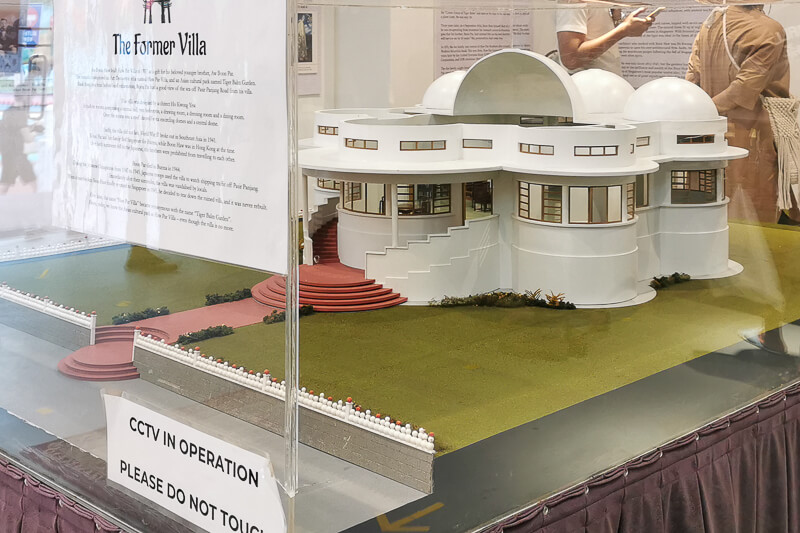 There's also a mock-up of the colorful dragon which was the main icon in 1990s when Haw Par Villa was known as Dragon World theme park. The mouth of the dragon was an entrance to the boat ride which traversed the dragon's length. Ten Courts of Hell was located inside the dragon.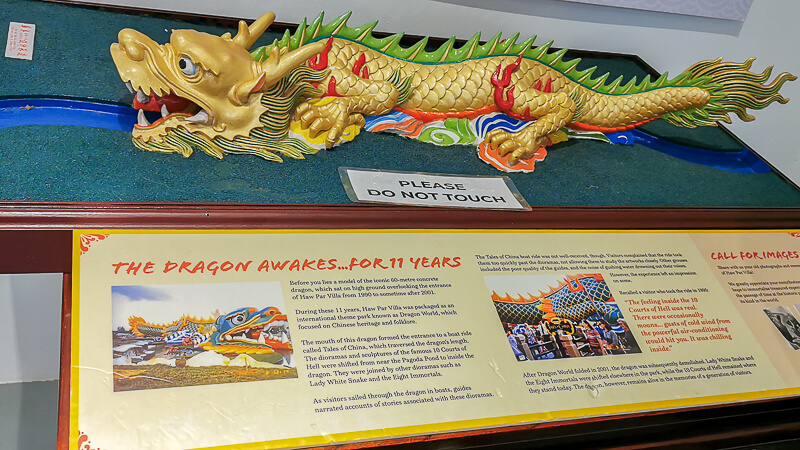 3. Explore the outdoor park, including Pagoda Pond, Guan Yin Pond and Signature Pond
I think it's fair to say that Haw Par Villa is a photogenic park. There are so many photo opportunities throughout the entire park. Here are some of my favorite Instagrammable spots at Haw Par Villa's outdoor park.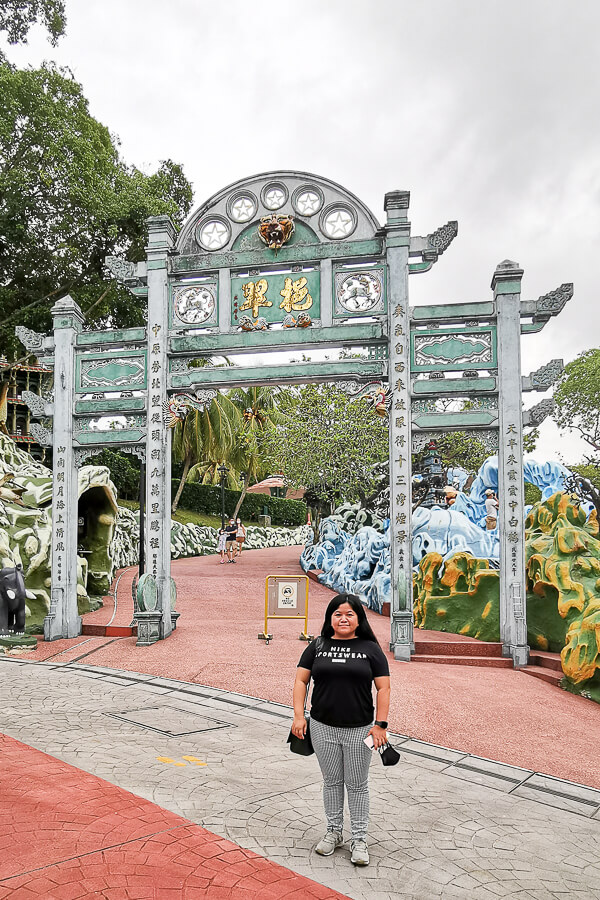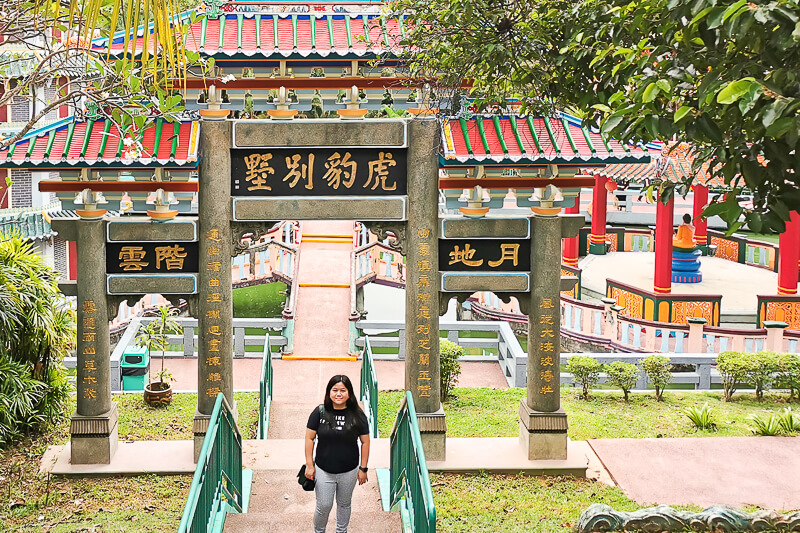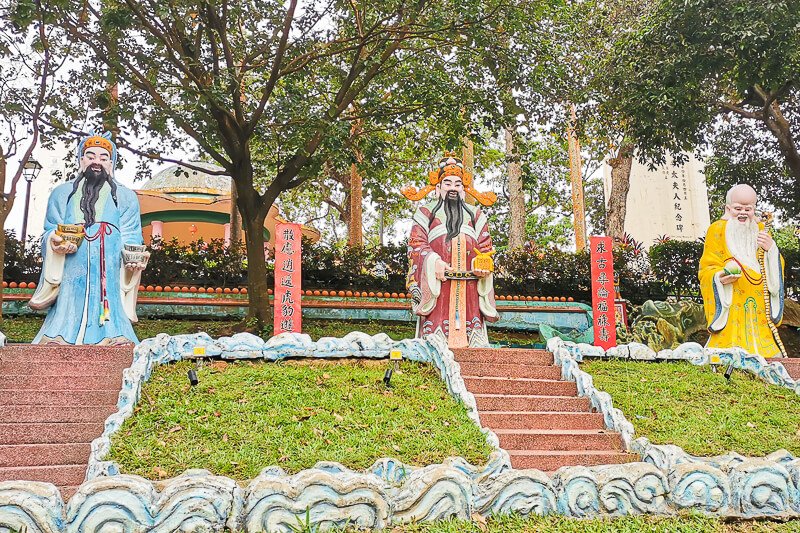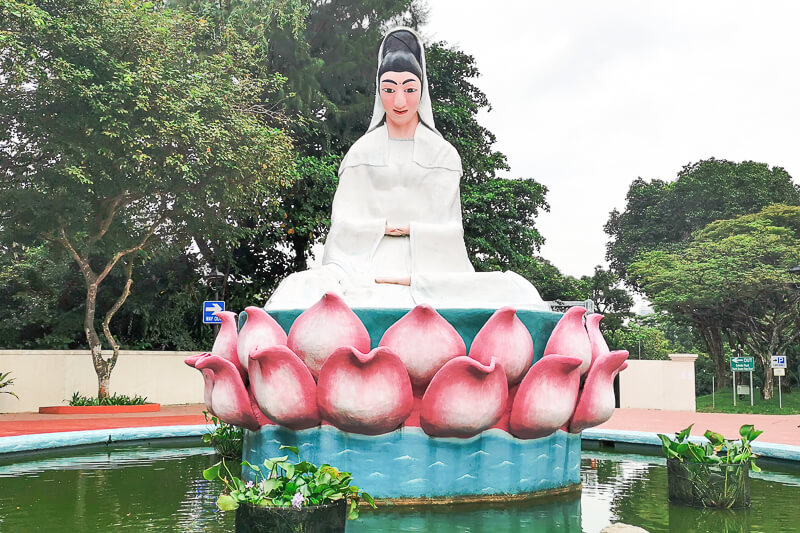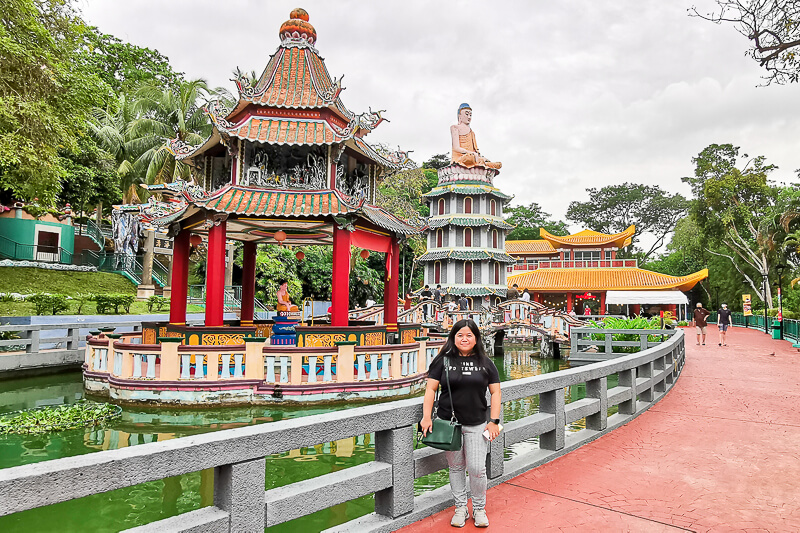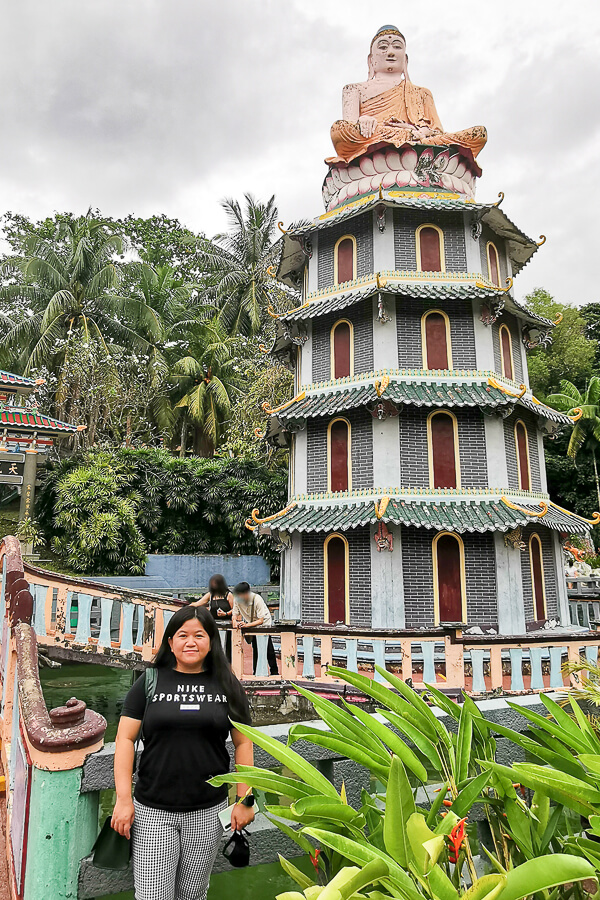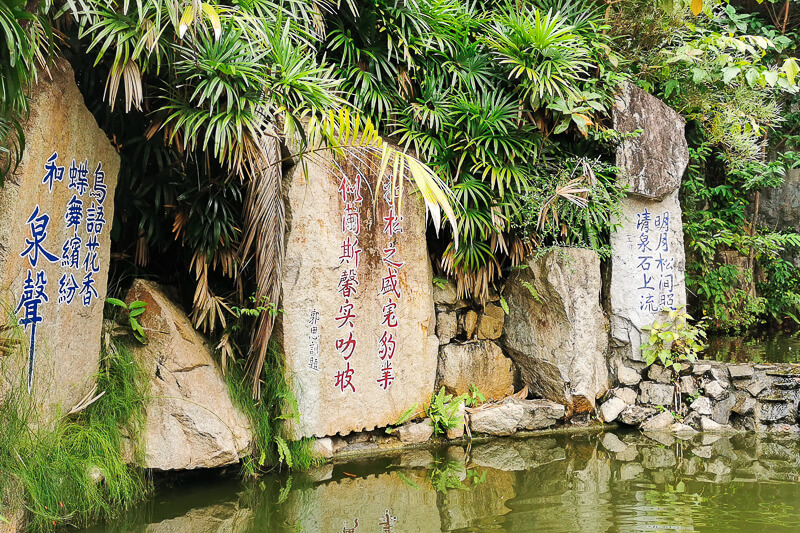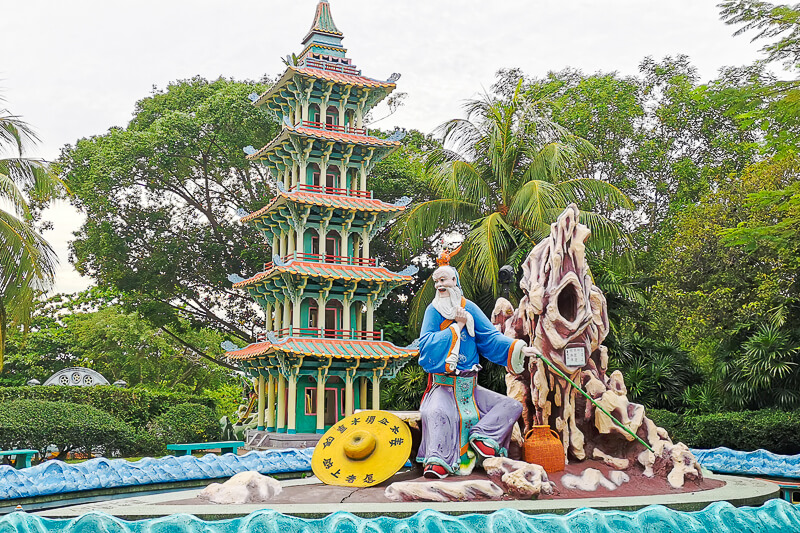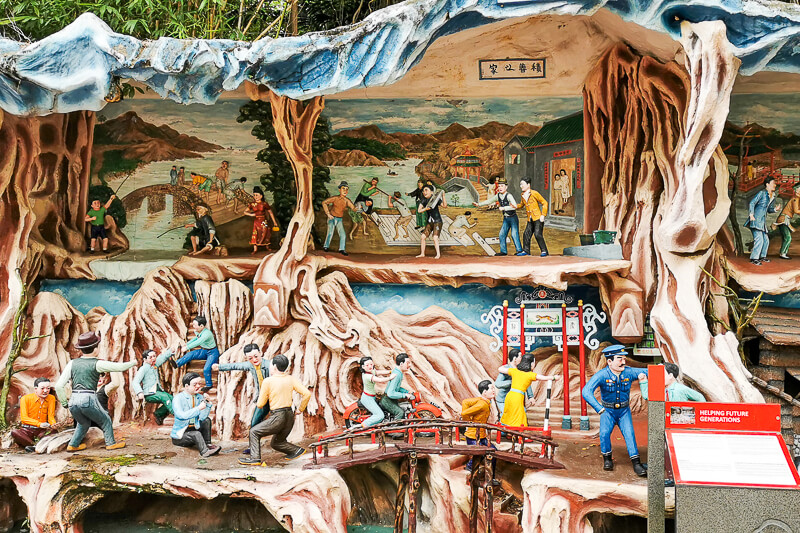 4. Pay respect at the four Memorial Monuments
There are four memorial monuments at Haw Par Villa's outdoor park:
Parents' Memorial
Boon Haw's Memorial
Boon Par's Memorial
Aw Hoe's Memorial (Boon Haw's son)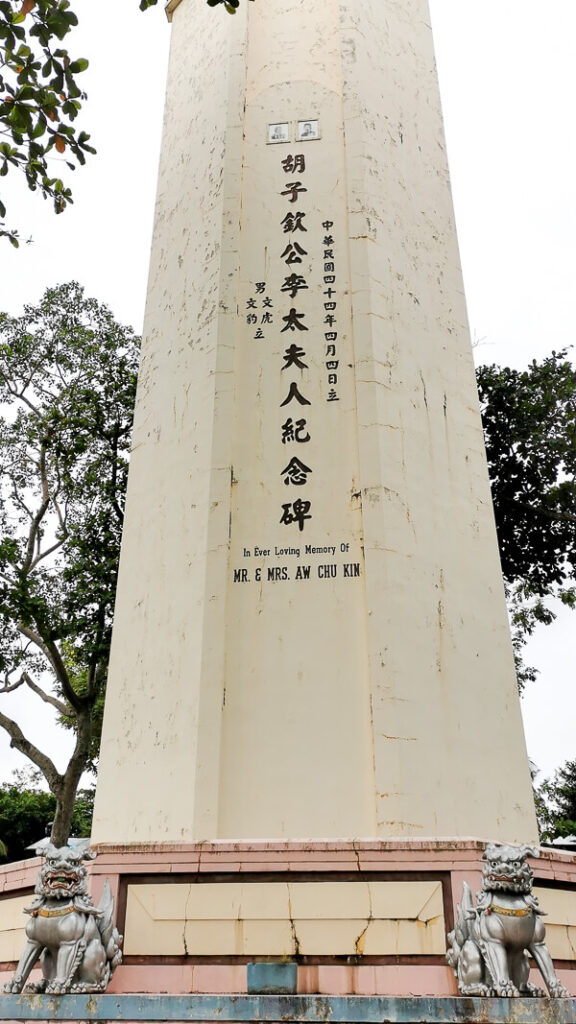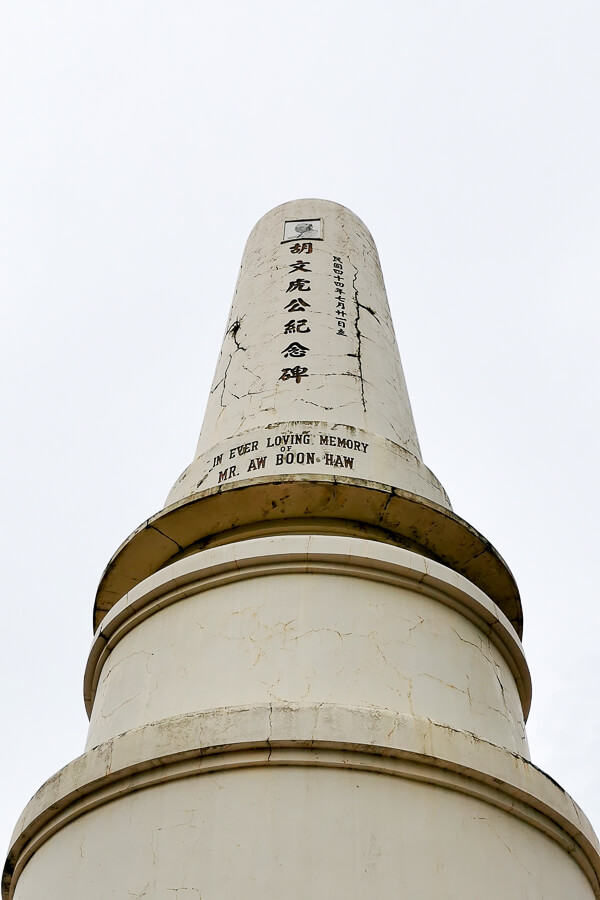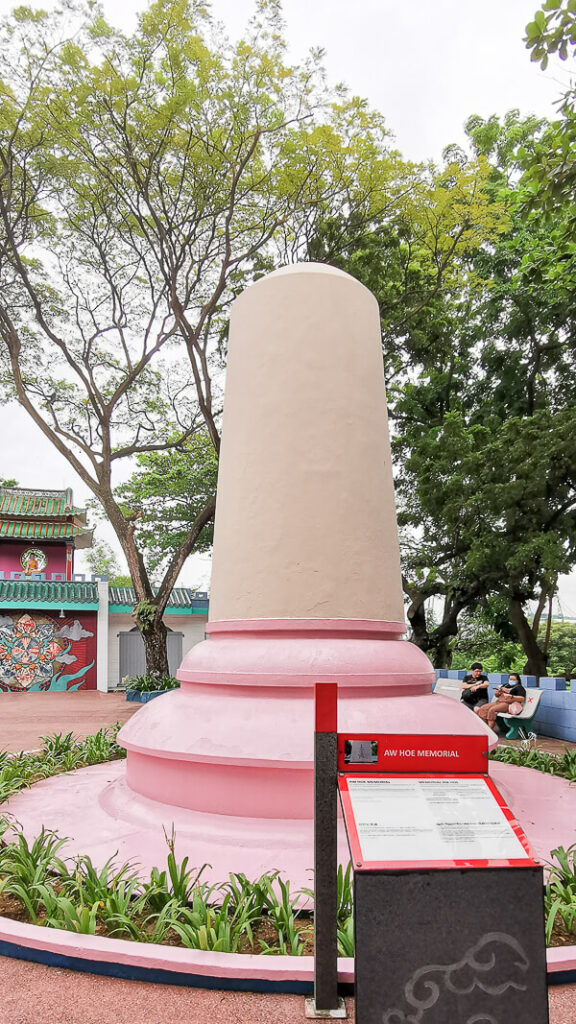 5 Reminisce the past at the Former Villa's site
The Former Villa's site is located at the northern section of Haw Par Villa.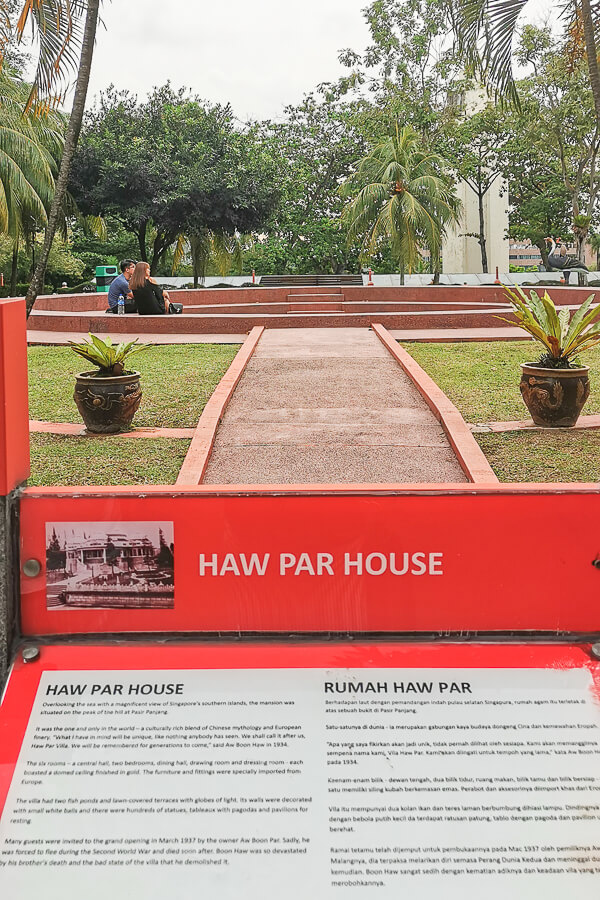 6. Feed the turtles and fishes
You can feed the turtles and fishes at each pond. Simply take the feed from the table beside the pond, and make payment into the honesty box.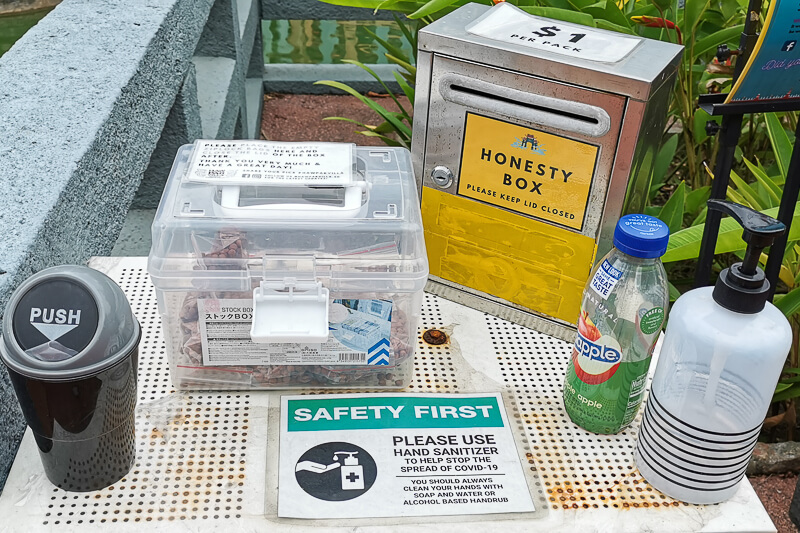 7. Visit the Visitor Centre
The new Visitor Centre offers various products, including Tiger Balm ointment, snacks, drinks and even merchandise.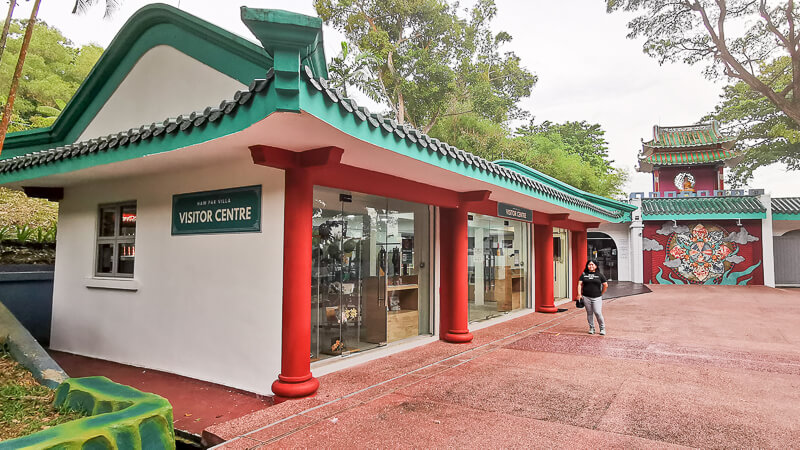 8. Coming in 2022: Rise of Asia Museum
Located near Main Courtyard, the Rise of Asia Museum is under construction right now. It is scheduled to be open in 2022.
Food at Haw Par Villa
Exploring an 8.5 ha park can be quite exhausting. If you need drinks or food, you can head to The Sixth Milestone located next to Pagoda Pond, behind the Visitor Centre. The Sixth Milestone sells snacks, local food, as well as hot and cold drinks.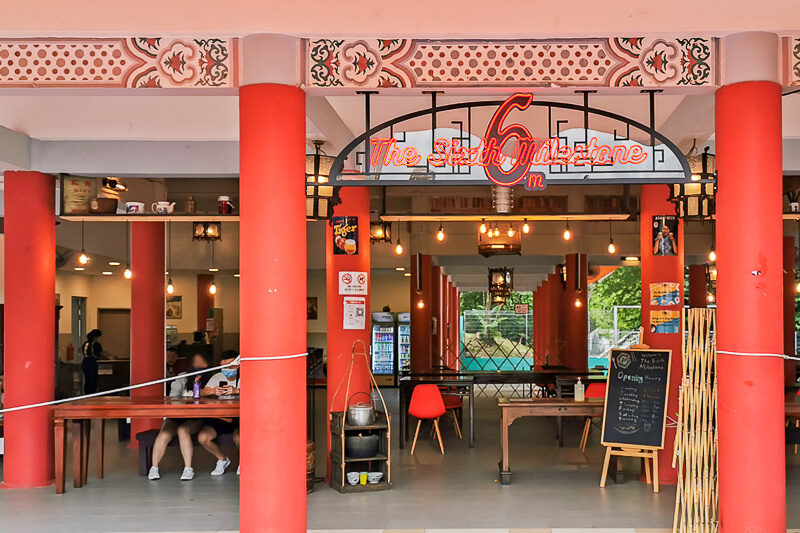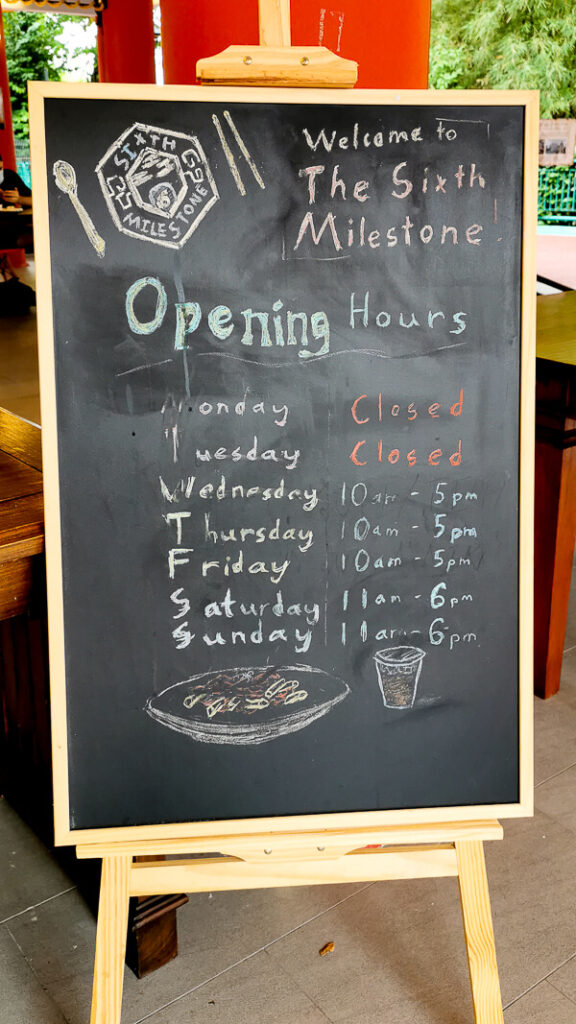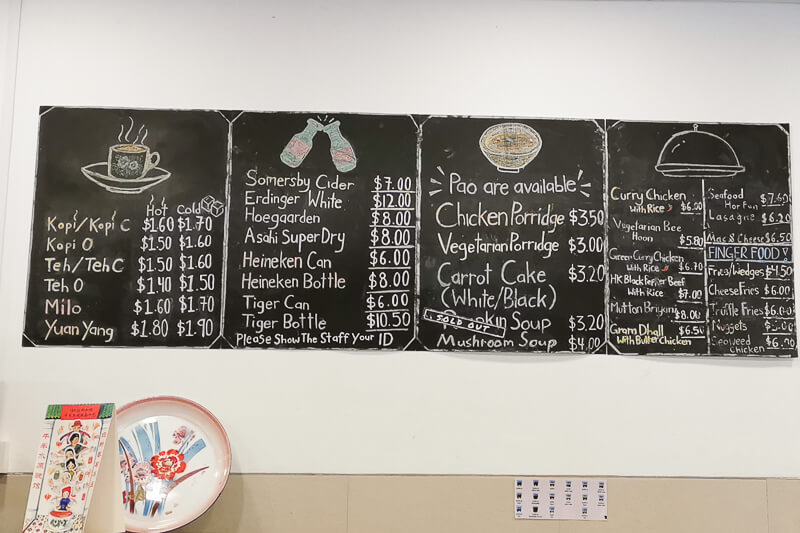 Drinks can also be bought from Visitor Centre or vending machines.
Tips
1. Bring umbrella. The Outdoor Park as well as the Sculpture Garden inside Hell's Museum are not sheltered, so umbrella will come in handy on both hot day and rainy day.
2. Put on your sneakers, there's a lot of walking and hiking to do. Haw Par Villa is really huge and the park is built on a hill, so make yourself comfortable by wearing a pair of shoes.
3. Allow at least 3 hours to explore the entire park. I spent 4 hours exploring the Hell's Museum and the Outdoor Park. There are too many spots to take photos and too many things to learn.
4. Join Hell's Museum free guided tour. If you're planning to visit Hell's Museum, I really recommend joining the free guided tour. I joined one and I learned so much from the tour.
5. Some part of the park may not be suitable for young kids. Even though most of the statues and dioramas are cute and neutral, the ones inside Ten Courts of Hell and some in Hell's Museum are probably too much for young kids. Do be mindful of what your children can handle and what you expose your them too.
Thanks Haw Par Villa for the opportunity to visit this incredible park.