So, you're planning to tackle the Coast to Coast in Singapore and you've already read my guide to coast to coast trail, but you want to find more information about each segment of the trail? You're at the right place!
In this article, I will share about things to see and things to take note about along the trail.
Location of Each Checkpoint
Checkpoint 1: Jurong Lake Gardens
Checkpoint 2: Bukit Batok Nature Park
Checkpoint 3: Hindhede Drive
Checkpoint 4: Adam Road Food Centre
Checkpoint 5: Bishan-Ang Mo Kio Park
Checkpoint 6: Luxus Hills Park
Checkpoint 7: Sengkang Floating Wetland
Checkpoint 8: Punggol Waterway Park
Checkpoint 9: Coney Island Park – West Entrance
Checkpoint 10: Lower Seletar Reservoir Park (Rower's Bay)
Distance Between Checkpoints
Lakeside MRT to Checkpoint 1 = 1.9 km
Checkpoint 1 to Checkpoint 2 = 5.7 km
Checkpoint 2 to Checkpoint 3 = 1.9 km
Checkpoint 3 to Checkpoint 4 = 5.7 km
Checkpoint 4 to Checkpoint 5 = 7.9 km
Checkpoint 5 to Checkpoint 6 = 5.6 km
Checkpoint 6 to Checkpoint 7 = 2.6 km
Checkpoint 7 to Checkpoint 8 = 4.1 km
Checkpoint 8 to Checkpoint 9 = 2.7 km
Checkpoint 9 to Bus Stop at Punggol End Rd = 1 km
Lakeside MRT to Checkpoint 1
If you think that Checkpoint 1 is the start point, I hate to break it to you, it is not! According to NParks' guide, the start point of Coast to Coast Trail is somewhere near Yuan Ching Road. From here, you need to walk through Jurong Lake Gardens towards CP1.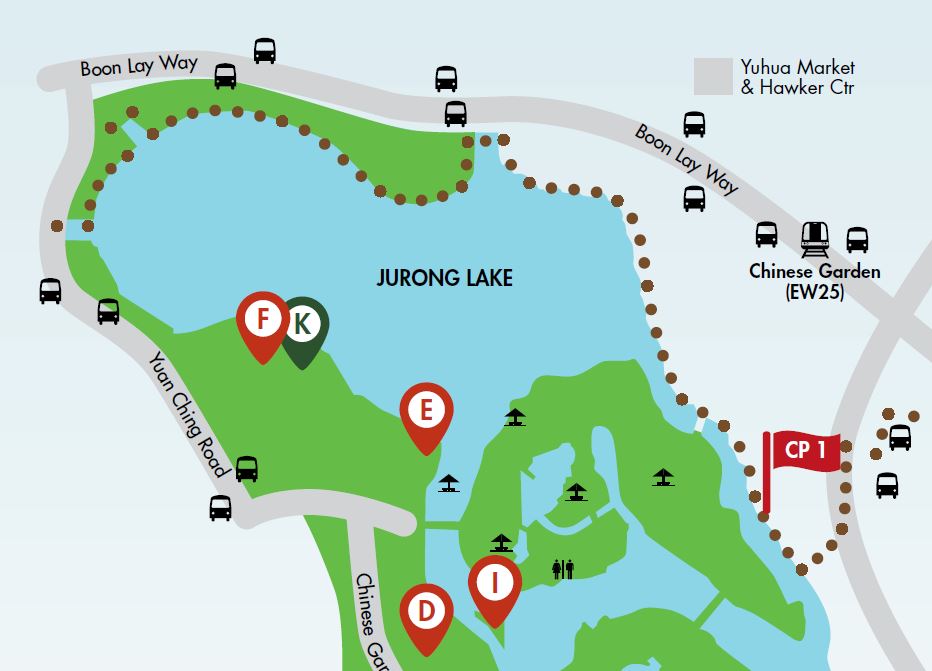 However, when I attempted this stretch in Oct 2021, construction was going on at this area, hence, instead of running inside Jurong Lake Gardens, I had to run along Boon Lay Way.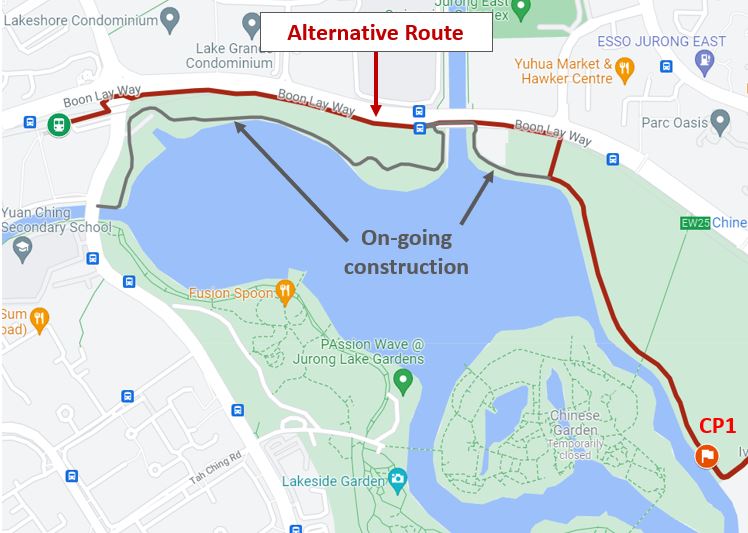 The distance between Lakeside MRT to CP1 via the alternative route is about 1.9km. The path is on Jurong Park Connector, and the sights are mostly construction at the moment.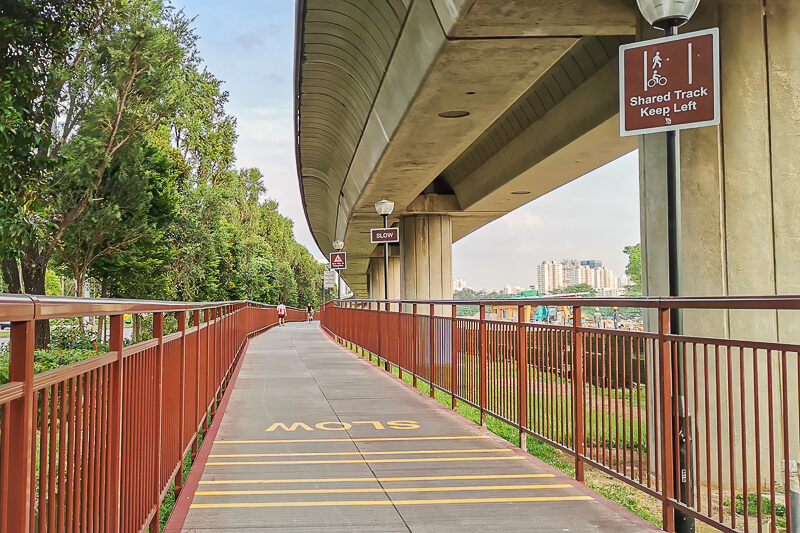 There are no C2C signboard along the alternative route. I found the first signboard after I made the right turn from Boon Lay Way into the park. The signboard said that I was 1.1km from the Jurong Lake Gardens.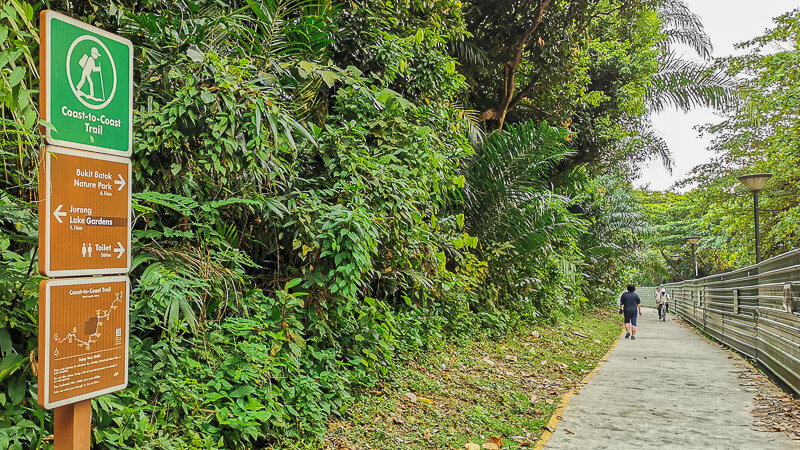 Less than 1km later, you will see CP1 on your right hand side, hidden under a shelter. If you didn't intentionally look for it, you may miss it like I did. Furthermore, the signboard didn't point you to the CP.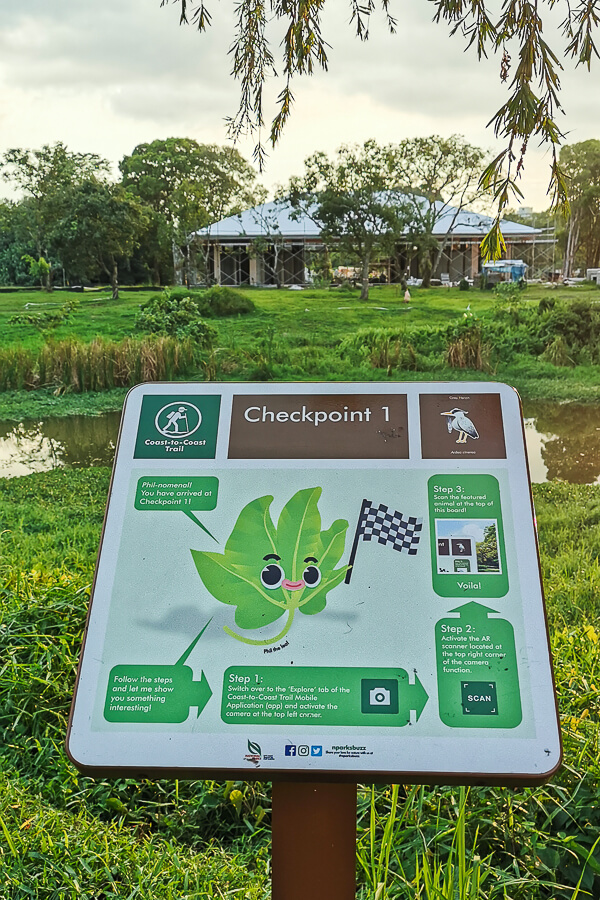 Checkpoint 1 to Checkpoint 2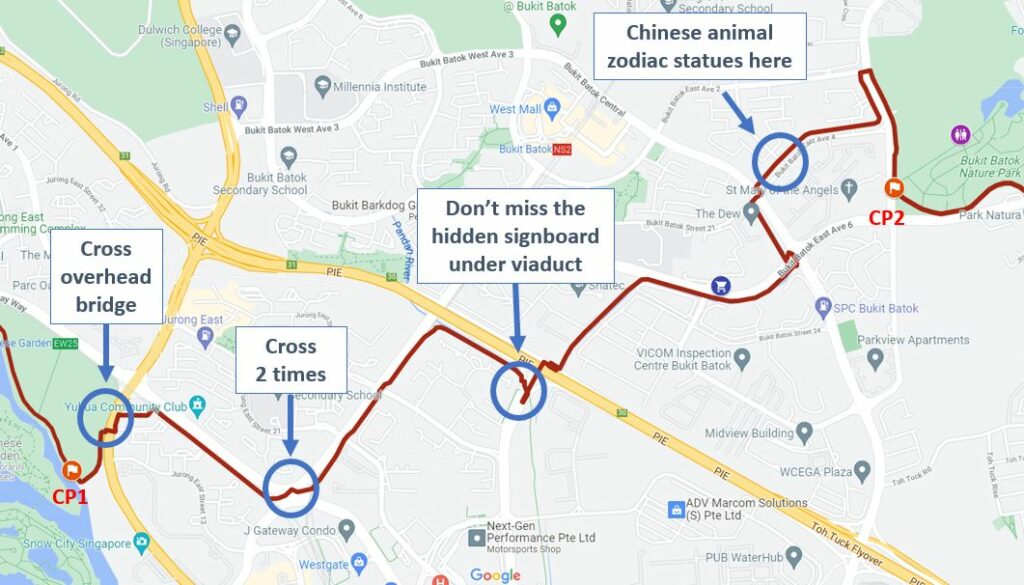 After passing CP1, the trail will bring you to an overhead pedestrian bridge. You need to cross the road using overhead bridge and continue your way towards the north, following the signboard direction.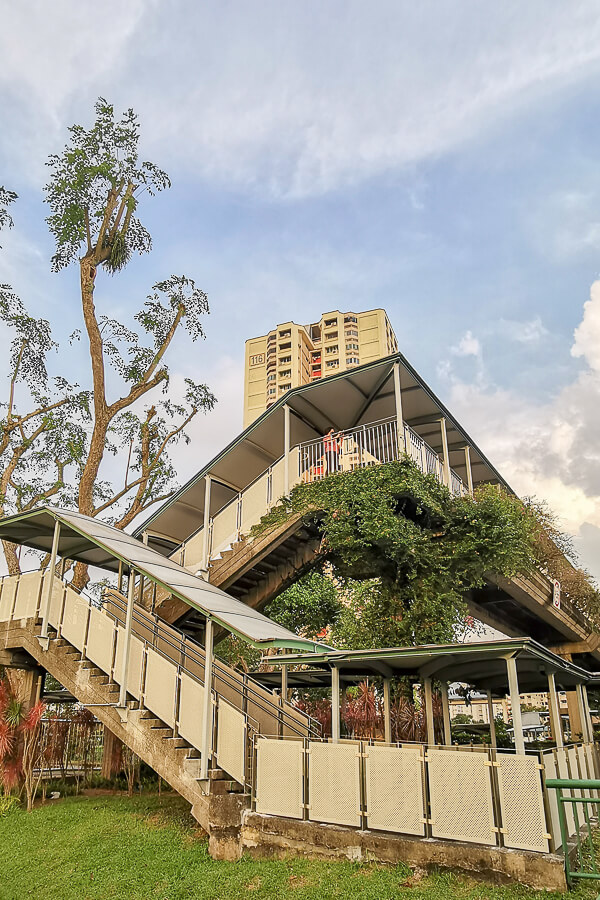 Soon, you'll find yourself walking under the MRT viaduct along Boon Lay Way.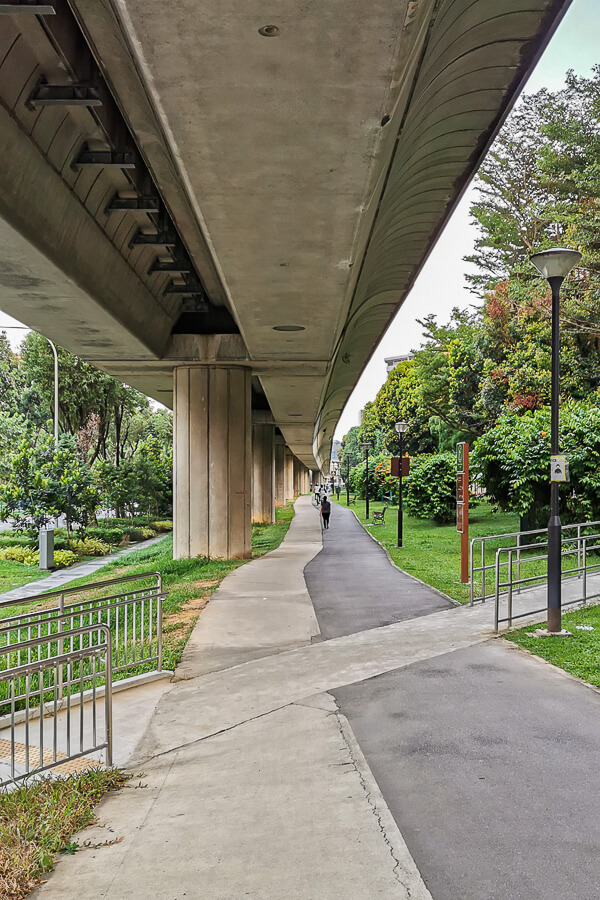 When you reach the busy junction of Jurong East Central & Boon Lay Way, you need to cross the road 2 times (exclude the small crossing to the island). I made the mistake of crossing only 1 time, I realized I made this mistake because I didn't see any C2C signboard. I had to come back to junction to cross one more time. You should see this signboard after crossing 2 times: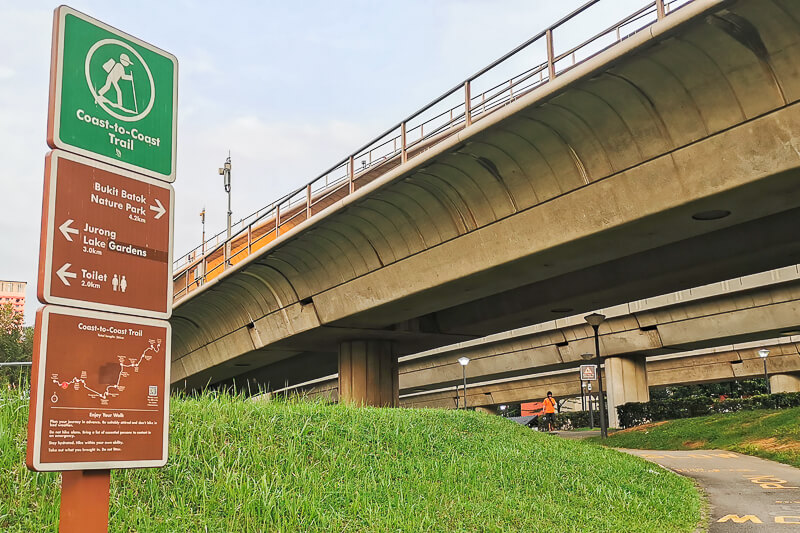 Next, you'll be walking under MRT viaduct along Jurong East Central. You'll be passing 2 traffic lights before you reach Pandan River.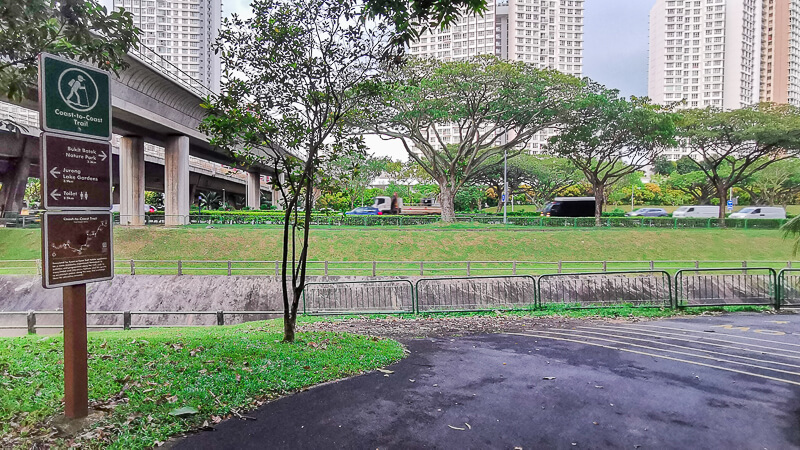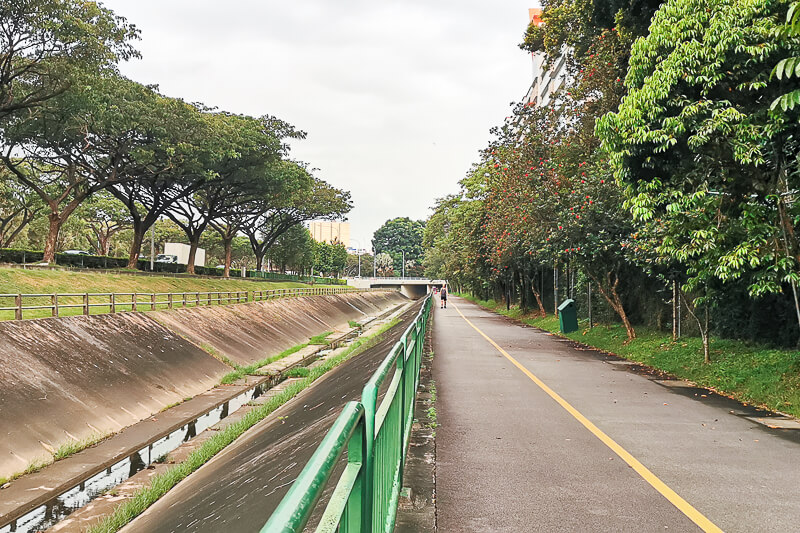 When you reach the point where there's a Flyover above the river, pay attention to your right. Hidden under the flyover, there is a small path with C2C signboard. If you're too occupied, you might miss this signboard and you'll lose your way later.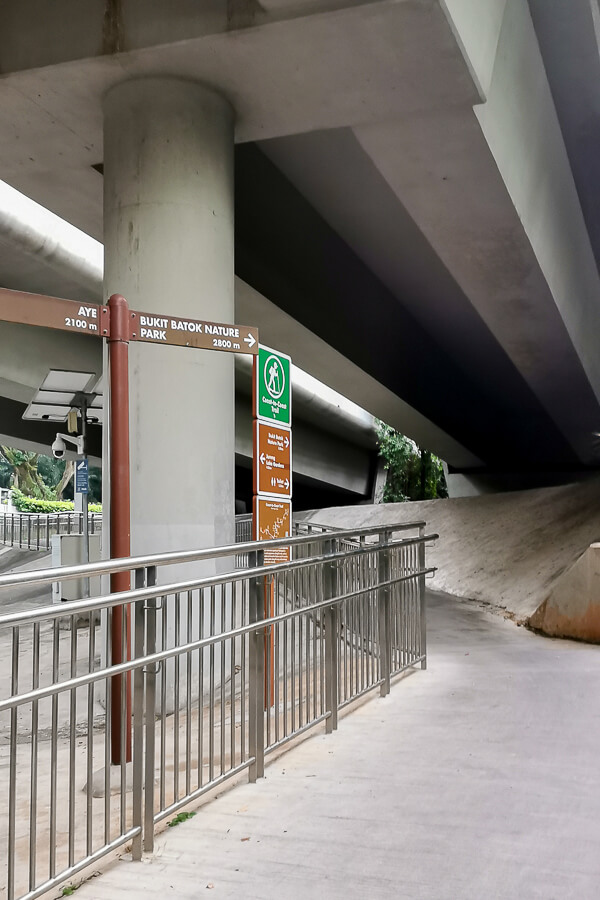 The small path will bring you across Toh Guan Flyover and Pan Island Expressway (PIE). Then, you'll find yourself walking along another stretch of Pandan River surrounded by industrial buildings.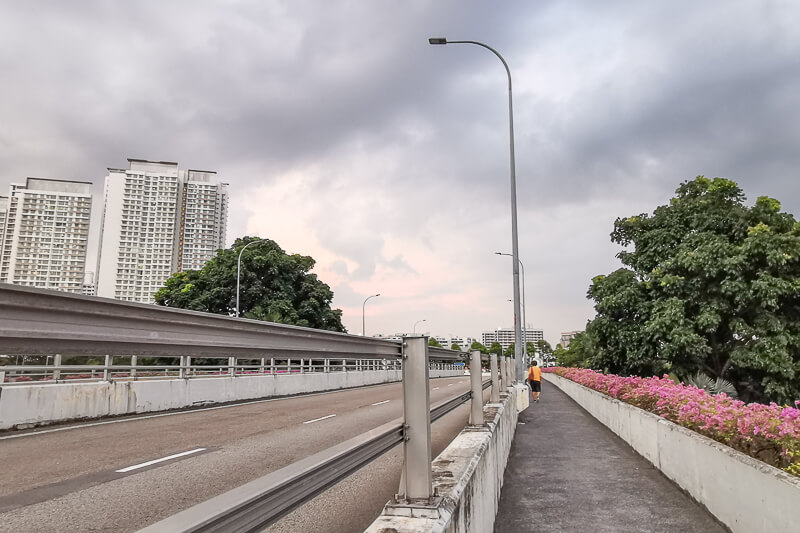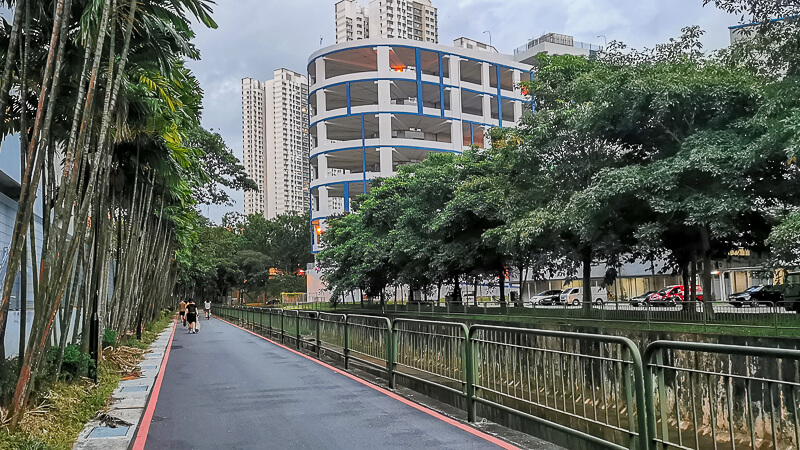 After that, you'll find yourself walking beside an open canal, along Bukit Batok East Ave 6, Bukit Batok East Ave 3, Bukit Batok East Ave 4 (where the Chinese animal zodiac statues are) and Bukit Batok East Ave 2.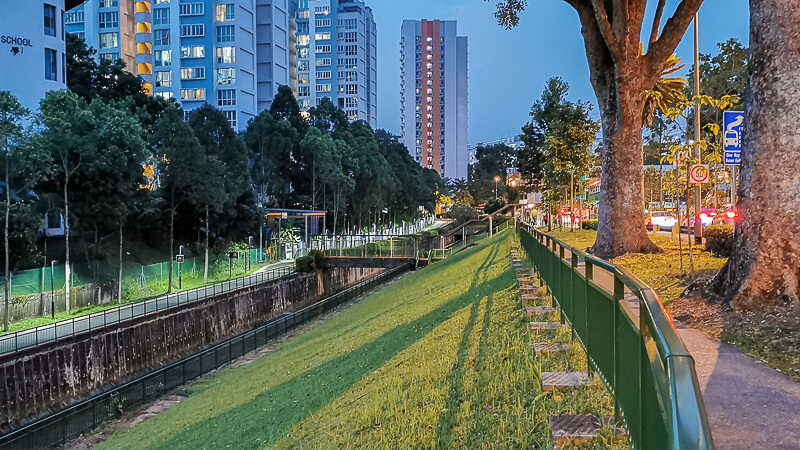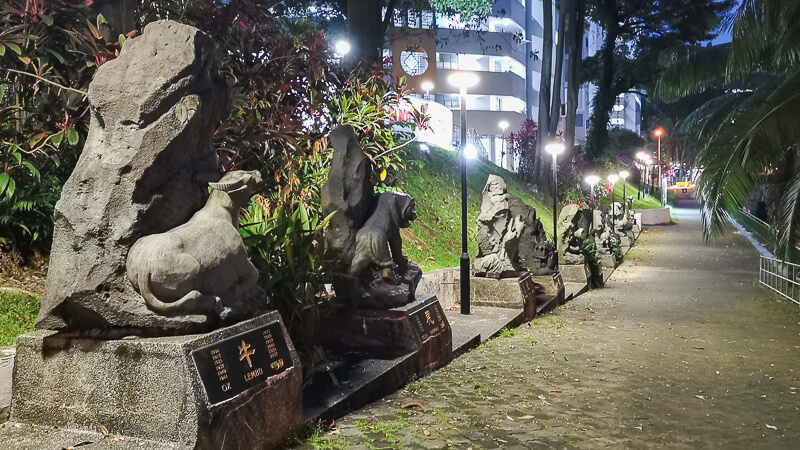 Finally, you'll reach CP2 and Bukit Batok Nature Park.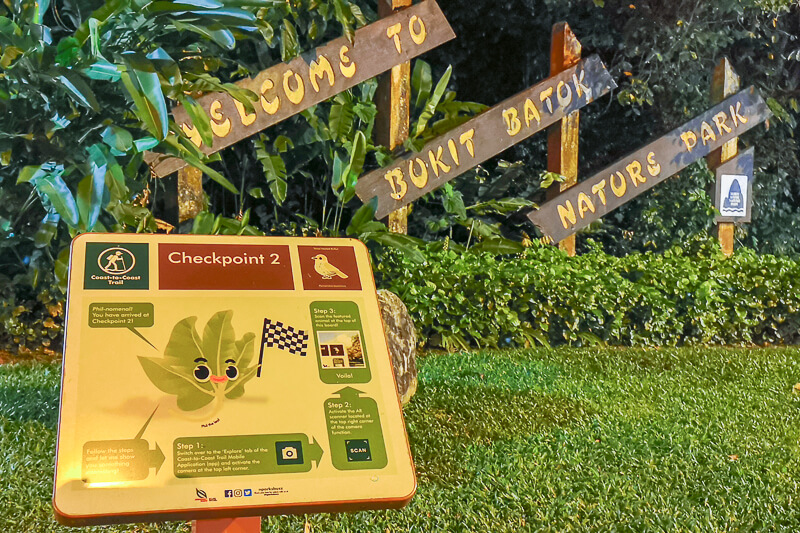 Checkpoint 2 to Checkpoint 3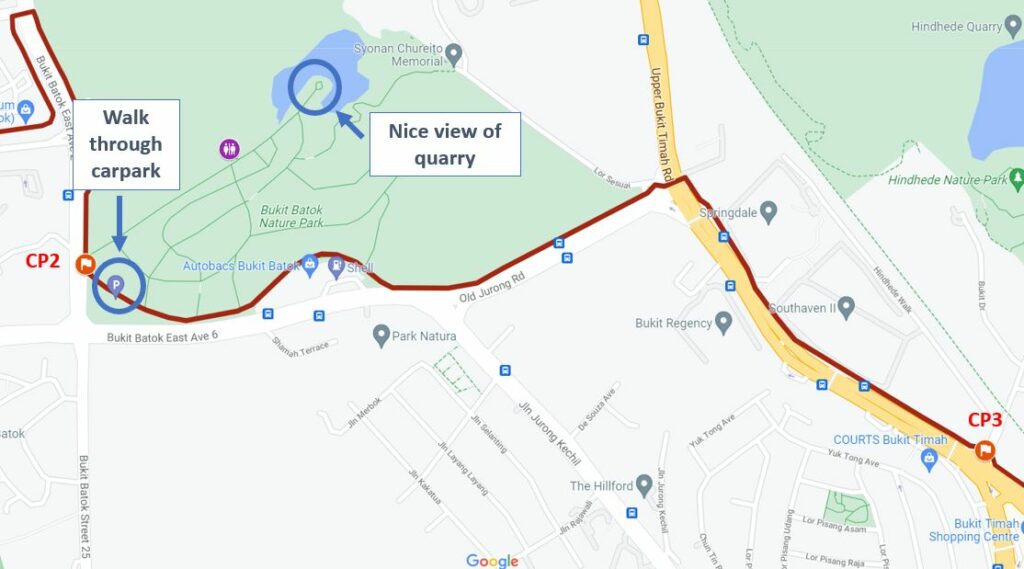 From Checkpoint 2, NParks map suggested that you're supposed to walk outside Bukit Batok Nature Park (along the main road), BUT I don't think that's right. Because, what I found on the ground was that the physical C2C signboard is found inside the Bukit Batok Nature Park, not outside. Hence, from CP2, make your way across the carpark and follow the direction of the signboard.
If you have time and energy, you can check out Bukit Batok Nature Park. It has a pretty nice quarry pool. But, do note that this is a hilly park, the trek to the top requires some effort.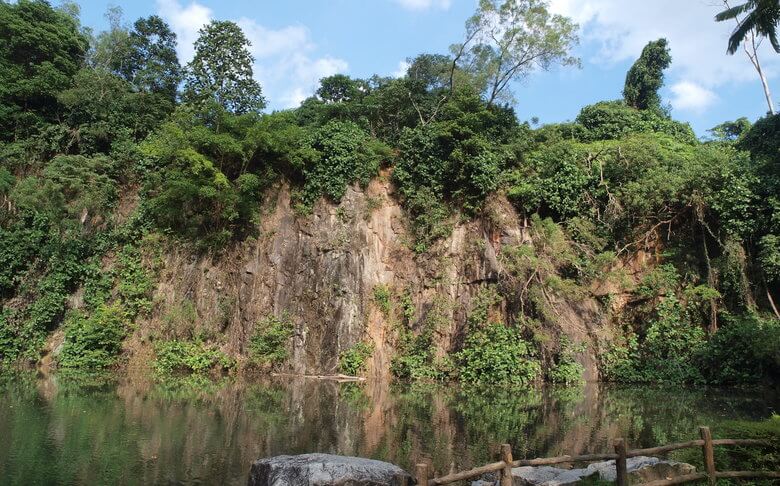 After reaching the end of Bukit Batok Nature Park, the trail continues along Upper Bukit Timah Road. There's nothing special along this stretch, only residential and commercial buildings.
When you reach Hindhede Drive junction, pay attention to the bicycle parking at the island in the middle of Hindhede Dr, because CP3 signboard is located right at the bicycle parking.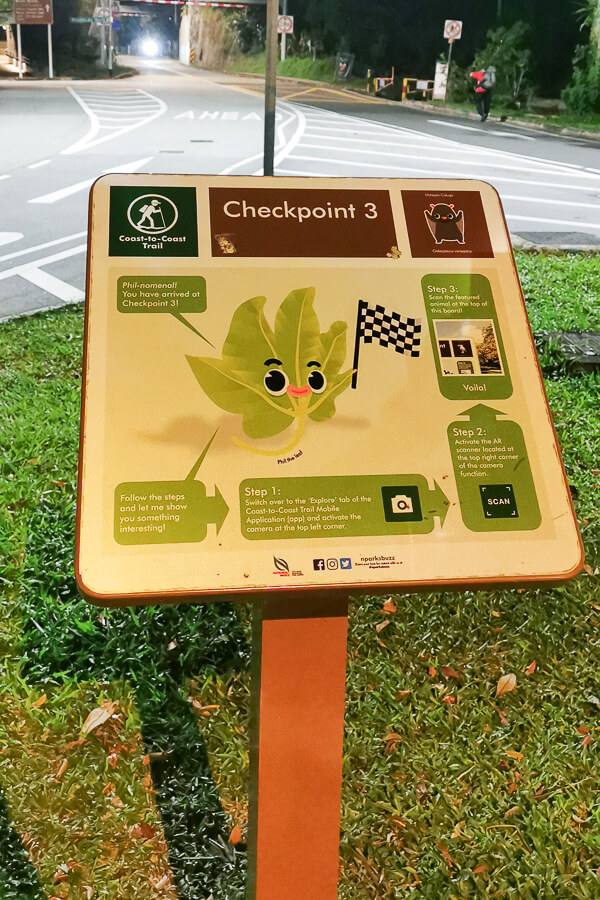 Checkpoint 3 to Checkpoint 4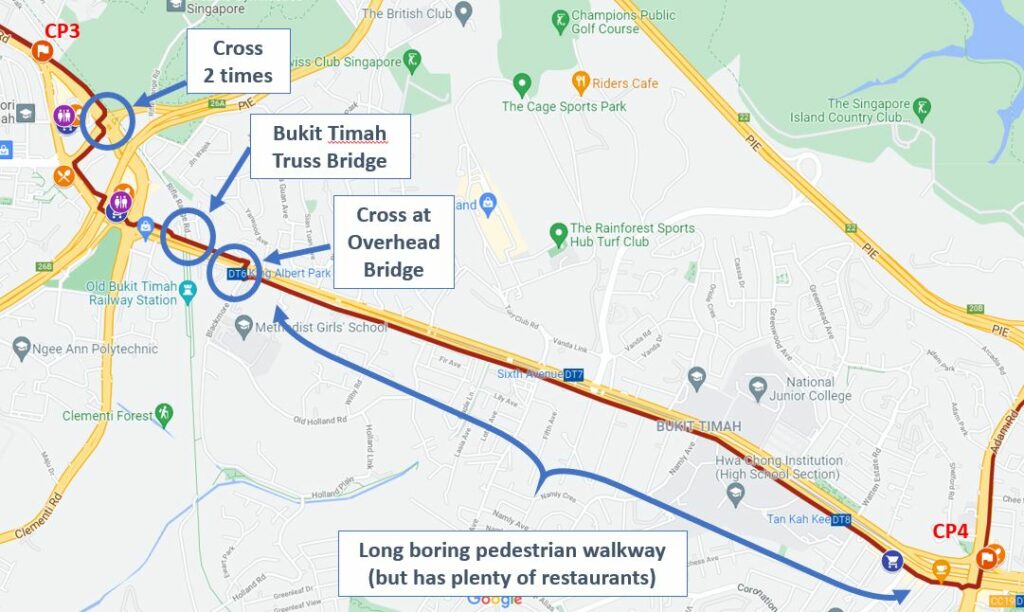 The distance between CP3 to CP4 is 5.7km. It consists of civilization. After passing CP3, you'll immediately see Beauty World Plaza across the road. Beauty World Plaza could be a place to refill and refuel. However, to get there, you need to climb the overhead pedestrian bridge. If that scares you off, you can consider skipping Beauty World for now, there'll be more options later down the road.
Make your way to Jalan Jurong Kechil, then turn left to Upper Bukit Timah Road. Soon, you'll reach Bukit Timah Plaza, another great place to refill, refuel, and discharge.
Next, you'll walk along Dunearn Road, passing by Jardin condominium. You will see and walk under the Old Railway Truss Bridge. If you want those Instagram-worthy shot at the truss bridge, you can turn left at the small trail just before the bridge.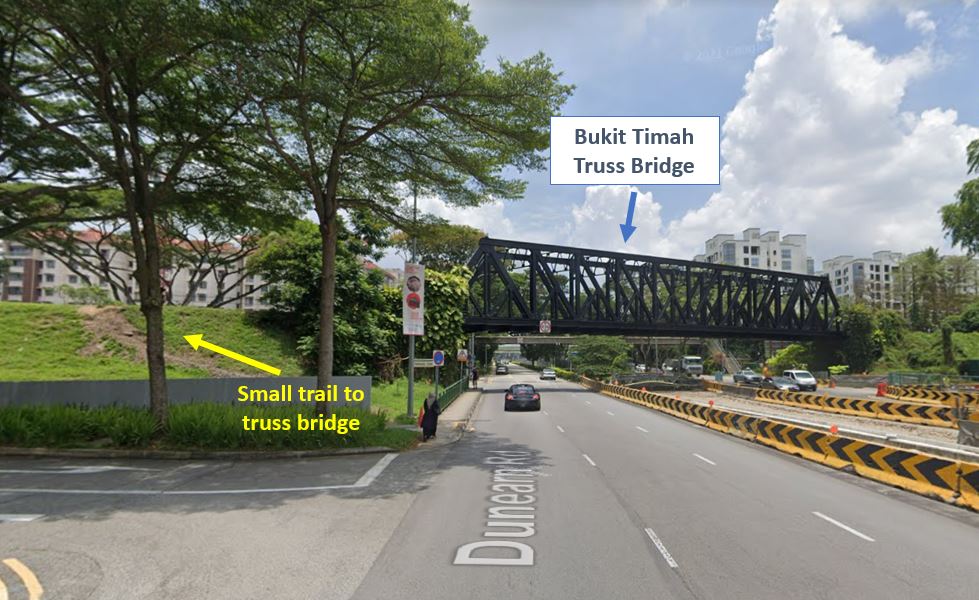 A few hundred meters after Truss Bridge, you'll arrive at King Albert Park MRT Station. You will definitely notice a very prominent enclosed overhead bridge. You need to cross this bridge. Don't worry, you won't need to climb, there are escalators at both ends of the bridge.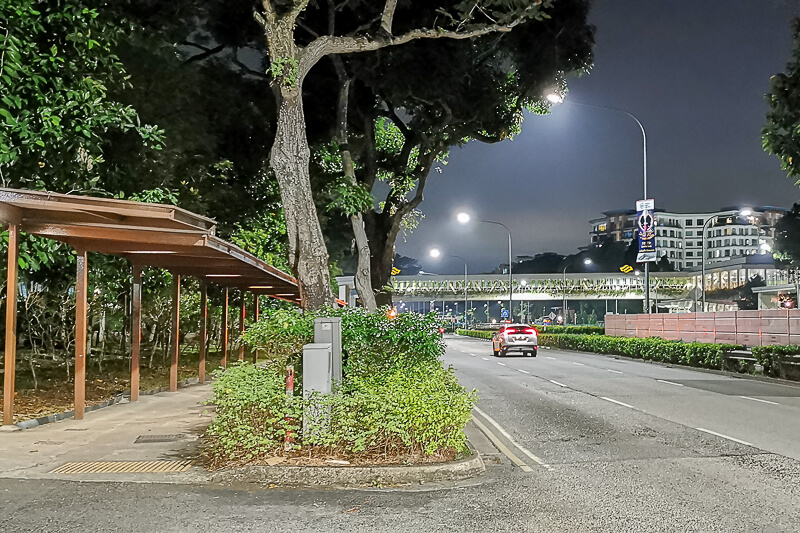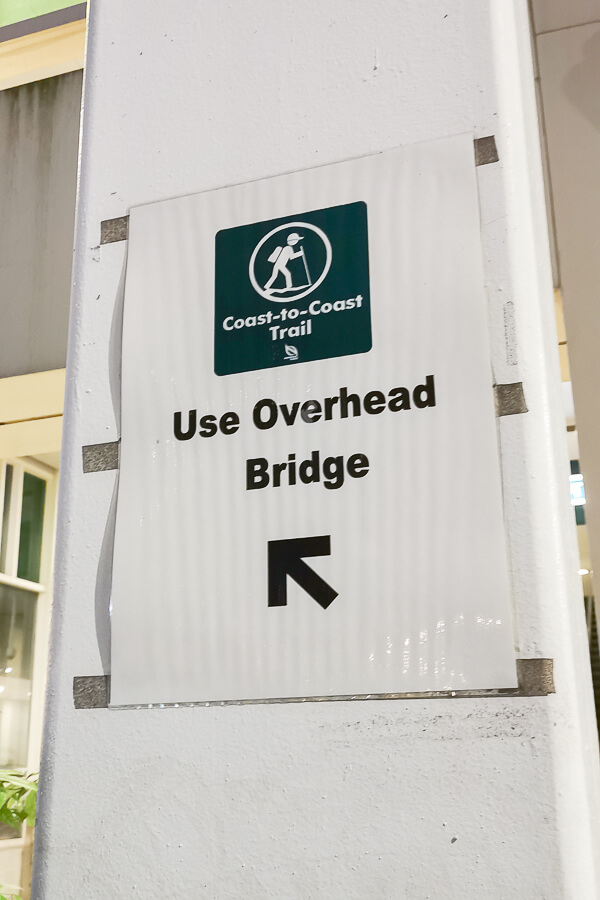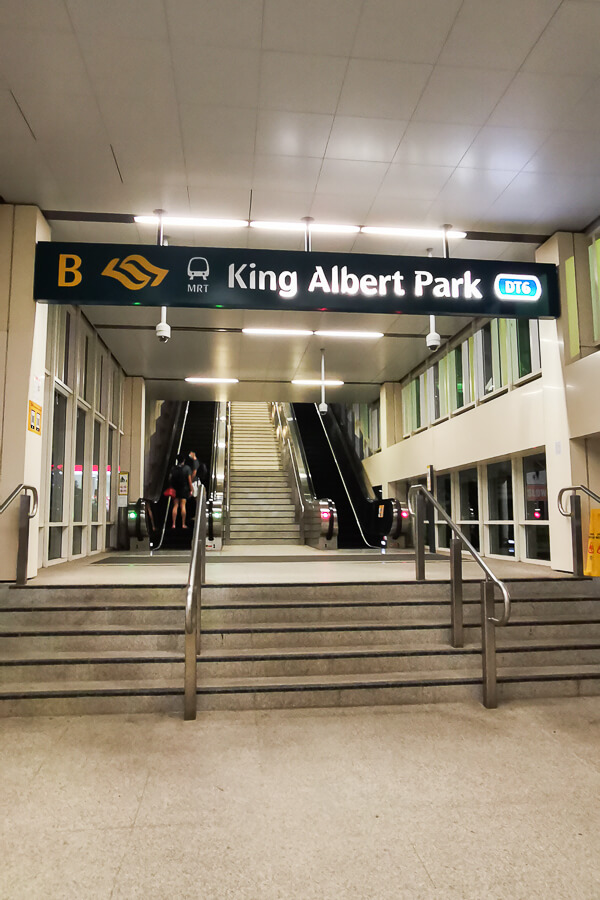 After that, it's an extremely boring 4km walk on pedestrian walkway (fortunately, it's sheltered) from King Albert Park to Adam Road Food Centre. Along the way, you will walk past Embassy of Switzerland, cafes and convenient marts at Sixth Avenue, Hwa Chong Institution, Coronation Shopping Plaza and Botanic Gardens.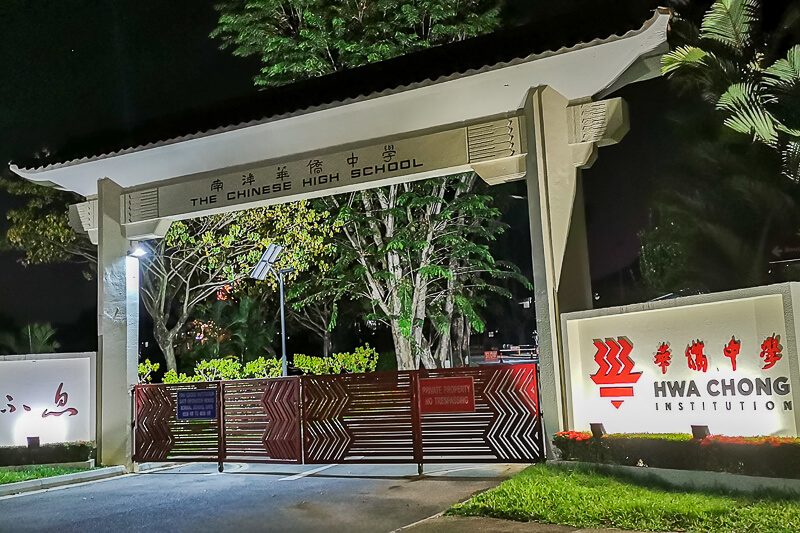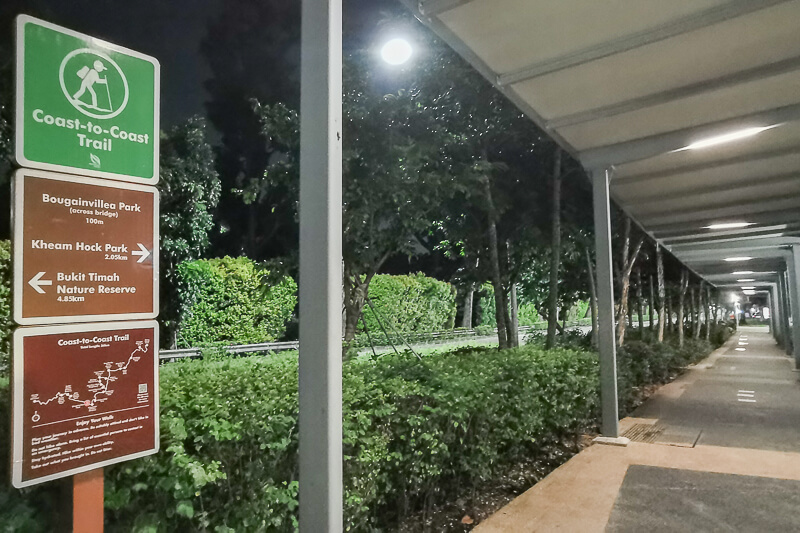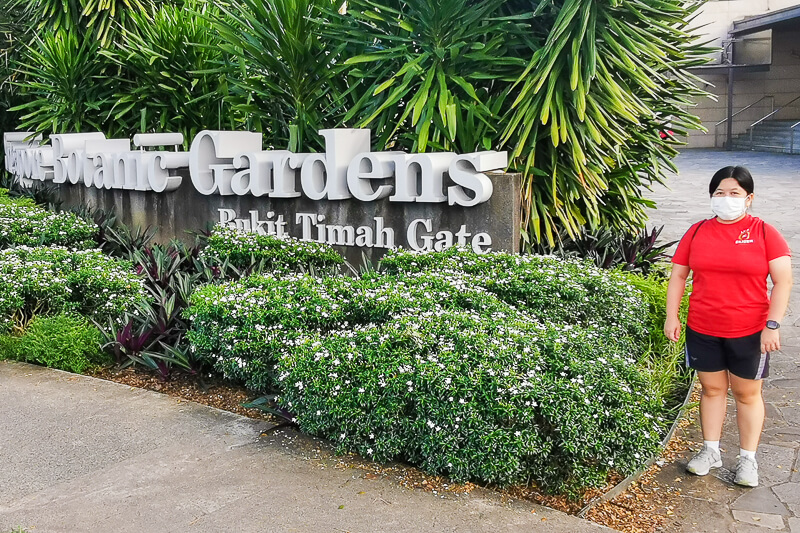 Across the road from Botanic Gardens is Adam Road Food Centre, where the CP4 signboard is located at.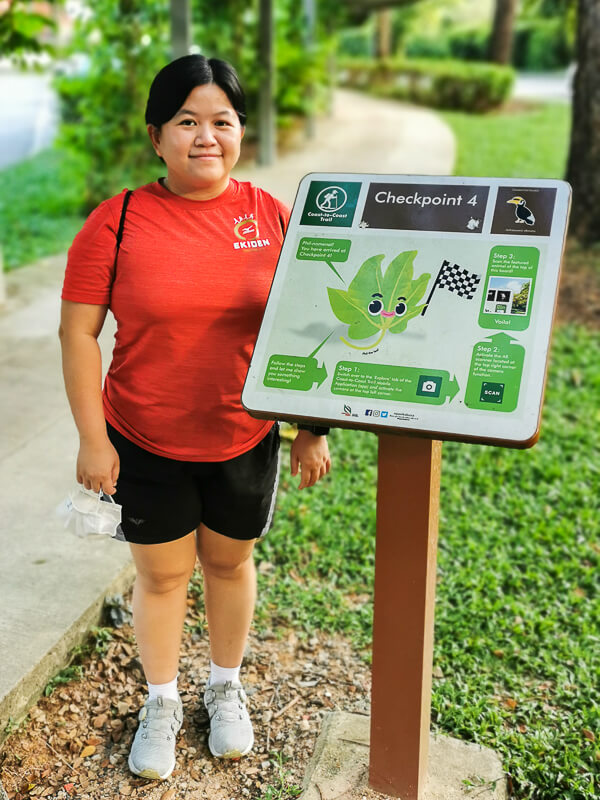 Checkpoint 4 to Checkpoint 5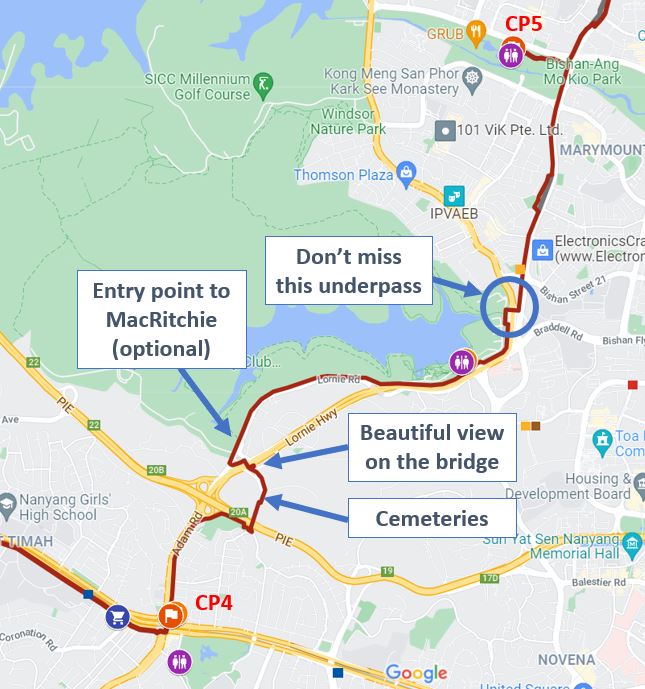 I highly recommend that you get your water refill and tummy refueled at CP4, either Adam Rd Food Centre or Coronation Plaza because there won't be any supermarket or food center for the next 4 or 5km!
The distance between CP4 and CP5 is about 7.9km. I think it's apt to call this a killer stretch because most of the trail is unsheltered and away from civilization. This is the stretch where you will question your own motive for going on this C2C Trail. It is also the stretch where you pat yourself and marveled at how beautiful Singapore is.
From CP4, you will walk along Adam Road, then after the Japanese Association, you will turn right to a boardwalk which will take you to Kheam Hock Park. I love this boardwalk because the tall trees made me feel like I'm at somewhere magical; it just doesn't feel like Singapore at all.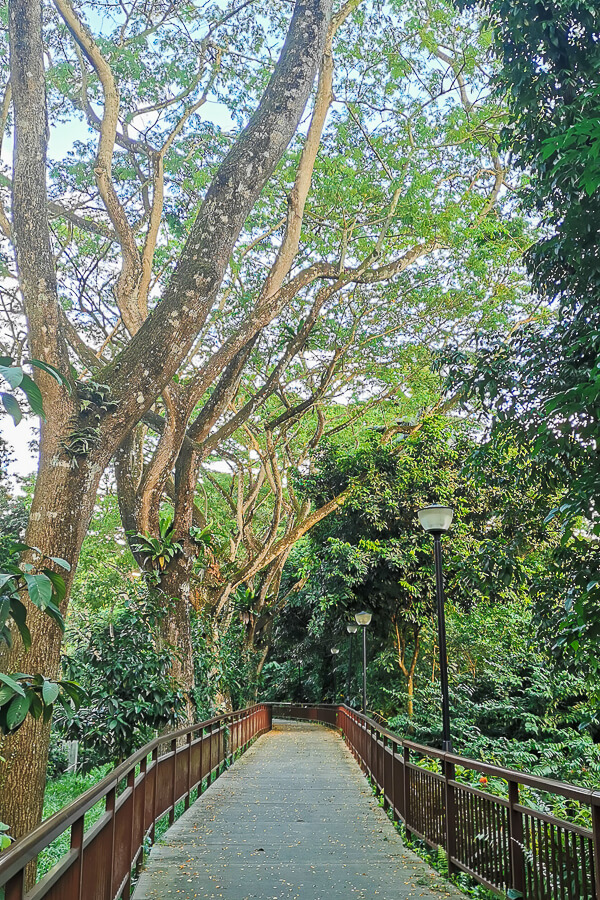 At the end of the Kheam Hock Park is the Kheam Hock Road. Turn left and walk through an underpass. Then, you will pass by several tombstones; it's best that you walk through this road on a bright sunny day.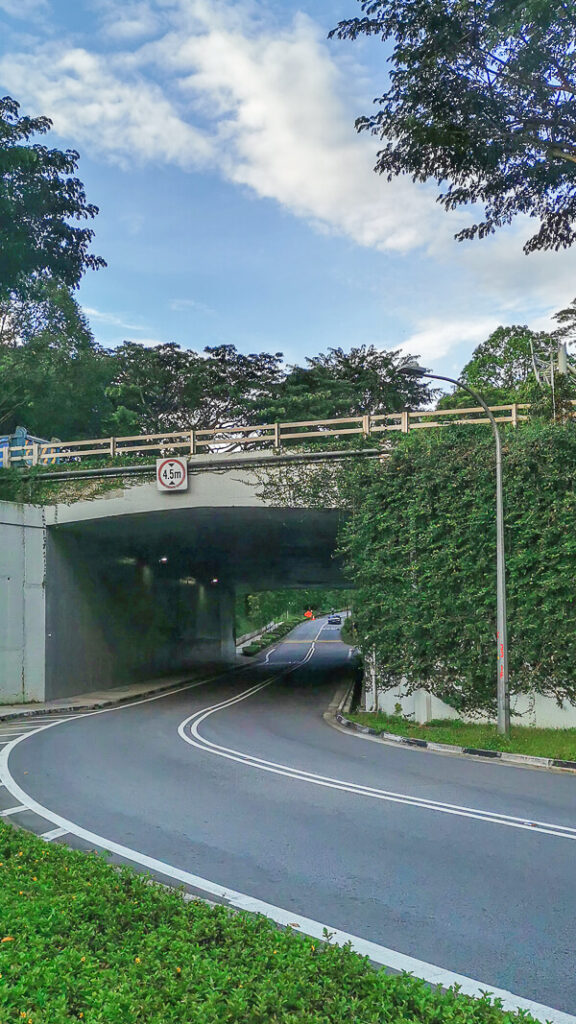 The actual C2C Trail is on the left side of Kheam Hock Road. However, during my hike in Oct 2021, the left side walkway was closed due to construction. Hence, I had to walk on the right side of Kheam Hock Road.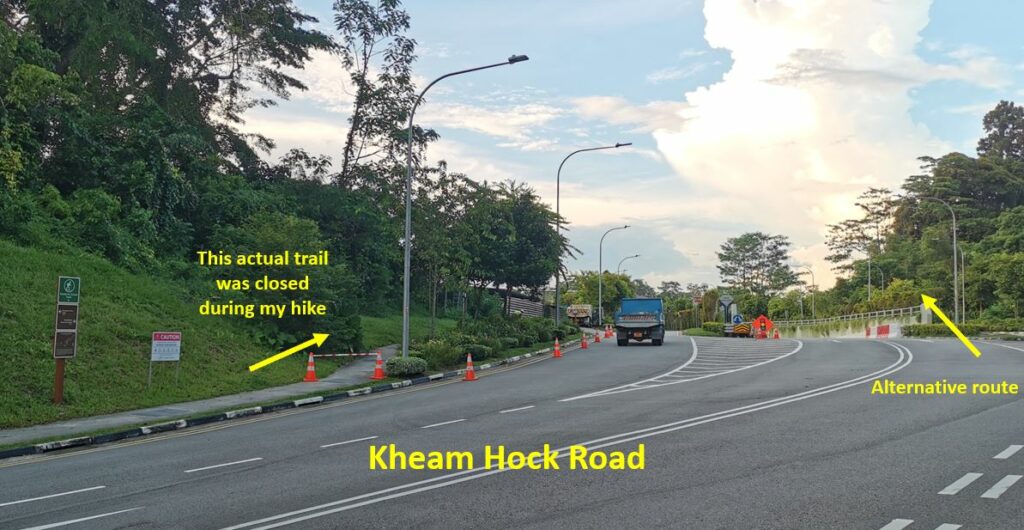 Then, you will have to climb up the stairs to use the overhead pedestrian bridge to cross Lornie Highway. On the bridge, slow down and take in the breathtaking view around you.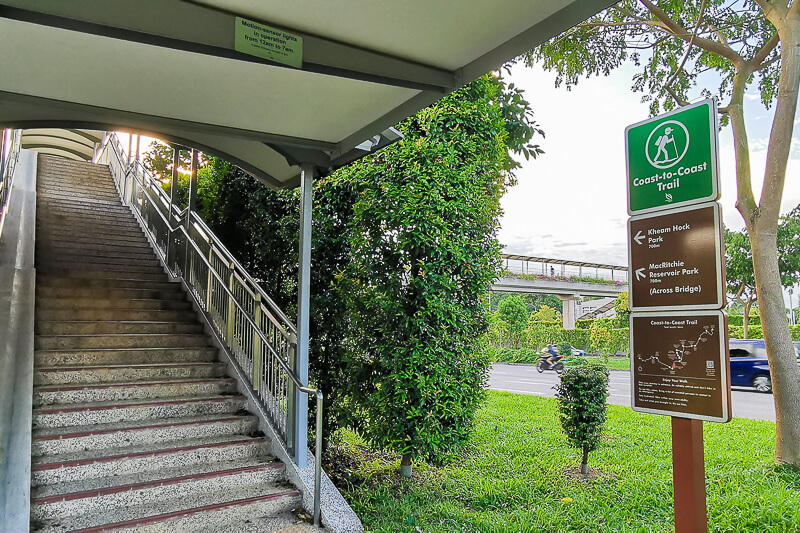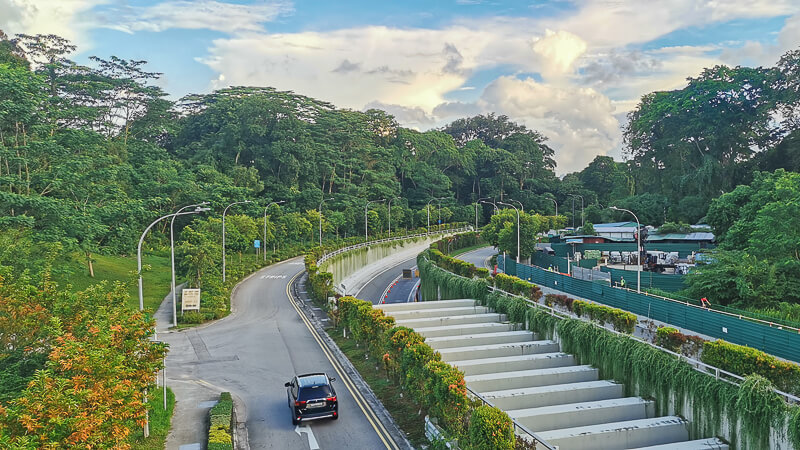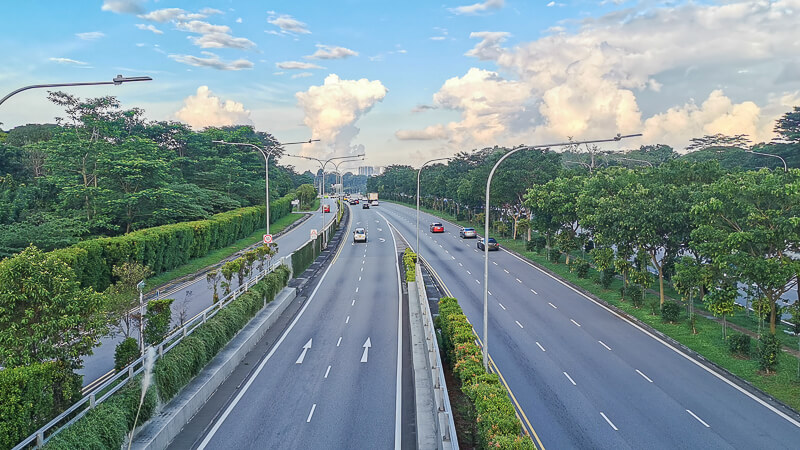 Next, follow the signboard and make your way to the new Lornie Park Connector (built in Nov 2020). Here, it'll be quite tempting to cheat and take the bus to Upper Thomson Road.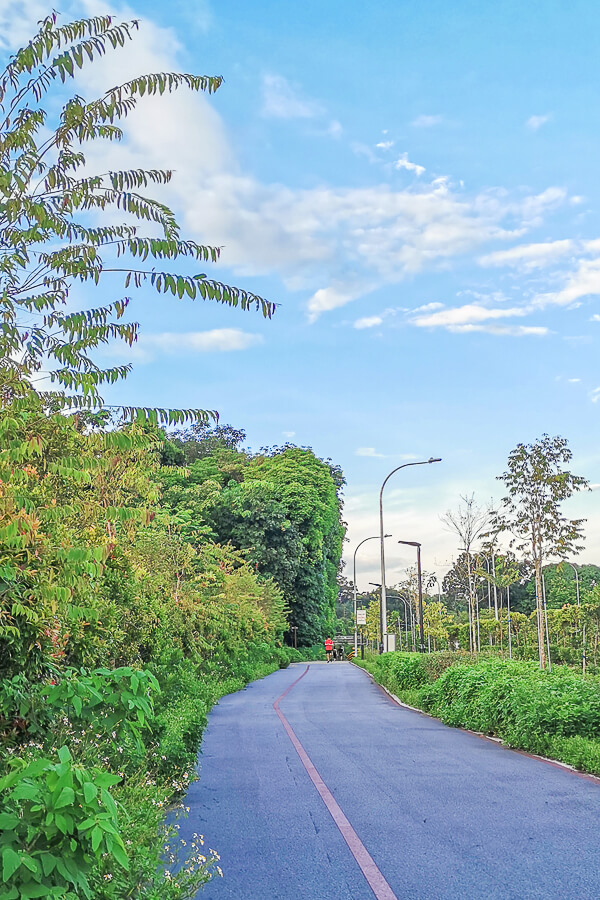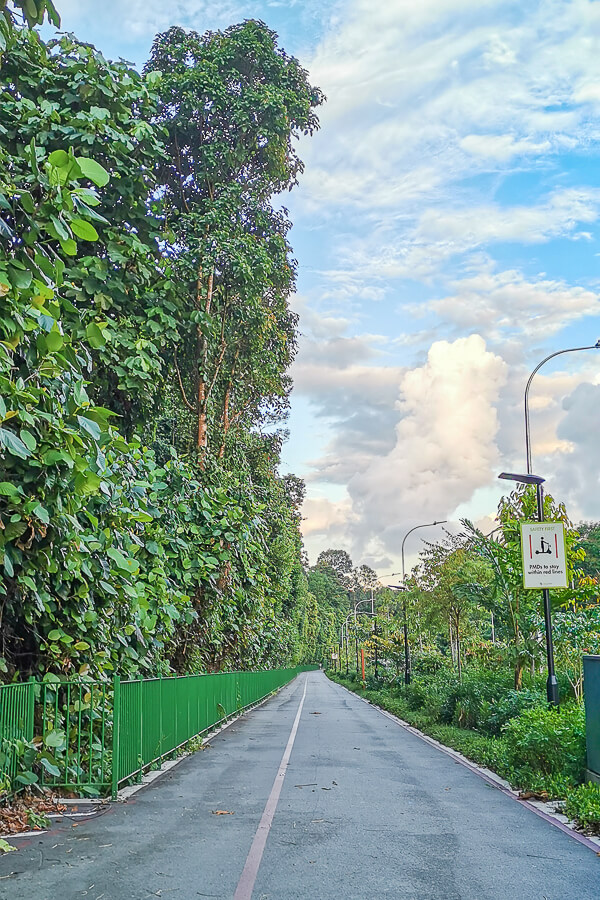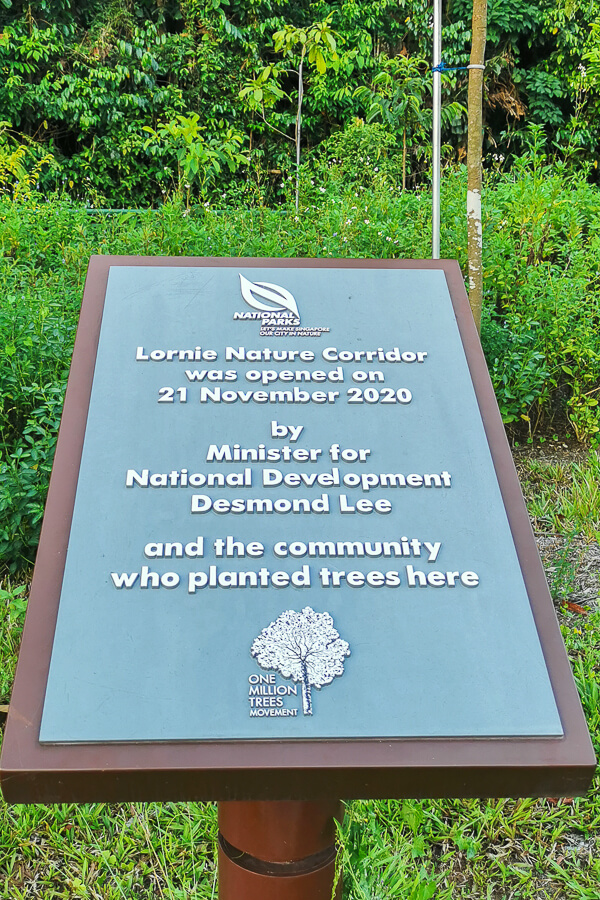 If you think the Lornie Park Connector is too hot or too boring, you can take alternative route by going inside MacRitchie Reservoir (the trail in MacRitchie is covered by forest so it's not hot at all), but let me warn you, the trail inside MacRitchie is much longer and tougher than Lornie Park Connector.
After Lornie Park Connector, you will arrive at the entrance of MacRitchie Reservoir. You can refill and refuel at Mushroom cafe if you want. And there's a toilet right next to Mushroom Cafe.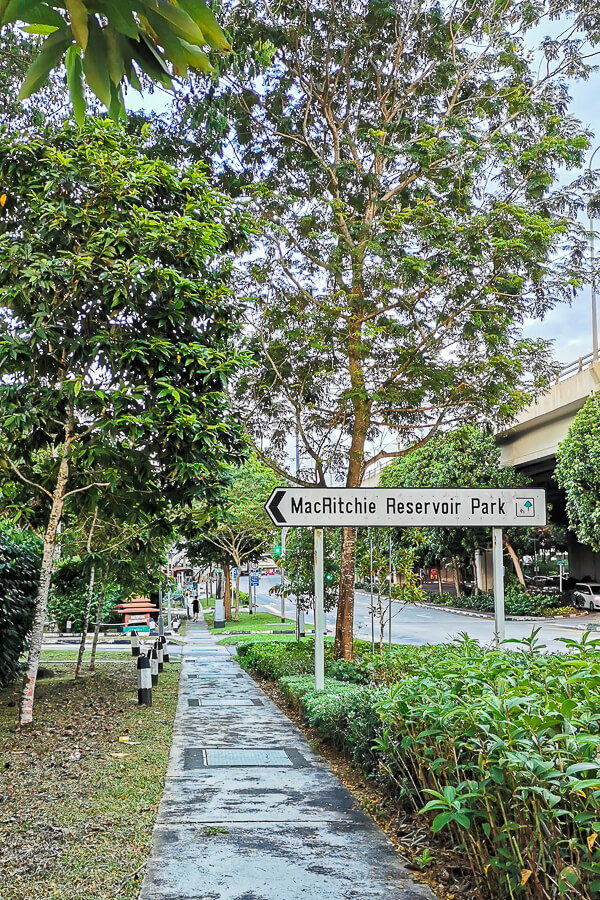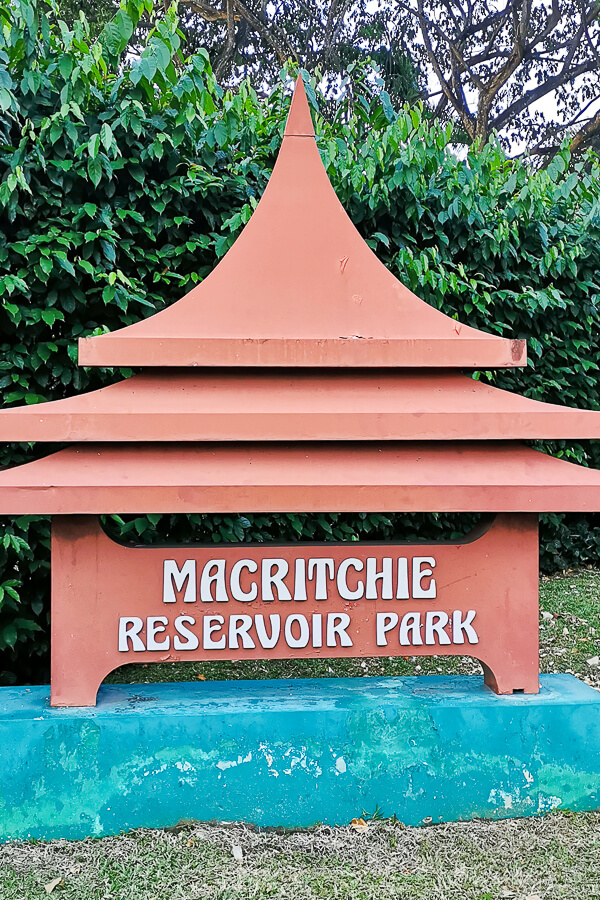 Next, you'll walk along Upper Thomson Road until St Theresa Home. Here, pay attention and look for this out-of-sight underpass. If you miss this underpass, you will have to make a detour later.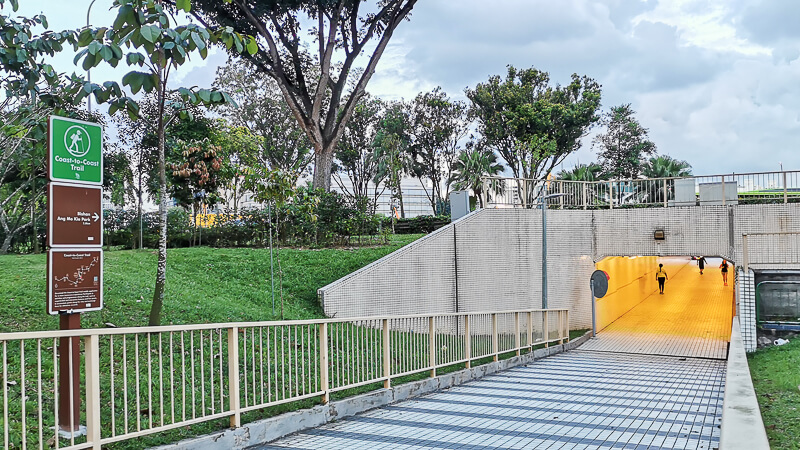 Then, you'll find yourself walking along Marymount Road. Here, the traffic is quite heavy, so expect to be stuck at traffic junction for several minutes. Because of the construction along the road, do expect to meet pedestrian walkway diversion as well.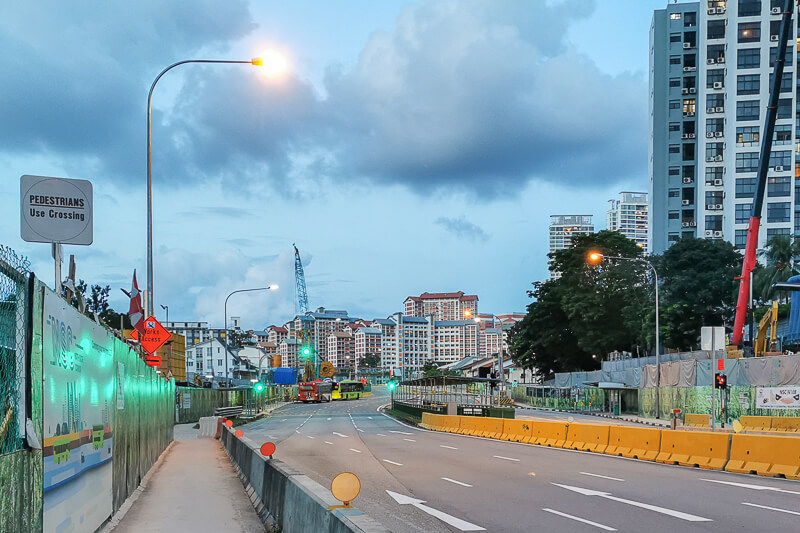 At the end of Marymount Road is Ang Mo Kio Ave 6. At this junction, you will see Marymount CC. The original C2C Trail is supposed to be along Ang Mo Kio Ave 6, means you just need to walk straight until Bishan-AMK Park. But, there's an alternative route to reach Bishan-AMK Park, and that is by going through Marymount CC. Personally, I did not go inside Marymount CC because I love to follow rules.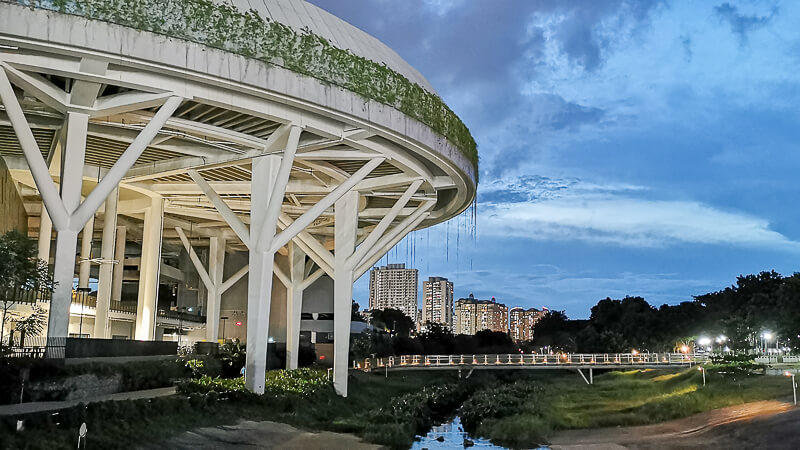 Finally, after a 7.9km walk from CP4, you've finally arrived at CP5. Congrats for reaching the halfway point of the C2C trail! There's a toilet and vending machine near CP5 for your information.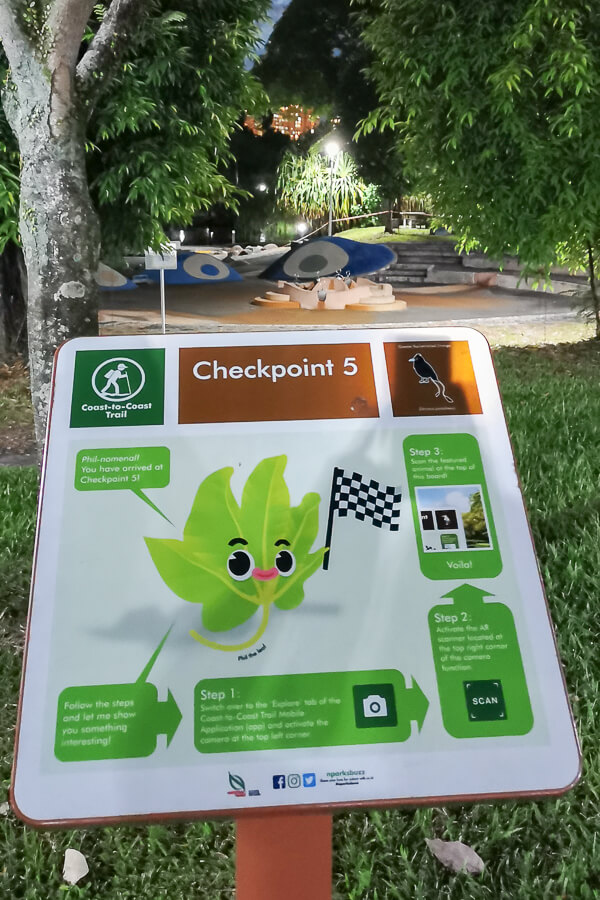 Checkpoint 5 to Checkpoint 6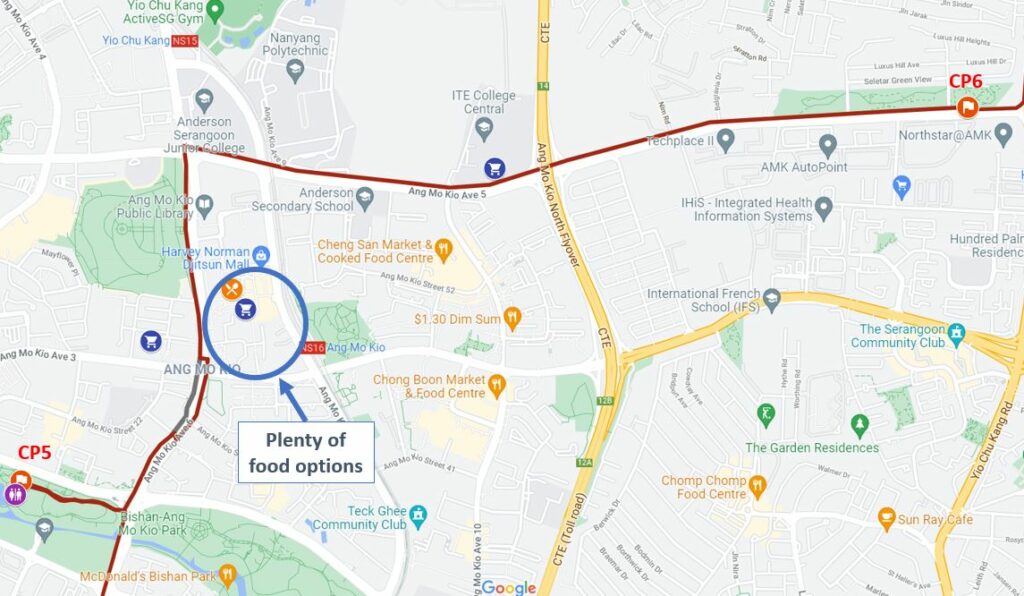 The 5.6km trail between CP5 and CP6 is pretty straightforward. You'll be walking along Ang Mo Kio Ave 6 until Ang Mo Kio Town Garden West, then you'll turn right to Ang Mo Kio Ave 5 and walk straight until you reach CP6 at Luxus Hills Park.
As of 2021, the entire Ang Mo Kio Ave 6 is affected by construction of the North South Corridor, hence you can expect plenty of mini diversions along the way. If you need to refill and refuel, you can do so at McD at AMK Garden West, or you take a little detour to Ang Mo Kio Central Market & Food Centre or AMK Hub where you can find plenty of food options and shopping malls.
The 3km stretch along Ang Mo Kio Ave 5 is quite boring in my opinion. You'll be walking on AMK Ave 5 Park Connector, passing by Nanyang Polytechnic, ITE Central and Ang Mo Kio Linear Park. Despite being boring for hikers, this stretch appeared to be quite popular among cyclists. During my walk, there were probably at least 30 cyclists who cycled past me on this stretch.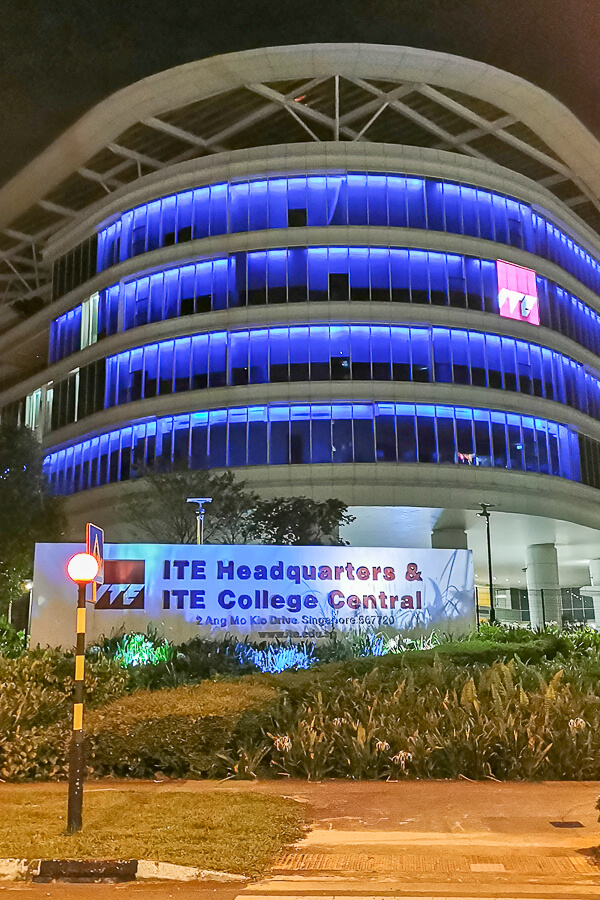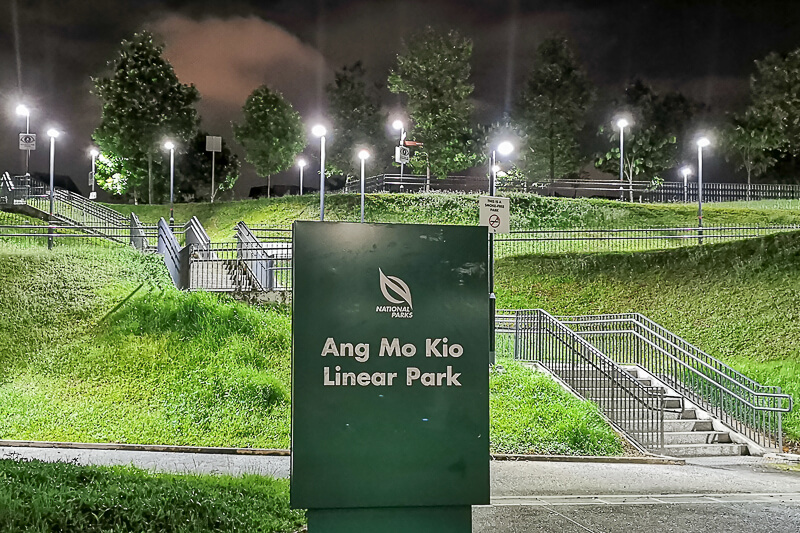 At the end of AMK Ave 5, you will arrive at Luxus Hills Park, which is where CP 6 is located at.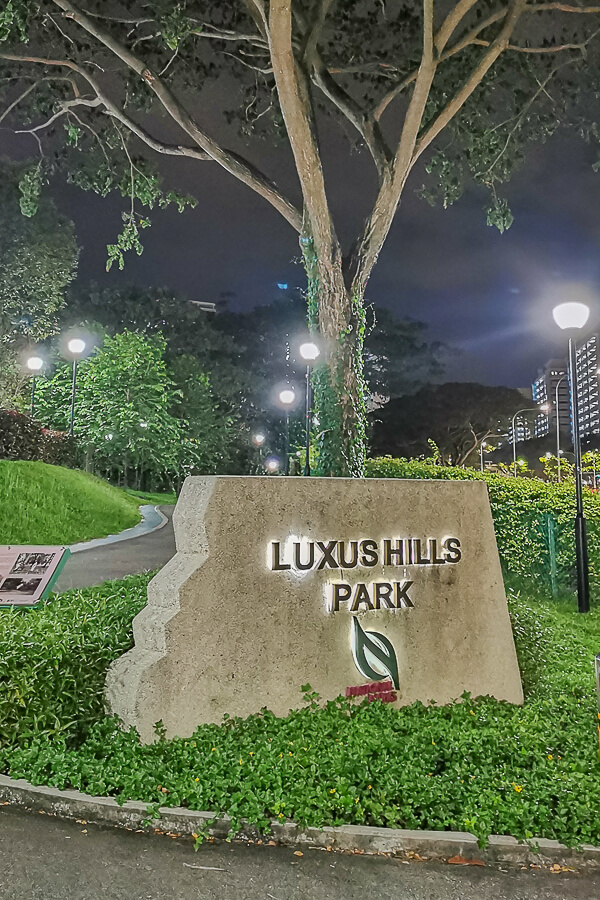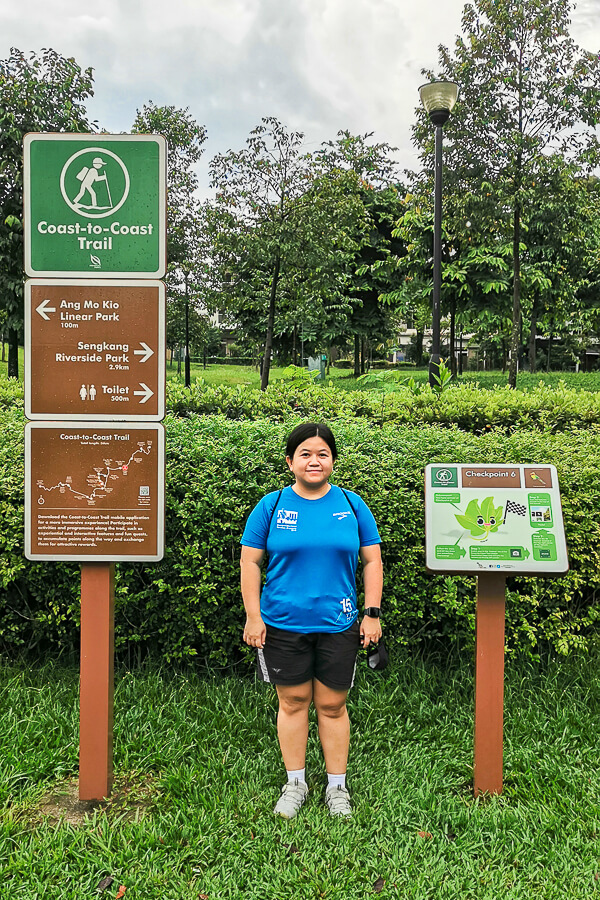 Checkpoint 6 to Checkpoint 7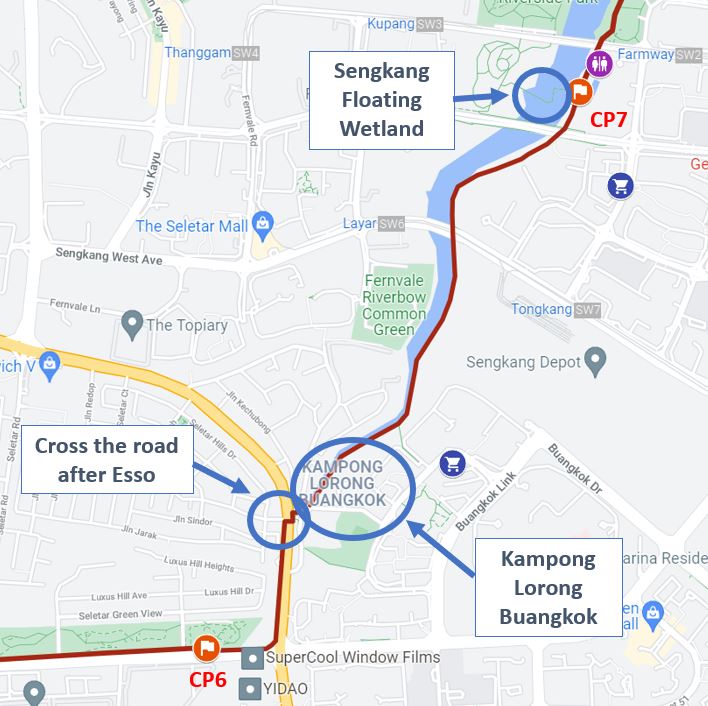 The distance between CP6 and CP7 is about 2.6km. After CP6, walk towards the end of AMK Ave 5 and turn left to Yio Chu Kang. After passing Esso, you need to cross the road at the traffic light junction. There was no signboard pointing you to cross the road, so you could easily missed this crucial point and if you miss it, you will need to U-turn back to this junction.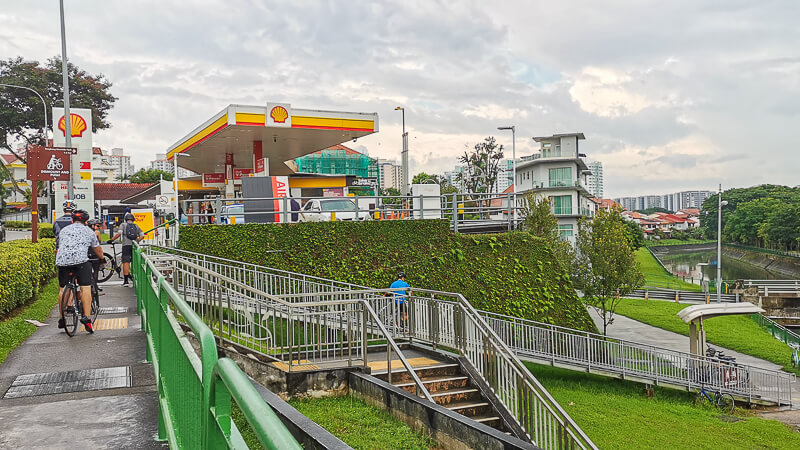 After crossing, make your way down the staircase and walk towards the canal. Soon, you will find Kampong Lorong Buangkok on your right side. It's said to be the last village (kampong) in Singapore. Personally, I think Kampong Lorong Buangkok is "NOT a place to visit" because it's a residential area and I don't think it's respectful to take photo of people's house just for for the 'gram.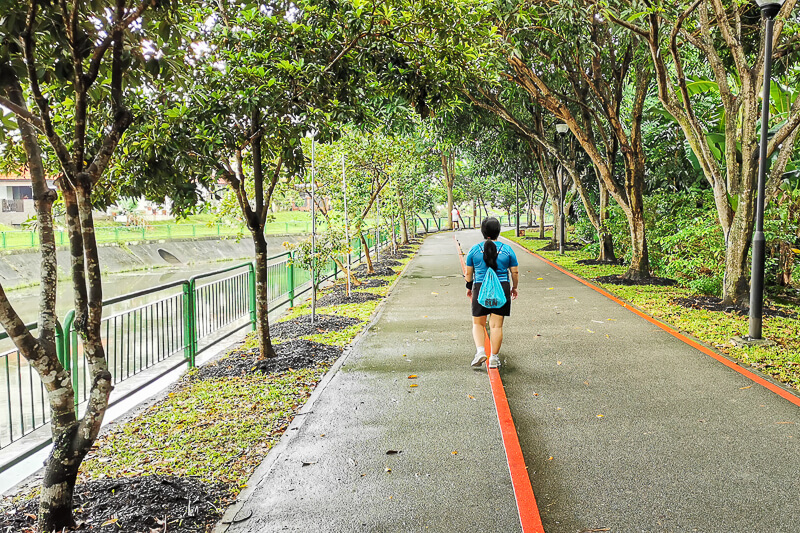 The sights you can expect along the river is mostly apartments.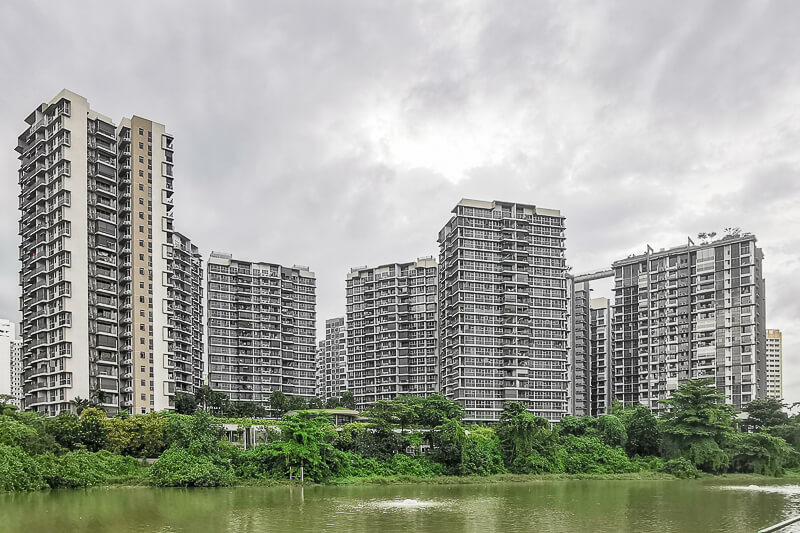 Keep walking along the canal and you will soon arrive at CP7 which is located near Sengkang Sport Centre and Sengkang Floating Wetland. The floating wetland is what I'll highly recommend visiting because it's a very scenic place and it's something you don't often find in Singapore.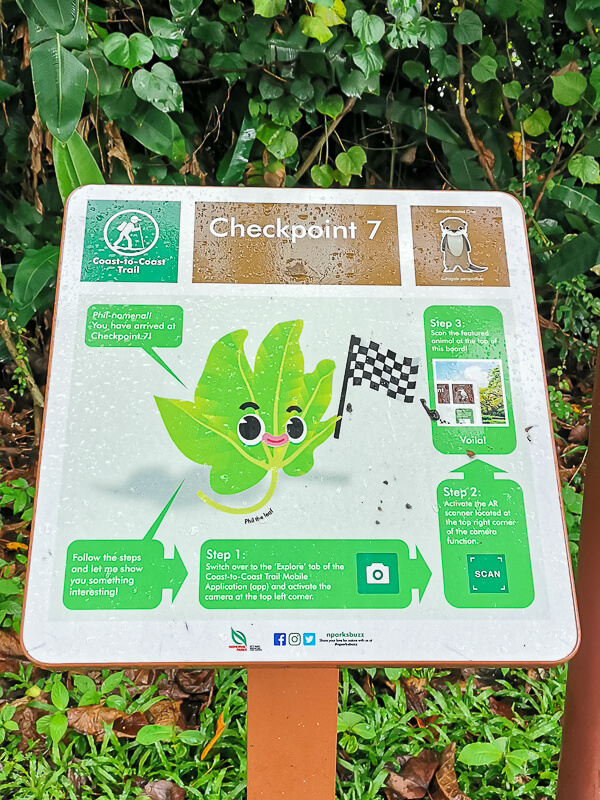 Checkpoint 7 to Checkpoint 8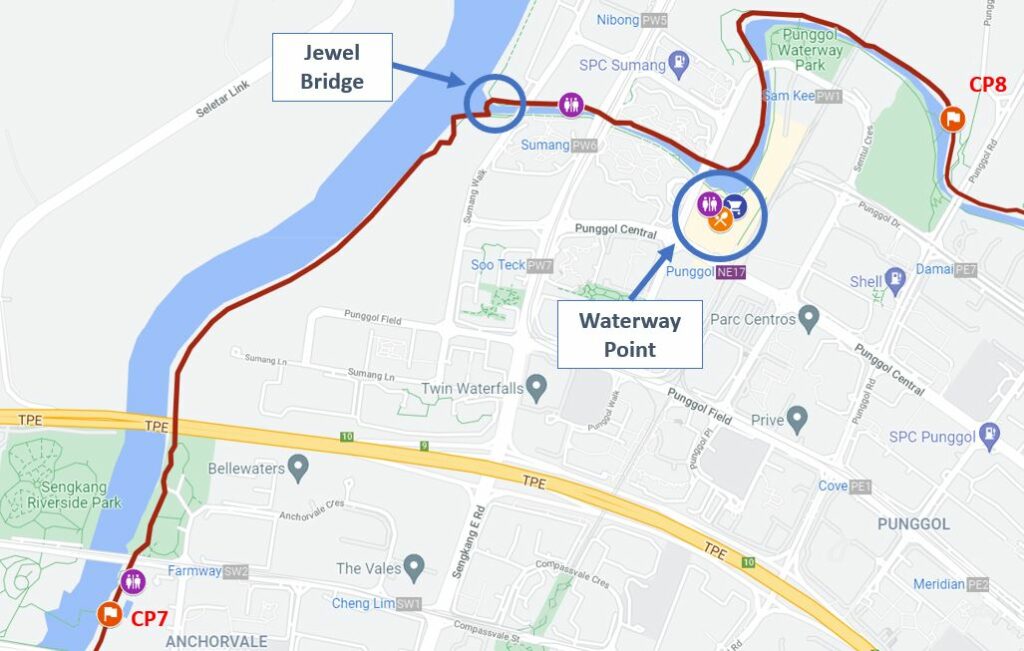 The distance between CP7 and CP8 is about 4.1km. This is another straightforward stretch. Basically, you will be walking along the canal (Sungei Punggol) until you reach Jewel Bridge, an iconic bridge with dome-shape steel structure where you can catch impressive sunset.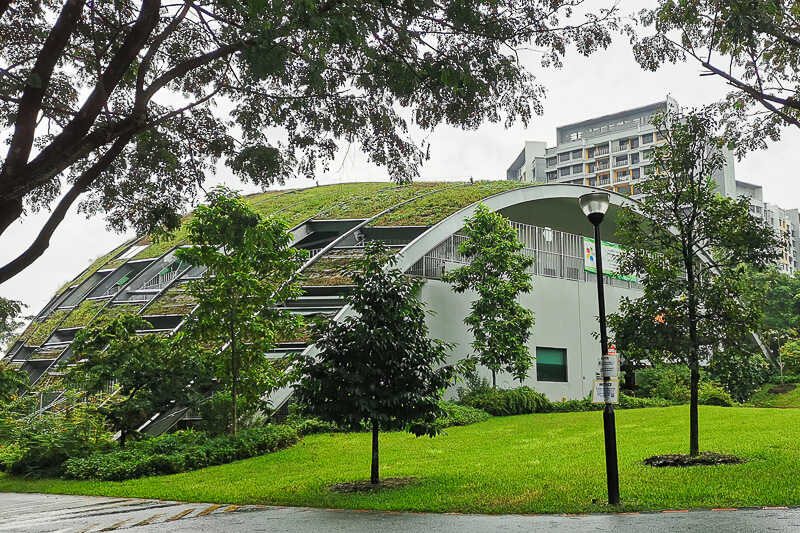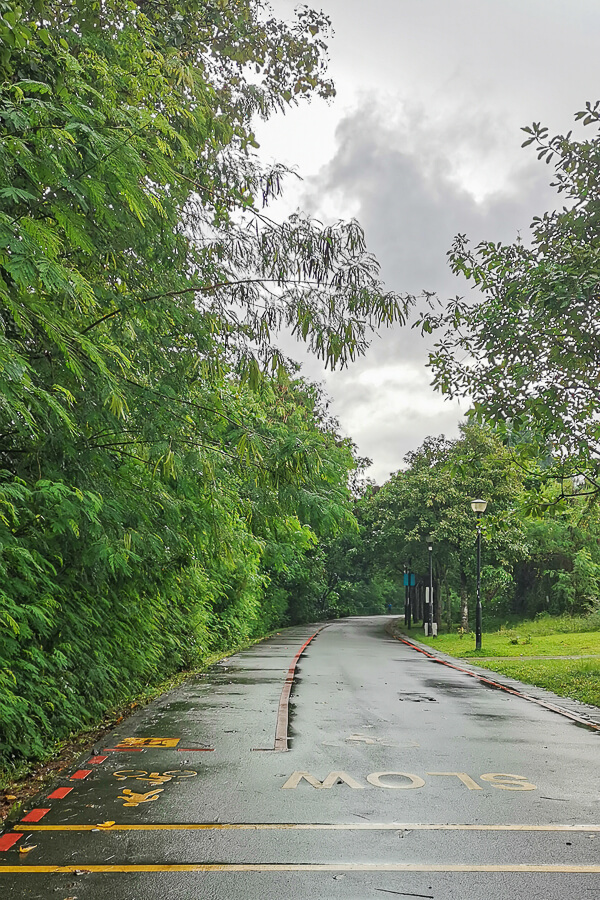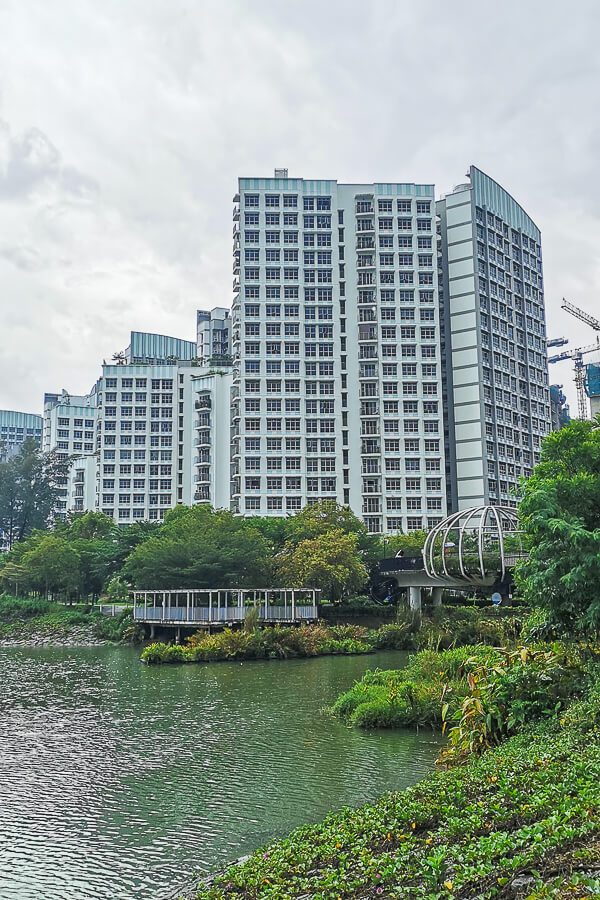 Climb up the Jewel Bridge and cross to the other side of Waterway canal. Continue walking eastwards towards CP8. There will be plenty of C2C Trail signboard along the way. You will pass by Waterway Point where you can refill and refuel if you need to.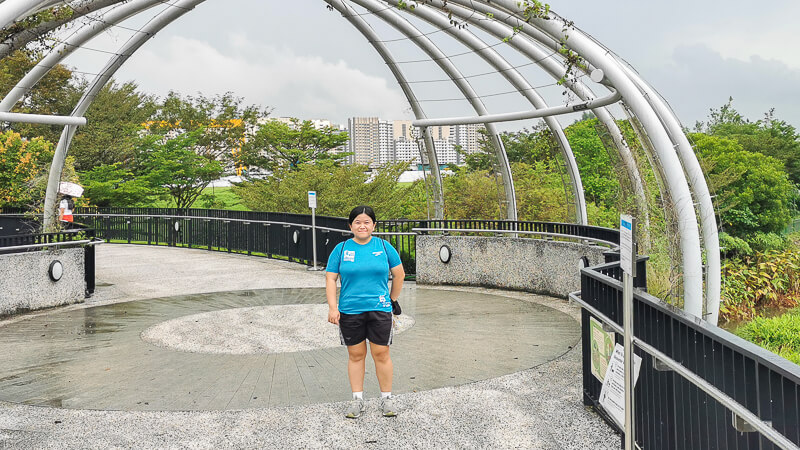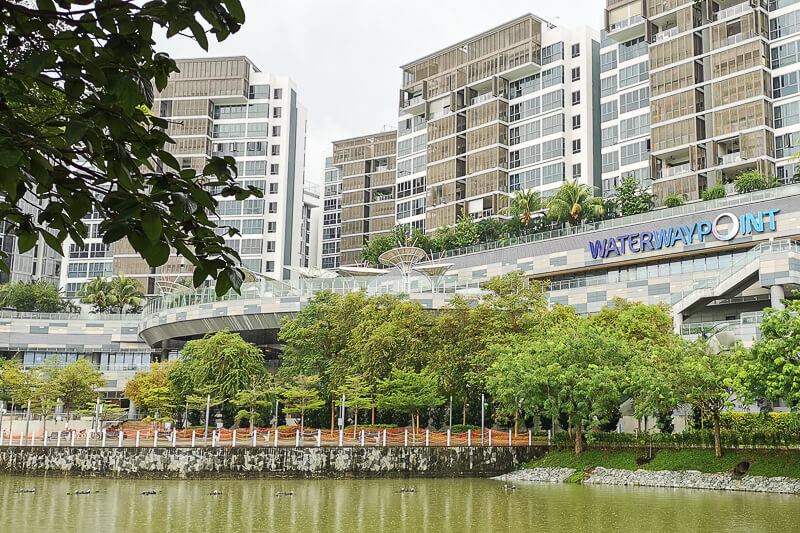 After passing SAFRA, pay attention to your left. The signboard of CP8 is hidden under the lookout pavilion.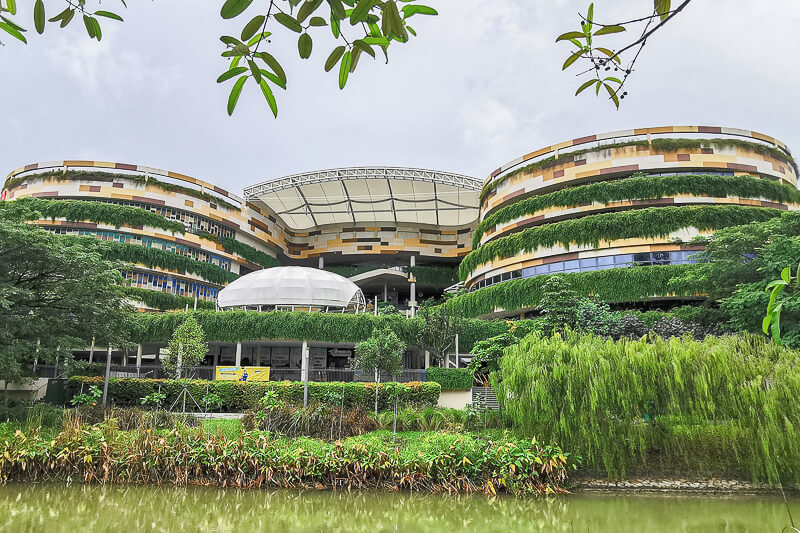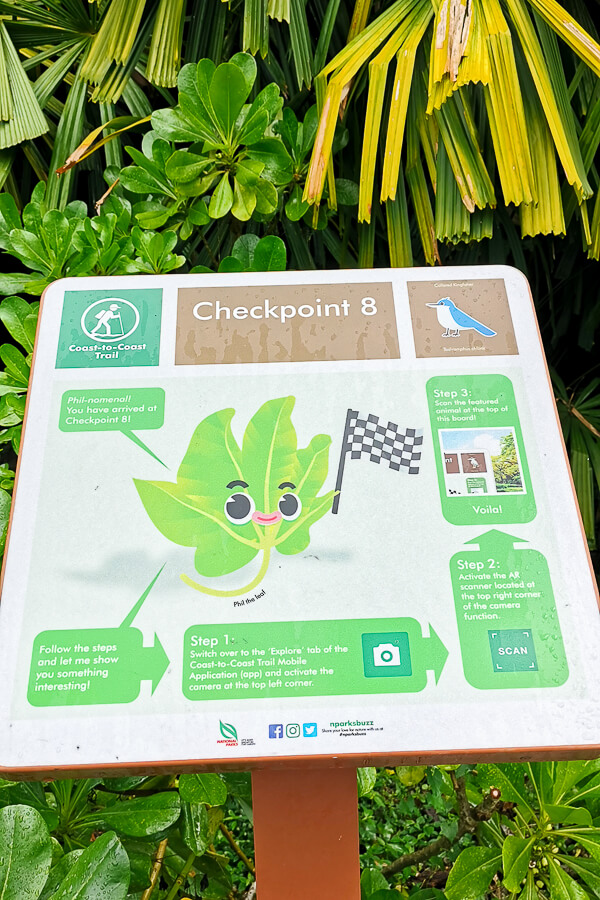 Checkpoint 8 to Checkpoint 9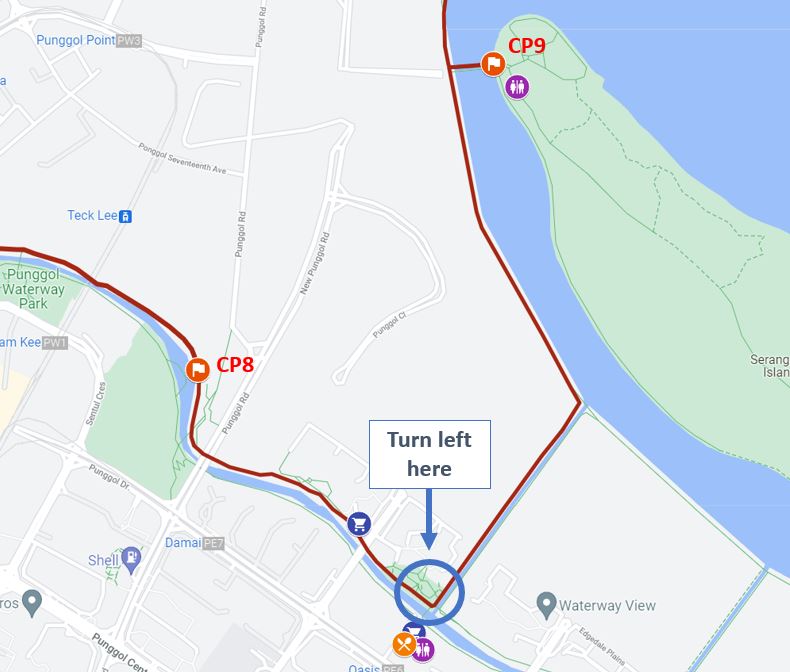 You're almost there, don't give up okay? It's just another 2.7km until you reach CP9 at Coney Island. There are so many C2C Trail on this stretch, just follow the signboard.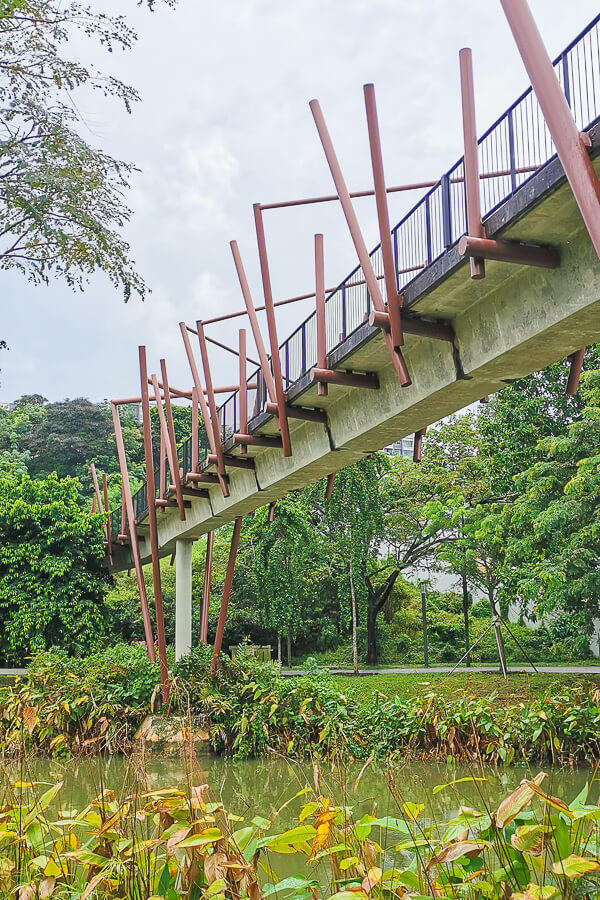 When you're across the canal from Oasis Terrace, don't walk up the bridge, but turn left instead to a narrower canal. At the end of this narrow canal, turn left again to Punggol Promenade Nature Walk.
This Punggol Promenade Nature Walk is one of my favorite parts of the Coast to Coast Trail because it is so peaceful and calming. From there, you can see Coney Island on your right side.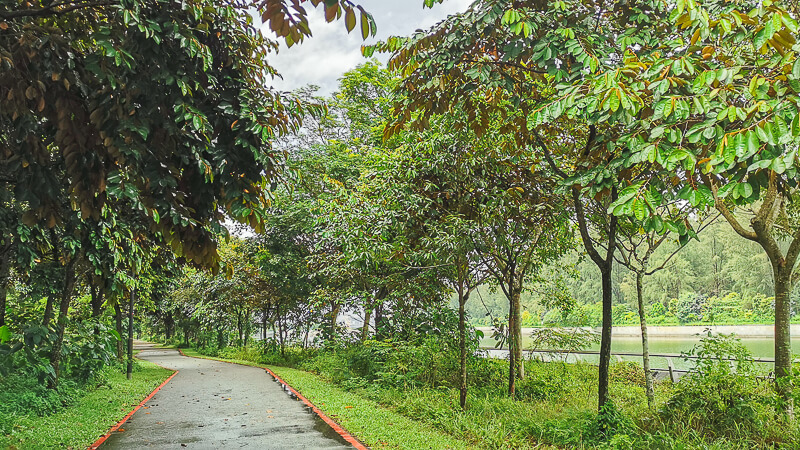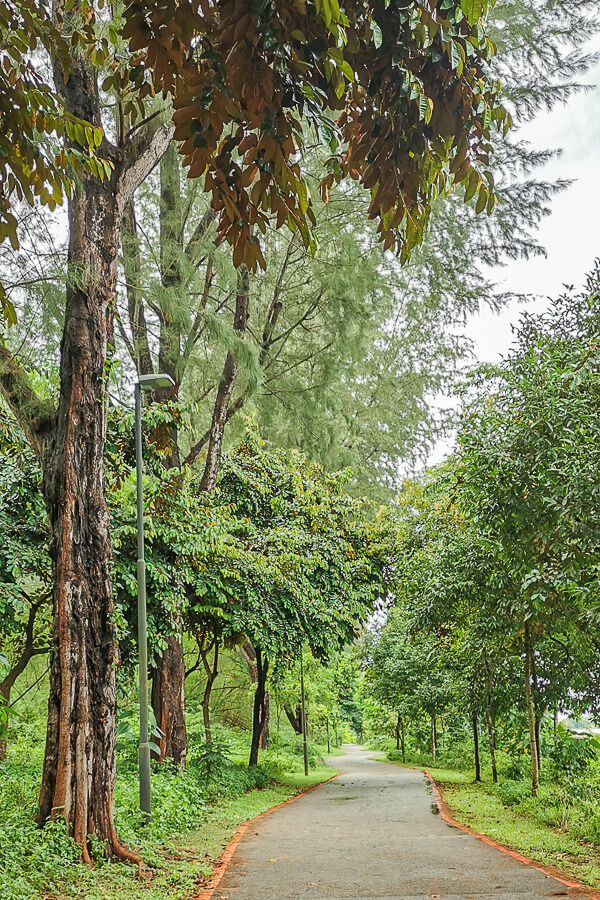 Finally, you'll arrive at CP9 at Coney Island. Congratulations! Don't forget to take photos for keepsake.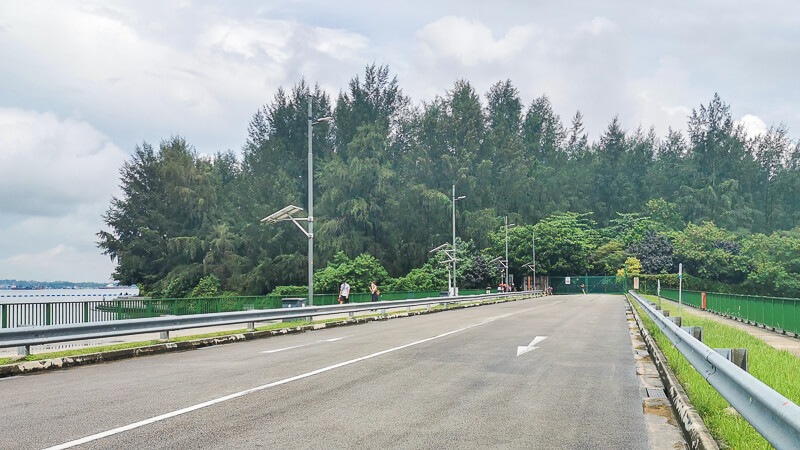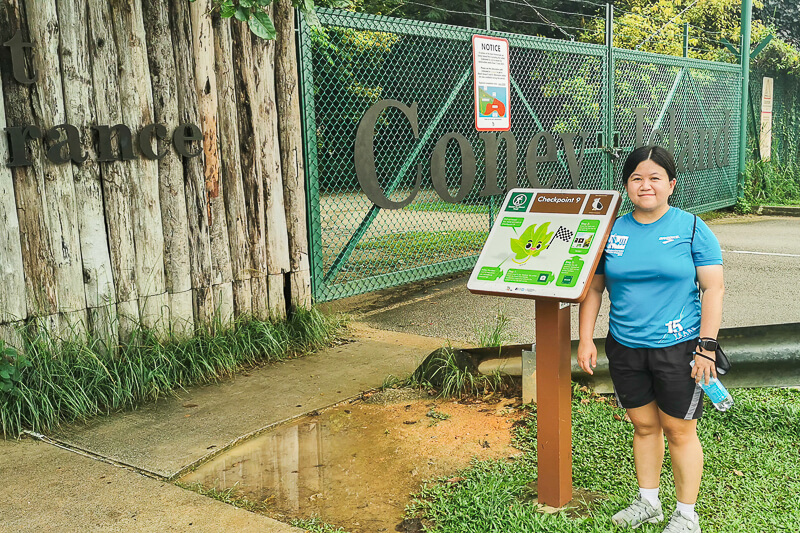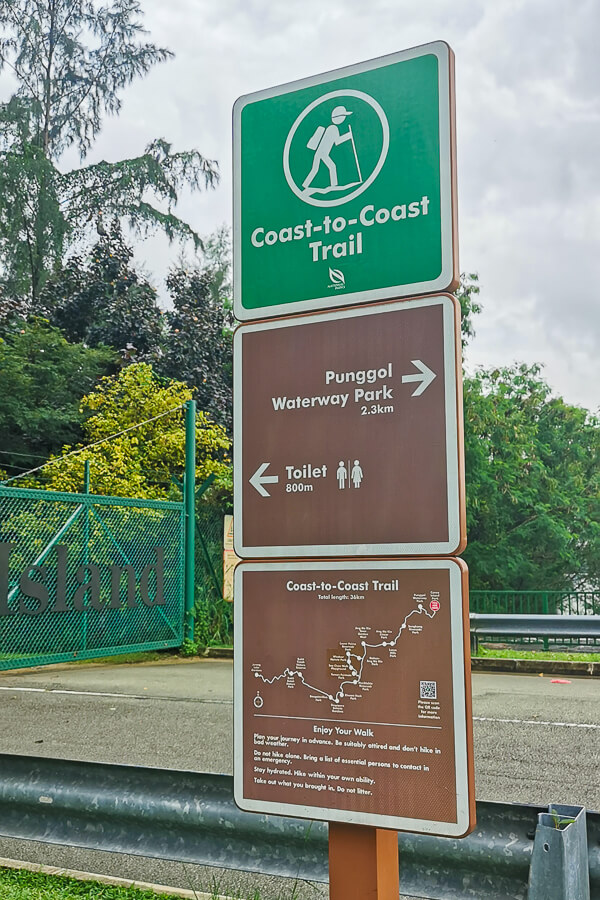 If you still have energy, you can consider exploring Coney Island and Lorong Halus (add 4km to 5km of walk), or you can continue to walk another 8km to CP10 at Rower's Bay.
Confession: I ended my walk at CP9. I did not continue to CP10 because CP10 is not part of the main Coast to Coast Trail. I may or may not do it in the future. If I do, I'll definitely add an update to this post.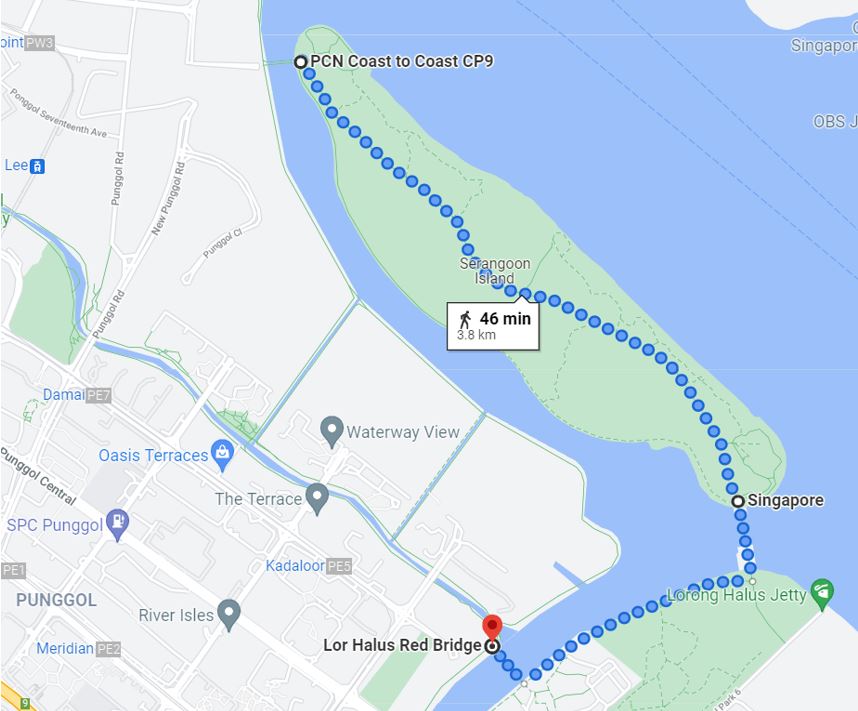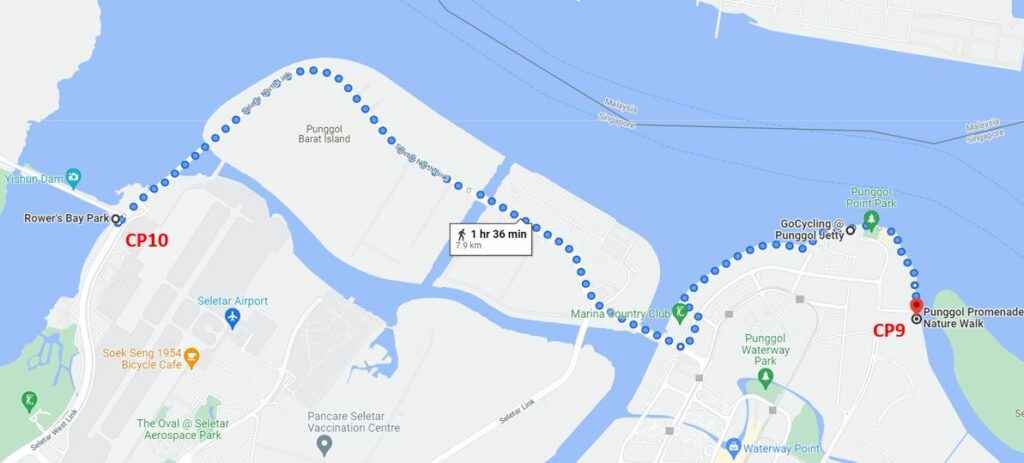 Checkpoint 9 to Punggol End Road Bus Stop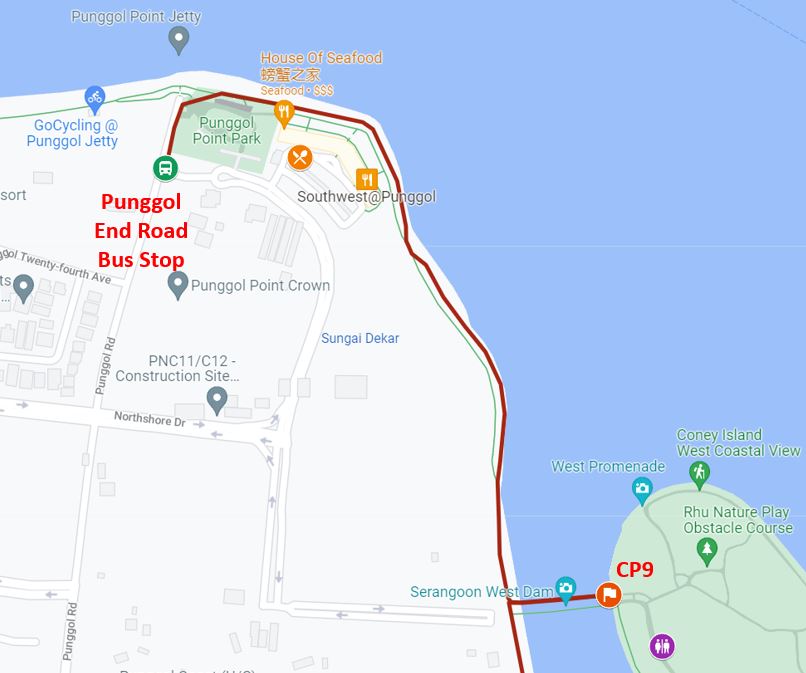 If you decide to go home after reaching CP9, simply walk 1km towards bus stop at Punggol Road End. You will pass Punggol Settlement and Turtle Pond along the way. And, if you're lucky, you may meet otters as well.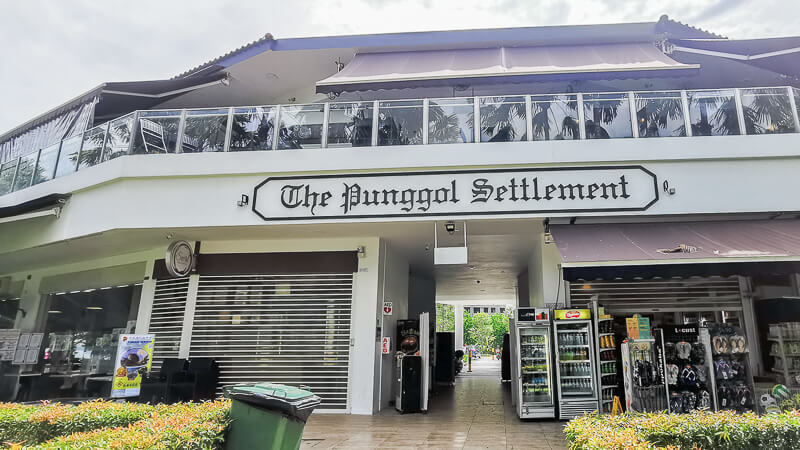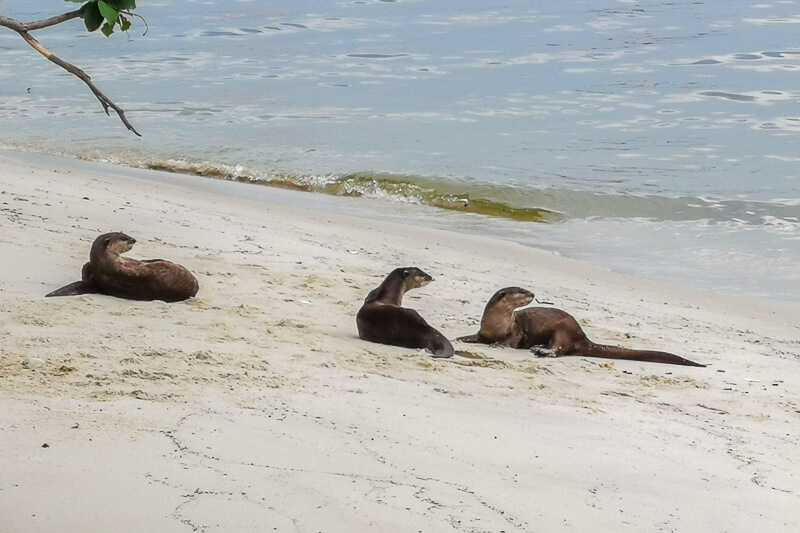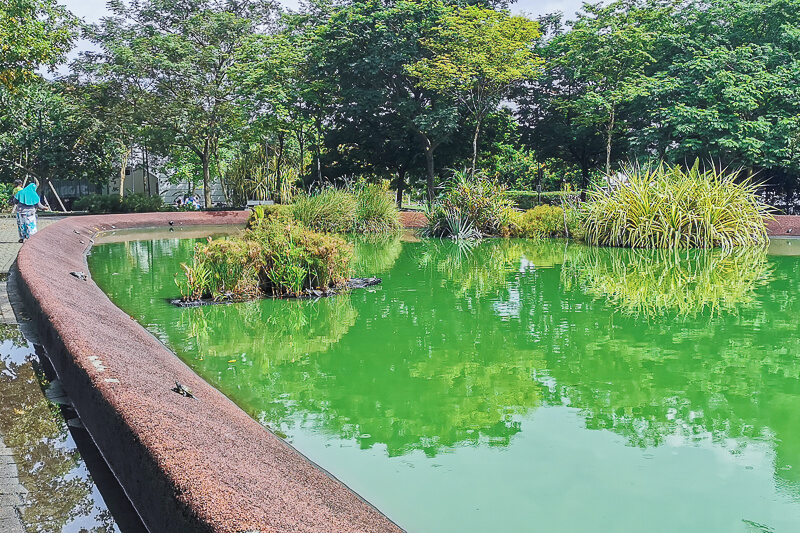 From Punggol End Road, take bus 84 all the way to Punggol Bus Interchange.
Notes
Singapore is always evolving, so, by the time you read this article, part of it may have changed. This article serves as a rough guide. IF you notice anything has changed significantly, do let me know in the comment and I'll do my best to update the article to reflect the latest condition.
Lastly, I hope you have a great experience walking the Coast to Coast Trail!
If you like my work, you can buy me a coffee! Your support will help me to keep going!