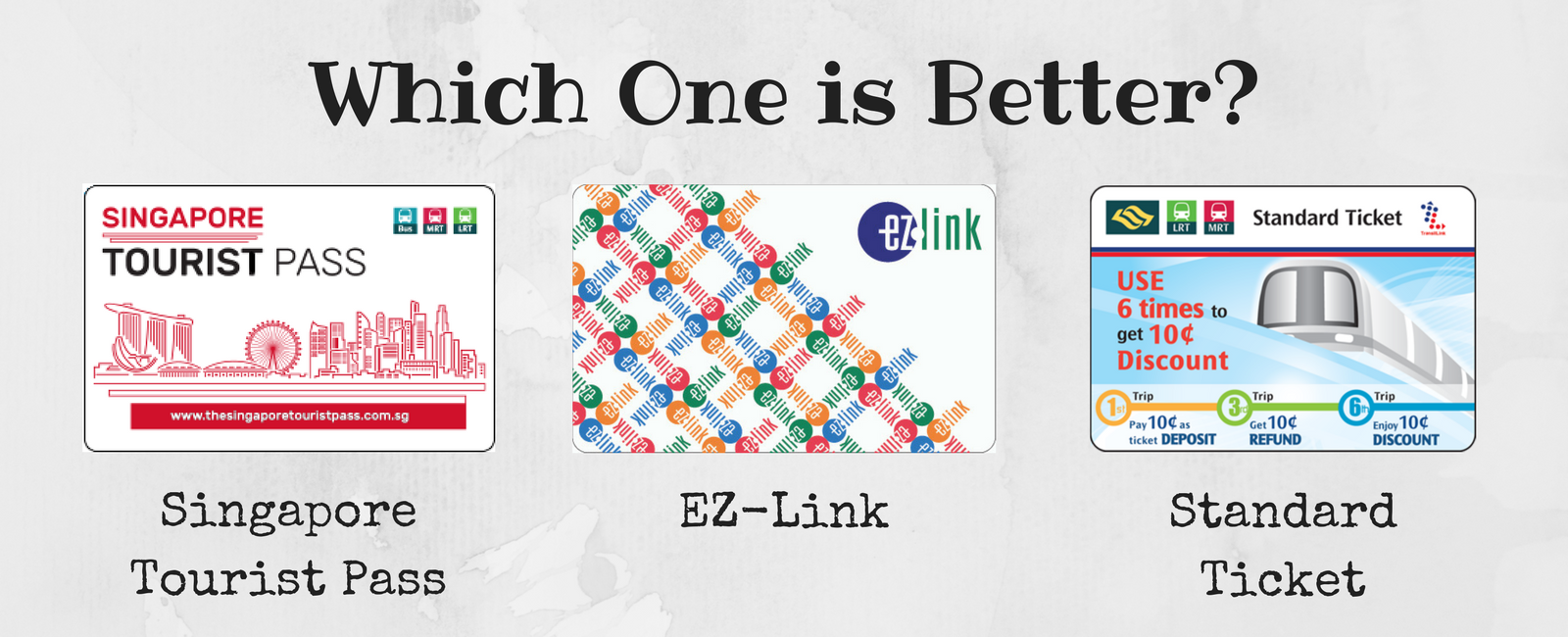 To take public transportation in Singapore, you need either cash or card.
Paying by cash is rather inconvenient because you need to give the exact amount, otherwise no change will be given. Majority people use cards, but which card is better?
There are 3 cards that travellers can use in Singapore: Singapore Tourist Pass, EZ Link and Standard Ticket. Each has its own pros and cons, and each is suited for different types of travellers.
In this post, I write about the details of each card, followed by situations when a certain card is more favourable than the other.
To learn about all the different types of transportation in Singapore, read my in-depth guide about getting around Singapore.
About Singapore Tourist Pass
The Singapore Tourist Pass (STP) is a card that gives you unlimited travel on Singapore's MRT, LRT and basic bus services for 1 day, 2 days or 3 days depending on which pass you purchase.
Here are what you need to know about STP.
The STP costs S$10 for 1 day, S$16 for 2 days and S$20 for 3 days.
A deposit of S$10 is required when purchasing the pass. The deposit will be refunded when you return the card within 5 days after the day of purchase.
Eg: If you purchase the card on Monday, you need to return the card by Saturday to get the deposit back. In other words, if you buy the 3-day pass, you need to activate it latest by Wednesday.
If you decide to keep the card and not return it, the S$10 deposit will be forfeited, and you can continue to use the card as a normal EZ-Link card.
Kids below 0.9m height travel for free on trains and buses when accompanied by a fee-paying adult.
You can buy STP at TransitLink Ticket Office located at certain MRT stations: Ang Mo Kio, Bayfront, Bugis, Changi Airport, Chinatown, City Hall, Farrer Park, Harbourfront, Jurong East, Kranji, Lavender, Orchard, Raffles Place, Somerset, Tanjong Pagar, Woodlands. More details on opening hours here.
When purchasing STP, not all TransitLink Ticket Office accepts payment by cards. The selected TransitLink Ticket Offices that accept MasterCard and JCB payments are located at Bayfront, Bugis, Changi Airport, Chinatown, City Hall, Farrer Park, HarbourFront, Lavender, Orchard and Woodlands MRT Stations.
You can return STP to:
Any TransitLink Ticket Offices at MRT stations
SMRT Passenger Service Centres located at MRT stations at Changi Airport, Kranji, Lavender, Dhoby Ghaut and Marina South Pier.Unlimited rides applicable for: MRT, LRT and basic bus services.
Unlimited rides are not applicable for: Sentosa Express monorail, RWS8 bus, Express Services Bus, Fast Forward Bus, Night Owl bus (N bus), NightRider bus (NR bus), Chinatown Direct bus (CT bus) and other premium and niche bus services.
The pass starts when you use it for the first time. The 1-day pass ends when the last public transport has stopped operation (slightly past midnight). Eg: if you use the card for the first time at 6pm on Monday, the 1-day pass will expire on Monday's night (when the last train and bus have stopped), the 2-day pass will expire on Tuesday's night and the 3-day pass will expire on Wednesday's night.
Now, STP offers various deals, from discounted attraction prices to discounted meals.
About Singapore Tourist Pass PLUS
The Singapore Tourist Pass Plus (STP+) is an extension from STP. On top of unlimited rides on trains and basic bus services, STP+ offers additional perks.
Here are STP+ facts you should know.
The cost of STP+ depends on where you buy it from. At the moment, it's sold at Changi Recommends. You can buy it online and collect at the airport, or directly buy from Changi Recommends' counter. You can't collect it from MRT Station.
There isn't any S$10 deposit required, unlike the usual STP. So, at the end of 3 days, you can keep the card or discard it. You don't need to return it, unlike STP.
There's only 1 option, which is the 3-day STP+ that costs S$38. Thus, if you're only visiting Singapore for 1 or 2 days, this card may not be the right card for you.
STP+ will give you the following perks:
Complimentary walking tour
Complimentary $10 Hooters Dining voucher
Complimentary Limited Edition Post Card Set worth $8
Various discounts
Should you get Singapore Tourist Pass PLUS or just the normal STP? Is STP+ actually worth it?
In my opinion, STP+ is worth it only if you're interested to join the free walking tour and dine at Hooters.
If you're the type of traveler who loves to DIY your travel and would avoid tours as much as possible, or if you're a budget traveler or slow traveler, you can skip STP+.
About EZ-Link
EZ-Link card is the most commonly used travel card by residents and returning visitors. In the beginning, you store a certain value inside the card. Your card's value will be deducted only when you use it.
The price of an EZ-Link depends on where you buy it from.
If you buy from TransitLink Ticket Offices, Concession Card Replacement Offices and Passenger Service Centres located at all MRT stations, it costs S$12 which consists of S$7 value + S$5 non-refundable deposit.
If you buy from 7-Eleven, it costs S$10 which consists of S$5 value + S$5 non-refundable deposit.
You need to maintain a minimum $3 balance in your EZ-Link in order to be able to board MRT and buses. When your balance falls below $3, you need to top up to continue using it.
Minimum top-up amount is $10. You can top up with Cash as well as Debit/Credit card.
IMPORTANT: with the initial credit of $7, you can only take public transport for about 3 times (assuming $1.5/ride), then your credit will be below $3 (you need to maintain at least $3 in your EZ-Link). You have to top-up before you can use the card again. The minimum top up is $10. Therefore, your total cost becomes $12 + 10 = $22. So, if you come for only 3 days or less, I will not recommend you to use EZ-Link.
If you're only coming for 3 days or less, you'll be better off getting STP (only $20 for 3 days).
To get refund of the unused portion of your EZ-Link, you can return it to any Passenger Service Centre at MRT stations, Ticket Office at MRT stations, Ticket Office at bus interchanges. However, you can't get back the S$5 non-refundable deposit.
EZ-Link can be used at MRT, LRT and most public buses. Furthermore, you can also use EZ-Link for SMRT & TransCab taxis, F&B outlets, and many places you can't even imagine.
Here's the full list of places where payment by EZ-Link is accepted. For simplicity, just look for EZ-Link logo at the shop where you're going to make payment. If there's EZ-Link Logo, it means you can use EZ-Link to pay.
EZ-Link is valid for 5 years from the date of encoding. At the end of 5 years, you can exchange the card at Ticket Office.
EZ-Link cards can be reloaded (topped up) at all General Ticketing Machines at all MRT Stations, certain bus interchanges, 7-Eleven, ATMs, and other places. Here's the complete list of places where you can top up your EZ-Link.
You can store a maximum value of S$500 in the EZ-Link.
You can download EZ-Link app to check your current remaining balance, transaction history, as well as to earn points that you can use to redeem freebies or discounted items!
EZ-Link for children
Children under 7 years old can travel for free. If they are below 0.9m in height, they do not need any card. However, if they are above 0.9m, they need a special card called Child Concession Card. If children are below 7 years old but don't have these card, they need to pay for the adult fare.
The Child Concession Card can be used for MRT, LRT, basic bus services and express bus services (express buses are those with "e" behind the service number, such as Bus 174e). Do take note that it can't be used for Premium buses (these buses usually serve residents going to work during peak hours) and Night Riders (these buses only operate in the evening during weekend, such as NR1, NR2, etc).
To apply for Child Concession Card, bring your child's passport to any TransitLink Ticket Offices.
More information about Child Concession Card can be found here.
About NETS FlashPay
If you haven't heard about NETS FlashPay, it's basically similar to EZ-Link. They cost the same, $12 for the first purchase ($5 non-refundable and $7 refundable). It can be used for public transportation, taxi as well as F&B, retail shops, etc.
You can top up via app (with debit/credit card) or by other offline means such as the General Ticketing Machine (GTM) located in every MRT stations, 7-Eleven, etc.
So, is there any difference with EZ-Link at all? Yes there is. The company that issue them are different. EZ-Link was started by Authority while NETS was started by a group of banks in Singapore.
Another difference is the merchants that accept EZ-Link are different from the retail merchants that accept NETS FlashPay. Personally, I feel that I see more NETS FlashPay logo in the shopping malls than EZ-Link logo.
So, why even bother to get NETS FlashPay? Well, if you like the idea of carrying not much cash (notes & coins) around, or you like to be able to collect it from your country's airport or sent to your home (see below), then you can consider NETS FP.
Where to get NETS FlashPay?
Pre-order online and collect at Singapore's Clarke Quay (check the operating hour), Malaysia's KLIA, Thailand's BKK Airport, or mailed to your home in Indonesia, Philippines, Vietnam or Taiwan.
TransitLink Ticket Office. Note: A lot of MRT stations have a TransitLink Ticket Office, but NOT ALL MRT stations have TransitLink. Changi Airport MRT station does have TransitLink Ticket Office.
Convenience stores, such as: 7-Eleven, Buzz Pods, Cheers, FairPrice Xpress, Star Mart at all Caltex Petrol Stations
Travelex Moneychangers at Changi Airport.
About Standard Ticket
A standard ticket is a single-journey ticket. Most people use this because they don't like to commit to STP or EZ-Link, or they forget to bring their own EZ-Link card when they go out.
A Standard Ticket can be used for MRT & LRT only, not bus.
A Standard Ticket costs the single journey fare + S$0.10 deposit. That means, each time you want to take a train, you need to top up the Standard Ticket.
Standard Ticket can be re-used up to 6 times within 30 days.
On your third trip, the 10-cent deposit will offset your trip fare. Continue using it until the 6th time, and you'll get a 10-cent discount on your 6th time.
It can be purchased from any General Ticketing Machine at all MRT/LRT stations.
After you pay for a trip, you need to travel on that day. It can't be used on other days.
If you don't use the trip that you've paid, you can request for the refund within 3 days from the date of purchase from Passenger Service Centre in any MRT station.
If you travel further than what you have paid, you need to approach the Passenger Service Centre to top-up the fare difference before you are allowed to exit at your new destination.
The fare is considerably higher than EZ-Link's fare.
When should you buy Singapore Tourist Pass?
You want to visit a lot of places.
You don't need the cab, you're comfortable with using public transport.
You don't know when you will visit Singapore again.
Buy 1-day STP if you use public transport more than 7 times a day.
Buy 2-day STP if you use public transport more than 6 times a day.
Buy 3-day STP if you use public transport more than 5 times a day.
When should you buy EZ Link?
You use public transport less than 5 times a day.
You visit Singapore for more than 3 days.
You are a budget traveler and you don't mind walking or cycling to save money.
You travel slowly. In a day, you might be visiting less than 3 attractions.
You come to Singapore often and you'd like to keep the EZ link card so you don't have to purchase again when you come next time.
When NOT to buy STP & EZ-Link, and just buy a Standard Ticket for the train and use cash for the bus?
You use public transport less than 3 times a day.
You have a local friend who can drive and bring you around Singapore for free.
You use taxi more frequently than public transportation.
You're on a transit, or you are in Singapore for a short period of time.
You're not doing too much sightseeing.
You don't have any plan to come back to Singapore in the near future.
How to find out the fares?
The easiest way to calculate the public transportation fare is by using the calculator provided by MyTransport.SG.
For your info, if you use EZ Link and you make a transfer from train to bus, bus to train, or bus to bus, within 45 minutes, you will pay for discounted fare due to the new "distance fare scheme." You don't need to do anything, it's automatically adjusted by your EZ Link.
Planning a trip to Singapore? Read my best articles about Singapore.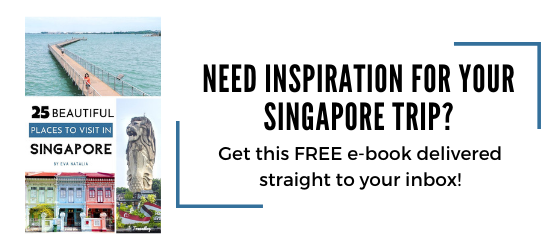 PS: Have any questions regarding traveling in Singapore, Malaysia or Southeast Asia? Join Trevallog Community on Facebook where we can discuss about traveling in Southeast Asia.
First published: 31 Mar 2018. Last updated: 19 Aug 2019
Disclosure: Some links on this post are affiliate links; I would receive a commission when you booked through my links, at no extra cost to you.