SkyHelix Sentosa is a vertical open-air gondola that offers passengers a breathtaking 360° view of Sentosa Island and its surrounding, i.e. Keppel Bay area and the Southern Islands. Located at Imbiah Lookout, SkyHelix is very easy to spot with its distinctive helix-like structure.
Opened on 15 December 2021, SkyHelix is the first carbon-neutral attraction on Sentosa. It is designed with energy-efficient appliances to minimize electricity consumption, with annual carbon footprint amounting to a flight from Singapore to Kuala Lumpur, despite being able to serve about 100,000 guests per year 1,2.
SkyHelix Sentosa is Singapore's highest open-air panoramic ride. The entire ride lasts about 12 minutes, with 10 minutes at the peak and 2 minutes of ascent and descent. Each visitor gets a free drink, and they can bring food and drink on the ride (only if it's purchased from SkyHelix's F&B kiosk).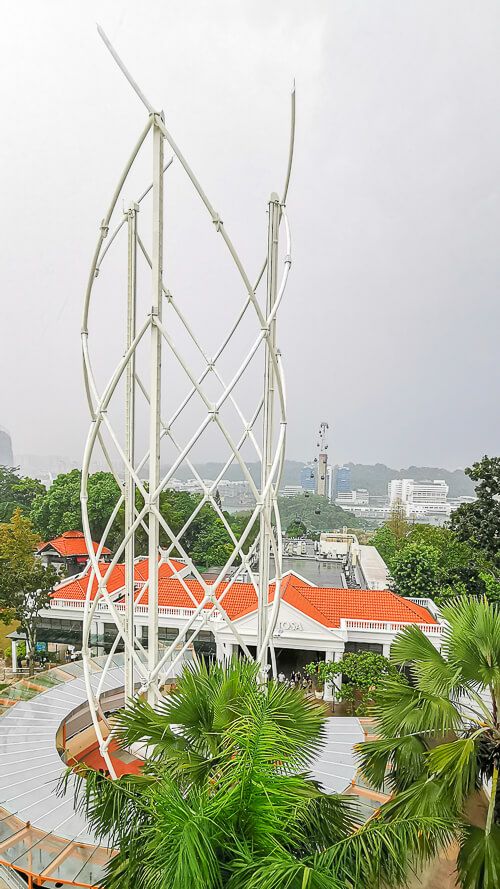 At first glance, SkyHelix does give a similar vibe as Space Shot ride (you know, that ride where you're seated in a chair with your feet dangling, then you go up slowly and when you reach the top, you get dropped down at high speed?). If you're not a fan of Space Shot, don't worry, SkyHelix is much much slower and does not induce anxiety if you do not look down at your dangling feet.
SkyHelix's apex is 35 metres above ground (equivalent to 79 metres above sea level), making it one of the highest points on Sentosa, beside AJ Hackett Skybridge and Fort Siloso Skywalk.
When booking, you need to decide whether you want a day flight or a night flight. Both have their own pros and cons. For me, I went on a late afternoon flight. In this article, I'll share my experience riding the SkyHelix as well as tips for first-timers.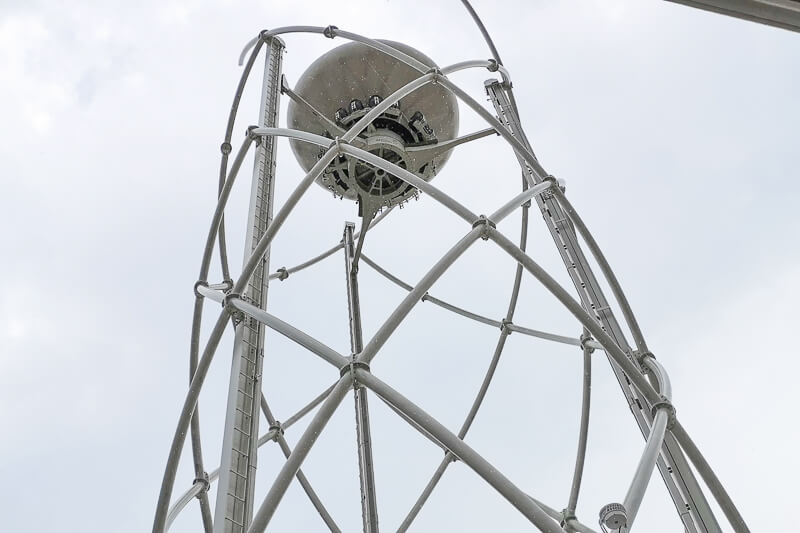 Opening Hours of SkyHelix
SkyHelix Sentosa is open from 10am to 9.30pm daily (Last admission at 9pm).
How much does a SkyHelix ride cost
The ticket price of SkyHelix Sentosa is:
• SGD 18/pax for adult
• SGD 15/pax for children aged 4 to 13 years old
You can purchase the ticket online here or here. Alternatively, you can also purchase the ticket from the ticketing counter on-site, but there's no guarantee there are available walk-in slots, so it's best to get the ticket online.
What to note before going to SkyHelix
Book a timeslot in advance if your ticket is open dated. If you've purchased an open-dated ticket, you need to email your PDF booking confirmation, together with your preferred dates and time slots to Mount Faber Leisure Group. Then, wait for their reply to confirm your timeslot. If you've purchased a ticket with specific timeslot, you don't need to email them anymore, just turn up at the stated time.
Do not be late. Do not arrive after 45mins of your timeslot. For example, if your timeslot is 3pm to 4pm, the latest admission is 3.45pm.
Wear appropriate footwear. The most convenient footwear would be shoes. However, if you decide you want to wear flip flops, you'll be asked to leave them on the ground and ride the SkyHelix barefooted.
Securing gadgets. Since it's an open-air ride, there's always a risk that your phone or gadgets will drop if you do not hold them properly. If you're clumsy, it's recommended that you find a way to secure your gadgets to your hand or body (eg: by using straps, etc). Otherwise, if you're not that clumsy, it's alright to just hold your phone with hand without using straps. Just know that there's a risk of losing your phone if you're not careful.
How to go to SkyHelix
By Mount Faber Line cable car:
Take Mount Faber Line cable car from either Mount Faber or Harbourfront, then alight at Sentosa Station. SkyHelix is located right outside the Sentosa Station.
Read my detailed guides to Singapore Cable Car and Mount Faber Park.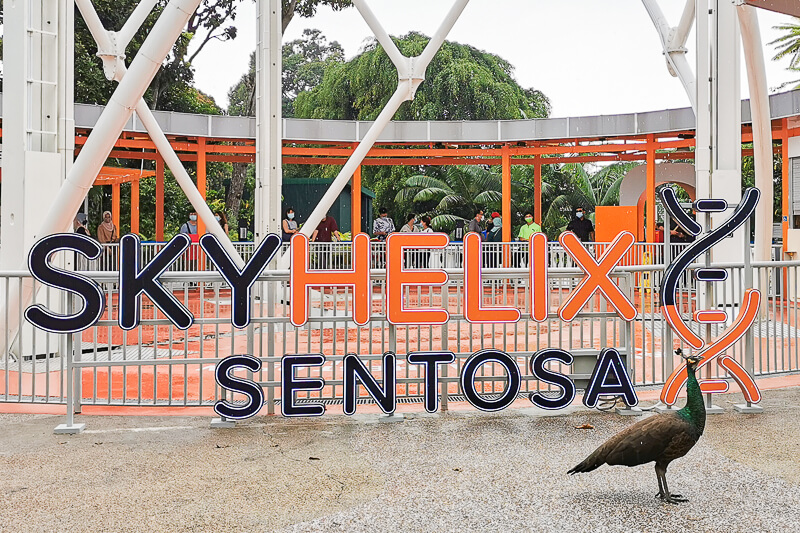 By MRT + Sentosa Express monorail + walk:
Take MRT to Harbourfront Station. After alighting, take Exit E to VivoCity shopping mall, then take the escalator up to the 3rd level of VivoCity, take Sentosa Express monorail and alight at Imbiah Station.
From Imbiah Station, it's about 10 to 15mins walk to SkyHelix due to the ongoing construction. You need to walk past Cable Car ticketing counter, walk up the stairs and walk through an open-air carpark before finally arriving at SkyHelix. If you're not comfortable with climbing up the stairs because you're traveling with young kids or elderly, I recommend that you take the cable car or bus method instead.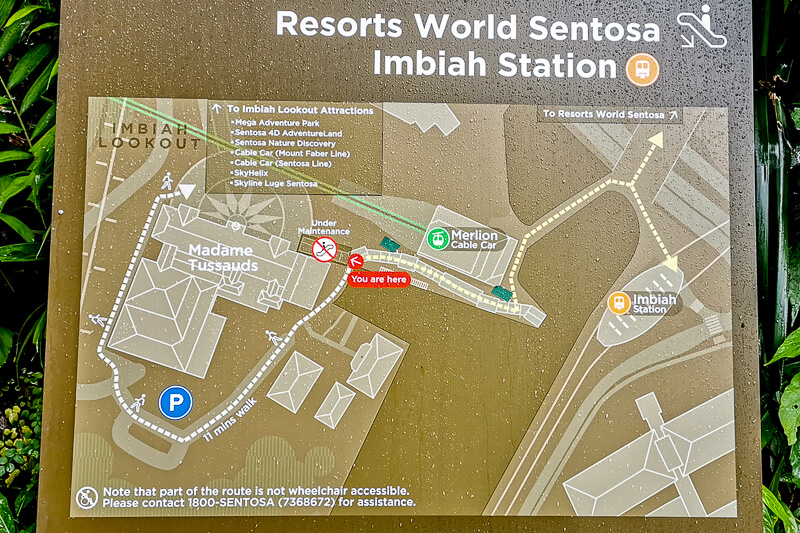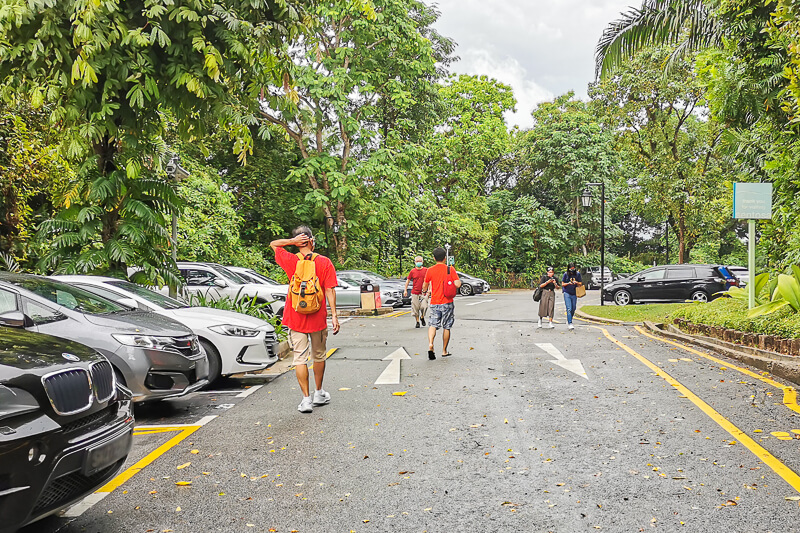 By MRT + Sentosa Express monorail + Sentosa Line cable car:
Take MRT to Harbourfront Station. After alighting, take Exit E to VivoCity shopping mall, then take the escalator up to the 3rd level of VivoCity, take Sentosa Express monorail and alight at Imbiah Station.
From Imbiah Station, walk about 3 mins to Merlion Station and take Sentosa Line cable car, then alight at Imbiah Lookout Station. From Imbiah Lookout Station, walk about 3 to 5 mins to SkyHelix Sentosa.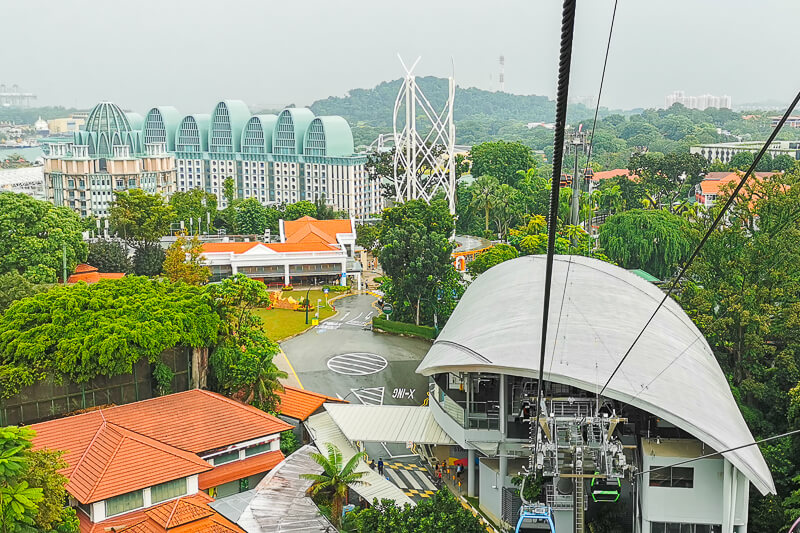 By MRT + Sentosa Express monorail + Bus:
Take MRT to Harbourfront Station. After alighting, take Exit E to VivoCity shopping mall, then take the escalator up to the 3rd level of VivoCity, take Sentosa Express monorail and alight at Beach Station.
From Beach Station, take bus A and alight at Imbiah Lookout bus stop. From Imbiah Lookout bus stop, walk about 3 to 5 mins to SkyHelix Sentosa.
Our First Attempt: Cancelled due to Rain
Our original plan was to ride the SkyHelix Sentosa in January 2022. Unfortunately, it rained quite heavily during our timeslot, hence the operation was suspended due to lightning risk.
The staff told us that we could change our ticket to another date. All we had to do was simply walk to the nearby Mount Faber Leisure ticketing counter, so that's what we did.
At the counter, we had 2 options: change to a dated ticket or open-dated ticket. Knowing that dated ticket is more convenient than open-dated ticket, we decided on the date and timeslot that we wanted and then we were given a new ticket with new date and timeslot.
If you're planning to visit during rainy season, be prepared that the ride may be suspended on your chosen date and timeslot and you might have to reschedule.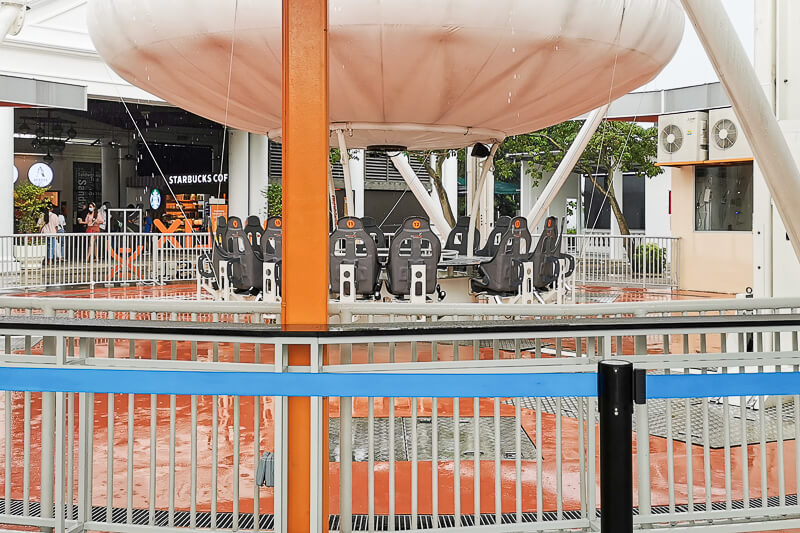 Our Second Attempt: It Finally Happened Despite Drizzle
Fortunately, we managed to ride SkyHelix Sentosa on our second attempt in February 2022. It was drizzling during our ride, but thankfully it didn't turn into a heavy rain. The rainwater flowed to the underside of the balloon and dripped to my shirt, but my hubby was completely dry. Seems like it's a matter of luck whether you'll get wet or not when it rains.
The following story is based on our second attempt. So, let me start from the beginning.
Arriving and Checking in
Upon arriving, we were asked to show our ticket before being allowed to join the queue. They didn't scan the ticket yet at this point. The waiting time depends on the weather and how many people in front of you.
The full capacity of the gondola is 30 guests. However, due to safe distancing requirement, only 8 passengers max were allowed for each ride during our visit. There were about 30+ people in front of us which translated to 4 rides. Given that each ride is about 12 mins long, and they need to do sanitizing between each rides, we spent about 1 hour 10 mins standing in line. Yup, standing.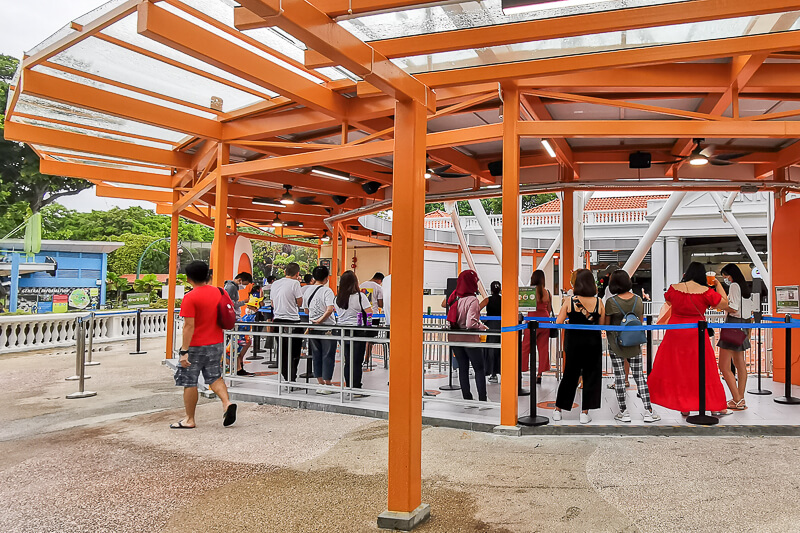 Drink Redemption / Food Purchase
While queueing, one of us went to the snack bar to redeem our free drinks. Each ticket holder is entitled to 1 free drink or 1 soft-serve or 1 souvenir. This free drink and other food/drink purchased from the SkyHelix Sentosa snack bar are allowed to be brought onto the ride.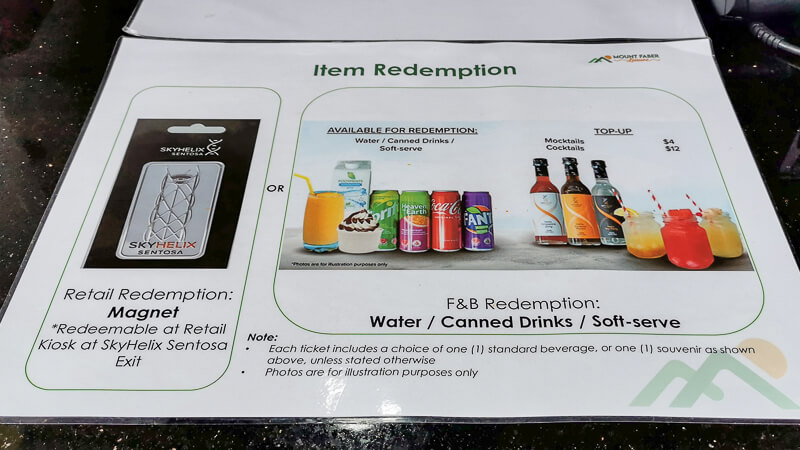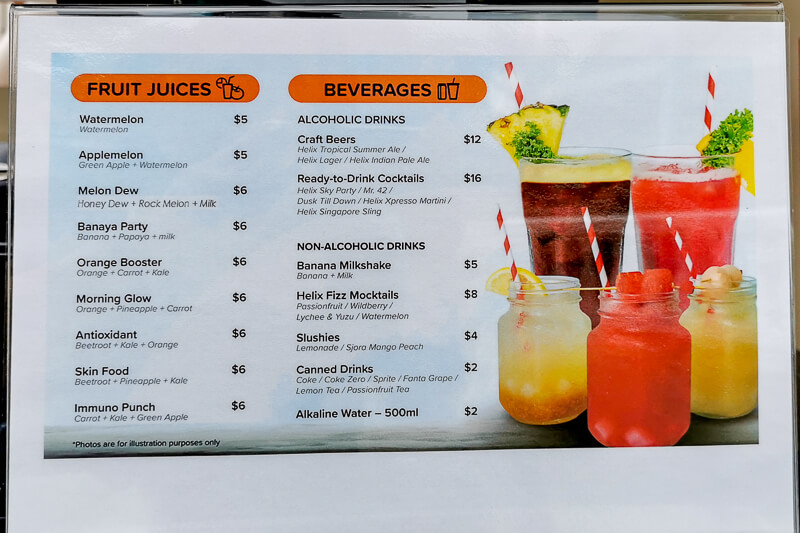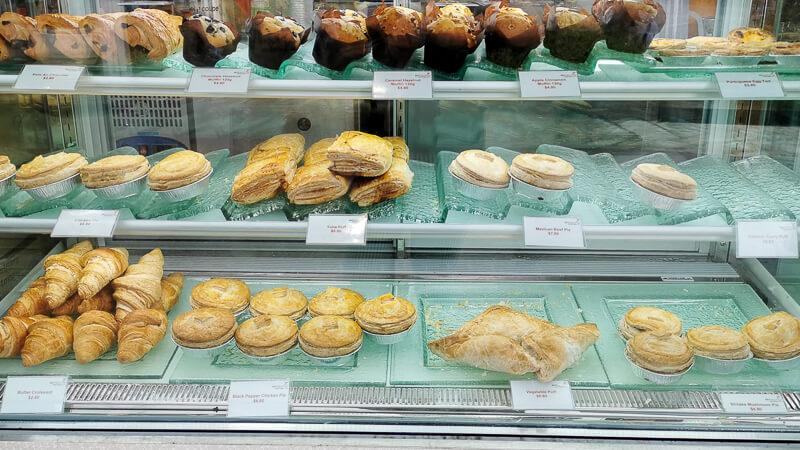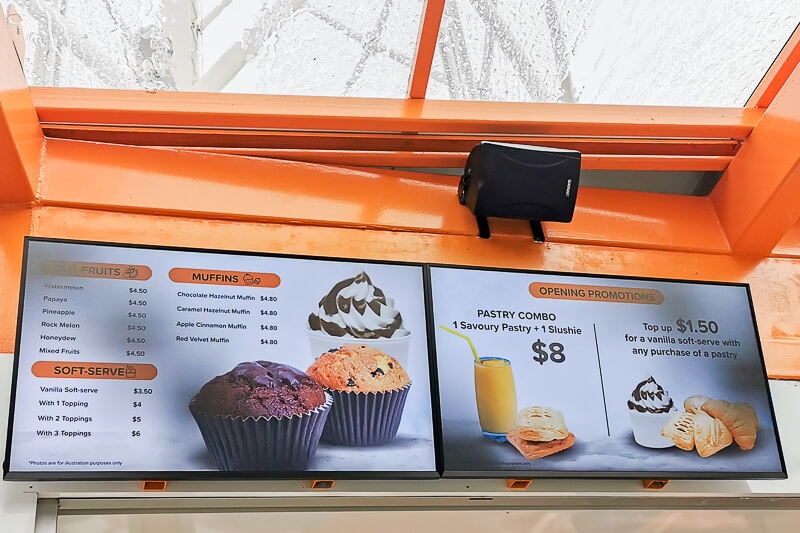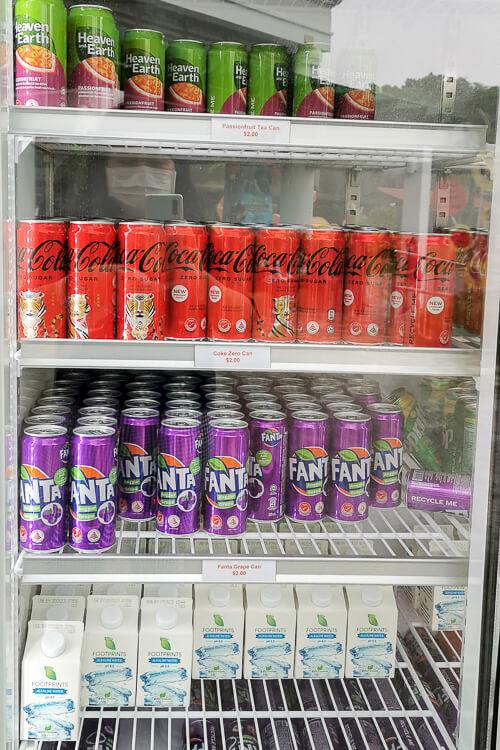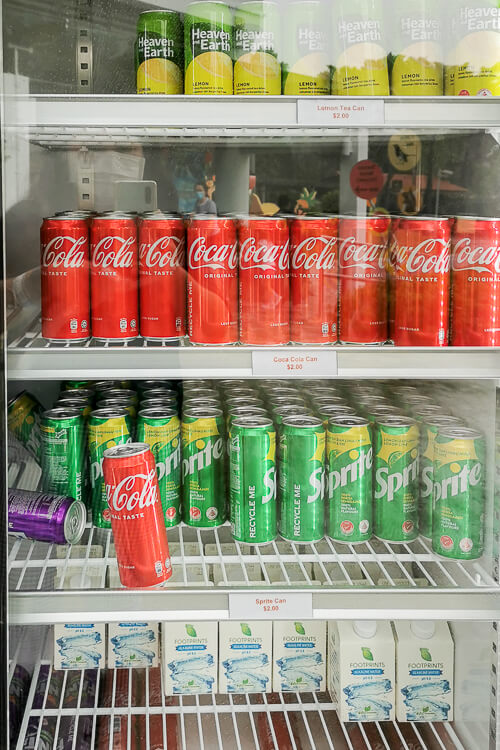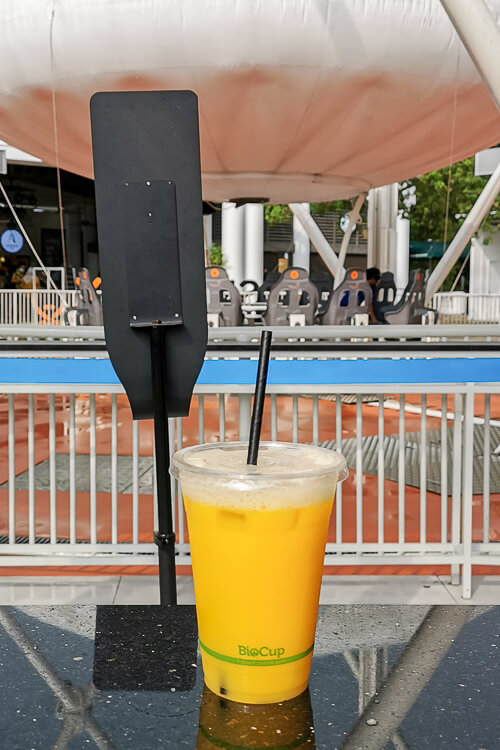 Seat Allocation
When we reached (almost) front of the queue, the staff came to scan our tickets and gave us a number that indicates our allocated seat number.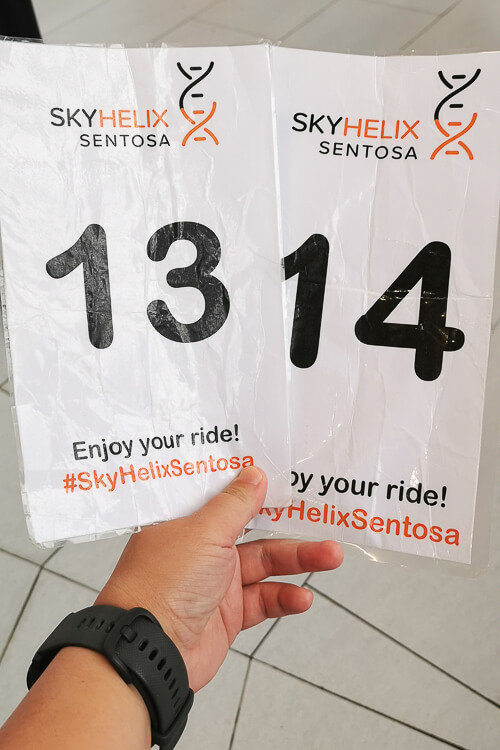 Storage & Setting Up
Finally our turn has come! We put our bag at the designated storage, which was a trolley rack, before walking to our seats.
After we got ourselves seated, the crew helped us to fasten the seat belt.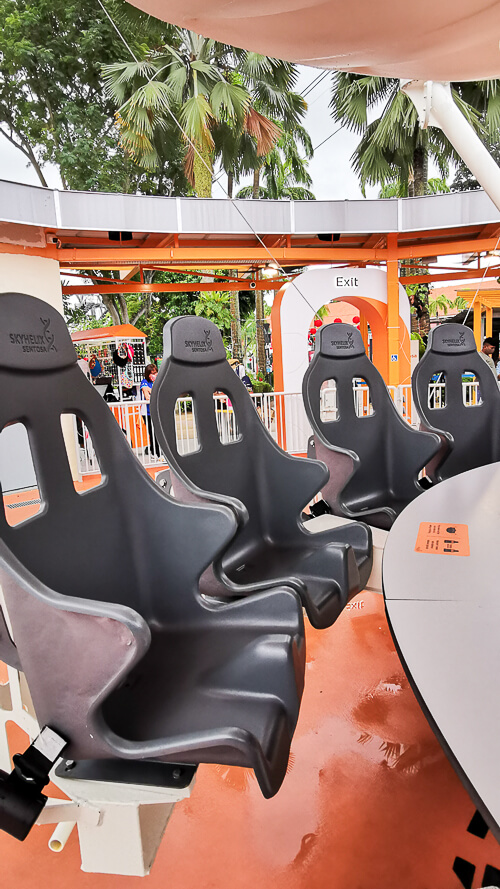 Flight Ascent
The flight ascent could be terrifying for first-timer, especially if you look down. Despite being slow, the ascent takes only 1 minute and you'll reach the peak without realizing it.
If you're afraid of height, I recommend that you shift your attention to the tour guide who's standing at the center of the ride, or simply look ahead instead of looking down or looking behind your back.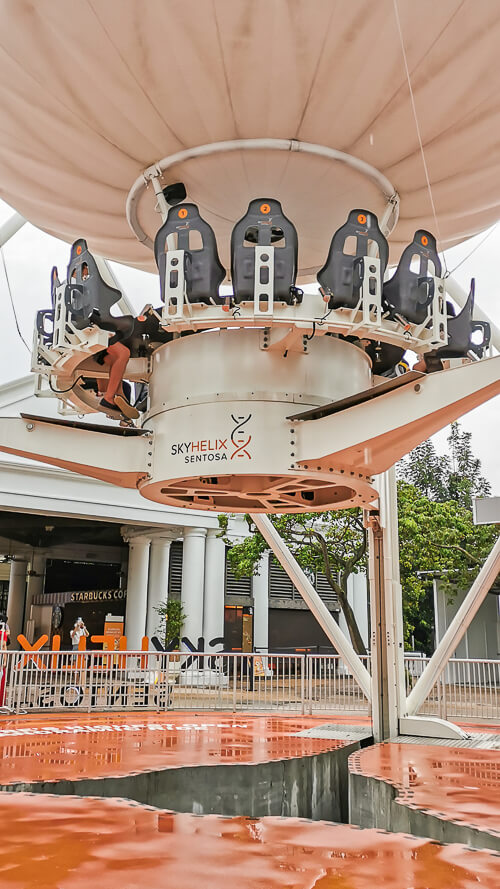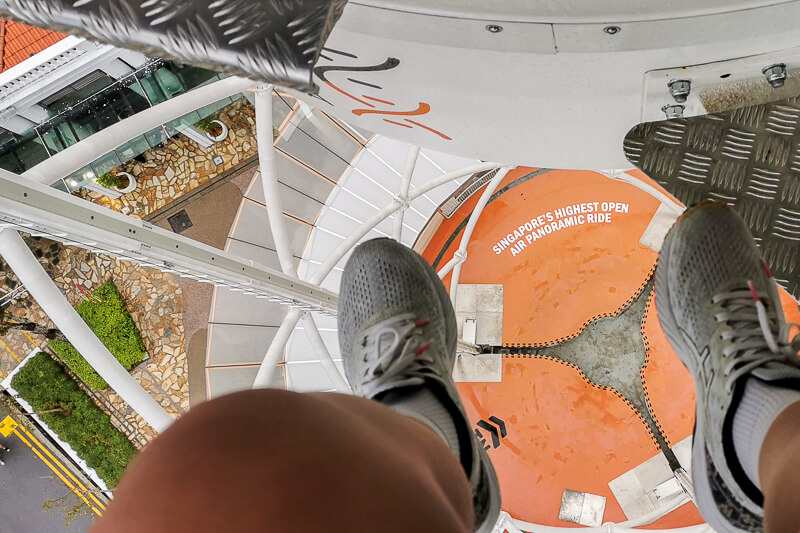 Rotating at the Top
When it reaches the top, the gondola will rotate slowly so that you can enjoy 360° view. Our tour guide was so helpful and talented, he helped us to several photos and even a short video!
The 10-minute at the top was supposed to be the time for us to take in the view while sipping our drink. Alas, as Millennials, we were too busy taking photos and videos, we completely forgot about our drinks!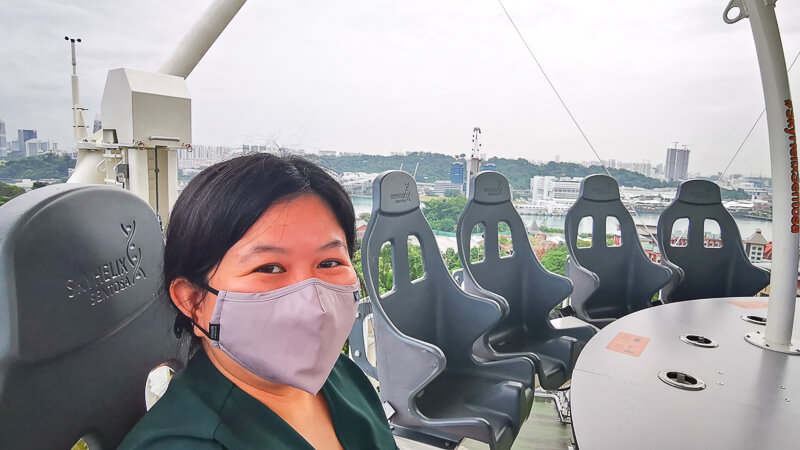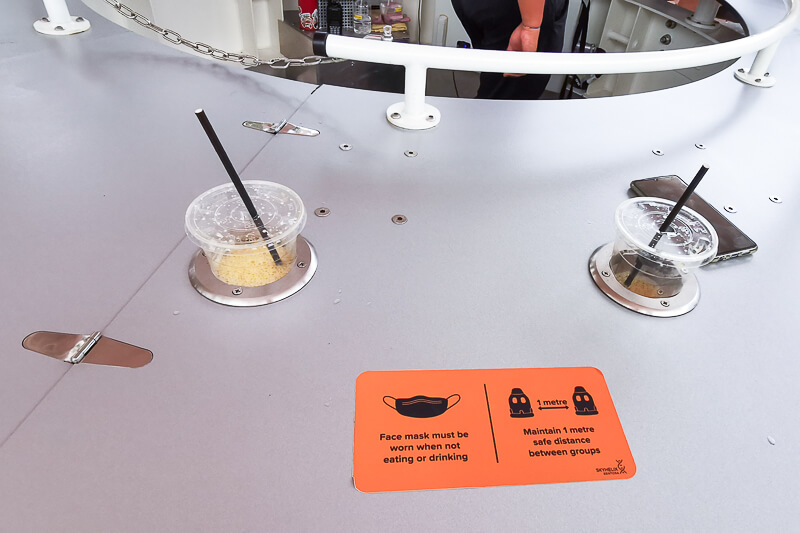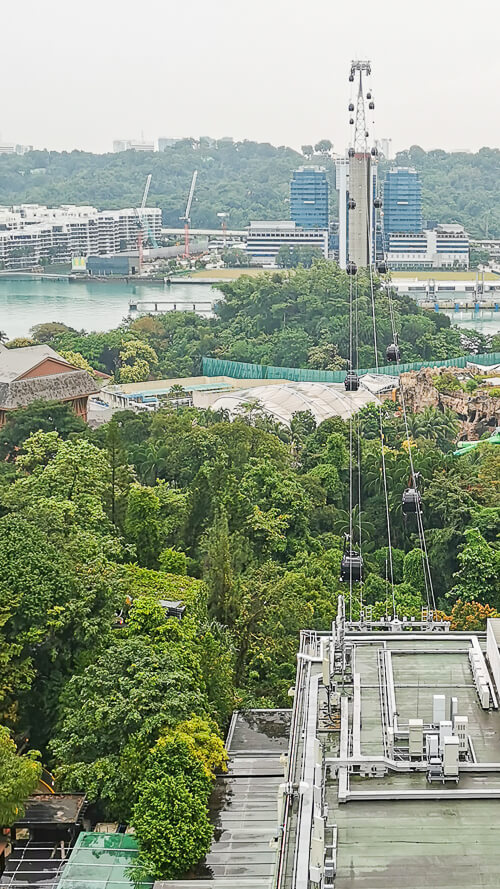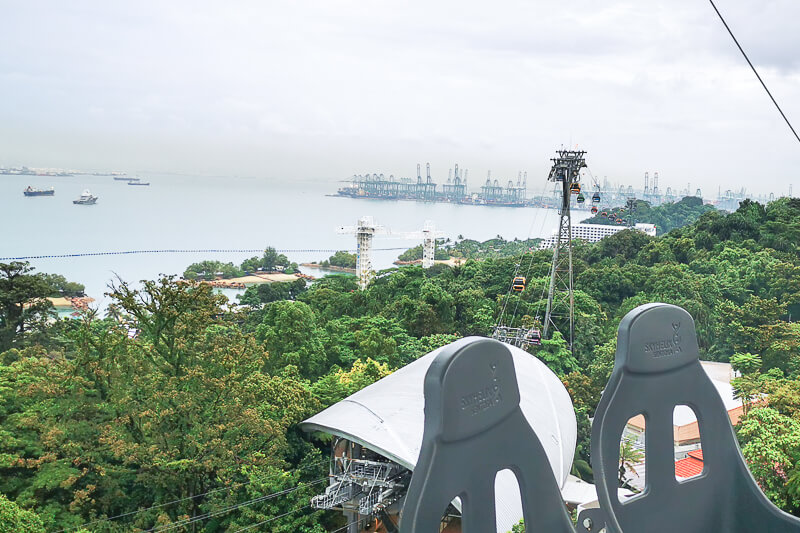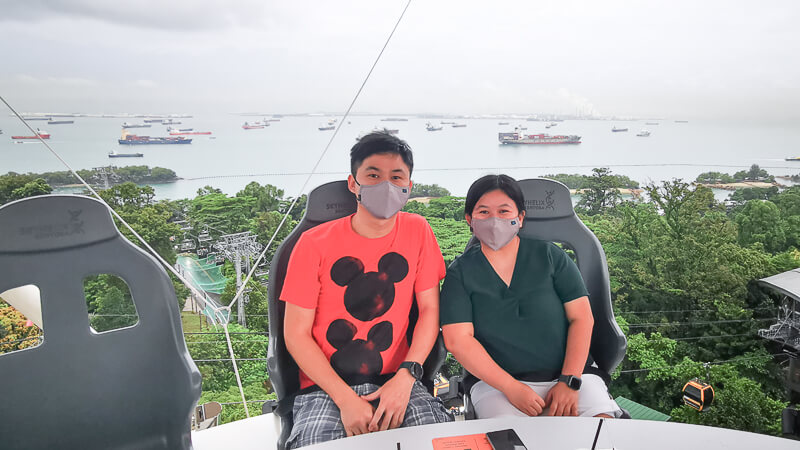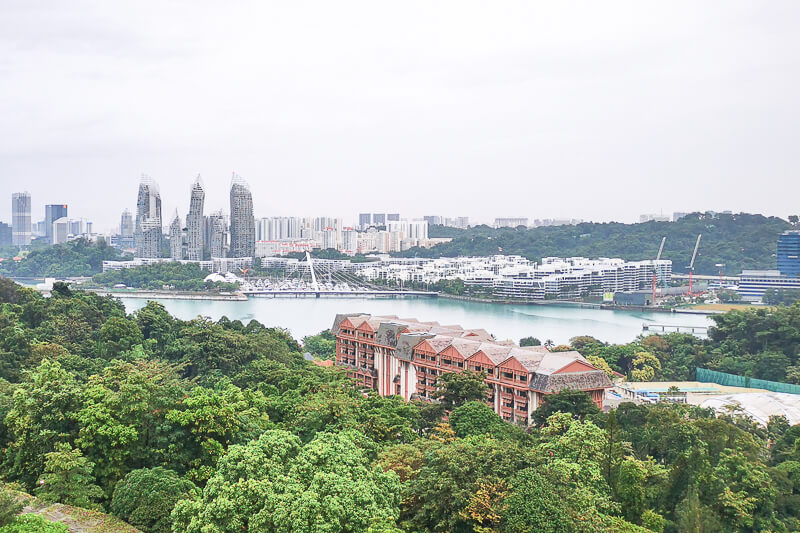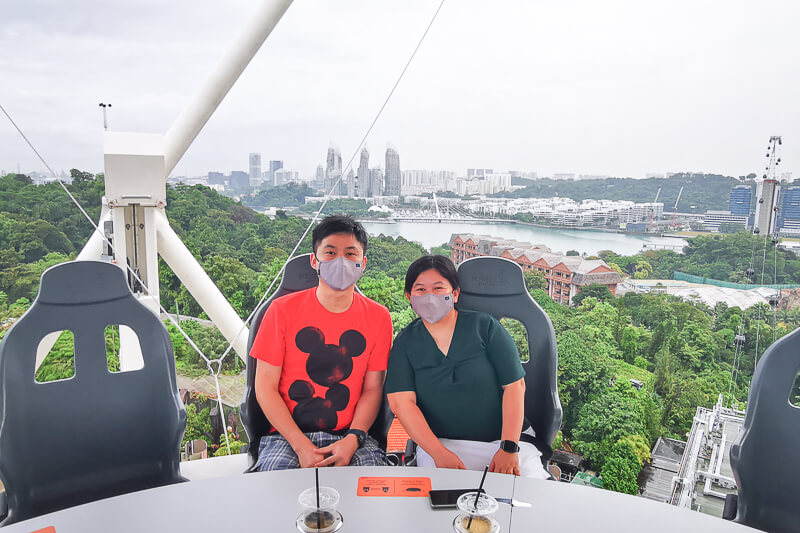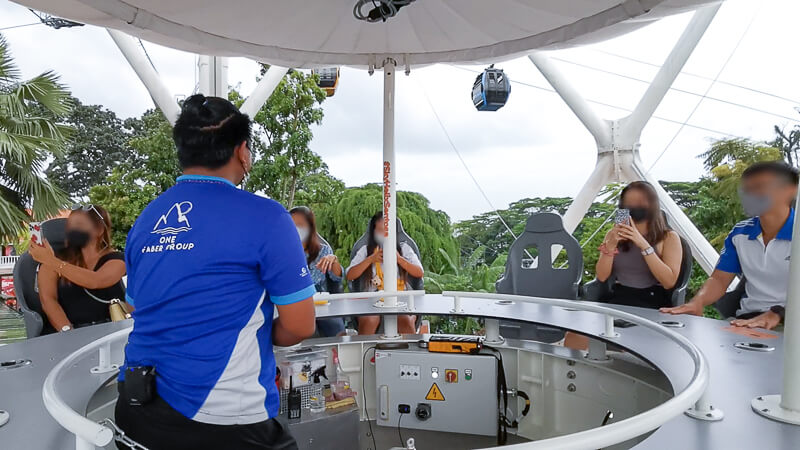 And, just like that, time flew by! Suddenly the tour guide announced that we were going to be descending soon. Knowing that we might have anxiety, he assured us that because we were not in Universal Studios Singapore, the descent would be extremely slow, hence there's no need to worry.
Flight Descent
True enough, the descent was completely not-anxiety-inducing. In one minute, we were back to the earth. We collected our bags and made our exit. At the Exit, there's a mini souvenir / merchandise shop.
FAQ
What happens if it rains during my timeslot? It depends on the rain category. If it's too heavy, the operator may decide to temporarily suspend the ride until it's safe to resume. If it's not too heavy, the operator may continue the flight operation.
Who can take SkyHelix ride? Guests who are above 1.05m tall and fully vaccinated. Guests between 1.05m and 1.2m in height or 12 years old and below may take the ride only if accompanied by a supervising adult.
Who can't take SkyHelix ride? Guests who are below 1.05m tall, pregnant, have a fear of height, have limited mobility, unwell or have existing conditions such as motion sickness or vertigo.
References
Thank you Mount Faber Leisure Group for making this experience possible. All opinions are my own.
If you like my work, you can buy me a coffee! Your support will help me to keep going!