Madame Tussauds Singapore was opened on 25 October 2014. Over the years, it has been a must-do experience for visitors coming to Singapore, as well as for locals rediscovering the homeland.
Madame Tussauds Singapore has 15 zones. Zone 1 to 14 are included in the Madame Tussauds ticket. Meanwhile, Zone 15 requires a separate ticket.
Located at Imbiah Lookout, Madame Tussauds Singapore can be easily reached by Sentosa Line cable car and Sentosa Bus A. It is within walking distance to other attractions, such as SkyHelix, Skyline Luge and 4D Adventureland.
In this article, I'll share all the things you need to know before visiting Madame Tussauds Singapore. At the end of the article, I'll also share my tips as well as my review of this wax museum.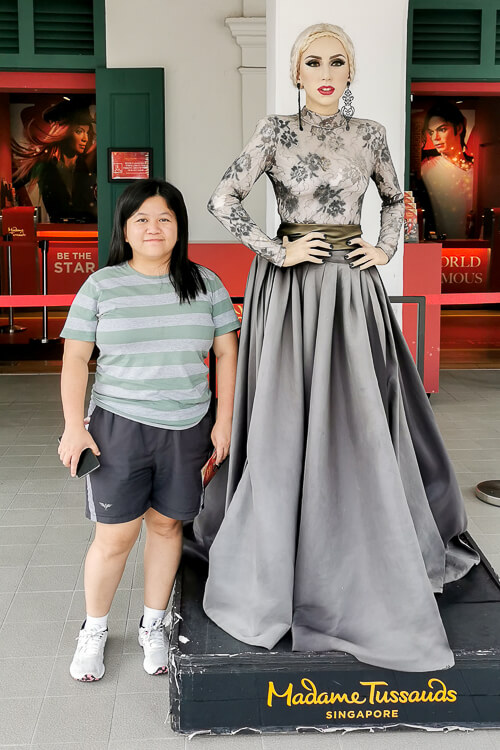 Looking for ideas on things to do in Singapore? Read:
60+ Best Things to Do in Singapore
30+ Things To Do in Sentosa Island
Madame Tussauds Singapore Opening Hours
Madame Tussauds Singapore is open daily from 10am to 6pm (last admission is 5pm).
Sometimes, they may close early for private event. You can check here to confirm the opening hours.
Madame Tussauds Singapore Ticket
The walk-in prices for Madame Tussauds Singapore are:
Adult (13 years old and above): S$44
Child (3-12 years old): S$32
You may notice that the ticket says "5-in-1 combo ticket" but it means nothing in my opinion, because you can't choose a single attraction anyway.
Meanwhile, VR Racing experience is an entirely separate attraction and not included in the above 5-in-1 ticket. VR Racing walk-in prices are as follow:
1 rider: S$15.
2 riders: S$25
I highly recommend that you book discounted ticket here to enjoy saving! Do note that online ticket must be booked at least 1 day in advance, you can't book it on the same day of visit.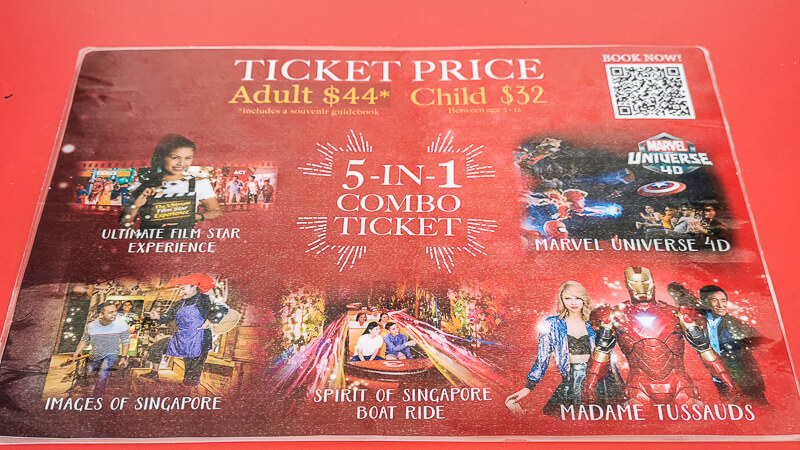 How to go to Madame Tussauds Singapore
Madame Tussauds Singapore is located at 40 Imbiah Road Imbiah Lookout, Sentosa, Singapore, 099700.
By taxi/driving: Head to 40 Imbiah Road Imbiah Lookout, Sentosa, Singapore, 099700. There's a carpark just behind Madame Tussauds building.
By cable car: Take Mount Faber Line cable car from Mount Faber or Harbourfront, and alight at Imbiah Station. Then, walk a few steps to Sentosa Line's Merlion Station, take the Sentosa Line cable car and alight at Imbiah Lookout. Finally, walk a short distance to Madame Tussauds.
By Sentosa Express: Take Sentosa Express monorail from VivoCity. You have 2 options.
Sentosa Express Option 1: Alight at Imbiah Station, then walk along Imbiah Trail for about 10mins to Madame Tussauds. Caution: Due to ongoing construction, this method involves plenty of STAIRCASES. If you have mobility issue, I'd suggest that you take Option 2 below.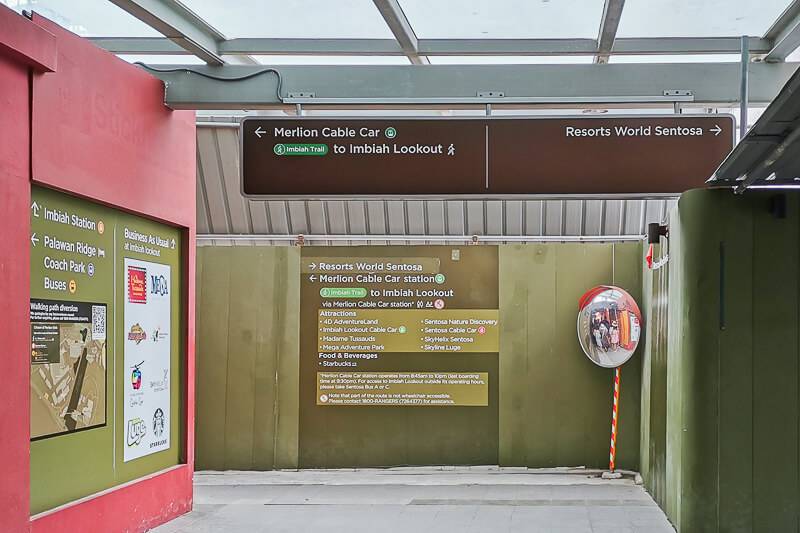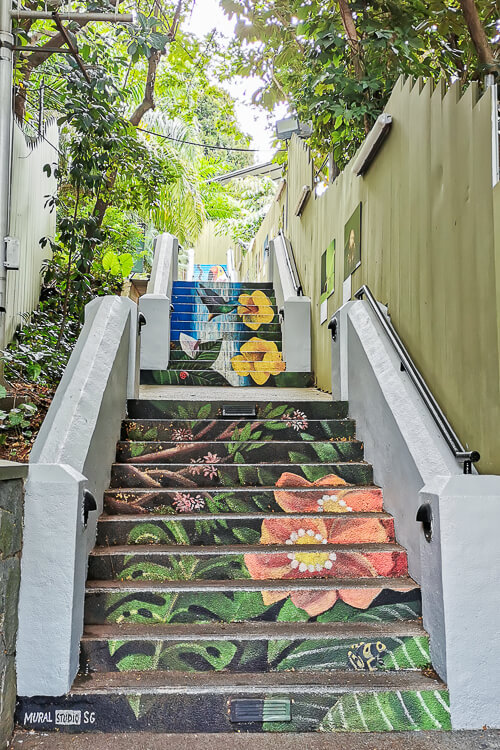 Sentosa Express Option 2: Alight at Beach Station, then take Bus A and alight at Imbiah Lookout. This method requires longer duration but you don't have to deal with staircases.
By Sentosa Bus: Take Bus A from Beach Station or Resort World Sentosa, and alight at Imbiah Lookout. Then, walk a short distance to Madame Tussauds.
Read:
Explained: How to Get Around Sentosa Easily
Guide to Riding Singapore Cable Car
What to do and see at Madame Tussauds Singapore
There are 15 zones at Madame Tussauds Singapore. This may be subjected to change from time to time. Some of the wax figures are only temporarily displayed here, some are permanent.
By the time you visit Madame Tussauds, just know that you may not be able to meet the same figures as me. I had been wanting to meet Taylor Swift, but sadly, her figure was under renovation during my visit.
Anyway, here are what I encountered when I visited Madame Tussauds Singapore.
1. Ultimate Film Star Experience
The first zone is Ultimate Film Star Experience. It's a display of Bollywood movie actors and movie sets. There's a section (the one with sleeper train and Amitabh Bachchan) where you get to be acting inside a movie.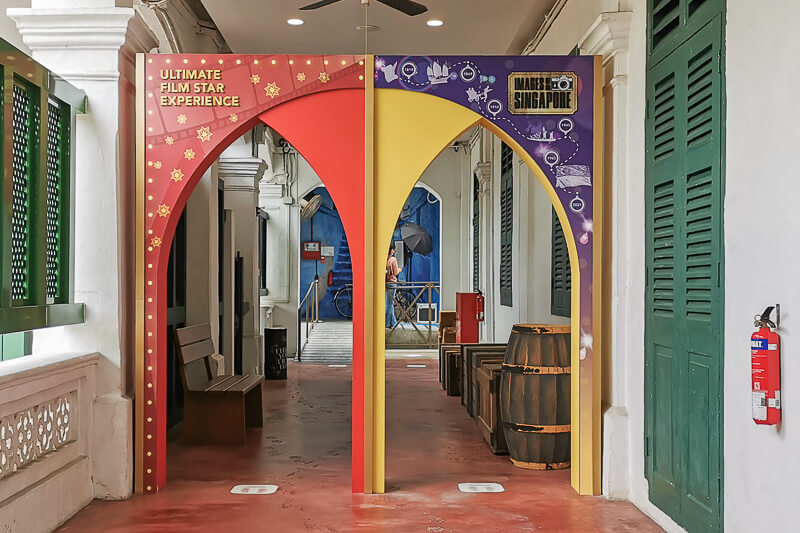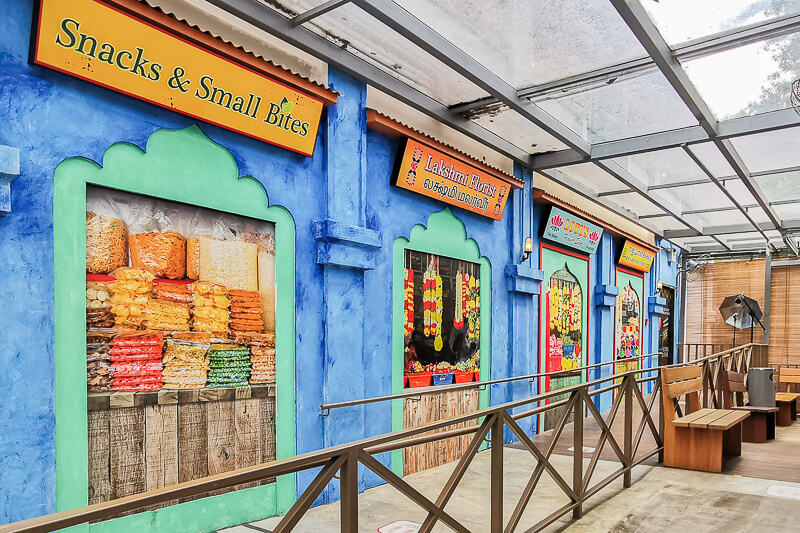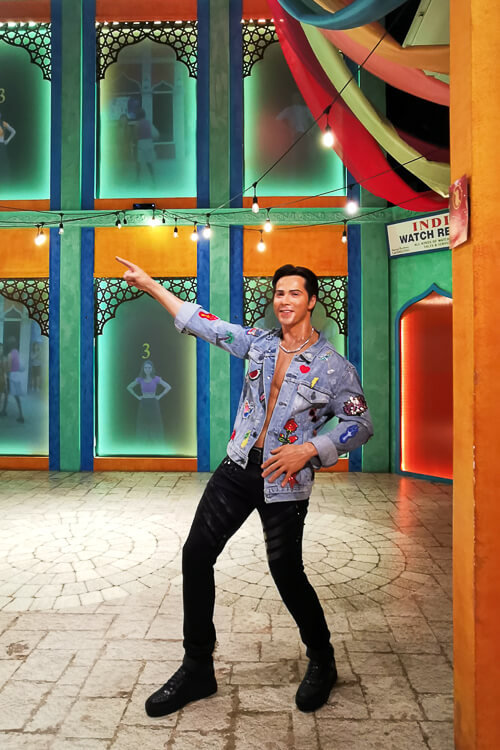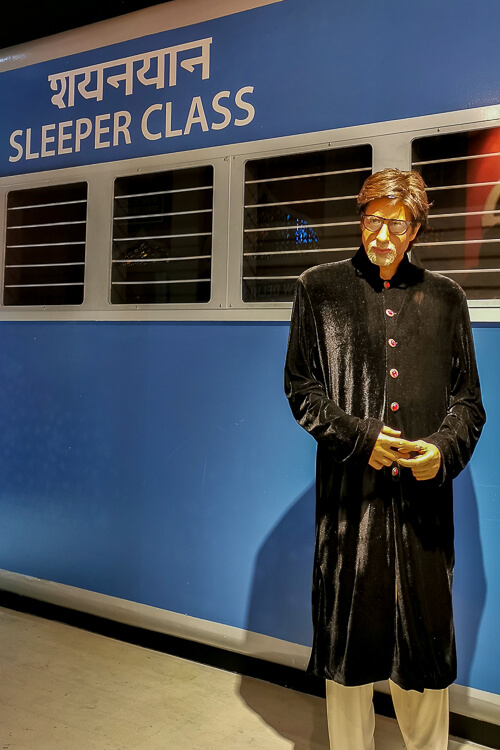 2. Images of Singapore
Before 2014, Images of Singapore used to be a 45-minute guided tour takes one through Singapore's journey since the days of Raffles leadership, to the war period, to the modern Singapore that it is today. The guided tour would end with a boat ride called the Spirit of Singapore Boat Ride.
The operator of Madame Tussauds Singapore took over Images of Singapore and Spirit of Singapore Boat Ride, and continued to operate them side-by-side with Madame Tussauds. That's why they called the ticket as "5-in-1" ticket, because these 2 zones used to be standalone attractions.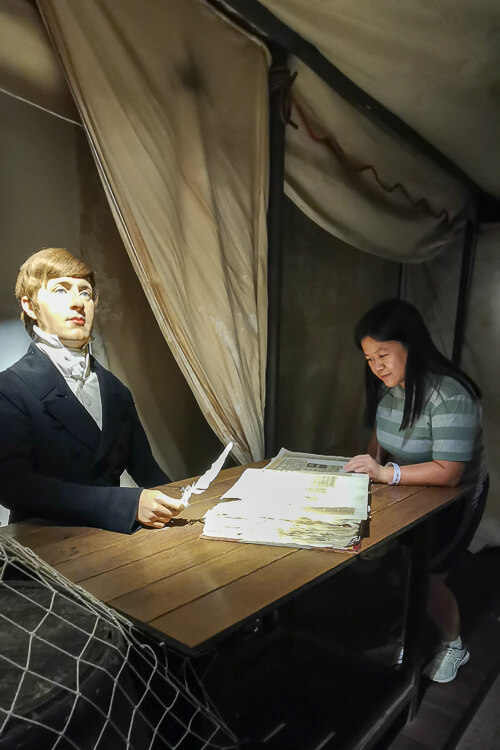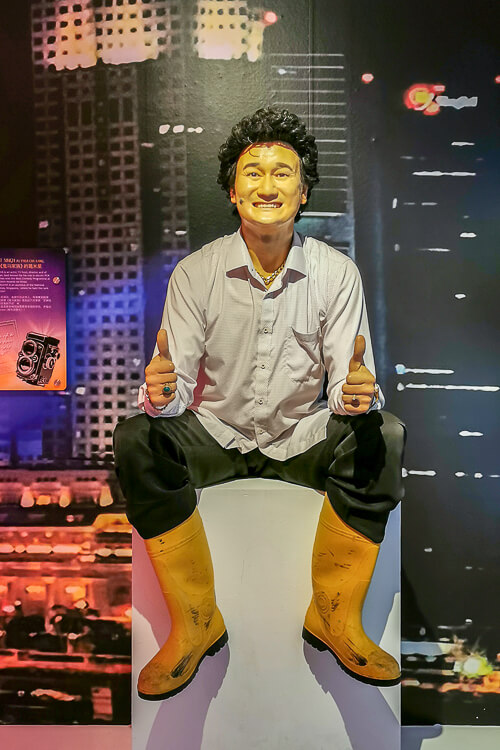 There are various display of vintage shophouses from all ethnicities. This area is pretty dark so it can get pretty eerie.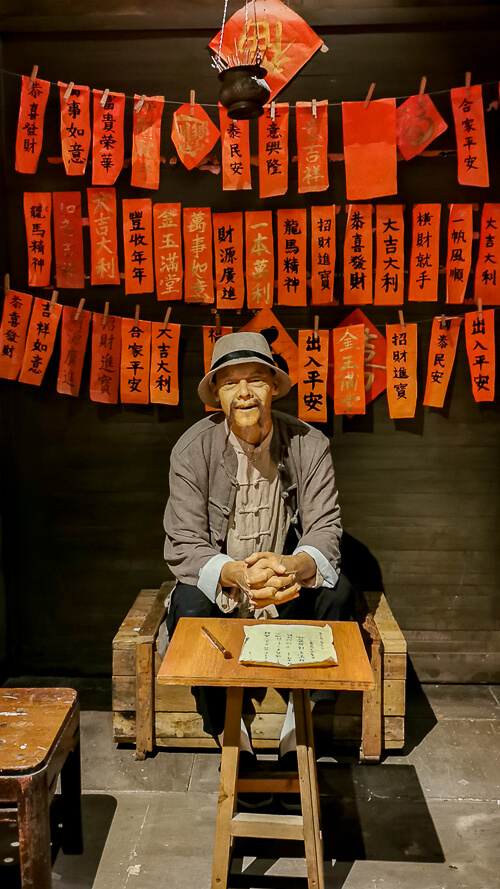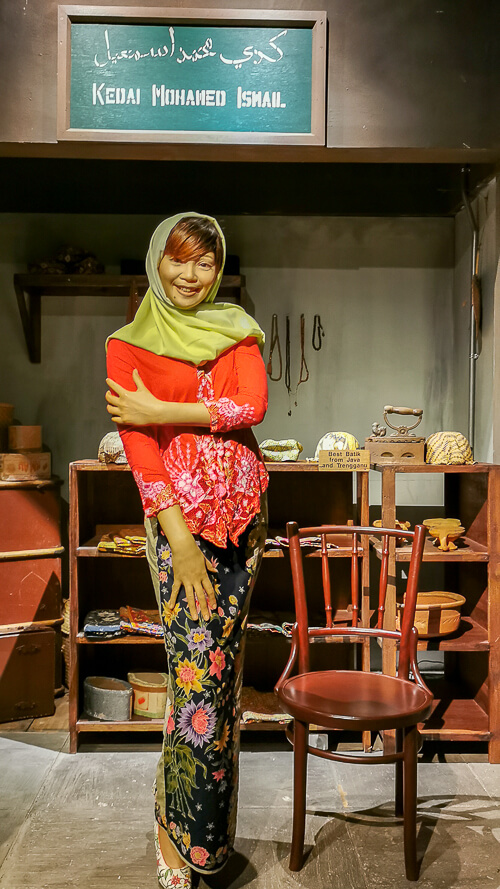 Then, there are photographs showing the transformation of Singapore from the past to today.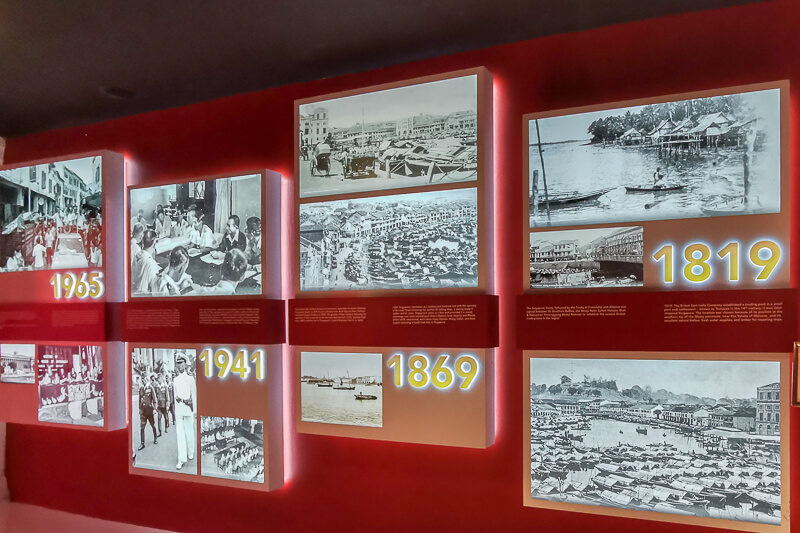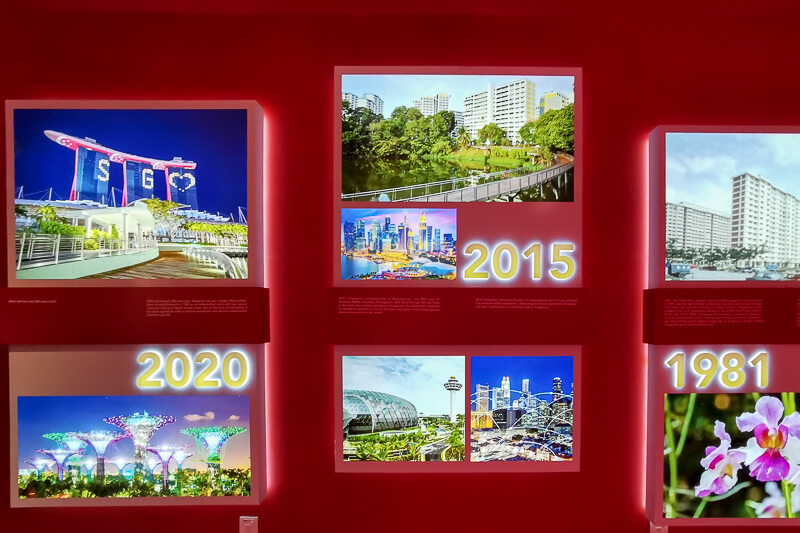 3. Spirit of Singapore Boat Ride
The Spirit of Singapore Boat Ride is a 3-min boat ride through replica of iconic landmarks of Singapore. There were Gardens by the Bay, Merlion, Marina Bay Sands with Singapore Airlines above it, Formula 1 car and the racer, Sri Mariamman Temple and a Chinese Opera stage.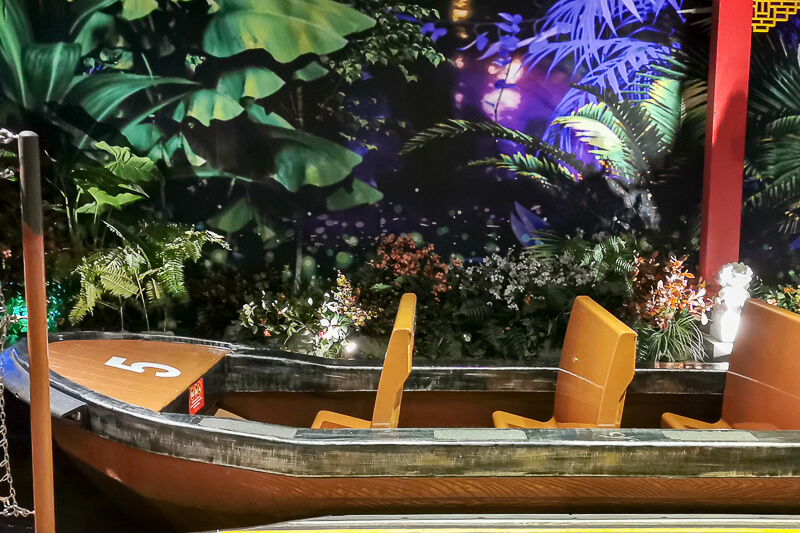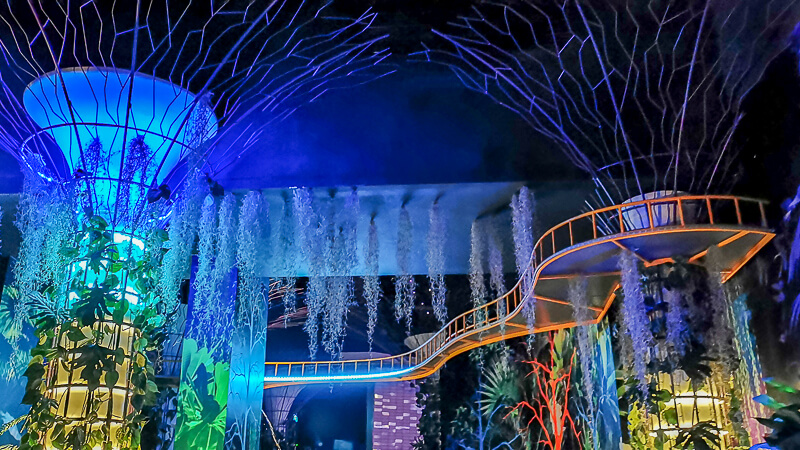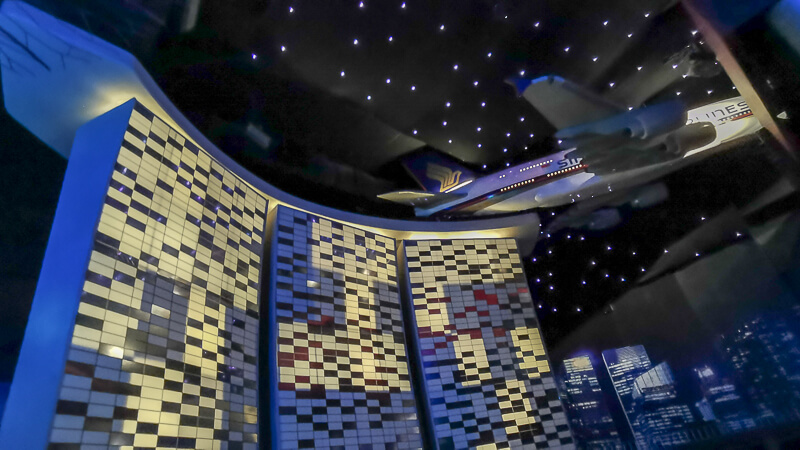 4. World Leaders
World Leaders is probably one of my most favorite zones of the Madame Tussauds Singapore. I recognized and respected all of the leaders featured.
The leaders on display that I recognized were Lee Hsien Loong, Goh Chok Tong, Lee Kuan Yew and Wife Kwa Geok Choo, Queen Elizabeth II, Soekarno, Joko Widodo, Mao Zedong, Xi Jinping & Wife, Mahatma Gandhi, Barack Obama, Nelson Mandela and Narendra Modi.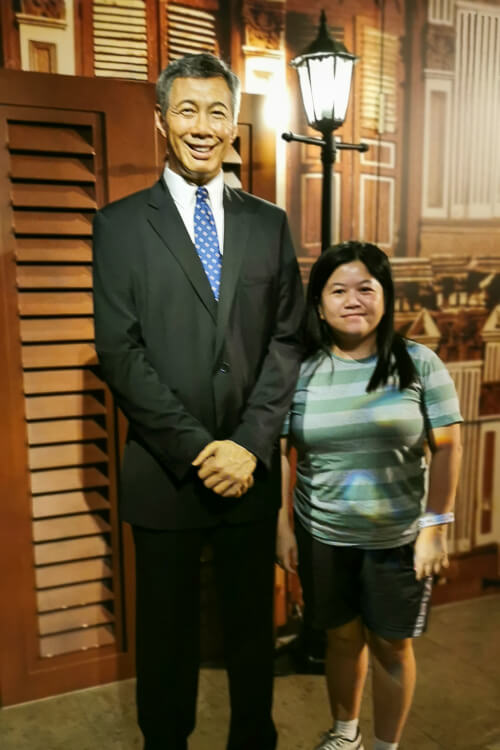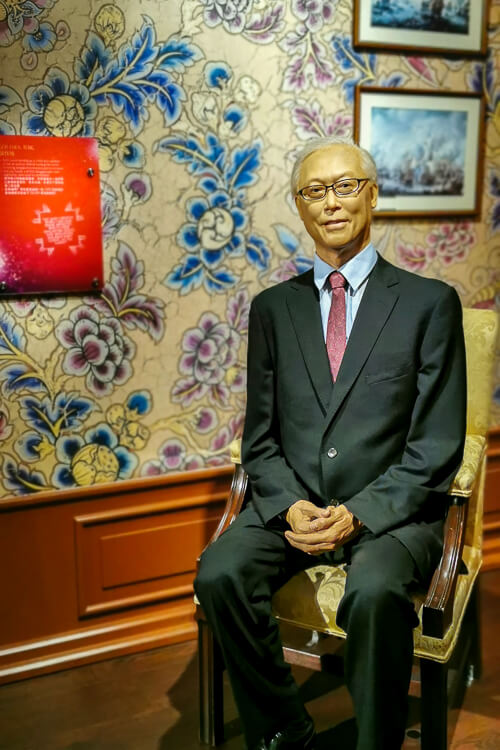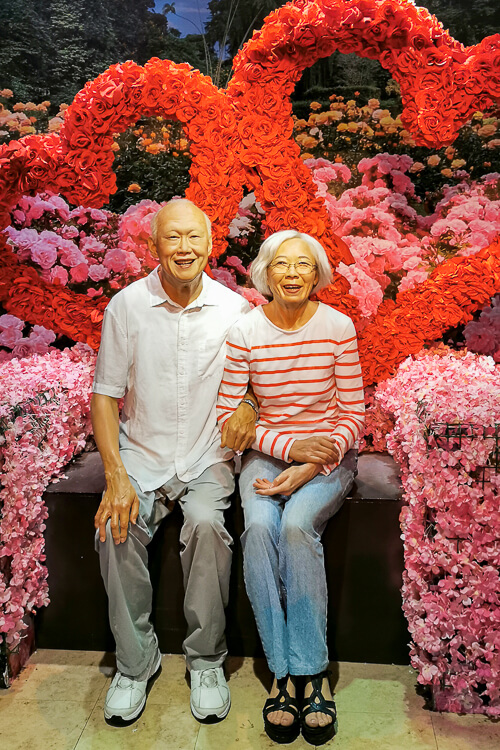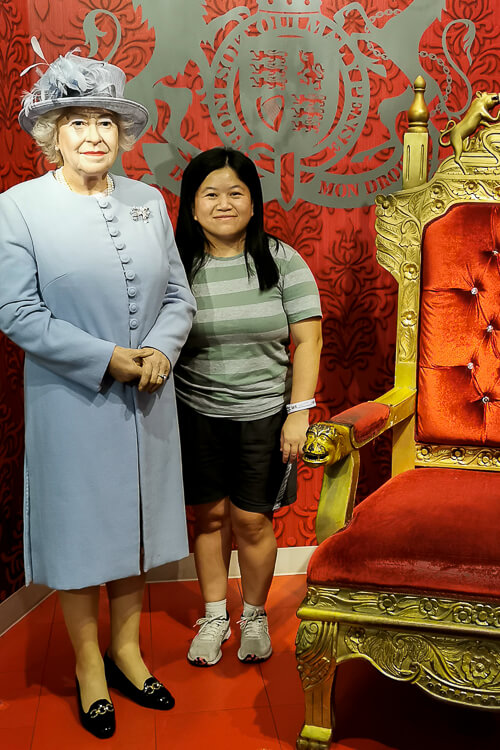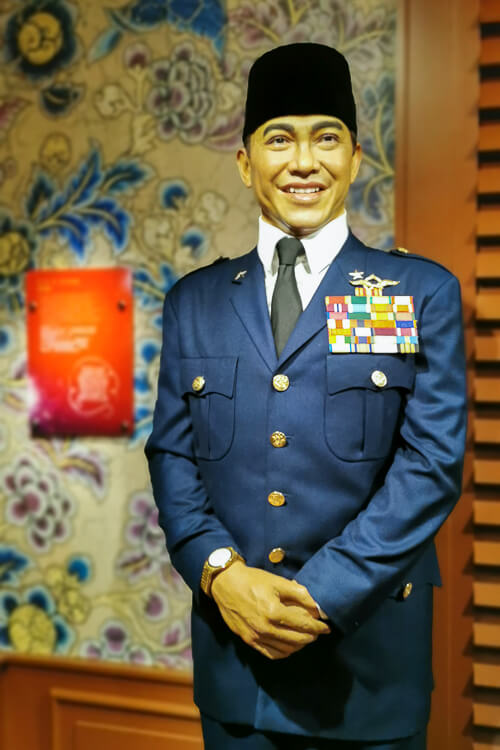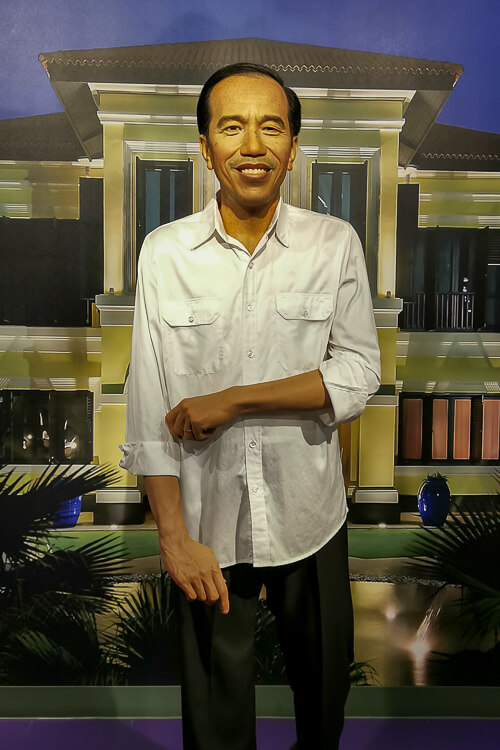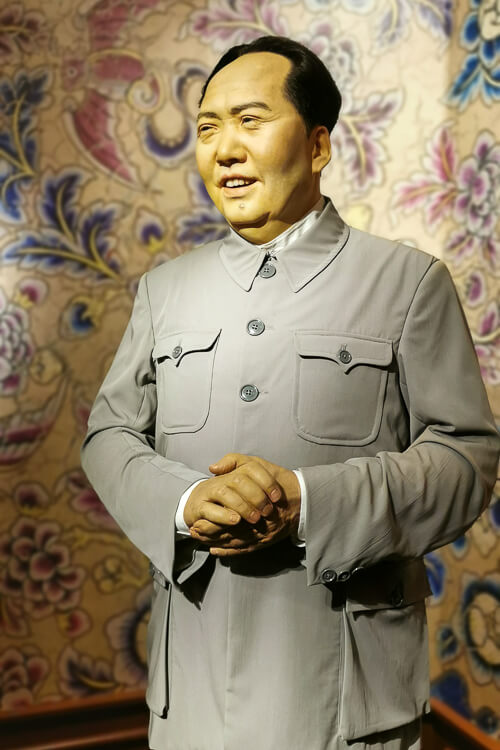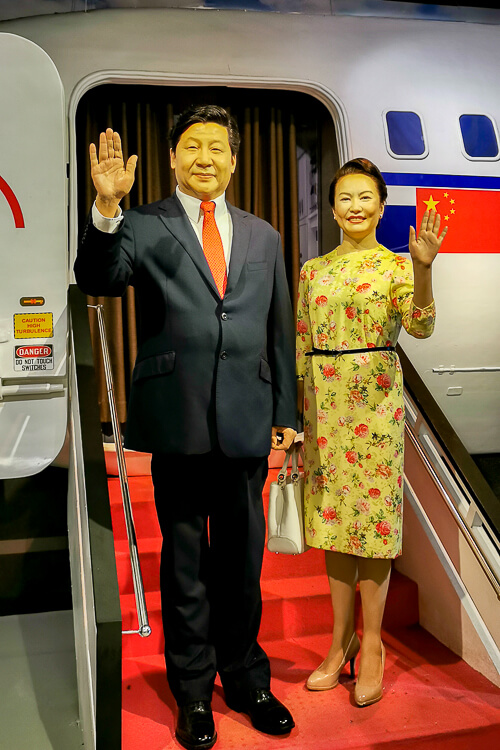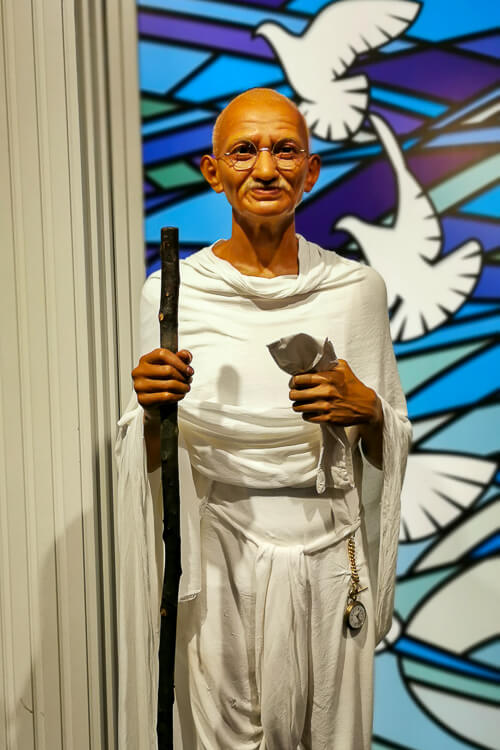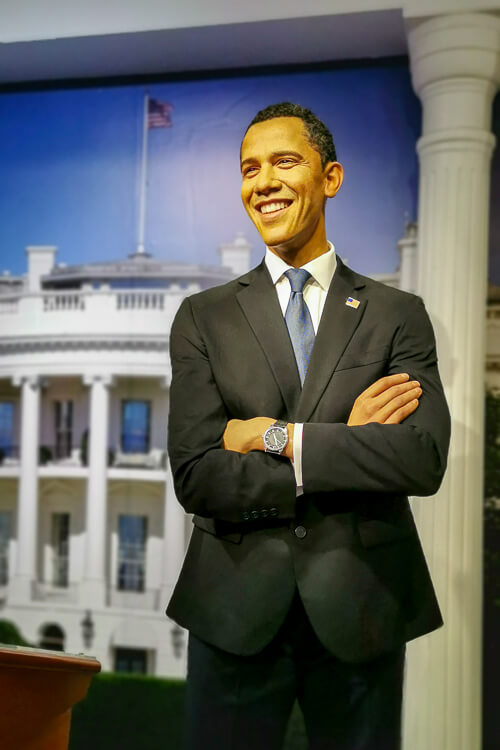 5. Sports
Sports is a zone where I'm not too familiar with. I recognized Serena Williams, Tiger Wood, David Beckham (when he was young), Yao Ming, Rudy Hartono and Lee Chong Wei.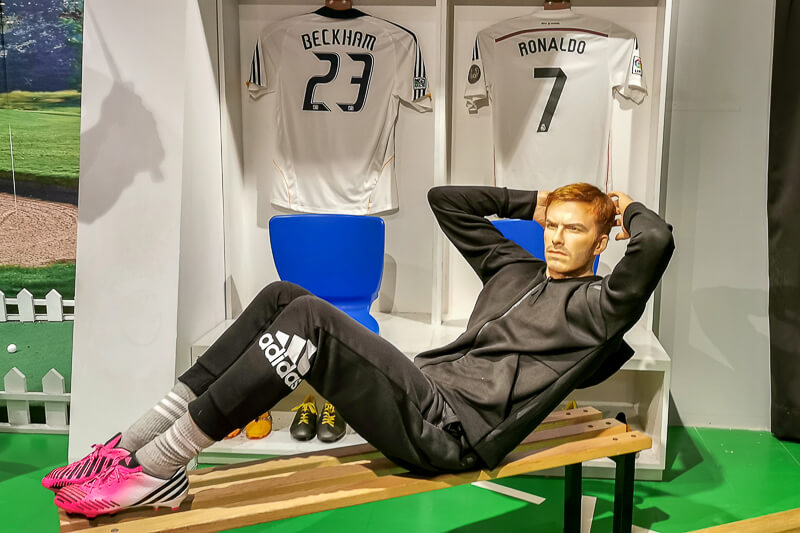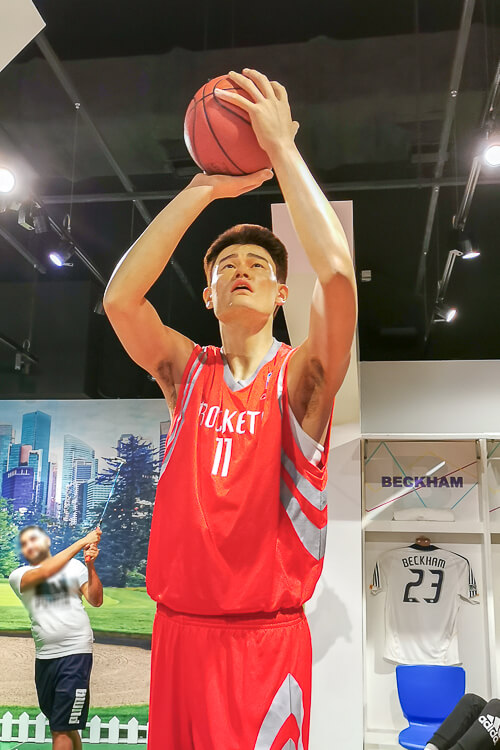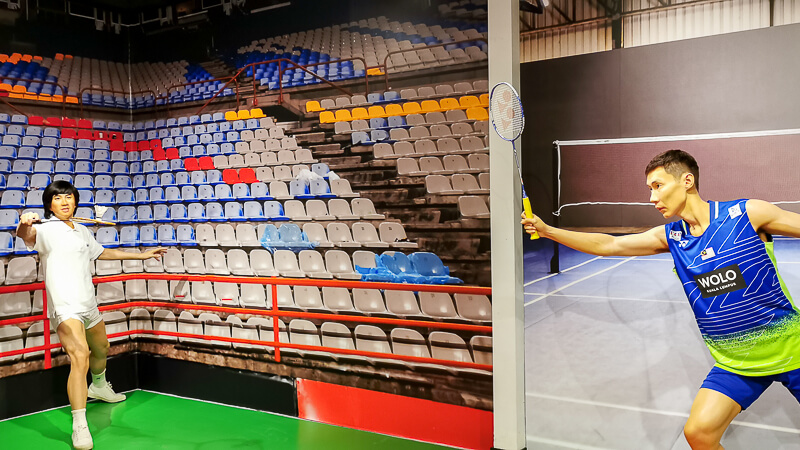 6. Kung Fu
The Kung Fu zone is a small one. There were Bruce Lee and Jackie Chan.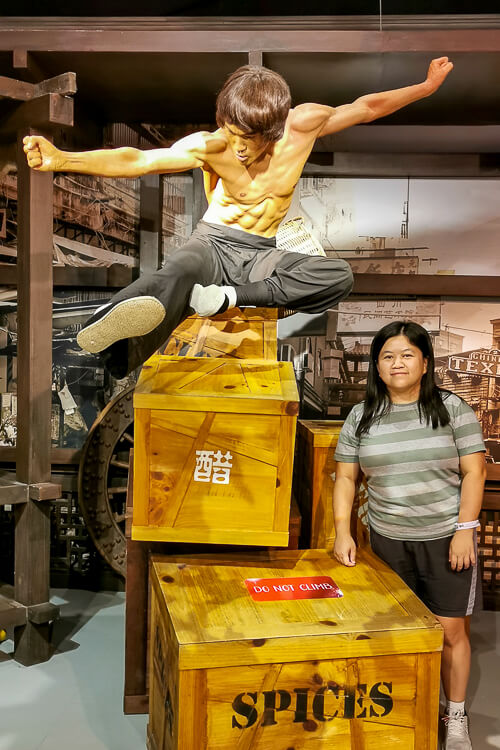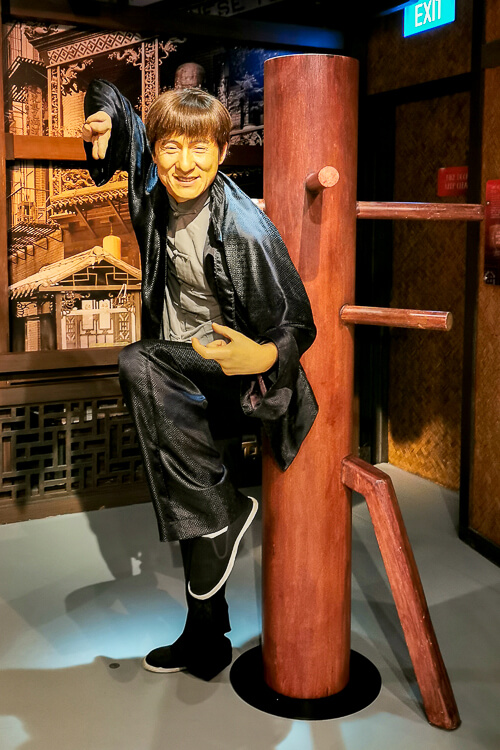 7. Behind the Scenes
In the Behind the Scenes zone, there was a wax figure of Madame Tussauds herself, holding the head of a figure. I found it too scary so I didn't take a photo and quickly zoom to the next section.
8. TV & Film
The next zone is a light-hearted one: the TV & FIlm. There were Audrey Hepburn, Marilyn Monroe, E.T., and Arnold Schwarzenegger among other movie stars.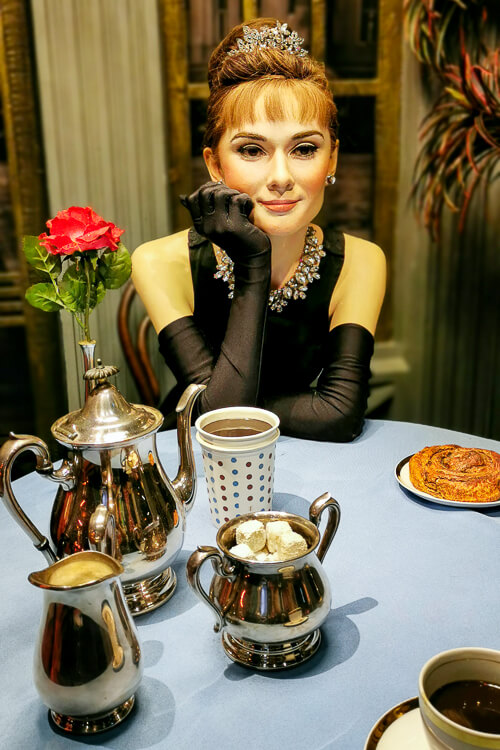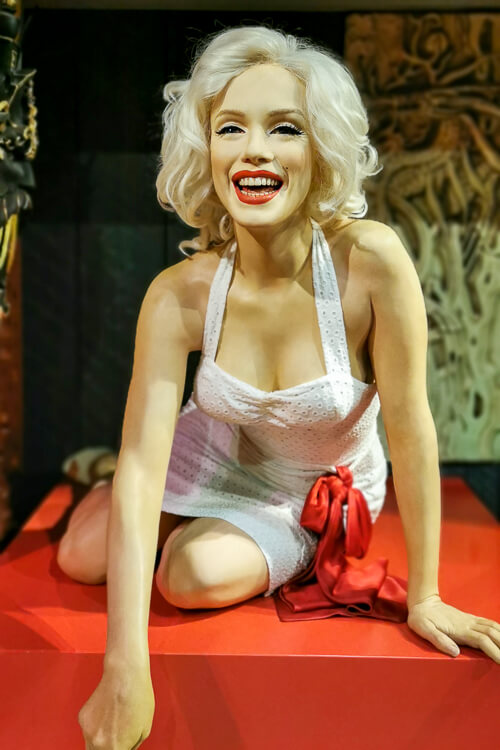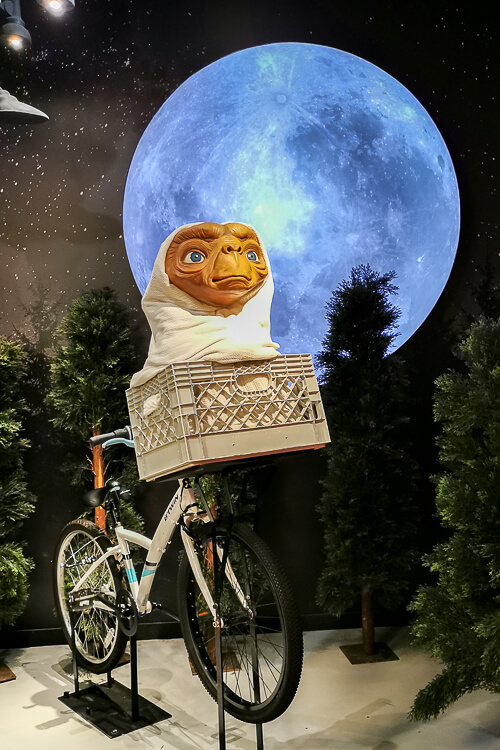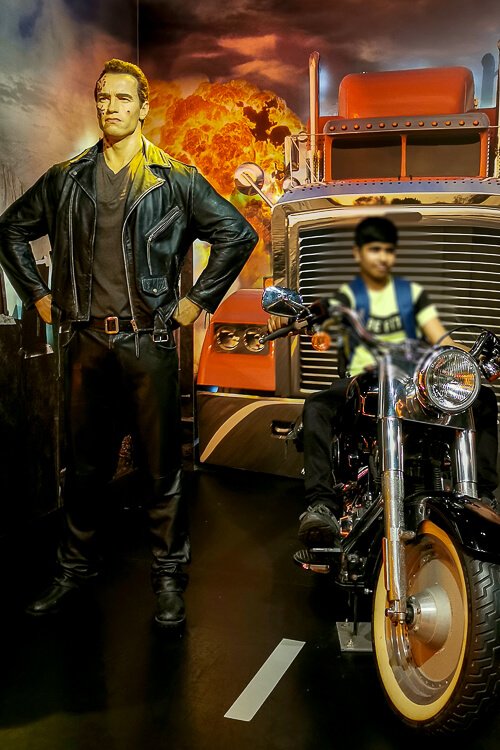 9. Music
In the Music zone, I was quite surprised and proud to see Agnez Mo, an Indonesian singer who is now an international artist; I grew up watching her.
Then, there were Katy Parry and Beyonce (I couldn't recognize both of them if not for the description on the wall), Teresa Teng, Madonna, Jay Chou, JJ Lin, Michael Jackson and Elvis Presley.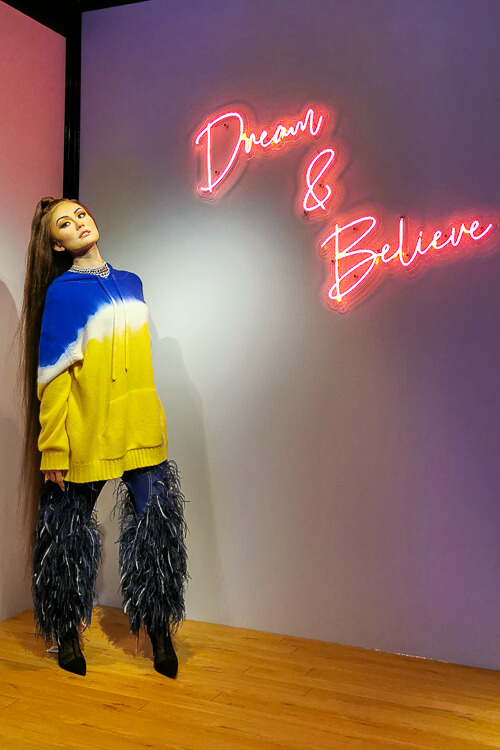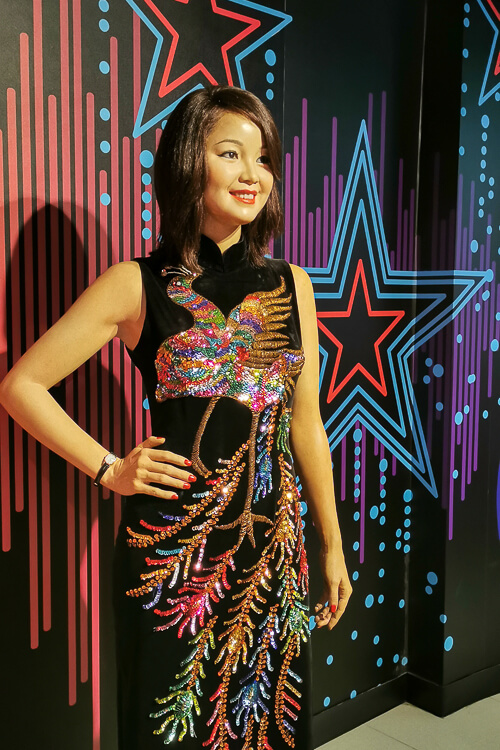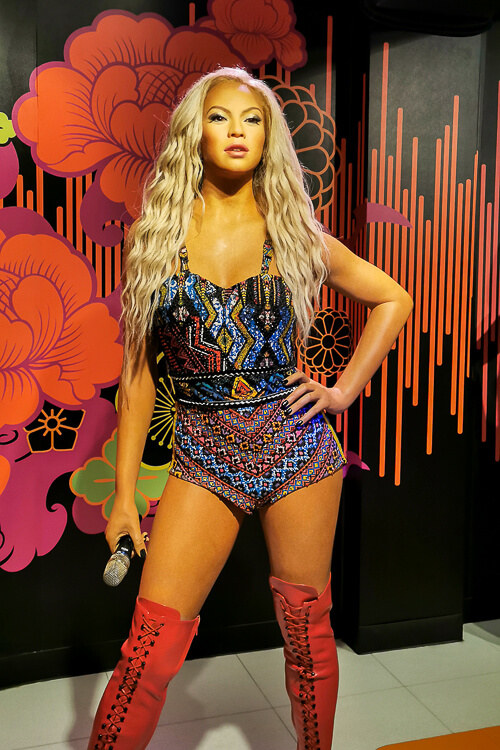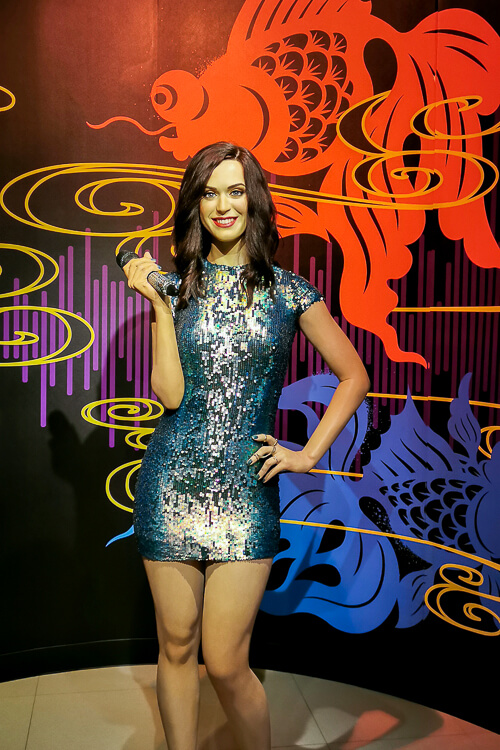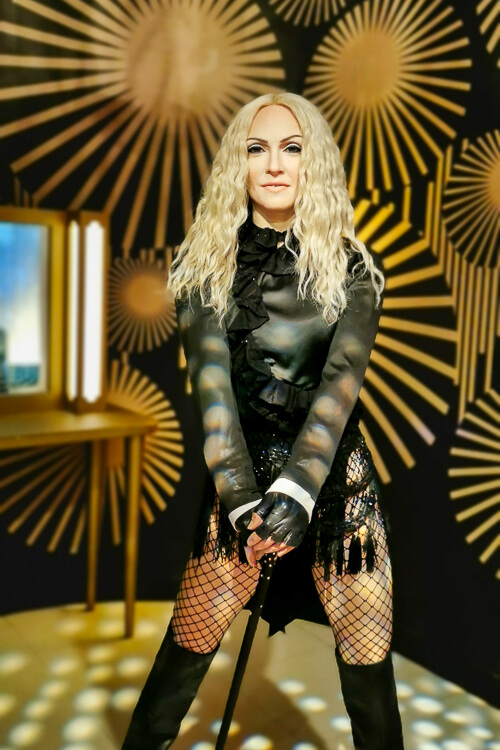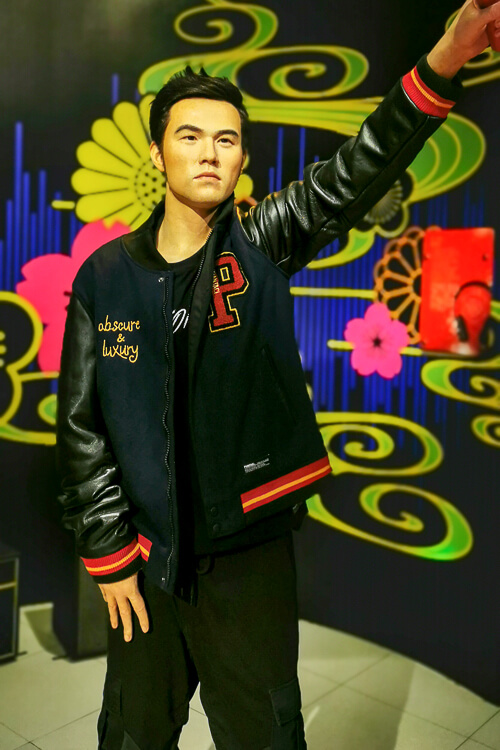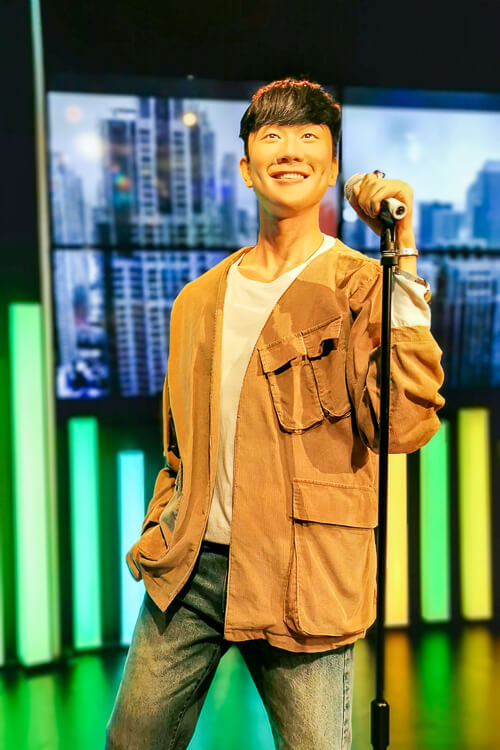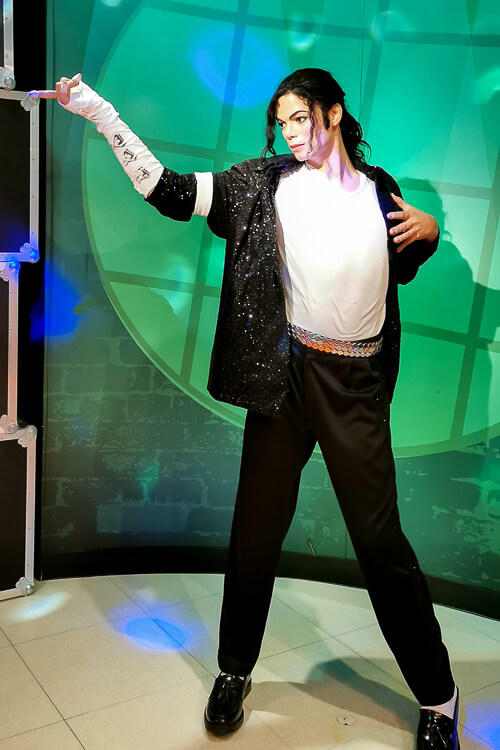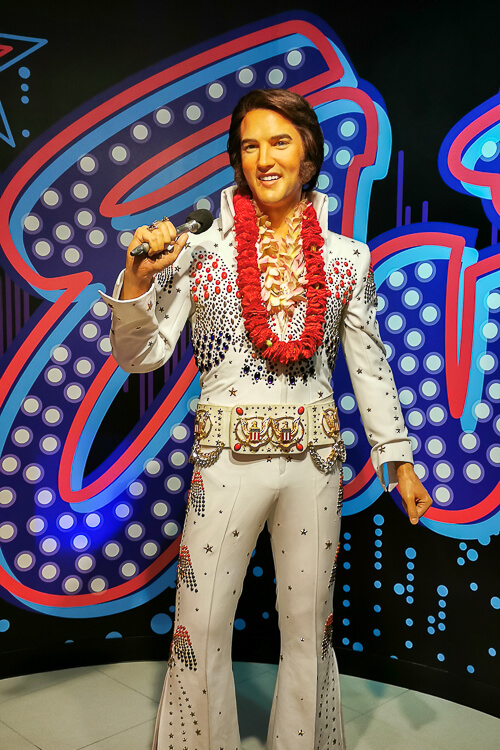 10. IIFA
Zone 10 is for IIFA (International Indian Film Academy Awards). There were several Bollywood movie stars. And I immediately recognized Shah Rukh Khan as I grew up watching his movies on the TV.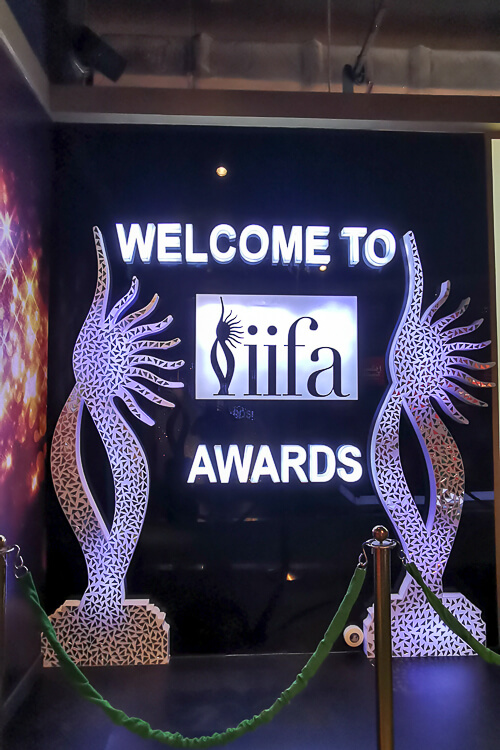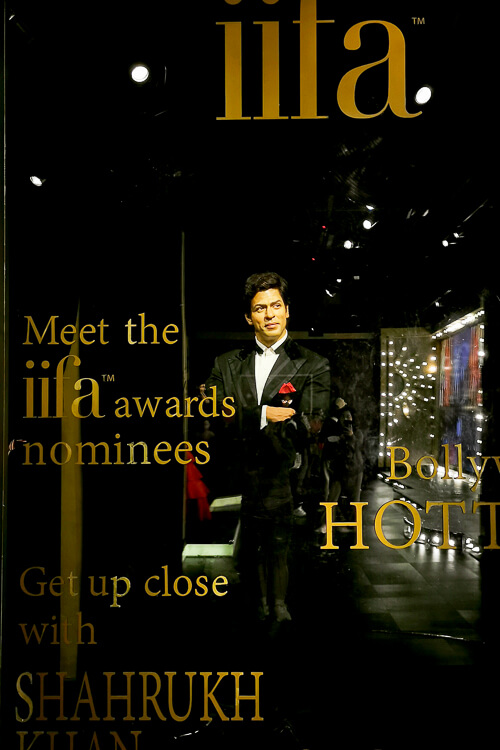 11. K-Wave
Zone 11 is for K-Wave. Bae Suzy was standing in front, while Song Seung-heon was quite hidden at the back.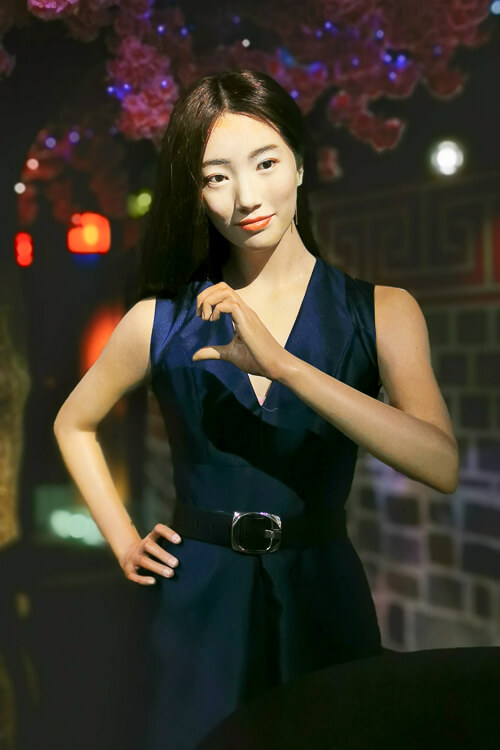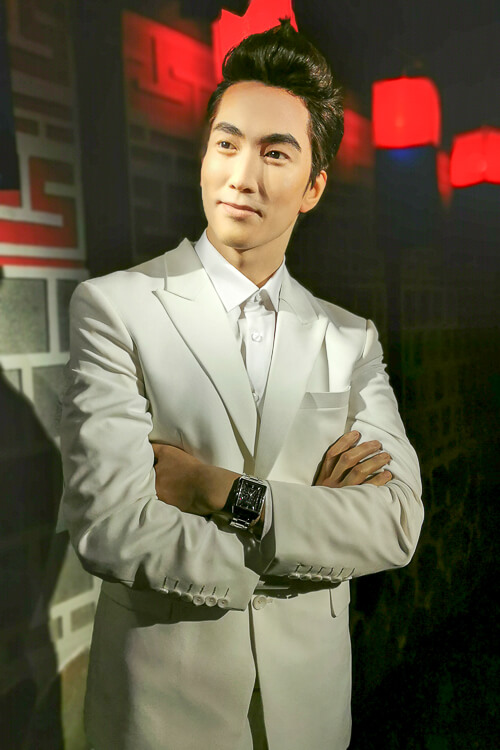 12. A-List
Finally, the last zone of wax figures is reserved for the A-Listers. Here, you can meet Nicole Kidman, Michelle Yeoh, Leo DiCaprio, Johnny Depp among other A-Listers.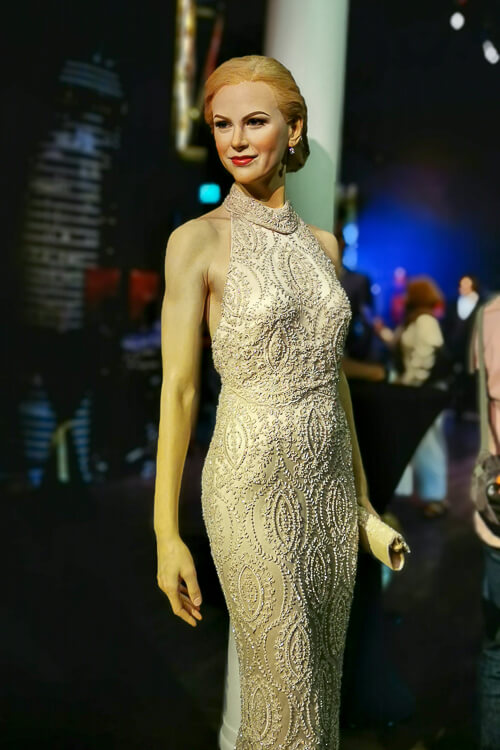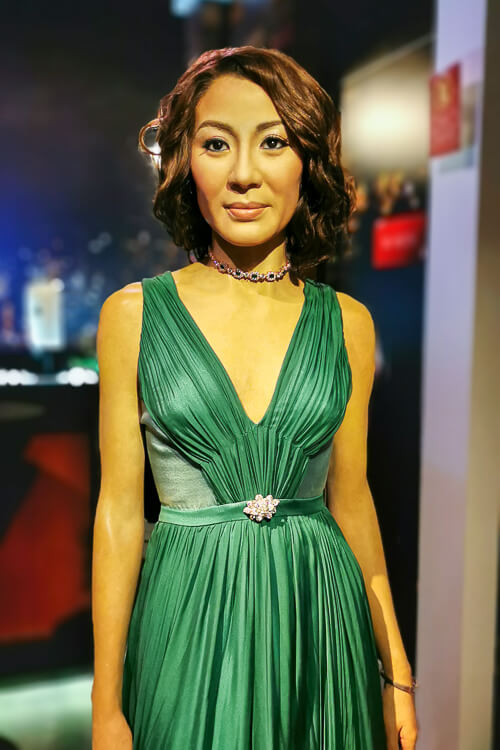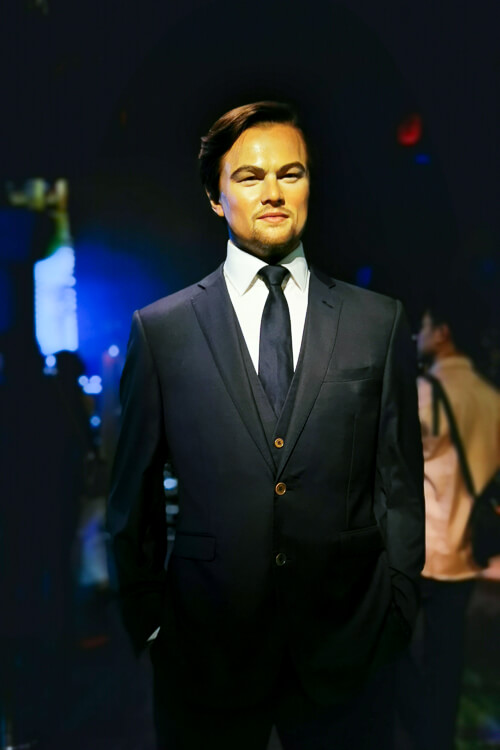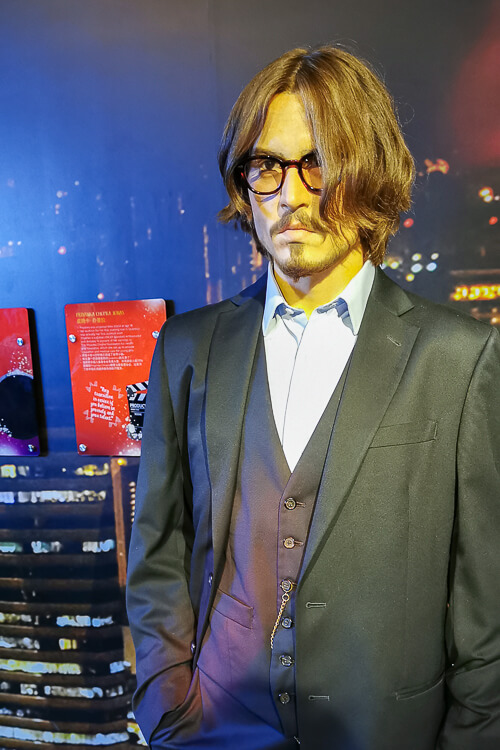 13. Marvel Universe 4D
Next is Marvel Universe 4D. As the name suggests, you'll be watching a Marvel short movie accompanied with 4D effects (yep, water is included). The duration of the movie is about 8 mins.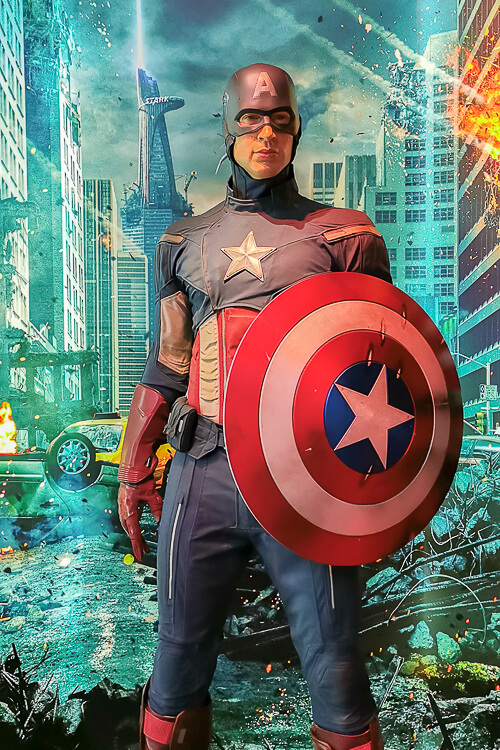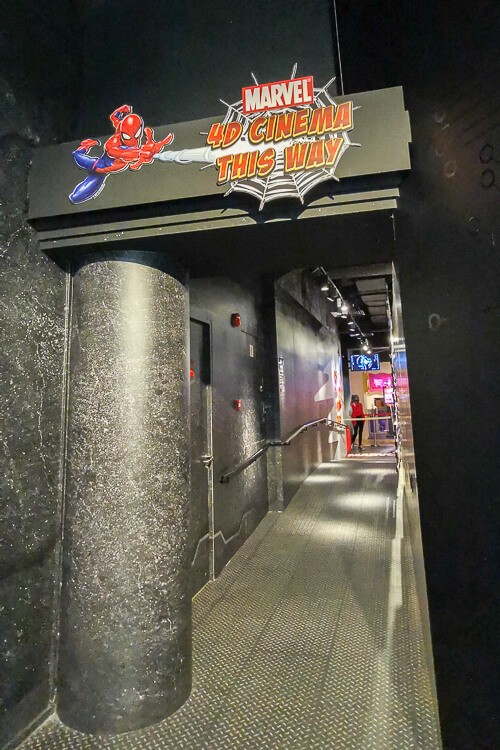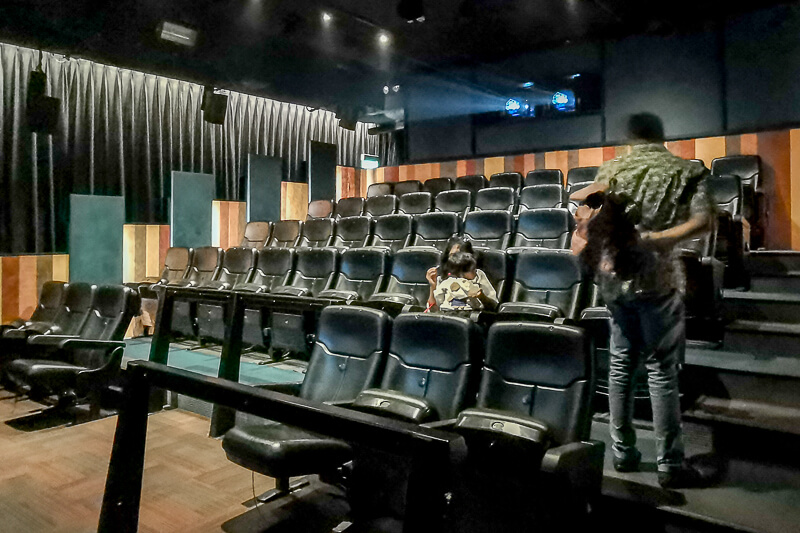 14. Gift Shop
After exiting the 4D movie theatre, you will arrive at the Gift Shop where you can purchase various Madame Tussaud souvenirs.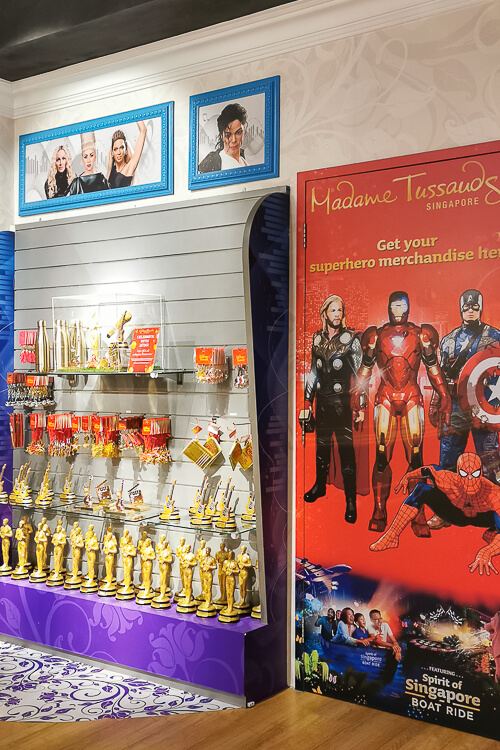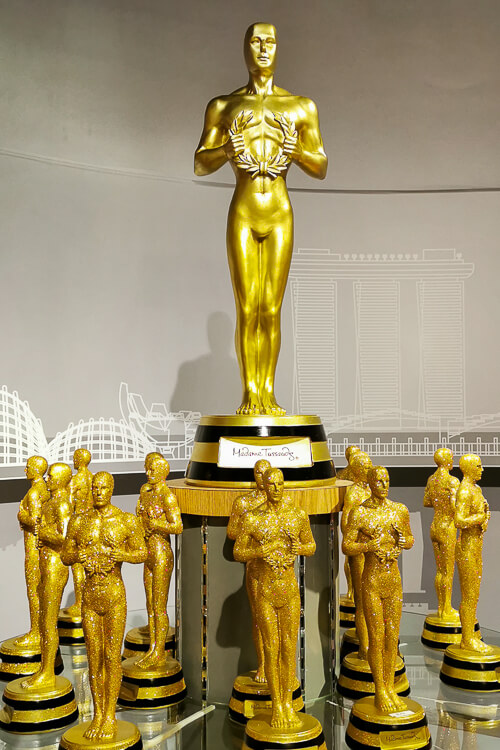 15. VR Racing Experience
The very final zone after the Gift Shop is the VR Racing Experience. This activity is not included in the ticket, so you need to pay separately at the zone itself. I did not try this activity.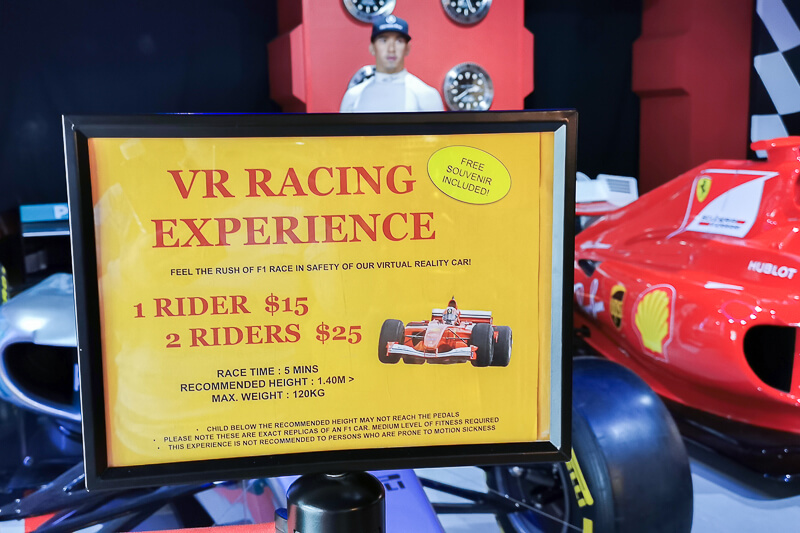 Tips for making the best of your time at Madame Tussauds Singapore
Tip #1: Buy your ticket online to get discounted price
Early birds get the worm. Do plan your trip early and book your ticket in advance to enjoy greater saving! Online tickets are at least 20% cheaper than buying on the spot, but you can't buy online ticket on the same day of your visit. So, I recommend buying online ticket in advance!
Tip #2: Go with someone who can be your photographer. Or bring tripod.
Since Madame Tussauds is an attraction where the main activity is taking photos with the wax figures, you will need someone to help you take photos. Not just anyone, but someone who's patient enough to take more than 50 photos of you, and has a good-enough photography skill.
Don't have such person in your circle? Then bring a tripod!
Please don't make the same mistake as me, I visited alone without a tripod or selfie stick! There were hardly any staff in the attraction, so I had to ask fellow visitors to help me take photos!
Tip #3: Allow at least 2 hours to explore
Personally, I spent 1 hour at Madame Tussauds Singapore, because I was visiting alone and didn't take too many photos of myself. If you're visiting with family or friends, I recommend that you spare at least 2 hours to visit the attraction.
Do note that Madame Tussauds Singapore is open until 6pm. So, assuming you're going to spend 2 hours there, the latest time you should visit the attraction is 4pm.
Tip #4: Charge your phone battery to full and ensure your phone storage is at least 1GB before visiting
Because you'll be taking lots and lots of photos, and probably videos!
Tip #5: Take time to figure out how the digiphoto works
If your ticket comes with a free digiphoto, you will receive your digipass during admission. After the Boat Ride, you will see a photo kiosk. At the kiosk, you need to scan the QR code of your digipass and take a photo here. Then, at the end of Marvel Universe 4D, you can scan your QR code and download your photos. Here's digiphoto official guide.
Do not miss the photo kiosk. I saw some visitors who scanned their QR code at Marvel 4D but the system didn't return any photos; it turned out they missed the photo kiosk.
Tip #6: Don't be afraid to act
Be as creative or silly as you want. Nobody is going to judge you. The future you will thank you for being courageous!
My Review of Madame Tussauds Singapore
What I like:
I like that there are soooooo manyyyyyy wax figures to take photos with. I think it's really worth the money. 2-3 hours for 30+ bucks is not bad in my opinion.
I visited on a weekend at 3pm+ and while there was a crowd, I didn't have to wait for too long to enter the attraction and to take photos of the statues.
I like that they categorized the statues into categories, so that it's easy for us to skip a section that we're not interested in.
What I think can be improved:
There were very few staffs inside the attractions. I only saw 1 staff at Images of Singapore, 1 staff at the boat ride, and the rest at the entrance, Marvel 4D and gift shop.
I hope they can add more staffs along the way so that the place didn't feel so eerie, and to help solo visitors take photo, as well as to help group visitors take group photos. And they probably should place a staff at the photo kiosk in case some visitors were not tech savvy.
But I understand labor is expensive in Singapore, so if increasing manpower means increasing ticket price, then I'd rather not pay more and be content with what's currently available.
I also hope that Madame Tussauds Singapore can offer rental of tripods or selfie sticks, it'd be truly useful for solo travelers or even group travelers who forgot to bring their tripods/selfie sticks.
Disclosure: This was an invited visit.
If you like my work, you can buy me a coffee! Your support will help me to keep going!