Fun fact: Mount Batur was the FIRST mountain I've ever climbed. Now, 11 years later, I went back and fell in love all over again with the mountain.
How could you not fall in love with a sunrise view so surreal when standing at over 1700m elevation overlooking a village covered in morning mist? That feeling of standing at the top of the world witnessing the birth of a new day, a new beginning is what draws me to hiking.
I first climbed Mount Batur in 2008 when I was in my final year of university. Back then, I was still slim and fit, I managed to reach the summit quite early at 5.17am.
Now, the not-so-fit thirty-something me managed to reach the summit at 5.50am, just moments before the actual sunrise at around 6.10am. Guys, if you're in your twenties, go climb a mountain NOW!
Now that I've climbed Mount Batur twice, I wish to offer some advice for first-time hikers through this post.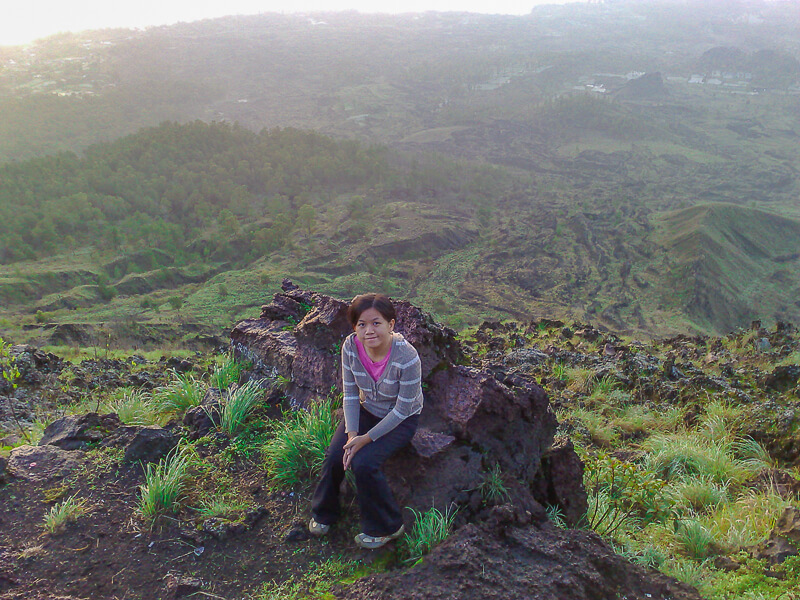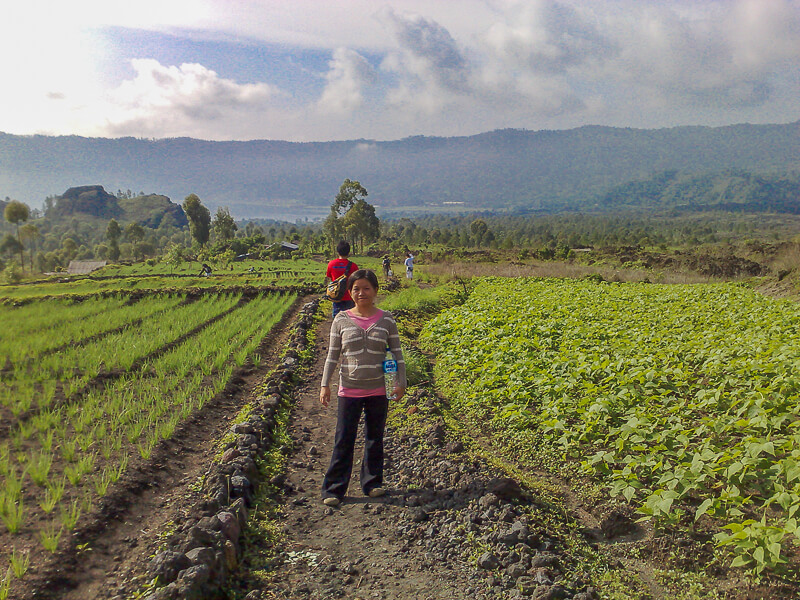 When is the best time to hike Mount Batur?
The best time to hike Mount Batur is during the dry season from March to September.
My first hike in December 2008, a wet season. Meanwhile, my second hike was in September 2019, the shoulder season. Fortunately, it didn't rain at all both times I hiked Mount Batur.
How difficult is hiking Mount Batur?
If you're a fit person, exercises frequently and doesn't have much excess fat, I'd say hiking Mount Batur is quite easy for you.
If you're a sedentary person who seldom exercises and often pants when climbing a short flight of staircase (like the thirty-something me!), I'd say hiking Mount Batur could be difficult, but it's doable if you train for it.
Prior to the hike, I knew it would be hard for the not-so-fit me to reach the summit before sunrise, so 2 weeks before the hike, I started to add exercise into my life.
I went for a few 5-km runs, I climbed the staircase of my 17-storey-high apartment 8 times per day. The staircase climbing truly improved my fitness and helped me push through the hike even when I was panting throughout the ascent.
How much does it cost to hike Mount Batur?
It really depends on where you book your package, how big your group is and where you stay at.
We booked this Mount Batur Custom Sunrise Trekking Experience
and paid around IDR 1,420,000 because we feel that the price is reasonable for a private group. We don't prefer join-in groups because I wouldn't want to drag my group behind the schedule due to my poor fitness and my photo-taking obsession. In addition, we prefer to book ahead of time to save the hassle and headache of finding a tour package when we arrive at Bali.
If you're looking for join-in groups because you're a solo or budget traveler, this package
is worth considering. At the time of writing, it costs about IDR 559,000 per person for the join-in tour without hot spring.
Alternatively, if you can't decide when exactly you want to hike, it is possible to book the package 1 day before the hike, but you need to do it through the travel agencies scattered all around Bali, especially touristy places such as Kuta, Seminyak and Ubud. There's a possibility that you'll join other groups if there are only 1 or 2 of you.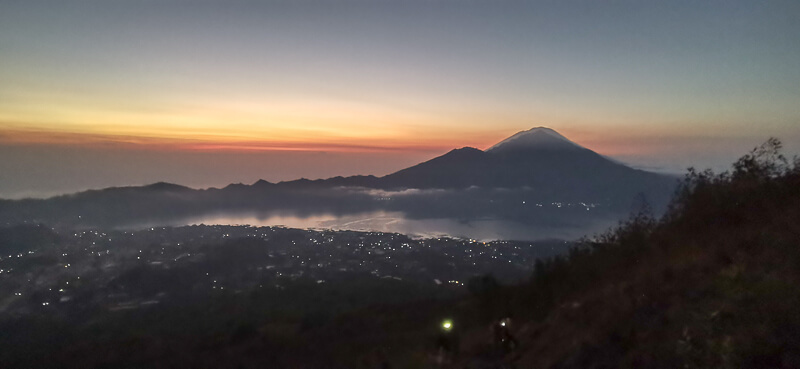 How long does it take to hike Mount Batur?
An average person takes 2 hours to ascend the mountain from start point to the summit (about 700m elevation gain). The time you'll take depends a lot on your fitness level.
Since I am not so fit, I took about 2 hours and 15 minutes to reach the summit. Fortunately, we started the hike early at about 3.35am instead of 4am like other groups. Hubby and I managed to reach summit a 5.50am, just in time for the sunrise!
Our package
includes hiking with a guide, entrance to hot spring and a visit to coffee plantation. The entire duration took about 10.5 hours from the moment they picked us up until the moment they dropped us back at Ubud.
The duration of the package varies depending on how long you spend at each location. The hiking guide and car driver did not rush us to finish as soon as possible.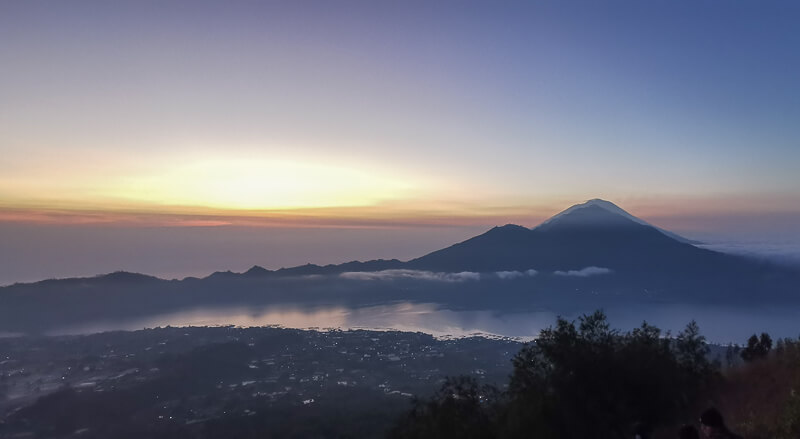 Here is the itinerary of our experience:
2.30am: Pick up from our villa at Ubud
3.15am: Arrive at Mount Batur Start point
3.15am – 3.35am: Get ready for the hike, went to toilet as we were told that there's no toilet on the mountain.
3.35am: Start trekking
5.50am: Reach the summit
6.10am: Sunrise and breakfast
6.20am – 7.00am: Explore the summit
7.00 am: Start descending
8.30am: Reach the carpark
8.45am: Depart for hot spring
9.00am – 1030am: Decompress at hot spring
10.30am: Leave for coffee plantation
11.00am: Arrive at coffee plantation
12 noon: Depart for Ubud
1.00pm: Arrive at our villa at Ubud
Do you need a guide to hike Mount Batur?
Some people have reported that it's possible to hike Mount Batur without a guide. However, in my opinion, I highly recommend hiking with a guide for several reasons.
1. There are so many different start points, finish points and route combinations, it is possible that you get lost and waste a lot of time trying to find your way when hiking without a guide unless you are familiar with the routes.
2. Hiring a guide is a good way to contribute to the local economy.
3. I notice that all of the guides know each other. And they're supposed to report to their higher supervisor at certain checkpoints. To me, it looks like a monopoly business. Tripsavvy reported that if you're hiking on your own, there's a chance that you'll get questions (and possibly harassment or bullying) from local guides or touts.
What's the temperature like at Mount Batur
To be honest, I did not bring any thermometer during my hike so I wasn't able to tell you the exact temperature. However, I can tell you what it feels like.
At the start point (about 1,000m elevation), it was cold like 16 degrees Celcius. I wore tights, a T-shirt and cotton jacket, and I felt quite comfortable. Meanwhile, hubby, who wore short pants, elephant pants and T-shirt, was shaking due to the cold weather until he put on a windbreaker.
When we were halfway through the climb, I was panting and sweating. I decided to take off my jacket to cool my body temperature.
At the summit, the temperature at around 6am felt like 20 degrees Celcius.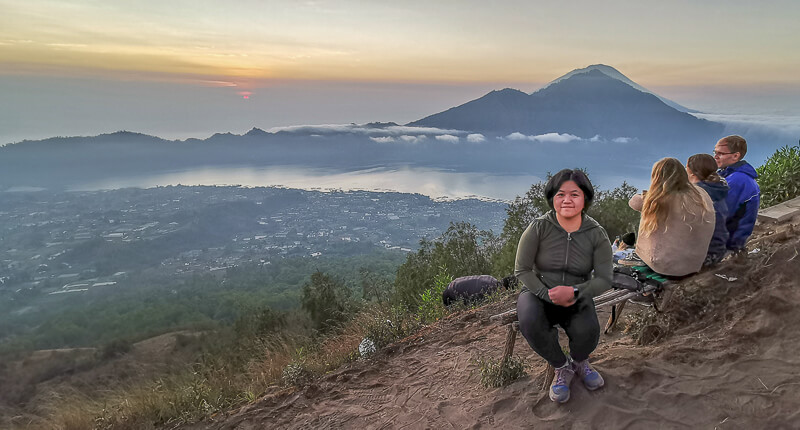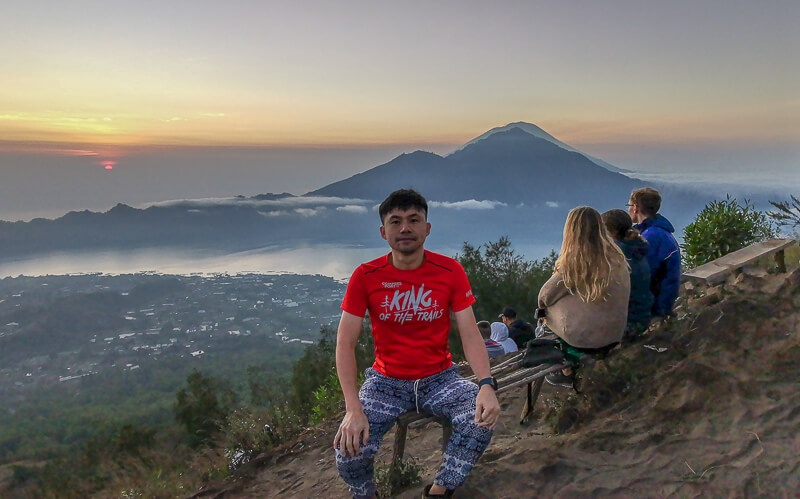 What to wear and bring for hiking Mount Batur
Wear a good hiking shoes. Hiking shoes are different from running shoes. Hiking shoes have better grip than running shoes, which is very helpful when trekking on uneven terrain and loose gravels.
Wear a lightweight jacket. The only time you'll wear the jacket is at the beginning of the hike AND at the summit. So, you don't want to bring thick cotton jacket. I wore my thin cotton jacket and hubby wore lightweight windbreaker that he borrowed from our driver. If you forget to bring a jacket or windbreaker, you can borrow or rent from your driver or guide.
Bring snacks or light food. Before the hike, the guide won't provide any breakfast. So, if you're the type of person who needs to eat breakfast before a tough morning workout (like us), do bring snacks. We were so glad that we brought bread and bananas because we got hungry halfway through the hike.
Bring water. Our hiking guide provided 1 bottle of 600ml mineral water for each of us, so we didn't bring any additional water. For a camel like me, 1 bottle of 600ml water is enough to last me until the finish point. If your package doesn't include water, do bring one yourself. Alternatively, there are shops selling water and snacks at start point, and there are locals who sell drinks to hikers along the way.
Bring torch or headlamp. Our hiking guide provided 1 torch for each of us, so we didn't have to worry about this. If your package doesn't include any torch or headlamp, do bring one yourself.
Bring cash. You'll need it if you want to buy drinks or food at the summit, as well as to tip your guide.
Wear a lightweight backpack for storing your water, snacks, gadgets and cash.
What's it like to hike Mount Batur?
The first half an hour of the hike was pretty easy. It was quite flat. Then, slowly, we were on a trail with lots of tree roots. When we climbed in September, the crowd was alright, not too much and not too sparse.
When doing the hike, DO look up to the sky above you! Both times I climbed Batur, the sky was clear and lit with MILLIONS of stars! It was so beautiful! Too bad, I don't have any astrophotography skill so I did not capture the magnificent sight. But it is something I will always remember in my heart.
About 45 minutes after the hike, we arrived at a checkpoint, which is a small hut where there were some locals trying to sell drinks and snacks to hikers. Here, there is a sign with two arrows. To the left is the easy path and to the right is the hard path.
Our guide explained to us that the easy path on the left is a paved path where hikers share the lane with motorcycles. Meanwhile, the hard path on the right is for hikers-only, no motorcycles. Our guide let us make the call.
I was pretty beaten up by the time we reached that crossroad. I plead to hubby to take the easy path, otherwise, we won't make it to the top in time for sunrise. Hubby felt that it was unhealthy to hike while absorbing motorcycle exhaust. I relented and we chose the hard path.
The climb at the hard path was really tough for me! My breaths were getting shorter and shorter the higher we climbed. Our strategy was to take short breaks (1-2 mins) every time we ran out of breath. This strategy worked great!
In addition, our guide was super helpful. He offered to take my hands to pull me at difficult terrains. Suddenly, I was walking faster than I would ever do on my own. Hubby was doing great hiking without help.
I should add that our guide was too kind, he offered to carry our 2x600ml water bottles! I know, we're too pampered!
Finally, we arrived at the point where our path merges with the easy path. Here, the motorcycles' paved road ends.  From here, it's about 10 to 20 more mins to the summit. our guide said. At this time, it was already 5.30am and we could see some rays peeking out behind the clouds.
We pushed through and eventually arrived at the summit at 5.50am! There were so many benches that were already taken by people who arrived earlier than us. Our guide went to prepare our breakfast while we took hundreds of photos of the dawn.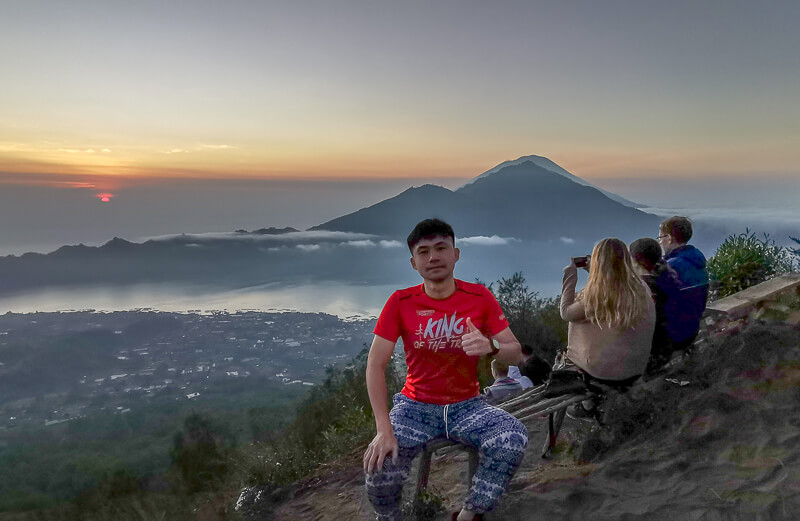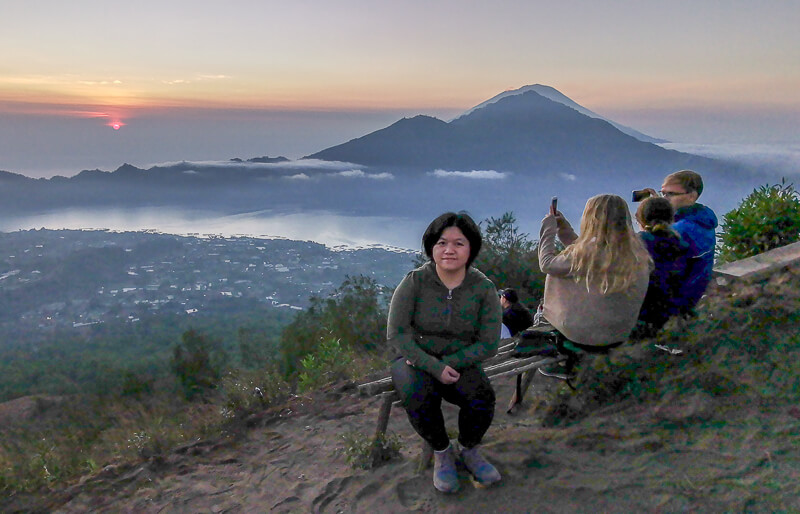 What if I can't continue halfway up or halfway down?
Fret not. You can pay for the local "ojek" (motorcycle riders) to bring you up or down the mountain. However, do note that the motorcycle can't go all the way to the summit, you still have to do 10-20 mins of hiking to the summit.
Going down by ojek is similar to going up. You need to walk down from summit to the start of the paved path in order to ride an ojek down.
If you foresee that you might not have the capability to climb all the way up to summit, and you're willing to take the "motor taxi," do prepare cash because you will need to pay by cash.
According to The Crowded Planet, it costs around IDR 600,000 for the return trip by motorcycle.
What to expect at the summit of Mount Batur?
Plenty of AMAZING sights, for sure. If there is a hotel at the summit, I might want to stay there just to be in paradise for one more day!
First, you'll get to see the incredible Mount Agung, the tallest mountain in Bali at 3031m high. As the fog began to lift, you'll see the Lake Batur and the village around it.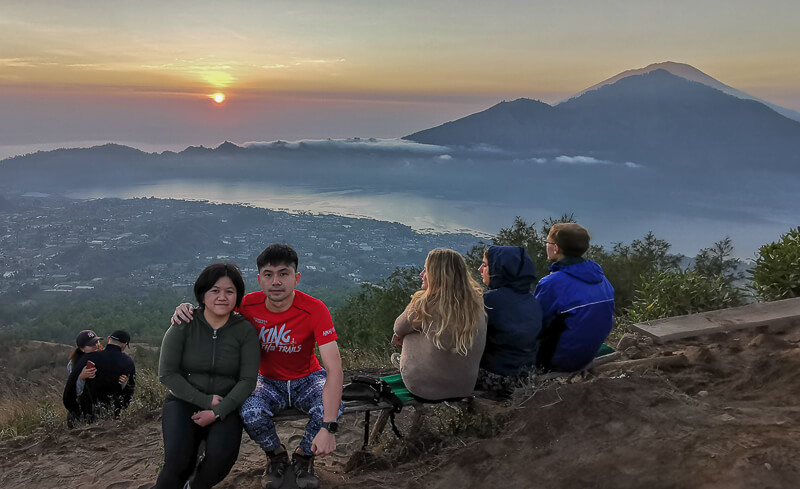 Then, there's this caldera, the huge crater at the center of the volcano. There is a spot where steams are coming out from within the mountain, through cracks. Obviously, it became a spot to take photos. Many people joined the queue in order to take photos with the steam, us included.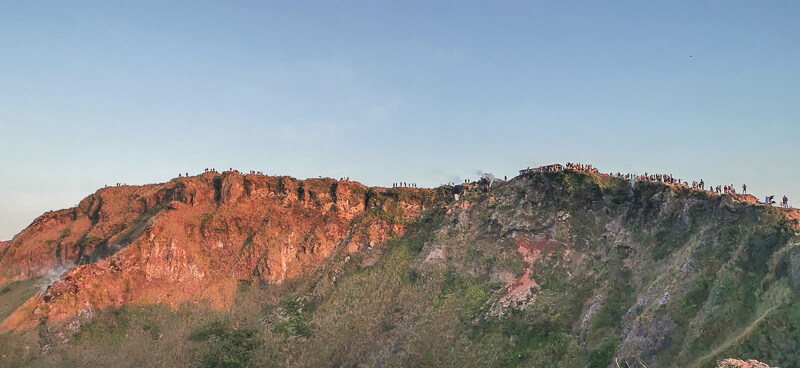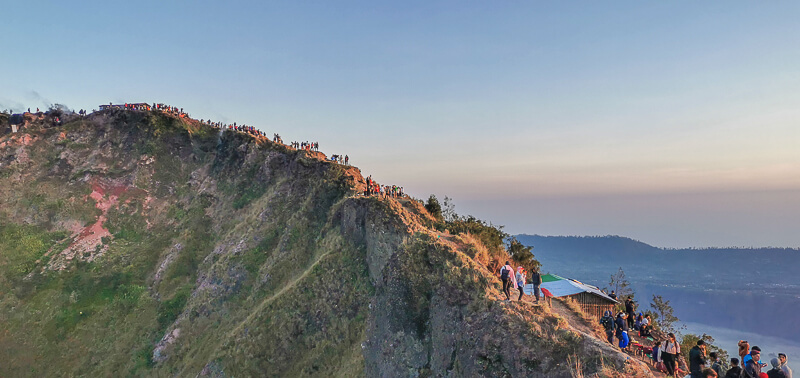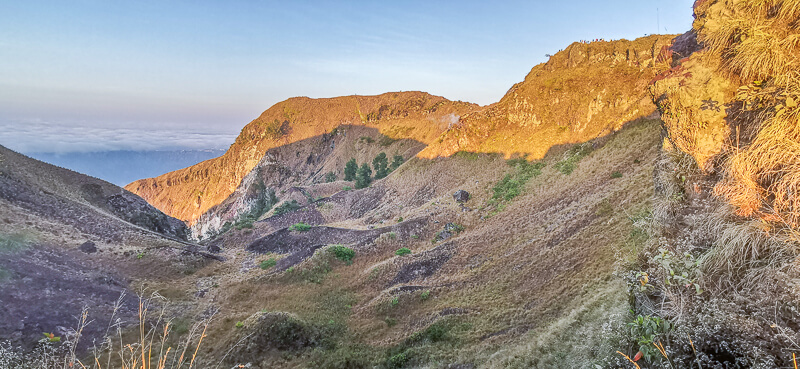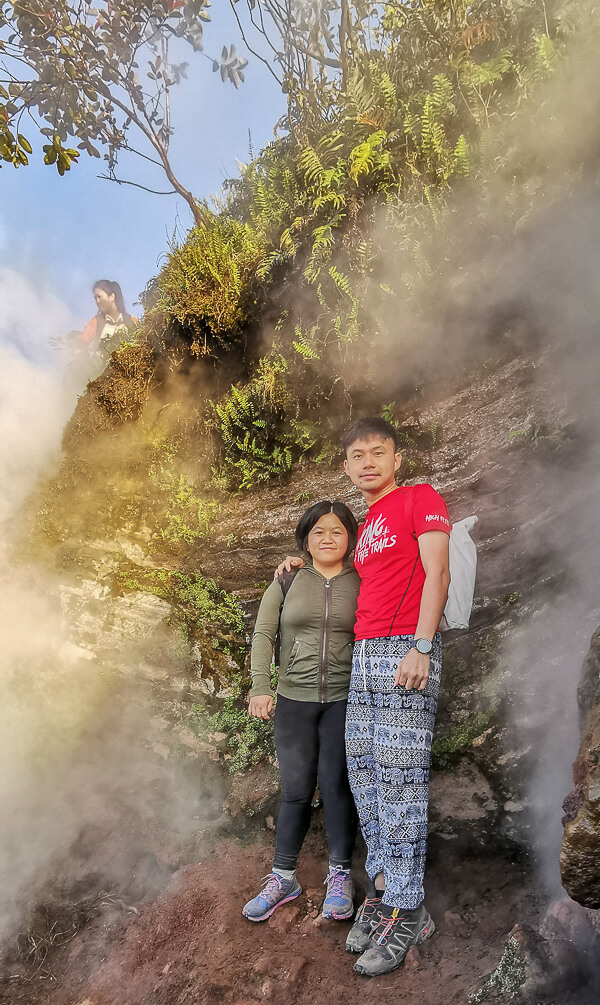 As we walked to the other end of the summit, we met so many great places to take photos. Hence, I'm going to bombard you with our photos at the summit.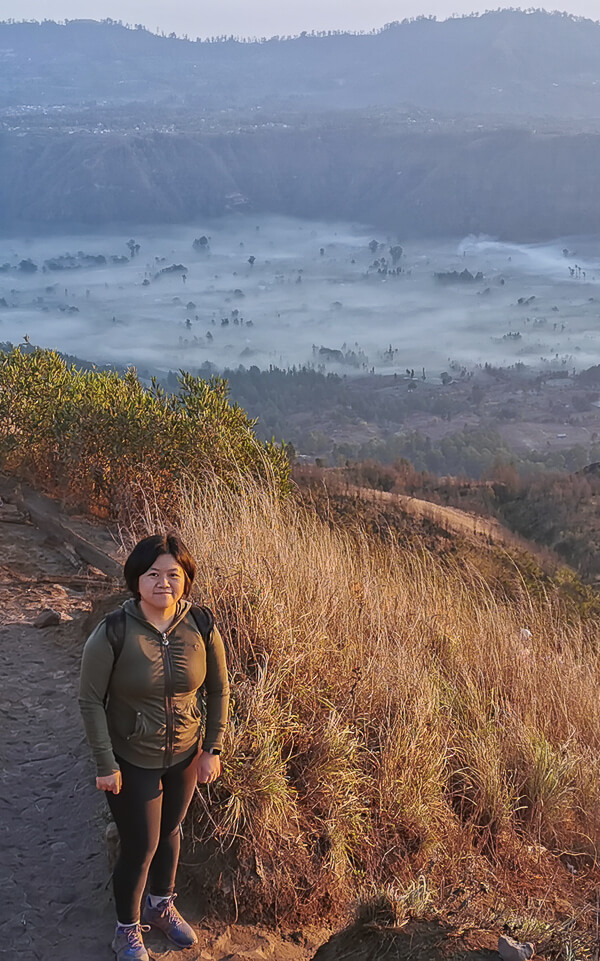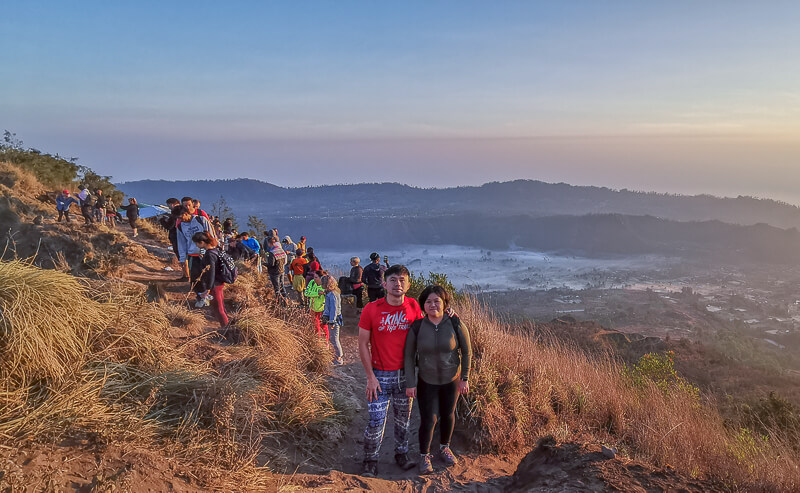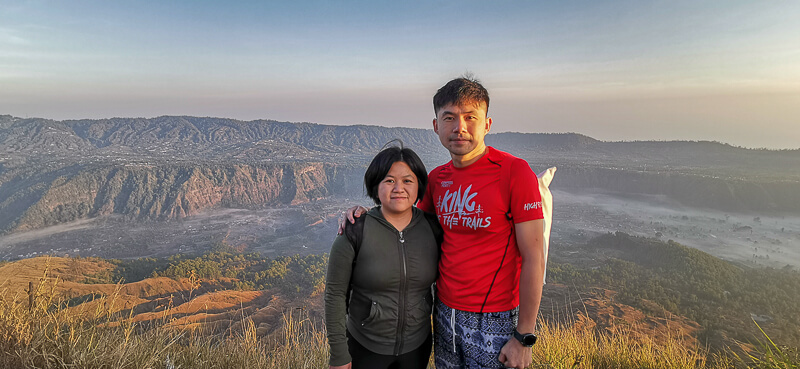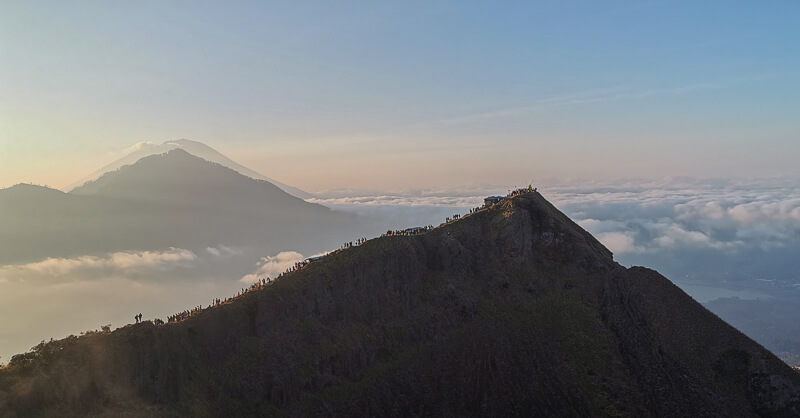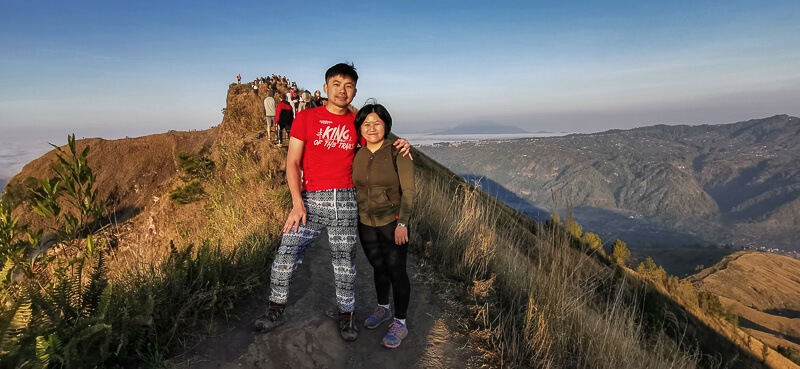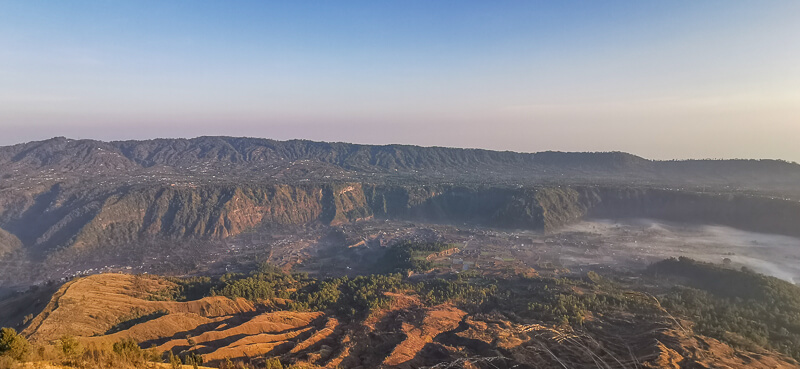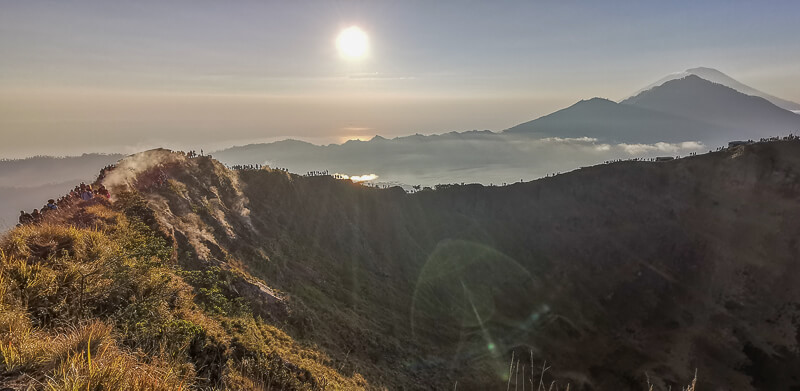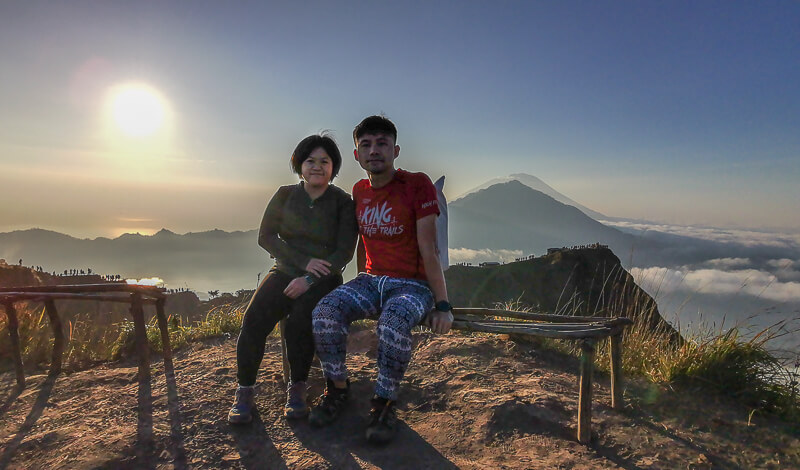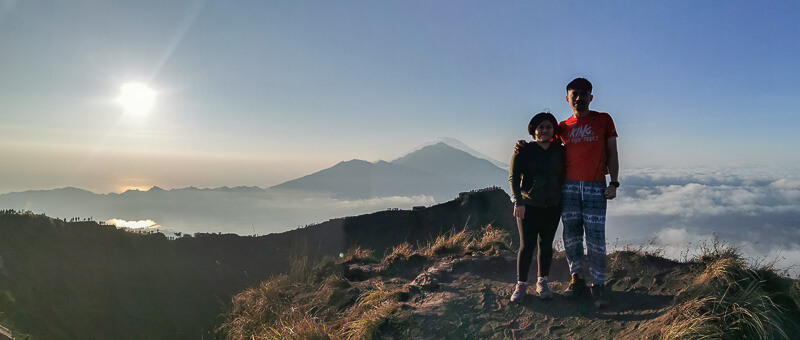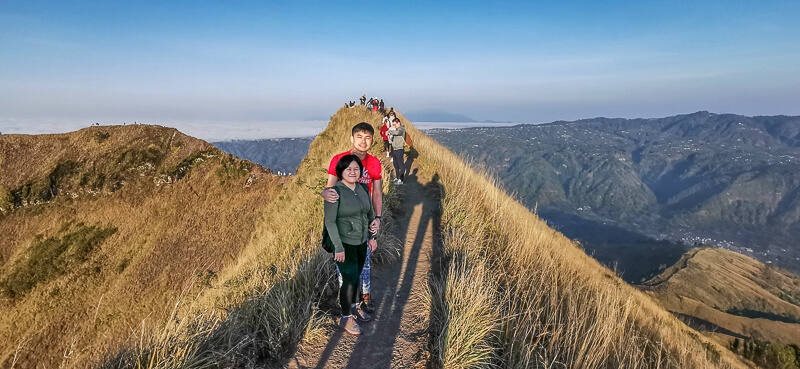 What's it like to hike down Mount Batur?
After spending 40 minutes at the summit having breakfast and taking hundreds of photos, it was finally time to descend. Our guide let us make the call whether to go down the easy path or difficult path.
The easy path is the same path that we took to come up to the summit. The difficult path is an entirely different route with lots of loose gravels. Again, my highly curious adventurous husband suggested that we take the difficult path.
The gravel terrain was really slippery and demanding. Our guide and us slipped a couple of times but didn't fall (thankfully). There were a couple of bottlenecks at certain sections of the route because the trail was so narrow and steep that hikers had to descend really carefully.
After 1.5 grueling hours, we finally arrived at carpark, which is the end of the trail, but not the finish point yet. Our guide said that we could choose to continue going down the pavement to the finish point, or he could call our driver to pick us up at the carpark. Since we were not fond of pounding pavement after a rigorous morning, we decided to let our driver pick us up at the carpark.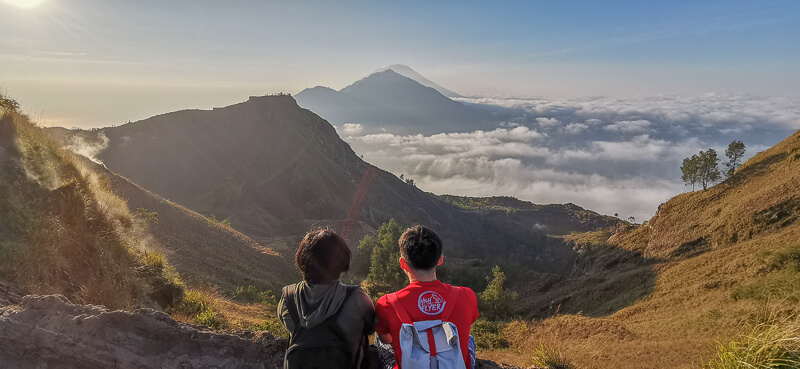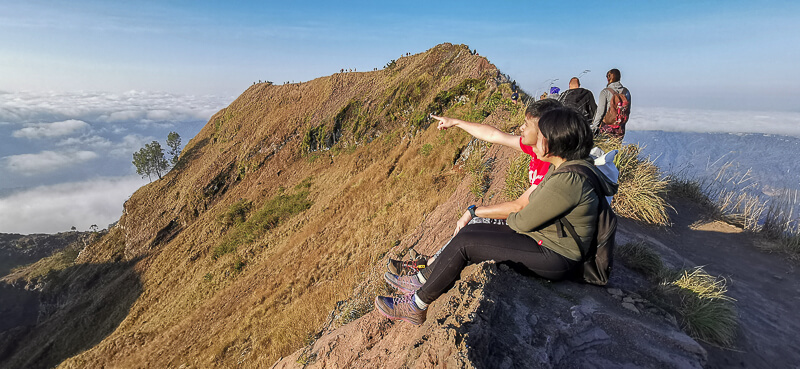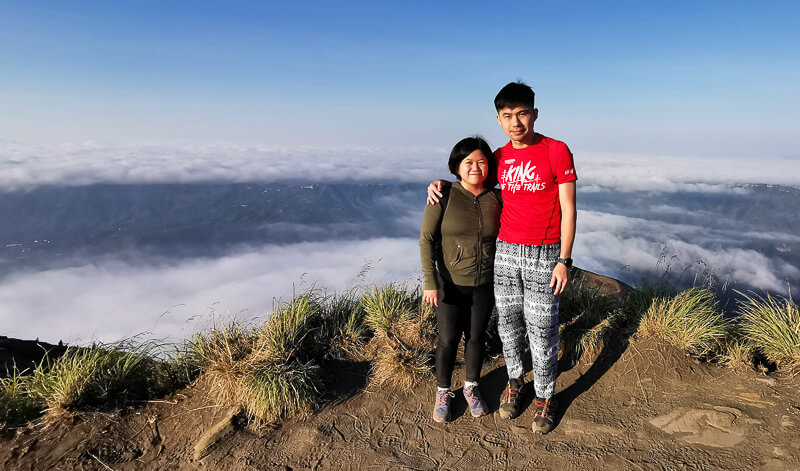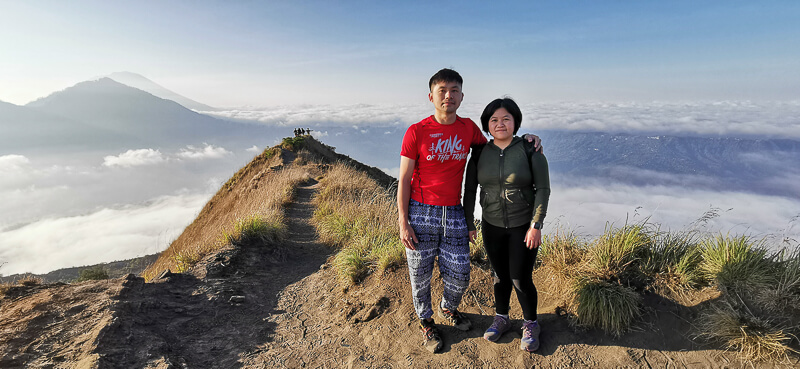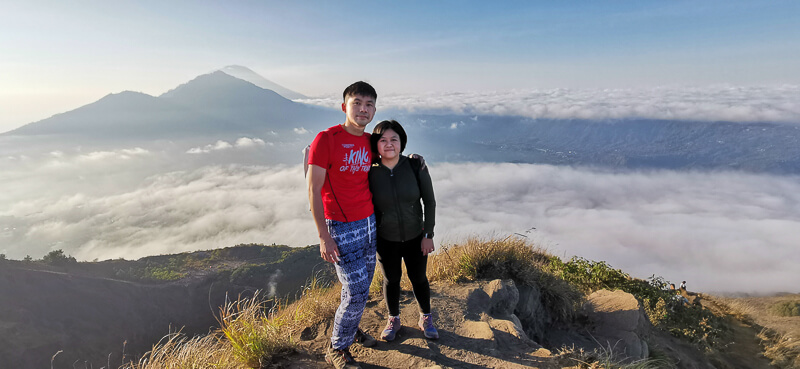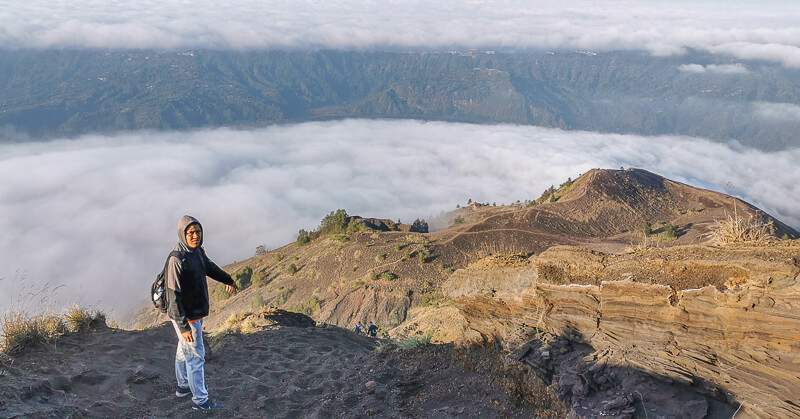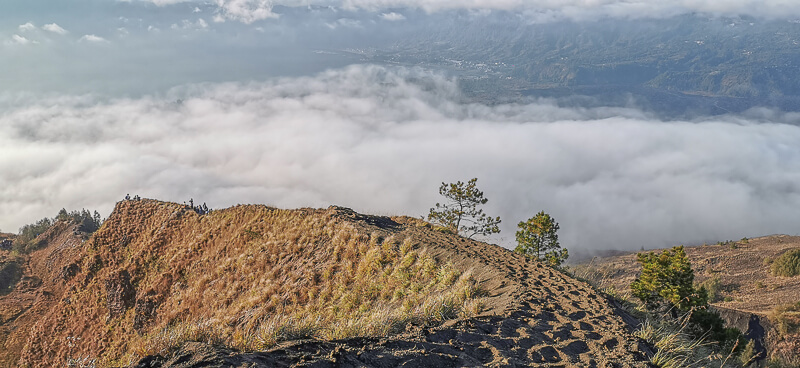 Batur Hot Spring
As mentioned earlier, our package include entrance to hot spring. The journey from Batur to hot spring was roughly 30 minutes.
We spent about 1.5 hours at Batur Natural Hot Spring. Free lockers, towels and welcome drinks were included in our package. There were four or five pools in the development. We started with the coldest pool at the bottom and slowly made our way up.
Even though we enjoyed the warm hot springs, we felt that it was not hot enough compared to other hot springs I went before, such as Medan's Berastagi Hot Spring or Taipei's Beitou Hot Spring.
Still, the view at Batur Hot Spring was so nice that makes it worth visiting after hiking.
If you're considering to add hot spring to your hiking package, I just want to warn you this. Don't expect a highly luxurious hot spring. Everything is very basic here.
Also, do consider the fact that you might feel hungry after the hike, so you might have to eat at the hot spring or wait until you're back to your hotel to eat a proper meal.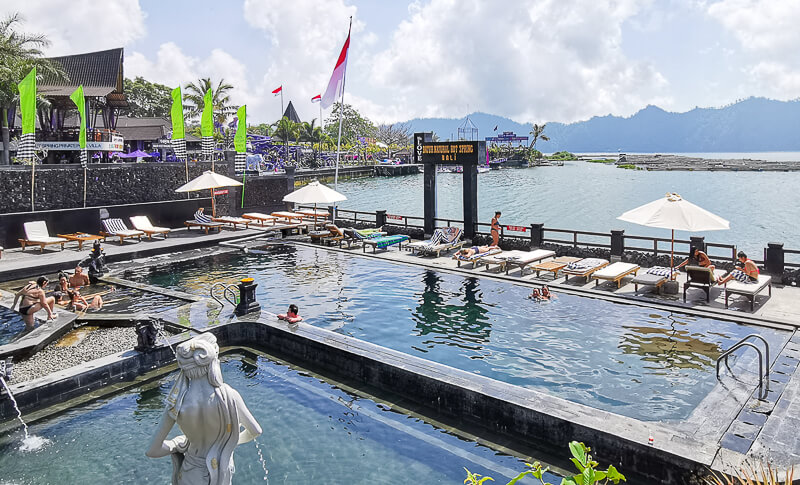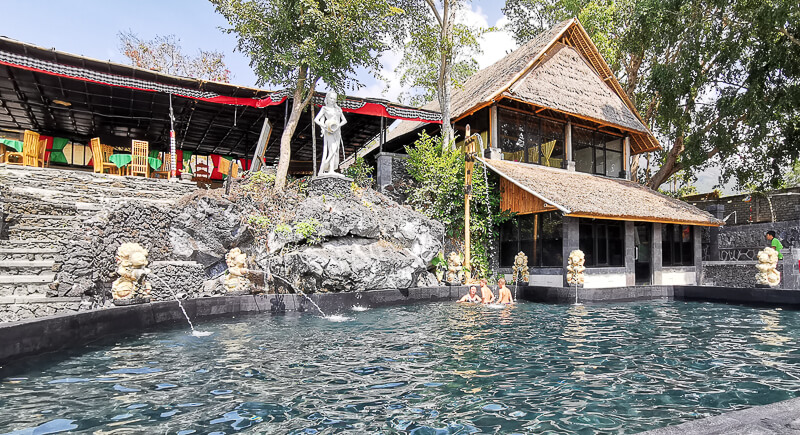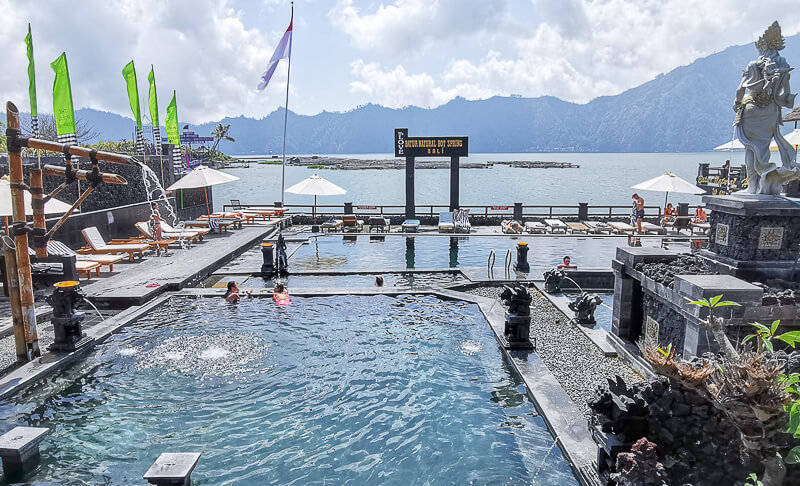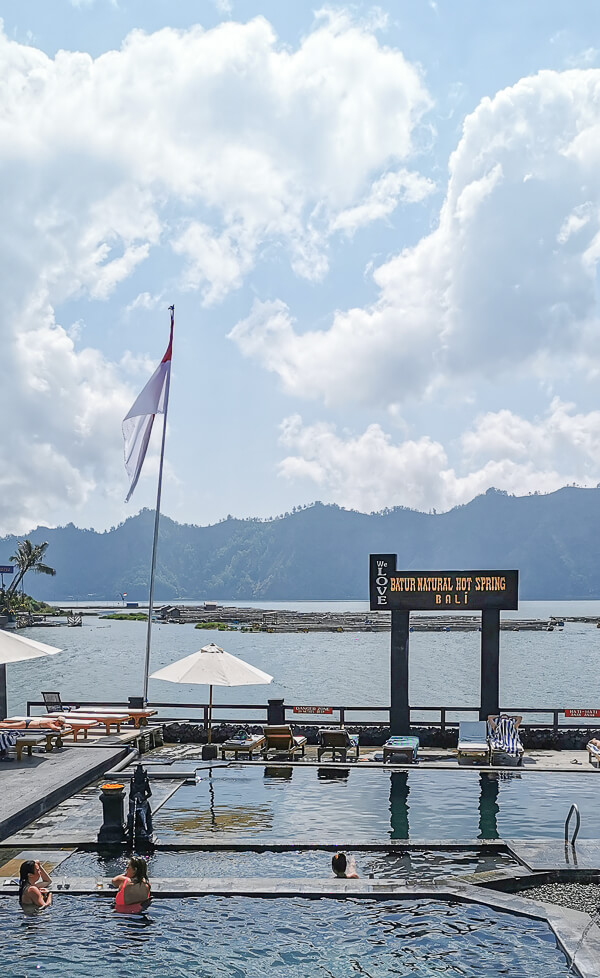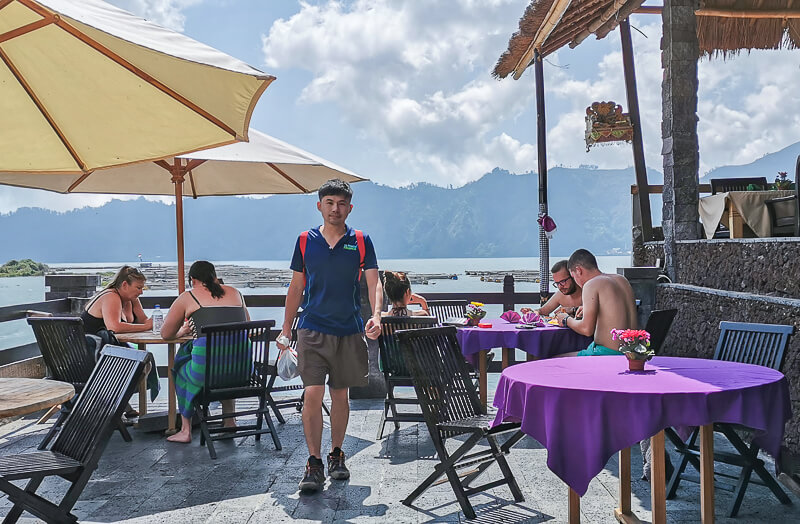 Where to stay if you want to climb Mount Batur
If you stay at Nusa Dua or Kuta (both are at the south of Bali), the driver will pick you up at around 1.15am. That means, you need to wake up really early. But of course you can sleep in the car during the 2-hour journey to Batur start point.
If you stay at Ubud, the pick up point is 2.30am. That means, you get to sleep slightly longer than people who stay at Kuta or Nusa Dua.
If you want to sleep even longer, you can stay at Kintamani.
For us, we had a long list of things to do near Ubud, so we decided to stay at Ubud.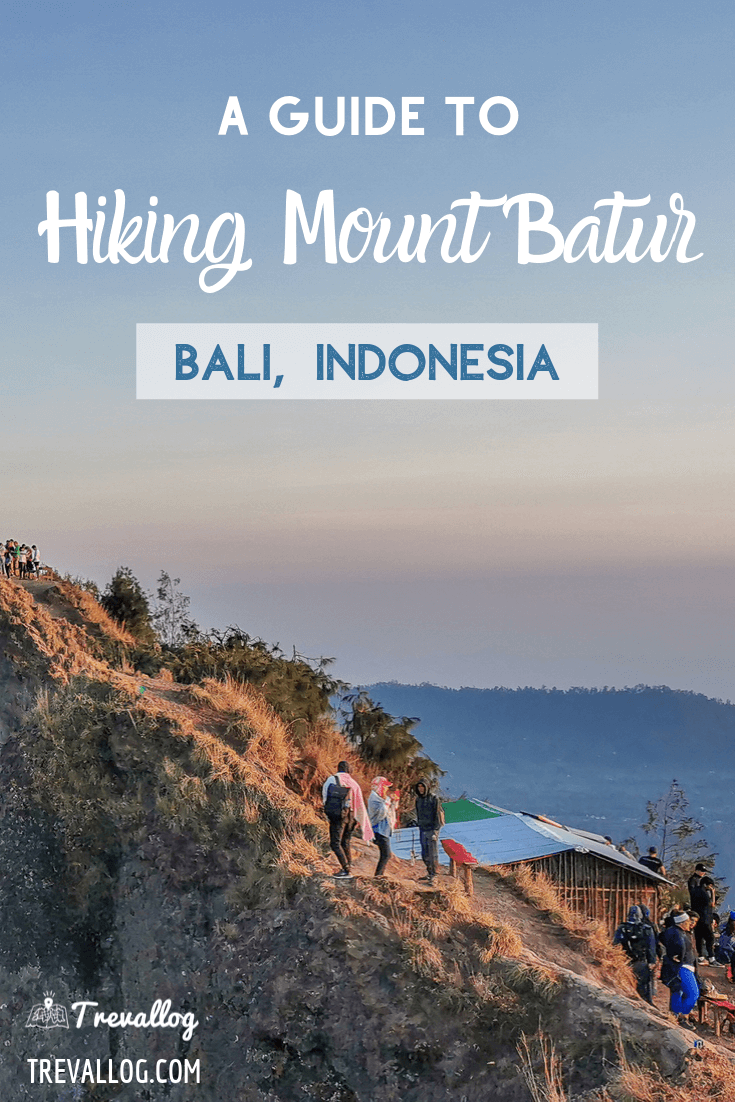 Disclosure: Some of the links in this post are affiliate links. If you make any purchase through my links, I will receive a small commission, at no extra cost to you. Thank you for your support 🙂