If you haven't heard yet, Capitaspring has one of the coolest rooftop observation decks at Singapore's city centre.
At the time of writing, Capitaspring is the joint second tallest building in Singapore, together with One Raffles Place, UOB Plaza One and Republic Plaza. All of these 4 buildings have a height of 280m.
The admission for Sky Garden and Green Oasis is free! But.. the opening hour is quite limited.
Opening Hours of Sky Garden & Green Oasis
The opening hours of Capitaspring Sky Garden & Green Oasis are as follow:
Open from Monday to Friday only (excluding Public Holiday). Closed on weekends, eve of Public Holidays, Public Holidays, private event and other blackout days.
8:30am – 10:30am: open for public
10:30am – 2.30pm: strictly for CapitaSpring tenants, Citadines guests and restaurant patrons only
2:30pm – 6:00pm: open for public
After 6pm: strictly for restaurant patrons only
Refer here for latest announcement on blackout dates or any future changes of opening hours.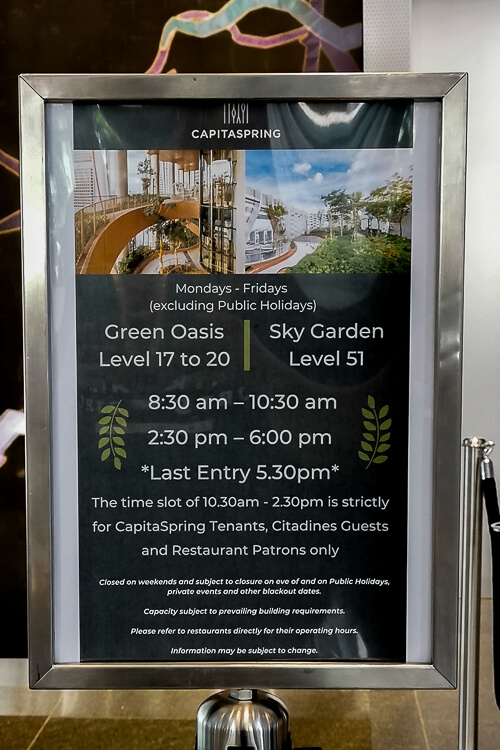 How to go to Capitaspring
The easiest way to go to Capitaspring is to take MRT to Raffles Place Station (East West Line & North South Line). Take Exit A. Then, head to Malacca Street which is just next to One Raffles Place building. You will find Capitaspring at the intersection between Malacca Street and Market Street.
Alternatively, upon coming out from Exit A, make your way to One Raffles Place. Walk through the building and exit near Marks & Spencer Food. You will then see Capitaspring building on your right.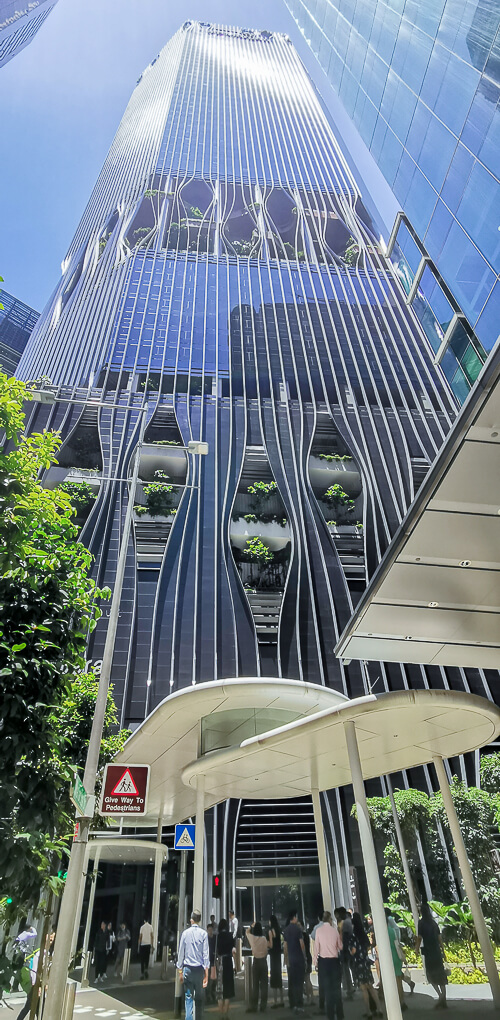 Upon arriving at Capitaspring, look out if there's any queue outside the building. If there is, you need to join the queue. If there's no queue, you can proceed immediately to the twin lift that has interactive animation on its wall.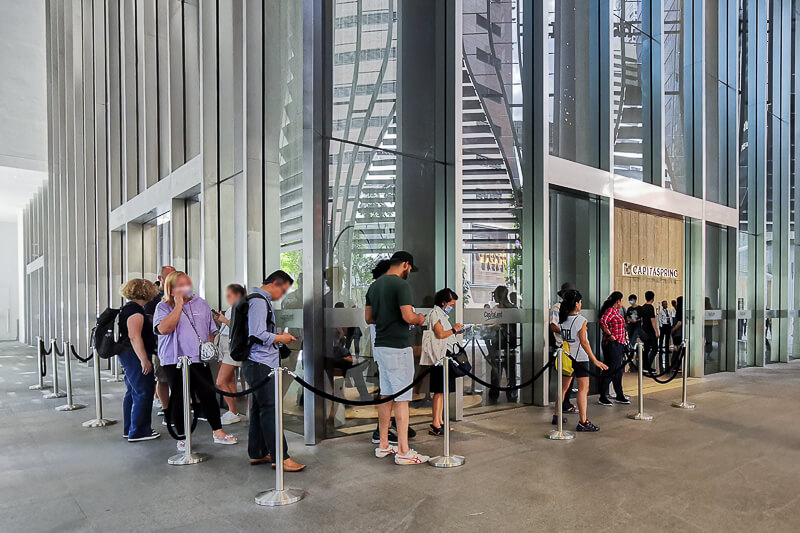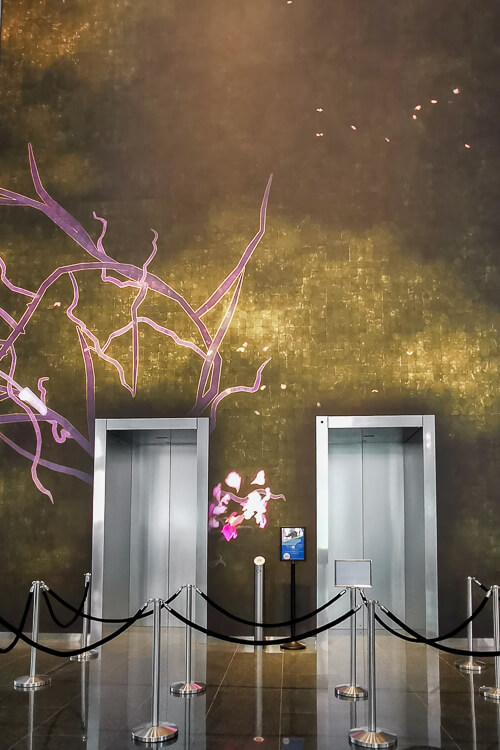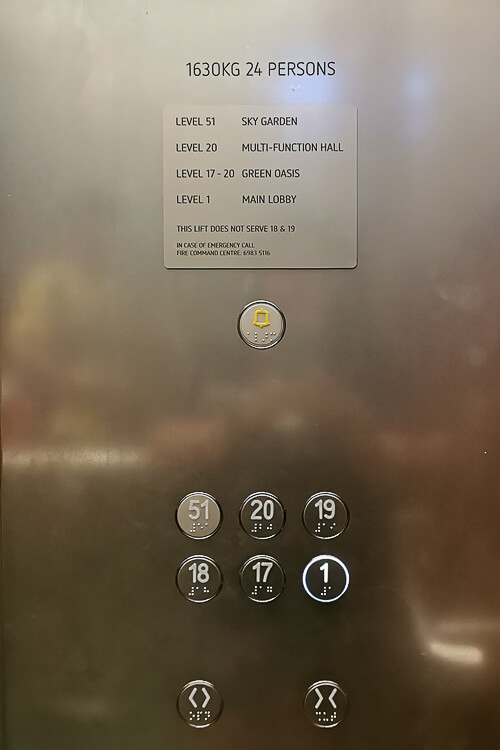 If you're taking a taxi, the address of Capitaspring is 88 Market St, Singapore 048948 (location on map).
If you're driving, you can park at Capitaspring, One Raffles Place, Republic Plaza or Capital Square.
Capitaspring Sky Garden at Level 51
Capitaspring Sky Garden is located at Level 51. There is very little shade at this rooftop observation deck, so do wear sunscreen.
There are actually 2 levels at the Sky Garden. The lower part consists of the restaurants (Kaarla and Oumi) and this picturesque corner where you can take Instagram-worthy photos.
Then, as you ascend the ramp, you will encounter the Cloud Trail which is a zig-zag ramp towards the upper level.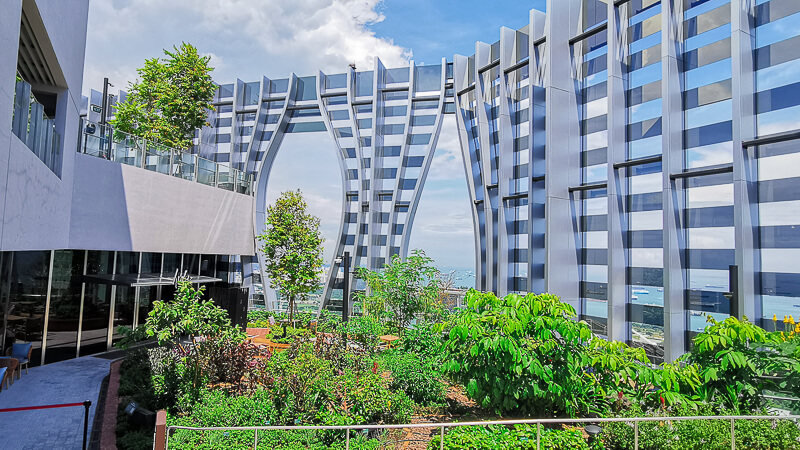 The views at Sky Garden is simply.. astonishing! You can get 360 degree bird's eye view of Singapore's CBD (Central Business District).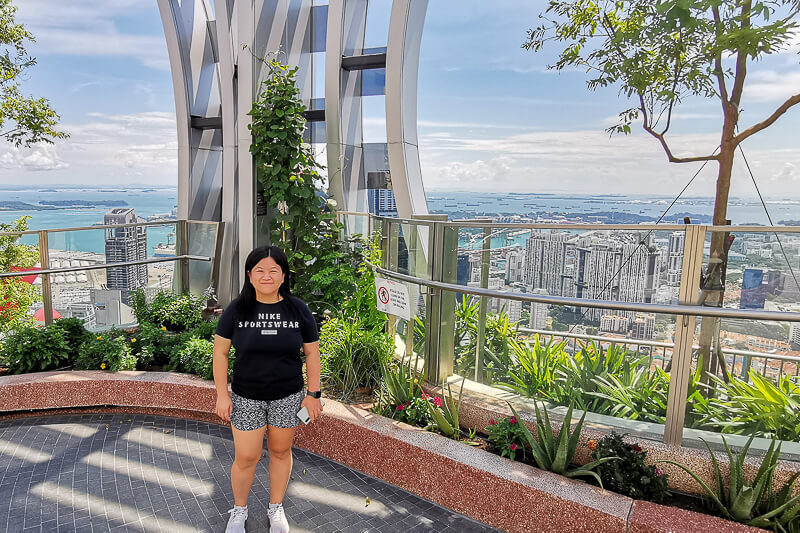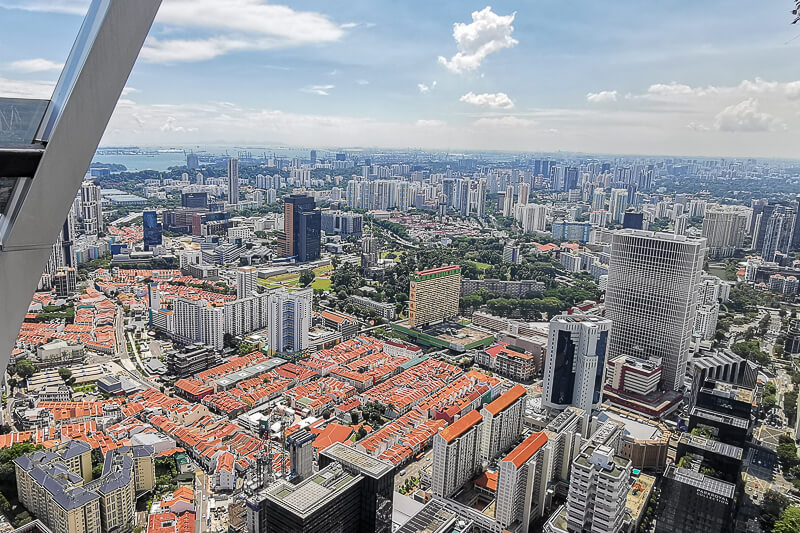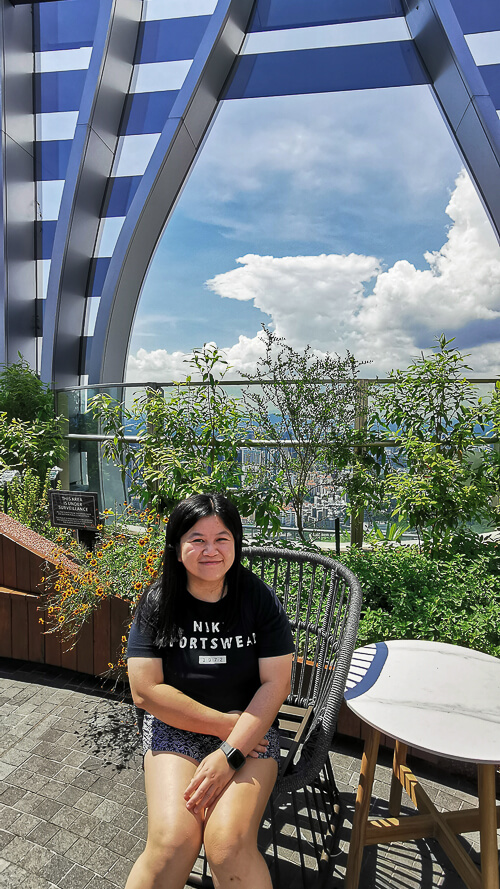 Beside the CBD, you can also enjoy the view of Singapore River, from Boat Quay, Clarke Quay and all the way to Robertson Quay.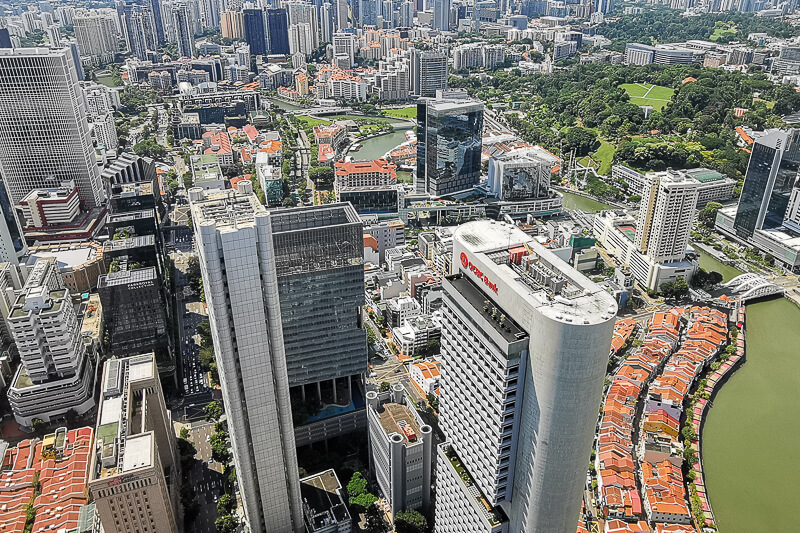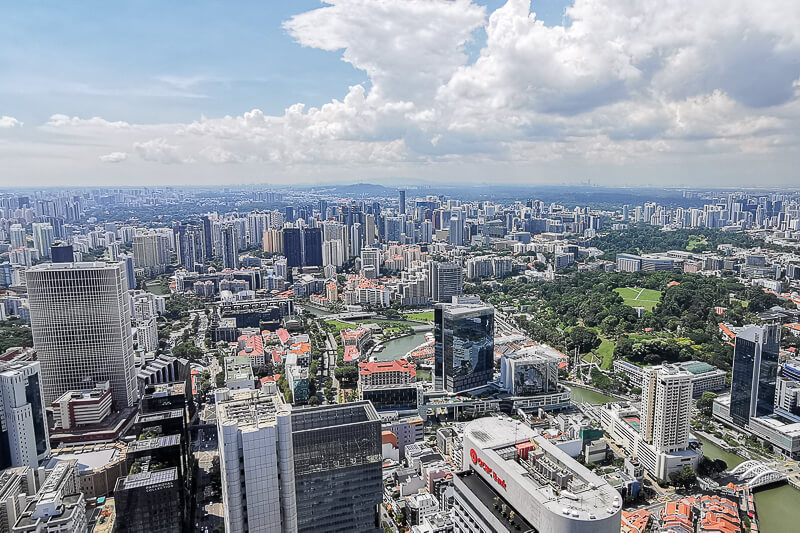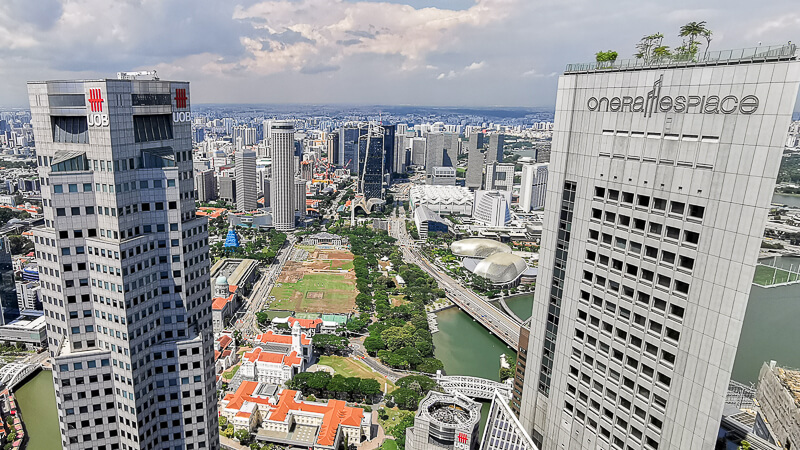 However, the view for Marina Bay area is not an unobstructed one. It's partially blocked by the many skyscrapers, including One Raffles Place. You won't be able to see the Merlion, but you can see the Esplanade, Singapore Flyer and Marina Bay Sands.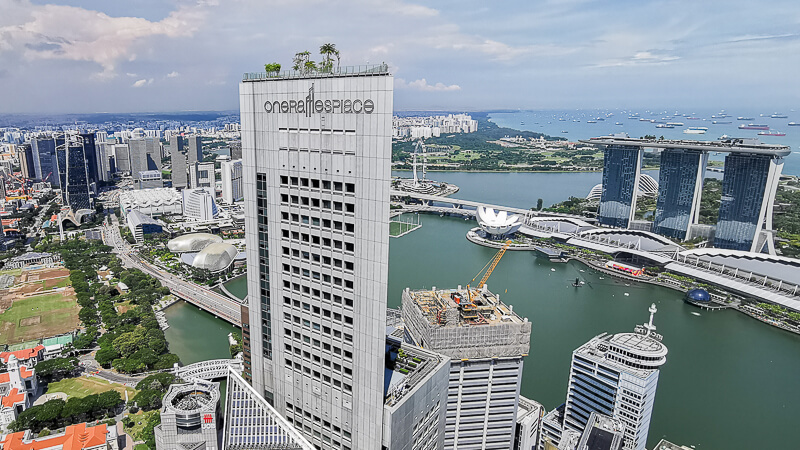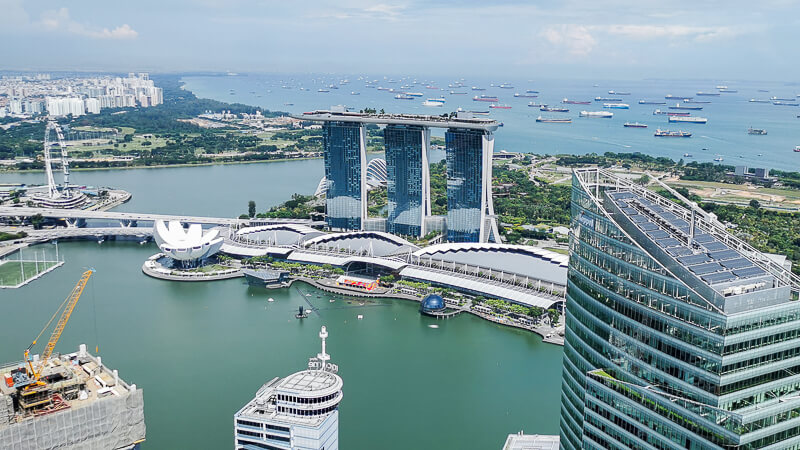 The Sky Garden also serves as Urban Farm. You can find plenty of plants as well as herbs carefully tended by the gardeners.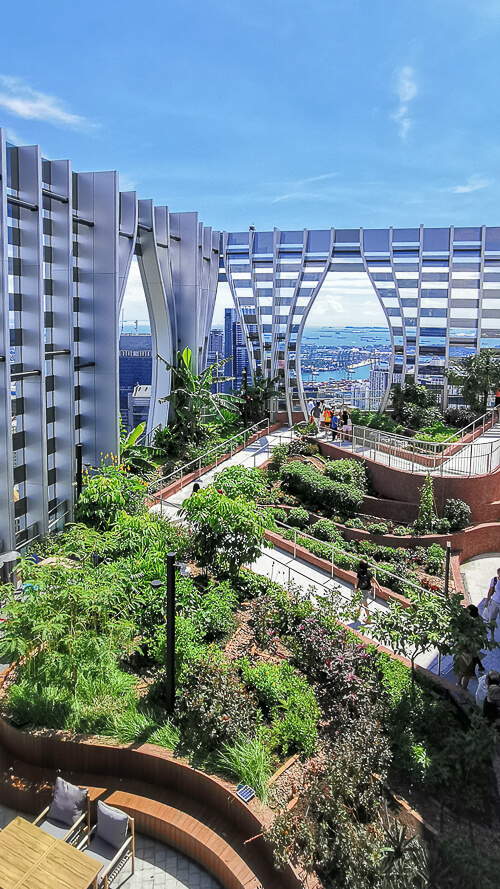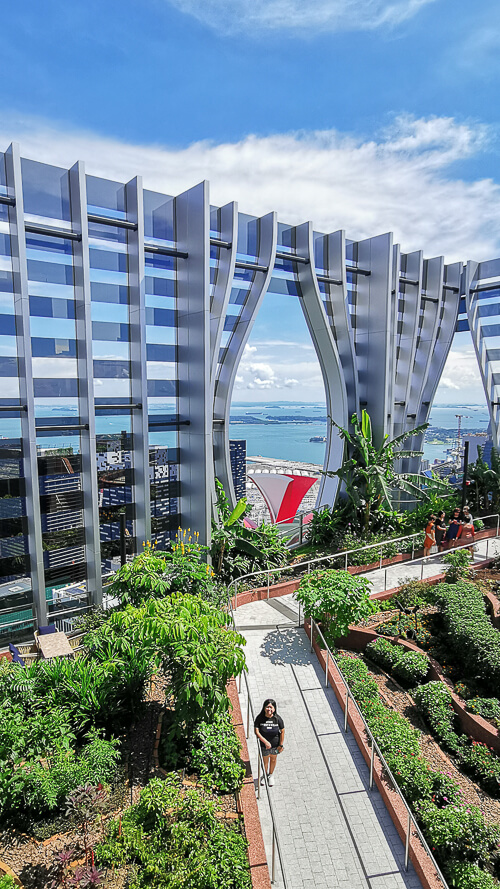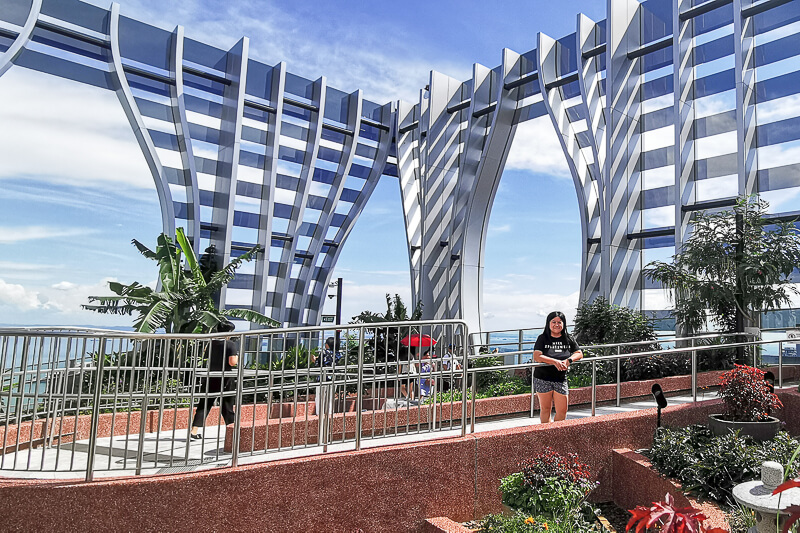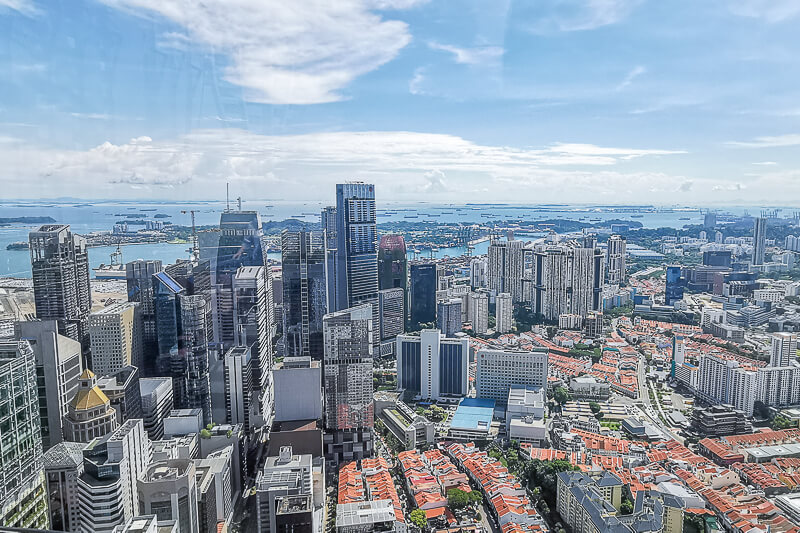 Capitaspring Green Oasis at Level 17 to 20
Capitaspring Green Oasis is located from Level 17 to Level 20. You can either start from Level 17 and make your way up, or from Level 20 and make your way down. For me, I started from Level 17.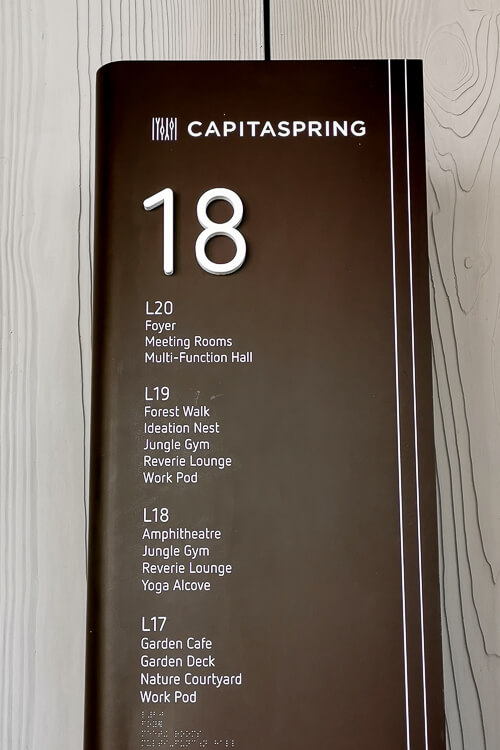 Each level is connected with stairs and lift. The stairs are quite picture-worthy in my opinion.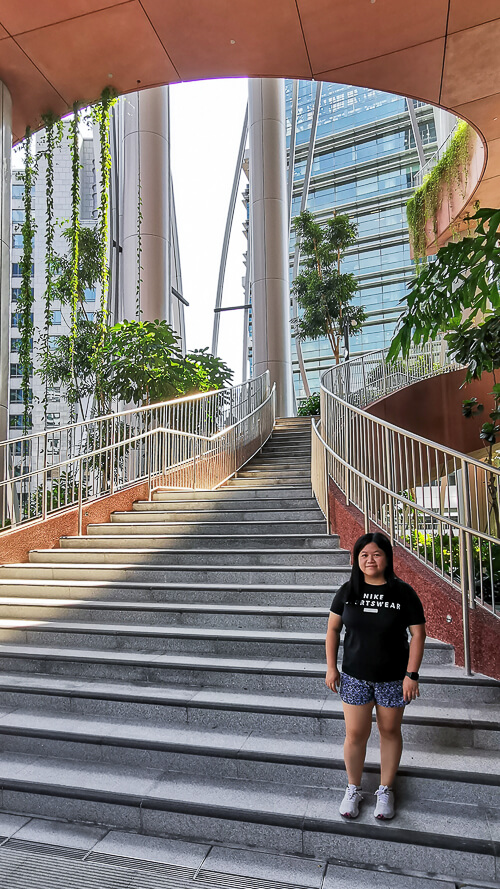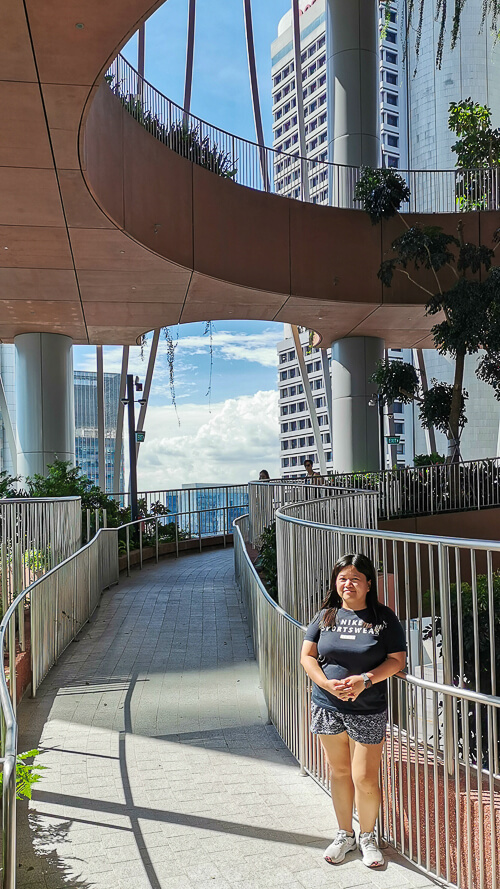 From the Green Oasis, you can see the swimming pool of Citadines, a serviced apartment located also within CapitaSpring building.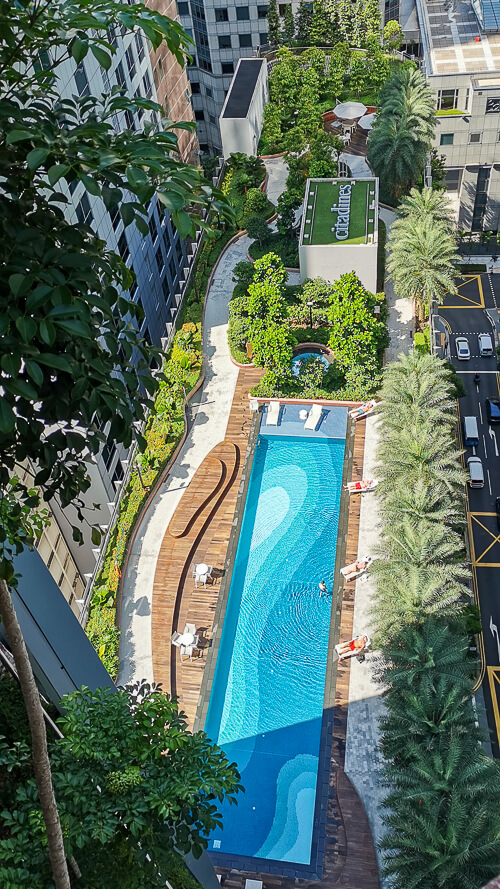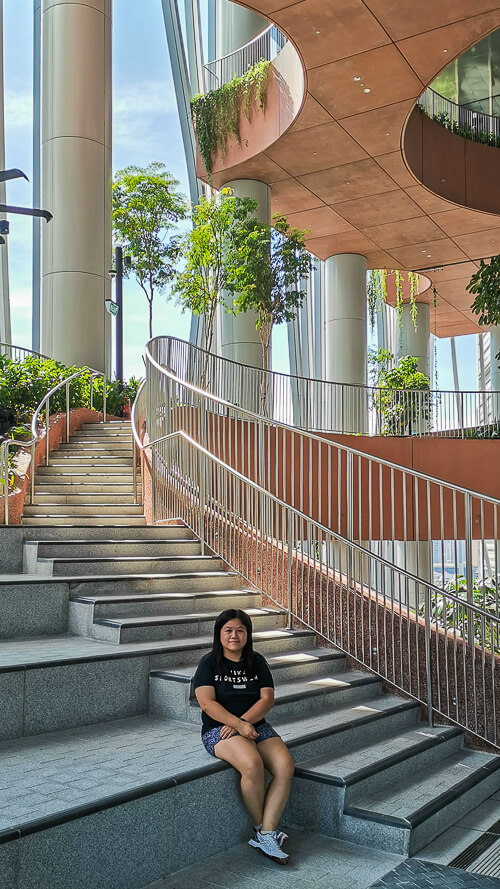 One thing I noticed that's abundant at Green Oasis is the number of seats and power plugs. There are so many different kinds of seats, from normal bench, to cushioned pods, work pods and even ideation nests.
There are also Jungle Gyms at Level 18 and 19, where you can get a stretch in the middle of your study/work.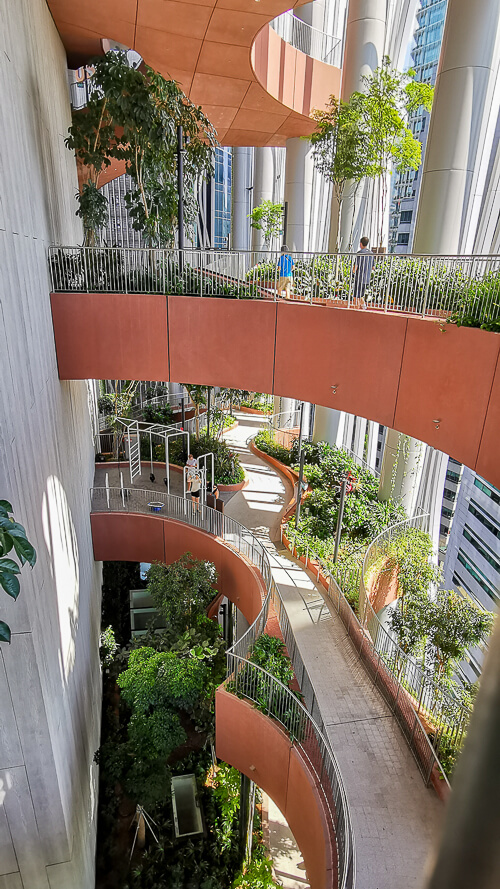 At Level 19, there are 3 picturesque pods with charging points. If you can work/study at a place with constant human traffic, you may like these pods.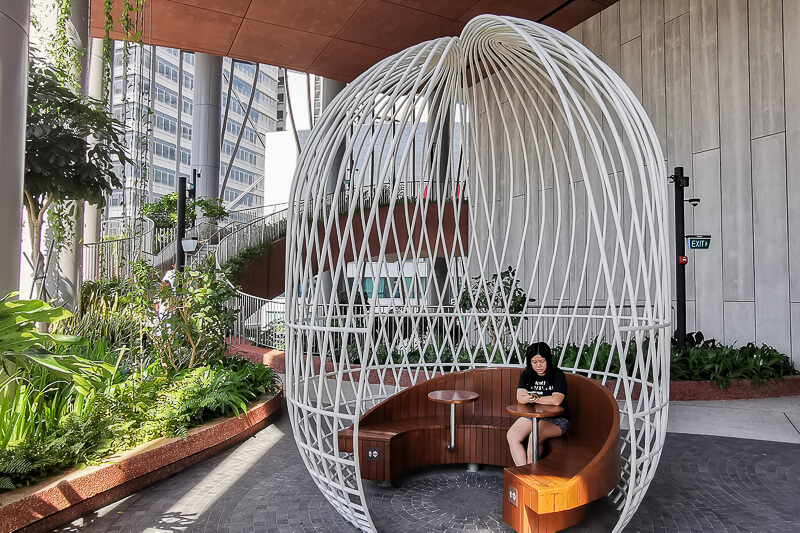 Sometimes, if you just look around and think out of the box, you will find a great angle or two to take unique photographs.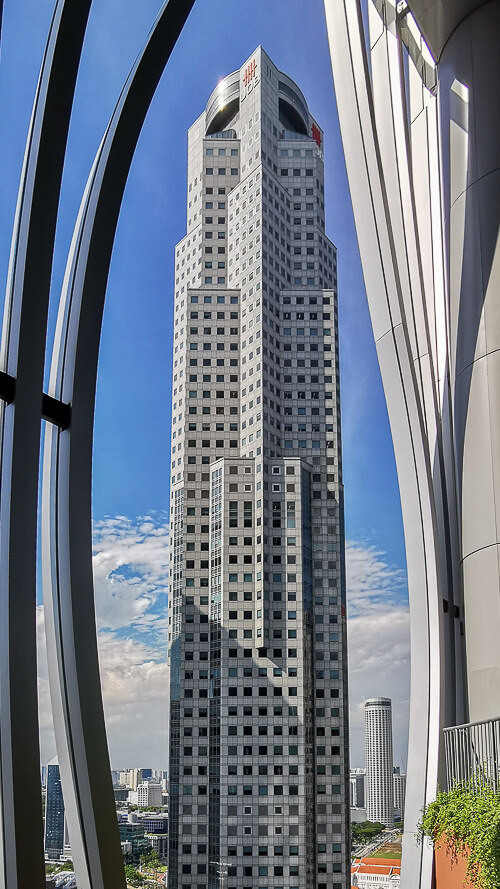 What to Eat at Capitaspring
1. Market Street Hawker Centre
Market Street Hawker Centre is located at Level 2 and 3 of Capitaspring. It is home to 56 hawker stalls. The crowd is insane during lunch hours; it's quite difficult to find a table unless your group size is 1-2pax.
The notable stalls to try are: Ah Liang Ipoh Hor Fun (#02-04), Hock Gooi Hainanese Curry Rice (#02-03), Golden Nur (#03-11) and Tiong Bahru Wanton Mee (#02-19).
The entrance to hawker centre is different from the entrance to Sky Garden & Green Oasis. To get to Market Street Hawker Centre, make your way to the intersection of Market Street and Chulia Street.
2. Sol & Luna
Sol & Luna is a Latin European Bistro located at Level 17 of Capitaspring. It serves French, Italian, Portuguese and Spanish cuisines, such as tapas, pasta, seabass fillet, poulet chicken breast, and steak.
3. Kaarla & Oumi
Kaarla & Oumi are two restaurants located at Level 51 of Capitaspring. Kaarla serves Coastal Australian cuisine using seasonal produce sourced from the best local farms in Singapore.
Meanwhile, Oumi is a Japanese restaurant, serving contemporary 'Kappo' cuisines (which literally means 'to cut and cook'), from poultry, seafood to wagyu.
If you like my work, you can buy me a coffee! Your support will help me to keep going!