Kong Meng San Phor Kark See Monastery is the largest Buddhist temple in Singapore, and I would argue that it's probably the most beautiful Buddhist temple in the country.
Kong Meng San (Guang Ming Shan 光明山) means Bright Hill, while Phor Kark See (Pu Jue Si 普觉禅寺) means the Monastery of Universal Awakening1. Hence, Kong Kong Meng San Phor Kark See is also commonly referred as "Bright Hill Temple." KMSPKS was founded in 1921 by Venerable Sik Zhuan Dao.
Kong Meng San Phor Kark See (KMSPKS) is home to a Buddhist College, monastery, tranquil pond, praying halls, memorial hall, sacred Bodhi Tree, meditation hall, crematorium and columbarium. It is especially crowded during major festivals, such as Chinese New Year, Qing Ming Festival and Vesak Day.
Besides the major festivals, KMSPKS also has various programs and activities throughout the year, such as Dhamma talks, praying sessions, meditation sessions and retreats, and many other in-person or online activities.
Located in the Sin Ming neighborhood, KMSPKS isn't exactly easy to visit before 2021. Fortunately, with the new Thomson Line Stage 2 which was opened in August 2021, visiting KMSPKS is slightly easier now.
I'll be sharing what to do and see in Kong Meng San Phor Kark See as well as tips you need to know before visiting. I will not cover the history, if you are keen to learn about the history, you can read from here. If you have any questions, feel free to ask me in the comments.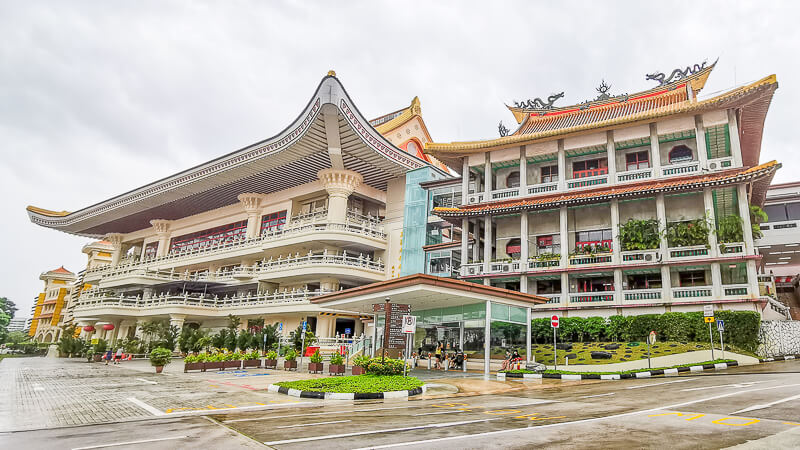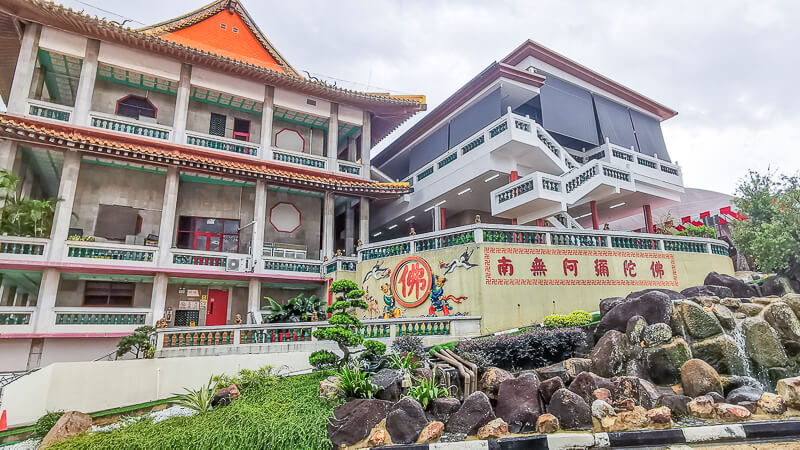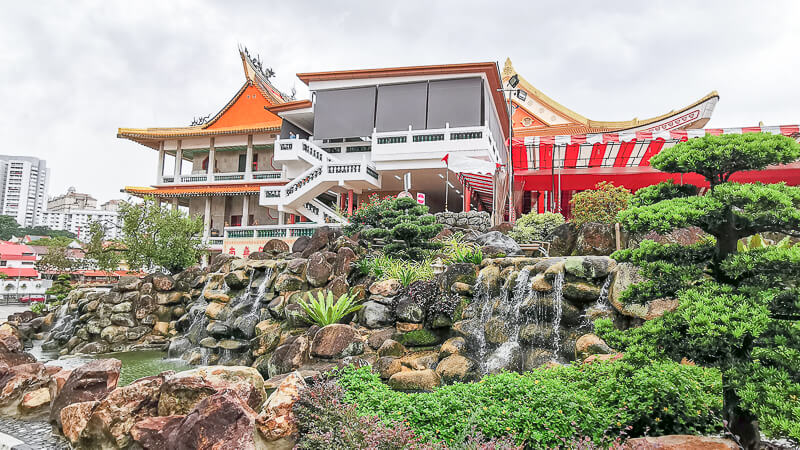 Opening hours
Generally, the temple is open daily, from 8am to 4pm. The timing is subject to change in the event of classes and activities. The temple is also open on Public Holidays.
At the time of writing, reservation is compulsory due to safe distancing measure. You can make reservation online via KMSPKS website.
Each place/hall within the temple has different opening hours. You can see the opening hours of each place here.
There is no entrance fee. Admission is free of charge.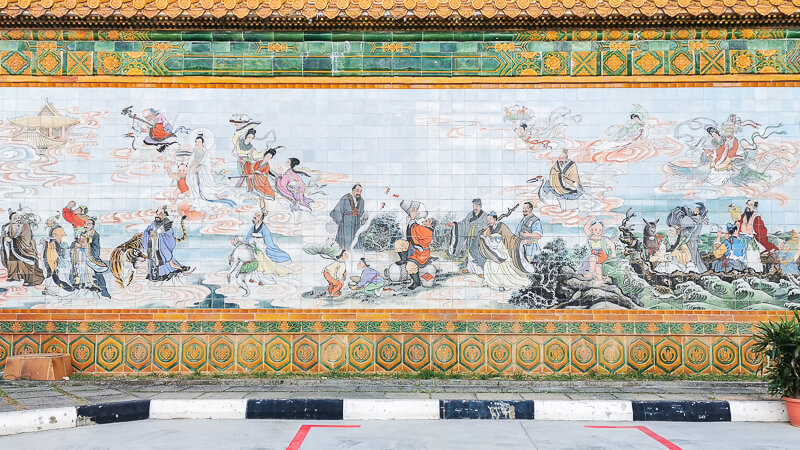 How to go
By MRT: Take MRT to Bright Hill Station (Thomson – East Coast Line), go out at Exit 2. Walk along Sin Ming Avenue eastwards, then turn right to Bright Hill Road. It's about 550-meter / 5-min walk.
If you don't fancy walking from Bright Hill MRT, you can also take any bus (52, 162, 162M, 410) from Exit 1 of Bright Hill MRT Station, then alight at the next bus stop (yes, it's just 1 stop away). After that, cross the road and walk to the entrance of KMSPKS.
By car: The address is 88 Bright Hill Road, Singapore 574117. There are carpark lots (open-air and MSCP) inside the temple.
By taxi/ride hailing: The address is 88 Bright Hill Road, Singapore 574117. There is proper drop-off/pick-up point inside the temple.
Etiquette
Dress code: do wear proper attire that covers the shoulders and knees.
Shrine halls: do keep volume down when speaking in all shrine halls, avoid wearing footwear inside shrine halls, avoid bringing joss stick inside the halls (unless otherwise stated).
Dining halls: As the monks have lunch at dining halls at noon, keep the speaking volume down and give way to them when buying food. When eating, do observe noble silence.
Temple Map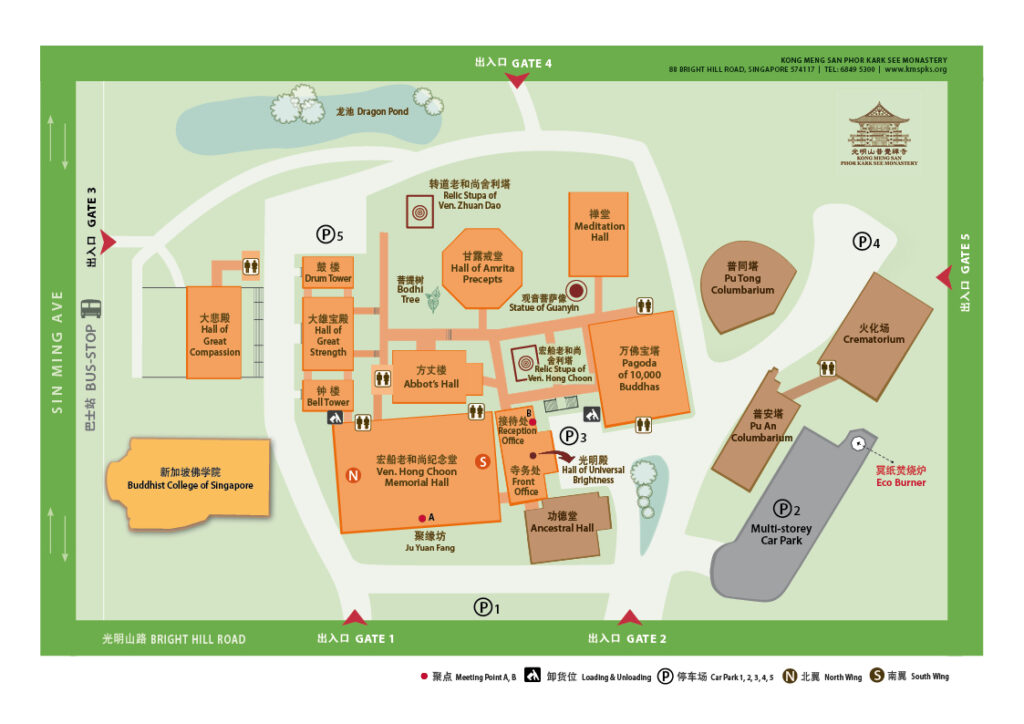 Things to do and see in Kong Meng San Phor Kark See
1. Admire the architecture
It would be nearly impossible not to feel fascinated by the architecture in Kong Meng San Phor Kark See. From imperial-styled prayer halls with rich details and carvings to the contemporary design of Meditation Hall, KMSPKS is truly a timeless temple.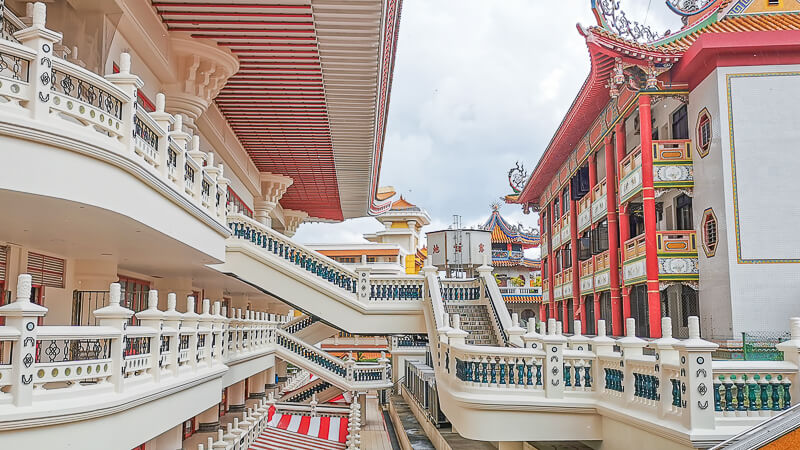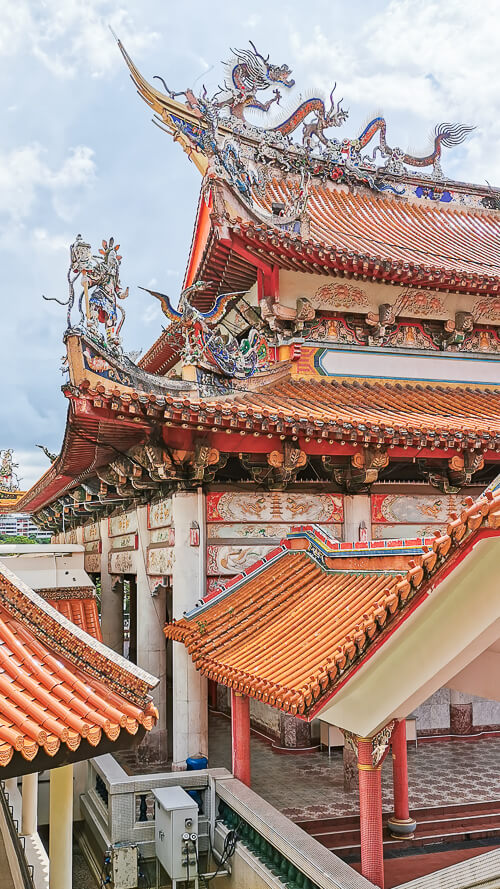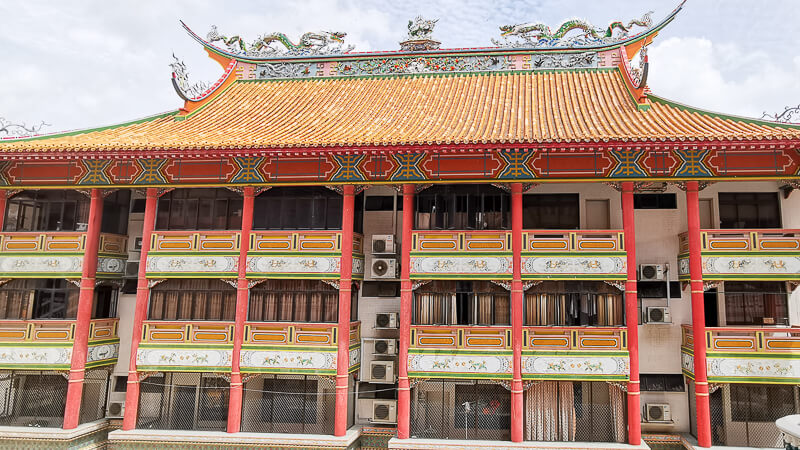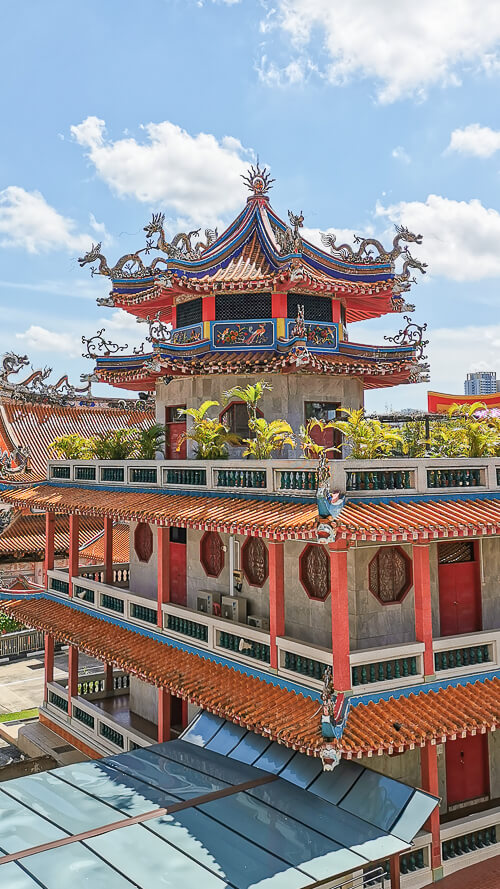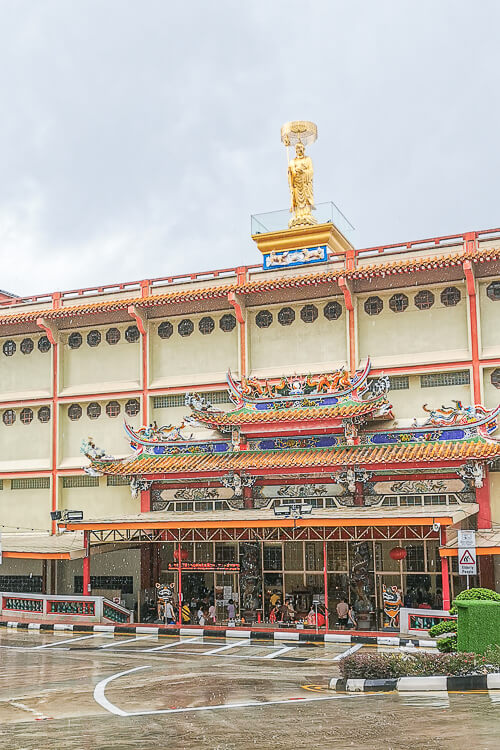 2. Have a quiet meal at the Dining Hall
Honest admission: my favorite thing to do at Kong Meng San Phor Kark See is having late breakfast or early lunch at the Dining Hall, which is located at the second storey of Venerable Hong Choon Memorial Hall.
Every weekend morning, there are stalls selling vegetarian food at the Dining Hall. They're often sold out by noon, so it's best to go early. The food that they sell vary each weekend, but generally you can expect economic rice/beehoon, nasi lemak ($2), laksa ($3), mee siam ($3), peanut congee ($1.5) and poh piah ($1.5). With each meal costing less than 5 bucks, it is indeed is very affordable. My favorites are laksa and nasi lemak, while hubby's favorite is economic rice/beehoon.
PS: sometimes the food stalls are closed without prior notice (especially during tight restrictions), so if you're planning to eat there, do prepare a backup plan. Alternative eating places near the temple are Midview City, Sin Ming Coffeeshop (23 Sin Ming Road) and Upper Thomson Road.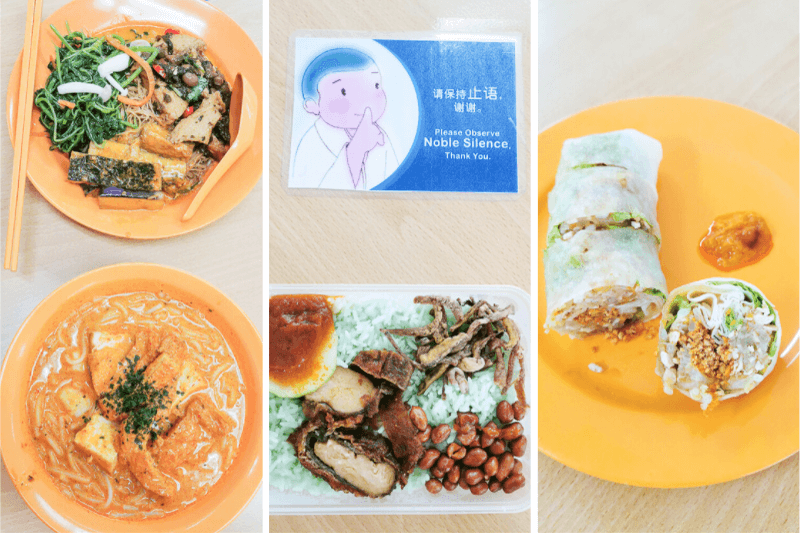 During weekdays, visitors can also purchase vegetarian bento boxes ($3) from the kitchen. However, do note that choosing the dishes is not allowed. The payment for the meal shall be put in the donation box.
When eating at Dining Hall, do observe noble silence and mindful eating. Avoid talking to each other loudly and unnecessarily. Here's the dining etiquette to be observed.
Dining hall is also the place where the monks and nuns (also known as Shangha members) are having lunch daily at around 12noon. Do be mindful and respectful towards the Sangha members.
Before corona, KMSPKS occasionally serves free lunch to the public on the 1st, 15th and 27th of every lunar month as well as on Sundays. However, due to the corona, the free meal now suspended.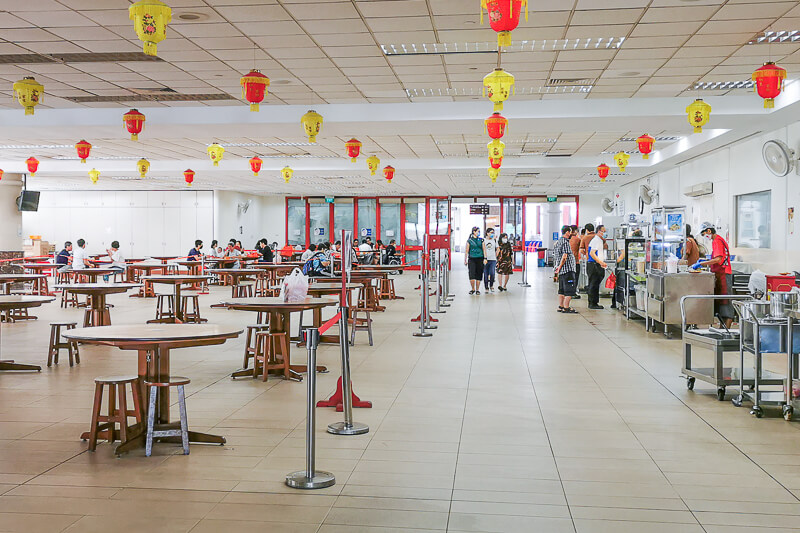 3. Venerable Hong Choon Memorial Hall
Venerable Hong Choon Memorial Hall was built in 2003. It is probably the most grandeur building at KMSPKS. This 4-storey building houses:
Dining Hall (Level 2)
Venerable Hong Choon Museum (Level 3)
Hall Of No Form (Level 4)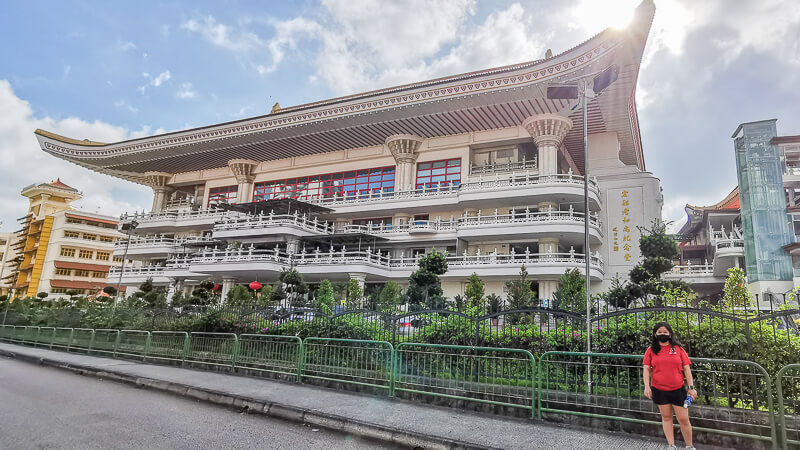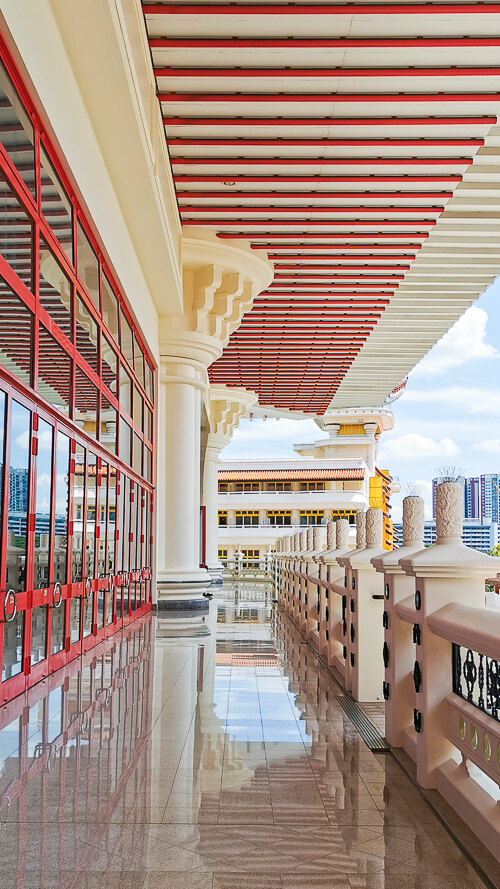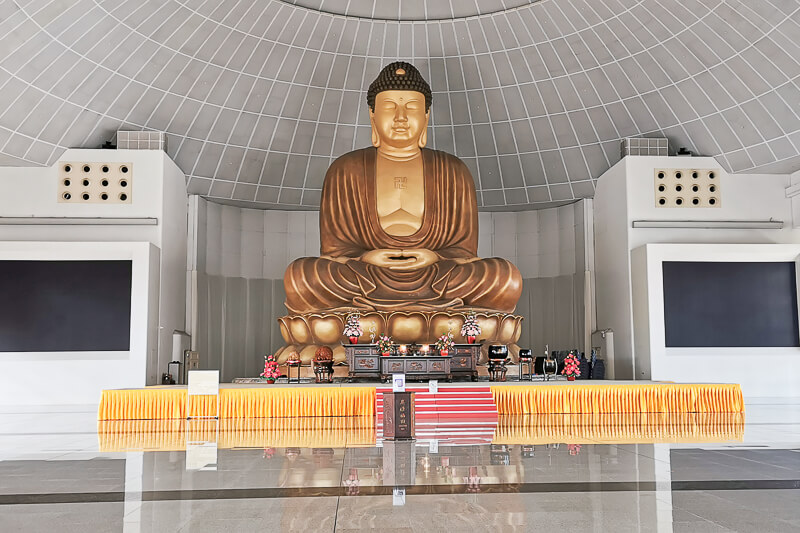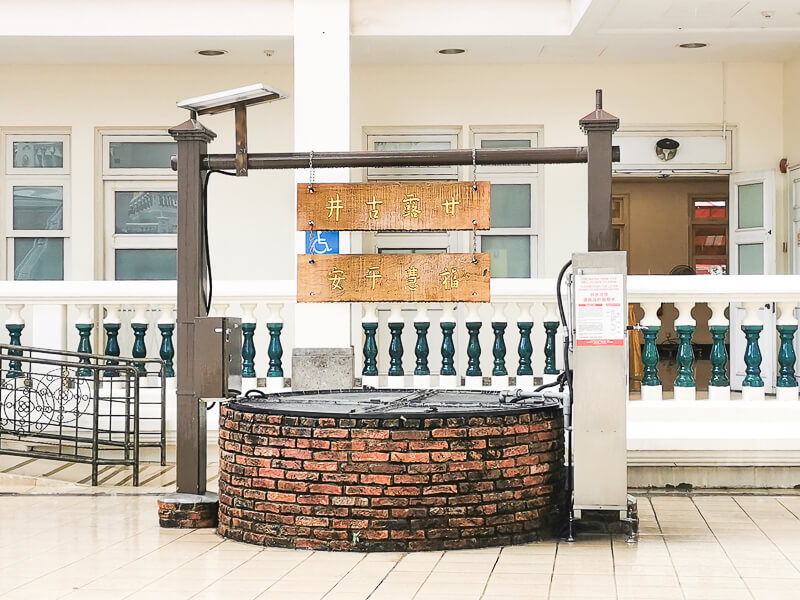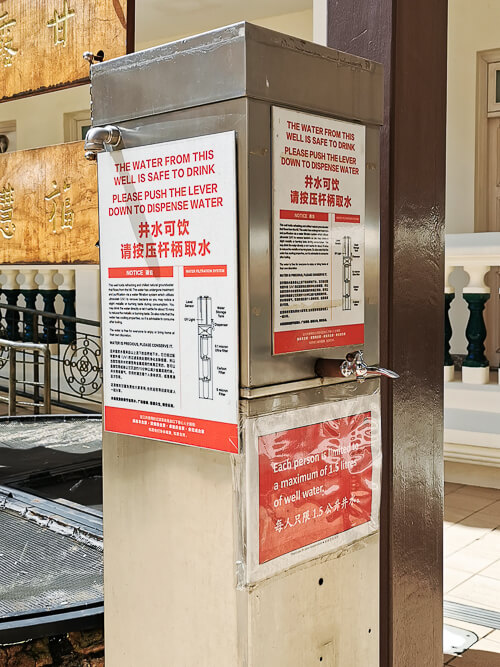 4. Hall of Great Compassion
The Hall of Great Compassion is located behind Buddhist College of Singapore. It houses Avalokiteshvara Bodhisattva (the Guan Shi Yin Pu Sa) with Thousand Arms and Eyes, which symbolize Guanyin's vow to reach out and save all creatures who call his name for help.
The Hall of Great Compassion also houses the following2:
Sangharama Bodhisattva (Qie Lan Pu Sa or Guan Yu/Guan Gong)
Skanda Bodhisattva (Wei Tuo Pu Sa)
Samantabhadra Bodhisattva (Pu Xian Pu Sa)
Manjusri Bodhisattva (Wen Shu Shi Li Pu Sa)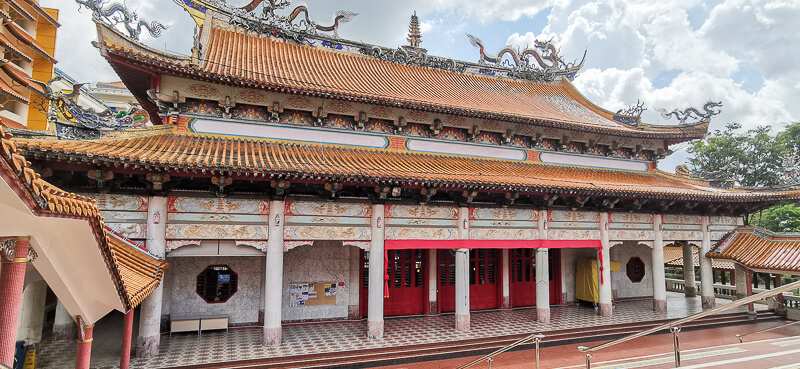 5. Hall of Great Strength
The Hall of Great Strength is located behind Ven. Hong Choon Memorial Hall. It houses Shakyamuni Buddha (the founder of Buddhism). A glass stupa in front of the Buddha statue stores a portion of the Buddha's relics3.
The Hall of Great Strength also houses the following:
Venerable Ananda
Venerable Maha Kashyapa
Maitreya Bodhisattva
Amitabha Buddha
Avalokiteshvara Bodhisattva
Mahasthamaprapta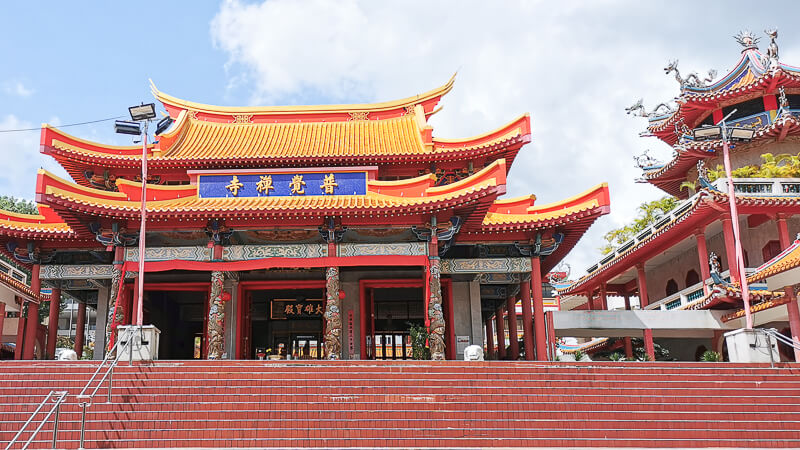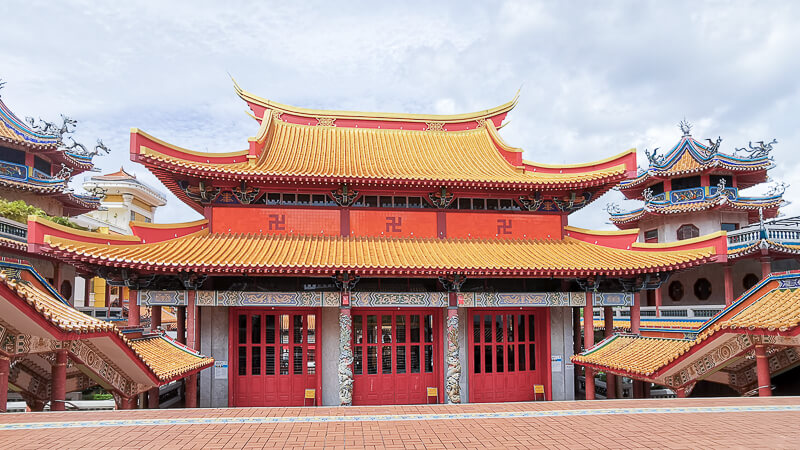 6. Bell Tower & Drum Tower
Bell Tower is located to the left of Hall of Great Strength. Everyday, the monks start their day at dawn by sounding the bell, followed by the drum, 108 times each3. At dusk, the process is repeated in reverse order.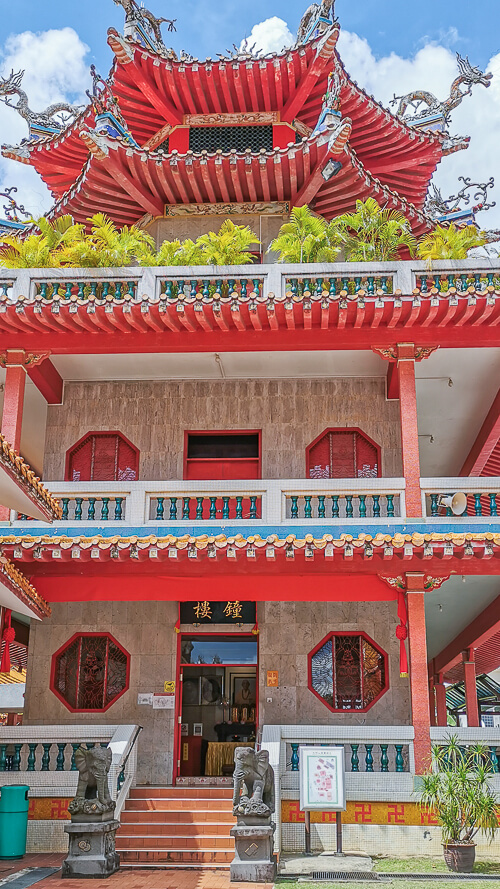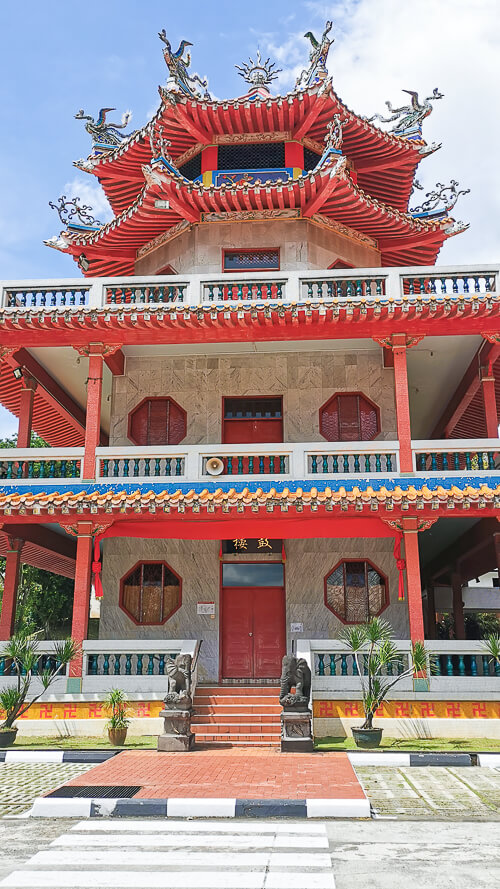 7. Koi Ponds
There are 2 koi ponds, one at each side of Hall of Great Strength. Mini statues of monks are seen around the ponds. Despite their small size, the ponds are so beautiful and peaceful.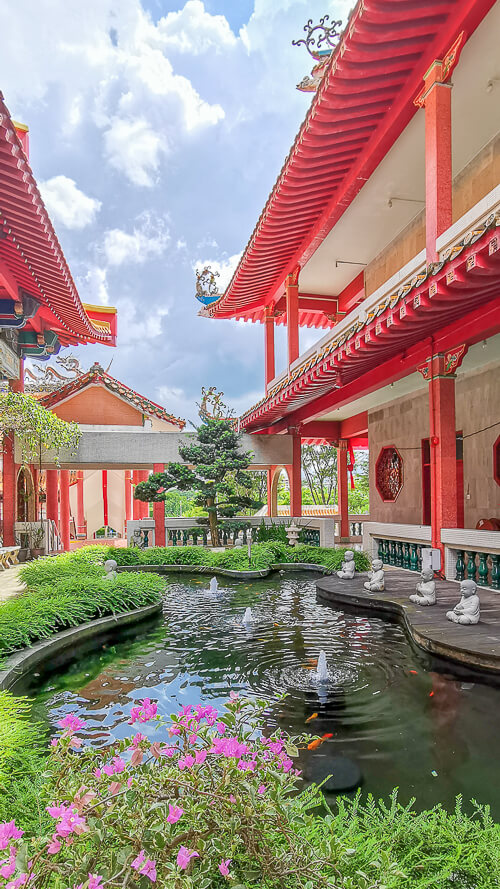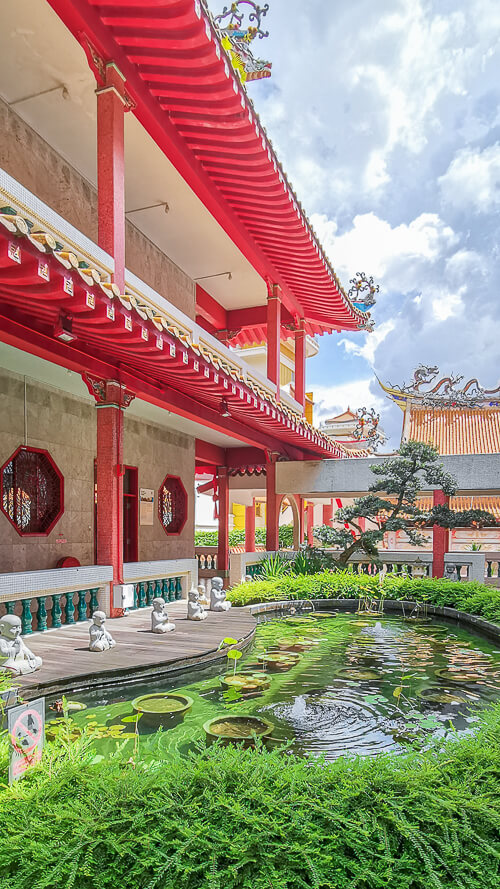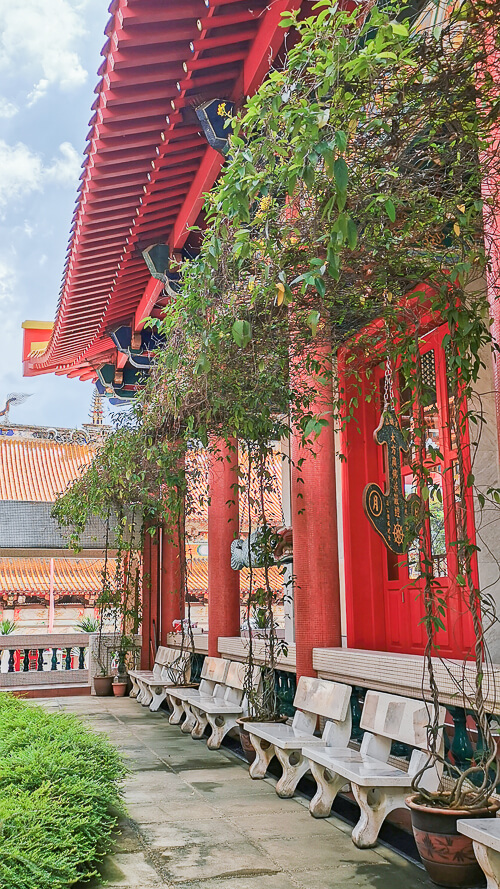 8. Enjoy the tranquility at Dragon Pond
Dragon Pond is located next to Hall of Great Compassion and Drum Tower. Because it's at a lower elevation, it is so easy to miss out this pond. I wasn't aware of the existence of Dragon Pond until many visits later.
Dragon Pond reminds me of the former Merlion Walk at Sentosa where a man-made river, surrounded by rocks, flows from the upstream at higher ground to the downstream at lower ground and creates mini waterfalls along the way.
Built in the yesteryear, there is no hint of modernity at Dragon Pond. Just a couple of stone stools, unsheltered stone walkways, rocks, and plenty of greeneries.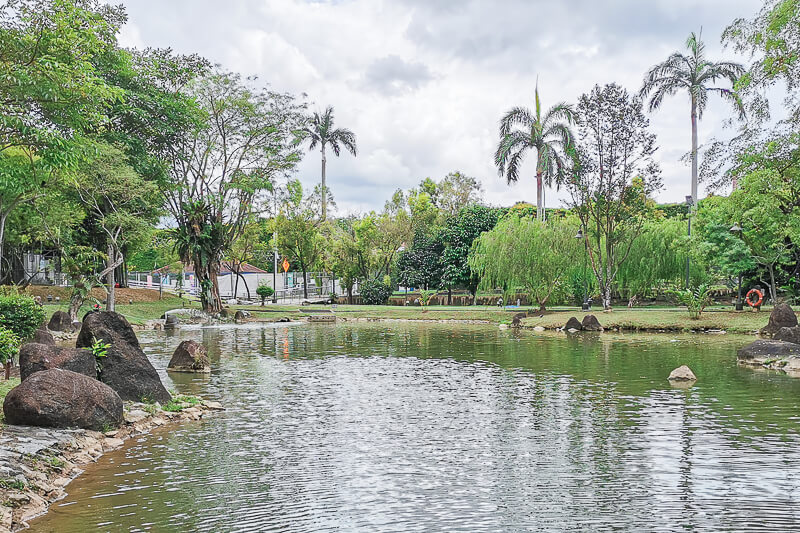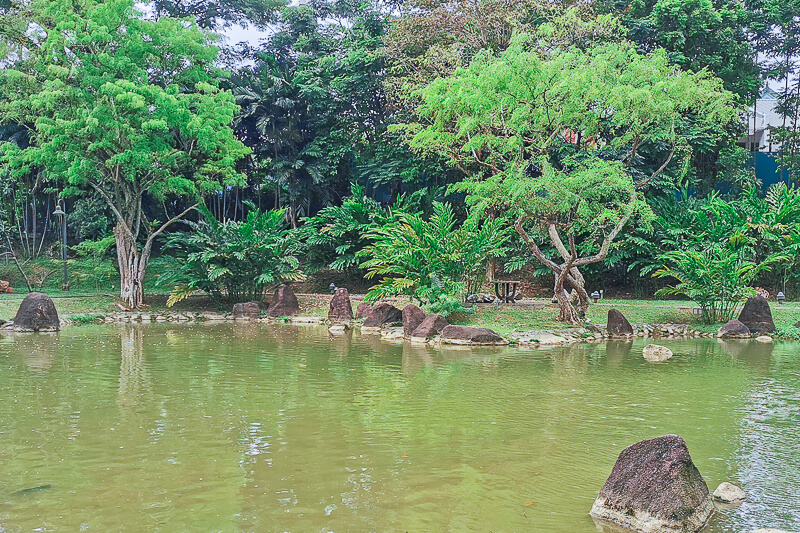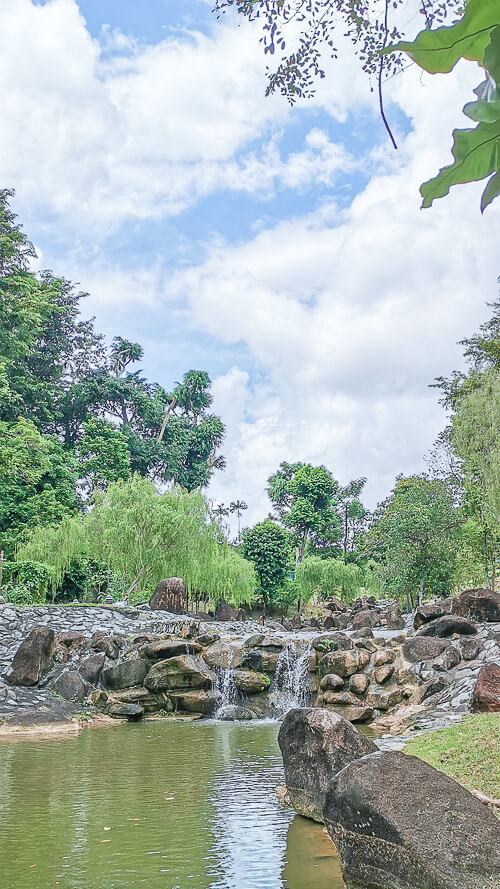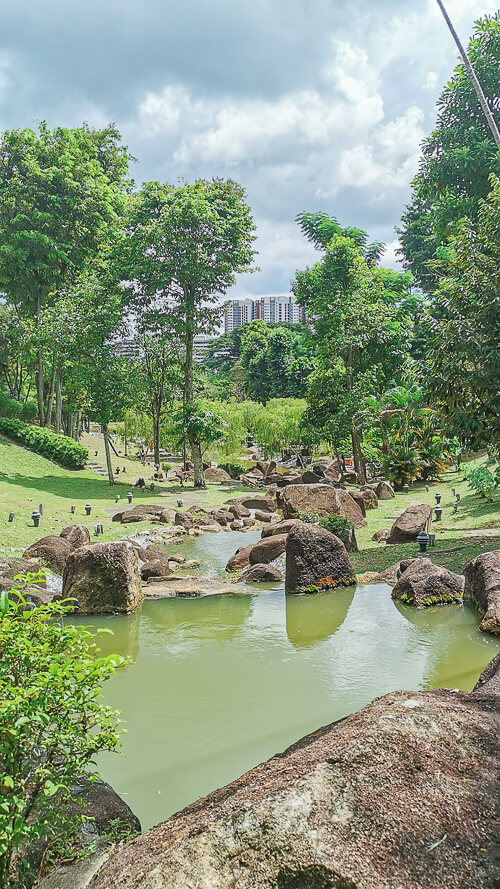 9. Hall of Amrita Precepts
Hall of Amrita Precepts is located near the upstream of Dragon Pond, behind Abbot's Hall. This octagon-shaped hall houses the Vairocana Buddha, who's seated on a giant lotus. He is surrounded by four great Bodhisattvas and eight fierce-looking Vajrakumaras symbolizing the Noble Eightfold Path.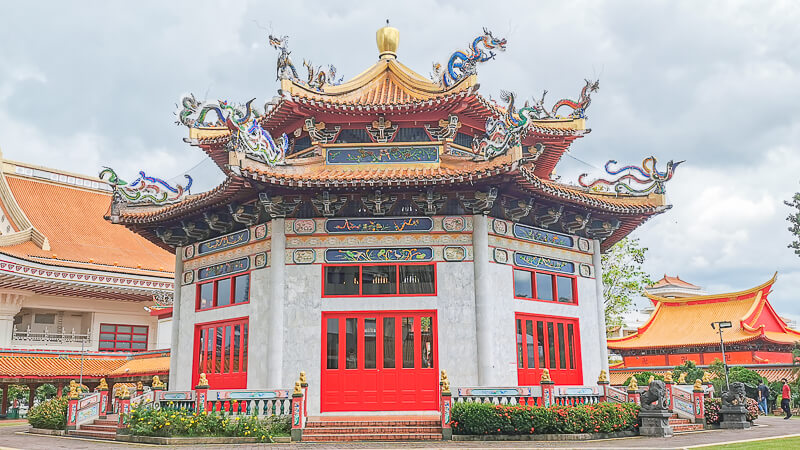 10. Bodhi Tree
Not far from Hall of Amrita Precepts is the sacred Bodhi Tree, under which the Buddha attained enlightenment.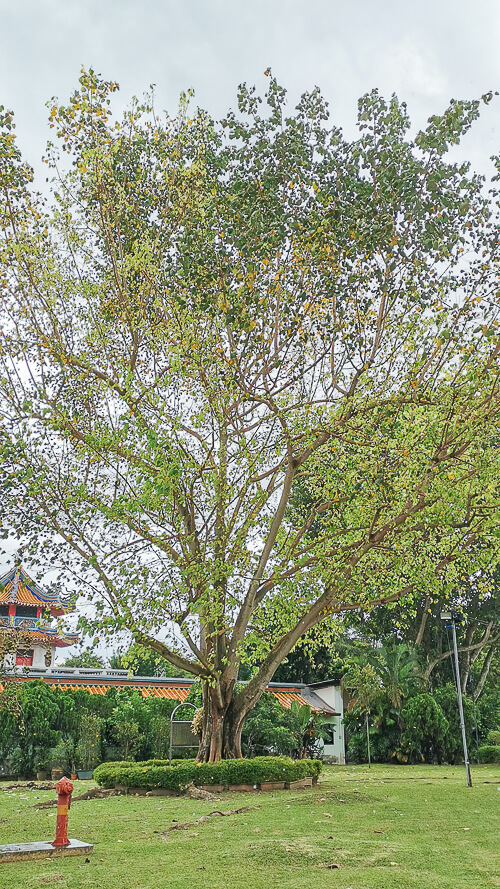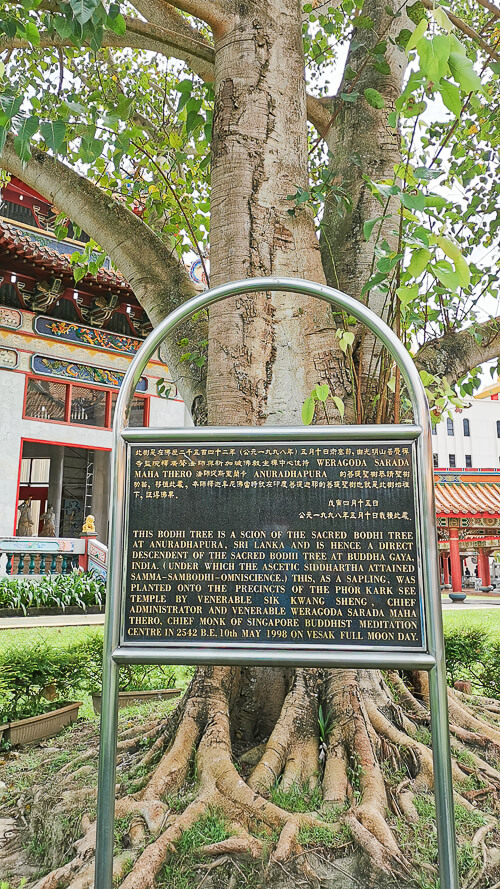 11. Relic Stupa of Ven. Zhuan Dao
Also steps away from Hall of Amrita Precepts is the relic stupa of Ven. Zhuan Dao who founded Kong Meng San Phor Kark See in 1921.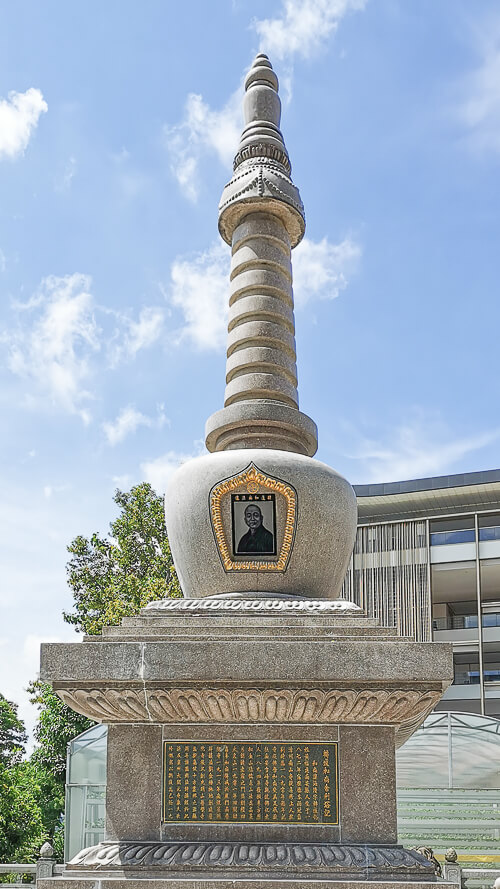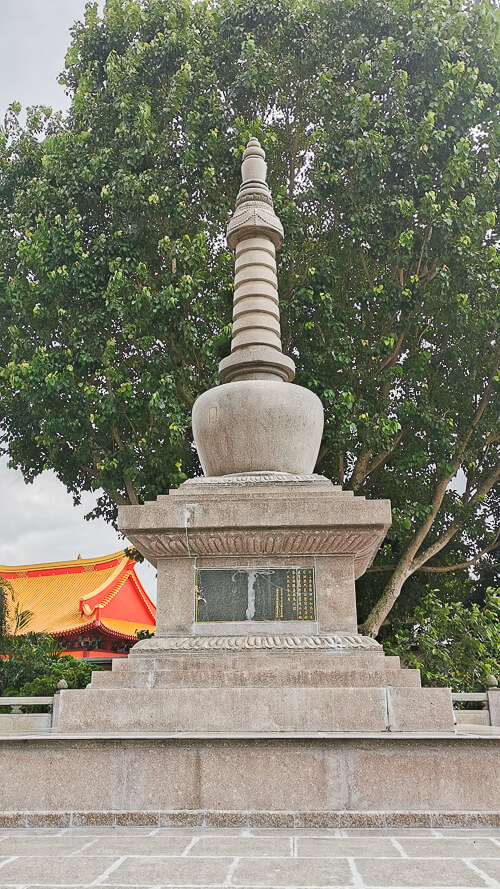 12. Relic Stupa of Ven. Hong Choon
Located between Hall of Amrita Precepts, Abbot's Hall and Pagoda of 10,000 Buddhas is the relic stupa of Ven. Hong Choon, the second abbot of KMSPKS who worked relentlessly for the development of Buddhism not only in Singapore, but also Southeast Asia. He was conferred the title of "Supreme Chinese Monk" by the Thai King, Bhumibol Adulyadej in 1987 as a tribute for this work.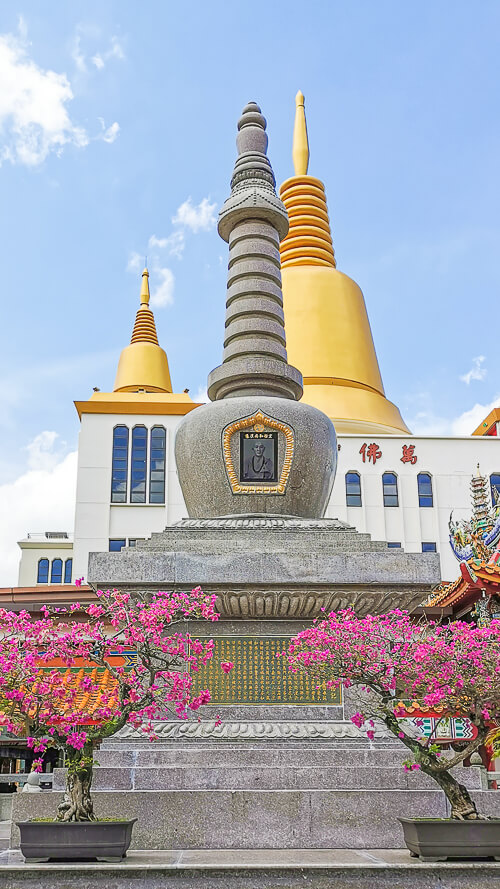 13. Meditation Hall
The Meditation Hall was built in 2020. Despite being located deep inside the temple compound, this contemporary building really stands out among other buildings in KMSPKS. As the name suggests, Meditation Hall is the place where meditation sessions are conducted. Advance registration for the classes is required. Sometimes, Venerable Kwang Sheng (the current Abbot) conducts the meditation sessions.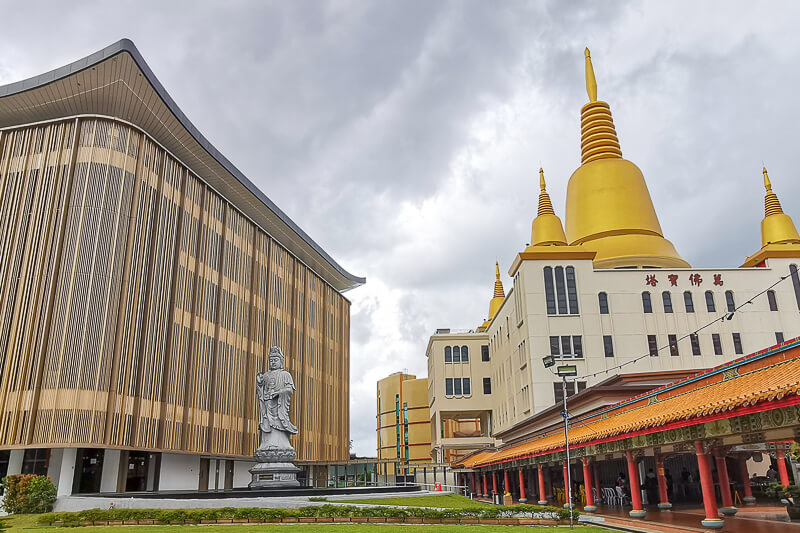 14. Statue of Guan Yin
Next to Meditation Hall, the statue of Guan Yin stands prominently above a shallow pool.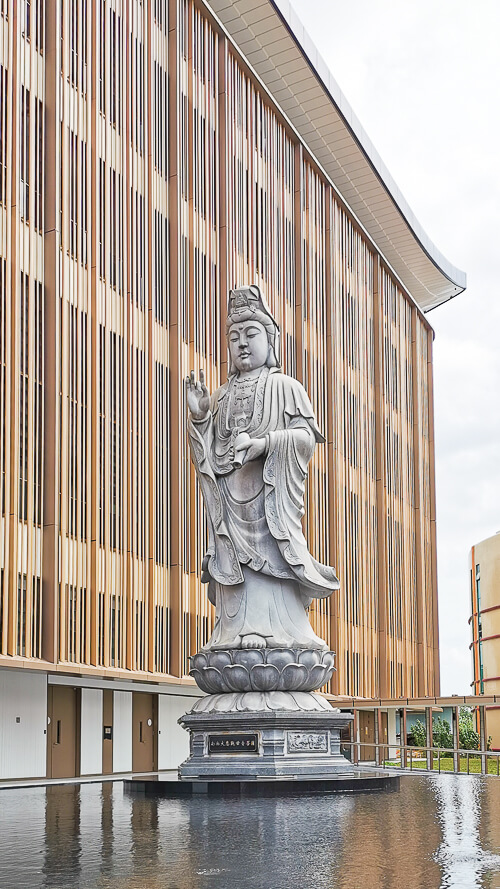 15. Pagoda of 10,000 Buddhas
Pagoda of 10,000 Buddhas is located next to Meditation Hall and Guan Yin statue. The pagoda is easily recognizable due to its eye-catching gold stupas. On its first level, the Hall of Pureland houses the Amitabha Buddha and ancestral tablets. Meanwhile, on its second level, the Hall of Medicine Buddha houses the Medicine Buddha.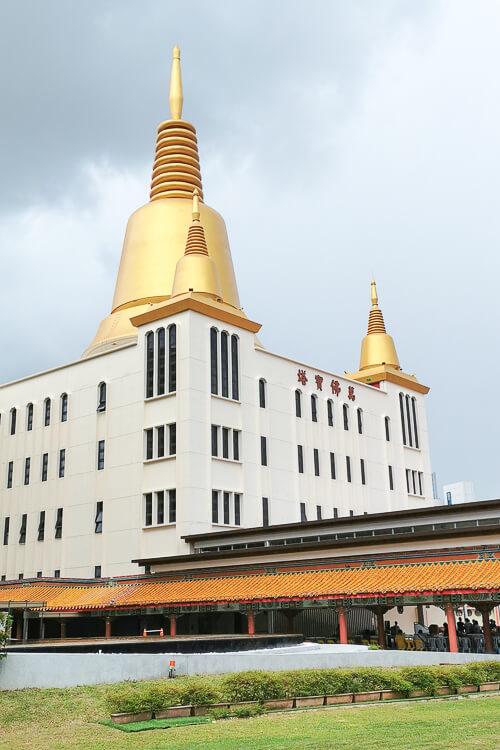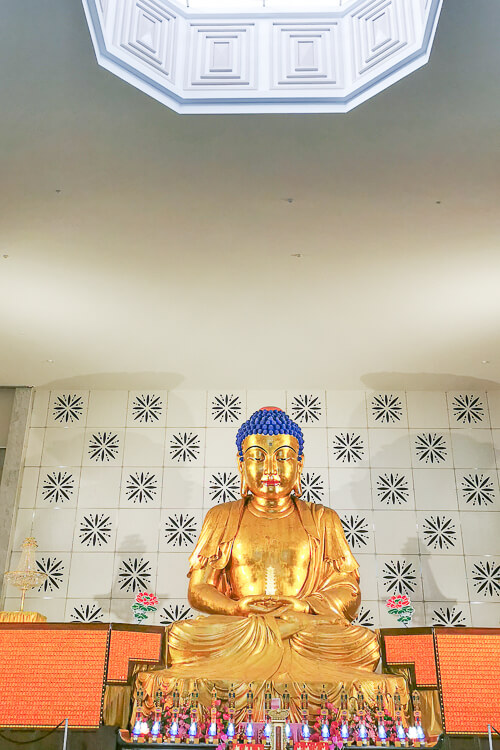 16. Lotus Place
Lotus Place is a minimarket where you grab a quick snack or drink. On some occasions, you'll also find special offerings, such as mooncake.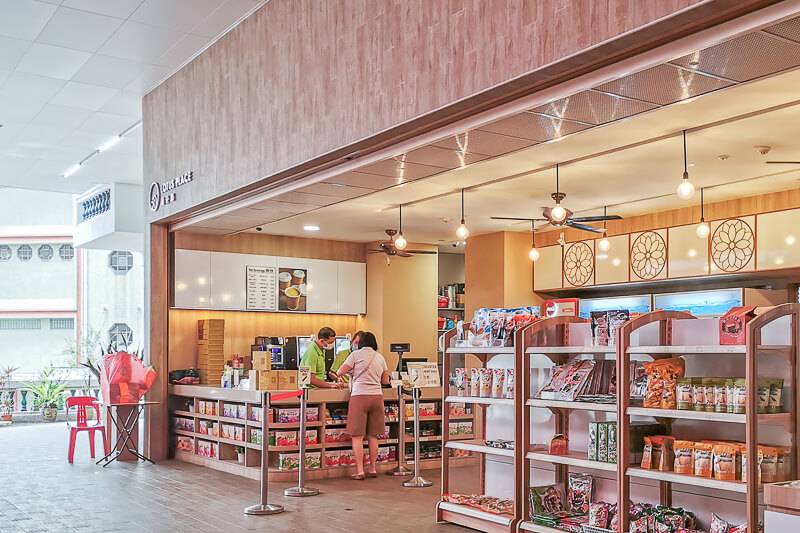 17. Spot the edible gardens
If you are mindful enough when visiting KMSPKS, you will notice there are plenty of edible vegetables, herbs and even fruits inside KMSPKS.
There's a passion fruit mini vineyard creeping around a metal shelter in front of Bell Tower. Then, there's a papaya garden near relic stupa of Ven. Hong Choon. There are also greenhouses where various vegetables are grown.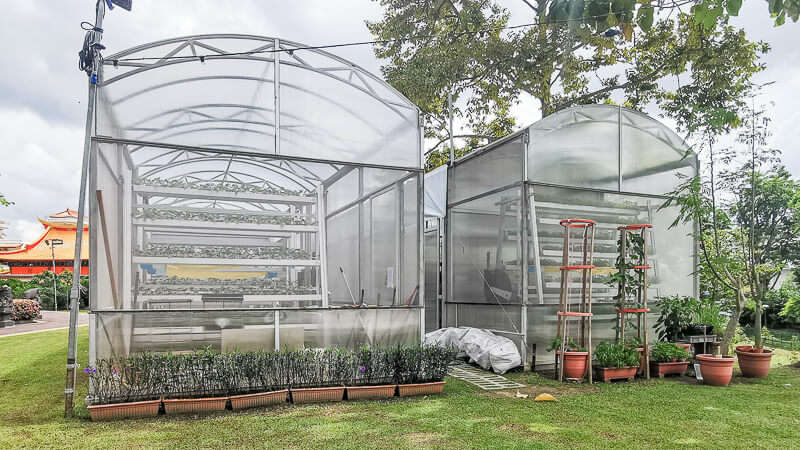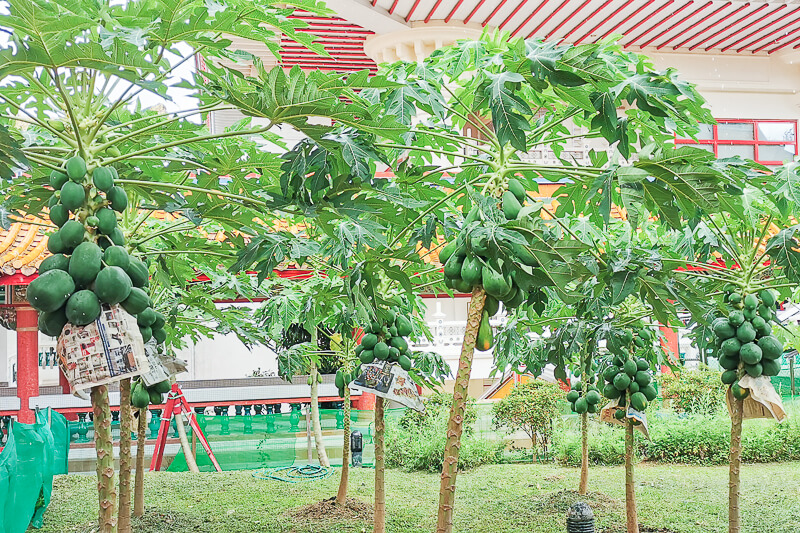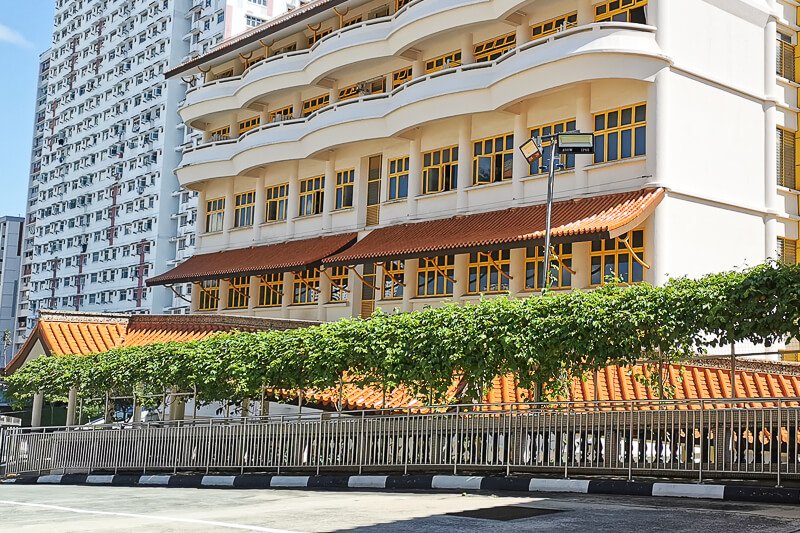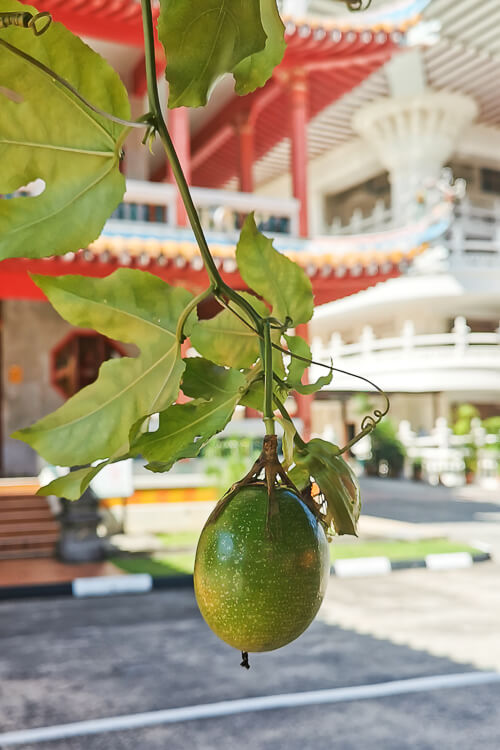 18. Celebrate Vesak Day
Before corona, Vesak Day is a very happening day at Kong Meng San Phor Kark See. There are many activities during the days leading to Vesak day as well as on the Vesak day itself, such as 3-Steps-1-Bow procession, Bathing of Prince Siddhartha, offering of flowers and lights, Vesak Fair, and many other activities.
However, because of corona, Vesak celebration is conducted virtually. Hopefully the celebration will come back after corona is over.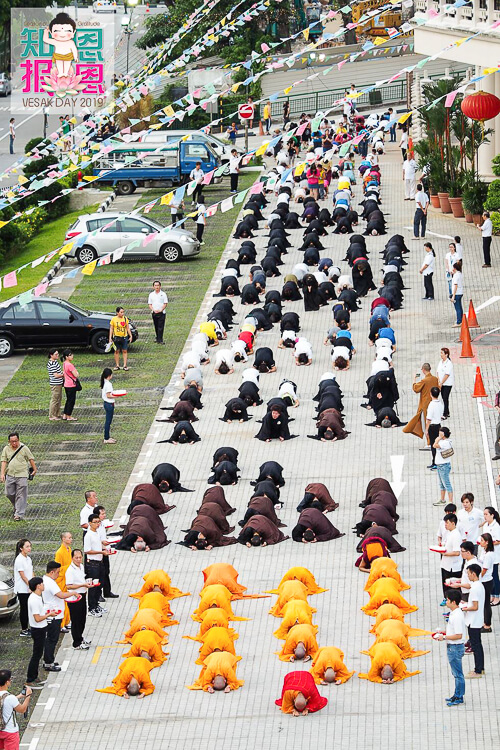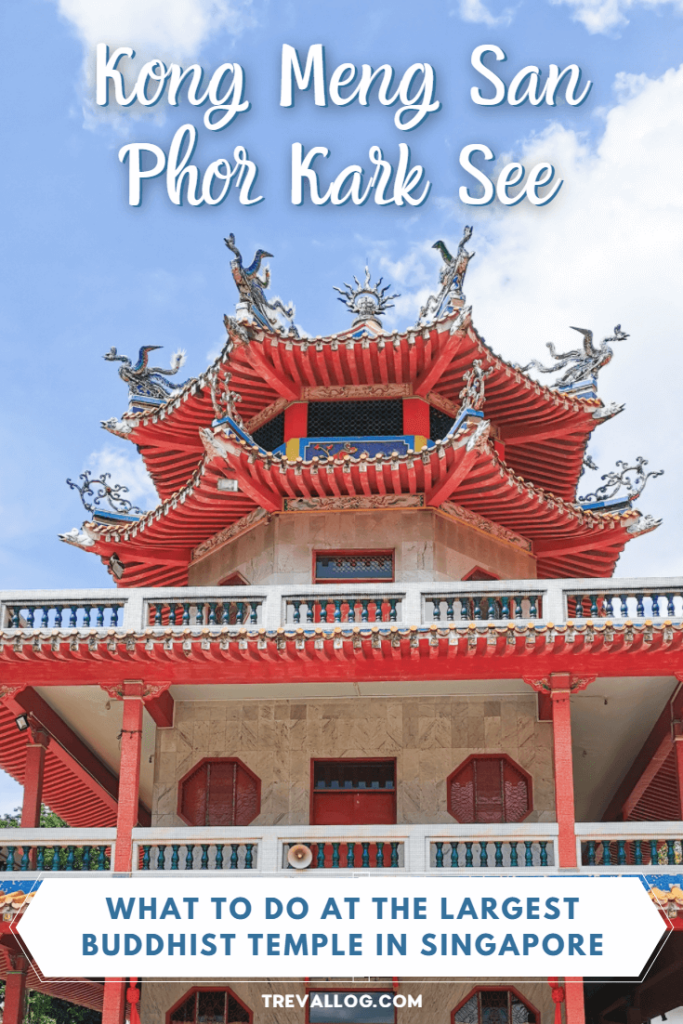 References
1. KMSPKS History
2. KMSPKS: Hall of Great Compassion
3. KMSPKS: Hall of Great Strength
Want to be the first to know whenever I post new articles and videos? Join my Telegram Channel and you'll get new post alerts sent directly to your phone.