Le Pavillon Gallery Hoi An Hotel & Spa is a 5-star hotel located about 1km east of the Old Town. Don't confuse this with other Le Pavillon properties (eg: Le Pavillon Hoi An Paradise, Le Pavillon Hoi An Luxury Resort, Le Pavillon Hoi An Central Villa, Le Pavillon Hoi An Boutique Hotel and Le Pavillon Hoi An Riverside Hotel).
I decided to book this hotel because it's close to Old Town, it looks nice on photos, the price is reasonable, and the fact that it's 5-star (although the star rating is pretty questionable!).
We paid VND 2,349,000 (~SGD 138) in total for a 2-night stay without breakfast. Pretty affordable, isn't it? So… did it live up to our expectation? Here's the summary if you want the quick answer!
What I Like:
Walking distance to Old Town (1km)
Nice interior
What I Don't Like:
Room is dusty and has unpleasant smell
Room has uncomfortable vibes
Underwhelming swimming pool and breakfast
Check-in & Lobby
The lobby at Le Pavillon Hoi An Gallery Hotel is quite impressive. It's not grandeur, but it is a nicely-designed lobby. The colors, the layout of furniture, the style of the furniture, the lamps, they are all so well put together.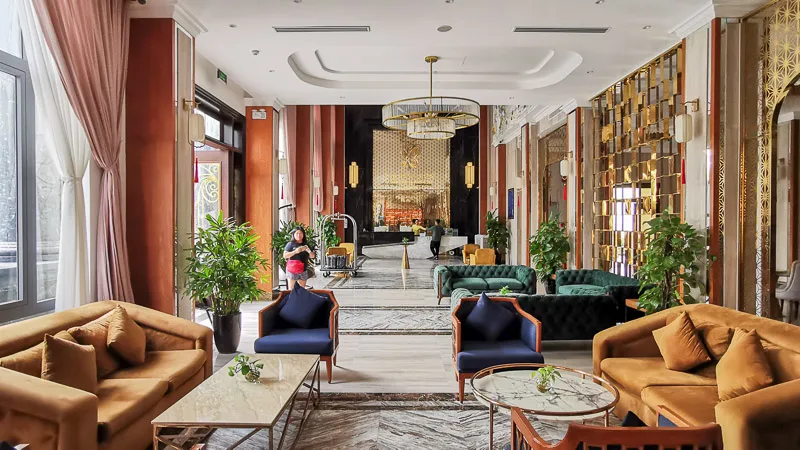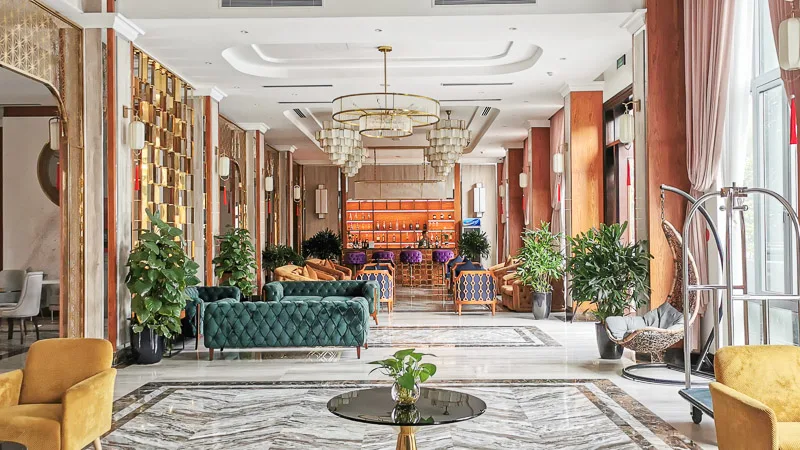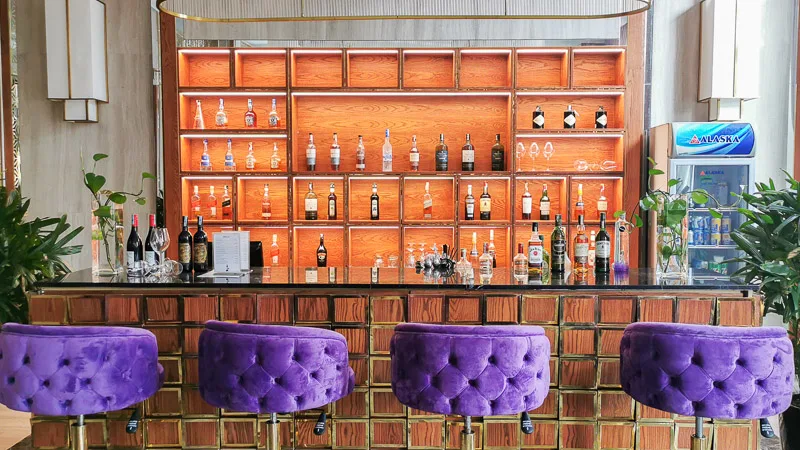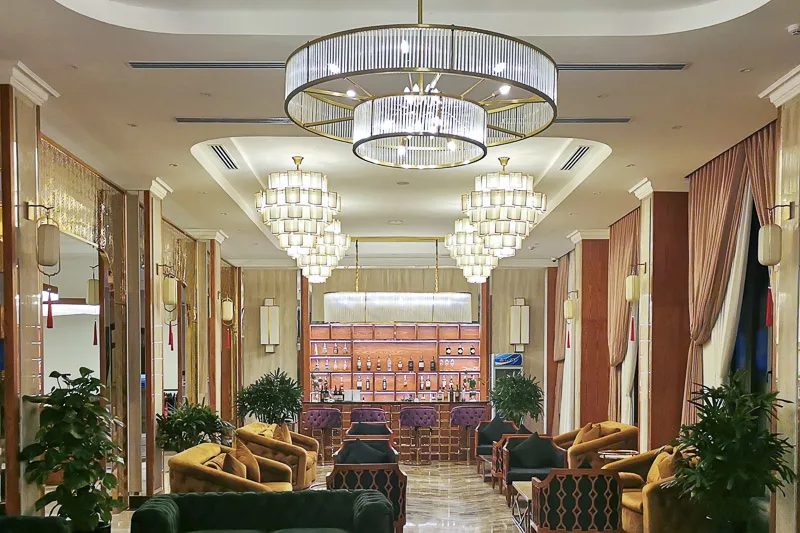 The check-in process is pretty swift. There were no other guests during our arrival. We were given a welcome drink each during check-in.
We were shown a hotel information sheet (pictured below). We were also briefed on each points in the sheet.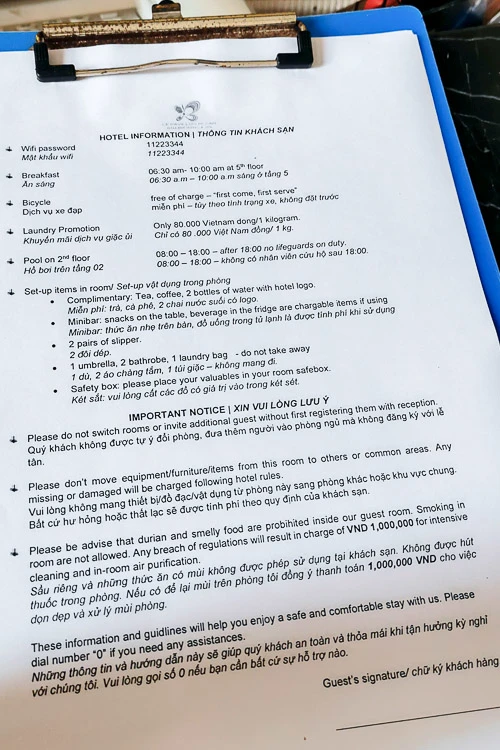 In terms of facilities, the hotel has a spa & massage service (which was not cheap), and they can help guests book electric car or car rental. Guests can also rent bicycle from the hotel for free, if the bikes are available.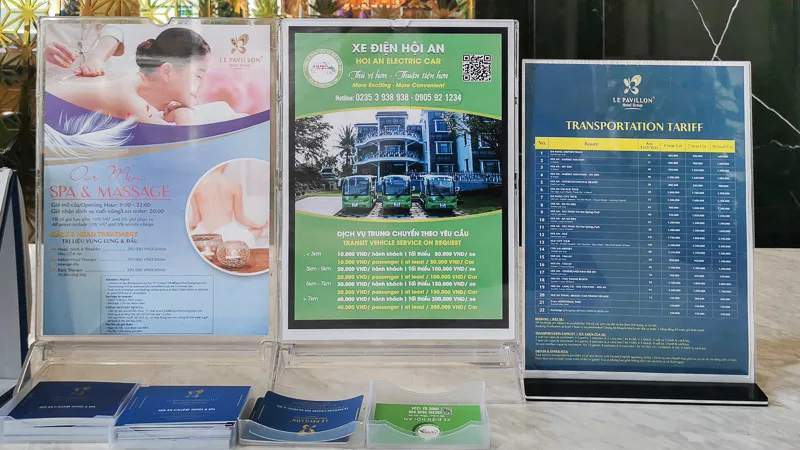 Gallery Deluxe Room
We booked a Gallery Deluxe Room, which is the second lowest tier (the starter room is Gallery Superior). To be honest, I'm quite confused about is the difference between Gallery Superior and Gallery Deluxe.
According to their official website, Gallery Superior has an area of 30m² and Gallery Deluxe is 34m² in size. But in Booking.com (where we made our reservation), Superior is 27m² while Deluxe is 30m².
Booking.com also stated that Deluxe rooms come with a balcony and has a city view. Meanwhile, our room doesn't have a balcony and has a pool view. On their official website, there's no mention about balcony and type of views in both Superior and Deluxe.
Anyway, since I can't figure it out, for simplicity, I will just call our room as a Gallery Deluxe Room.
The hotel is a low-rise hotel with just 6 storeys. Our room is located at Level 4, and it is RIGHT AT THE LIFT LOBBY. So, if someone is waiting for a lift and we open our door, they can easily see the inside of our room! And I did not like that, but it's not like I have a choice. Oh, well.
Now, let me show you the room!
The interior design of the room is commendable (nice choice of color, nice furniture style and layout, and pretty tiles). And the hotel has kindly decorated our bed with a Happy Birthday message for hubby's birthday and I'm so grateful for that.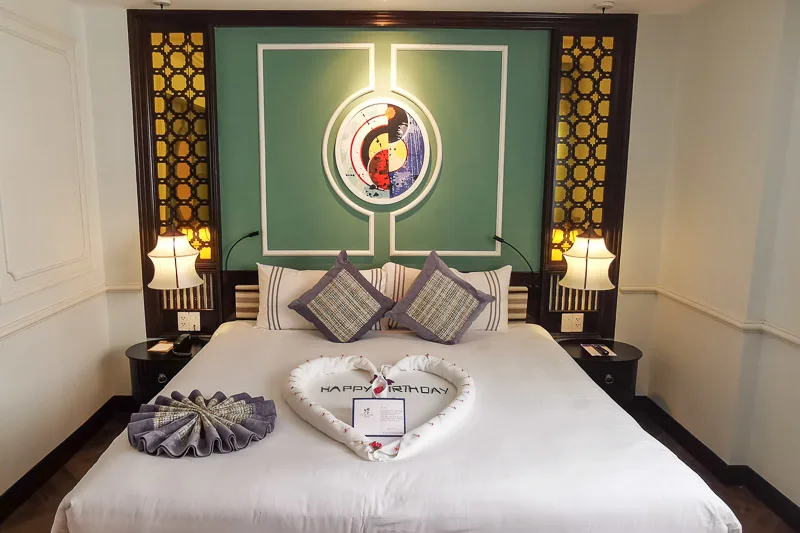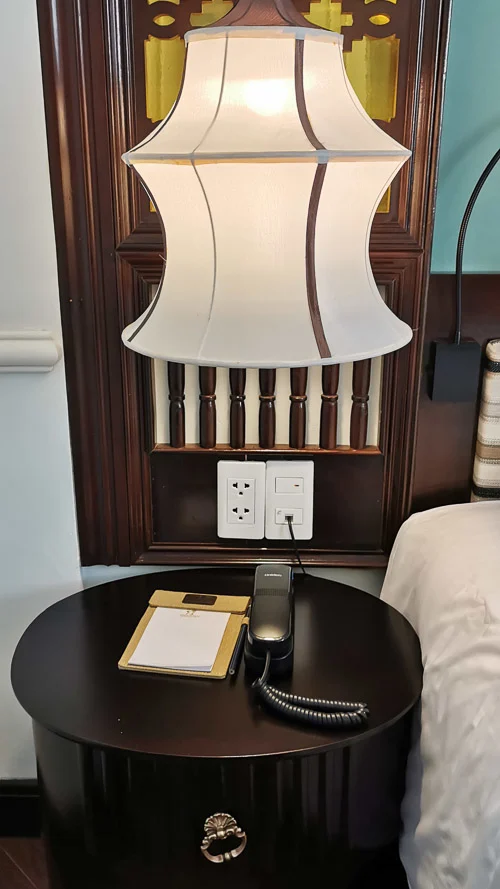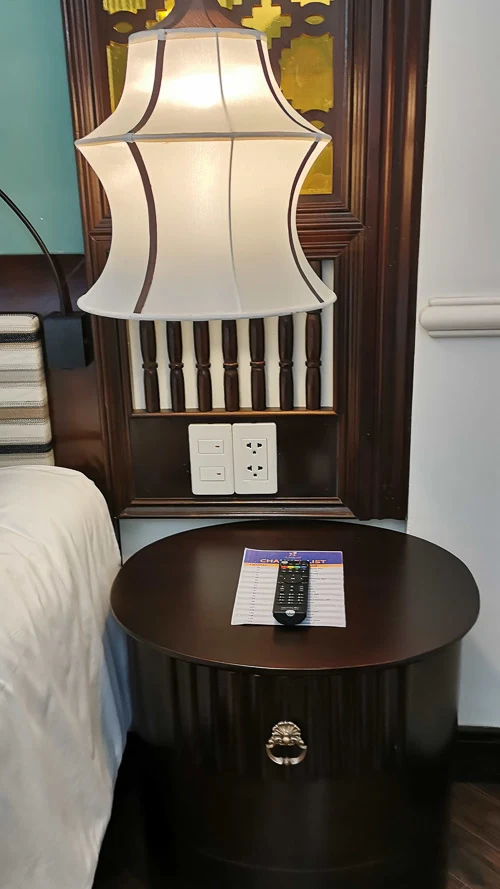 There is a living area with a sofa, a TV cabinet, and dressing table. Next to the TV table is the luggage rack.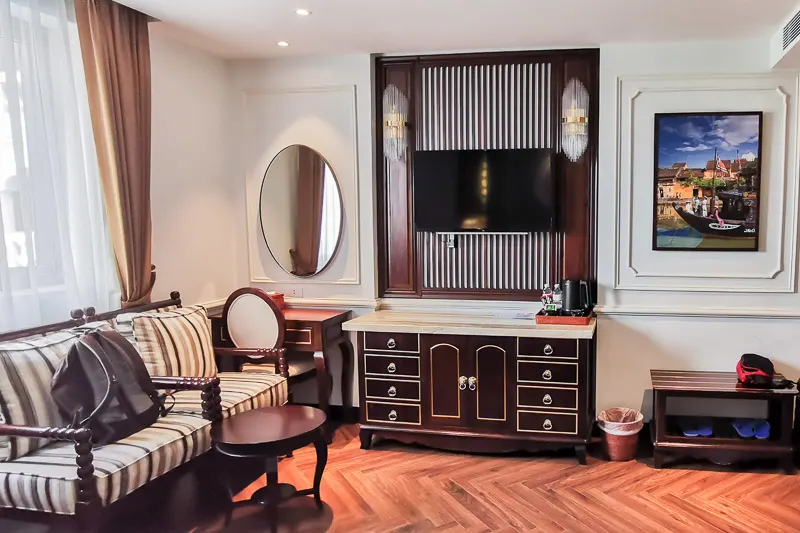 The minibar is a simple one. On the table, there are coffee, tea, mineral water, electric kettle, and cups.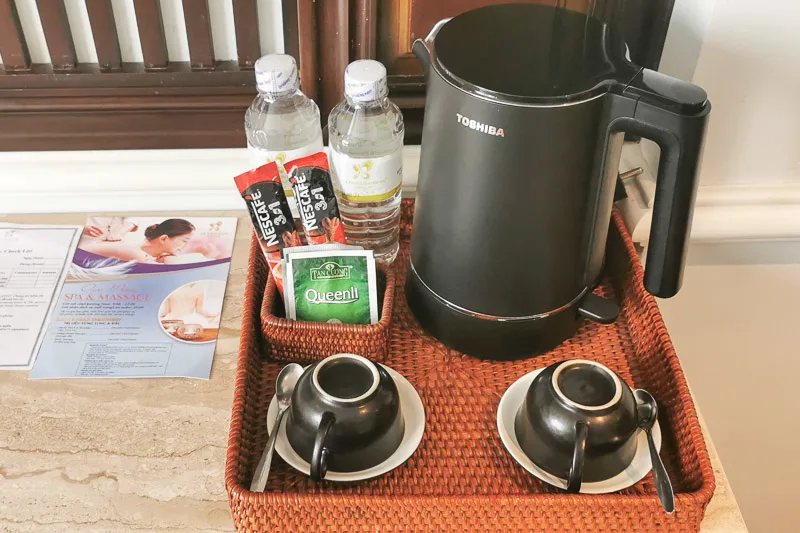 In the fridge, there are La Rue, Pepsi, and Aquafina. These items are chargeable and the pricelist can be found on a piece of paper next to the coffee.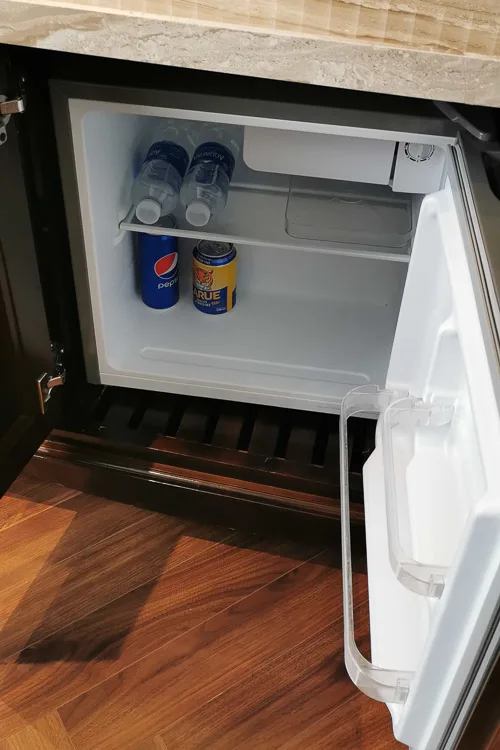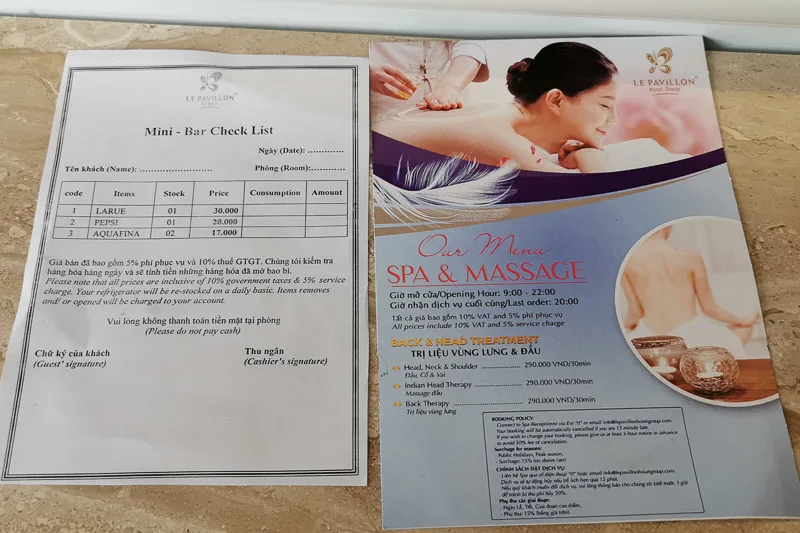 There is a wooden wardrobe with bathrobes and a safe deposit box.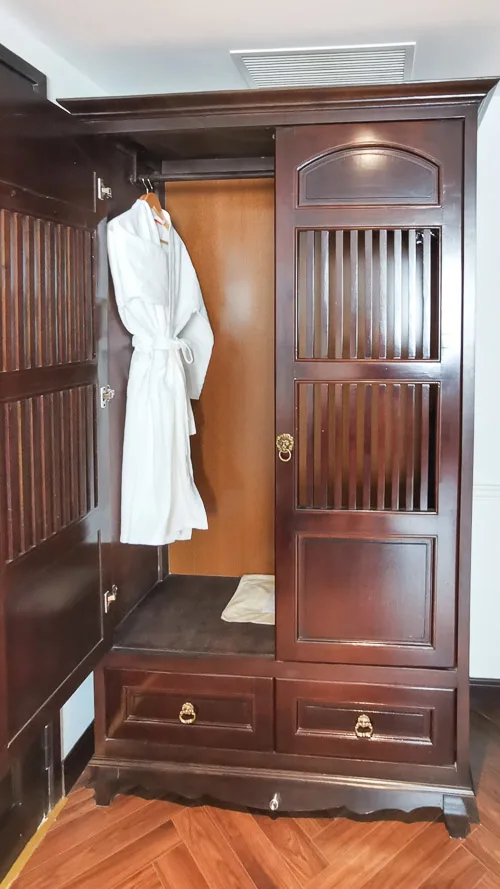 I love the bathroom colors, they're so chic. The floor tiles look like hand-drawn patterns.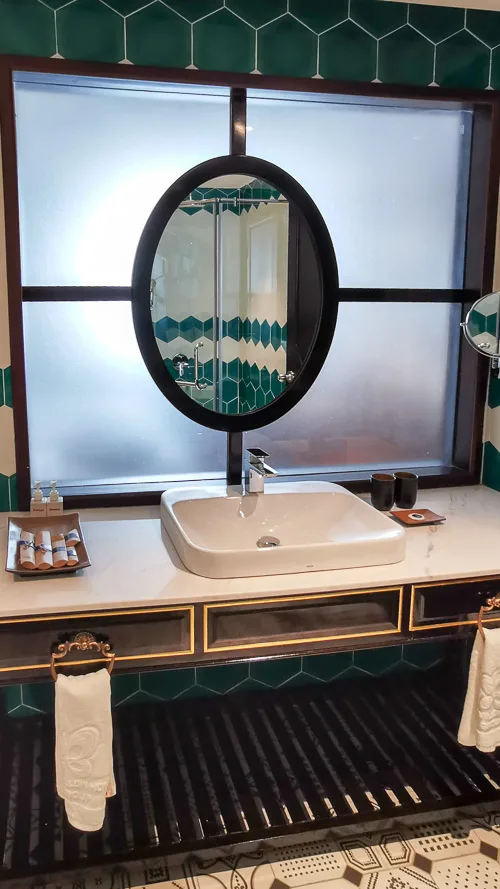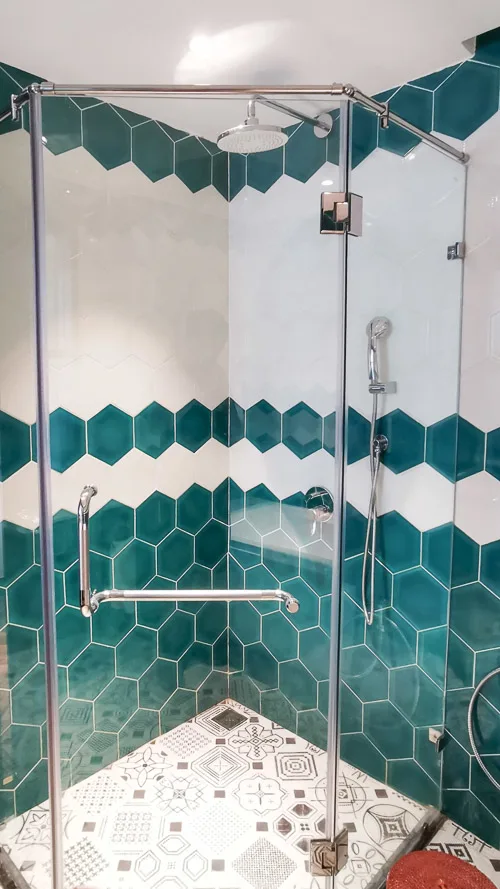 But, one thing I dislike from the shower room is that there's no place to put the soap and shampoo containers! So, before taking a shower, we had to carry the ceramic bottles containing soap and shampoo from the vanity counter and put them on the floor! To squeeze out the soap and shampoo, we had to squat down to squeeze them! Gosh!!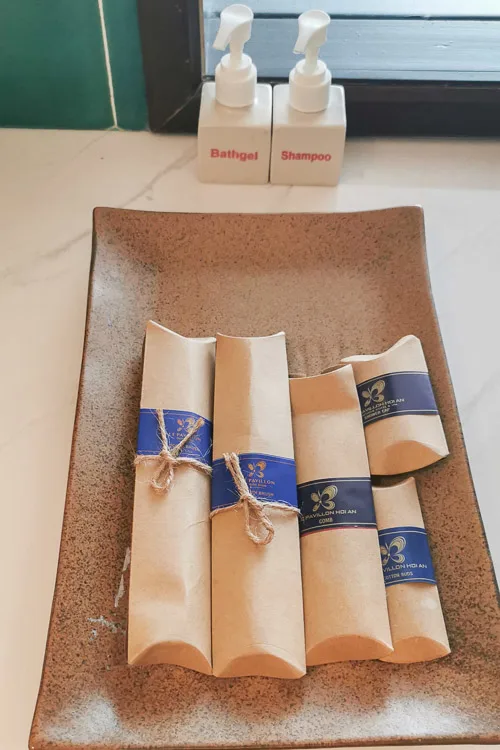 On the other side of the bathroom is a bathtub, which has a strange shower head location. Usually, shower head is located at the shorter side of the tub. Here, the shower head is located at the longer side of the tub. Hence, it's very likely that the floor will be wet if you shower in the tub, unless you're very gentle.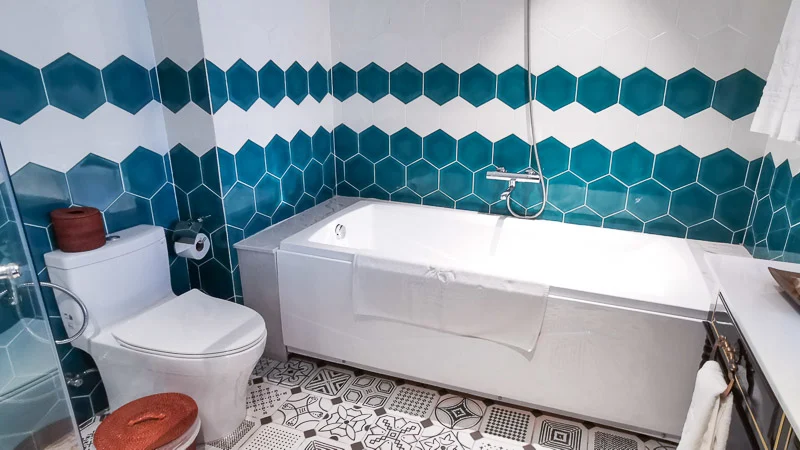 Lastly, the room is dusty and has unpleasant smell (like the smell of old furniture or mold). I felt sick during my visit to Hoi An, I'm not sure it's because of the dust in Hoi An City, or the dust in the room, or both.
Swimming Pool
The swimming pool is open from 8am to 6pm everyday.
From our room at Level 4, we can see the pool at Level 2. From the above, it looks alright.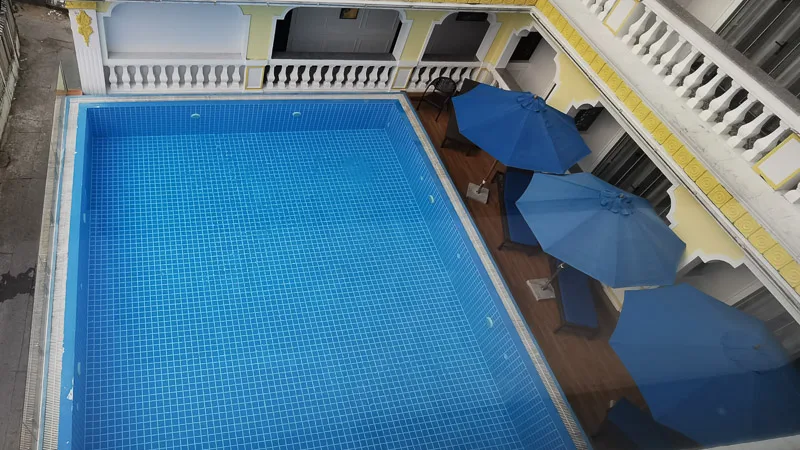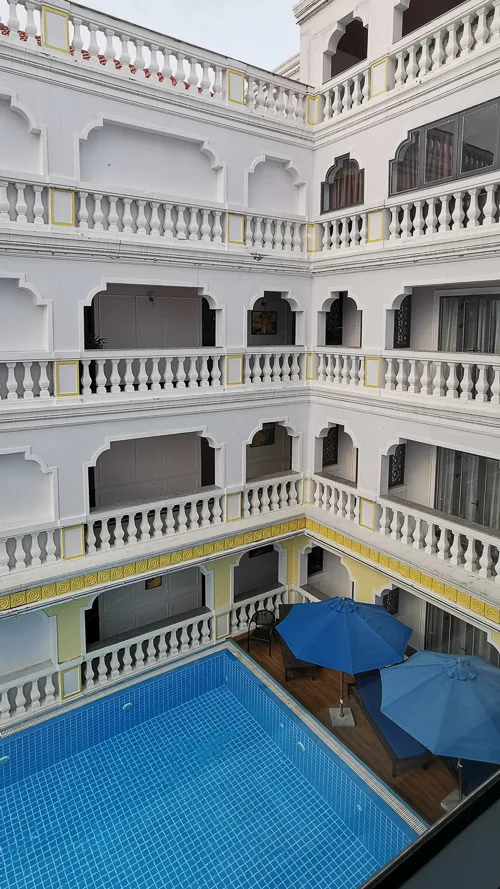 But when you're at Level 2, you can see that the pool is actually not as big as it looks like. There are very limited sun lounges.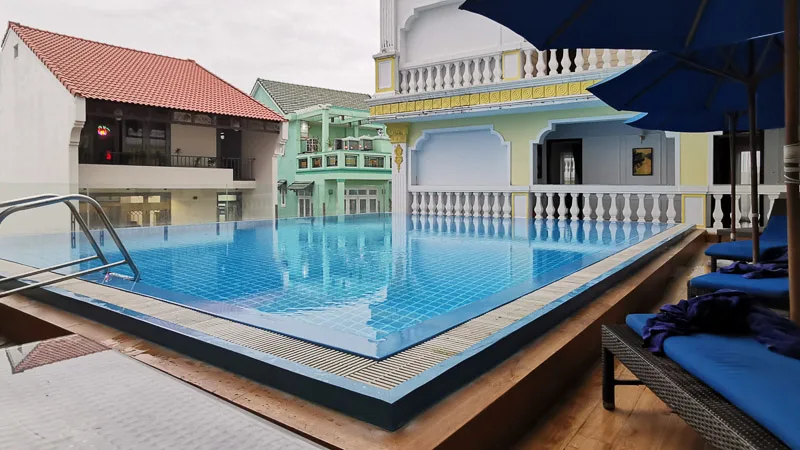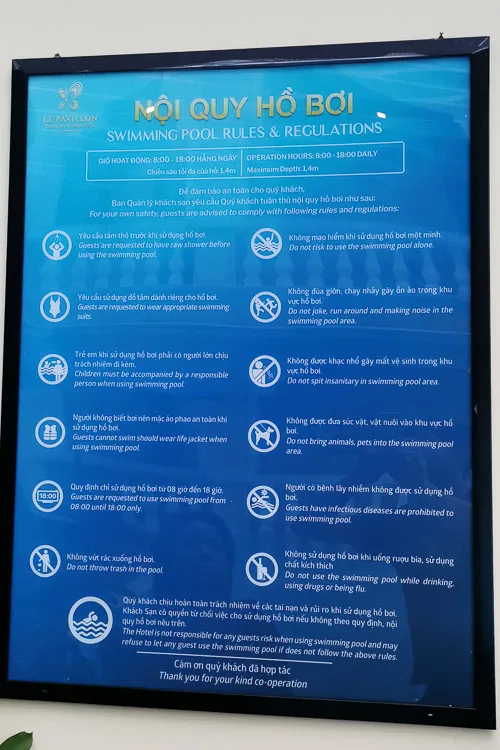 Breakfast
Breakfast is from 6.30am to 10am at Level 5, Ville de Faifoo. Our booking didn't include breakfast. If we wanted to pay for breakfast directly to the hotel, it would cost VND 150,000 per person per night.
So, we decided to head to the restaurant to take a look at the buffet spread, before deciding whether to eat there or not.
My first impression was, "Wow, nice interior yet again." However, there was literally NOBODY at the restaurant when we visited at 8.20am.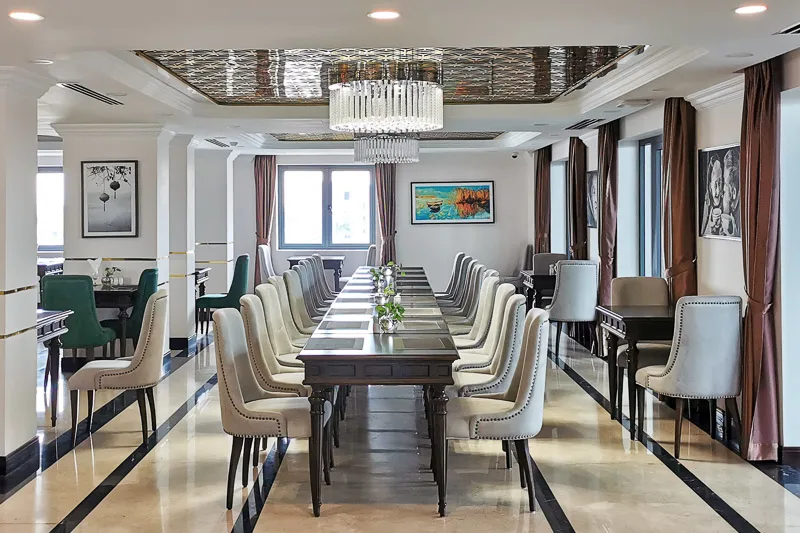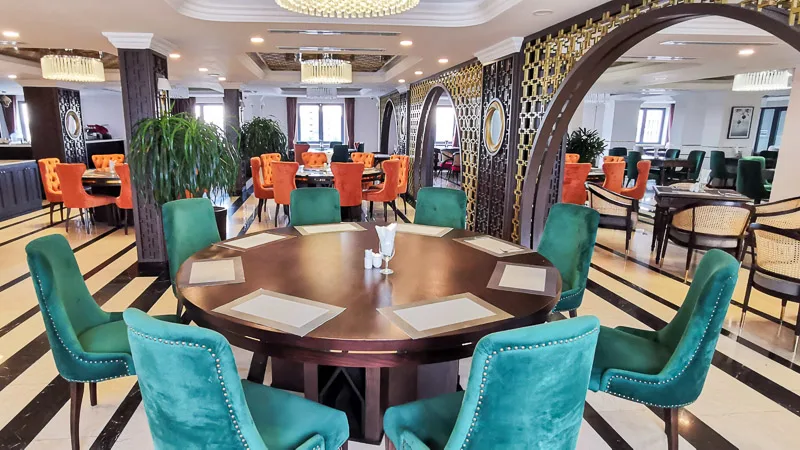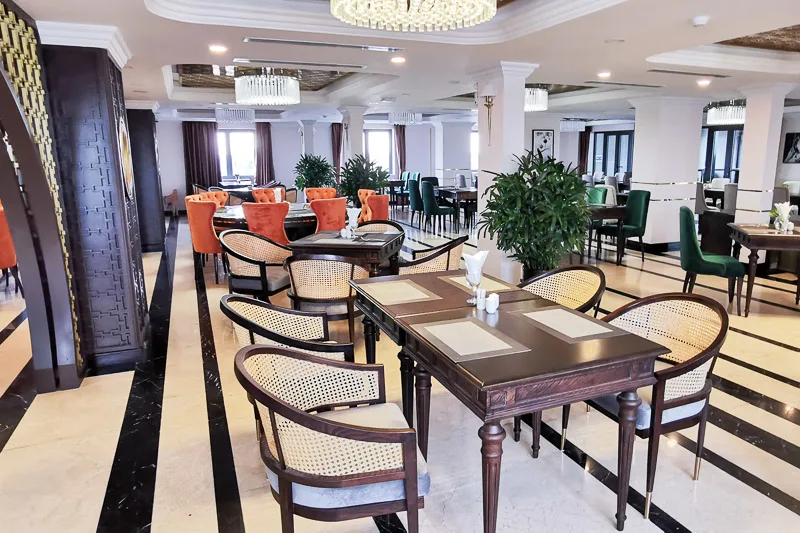 Let's check the food out! At the drink section, there is water, fruit juices, tea, coffee, and milk.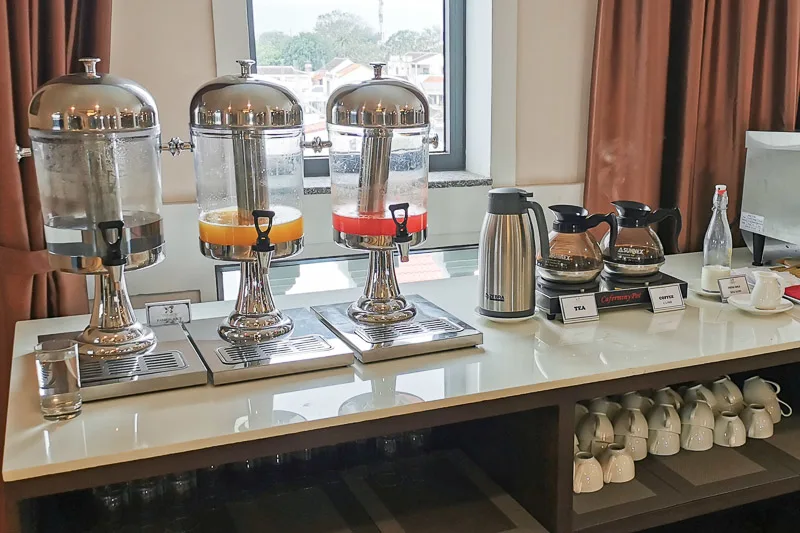 Next to it is the toast and pastries section, which has sliced bread, baguette, croissant and what look like cream puffs.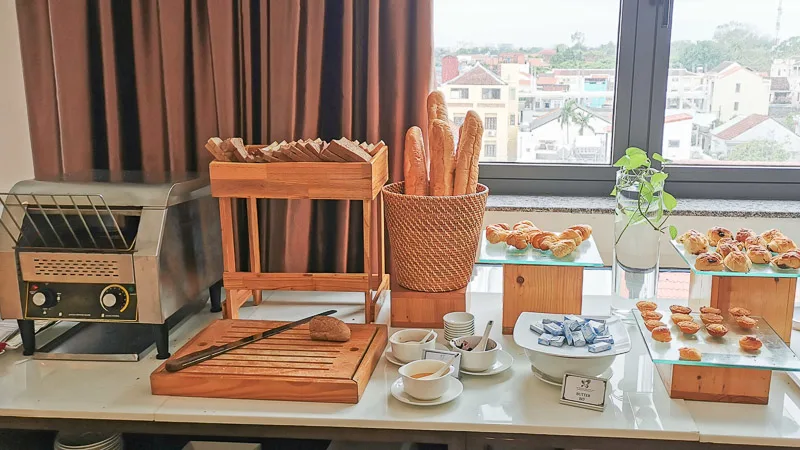 Then, at the fruit section, there are dragonfruit, banana, passionfruit, yoghurt and creme brulee.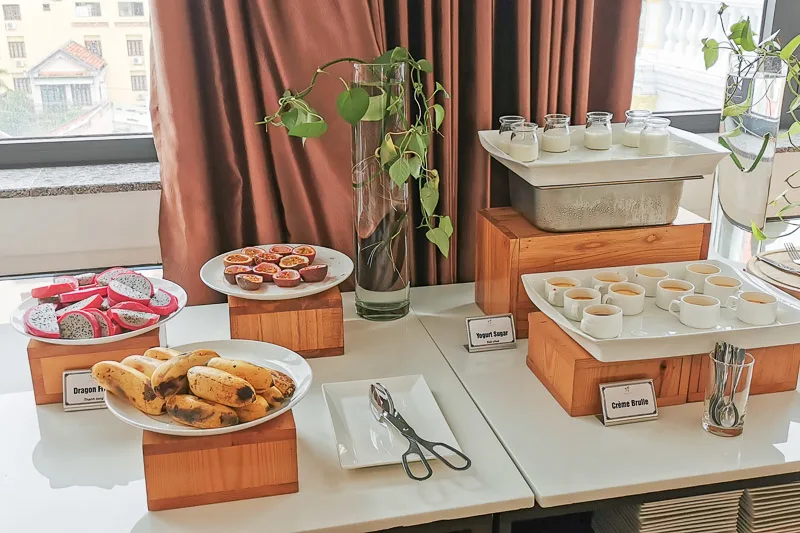 Next to that, there is cheese platter (with very little cheese left), ham, tomato, cucumber, salad and dressings.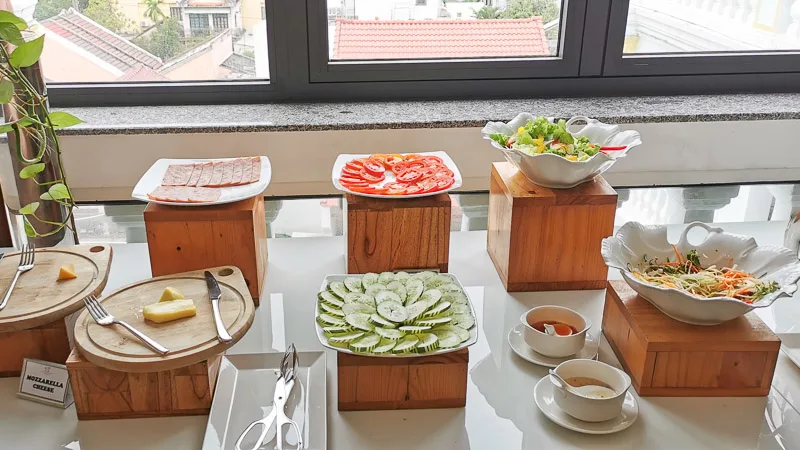 At the hot food section, there are fried rice, stir fried vegetables, pasta, bacon, and sausage.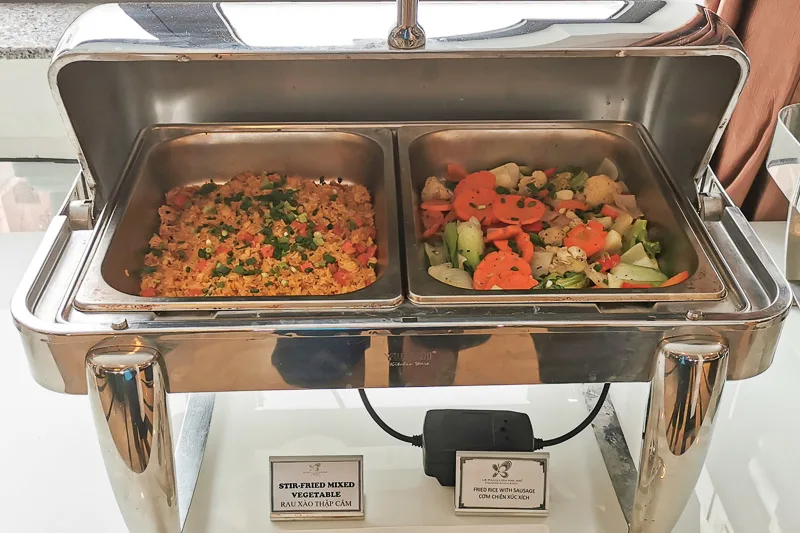 Then, there's a live egg station and live noodle section.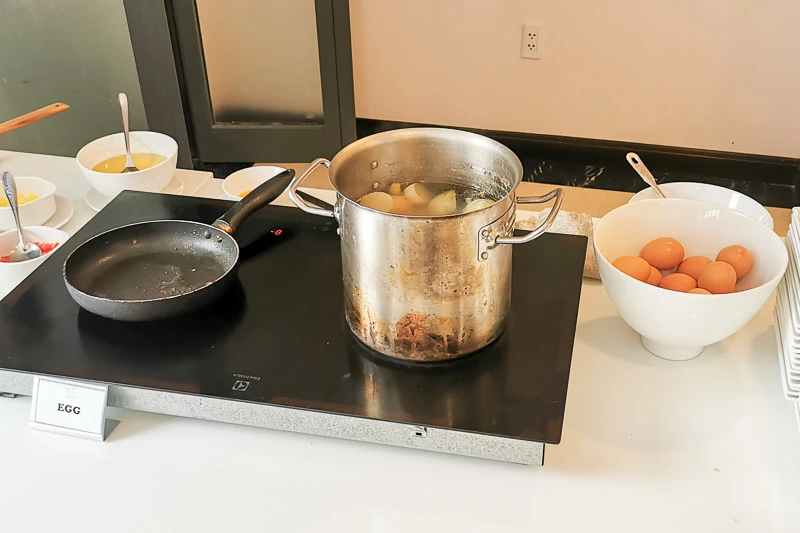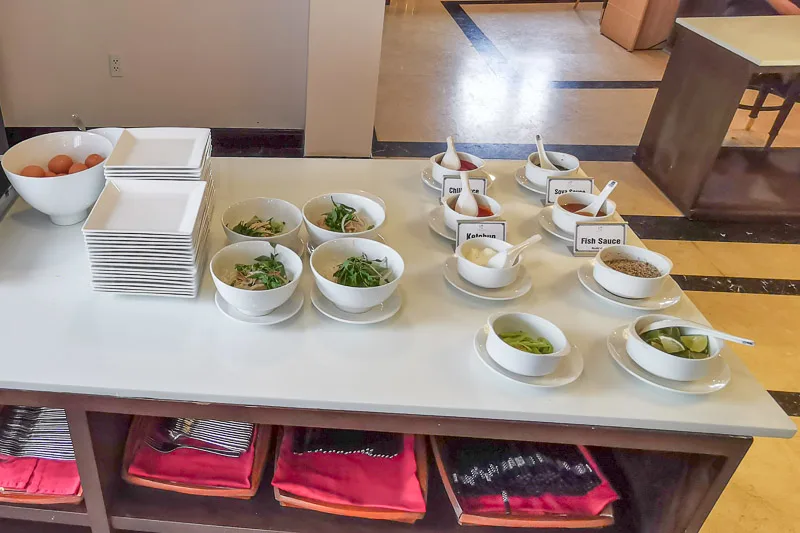 We decided not to pay for breakfast and went to town to look for street food for breakfast instead.
View of Surrounding
Because the hotel is not a high-rise building, the view you can get are mostly roofs of residential houses and the nearby temple.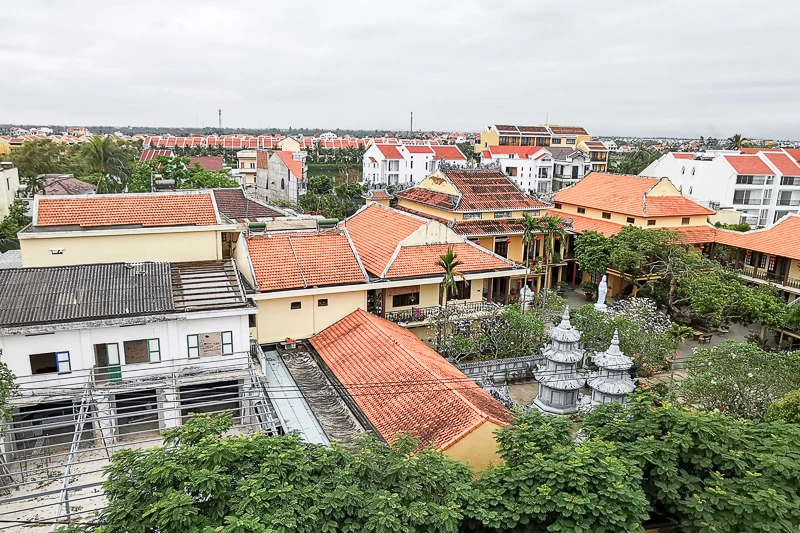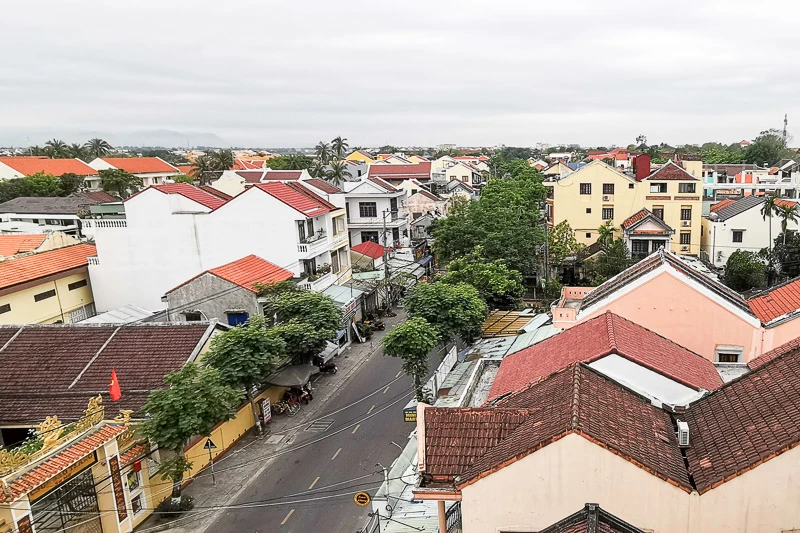 Final Thoughts
In terms of price, location and interior design, Le Pavillon Hoi An Gallery is a decent hotel in Hoi An. I love how thoughtful they are when decorating our room for my hubby's birthday. And it's nice that they provide free bicycle rental.
However, the swimming pool and breakfast were underwhelming. And I kinda not enjoy the vibes in the room. I don't know how to explain in with words, but I don't feel comfortable being in the room. Everyday, I did not look forward to going back to the room, for reasons I can't explain.
Maybe it's just me. Or, maybe it's just that particular room.
If you like my work, you can buy me a coffee! Your support will help me to keep going!