Before you read this letter, please know that it includes too much information related to death. Do not proceed if you're uncomfortable.
---
11 May 2019
Pa, it has been almost 4 weeks since you've been gone. I'm now back to the daily grind in Singapore, the city where I've been living in for the past 14 years. 14 years, that's how long I've been away from you. I didn't ask you how you felt about me leaving our country to pursue better opportunity overseas. I hope you felt proud.
Pa, in our family, even though we don't verbally say how much we love each other, there is never a doubt in my mind that you love us (mama, me, evi, elly) with every ounce of your heart. Mama once told me that when I was little, you had a plan to find a job in Jakarta to make ends meet. Unfortunately, or fortunately, when you said goodbye to mama and me, I kept crying and wouldn't stop. Your heart melted and you decided to stay put.
Pa, I knew the beginning state of our family was pretty rough as you changed vocations, from selling oranges to drying fish. I could vaguely remember those mornings when you brought me on a motorcycle ride to a wet market to get fish, then sent me to school before going back to home to dry those fish. To the three-or-four-year-old me, riding on a motorcycle while holding your waist from behind is such a cool adventure.
Around the year of 1992, you and mama started a poultry business. It was also the year when elly came to our family (2 years after evi), making our total family member counts as 5. One man and four women. As Chinese, there was always the pressure of having a son. Pa, I remember when others were asking you to keep trying until you get a son, you told them, "I don't need a son. Three daughters are enough. Son and daughter are just the same."
As a selfish kid, I was really hoping to have a brother because I wanted to have every noun available in the definition of a family: mom, dad, sister and brother. I foolishly and persistently asked you and mama to give me a brother. Long story short, you and mama tried but it didn't work out. Pa, I want you to know that I'm so proud of what you think about not having a son. I'm so thankful that you value us, girls, just the same as boys.
Pa, I knew the poultry business was an extremely hard vocation. You and mama woke up at 2am (sometimes 1am) every single day to open the shop until noon. You refused to take days off for years, reasoning that customers would leave us if you do. During our school holiday, you asked us three to help with the business. I hated having to wake up really early and get my hands dirty counting chicken livers. Pa, I'm sorry for being such an ungrateful girl.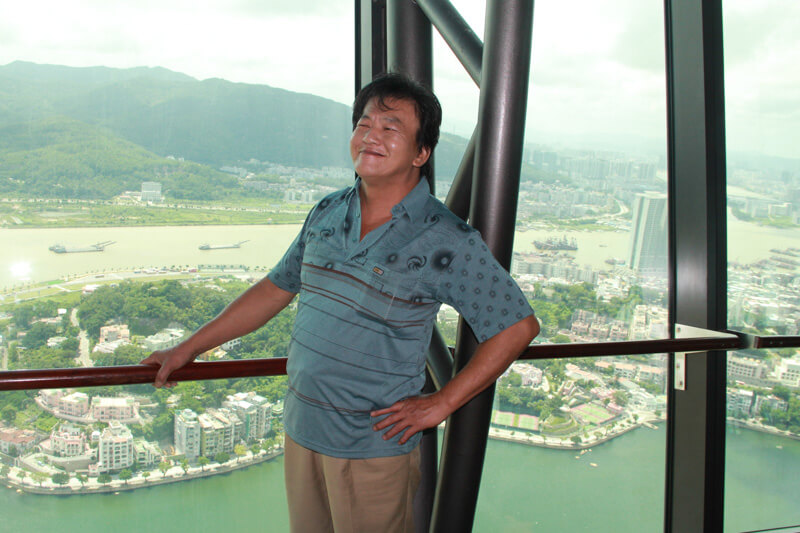 On my 17th birthday, when we had lunch at a restaurant, I told you that I wanted to study in Singapore. You said you can't afford to send me overseas. Pa, even though you didn't show encouragement to my dream to study overseas, I went ahead to apply anyway. Perhaps I inherited your stubbornness. Then, the university sent me a letter to invite me to sit for entrance examination. Again, without telling you, I studied hard and went to the exam. Over a month letter, I was giddy with excitement when I received the letter from the university that I was offered an admission. I assured you and mama that it's okay if you can't afford to send me, I will take subsidy and loan. Finally, you let me fly.
Pa, those 4 years when I studied in Singapore were definitely not easy for you and mama because you had to support my hostel rent, tuition fee (it was still expensive after subsidy and loan) and living expenses. I was scared of overspending but you repeatedly told me not to skimp on meals. You even supported me when I said I wanted to go to Beijing with my school teachers and I had to pay SGD 650 for the one-week-trip. Little did I know that my trip to the Great Wall inspired you to visit the Wall yourself. I'm so glad that you and mama went for it.
Pa, remember that time when you finally came to Singapore for the first time to attend my graduation with mama, evi, elly and our cousins? I was beyond happy. I hope you had a good time.
Pa, we had only traveled as a complete family twice. Once to Sibolga and once to Macau & Hong Kong. I couldn't remember much about Sibolga trip because I didn't take any photos. I remember a lot about Macau & Hong Kong trip. I remember how you were doing silly things to the wax at Madame Tussauds. I took plenty photos of you with silly poses. You are really one of a kind, Pa.


Pa, if there's a time machine, there are so many things I want to change. I want to take more international trips with you and mama. I want to go back home more frequently. There were years in which I went back only twice and I really regret that. I want to celebrate your birthday, it's something we've never done. It's something I wish I'll be doing July this year but it's obviously a wishful thinking.
Pa, did you know that you were so good looking when I got married early in 2017? You looked young, vibrant, healthy and strong.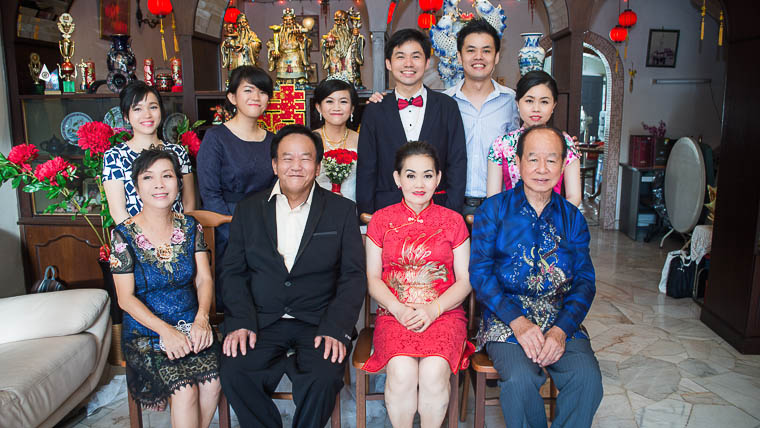 ***
I went back to visit you and mama on 20 July 2017. You were having a cough that wouldn't go away. Ayau noticed but I didn't. He insisted to buy a cough syrup for you. Everyone thought it was just a cough. Pa, if I could turn back time, I would've forced you to do a health check up. I didn't know it was not a normal cough, I'm so sorry.
6 months later, late January 2018, mama called me. Mama usually doesn't call me unless it's really urgent or important. She asked me to go to Penang and bring cash. She said she is at a hospital with you and she doesn't have enough cash to pay the hospital. I asked her, what happened. She said you had wet lung, doctor has performed suction and you cried because it was damn painful. Pa, never once in my life had I see you cry. Upon hearing and processing what mama said, I cried too.
Mama said you asked me to pray. So, I went to a temple in Bugis to pray for you and asked for a protection charm. On Friday night, ayau and I took overnight bus to Penang and arrived on Saturday morning. When I saw you at the hospital, my heart broke. You were so fragile. You were not allowed to eat solid food, so I brought floss (as you requested) so that your porridge would not taste so bland. When I asked you about how the suction went, you cried in front of me. Pa, I'm sorry you had to go through the awful suction.
The next day, I asked you whether you'd like to walk outside, and you said yes. So, I brought you down to the first floor of the hospital. Slowly, we walked out of hospital and crossed the road. I was so happy at your newfound freedom. After about 30 minutes or more, we went back to the hospital slowly. To my horror, we were scolded by nurses and doctors for leaving the hospital without telling anyone. But, deep inside, I was happy, and I'm sure you were too.
When Sunday evening came, with a heavy heart I said goodbye to you. During the next few days, the diagnosis came. You had lung tumor. In other words, lung cancer. Never in my life had I thought that cancer will ever attack my family. Mama said you will undergo chemo treatment to remove the tumor.
The next weekend, early February 2018, you were still not discharged yet, so I came back to visit you again with more floss. This time, you looked stronger. Aunt (your sister) was also there. Together, we had dinner at Gurney Drive where you sneakily ordered a rojak with fried crab, something that you needed to avoid.
I asked you how chemo feels, and you said you felt nothing. You said chemo is just a liquid medicine. You said you didn't feel nausea or any side effects at all. I felt relieved. On Sunday night, again I said goodbye. Two days later, you were discharged and went back home to Medan.
I went back to Medan on the 4th day of Chinese New Year to spend time with you for 2 days, before you fly to Penang for chemo treatment again. 3 days later, you came back, and we got to spend 2 days before I flew back to Singapore.
Over the next few months, I visited you in Penang a couple of times. There was that time when I took leave to accompany you and mama to the doctor's appointment. I met Dr Ang who said that you're doing fine. Another time was in April. After your chemo, we went to eat Putien.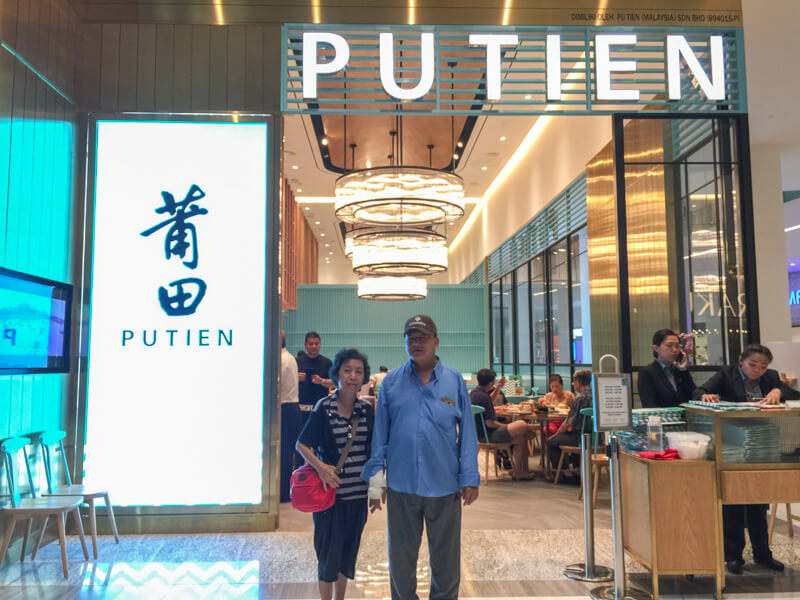 In May, you looked awesome and really healthy. You went to KL with your friends. From KL, you took the bus to Singapore to visit me. Pa, I'm sorry that I was working on Saturday and hence couldn't immediately meet you. When I finished work, I called your phone but couldn't reach you because your remaining credit was already empty. I was so stressed. I took cab to Woodlands checkpoint and waited for you but you're nowhere to be found. I asked the immigration officers for help but they said they didn't see anyone like what I described. After an hour, you finally called me with a stranger's phone saying that you're at Jurong East Interchange. I immediately took cab to Jurong East to meet you. Pa, I'm sorry to keep you waiting for so long. You must've been so tired standing there waiting for me for hours without drinking or eating. The next day, I wanted to bring you to Gardens by the Bay but you said you wanted to go home. So I brought ticket for you.
June 2018 was a good month for you. No chemo, no visiting hospital.
In July 2018, your cough came back. I was scared. I went to Penang on a Monday to accompany you and mama to the hospital. I didn't realise it was your birthday, Pa. Finally I got to spend time with you on your birthday.
In August 2018, I didn't visit you in Penang because you didn't want me to take leave to visit you. Instead, I plotted a way to spend time with you by going back to Medan next month during the weekend.
In September 2018, I went back to Medan on the second weekend, exactly a day before you went to Penang for treatment. Two weeks later, I went back to Medan again for the funeral of ipoh.
In October and November 2018, I went for my own holidays. I didn't visit you. I felt so guilty. So, I decided to visit you in December to celebrate my birthday at home. Even though flight tickets were crazy expensive, I knew it was worth it.
Pa, thank you for celebrating my birthday with me, even though you have started to withdraw yourself from social interactions. You didn't want to eat on the same table with all of us. You said sick people are not supposed to eat together with healthy people. I hated your remarks but I won't force you to do things you're not comfortable doing. At least, you agreed to take a family photo and it was a photo I'll treasure for the rest of my life. Even though we didn't eat on the same table, I made it a point to always eat dinner at home instead of eating out because I didn't want to leave you.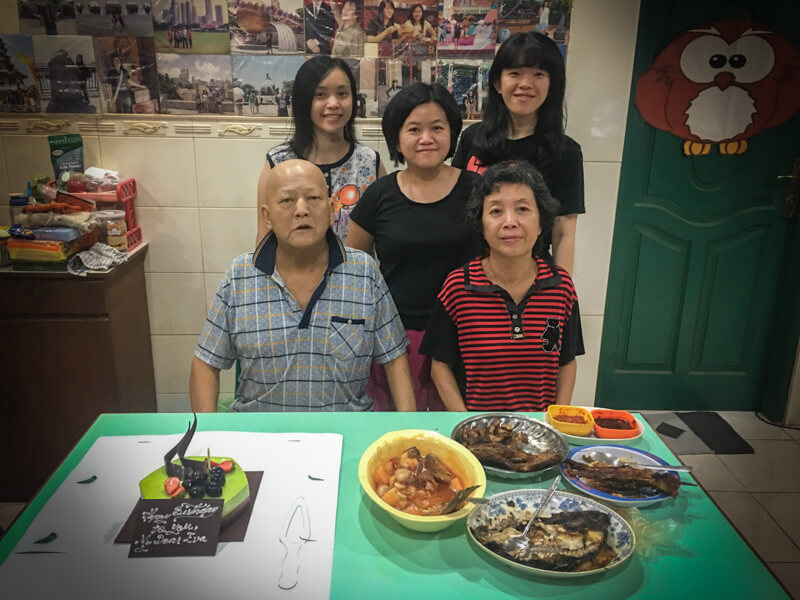 A month later, on 31 January 2019, I went back to Medan to celebrate Chinese New Year with you and family. It was a big milestone to realise that the cancer has been attacking for 1 year but you're still standing strong, I'm so proud of you, Pa. On the eve of CNY, you refused to eat together with us again. This time, I didn't take any family photo. I was hurt with the fact that you kept on withdrawing yourself from us.
A week after CNY, on 13 February 2019, you and mama went back to Penang. This time, doctor said that the cancer cells have spread to brain. I was so down. All these times, Dr Ang said you're getting better and better. Dr Ang never bother to ask you to go traveling anymore because he thinks you're getting better. Because of this spread, Dr Ang said you need to undergo radiotherapy for the 5 days starting from 18 Feb to 22 Feb 2019.
In March 2019, I visited you on the 3rd and 4th. Pa, I didn't know that was the last time I get to see you and talk to you. Most of the time, you were either watching YouTube or sleeping in your room. There was no sign of you leaving us soon. You were only 62 years young. You looked tired but you were obviously not fragile.
On 12 March 2019, you went to Penang because you had shortness of breath. Medan doctors suspected it was wet lung again. In Penang, the X-Ray result showed that one side of your lung is completely in white. Penang doctors also suspect it was wet lung. They put the painful needle on your body for suction. They made you wait for the Dr Murugan since afternoon in pain. Dr Murugan came to you near midnight. A few minutes later, he said there wasn't any liquid in your lung. You suffered for the doctor's ignorance and insensitivity. Pa, I'm sorry you had to go through the pain you hated so much last year.
Dr Ang told mama that you need to continue chemo treatment again. So, you persevered.
On 3 April 2019, you and mama went to Penang for another round of chemo. Pa, this was the chemo you shouldn't have gone for. This fateful chemo made you into a fragile human being. Upon coming back home, you lost appetite and mobility.
On Friday, 12 April 2019, mama couldn't keep everything to herself anymore. She told apek (your only brother) to come to persuade you to eat. My heart broke. I wanted so much to go back home but I knew you would not like it if I take leave again to visit you. I want to be a good girl who listen to what her father instructed her to do, to minimise taking leave unnecessarily. On that day, I decided to visit you on the upcoming long weekend, from 19 to 21 April 2019. I booked a ticket right then.
On Saturday and Sunday, 13 and 14 April, I kept calling home to check on your situation. I even talked to you to ask you to eat more. You talked to me as if there was nothing serious. You were still discussing about business with evi when I called.
On Monday, 15 April, I had a terrible feeling. My heart kept on pounding. I felt really restless. Something was bothering me. I kept on thinking to ask my boss to give me sabbatical leave to take care of you. But there was an urgent project that I couldn't leave. So, I asked evi, elly whether it's a good idea for me to go back. Evi elly said they don't know.
In the evening of 15 April, evi said you went to the hospital to suck the phlegm that have caused you pain. That evening, I googled: cancer patients don't want to eat. The first result shocked me. It says that loss of appetite signifies that the patient's organs have been shutting down. I was terribly scared. I searched on Jetstar, the next flight home would be tomorrow. I couldn't go back that night even if I wanted to. Mama said everything is in control, I don't need to go back home. I went to sleep.
The next day, 16 April, ayau woke me up around 5am. He showed me the many missed-calls from evi and elly since 3am. I called evi, she said it's bad news but she can't say it out loud because she needed to concentrate at the shop. I texted her and she said you were gone but she wasn't sure. I couldn't believe it. Nevertheless, I booked a ticket for a flight that was leaving in 5 hours.
On the plane, I couldn't stop my tears from falling. You were so young. Ahma (your mother) is still around and healthy. I couldn't understand why God has to call you before you even have a grandchild. Pa, I'm so sorry for not realising that loss of appetite is a bad sign. Pa, I'm so sorry for not coming home after knowing that you have lost appetite and mobility. Pa, I'm sorry to delay visiting you until public holiday. Pa, I'm sorry for not having a flexible job that allows me to have more than 16 days of annual leave.
***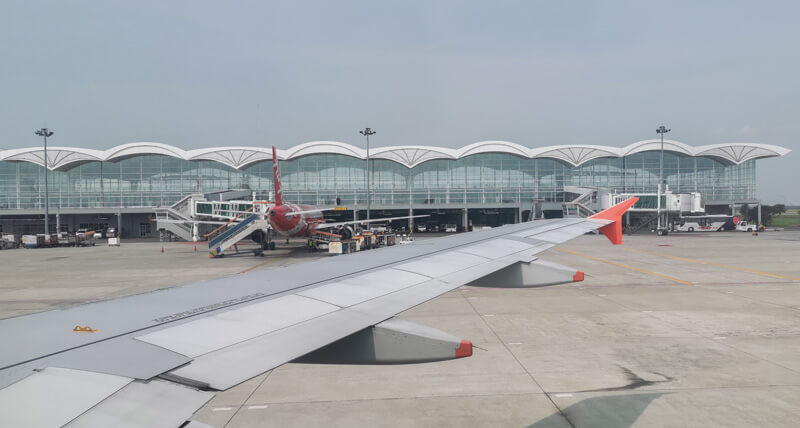 Pa, when I saw you at Angsapura, the wake house, you looked like you were going to attend your daughter's wedding, really. You were so good-looking and charming. I could see a little bit of your eyes. Pa, I'm back now, I'm right beside you. I touched your face, it was so delicate. I touched your fingers, they were so tough. I touched your bald head, I knew it was full of amazing ideas.
Pa, I didn't know the complete story about your passing until I talked to apek. He was there during your final moments. He said that around 1am you wanted to go home but he didn't let you because you were in such a weak condition. Mama was there in the hospital too but she was sleeping because she was really tired. Apek said you took off the oxygen mask by yourself, but he helped to put it back on. But you took it off again and again. Eventually, you gave apek a stop sign with your hand. Then, you went on what he thought was a deep sleep.
The nurse came in to check on you. Apek told her not to disturb your sleep. The nurse said you were not sleeping. Your heart rate has already stopped. They tried to resuscitate you but to no avail.
Pa, I hope it was a peaceful exit.
Pa, I'm a believer that your soul still lingers around us when we were in Angsapura and at home. Elly still heard your voice and movement around the house. Ayau felt your touch at night before sleep. I could feel your presence, when the two aunts were talking really loudly in our home, there was a lightbulb crack sound followed by short circuit.
Pa, if you're around when we were in Angsapura, I'm sure you knew how much you were loved by everyone around you. Pak Narbaban immediately came to Angsapura when mama told him about you. Customers, staffs, neighbors; there were so many people at the wake. I may not know all of them but I'm pretty sure you had made some positive impact in their lives.
Pa, ayau and I bought you some of your favorite food during the wake. Kwetiau goreng, leng pua, tok tok, serabi, siobak.
Pa, during the wake, Narbaban told me you said you didn't want to go to Penang anymore. Taro told me you said you were so proud of me studying overseas. I cried when I heard those. They cried too.
***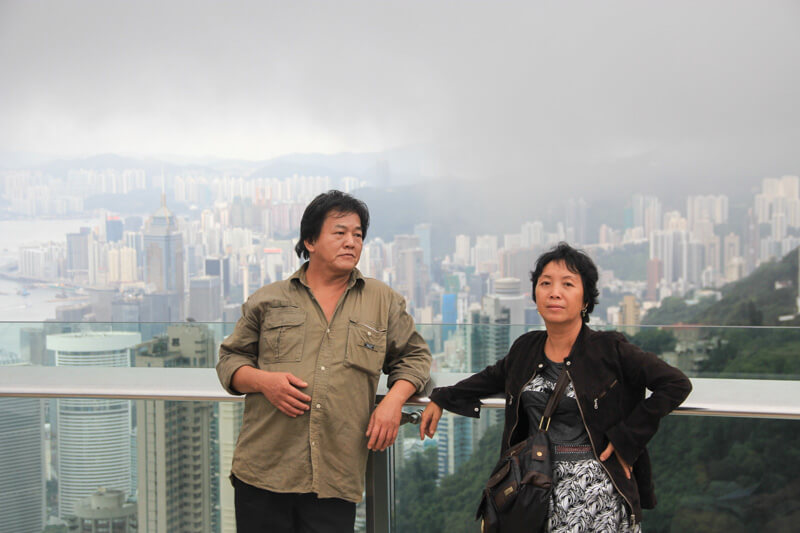 Pa, I know how it feels to be treated unfairly. There were times I wanted to punch several people in their face when they treated me unfairly. But, I don't know how it feels to be seriously ill in my 60s. It isn't fair for you, Pa, it's totally not. If possible, I really want to punch cigarettes in their face for giving you this illness. I also want to punch God in his face for calling you so early. And punch Dr Murugan's face for making you wait in pain so long for nothing. And punch Dr Ang's face for making you go through chemo when you were so weak. Pa, life is not fair.
But I want you to know that, one day, we are all going to die. Nobody will escape death. It's only a matter of time and manner. Pa, I want you to know that you've done extraordinary things during your precious time on earth. That you've shaped us into who we are now, fiercely independent women.
Pa, your legacy will live on. Your life wasn't a wasted life, it was a life lived with extraordinary courage and dream.
Pa, you have made me a dreamer by showing me that it's possible to create a business out of nothing, and prosper; and I thank you for that. You have also made me a fighter. Watching you fight the cancer broke my heart but also ignited a fighter spirit in me. You've shown us how to fight for life; you fought fearlessly against cancer for over a year, over countless chemo and radiotherapy treatments.
Pa, we promise we will take good care of mama. We will watch her diet, never let her feel sad or lonely, monitor her mood and health. I promise to bring her for holidays, she loves traveling.
Pa, on 16 April 2019, the sky was very clear and beautiful. I hope you are happy now that you are no longer suffering.