Sungei Buloh Wetland Reserve is known for its rich biodiversity. The park itself is quite huge, with a total size of 202 hectares. It is too huge for us to explore in a day, so we are going to split it into a few visits. For our first visit, we explored the Migratory Bird Trail. Between September and March is the migratory season for the birds. The mudflats at Sungei Buloh serve as a place for waders to feed and roost. We spotted birds on the mudflats, along with other animals throughout the trail. The length of the trail is 1.95 km, it took us 1.5 hours to complete the loop while walking slowly and stopping occasionally to snap photos. You can find park information and the walking routes at here.
Here are what you can expect to see along the Migratory Bird Trail.
Trails
In Sungei Buloh, there are 2 main entrances: Visitor Centre and Wetland Centre. The Migratory Bird Trail is located near Wetland Centre. The first thing we encountered on this trail was the main bridge. Right after crossing the main bridge, we met Main Hide. From here, one can decide to either turn left or right, it doesn't matter which one you choose because the trail is a loop. We chose to turn right, hence we would be exploring the trail in the anti-clockwise direction.
Hides, Aerie Tower, Platforms and Scenic Points
There are 5 hides (shelter), an Aerie Tower, 2 platforms, and plenty of scenic points on this trail. There are location maps at various locations, so you have no need to be worried about getting lost.
Mangrove and Mudflats
Mangrove trees exist in abundance, both on the left and right side of the trail. You get to see all those exposed and tangled roots up close.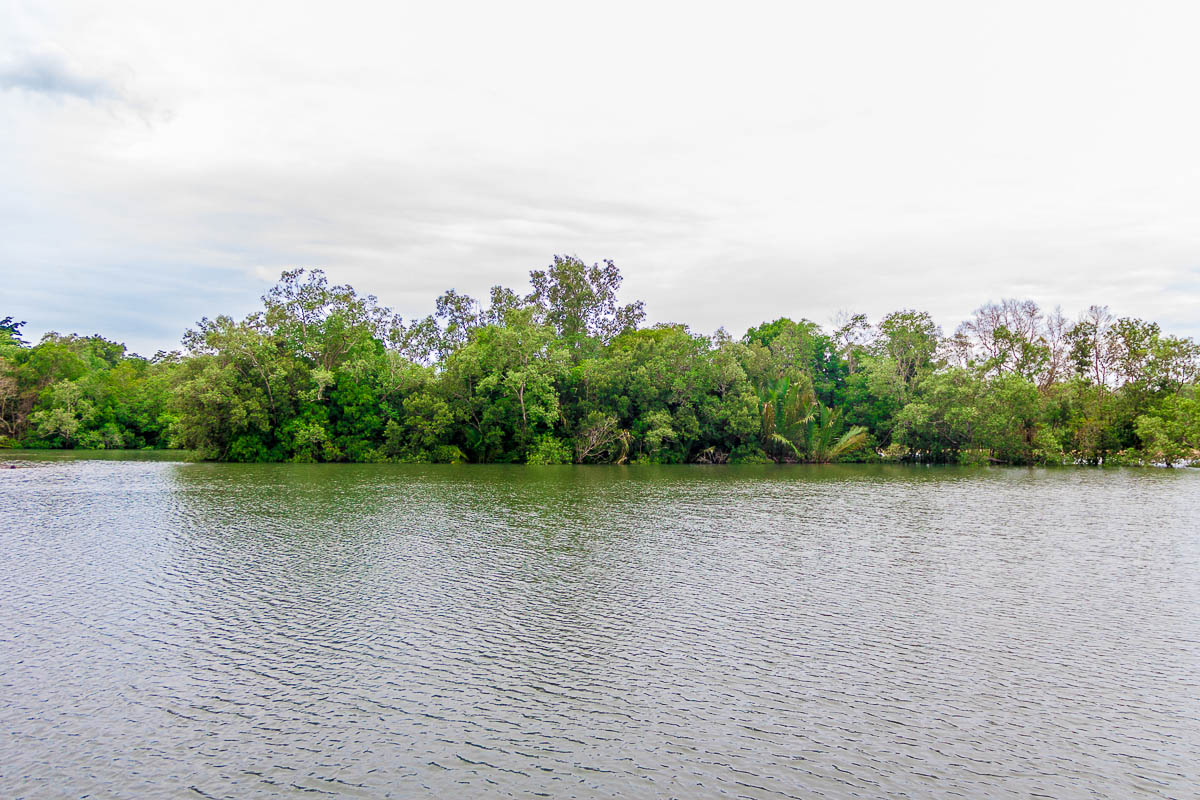 Monitor Lizard
Watch out your path! You are bound to encounter a lot of wildlife in Sungei Buloh. For our case, the animal that we meet most often is monitor lizard. It's safe to say that we met more than 5 of them, throughout the 1.5 hours we spent there. In general, they are pretty scared of human.
At one time, one huge monitor lizard literally hung out in the middle of the trail, preventing a woman with her son and daughter from passing through. As we walked towards it and generated noise resulting from footsteps, it moved away from the trails. It's best to keep a distance from the lizards and not to provoke them because they do bite and they have poisonous venom (though the venom doesn't kill human, it has a mild effect on humans). Do not touch or chase them, as they might attack in defence. And those animals are hugeeee, you wouldn't want to fight them.
Here's the video I took while walking together with a huge monitor lizard.
[youtube https://www.youtube.com/watch?v=7pNtF29Sdv4&w=560&h=315]
Birds
I'm not good in animal's name. So let's just say that we encountered birds. The biggest flock of birds are found at mudflats.
Crocodile
I certainly didn't think that I would see a crocodile at a public trail, in broad daylight. There are several signs along the trail to warn visitors to stay away from water edge, to avoid crocodiles. I didn't take it seriously. My boyfriend, however, set his mind to find one! He instructed me to keep my eyes on the water at our left side, while he kept his eyes on the right side.
Well, they say what you think of is what you can become. He really found a crocodile in the water! This crocodile was swimming quietly in the water, camouflaging under the shadow of trees. If you do not intentionally look for it, you might easily miss it. Fortunately, the crocodile is in the water, not on the trail. After snapping some photos, we quickly left the crocodile, in case it felt disturbed by us.
Tree-Climbing Crab
Yeah, there is such thing as tree-climbing crab. They are often seen hugging the trees like this.
Johor Bahru Skyline
Sungei Buloh is located at the north-west tip of Singapore, hence it is very close to Johor Bahru. You can easily see the skyline of Johor Bahru from Platform 1 and Aerie Tower.
Information & Tips
Sungei Buloh is open from 7am to 7pm daily.
Admission is free.
There are 2 entrance: Visitor Centre and Wetland Centre.
There are currently 4 walking trails in Sungei Buloh: Migratory Bird Trail, Coastal Trail, Forest Trail, Mid-Canopy Walk. You can download the walking trail routes from their website.
Migratory Bird Trail is located at Wetland Centre.
There is no restaurant or cafe at Sungei Buloh. The nearest place to eat is Bistro Gardenasia (650 m away), D'Kranji Farm Resort (3.6 km away), and Bollywood Veggies (3.7 km away); all 3 places can be accessed by taking Kranji Countryside shuttle bus.
Toilets and water coolers are available at Wetland Centre and Visitor Centre.
Do apply mosquito repellent. We didn't, and we got bitten on legs and hands, and the bites stayed itchy for the next few days, ouch.
NParks does organise some guided walks and events. Check their website for more info.
How to Go There
If you take public transport like I do, you can visit Sungei Buloh either by taking Kranji Countryside shuttle bus or SBS bus 925.
Kranji Countryside shuttle bus leaves from Kranji MRT. The price is $3 for adult (return ticket). The timetable can be found at their website. As I've mentioned in my previous post, if you take this shuttle bus, get ready and wait for the bus early, because sometimes the bus leaves earlier than the designated timing, but a lot of time the bus arrives and leaves later than the stated timing. When we wanted to go back from Sungei Buloh, we missed the shuttle bus even though we arrived at the drop-off point 2 minutes before the stated departure timing. We tried to get Uber, Grab and even called a taxi but there was no available driver nearby. So we decided to walk for 1.4 km to Kranji Reservoir Park bus stop in order to take SBS bus 925. Fortunately for us, there was a taxi passing us while we were walking, so we took the taxi back to Kranji MRT.
You can take SBS bus 925 to Sungei Buloh, but take note of these points: On weekdays and Saturdays, you can board bus 925 from Woodlands bus interchange, Opposite Marsiling MRT station, or Kranji MRT station. Bus 925 direction 1 is from Woodlands to Choa Chu Kang, while direction 2 is from Choa Chu Kang to Woodlands. This bus has a stop at Kranji Reservoir Park (which is a short walking distance to Sungei Buloh Visitor Centre), but it doesn't pass through Sungei Buloh Wetland Centre, so if your main destination is Migratory Bird Trail at Wetland Centre, you can walk for approx 1.4 km from Visitor Centre to Wetland Centre, either through the main road Neo Tiew Crescent, or through Coastal Trail inside Sungei Buloh.
On Sundays and Public Holidays, SBS bus 925C route is different from the weekday bus 925 route. Bus 925C is a loop service, starting and ending in Woodlands bus interchange, so you can't take the bus from/to Choa Chu Kang. The route includes more stops at the Kranji Countryside (including Sungei Buloh Wetland Reserve, Long Kuan Hung Crocodile Farm, Nyee Phoe / Gardenasia, Dragon Fish Ind). With this bus, you can access both Wetland Centre and Visitor Centre of Sungei Buloh.
***
I hope you have good times at Sungei Buloh. Due to time constraint, I didn't get to explore other trails during my visit. I'm so looking forward to returning soon and write about other trails!