Over the last few years, China has become more and more of a cashless society. Most merchants in China, including street vendors and taxi drivers, now can receive electronic payment from WeChat Pay (WeixinPay) and AliPay.
I wasn't able to set up WeChat Pay as a foreigner. We even called WeChat Pay to ask for guidance, they said they would investigate the matter and haven't replied to us till now.
For our trip to China, we relied heavily on AliPay for a lot of things. We've had some frustration and elation along the way. We love how we can pay for so many things with AliPay, but we hate how often we receive account restrictions just because of some silly reasons.
Based on our real experience using AliPay in China, here's my guide on how to use AliPay as a Tourist. When I said Tourist, I mean short-term visitor who doesn't have local bank card and long-term visa.
How to Set Up AliPay
A. Download and Register for AliPay account with your overseas phone number
Download Alipay Mobile App and register with your overseas phone number. I won't be providing the step-by-step because it's quite intuitive and the interface change all the time. Hence, you can simply follow the instruction from the app.
B. Change Language to English
If you don't read Chinese, you can change the language to English by following the steps below. Do note that the English version is only Beta, that means, it is not perfect yet; the essential texts are in English, but you will still encounter a lot of Chinese texts.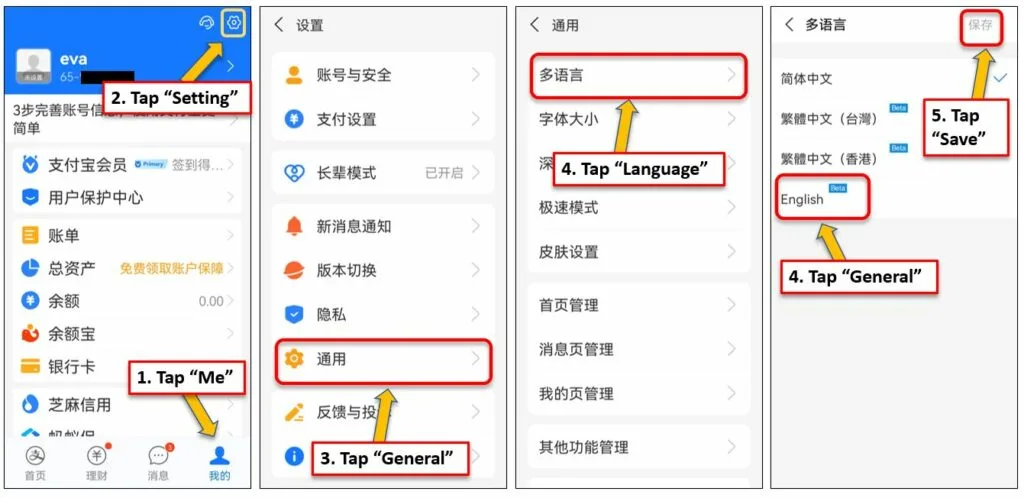 C. Upload your ID for verification
Next, you will need to do verification in order to use Alipay. For foreigners, you need to upload the softcopy/photo of your passport, and then perform face verification.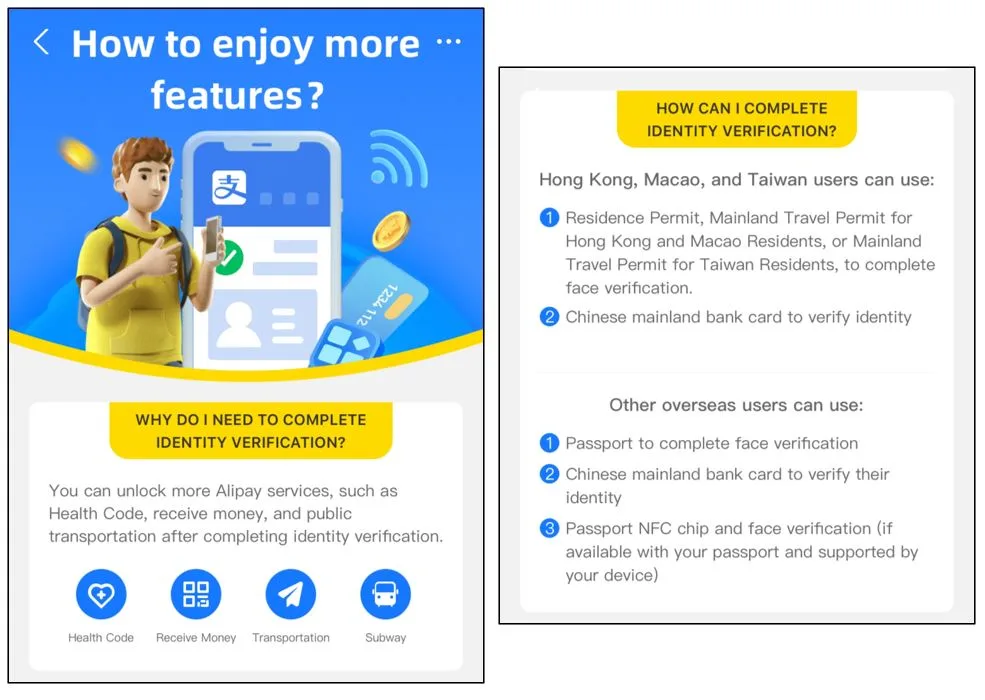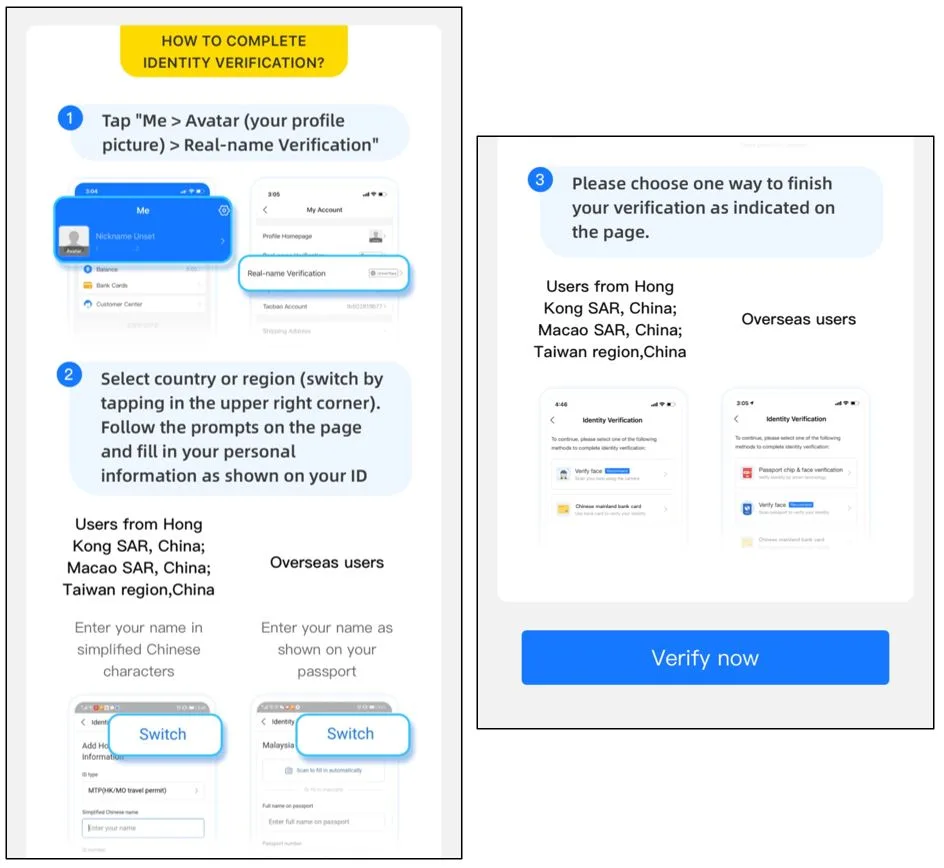 D. Add your bank card
Lastly, you need to add your bank card before you can use Alipay. Bank card refers to debit card or credit card.
To add a bank card to your account, simply go to Me > Bank Cards. Alternatively, on your homepage, if you see a prompt to add your bank card, you can tap on that button as well.
The accepted cards are: Visa, Mastercard, Diners Club, Discover, JCB, UnionPay.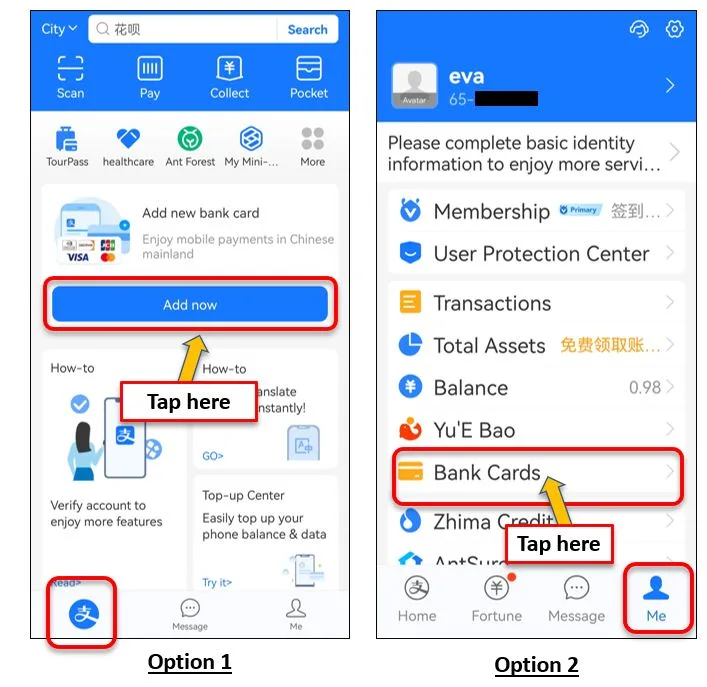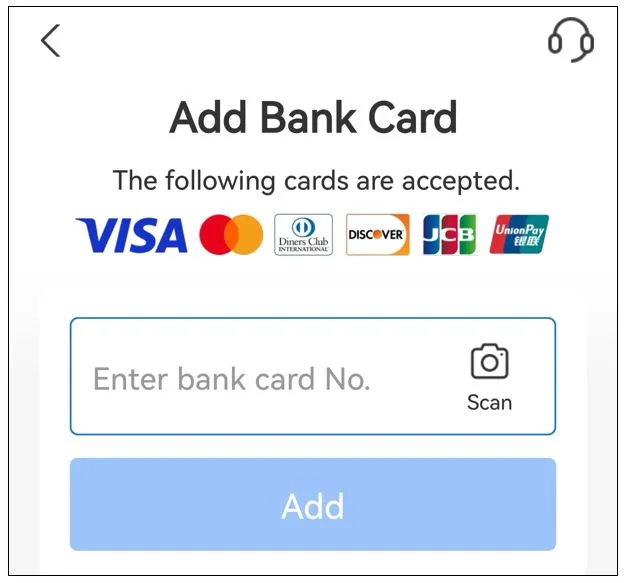 Pro-tip for adding overseas bank card:
1. Don't add cards that don't belong to you.
I learned this the hard way. I added my husband's bank card because his card earns more points for overseas spending, but apparently Alipay doesn't like that. As a result, my account was blocked immediately!
Alipay didn't outright say that I was blocked, but, I couldn't add other cards that belong to me. When I tried to add my own card, Alipay rejected it. And there's no instructions on how to fix it.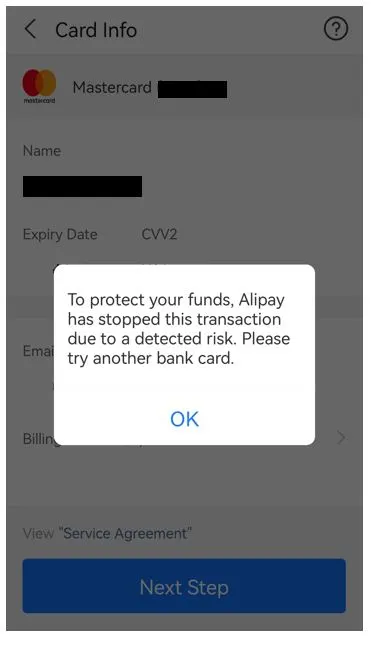 I decided to make international call to Alipay's customer hotline in China. Thankfully, I talked with a very helpful agent who speaks perfect English. He told me my account was restricted (that's when I knew I was blocked!). He gave me a link to submit my husband's card photo, and my account restriction was lifted a couple of hours later.
2. Don't add 2 cards; it will confuse Alipay.
I added 2 cards because I wanted to be cautious in case one of the card gets restricted for whatever reason. Well.. it was not a smart move. That will cause Alipay to be confused.
Sometimes, even though I selected Card A when making payment, Alipay would charge Card B. Then, after it realized it has charged the wrong card, Alipay will then refund Card B and charge Card A instead.
But I still lose money from the cancelled transaction, because my bank charges me foreign transaction fees which Alipay didn't refund. So, save yourself some trouble and add only 1 card. Anyway, this is just a small issue, it's just a couple of cents lost.
Can I use AliPay outside China?
After setting up AliPay, you might be thinking whether it's possible to test it out before you go to China. As a foreigner with Alipay international account, unfortunately, it's not possible to test using AliPay outside China based on my own experience.
You can only use your AliPay to make payment when you're in China. You won't know whether your account is good to go or not, until you perform your first transaction in China. My advice is just get a local number so you can call AliPay's hotline when you encounter problem with AliPay when you're in China.
How to Use AliPay in China as a Tourist
Even though there are so many features in Alipay, I use Alipay mainly for the following functions:
1. Use AliPay for your in-store purchases
We used AliPay for most of our transactions in China. I said most because, when we visited Beijing in 2023, not every merchant can process payment done by Alipay international accounts. 80% of the time our transaction was successful (it was even accepted by vending machine). For unsuccessful Alipay transactions, we had to use cash to pay.
Our successful Alipay transactions include:
Restaurants
Retail shops, shopping malls and convenient stores
Most tourist attractions (including Summer Palace)
Our unsuccessful Alipay transactions include:
In order to use Alipay to make payment, you only needed to ensure your bank card has been added successfully and your account is not restricted. No additional registration or activation is required.
There are 2 ways to make payment: you scan their code, or let them scan your code. Illustration below.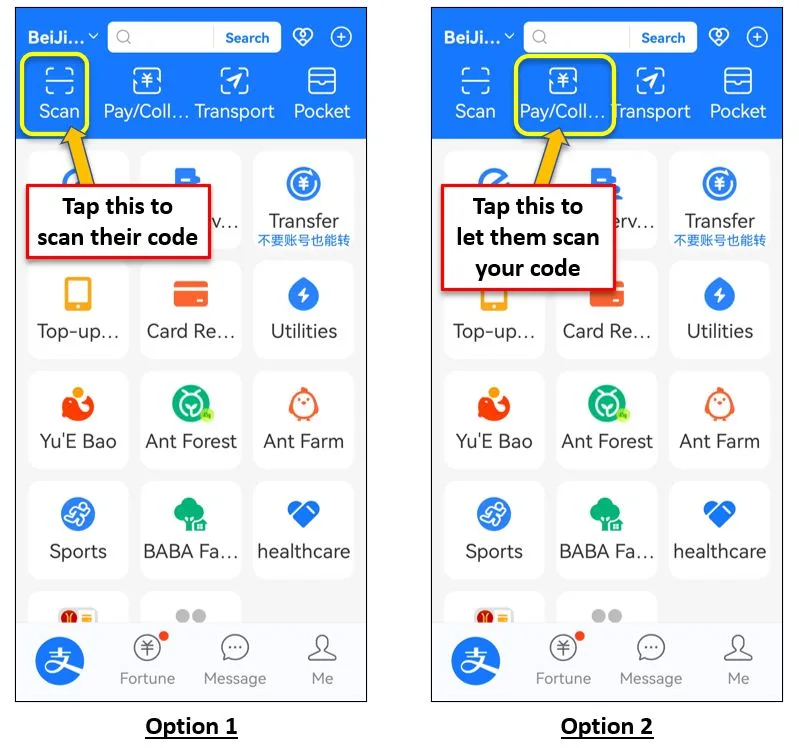 About Tour Pass: In the past, people who don't have local China bank account would have to use "Tour Pass" as a virtual mobile wallet. They would load money to the wallet using their international bank card, then they can pay for goods & services using this wallet. However, Tour Pass has been discontinued since March 2023. As I explained in the above paragraphs, you can directly use Alipay to make payment and Alipay will directly charge your bank card. You don't need to load any money to a virtual wallet.
2. Use AliPay for Metro
One of my most favorite feature of Alipay is the Metro payment function! With this, I did not have to purchase a separate transport card anymore!
Before you use Alipay to pay for metro for the first time, you need to activate it and obtain your QR code. Each city has different Metro card, so you need to activate metro card for your destination city.
Here's how to activate and use your metro card on Alipay:
Select the city name where you want to activate metro card
On homepage, tap "Transport"
Then, tap "Metro" followed by "Get Now"
On the next page, view and agree to the T&C, then tap "Agree and obtain card"
A unique QR code will be generated for you, and you can scan this QR code when you enter & exit a metro station.
Alipay will charge your bank card for each transaction. You can view the metro fee amount in the notification under "message" tab at the bottom of the screen.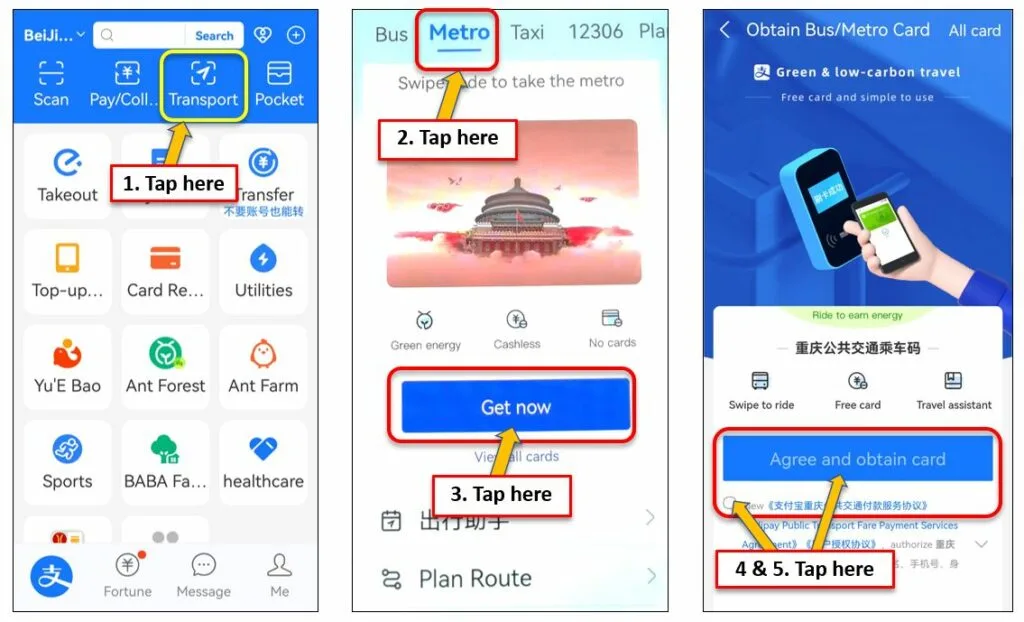 3. Use AliPay for Taxi
Yes, you can also use Alipay to order taxi! But you need to activate this function first. After activating, you will be able to enter your origin location and destination. Unfortunately it's all in Chinese language, so if you can't read Chinese words, you will need to screenshot it and translate it using Google Translate app.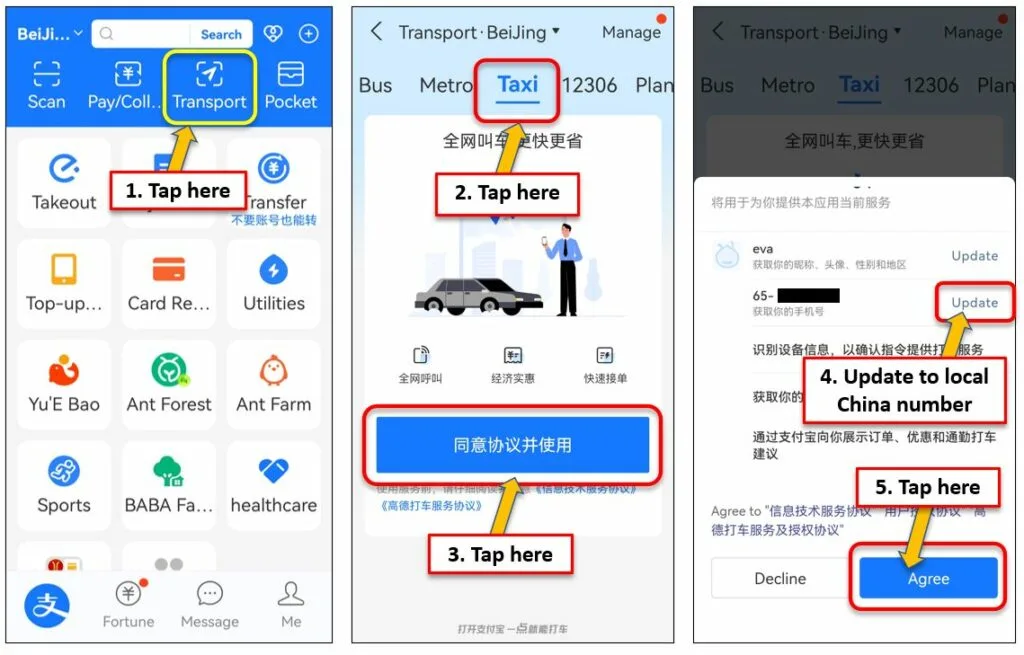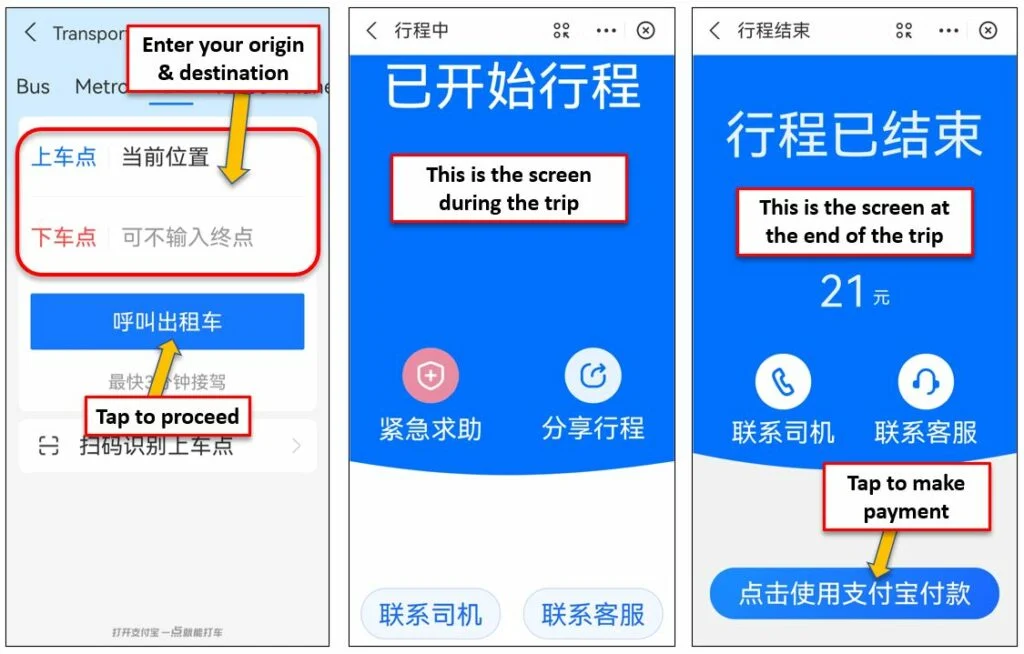 When I was in Beijing, the taxi in Alipay app is the meter taxi, not online taxi. The final fee will depend on the actual meter. At the end of the ride, the driver will send you a request for payment, and you will have to manually input the amount to pay the driver.
The waiting time varies a lot depending on location and supply & demand. On some days, we could get taxi easily. But, on other days, it was impossible to get a taxi even though we waited for half an hour.
4. Use AliPay for Bus (not recommended)
You can also use Alipay to take bus. You'll need to activate the Bus function first; you can follow the same steps as activating the Train function in the above section.
However, I do not recommend using Alipay to pay for bus rides, especially in Beijing. Alipay system had some glitches when processing bus payment; it can't charge our credit card for bus fee that is RMB1 and below, but we didn't know this (how are we supposed to know?). After we took the bus, our Bus & Train functions were blocked.
Here's how our story goes.
We took our first bus ride in Beijing and scanned our bus QR code when entering and exiting. After we alighted from the bus, Alipay asked us to settle the bus payment of 1 yuan. When we clicked the button to make payment, the system didn't allow us to pay with our existing bank card, we were asked to add new card.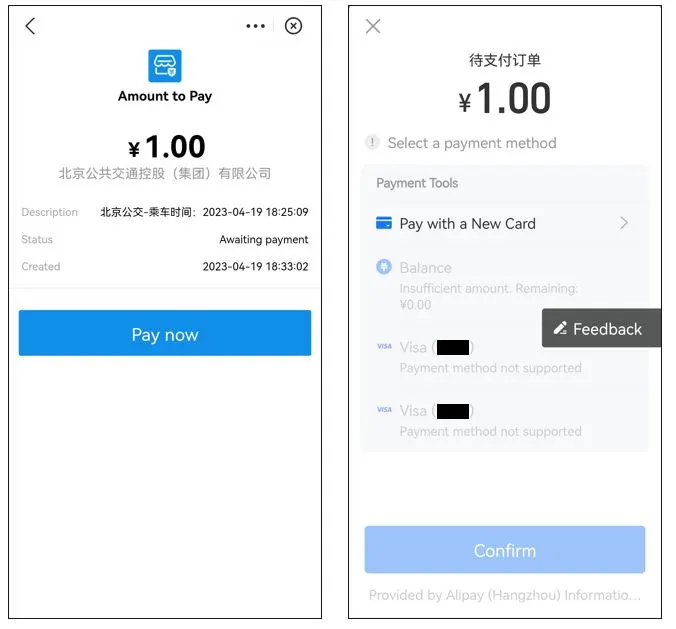 We tried to add new card but the system rejected it. We're confused because we never had this issue with train ride. I made a call to the hotline and talked for almost 1 hour, but the agent said Alipay can only process payment more than RMB1, and our bus fee was RMB1, hence the glitches. She has a solution: ask a friend to transfer RMB1 to our account to settle the bus payment. But.. we didn't have any friends in Beijing! We are tourists!
For the rest of the day, we use taxi instead of public transport (thankfully our Taxi function was not blocked!). The next day, we asked our hotel receptionist to help transfer 1 yuan to each of us and we paid him cash. Immediately after the transfer went through, Alipay use it to settle the bus payment (we didn't even have to tap anything). Then, our Bus & Train functions were restored, phew! What an experience!
So, my advice to you is this. If you have to take bus, pay with cash instead of Alipay.
What to do if you encounter issue with AliPay
From all the misfortunes that we had, I think it's safe to say that AliPay has.. trust issue.
Do one simple mistake of adding other people's bank card and they will block your account. Use it for small amount transaction of RMB1 and below, and your Bus & Train functions get blocked.
Use it for the first time and your Alipay account gets blocked for no reason. Apparently, they needed to do another verification after we used our Alipay for the first time (wHaT??!).
Sometimes, you won't know your account is blocked until you perform a transaction and it fails! Frustrating, I know.
Anyway, whenever you encounter and issue, simply make a call to their hotline (I recommend you buy a local sim card, you might have to call Alipay often). Once connected, you can choose to speak to an English-speaking agent if you don't speak Chinese. Even though they might not resolve your issue immediately, at least they have solutions and able to forward your issue to relevant department.
As a tourist, you can't rely on Alipay entirely. Always bring cash! Cash will help to tide you over when waiting for your Alipay issues to be resolved.
If you do not want to bring too much cash, bring ATM card that allows you to do overseas withdrawal! Money changer can be hard to find, so ATM is the best alternative to bringing too much cash.
That's all I learned from using Alipay as a tourist in China! If you have any personal anecdotes or information to share, please comment below. It will help many people trying to figure out what to look out for when using Alipay in China!
If you like my work, you can buy me a coffee! Your support will help me to keep going!