Fairmont Beijing is a 5-star hotel located in the heart of the Chaoyang Central Business District. It is just 300 meters walk to Yong An Li Station (Beijing Subway Line 1).
If you're traveling light from airport, you can take the Airport train from Airport and alight at Dongzhimen, then take Line 2 to from Dongzhimen for 3 stops until Jianguochen. Then, take Line 1 for 1 stop to Yong An Li.
Alternatively, you can also take a taxi. Fairmont Beijing is about 30km from Beijing Capital International Airport (PEK). We took a taxi from Fairmont to PEK Airport and it cost us about RMB73, and I think the price is really affordable.
Fairmont Beijing: Booking & Pre-Arrival
We booked one night stay in Fairmont Beijing using the Stay Plus voucher that I got from my AMEX Highflyer. Each cardholder who pays the annual fee will get a free Accor Plus membership which include a 1-night stay voucher in participating Accor properties, as well as Accor dining benefits and 2 Priority Pass access.
Before booking a certain hotel with the voucher, I would usually check the price of the room and compare whether it is cheaper than the annual fee that I paid. If it is, then yeah it's worth redeeming the voucher.
The free night stay only entitles us to stay in Deluxe King/Twin room (45m2 or 484 sqft). We intended to request for upgrade to a room with Lounge access during check-in.
Fairmont Beijing: Check In
We arrived at Fairmont Beijing at about 12.45pm. Our check-in was very swift; there was no queue and the staff was really efficient.
We requested for upgrade to any available room that has Lounge access and there was a Junior Suite available, so we took it. We had to make payment immediately during check-in. The upgrade fee that we paid was RMB400 (~SGD75).
Even though the official check-in time is 2pm, our room was ready when we checked-in, yay!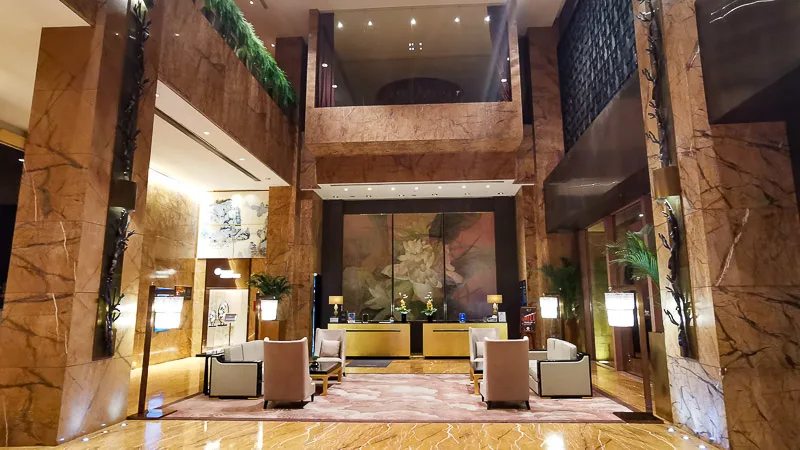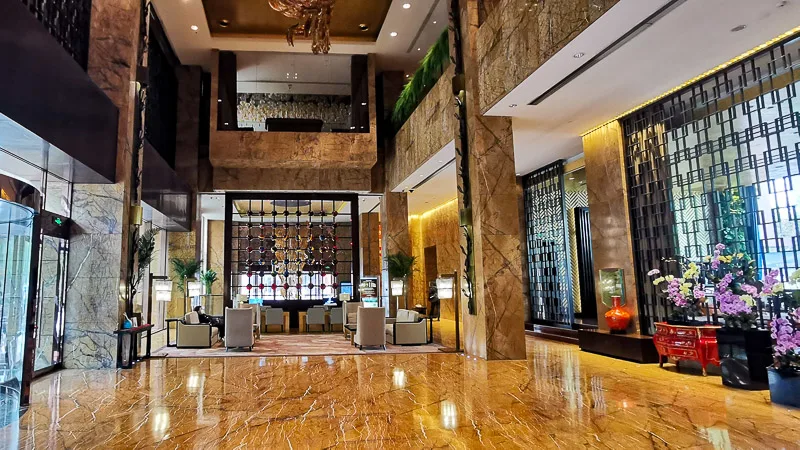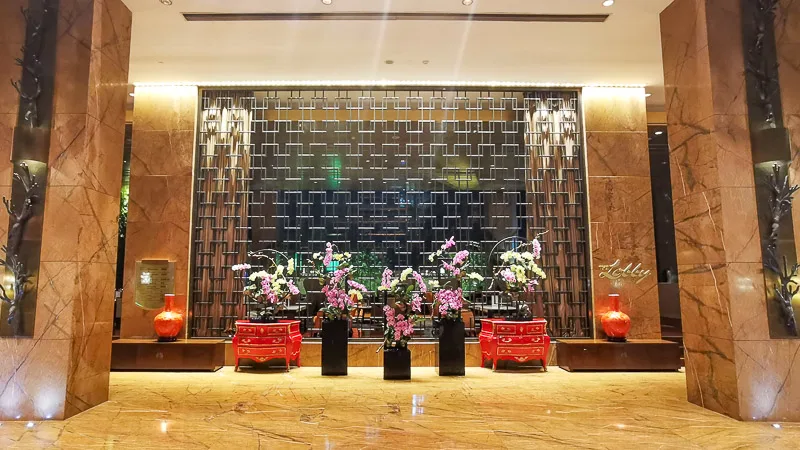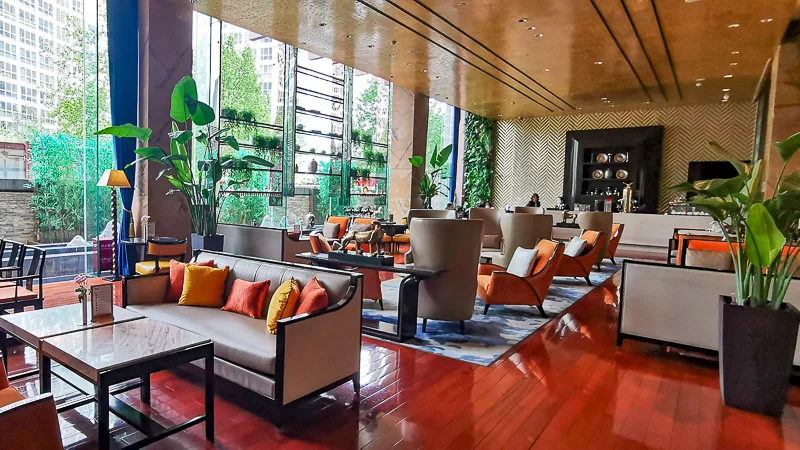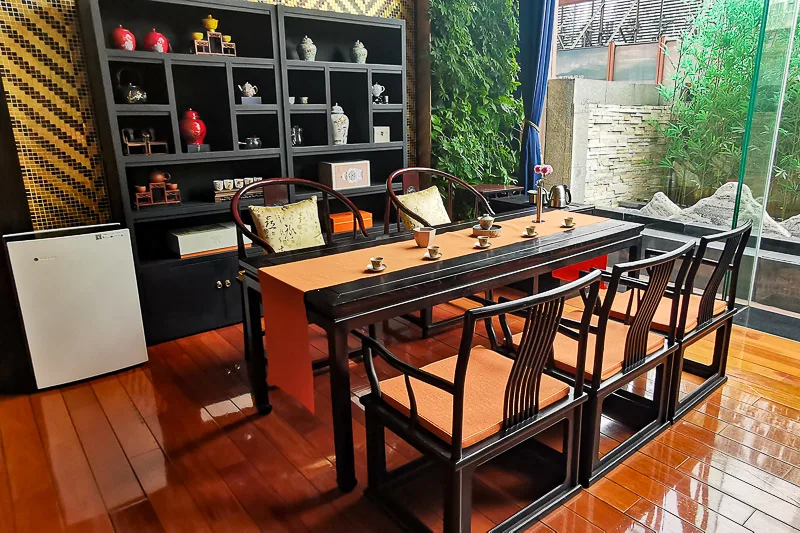 Fairmont Beijing: Fairmont Gold Junior Suite
We were assigned Room 2208 at Level 22. For reference, the highest floor is Level 23.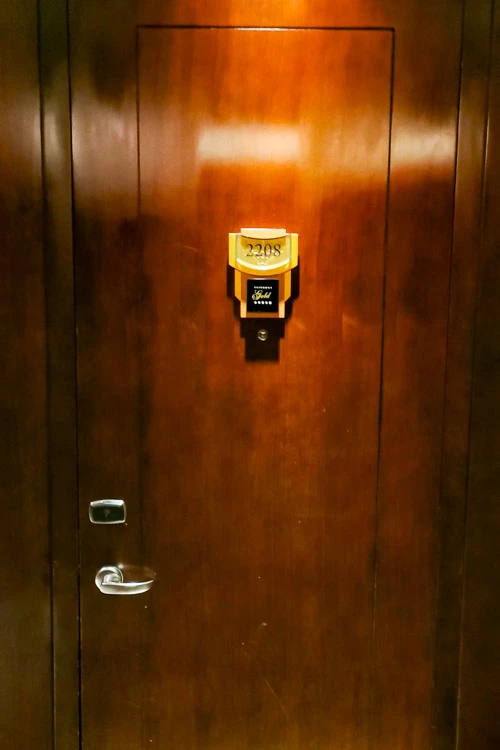 Our Fairmont Gold Junior Suite measures 63m2 or 678 sqft, which is 40% bigger than the basic Deluxe Room and Fairmont Gold Room.
It comes with one King bed, a living area, a working area, a bathroom as well as an enclosed closet!
Our King bed is located right next to the full-height glass window overlooking the city. There are side tables and night lamps on each side of the bed. There's also a cushioned bench at the end of the bed.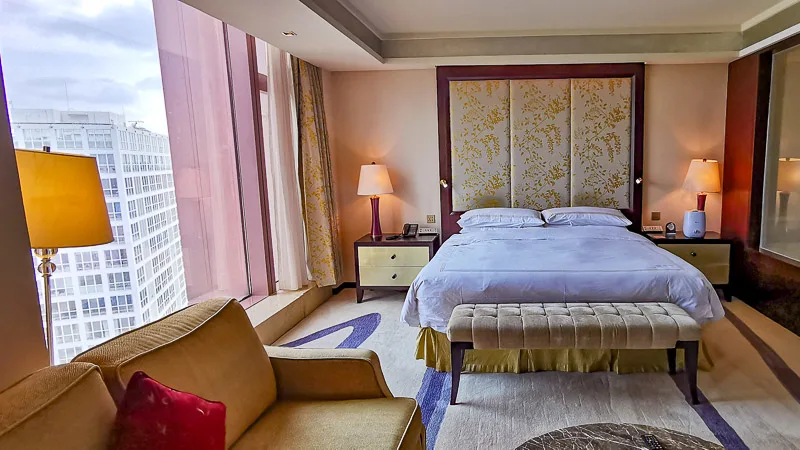 The curtains consist of a transparent day curtain and a blackout blind. Our room overlooks the east direction. We were able to spot Yintai Tower as well as China Zun Tower/CITIC Tower (which is the tallest building in Beijing) in the background.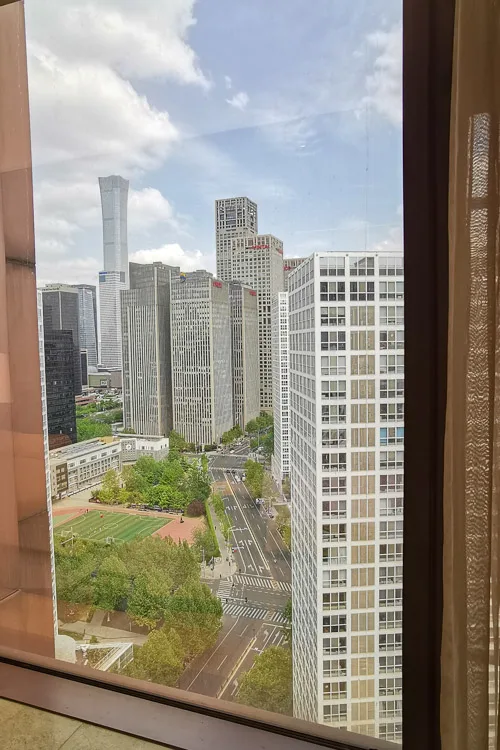 At the living area, there is a sofa, an arm chair, a massage chair as well as TV.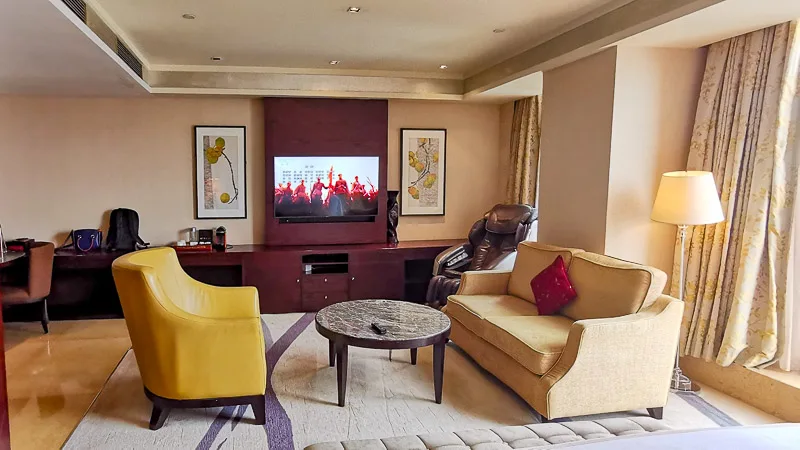 We loved the massage chair! It's a welcome respite after walking so much in Beijing! We both had probably 2 hours of massage each!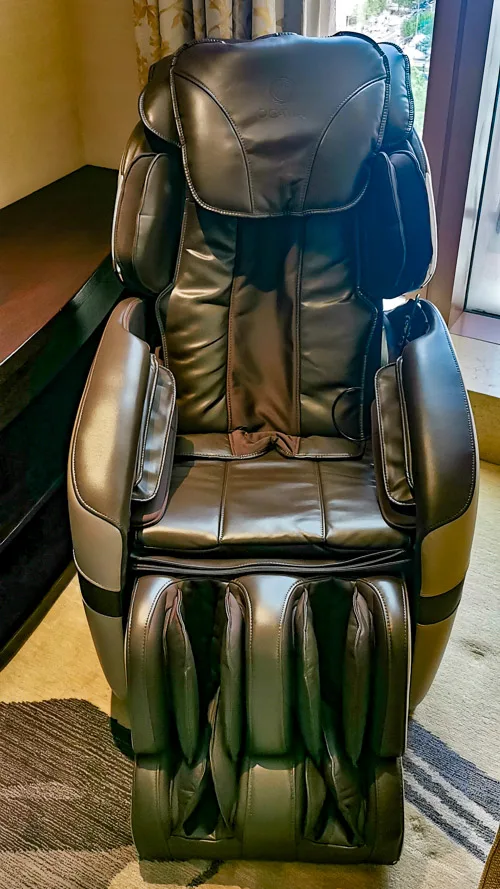 Next to the living area is this working corner. Here, there is an oval-shaped table, with an office chair and a normal chair. It's enough for 2 people to work. But I think the lounge is a nice alternative working place.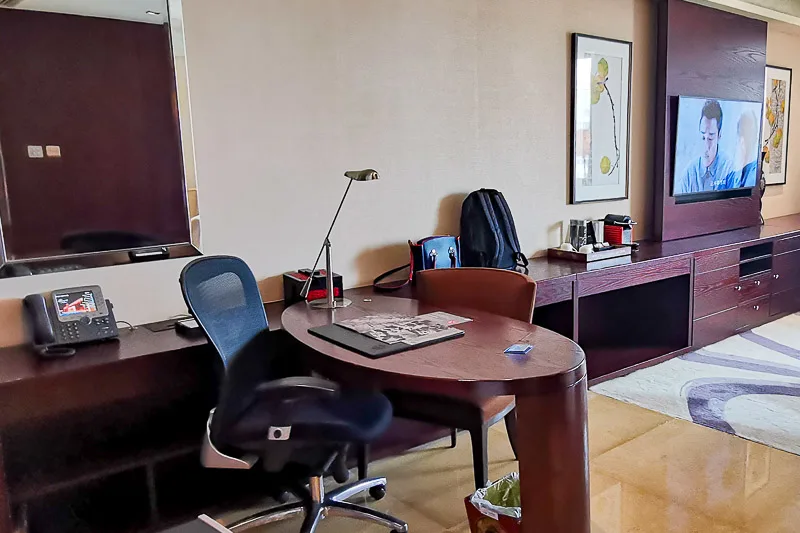 Next to TV is the minibar. There are 2 mineral water bottles, Nespresso machine and capsules, sugar and cups. I did not find any fridge inside the room.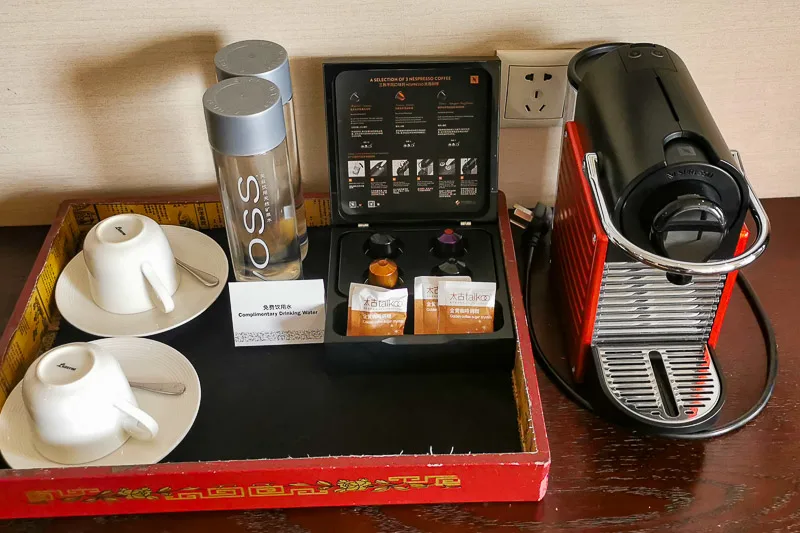 There is an enclosed room where the luggage rack, clothes hanger and safe deposit box is located at. This room is located on our left as we entered the room. The room has a door, so I can't help but feel like this resembles a storage room, lol.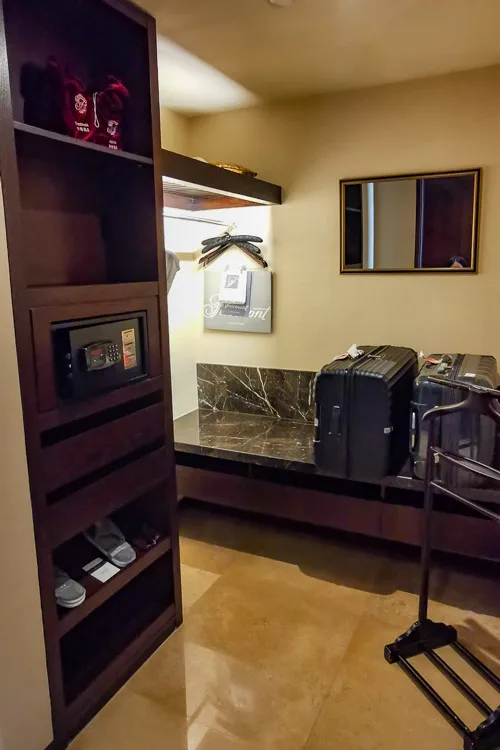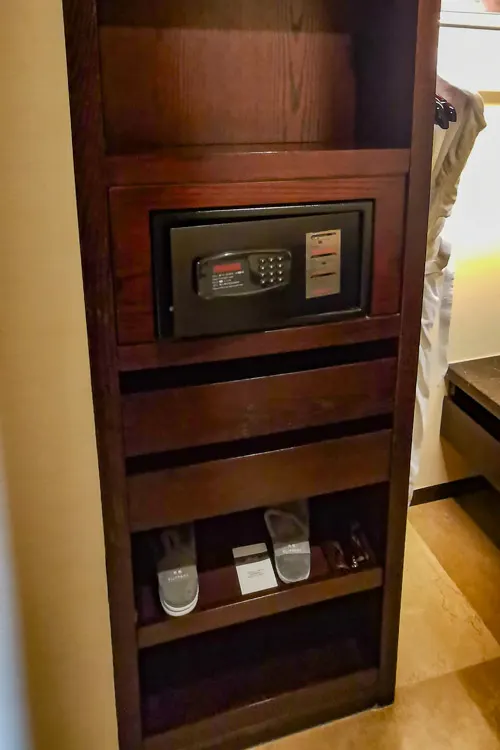 The bathroom is quite huge! There are 2 sinks, each with a tall mirror.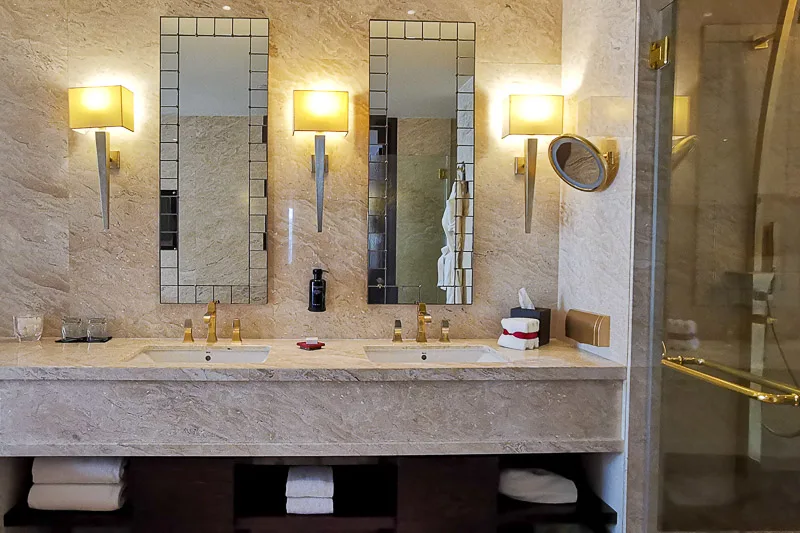 At one side, there is a bathtub next to a see-through glass window facing the bed.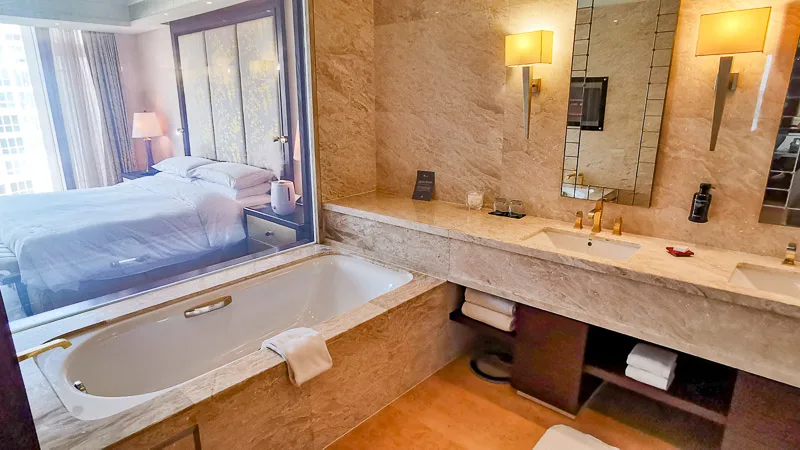 On the other side, there is a shower and a toilet, each has its own doors. The toilet comes with heated seat. The shower comes with a rainshower and a shower bench.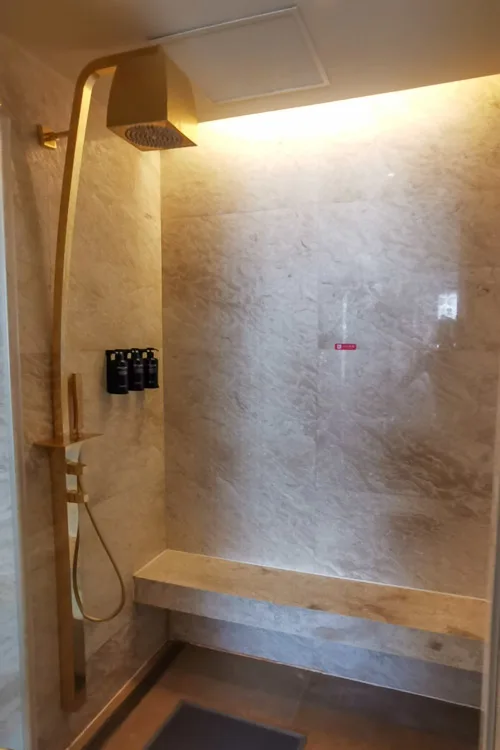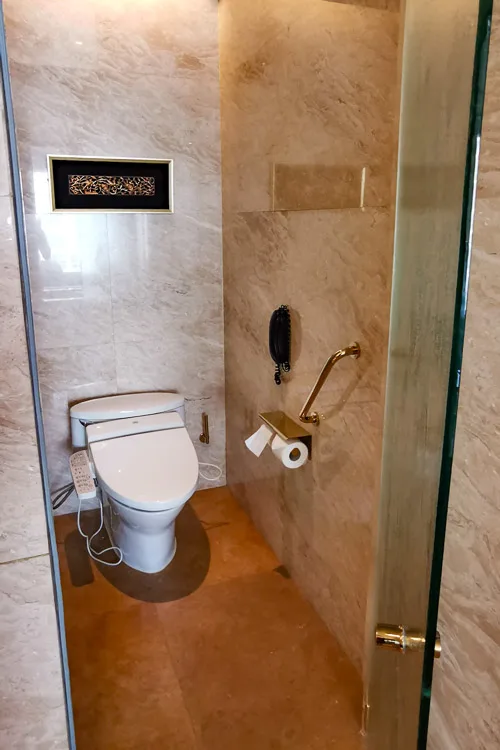 The bathroom amenities are from Grown Alchemist.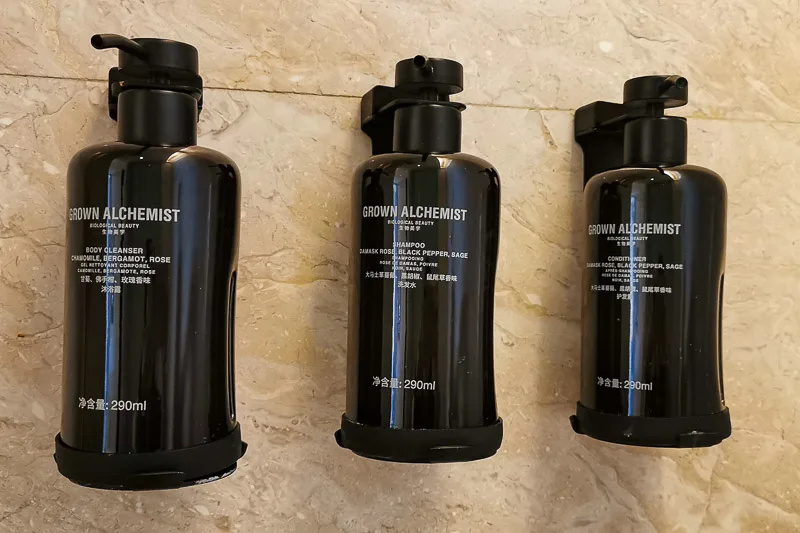 Fairmont Beijing: Fairmont Gold Lounge
Fairmont Gold Lounge is located at Level 20. It is such as nicely-decorated lounge. There are dining tables close to the buffet area. There are also plenty of sofas for people who prefer to lounge (pun intended).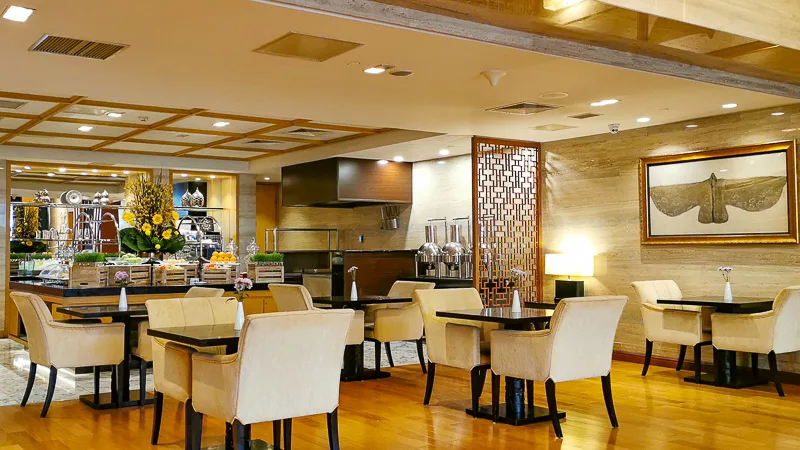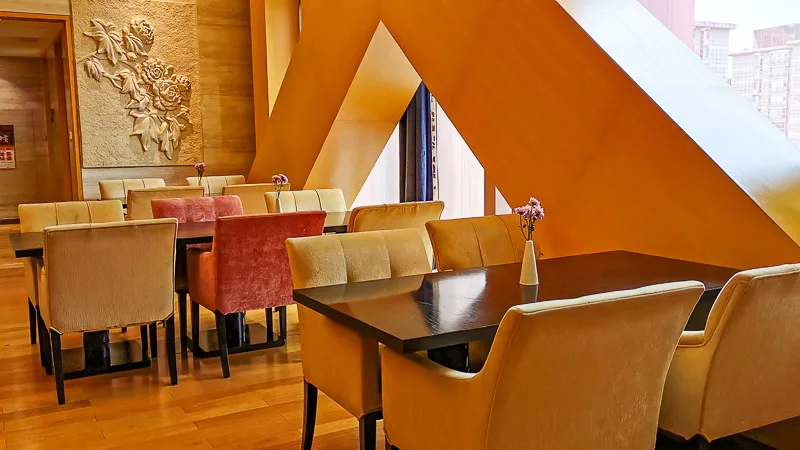 One interesting observation we had was the orchids! They were real orchids that look flawless!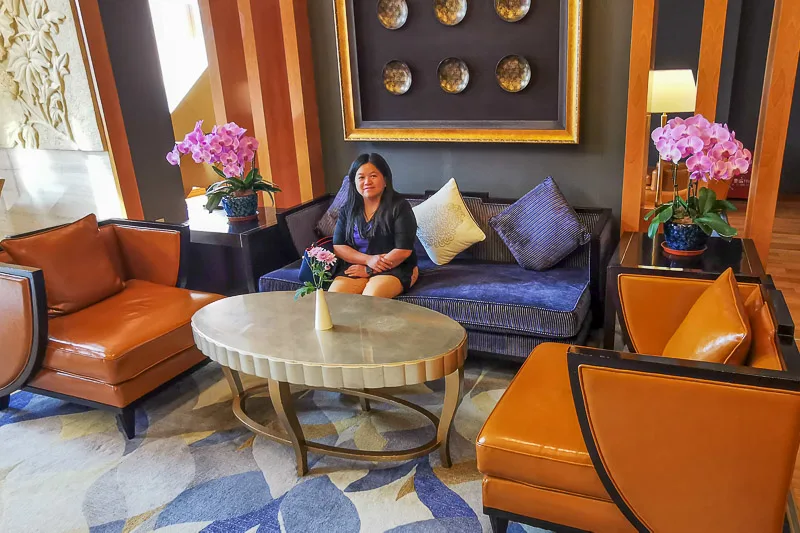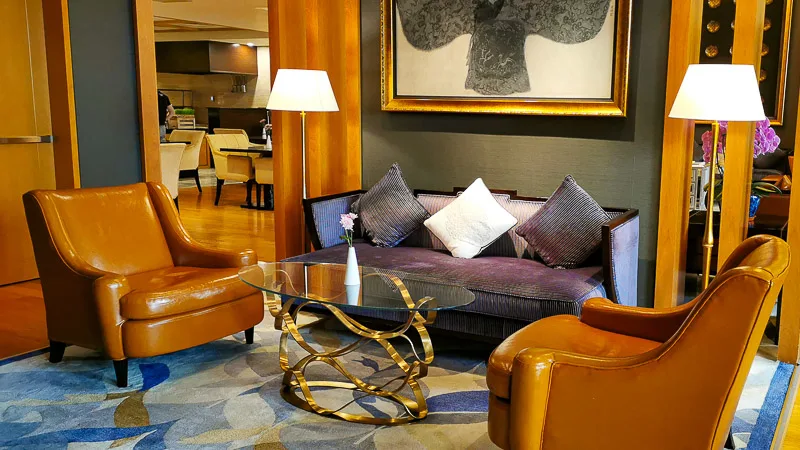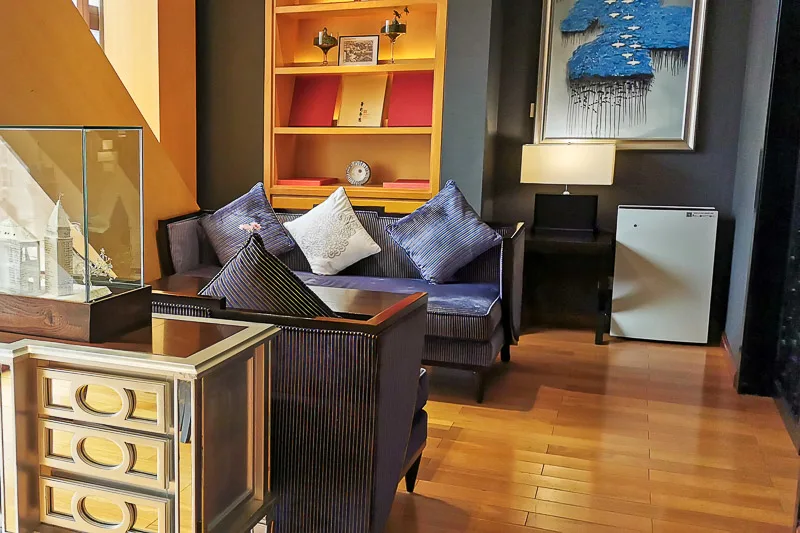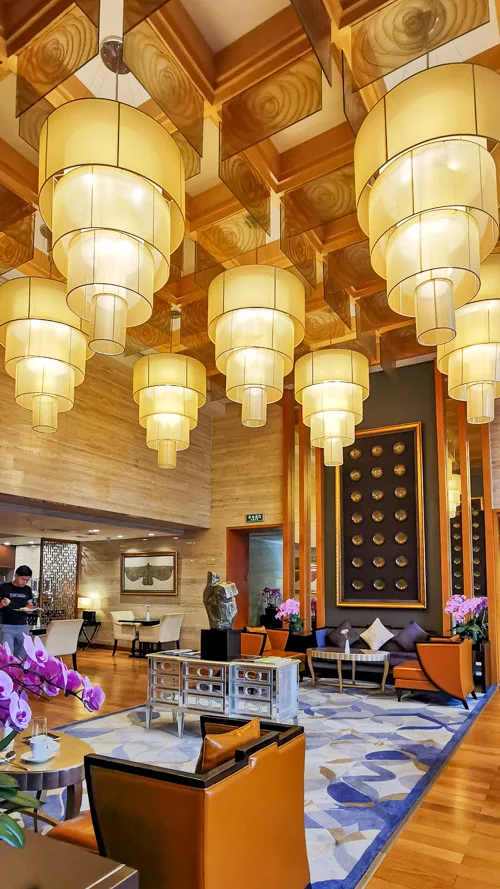 Fairmont Beijing: Afternoon Tea
The afternoon tea takes place from 2pm to 4pm at Fairmont Gold Lounge. I LOVE the afternoon tea!
For sweet section, they have a dessert stand with various cakes and tarts.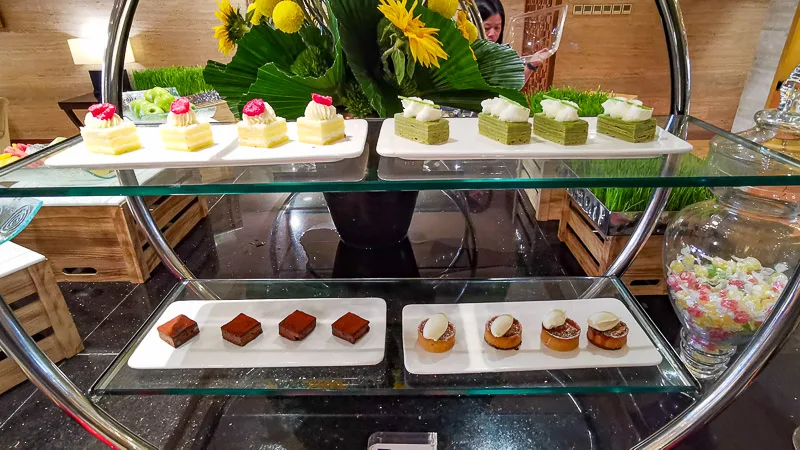 Inside the long ceramic bowls are various cookies and macarons laid on top of a pool of coffee beans.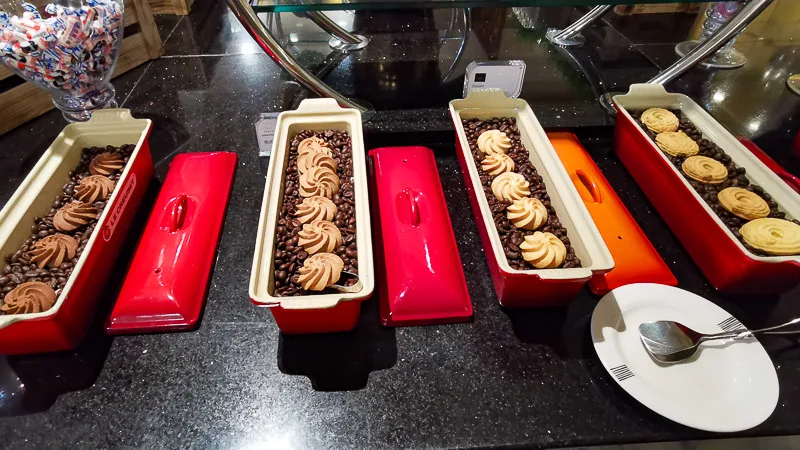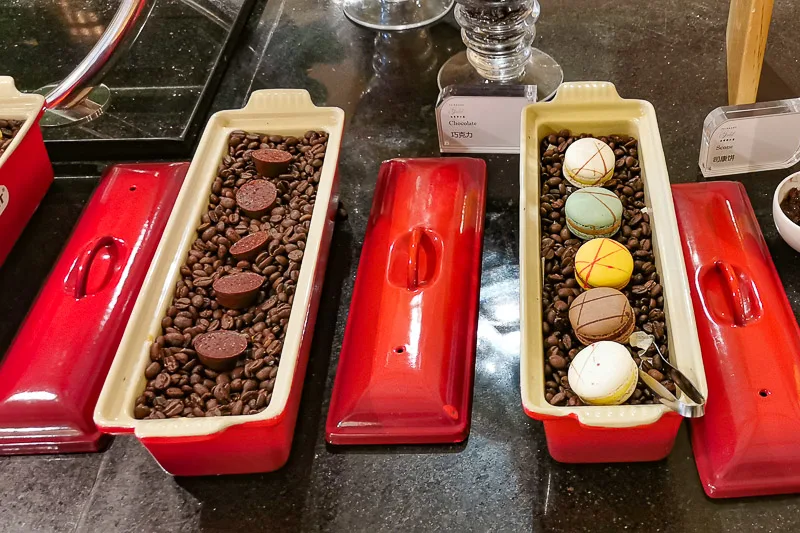 For savory section, they served prawn toast, egg mayo sandwich and tuna sandwich as canapés.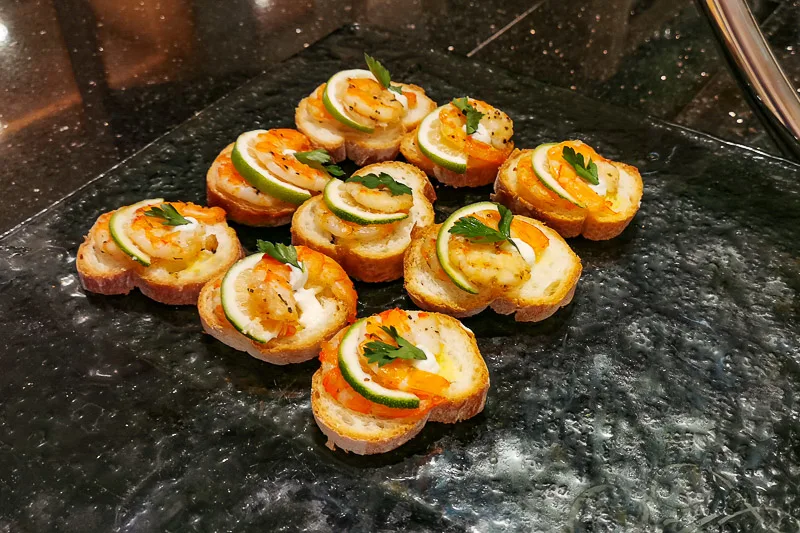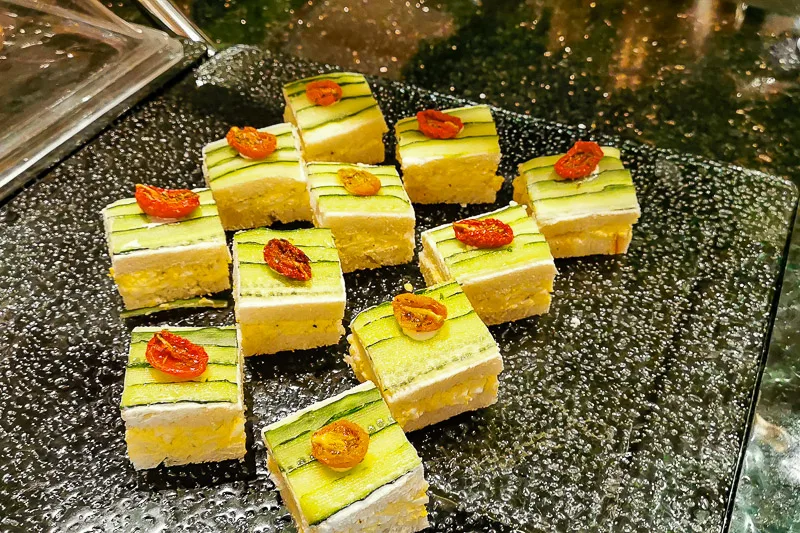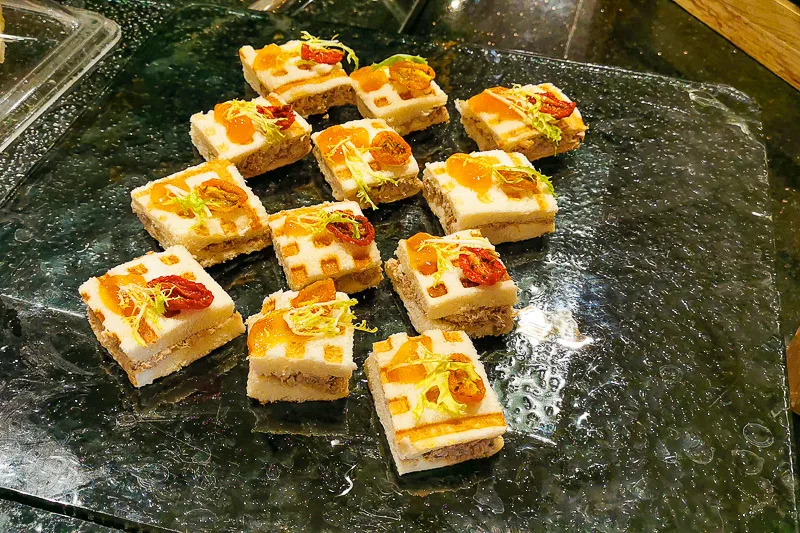 No afternoon tea is complete without scones! The scones were gently wrapped in cloth. There were 3 accompanying jams.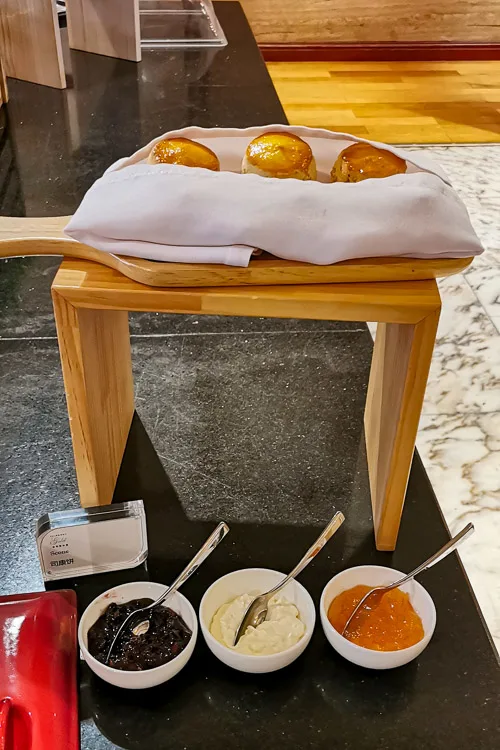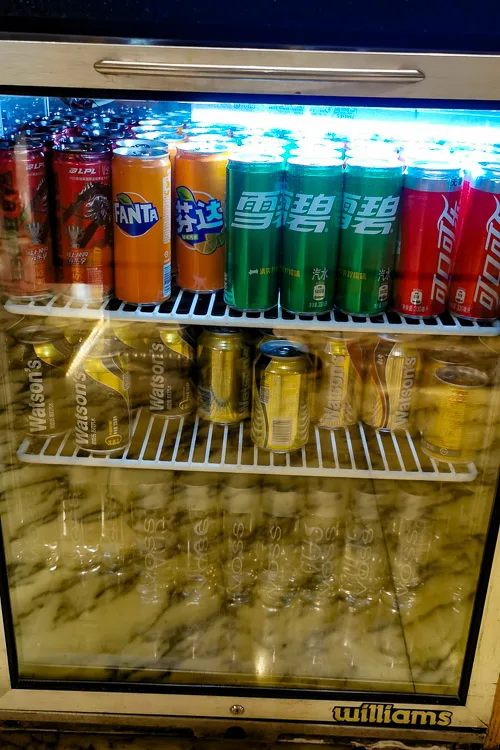 There were also fresh fruits, including apple, orange, watermelon, dragonfruit, pineapple and honeydew.
The beverage section comprised fruit juices, soft drinks, and not forgetting, coffee and tea!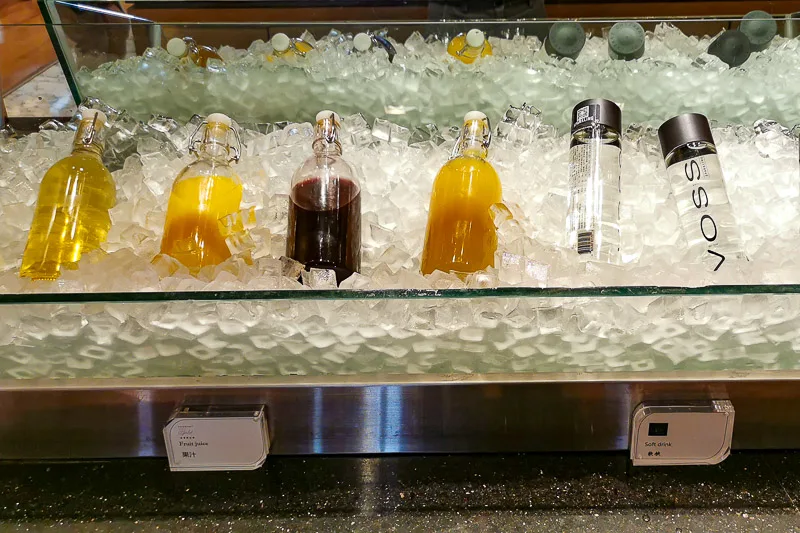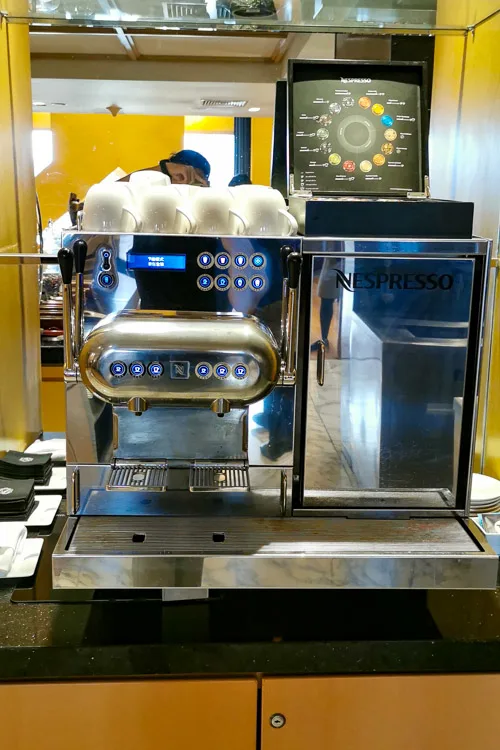 Fairmont Beijing: Evening Cocktails
The evening cocktails takes place from 5.30pm-7.30pm at Fairmont Gold Lounge.
There is a live noodle soup station. However, there was no menu, and we had some miscommunication with the chef. I believe there were several options, but the one we got was wanton noodle.
The soup was quite bland, and I had to request for soya sauce to bring out the flavor of the soup.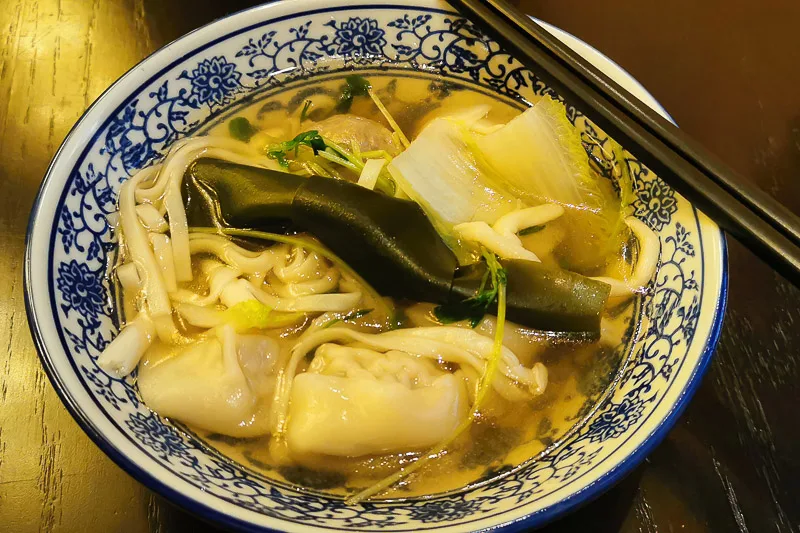 The afternoon dessert stand has now been transformed into a salad section, with various leafy vegetables, condiments and salad dressings.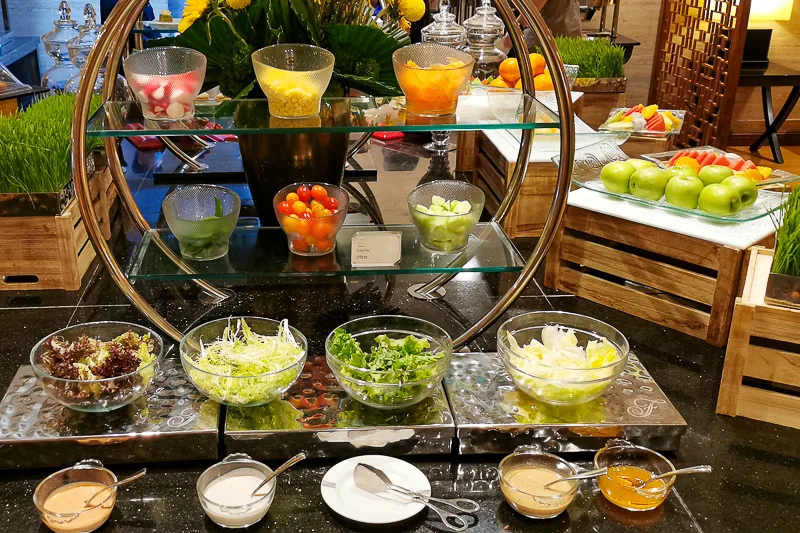 There were some overlap in the food section. The cookies, macarons and fresh fruits which were present during afternoon tea, also made appearance during evening cocktails.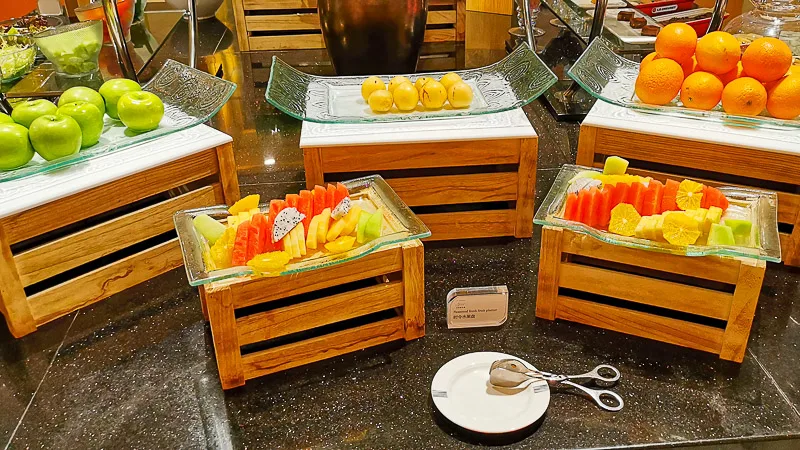 There was also a cheese platter with crackers!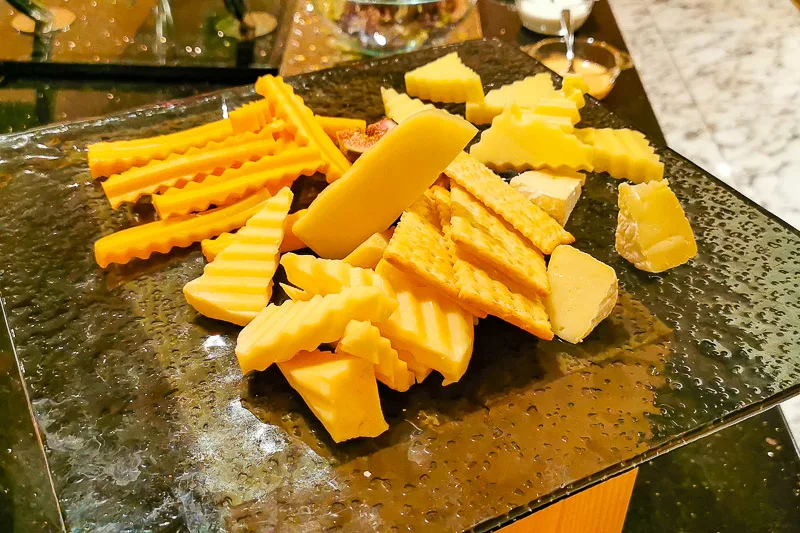 In the alcohol section, the liquors were lined up at the upper deck while the cocktail-making tools were lined up at the lower deck. There were also chilled wines and beers.
It was mostly a self-serve station, which we appreciate. But if you ever need help with the drinks, you can easily approach one of the staffs.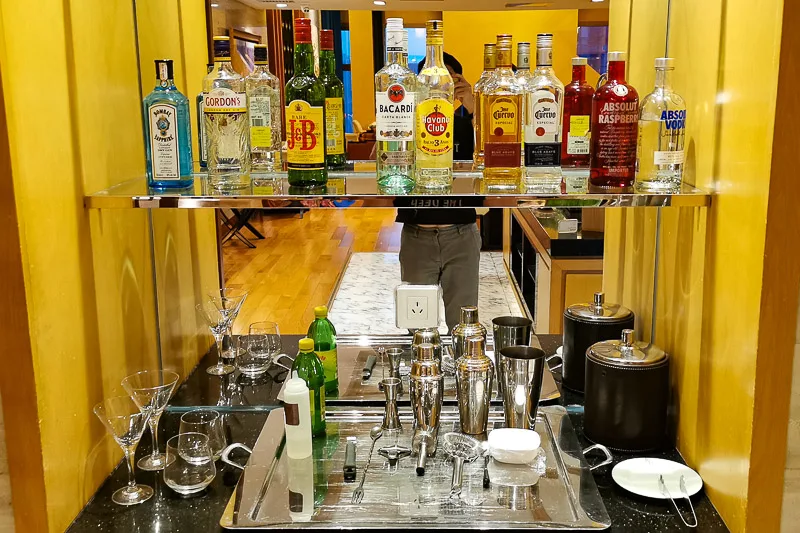 During our visit, Fairmont Gold Lounge was a quiet lounge. There were only 3 groups in total!
Fairmont Beijing: Breakfast
Breakfast takes place from 7am to 10.30am. Instead of the Lounge, Breakfast was at Lunar 8, the main buffet restaurant located at Level LL, one level below the Lobby.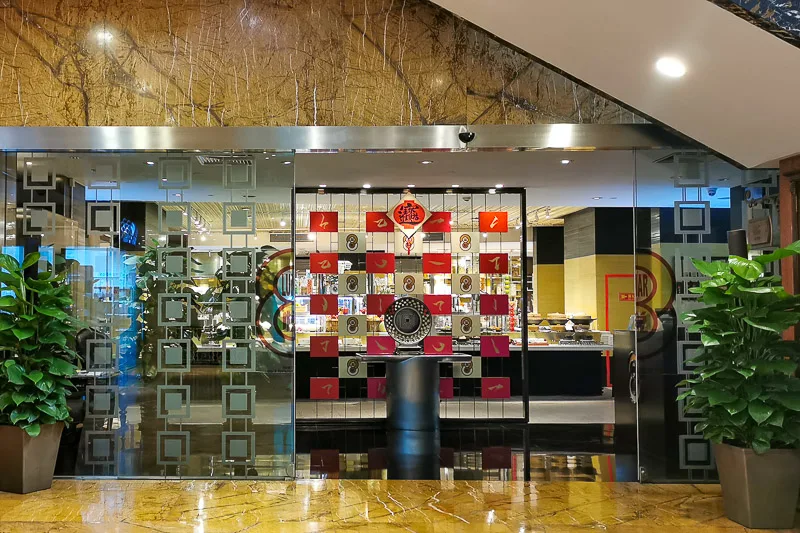 Lunar 8 is pretty spacious with plenty of seats. It's the breakfast place for all guests, not just Fairmont Gold guests.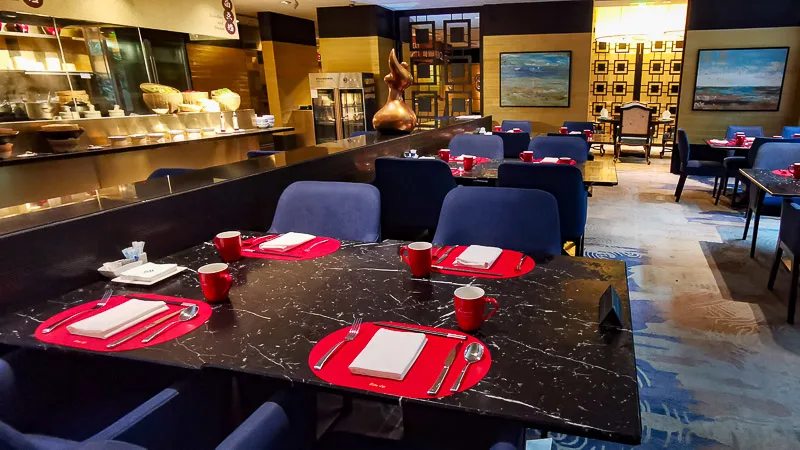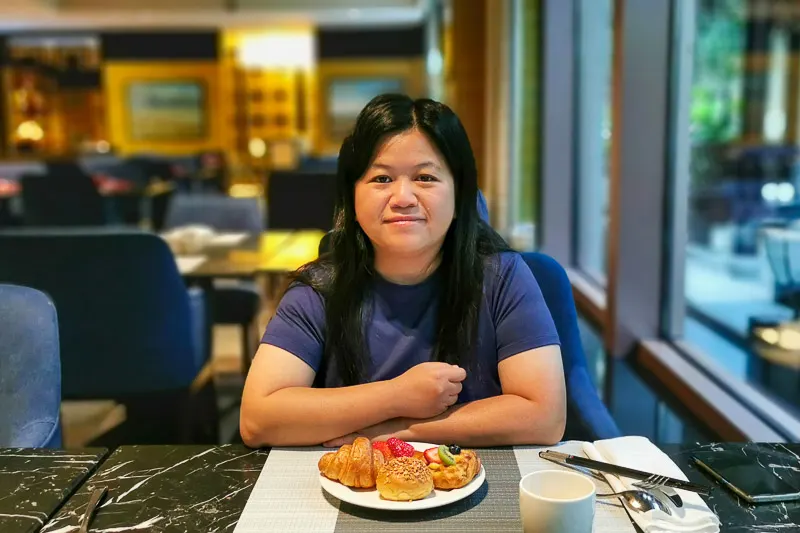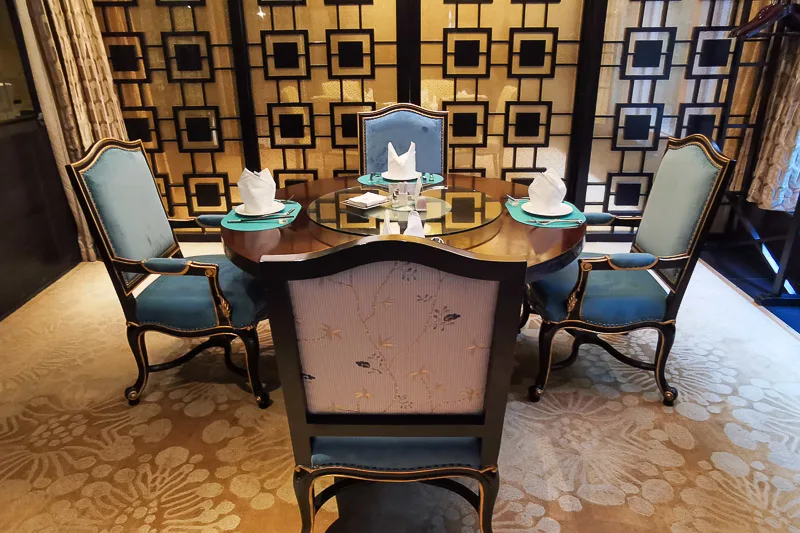 The main highlight for us has to be this honeycomb! We got to scoop up the honey ourselves!! HOW COOL IS THAT?? (pardon me, I seldom stay in 5-star hotels)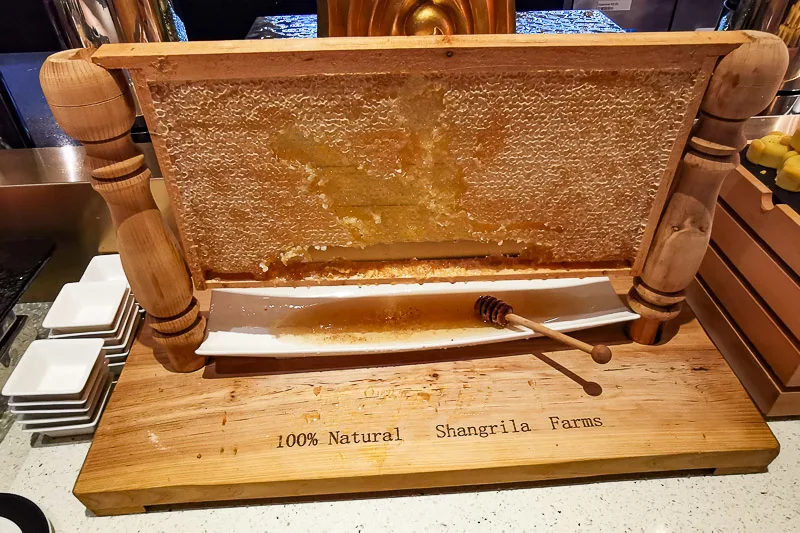 The buffet looked like a never-ending one. There were bowls upon bowls of food. I think I'll just let the photos and captions do the talking.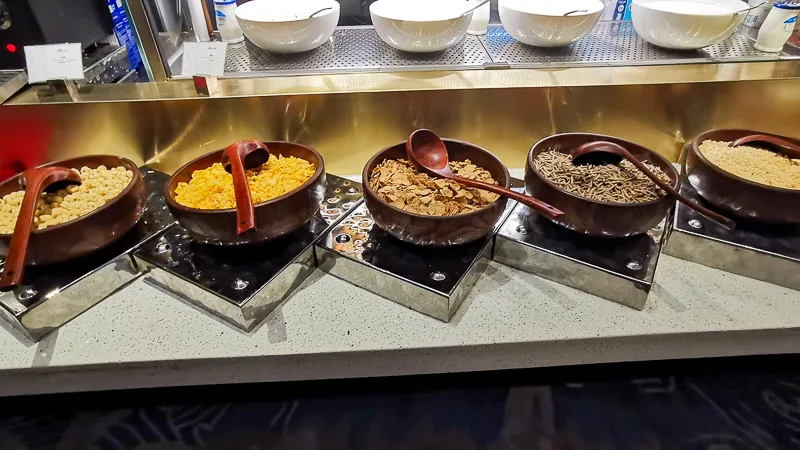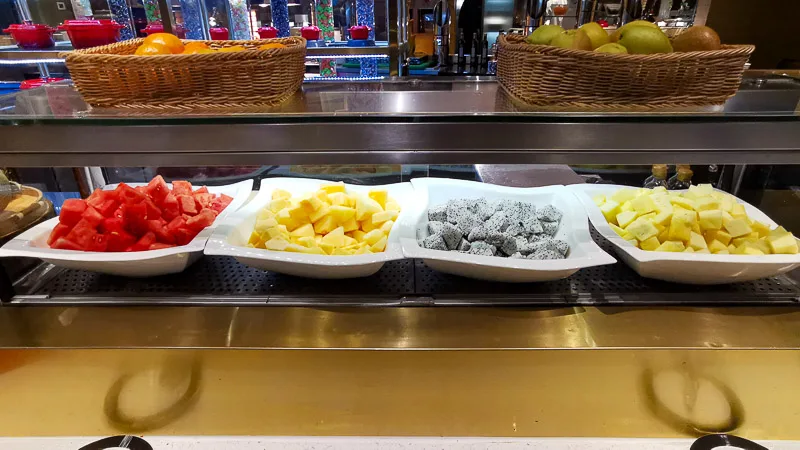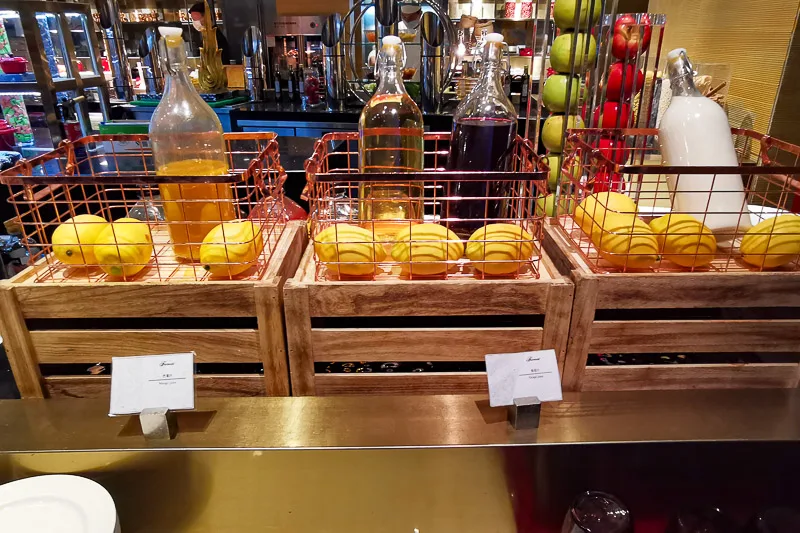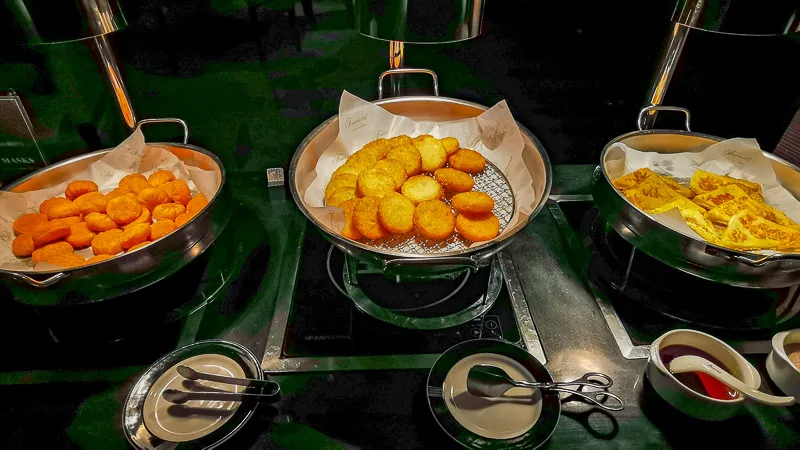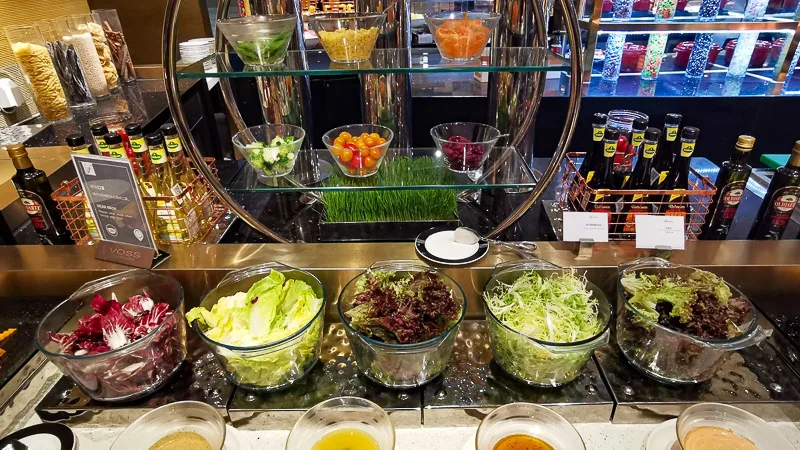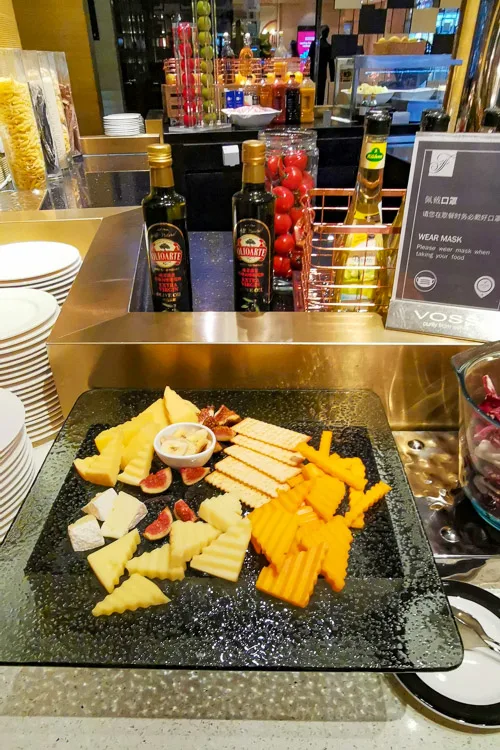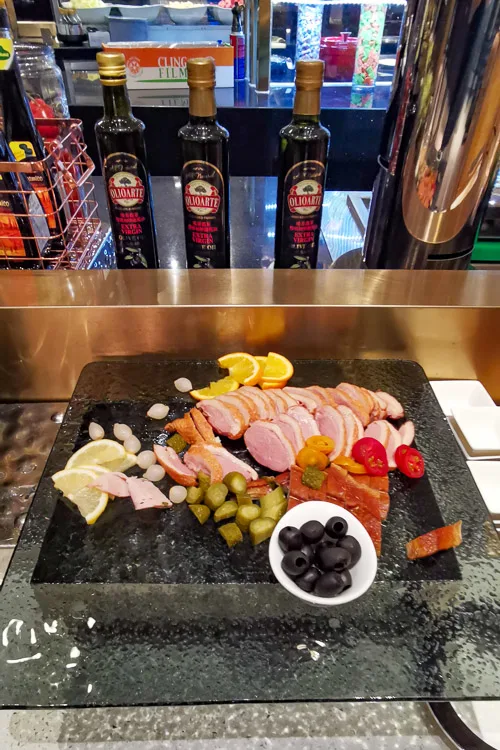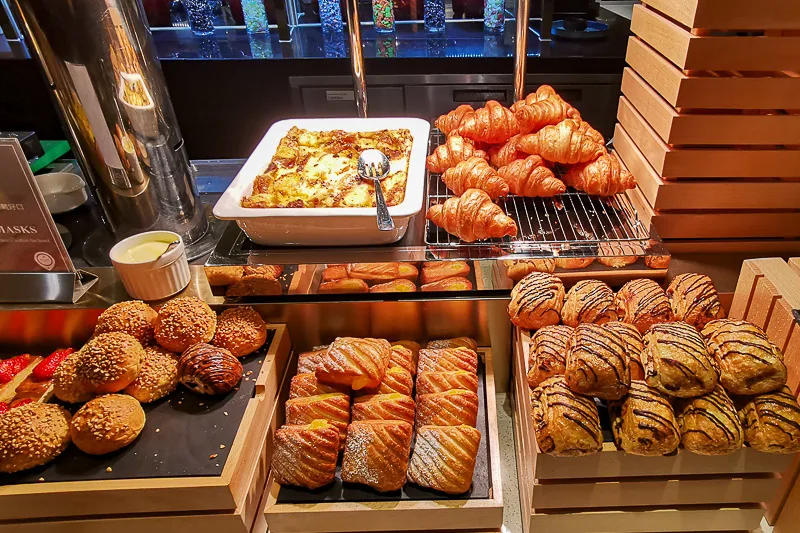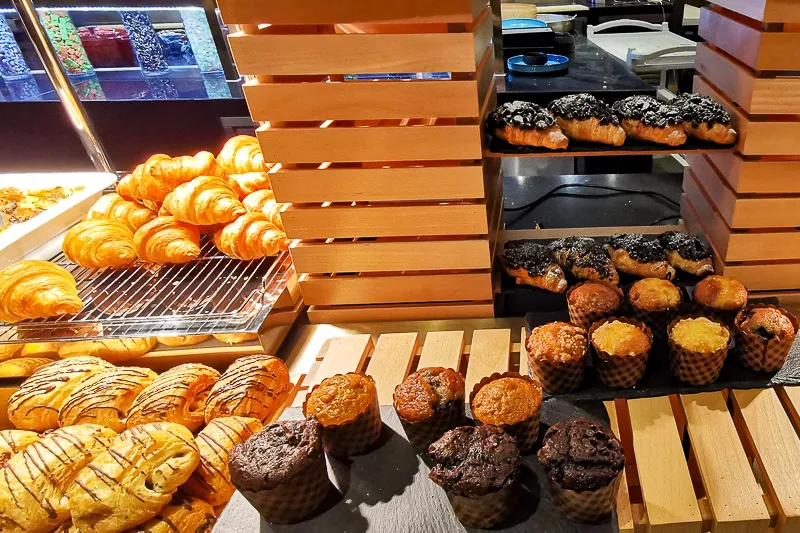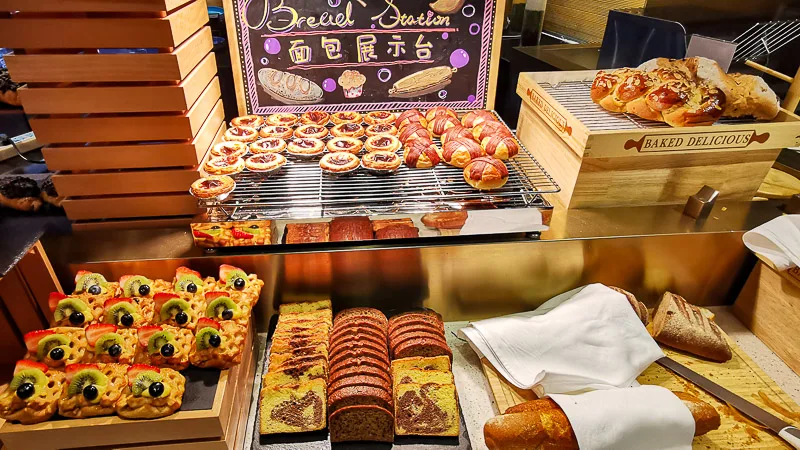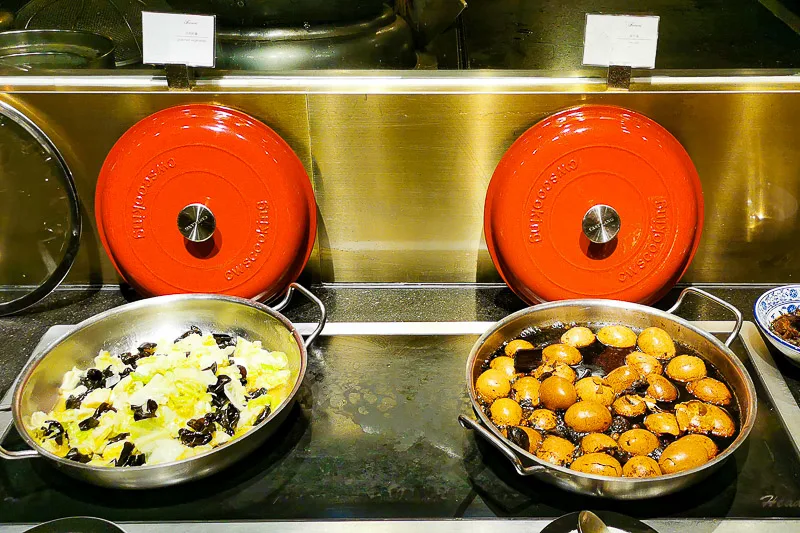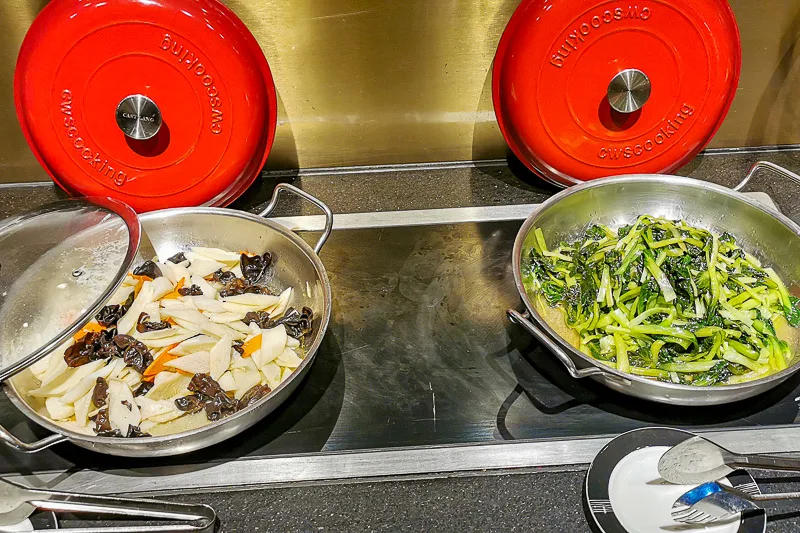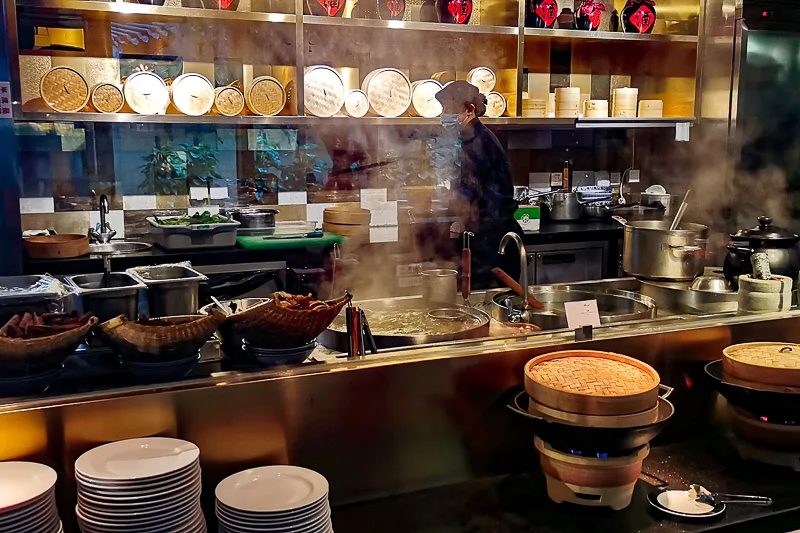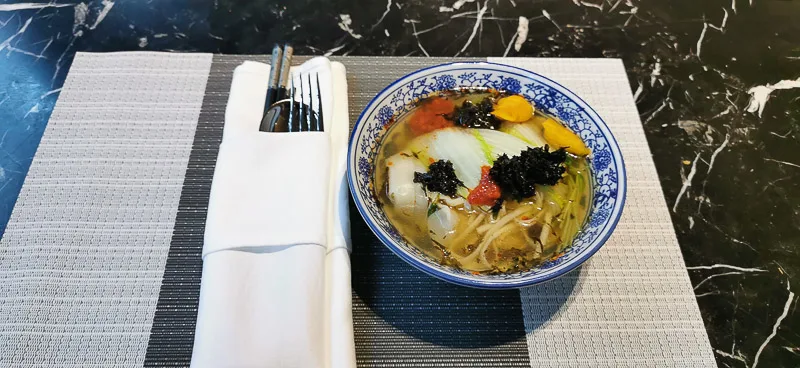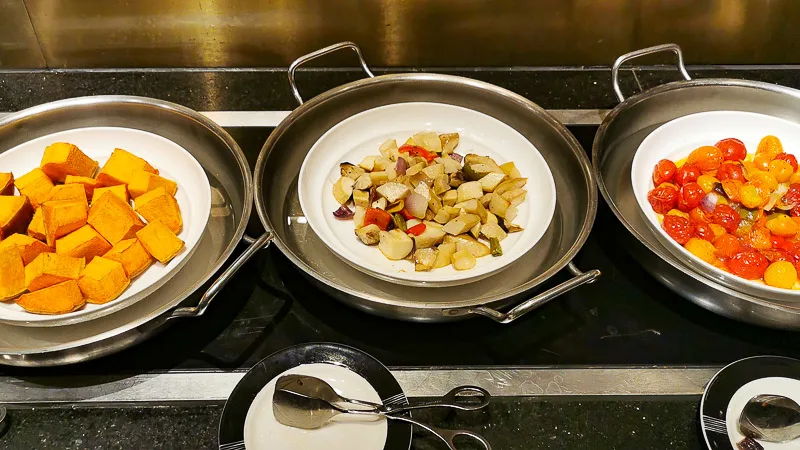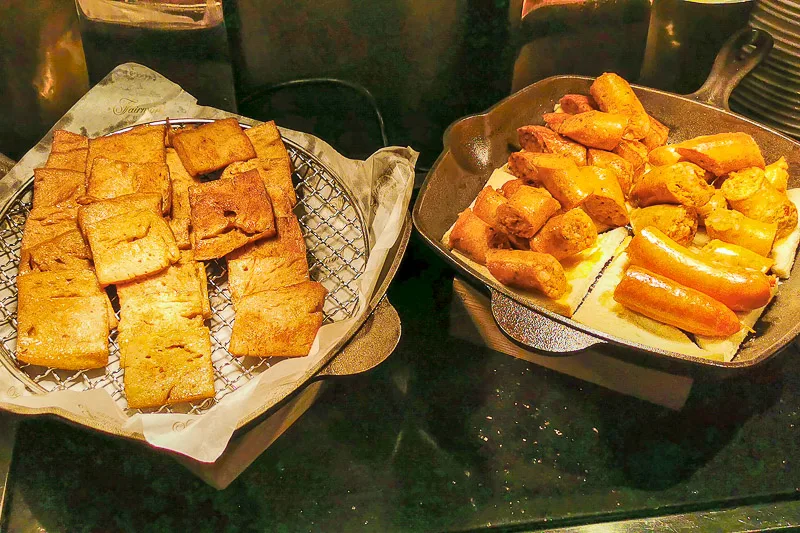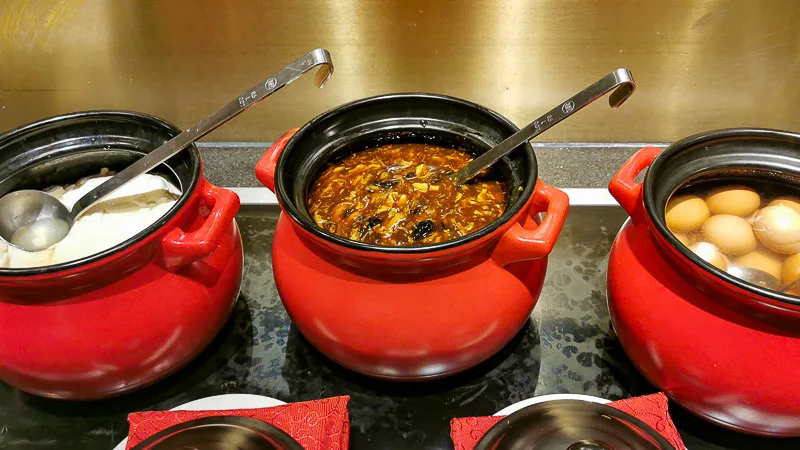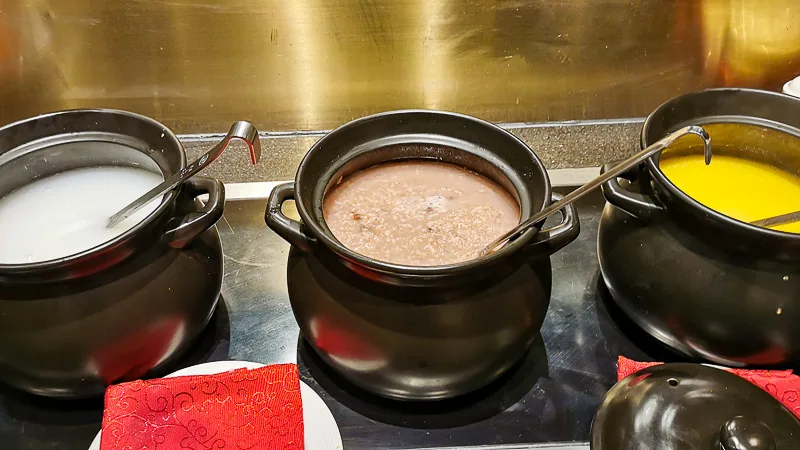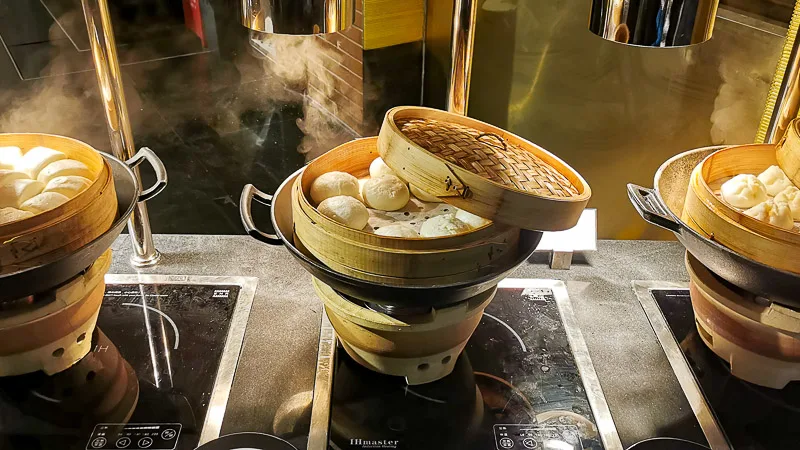 Fairmont Beijing: Swimming Pool
Fairmont Beijing's Swimming Pool is accessible via Willow Stream Spa at Level 21. When you arrive at Willow Stream, you will have to take another private lift down to the Swimming Pool.
We had no problem going to the pool using the private lift. However, we had a problem finding our way back to the main lift because we didn't remember which floor we came from.
The private lift has 3 levels:
Level 3: Spa
Level 2: Reception
Level 1: Pool
After we were done swimming, we took the lift up to Level 3 and felt claustrophobic because we were met with a long corridor with never-ending rooms on both sides of the corridor. There was no staff at all!
For a moment I thought I was trapped in a room with no exit, haha! Luckily we figured it out and headed to Level 2, which is the correct level to get back to the main lift.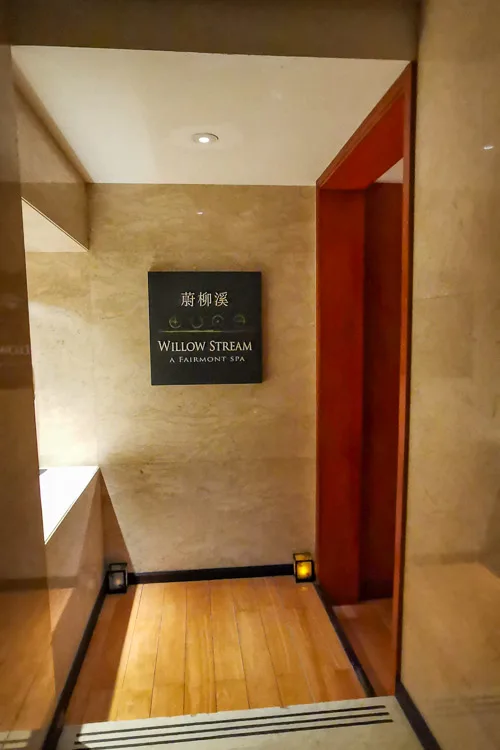 So, here is Fairmont Beijing's swimming pool. It is an indoor pool with average water temperature of 28°C. Considering we were in Beijing during spring and the outdoor temperature often falls below 20°C, this pool feels like paradise!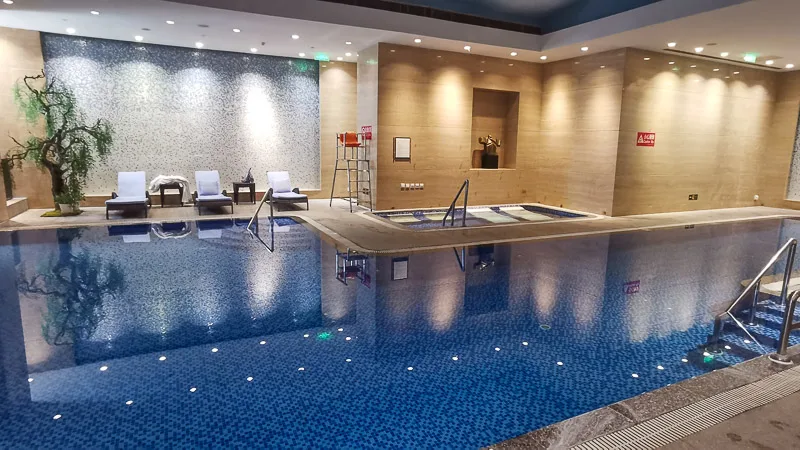 Before entering the pool, you have to cleanse your feet in a cleansing foot bath and the water was so cold!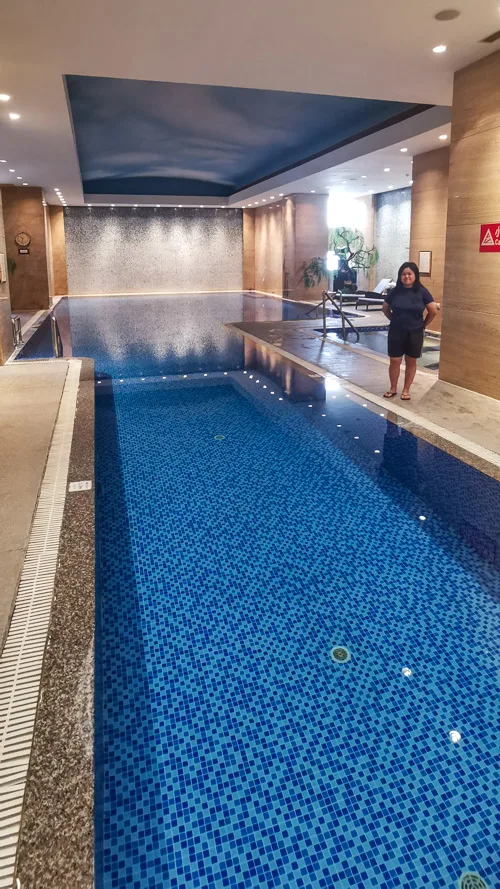 There was a lifeguard who doubles up as housekeeping guy. He kindly lent me the swimming cap because I didn't have any. I'm not sure if the cap was compulsory or optional.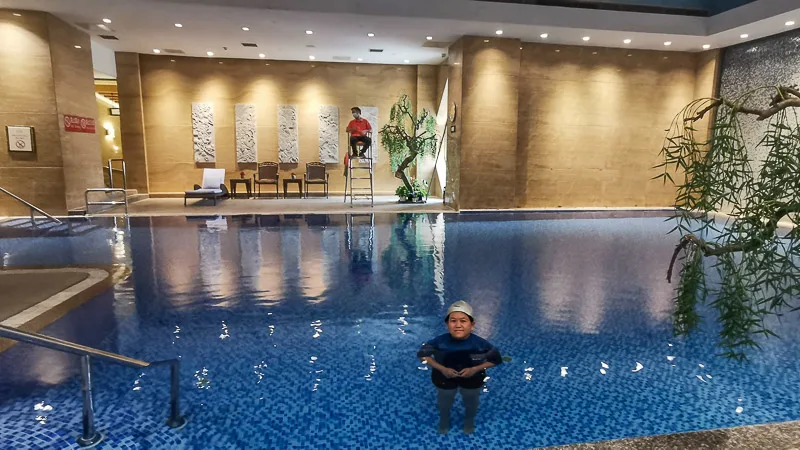 At one side of the pool, there is this little jacuzzi corner.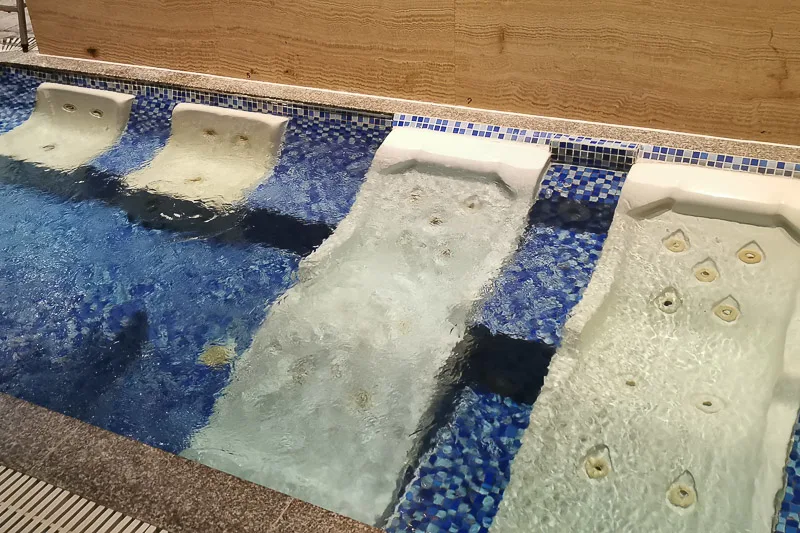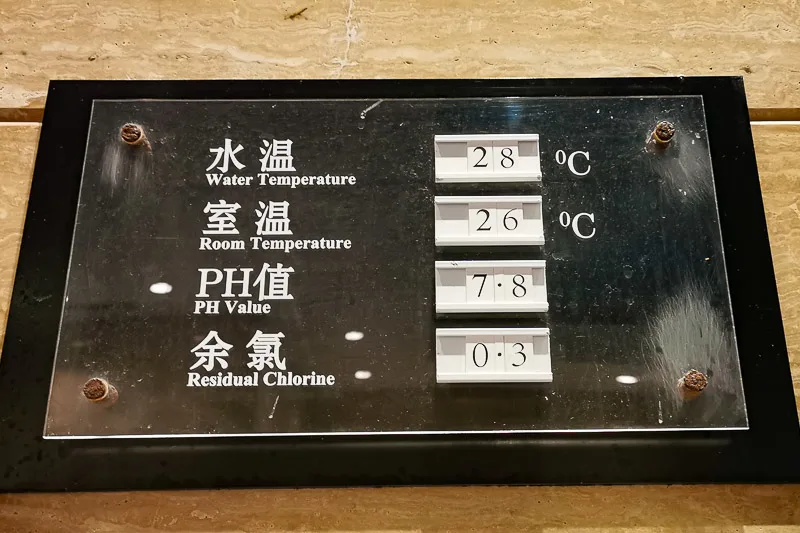 Fairmont Beijing: Gym
Fairmont Beijing's Gym is located at Level 21. The fitness center is quite spacious with plenty of cardio and strength training machines.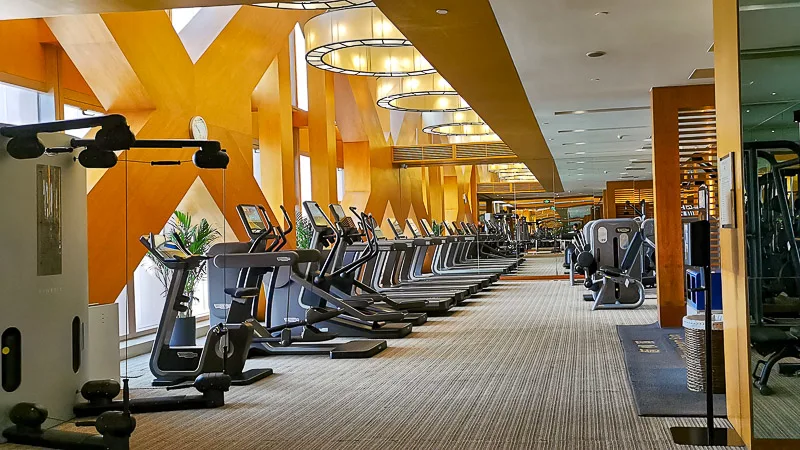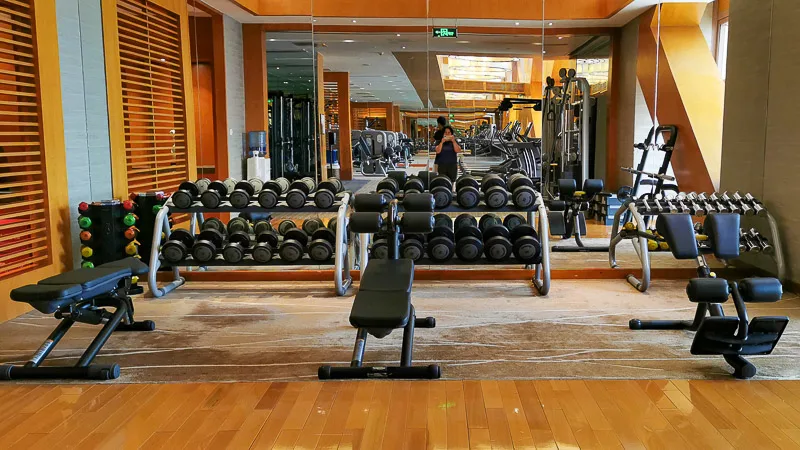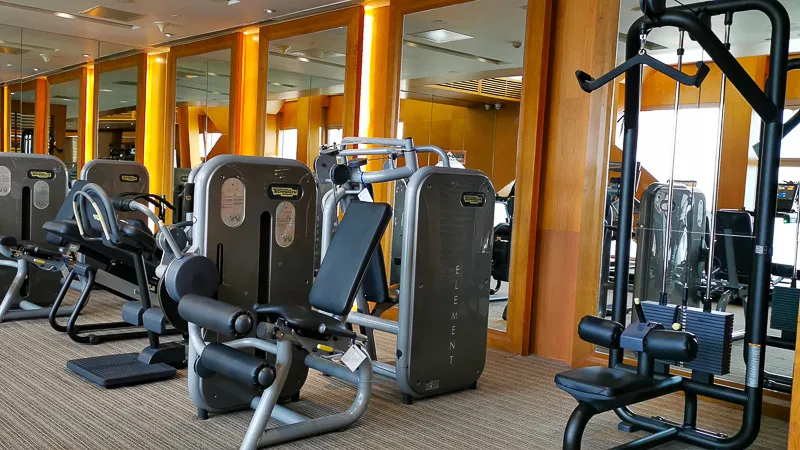 It also has a Yoga Rom with yoga balls.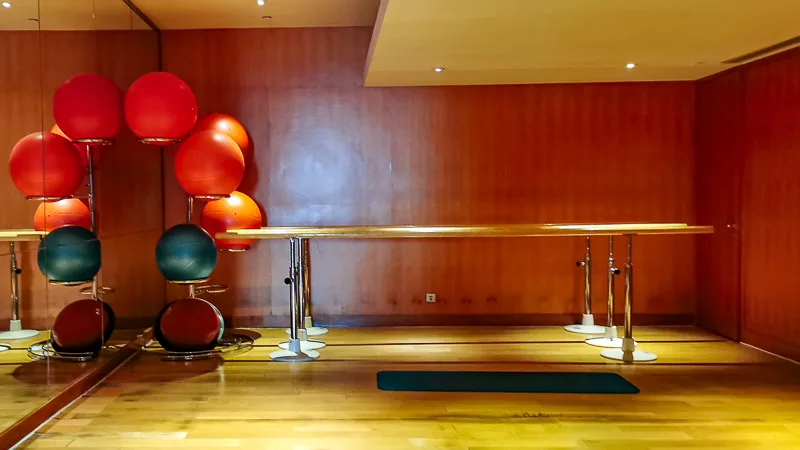 Conclusion
All in all, we had a really pleasant stay in Fairmont Beijing. The staffs were very friendly and helpful. They gave us some recommendations of places to go near the hotel.
Food was great as well. It was so worth upgrading to Junior Suite. If you're planning to stay in Fairmont Beijing, I highly recommend getting the package that comes with breakfast, because breakfast is amazing. If you have the budget to splurge, go for the room with Lounge access!
If you like my work, you can buy me a coffee! Your support will help me to keep going!