Conrad Bangkok Hotel is a 5-star hotel located about 3km from Siam, Bangkok's city center. Built in 2002, Conrad Bangkok underwent renovation recently in 2018.
Conrad Bangkok has been raved by quite a number of people. So, we decided to stay one night here during our trip to Bangkok.
Conrad Bangkok is located at: All Seasons Place 87/3 Wireless Rd. Phatumwan, Bangkok 10330 TH. (Maps & Directions)
If you're traveling light, you can walk from BTS Phloen Chit to Conrad Bangkok in 10 mins (650m). Otherwise, Grab is pretty affordable to get around Bangkok.
Conrad Bangkok is located in All Seasons Place, a pretty sizable compound with a shopping mall, office spaces, hotel and residential properties.
If you need to buy some stuffs, you can simply walk to the All Seasons Place shopping mall. The mall is a bit dated, if you want malls with huge space and modern interior, I recommend that you head to Siam instead. Siam is just 2 BTS stops away from Phloen Chit.
Park lovers will be happy to learn that Lumpini Park is just 850m (11 mins walk) from Conrad Bangkok. And Benchakitti Park is about 1.1km (15 mins walk) from Conrad Bangkok.
Conrad Bangkok is 4km away from Makkasan, one of the stations along Bangkok Airport Rail Link (ARL). If your traveling from/to Suvarnabhumi Airport during day time, I recommend that you take the ARL because the traffic around Conrad Bangkok can get crazy.
Conrad Bangkok: Booking & Pre-Arrival
We booked one night stay at Conrad Bangkok using the Hilton Hotel Voucher that I got from AMEX Ascend. Each cardholder who pays the annual fee will get a free Hilton stay voucher and 4 lounge access.
Before booking a certain hotel with the voucher, I would usually check the price of the room and compare whether it is cheaper than the annual fee that I paid. If it is, then yeah it's worth redeeming the voucher.
The free night stay only entitles us to stay in Deluxe King/Twin room. However, because we wanted to have the access to Executive Lounge, we submitted a request for upgrade to Executive Room. The request can be done during booking. However, we won't know whether we're successful or not until check in.
A few days before arrival, we received email that says we can do online check-in from the mobile app. On the mobile app, I saw that there is also an option to upgrade our room to Executive Room, however, the fee is about THB 2300 instead of THB 1650 that was listed during our booking. So we skipped the online check-in.
Conrad Bangkok: Check In
We arrived at 12.40pm. The official check-in time is 3pm, so we were prepared to wait if our room was not ready.
As soon as we got off from our Grab ride, the concierge promptly unload our luggage and told us, "Don't worry, I'll handle it." Man, I felt like a Queen! He gave us a luggage tag afterwards.
When we arrived at the reception, there were no queue, but all the front desks were fully occupied. Hence, we started a queue.
One of the standing staffs (not front desk staff) asked for our passports even though we were still queueing for the front desk. She then brought it to the back office and came out to ask us if we have indeed requested for upgrade to Executive Room. We said yes.
Without telling us whether our request was approved, she told us she would escort us to the Executive Lounge for check in.
As a newbie in luxury travel, my heart raced, my eyes widened and I jumped inside my head! This is my first time checking in at a hotel's Executive Lounge! How excited!
The three of us took the elevator to Level 29. When we arrived at the lounge, the staff told us, "Take a seat. We will handle the check-in!" I love being treated this way.
As soon as our backside touch the chair, a lounge staff came to us asking what we'd like to drink. Aww.. It was barely 10 mins since we arrived at the hotel and we were already treated like royalty.
The entire check in took about 25 mins but we didn't mind at all. In fact, we enjoyed it! We were asked to settle the upgrade bill, hand over our voucher and put a deposit of 4,000 baht. At the end of the check-in, the staff asked for our luggage and made a call to the concierge.
About 5 mins later, we went to our room and our luggage were already nicely put on the luggage rack. Seriously, I can really get used to this!
Conrad Bangkok: Executive Room
Our Executive Room measures 41m2 or 436 sqft. The size is exactly the same as the basic Deluxe King room.
The highest floor is Level 32. Our room is located at Level 31. I'll take it, I don't think there's any noticeable difference with the room at the highest floor.
Our king bed comes with 4 massive fluffy pillows. At the side table, there is a pillow menu in case you'd want a different kind of pillow.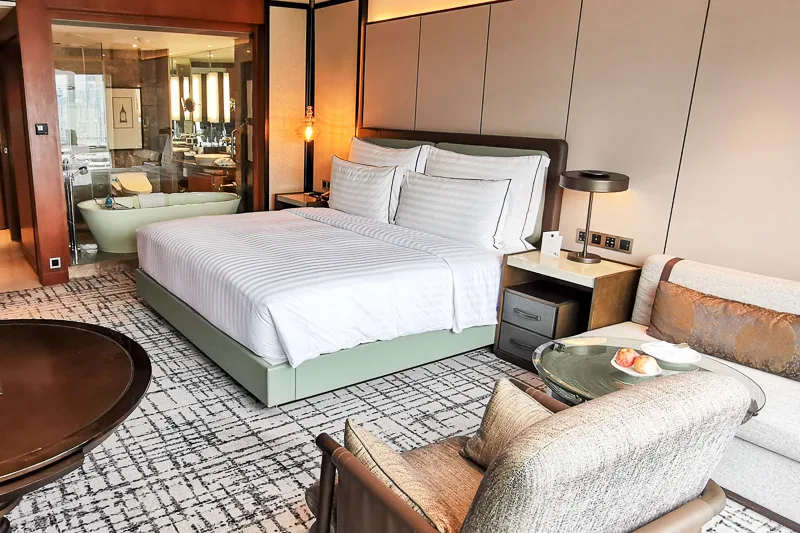 There is a sofa, a coffee table and an armchair by the window. There were 2 apples on the coffee table, which I assumed to be welcome amenities.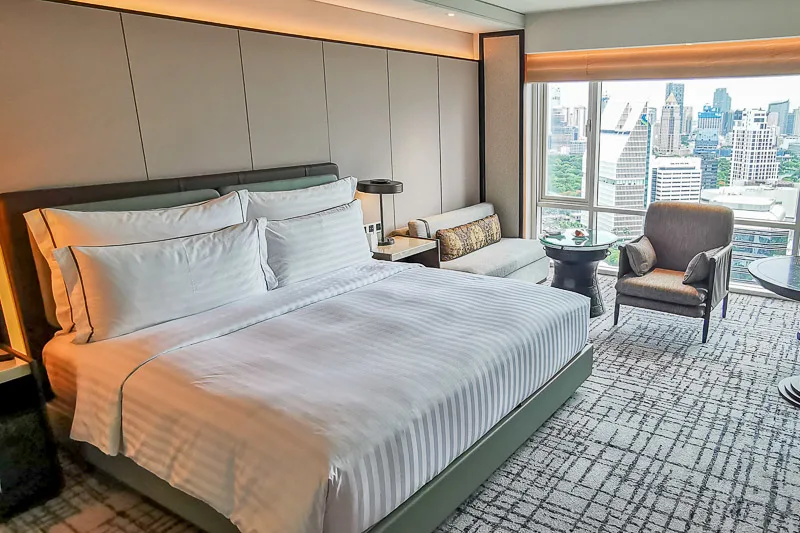 The bed is facing the 42-inch HDTV. The channel list is pretty extensive, including local and international channels.
Beside the TV, there is a round desk with a swivel office chair. It's not that conducive for 2 people to work. But Executive Room guests can always head to Executive Lounge for a café-like environment.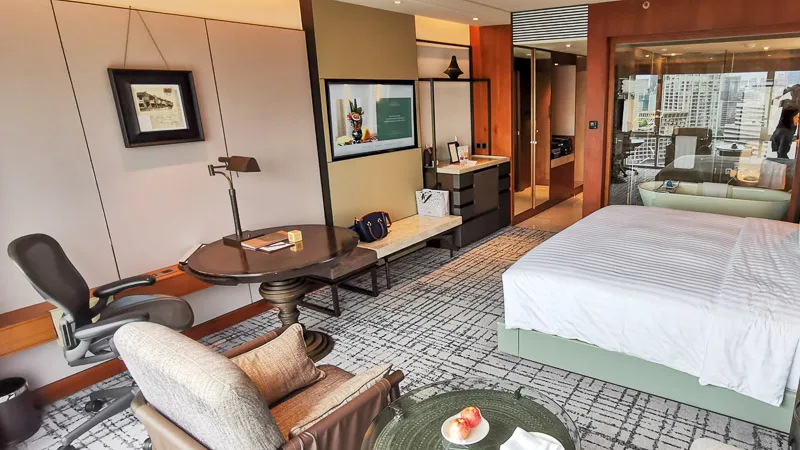 On the other side of the TV is the minibar. Here, we were given 2 complimentary mineral water in glass bottles wrapped with Conrad's bottle cover. This bottle cover isn't complimentary, you'll need to purchase it if you want to bring it home.
On the counter, besides the complimentary mineral water, there were 2 packs of light bites and a bottle of wine which were chargeable. Hidden inside the drawers were various kind of liquors, as well as more snacks.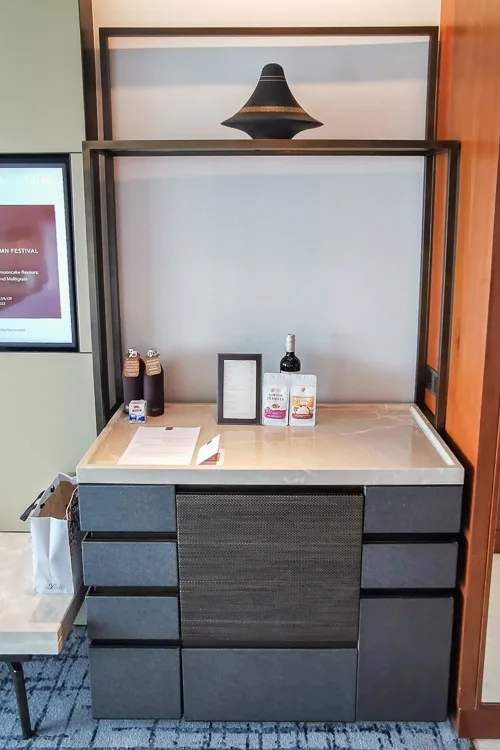 In the fridge, you can find soft drinks, water, chocolate, as well as beers and wines.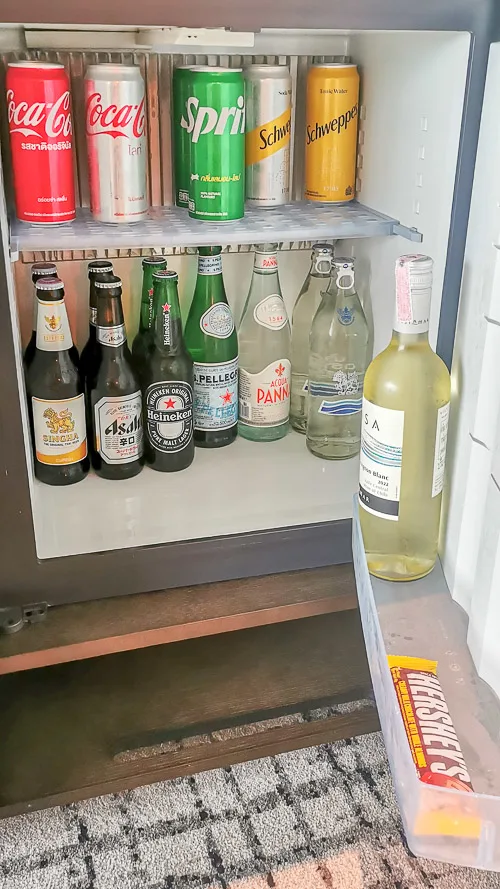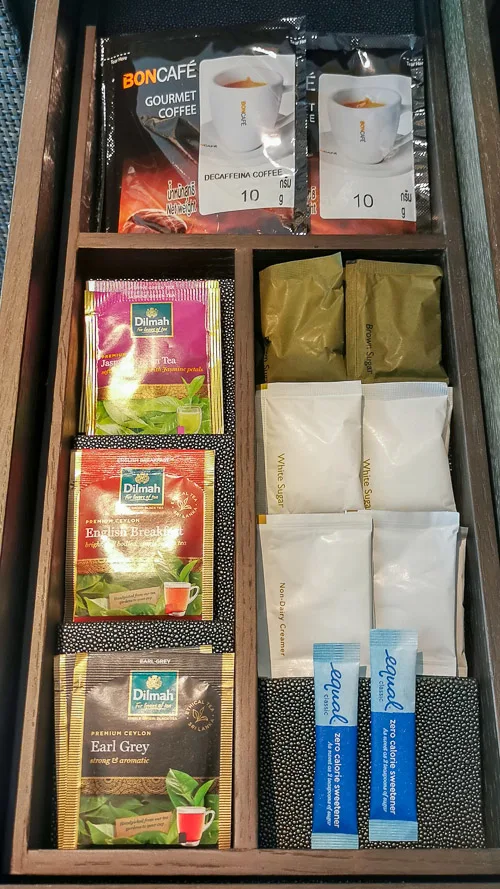 Inside the wardrobe, there were a safe deposit box, two bath robes, an iron with ironing board, a pair of slippers as well as laundry bag.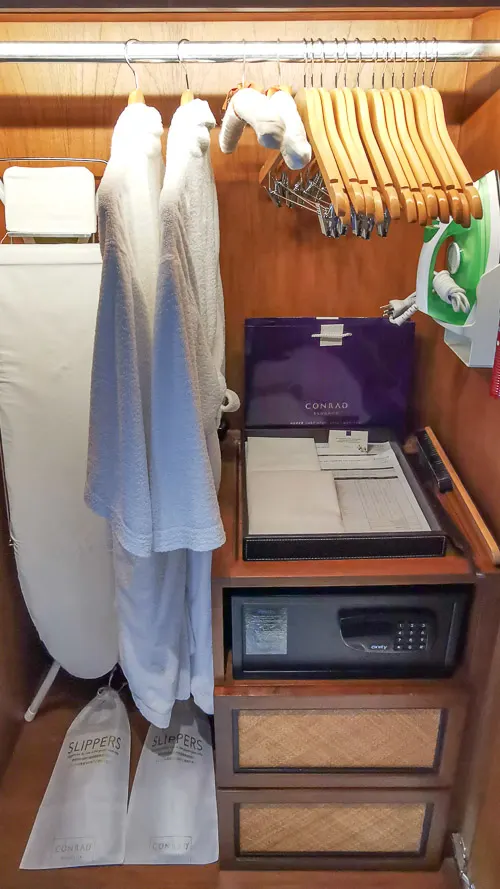 The bathroom has a single sink with a huge mirror.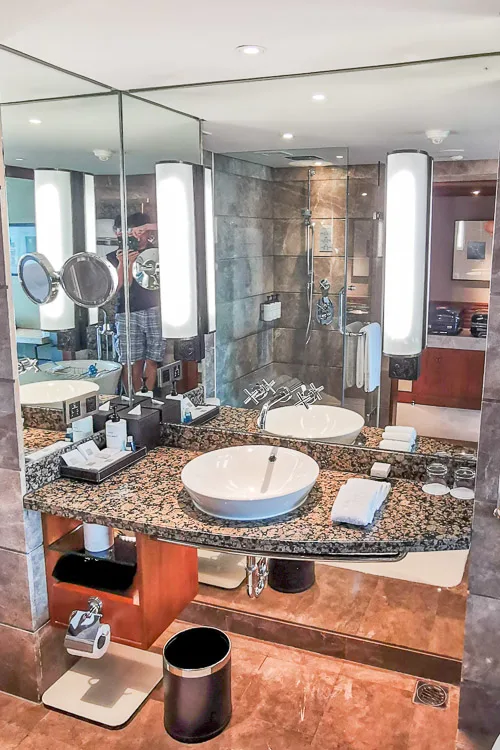 The shower comes with a rainshower and handheld shower. The soap and shampoo are bottled and fixed on the wall. The brand is Byredo's Mojave Ghost.
The toilet bowl has heating function as well as bidet function. My only complain is that the flush button is quite hard to reach, I wish it was at the top of the tank.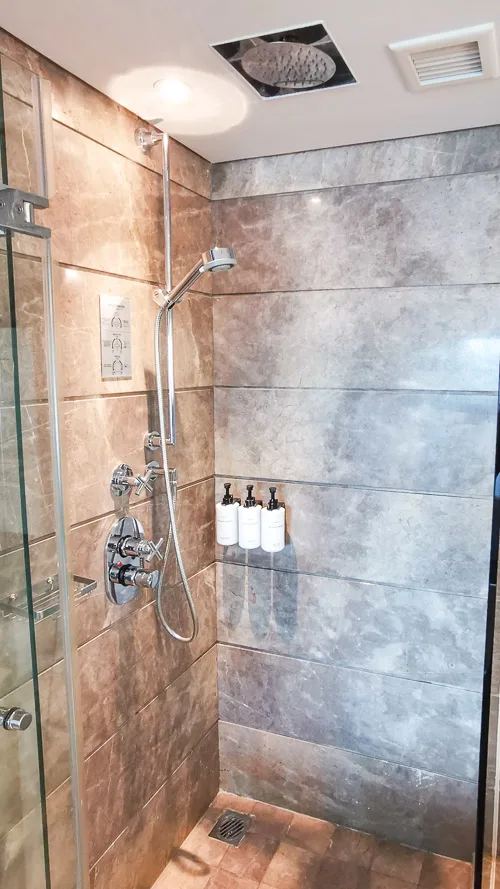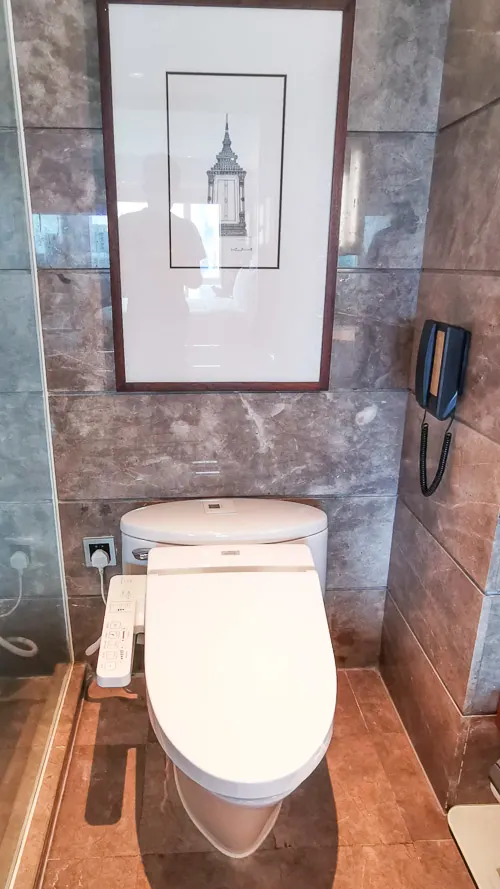 The bathroom has a see-through full-height glass window. Don't worry, privacy is not compromised. There is a blind that can be rolled down.
Let's talk about the bathtub! I like the shape of the tub. And I like that they provide bath salt without us having to request from the housekeeping. There is even a loofah pad!
The bathtub is on a slightly elevated platform, so short people may want to be careful when getting in and out of the tub!
Also, do not wear your hotel slipper in the bathroom. When the floor is wet, the slipper gets very slippery.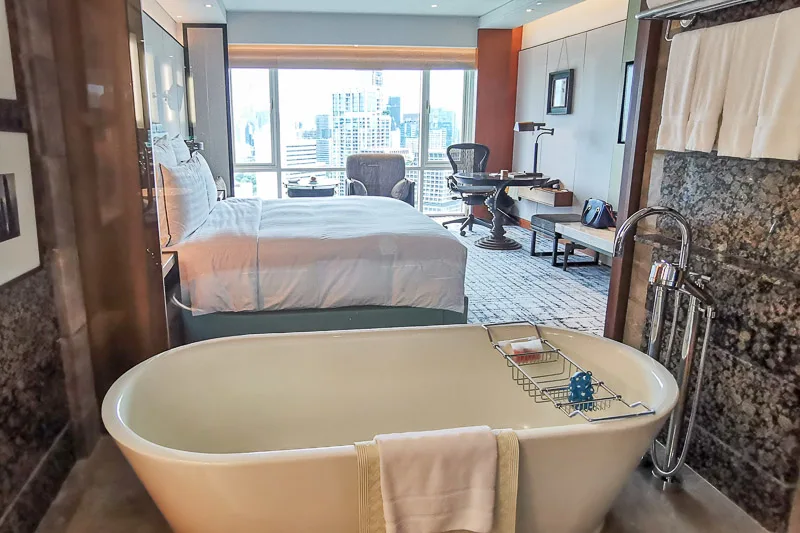 One thing I did not expect was turndown service. I've never had one (again, I'm a newbie in luxury travel!). At first, we were shocked that someone entered our room and did something to our bed while we were in the lounge enjoying our evening cocktails session.
After a while, we figured out that it was a turndown service. Basically, what they did were: rolling down the blind, pulling out the blankets, putting down the pillows, placing the water bottles and glasses beside the bed. How thoughtful!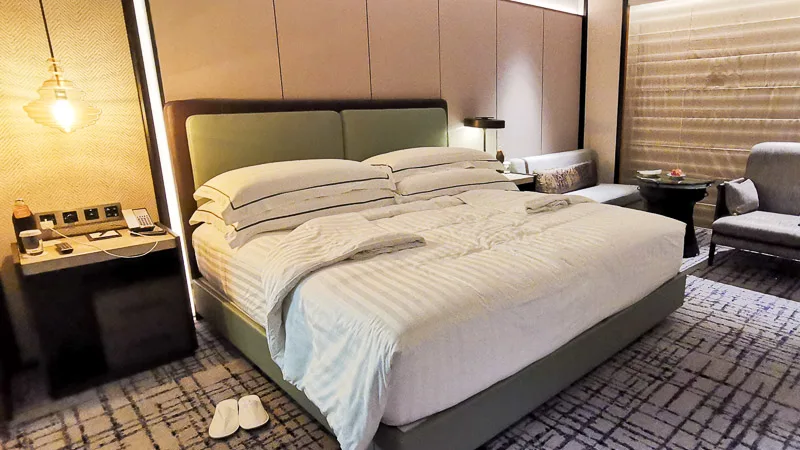 In general, the rooms in Conrad Bangkok have 8 possible views. The 2 most common views are: Northeast View (facing pool, tennis court) and Southeast View (facing Witthayu Palace, Capital Tower).
Our room comes with the Southeast View. So, it's mostly the skyline of Bangkok's skyscrapers. We were lucky that the sky was bright and clear, and my hubby managed to capture this splendid view!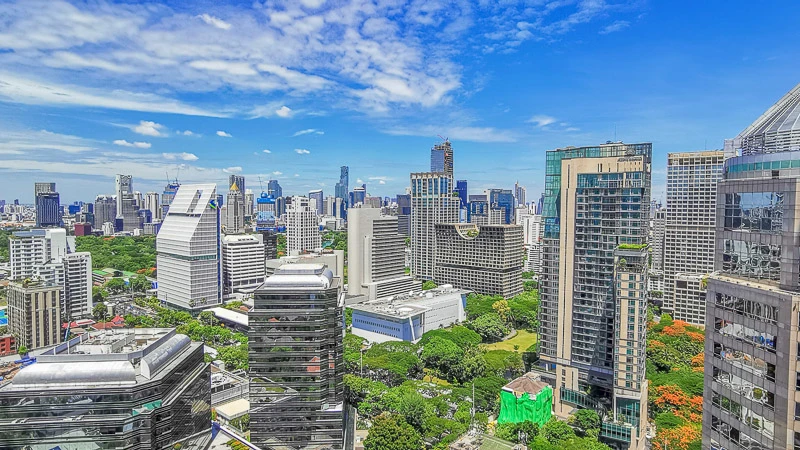 Conrad Bangkok: Executive Lounge
Conrad Bangkok's Executive Lounge is located on Level 29. It is open daily from 6am to 10pm.
We were given a paper that lists down all the benefits at Premier Lounge. Key benefits are:
Afternoon tea from 2pm to 4pm
Evening cocktails with hors d'oeuvre from 5.30pm to 7.30pm
Breakfast from 6am to 10.30am (Mon-Fri) and 6am-11am (Sat, Sun, Public Holidays)
Complimentary tea, coffee, soft drinks, fruits and light snacks throughout the day
Printing & scanning services
Concierge services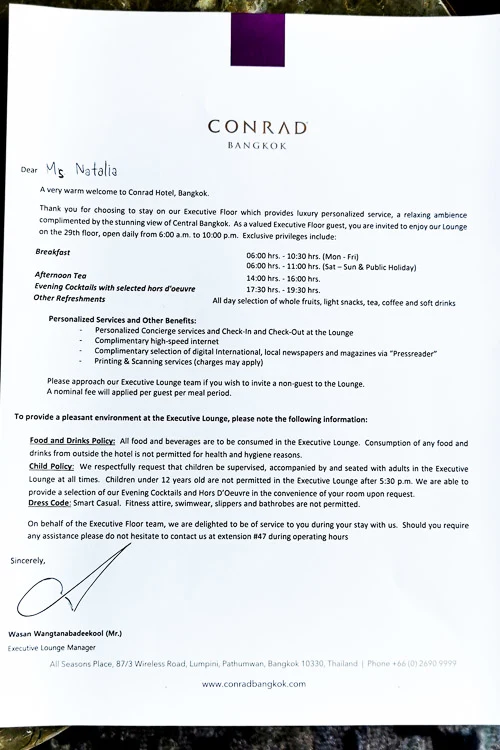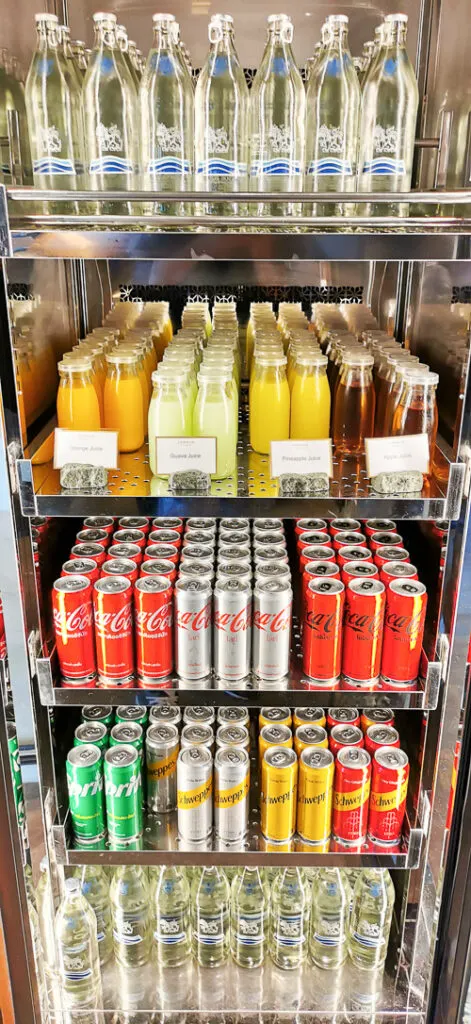 Conrad Bangkok: Afternoon Tea
Afternoon tea takes place at Executive Lounge, from 2pm to 4pm.
I love the afternoon tea so much! During our visit, they served smoked salmon bagel, avocado salsa wrap, scones, meringue pie, cheesecake, brownie as well as various fruits and nuts.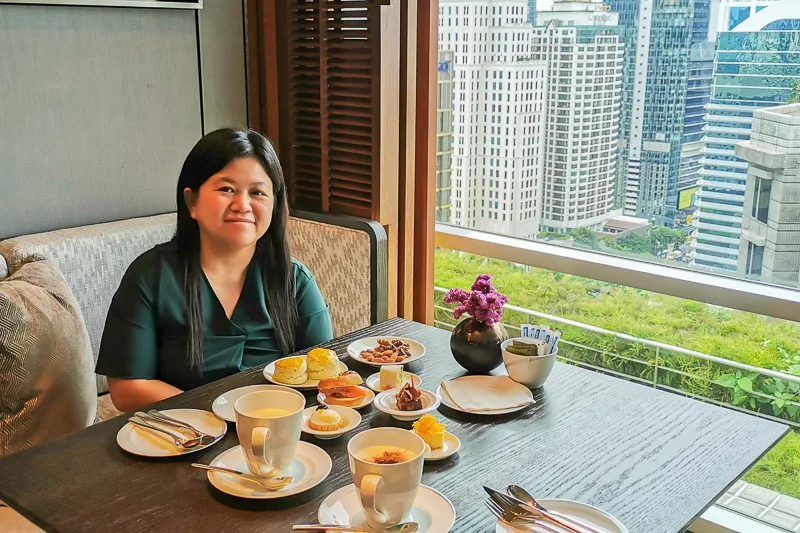 Conrad Bangkok: Evening Cocktails
Evening cocktails with hors d'oeuvre takes place at Executive Lounge from 5.30pm to 7.30pm. The lounge was busier during the cocktail hours than the afternoon tea.
Upon being seated, the staff promptly asked us what drinks we wanted. And we were served an appetizer plate which has what I assumed to be sushi, jellyfish (chuka karage), and mushroom tart.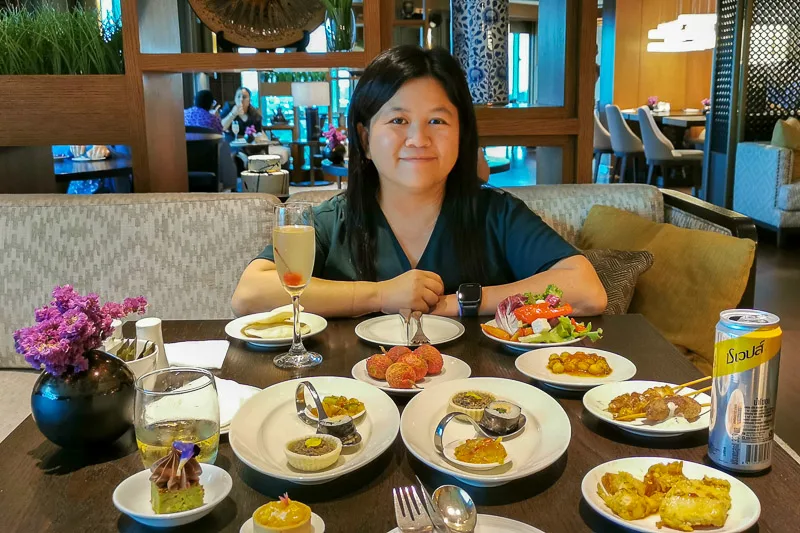 On the buffet, there were salad, yakitori, chick peas, pita bread, lamb kebab, wok-fried seafood, coconut tart and matcha brownies.
To be honest, I did not enjoy the buffet. The pita bread was difficult to bite. The yakitori lacked flavor. The appetizer was enjoyable, but unfortunately it was a single serving.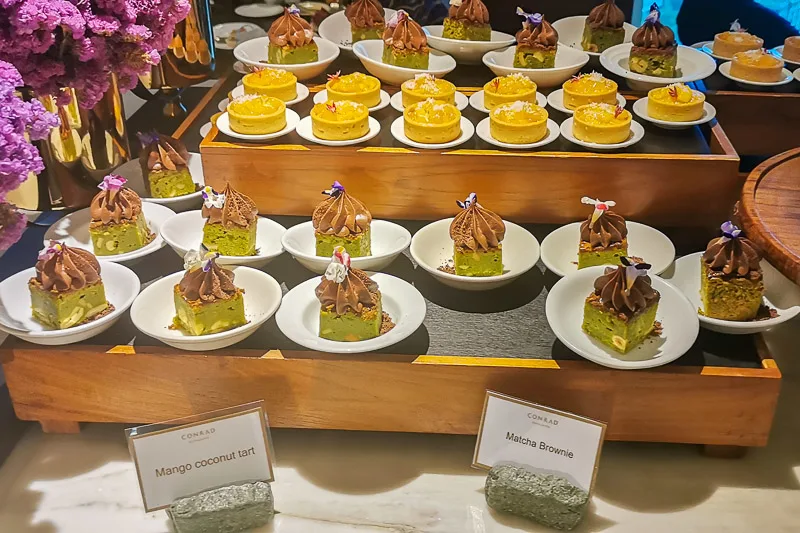 What I loved most was the cocktails! Oh man, I drink with my eyes, really! These cocktails were so colorful, it made me so happy.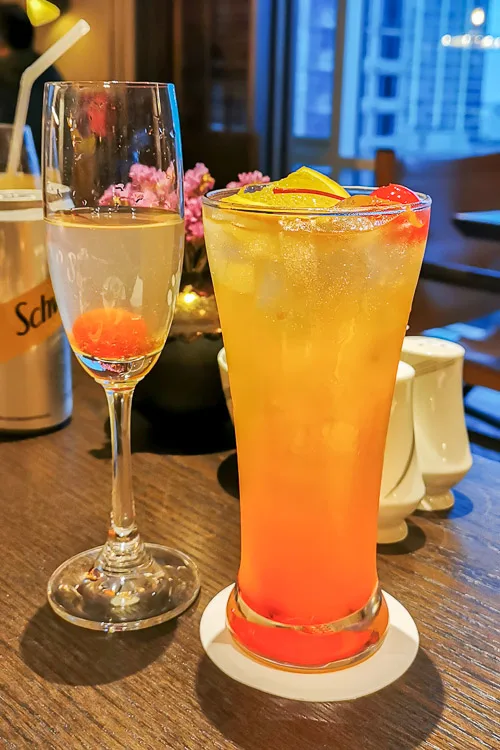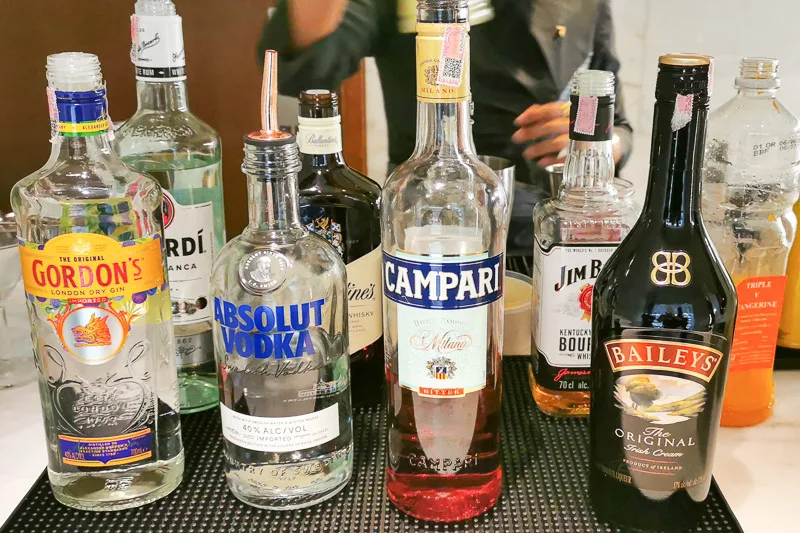 Conrad Bangkok: Breakfast
Breakfast takes place at Executive Lounge from 6am to 10.30am (Mon-Fri) and 6am-11am (Sat, Sun, Public Holidays).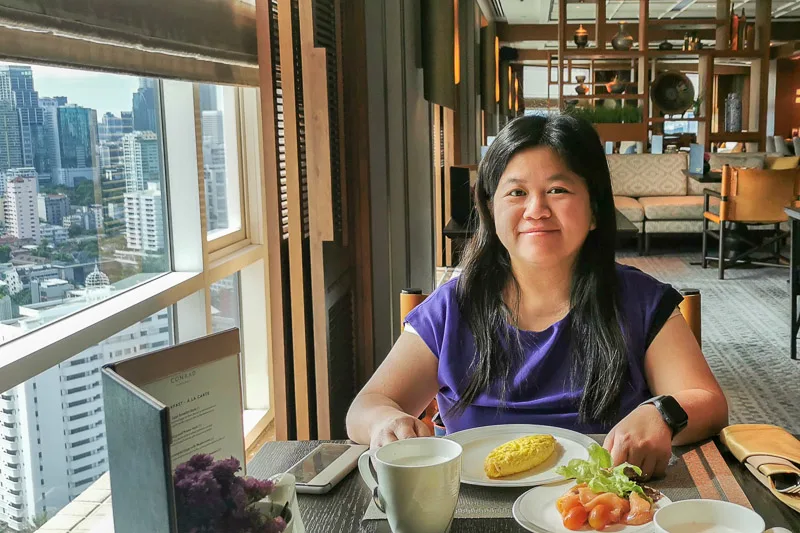 Before you scoop up food from the buffet, I encourage you to take a look at the ala carte menu on your table first. Each person is entitled to order 2 dishes from the ala carte menu for free. Above that, guest have to pay additional THB100 per dish.
In the ala carte menu, there were so many yummy dishes, such as egg benedict, egg and potato hash, truffle scrambled egg with mushroom, avocado toast, sticky rice with grilled chicken, stir-fried minced chicken with basil and rice, Thai porridge with pork meatball, dim sum and vegetable curry.
Pro-tip: If you want to save your stomach space, request for a smaller portion.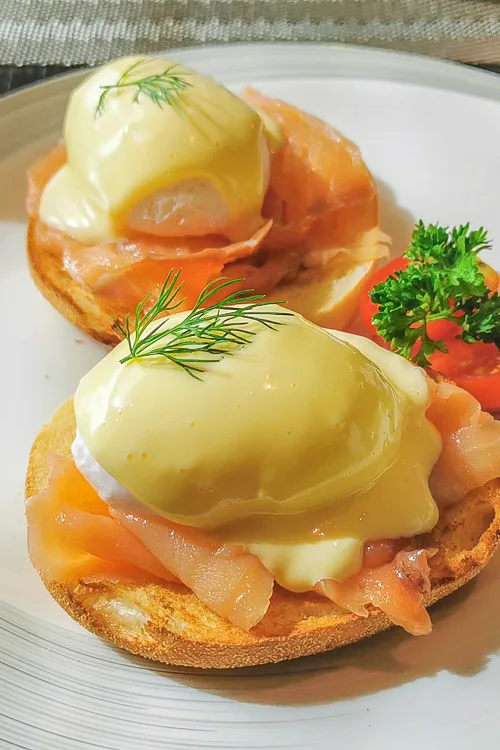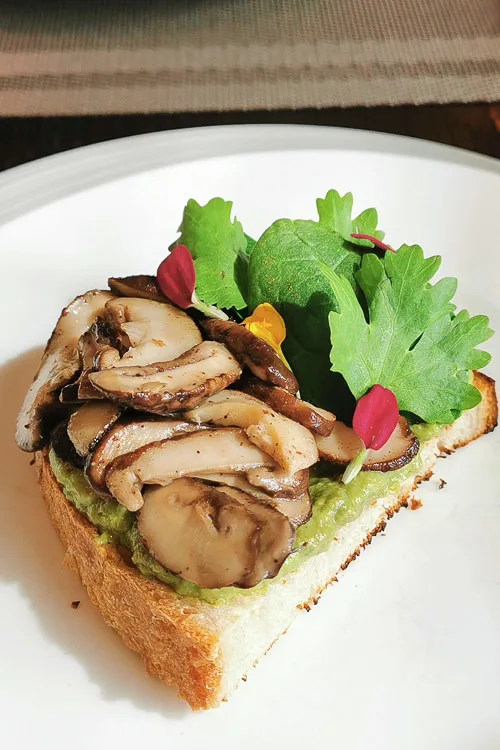 At the buffet, they served naan, dal makhani, chicken sausage, pork sausage, baked beans, bacon, hashbrowns, Chinese sausage fried rice, Singapore fried noodle with shrimp, stir-fried mixed vegetables, and green curry.
On top of buffet, they also had a huge section of bread and pastries (with toast machine) near the entrance. Meanwhile, the fridge section was filled with a huge selection of salad, fruits, yoghurt and even cheese!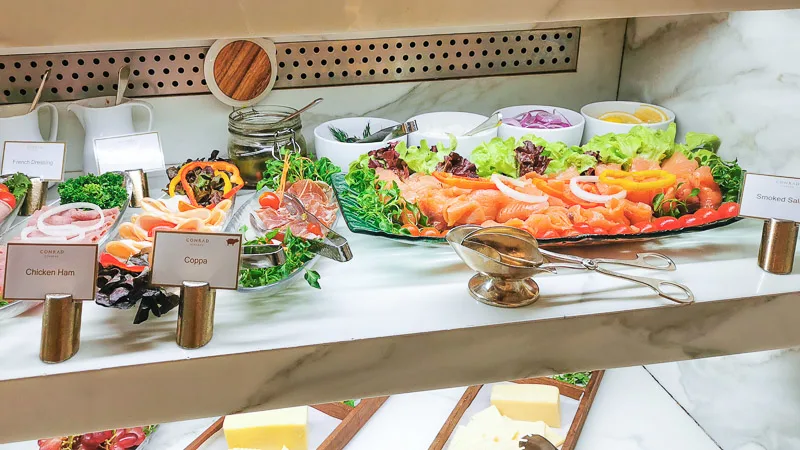 At the live station, there is an egg station as well as noodle station. I recommend you to skip the egg and order from the ala carte menu instead. At the noodle station, they served wanton noodle which was okay (soup was good, but meat had too much preservatives taste).
Conrad Bangkok: Swimming Pool
Swimming Pool is located at Level 7. To enter the pool, you will have to walk past the spa reception counter. You will need to tell the staff your room number before you can access the pool.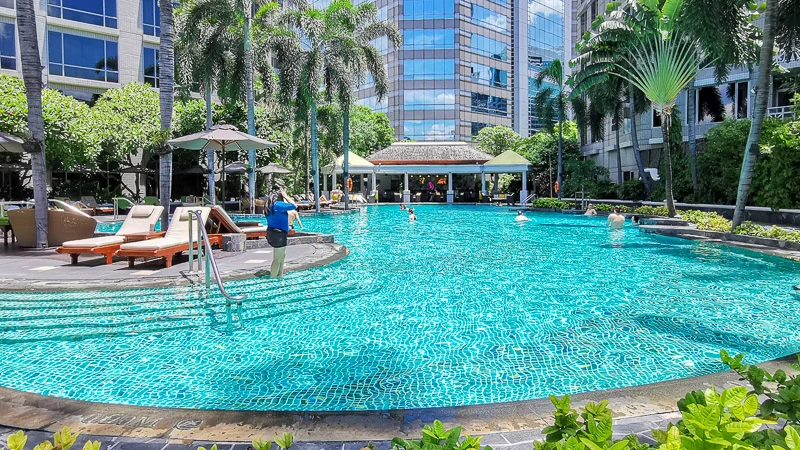 The main pool has a somewhat oval shape. The depth of the pool ranges between 0.9m (near pool entrance) and 1.5m (near pool bar).
The pool was not too crowded when I visited around late afternoon and late morning. Towels were available near pool entrance.
Near the pool entrance, there is a small pool with jacuzzi and waterfall. If you are in need of an aqua massage, don't miss the jacuzzi and waterfall.
Conrad Bangkok: Tennis Court
Tennis Court is located at Level 7. To get to Tennis Court, you need to pass through swimming pool area. There are 2 courts. You'll need to pre-book if you want to use the court.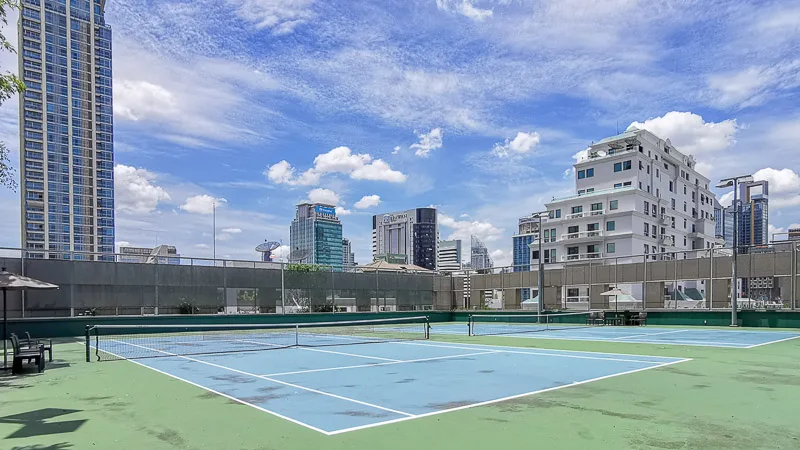 Conrad Bangkok: Gym
Conrad Bangkok's gym is called Bodyworx. It is located at Level 7, same floor as spa, pool and tennis court.
I'd say the gym is quite spacious. There are plenty of cardio machines as well as strength training machines. There is even a yoga room inside the gym with bouncy balls.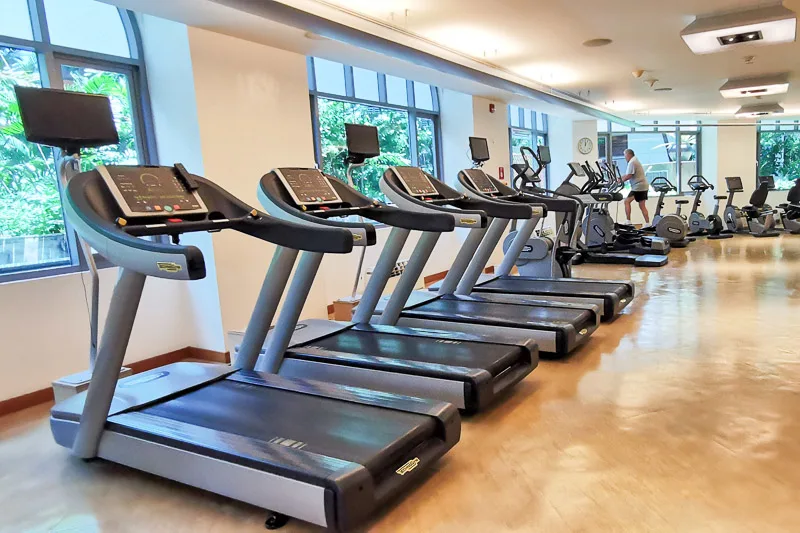 Conrad Bangkok: Spa
Conrad Bangkok's Spa is called Seasons Spa and it's located at Level 7 as well.
The cheapest massage on the menu seems to be the 60mins Weekday Escape (THB 1,999 net/person).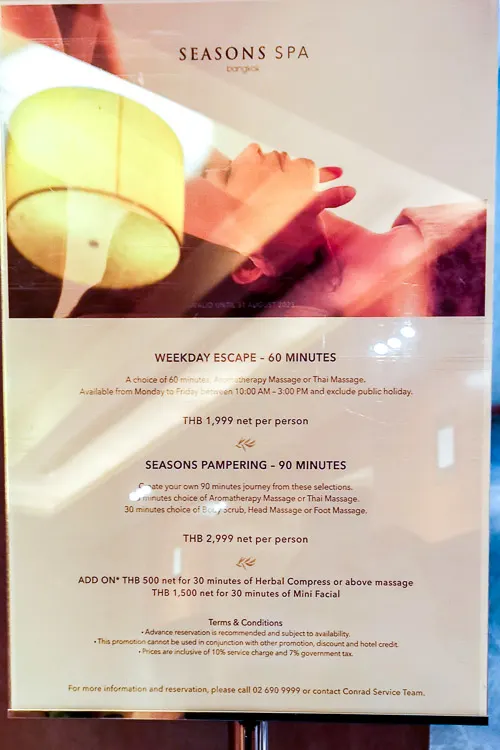 Conrad Bangkok: Shuttle Bus
Conrad Bangkok has a shuttle bus that brings guests to Phloen Chit BTS Station. The shuttle bus frequency is about 15 minutes.
Well, we didn't have to use it during our stay. Because we didn't leave the hotel at all during our stay!
Conrad Bangkok: Check Out & Send Off
Usually, check-out is a brief process and there's not much gesture you'd expect during check-out. But our experience at Conrad Bangkok went beyond our expectation.
We checked-out at Executive Lounge and the lounge staff even served us drinks. After the check-out was completed, we were asked whether we needed concierge help to bring down our luggage. We declined because we only had 2 cabin luggage.
At the lobby, when we were waiting for our Bolt ride, the concierge asked if we wanted to take the shuttle bus, we told him we're waiting for our Bolt drivers who took too long to come and went the other directions instead of towards Conrad.
The concierge asked for our destination and immediately he booked a Bolt ride using his phone! Wow, we were speechless! That was a first!
Bolt has the option of paying by cash, so we could settle our bill directly with the driver. Within minutes, the concierge alerted us that our Bolt has arrived and he helped us load our luggage. What a nice send off!! If I have 10 thumbs, I'll give all my thumbs up!
Conclusion
Well, I might have been overly excited with my stay in Conrad Bangkok and people might have question whether my stay was sponsored. The answer is NOPE. I paid everything out of my own pocket. This way, I can write as honestly as I want. I could say the evening cocktail buffet was bad without hesitation.
Let's be frank, the hotel is not cheap. But I still think it is so worth a splurge once in a while. It is one hotel that I don't mind going back to, really.
To recap, the service was beyond perfect, the lounge experience was amazing (minus evening cocktail buffet), the room was great and the view from room was astounding.
The pool is pretty, it isn't as big as I hope it'd be, but it's good enough. The gym is spacious.
Now, if only I have a Hilton Diamond status…
If you like my work, you can buy me a coffee! Your support will help me to keep going!