The American Express Singapore Airlines KrisFlyer ASCEND Credit Card is a co-branded credit card between American Express and Singapore Airlines. Because of such a long-winded name, let me just refer to it as AMEX KrisFlyer Ascend to save both of our time!
The reason I indicate the black card in the title is because there are 2 AMEX SIA KrisFlyer co-branded cards. The first one is American Express Singapore Airlines KrisFlyer Credit Card (aka AMEX Krisflyer, aka the blue one), and the second one is American Express Singapore Airlines KrisFlyer Ascend Credit Card (aka AMEX Ascend, aka the black one). This article will focus on the black one, which is the better card between the two.
I got my AMEX KrisFlyer Ascend card in 2019, after upgrading from the blue AMEX Krisflyer card. To me, it was a no-brainer to upgrade. Ascend has a slightly better earn rate (1.2mpd as opposed to 1.1mpd), and I get to enjoy upgrade bonus miles, 1 night Hilton stay, and 4 lounge access upon paying annual fee.
If you're keen to get AMEX KrisFlyer Ascend, you can get it straightaway without having to get the blue card first and then upgrade later. The reason I got the blue card first was because I was young and naive, I didn't do my research at that time.
As someone who's been holding Ascend card for over 3 years now, I'll share my in-depth review of the AMEX Ascend card in this article.
What is AMEX KrisFlyer Ascend Card?
AMEX KrisFlyer Ascend Card is credit card that gives KrisFlyer miles to customers when they spend using the card. The KrisFlyer miles will be transferred directly to the cardholder's KrisFlyer account once a month without additional fee (which is a double-edged sword, I'll talk more about this in "Benefit #1" section).
If you are not familiar with KrisFlyer, it is Singapore Airlines' loyalty program. Membership is free of charge. You can earn KrisFlyer miles by flying on SIA flights, shopping on SIA platforms, or by converting points from credit card to KrisFlyer miles. The miles can be used for redeeming or upgrading flights, offsetting flight ticket purchase, and many other uses which I'll explain in "Where to use KrisFlyer Miles" section.
Requirements
Here are the requirements:
Age: 21 or older
Min. income: Not Specified*
Documents required:

A copy of your NRIC/passport
Proof of residence if different from NRIC
Income documents (For salaried employees: Latest income tax notice of assessment and latest computerized payslip, OR Latest 3 months computerized payslip. For self-employed: Income Tax Notice of Assessment for the last 2 years)
Right now, there is no specific income requirement on AMEX website, it just says "Card application is subjected to customers meeting the regulatory minimum income requirement and internal assessment." In the past, it used to be S$50,000 per year. So, if you're earning above S$30k (which is the regulatory minimum income), you can give it a try.
You also need to have a KrisFlyer account. Registration is free. If you don't have a KrisFlyer account yet, you can sign-up on Singapore Airlines' website.
Annual Fee
Annual fee is S$340.20 (inclusive of 8% GST). Supplementary card's annual fee is waived for the first year, thereafter, S$81/card per year (inclusive of 8% GST).
Based on my own experience, annual fee waiver for principal cardholder is possible upon request, however, you won't get the perks (i.e. hotel stay, lounge access, bonus miles).
Welcome Bonus for New Sign-Ups
From now until 31 October 2023, new sign-ups can earn up to 31,500 KrisFlyer Miles. Here's the breakdown:
5,000 Bonus KrisFlyer Miles upon first transaction, if this is the first time you own any co-branded American Express Singapore Airlines Credit Card
13,100 Bonus KrisFlyer Miles when you spend S$2,000 in the first 2 months AND pay the annual fee
10,000 Bonus KrisFlyer Miles, if you are new to American Express (i.e. individuals who do not currently hold a Basic American Express Consumer Card at the point of application)
1,000 Bonus KrisFlyer Miles (Trevallog Exclusive), if you sign up with my referral link here spend a minimum of S$1,000 in the first month of Card Membership
2,400 KrisFlyer Miles from your S$2,000 spending (1.2mpd * 2,000 spending = 2,400 miles)
Earning Rate of AMEX KrisFlyer Card
Local Spend: 1.2 KrisFlyer miles for every S$1 spent in local currency
Overseas Spend: 2 KrisFlyer miles for every S$1 equivalent in foreign, during June and December only
Singapore Airline: 2 KrisFlyer miles for every S$1 spent on singaporeair.com, SingaporeAir mobile app and KrisShop (in-flight and online)
Grab: 3.2 KrisFlyer miles for every S$1 spent on eligible Grab Singapore transactions (exclude Grabpay top-up), cap at S$200 spend in each calendar month. (T&C)
Benefits of AMEX KrisFlyer Ascend
Benefit #1: Direct Transfer of KrisFlyer Miles to Your KrisFlyer Account
The benefit of owning a co-branded Singapore Airlines KrisFlyer credit card is that all the miles earned will be transferred directly to your KrisFlyer account without additional fee, therefore, you can save the SGD25+GST conversion fee, which is usually charged by other miles card.
The bad thing about direct transfer is that, once your miles enter your KrisFlyer account, the 3-year countdown begins. That's because KrisFlyer miles are only valid for 3 years, if you don't use them during the validity period, they'll expire worthless. So, make sure you monitor your KrisFlyer miles validity using the SingaporeAir mobile app or SIA website, and redeem them before their expiration.
Benefit #2: Complimentary one night stay at Hilton properties each year
I'll admit it, I'm a sucker for free hotel stay! Give me any credit card with free hotel stay and I'll hand you over the annual fee (as long as the fee is less than the cost of the hotel stay, of course!).
As a cardholder who pays annual fee, you'll be entitled to a complimentary one night stay at participating Hilton properties each year. Here's the list of hotels that you can choose from. It has not only Hilton, but also Conrad, DoubleTree and Curio properties.
You will be sent a physical Hilton voucher after paying annual fee. Using the voucher code, you book the hotel via http://apac.hilton.com/amexkrisflyer. The expiry date is stated on the voucher itself. I'm quite disappointed that they gave only about 7 months of validity.
For me, I used my first year voucher at Conrad Singapore. For the subsequent years (Year 2 & 3), due to pandemic, I requested for annual waiver, and hence, I didn't get any free hotel stay.
Now that travel is back, I'm paying the annual fee again to get the free hotel stay. For my Year 4, I used my Hilton voucher at Conrad Bangkok and I had a blast staying there.
Unfortunately, Conrad Singapore is no longer in the hotel list. As at time of writing, there is only one Hilton property in Singapore where you can redeem a free hotel stay using the voucher from AMEX Ascend, and that is… [drumroll pls]…. Hilton Garden Inn Singapore! Thank, but no thanks, I'll pass! I'd rather use it overseas, and I hope you too.
Benefit #3: Complimentary 4 lounge access each year
Each cardholder of AMEX Ascend who pays the annual fee will be entitled to 4 complimentary lounge access to participating SATS & Plaza Premium Lounge. Here's the list of participating lounges.
You will be sent a physical Hilton voucher after paying annual fee. You need to present this voucher when registering for admission at the lounge, as well as your AMEX Ascend physical card and your boarding pass. You can let your family members or friends to use it only if you're traveling together. Children below 2 years enter for free.
The expiry date is stated on the voucher itself. The expiry date is similar to the hotel's voucher, which is about 7 months of validity. Ugh!
Benefit #4: Accelerated upgrade to KrisFlyer Elite Gold membership tier
If you're a frequent flyer with SIA, you're definitely familiar with the Elite status. As a holder of AMEX KrisFlyer Ascend card, you can fast-track to KrisFlyer Elite Gold status by spending S$15,000 with Singapore Airlines Group within the first 12 months. Do note that the status will be valid for 1 year only, subsequently you need to earn 50,000 Elite miles to requalify for Elite Gold status.
If you're not familiar with Elite status, here's a brief explanation. You earn Elite miles based on the distance you flew. So, you can't earn Elite miles by transferring your credit card point. You have to fly to earn it. In the normal scenario, you need to earn 50,000 Elite miles within 12 months to get Elite Gold status. But, this card allows you to get Elite Gold by just spending S$15,000 with SIA Group.
Here are the benefits of KrisFlyer Elite Gold status:
Regardless of what class you're flying, if you're flying with SIA, you and a guest will get access to KrisFlyer Gold Lounge at Singapore Changi Airport and SilverKris Lounges worldwide. If you're flying with Star Alliance airline, you and a guest will get access to Star Alliance Gold lounges worldwide, regardless of your flight class.
Priority airport check-in
Extra baggage allowance
Gold Track (Priority Security & Immigration)
And many more (see complete privileges here)
For me, I would definitely love to get Elite Gold status, but unfortunately, I'm not a high spender, so I can't qualify for Elite Gold status in my first year via this route.
Benefit #5: 500 Bonus KrisFlyer miles on telco recurring bill
You can get a one-time bonus of 500 KrisFlyer miles on your first recurring telco bills. To do so, you need to set up automatic bill payments via your telco provider's website. The participating telco merchants are: Singtel, StarHub, M1, Circles.Life and MyRepublic. Details can be found here.
Where to use KrisFlyer Miles
Here are the ways you can use your KrisFlyer miles:
Redeem miles for free flight (aka award tickets) on Singapore Airlines, Star Alliance or partner airlines
Redeem miles for flight upgrades
Offset flight tickets
Offset your purchase at KrisShop, Kris+
Redeem miles for hotel stays and car rentals via vRooms
Convert miles to Shangri-La GC Award Points to redeem free hotel stay, room upgrades, spa/dining vouchers
Convert to Virgin Australia Velocity Points to redeem reward seats and upgrades
Personally, I would only use KrisFlyer miles for flight redemption (Business or First Class) because that's where a mile is worth the most.
Spending Exclusion
You won't earn KrisFlyer Miles for the following spending (source):
a) Charges processed and billed prior to the Enrolment Date or charges prepaid on any Card Account prior to the first billing statement for that Card Account following the Enrolment Date;
b) Cash Advance and other cash services;
c) Express Cash;
d) American Express Travellers Cheque purchases;
e) Charges for dishonoured cheques;
f) Finance charges – including Line of Credit charges and Credit Card interest charges;
g) Late Payment and collection charges;
h) Tax refunds from overseas purchases;
i) Balance Transfers;
j) Instalment plans;
k) Annual Card fees;
l) Amount billed for purchase of KrisFlyer miles to top-up your miles balance;
m) Bill payments and all transactions via SingPost (e.g. SAM kiosks, mobile app, online portal);
n) Payments to insurance companies (except payments made for insurance products purchased through American Express authorized channel);
o) Payments to Singapore Petroleum Company Limited (SPC) service stations;
p) Payments for the purpose of GrabPay top-ups;
q) Payments to utilities merchants (with effect from 12 February 2021);
r) Payments to public/restructured hospitals, polyclinics and other public/restructured healthcare institutions and facilities (with effect from 1 October 2022);
s) Charges at merchants or establishments that are excluded by American Express at its sole discretion and notified by American Express to you from time to time.
You can earn miles when using CardUp (source).
How to Check How Many KrisFlyer Miles Earned in Each Transaction
Similar to AMEX Krisflyer, I'm unable to check how many miles earned for each transaction via desktop browser. However, I can do that via mobile app.
To do that, I need to open my Amex SG mobile app, select AMEX KrisFlyer Card, tap the Membership tab at the bottom of the screen, then tap View Activity button. Here, I can see my recent transactions and the number of points earned on each transaction.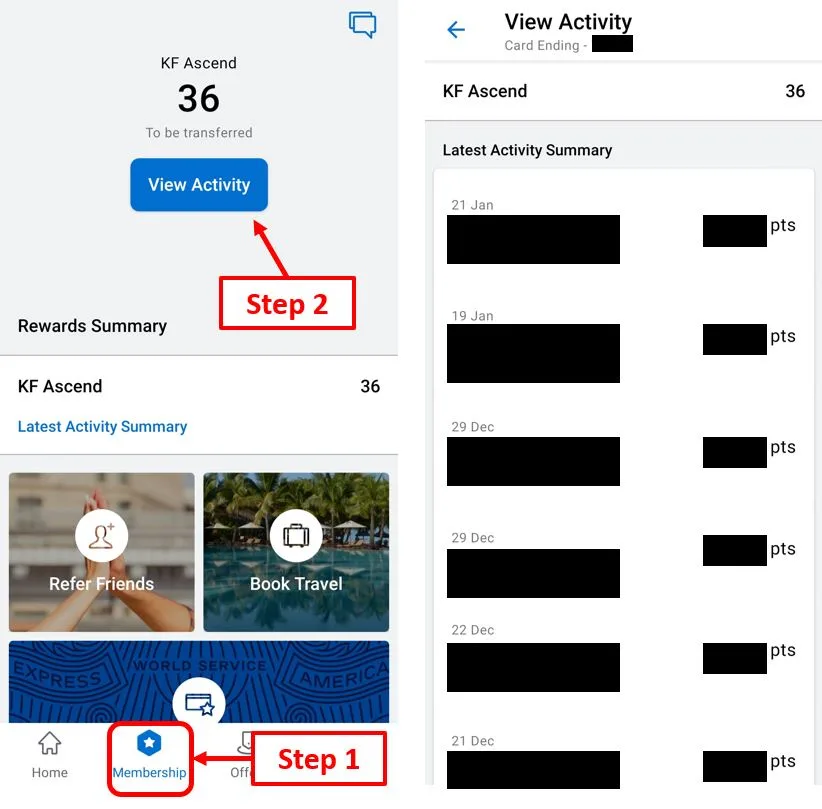 What I Love about AMEX KrisFlyer Card
Generous welcome bonus. The welcome bonus of Ascend Card is pretty generous compared to cards from other banks, IF you want to stay at Hilton properties. Assuming a night stay at Hilton property costs S$200, that means you're paying $140 to get 30k+ miles (i.e. you're buying miles at 0.4 cents/mile, which is decent). [PS: 30k+ welcome bonus miles is correct at the time of writing; this may change in the future, but I'm sure you know how to adjust the calculation].
But, if you don't value stay at Hilton property at S$200, you think it's closer to S$150 (because you plan to use it at lower-tier Hilton hotels, like Hilton Garden Inn), that means you're paying S$190 to get 30+ miles (aka buying miles at 0.6 cents/mile), then it is as if you're signing up for a Citi Premiermiles. In this case, Ascend's welcome bonus might not be that interesting to you.
For me, to make the free hotel stay worth paying the annual fee, I'd redeem it for hotel rooms that cost at least S$200. The more expensive, the better.
Direct transfer of KF miles to KF account. I love not having to pay for miles conversion. Since I'm planning to redeem my KF miles at least once every 3 years anyway, I'm not afraid that the 3-year miles validity.
Good customer support. This point is highly subjective. Based on my own experience, I feel that the AMEX team has been very efficient (card approval was really quick) and the quality of support I've received from their hotline is so much better than other banks (they're well-trained and can answer most of my questions).
They reward loyal customers (in my opinion). Again, this point is highly subjective and may change in the future. But for now, I feel well rewarded as a loyal customer. Even though I wasn't offered full annual fee waiver in my fourth year, I was offered discounted annual fee and Hilton voucher plus hotel lounges.
Your miles may vary. It probably depends on your spending level (I'm not sure, my guess is as good as yours). If you're lucky, you may get full annual fee waiver plus Hilton and lounge vouchers (unfortunately, I'm not that lucky yet).
What I Don't Like about AMEX KrisFlyer Card
Expensive annual fee. For the first year, it's worth it paying the annual fee. BUT, from the second year onwards, it's hard to justify paying $340 just to get Hilton voucher and 4 lounge access. That's why I requested for waiver for my 2nd and 3rd year.
For my 4th year, they offered me discounted annual fee upon request of annual fee waiver. After doing a mental calculation while on the phone, I decided it's worth it to pay. Whether I'll pay the annual fee for the future years or not, it will depend on what they offer me, because I definitely do not want to pay the full $340 just to get Hilton voucher and 4 lounge access.
Short voucher validity. Not everyone can plan for a vacation within 7 months! The 7-month voucher validity is way too short for me to plan a meaningful trip. If they expand the list of hotel to include Singapore's Hilton Orchard and Conrad, I'm okay with the short voucher validity.
Low earning rate. For a supposedly higher-tier-than-basic-entry card, the 1.2mpd is honestly too low.
Final Thoughts
I think it is worth it to get AMEX KrisFlyer Ascend for the first year (because of the bonus miles).
From the second year onwards, it is only worth it to continue paying annual fee if you're planning to stay at a Hilton property, and if the cost of Hilton stay + 4 lounge access can justify the annual fee you're paying.
If you're not willing to pay the annual fee, you can still request for annual fee waiver and forgo the Hilton and lounge vouchers. I think this is a suitable option for people who frequently fly with Singapore Airlines and want to earn upsized miles when flying with SIA.
If you're an opportunist, you can get the AMEX KrisFlyer first, then upgrade to AMEX Ascend. This way, you can get welcome bonus from both cards.
If you like my work, you can buy me a coffee! Your support will help me to keep going!